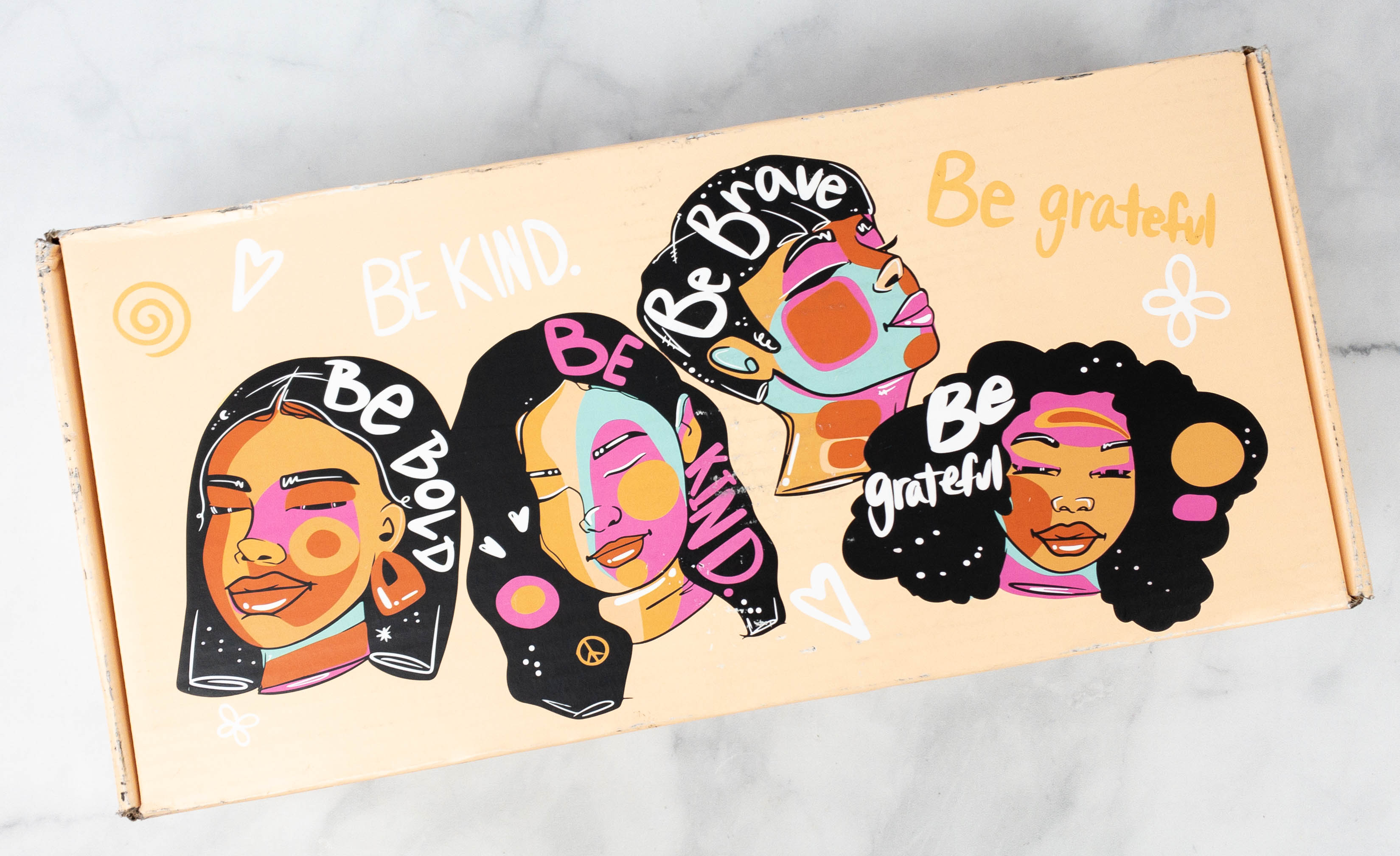 BE KIND by Ellen is a quarterly subscription box created by Ellen Degeneres to help people spread kindness! Each box costs $54.99 and contains fun, unique, and amazing products that Ellen picks herself that she wanted to share. It also focuses on brands and products that do social good.
FYI – this subscription had serious shipping and customer service problems over about the past year. Most of these seem to be resolved. I talked with the team running the box a couple weeks ago and they assured me that they had both the technical problems with the website, and the customer service problems resolved with a new customer service response team. They have had a short turnaround on customer service inquiries for approximately 2 months. BE KIND certainly should have done more a lot sooner, but I'm satisfied that they are now running a reasonable operation. There may still be some subscribers/past subscribers with some issues – I encourage you to reach out to them for assistance in correcting any outstanding problems. I also queried them on the "premium" subscriptions, which promised subscribers "chances to win amazing prizes, like tickets to Ellen's 12 Days of Giveaways tapings, travel experiences, and big-ticket products like those Ellen gives away on-air." This program changed a bit and they eventually settled on that every premium subscriber would receive something of value equal or greater than the extra cost of the premium subscription. The BE KIND team told me everyone who did have this subscription did get an item – but they may not have realized that the extra item was their premium gift. I haven't heard of anyone receiving anything of wildly high value, and I noticed that this subscription isn't currently for sale. As disclosed before the post, as we always do, this box was received for review.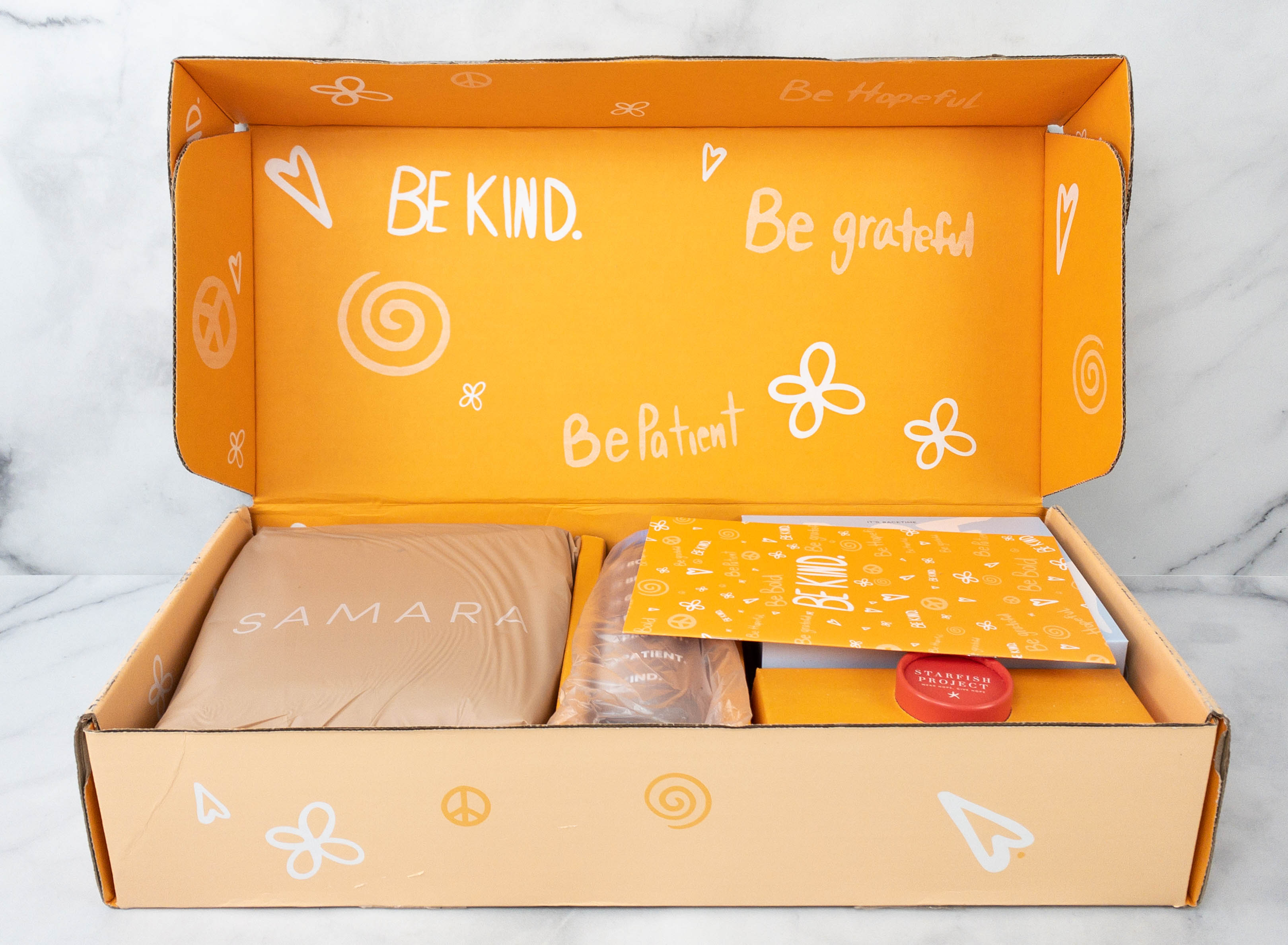 The items for this quarter arrived in an orange box.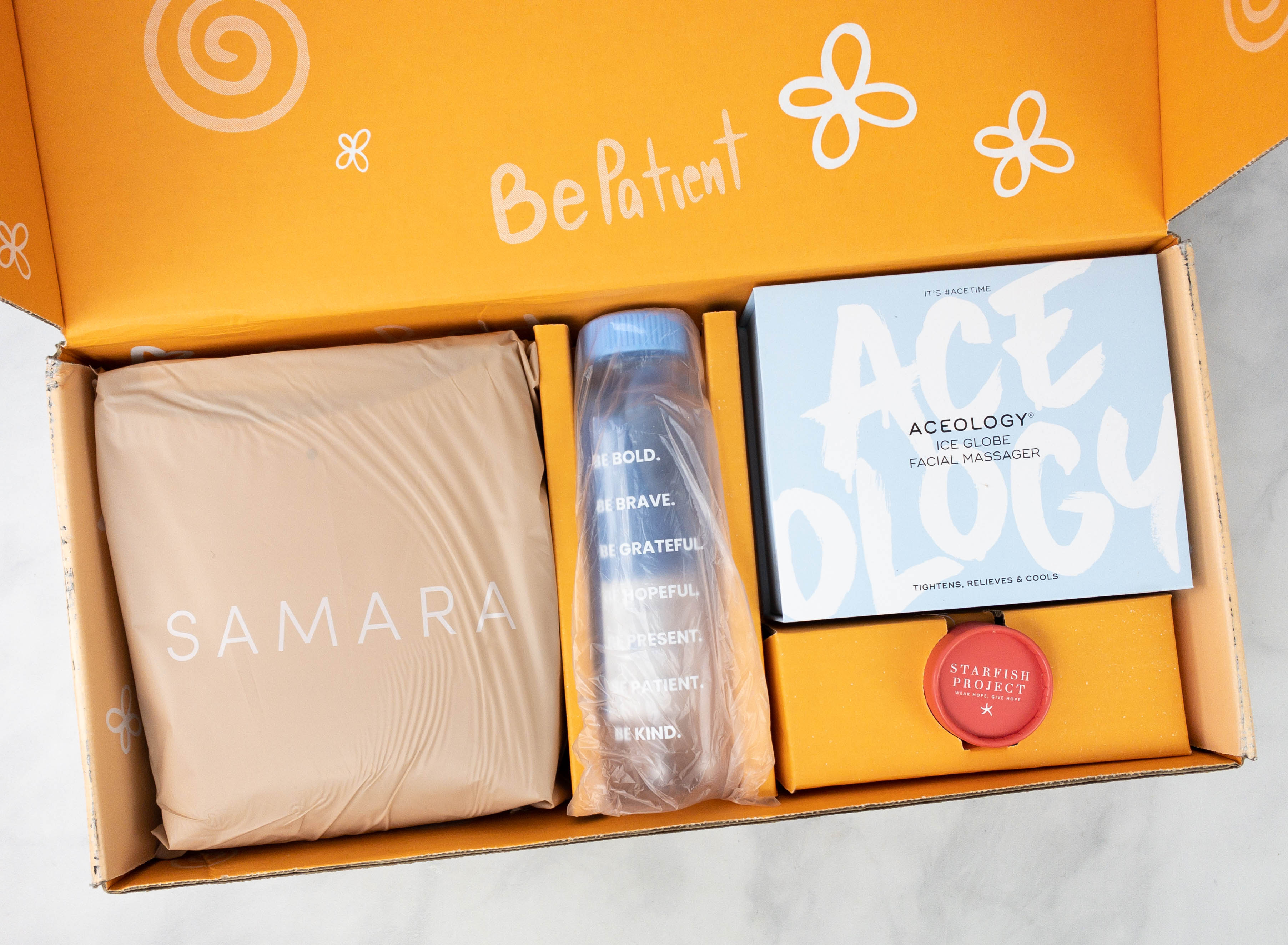 Every item sits in its own cardboard slot to make sure they are well secured. More items were on the bottom.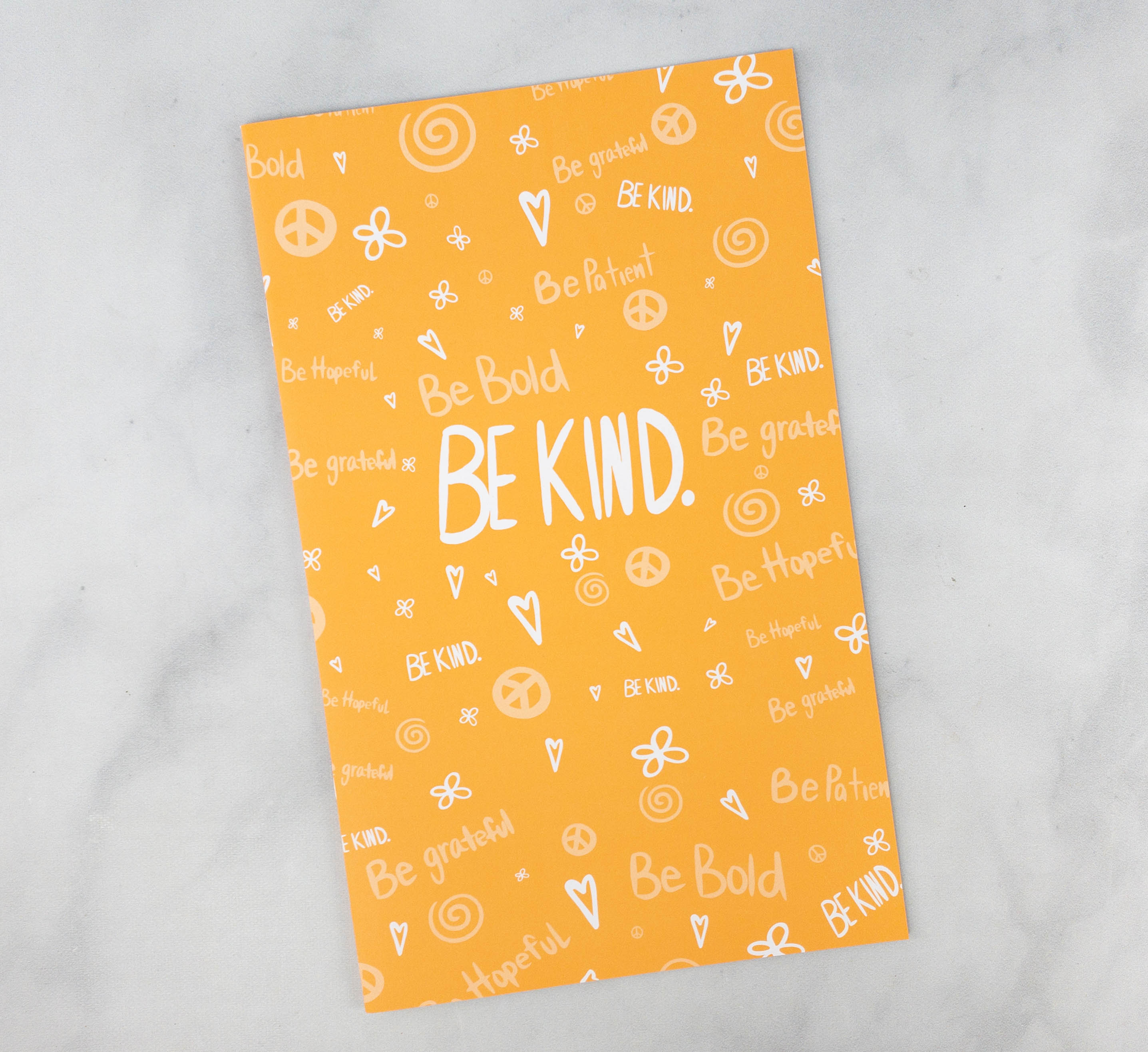 Here's the information card!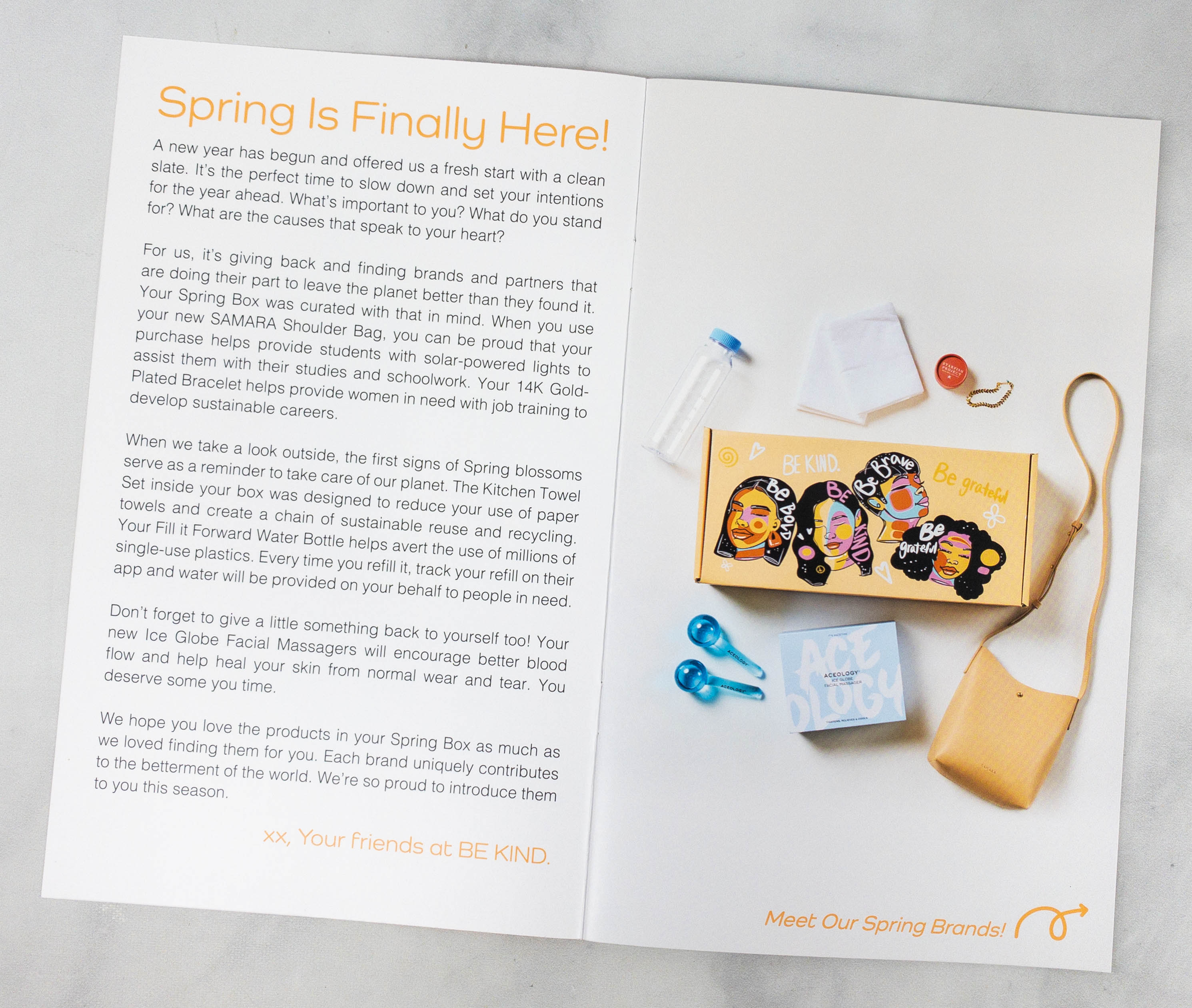 Inside, there's a message for subscribers and a group photo of all the items in the box.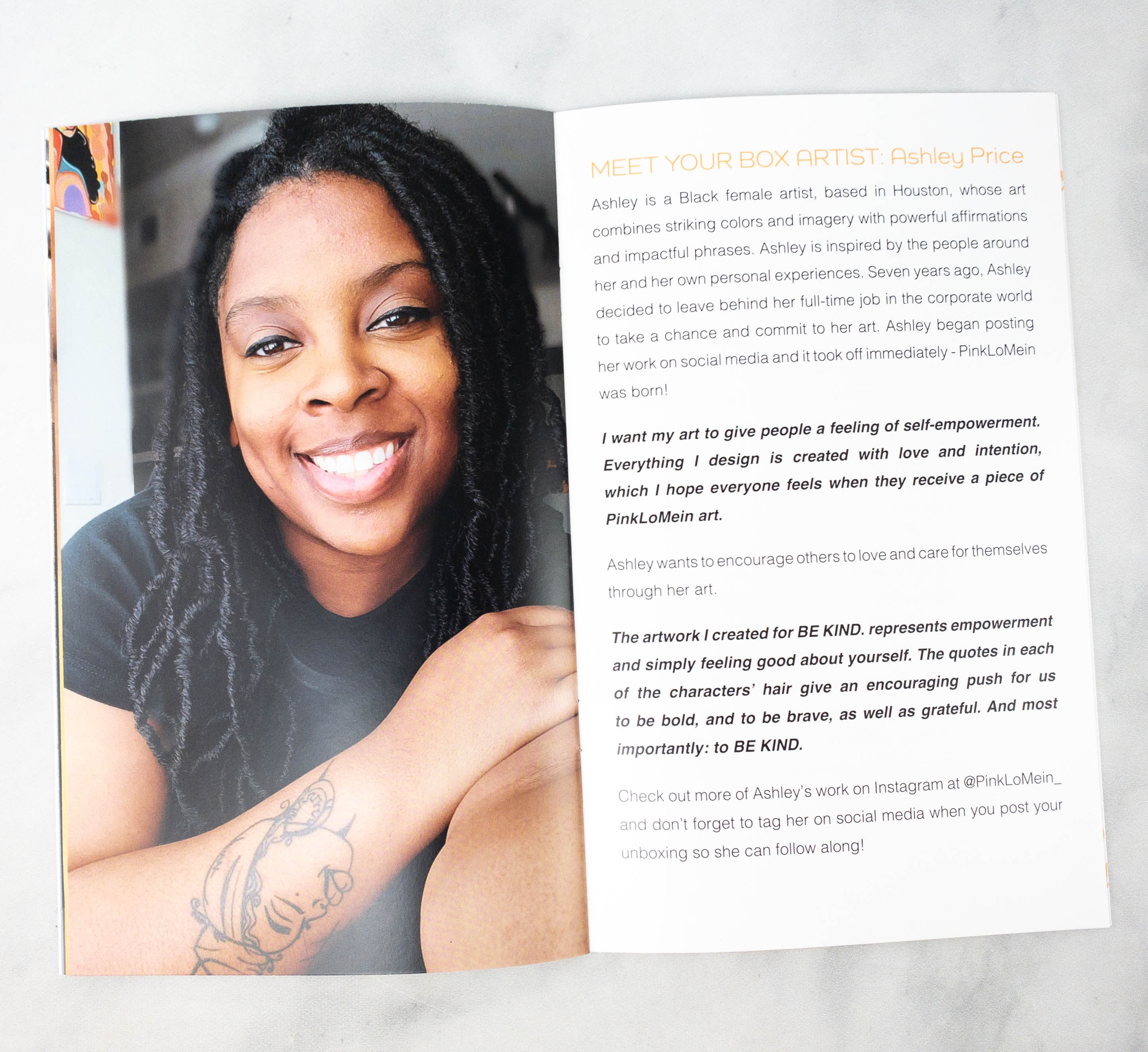 They also included a feature about this quarter's box artist, Ashley Price.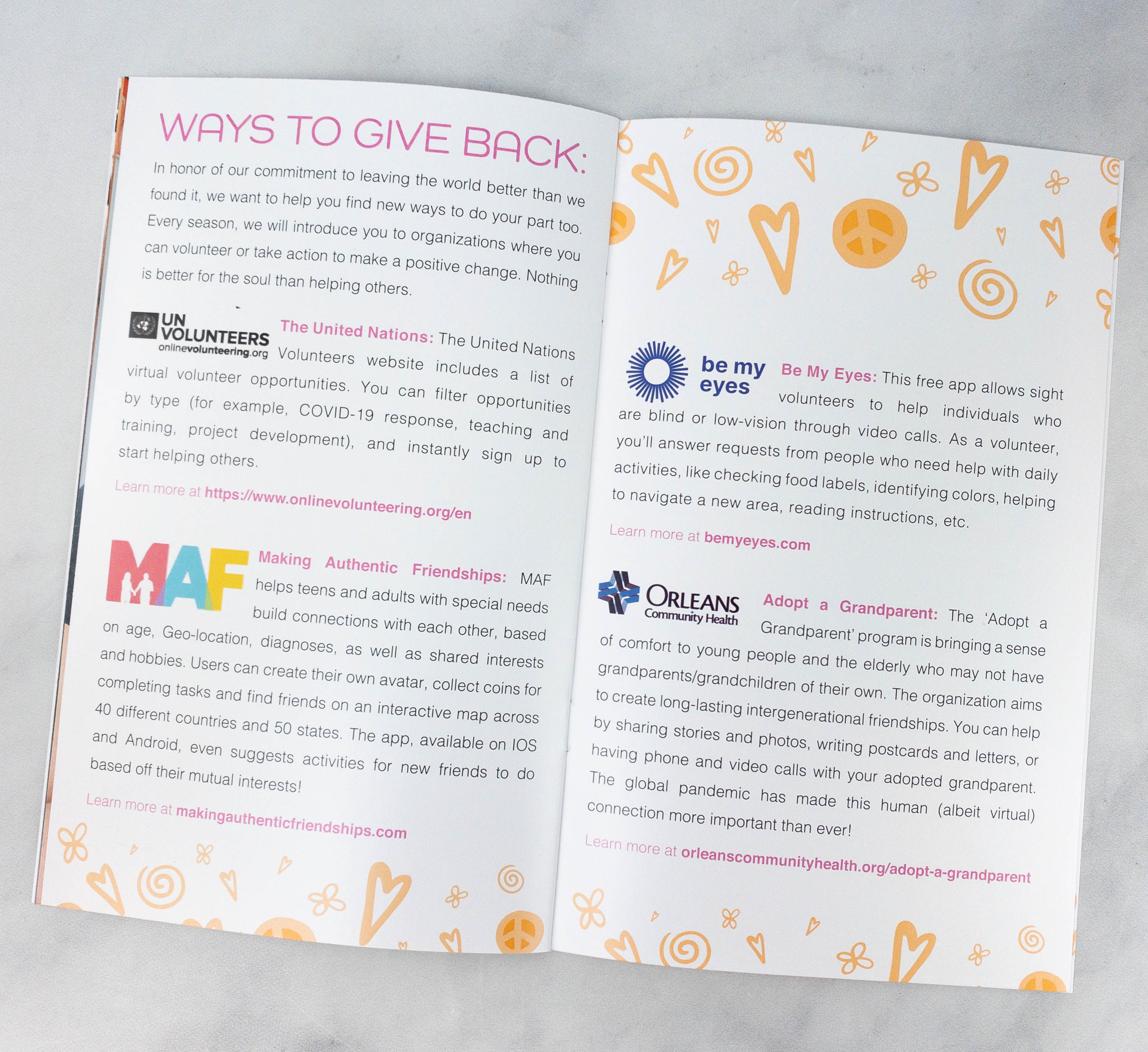 Another page lists ways to give back!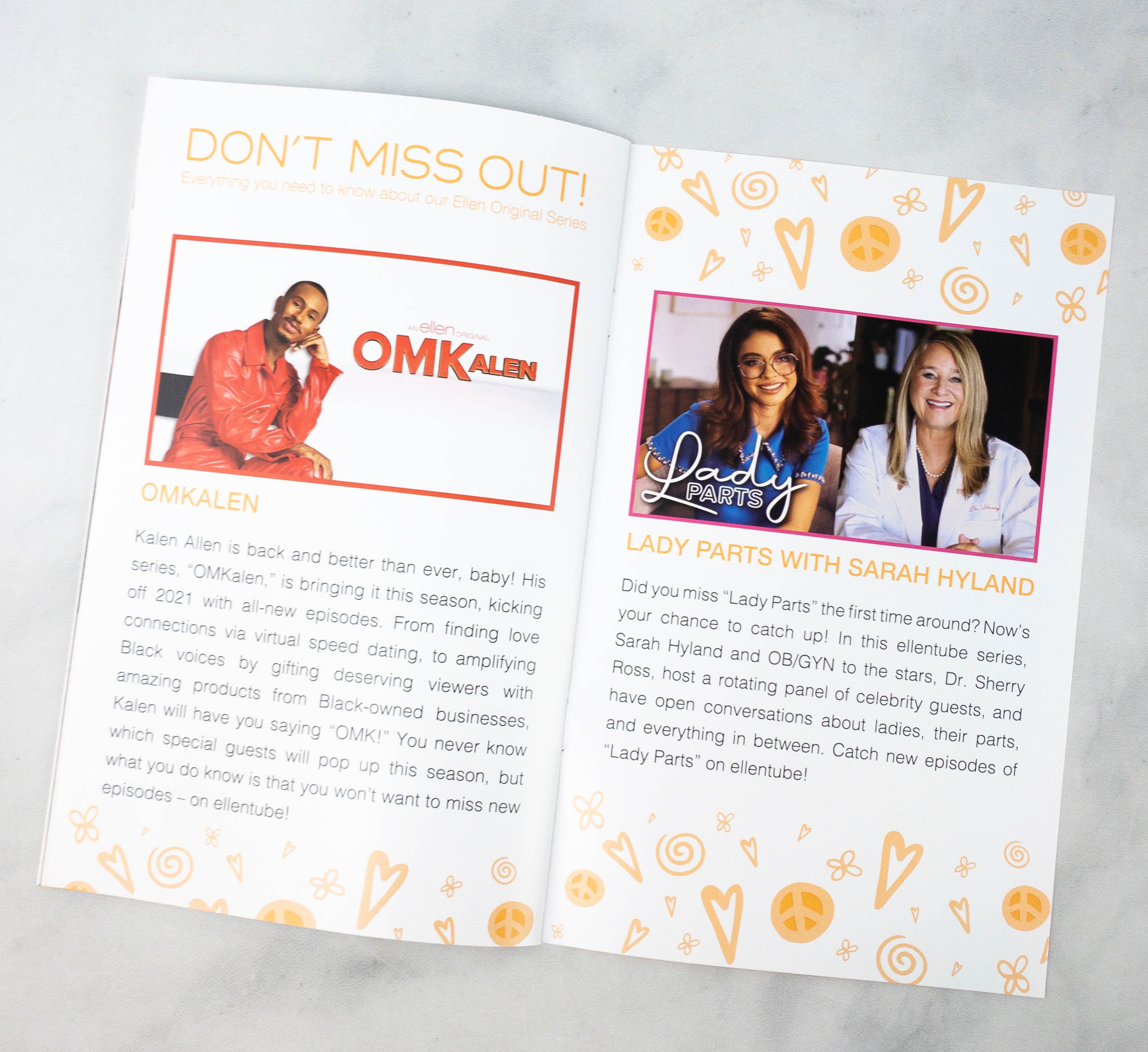 Lastly, there's a feature about new Ellen Original series.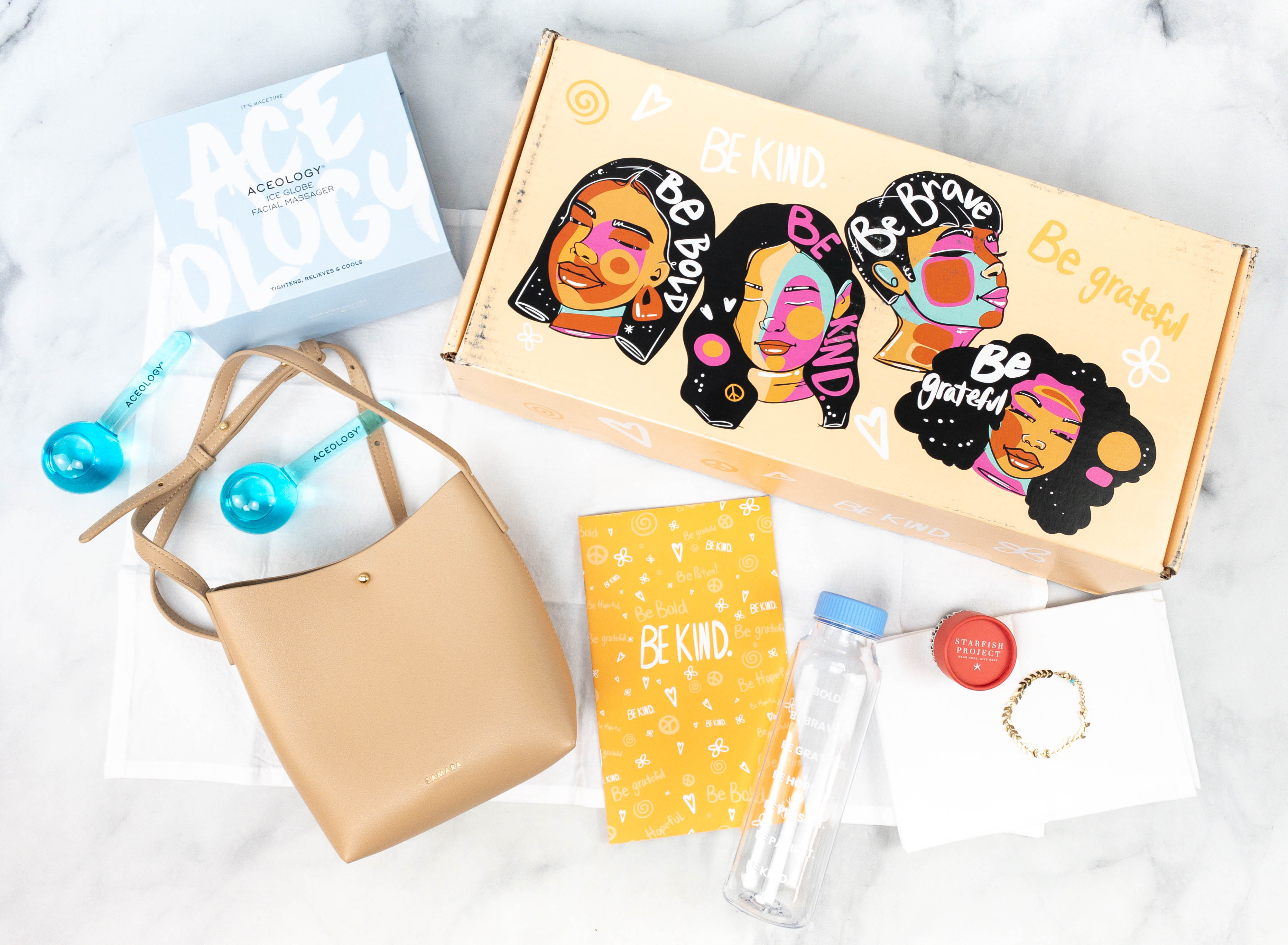 Everything in my Spring 2021 box!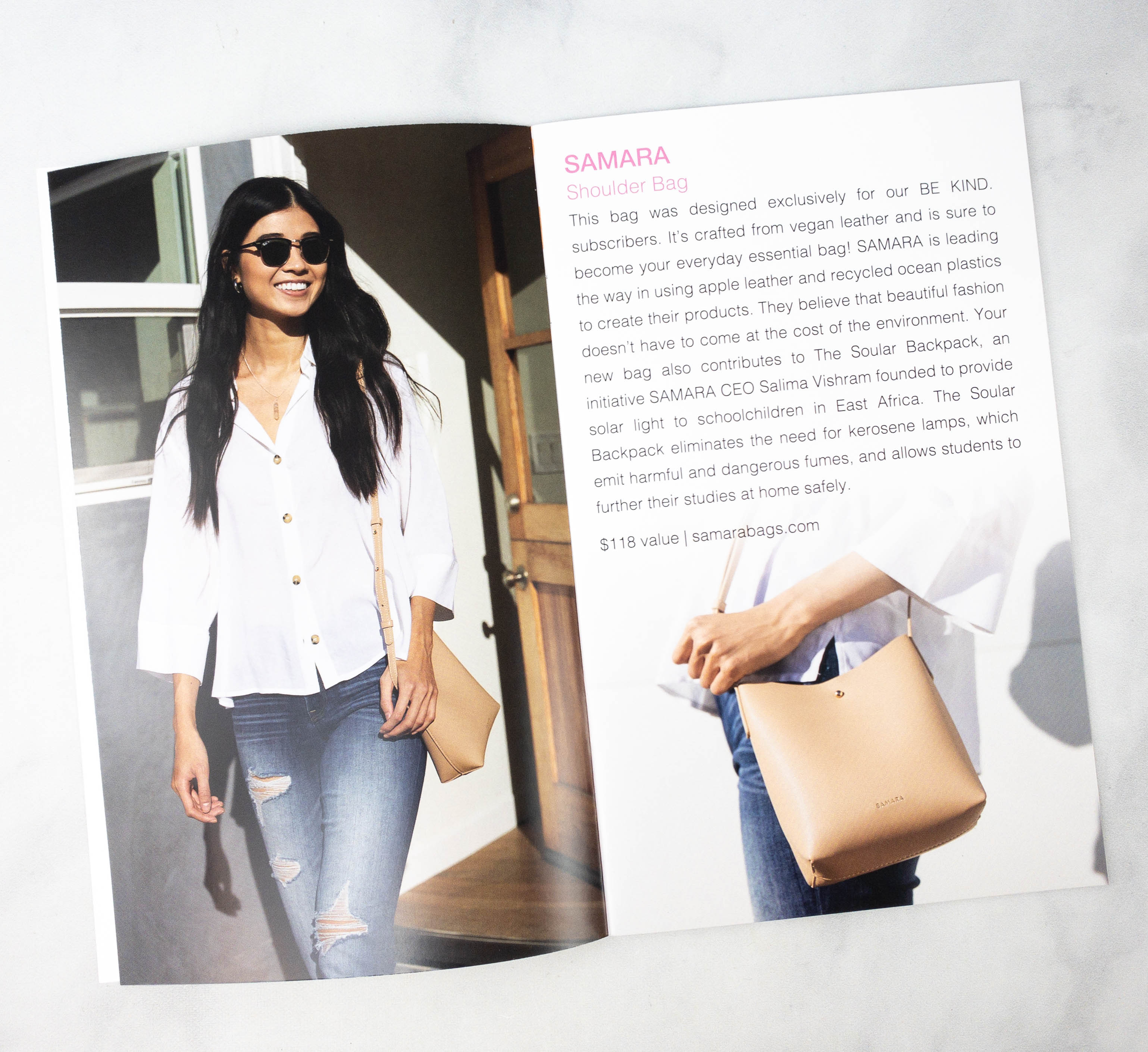 SAMARA Shoulder Bag ($118 stated value) Here's an exclusive item for subscribers, a crossbody bag made with vegan leather! This is a really nice faux leather and SAMARA's thing is that they're trying to use the very best materials with as little impact on the Earth as possible.
The bag that Samara sells is $120 and – 8″ W x 10″ H x 3.5″ D. We measured this one as 8″ high, 7″w, 3″ deep. This is a bit smaller than that bag, so we think the retail value should have been more than $2 smaller.
The bag arrived in its own packaging to keep it safe from scratches and other damage.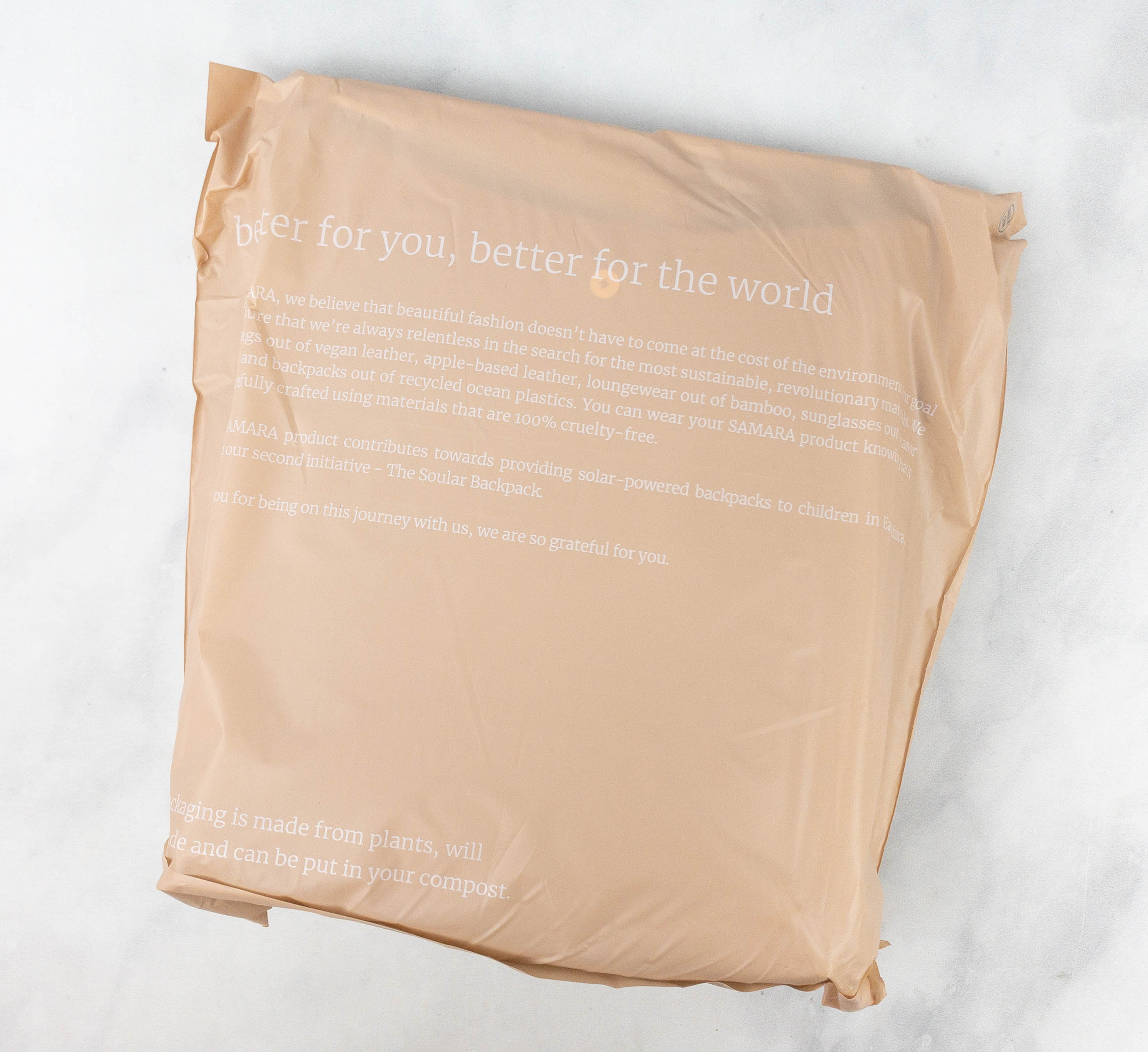 What's great about this packaging is that it's made from plants and that it can be composted.
It's in beige, with gold colored hardware and an adjustable strap. I also like how unique the closure is. It helps keep my things safe, in a stylish way!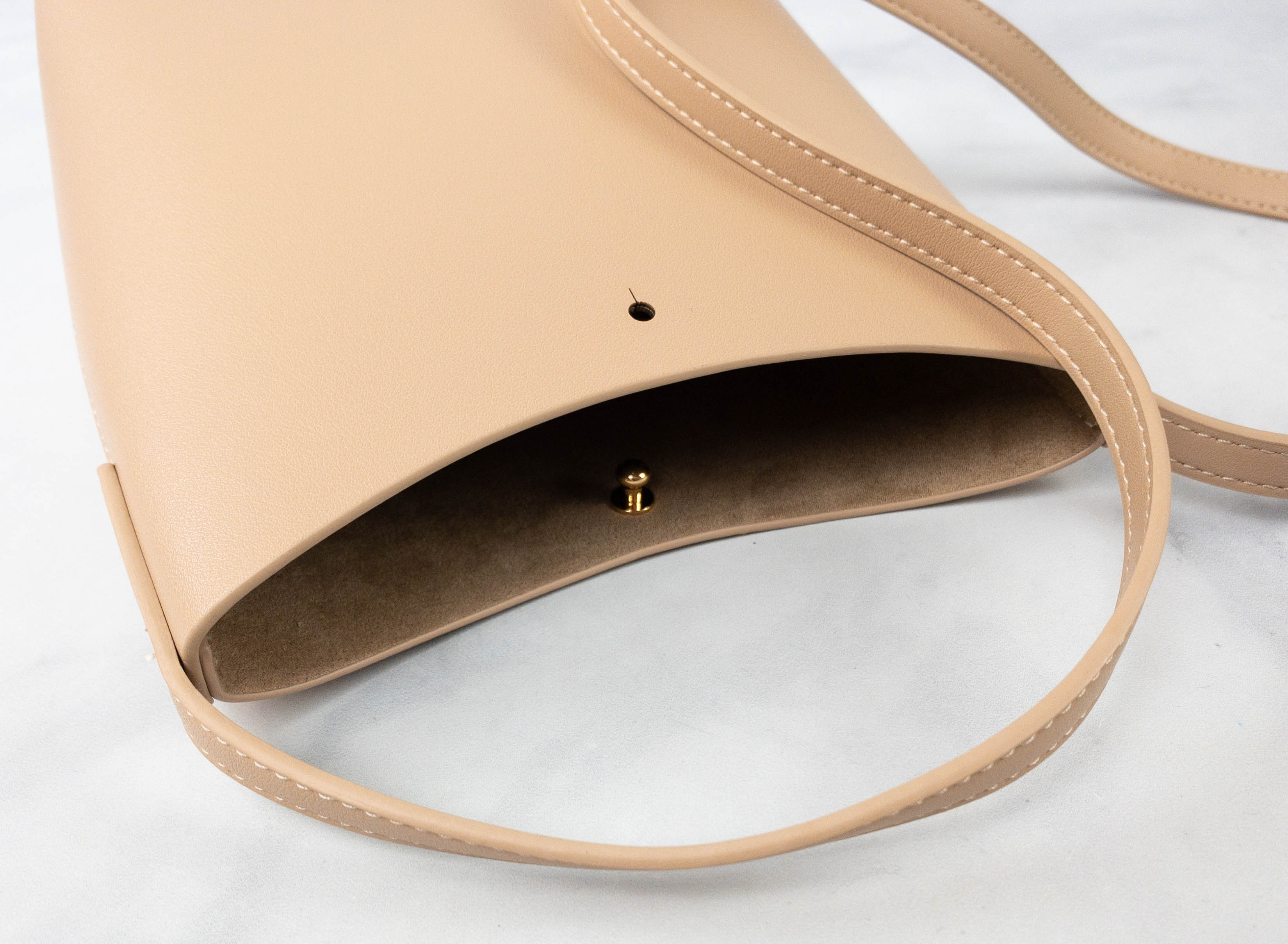 It's spacious as well! The bag can accommodate a wallet and a smartphone or even a book or notebook, making this bag ideal for everyday use. In particular, the back side of this "leather" is really nice.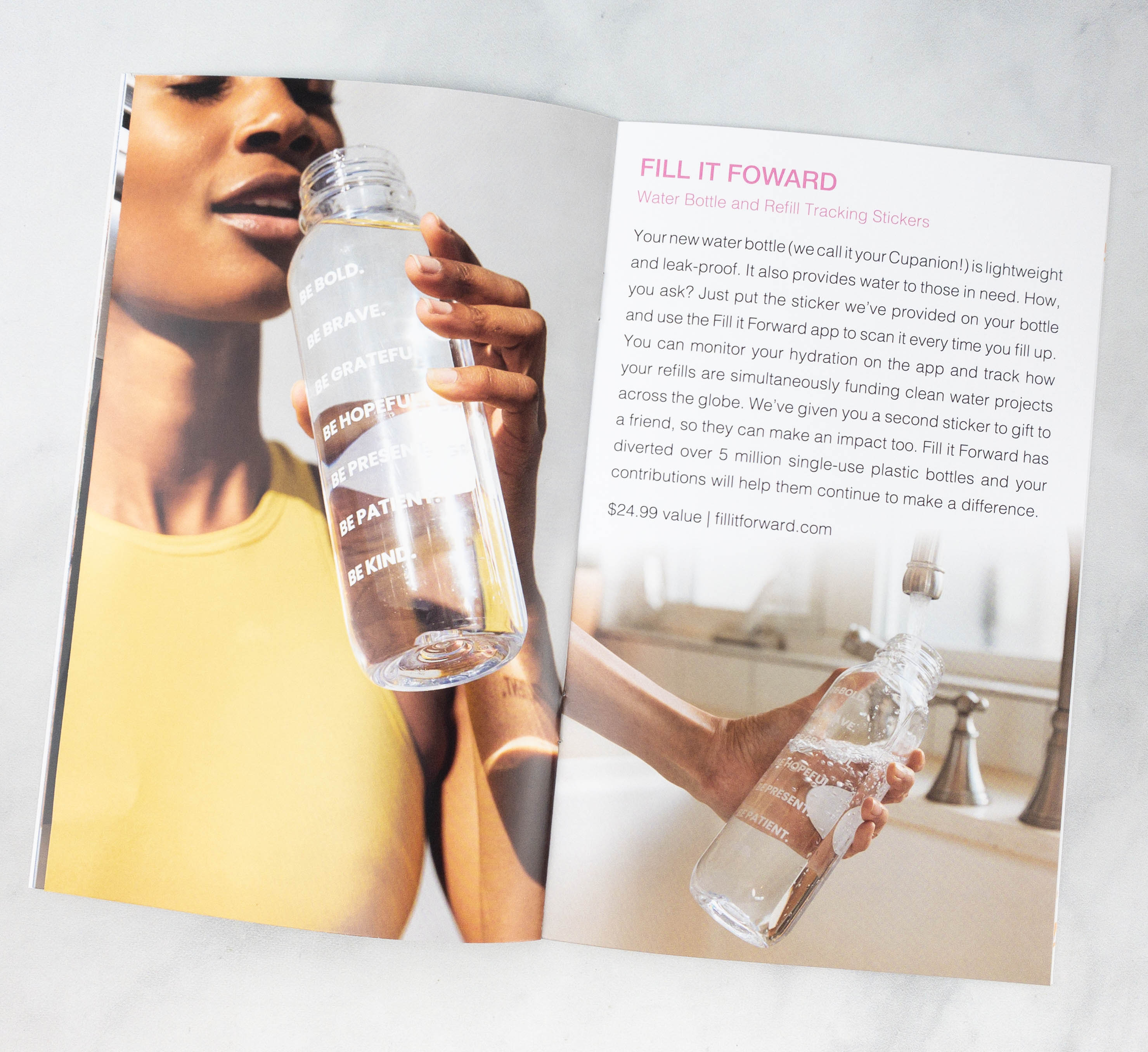 Fill it Forward Reusable Water Bottle and Tracking Stickers (listed value $24.99) To make sure I'm hydrated wherever I go, here's a reusable water bottle with a blue leakproof lid. It's slim and lightweight, so I can put it in my bag without worries!
This bottle is listed as $14.95 on the Fill It Forward site, with a price of $4.95 for the sticker. This doesn't add up!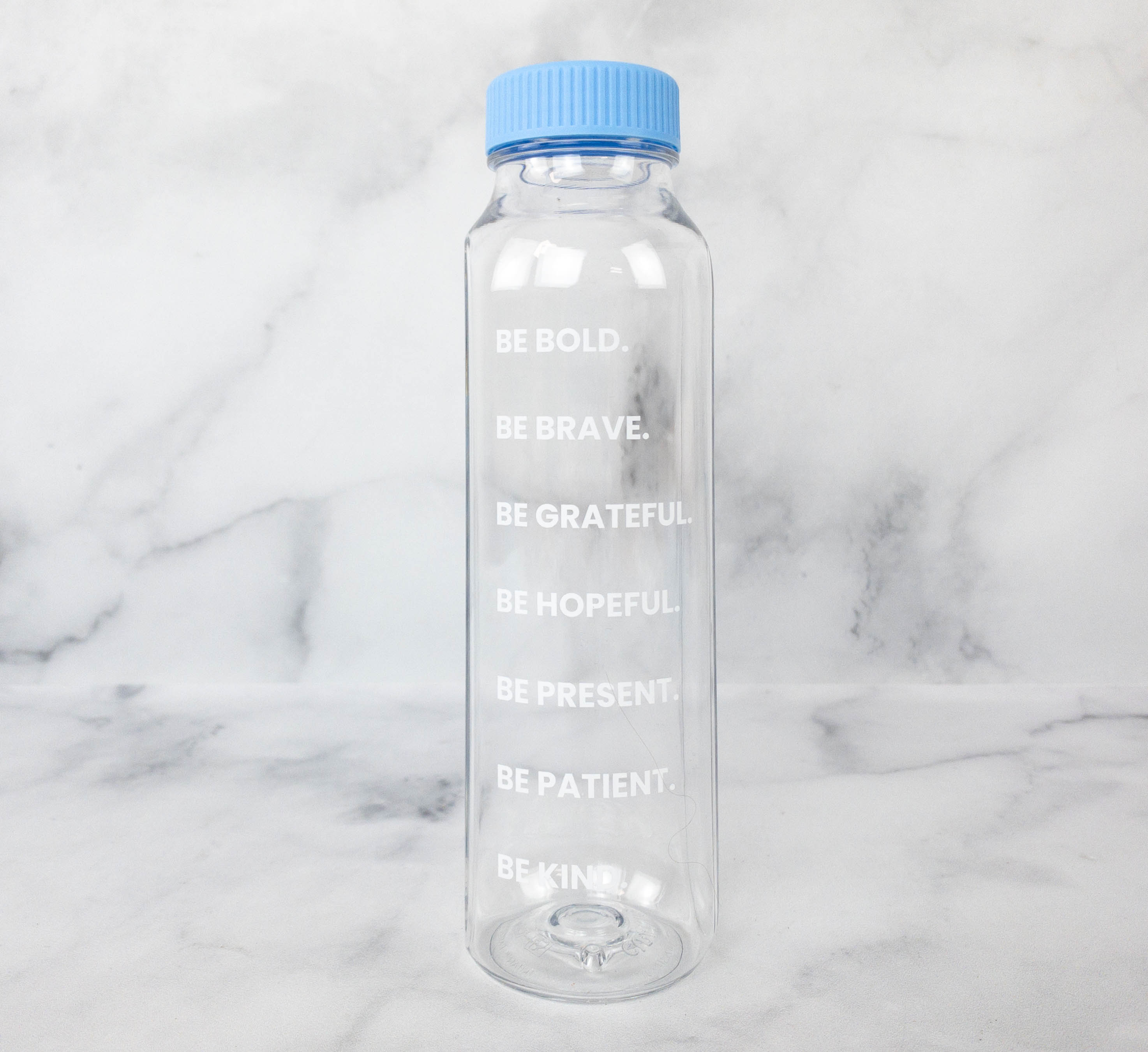 I also like that it's clear, so it's easier to track the contents of my bottle and to see if already need a refill. The bottle features positive reminders as well!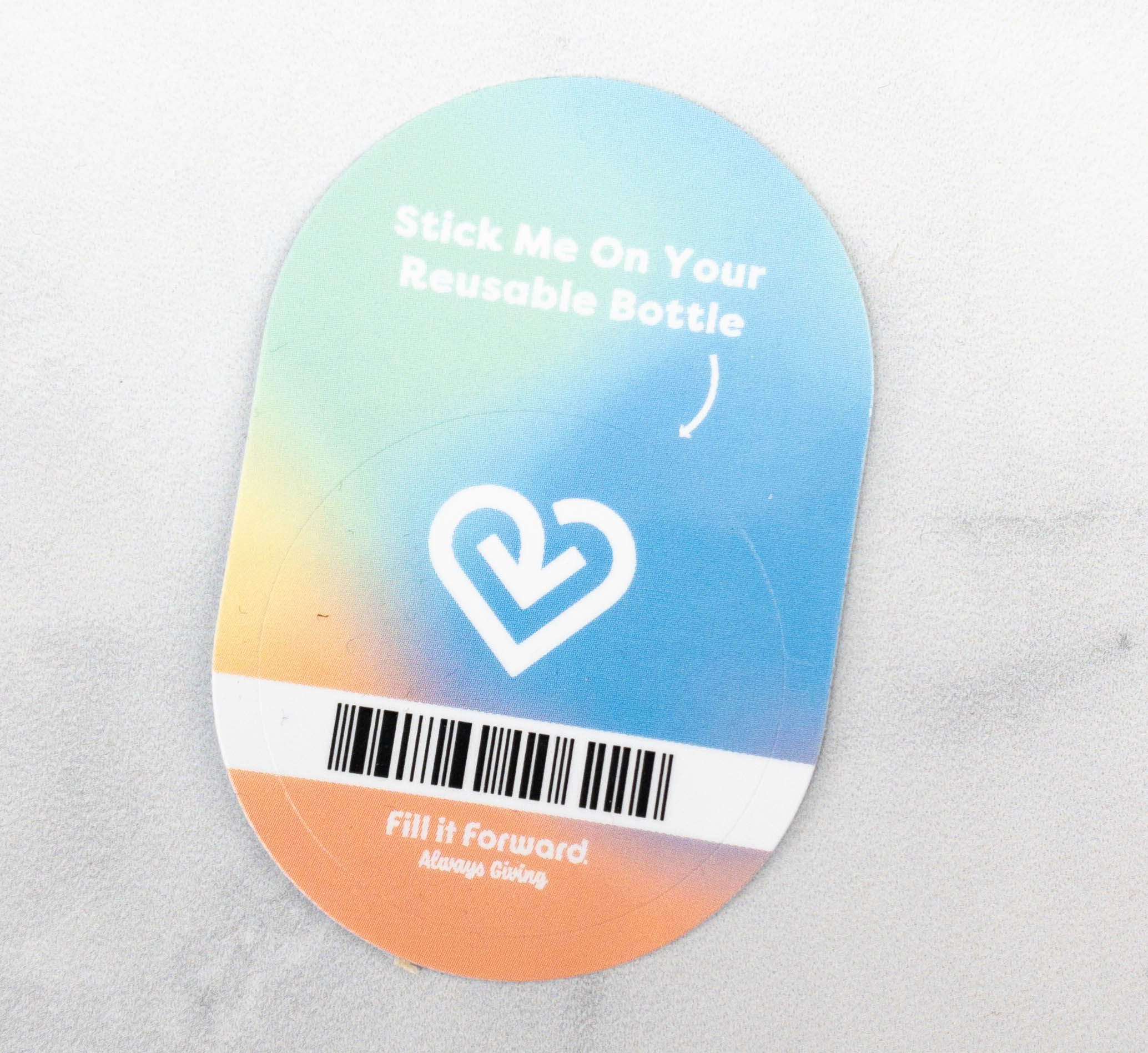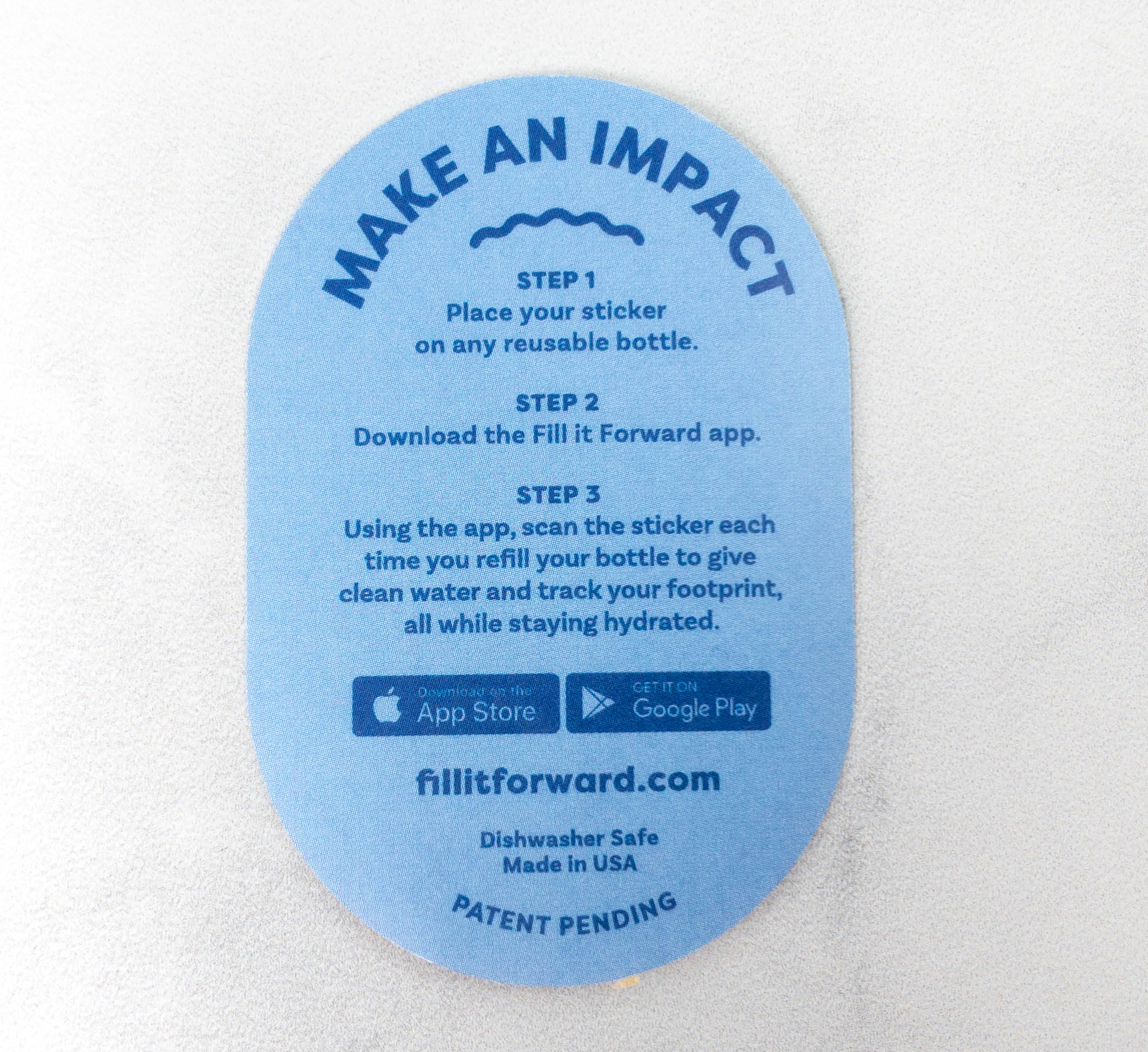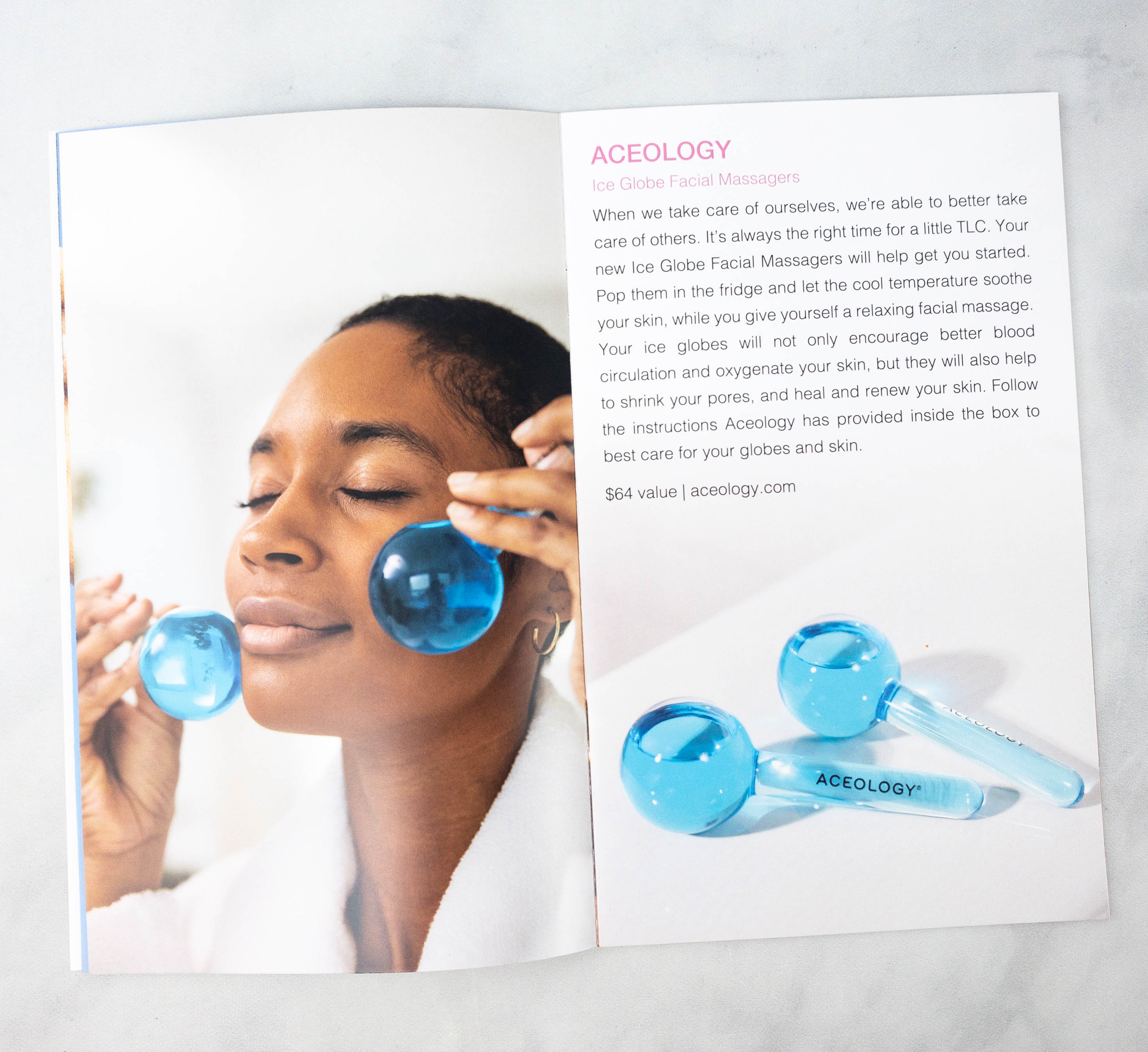 Aceology Ice Globe Facial Massagers ($64) For beauty junkies, here's a pair of facial massagers which helps improve absorption of skincare products onto your face.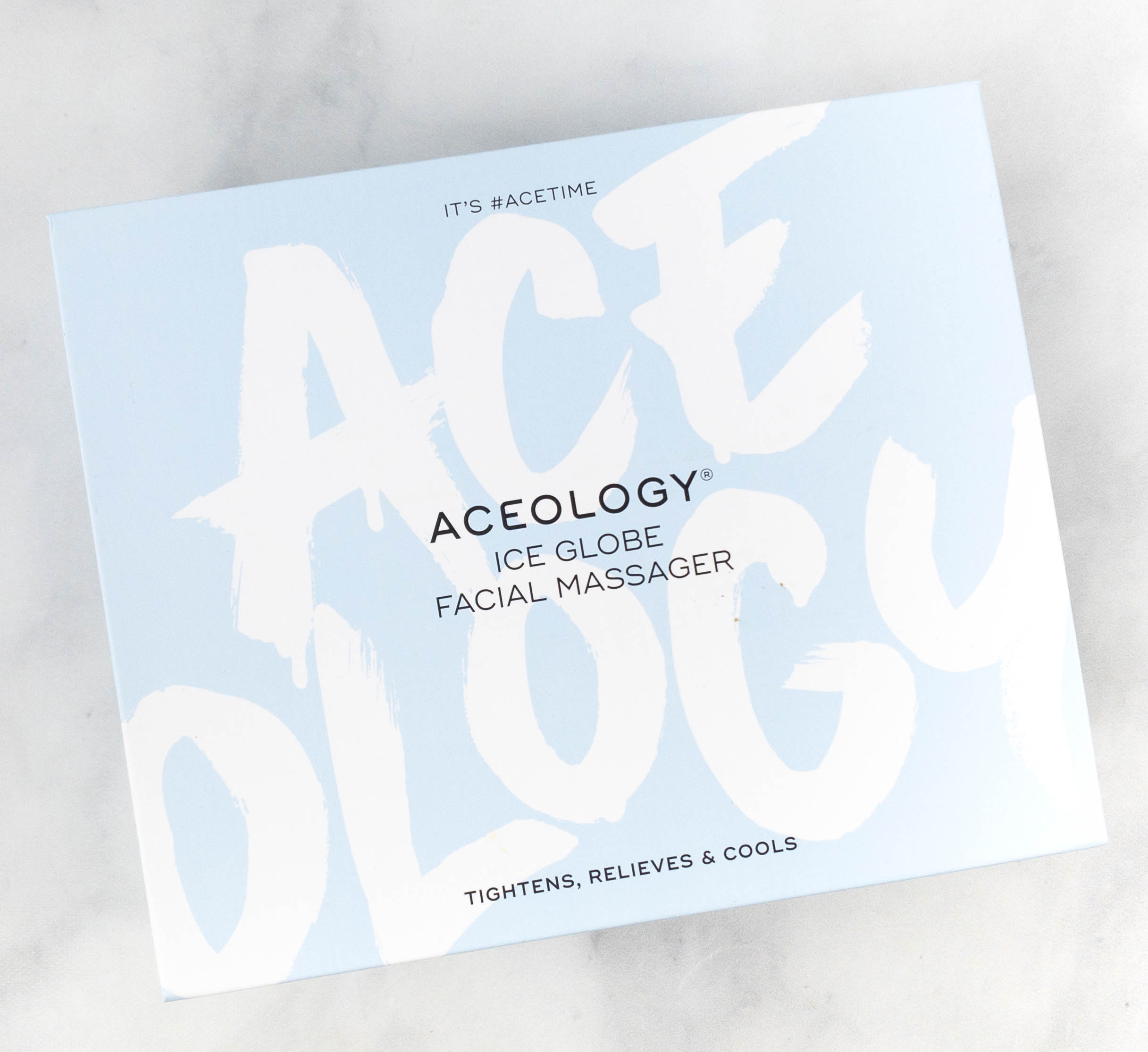 The facial massagers were packed in a box.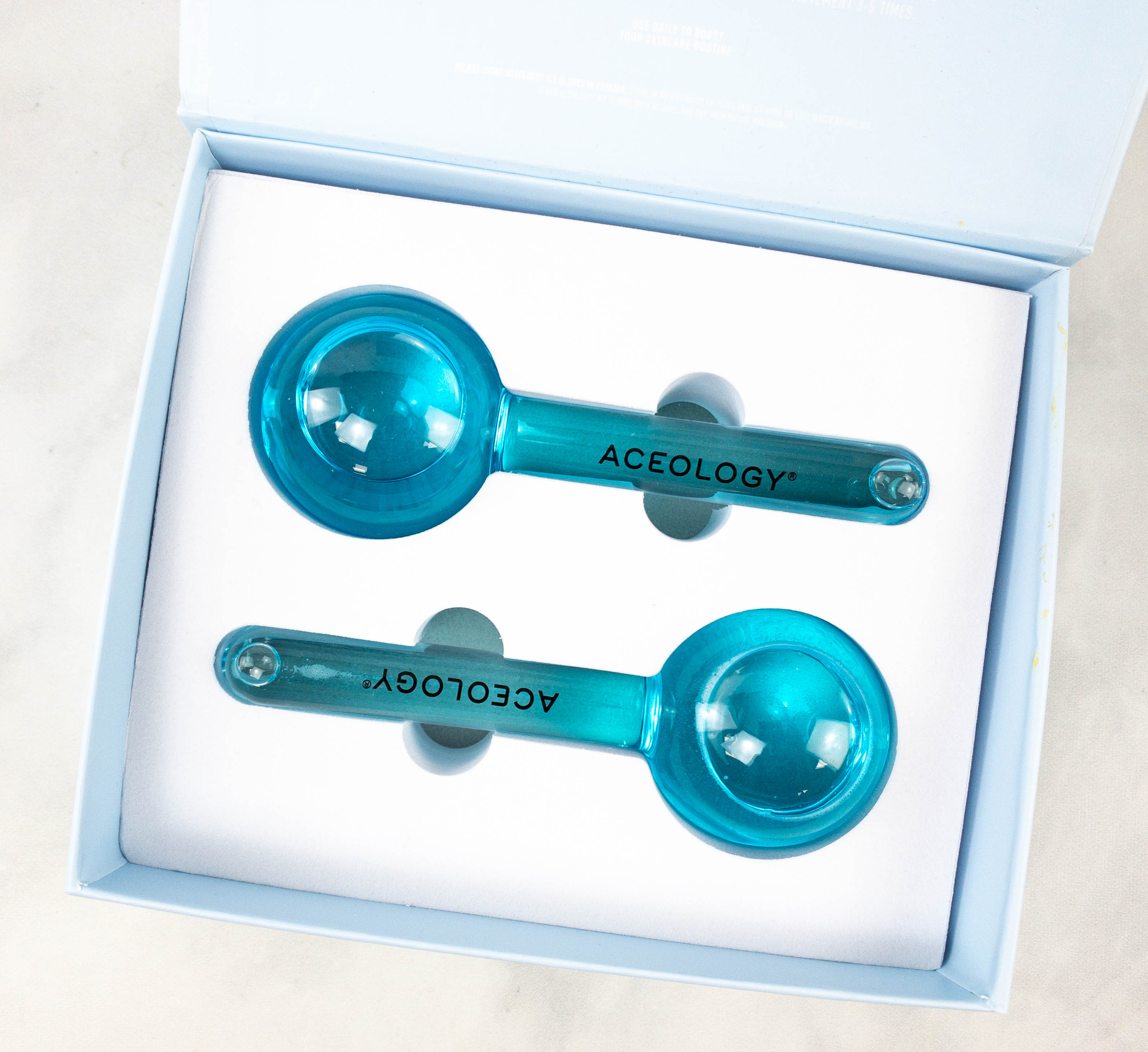 They were even nestled in a custom cardboard packaging to ensure safety.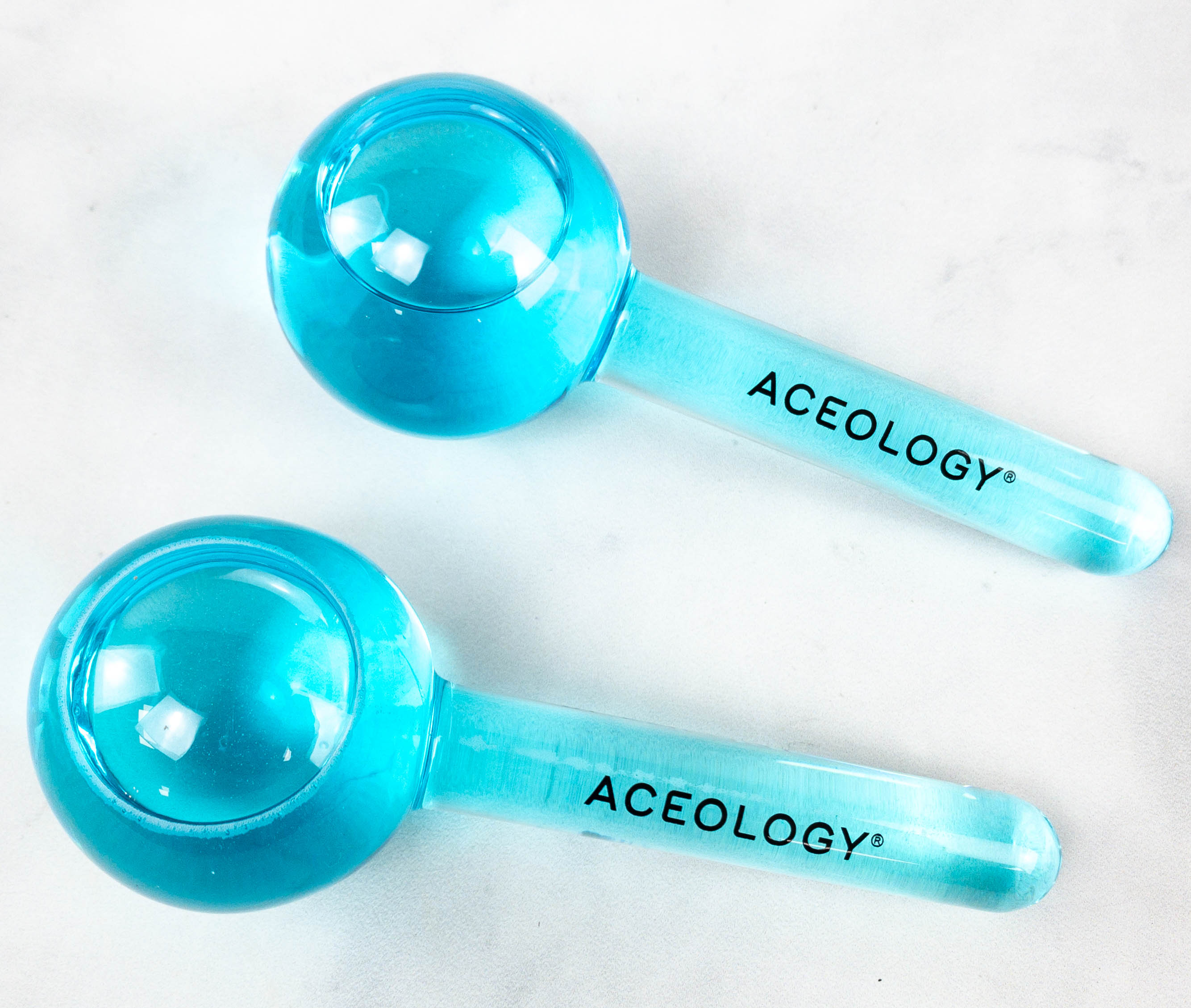 The massager itself is round, and it comes with a handle so it's easy to use. You can even pop it in the fridge for a cooling effect and to help tighten pores. Another use for these massagers is to soothe sinus pain and headaches! $64 seems pricey for these, but they say they're the original! You can get globe massagers for around $20-$25 for a pair on Amazon.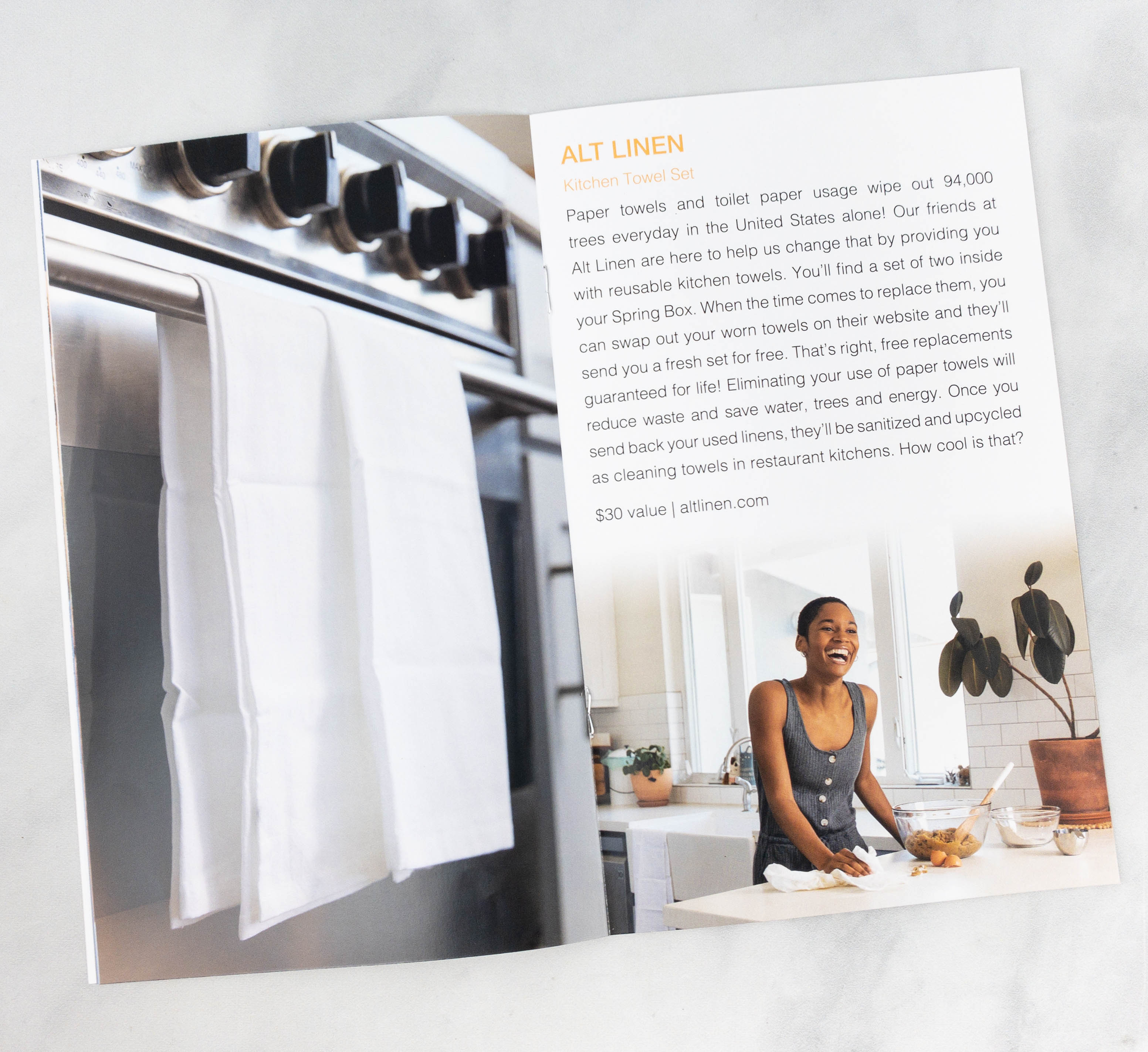 Alt Linen Kitchen Towel Set ($20) These kitchen towels are soft and durable. They're a great alternative to paper towels as they are reusable and, therefore, more environment friendly.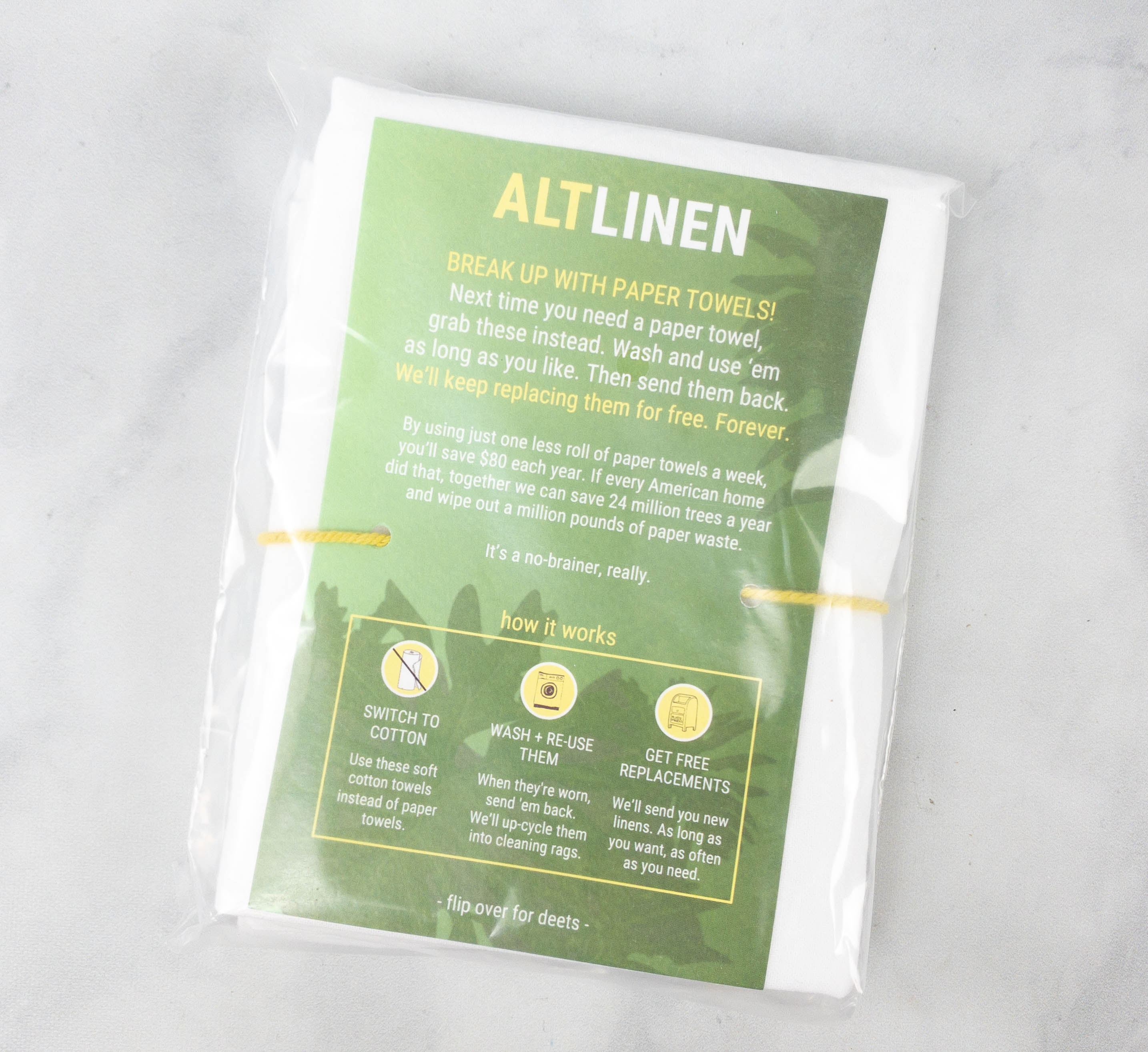 I received 2 kitchen towels. They are great to use for drying dishes, drying hands, or even for cleaning spills.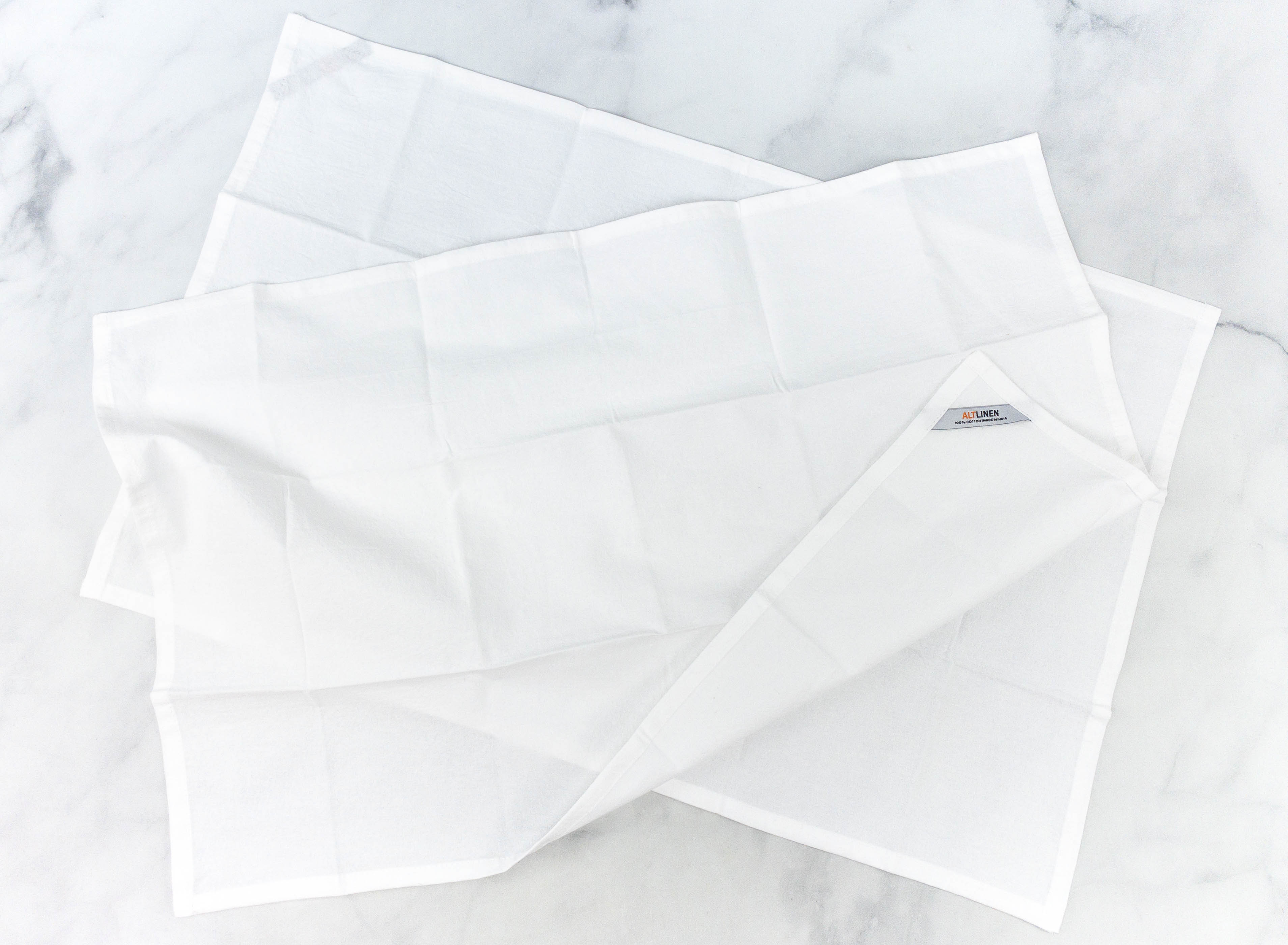 These reusable kitchen towels are in plain white, with a subtle branding on one corner.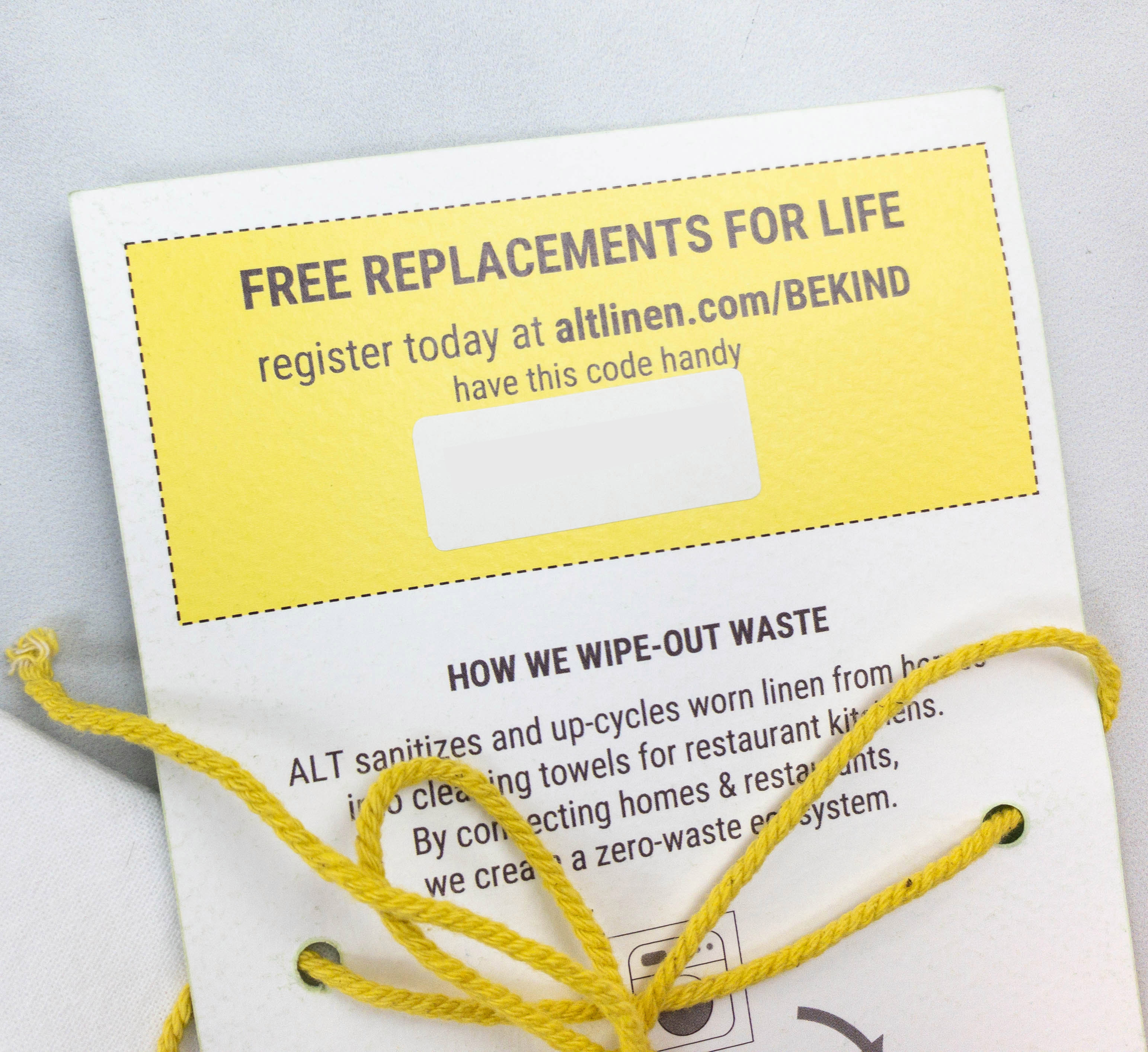 What's even better is that when they're worn out, you can send them back so Alt Linen can upcycle them as cleaning towels for commercial kitchens. Then, you will also get a replacement for free after paying shipping (about $5) and you'll send your old towels back in.  I really love this idea to have fresh, white linens instead of my raggedy crew of cloth napkins.  I noticed you can get free shipping on the replacements if you buy more towels.
You need to input your code on the AltLinen website in order to trade in your used cloths.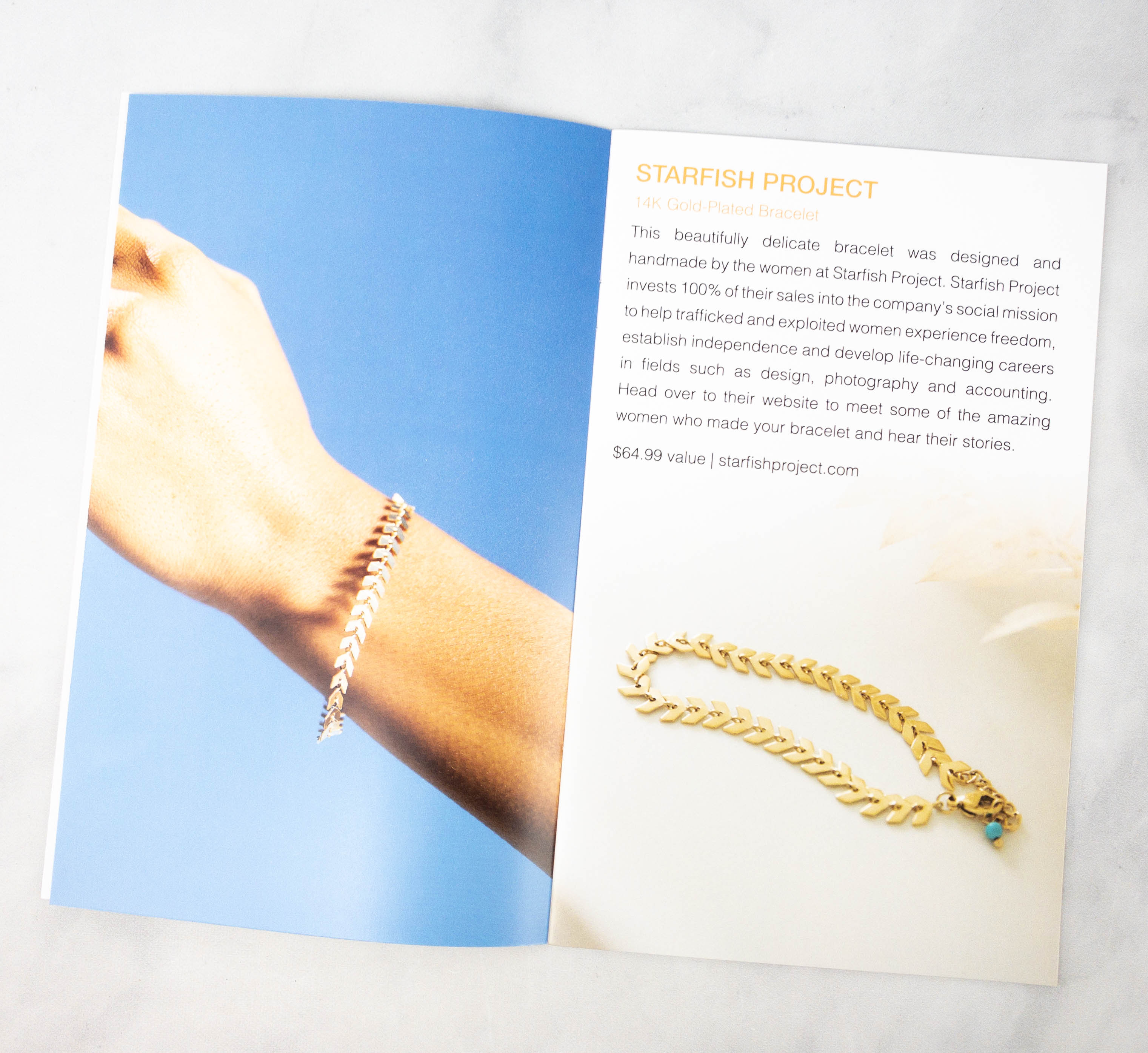 Starfish Project 14K Gold-Plated Bracelet ($64.99) This pretty bracelet is handmade by women from Starfish Project, an organization that helps trafficked and exploited women. Based on other bracelets from their collections, I think this is overvalued by about $20.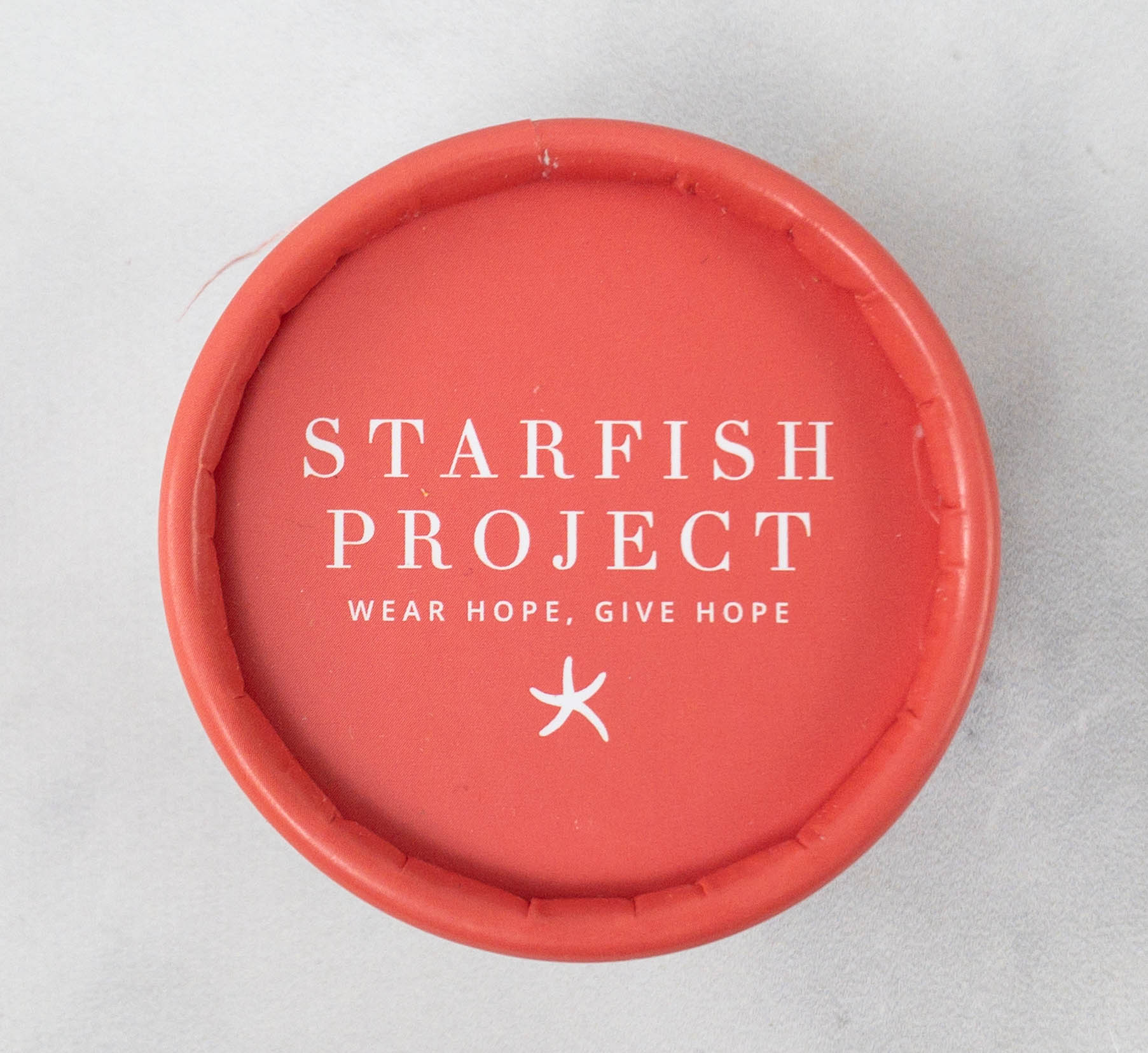 The bracelet arrived in its own container!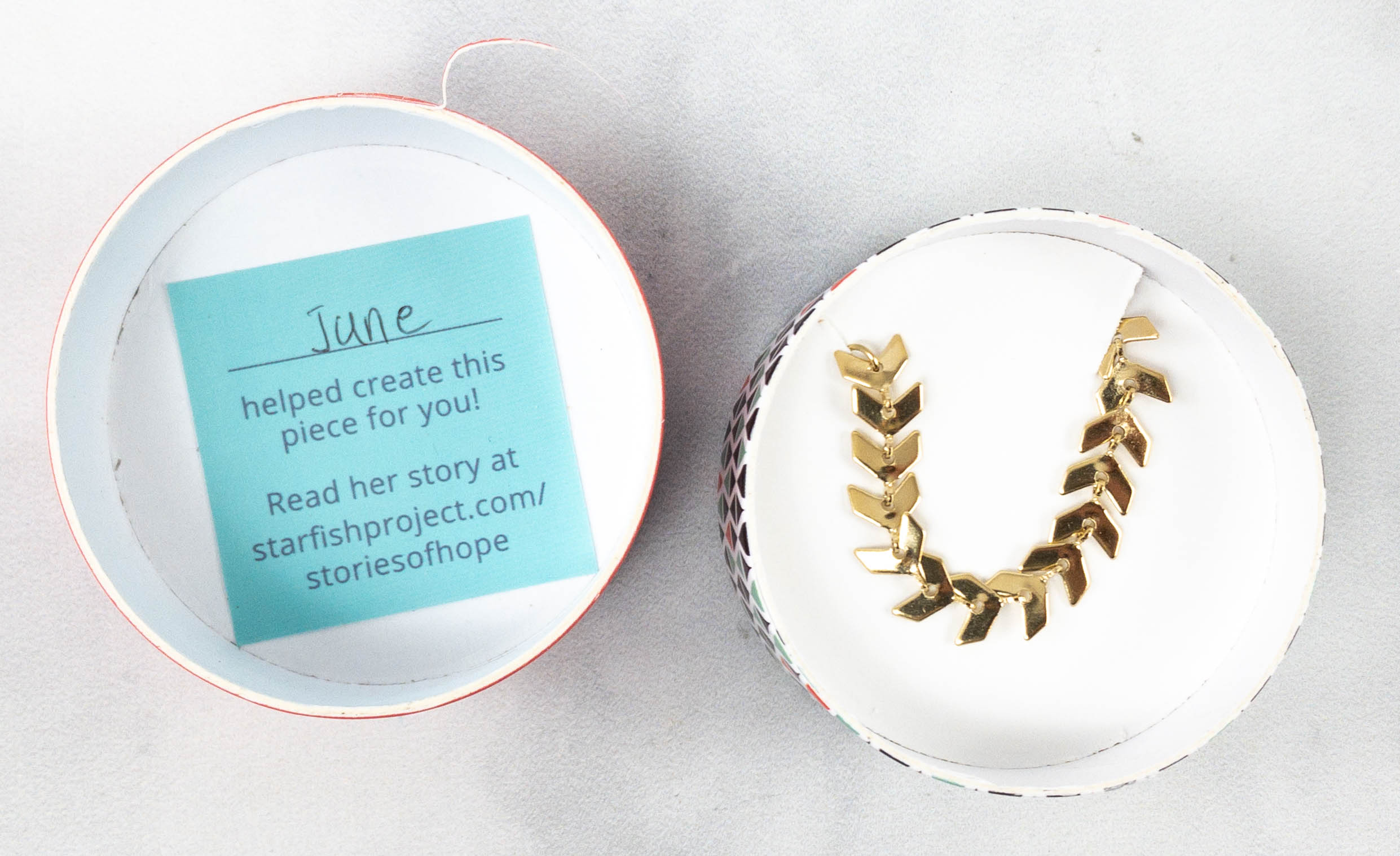 There's a note at the back of the lid, and it says that June helped create this piece!
The bracelet is so dainty! I like the gold plated arrowheads on the chain, plus the pop of turquoise color from the sole bead placed on the closure extension. It's super pretty.
The curation for this quarter was good because it included useful goodies from some nice brands! The crossbody bag appeals to me. It's elegant and trendy, and it's big enough to hold all of my necessities. There are also products like the reusable bottle and kitchen towels that are eco-friendly alternatives to single-use items (the towels are my favorite item). The bracelet is also something I like! It's beautiful, I admire how delicate it is, and the maker's story is truly inspirational! BE KIND has a fun pretty universal curation style, but they aren't helping themselves by overvaluing the products in the box. My gut value on this box is $200+ (and I've seen very many items – I've been reviewing boxes for YEARS!) – the BE KIND stated total is $301.98. There's no reason to inflate prices. This was a solid curation with usable items that paid attention to a great spring theme (green and sustainable!) and charitable works. Is it worth the $54.99 cost of the box as long as there aren't customer service issues ahead? Yes, I think so. Do I hope BE KIND pays more attention to reasonable retail value in the future? For sure!
Please share your recent experiences with BE KIND in the comments. Is your subscription sorted out? Have you received your box and/or any refunds due?