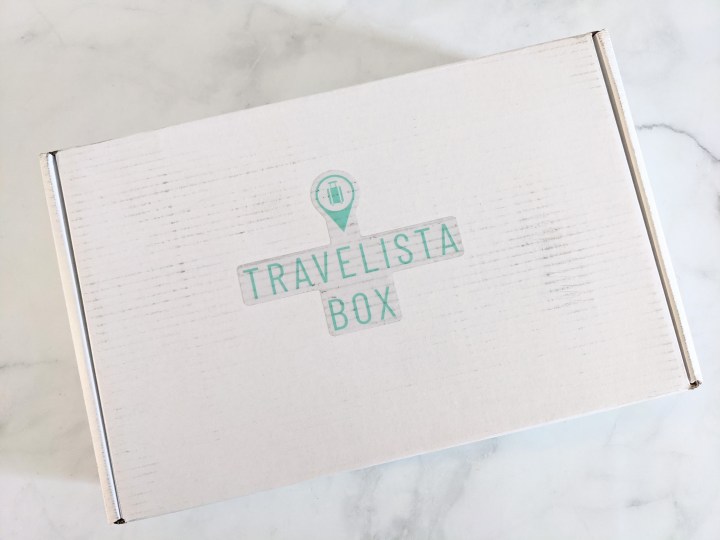 Travelista Box is a new quarterly Canadian subscription box curated by travel professionals to bring the world to your door, every season. It's an immersive experience to remember or discover new destinations. Every box includes 5-8 Premium lifestyle products along with a destination guide and supports small businesses and artisans. Items can include jewelry, home decor/stationery, drinkware, clothing, etc. The box is $99 CAD + $10 shipping and ships only in Canada.
DEAL: Get $10 off your first box! Use this link and use the coupon code 10OFFVIP.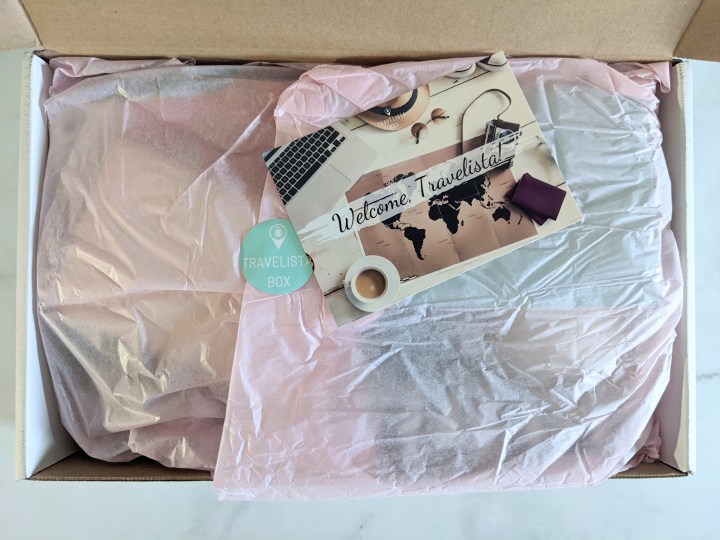 Everything is nicely wrapped with a welcoming postcard.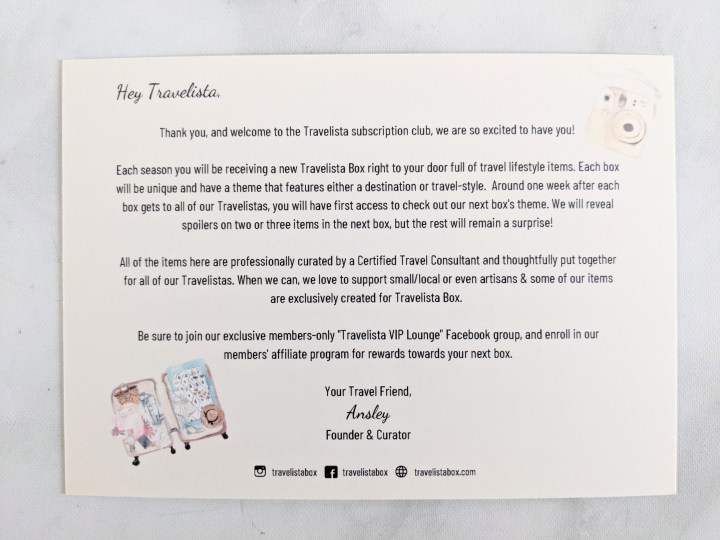 Ansley, the Founder and Curator of this box, is a Certified Travel Consultant.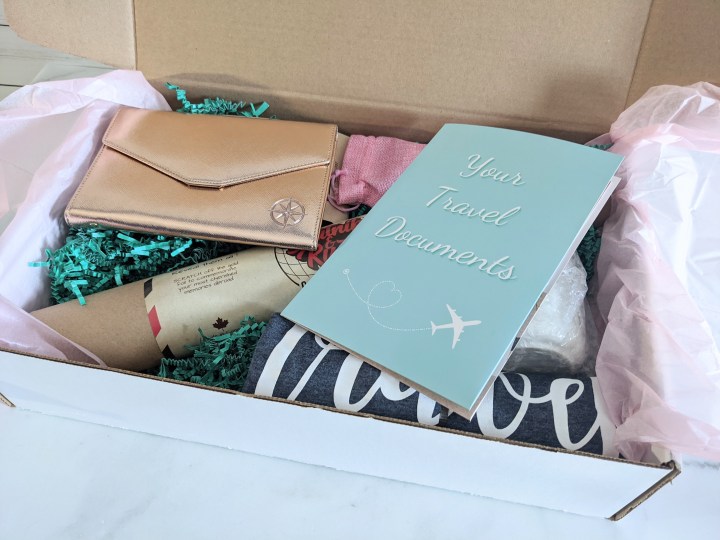 A lot of goodies in this box!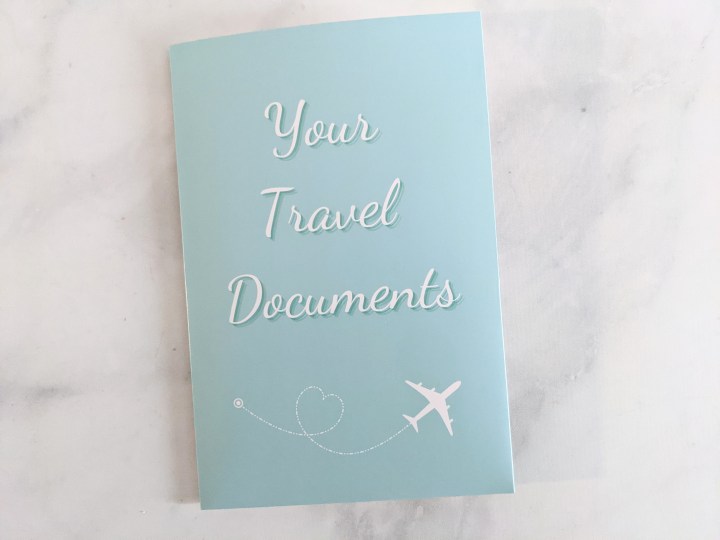 First thing you'll find in your box are Your Travel Documents.
It definitely has a "just got my documents from the travel agency" vibe! I just need my plane ticket!
A personalized Thank You note was included.
I do appreciate when I get this little Thank You note, and this one also serves as a reminder that this whole box is filled with items from Canadian vendors!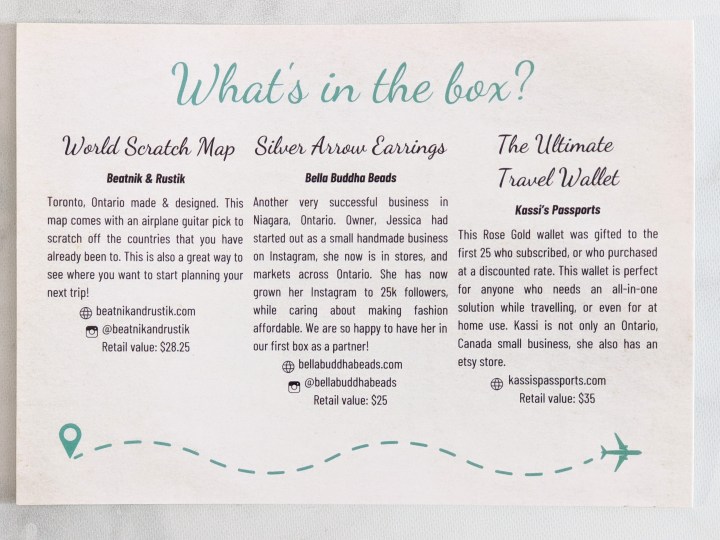 We get a full list of all the items included in the box, as well as the merchant they're from, the retail value and why the items were chosen.
This month's has 6 items, one of which was based on my size and preference. When you subscribe, you have 4 or 5 quick questions to fill in, such as clothing size, ring size, and shoe size.
As this is the first box, the theme is simply "Welcome Box".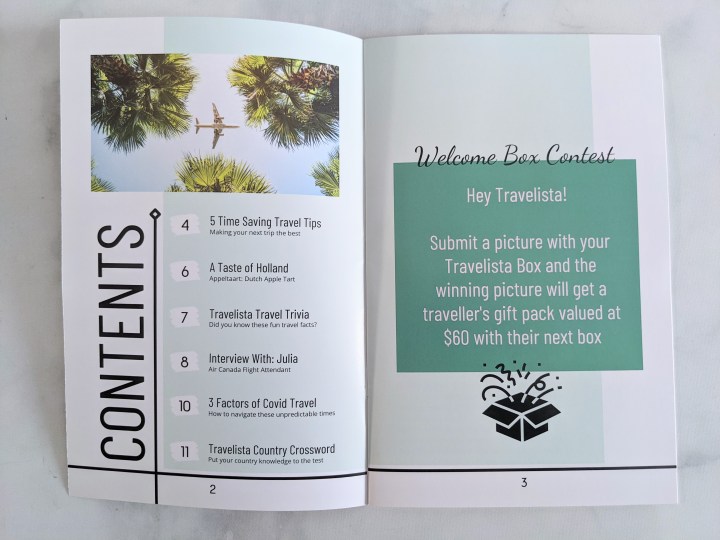 Inside the guide, you have Travel Tips, a recipe (Dutch Apple Tart), and interview with an Air Canada Flight Attendant, and some game and trivia.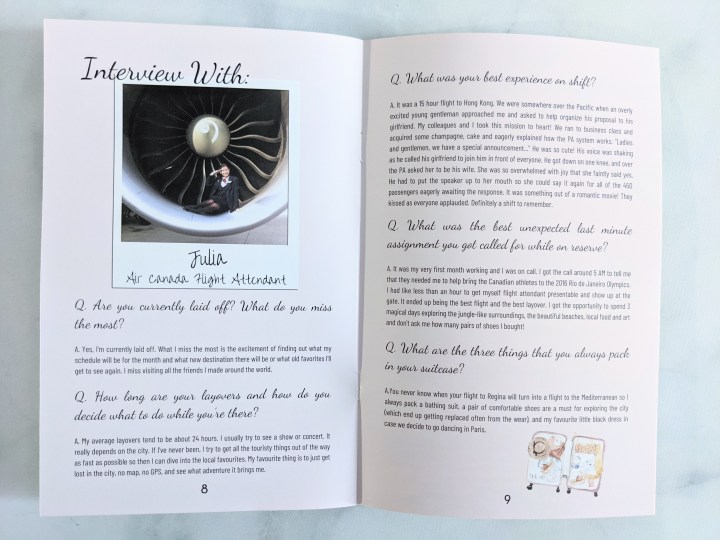 Even in this interview, you get some travel tips (bring a bathing suit, a pair of comfortable shoes and a little black dress!)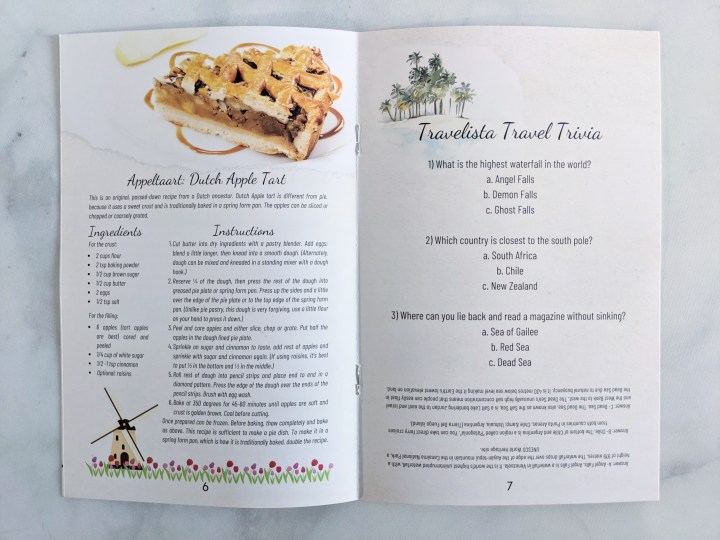 And the Appeltaart looks delicious!
At the back of "Your Travel Documents", you have this fun little bingo card. Honestly, I was ONE square away from a couple of Bingos!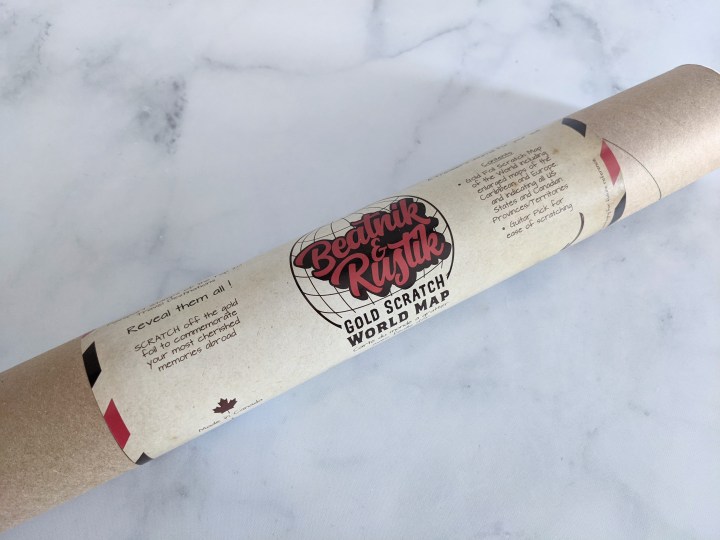 World Scratch Map by Beatnik & Rustik. At a size of 16.5″x24″ (59cm x 42cm), this scratch map is big enough to nicely showcase all the places you've visited, while still not taking a whole wall to do it!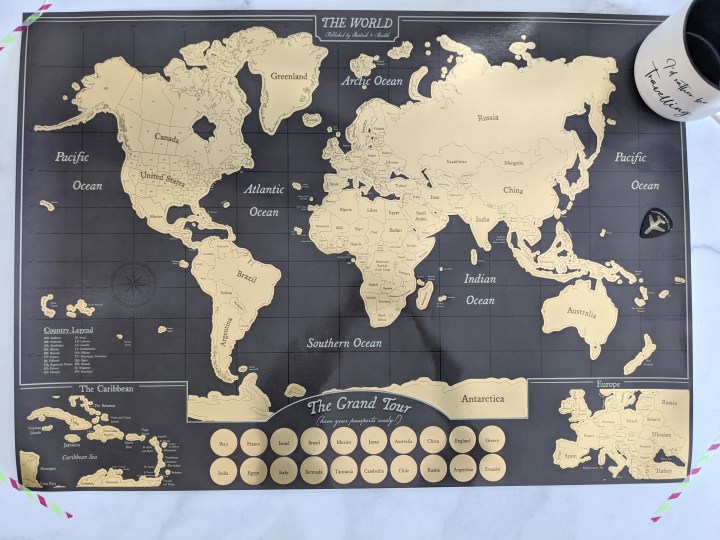 There are zoom views of the Caribbean and Europe, as well as a Grand Tour bucket list.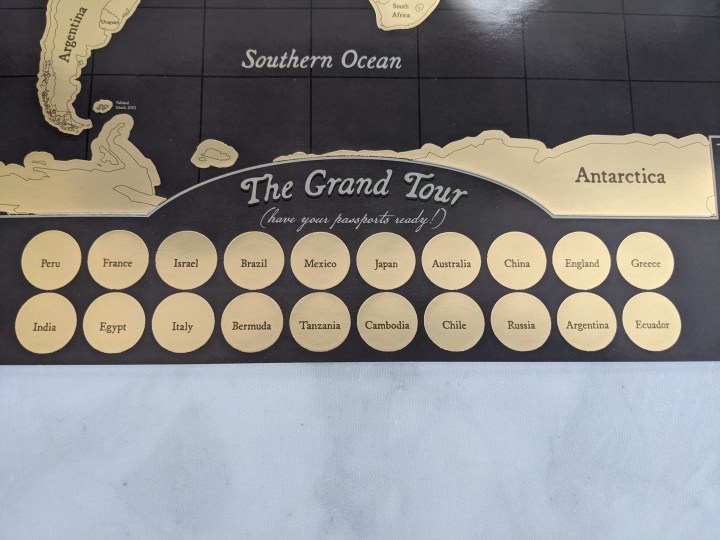 I really have some traveling to do to get them all!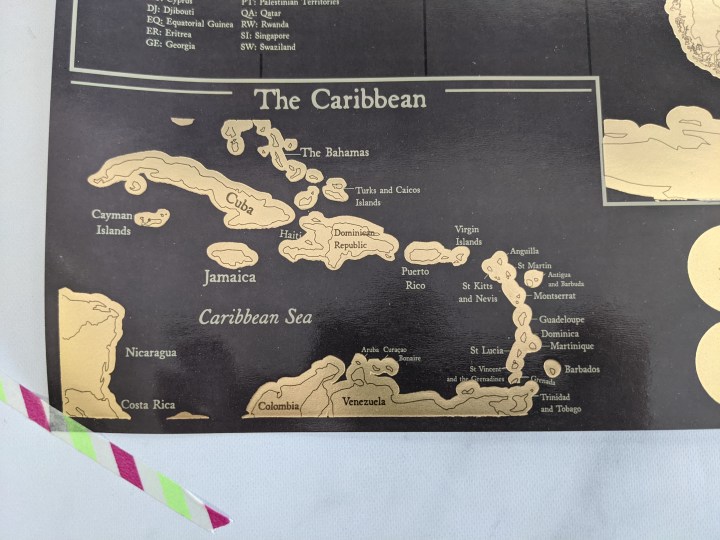 The Caribbean map really gives us room to scratch.
It comes with a Guitar Pick for ease of scratching (not pictured.)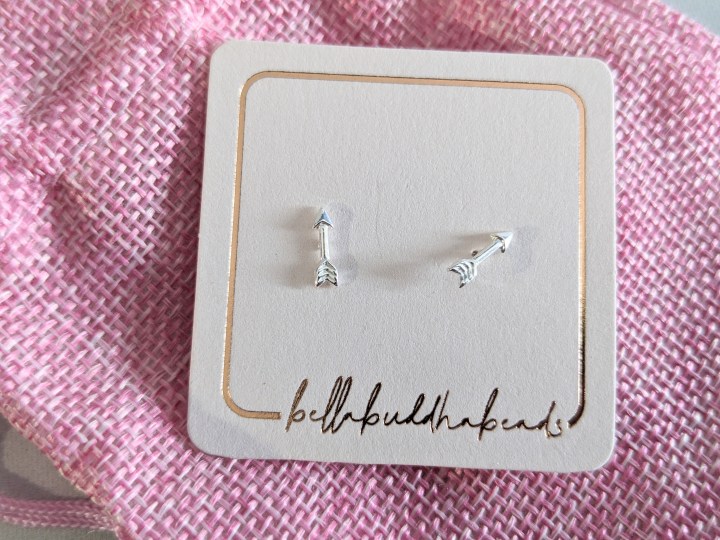 Silver Arrow Earrings from Bella Buddha Beads. Sterling Silver Arrow earrings, they are hypoallergenic and won't tarnish.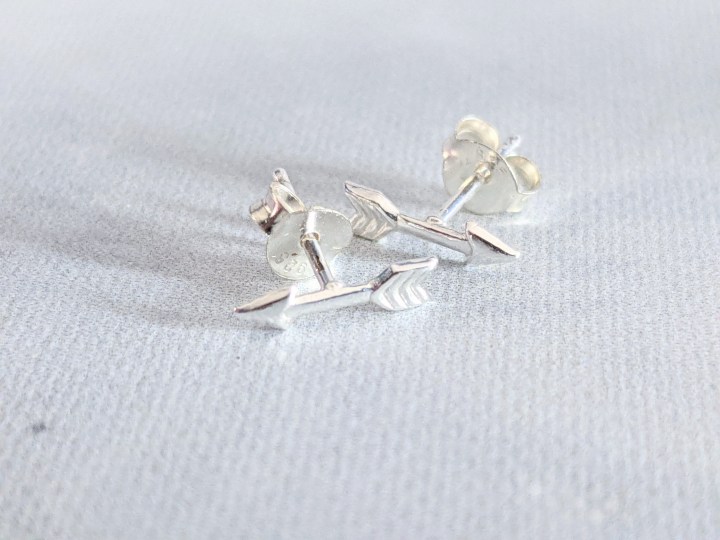 They are small and cute, they perfect accessory to travel wherever you want.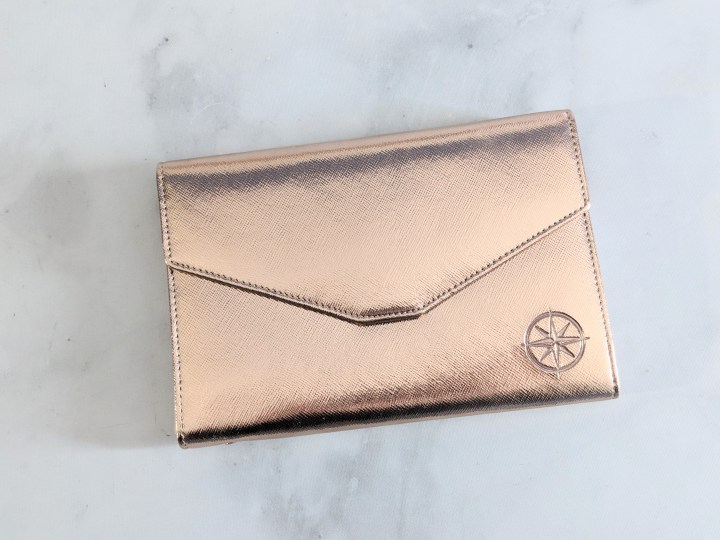 The Ultimate Travel Wallet by Kassi's Passports. This Rose Gold wallet is perfect for travelling or just running errands.
It has a cute Embossed Compass and it's made of leatherette.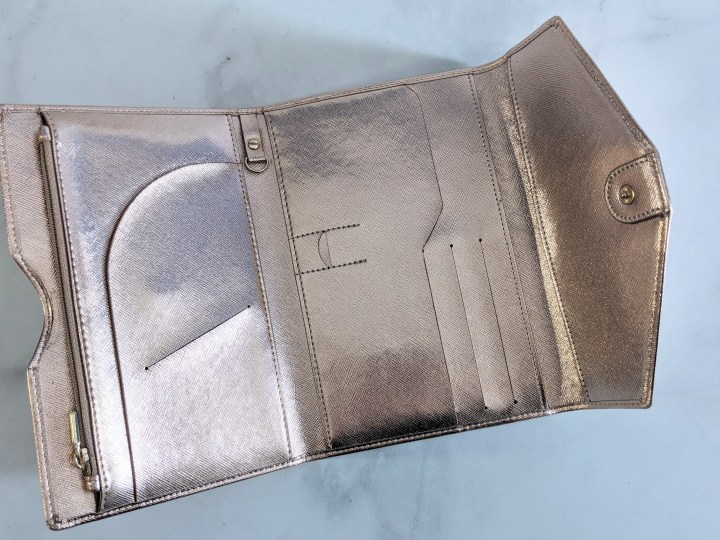 It can hold one to two passports, up to 8 credit cards, cash, boarding passes or documents. It has pockets everywhere to keep everything easily accessible and protected. This is a wallet I want to show off.
Las Rosas Balzac's Amber Roast Coffee by Balzac's Coffee Roasters. Coffee!!! Wherever you go in the world, coffee is a universal language! Balzac's was the first coffee company in Canada to become certified with LEAF (Leaders in Environmentally Accountable Foodservice), a certification program dedicated to improve the environmental practices of the foodservice industry.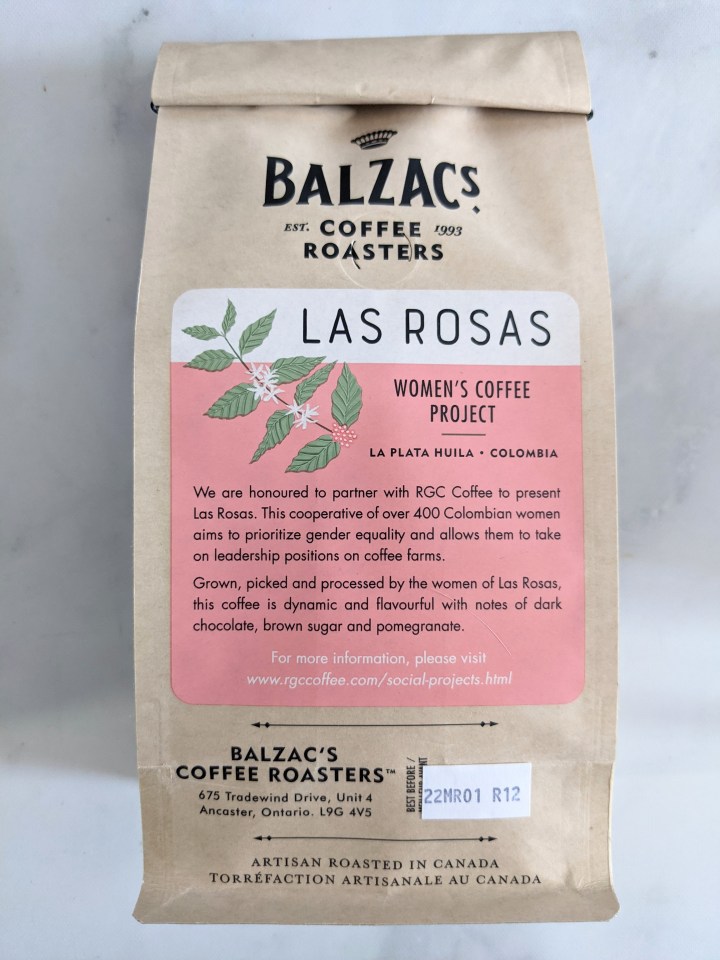 This coffee is apart of the Women's Coffee Project and supports equal working rights for women in Colombia.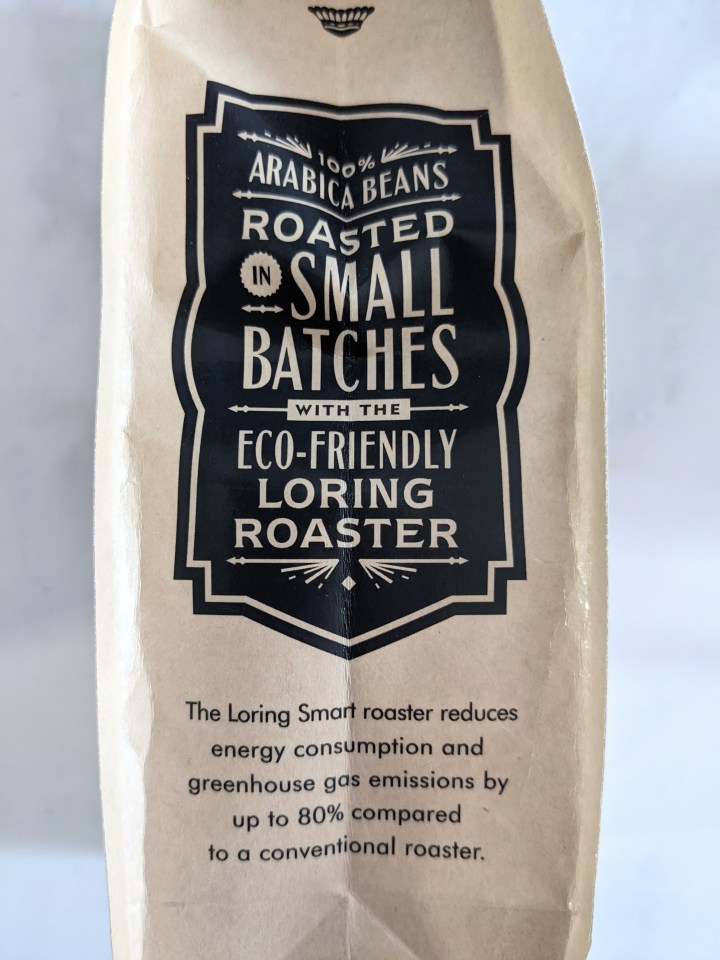 It also uses a roasting process that reduces energy consumption and greenhouse gas emissions by up to 80% compared to conventional coffee roaster.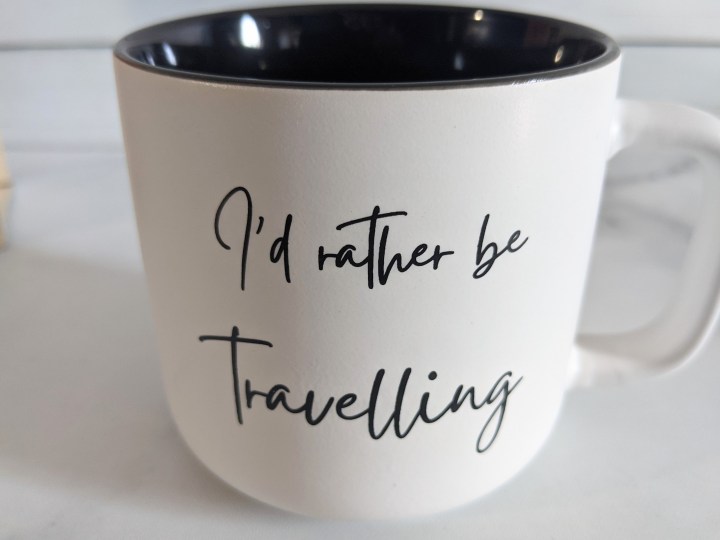 I'd Rather Be Travelling Mug designed and made by Travelista Box. Better drink our delicious coffee in an appropriate mug! This lovely and simple 14 oz mug is perfect for these times when travelling is NOT an option. But we can still complain about it! This mug will be available soon on the Travelista website.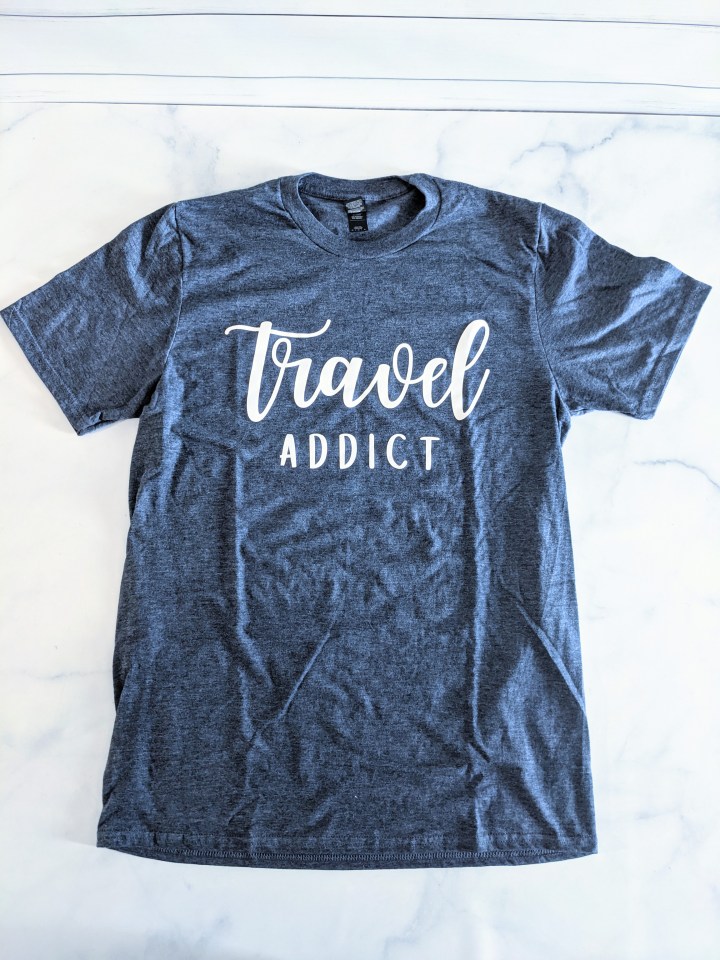 Travel Addict T-Shirt designed by Travelista Box and produced by Entripy Canada. An other exclusive item made just for this box, this t-shirt has a relaxed fit and is very soft. There were two color options for this t-shirt : dark (navy) and light (turquoise).
Note: the sizes for this box are unisex. I'm usually a size medium, and this shirt is big! I don't mind baggy clothes, and it's quite comfortable. But I could have size down easily.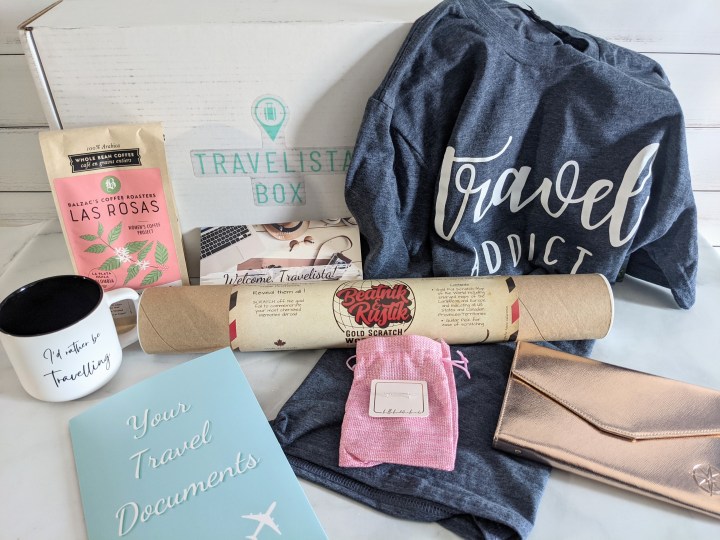 This was a lovely "Welcome Box". I love the simplicity of both the t-shirt and the mug design, and it's perfect for people who can't travel at the moment. The Scratch Map is a nice reminder of all the places you've visited, and where you want to go once the borders open up again. I love that even though it's a box about travel, every item can be used or worn without traveling per se. Even the Passport Wallet can make a cute wallet for those who wants to spice up their daily outing! The next box theme is "We Are the North: Canada" and I can't wait to see what it'll bring us.
What do you think of the Travelista's Box?