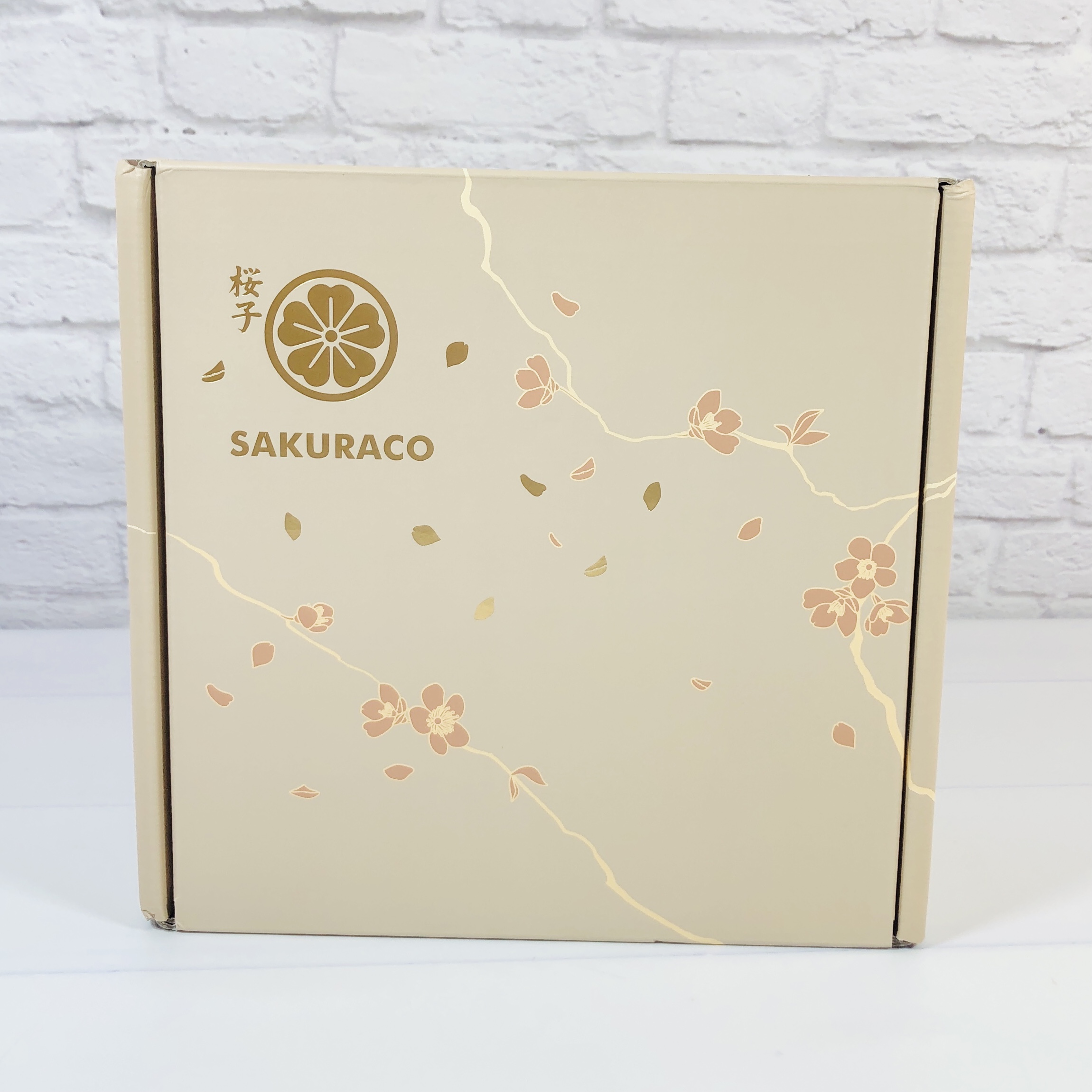 Sakuraco is a monthly box of authentic Japanese snacks, tea, and even home goods sent directly from Japan! There will be 20 items in each box and may include mochi, senbei, candy, and cake. The box will be curated to a theme but you know it's going to be fun and tasty. Sakuraco ships worldwide. The box is $37.50 a month with prices dropping for longer terms. This is a sister box to TokyoTreat, but a bit more upscale in looks, less kawaii or juvenile, and curated towards afternoon tea time.
DEAL: Through 3/31, use the coupon code GRANDPT2 to get 2 Bonus items for the lifetime of your subscription!
Get 2 bonus items in all boxes when you sign up for a monthly plan!
Get 2 bonus items in all boxes + $9 permanent discount when you sign up for 3 month plan!
Get 2 bonus items in all boxes + $31 permanent discount when you sign up for 6 month plan!
Get 2 bonus items in all boxes + $31 permanent discount when you sign up for 12 month plan!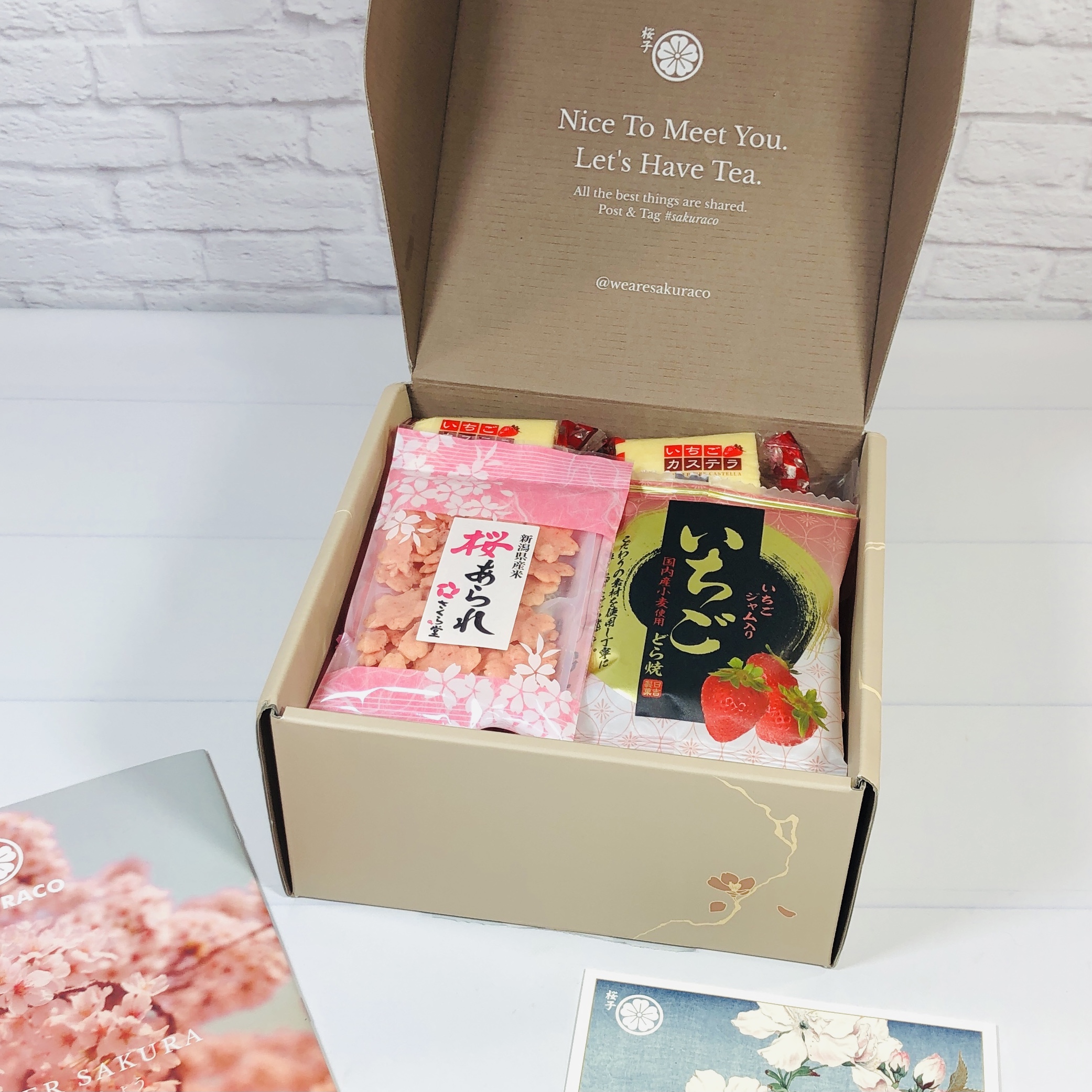 This is the debut box from Sakuraco!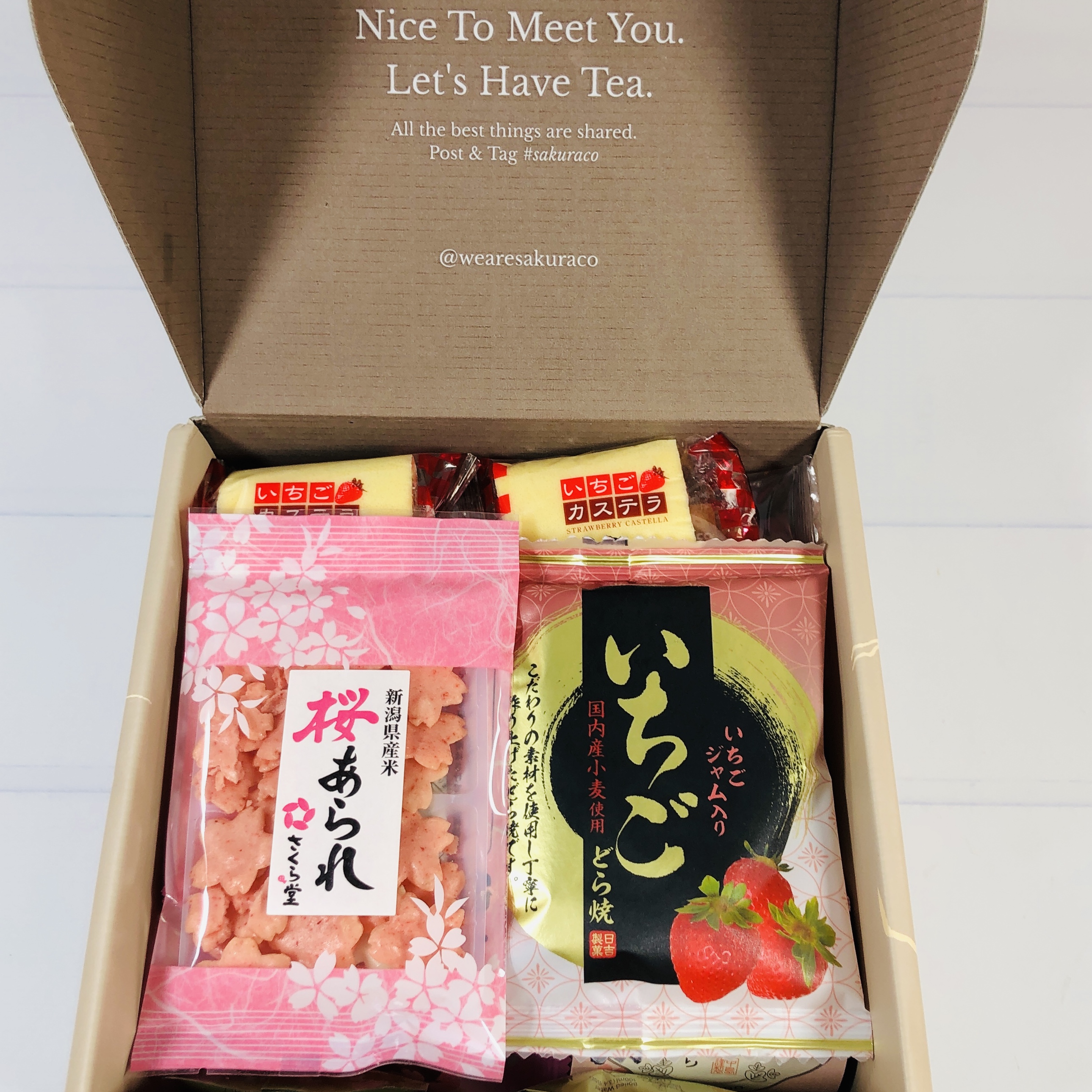 It was packed to the very top, and looked so lovely, in shades of pink. Sakura is, after all, the Japanese word for cherry blossoms!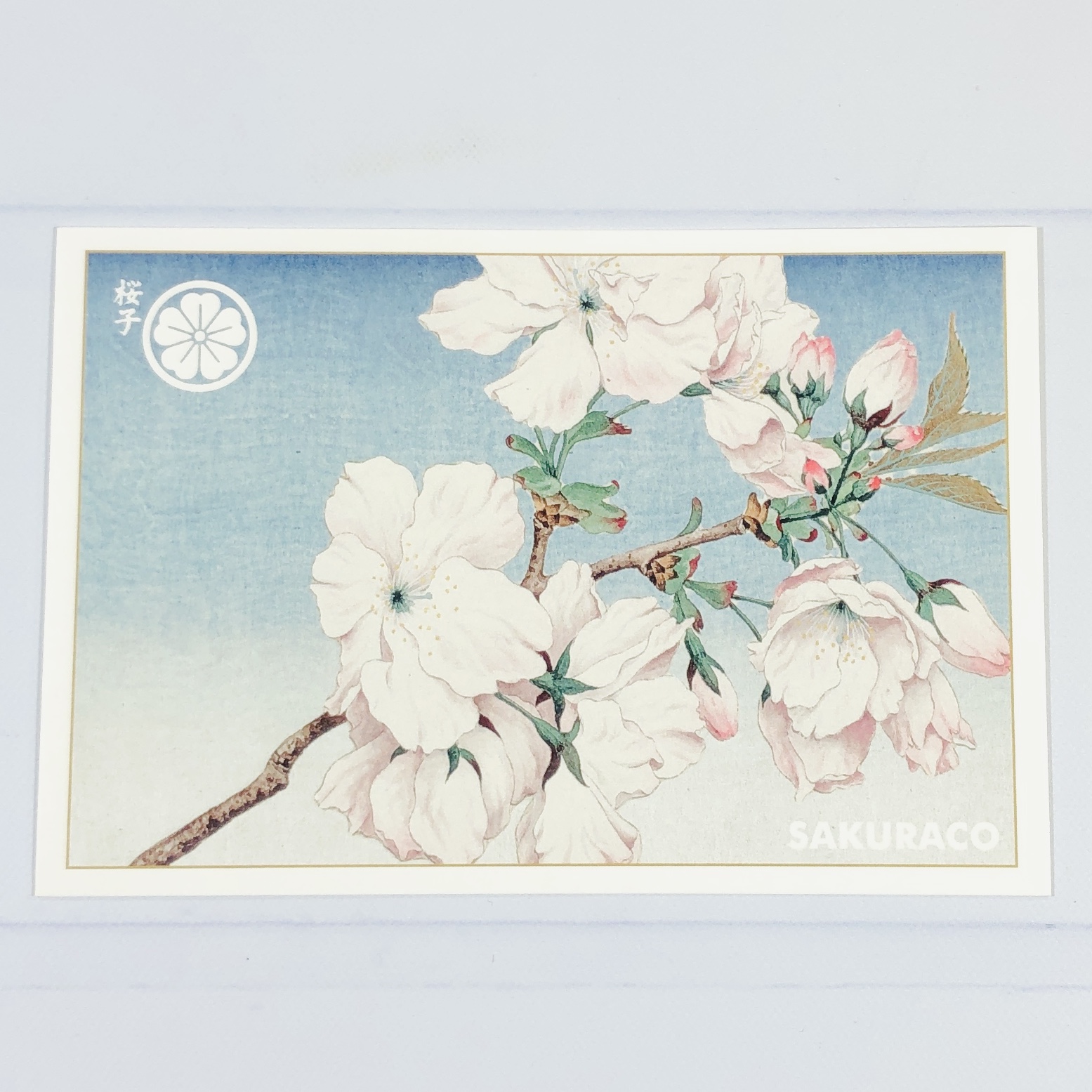 Our first insert would double as desk art.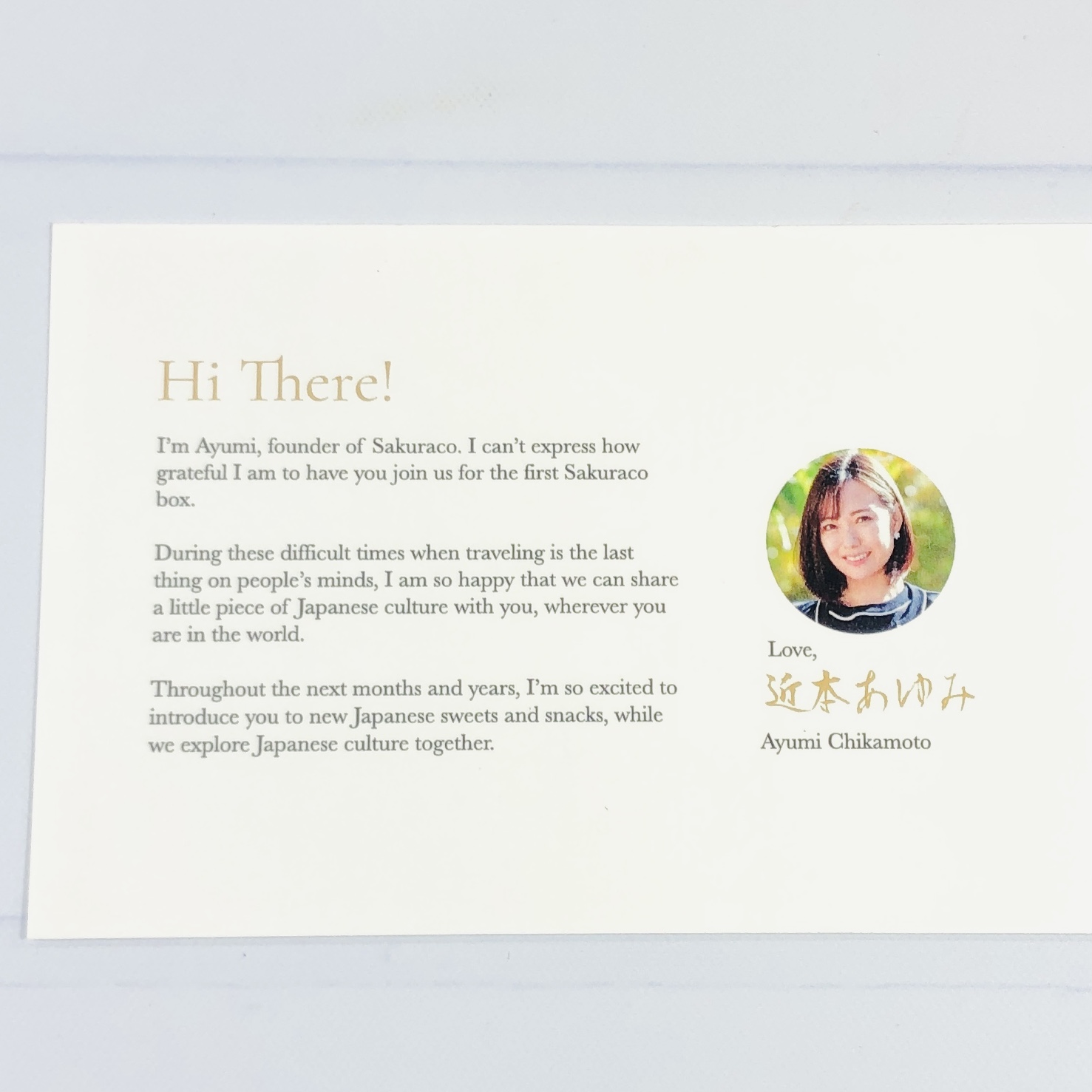 The back of the card had an intro from the founder of Sakuraco.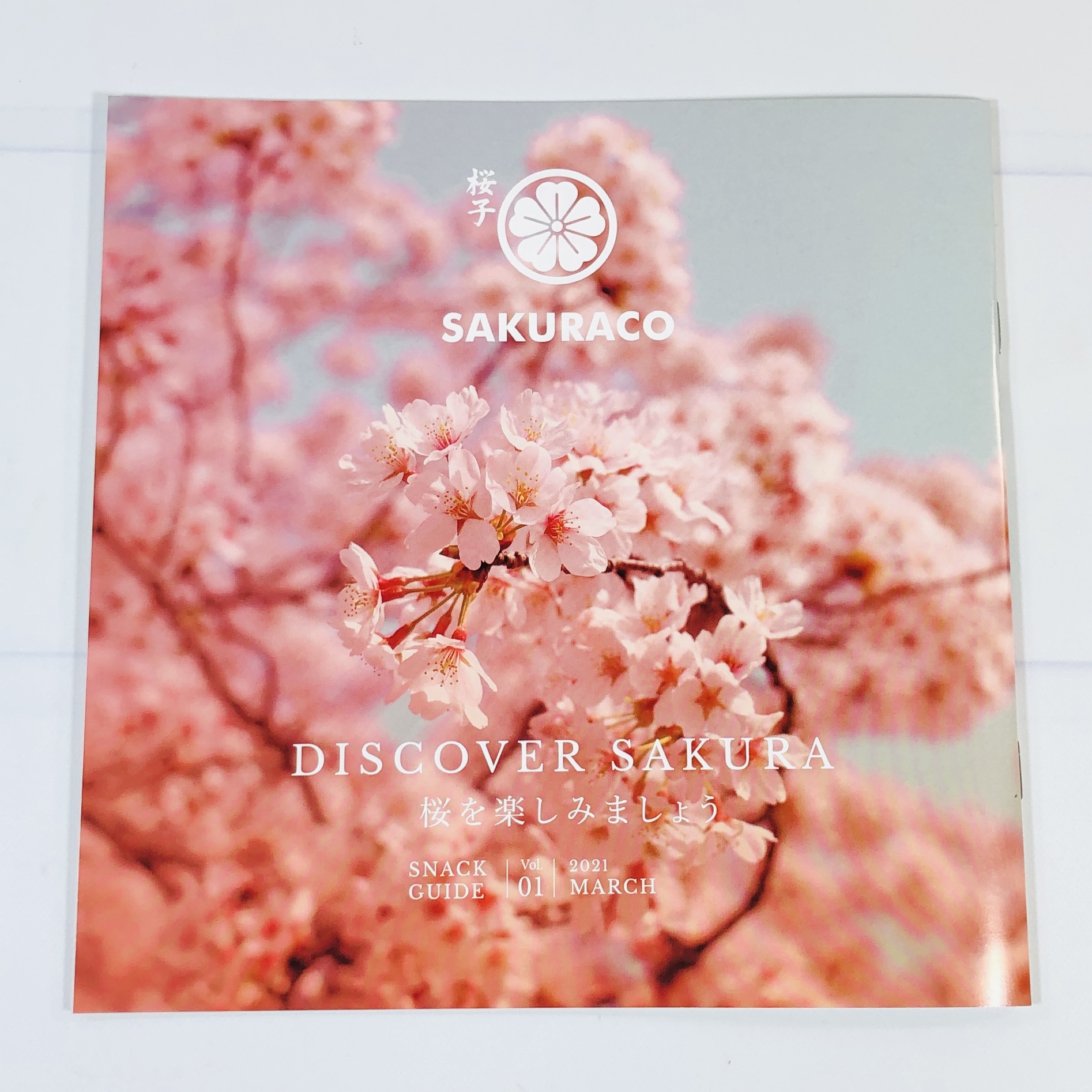 The Snack Guide is a beautiful companion to the box, full of colorful pictures of the snacks and culture of Japan. In Japanese fashion, the book is read from back to front. The theme for this box is Discover Sakura!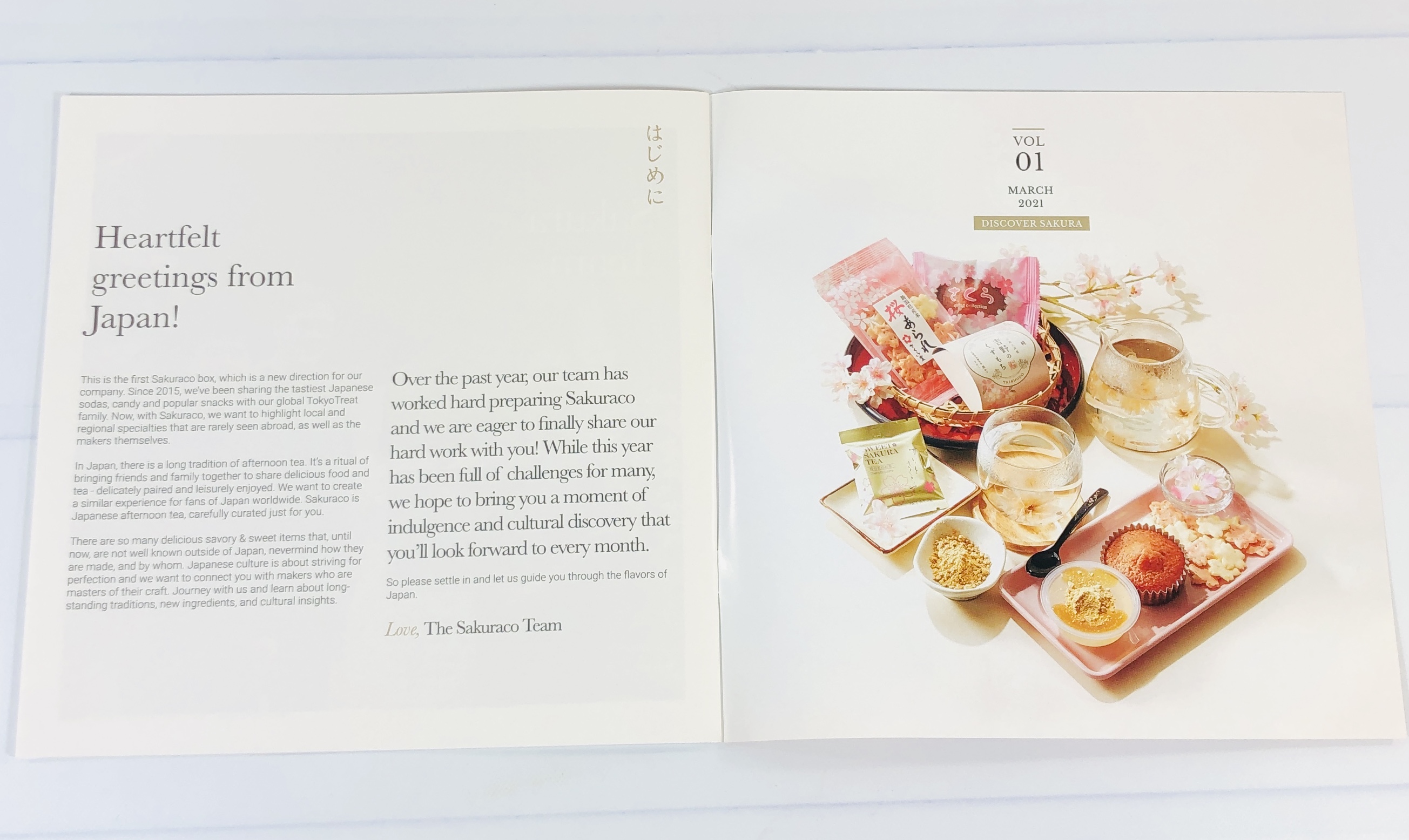 There was an intro that described the mission of Sakuraco and how it compares to TokyoTreat.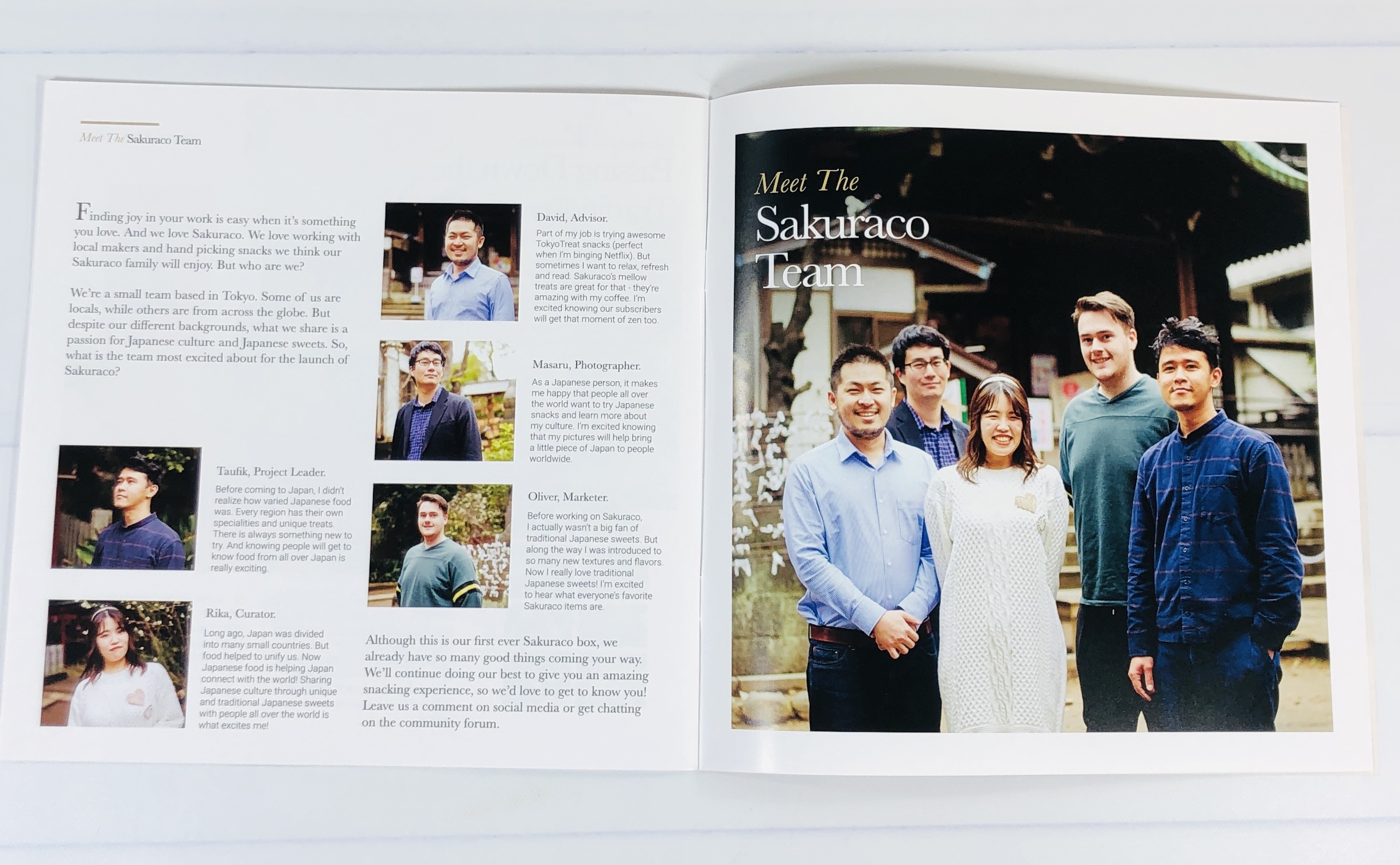 Meet the team behind the box!
Sakuraco aims to teach us about the makers behind the treats.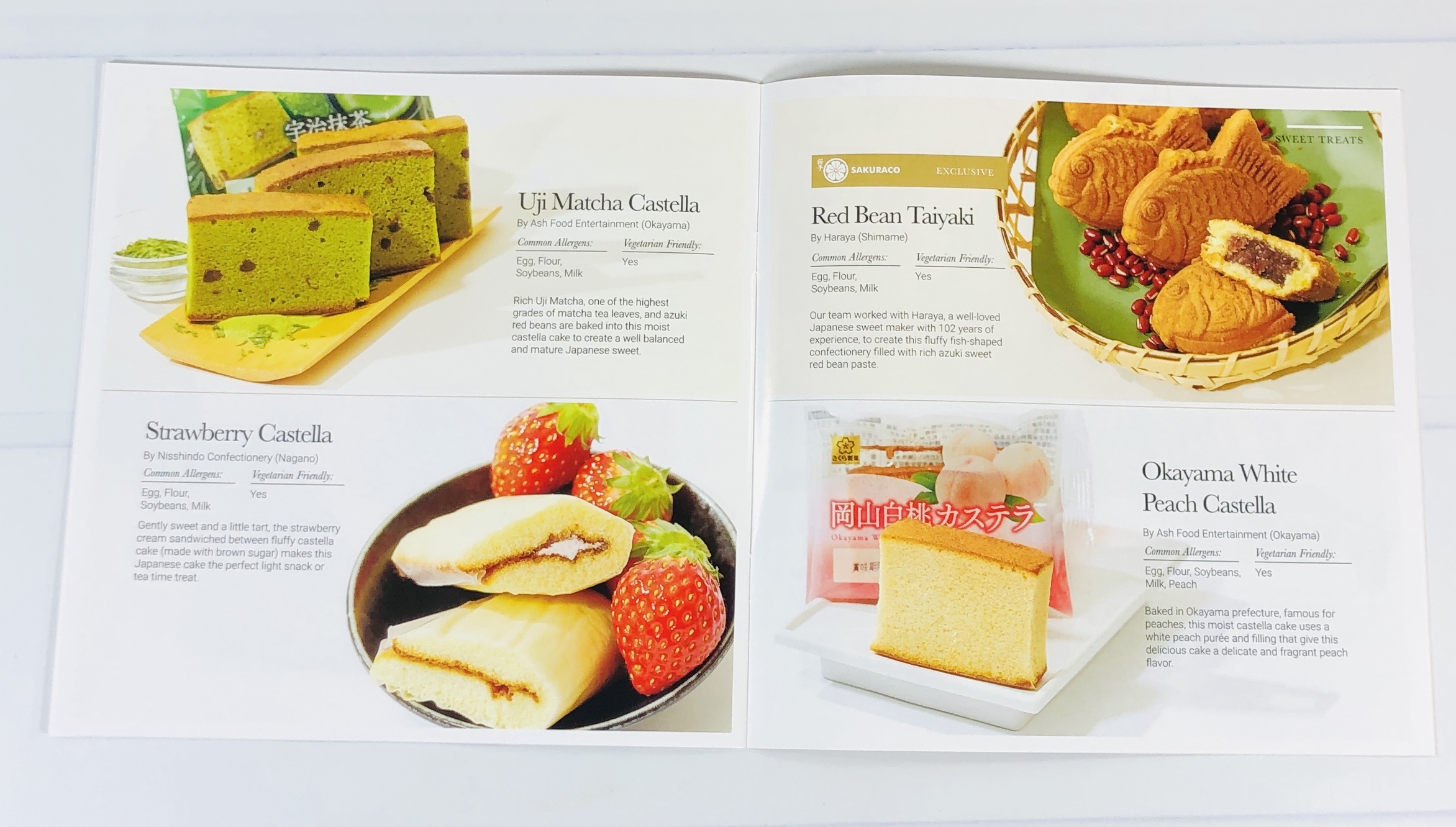 The next several pages describe the snacks.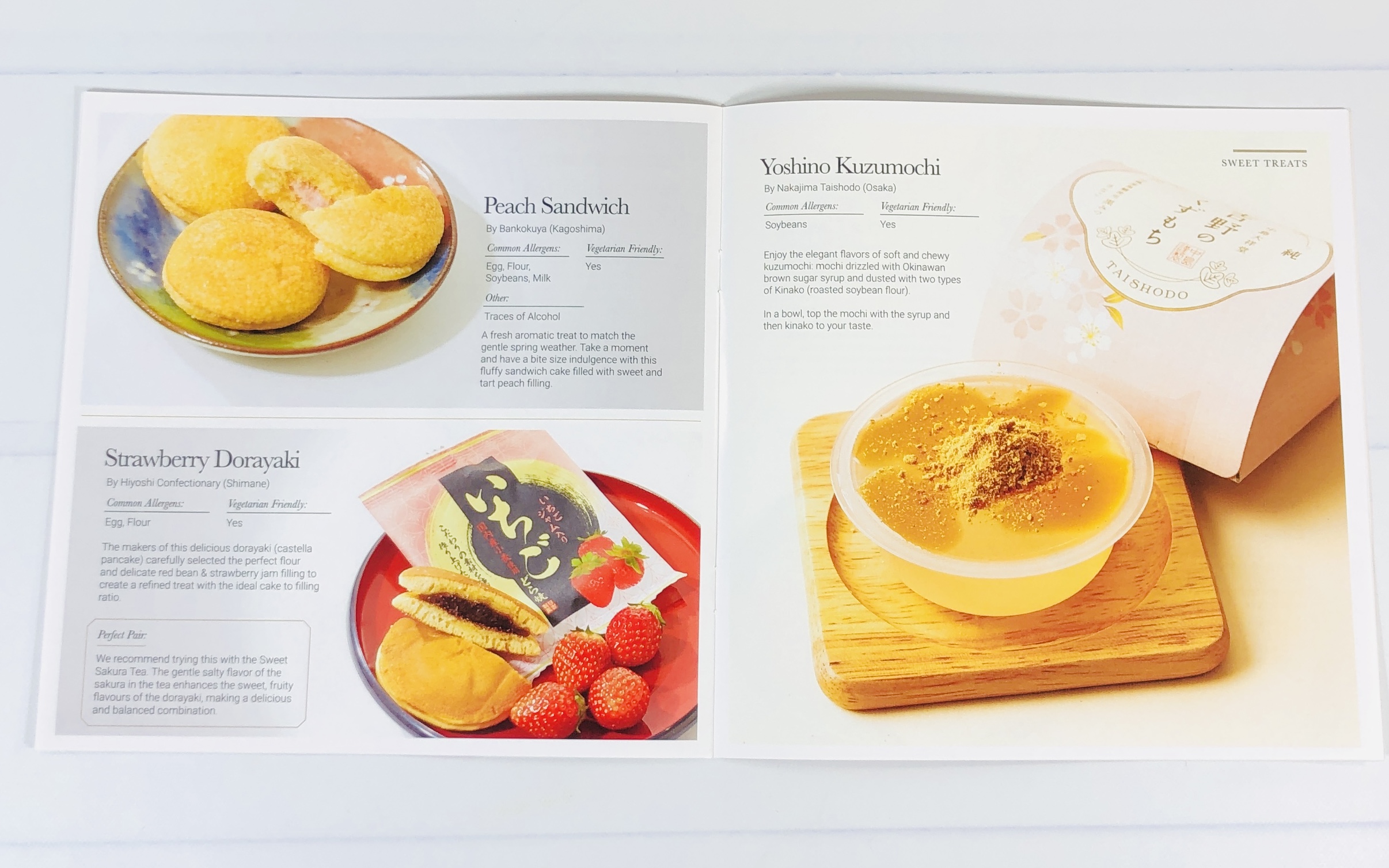 It lists common allergens and whether it's vegetarian friendly.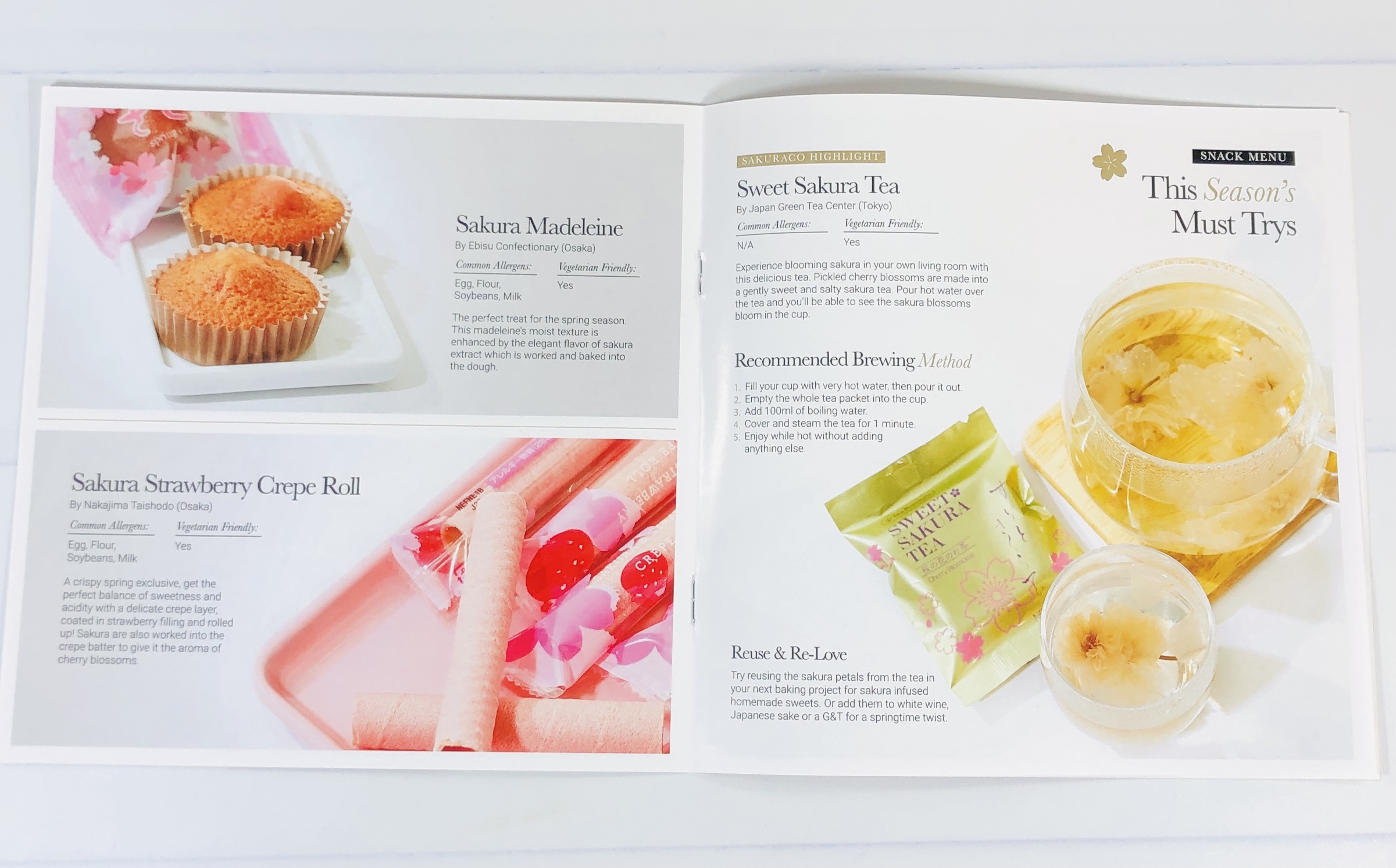 Each snack is shown and there is even directions for steeping the tea.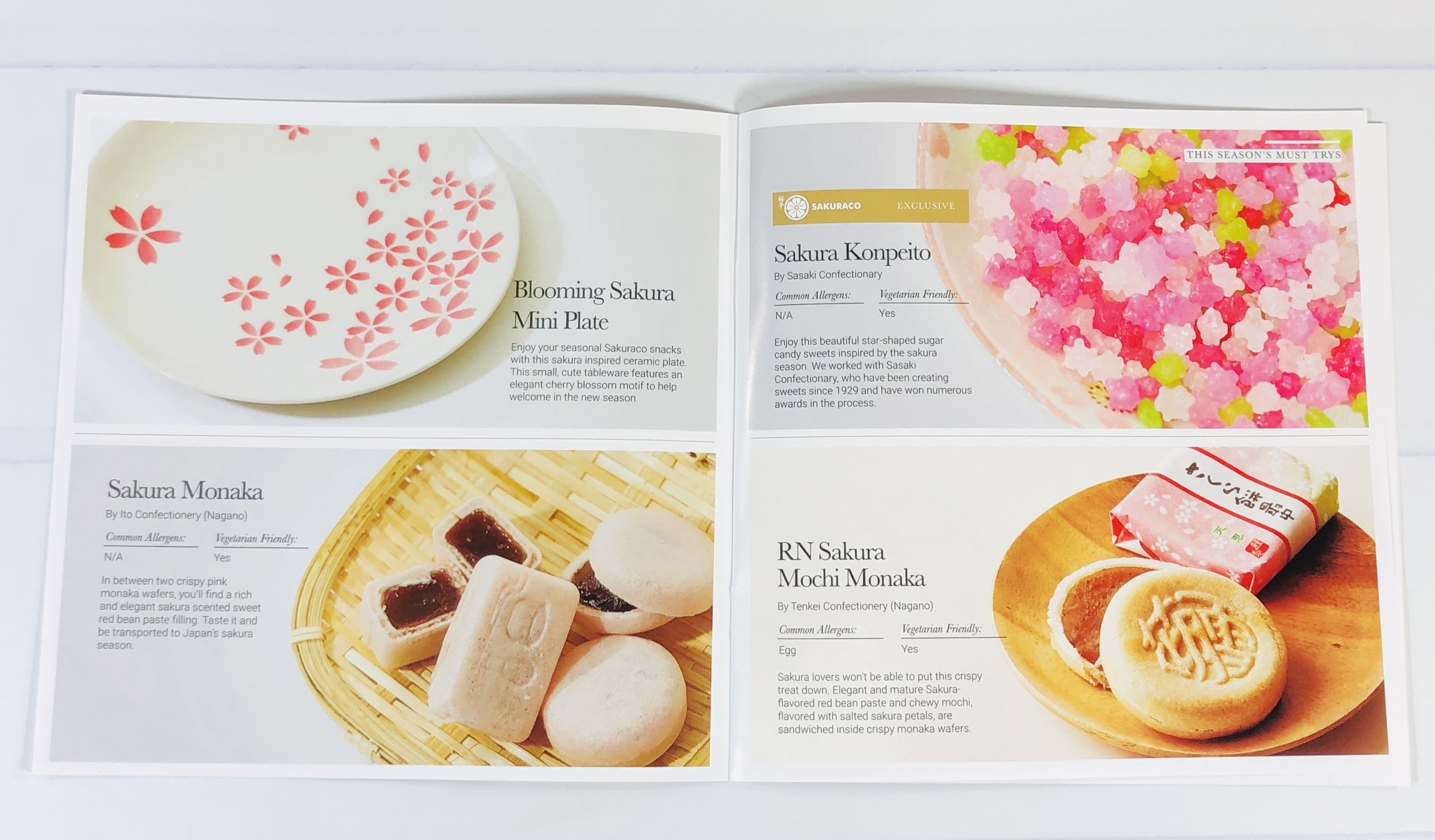 I even received a plate in this box!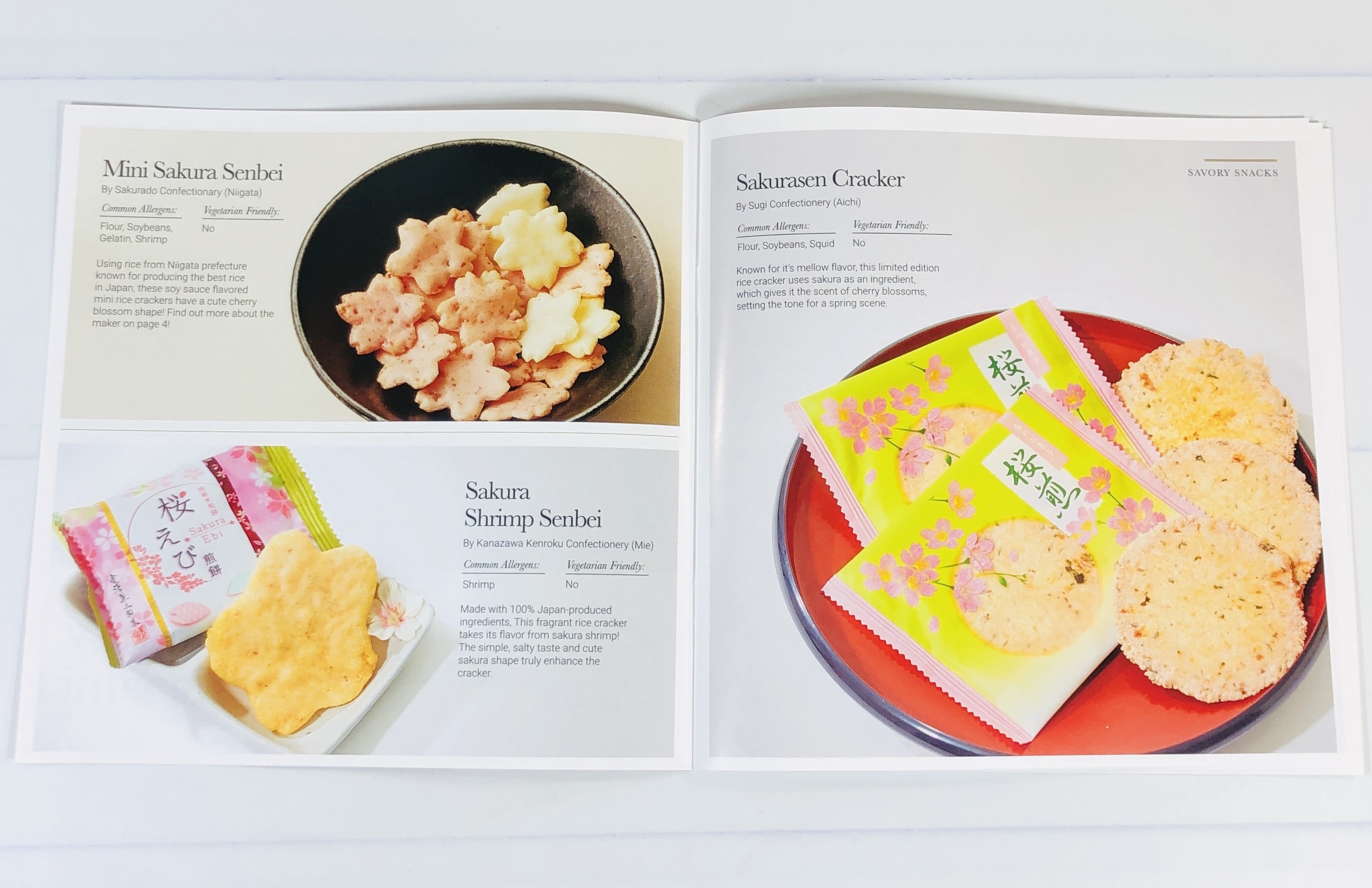 So many snacks!
Here we learn about cherry blossom viewing.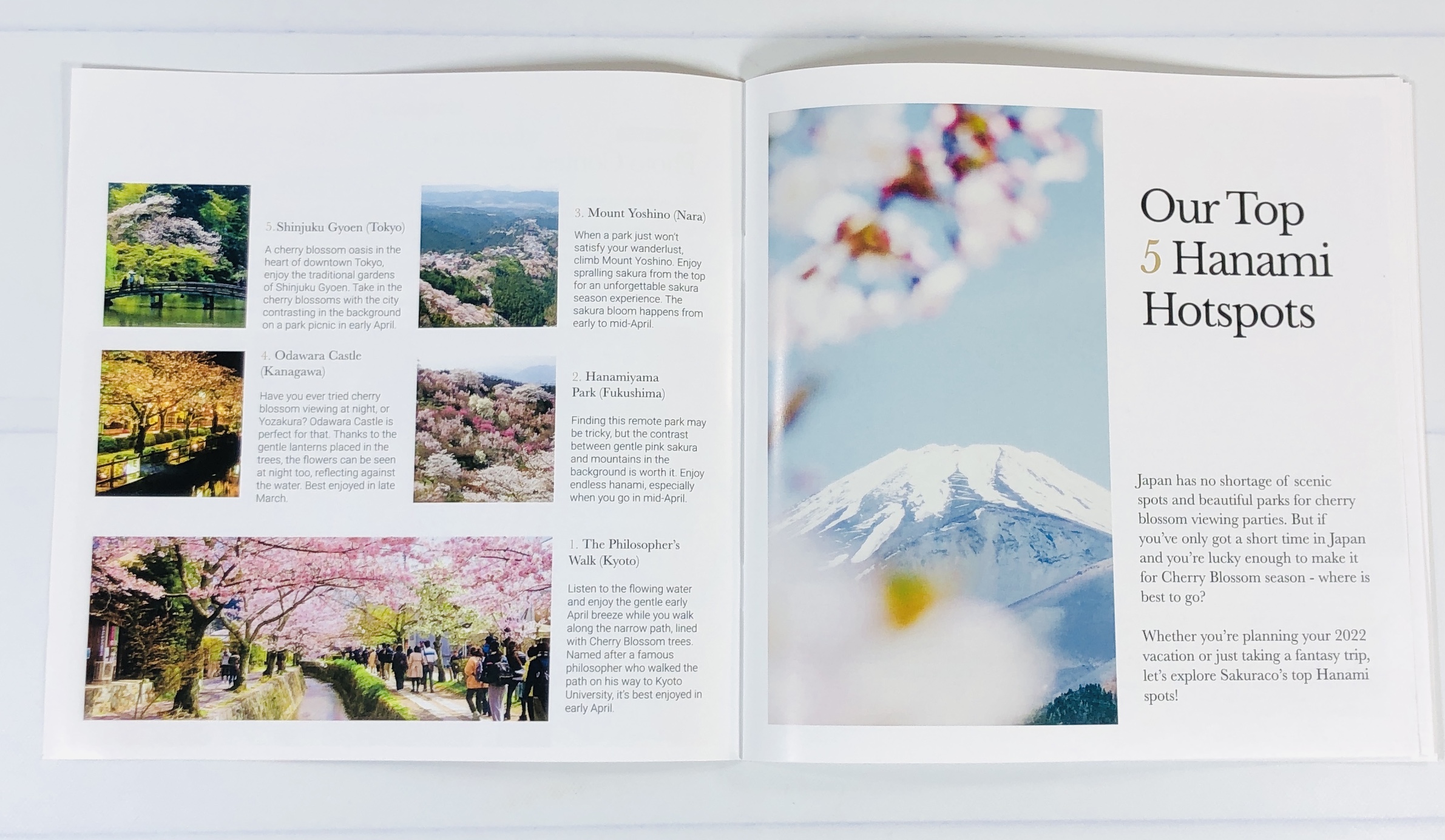 These spots are supposed to have the best views.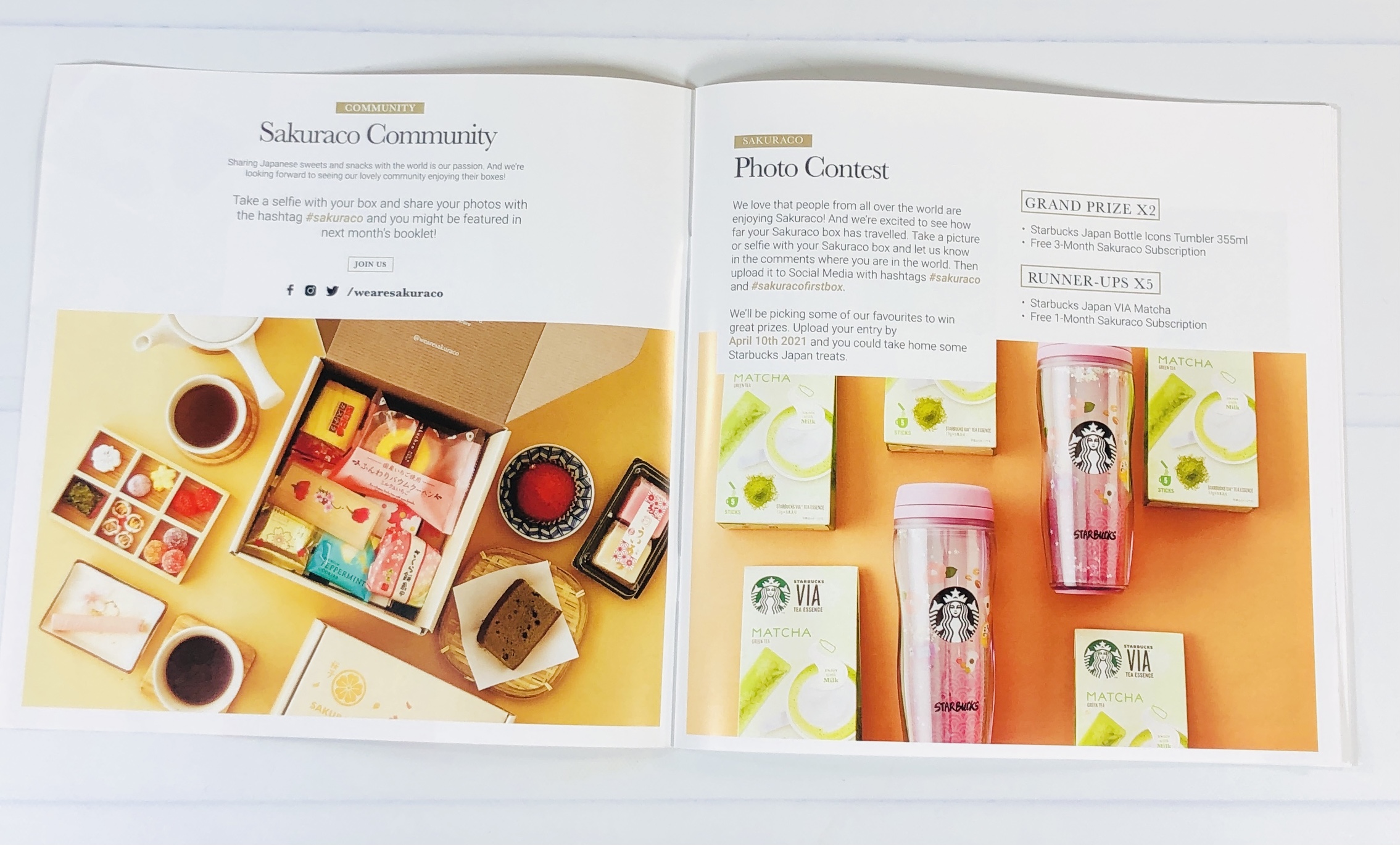 Details on a giveaway and how you might get your picture shown in future booklets were noted.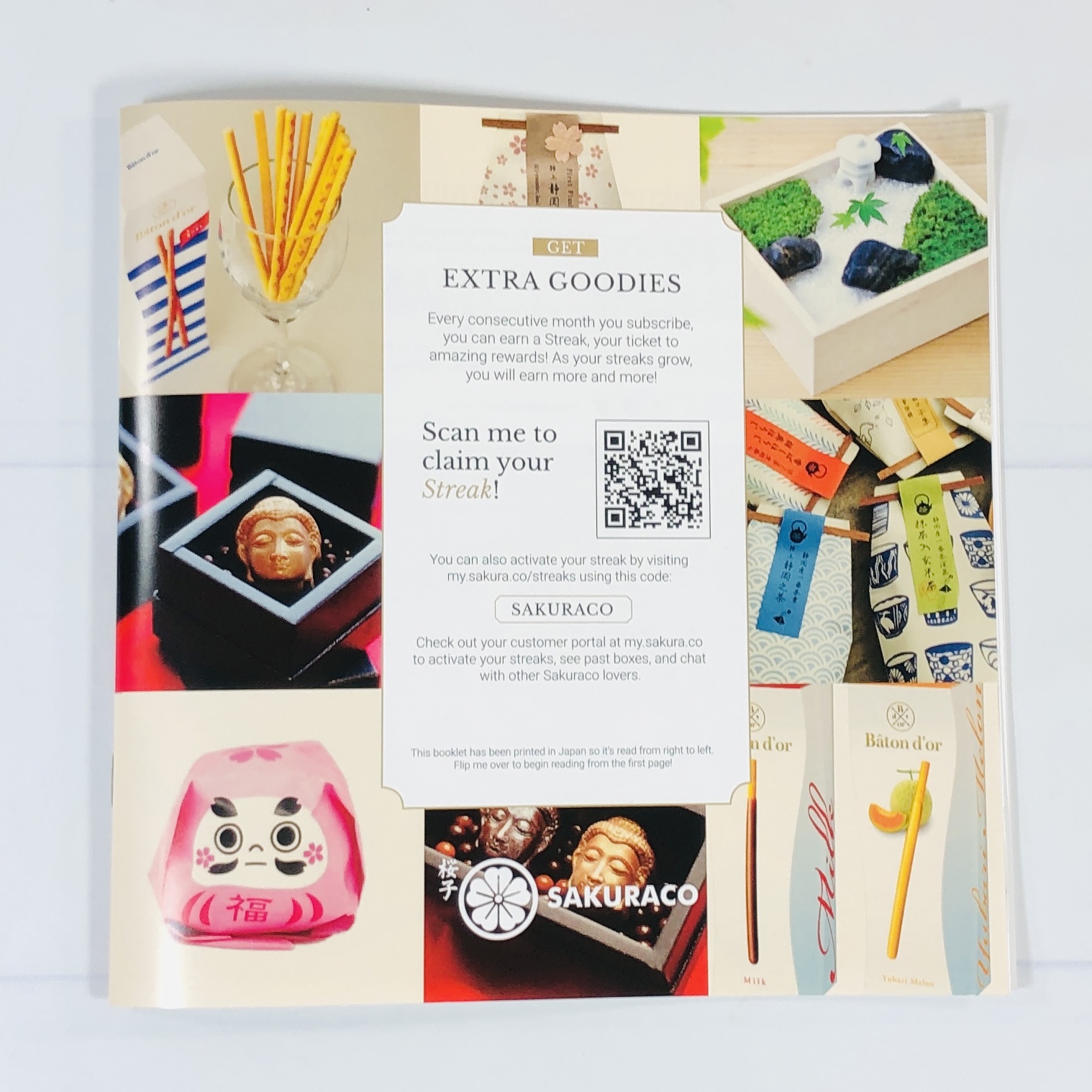 Earn tickets for bonus rewards, learn all about it by scanning the code.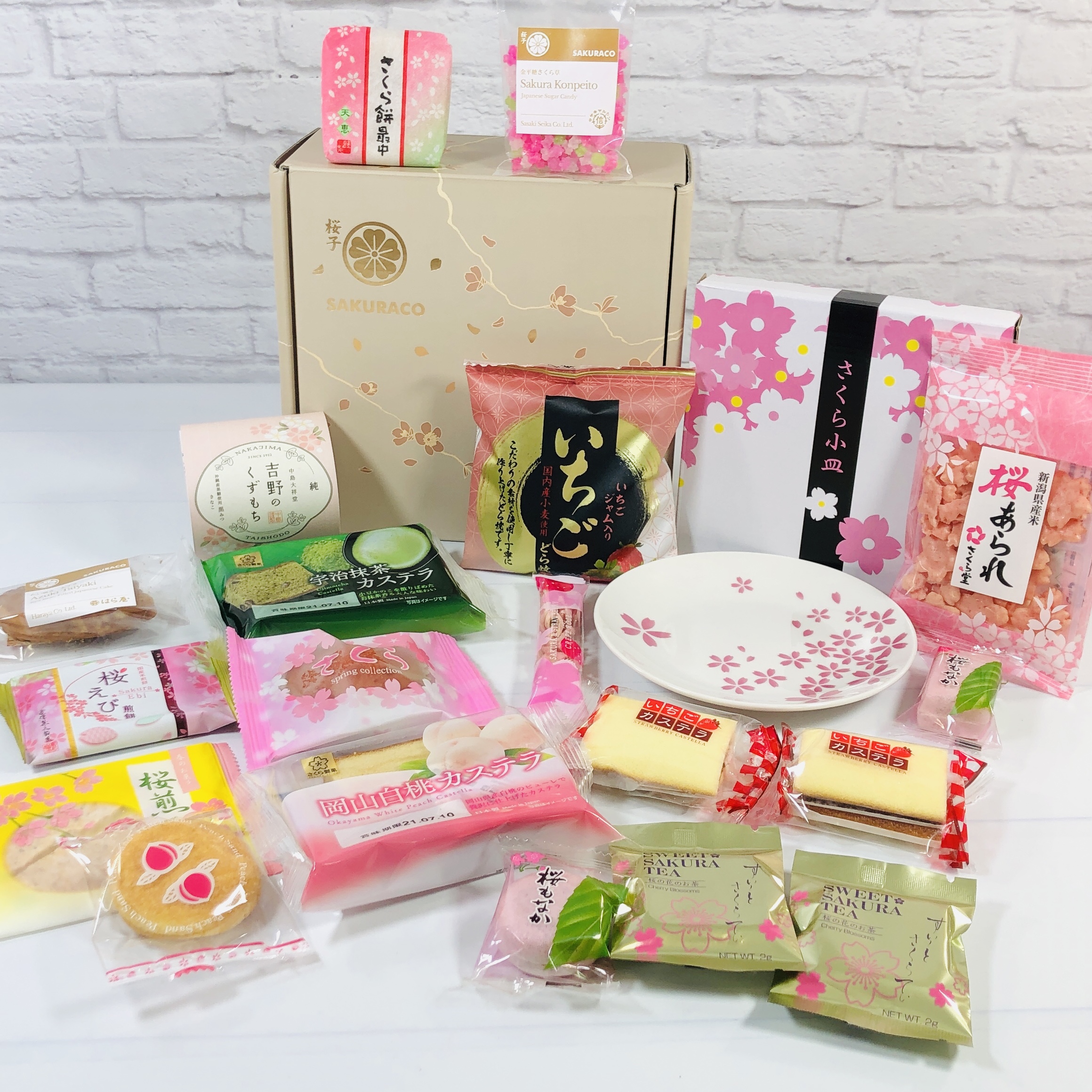 Everything in my Sakuraco March 2021 box!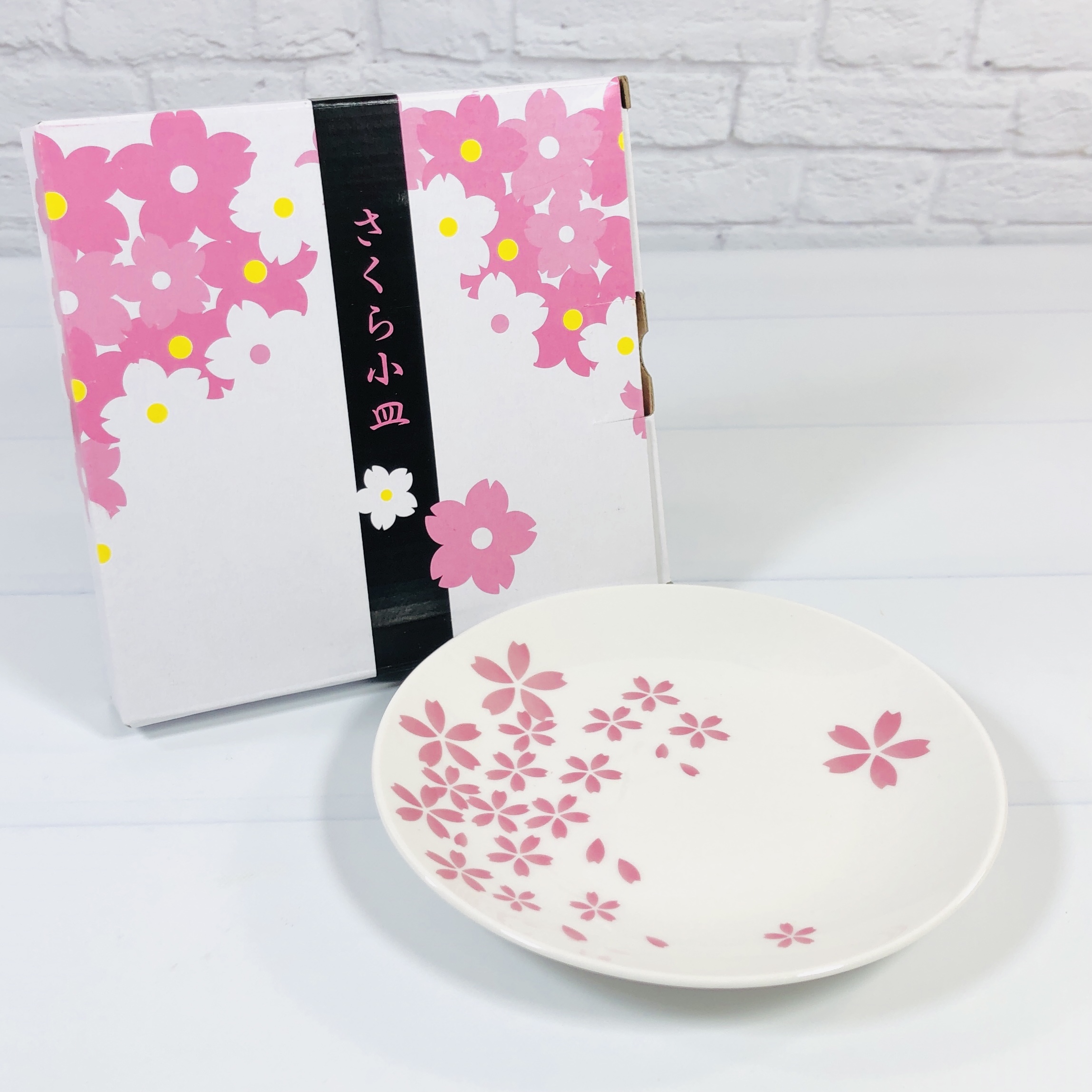 Blooming Sakura Mini Plate I wasn't expecting to find a plate in my box! This one is dessert sized and too cute!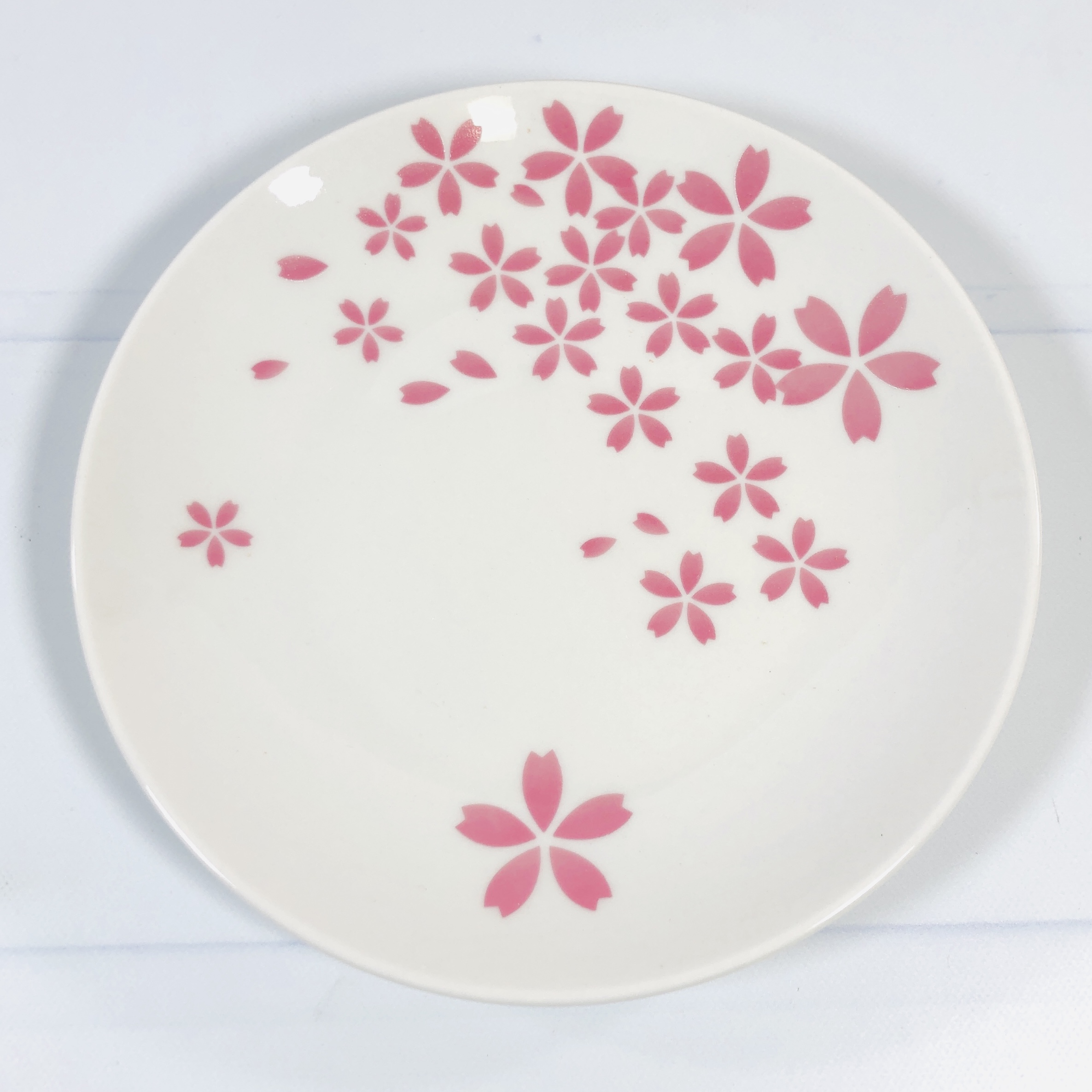 It is made of porcelain and has pink cherry blossoms all over. The plate is 6″ wide.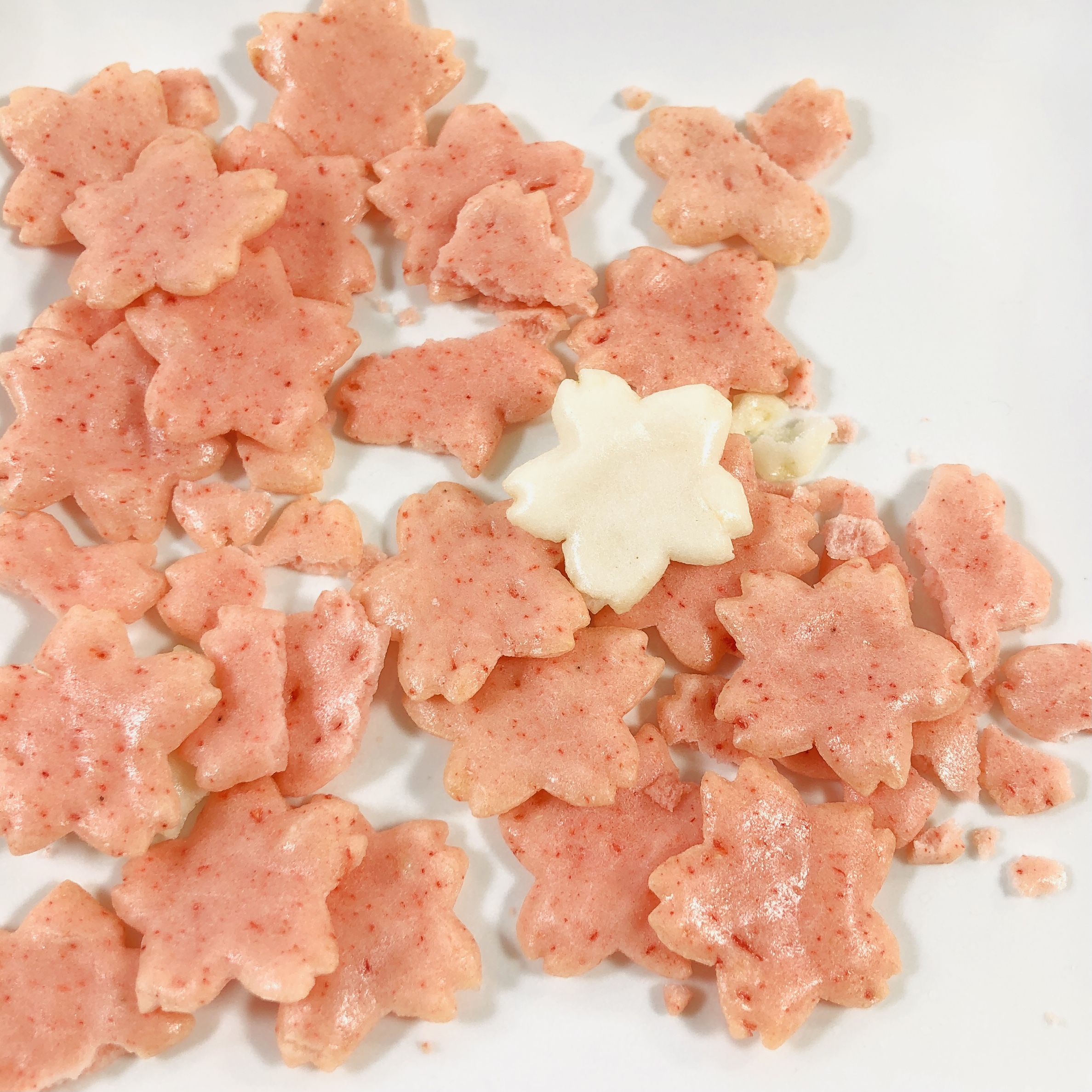 Mini Sakura Senbei Senbei are rice crackers and these have a lightly shrimpy flavor, plus, aren't they so cute? From what I can tell, the white crackers taste the same as the pink.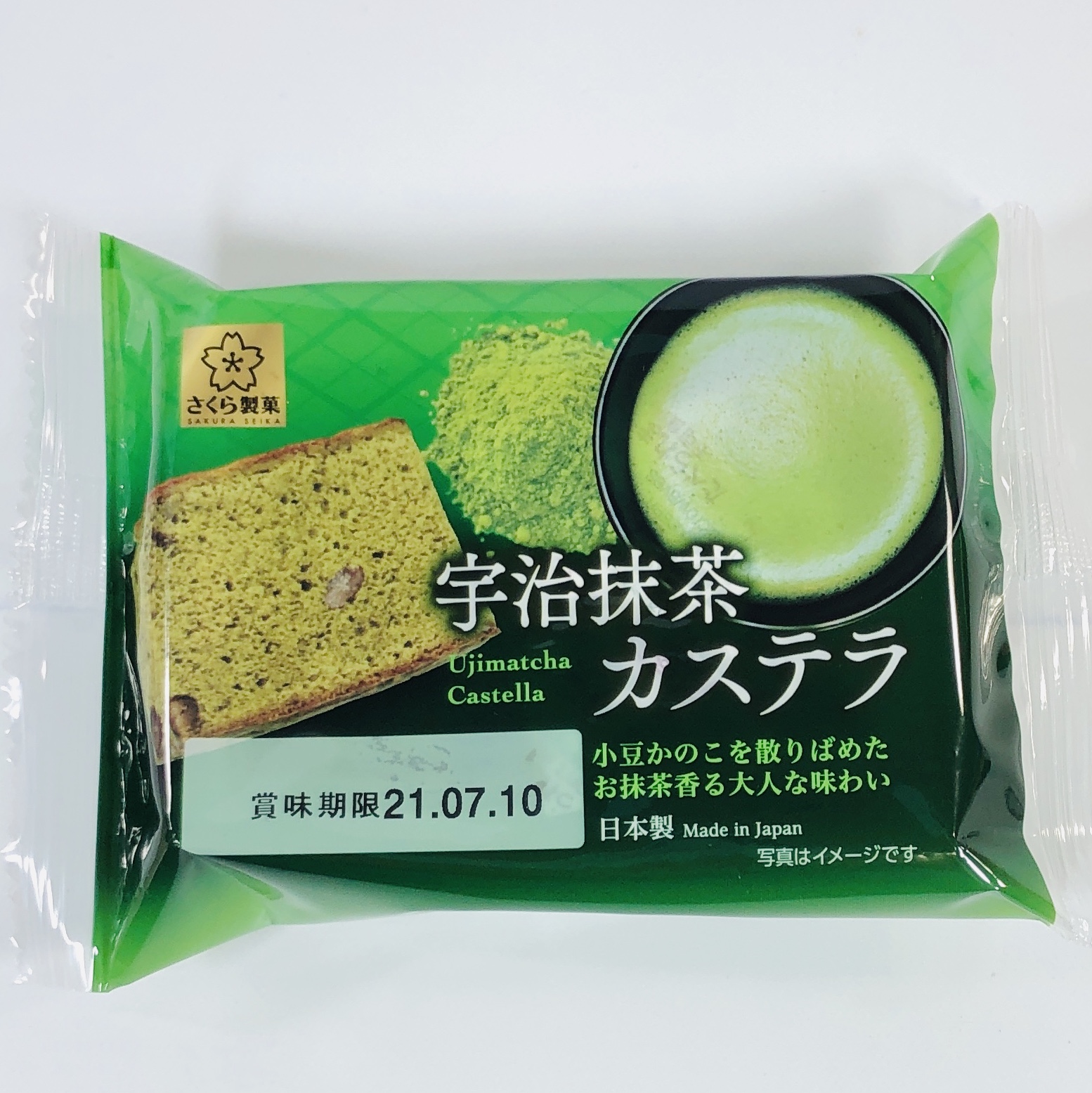 Uji Matcha Castella is a soft, moist pound cake that has ground matcha tea throughout and azuki red beans here and there. This is perfect for matcha fans but even I, who am not into matcha, quite liked it.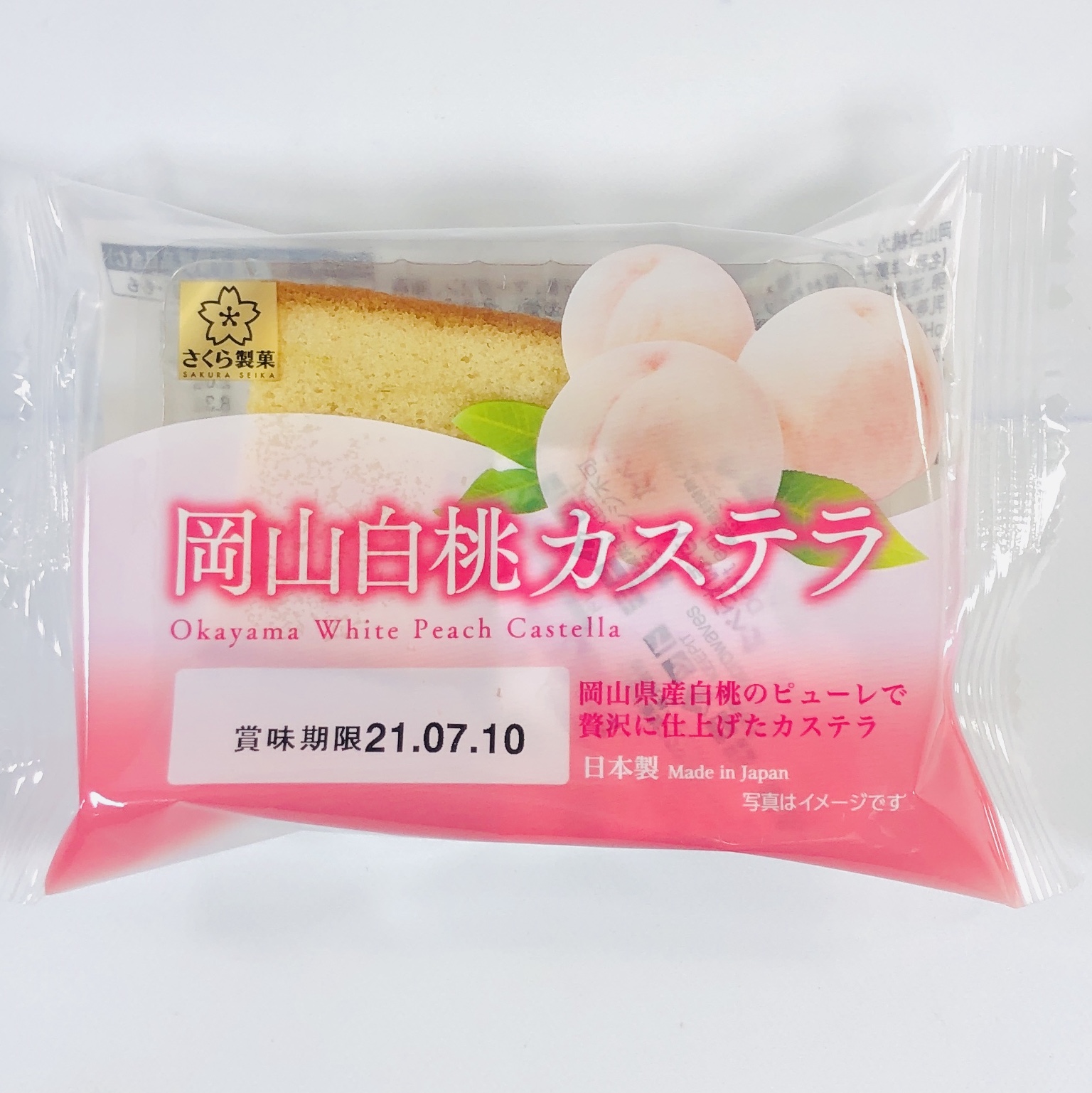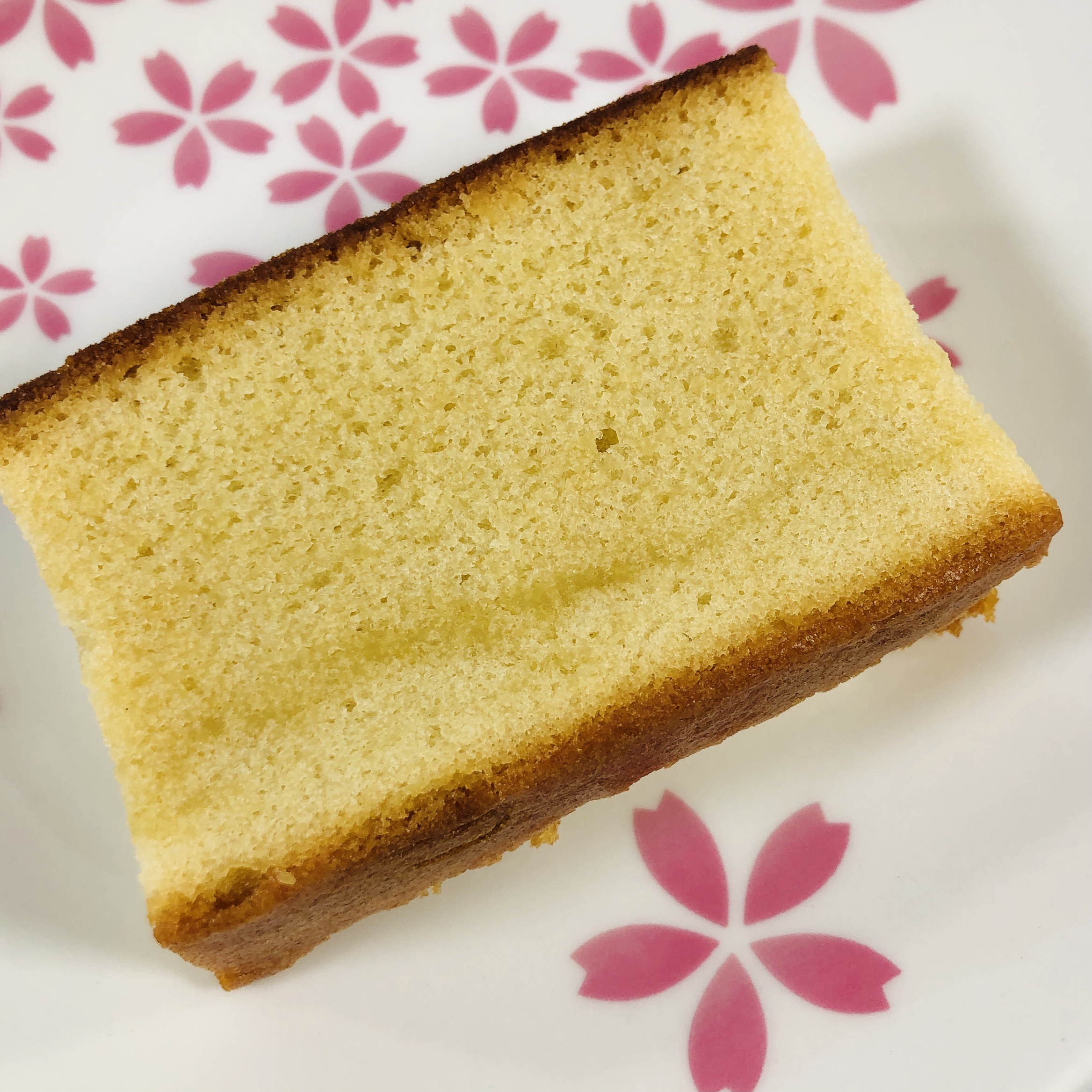 Okayama White Peach Castella Imagine the most moist, buttery pound cake you've ever tried, and you might come close to this one. It has a delicate peach flavor and practically melts in my mouth.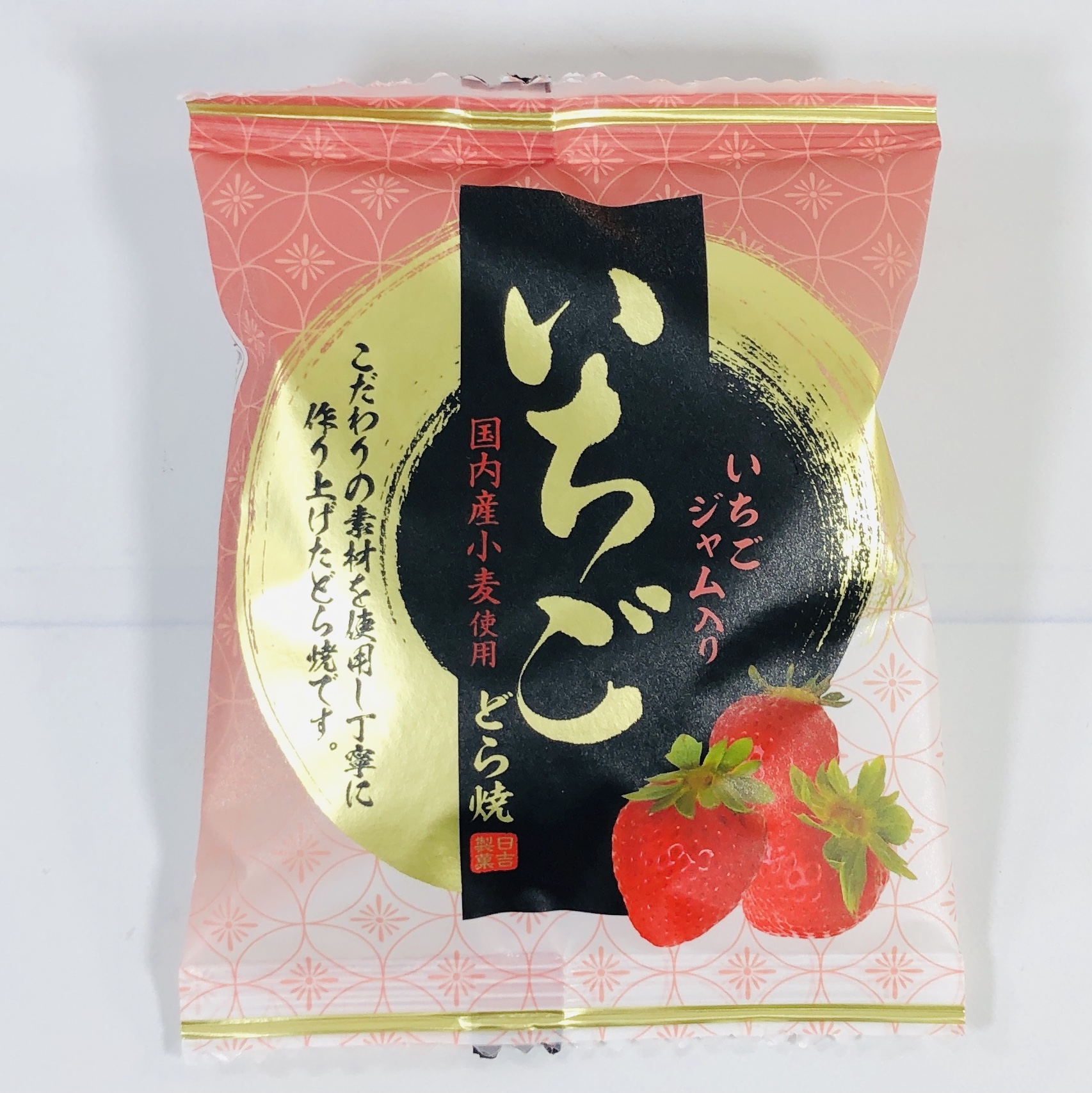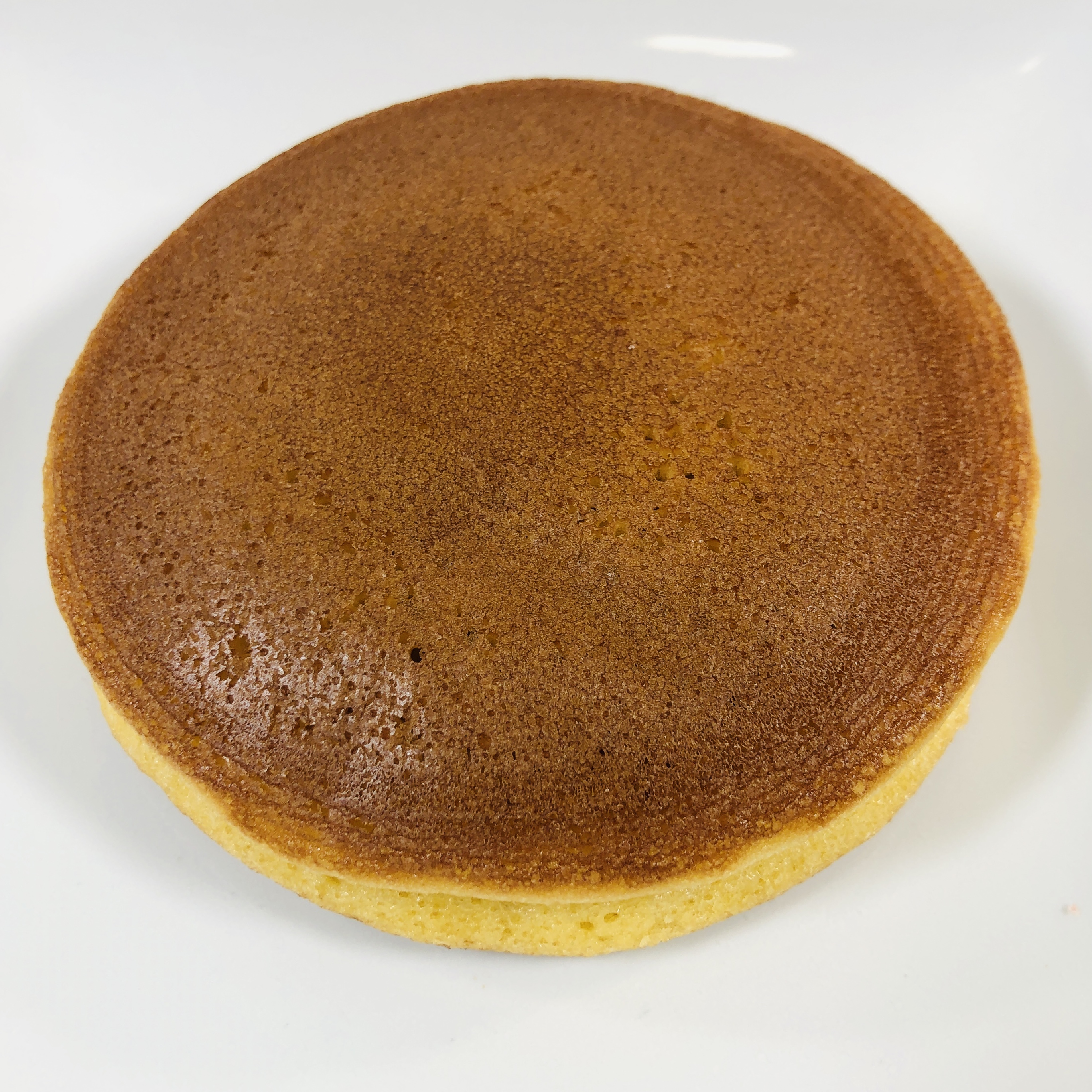 Strawberry Dorayaki A dorayaki is a cake sandwich made of two soft pancake-shaped pieces of cake with an azuki bean filling in the middle. This filling is supposed to have strawberries but I couldn't really taste it, but it was sweet and moist.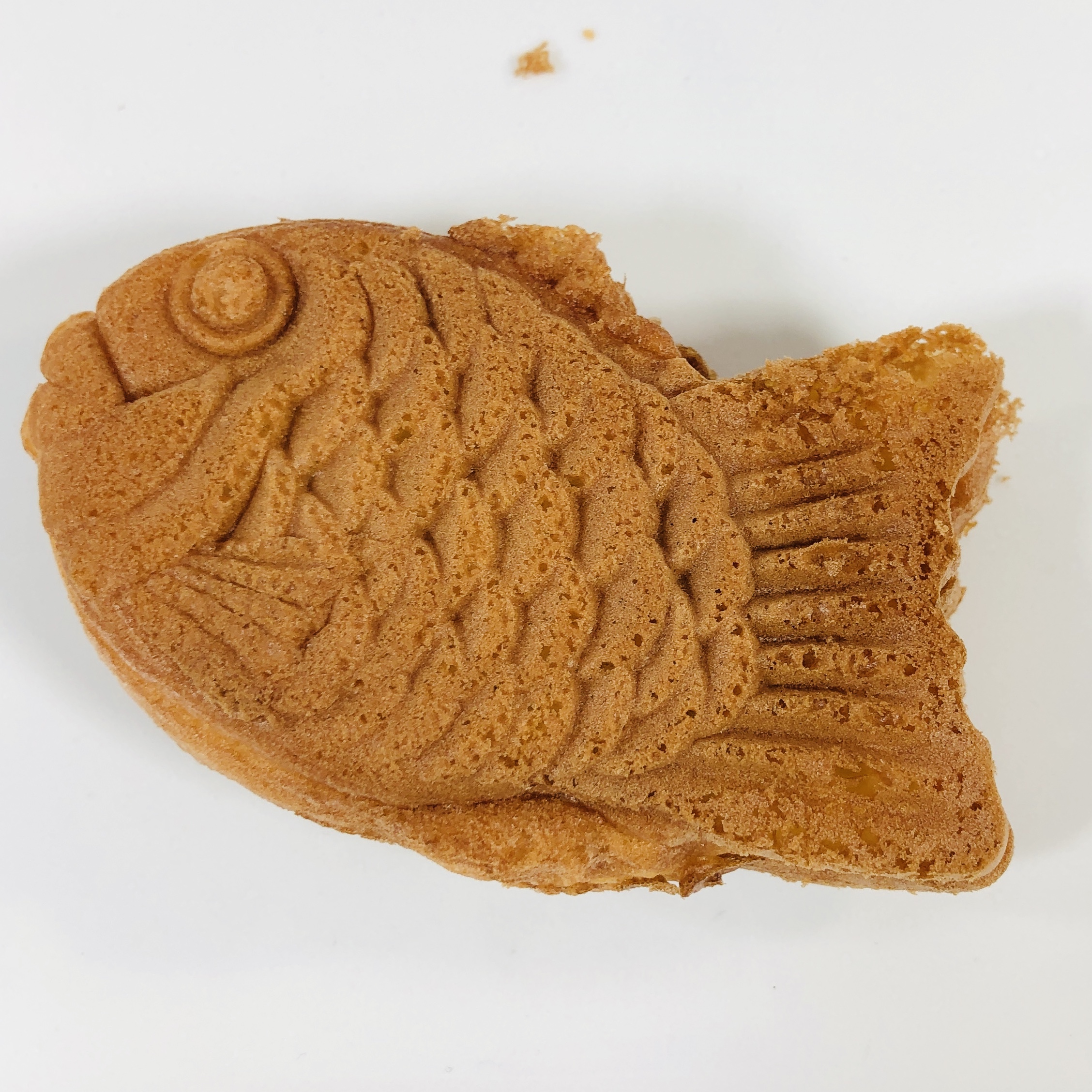 Red Bean Taiyaki My daughters love taiyaki and this one seems pretty classic. It has a fluffy dough that looks a little like a Twinkie but is moister, and the filling is red bean paste.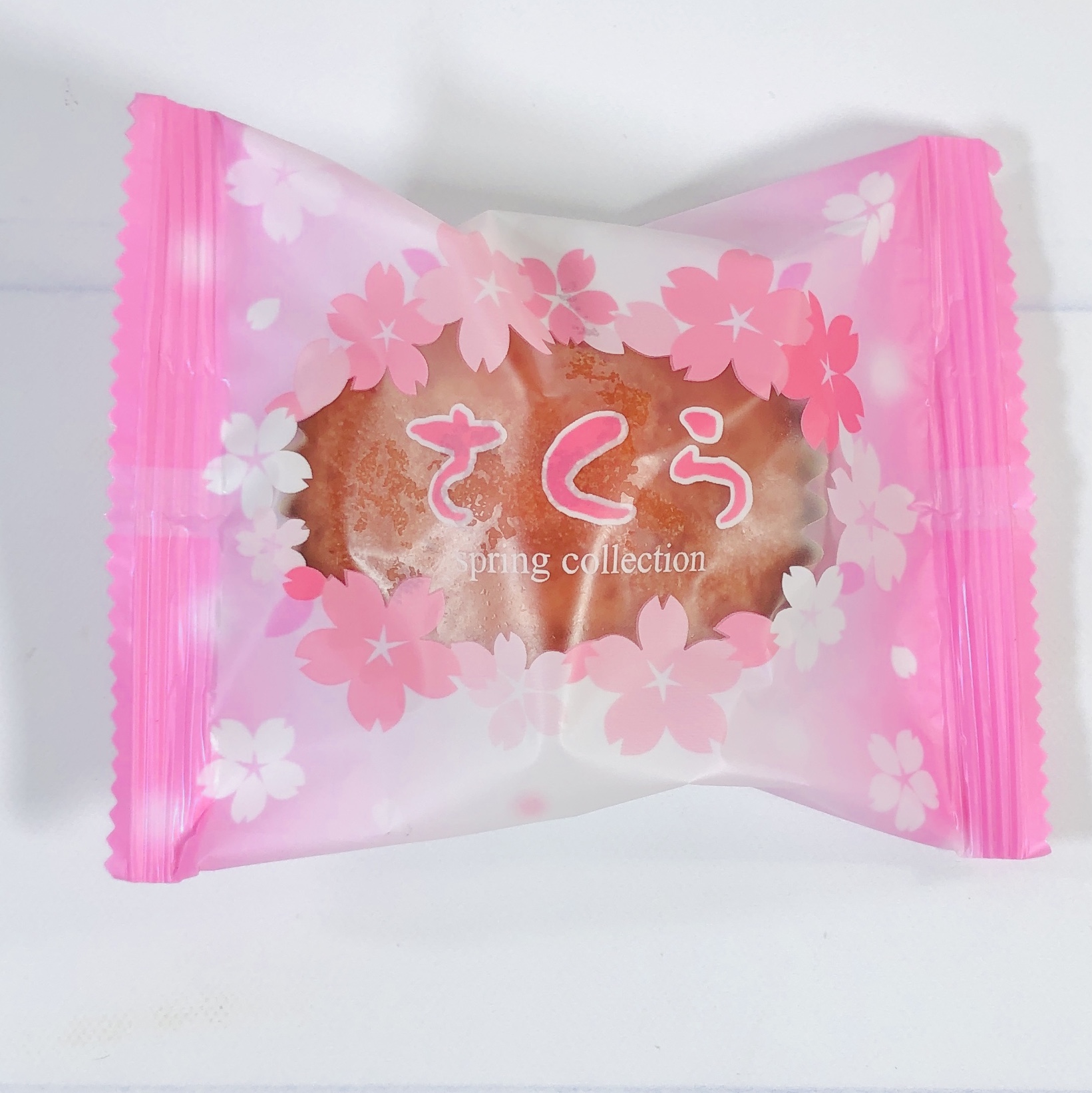 Sakura Madeleine I love that some of the snacks are cool takes on treats that are usually associated with other countries! I know I sound like a broken record but this cake is moist and is flavored with strawberries.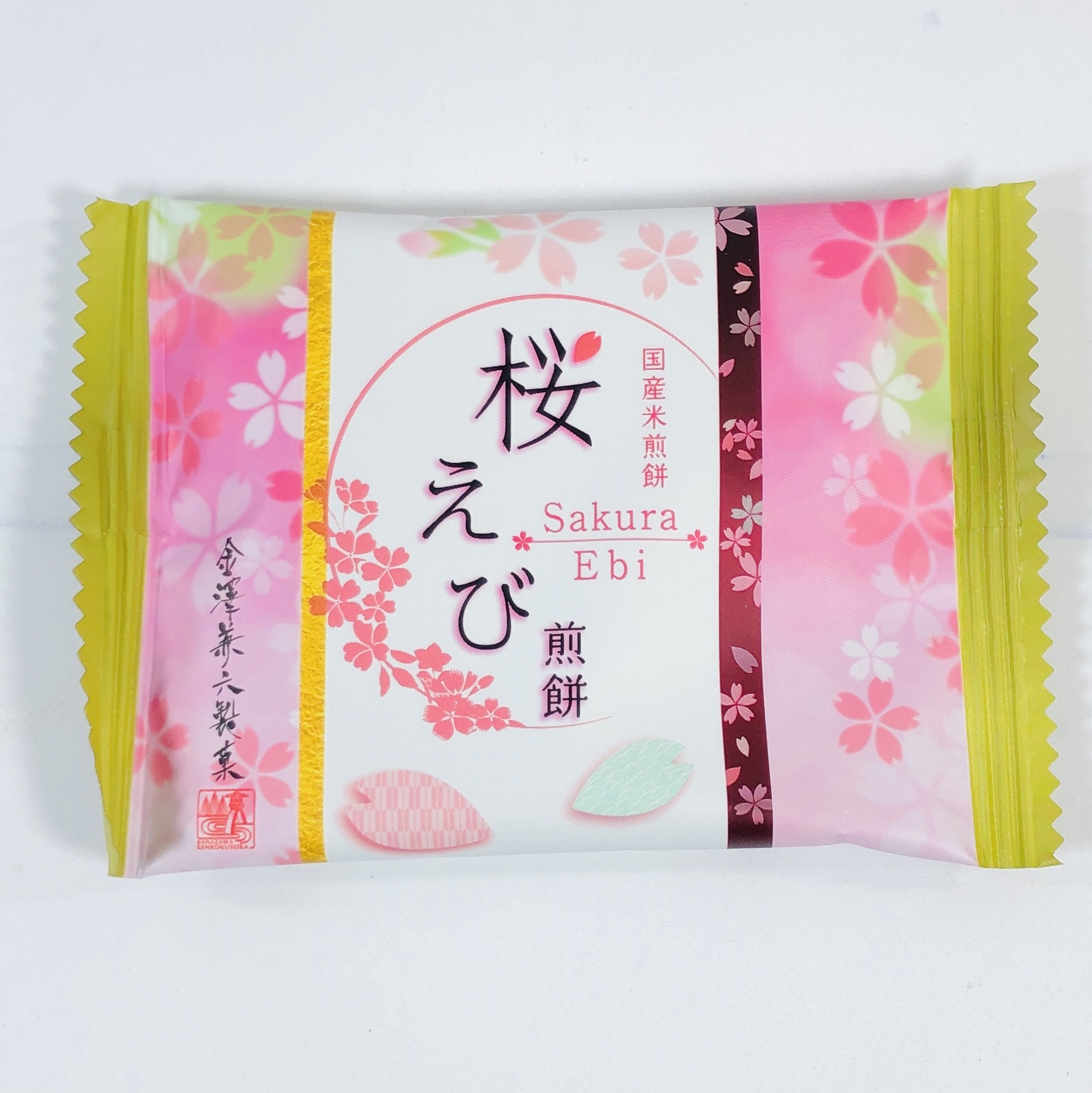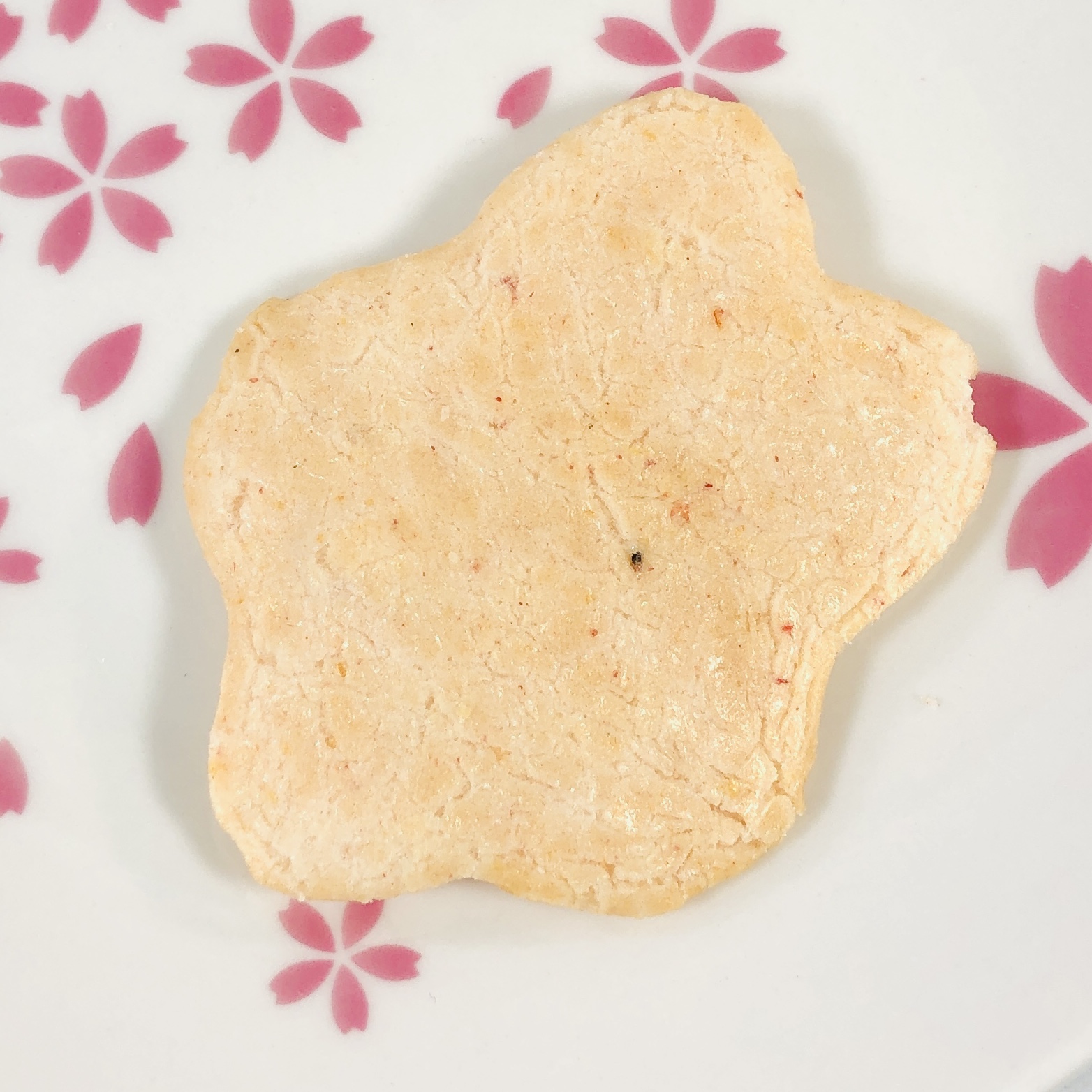 Sakura Shrimp Senbei Shrimp is not a preferred flavor of mine so it always catches me off guard, like in the cracker. The crunchy cracker also tastes a bit like butter, so I imagine I'm eating shrimp scampi!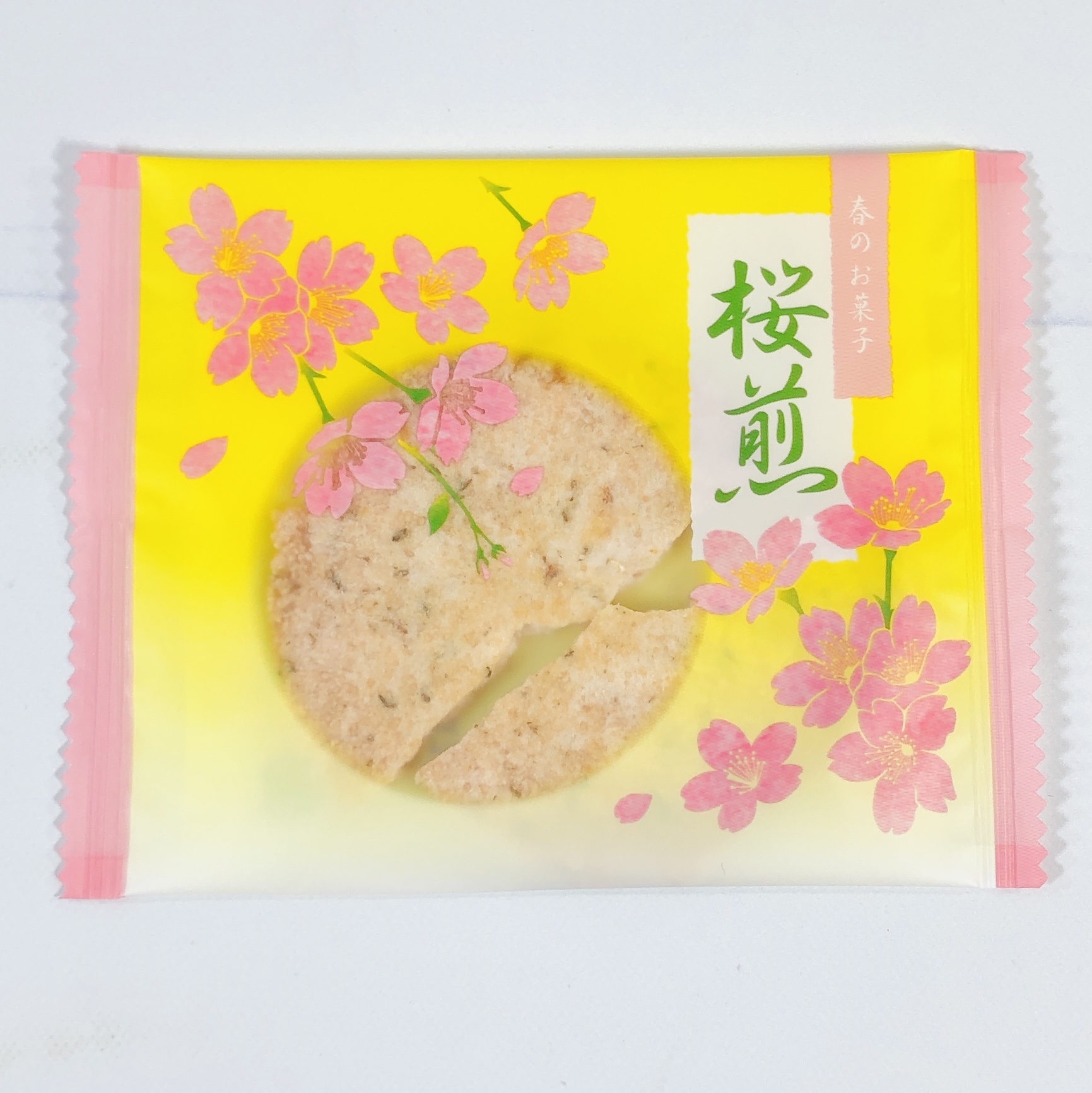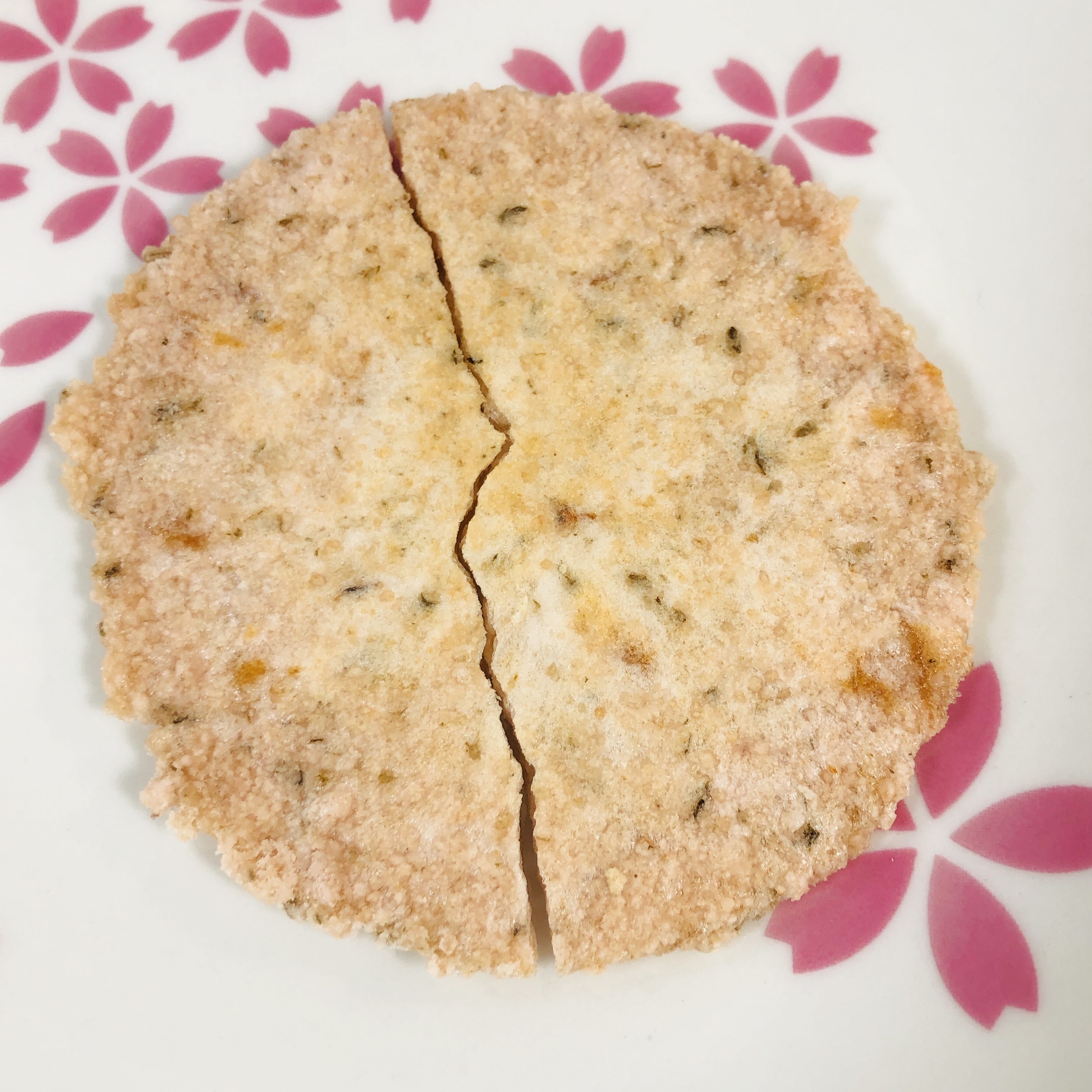 Sakurasen Cracker has a sweet flavor and has sakura as an ingredient. It may have squid in the ingredients, but it doesn't taste fishy.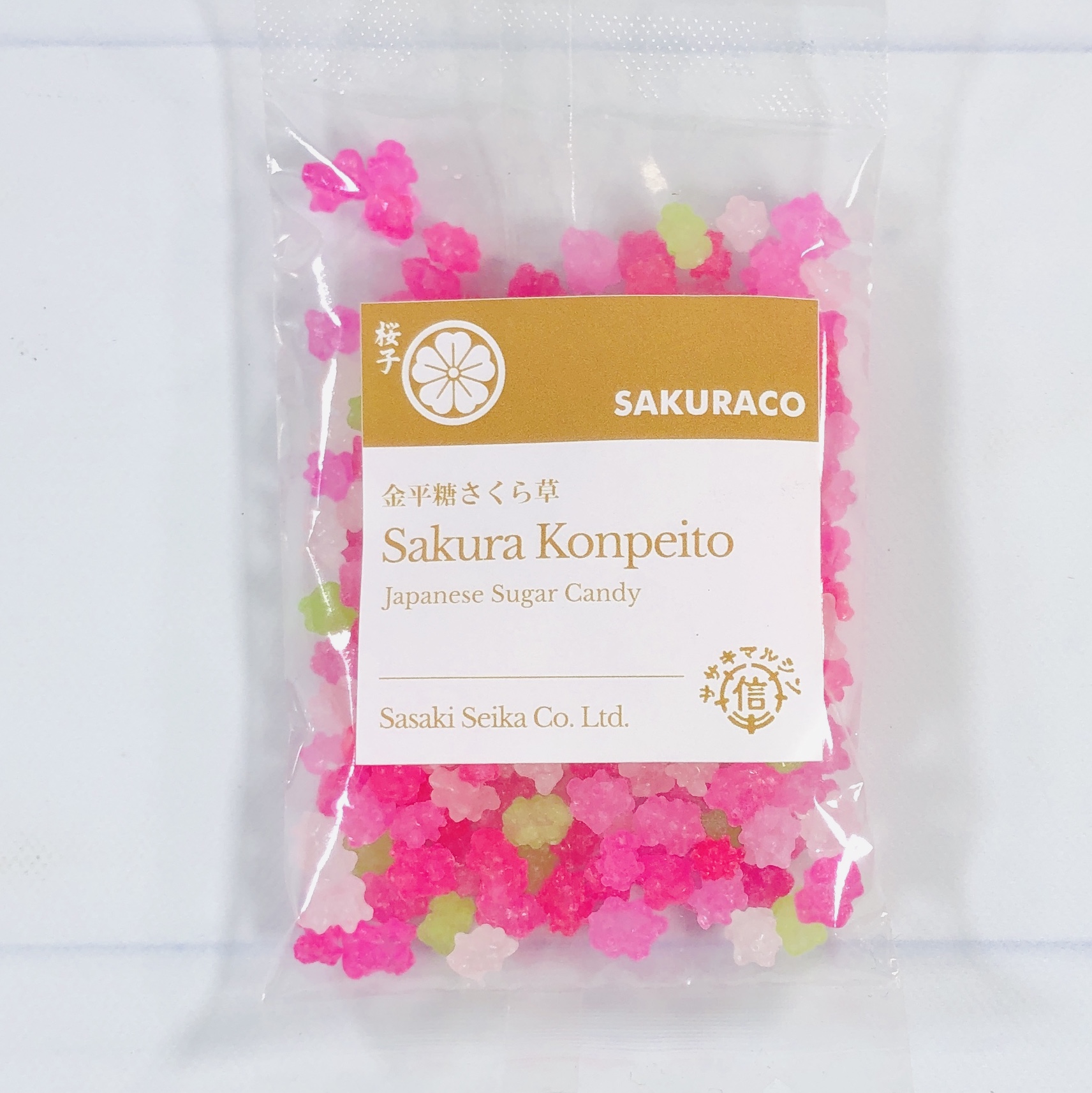 Sakura Konpeito Konpieto are tiny little rock sugar candies in the shape of confetti. They come in a rainbow of colors and this color grouping is inspired by the colors found on a cherry tree when it's in blossom. I didn't detect any flavor other than sweet.
Strawberry Castella is a sponge cake roll filled with strawberry cream. It's similar to a Little Debbie Swiss Roll, but in a berry flavor and without the chocolate coating. It's kind of dry though but I like the filling.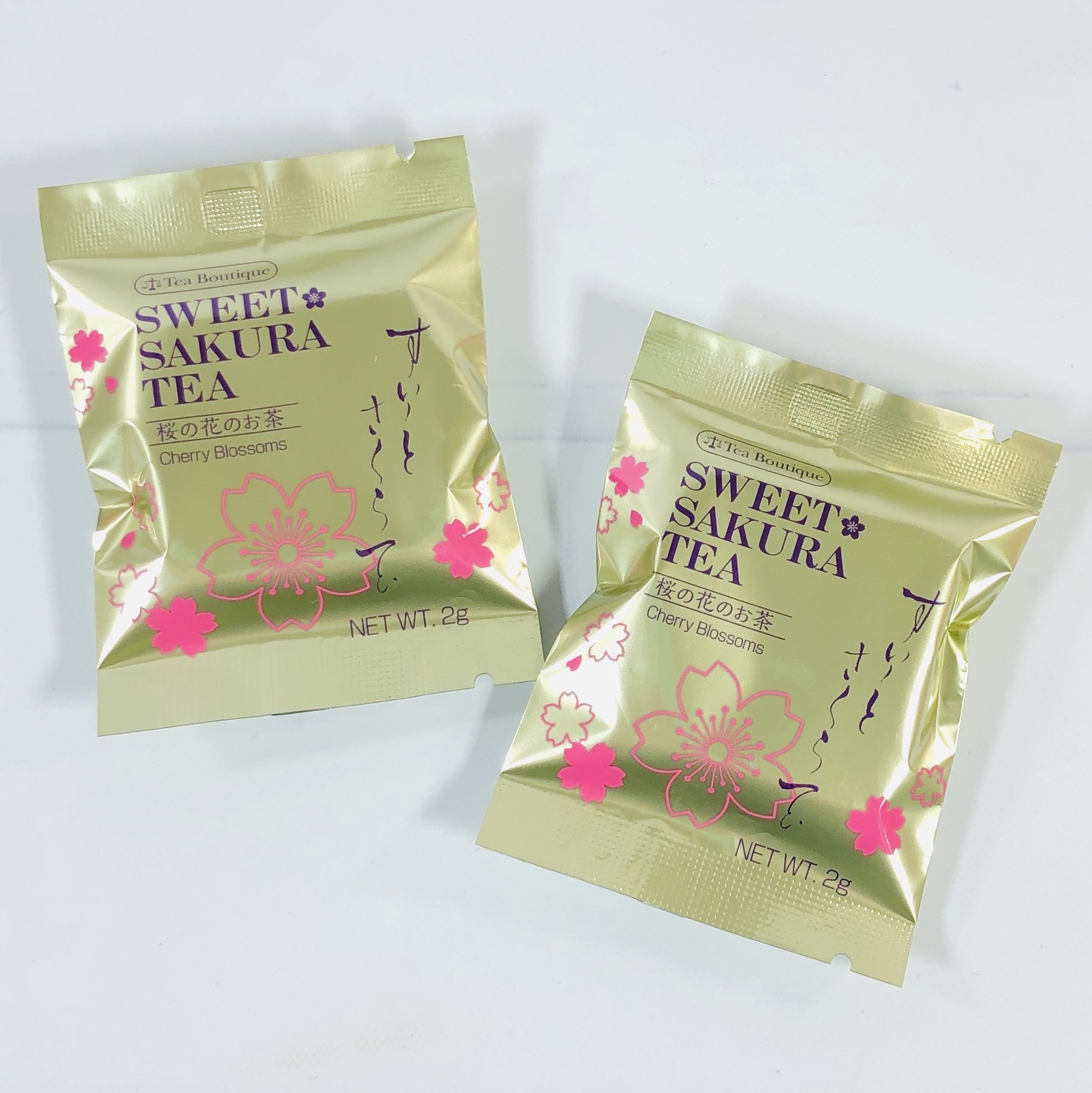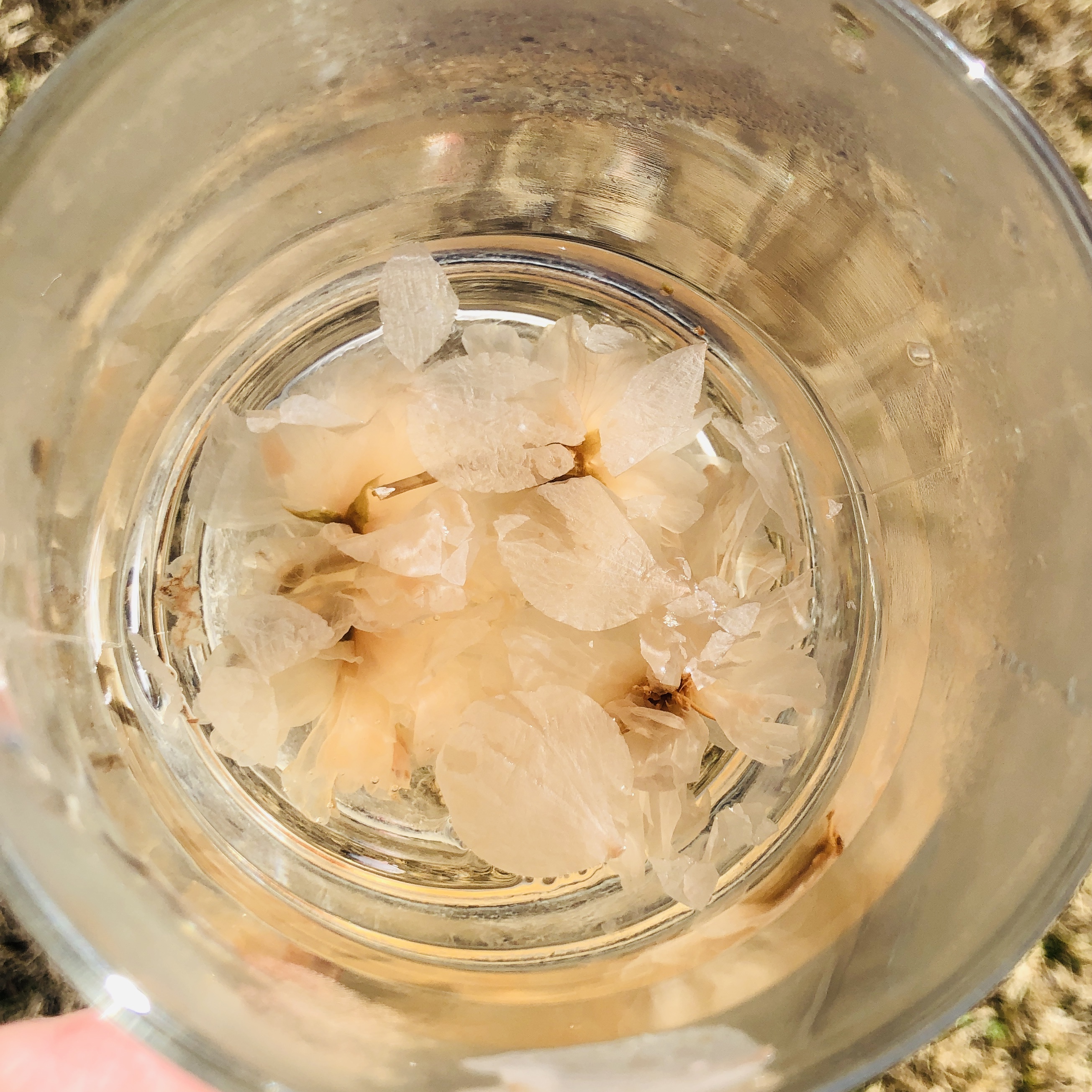 Sweet Sakura Tea While I enjoy trying new tastes, sometimes I try something that isn't for me. This was what I thought would be cherry blossom tea, but the cherry blossom is pickled and salted, and once you add hot water, you get a salty pickle drink. The blossom is folded up and limp, but once you pour water over the top, it "blooms" and looks pretty. I think "pickled cherry blossom broth" might be a better descriptor.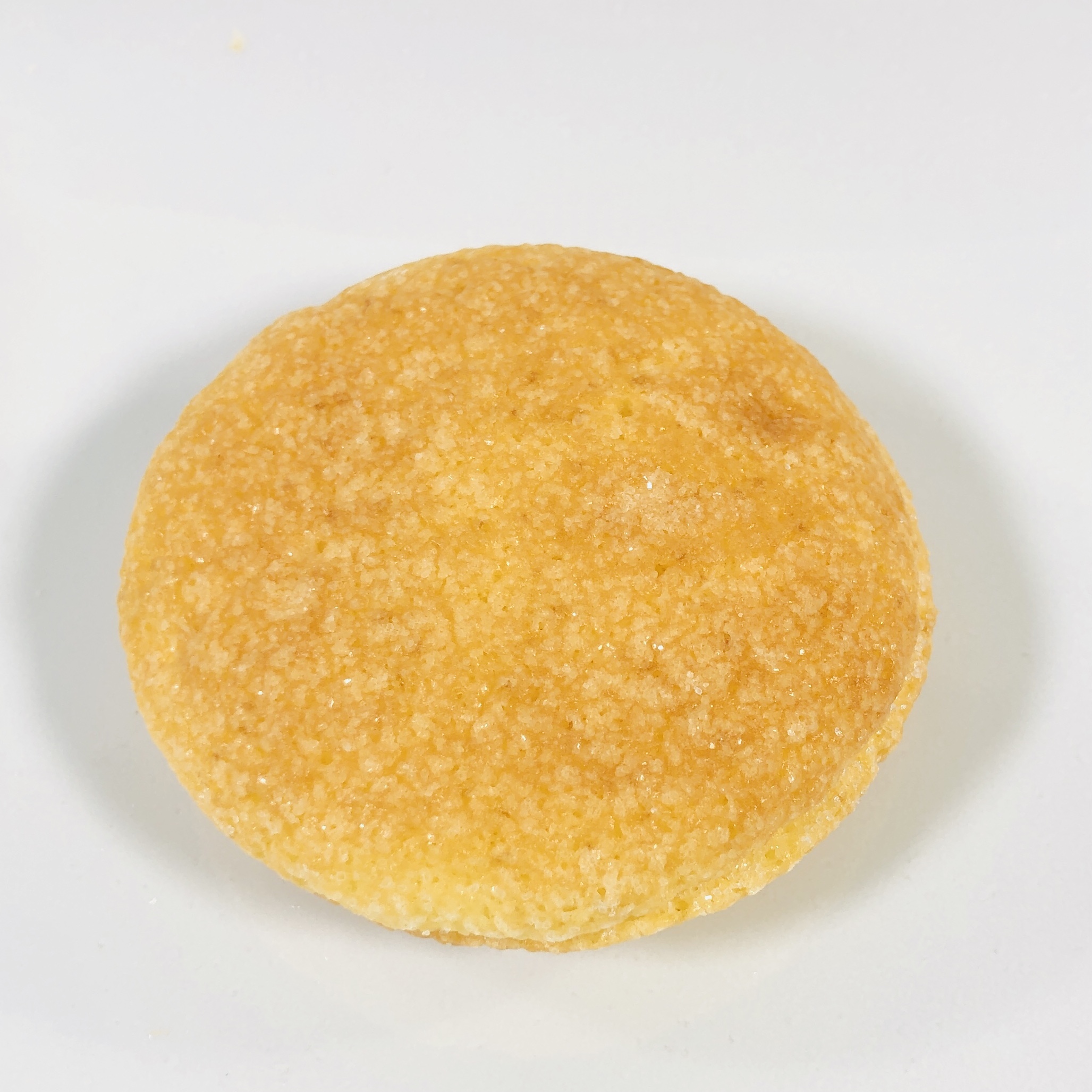 Peach Sandwich is a squishy sponge cake with sugar on the outside that gives it texture. It also has a light peach filling on the inside and is an interesting contrast in textures.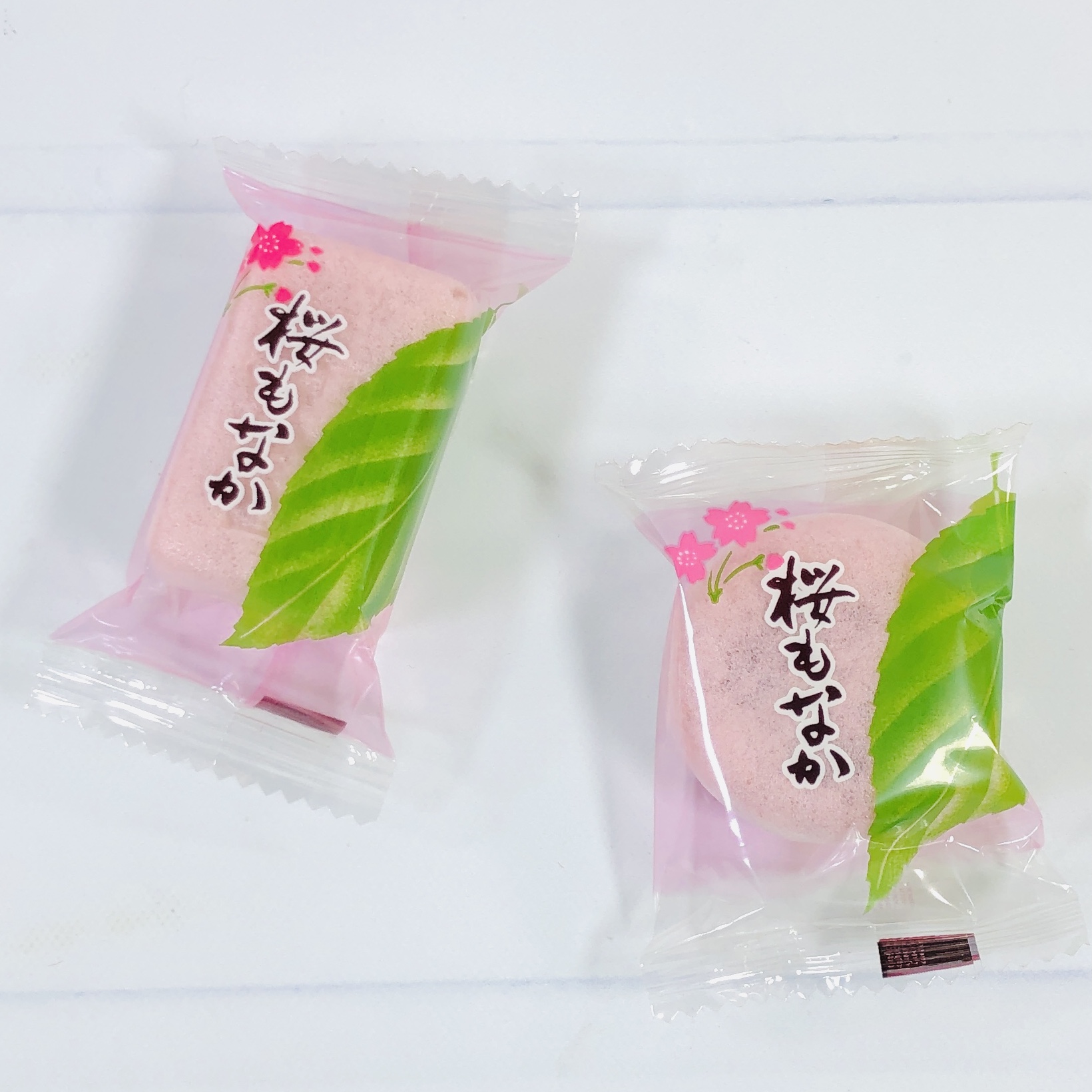 Sakura Monaka One of these treats is round while the other is a rectangle but otherwise they seem to be the same. The outside wafers are unlike the ice cream cone type, instead, they remind me of the rice candy paper wrapping that is edible, it just sort of melts in your mouth. The filling on the inside is sakura-flavored red bean paste and it reminds me of a cross between apple butter and jam in texture, with a mild flavor.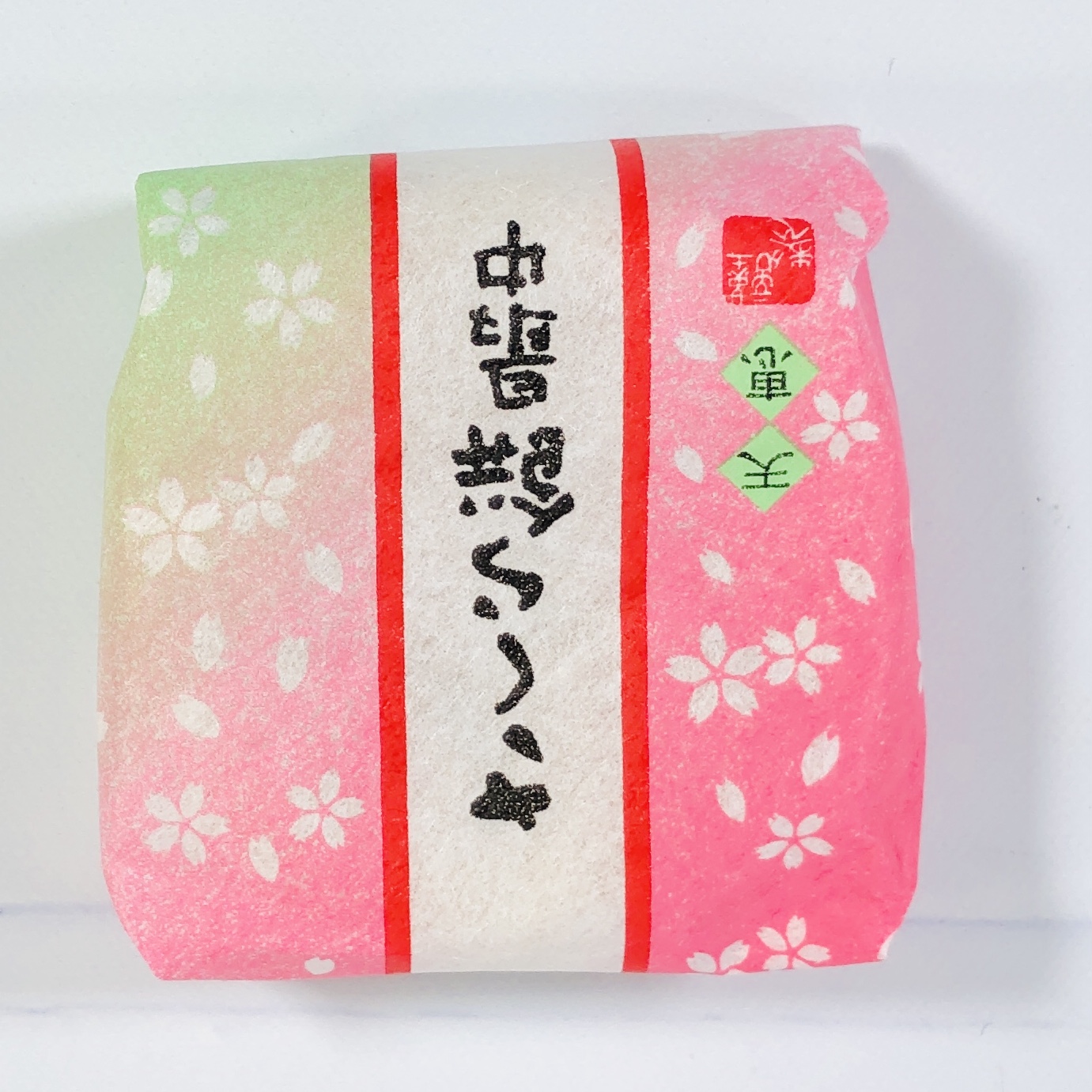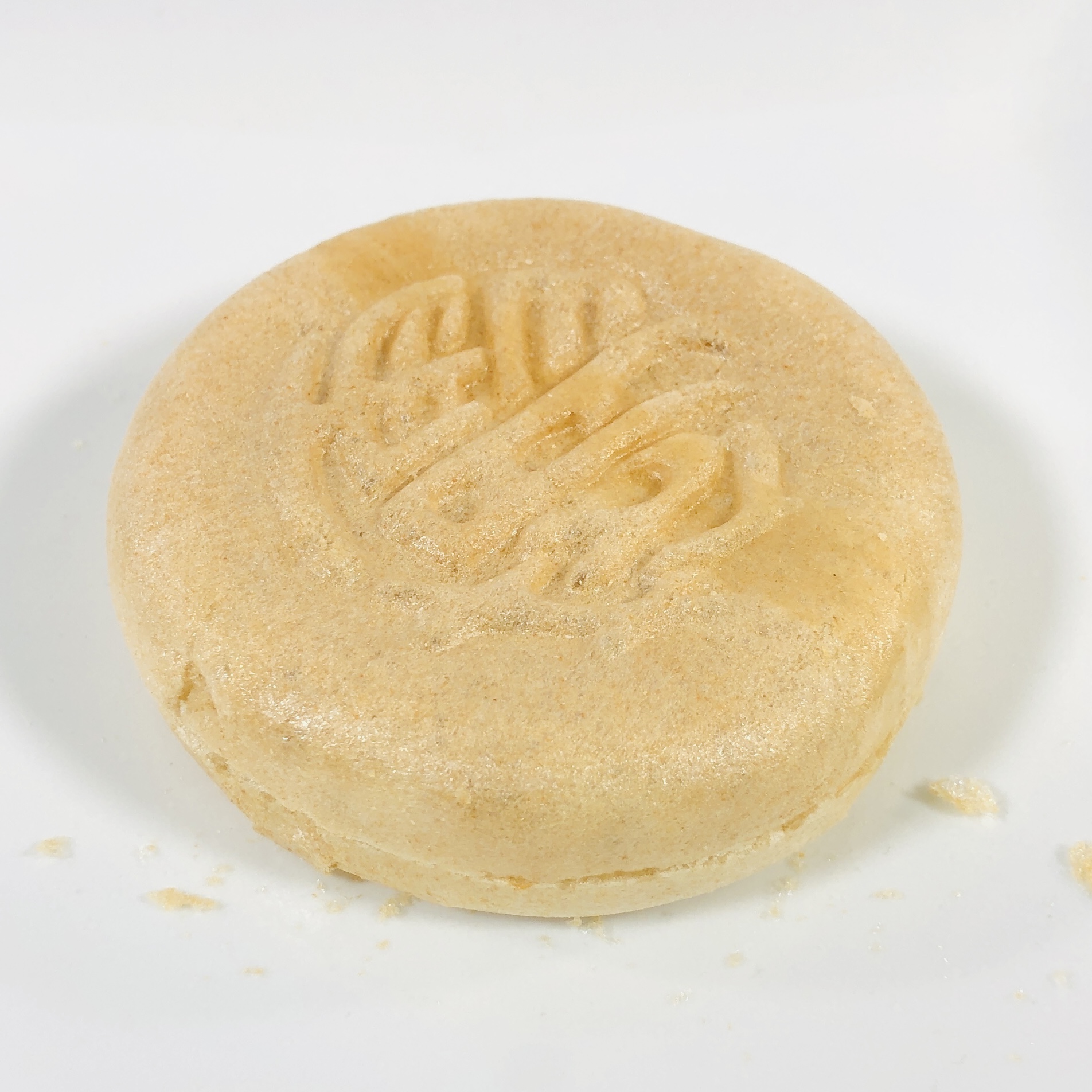 RN Sakura Mochi Monaka is the third monaka treat, and again, it has an outer shell, this time more ice cream cone-like, along with a chewy sakura jam-like filling, but this time it has salted petals. I think out of the three monakas, I liked the other two better.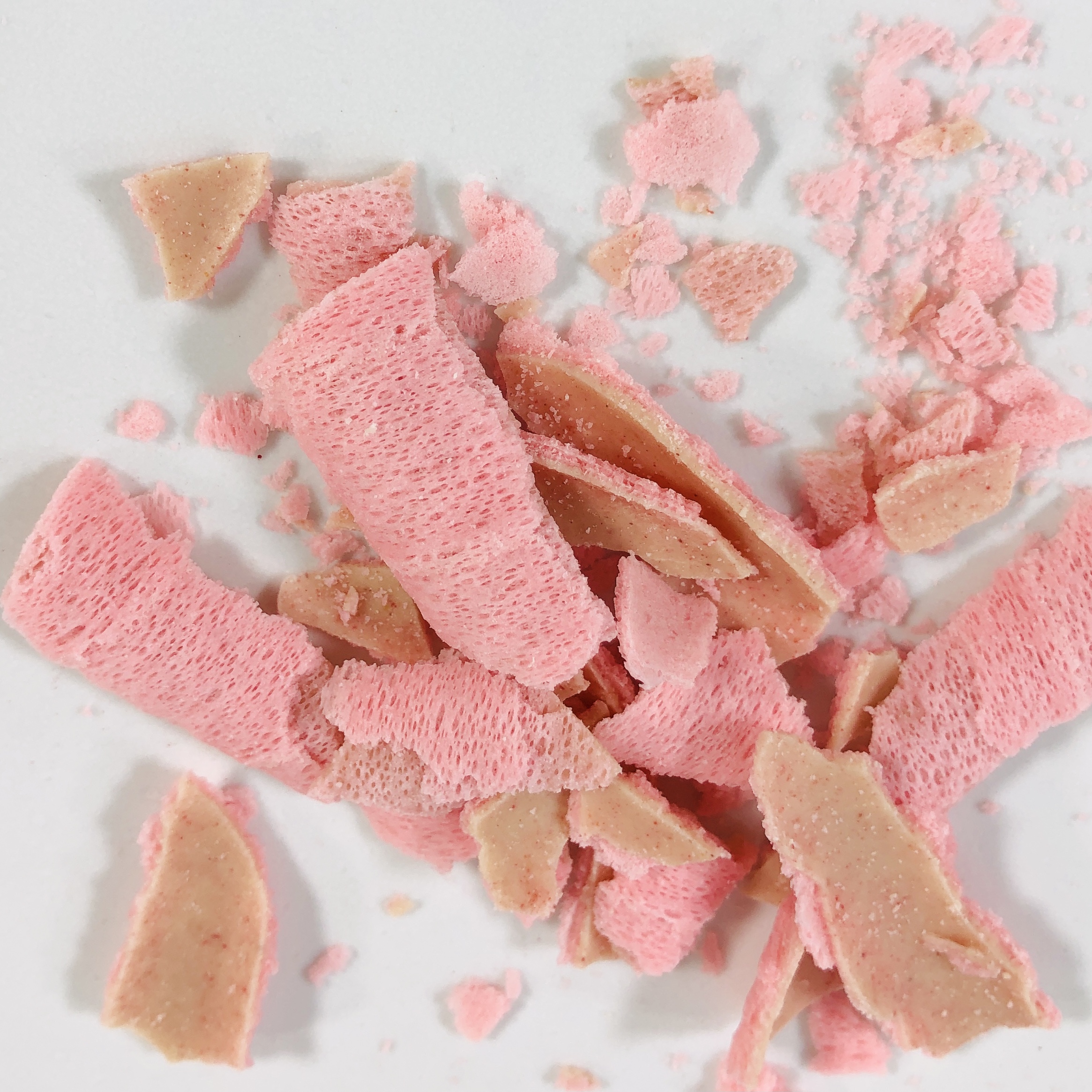 Sakura Strawberry Crepe Roll Aww, my crepe roll didn't travel so well but it still tasted great! It is a wafer cookie on the outside and the inside has sakura and strawberry white candy coating. The flavor was so subtle that I thought it was coconut flavored!
Yoshino Kuzumochi The next item came in a little DIY kit!
It had plain mochi in the cup, and two toppings: a syrup and kinako powder.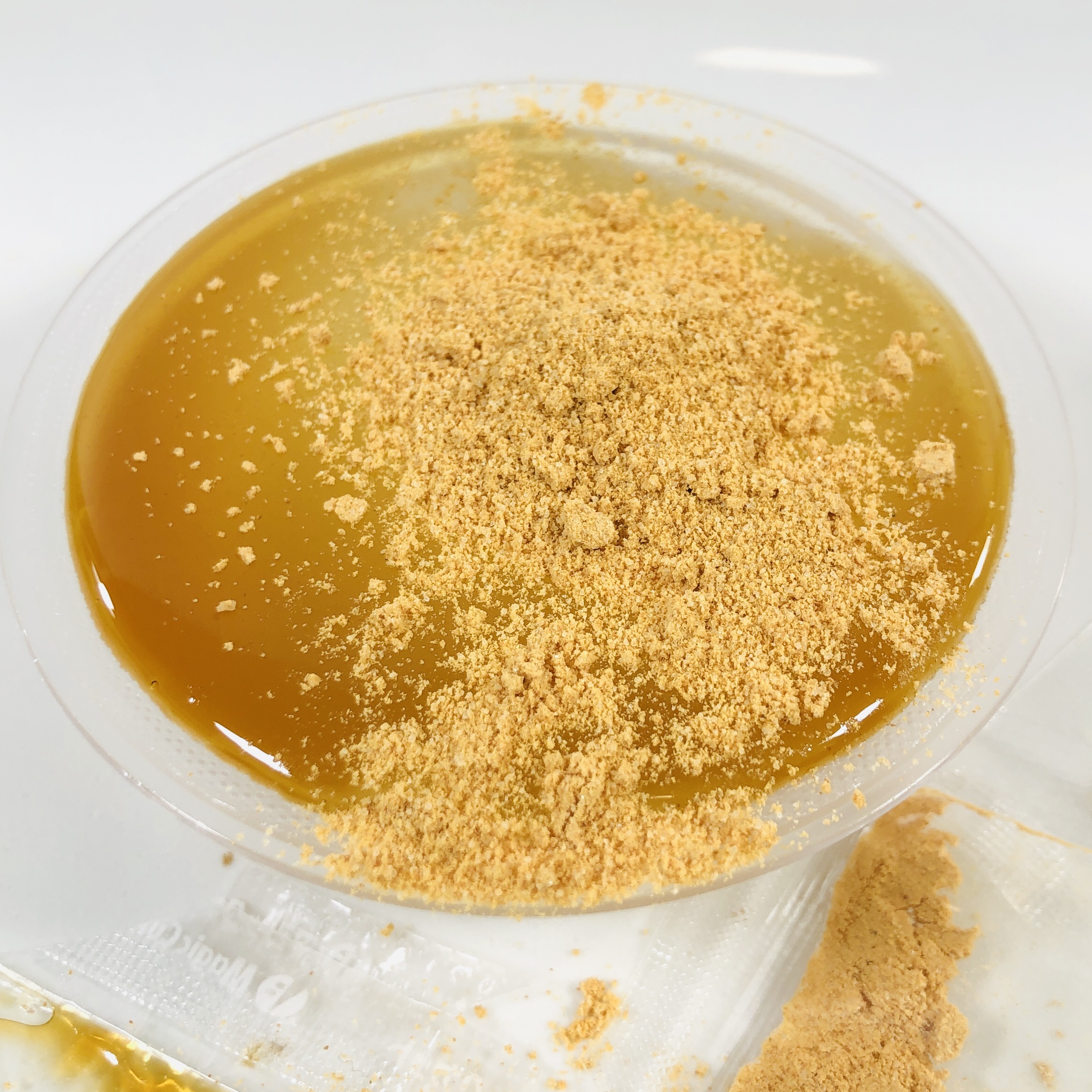 The mochi itself doesn't have much flavor, it's sort of like a thick, sweet, gelatinous product. The syrup tastes like molasses and the kinako powder is made with roasted and ground soybeans and is also sweetened.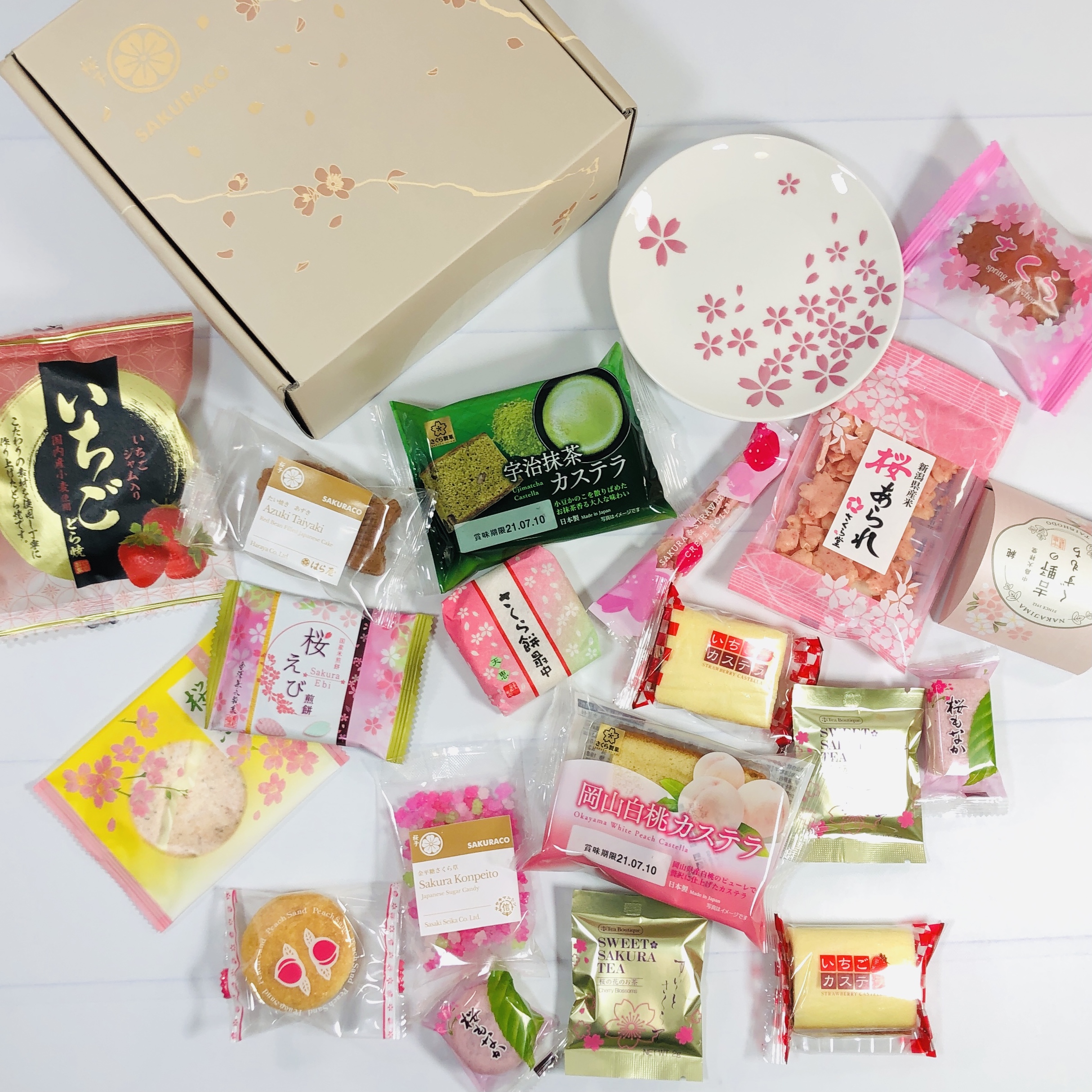 This was the very first box from Sakuraco and I enjoyed trying the treats and interesting tea! The mini plate is adorable and I love to use it for my snacks. I think it's cool that each box will have something similar, I believe there is a cup coming in the April box. I liked that this box is inspired by afternoon tea, a practice that I am behind 100%. The theme was sweet and I loved the sakura prints on the packages and the overall pinkness of the curation. There were some interesting treats in here that I have never tried before and of course the booklet explained the foods well, so I knew what to expect before biting into each one.
What do you think of Sakuraco?