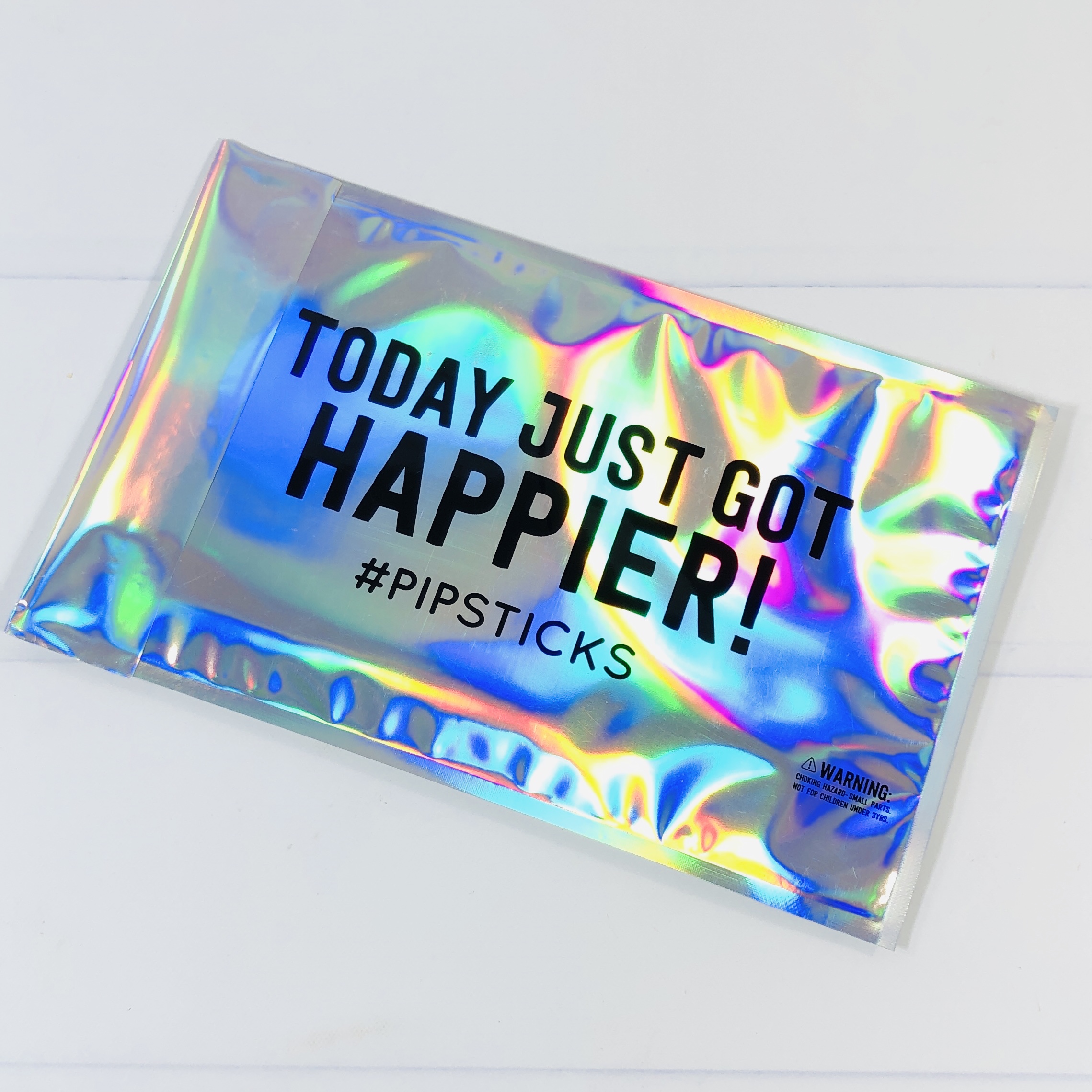 Pipsticks is a monthly sticker subscription that sends new designs from their collection in a super shiny holographic pack every month! The stickers come in a reusable sparkly pouch and include sticker sheets, paper products, and Zippy, an exclusive sticker magazine. You also get 5% savings in the online store, and more. You can choose to get stickers for adults (Pro Club) or kids (Kids Club). Both clubs come in Classic (15 sheets for $17.95 a month) or Petite (7 sheets for $11.95 a month). Shipping is free to the U.S., and Pipsticks can even be shipped worldwide for a fee.
C'mon. Who doesn't love stickers? Any stationery lover, crafter or pen pal knows the true magic of these little guys. Stickers motivate, inspire, entertain and delight with unmatched simplicity.

The Pro sticker pack (Adult Pack) is perfect for scrapbookers, snail mailers, planners and sticker lovers from the age of about 10-13 and up.
DEAL: save $5 on your subscription! Use coupon code FRIENDSROCK.
I am reviewing the Pipsticks Pro Club Classic!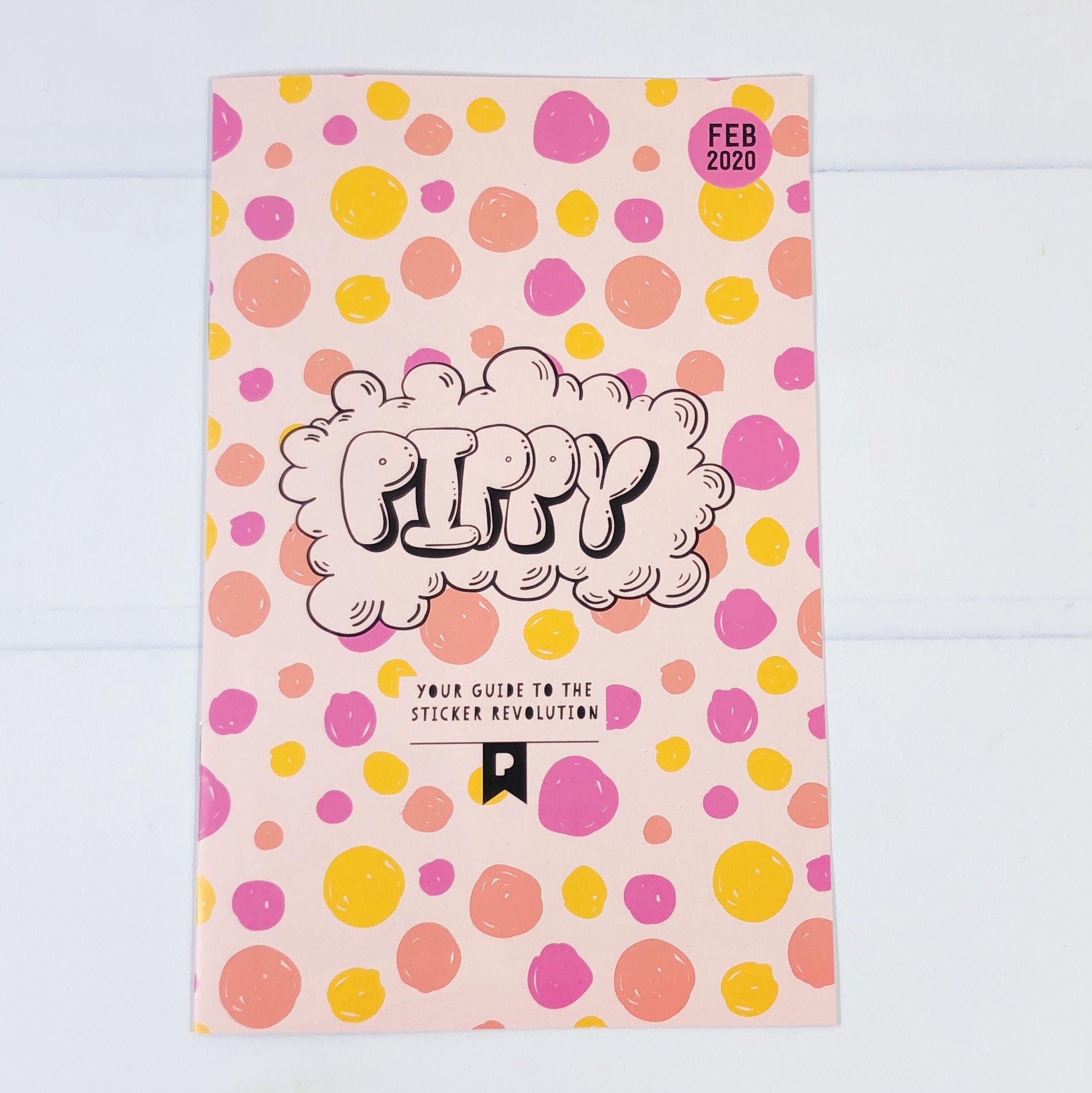 Pipsticks includes an exclusive magazine called Pippy. This is the February 2021 review, the date on the magazine is incorrect.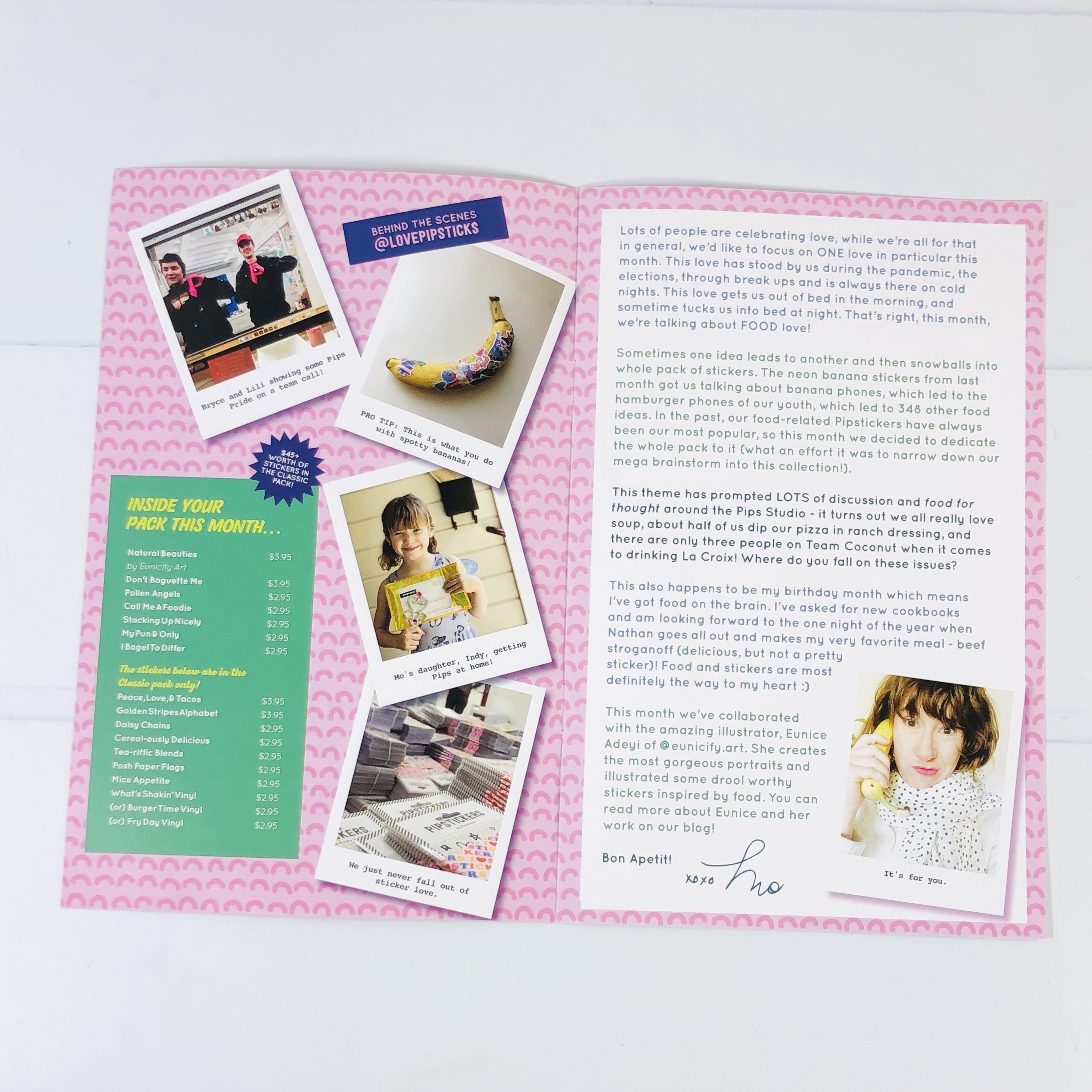 Inside I found a list of the stickers in my pack along with their MSRP's. Pipsticks's owner, Mo, discussed the February theme, which is food!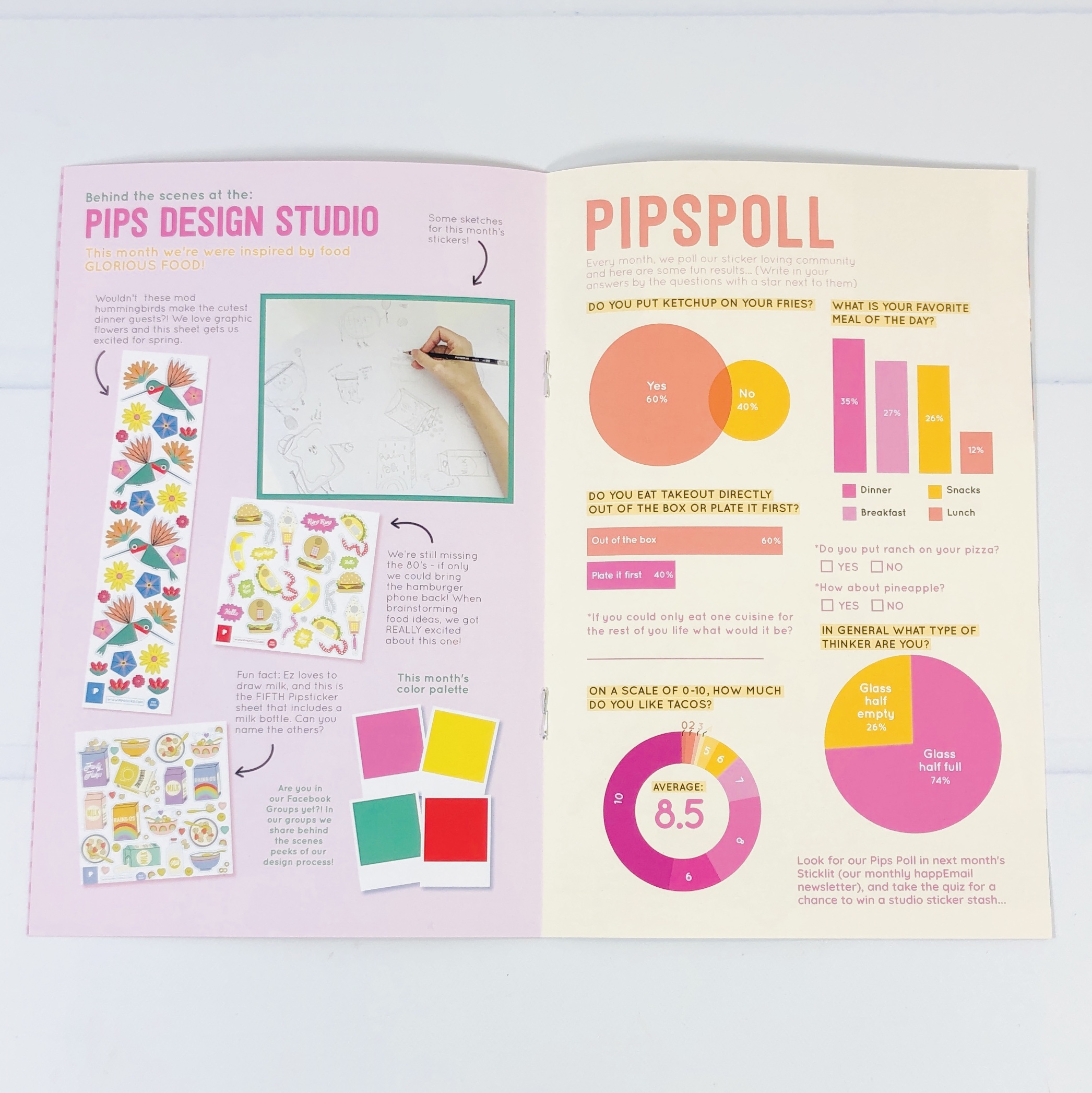 More about the designs and a Pipspoll were next.
A craft idea (using stickers of course!), the VIP Ticket prizes, and a sneak peek for March were shown here. The stickers will be inspired by rainbows, and I love rainbows!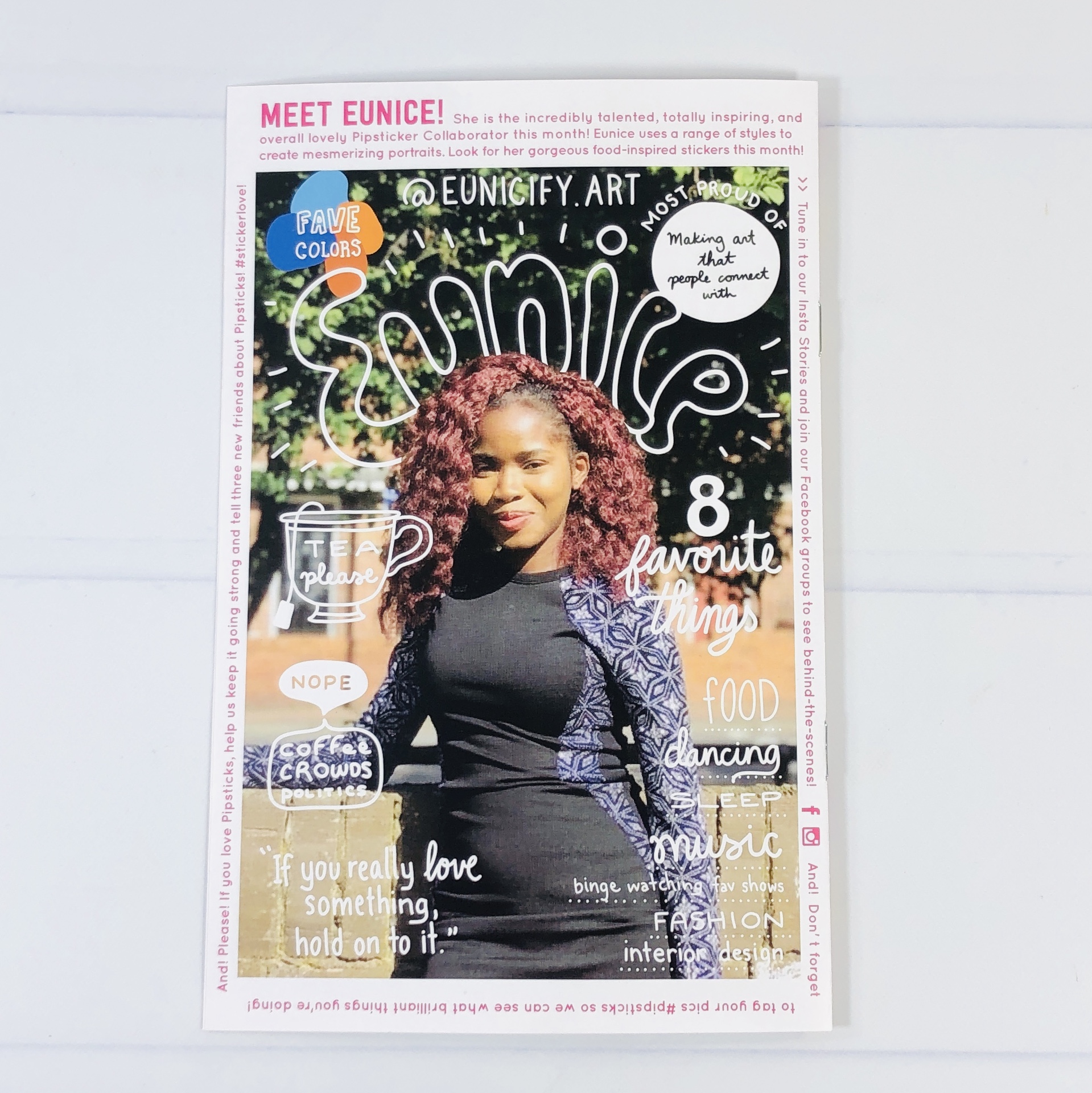 The back cover introduced the Pipsticks collaborator for February, Eunice!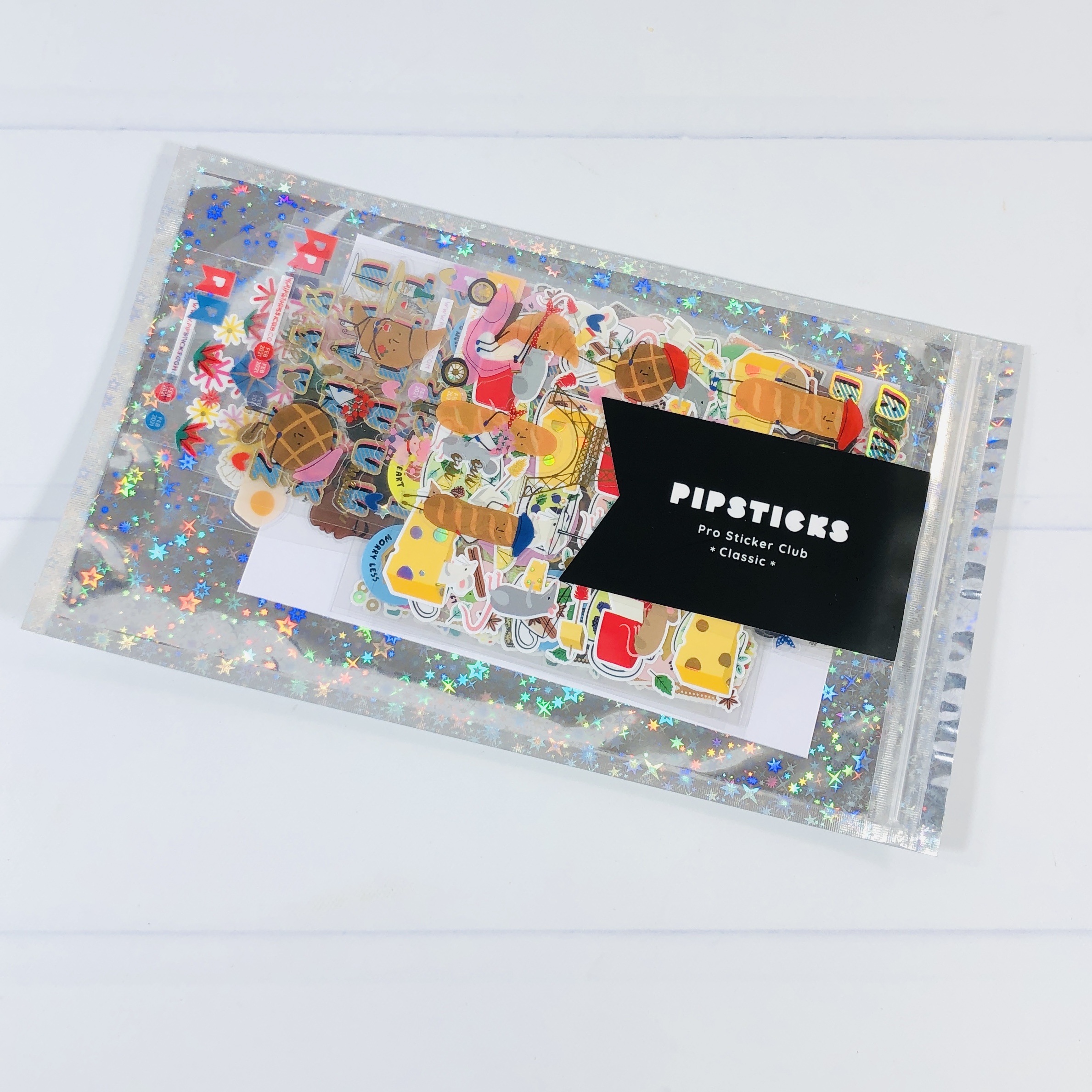 Look at the storage pouch, it's got holographic stars all over it!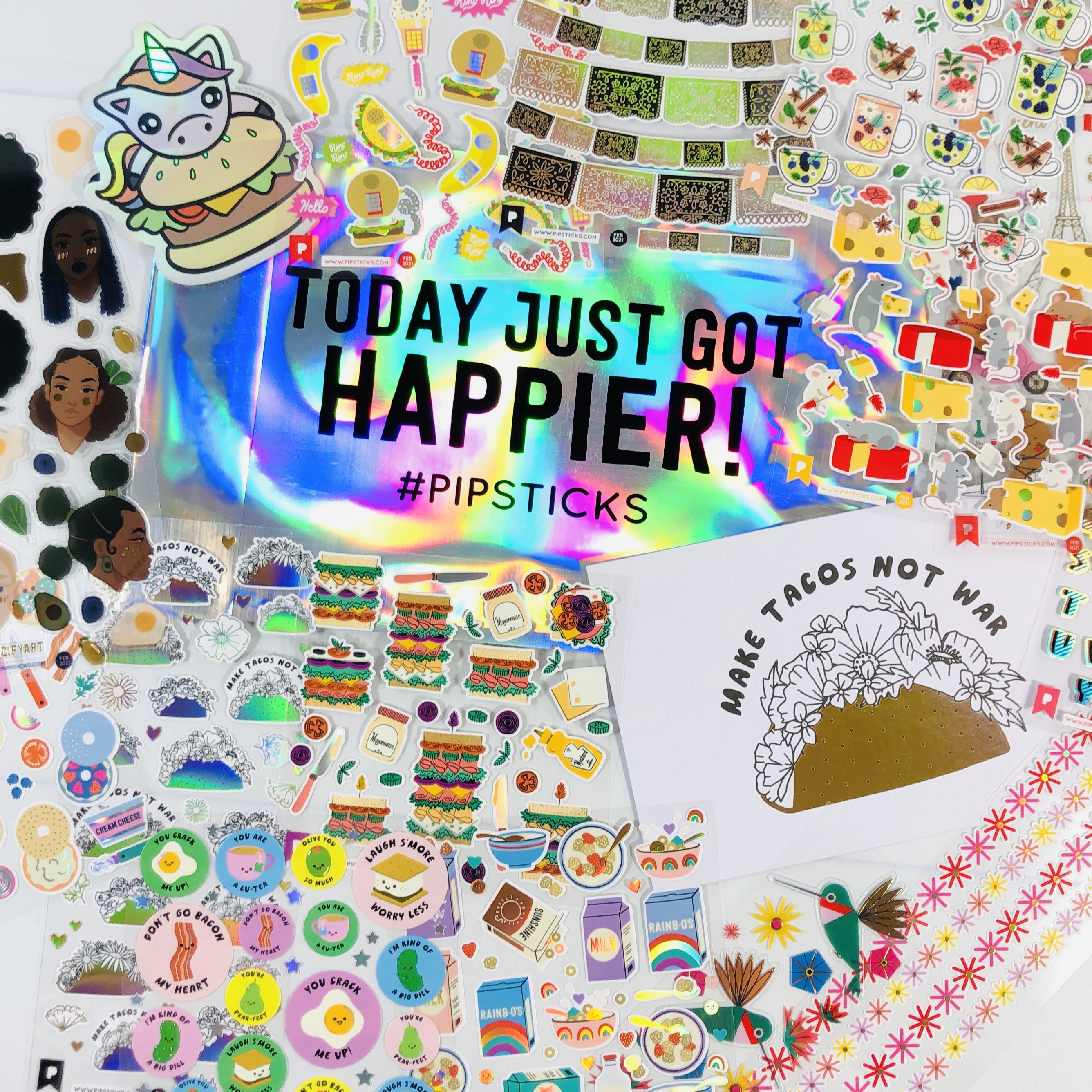 Everything in my box!
Note: You can find the following items, and even past sticker packs, in the Pipsticks online shop.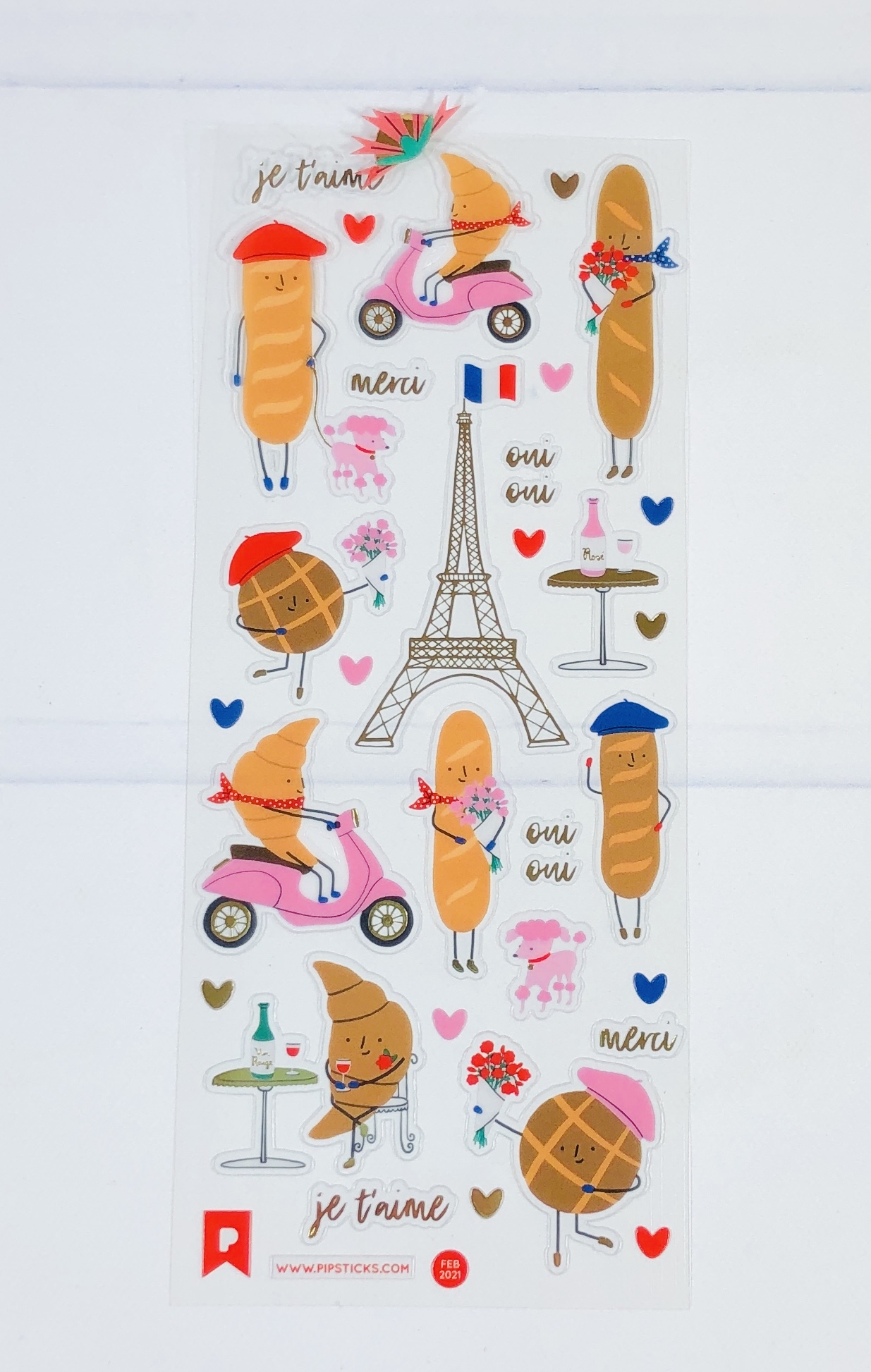 Don't Baguette Me ($3.95) has rolls and croissants wearing berets while riding Vespas and drinking wine! PVC with rose gold foil.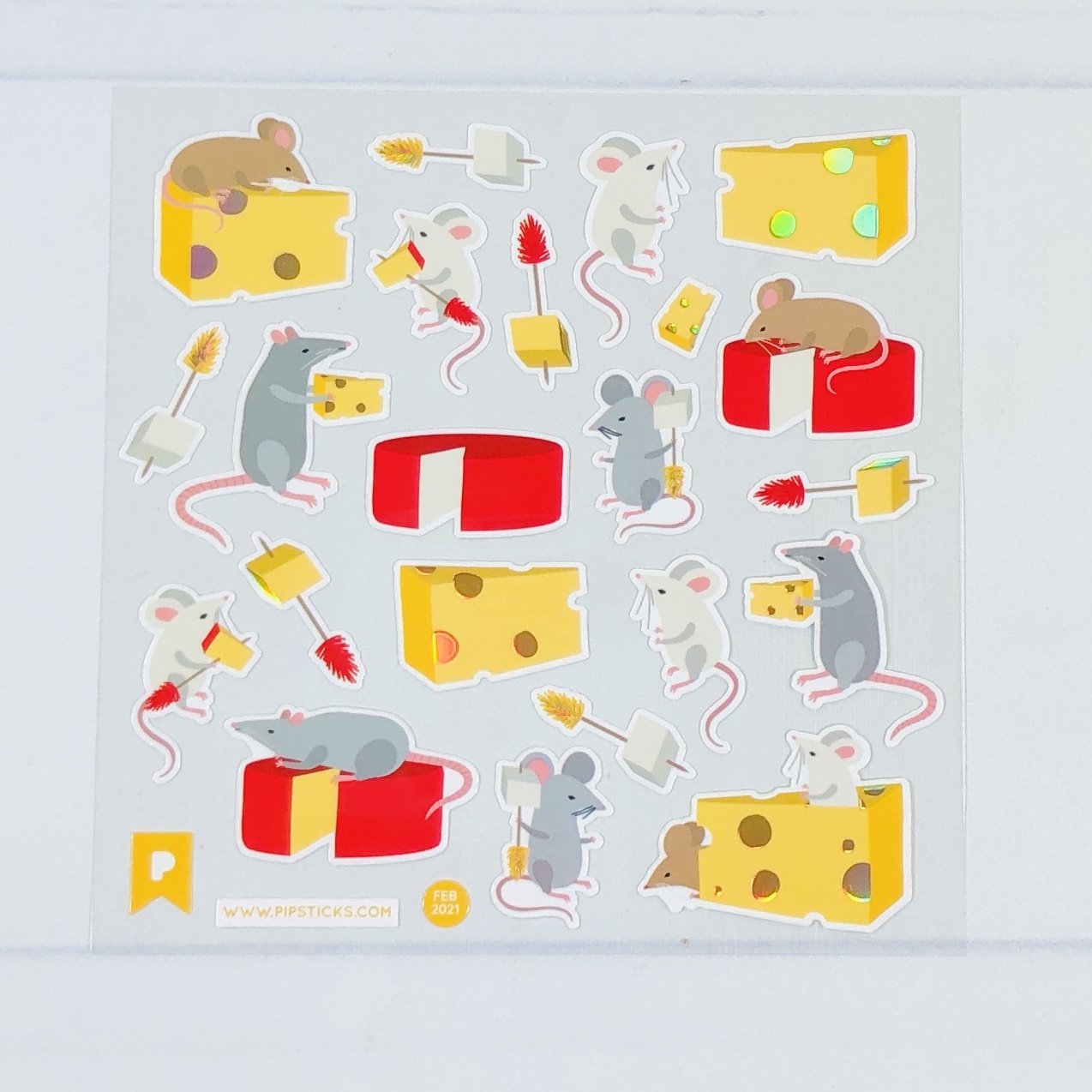 Mice Appetite ($2.95) also reminds me of Paris, perhaps it's because of that movie where the rat cooks. These critters are nibbling on what looks like Swiss and Edam cheeses. PVC with gold foil accents.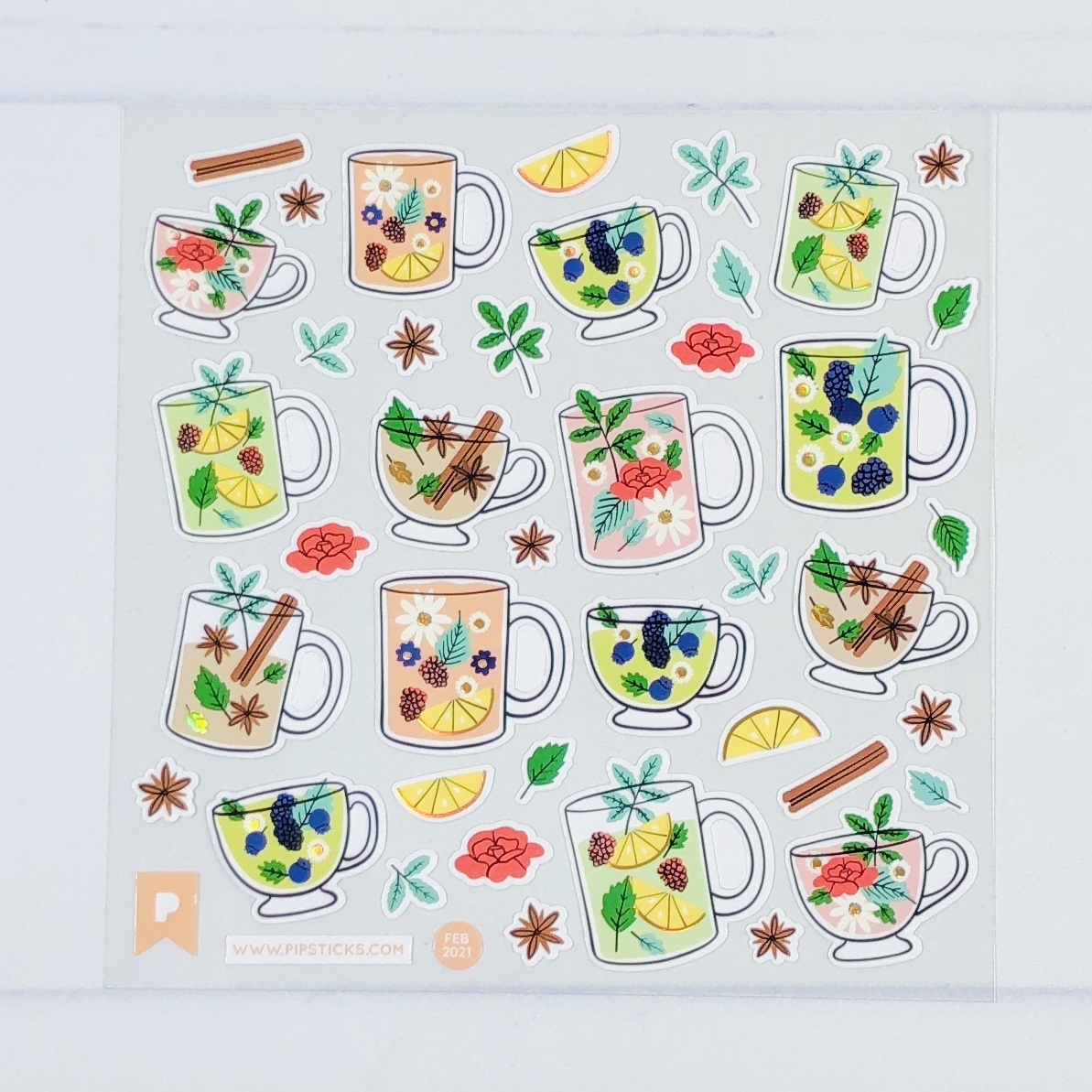 Tea-rrific Blends ($2.95) I am definitely on Team Tea when it comes to beverages. These look like fruity concoctions. PVC with gold foil accents.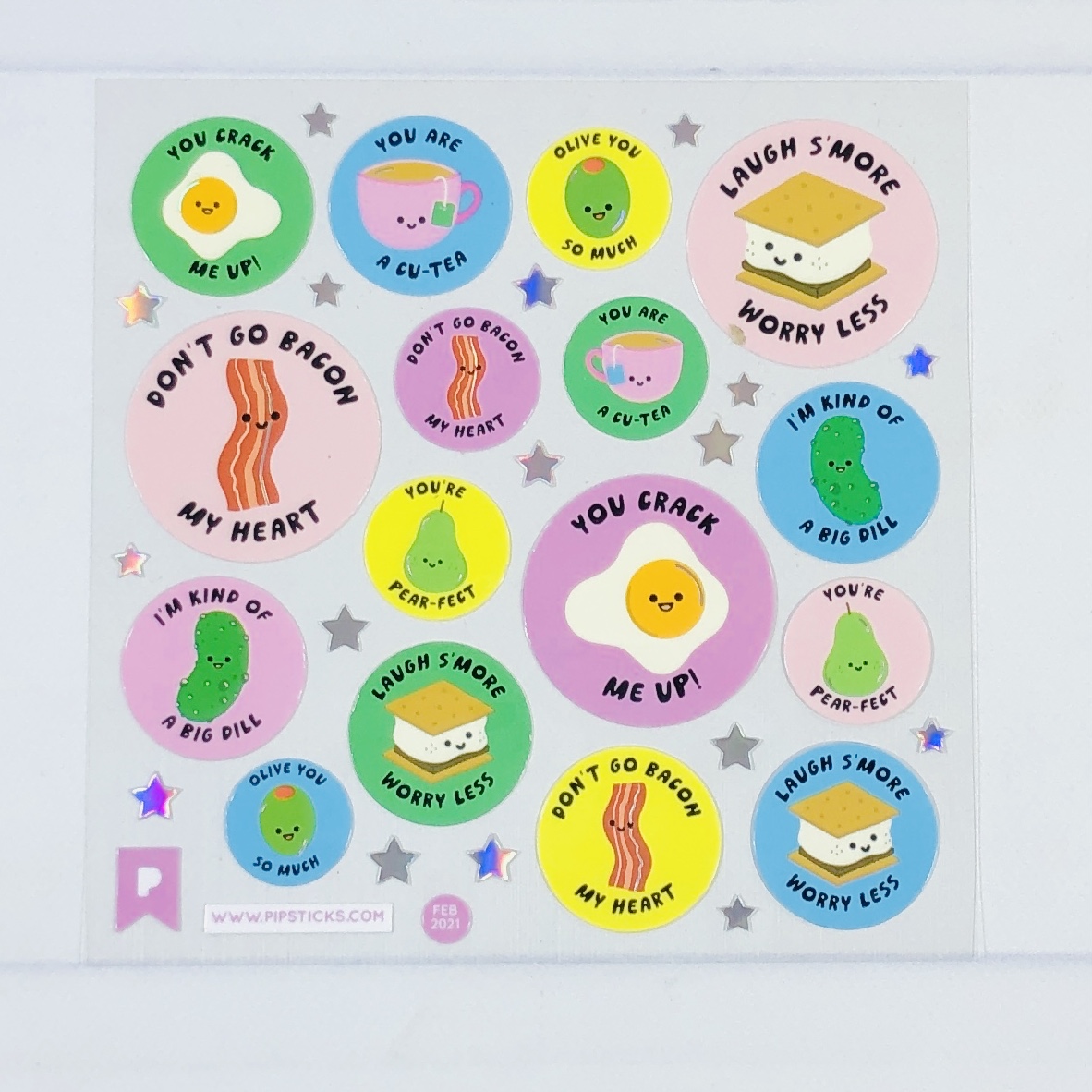 My Pun and Only ($2.95) I am a sucker for food puns. I think the bacon one is hilarious! PVC with silver foil accents.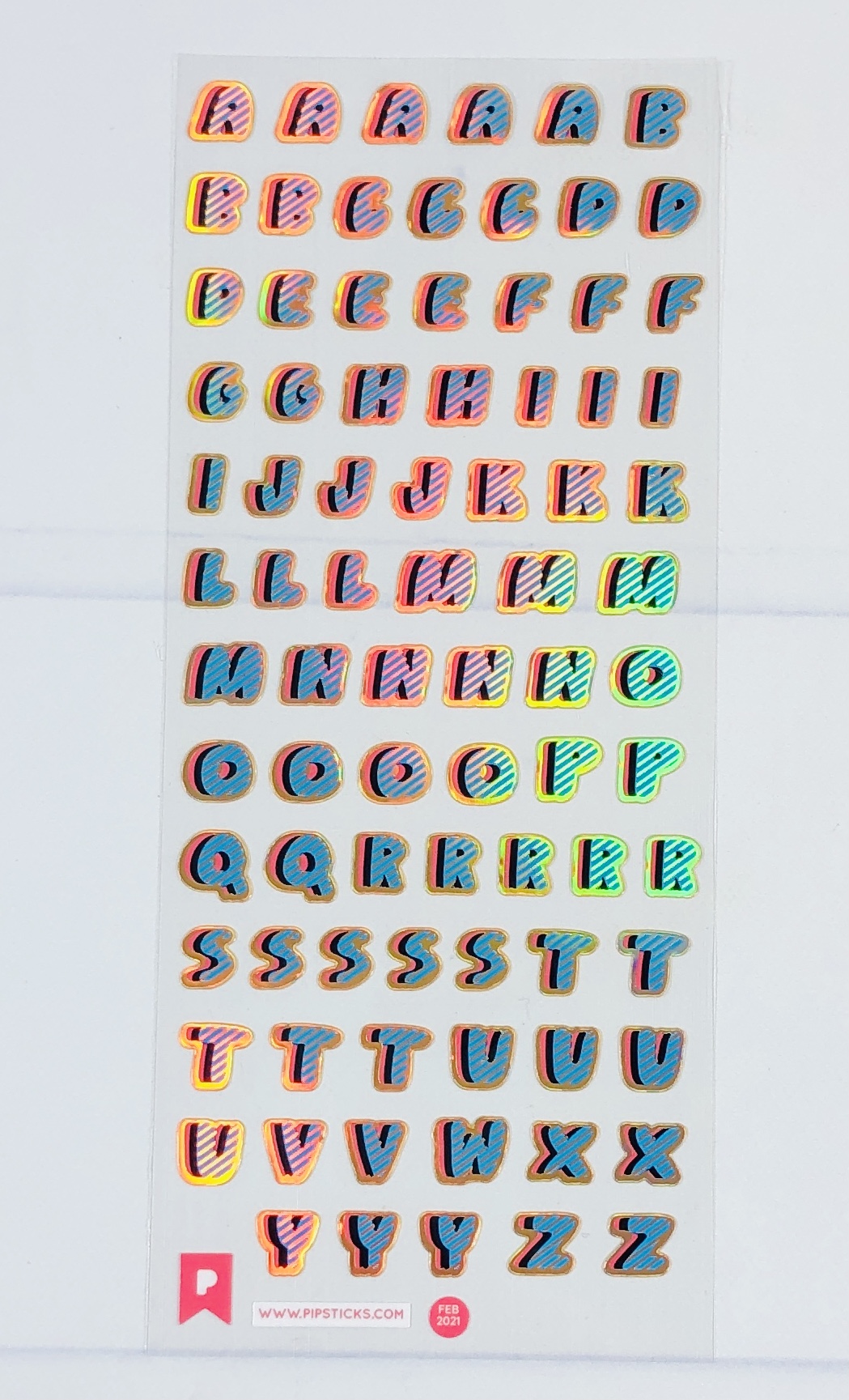 Golden Stripes Alphabet ($3.95) In person these look like blue letters with gold stripes but of course when you move them around they change. PVC with gold foil accents.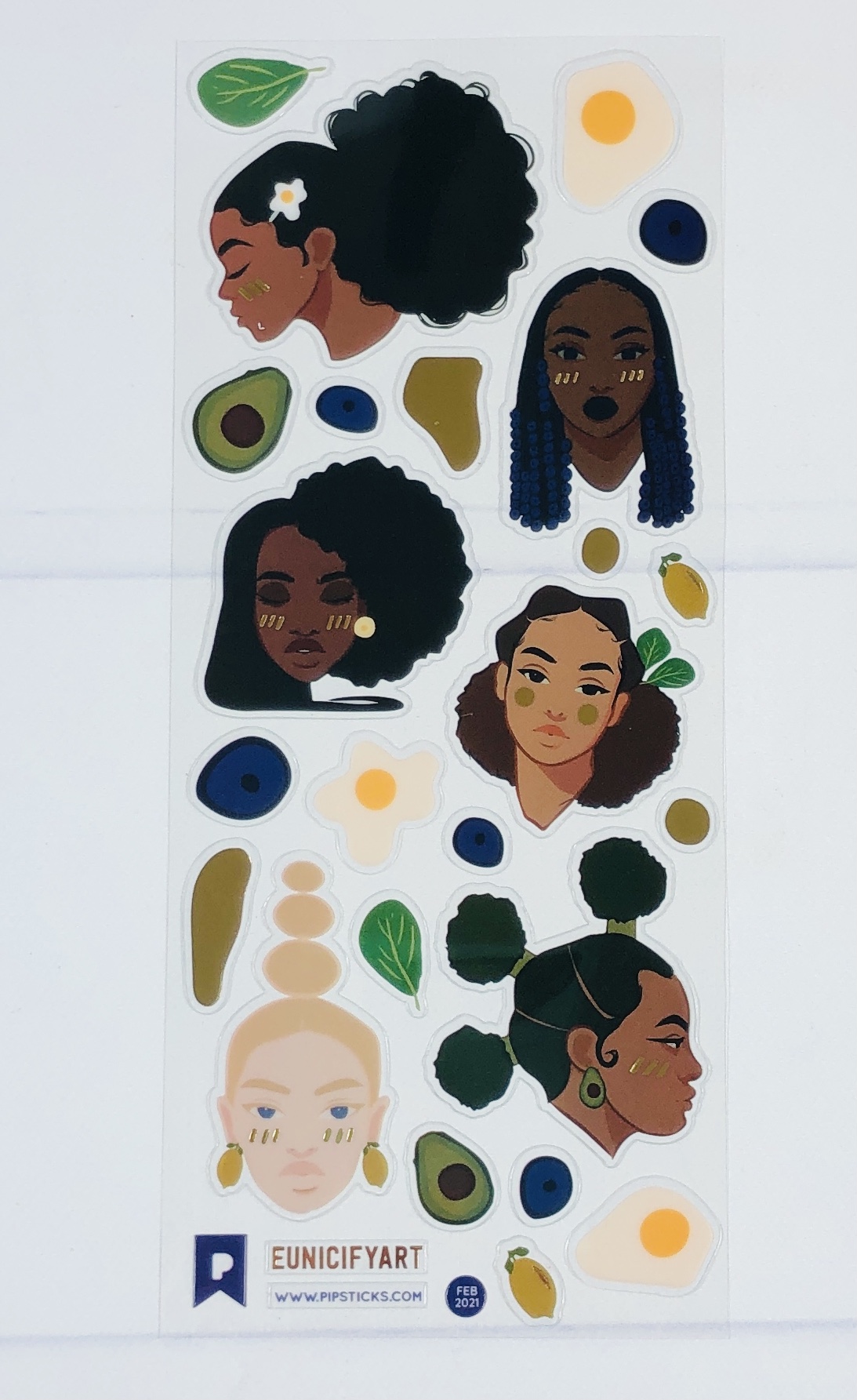 Natural Beauties by Eunicify Art ($3.95) is the sheet by the collaborative artist of the month! She even managed to stick with the food theme, I spy avocados! PVC with rose gold foil accents.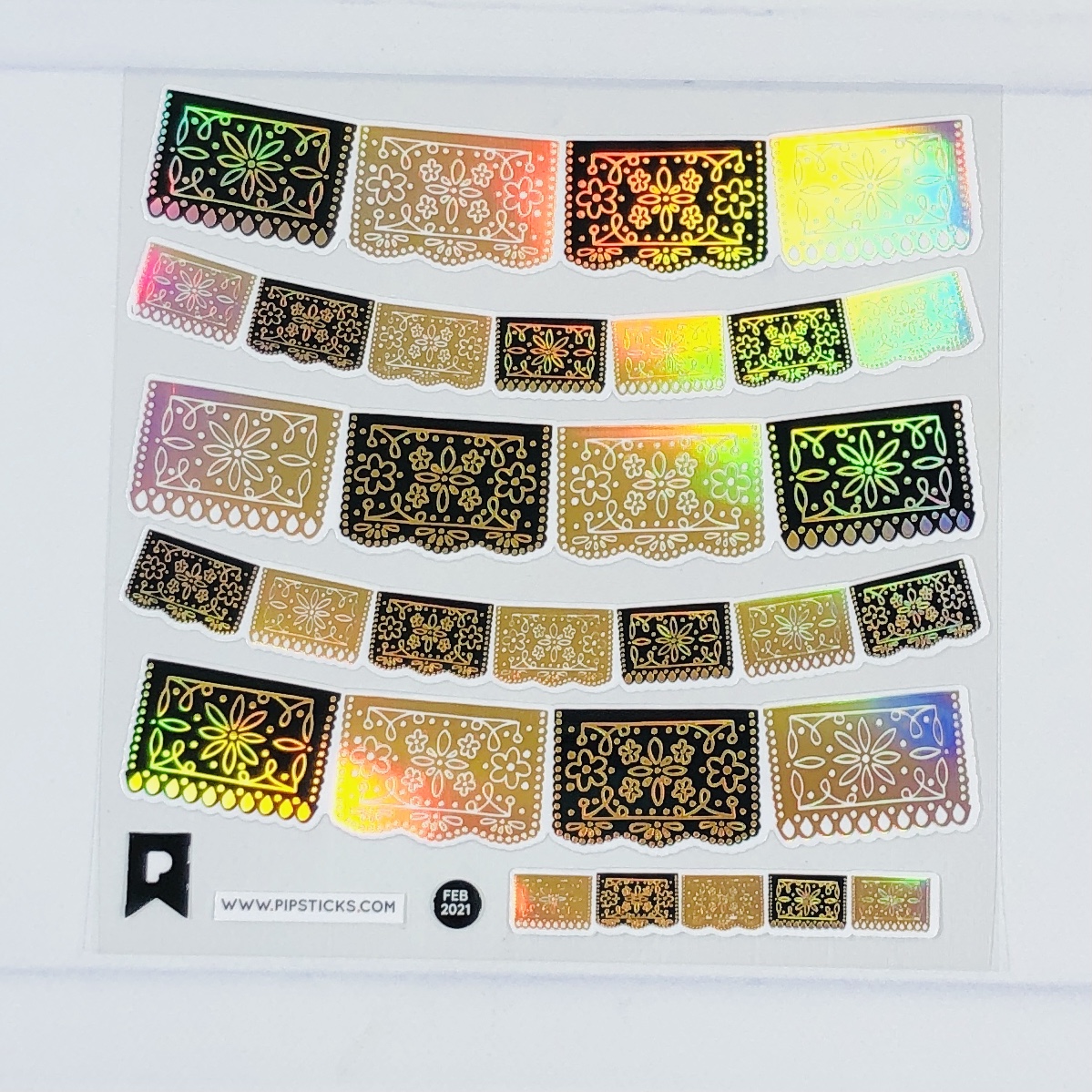 Posh Paper Flags ($2.95) reminds me of Market Square in San Antonio! Seroiusly, if you Google it you will see colorful papel picado, or decorative paper flags, in every picture. PVC with gold foil accents.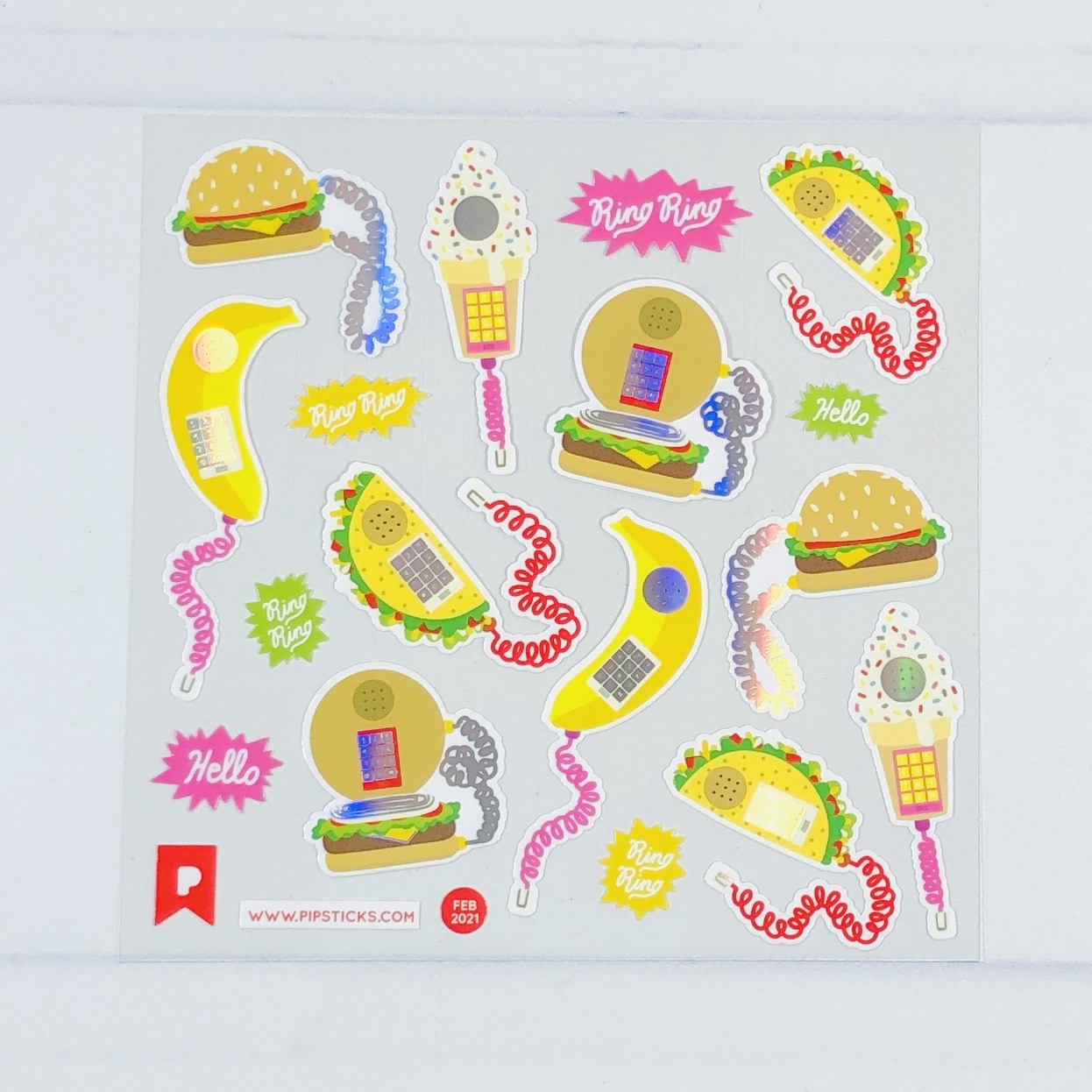 Call Me A Foodie ($2.95) has food stuff reimagined as old-fashioned telephones (or as I knew them back in the day, telephones). PVC with silver foil accents.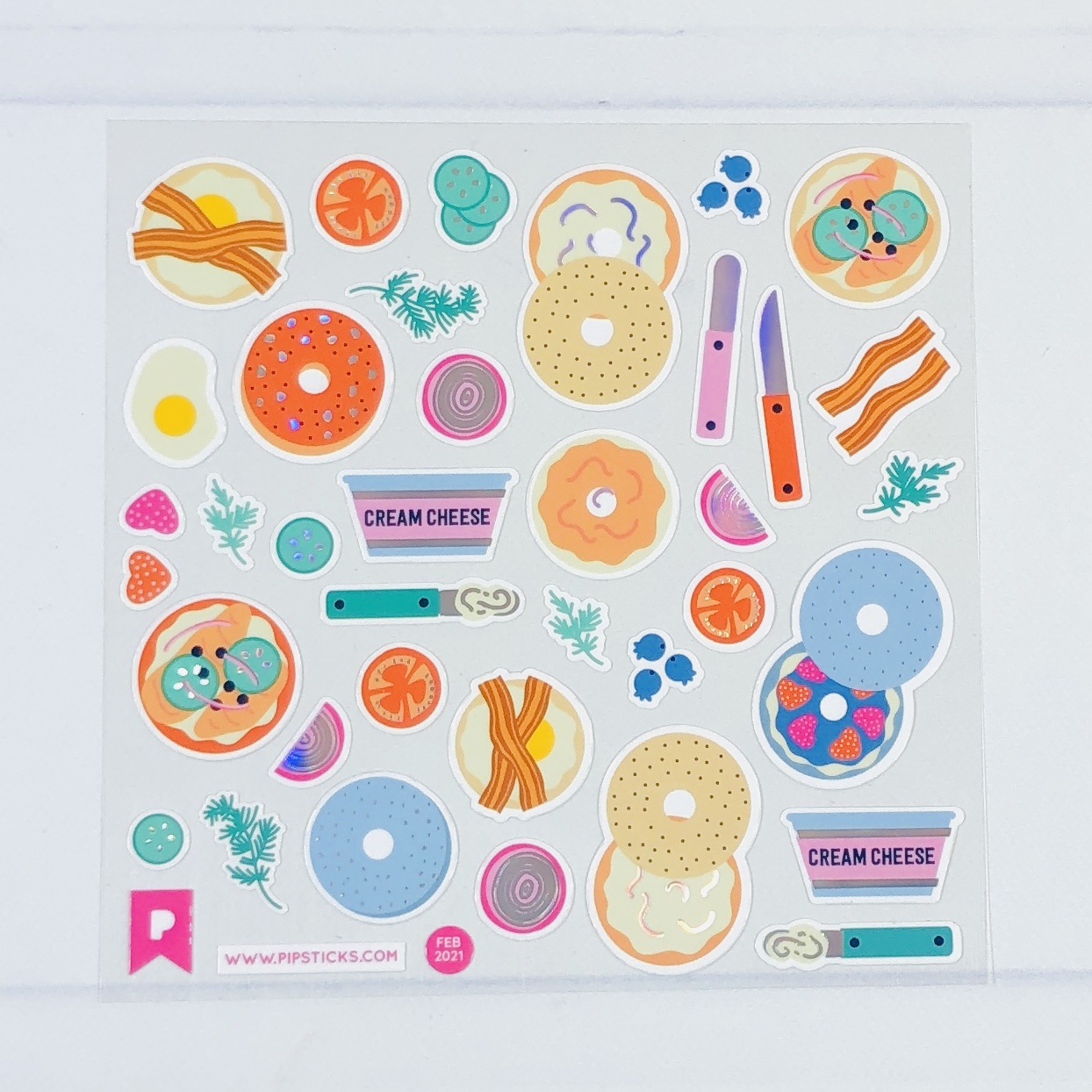 I Bagel To Differ ($2.95) has one of my favorite breakfast foods along with toppings and spreading knives. PVC with silver foil accents.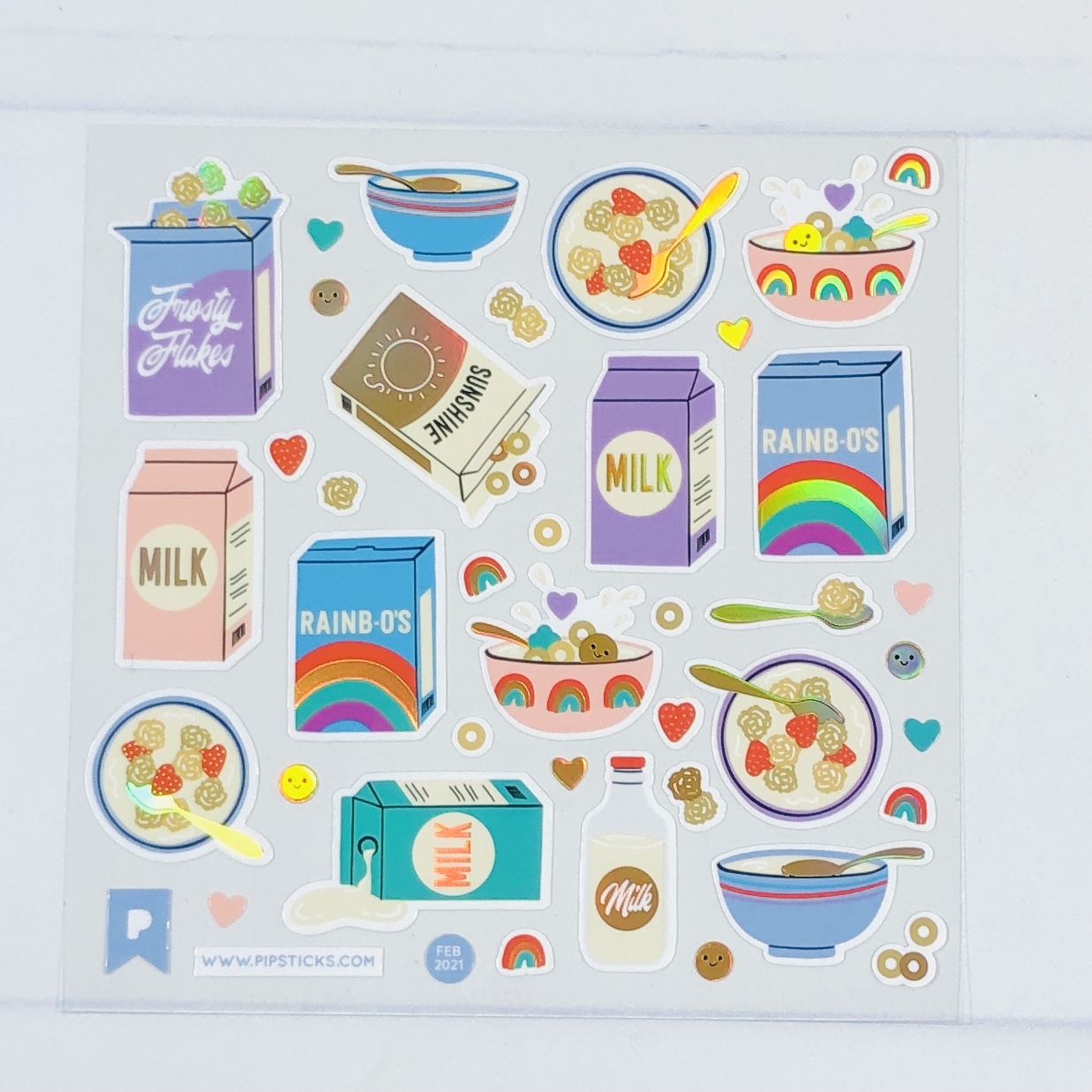 Cereal-ously Delicious ($2.95) has another breakfast staple, the kind that comes in boxes. PVC with gold foil accents.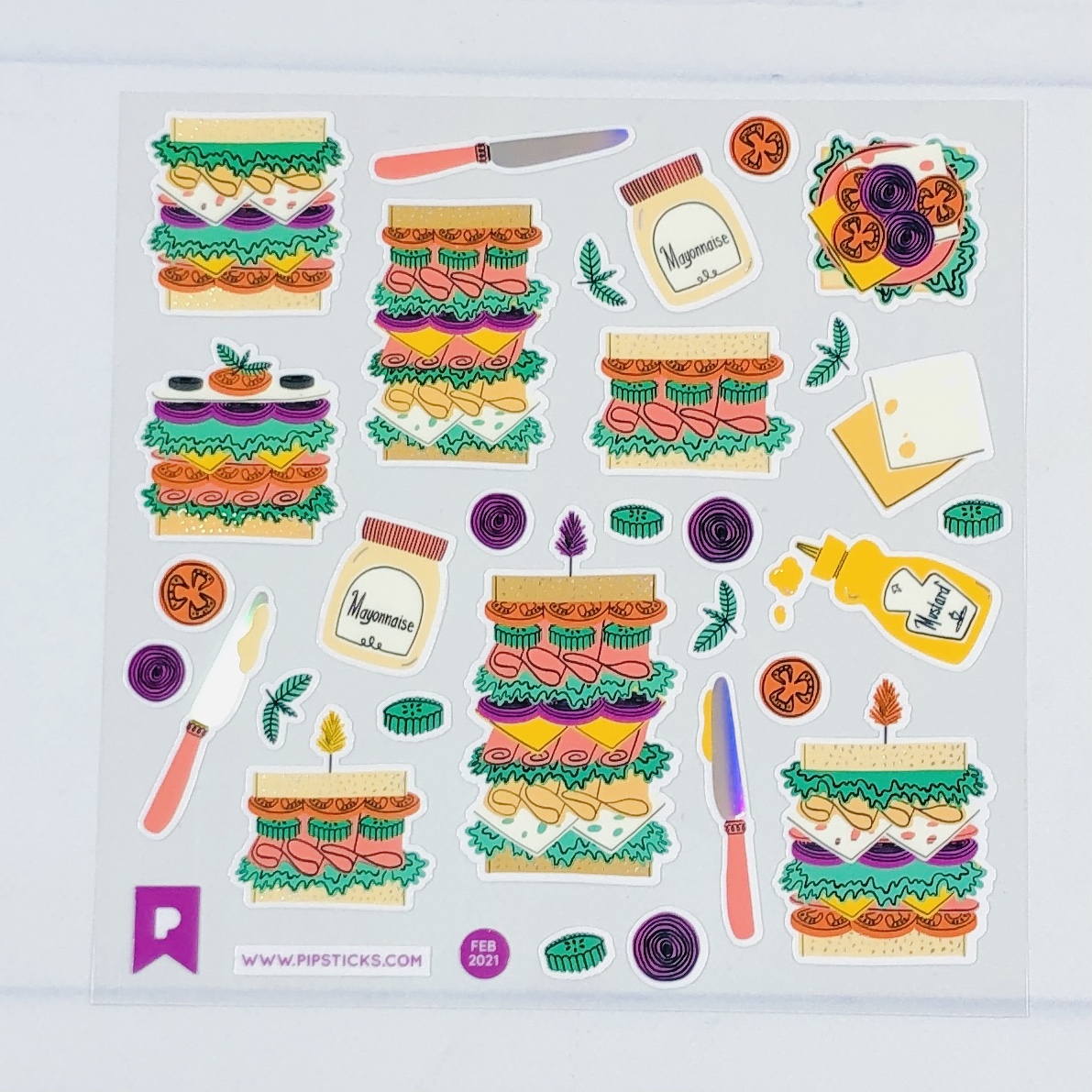 Stacking Up Nicely ($2.95) Now we move on to one of my other favorite meals – lunchtime and the fancy sandwich. PVC with silver foil accents.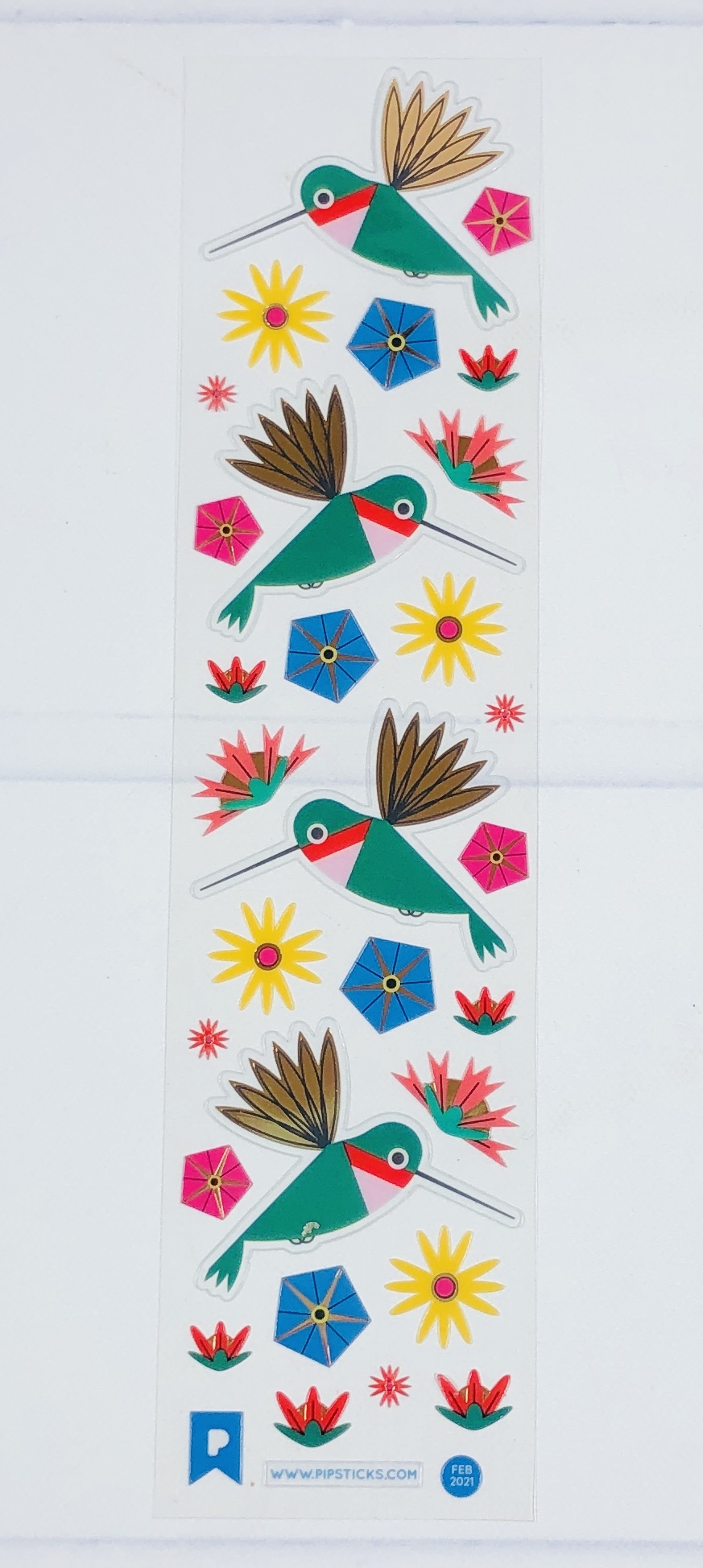 Pollen Angels ($2.95) I've never heard of hummingbirds referred to in this way but it is kinda cute! PVC with rose gold foil accents.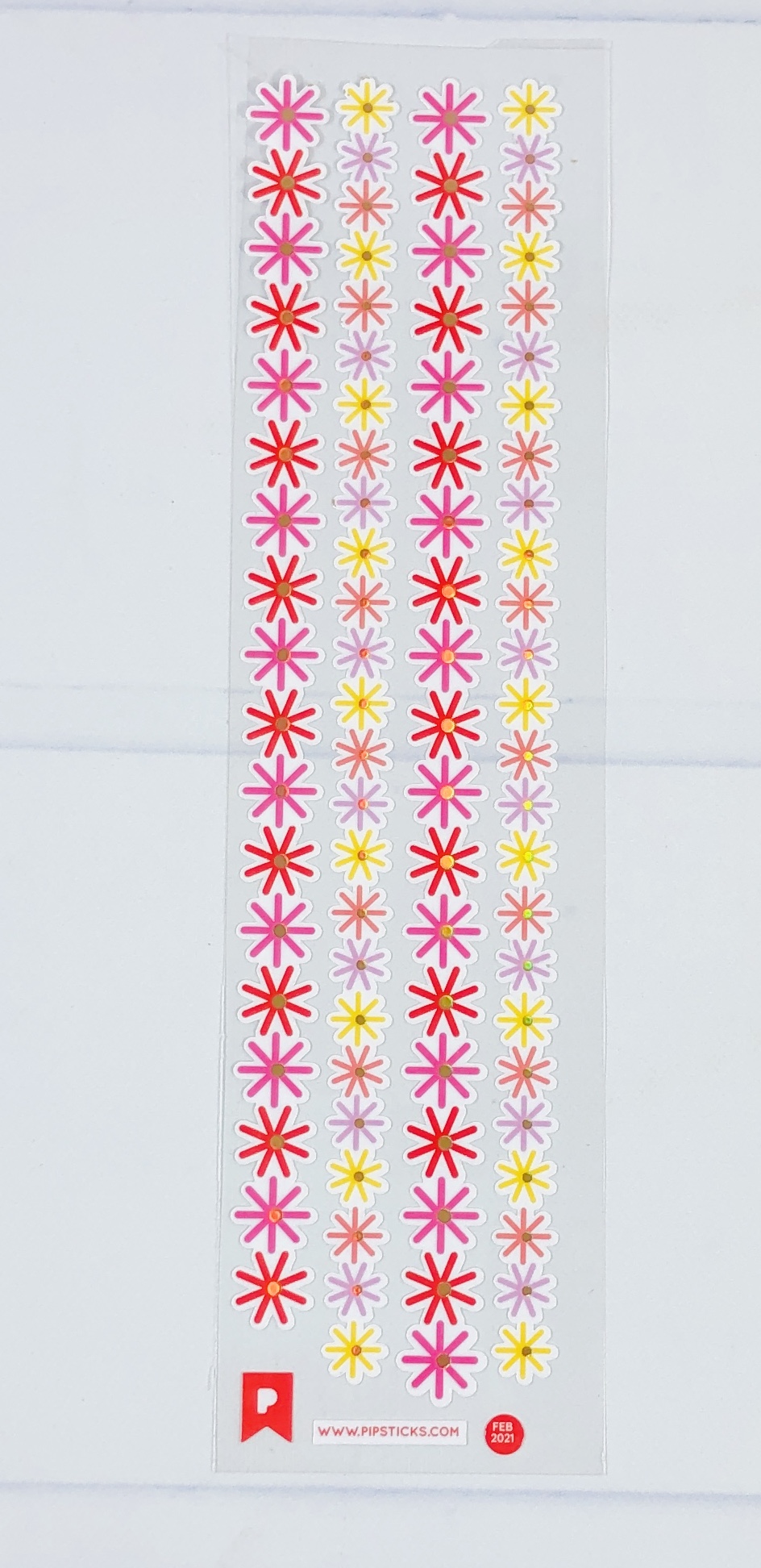 Daisy Chains ($2.95) can be used to border a journal or planner. PVC with gold foil accents.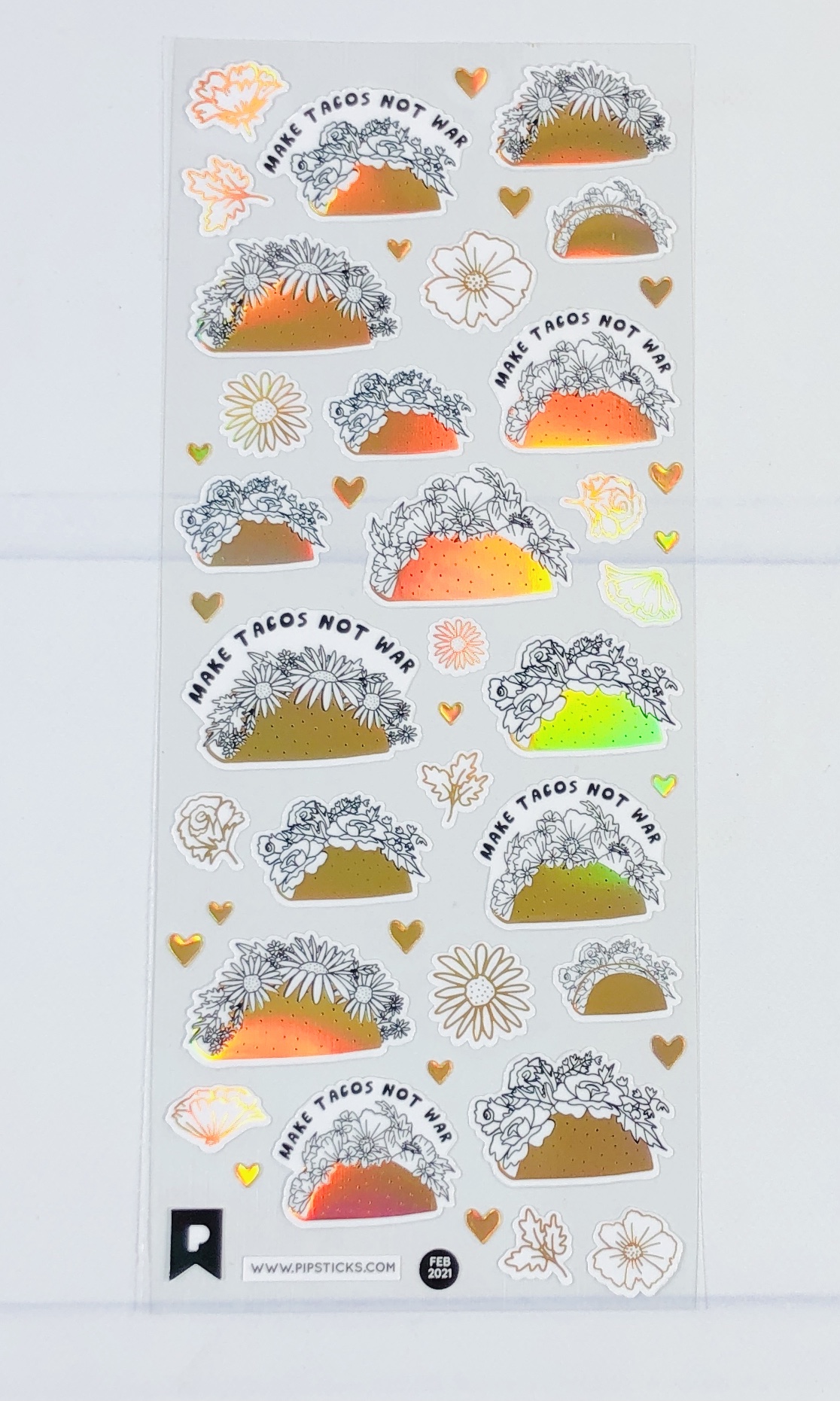 Peace, Love, & Tacos ($3.95) I usually put lettuce and tomatoes in my tacos but I guess you could use nasturtiums or other edible flowers! PVC with gold foil accents.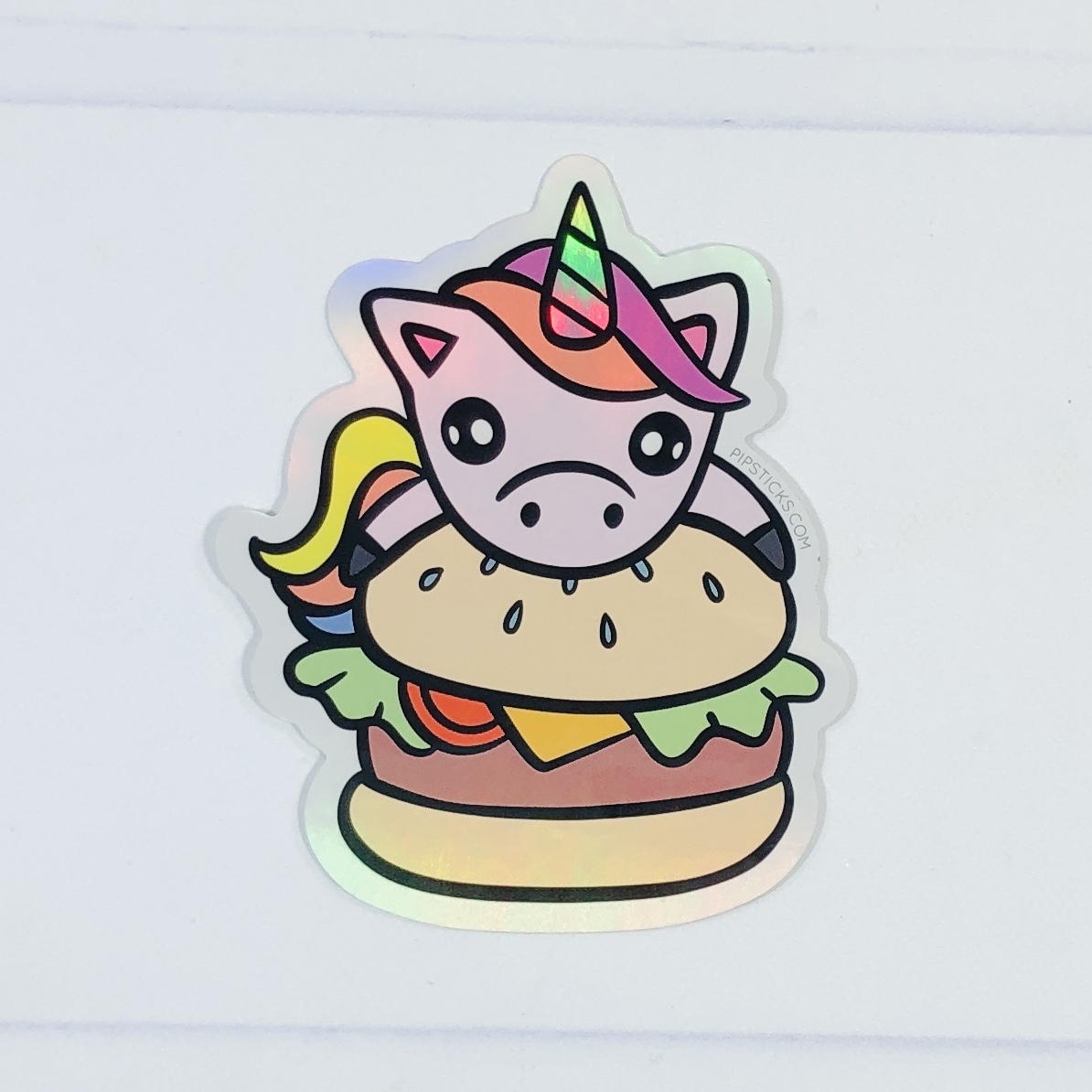 Unicorns Love Fast Food (buy a set of 3 for $7.95) The larger sticker of the month is usually one of three from a set. Mine has a unicorn hugging a hamburger. I get you unicorn, I sure do. This sticker is about 3.5″ tall.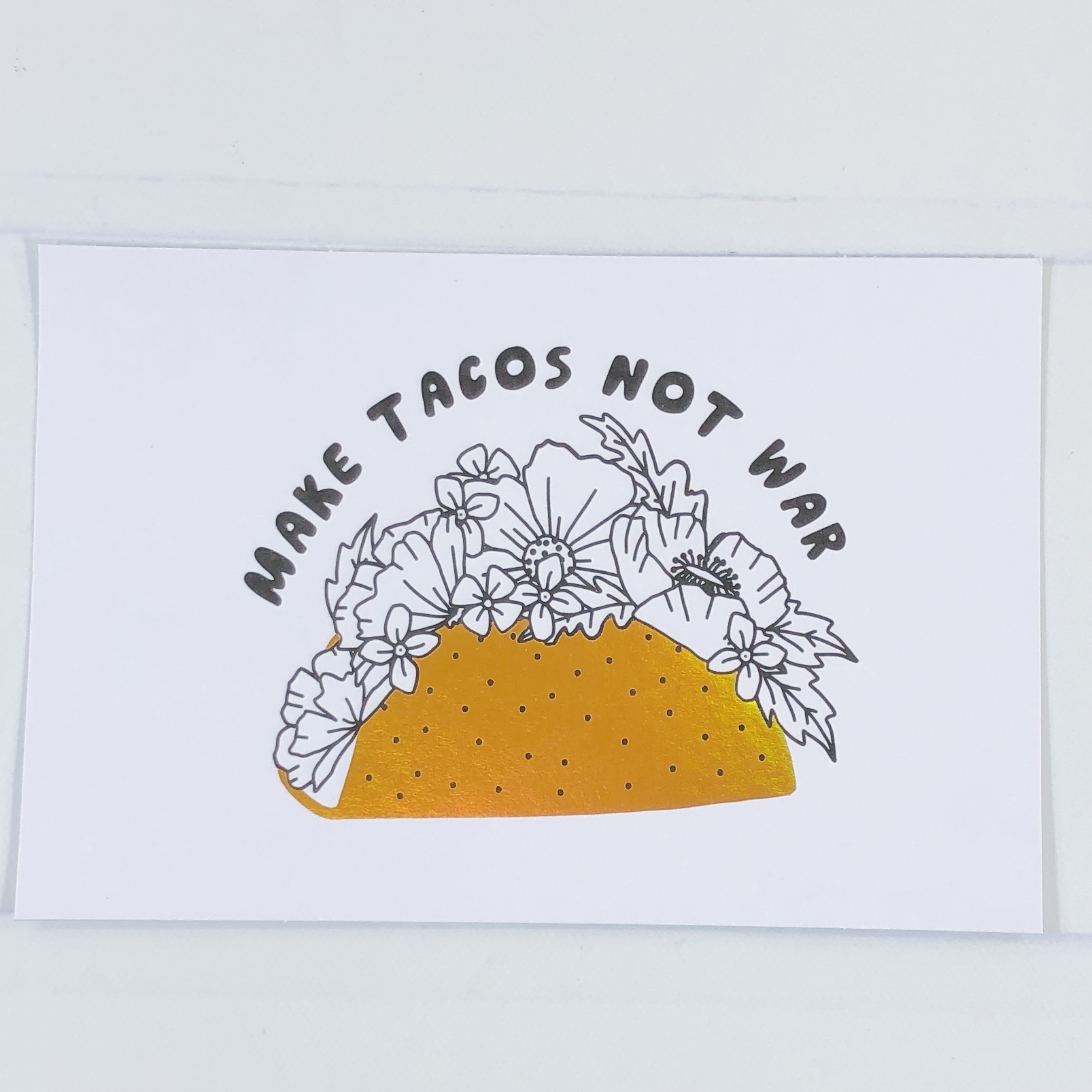 Make Tacos Not War Postcard Pack ($9.95 for 12) You know what would make this postcard (with gold foil taco!) even better? Stickers! Send it to your favorite foodie.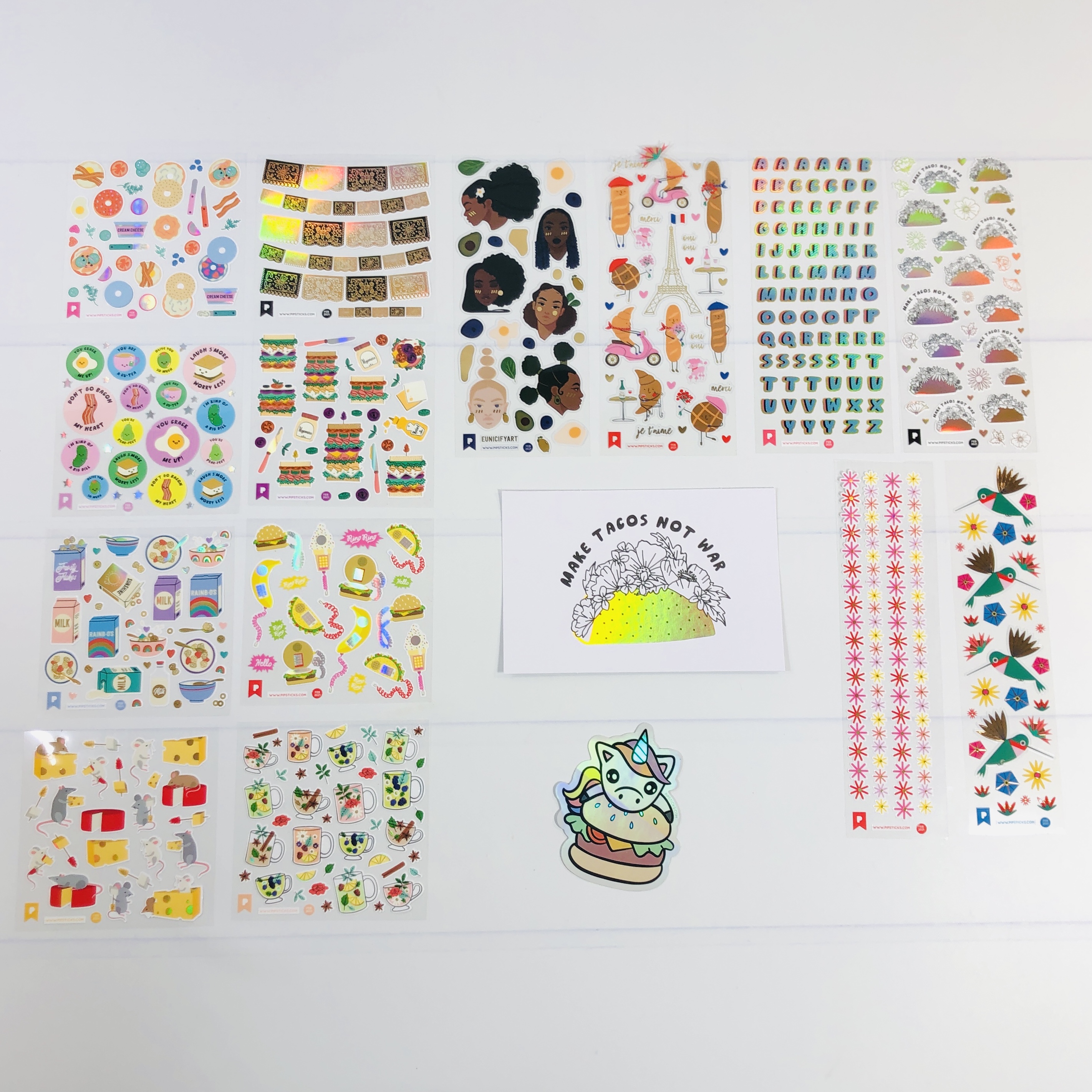 That's a wrap of the February Pipsticks Classic pack of stickers, and it's a foodies dream! There were so many colorful stickers and I can't wait to get them into my planner! Even the postcard was funny, and I think the unicorn sticker will look great on my daughter's laptop. We also use the stickers on phone cases, snail mail, and journals. How do you use your stickers?
Are you getting any of Pipsticks' subscription?