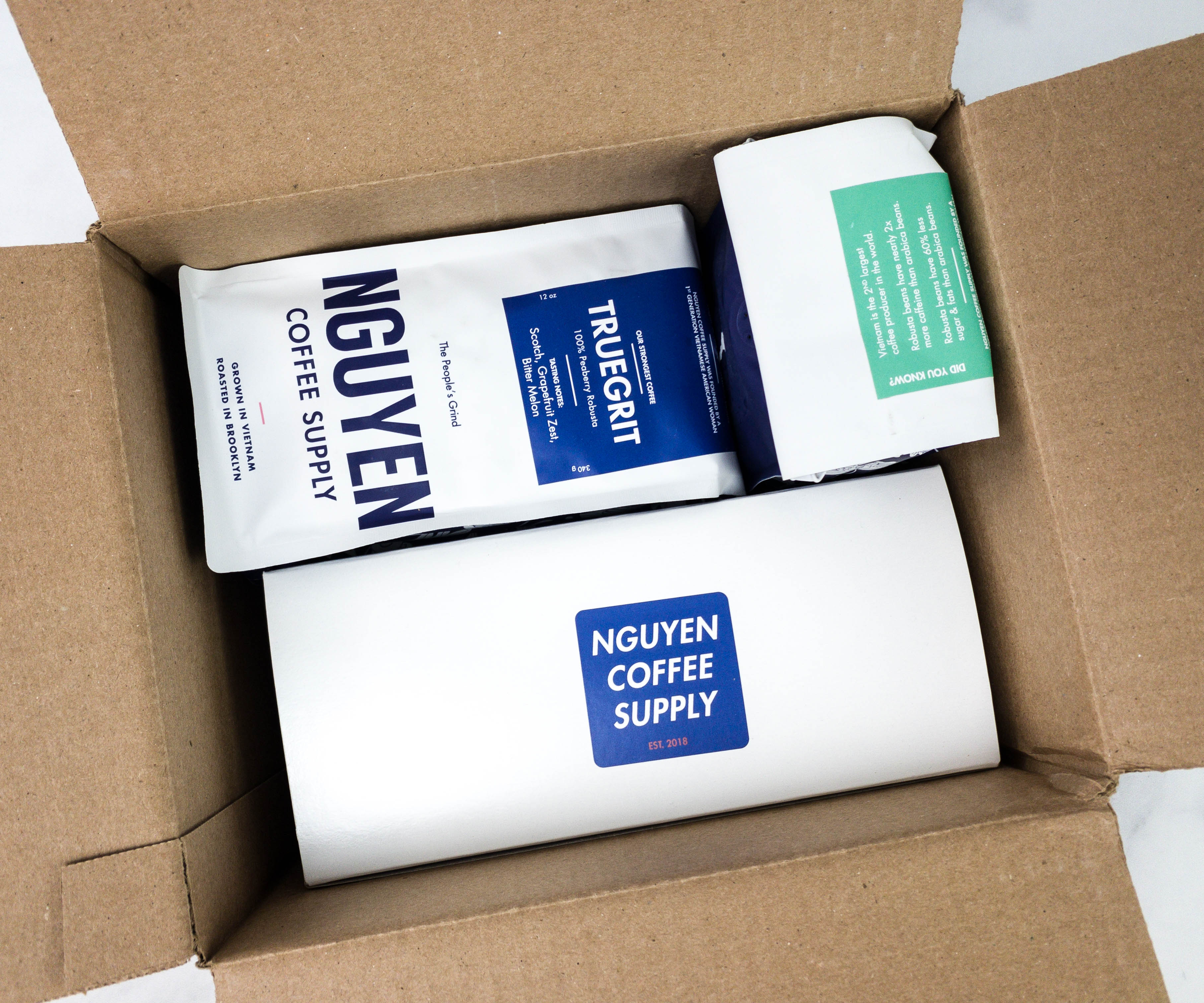 Nguyen Coffee Supply is the first specialty Vietnamese coffee company in the United States, founded by a 1st generation, Vietnamese American woman. They offer 3 kinds of subscriptions, so you can enjoy sustainably-sourced authentic Vietnamese coffee at home. There's Loyalty ($14.25 per bag plus shipping), the Nguyen Coffee Supply signature blend, which is made with both robusta beans and arabica beans. Meanwhile, Moxy ($15.20 per bag plus shipping) is made with arabica beans only, making it lighter and fruitier coffee. Another option is Truegrit ($13.30 per bag plus shipping), their strongest coffee made with peaberry robusta. Subscribers can also choose whether they want to receive whole bean or ground coffee, how many bags, and how often they want to receive it (every 1 week, every 2 weeks, or every 4 weeks). One bag of Nguyen Coffee Supply coffee is equivalent to 24 cups of coffee.
DEAL: Get 10% off your first box! Use coupon code VIPGET10.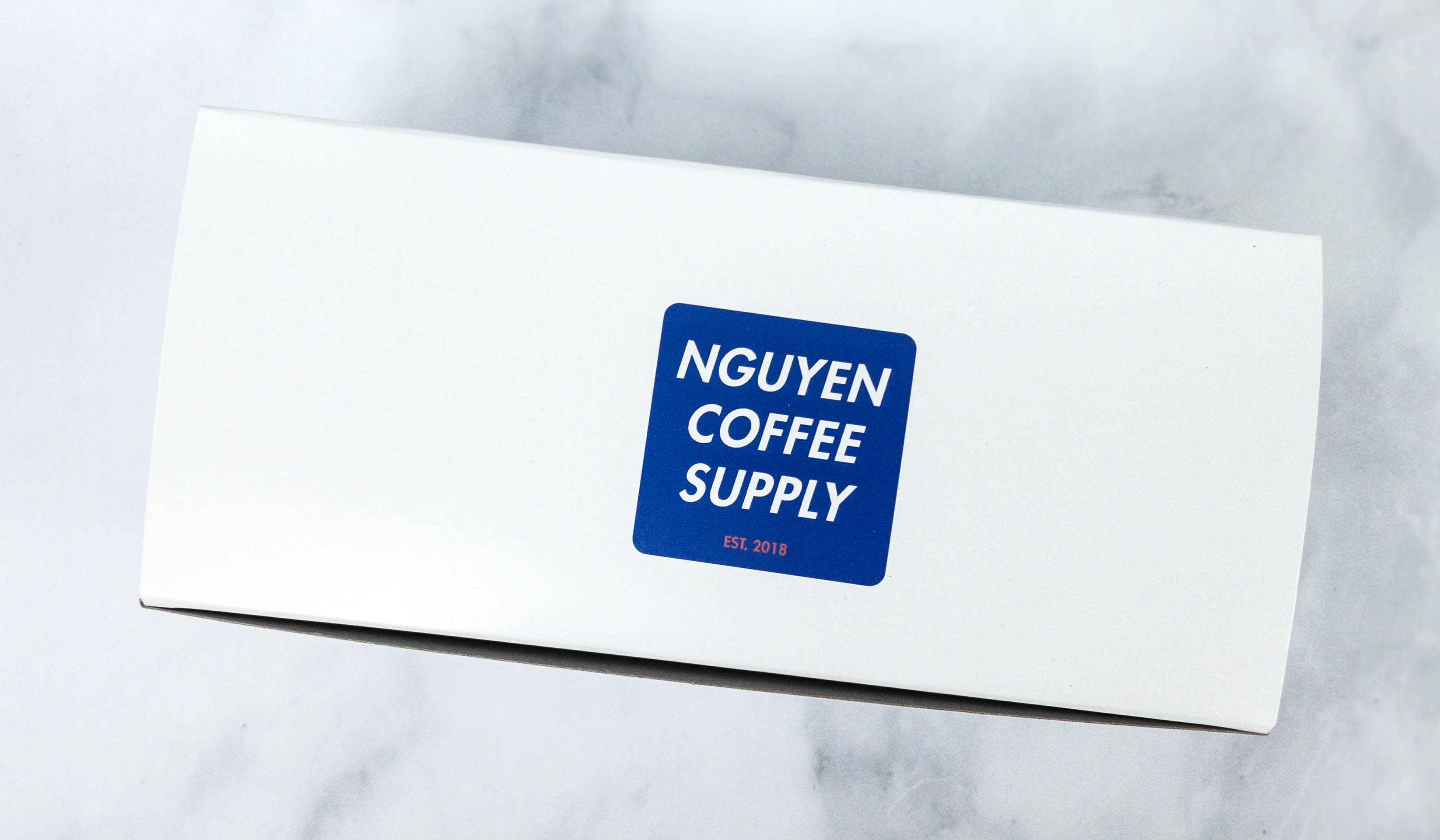 Their coffee farm is in Vietnam, while roasting happens in a commercial roasting facility in Brooklyn, NY. Nguyen Coffee is certified organic and clean, and they don't use additives, flavorings, or oils during the roasting process.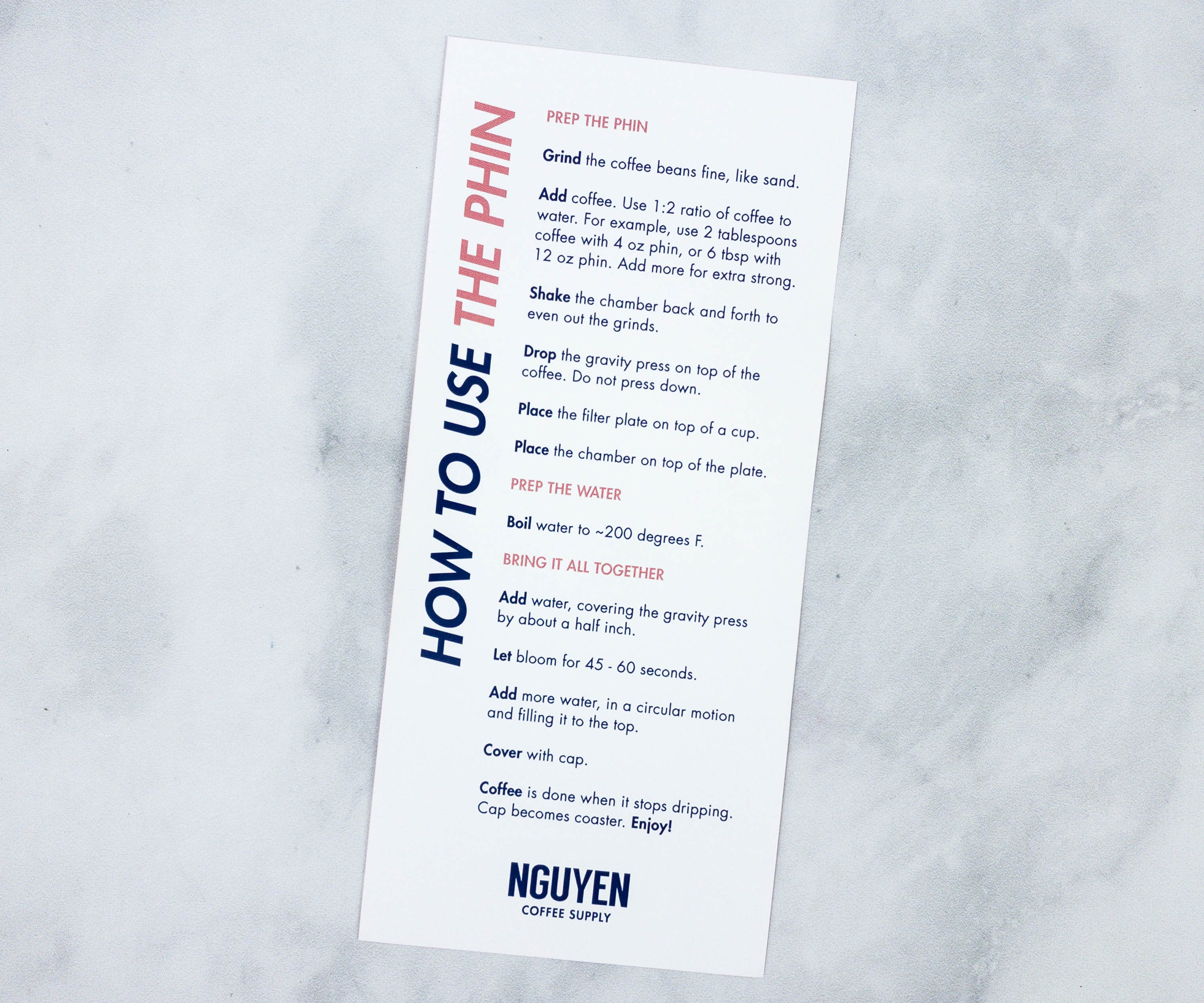 This paper lists the instructions on how to use the Phin Filter included in the box.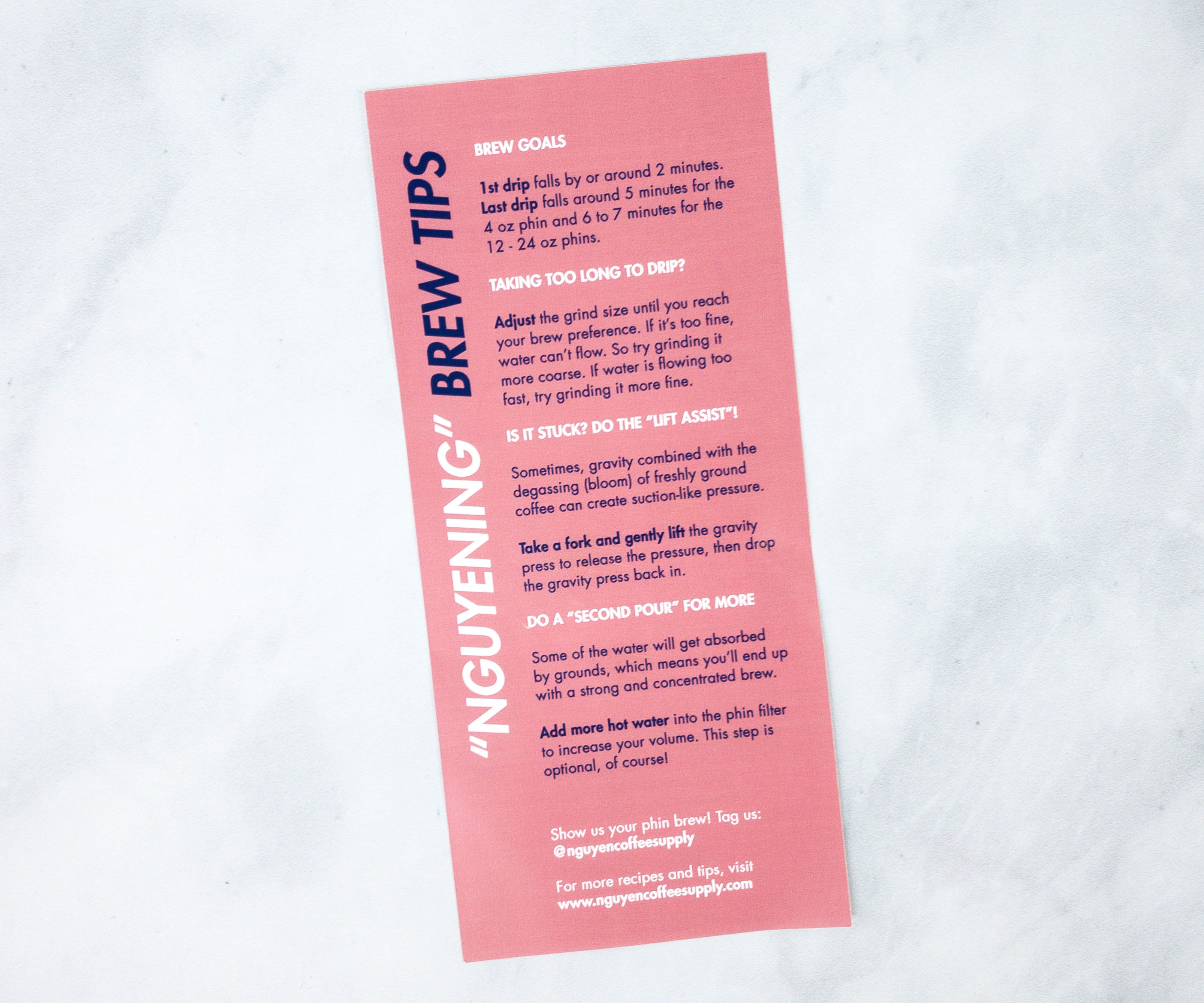 Some brewing tips are also discussed on the flipside of the card.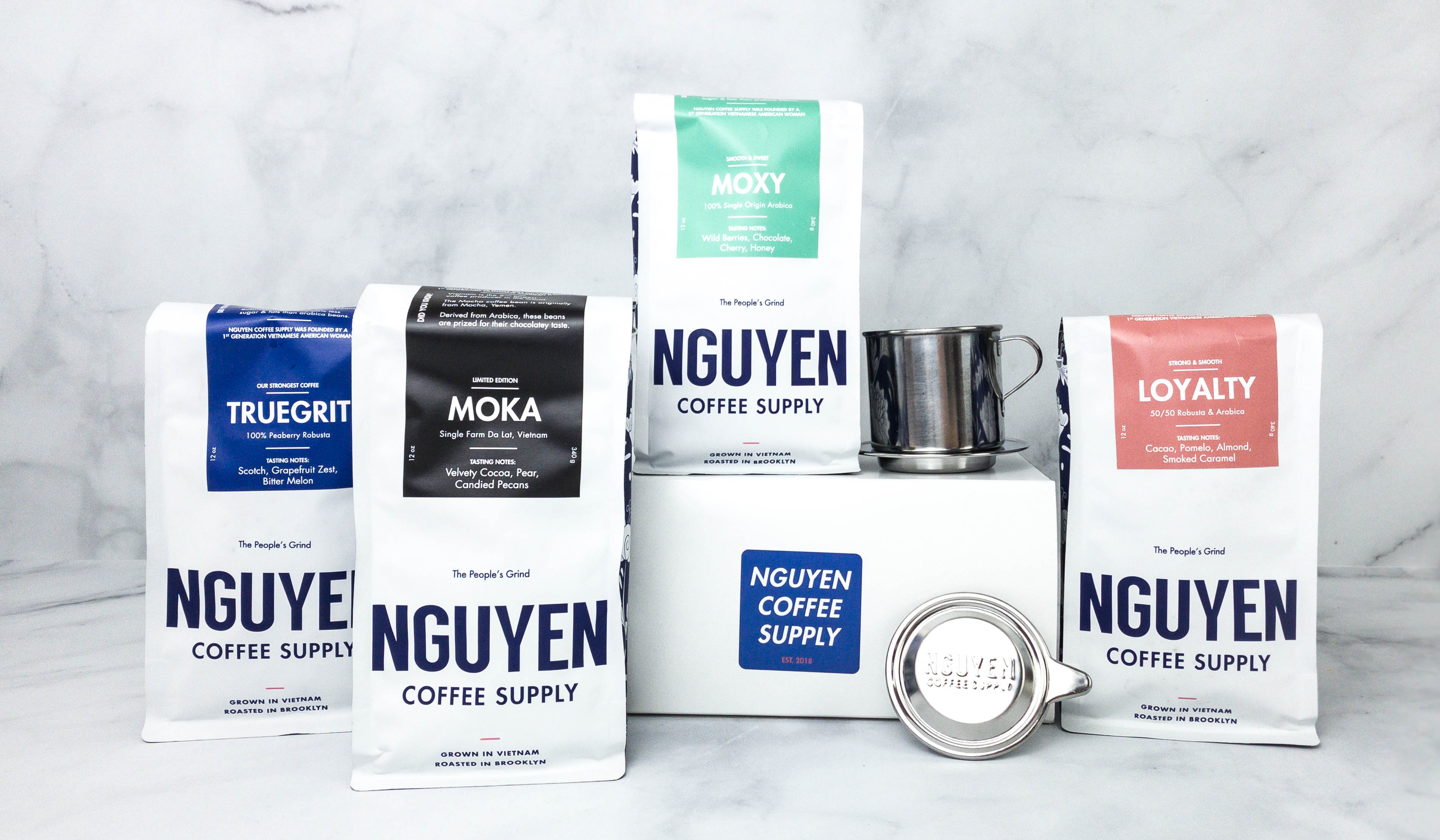 Everything in my box!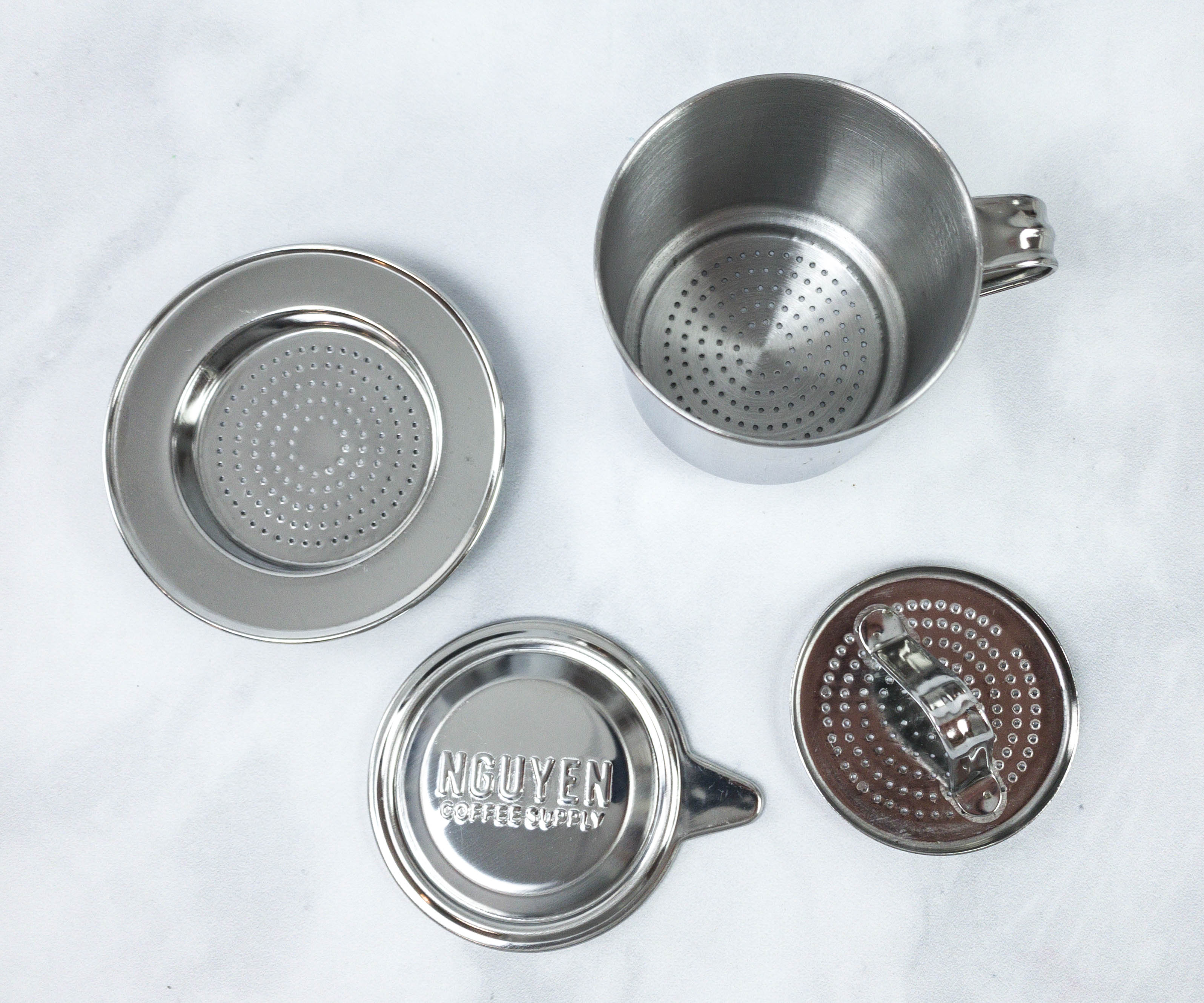 12 oz Phin Filter ($18) This Vietnamese coffee brewing tool is the perfect companion for coffee lovers, whether at home or when travelling. It fits most mugs and can produce up to 2 servings of caffeinated drink.
It's made from high grade stainless steel, so it's easy to clean as well.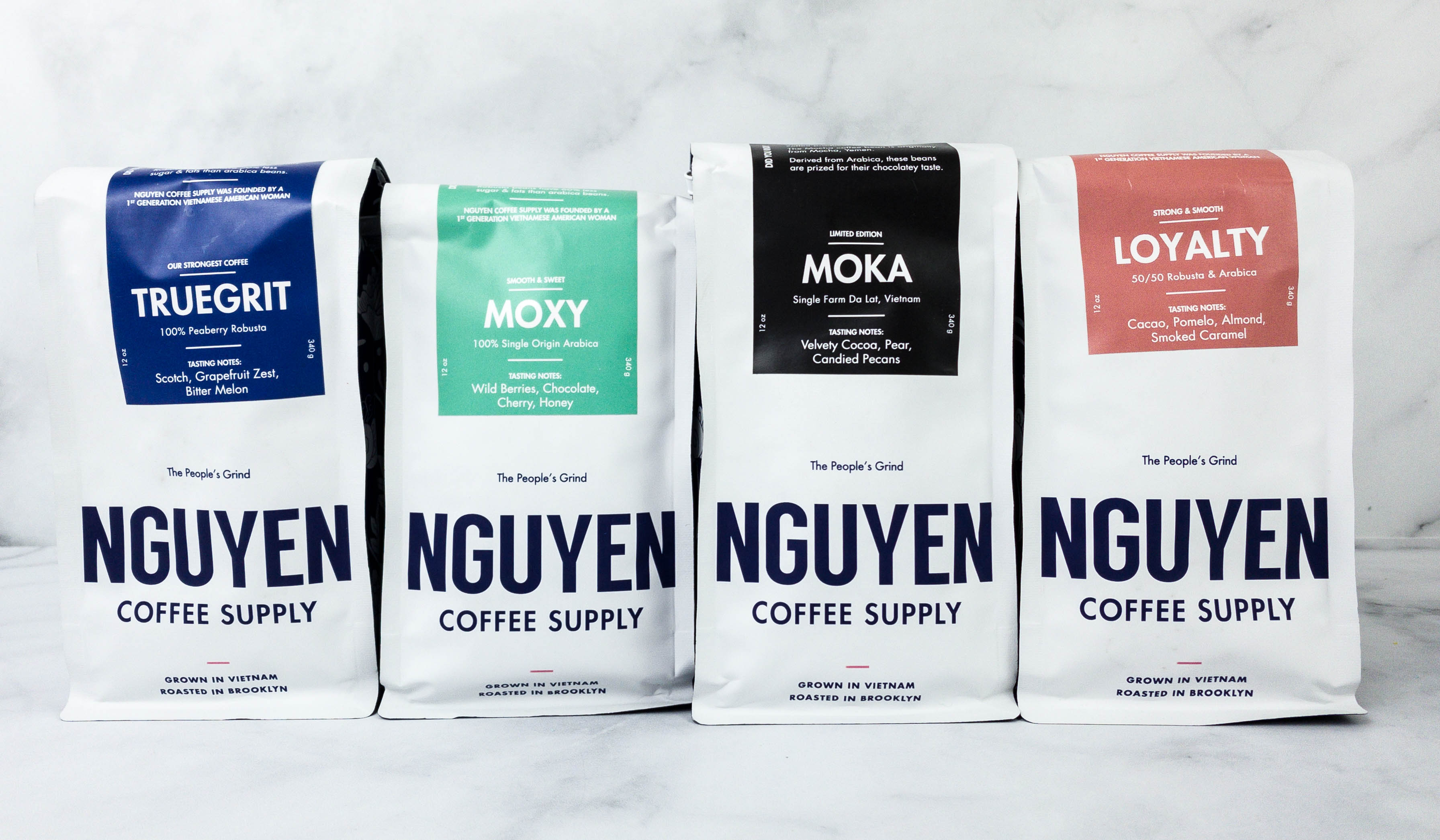 I received 4 Nguyen coffee bags in my box!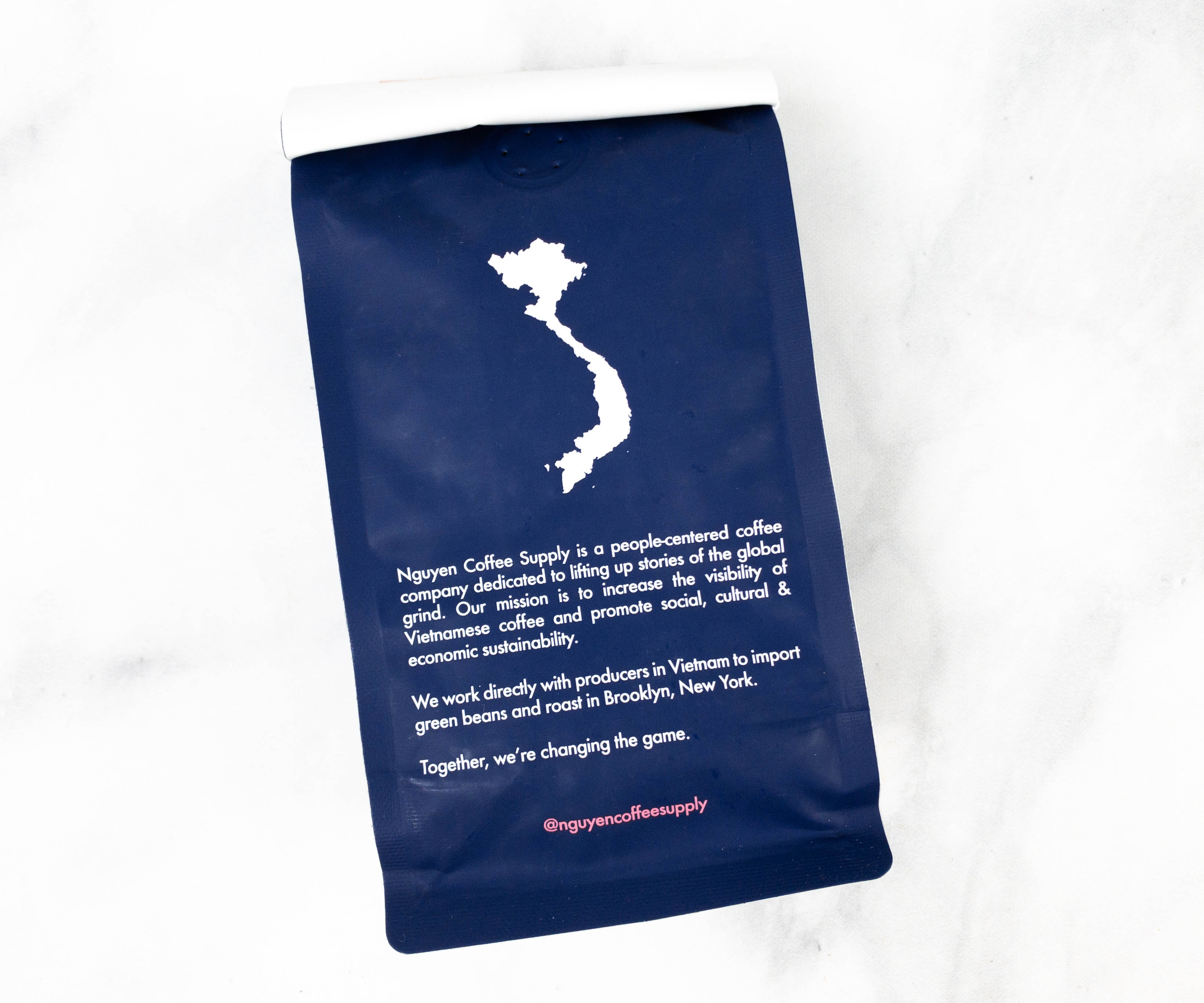 The packaging features Nguyen Coffee's mission and company profile.
Nguyen Coffee Supply is a people-centered coffee company dedicated to lifting up stories of the global grind. Our mission is to increase the visibility of Vietnamese coffee and promote social, cultural, & economic sustainability.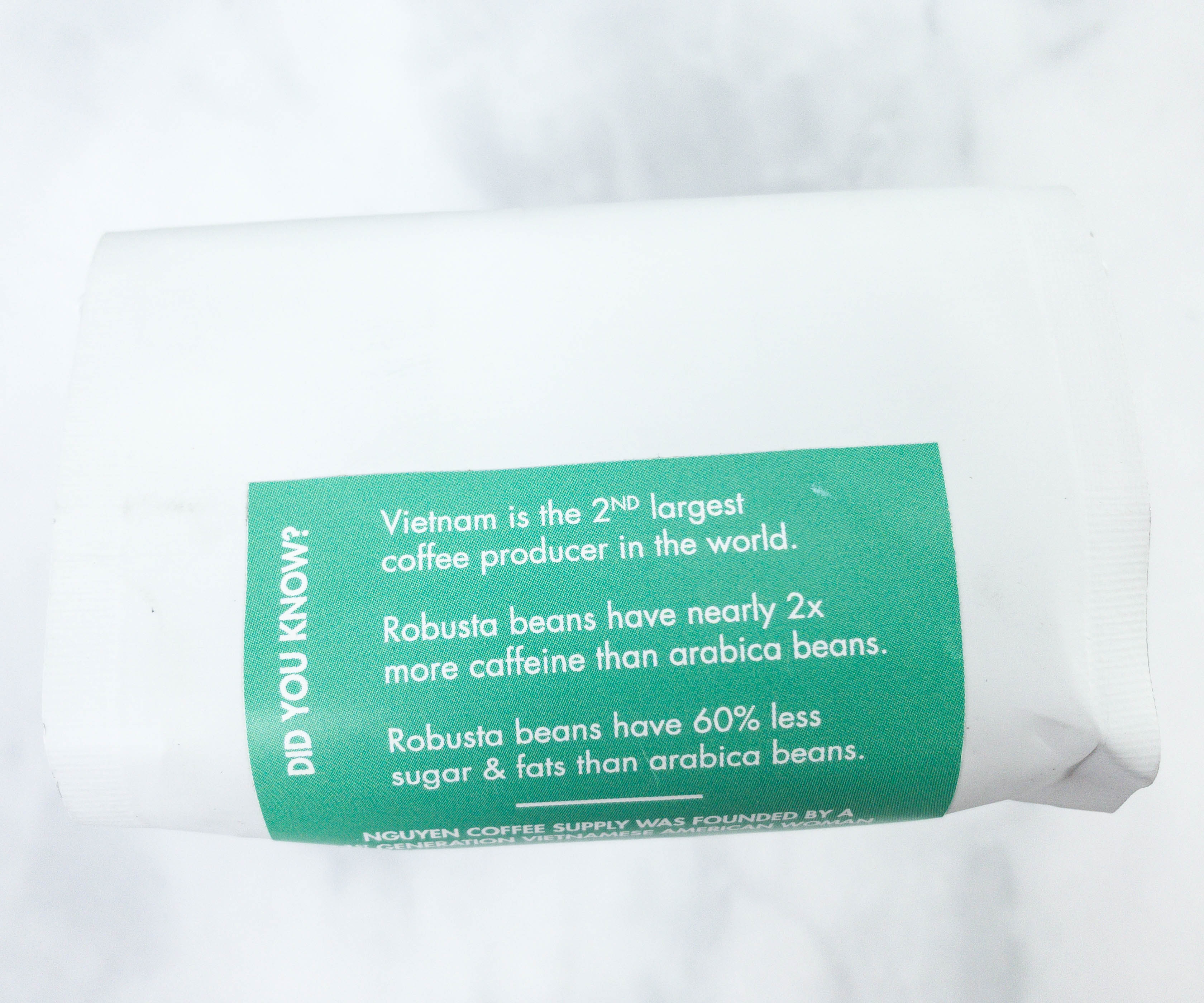 There are also interesting facts about Vietnamese coffee on the packaging!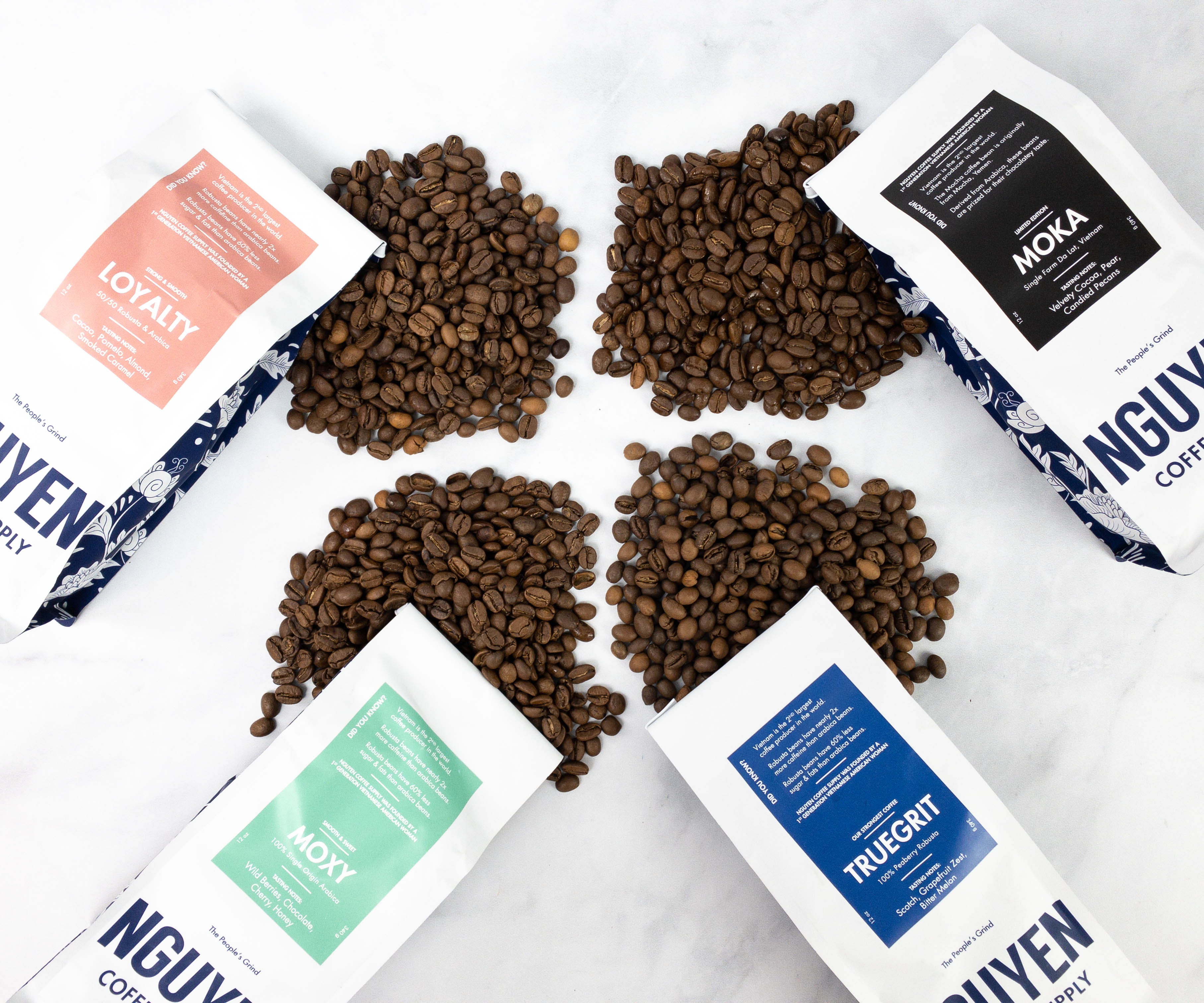 This month's featured blends are Truegrit, Moxy, Loyalty, and Moka!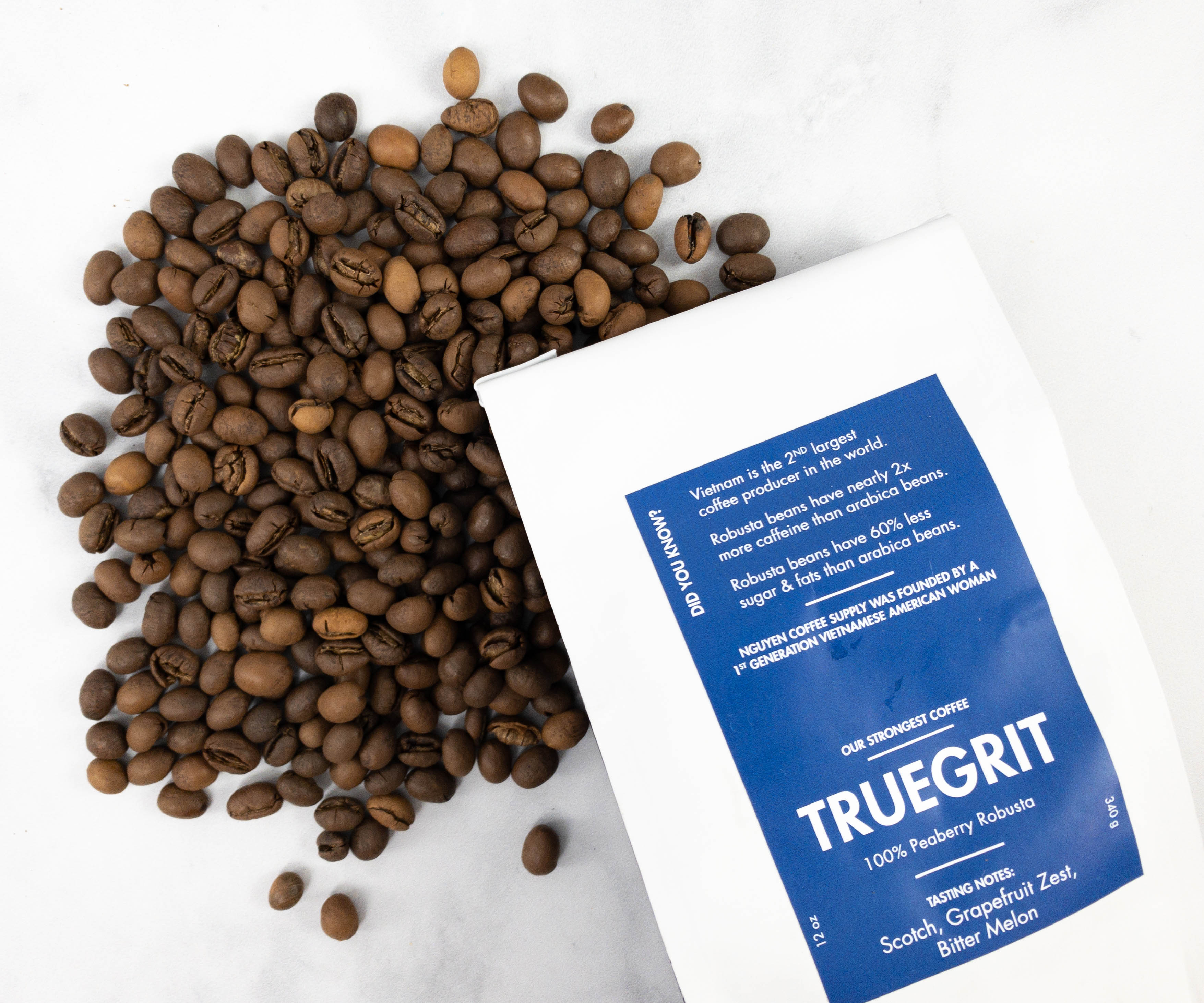 Truegrit ($14 for a one-time purchase, $13.30 on a recurring plan) This is the strongest coffee in Nguyen's line up of Vietnamese coffee blends. It features medium roast peaberry robusta coffee beans that contain 2 times more caffeine content than regular coffee. To add, these beans also contain twice the antioxidants compared to arabica.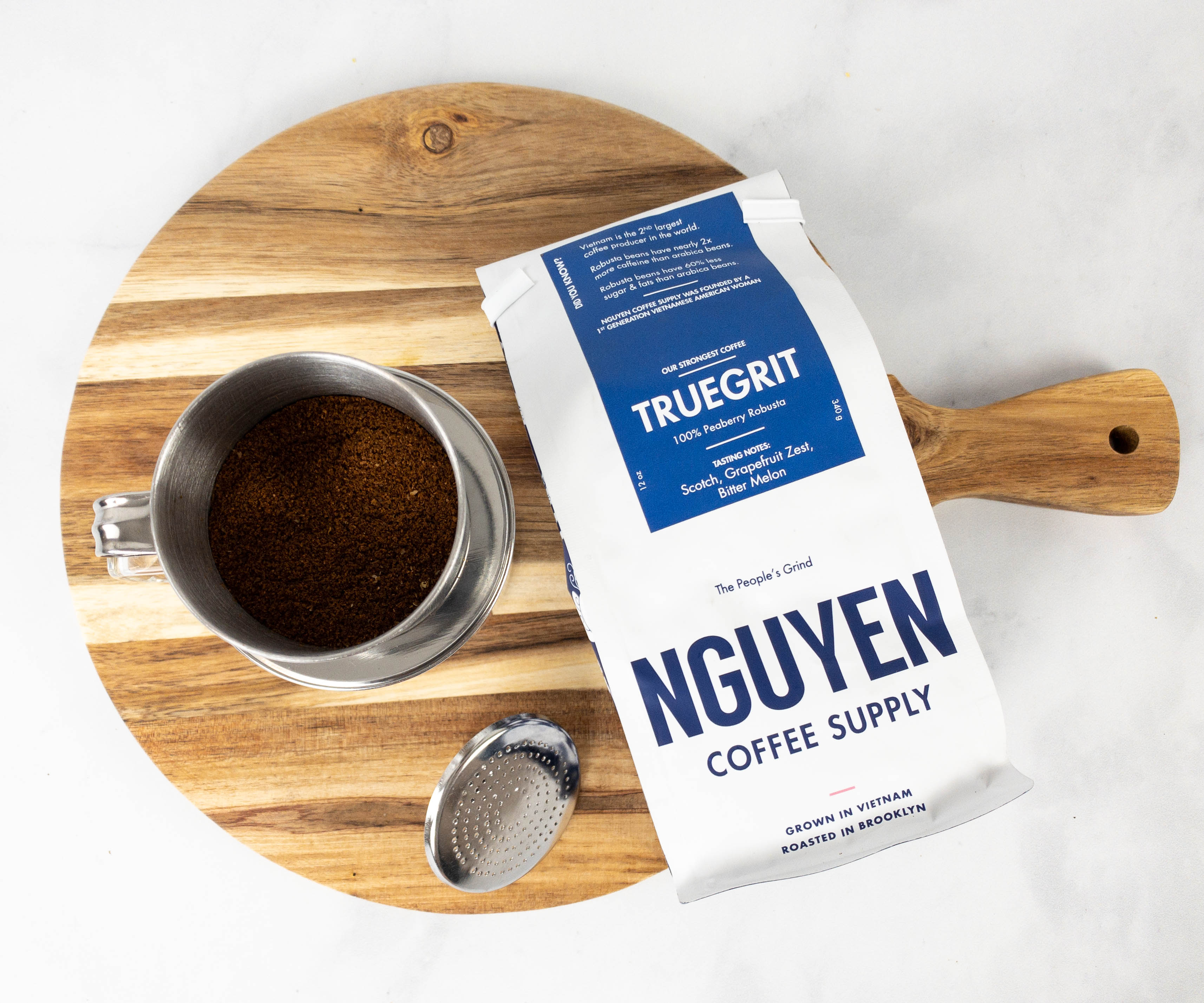 As soon as I opened the bag, I could really smell the strong aroma of Truegrit!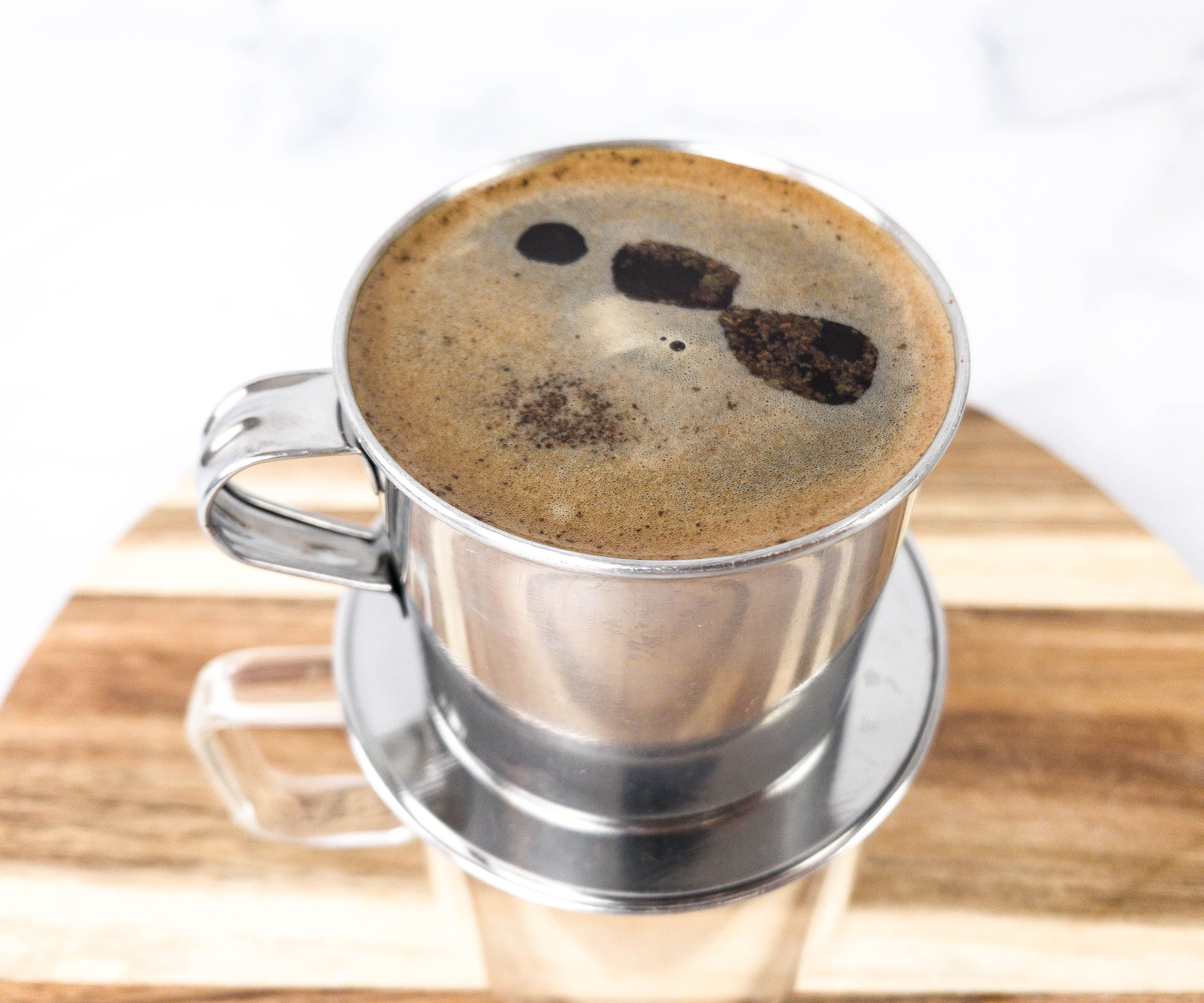 They recommended a 1:2 ratio of coffee to water when using the phin filter. Some people start with 6 tablespoons, but it really depends on the consumer's preference if they want their coffee strong or a bit lighter.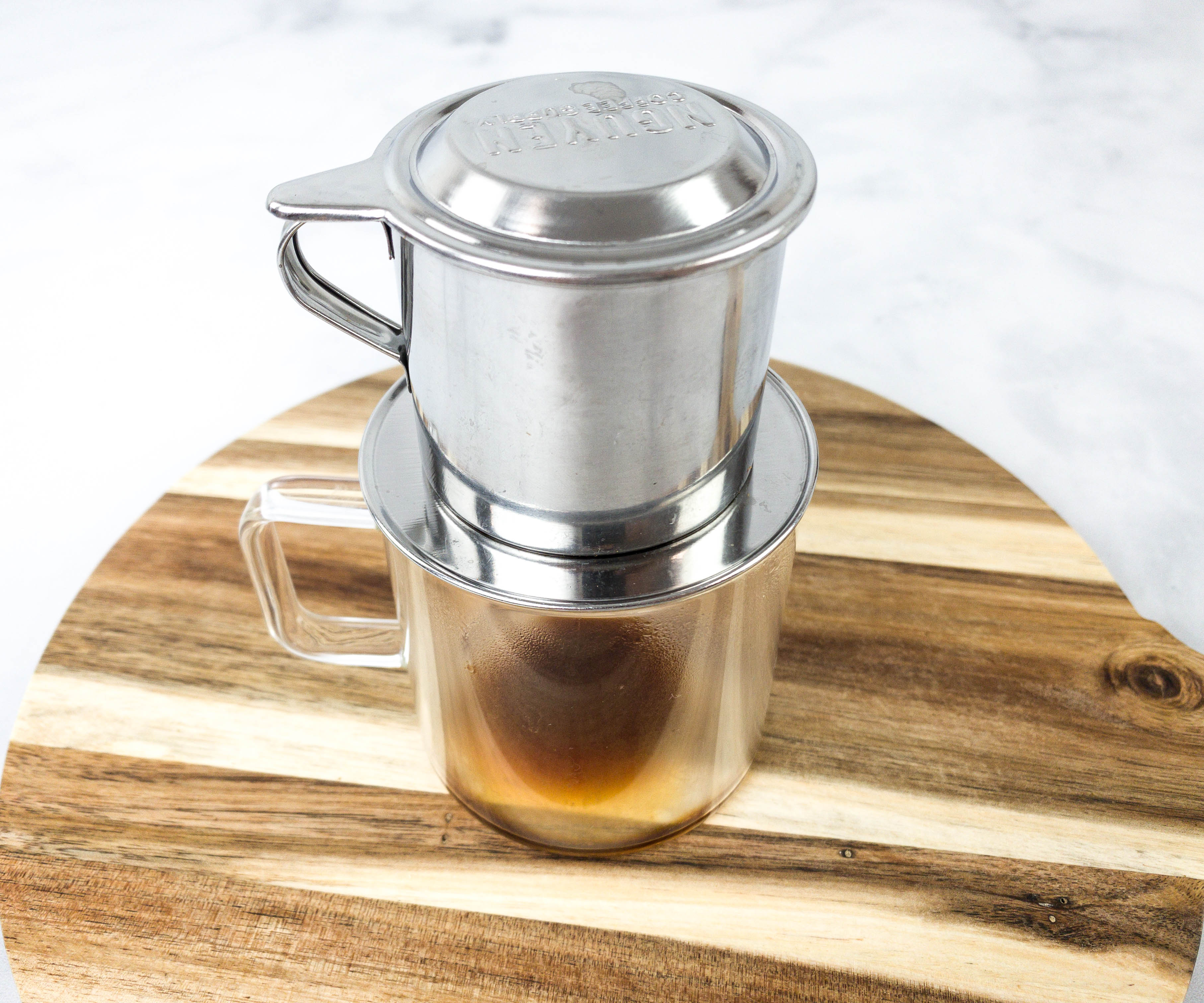 Brewing takes 6-7 minutes but a second pour of hot water is highly advised when using the tool since most of the water is absorbed by the coffee.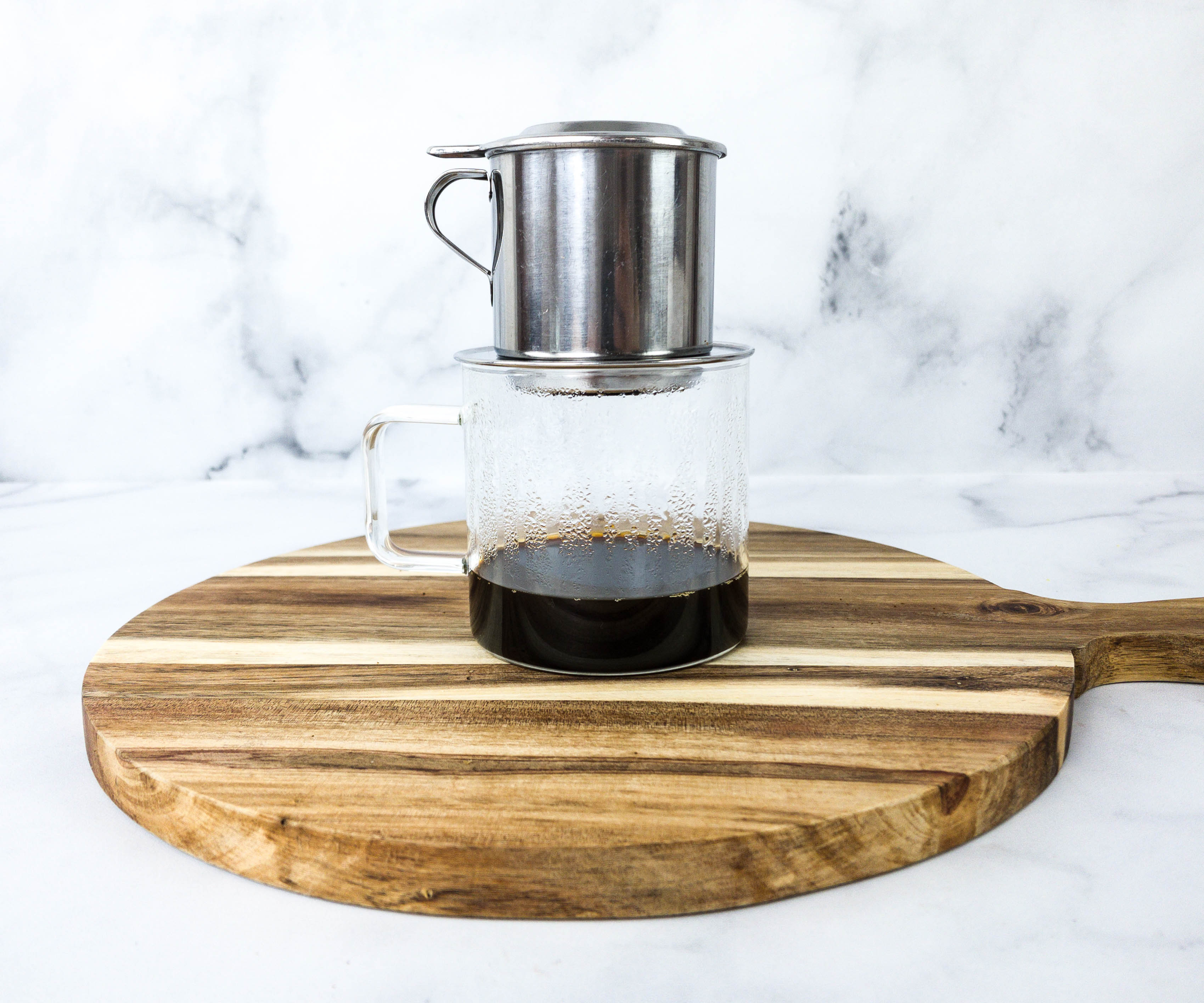 This coffee indeed has a dark and strong profile.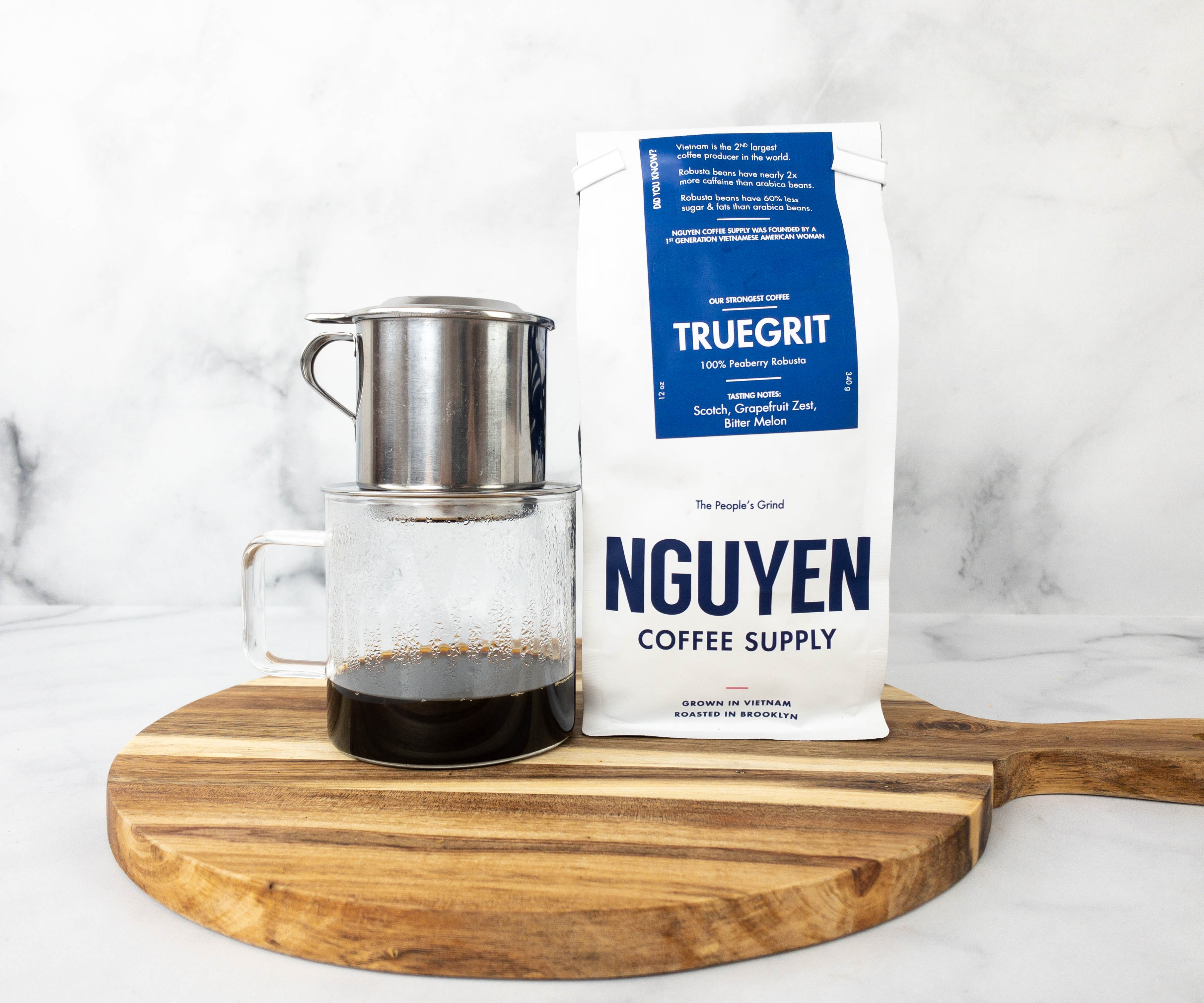 It was an instant caffeine rush on my first sip! Tasting notes include scotch, grapefruit zest, and bitter melon.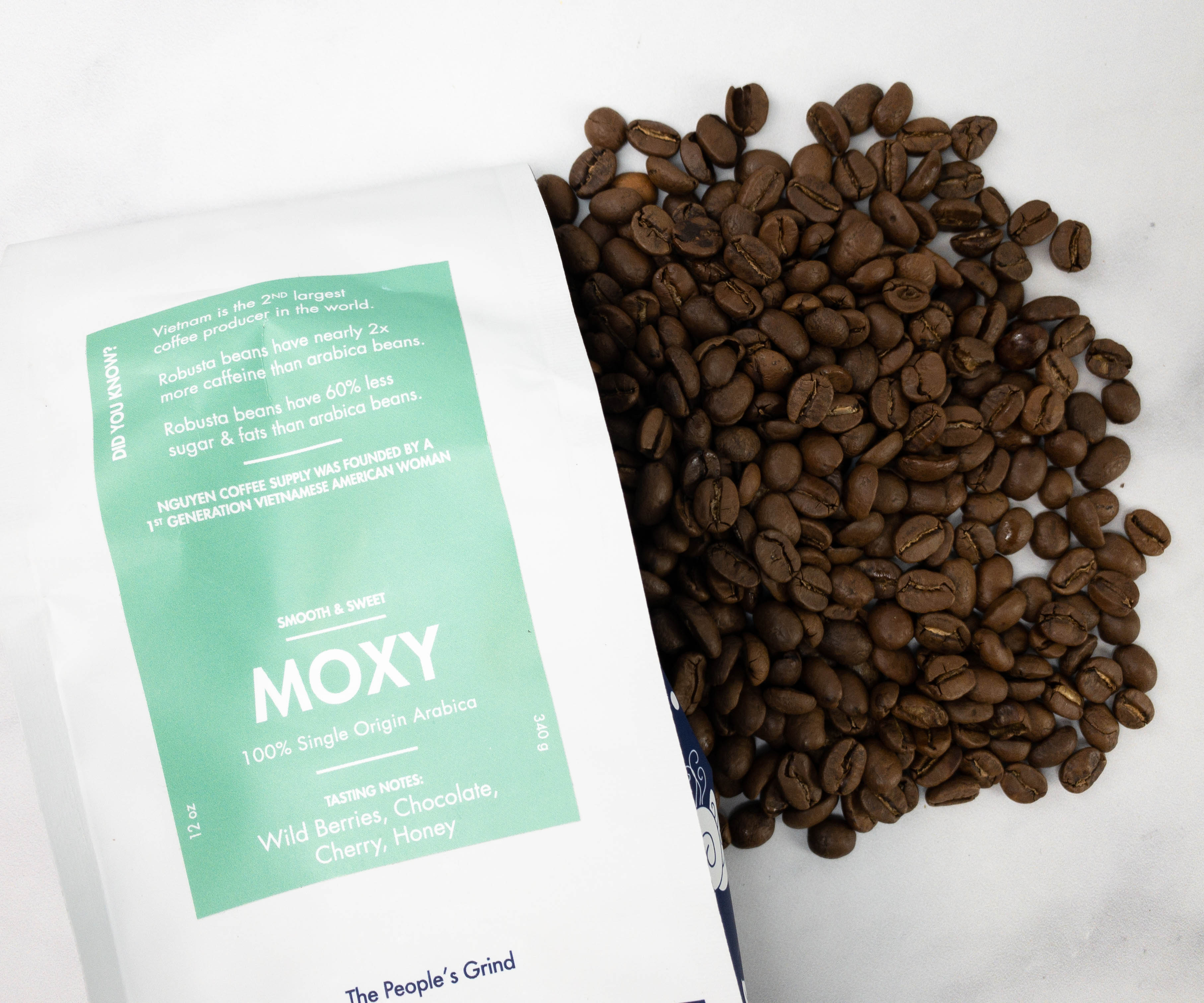 Moxy ($16 for a one-time purchase, $15.30 on a recurring plan) This one is a smooth and fruity blend, made with 100% arabica beans.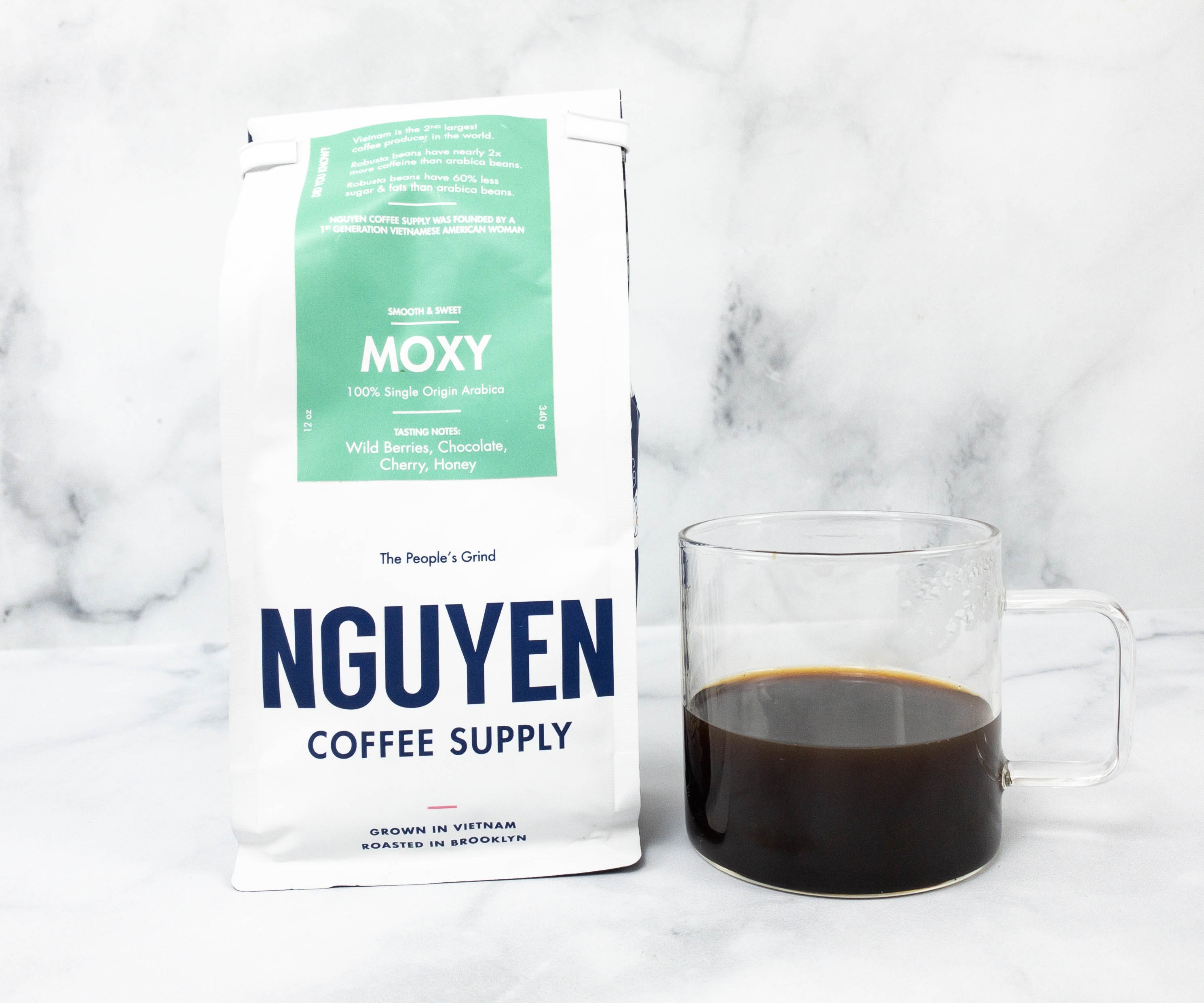 This is a rare specialty bean with only less than 10% of Vietnam's total coffee production.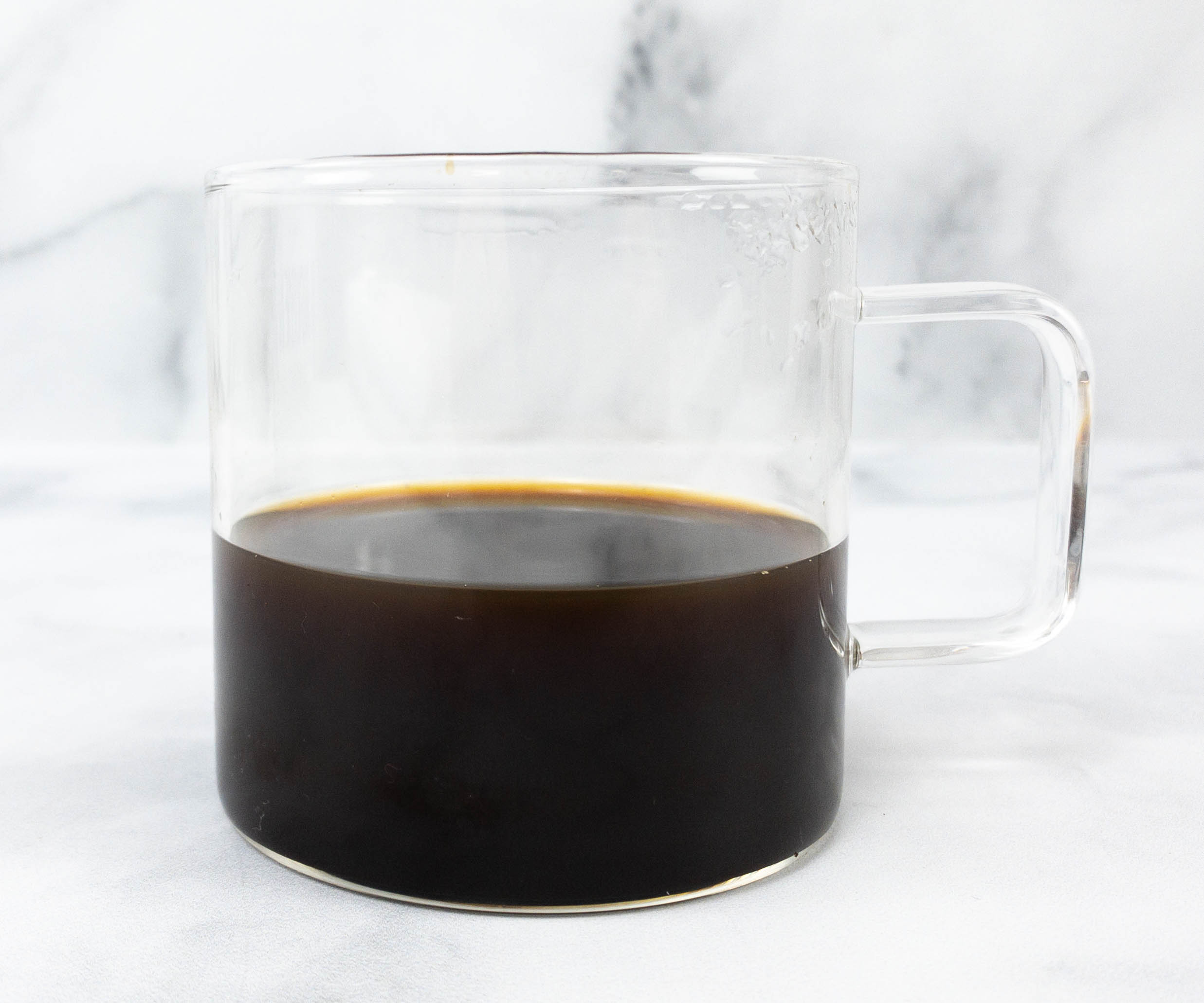 The tasting notes of cherries, wild berries, chocolate, and honey make this blend a sweet and enjoyable one.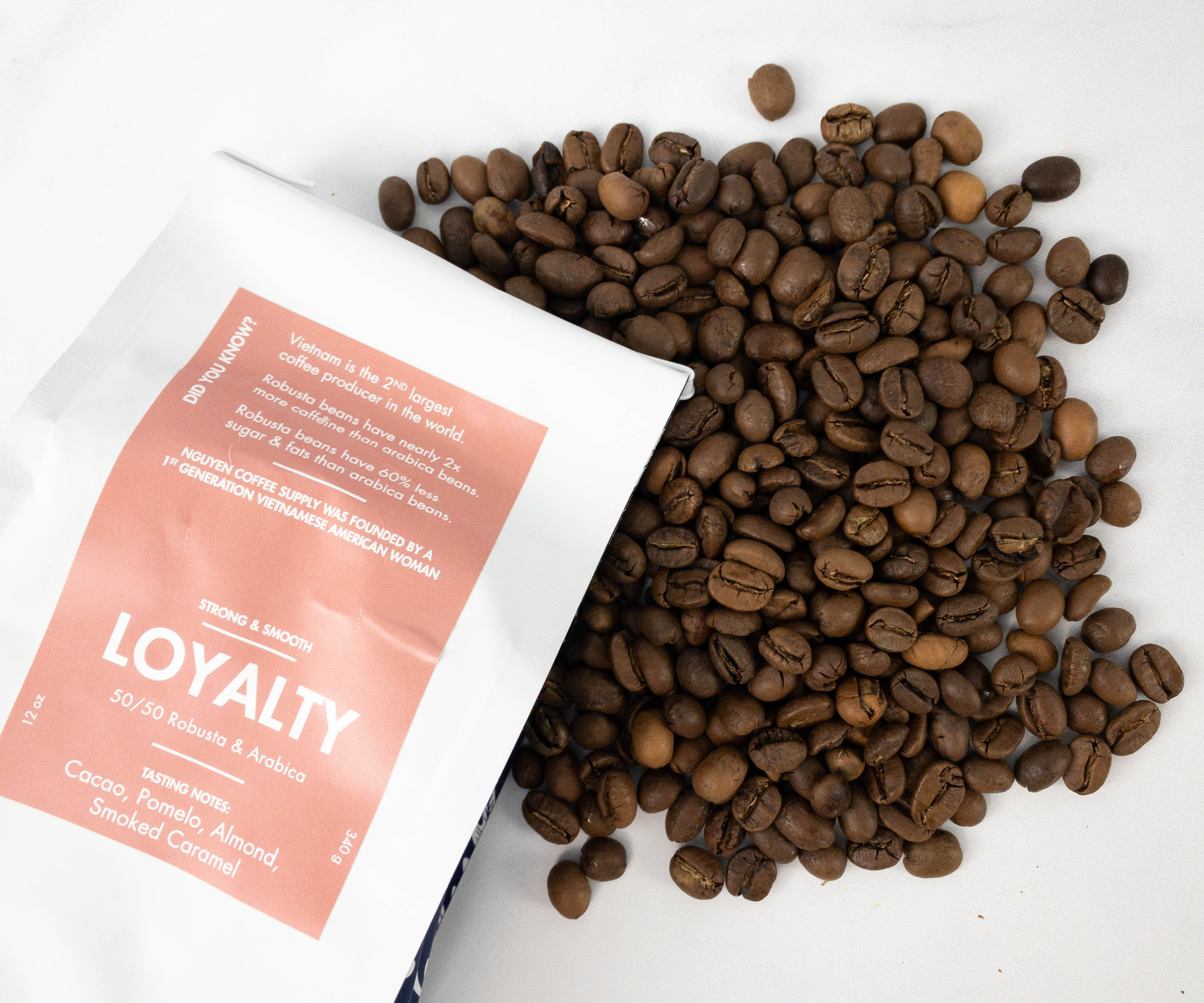 Loyalty ($15 for a one-time purchase, $14.25 on a recurring plan) Nguyen's best selling blend undergoes a unique roasting process that provides noticeable flavor and a smooth, sweet, and nutty profile.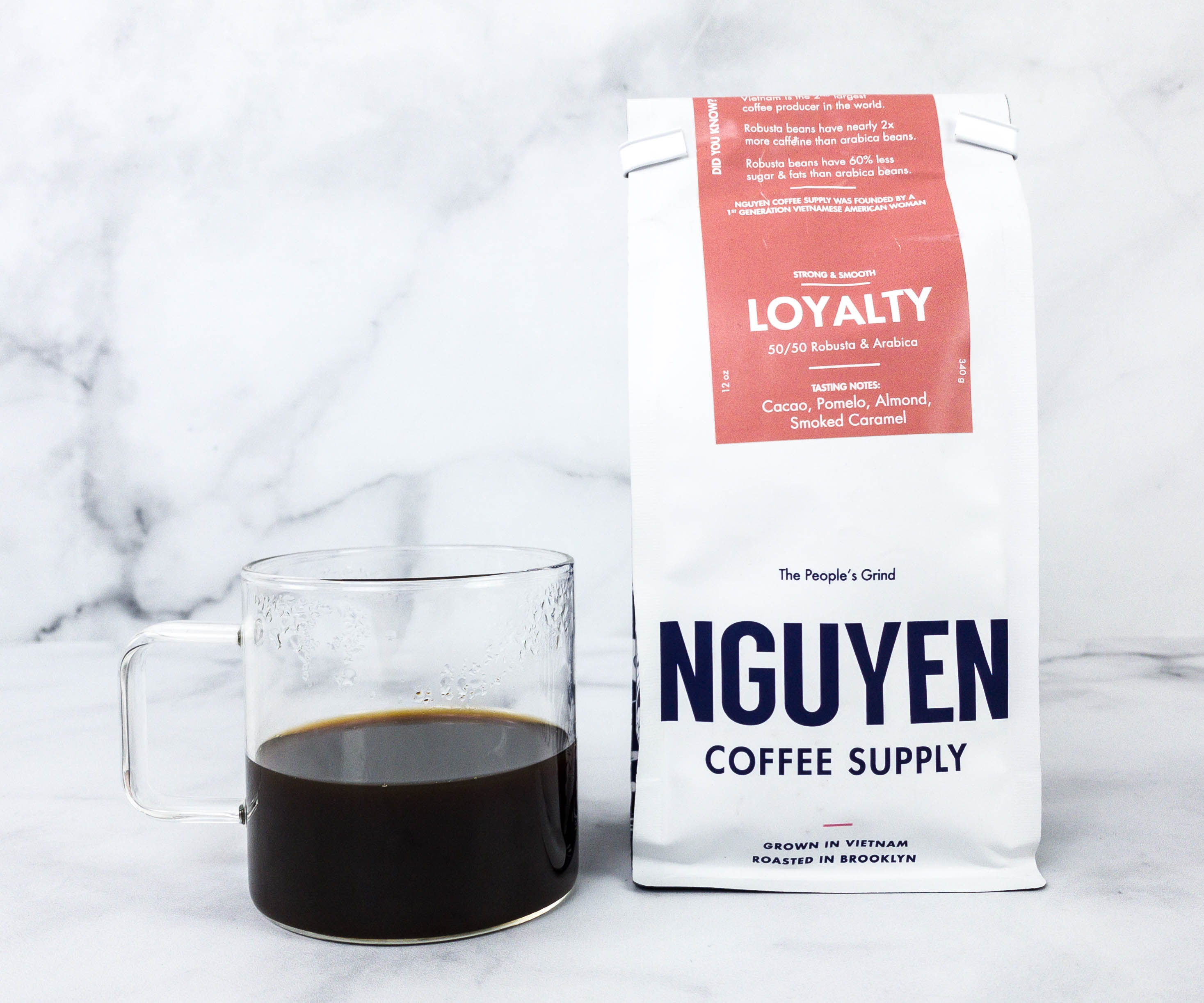 This popular blend has a mix of 50% robusta and 50% arabica. So aside from the strong caffeine flavor, you also expect a smooth and relaxing moment with every cup.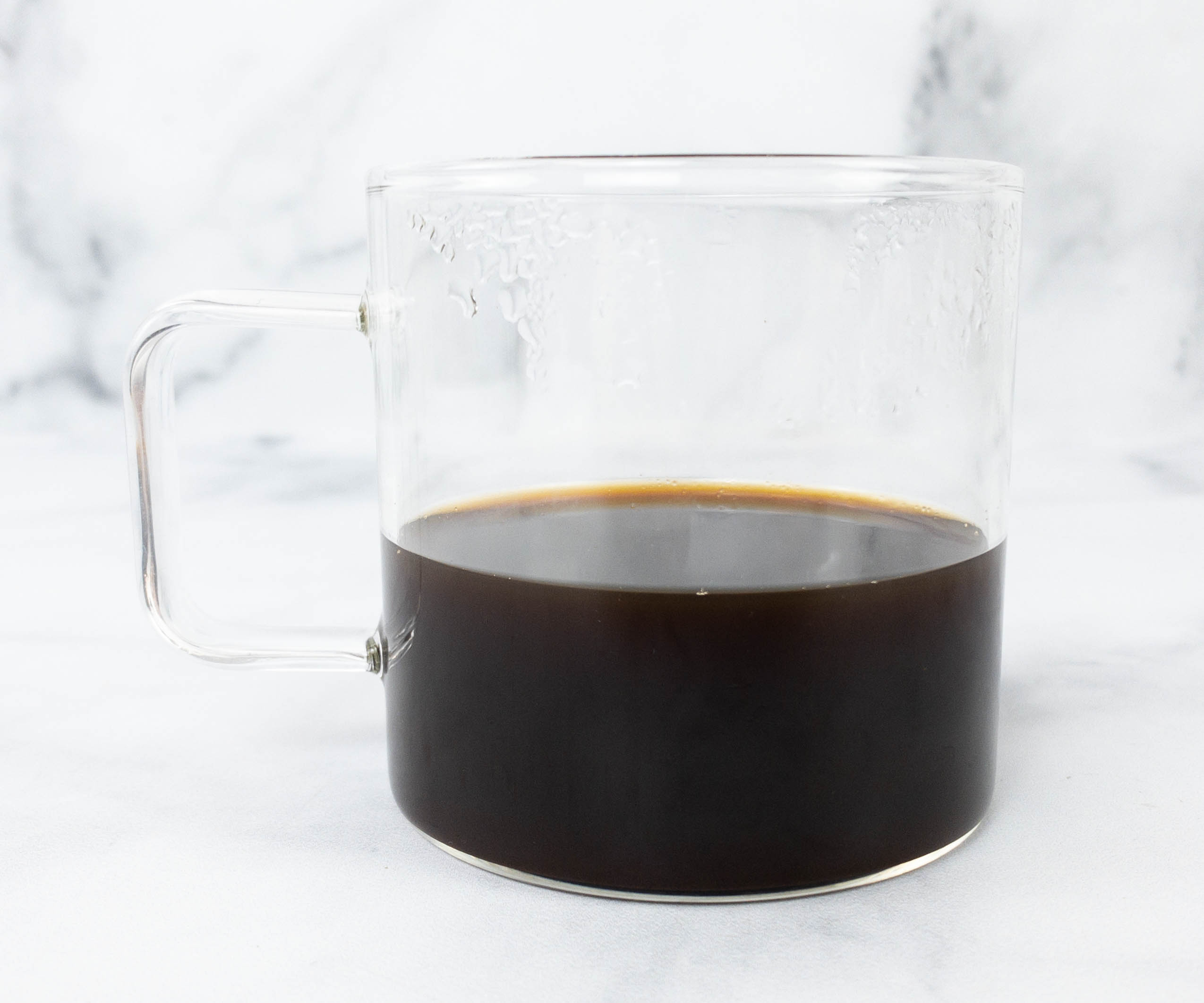 I really loved the notes of cacao, pomelo, almond, and smoked caramel on every sip.
Just like the Truegrit, the caffeine content was enough to perk up my morning.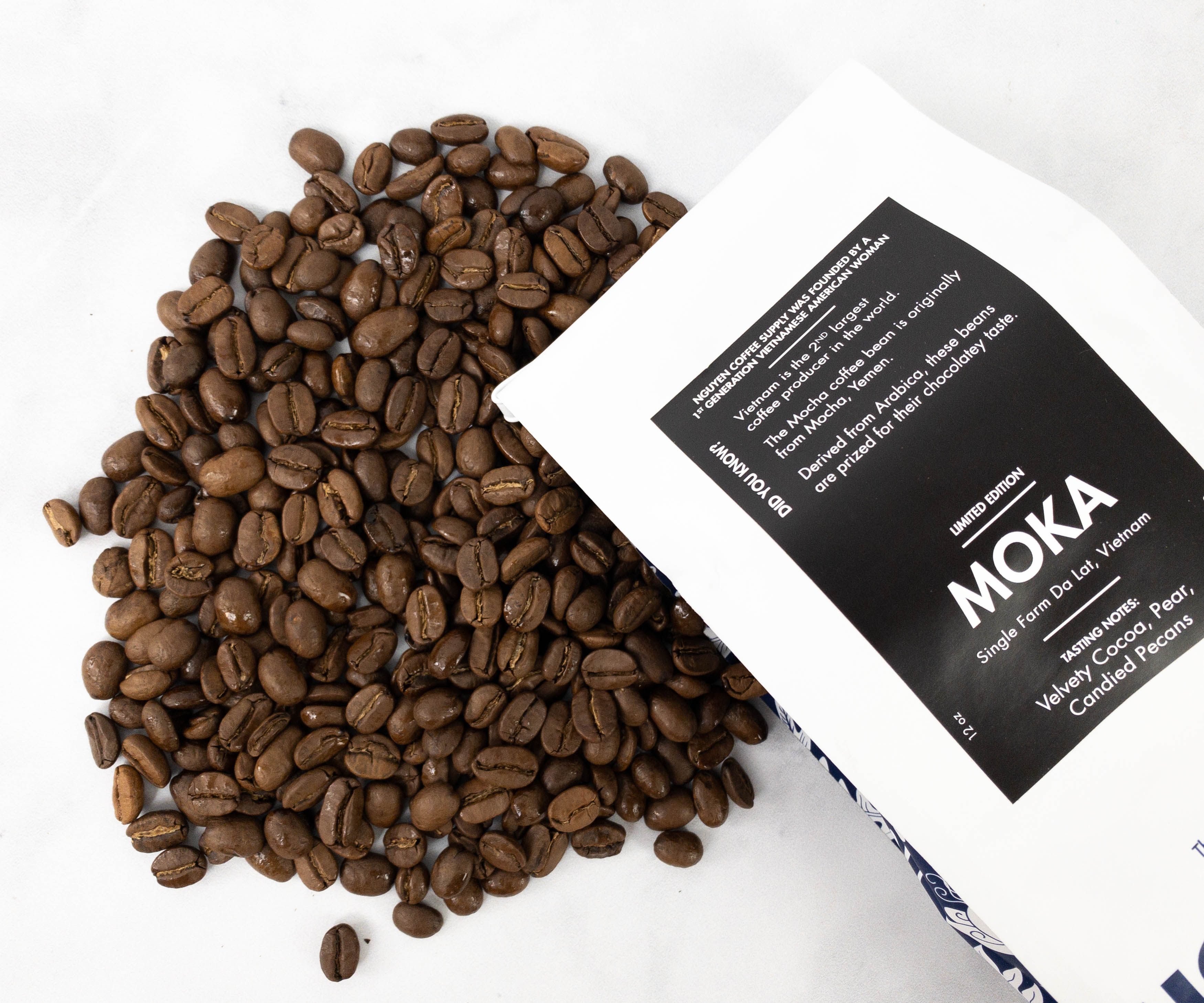 Moka ($24) Moka is a limited edition blend from Nguyen Coffee. It's not included in their regular line-up of Vietnamese coffee, and I'm happy that I was able to try it! The beans used for this coffee are originally harvested from Yemen and valued because of their naturally sweet taste.
It has a velvety, smooth, and rich chocolate taste profile. It may be sweeter compared to the other blends but the kick of caffeine is still there.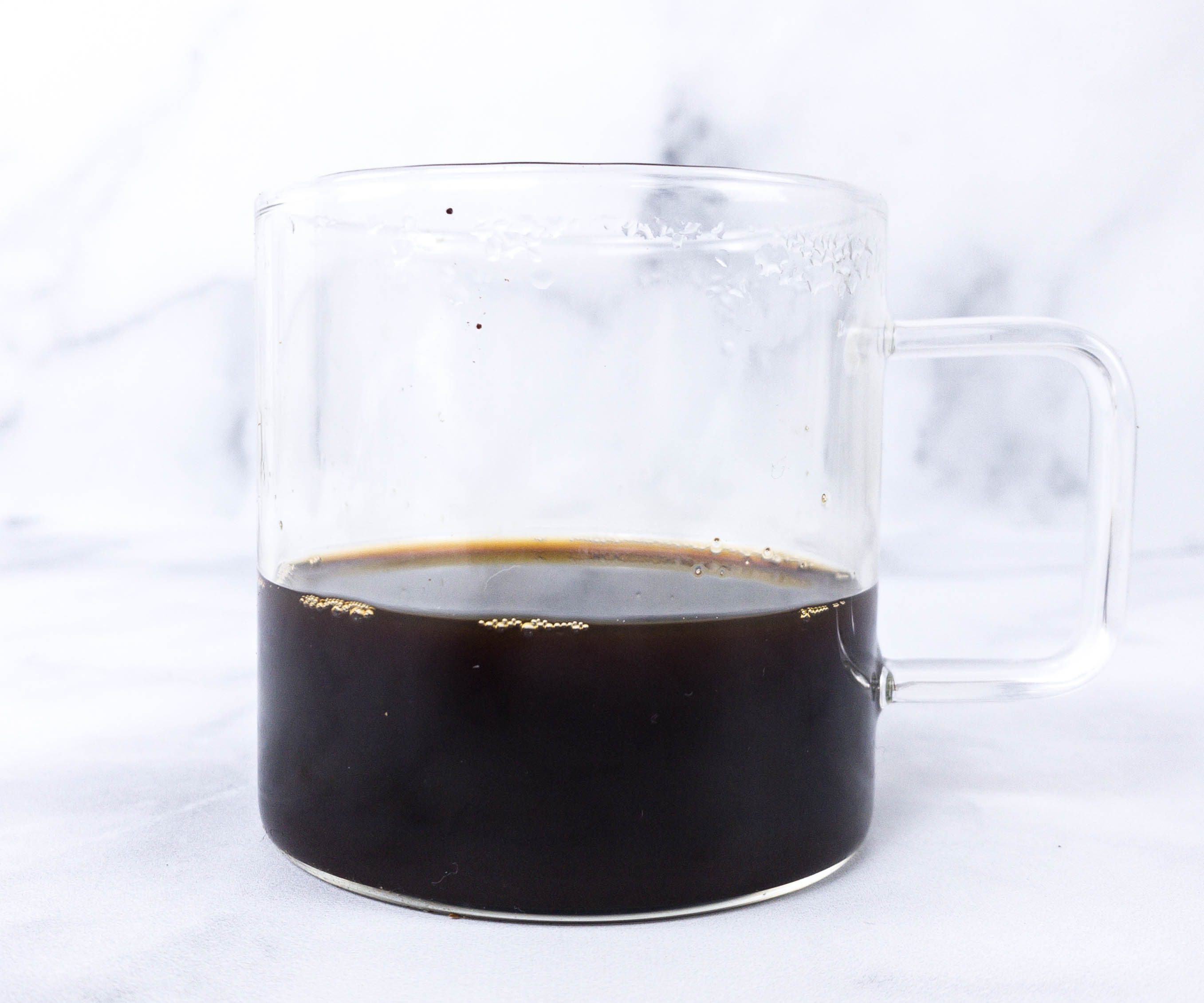 This is a great blend to try if you love both coffee and chocolate!
Vietnamese coffee is really good, and if you're looking for a way to get them delivered straight to your door, this subscription is a convenient option. Nguyen Coffee Supply offers only 3 types of coffee blends for now, but they are all delicious. There's Truegrit for those who love their coffee strong, Loyalty for those into nutty and chocolatey blends, and Moxy for fans of lighter and fruity coffee. I'm also happy with the limited edition Moka blend, as it's as sweet and smooth as promised! Nguyen Coffee also offers phin filters, so you can prepare your Vietnamese coffee the traditional way. It's not a part of the subscription cost, but definitely worth the price. The phin filters are made by a small, woman-owned team in Vietnam in small batches! As a coffee lover, I'm impressed with my first box. The blends were superb and the phin filter is now a staple for me!
What do you think of the Nguyen Coffee box?