The Spring 2021 Beekman 1802 Seasonal Fragrance Tote Subscription is now available. This box is $60 (worth $100+ value) + FREE Shipping! The subscription focuses on a new seasonal fragrance each quarter, packed with Beekman 1802 items from a single season-worthy fragrance!
Introducing our brand-new subscription tote! Bloom like the first blossoms of Spring with over $100 worth of bath and body care in our refreshing Spring Blossom fragrance. This season's tote features 2 Bar Soaps, 1 Hand Cream, 1 Whipped Body Cream, 1 Hand & Body Wash, and 1 tote handmade by artisans Eric & Christopher to hold it all together as you bask in the glow of new beginnings.

Each seasonal tote is only available within the subscription, which is always shipped FREE
Each box includes:
2 Bar Soaps
1 Hand Cream
1 Whipped Body Cream
1 Hand & Body Wash
a Tote handmade by artisans Eric & Christopher
About this season's Tote and Artisans: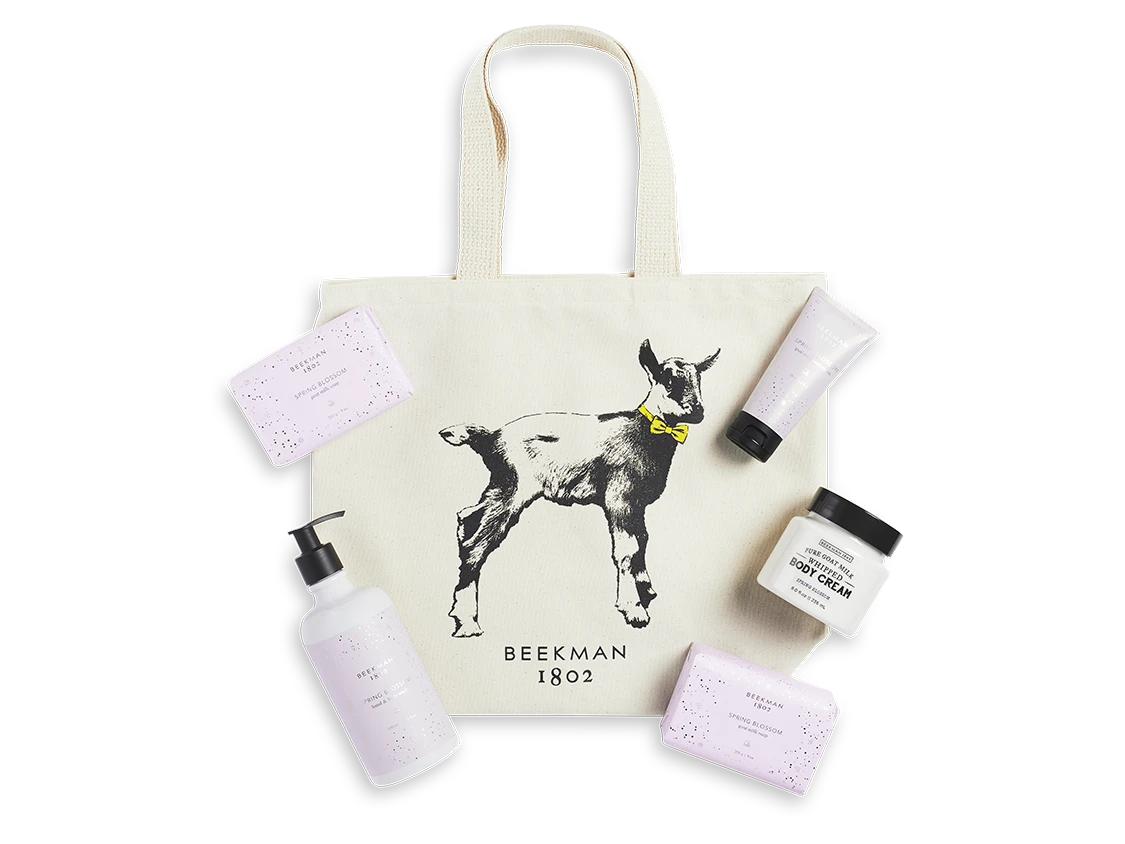 NEW BEGINNINGS

Dodger was the first baby to be born this Spring, so it was only fitting that we dedicate our Spring tote to him as a celebration of new beginnings and fresh starts.

QUALITY CRAFTED

Our artisans Eric & Christopher masterfully handmake each of our totes from 100% natural cotton to be elegant yet sturdy enough to hold all your favorite Beekman 1802 essentials.
Here are the scent notes:
T: Kumquat, Lemon, Mandarin
M: Lotus Leaves, Jasmine, Bamboo
B: Sheer Amber, Patchouli, Musk
Essential Oils: Lemon, Mandarin Orange, Patchouli, Cornmint, Bitter Orange, Jasmine
FAQ
HOW IS THIS DIFFERENT THAN THE BEAUTY BOX?
This tote is perfect for the Beekman 1802 goat tote collector. Each quarterly tote will focus on single bodycare fragrance.
WILL THE ASSORTMENT OF ITEMS AND TOTE BE THE SAME EVERY QUARTER?
We'll switch up the scent, product, and baby goat tote every quarter. Plus, the retail value of the products in the tote will always be at least $100.
WHAT IS THE SIZE OF THE TOTE?
This tote is a medium-sized version of our large baby goat tote and measures 14″ W x 11″ H. Perfect for packing your lunch, quick trips, or just showing off your collection.
WHEN WILL I BE CHARGED?
This subscription ships and charges on a quarterly basis. The tote will auto-renew and charge your $60 on the quarterly anniversary of your original charge date. Cancel anytime.
What did you think of the Beekman 1802 Seasonal FragranceTote Subscription spoilers?