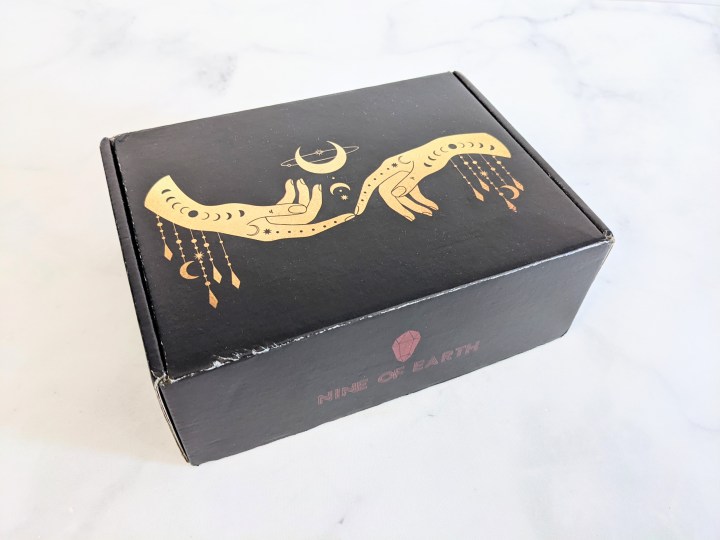 Nine of Earth is a bi-monthly mystical subscription box for Magickal, and Modern Bad-Ass Babes! Every box will include 6+ items including one unusual Tarot or Oracle related item, one piece of unique jewelry, and other fun lifestyle items that fit the theme of the month. Typical items you may receive include a t-shirt, key chain, crystals, decor, candles, etc. Grow your Tarot collection with unusual decks & tarot items, unique jewelry pieces. This box is $59.99 every other month. This box is still available if you order before February 29th.
DEAL: Get 10% off your first box! Use coupon code SAVE10.
Everything was lovingly packaged and it smells of cinnamon and other earthy smells.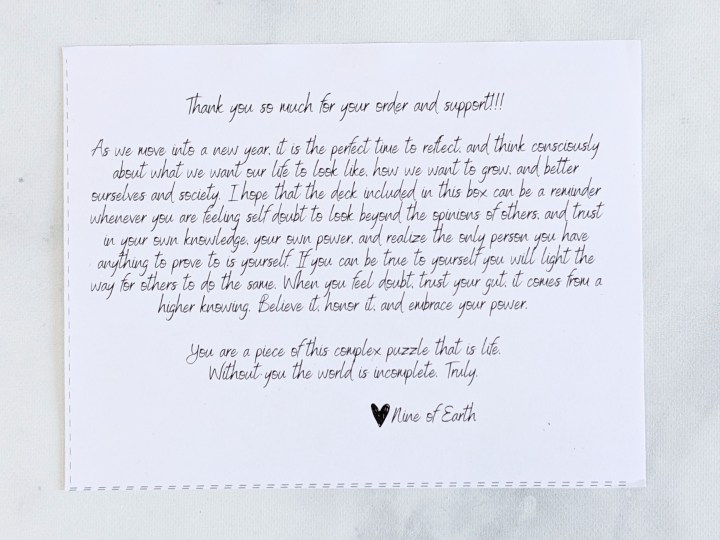 This month, we are getting a deck and we are reminded that we need to look beyond opinions of others and trust our own knowledge and power.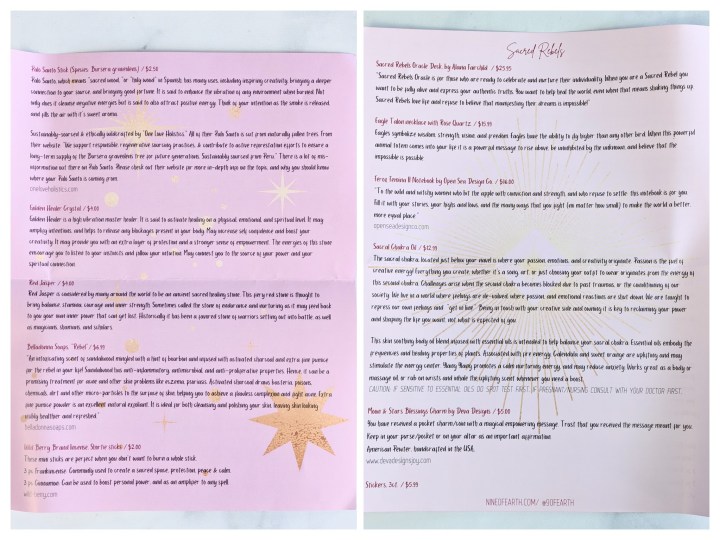 The information card goes in depth with all the items received this month, and we received a lot!
I really like the two cards with a mantra.
Sacred Rebels Oracle Deck. This Oracle deck is said to be for those who are ready to celebrate and nurture their individuality. This deck is from Alana Fairchild who collaborated on a lot of Oracle Decks focused on different Goddesses and the artwork is by Autumn Skye Morrison. I was really excited to see it in the box as it's a deck I've been looking at for a while now, but I never had the chance to buy it.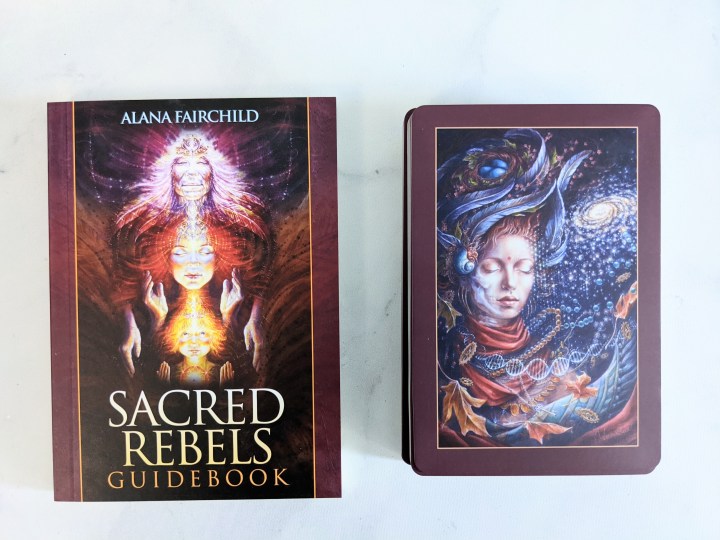 The deck comes in a sturdy box, but the box is bigger than the deck itself. I prefer when I can easily carry my deck in a box, but I have cloth bags that I can use instead. A guidebook is included with the kit.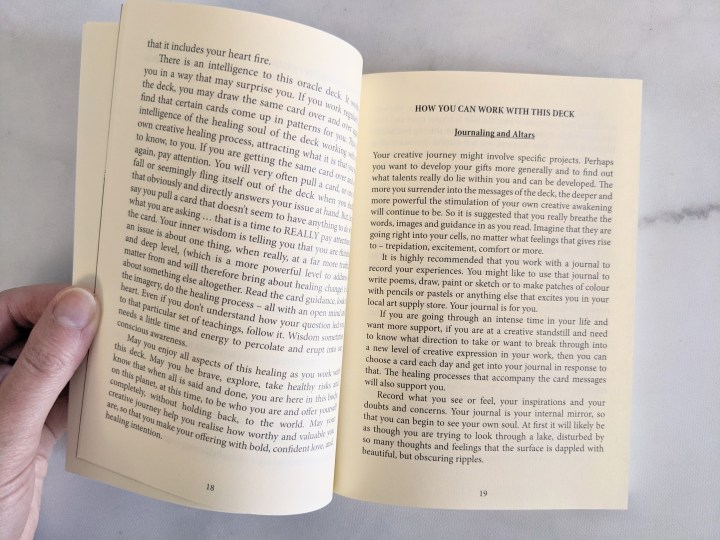 The guidebook includes some ideas of how we can work with the deck.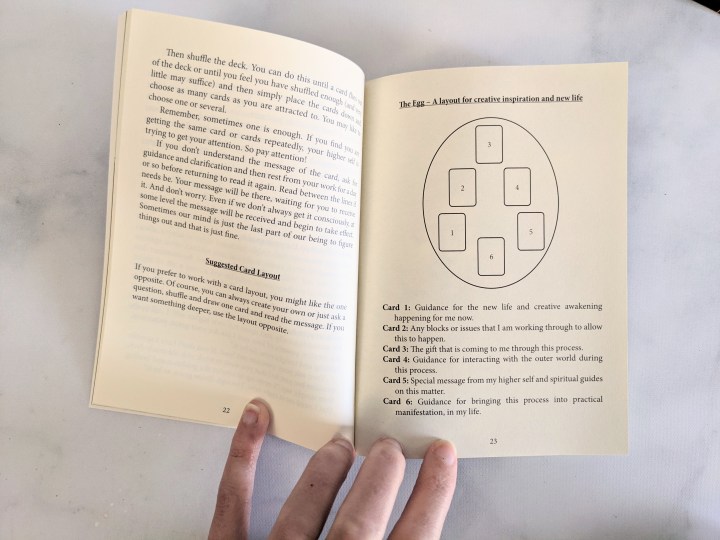 There's a suggested card layout for those who have never used oracle cards, or to add some variety in our practice.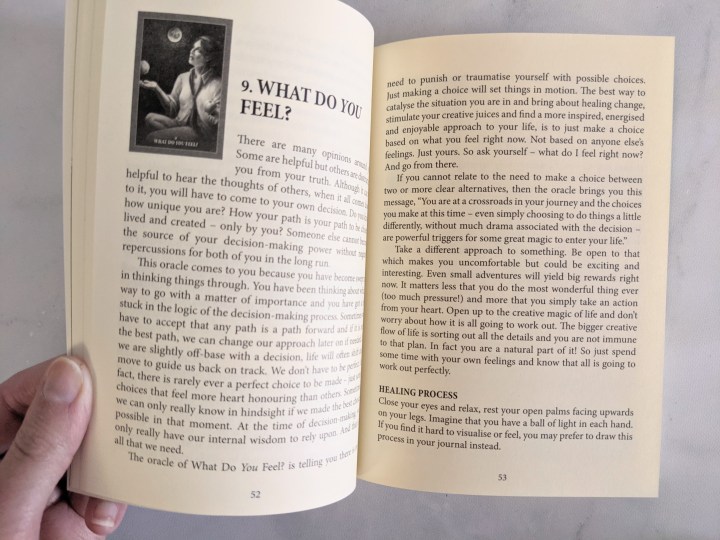 Each card is fully explained.
There's also a "Healing Process" section at the end.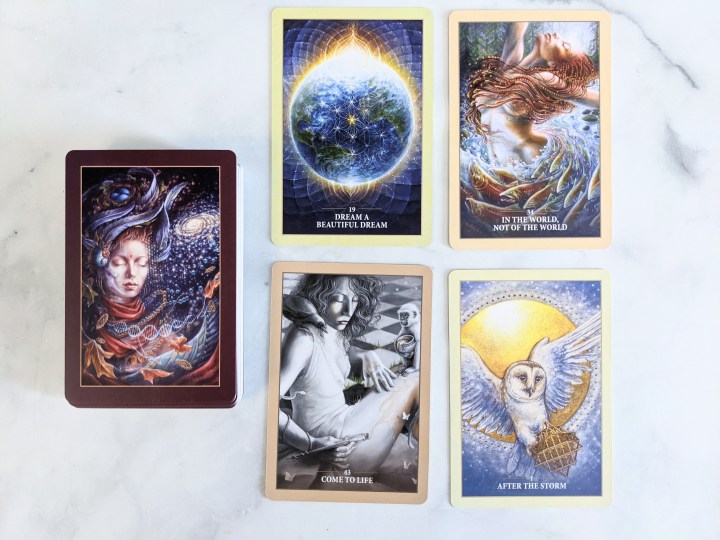 This is a lovely deck. The cards are thicker than I'm used to, but they are sturdy and beautifully drawn.
Eagle Talon necklace with Rose Quartz. Eagle symbolize wisdom, strength, vision and freedom. When this animal totem comes into your life, it is a powerful message to rise above, be uninhibited by the unknown, and believe that the impossible is possible.
Rose Quartz is a stone associated with the Heart Chakra as a self-love stone. The sphere is not glued, but held tight by the talons. I can see myself twisting it between my fingers in moment of stress!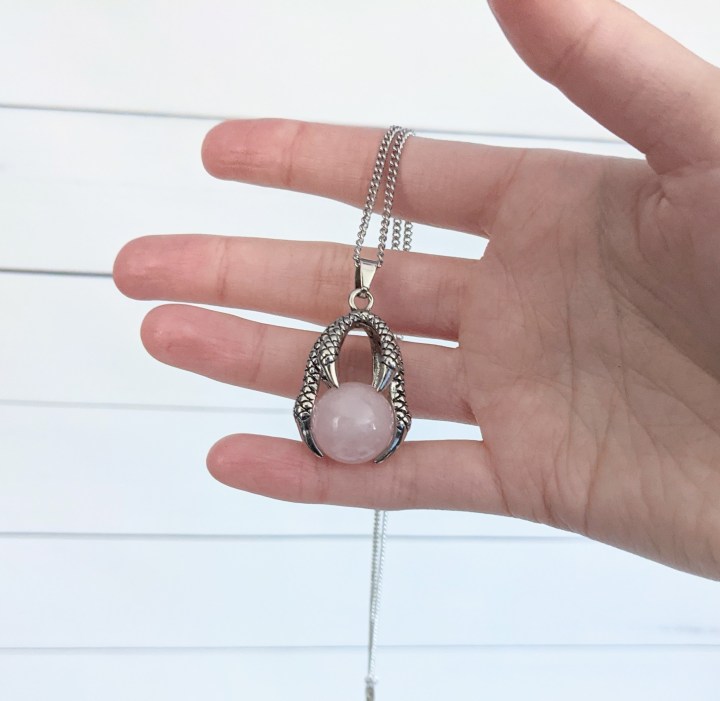 This is quite a statement pendant as the bead itself is 16mm, and the pendant is over 3cm (about 1″) in height. It's a lovely pendant and as Eagles have a special place in my life (an eagle always appeared near by when in the middle of a big change in my life), I see it's presence in this box as special. I will probably change the chain (17″) for a longer one to wear with my big turtleneck sweaters.
Ferox Femina II Notebook by Open Sea Design Co. We can't see it properly in the picture, but the red design is metallic. This is a cute notebook to write down what you are learning from your new deck, or to journal.
It features 48 lined pages, and the paper feels really smooth.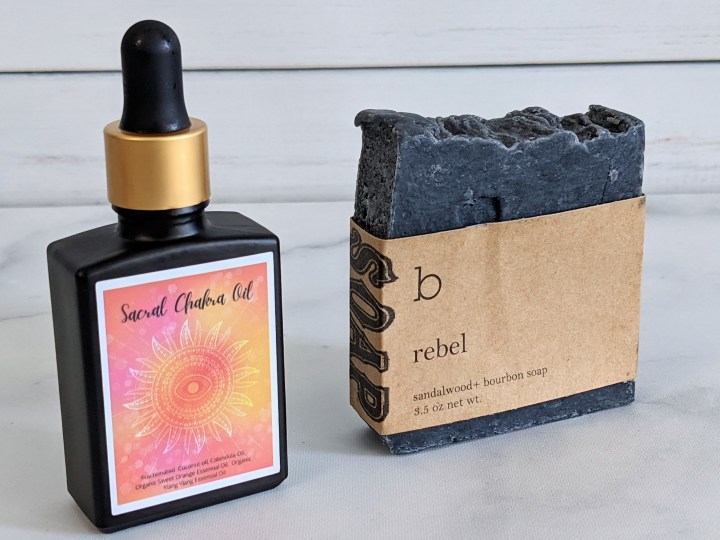 Sacral Chakra Oil. Made with a mix of Sweet Orange and Ylang Ylang essential oils, this chakra oil has a nice balance of sweet, floral and slightly fruity. This blend was created to enhance the passion, emotions and creativity center associated with the Sacral Chakra.
Belladonna Soaps – Rebel. This soap is made with sandalwood, a hint of bourbon and infused with activated charcoal and extra fine pumice. This soap is ideal for skin problems and as a natural exfoliant.
Moon & Stars Blessing Charm by Deva Designs. A cute little pocket charm with a magical empowering message.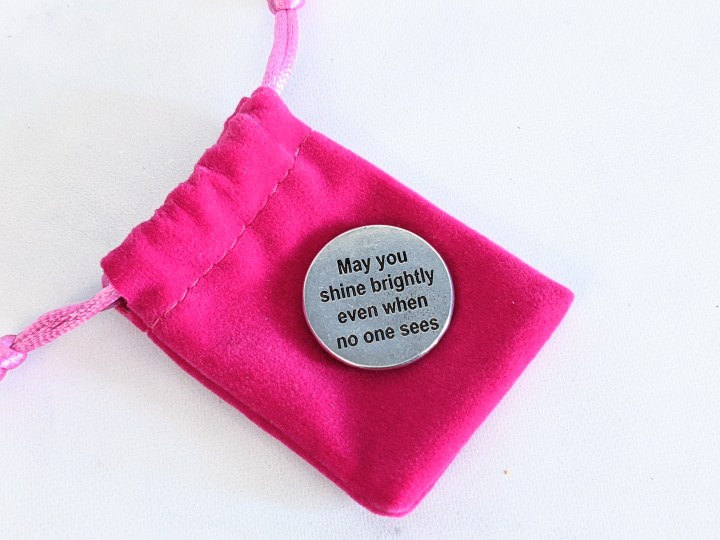 These coins come with one of twelve sayings. The one I received really speaks to me.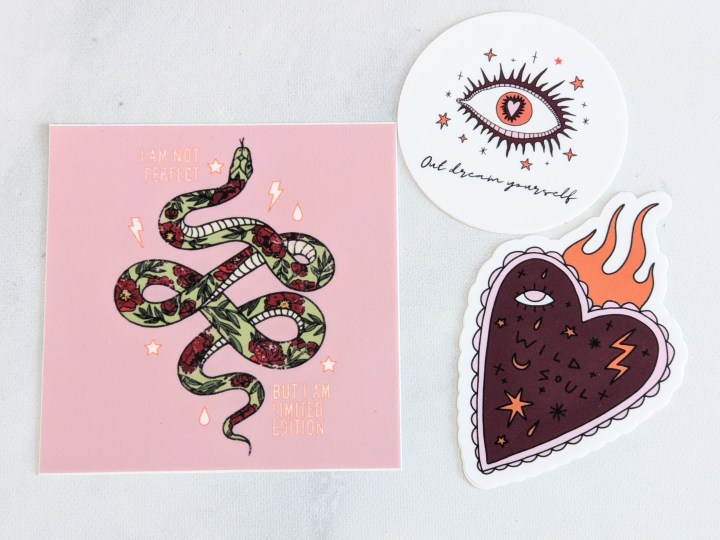 Stickers (3). Cute little stickers to put on your laptop, notebook, phone, anything. They are all so cute, but my favorite is the eye with "Out Dream Yourself".
Palo Santo Stick by One Love Holistics. A sacred wood to help cleanse your environment in the new year, and help bring in creativity and good fortune. This Palo Santo is sustainably-sourced from Peru. and cut from naturally fallen trees.
Shortie Sticks Incense by Wild Berry. Cinnamon and Frankincense. That was what smelled so good when I opened the box! I love smaller sticks as it's easier to let one burn completely.
Golden Healer Crystal. This stone is said to activate healing on a physical, emotional, and spiritual level. It's a stone to encourage you to listen to your instincts and follow your intuition.
Red Jasper. A stone favored by warriors, this fiery stone is thought to bring balance, stamina, courage and inner strength.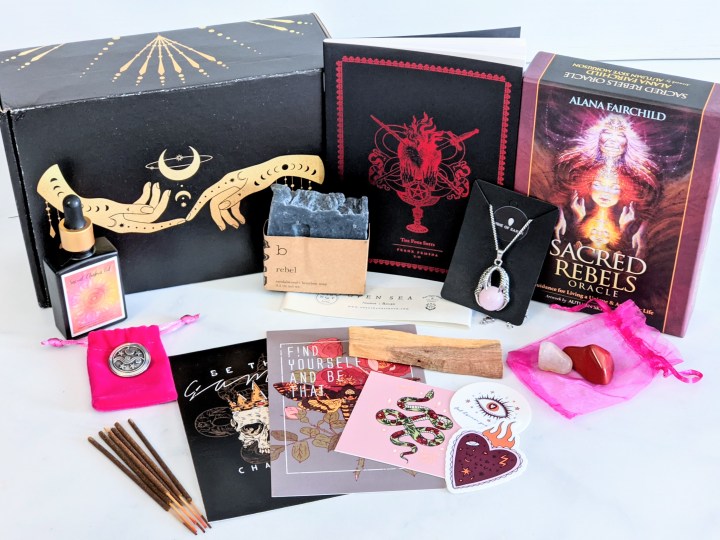 This was a fun box by Earth of Nine, and a lot of the items spoke to me. I'm a fan of Tarot and Oracle decks and I'm happy to finally get my hand on the Sacred Rebels Oracle. All the item were full of powerful energy, perfect to help us create our own path, with our own poser, while looking beyond other's opinion.
What do you think of this box?