La Tea Dah is a monthly subscription of 5 different teas for you to steep to your heart's content. You will receive an assortment that may include green, black, oolong, herbal, lavender, hibiscus, raspberry, decaf, caffeinated, and more so you have a tea for any time of day. Ten signature pyramid tea sachets will brew up to thirty cups of tea if you reuse them throughout the day. La Tea Dah is $25 a month with free shipping.
Each month you will find five unique hand crafted specialty teas and a bonus tea gift in every box. Explore a wide variety of La Tea Dah teas, each one bursting with the flavors and aromas of the world's top quality whole tea leaves and the finest blossoms, spices, fruits, seeds and citrus peels found in the USA.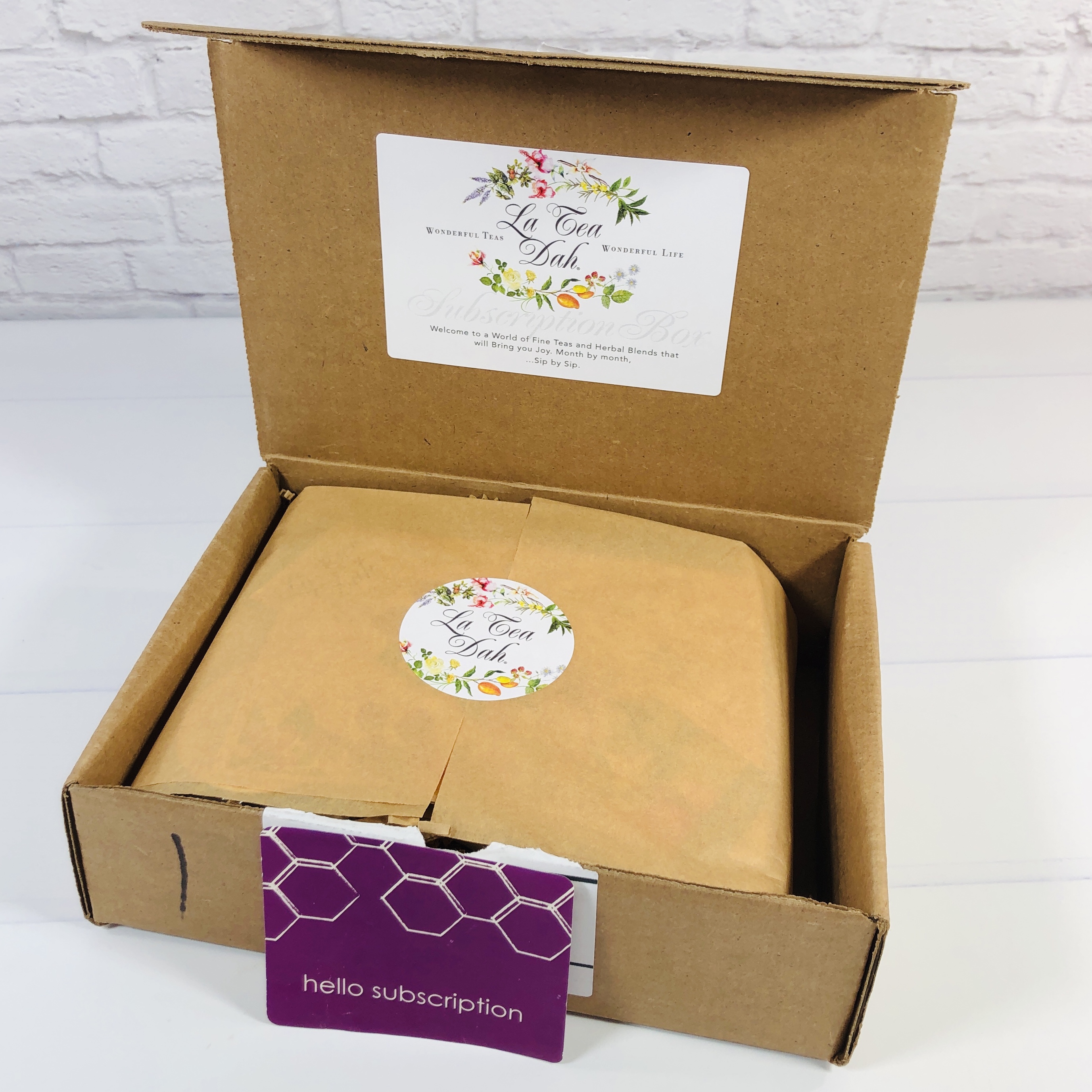 The packaging was very pretty, I love the floral labels!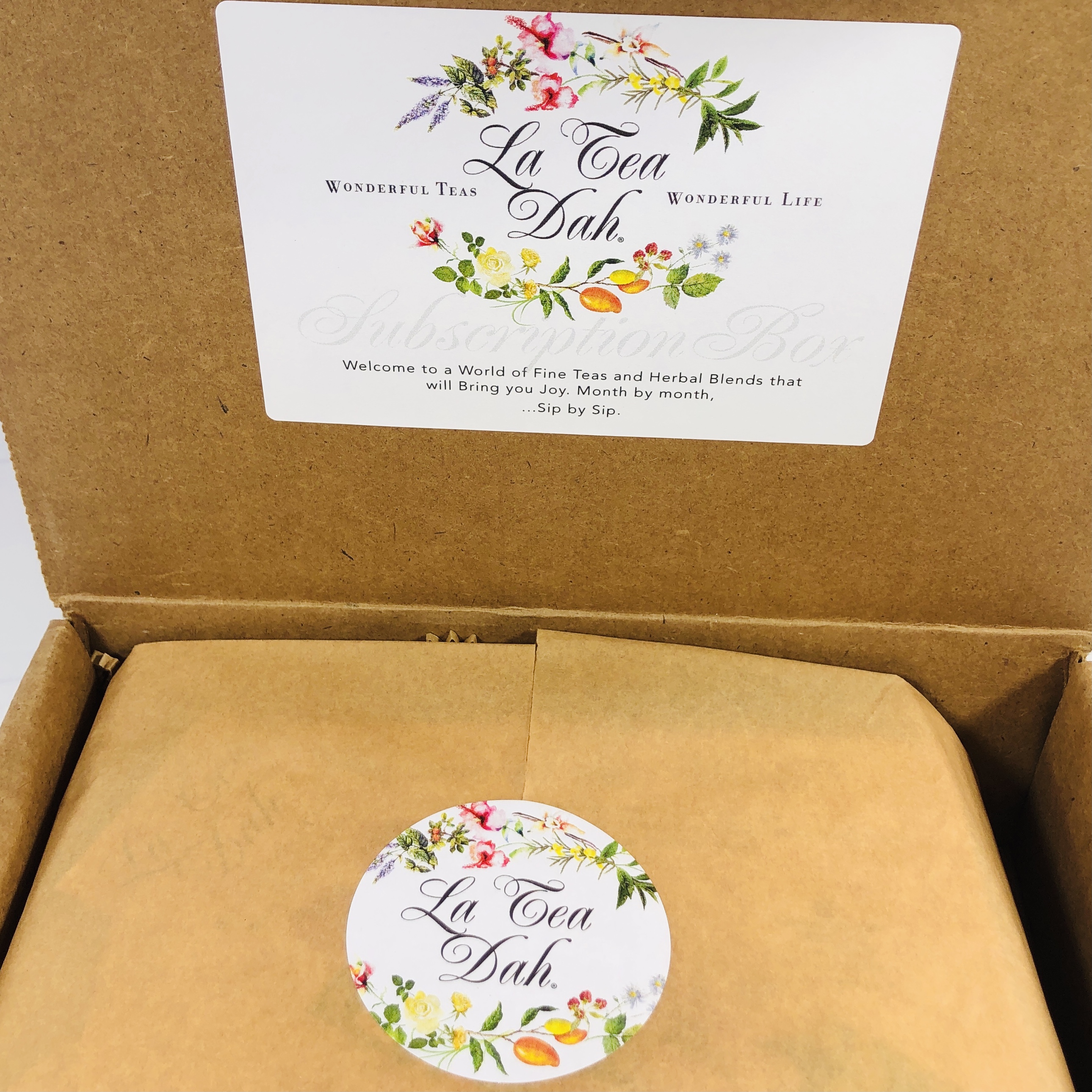 Welcome to the World of Teas!
On top I found some literature.
The bags were displayed nicely in the box.
Some info was shown on this card. La Tea Dah ships the first week of the month.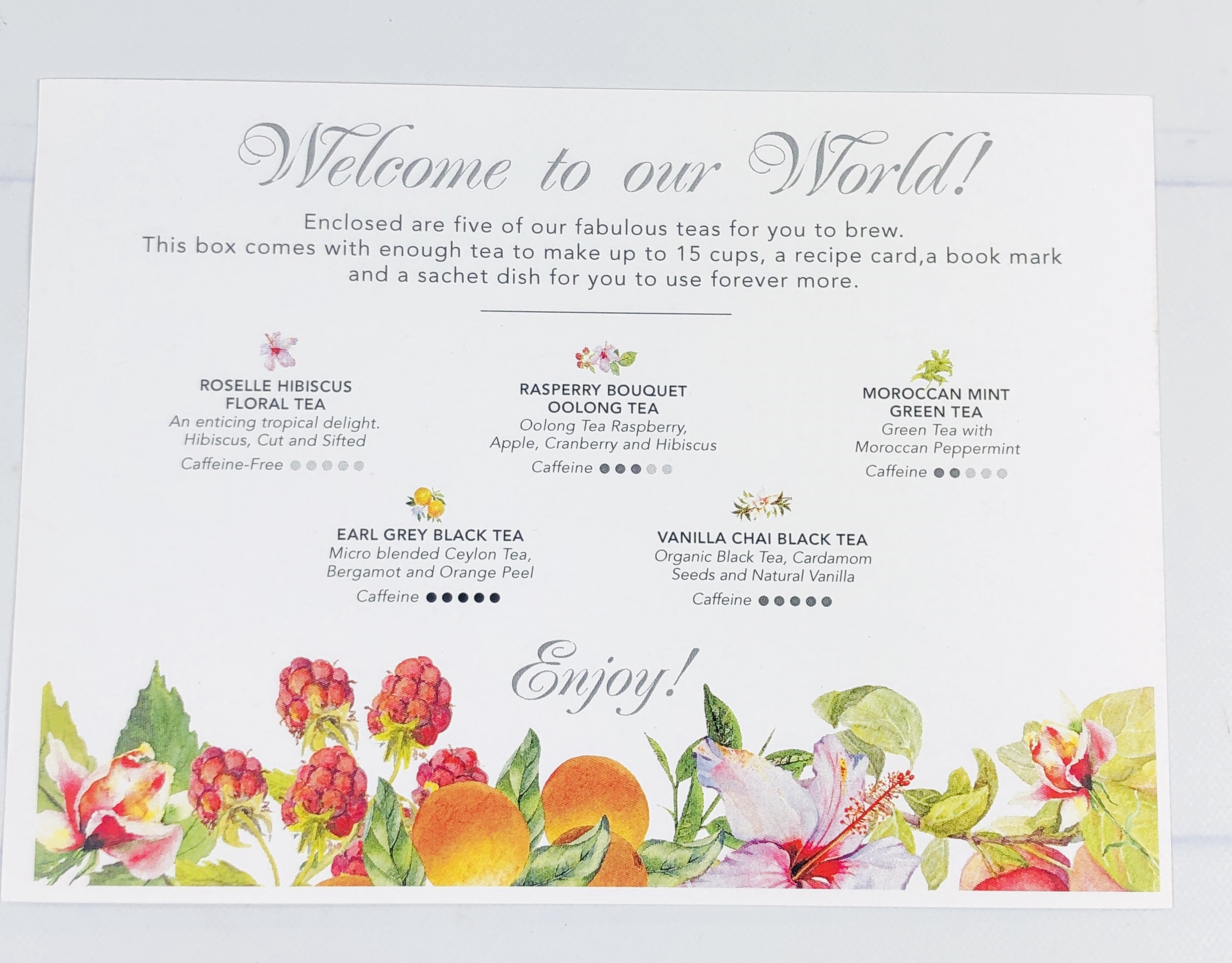 The back of the card listed my teas, caffeine levels, and at the top you can see the other items in my box.
A Recipe Card told me how to make a mock version of a classic southern sipper.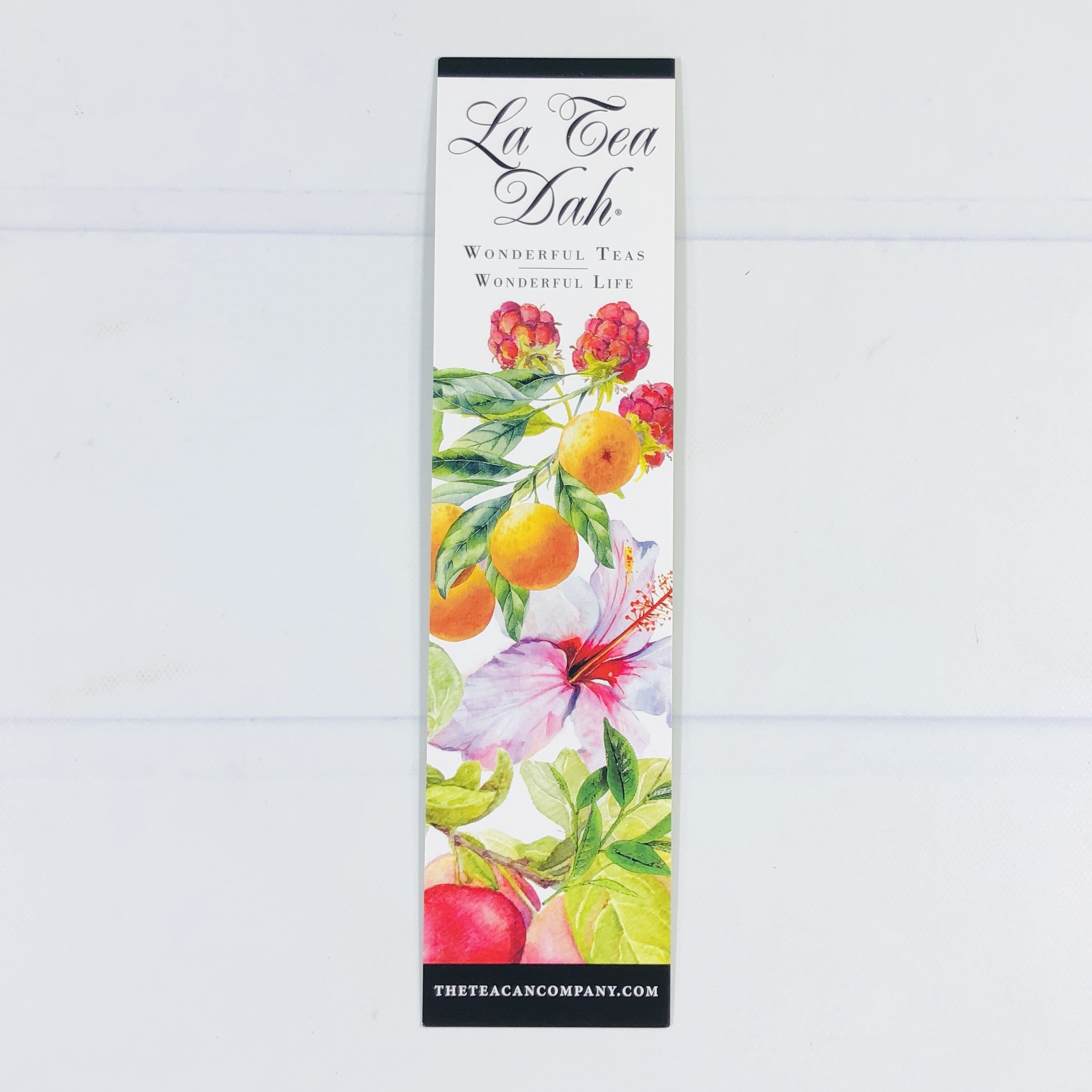 Here is the front of the pretty Bookmark.
The back listed the La Tea Dah teas by type. These teas are available at The Tea Can Company through their online store, or through Amazon.
A final card shows what's coming in February.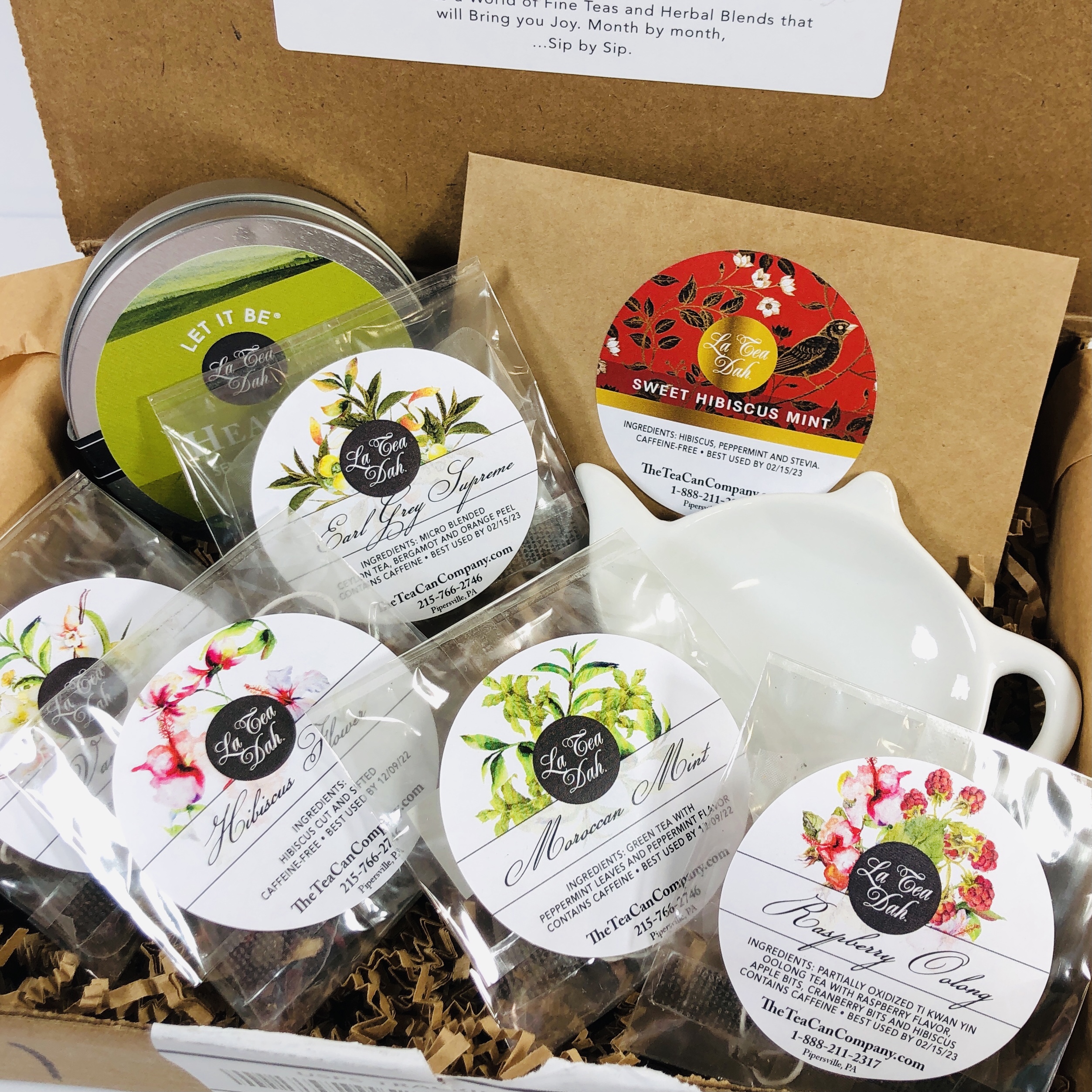 Everything in my box! This is my first time reviewing this box and I haven't encountered this tea brand before, it is new to me.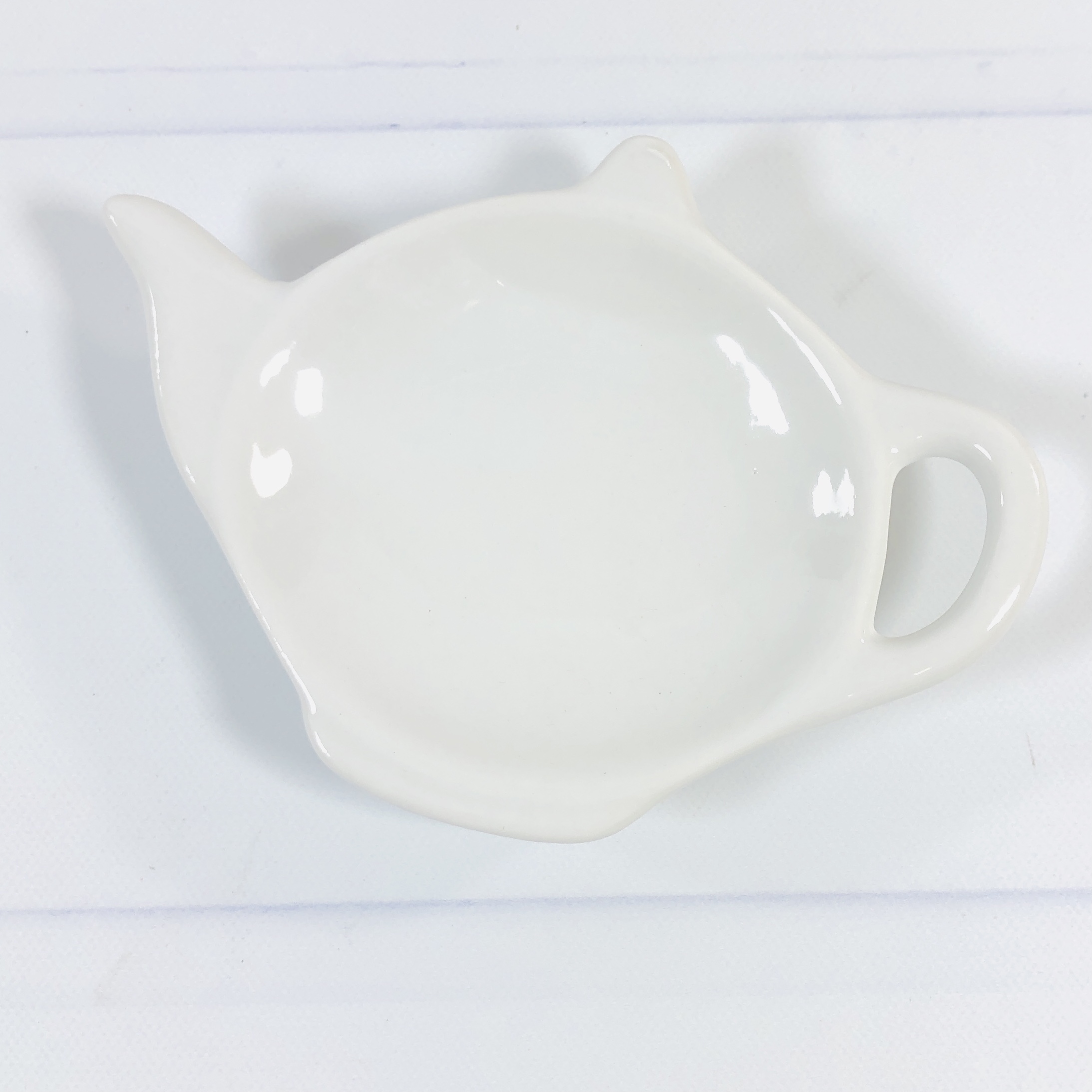 Teabag Caddy ($3.25 value, buy a set of 4 for $12.99) This white porcelain tea caddy can be used to hold your teabag if you tend to re-steep your teas. It could also be used as a spoon rest.
La Tea Dah Healing Sencha Green Tea ($3.99) A tin of green tea wasn't listed on the card so maybe it is another bonus!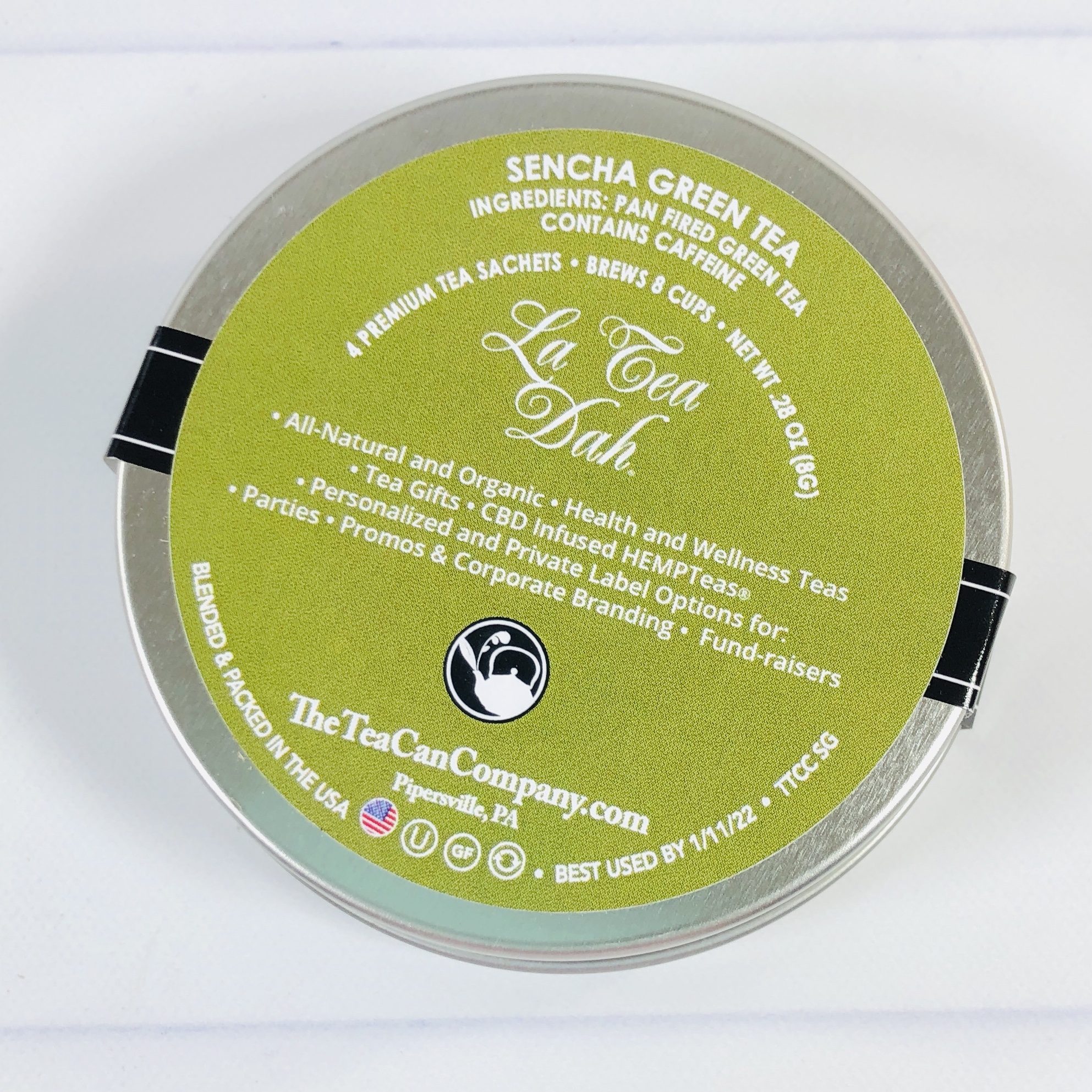 The ingredients are pan-fired green tea, and that's it.
There were 4 sachets inside the tin. I steeped this the same way I always steep green tea: I didn't let the water come to a boil, and I only steeped for 2 minutes. The instructions that were on the can were the kind you would use for black tea. My tea was light in body and flavor and there was no bitterness. Sencha always tastes vegetal to me, with spinach or sea weed nuances, but this was pure, simple green tea, none of the vegetal flavors were there, which is fine by me.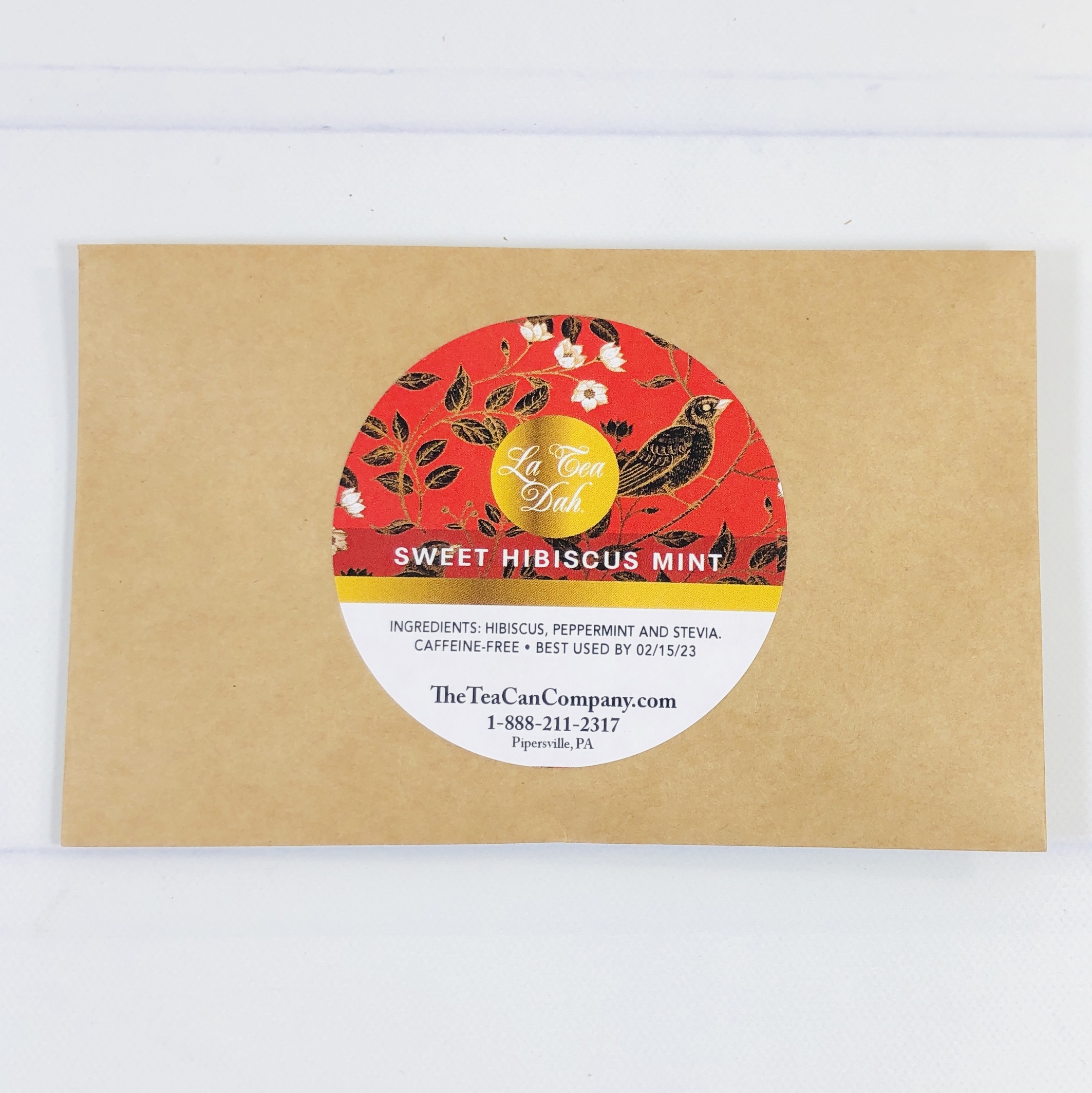 La Tea Dah Sweet Hibiscus Mint Tea I guess this is a bonus too? It is an herbal tea made of hibiscus, mint, and stevia.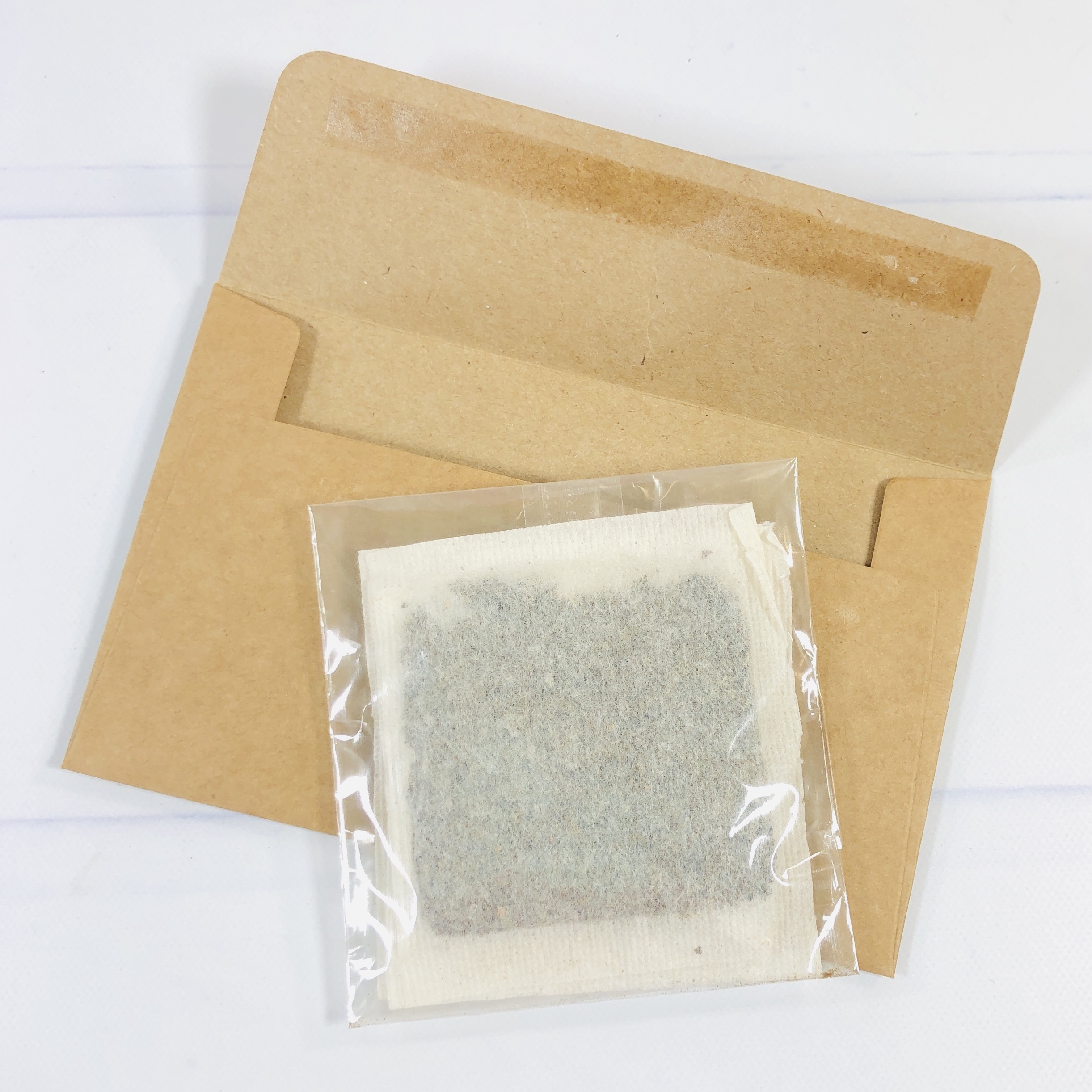 There were 3 bags inside and this stuff steeped up into a powerful tea. I would consider using 16 ounces of water rather than 8, it was potent. I am not a fan of stevia so after taking a sip I passed it to my husband, who really enjoyed this flavor. Neither one of us could detect any mint, although this tasted different than the hibiscus tea shown next.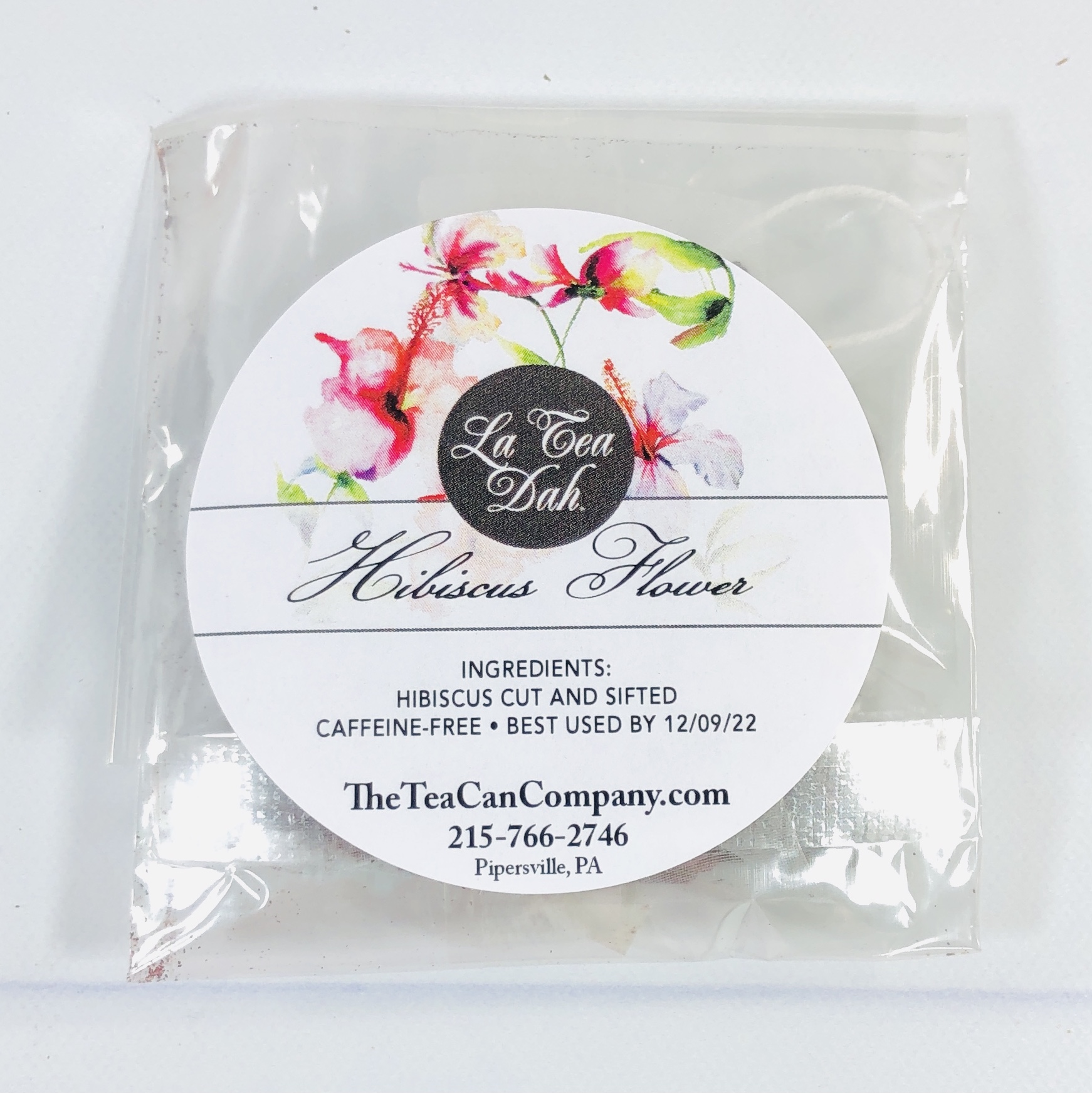 La Tea Dah Hibiscus Again, you could use 16 ounces of water and this would still be pretty strong. It is 100% hibiscus and to me, 8 ounces of water left it very strong and sour, hibiscus always reminds me of unsweetened cranberry juice. I added about a tablespoon of sugar and then topped it with ice to make it a refreshing punch, aka Jamaica (pronounced ha-my-kah).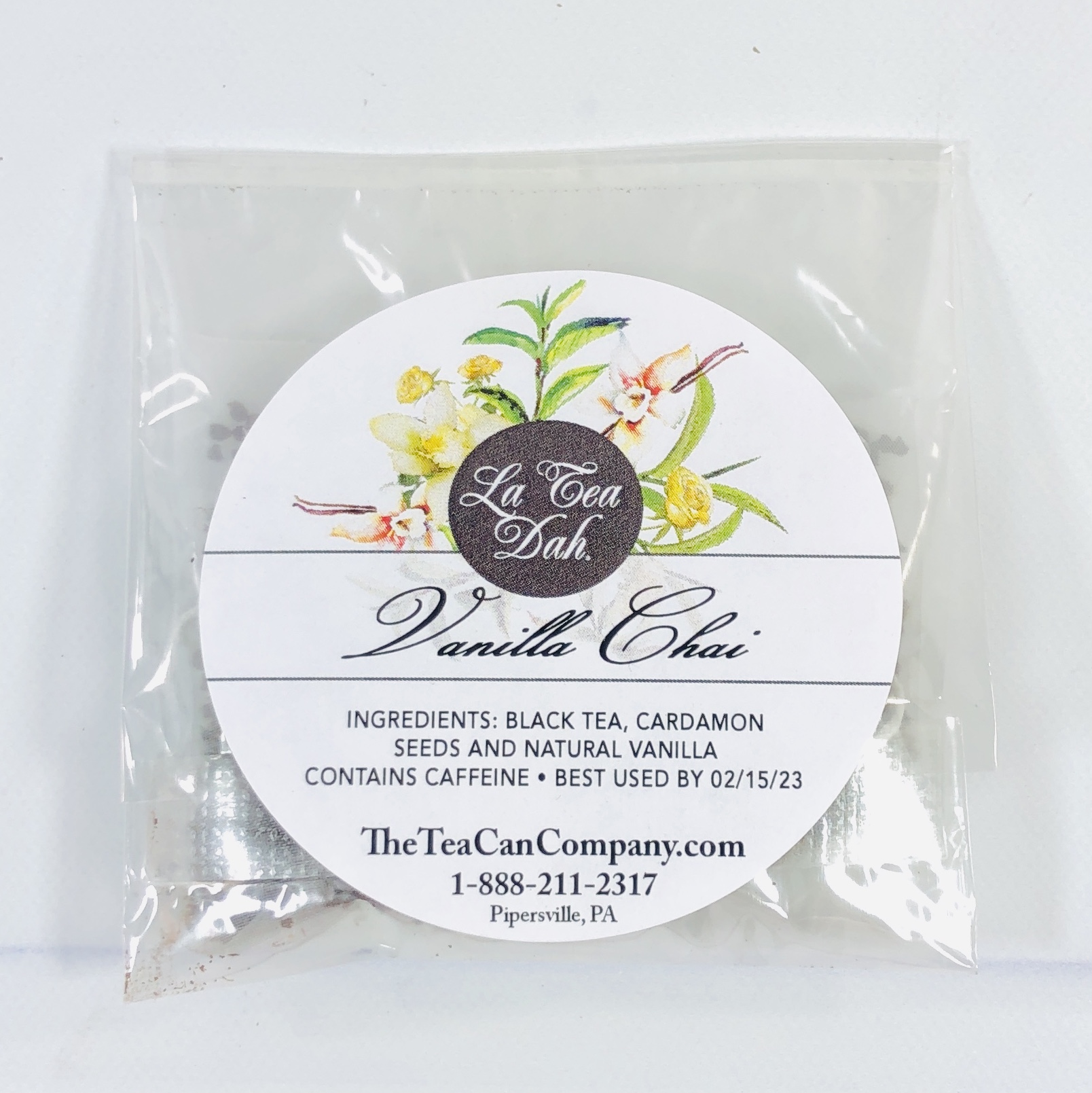 La Tea Dah Vanilla Chai Tea Vanilla Chai is so different from others out there, I think it's the cardamom and vanilla that give it an almost perfumed note and flavor. The black tea steeped into a strong base and milk and sugar turned it sweet and mellow.
La Tea Dah Earl Grey Supreme Tea Earl Grey is a classic for a reason! This one had a citrus note but wasn't as strong as some of the types I've tried before. I think the orange was slightly stronger but still, this wasn't a bold tea, it was gentle and lightly flora.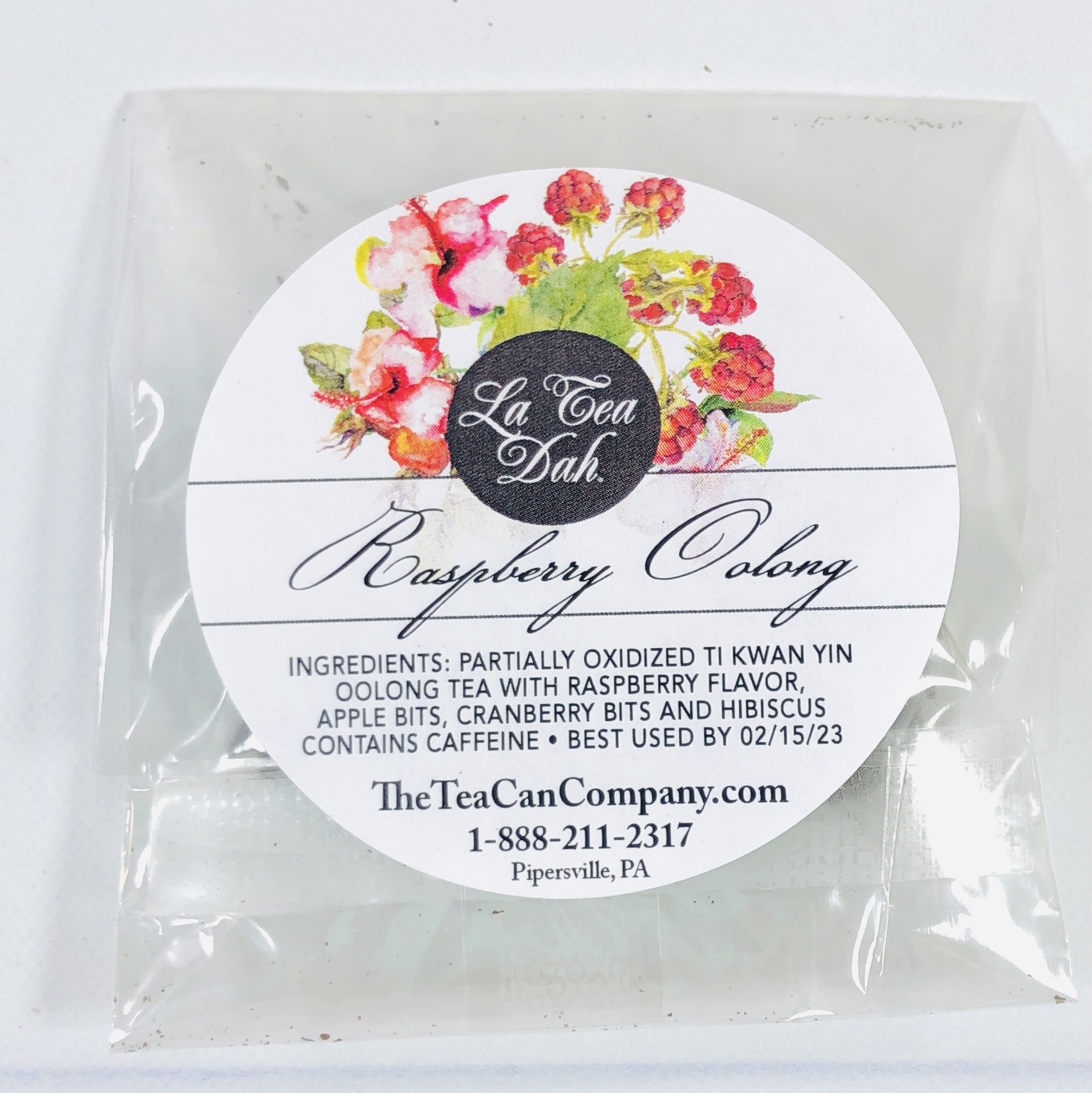 La Tea Dah Raspberry Oolong Tea The toasted oolong flavor here was very light and took a backseat to the floral and fruity raspberry notes. It was even fruitier when cooled off and would make for a refreshing iced tea.
La Tea Dah Moroccan Mint Tea While this tea was hot it had a hint of that spinach note that I mentioned sencha tea tends to have. It faded after a while and the rest of the cup tasted like classic peppermint tea!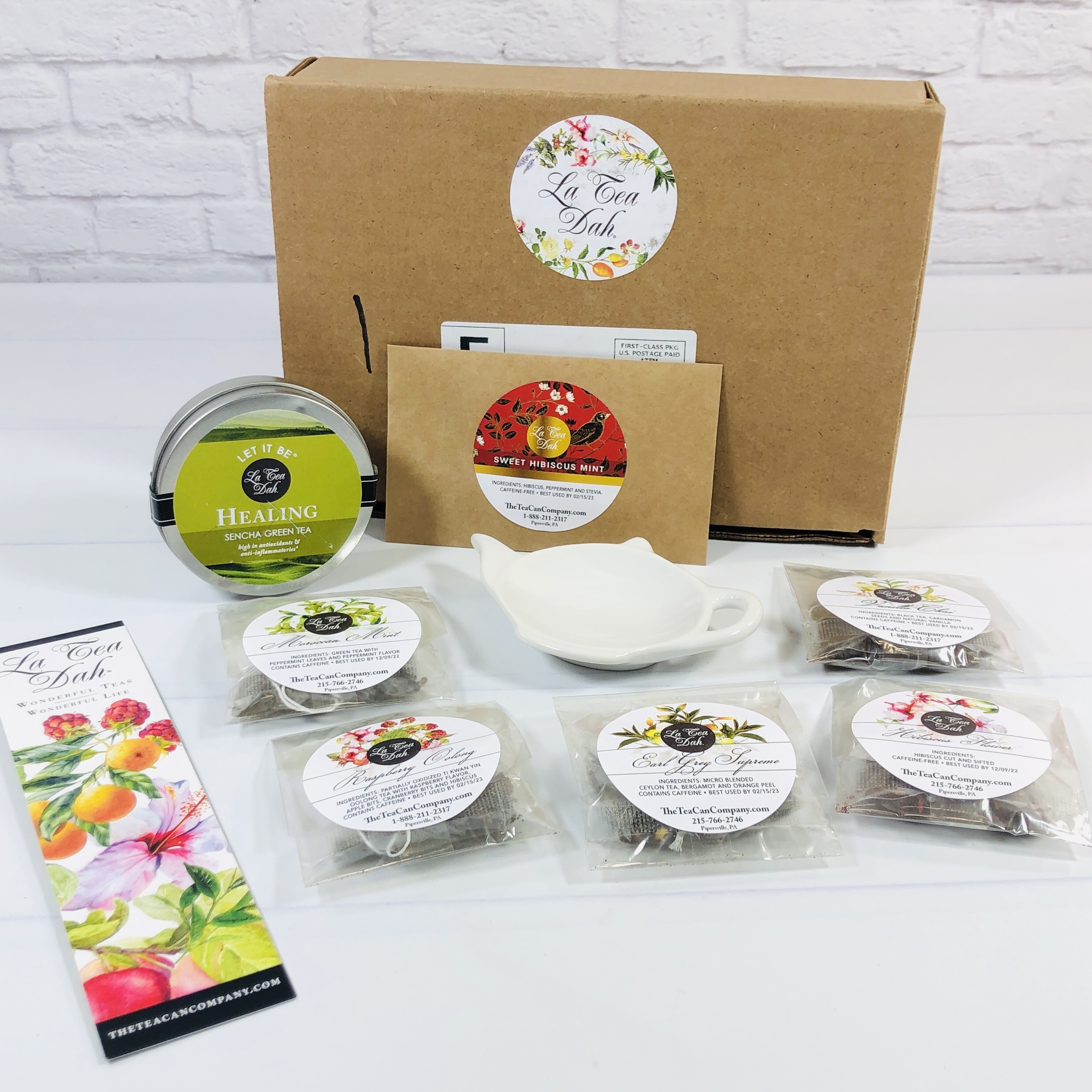 La Tea Dah sent a nice assortment of teas in their January subscription box! There were some familiar flavors and new takes on classics too. The teas varied between being light in flavor to being almost too bold. The bags are made of a biodegradable starch material and the string and tags are attached by ultrasonic sealing instead of glue. There was a total of 17 individual tea bags, and it is suggested that they may be re-steeped. The tea bag holder/spoon rest was too cute, I plan on using it for my tea spoon.
What do you think of the teas from La Tea Dah?