Golden Ratio Coffee offers gold coffee in single serving, tea-like pouches. Gold coffee is a light coffee that looks more like tea than your regular brew. To make this, they roasted the beans a little longer than white coffee and a little less than a light roast, which results in a smooth coffee with a golden hue. There are 3 gold coffee flavors you can choose from: Original Gold Coffee, Vanilla Coconut Gold Coffee, and Chai Spiced Gold Coffee. You can have them delivered to your door either monthly or bi-monthly, for $13.49 per bag (contains 7 pouches) plus shipping. You can also switch flavors or change the quantity every month!
Also available for one-time purchase is the Variety Pack which includes 3 pouches of each regular flavor (a total of 9 bags) for $17.99. For a limited time, they also offer Gold Coffee Seasonal Flavors for $14.99 each bag (contains 7 pouches), and the flavors include Pumpkin Spice, Spiced Cookie, and Chocolate Mint.
This is the review of the Variety Pack, Original Gold Coffee, and 2 Seasonal Flavors: Chocolate Mint and Pumpkin Spice.
DEAL:  Get 20% off your order! Use coupon code HELLO20.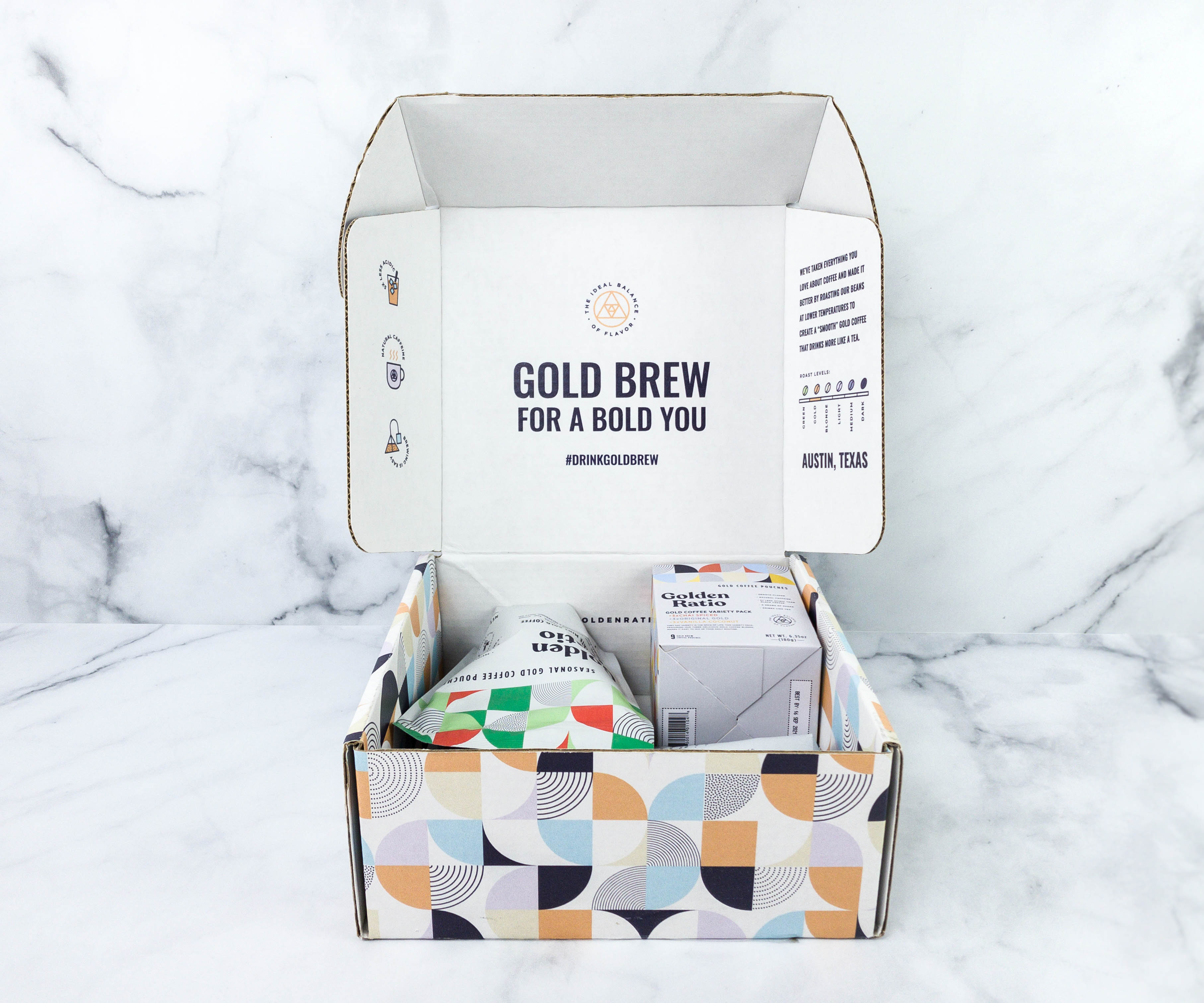 The coffee came in a sturdy box with cute prints.
Golden Ratio coffee are packed in  recyclable bags!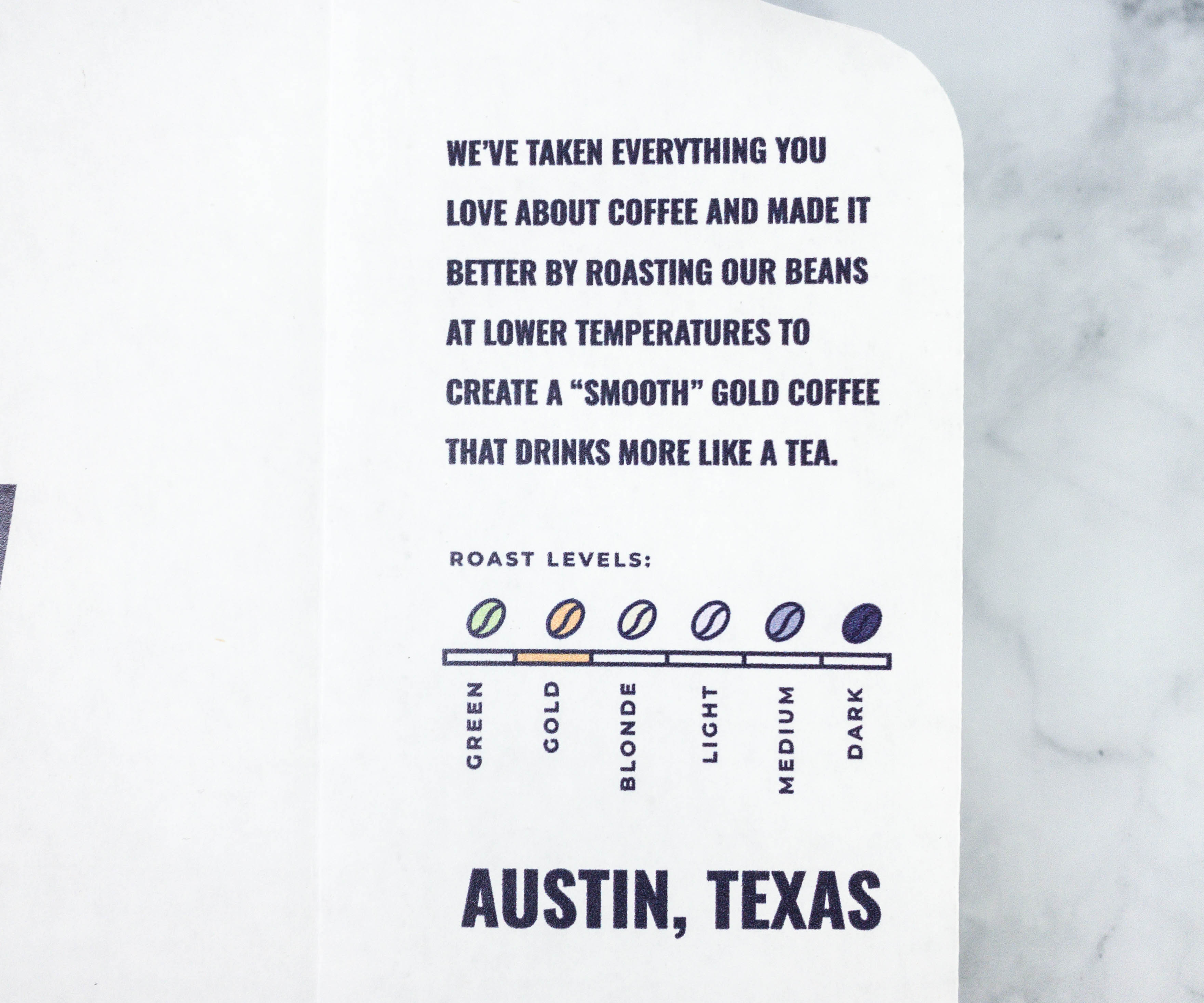 There's also a card that shows the roast levels of beans and explains how Golden Ratio prepared them to achieve the perfect gold coffee.
Everything in my box!
Gold Coffee Pouch Variety Pack ($17.99) The Variety Pack is the best option if you want to try all the regular Golden Ratio flavors. It includes 3 pouches of Chai Spiced Gold Coffee, Vanilla Coconut Gold Coffee, and Original Gold Coffee.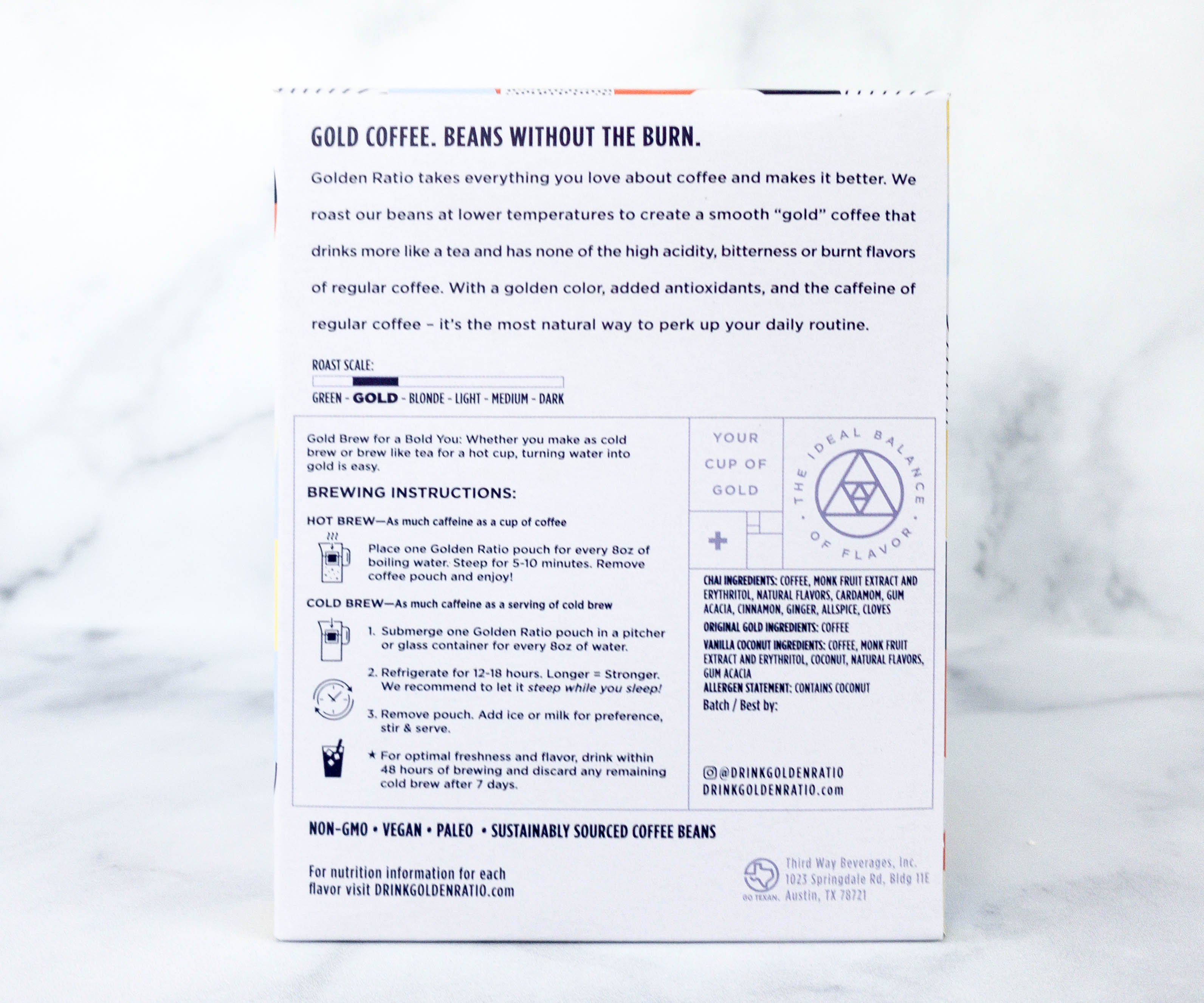 The benefits of Golden Ratio coffee is also discussed at the back of its packaging. This brew is 5 times less acidic than black coffee, does not contain bitterness or burnt flavor, and the best thing is that it has antioxidants for added health benefits.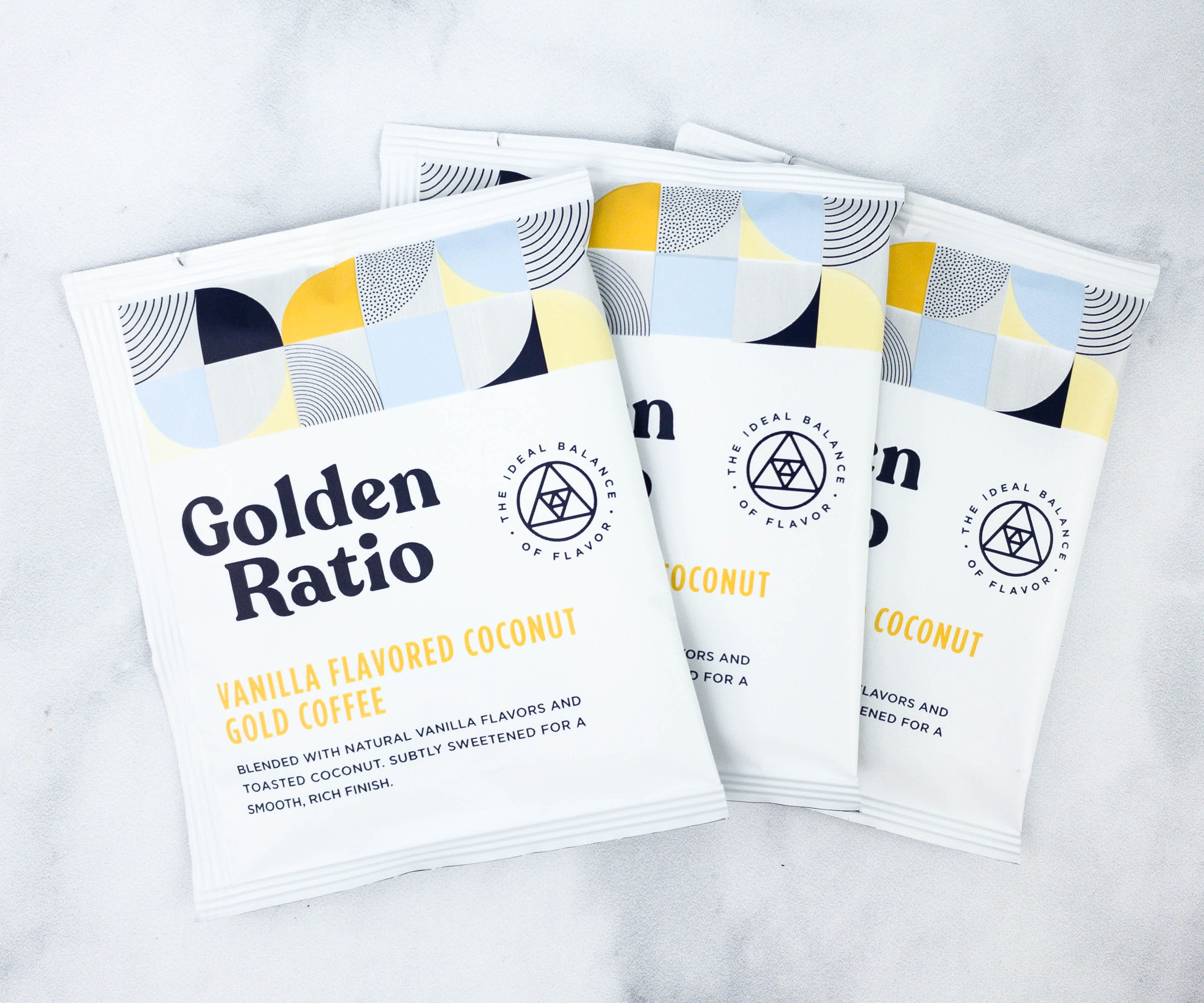 First up is the Vanilla Flavored Coconut Gold Coffee. Blended with vanilla, it's mildly sweet and has a smooth and rich taste. The toasted coconut notes are also present in every sip.
According to the brewing instructions, this is ideal whether for hot or cold brew.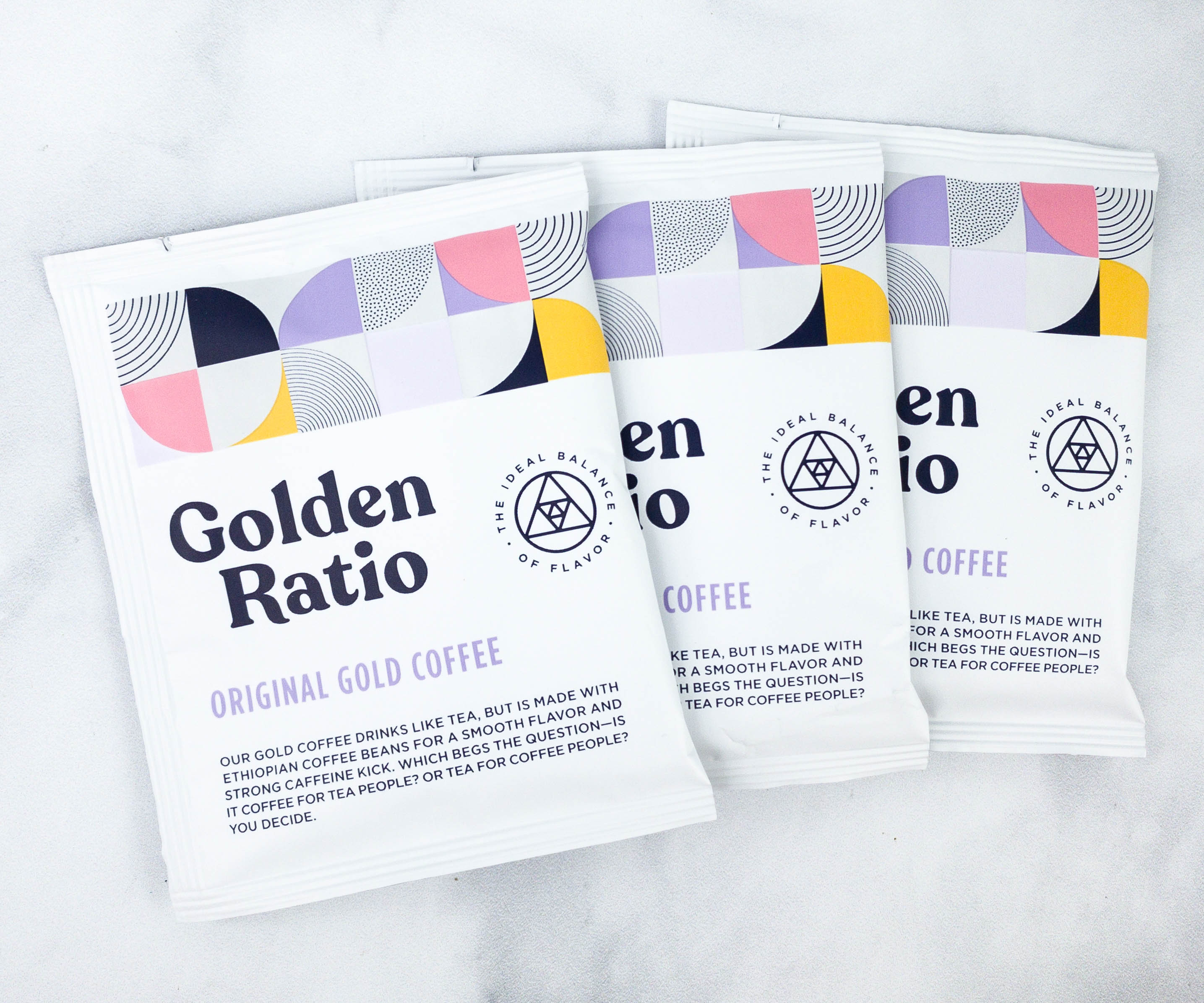 Next is the Golden Ratio Original Gold Coffee made from Ethiopian coffee beans. It has a smooth flavor and a strong caffeine kick!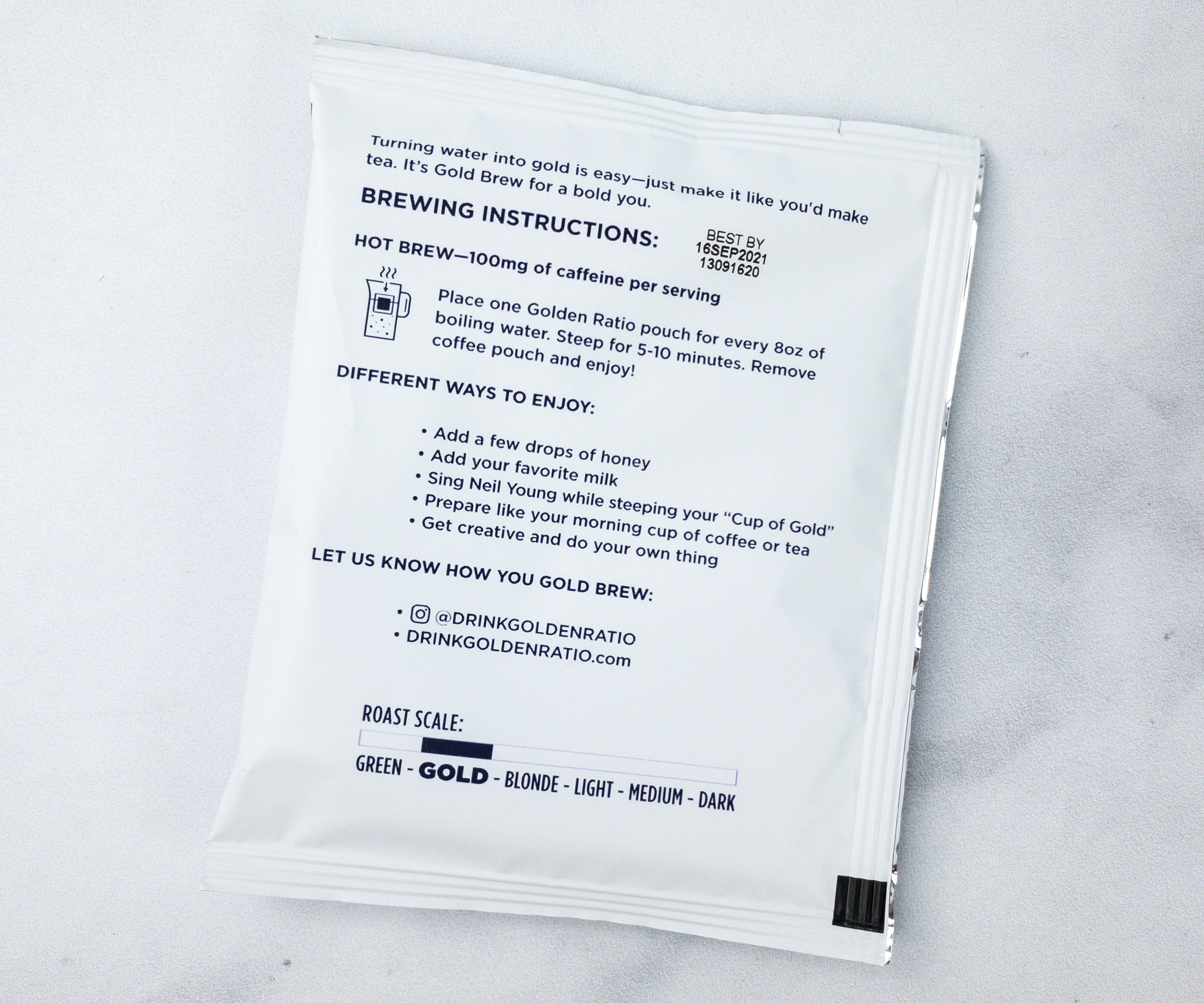 The pouch also has suggestions on other ways to enjoy this coffee. You can add a few drops of honey or your favorite milk!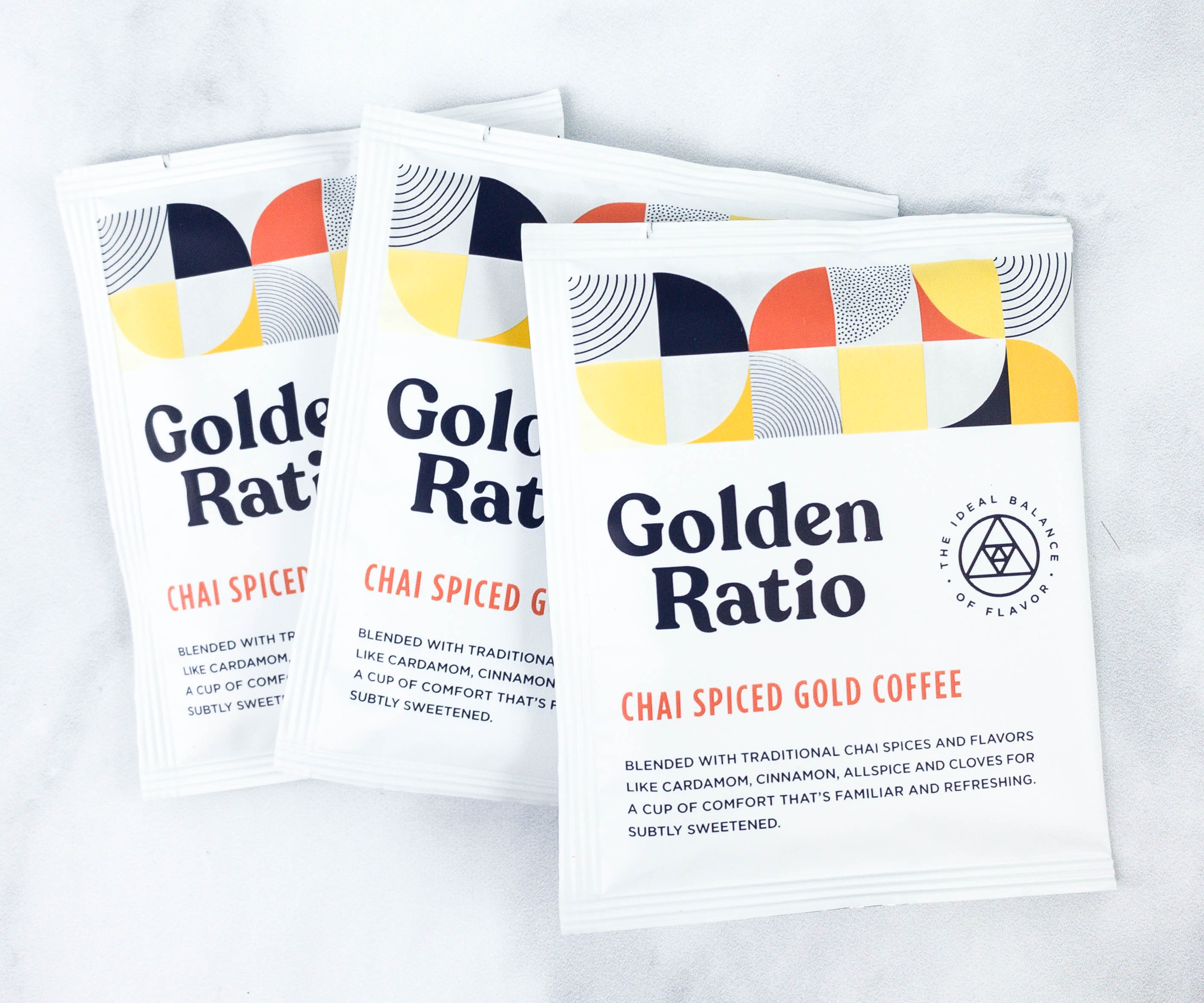 The last flavor in the Variety Pack is the Golden Ratio Chai Spiced Gold Coffee. They blended the gold coffee with traditional Chai spices like cardamom, cinnamon, all spice, and cloves to make a unique flavor.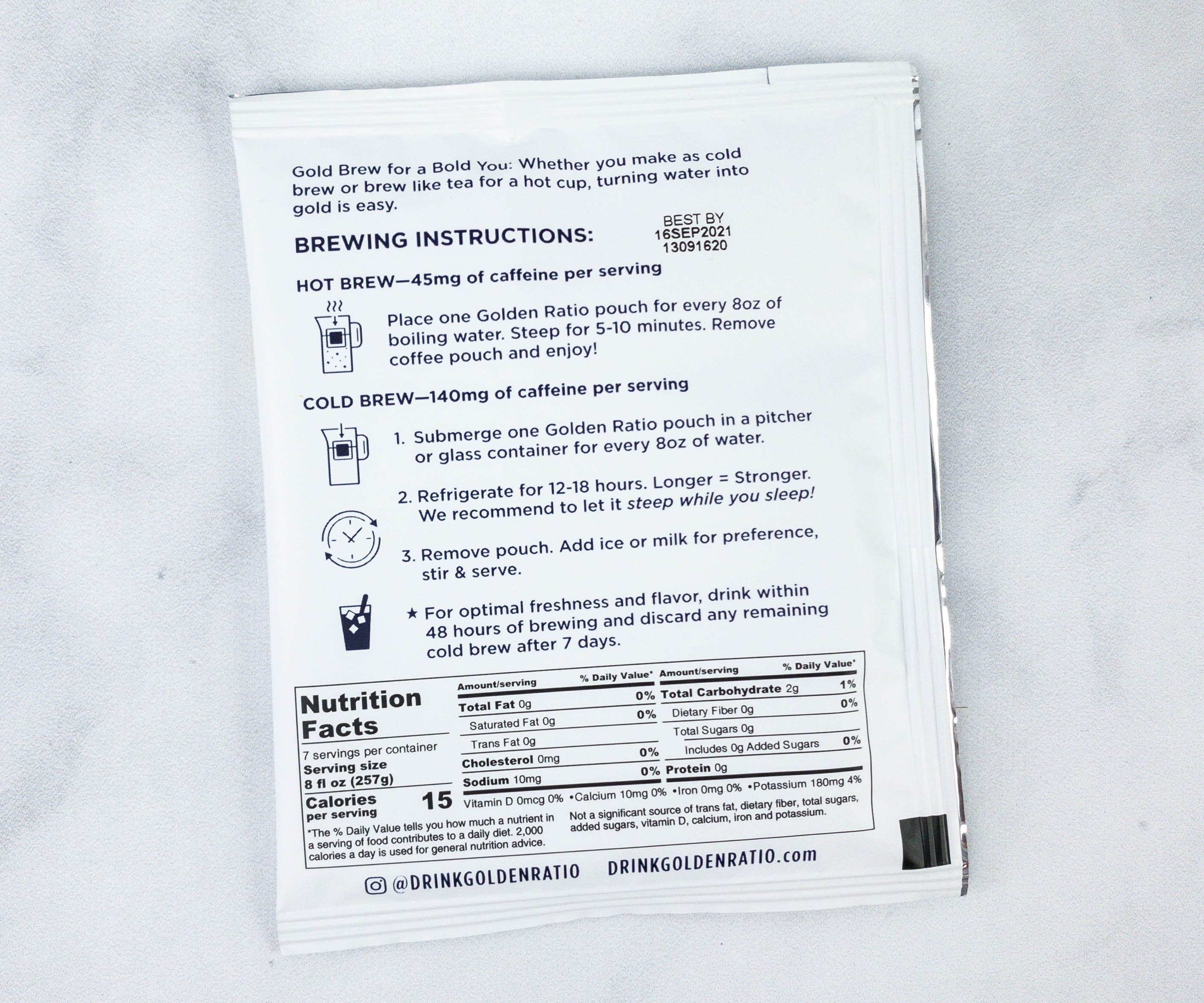 You don't need any complicated equipment to prepare this coffee. Boiling water will do for hot brew, and for cold brew, you can put it in the refrigerator and then add ice as well.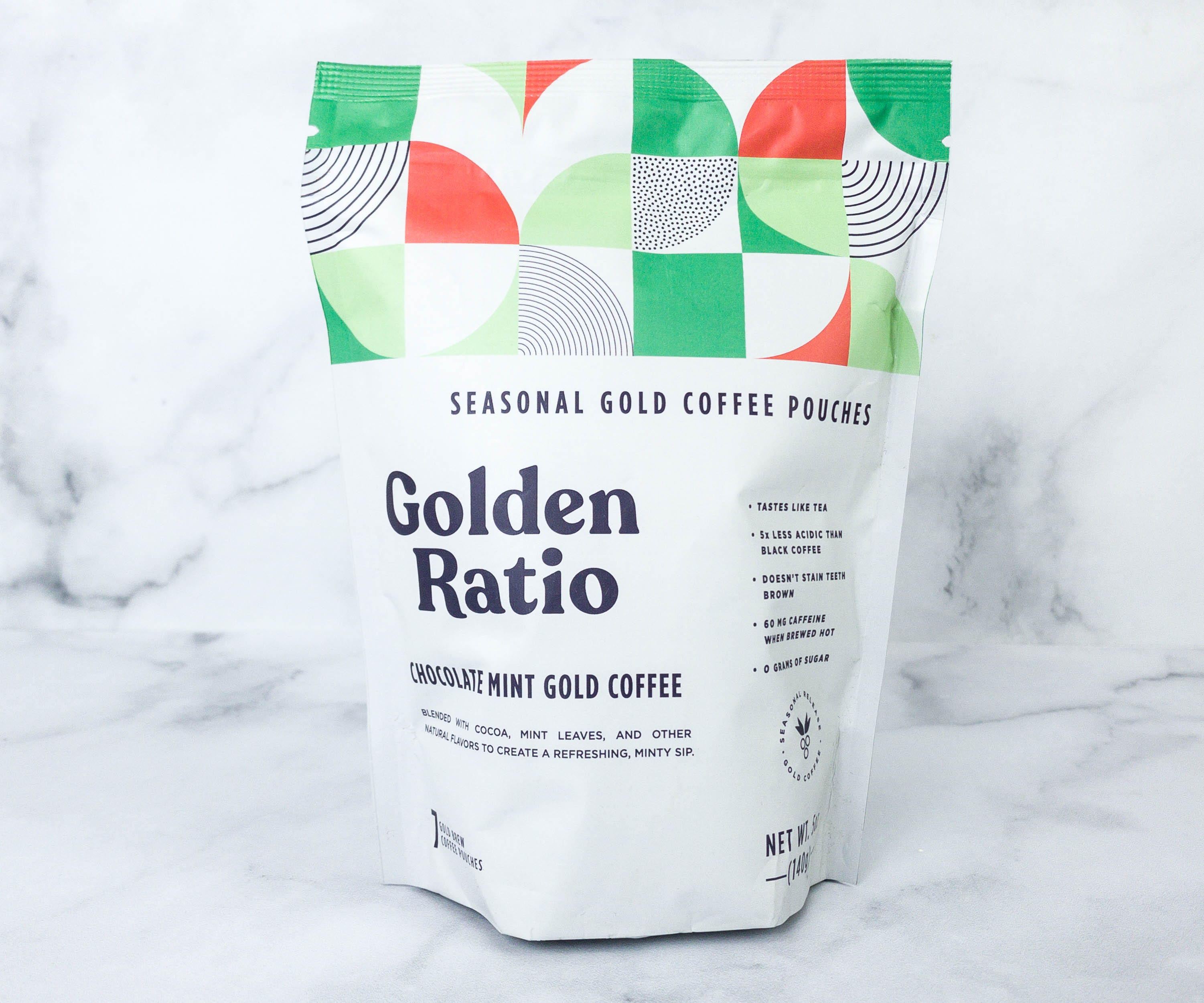 Chocolate Mint Gold Coffee ($14.99) This is the first Golden Ratio Seasonal Flavor I'm trying and it's perfect for fans of minty drinks! This coffee is made with Ethiopian coffee beans, blended with mint leaves for that refreshing kick and a touch of cocoa to balance it out.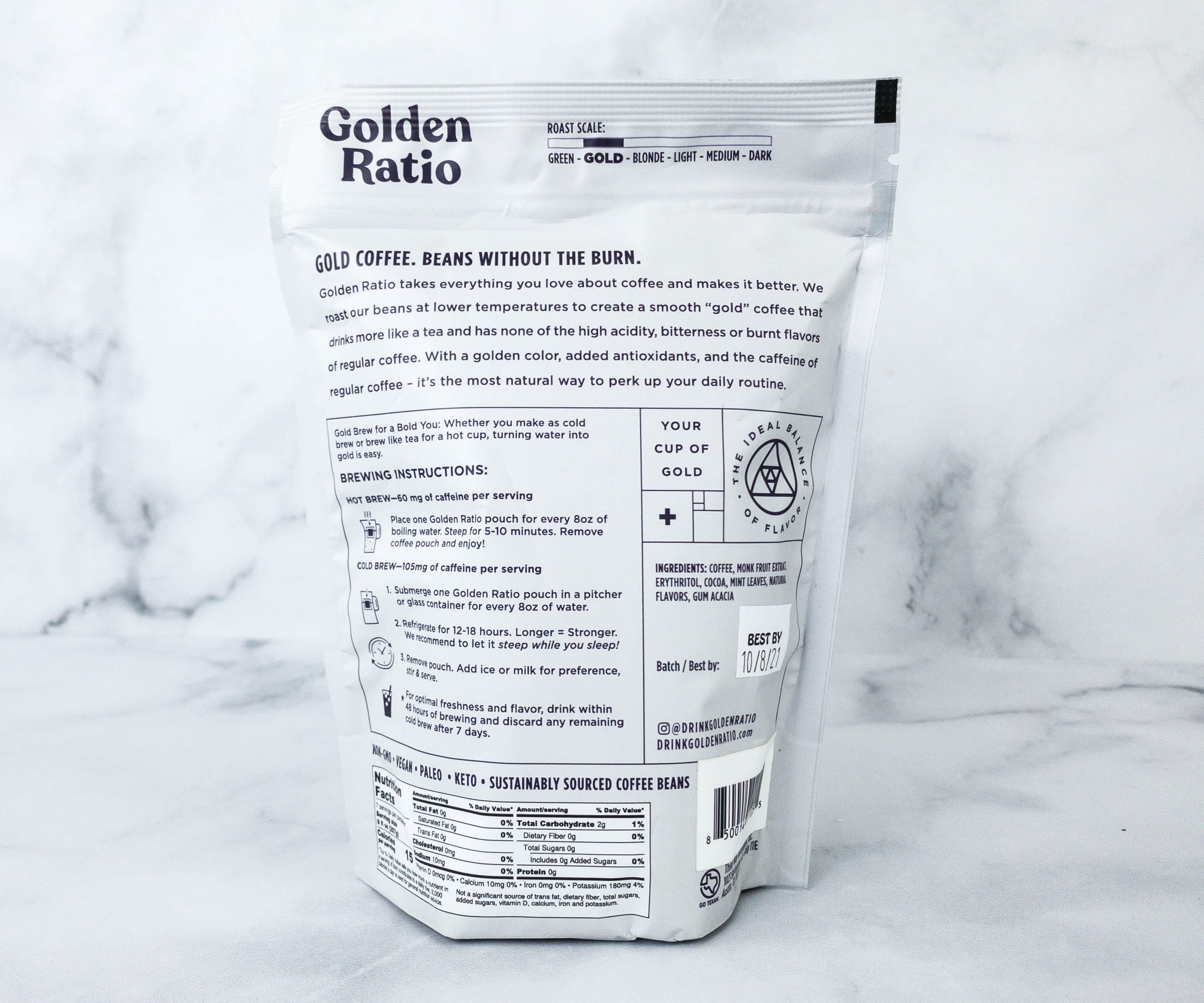 Each sip of this holiday-inspired coffee blend is satisfying. It's a refreshing way to start the day and it's also great for getting you out of the afternoon slump!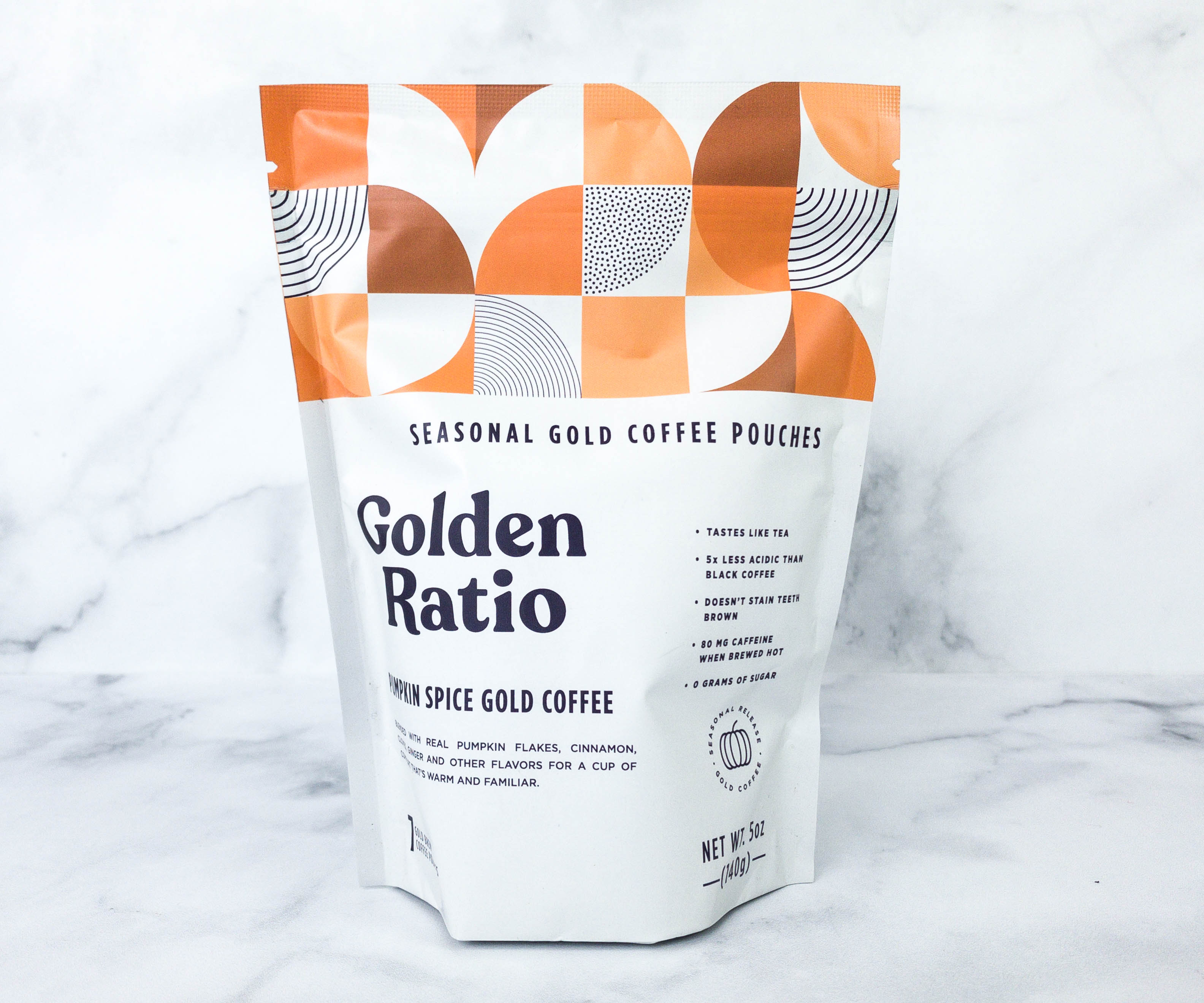 Pumpkin Spice Gold Coffee ($14.99) Next on the holiday flavors is pumpkin spice! They added pumpkin flakes, cinnamon, nutmeg, and ginger to the gold coffee to make it flavorful.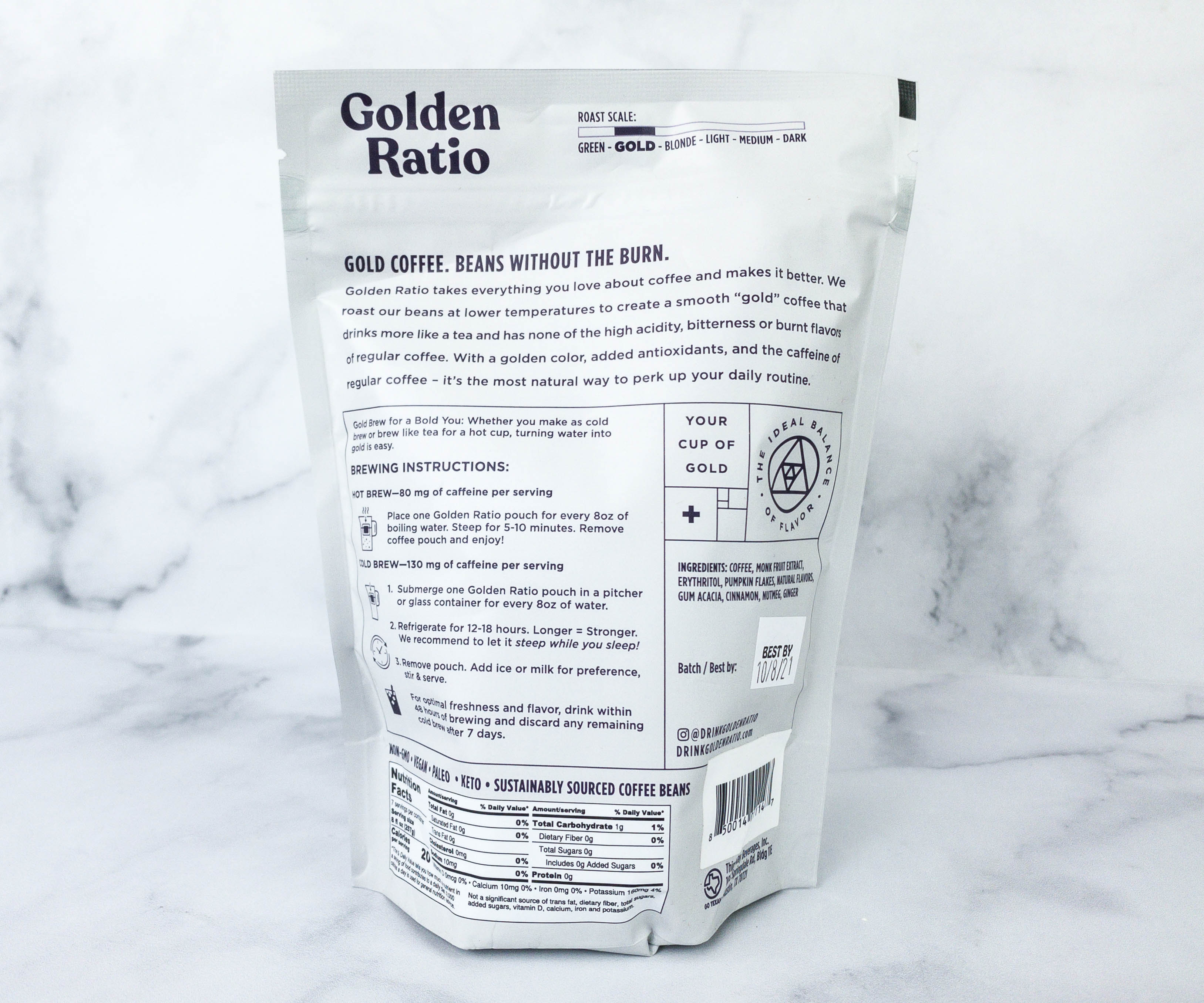 This coffee blend is indeed flavorful, but not overwhelming on the tastebuds. The spiciness is just right, enough to give you comfort and warm you up on a cold day!
Original Gold Coffee ($14.99) I also received a bag of the original gold coffee flavor! It's plain and smooth, just the way I like it.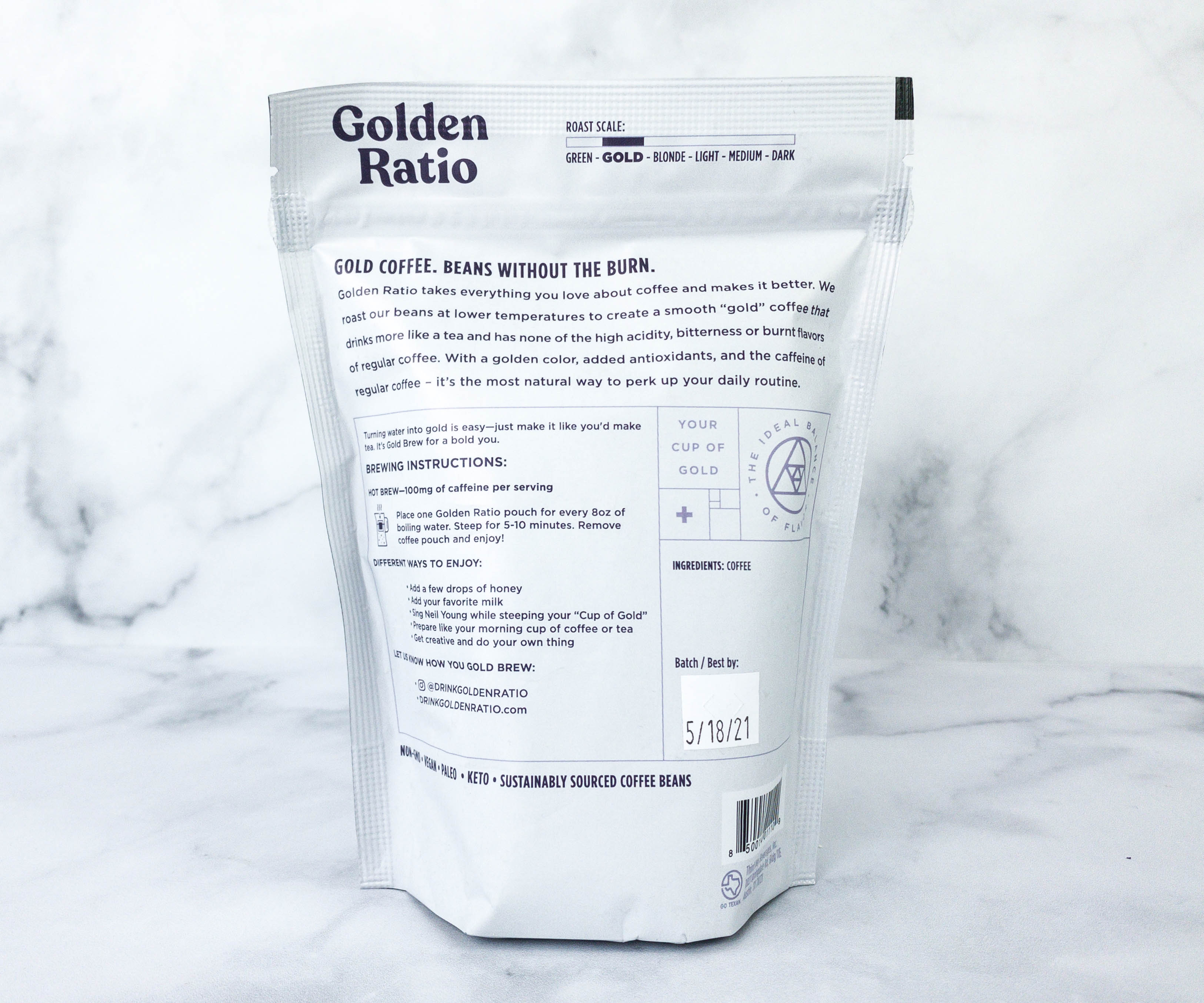 All blends are also non-GMO, vegan, and paleo friendly. The coffee beans used are also sustainably sourced!
Here's what the pouches inside looks like. They provide the best flavor on the first use, and it's up to you if you still want to use it for round 2!
These coffee pouches are also made of organic cotton and does not contain dyes.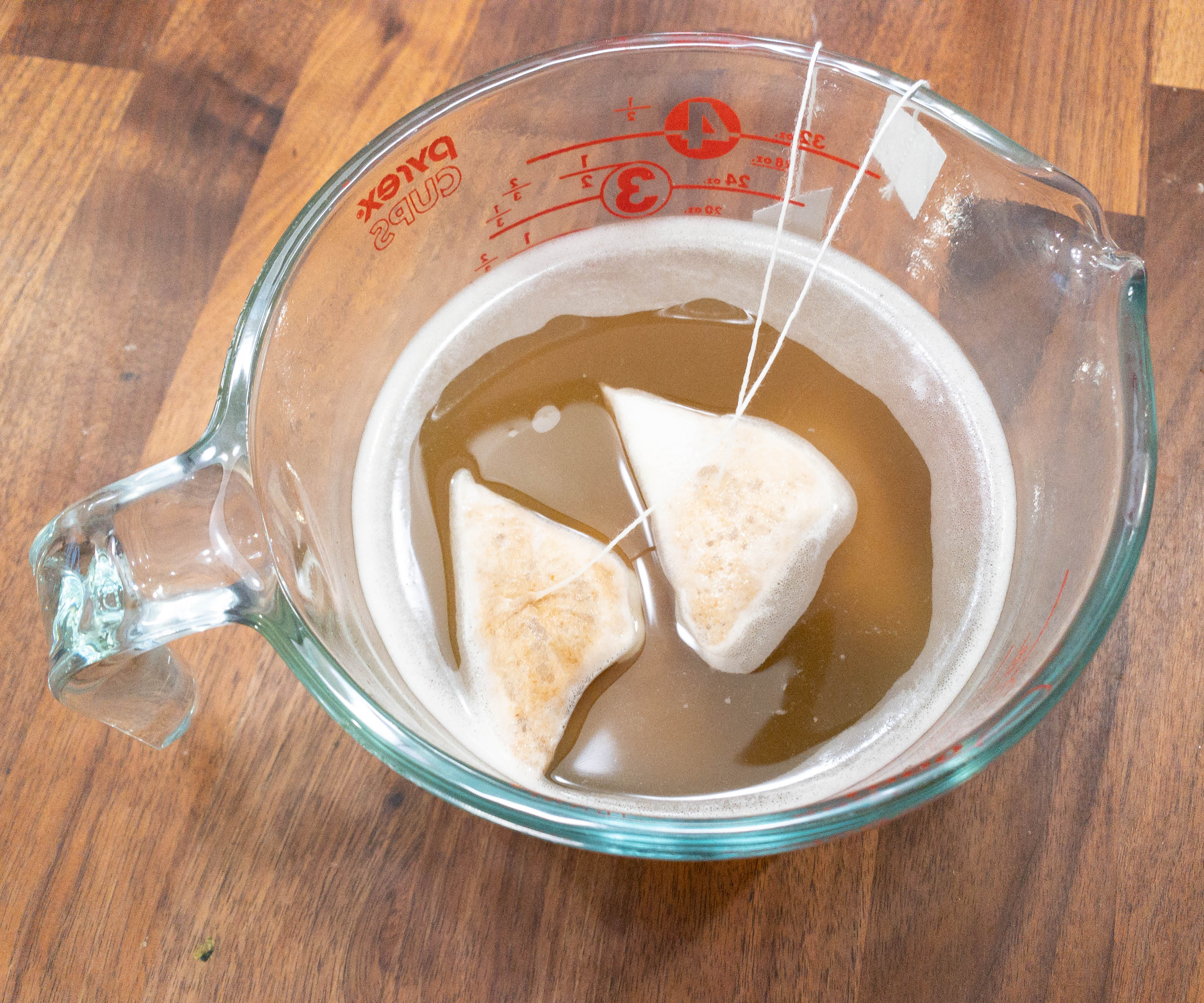 It's time to put the coffee to the test!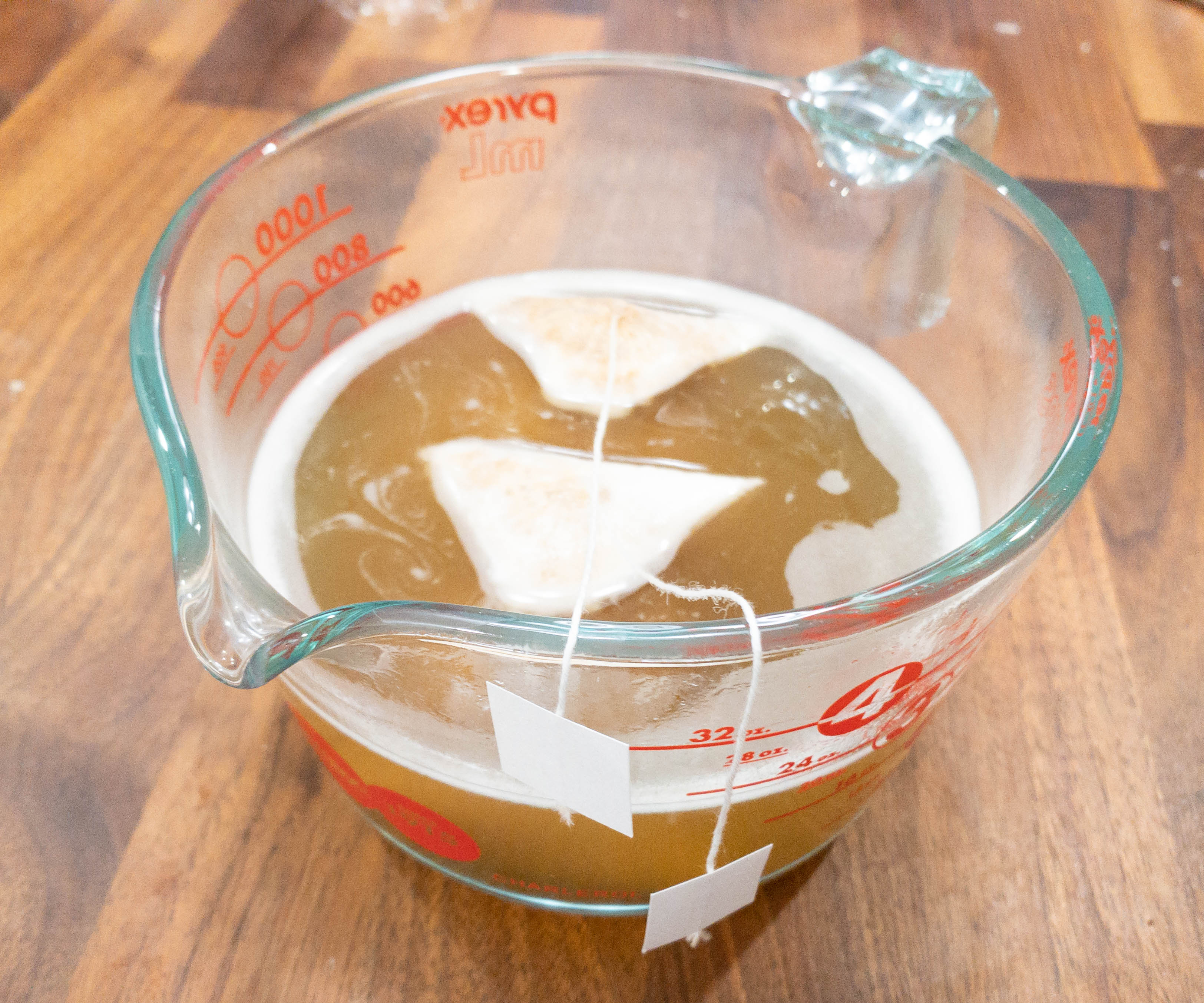 Golden Ratio pouches can also be used for multiple servings and each pouch is good for 8 oz of water.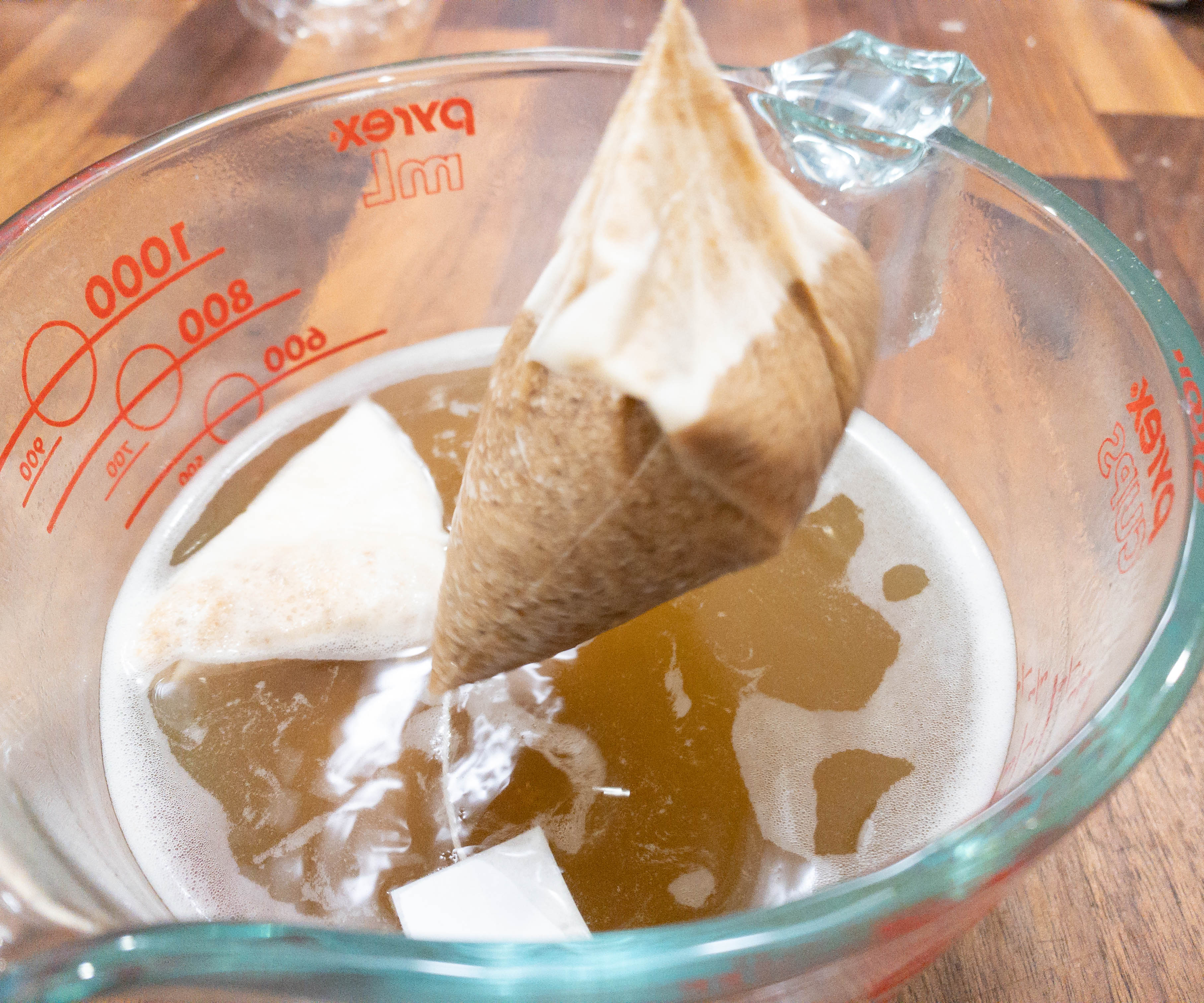 I tried the hot brew method! I just steeped the bag for 10 minutes and then it's ready to be enjoyed.
It does have a golden hue, where the name gold coffee is derived.
This is perfect for those who like their coffee light and refreshing.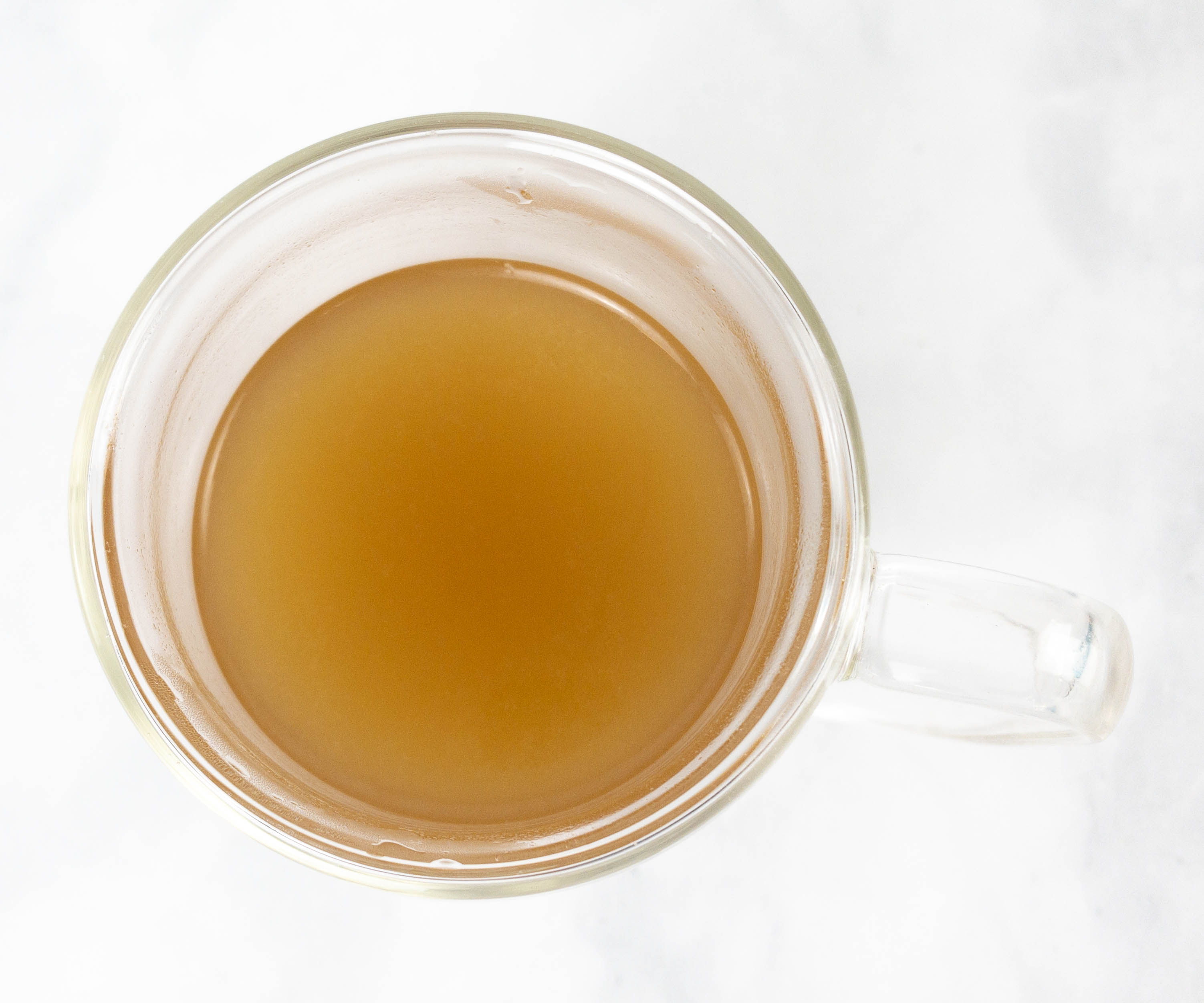 Compared to regular coffee, it's not acidic and it doesn't leave a bitter aftertaste either.
Golden Ratio Coffee makes unique and delicious coffee that you can prepare like tea because they come in pouches that you can steep. This box includes a Variety Pack which is great for those who want to try a little bit of everything first, plus some holiday inspired coffee flavors: chocolate mint and pumpkin spice. I also have a bag of the original golden coffee, which is my favorite among everything because I like this coffee light and smooth. It only takes 5-10 minutes for hot brew and you can even do other things while you wait for it to steep. For cold brew, it takes longer because you have to refrigerate the coffee while it steeps and it could take 12-18 hours (the longer you steep, the stronger it becomes). Either way, they taste good! One regular bag contains only 7 packs, which makes it a bit more expensive than ordinary brews but if you prefer less acidic coffee, this would be worth the price!
What do you think of the Golden Ratio Coffee box?