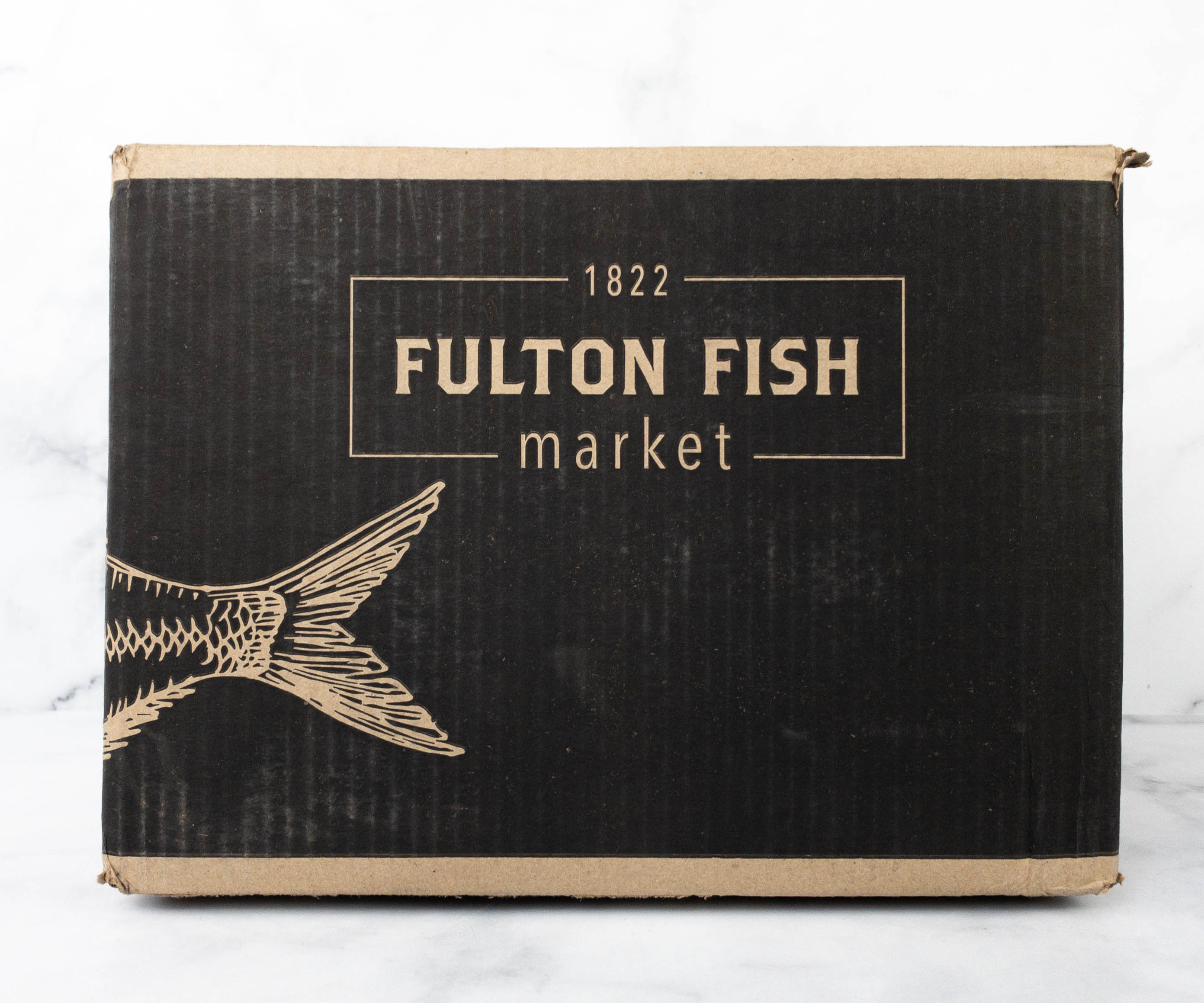 Fulton Fish Drop is a seafood subscription from Fulton Fish Market that offers incredibly fresh, sustainably-sourced seafood from Fulton Fish Market, the largest and most diverse seafood market in the US. Each box contains fresh and safe seafood that is harvested within the last day or two. You can choose from their menu, or let them curate your box from the market's best Catch of the Day. It's also up to you to decide if you want your seafood delivered weekly, biweekly, or monthly. It's the perfect subscription for preparing and enjoying seafood right at home!
Try 'Em All
Try 'Em All – Finfish ($89.95) includes eight 6 oz portions and 2 types of fish
Try 'Em All – Finfish & Shellfish ($84.95) includes four 6 oz portions and 2 types of fish plus 1 lb dry jumbo scallops OR 1 lb Gulf shrimp (alternating)
Feelin' Mostly Shellfish
Feelin' Mostly Shellfish ($84.95) includes two 6 oz portions of fish, 1 lb dry jumbo scallops OR 1 lb Gulf shrimp (alternating), 1 dz Littleneck clams OR 1 lobster tail (frozen) OR 1 dz oysters OR 16 oz wild US lump crabmeat OR 2 lbs PEI Mussels (alternating)
Just Me & You
Just For Me & You – Finfish Only ($64.95) includes four 6 oz portions and 2 types of fish
Just For Me & You – Finfish & Shellfish ($69.95) includes two 6 oz portions of fish, 1 lb dry jumbo scallops OR 1 lb Gulf shrimp (alternating)
Fulton Faves
Salmon, Shrimp & Scallops ($99.95) includes 4 salmon fillets, 1 lb wild Gulf shrimp, 1 lb wild dry jumbo sea scallops
Tuna, Salmon & Halibut ($99.95) includes 4 salmon fillets, 2 wild ahi #1 tuna fillets, 2 halibut fillets
Salmon & Hake ($64.95) includes 2 salmon fillets and 2 wild hake fillets
Salmon Spectacular ($89.95) includes eight 6 oz portion of Kvarøy Arctic salmon
Journey to Japan ($149.95) includes Kanpachi fillet (1.25 lb), Sea Urchin (100g), four 6 oz portions Kvarøy Arctic Salmon, two 6 oz portions Ahi #1 Tuna, Salmon Roe (2 oz)
Seafood Party ($199.95) includes 2 lbs wild dry jumbo sea scallops, four 6-7 oz lobster tails, four 8 oz portions Swordfish, 16 oz lump crab meat
If you'd like a customized box, you can reach out to them by email and let them know what you'd love in your seafood subscription box. You can also pause or cancel your subscription anytime, plus the shipping is free. Add-on items are available upon checkout.
This is the review of Fulton Faves Salmon, Shrimp, and Scallops!
DEAL: Get 15% off your first box + FREE Shipping! Use coupon code FULTONFAN. Prefer to shop? FYI, you can also save 15% on your first $150+ delivery from Fulton Fish Market. Just use code STOCKUP.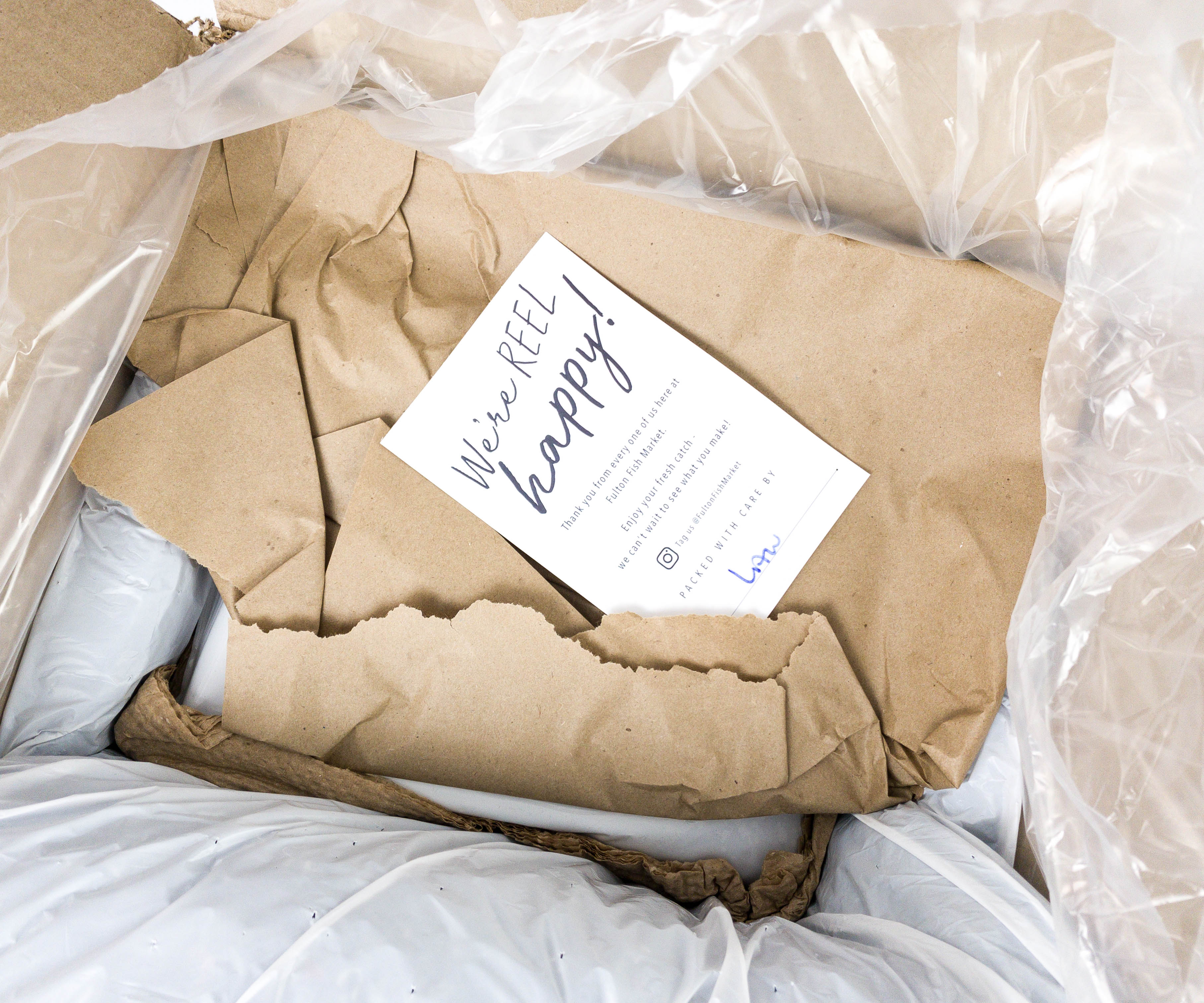 All the seafood was carefully arranged inside a smaller box, surrounded with a thick, large packs of dry ice.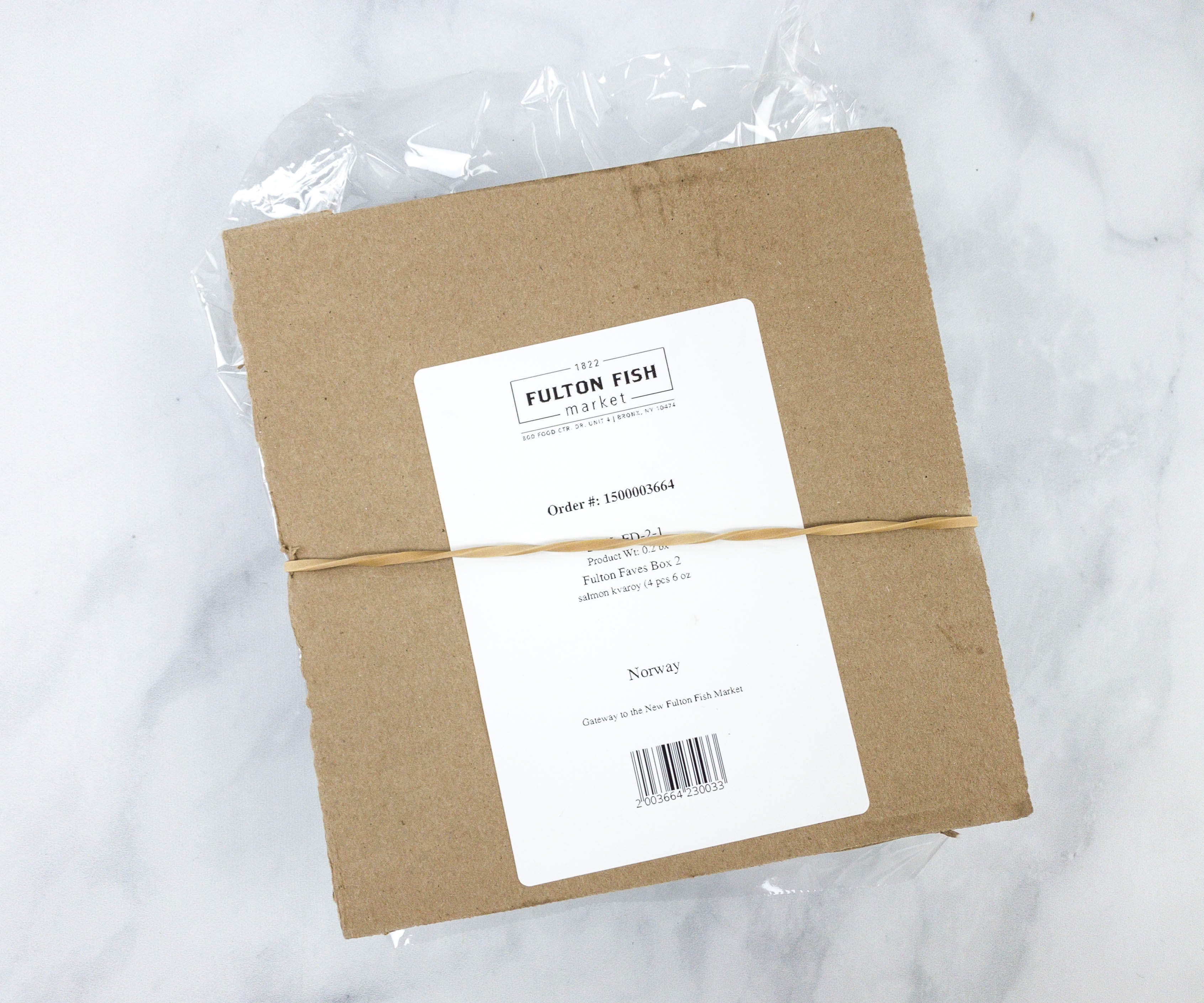 My box includes salmon, shrimp, and scallops!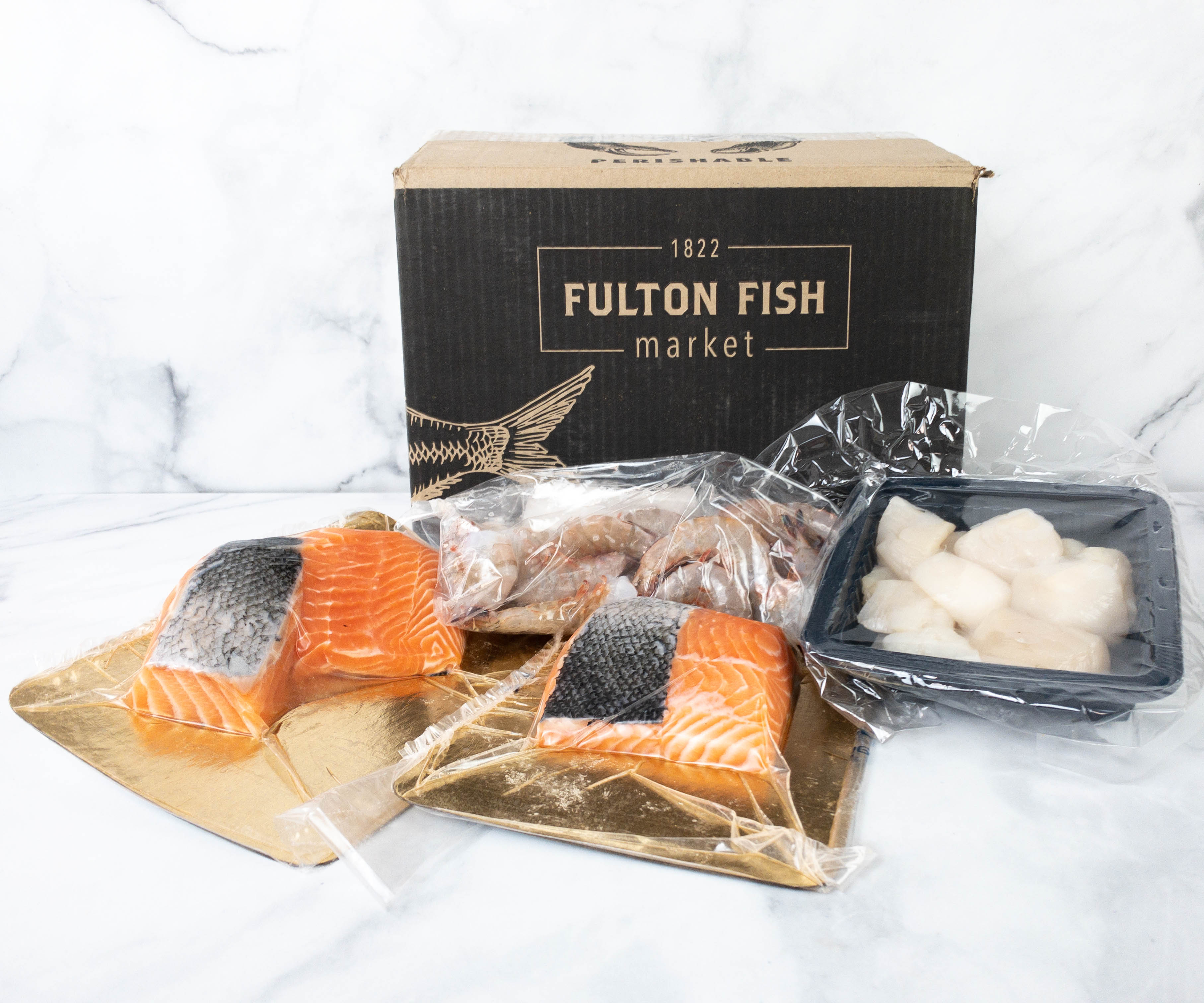 Everything in my box!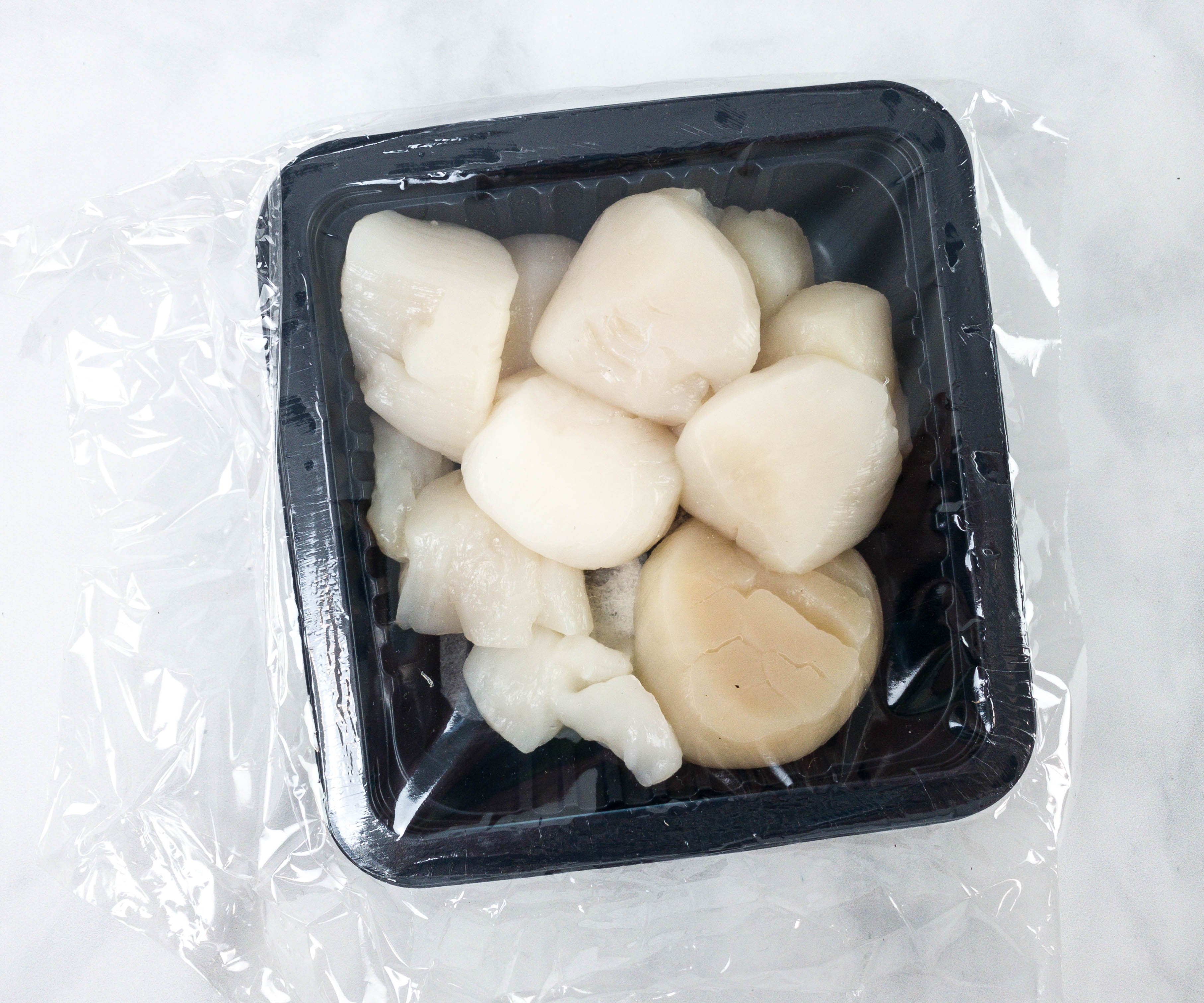 Jumbo Scallops. The scallops were separately sealed in a black plastic container. I received 1 lb of these scallops and I could tell they were fresh because they didn't have an intense fishy smell.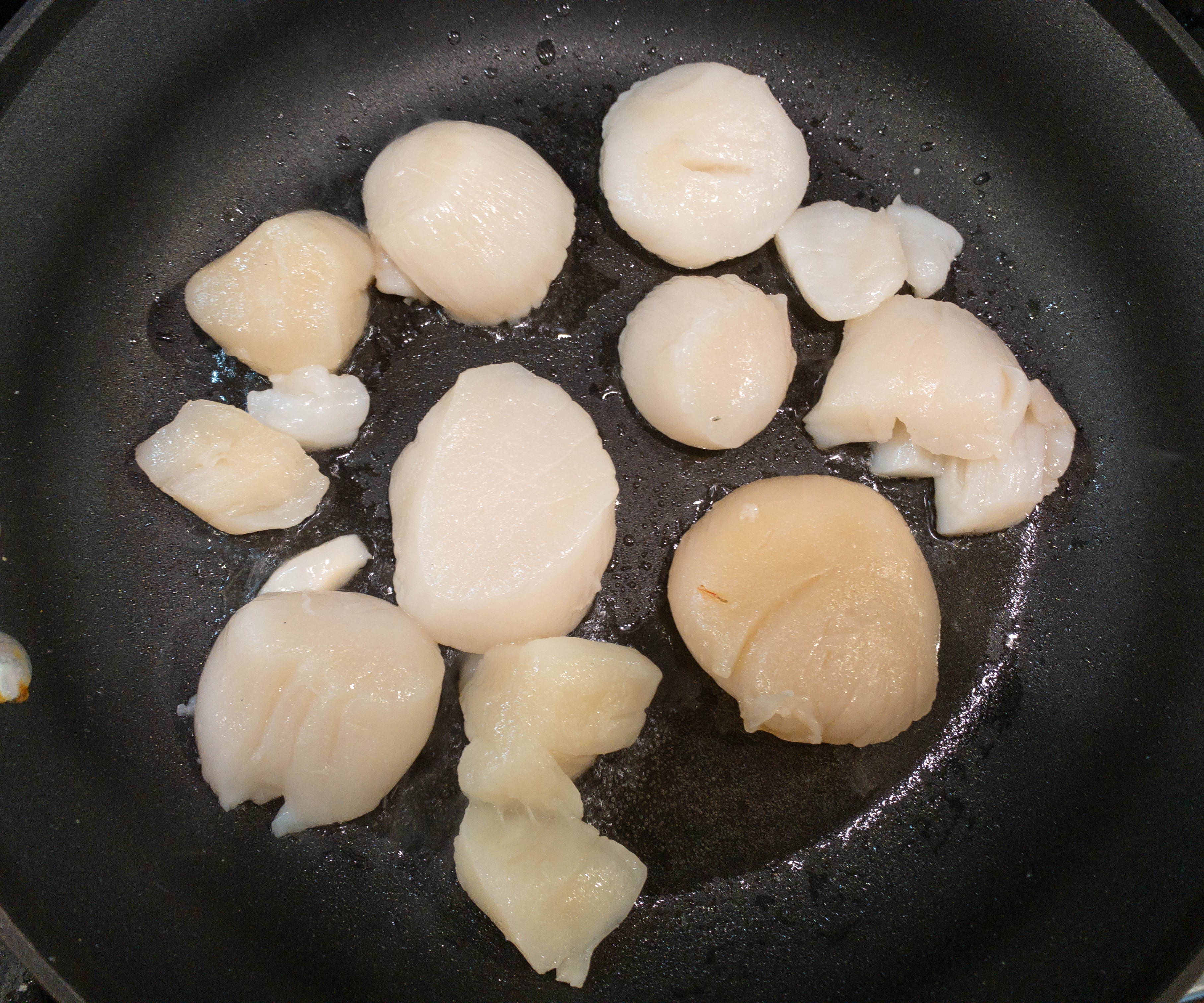 These jumbo scallops were soft, with a fleshy texture.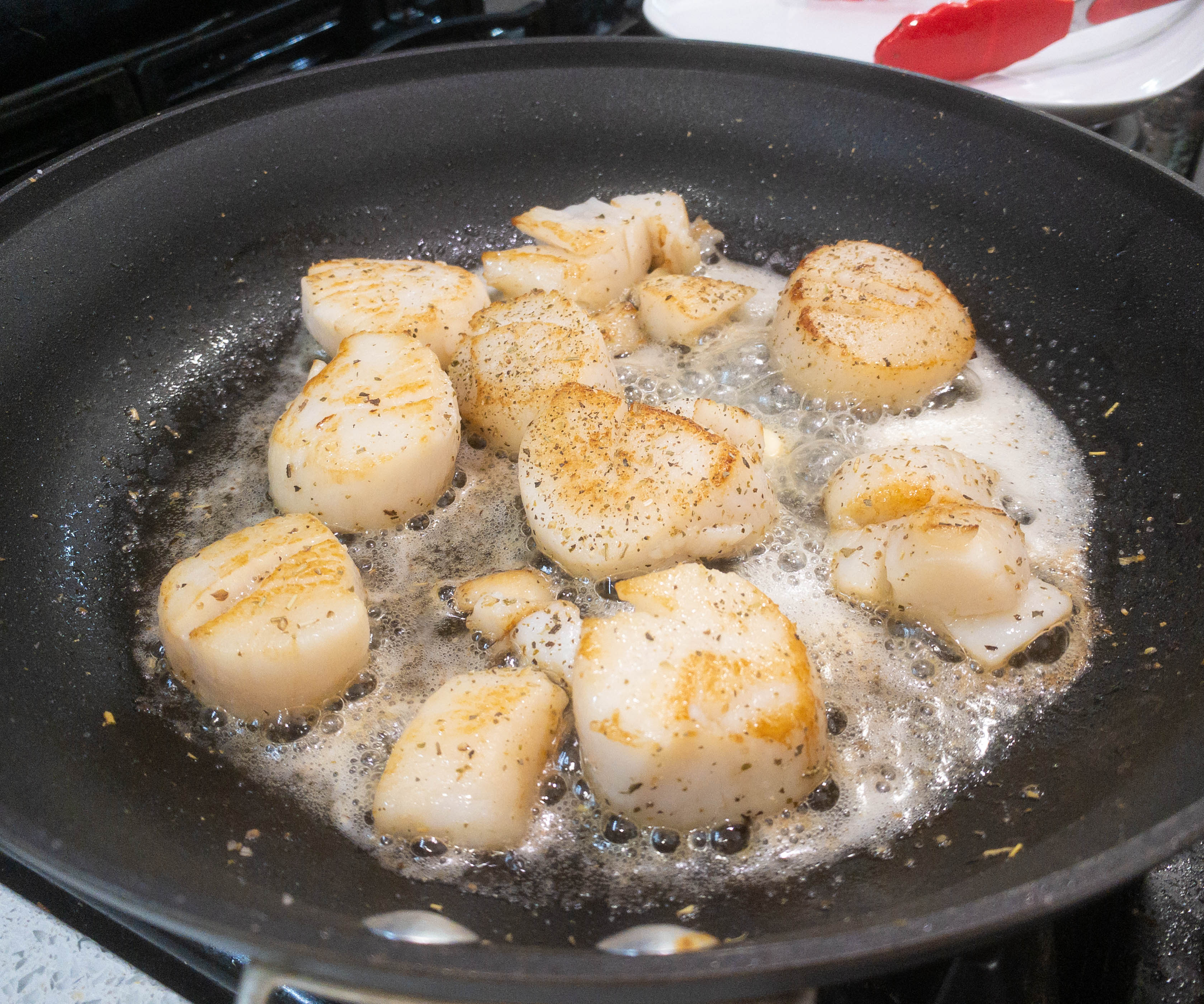 They are also easy to prepare! Just heat the pan, put the butter and wait for it to melt, place the scallops on the pan with melted butter, and wait until it turns into golden brown.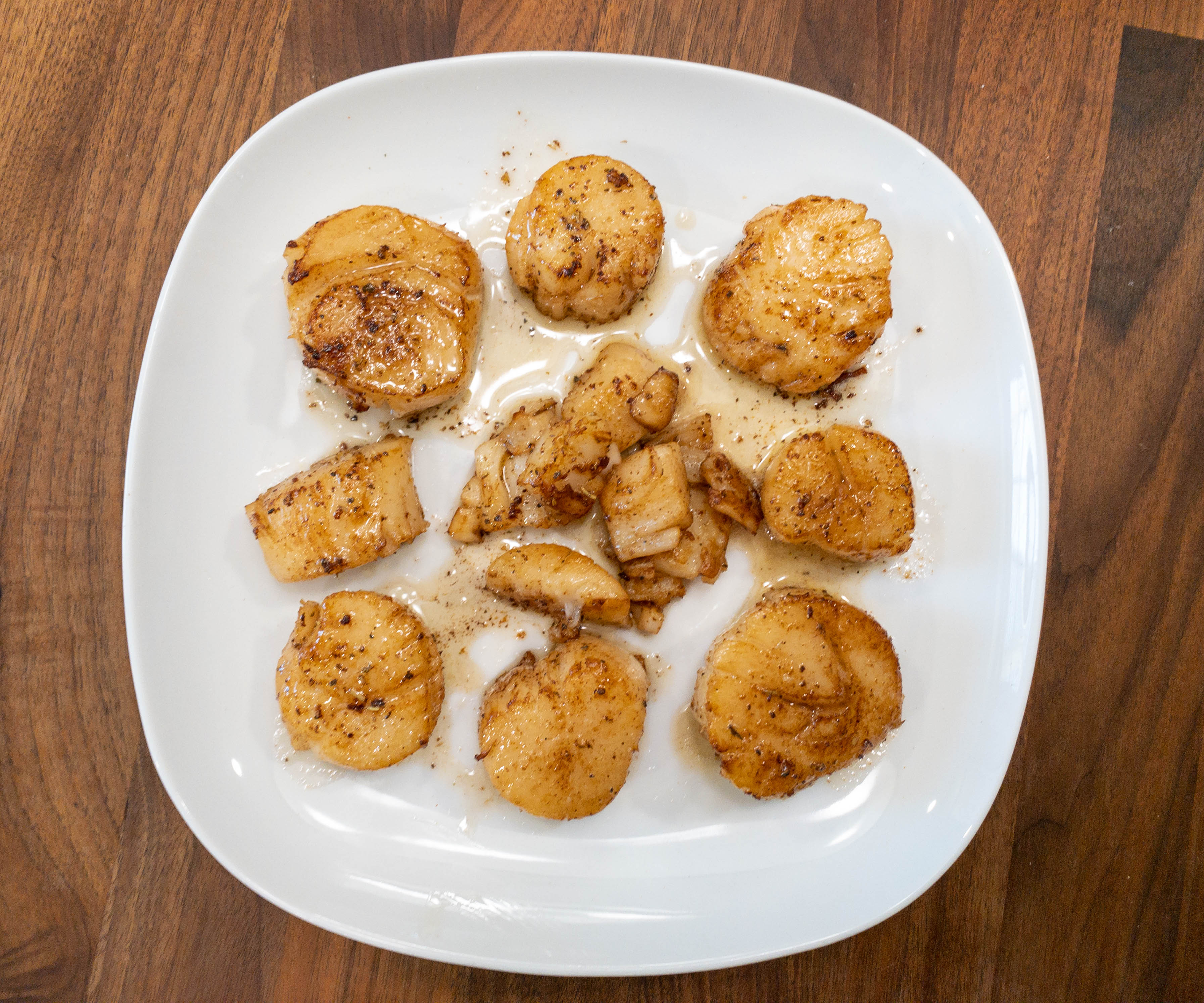 Here's how it turned out! So delicious! These are giant scallops – the size of this seafood is really amazing – it adds that wow factor to cooking your seafood at home.
Each bite was super tender!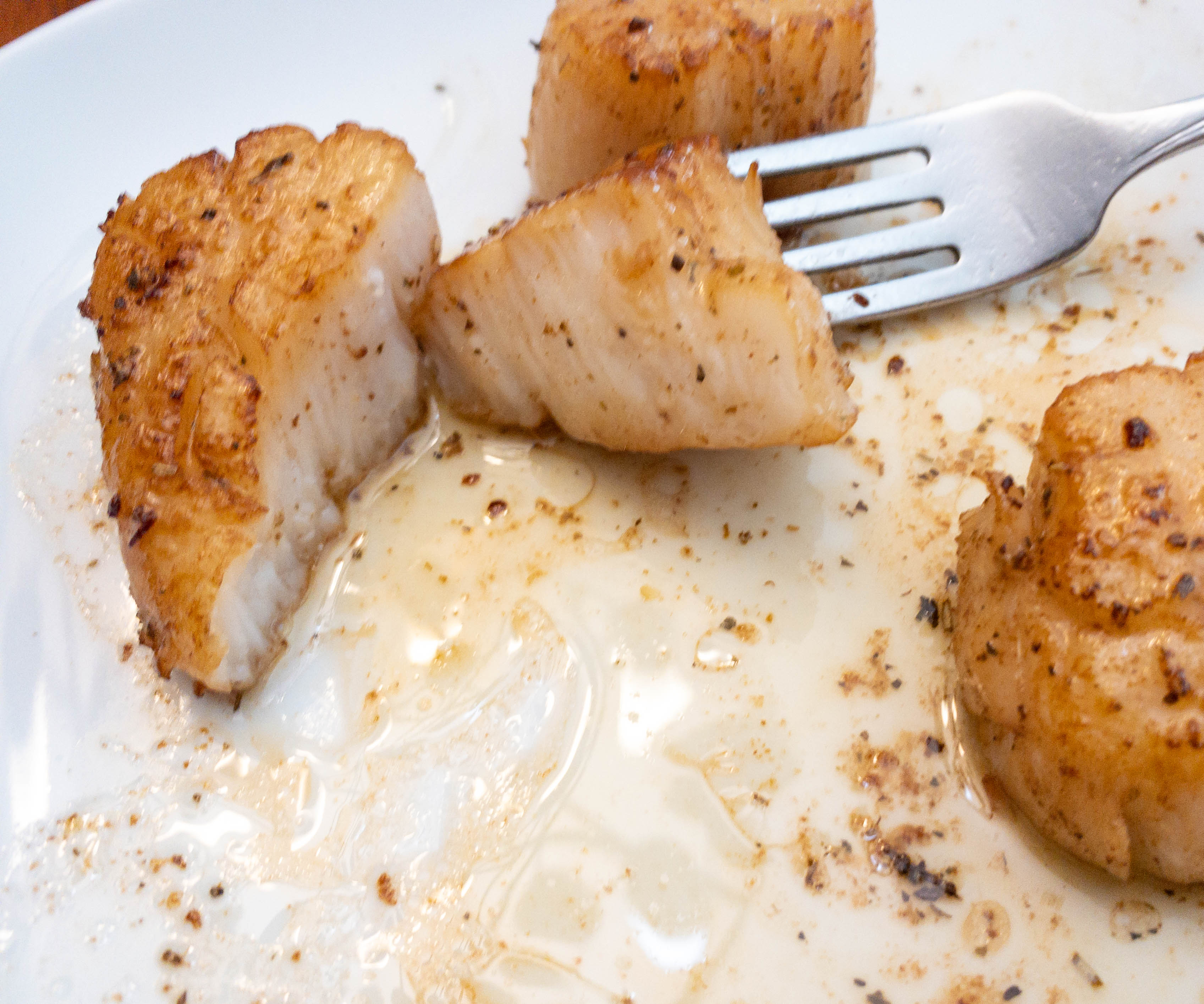 Check out the juice that swells out around the meat. They look simply irresistible, and my family loved them!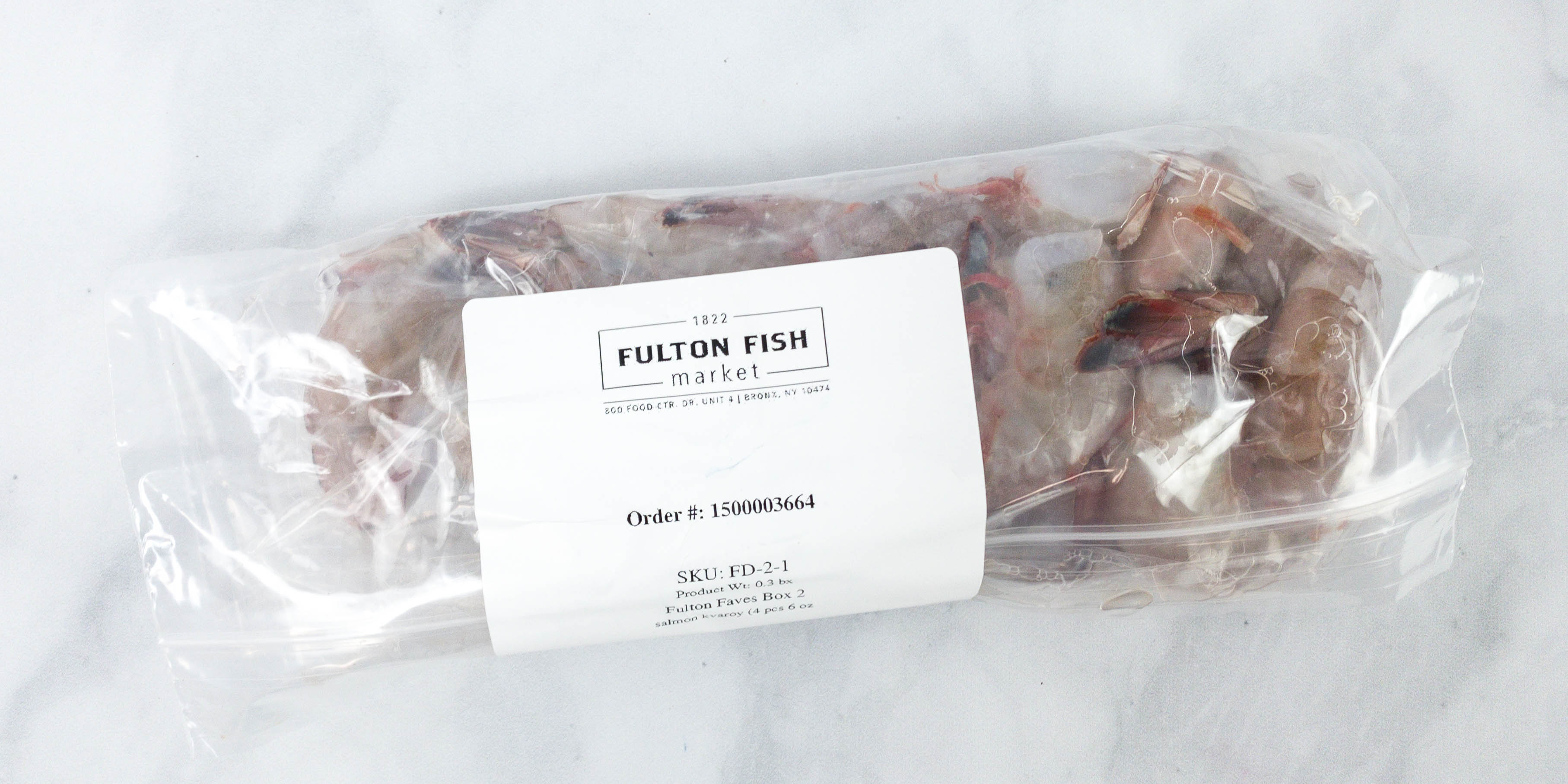 Wild Gulf Shrimp. If you are a shrimp lover, then you'll definitely love this pack of freshly caught shrimps sourced right out of the Gulf of Mexico.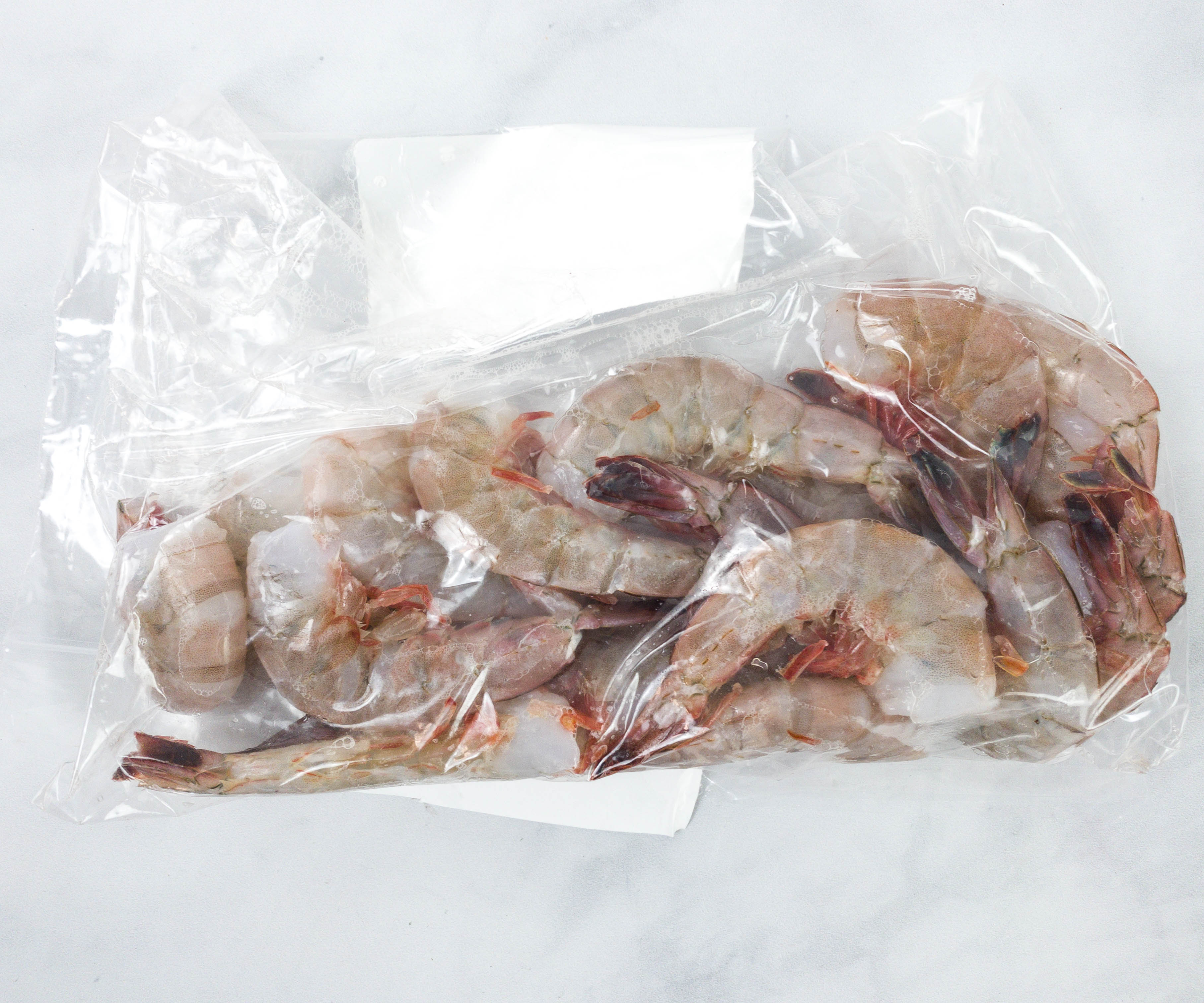 Also called warm water shrimp, these shrimp weighs and grows larger than the Atlantic shrimps. They are so big – more for me!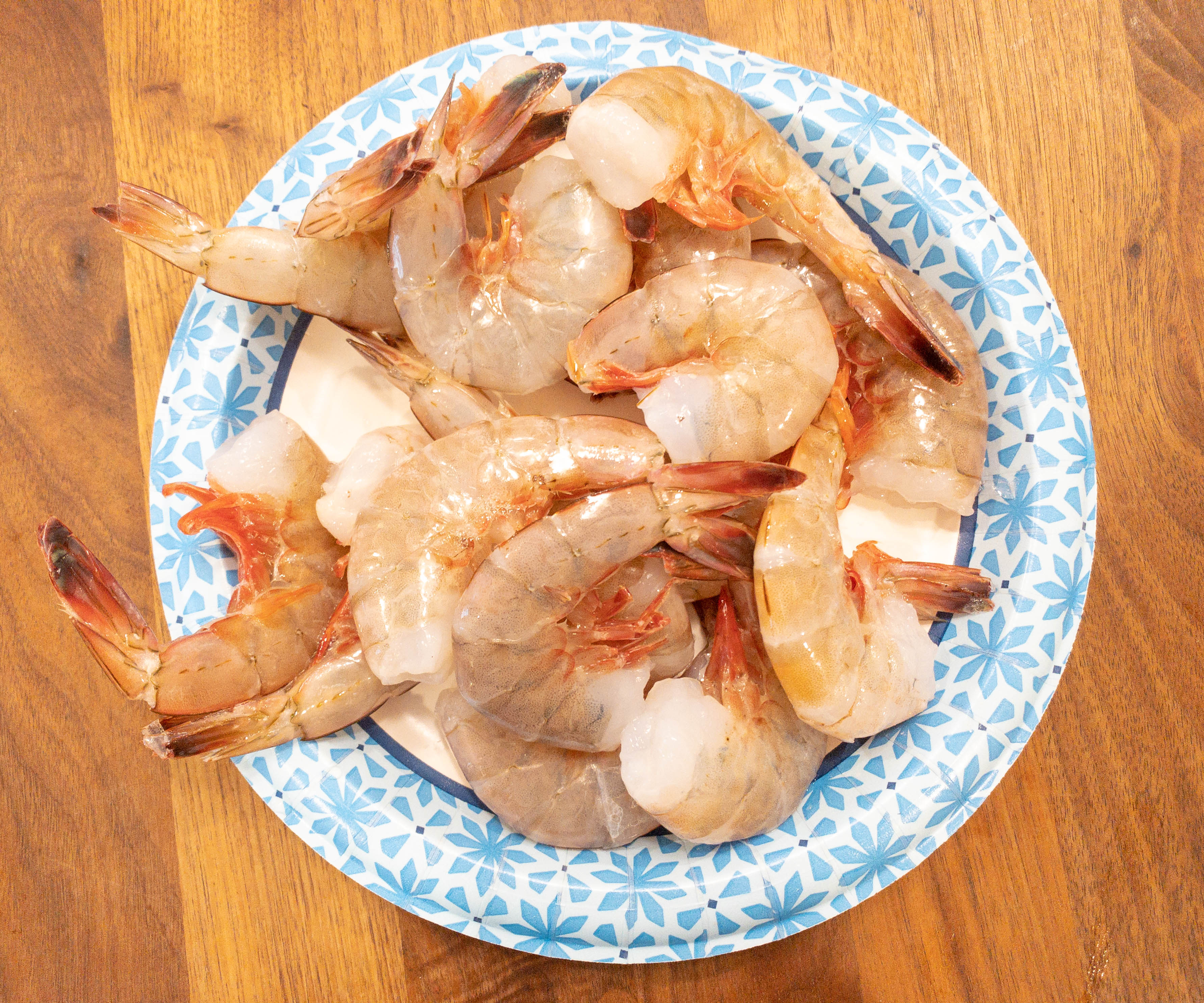 These shrimp are very nutritious, since they are known to provide high amount of Omega 3s and other minerals.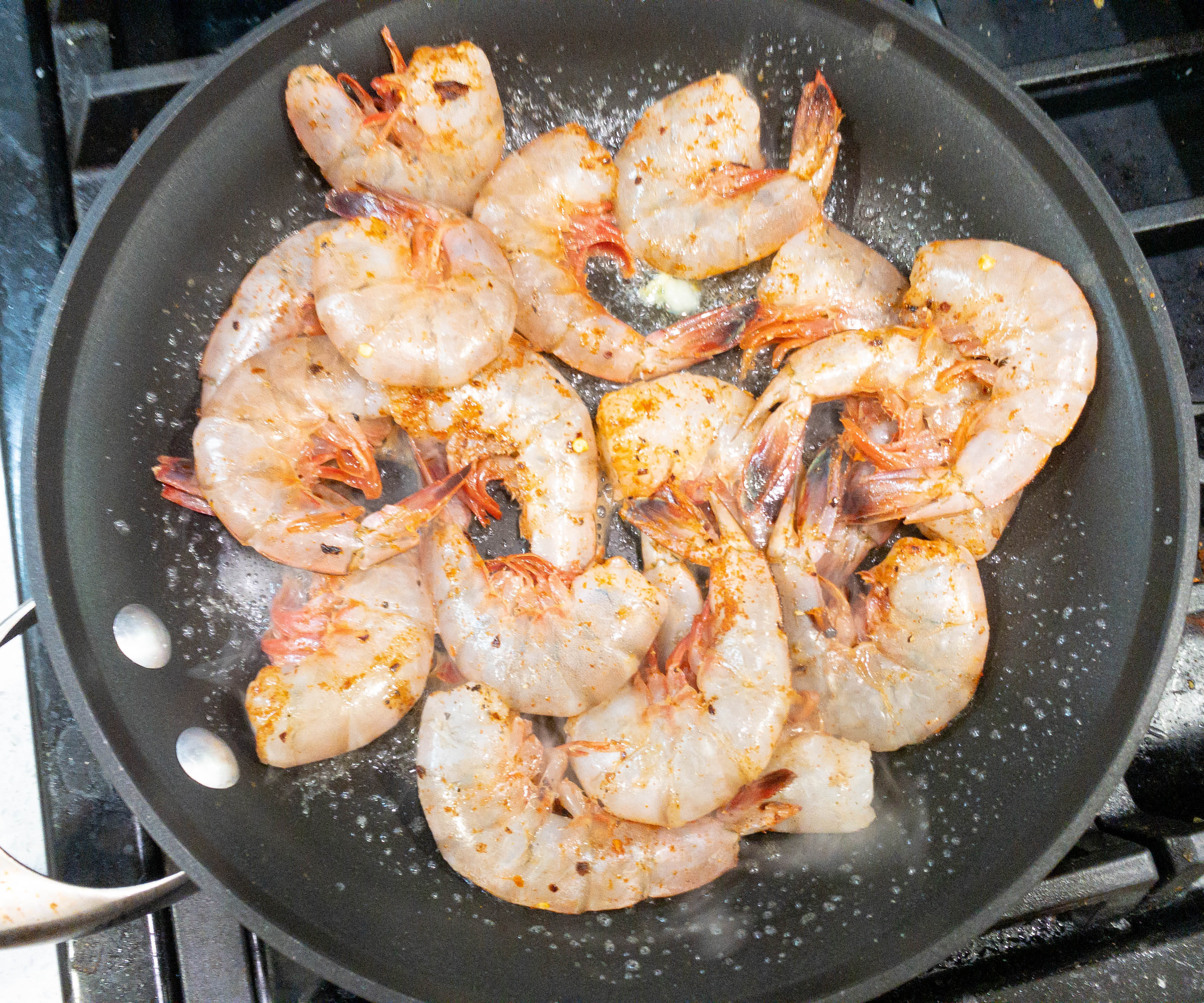 Like the jumbo scallops, these shrimp are easy and quick to cook. It only took me 2-3 minutes to cook them.
Check out how the shrimp turned out! I love the color, they look so delicious!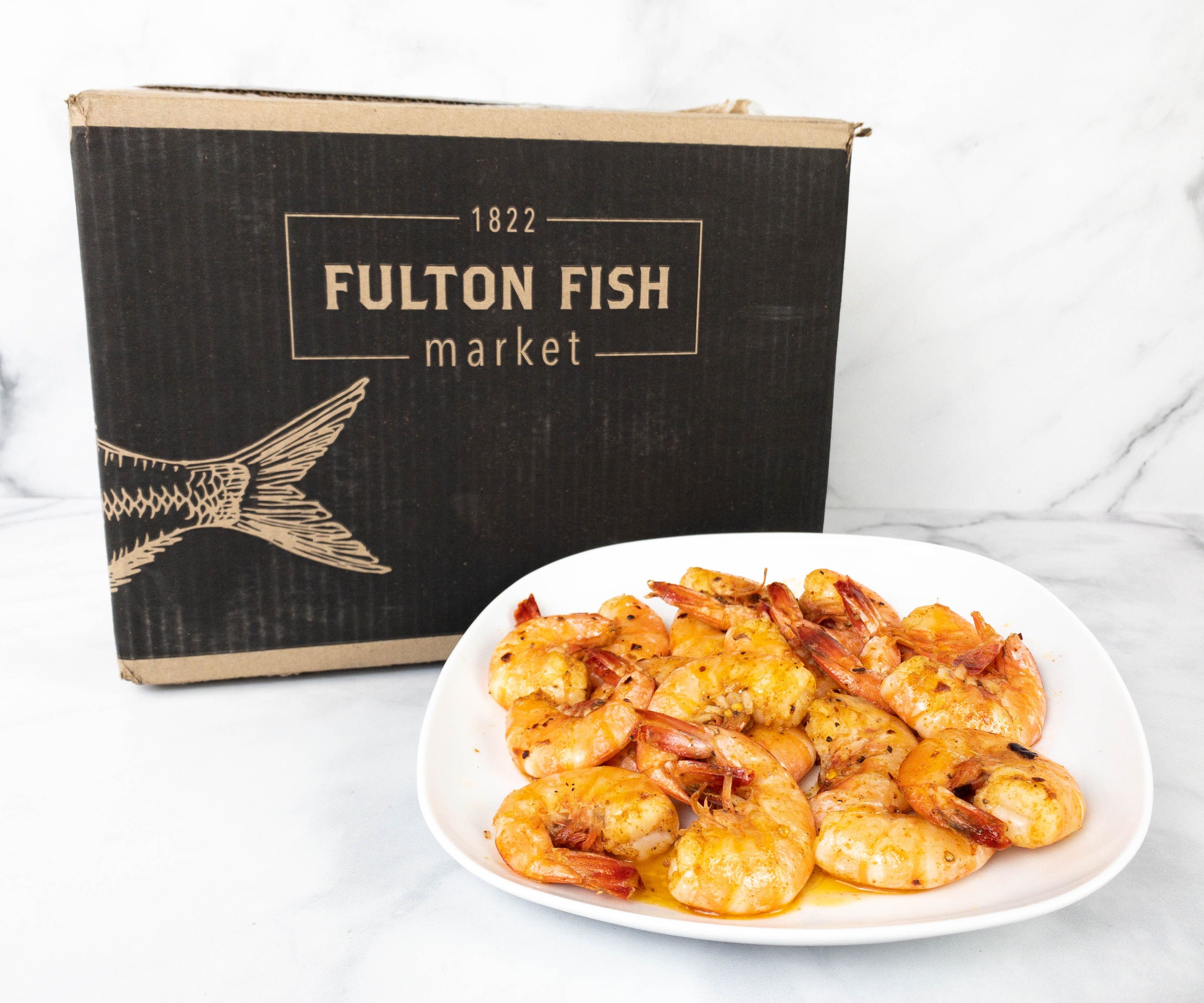 Of course, the taste also didn't disappoint. These shrimp are firm, juicy, and mild – really fresh tasting. They can be eaten as is, or added to pasta or other dishes!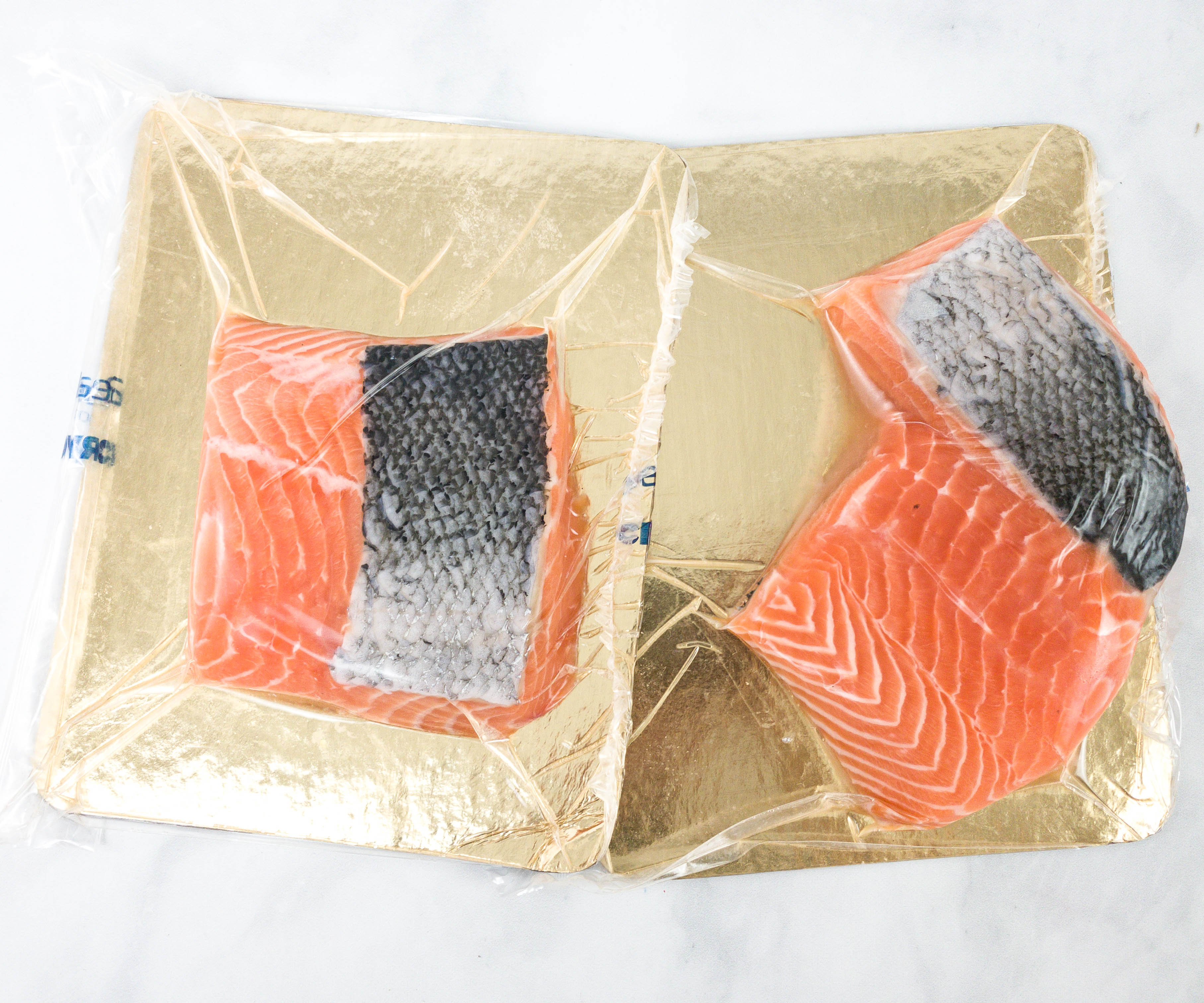 Salmon Fillets. This box also includes 2 packs of salmon meat!
Here' a closer look at the salmon. It has a bright color and some fine white lines running though it, which indicate freshness!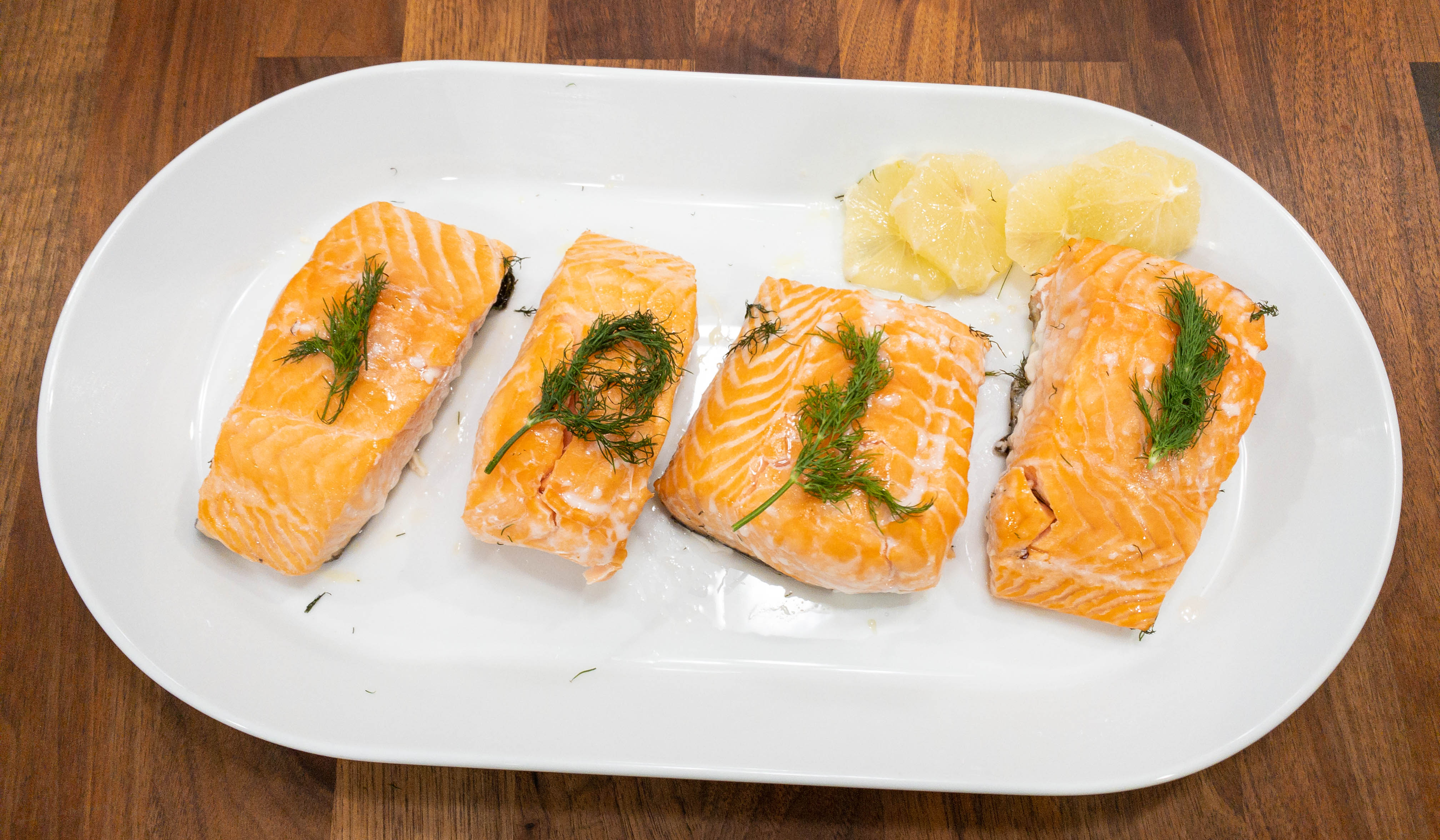 Here's my homemade version of baked lemon dilled salmon!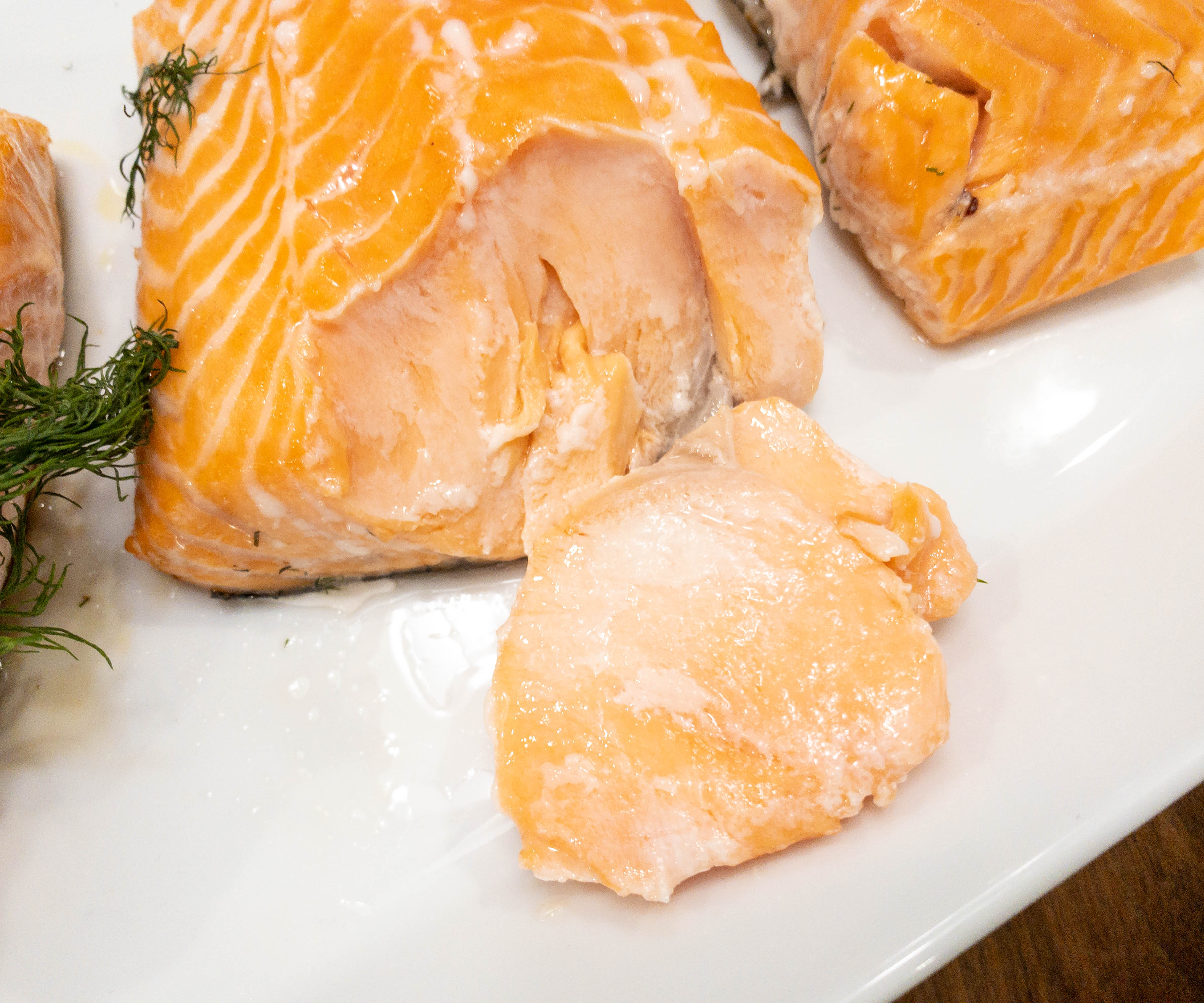 The salmon came out meaty and tender!
These flaked right up, nice and firm, and not oily or overly fatty. This one is truly mouthwatering!
My first Fulton Fish Drop box was really amazing! It contains high-quality, freshly-caught seafood to cook and enjoy at home, including jumbo scallops, Gulf shrimps, and salmon. They were packed securely to ensure that they arrive at our doorstep in great condition and the sizes made my eyes pop!
True to their promise, the seafood was fresh and cooking it is also really easy. My family loved all the dishes I made up using the seafood from this box and we couldn't select a favorite – it was all amazing! It's an awesome box overall and a great subscription for seafood lovers. It's also convenient since you don't have to go out to shop for seafood anymore. They will be delivered straight to your doorstep at a frequency you prefer. If your diet mostly consists of seafood, getting a weekly or bi-weekly box would be great. Meanwhile, a monthly box is perfect for those who occasionally have seafood dishes at home. In case you're not into shrimp and salmon, they offer other kinds of seafood as well. They have a wide menu and they can even customize boxes in case you want something else!
What do you think of the Fulton Fish Drop box?