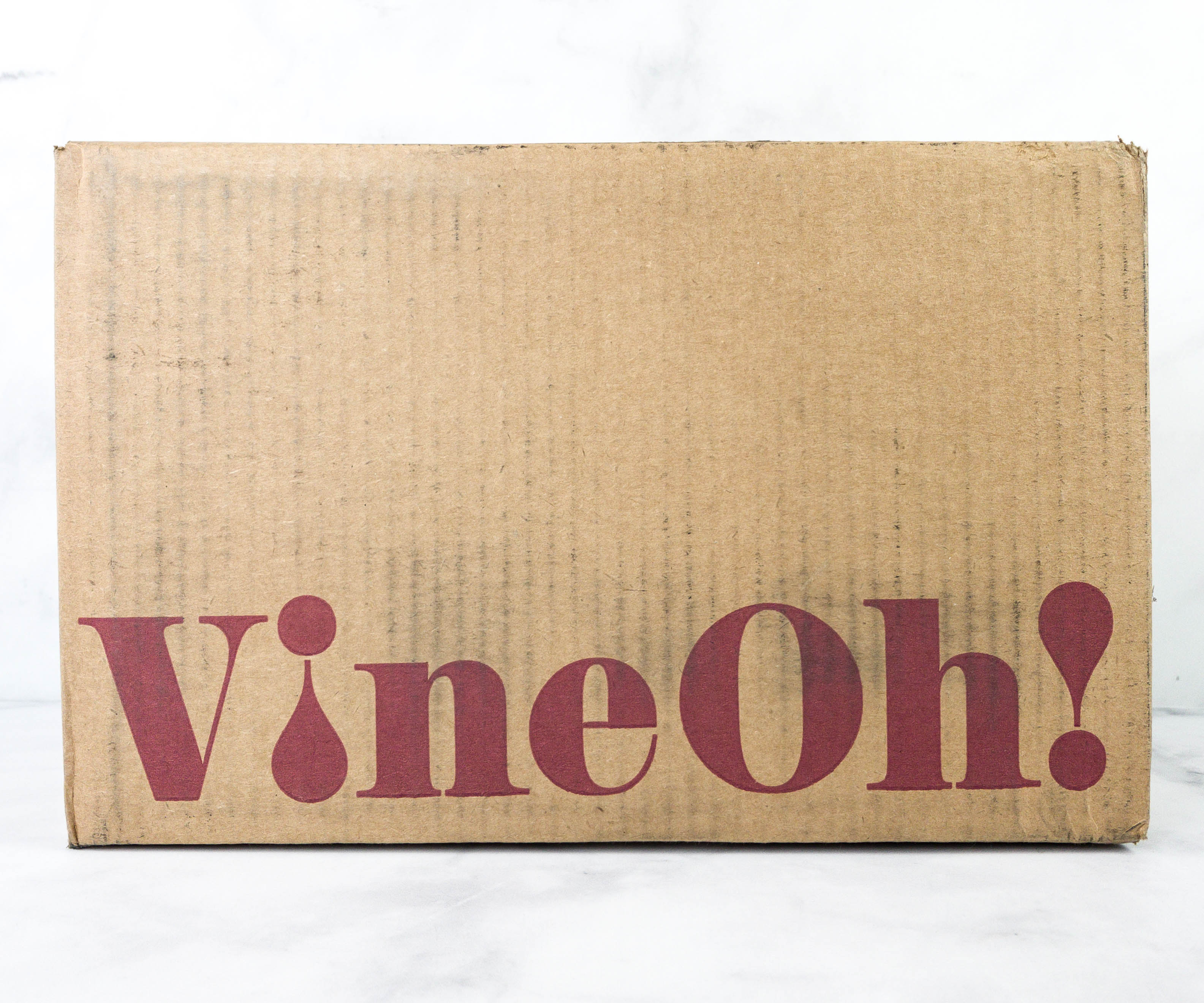 Vine Oh! is a quarterly subscription box and one of the first wine subscription boxes to include lifestyle items for women. Each seasonal box will include 2 bottles of premium wine, plus 5-6 full-size items that are fun, rejuvenating and delicious. Subscribers can choose their wine type preference: white wine, red wine, red & white wine, or sweet wine. Every box will have a retail value of $120 or more!
DEAL: Save $10 off + FREE extra bottle of wine + FREE shipping on your first box with coupon code HELLOWINE. For a limited time, use this same code to get an extra free bottle FOR LIFE!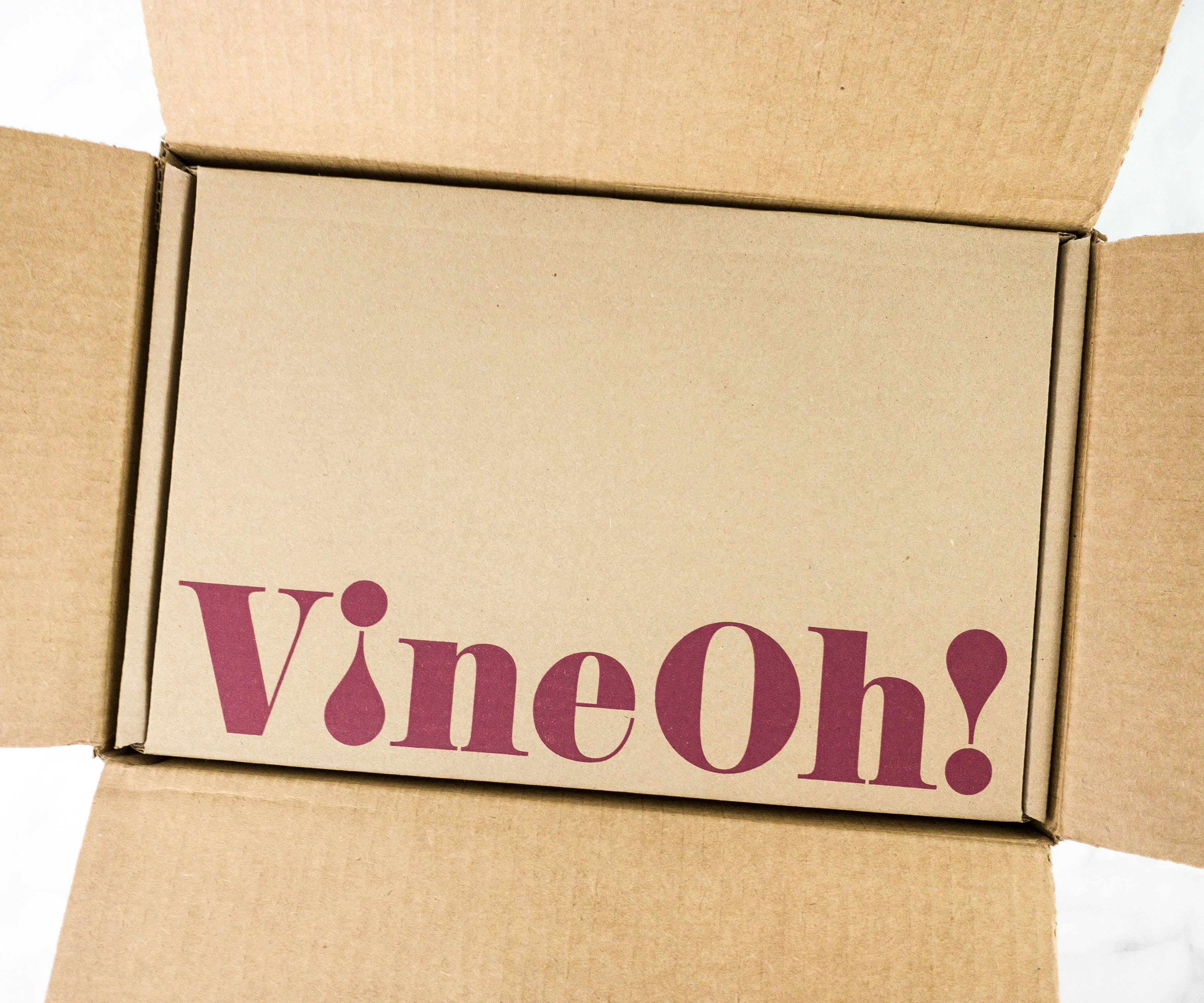 This is the OH! LA LA! box.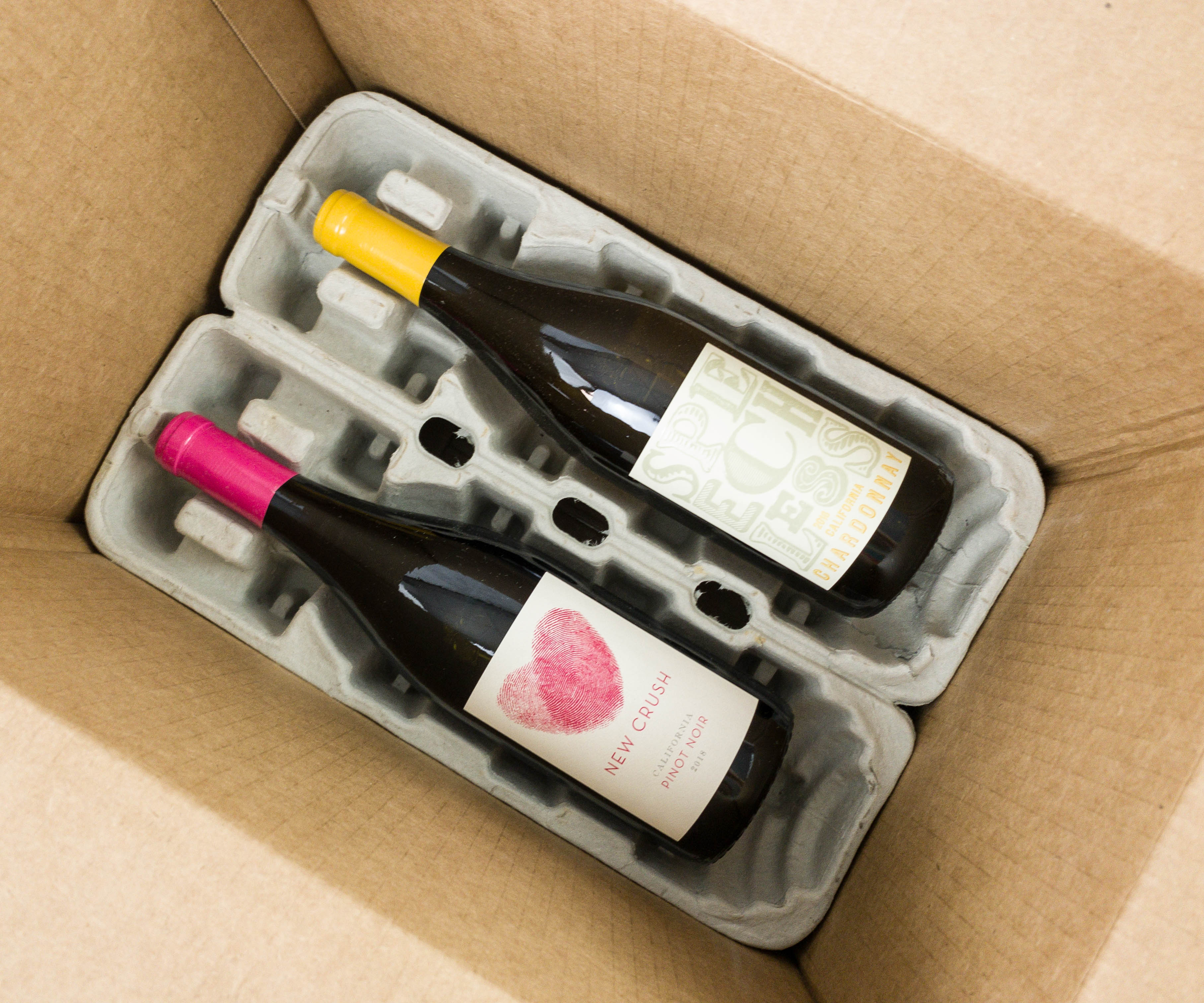 This box is also great for gifting! You can change the shipping address each quarter, so you can keep the first one for yourself, and then send the next boxes to friends or loved ones!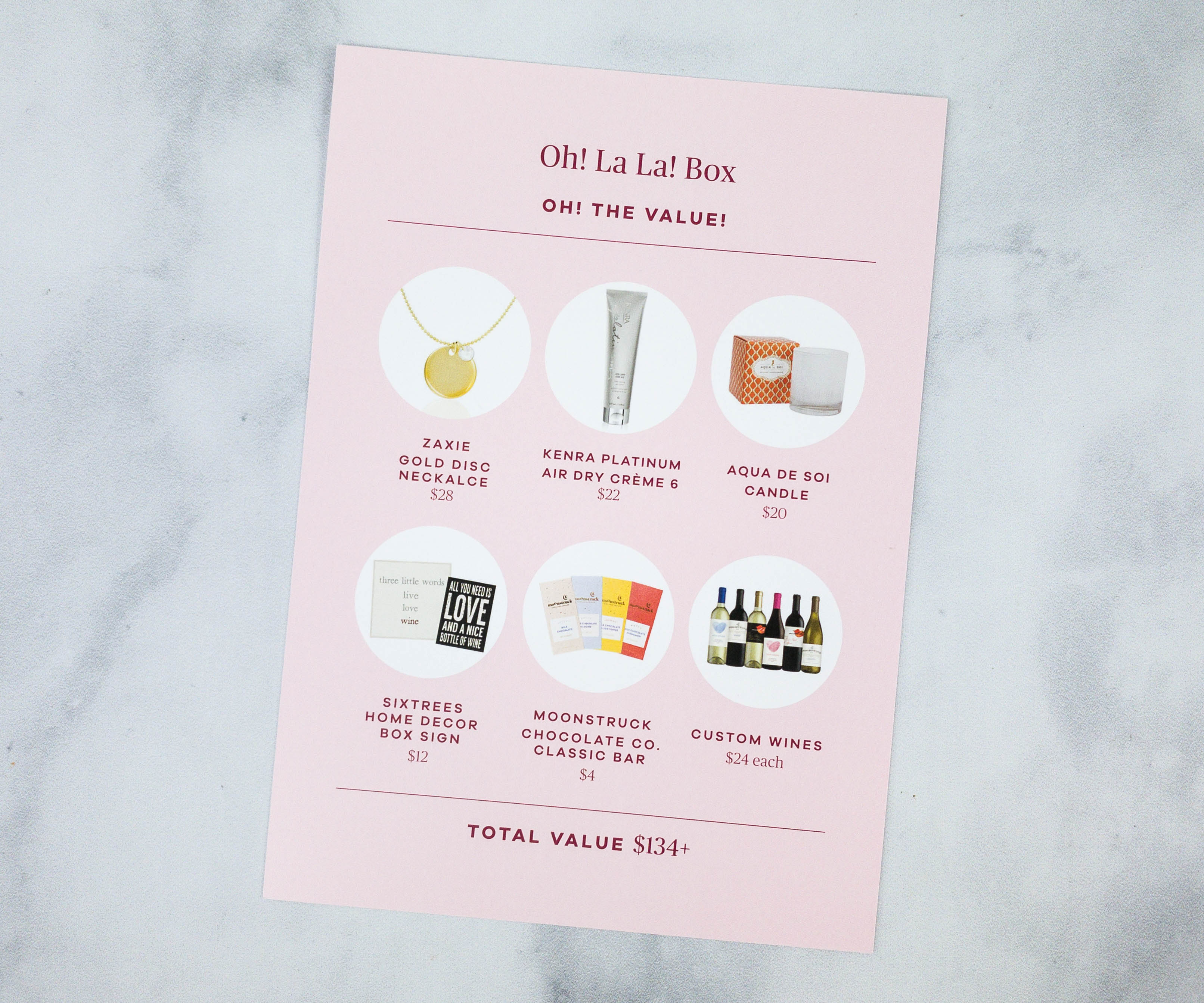 Here's a list of all the items included in the box.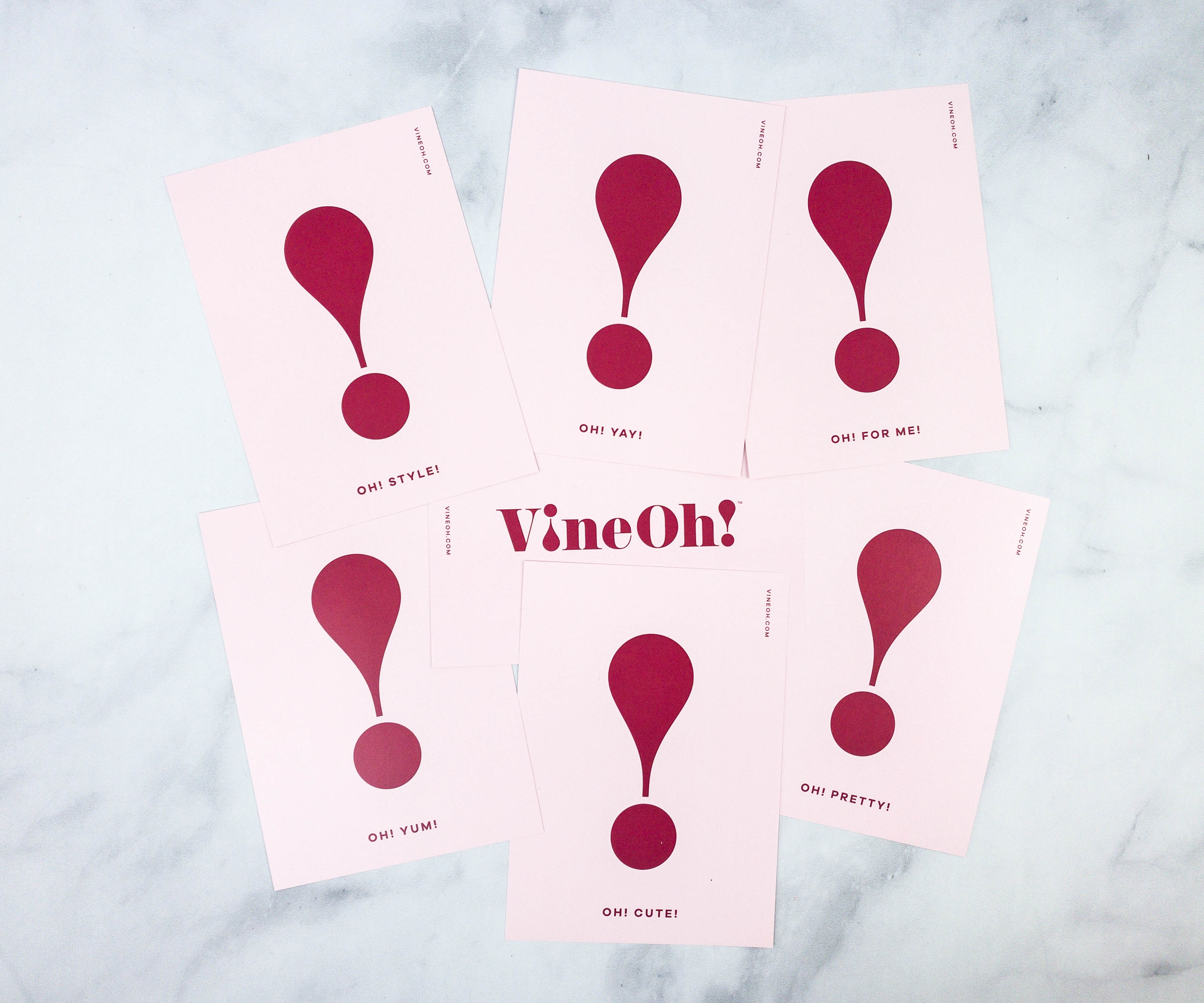 The cards look so appealing with the loud pink exclamation point as the brand signature.
They came in this cute pink sleeve.
The cards also have coupons for Vine Oh! subscribers!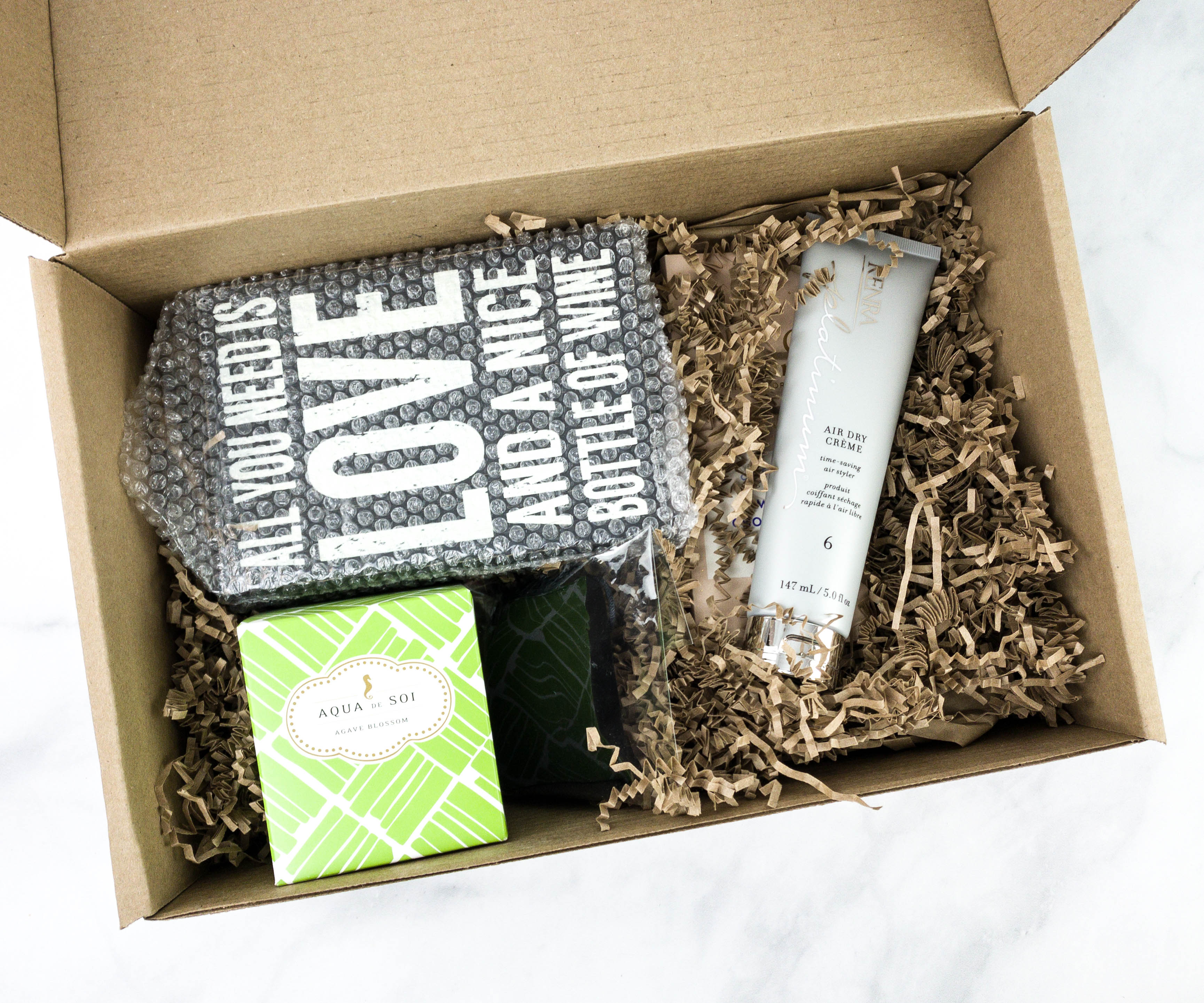 Some of the items were wrapped in bubble wrap.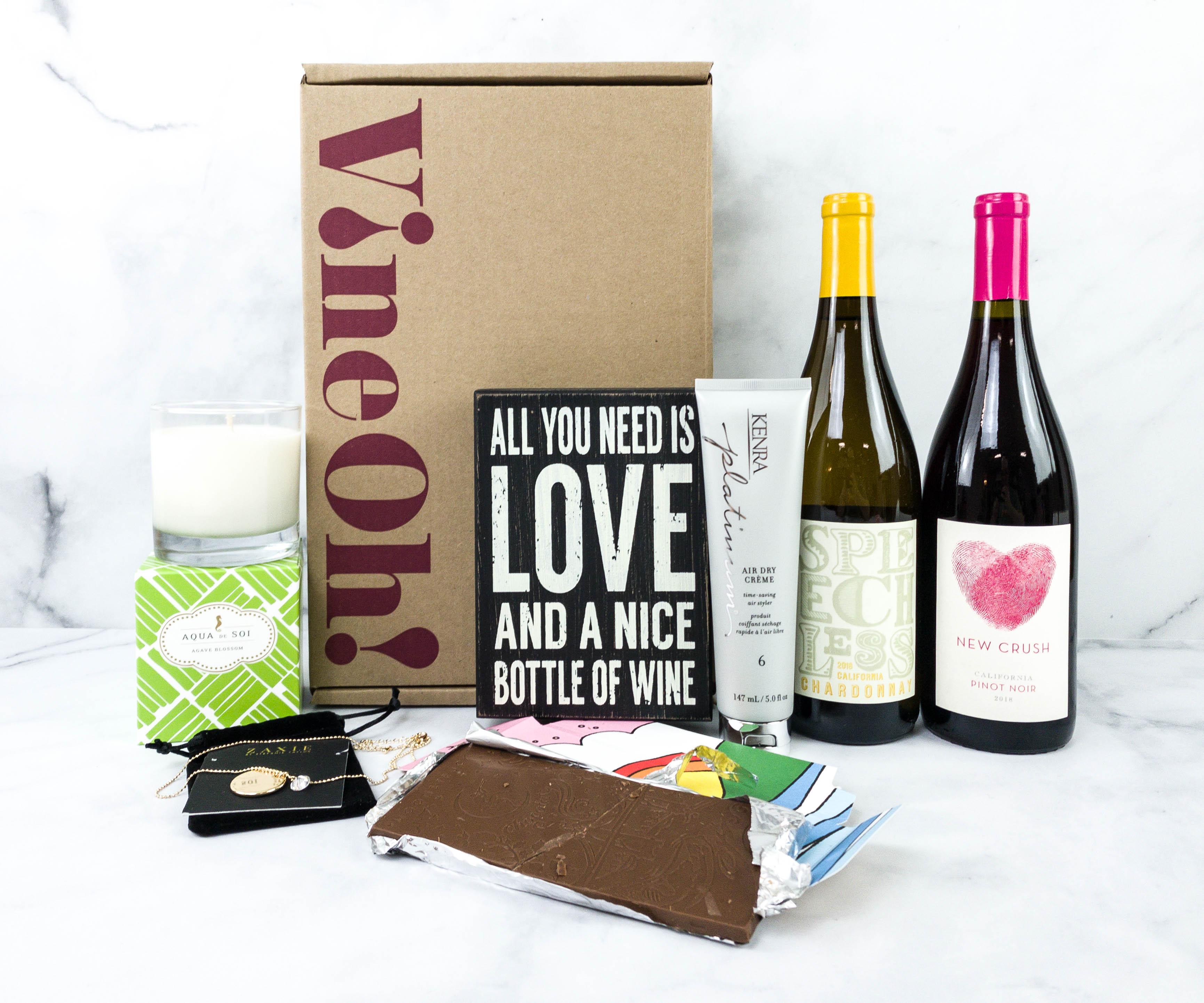 Everything in my box!
This card discusses Vine Oh! Custom Wines.
VINE OH! WINE SELECTION includes two of our premium custom wines – either two sweets, two whites, two reds or a mix of white &red. We've added to new varietals to our selection and will be adding more soon!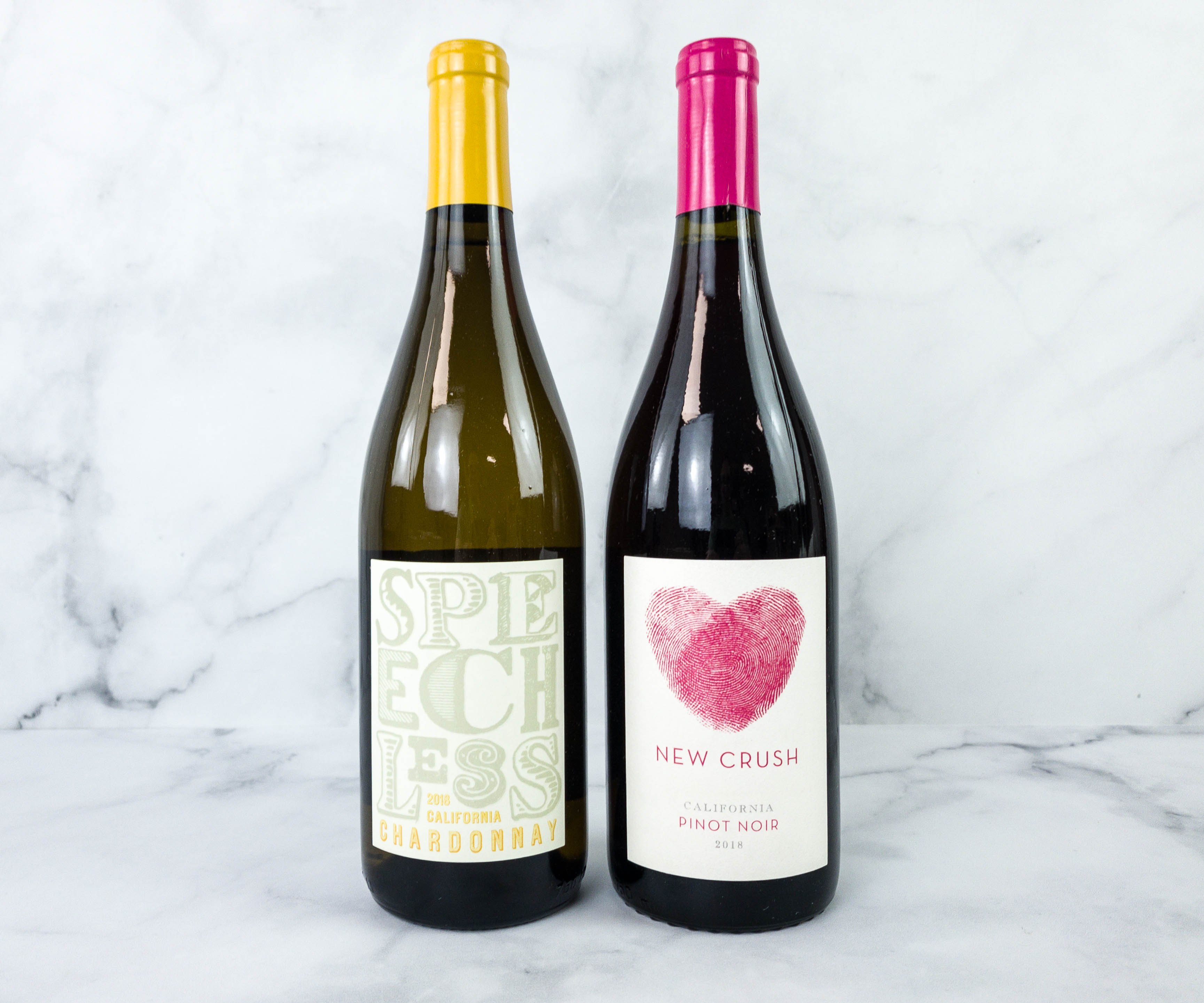 Here are the wines in this box! I'm excited to try them!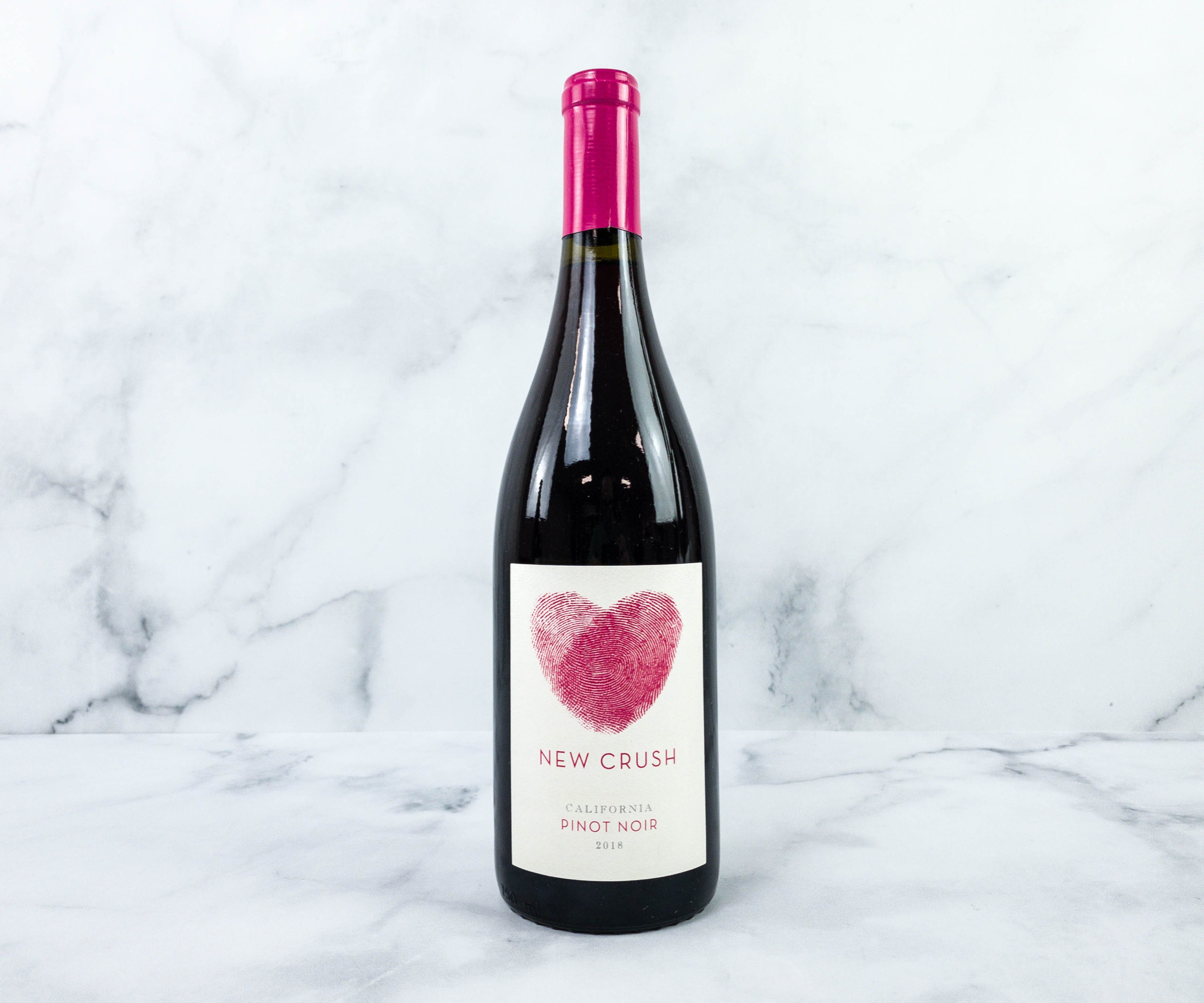 New Crush 2018 California Pinot Noir ($24) I love the balance of flavors in this wine. It's sweet and smokey at the same time, and I can also taste the pomegranate. It's very smooth and highly aromatic!
This lovely and bright wine pairs well with meats especially beef and chicken.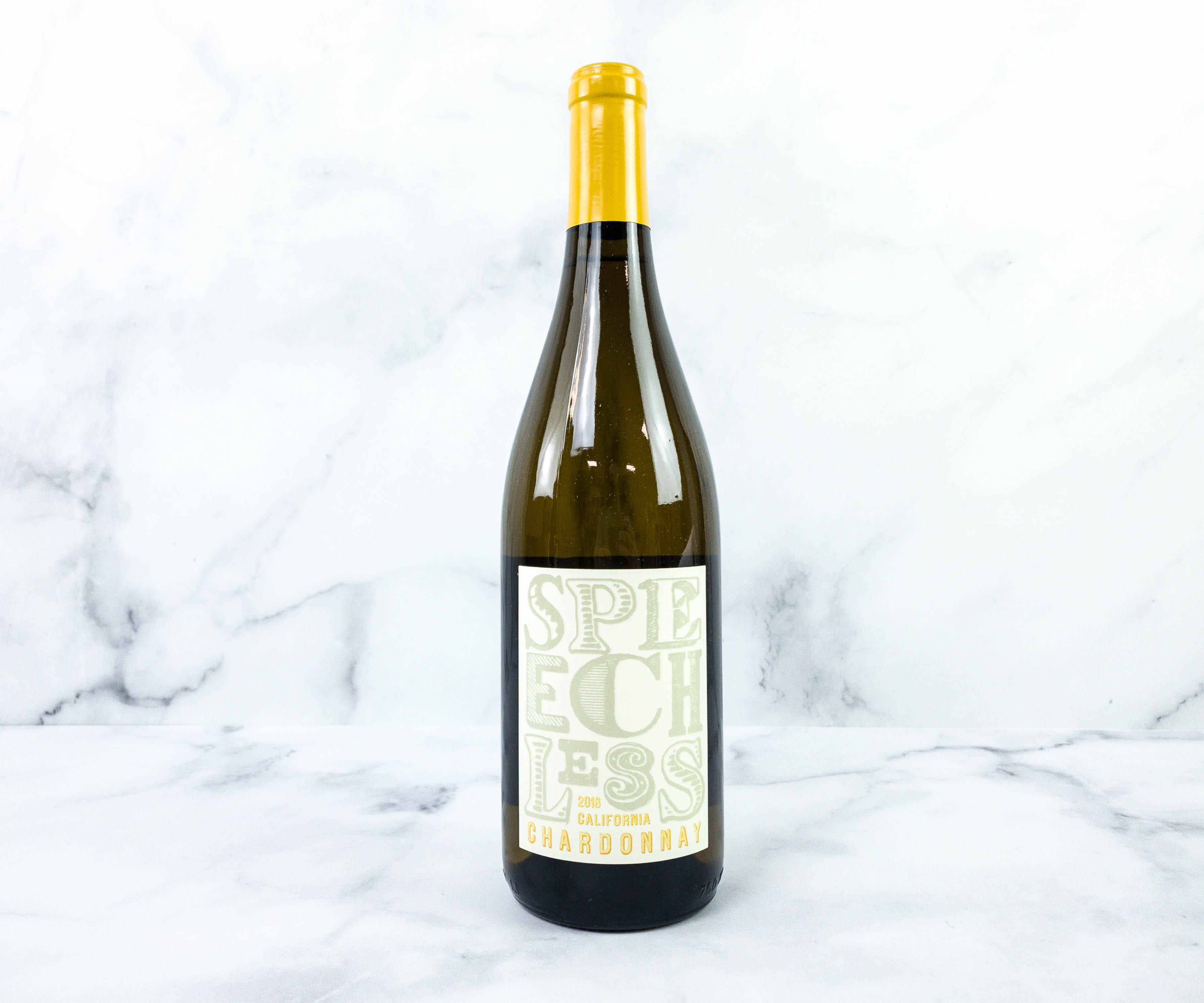 Speechless 2018 California Chardonnay ($24) The aroma of this wine is very captivating! The taste did not disappoint either. It has bold and rich flavors that I like, with fruity peach and apple notes being prominent.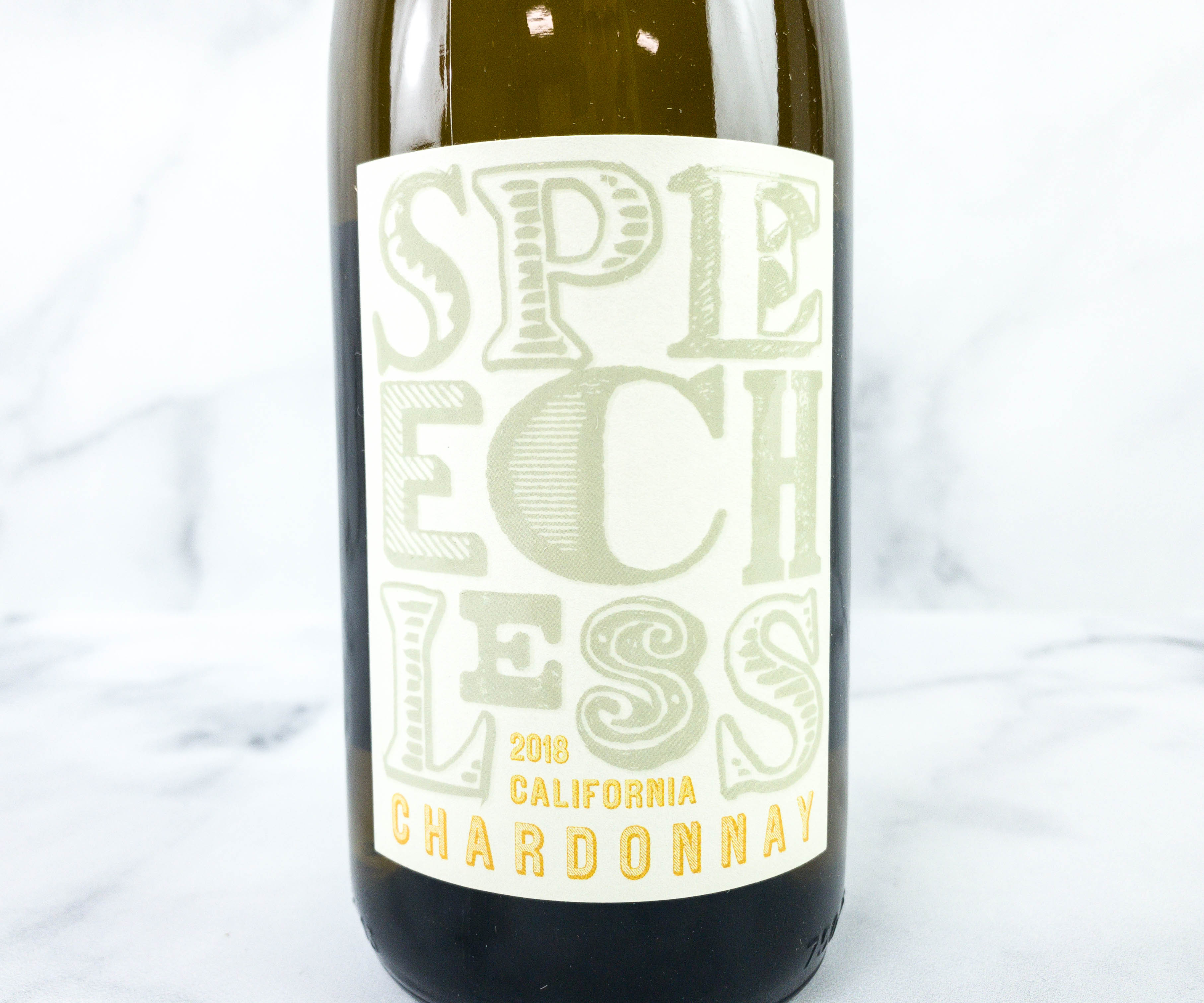 This pairs well with salads as well as pork, salmon, tuna, and even chicken.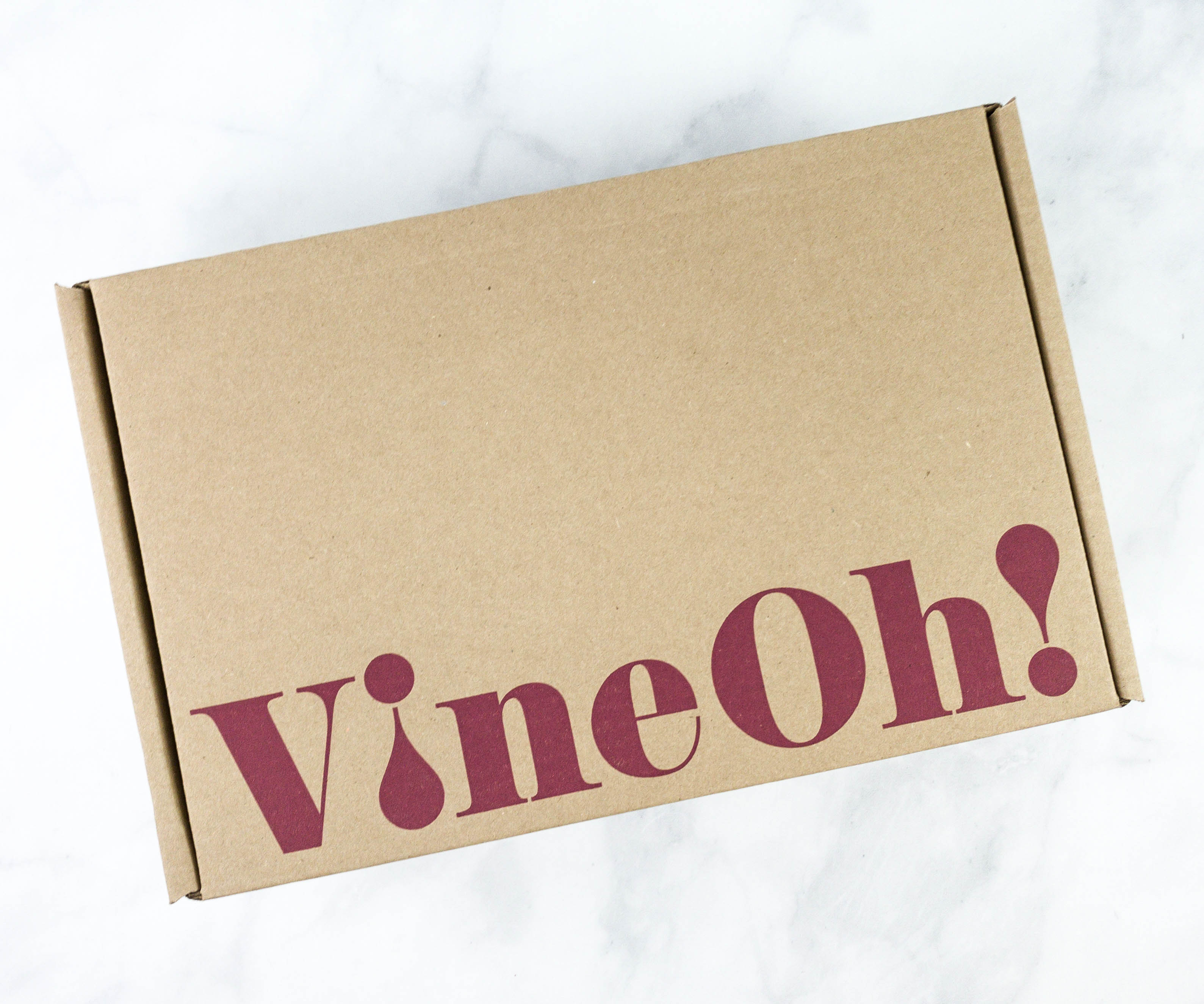 Now, we move on to the goodies included with the wine selection!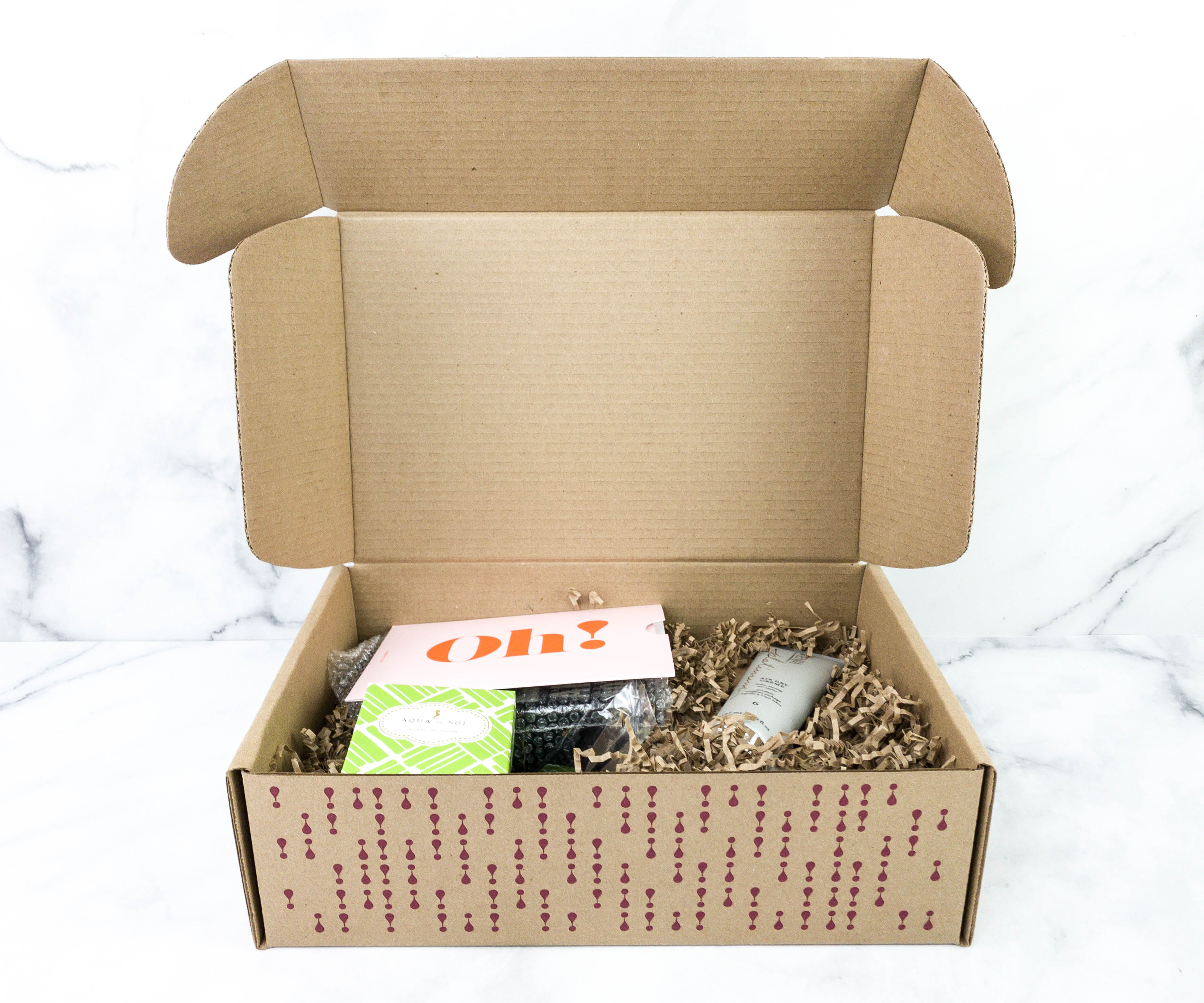 I'm so excited to dig in!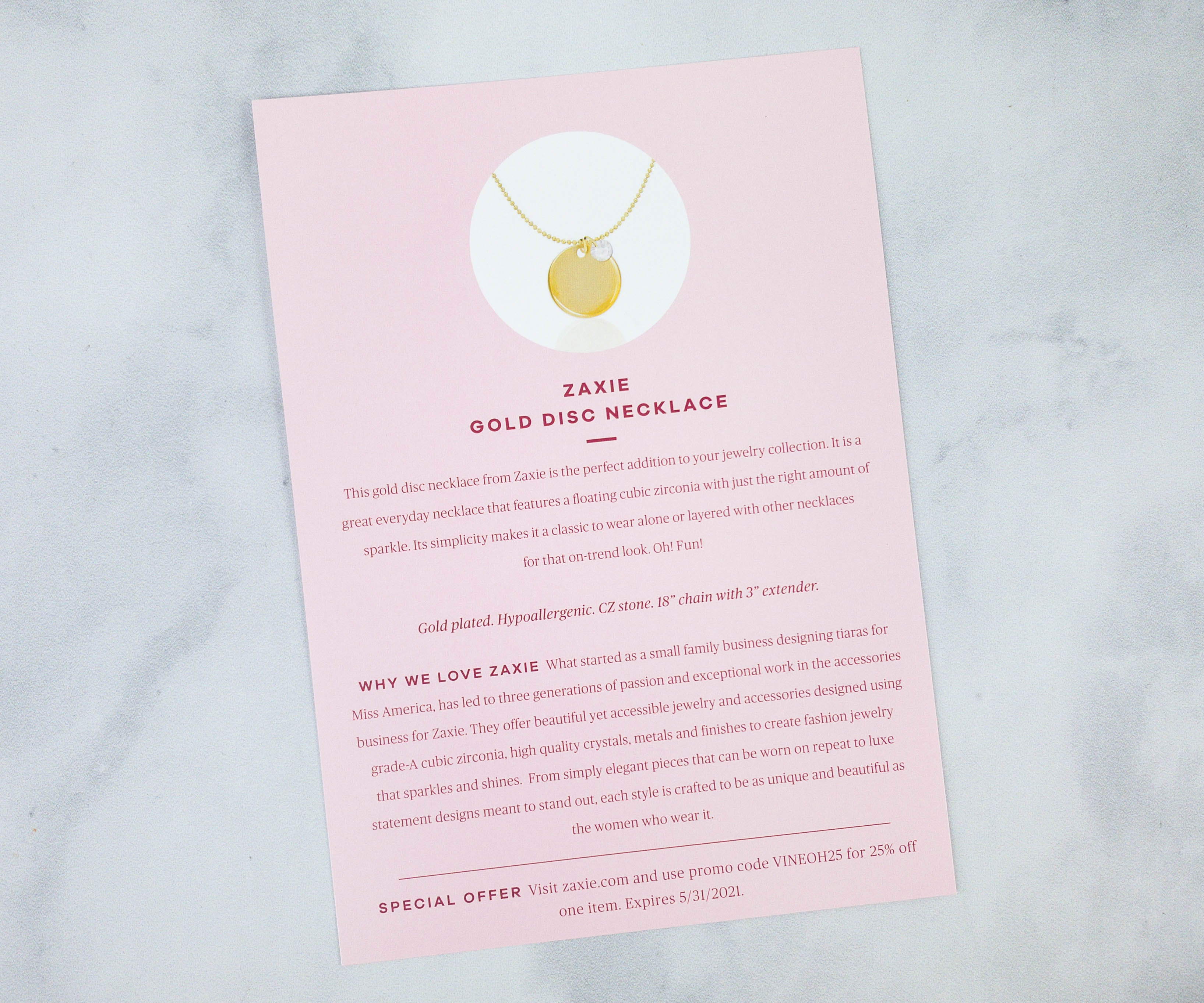 Zaxie Gold Disc Necklace ($28) This gold plated necklace makes a nice everyday accessory, whether you're going out and about or simply attending an online meeting. It's hypoallergenic and comes with an 18″ chain plus a 3″ extender.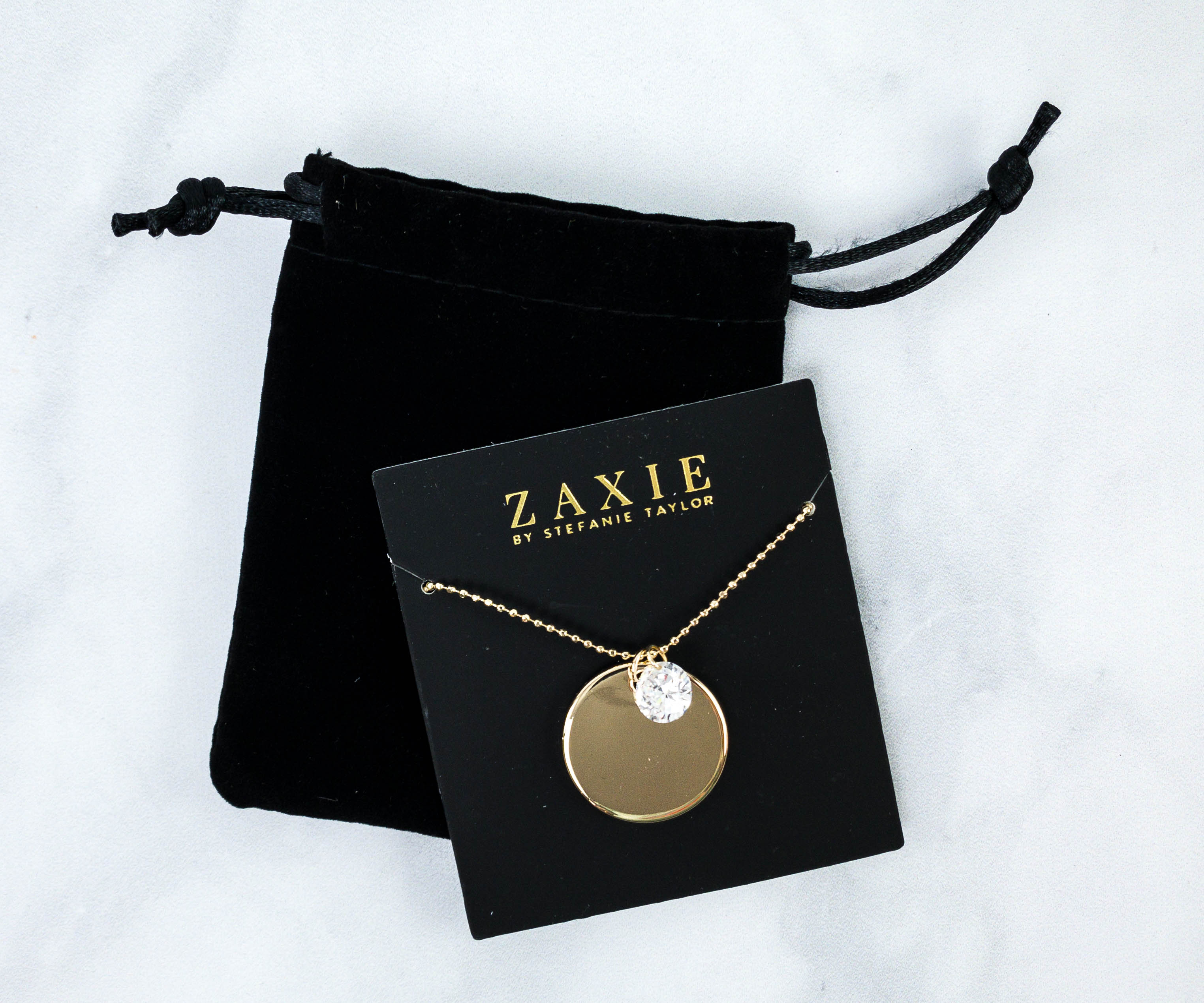 The necklace came in a black velvet drawstring pouch.
The necklace is quite lovely. It's simple yet it has a classic charm!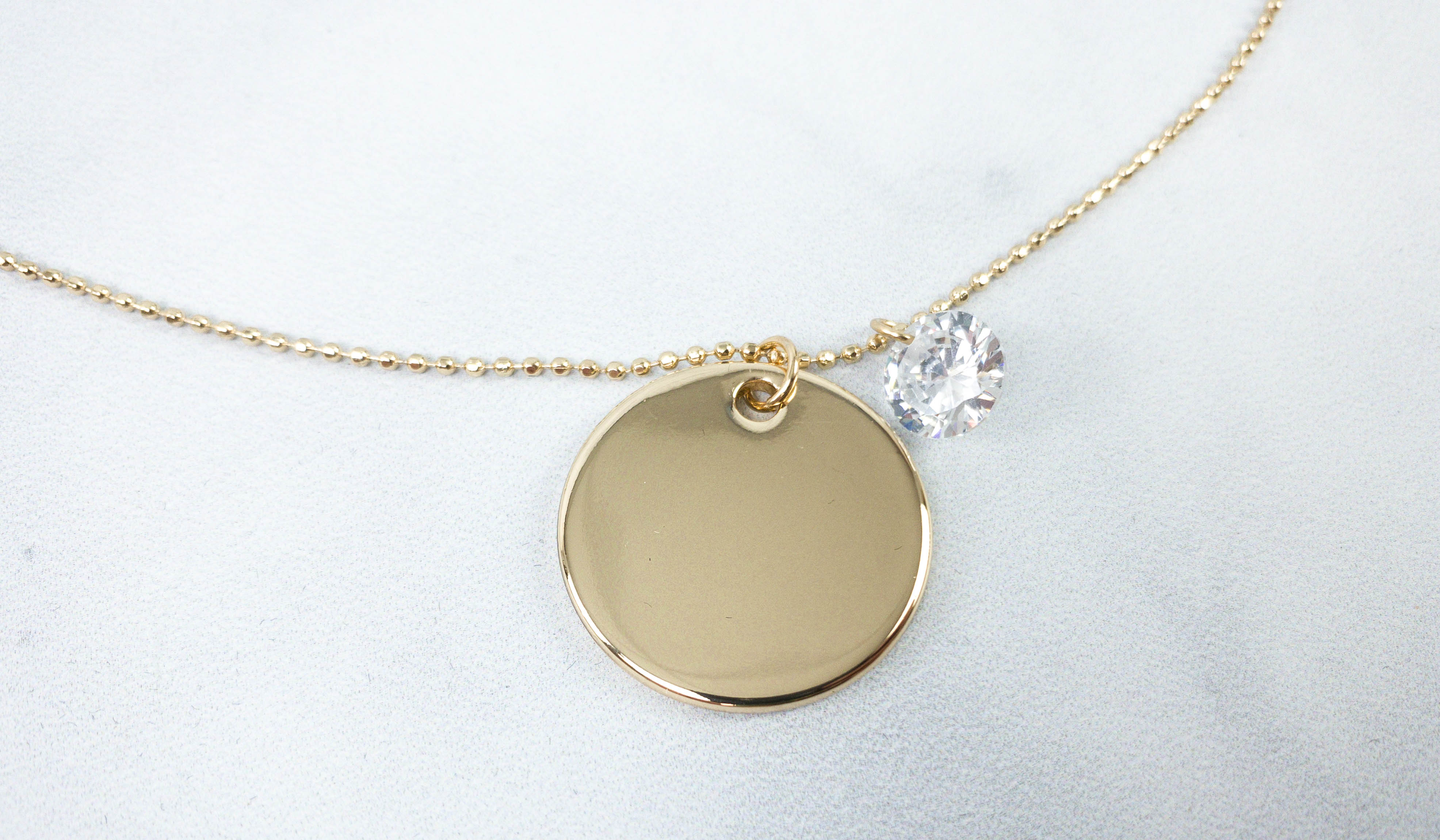 The pendant is simple and dainty but the addition of the cubic zirconia elevates the look and gives it an air of sophistication.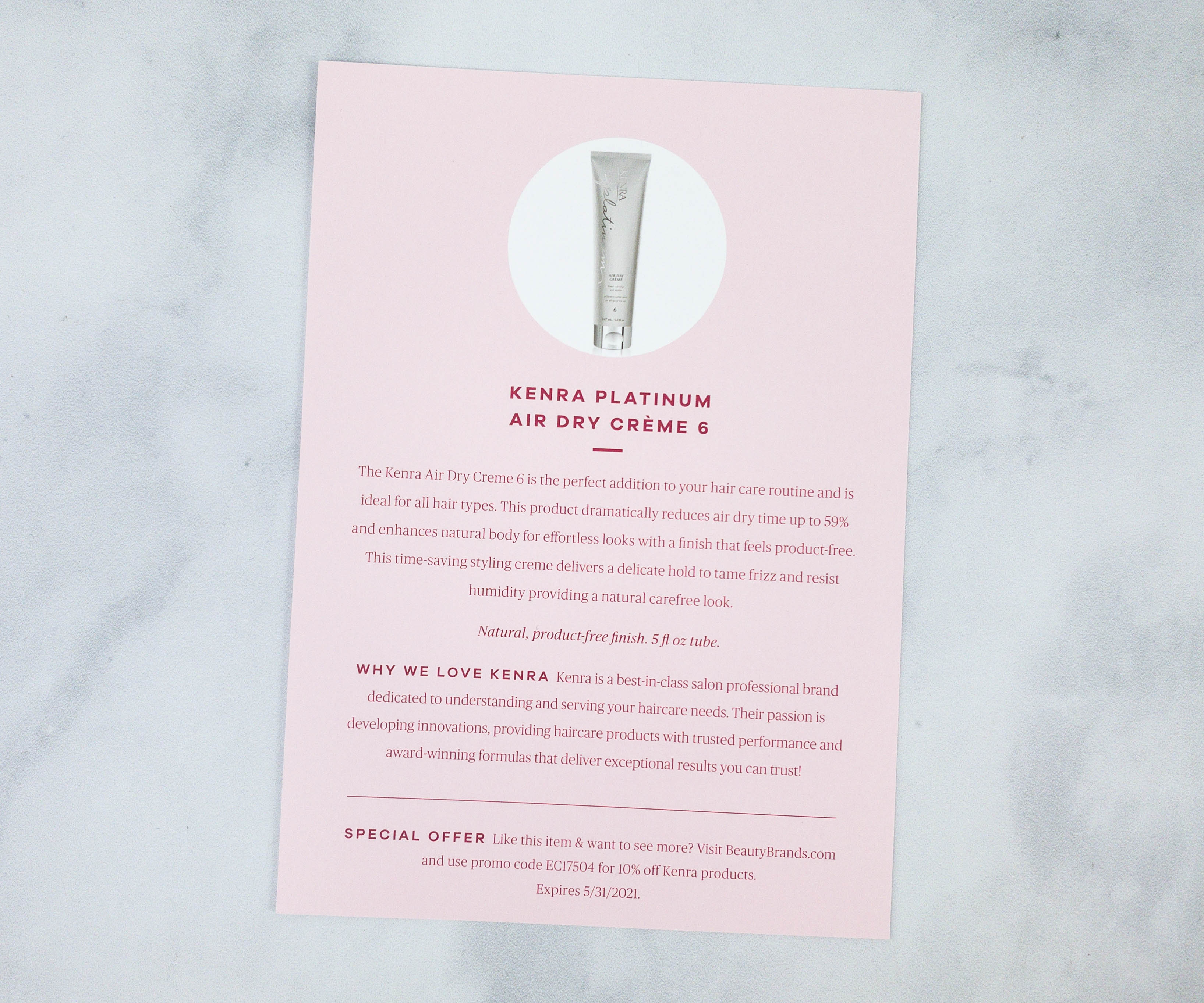 Kenra Platinum Air Dry Crème 6 ($22) This styling cream helps reduce hair drying time in half while adding volume to the strands!
It's lightweight so it doesn't wear my hair down, plus it also helps in managing frizz! To use, just apply to your towel-dried hair from scalp to ends and then let your hair air dry.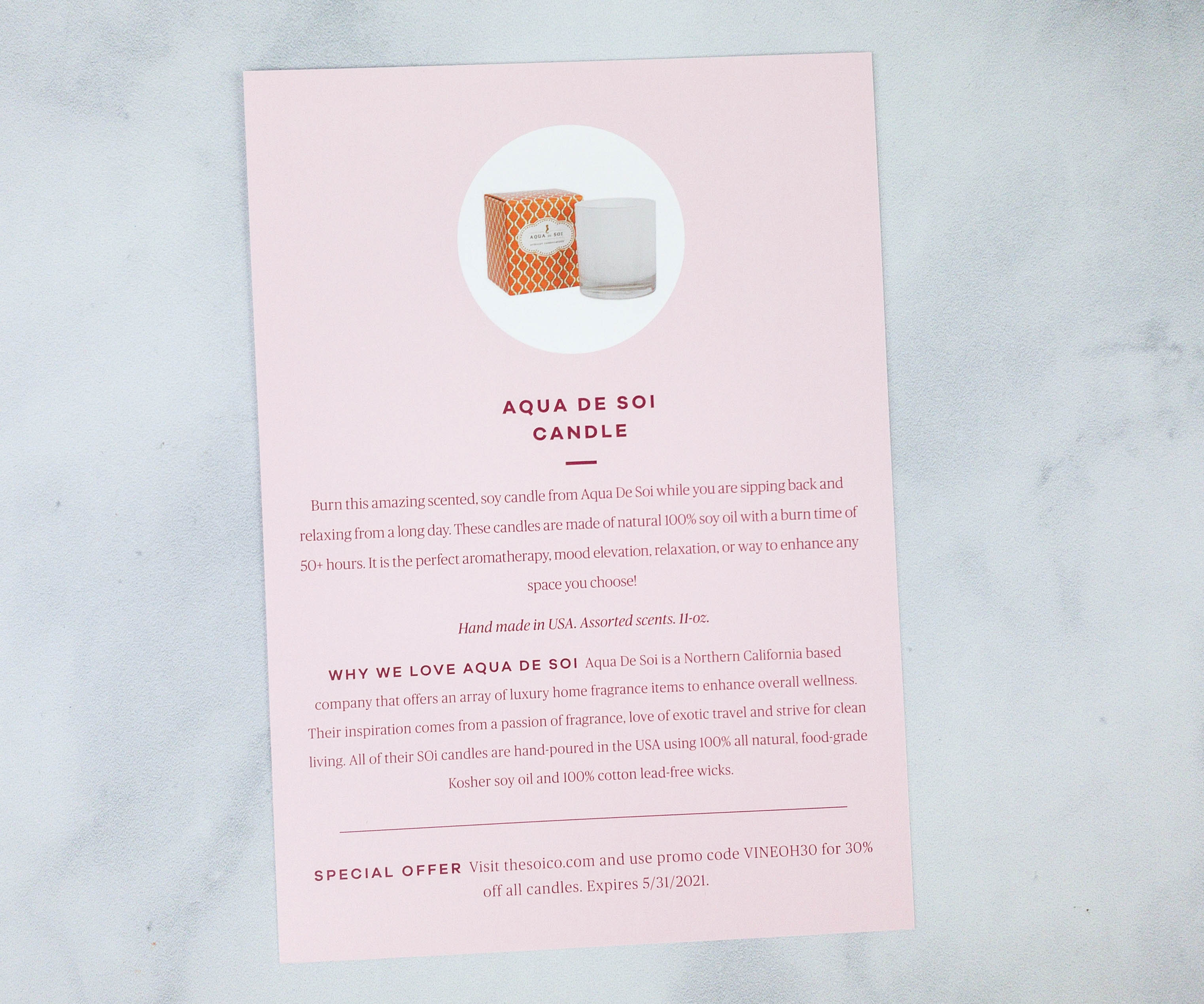 Aqua De Soi Candle ($20) I like soy candles because they burn better than regular wax candles. They also tend to last longer because they burn slower!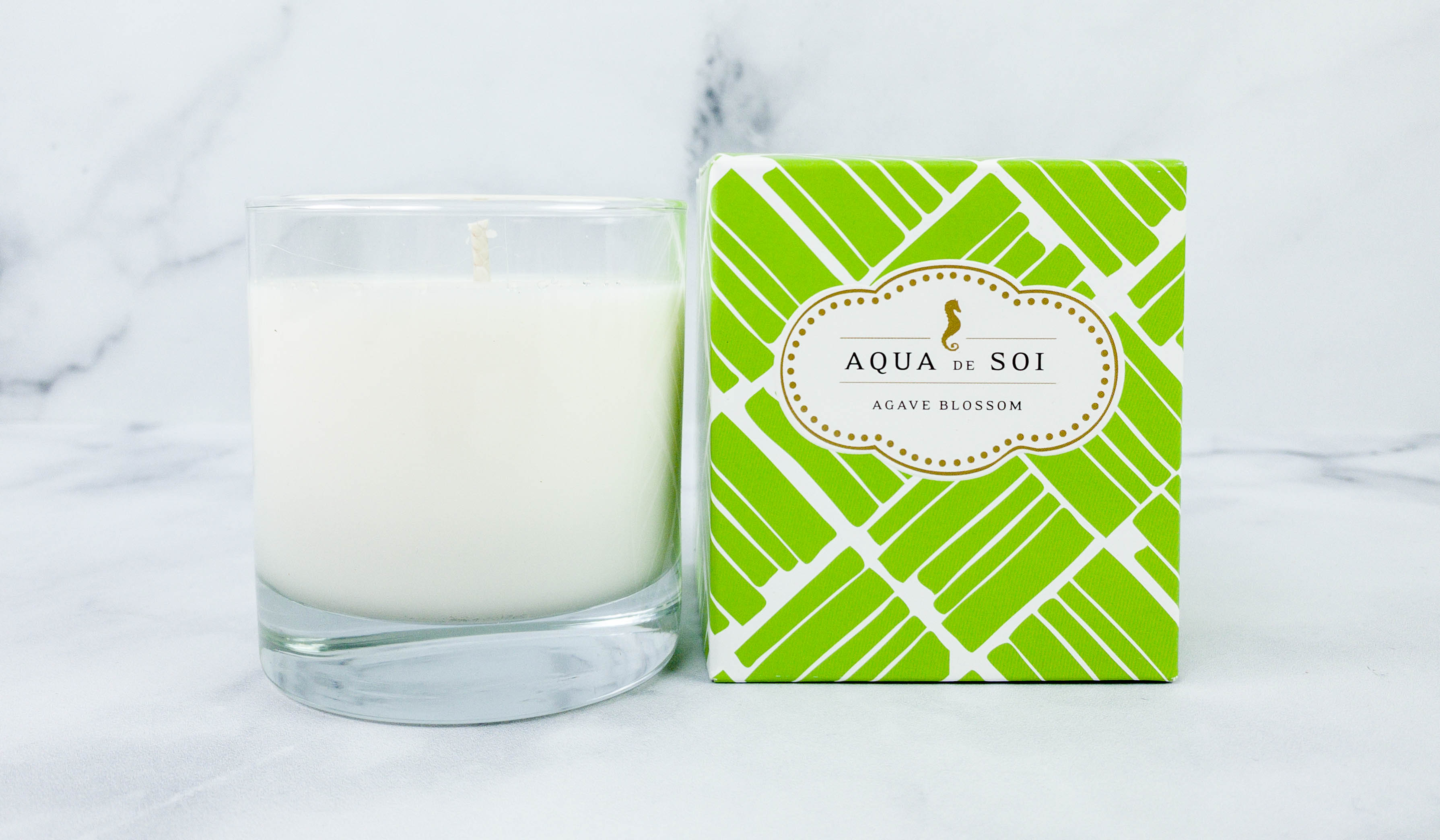 I received it in Agave Blossom, which has notes of saguaro cactus blossom, blue agave, and desert lily. It gives off a fresh and light scent and I love it!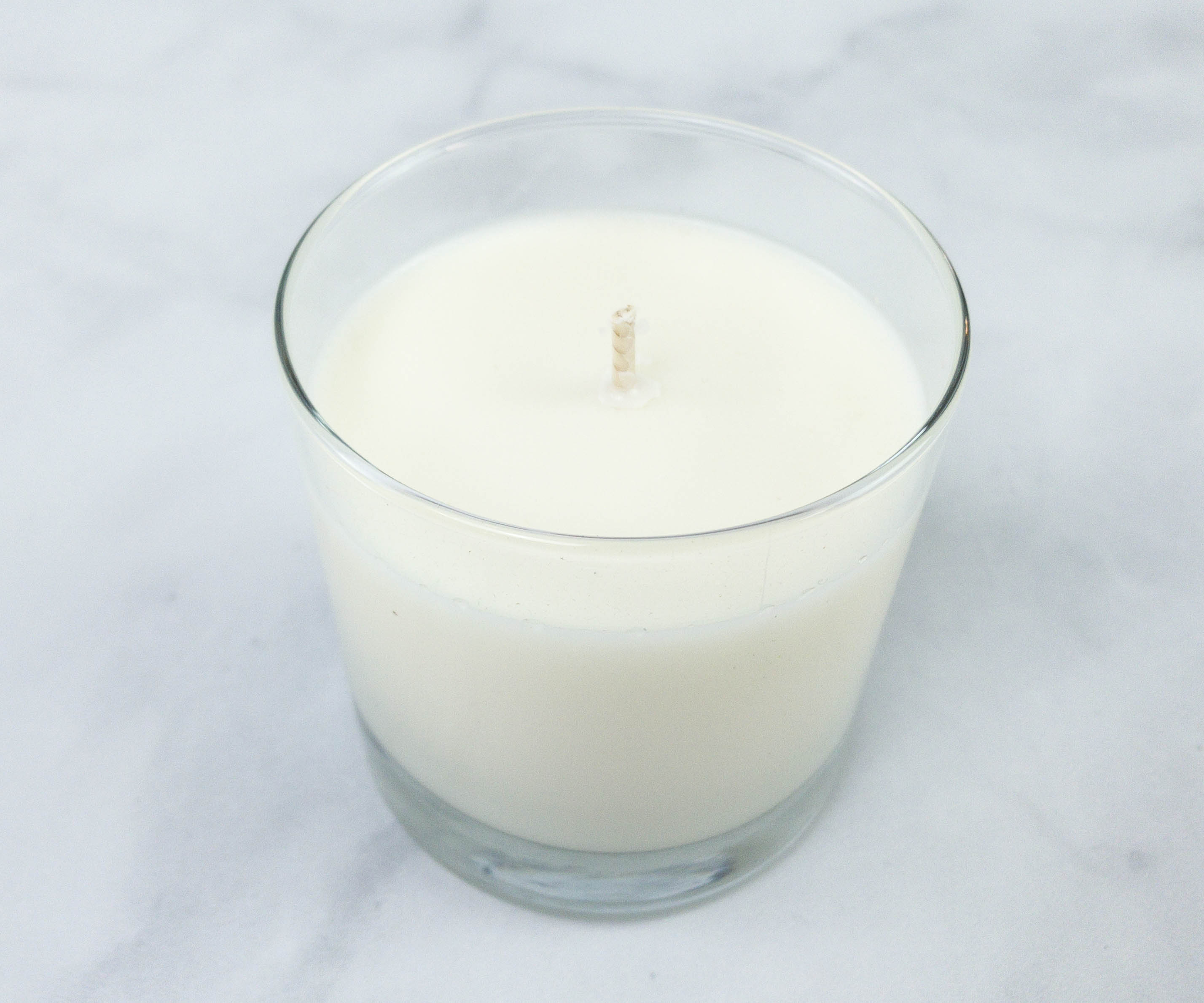 It's made with natural soy oil, and it's hand made in the USA as well.
Sixtrees Home Decor Box Sign ($9.99) This home decor is perfect for any wine lover!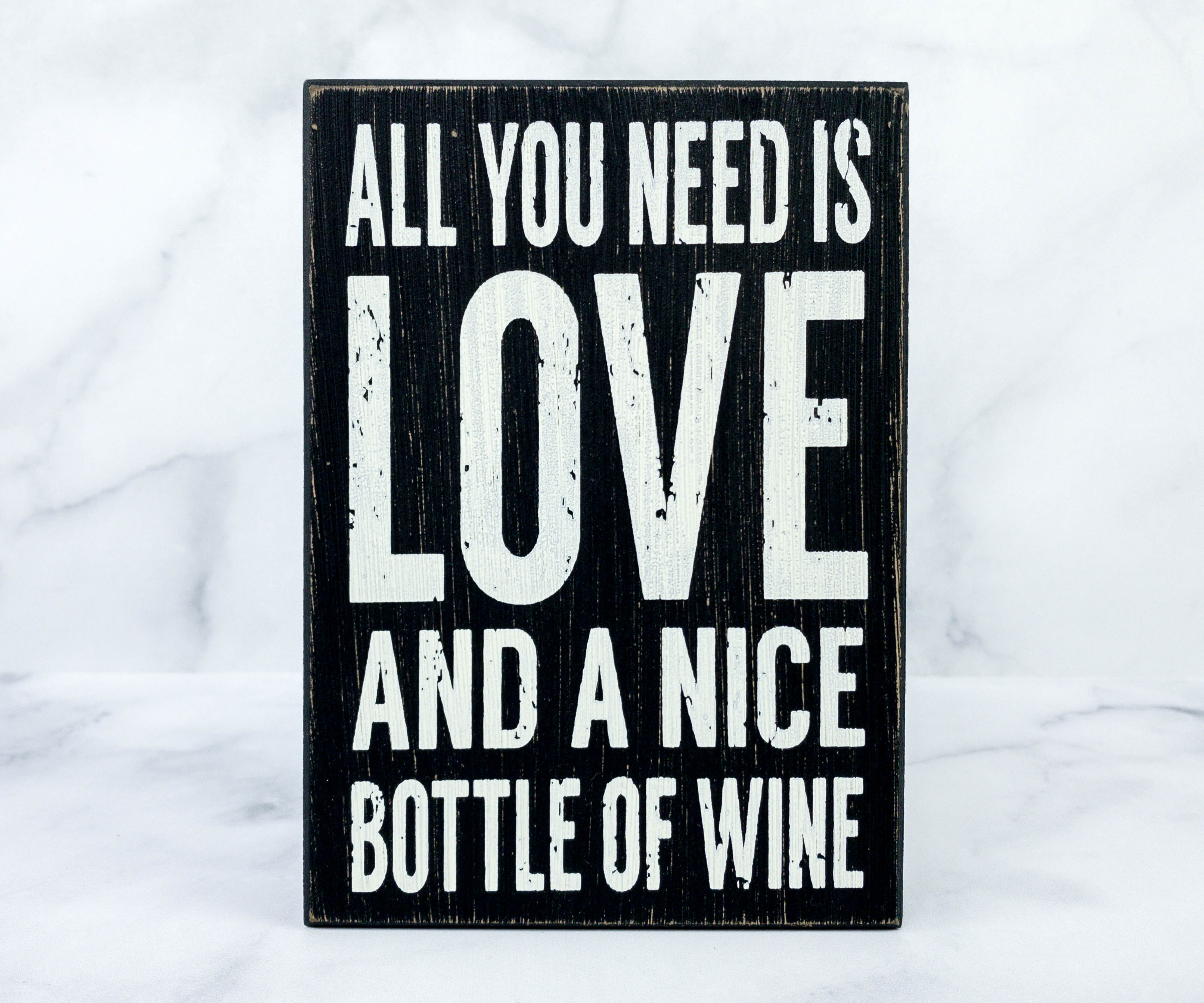 It says "all you need is love and a nice bottle of wine"! I like that it's in black and white because it means I can display it practically anywhere since it will go well with any kind of home aesthetic. It's already on display at my wine bar!
It now holds a post on my bookshelf. I like that it is able to stand alone on its own as it makes displaying it way easier!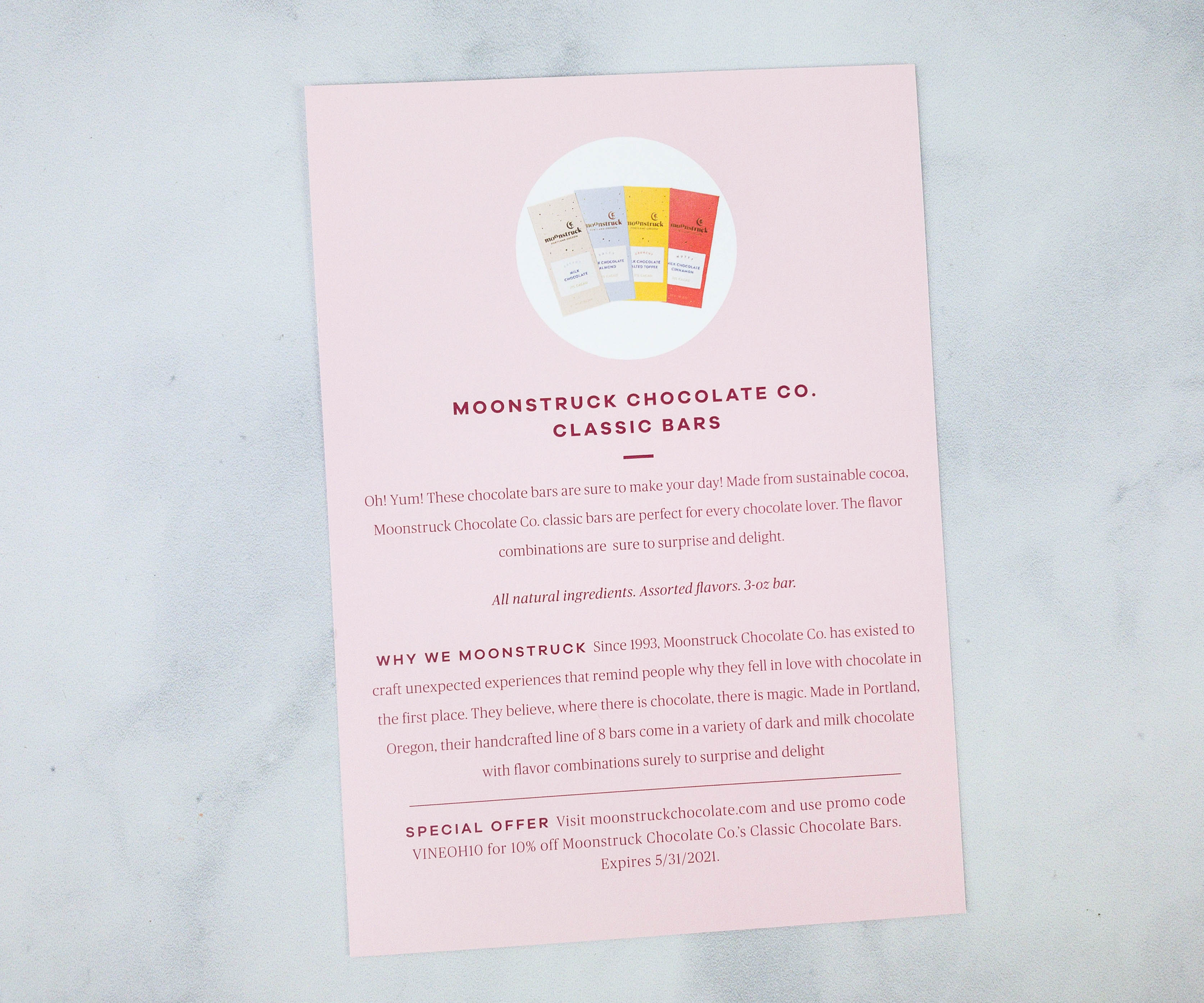 Moonstruck Chocolate Co. Classic Bars ($4) This chocolate bar is made with sustainable cocoa and can be paired with wine!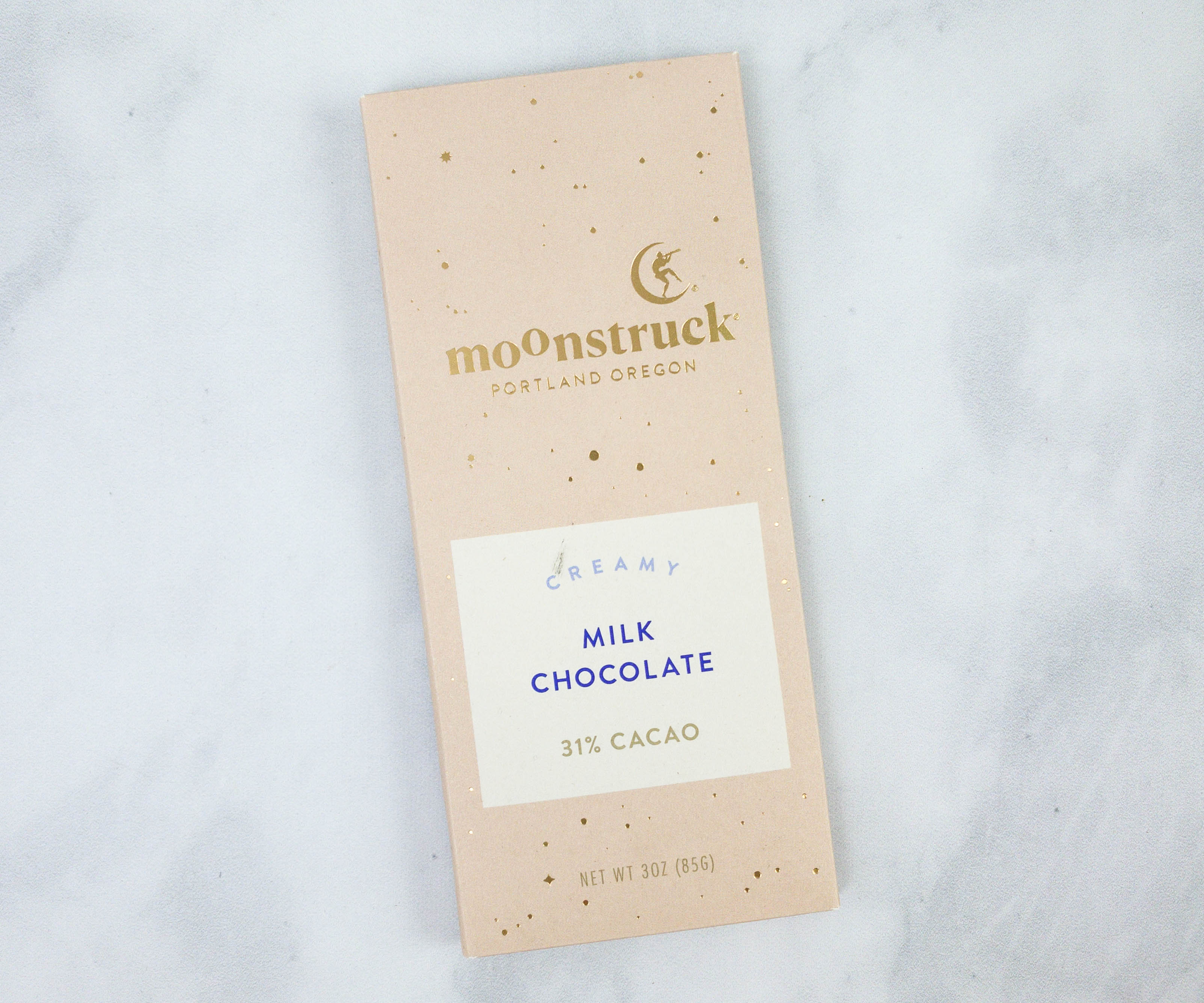 The packaging is so pretty!
The chocolate bar also contains vanilla for a touch of sweetness!
Upon opening, the chocolate is wrapped in foil for another layer of protection but what struck me was the beautiful illustration on the inside of the box packaging! It's fun, bright, and very adorable. It is from the artist Lan Truong.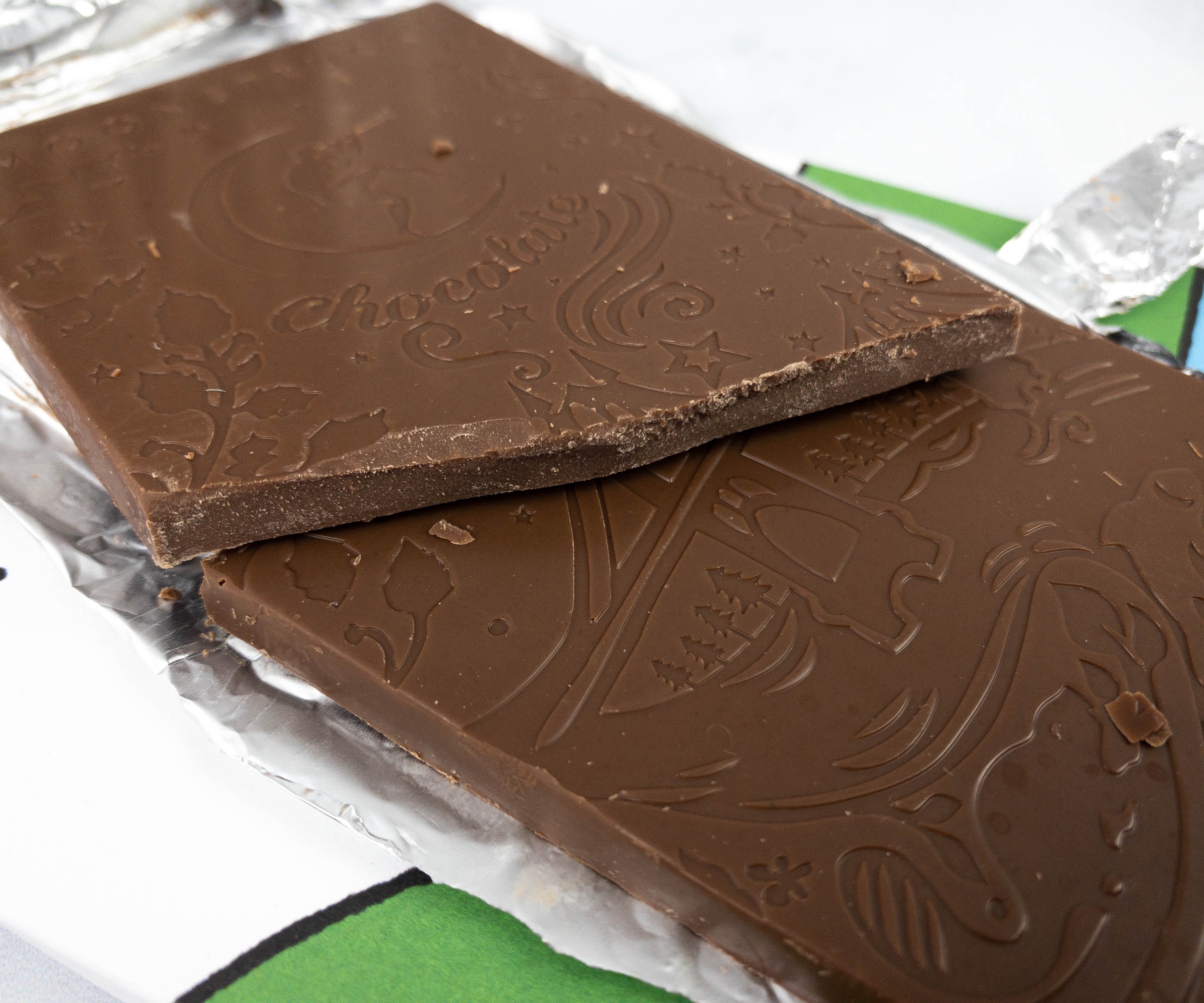 The chocolate itself is good. It's so smooth and silky! It's also cute because it even has art on it! I am so excited to rediscover this brand through VineOh, because this chocolate was amazing! I am planning to order more for a V-day treat!
Another set of amazing goodies for wine lovers came in this quarter's Vine Oh box! The wine selection in this box covers everything I want for some Valentine's self care. I really liked the chardonnay because of the fresh and bright flavors it has. It's something I can enjoy at the end of a very tiring day, just to lighten up the mood. The chocolate treat is also my favorite because it doesn't just taste good, it's also made with sustainable cocoa and it even features cute packaging. They really put effort into creating a single bar and I'm impressed. I also like the rest of the items, like the candle and home decor. Vine Oh truly is a fun wine subscription! It makes a great gift, whether for someone you know or for yourself!
What did you think of Vine Oh?