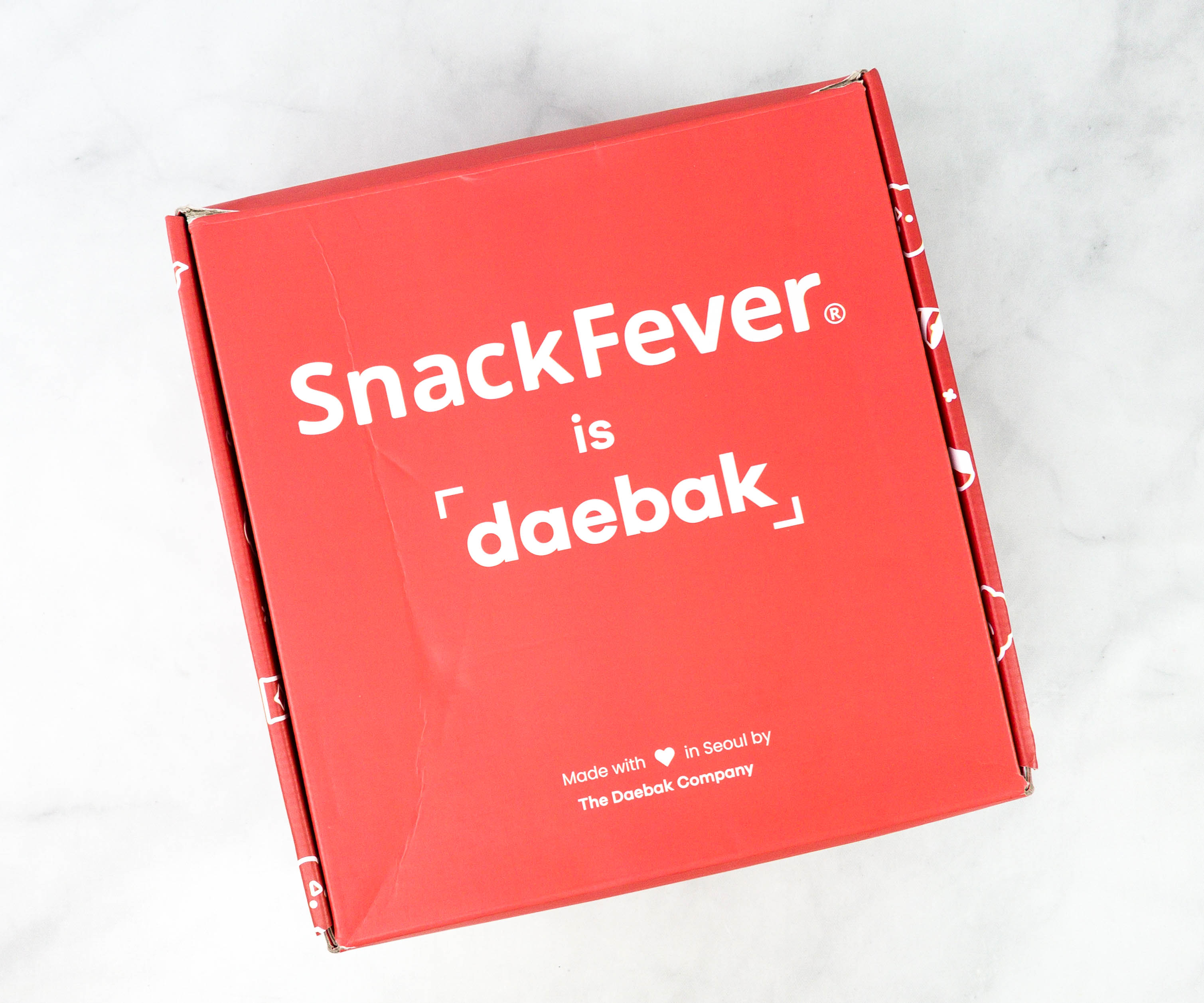 SnackFever is a monthly subscription box that delivers all your favorite Korean snacks, as well as other hard-to-find Korean treats. Snack Fever is available in two boxes, the Original box ($30) which contains 8 to 11 full-size snacks and Deluxe box ($40) which has 10 to 13 full-size, bigger, more premium snacks. Your subscription auto-renews and you can pause or cancel anytime. Shipping per box is only $5 worldwide.
This is the review of the Deluxe box.
DEAL: Save $3 off your first box (Mini, Original, Deluxe). Use coupon code HELLOSUB3.
NOTE: Due to shipping related issues, SnackFever are canceling all the SnackFever Original Box subscriptions, and every subscription to Europe (except UK, Germany, Norway, Switzerland, Estonia, Denmark, and Sweden) and Asia (except Japan). If you still have any boxes remaining in your plan, they will issue refunds. Deluxe boxes remain available.
SnackFever's social media handles are printed on the box. On the side, there's even a Korean sentence which means "You're so pretty when you eat"!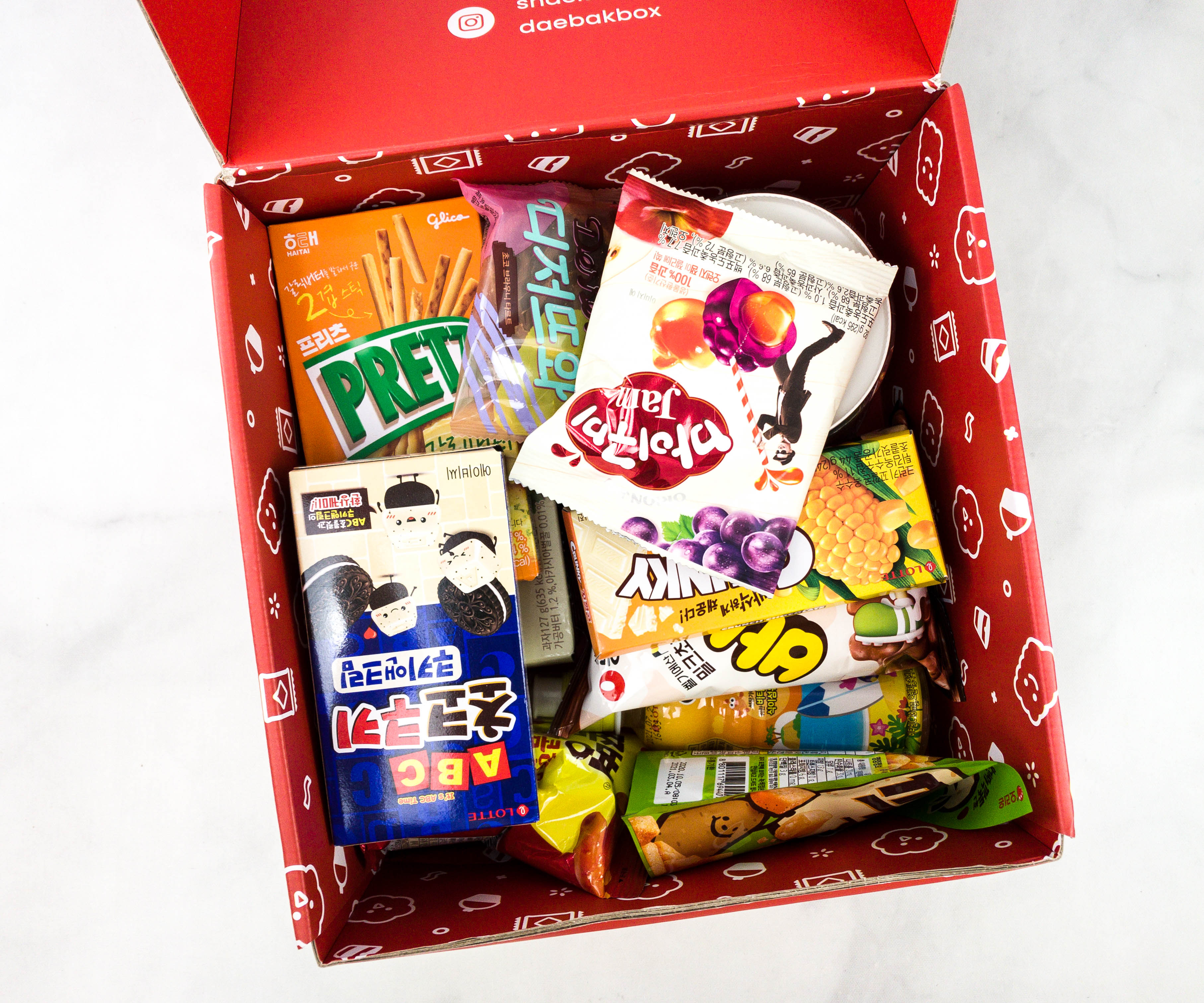 There is no extra packaging, just pure snacks!
Here are the full contents of the Deluxe box.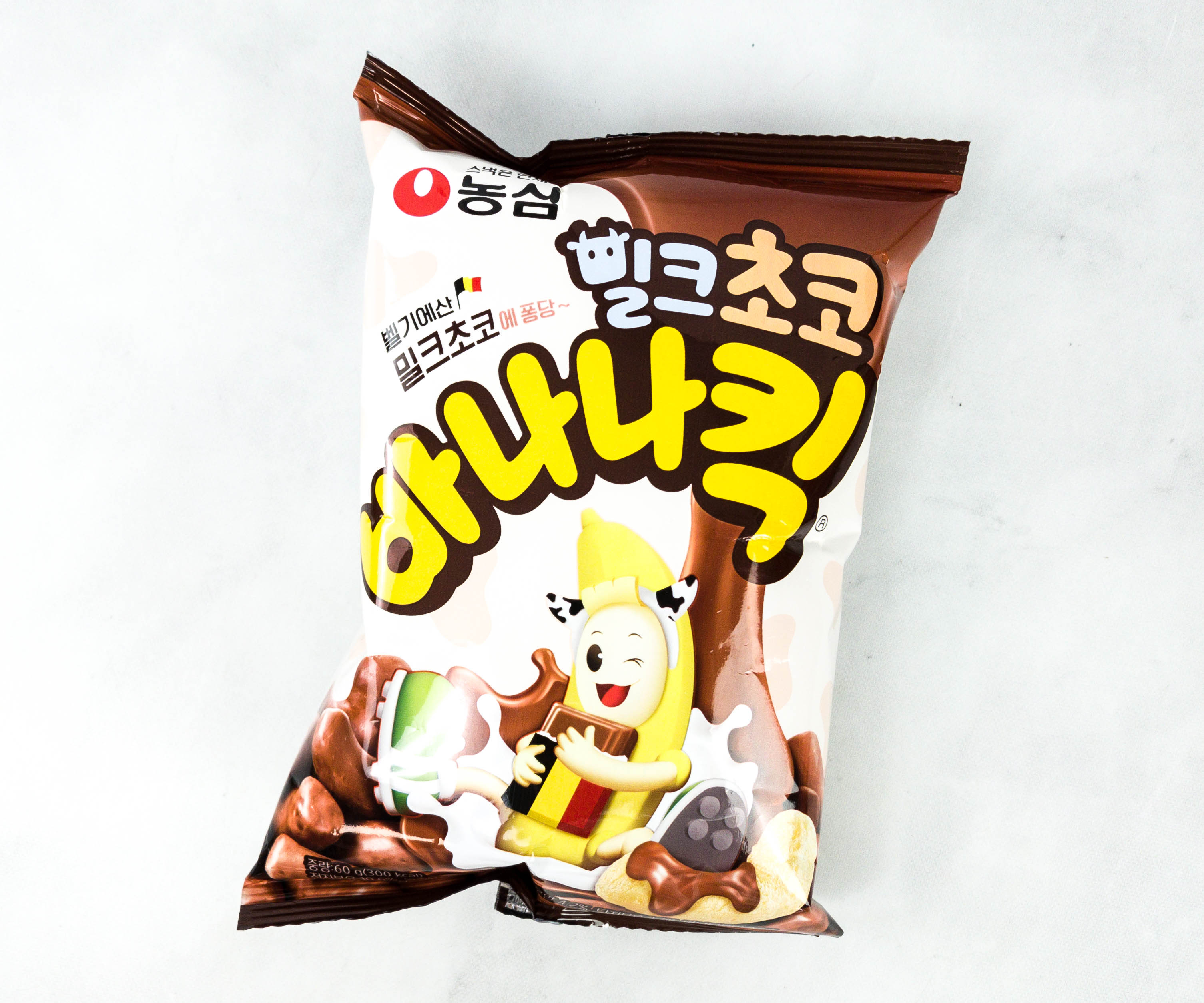 Nongshim Milk Choco Banana Kick. These puffs are flavored with banana and milk chocolate. Each piece was light and sweet, and they also melt in the mouth!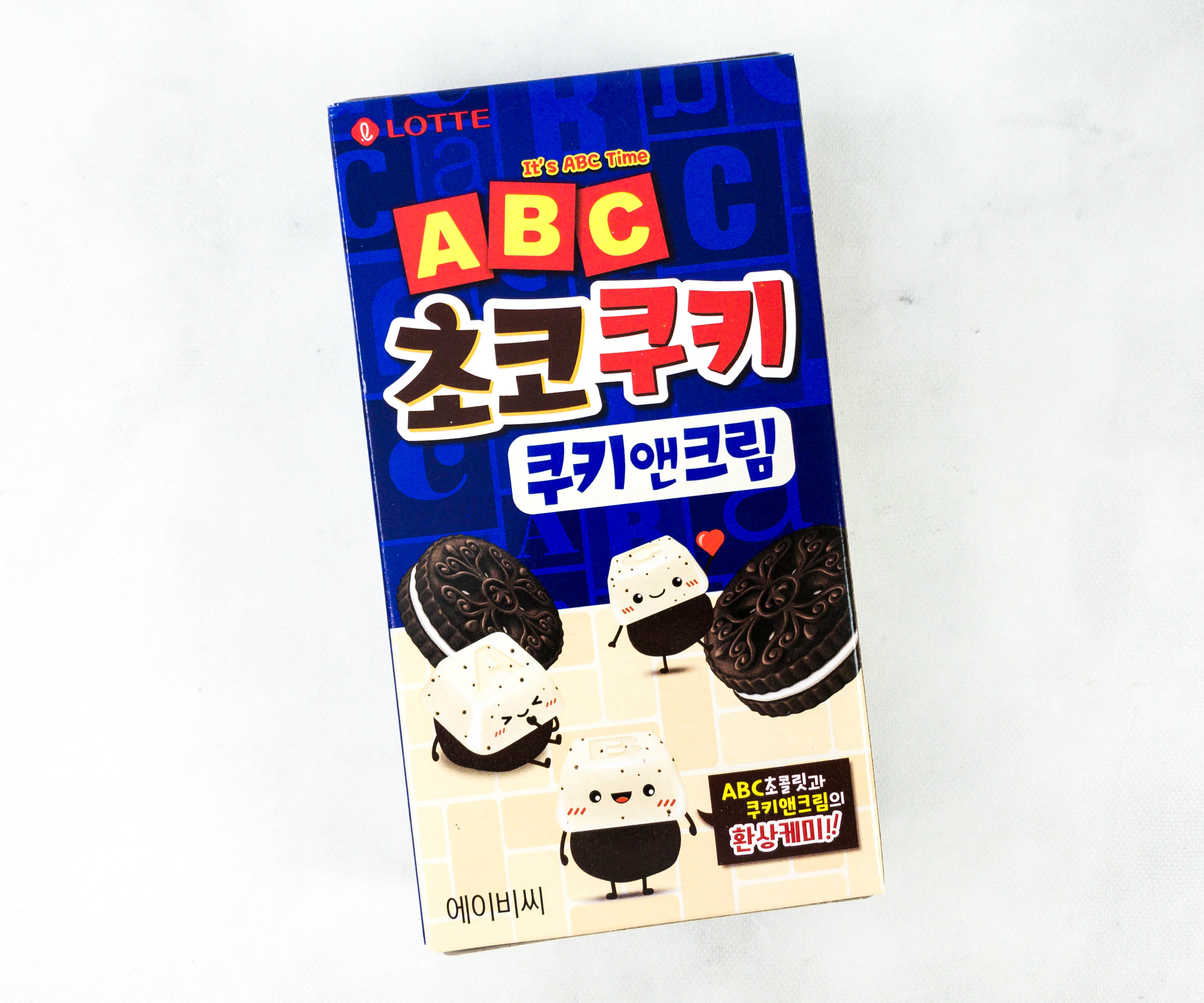 Lotte ABC Choco Cookie. These are called ABC cookies because each bite-sized snack features a letter on top. I've tried the plain chocolate ones from a previous box, and now they sent the cookies and cream variant! It was so addicting!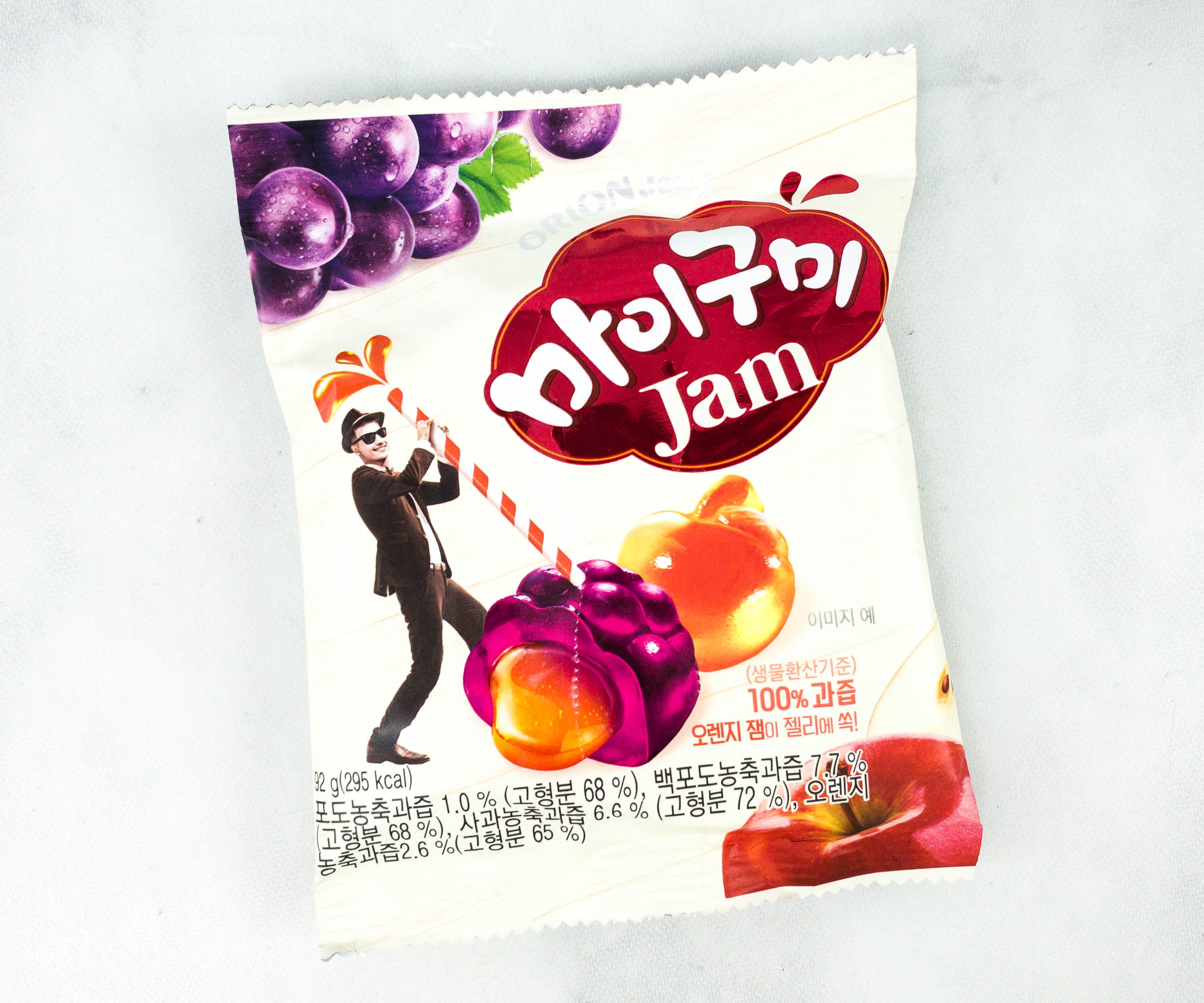 Orion My Gummy Fruit Jelly. I just love how chewy and fruity these jellies are! The outer part is grape-flavored, while the inside is an apple jam that makes each piece more special and fun to eat. Also, they were not too sweet!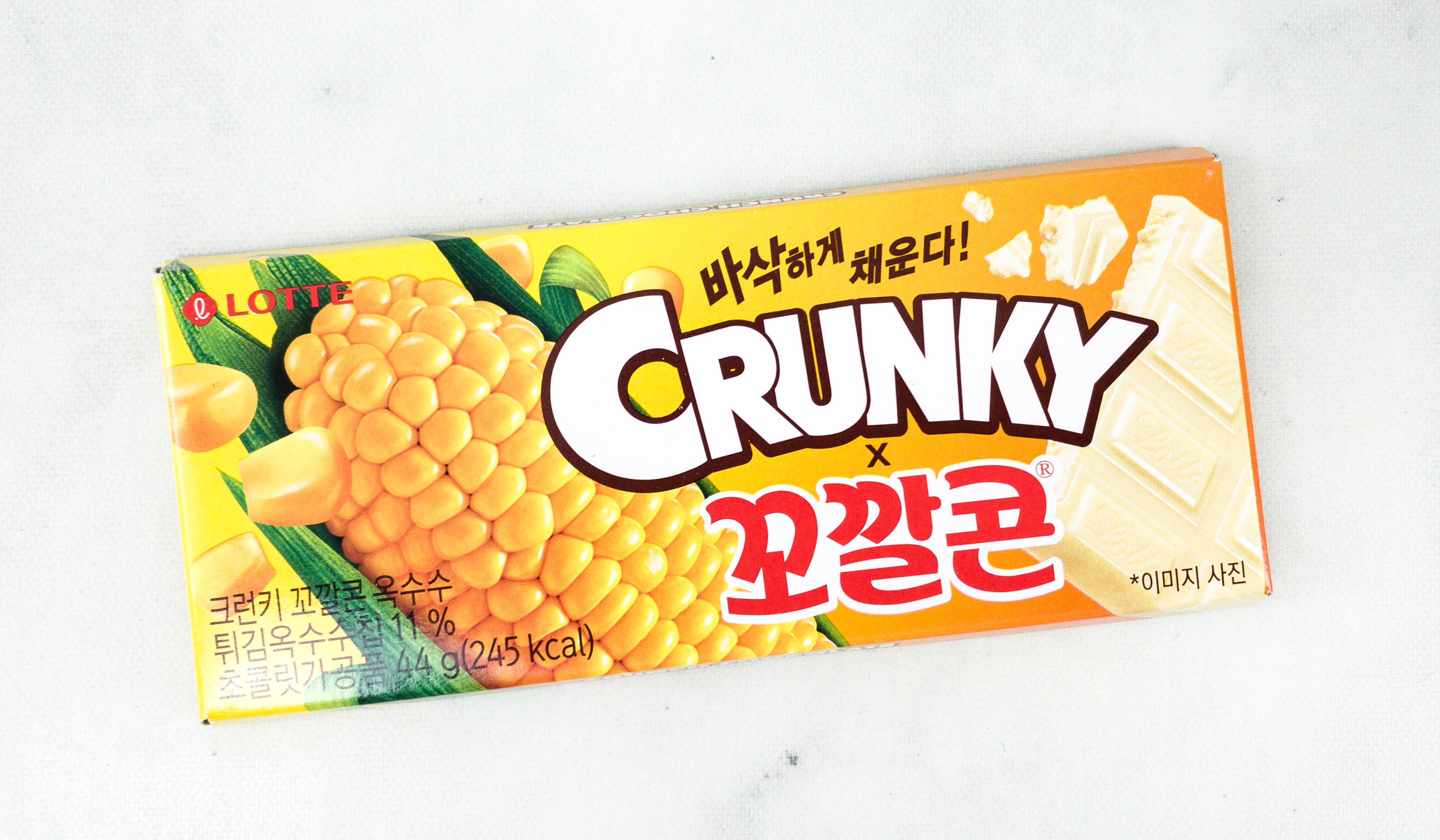 Lotte Crunky Corn Flavor Chocolate Bar. Here's a new chocolate fusion to love! The flavor may sound weird but this bar has a great combination of corn and chocolate flavor in it. It's smooth, creamy, chocolaty, and full of sweet corn flavor!
Nongshim Jjol Byeong Spicy Dried Ramen. It's a dried ramen snack and it has the intense flavors of the popular Korean ramen minus the soup. It comes in button-shaped bite-sized pieces so it's easy to eat. The crunchy texture also makes this snack really fun to eat!
Haitai Pretz Garlic Butter. These biscuits sticks are just too good. They are buttery, garlicky, and satisfyingly crunchy! Pretz actually reminds me of Pepero, except that this one doesn't have a coating.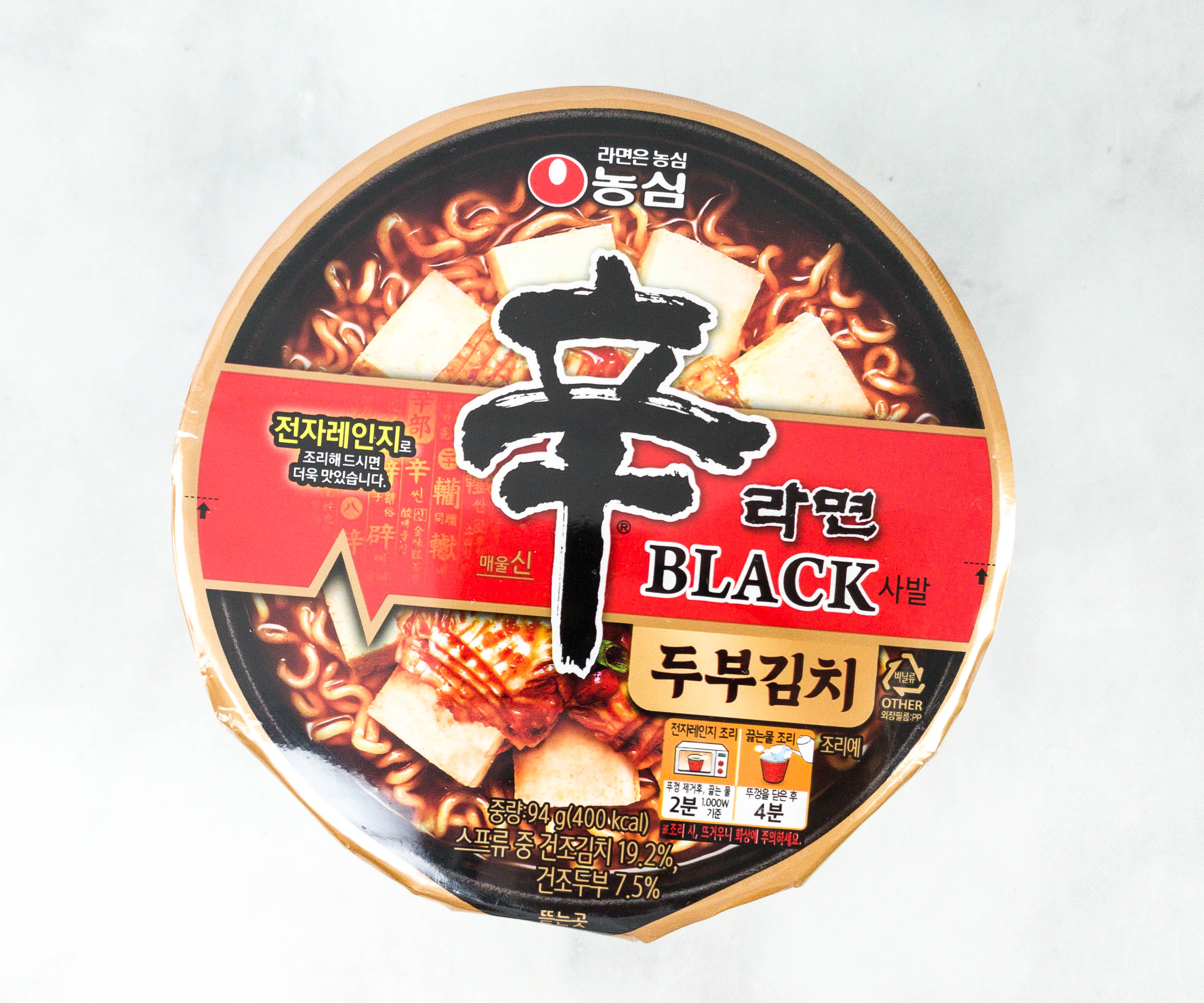 Nongshim Ramen Black. I'm happy to have this cup of noodles in this month's box! Korean ramen is a perfect comfort food, especially during this cold season. This version is even better because it has a deeper flavor and an intense kick of red pepper plus green onion. It also has less sodium and no added MSG.
Lotte Orange Mango Juice. The blend of orange and mango in this drink is refreshing. I can really taste both fruits on every sip. Also, the design on its bottle is just too cute!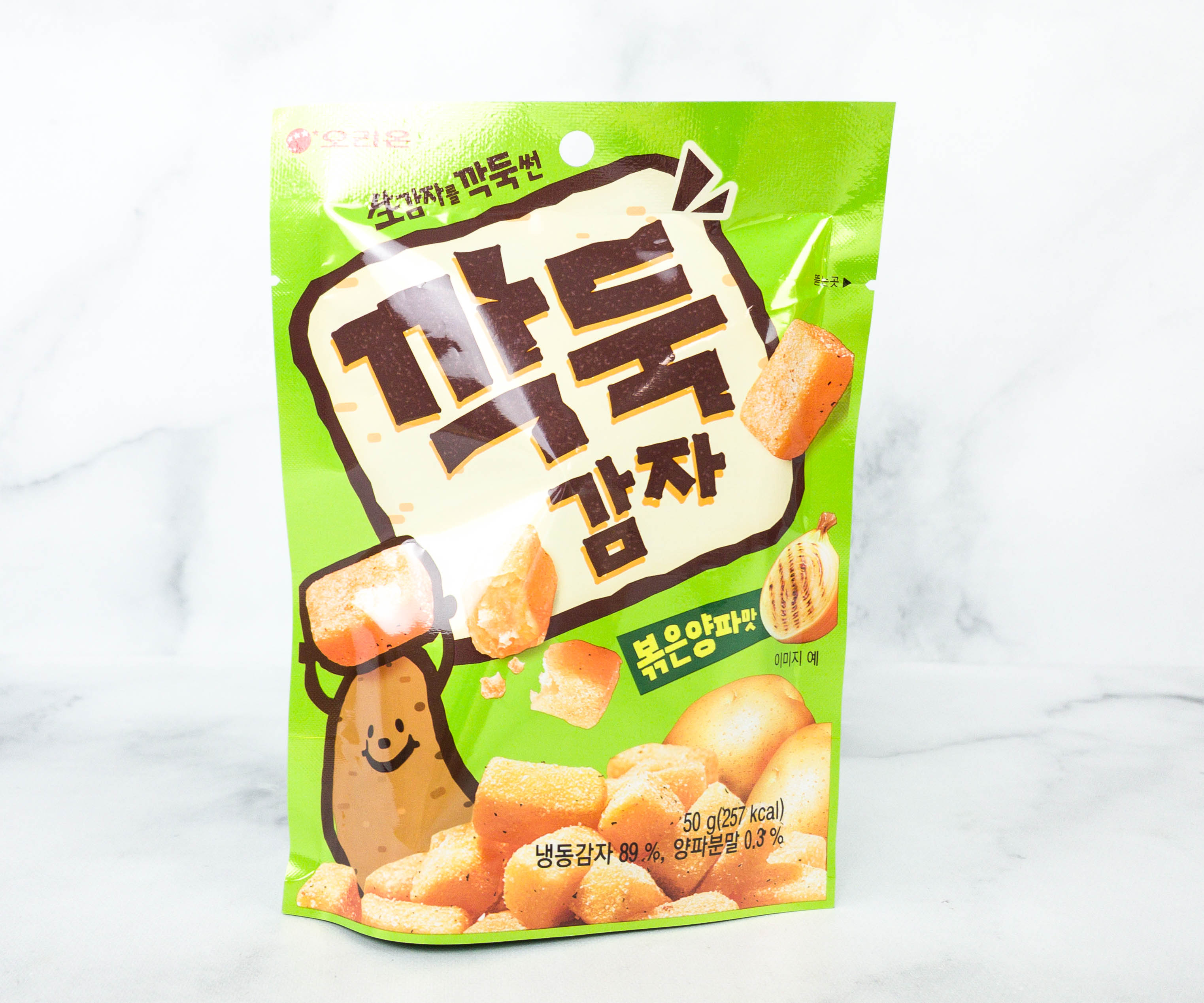 Orion Diced Potatoes Roasted Onion Flavor. These crunchy diced potatoes make a nice snack when watching movies. The potatoes were perfectly dusted with onion flavored seasoning, I can't help but finish everything in one sitting.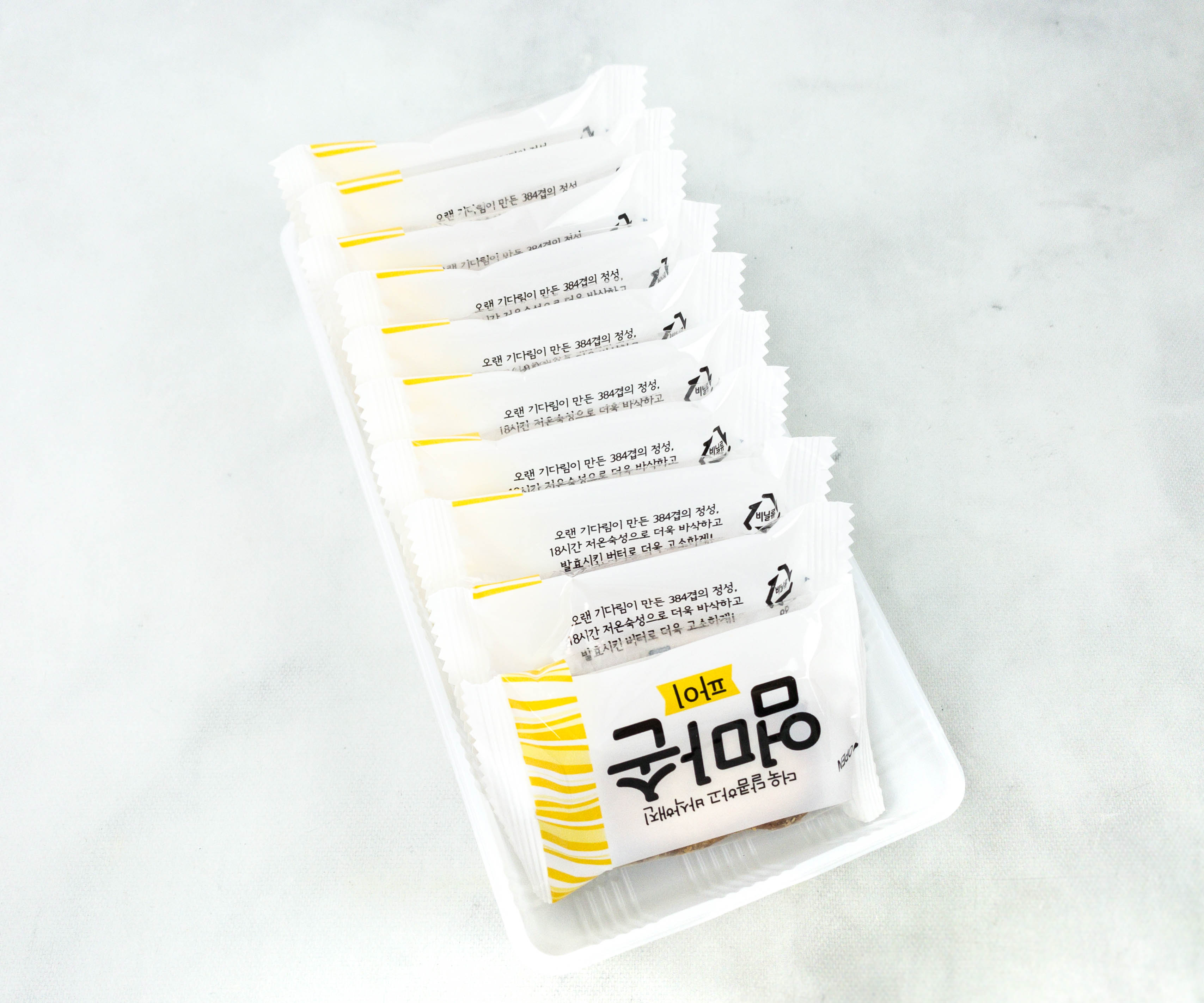 Lotte Mom's Hand Pie. It's a whole box of sweet pies! Each piece is buttery and crunchy, and they are individually packed for single consumption and also to maintain freshness. There's also a plastic tray to protect them from breaking. These pies make a great pair with any hot beverage for a filling snack. Another thing I liked about them is that they weren't too crumbly!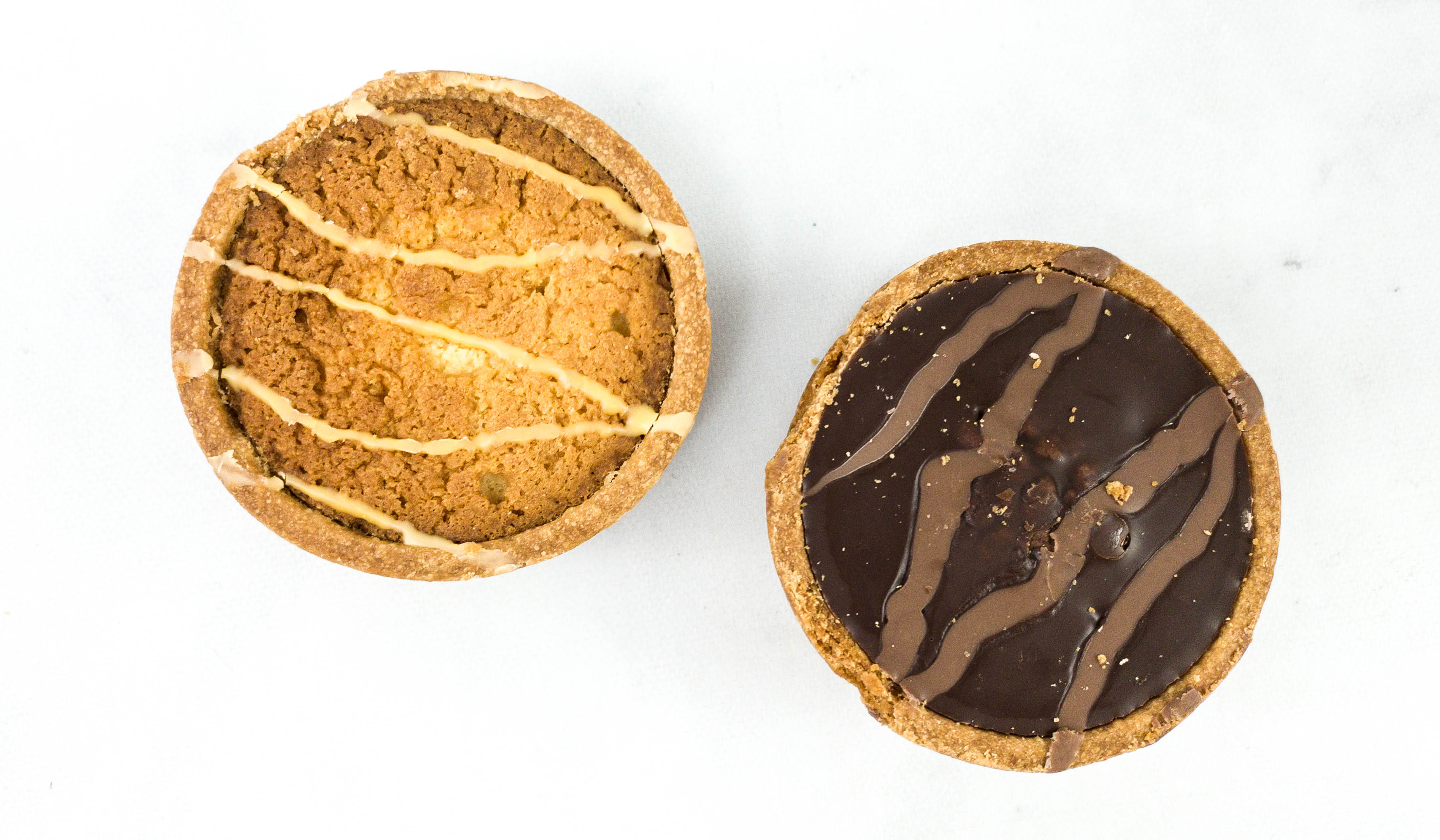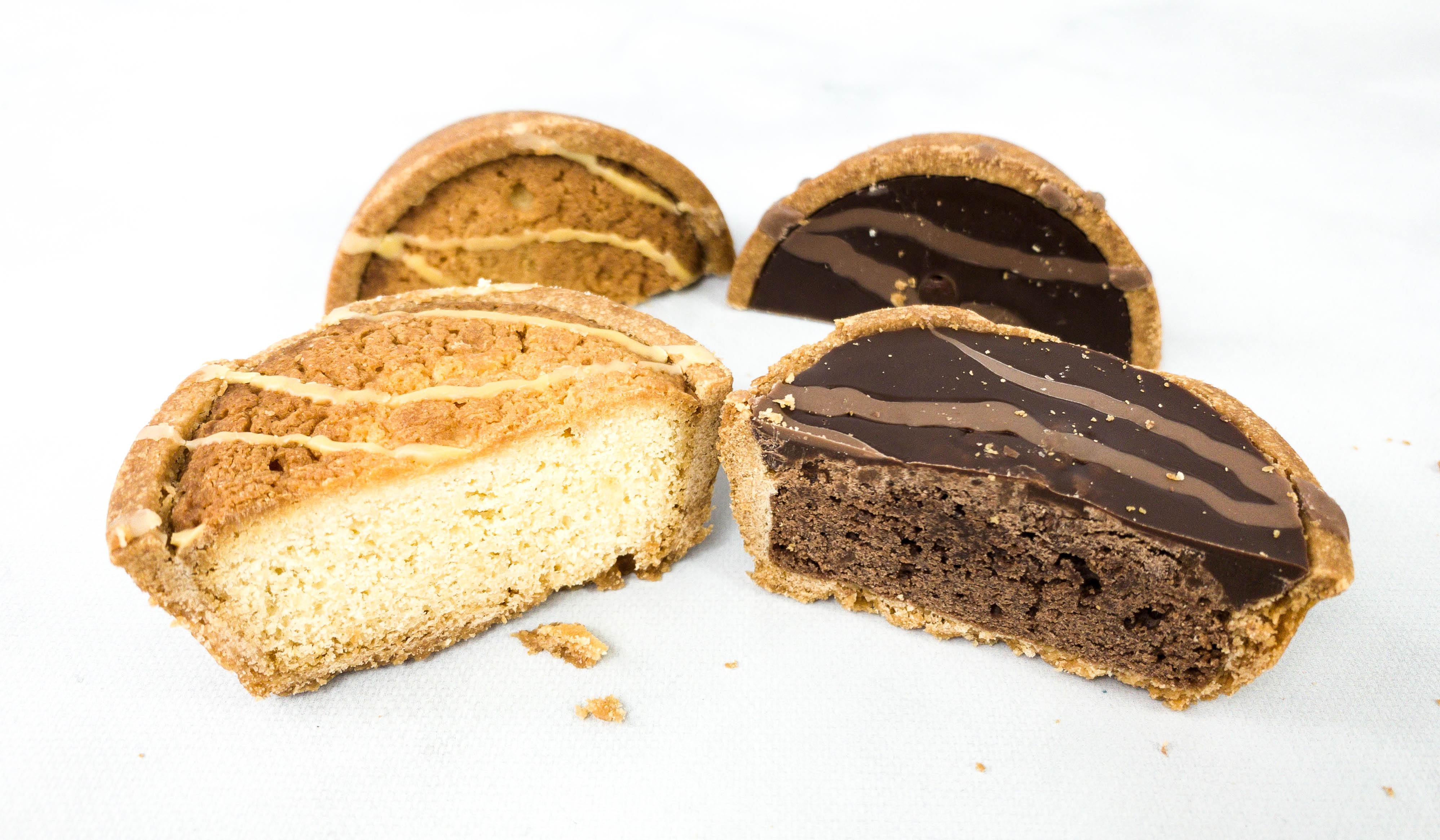 Lotte Cheesecake Tart. Another sweet dessert included in my box are these tarts. I received 2 flavors: choco brownie tart and cheesecake tart. They both taste good, but my favorite is the cheesecake because the texture was perfect and it was just so creamy!
Snack Fever sends the best Korean snacks to my doorstep! The variety of flavors in the box is impressive, as it ranges from sweet to spicy to fruity and more. There's even a bottle of orange mango juice that I liked! My favorite snacks are definitely the cheesecake tart and the pies. I loved pairing them with my favorite hot drinks. The garlic butter flavored biscuit sticks were also pretty good. Overall, I'm really satisfied with all the snacks and it's nice that I was able to share some with my family! This subscription is a must-have for Korean fans or for any adventurous snackers. The Deluxe box is also perfect if you want your family and friends to experience the snacking fun as well!
Have you tried Snack Fever?