Vices is a monthly luxury subscription service that delivers a collection of "storied treasures." The subscription costs $159.95 per month, and each box comes with a collection of incredible products and experiences that have been curated for your enjoyment.
This is the review of the Vices Advent Calendar 2020. The calendar includes 25 unique indulgences crafted by passionate artisans!
DEAL: Get $50 off your first box! Use the coupon code LUXURY50 at checkout!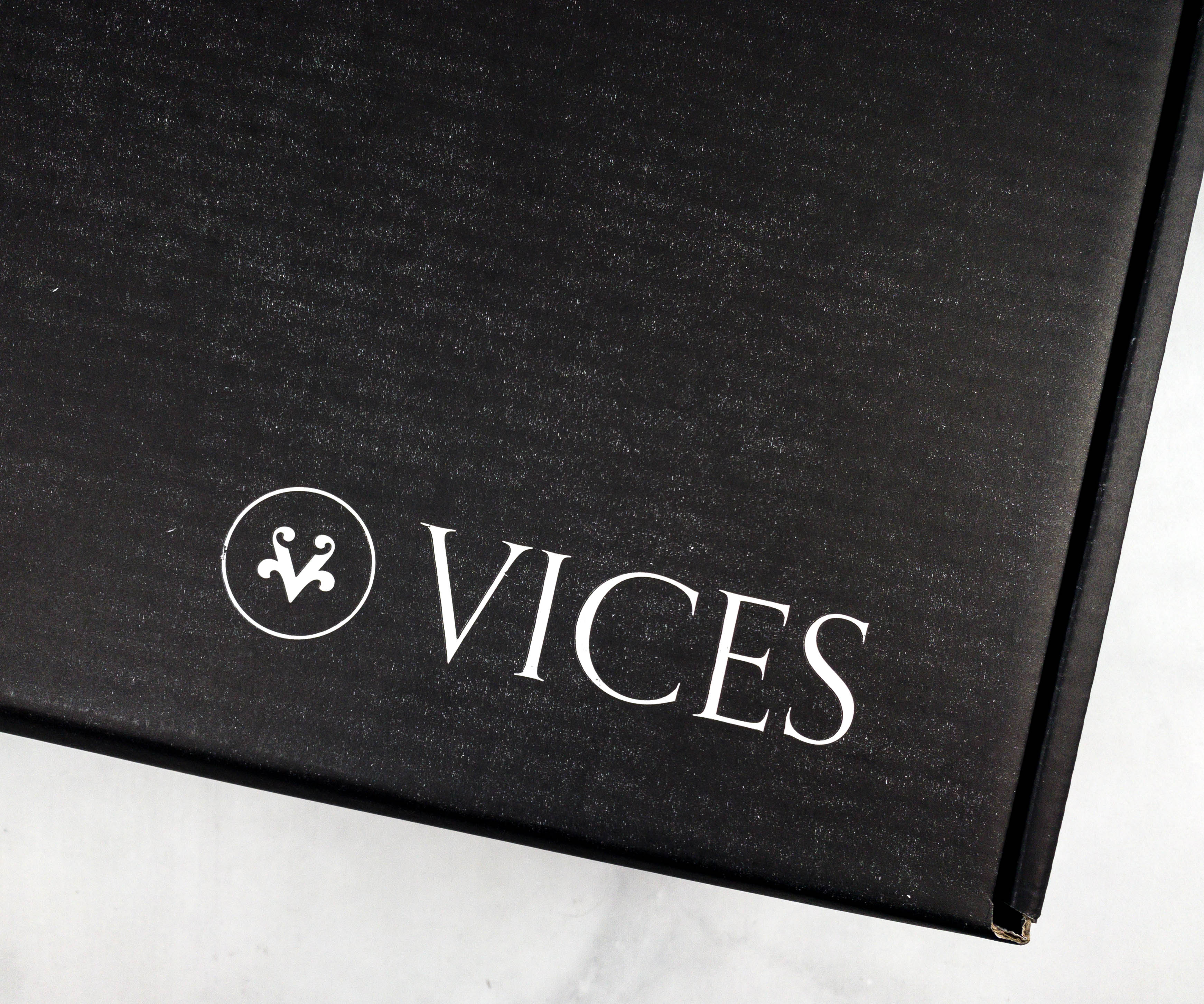 This month's box came in perfect condition – it arrives in an outer cardboard box.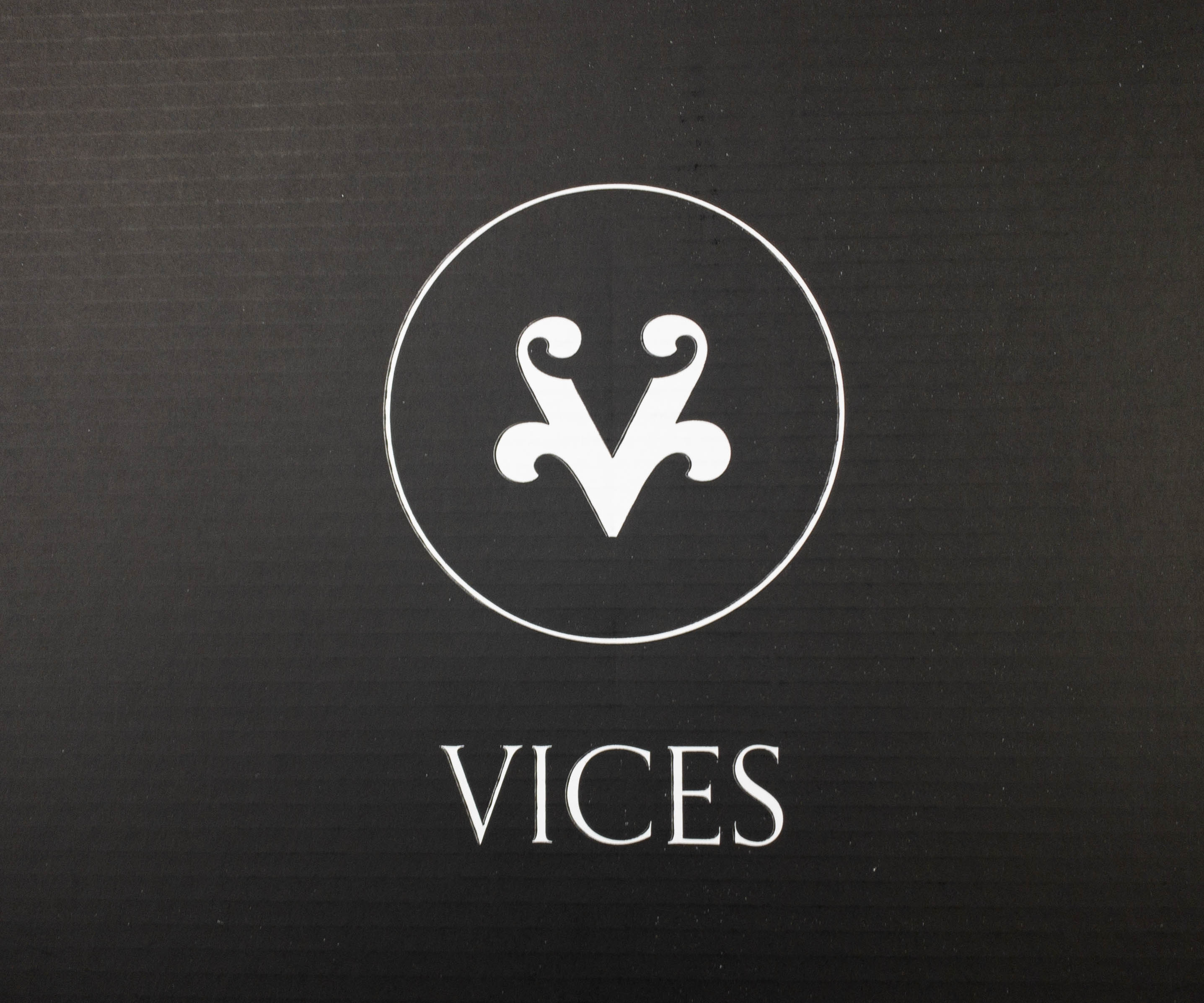 A logo of Robb Vices welcomes us upon opening the box.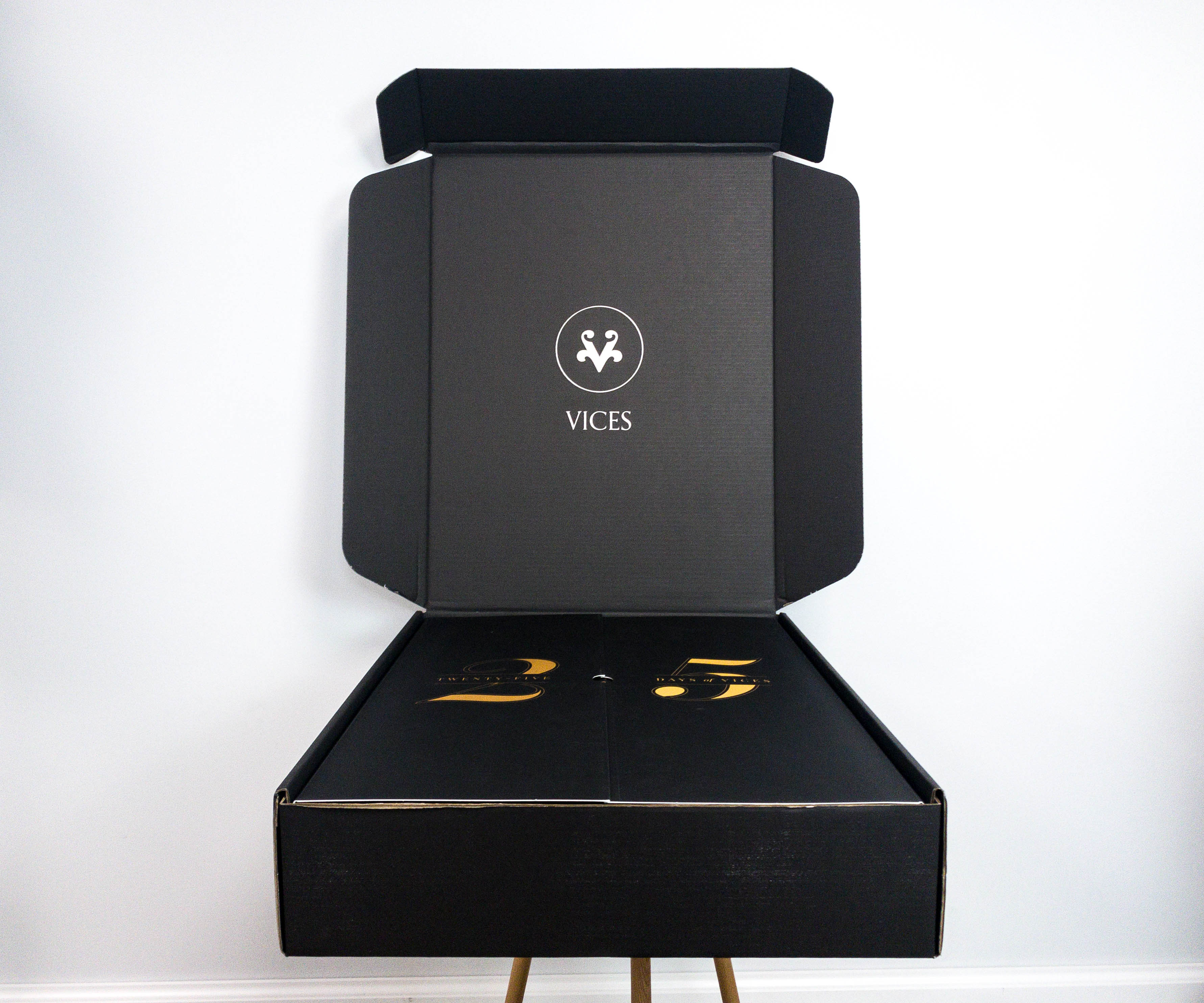 I'm excited to finally open this box! As you can see – it's extremely large!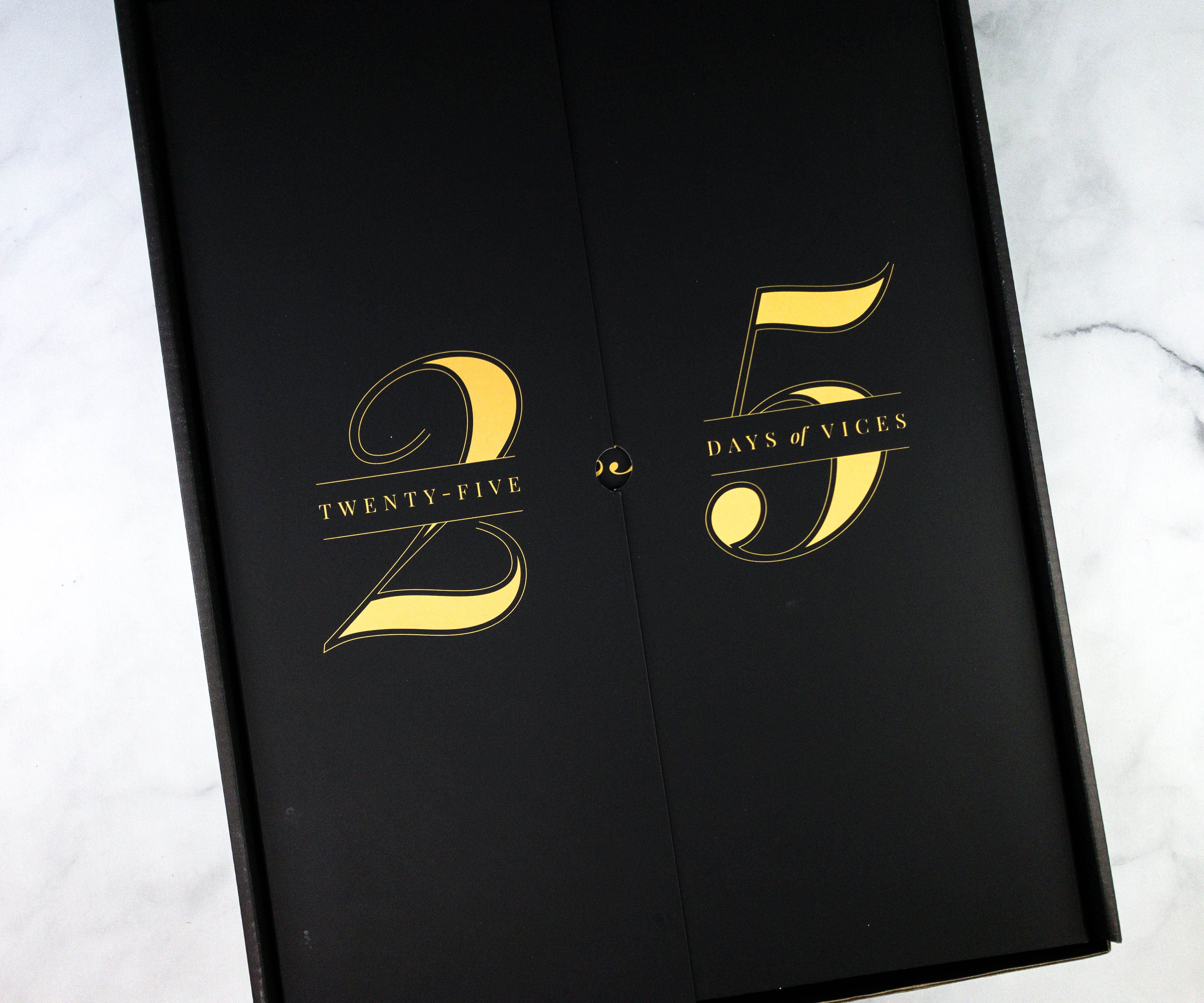 All the items are curated in a thick customized carton case.
The box doors have 25 Days of Vices printed on it.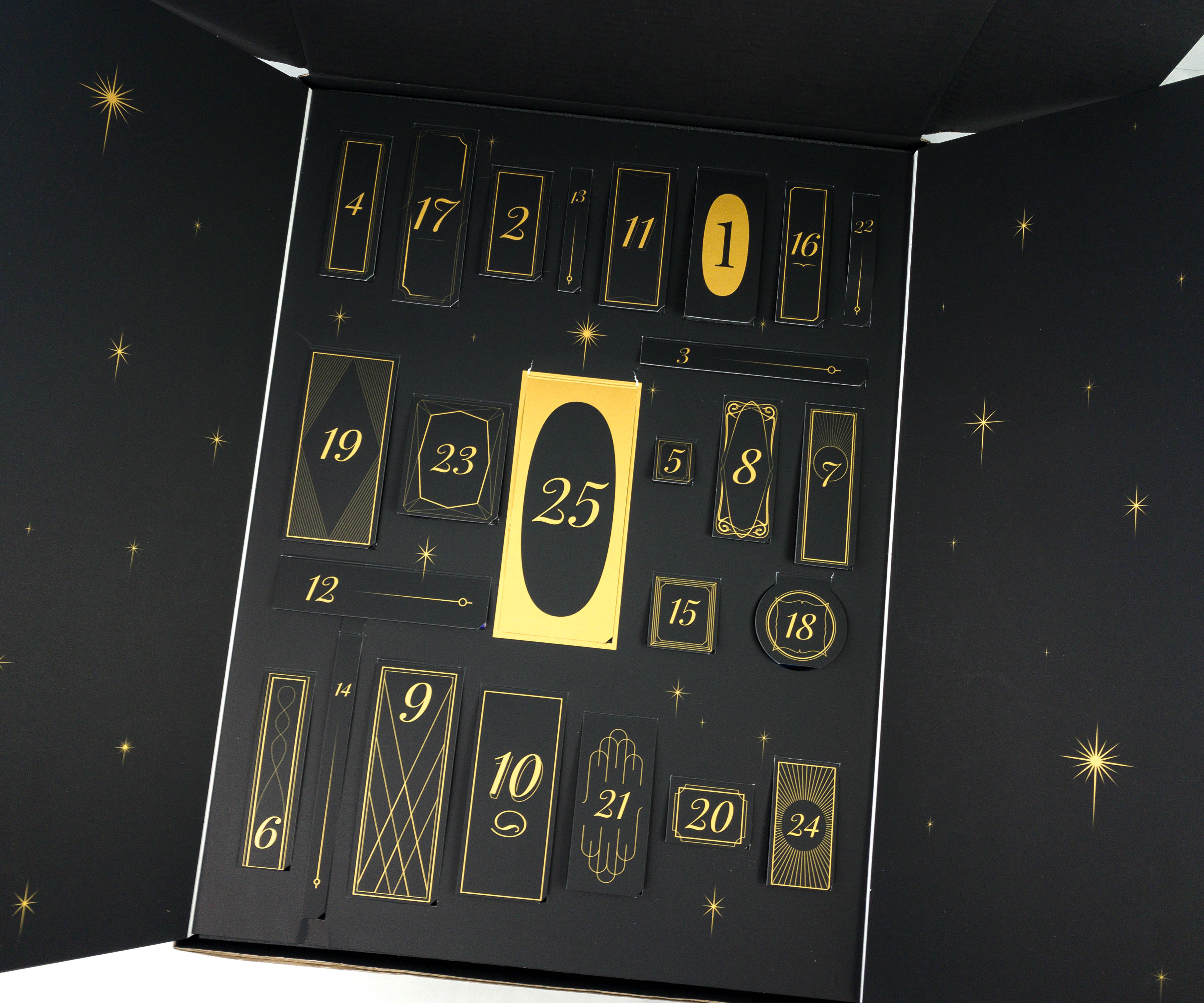 Each item has an assigned number from 1-25.
This card has a brief introduction from Kristina Semak about the 25 Days of Vices curation.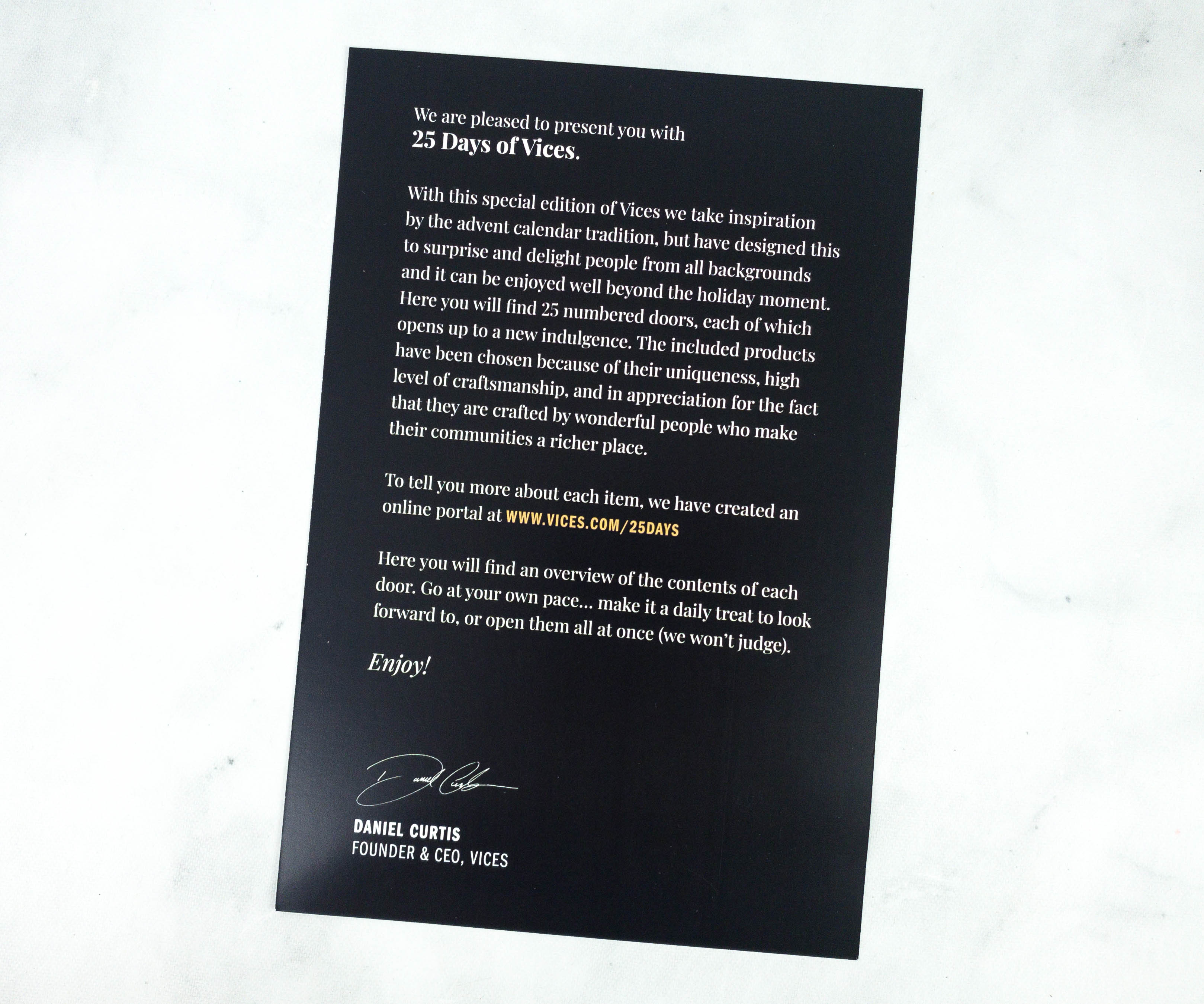 Here's a message from Daniel Curtis, the founder of Robb Vices.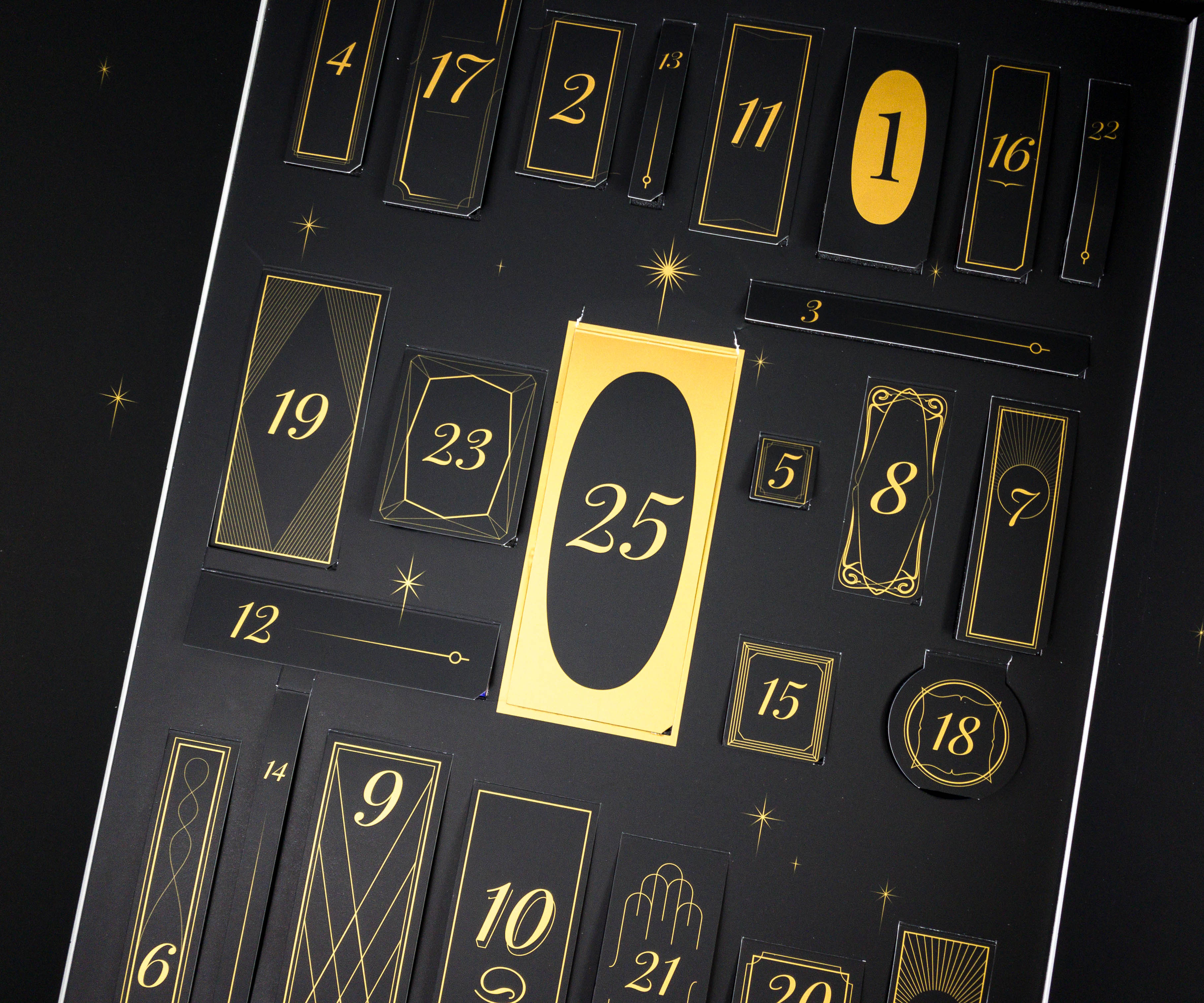 Every door opens to a unique item!
It's so tempting to open them all at the same time!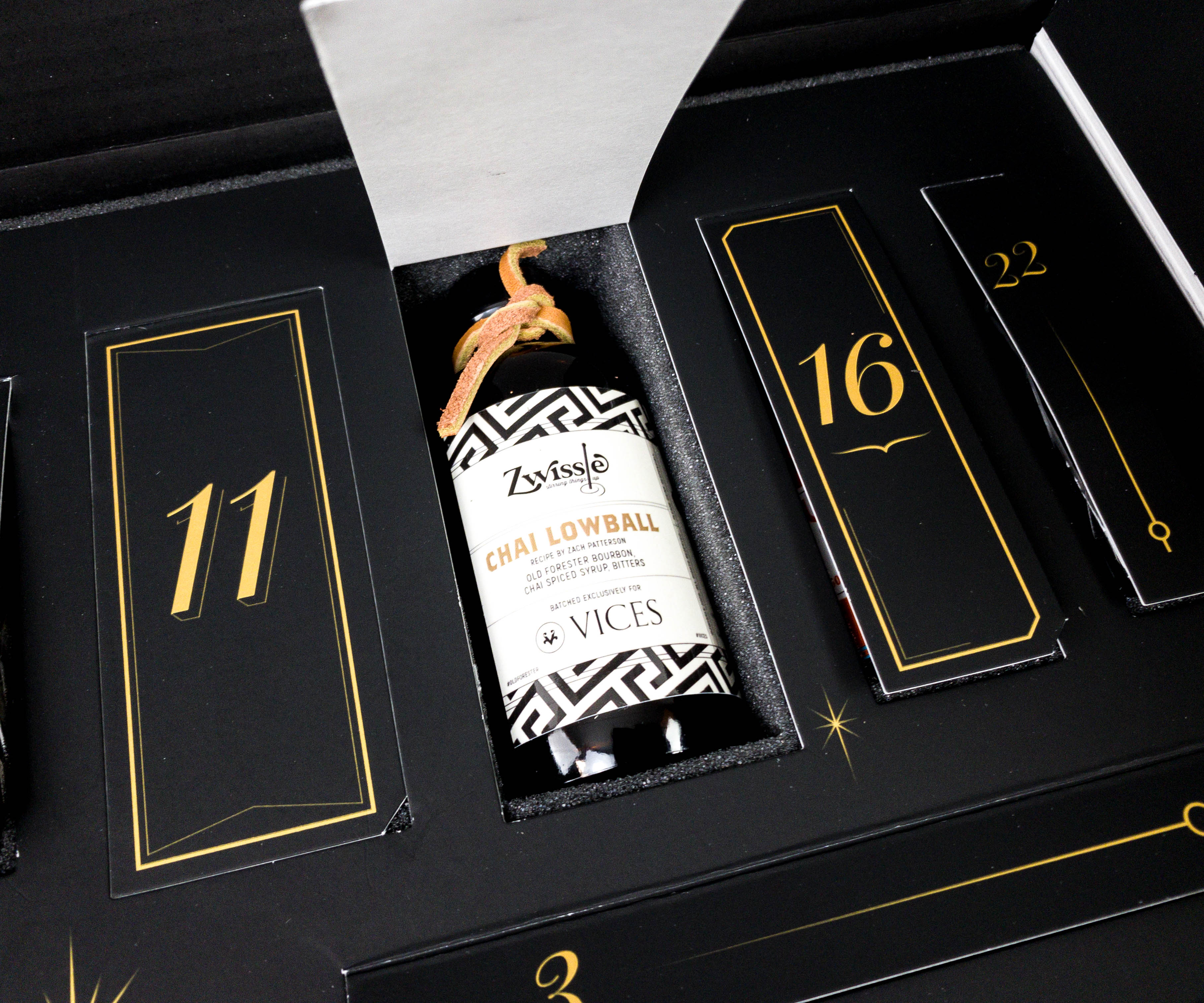 Each item is carefully cradled in a custom-fitted foam case to make sure that they arrive in their best condition.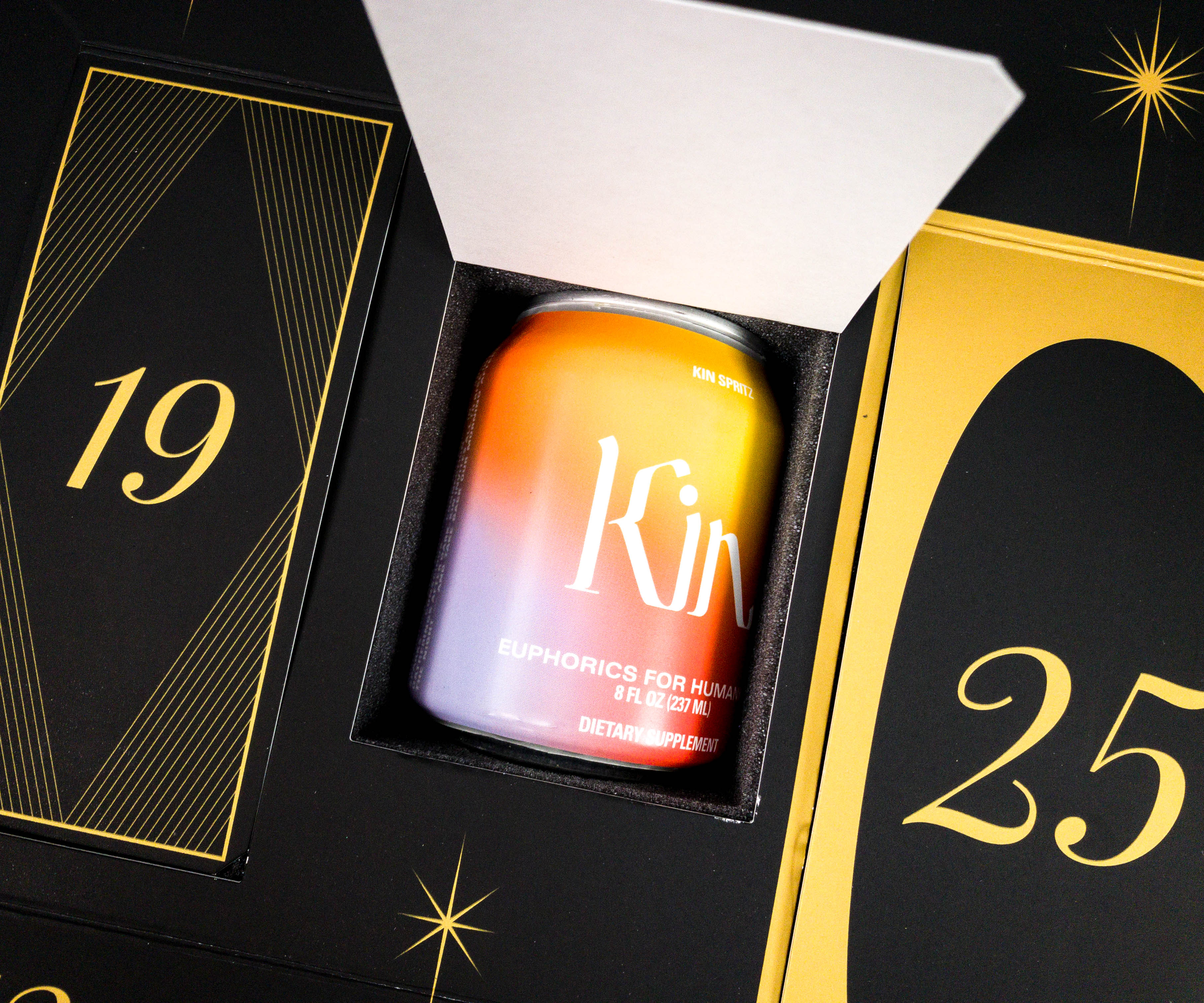 I also like the black and gold color scheme. It's really classy.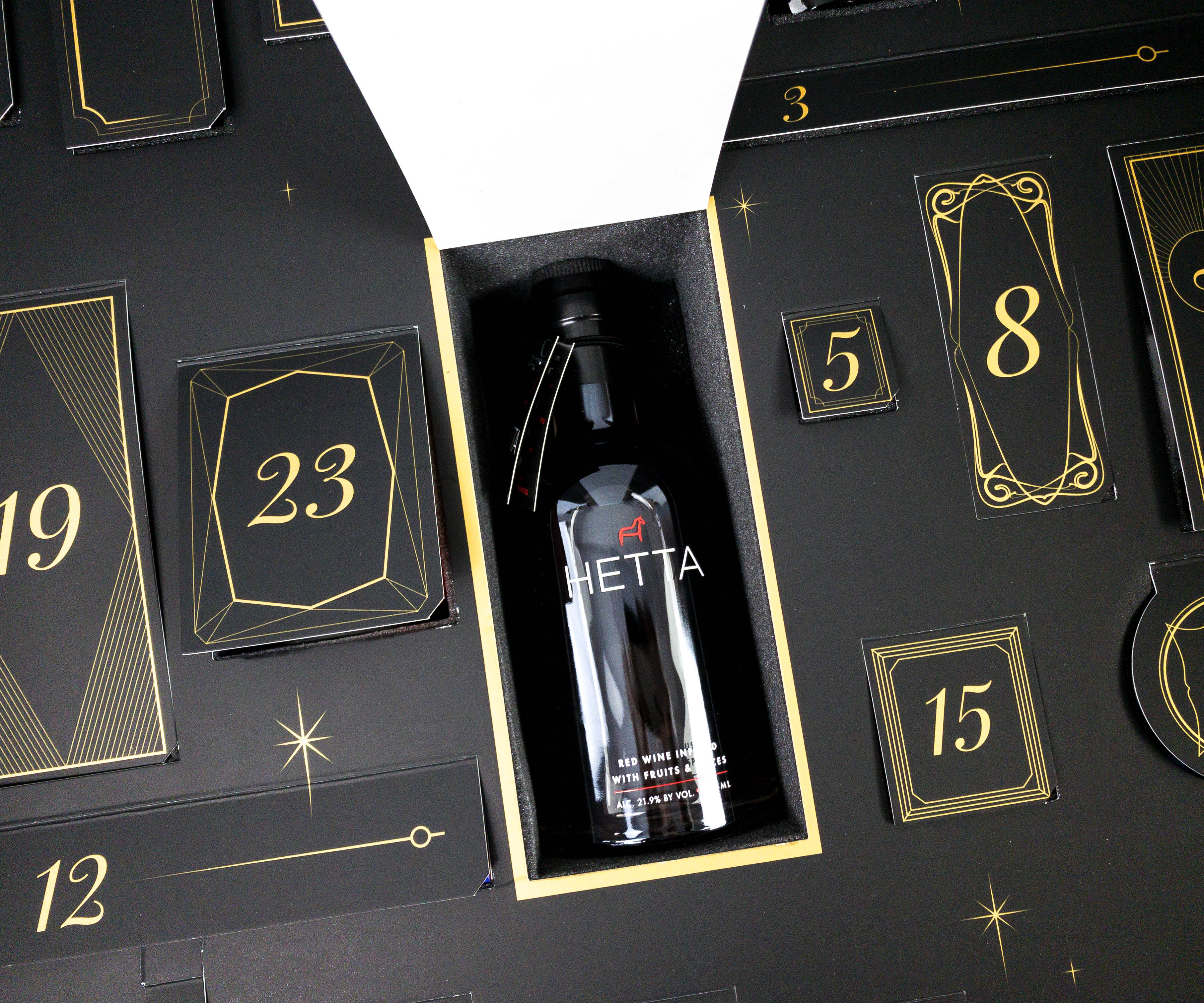 The sizes of the doors added more mystery on the items behind them!
The box looks really luxurious, something I always expect from the subscription.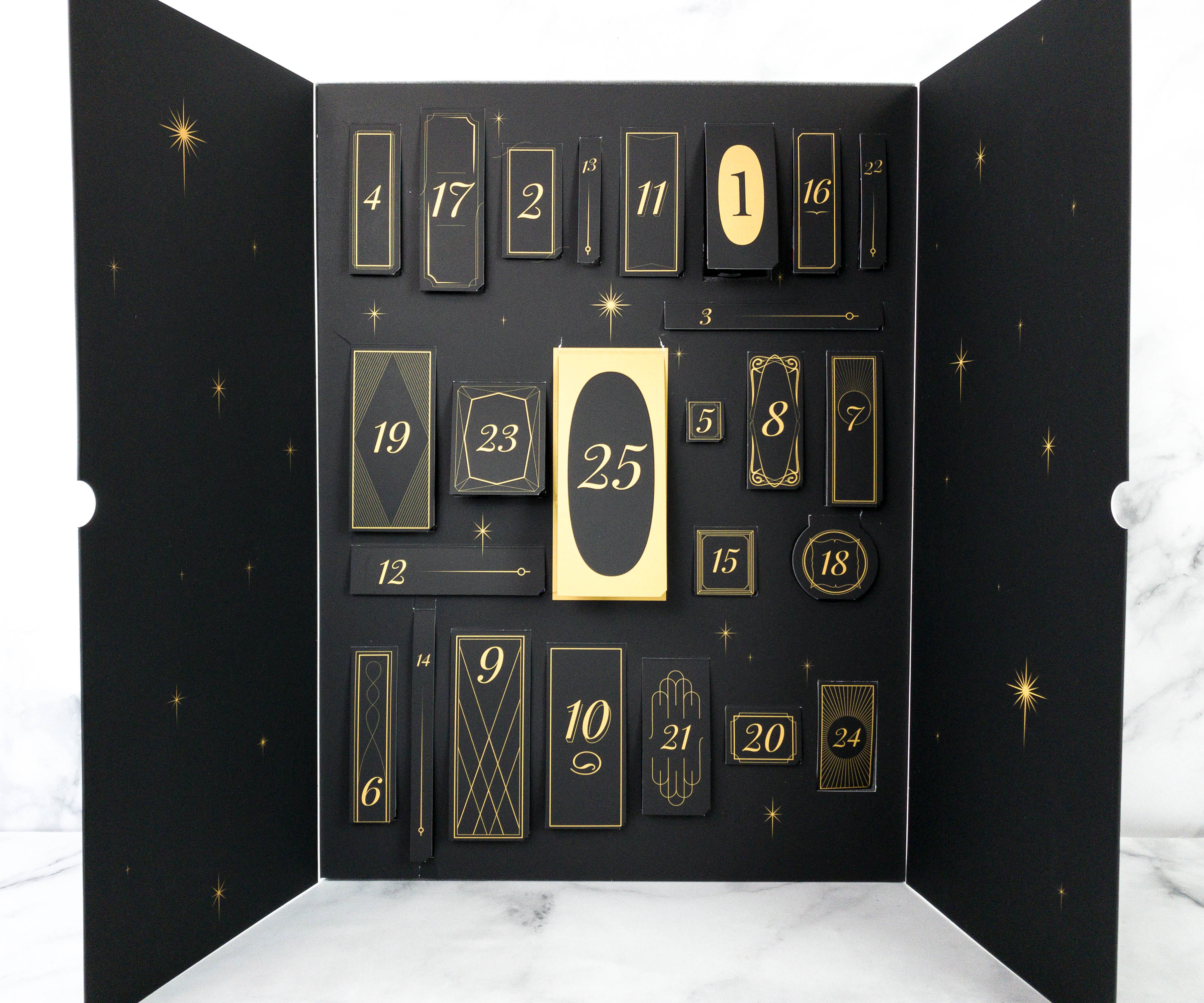 It's time to open the doors and check everything I received!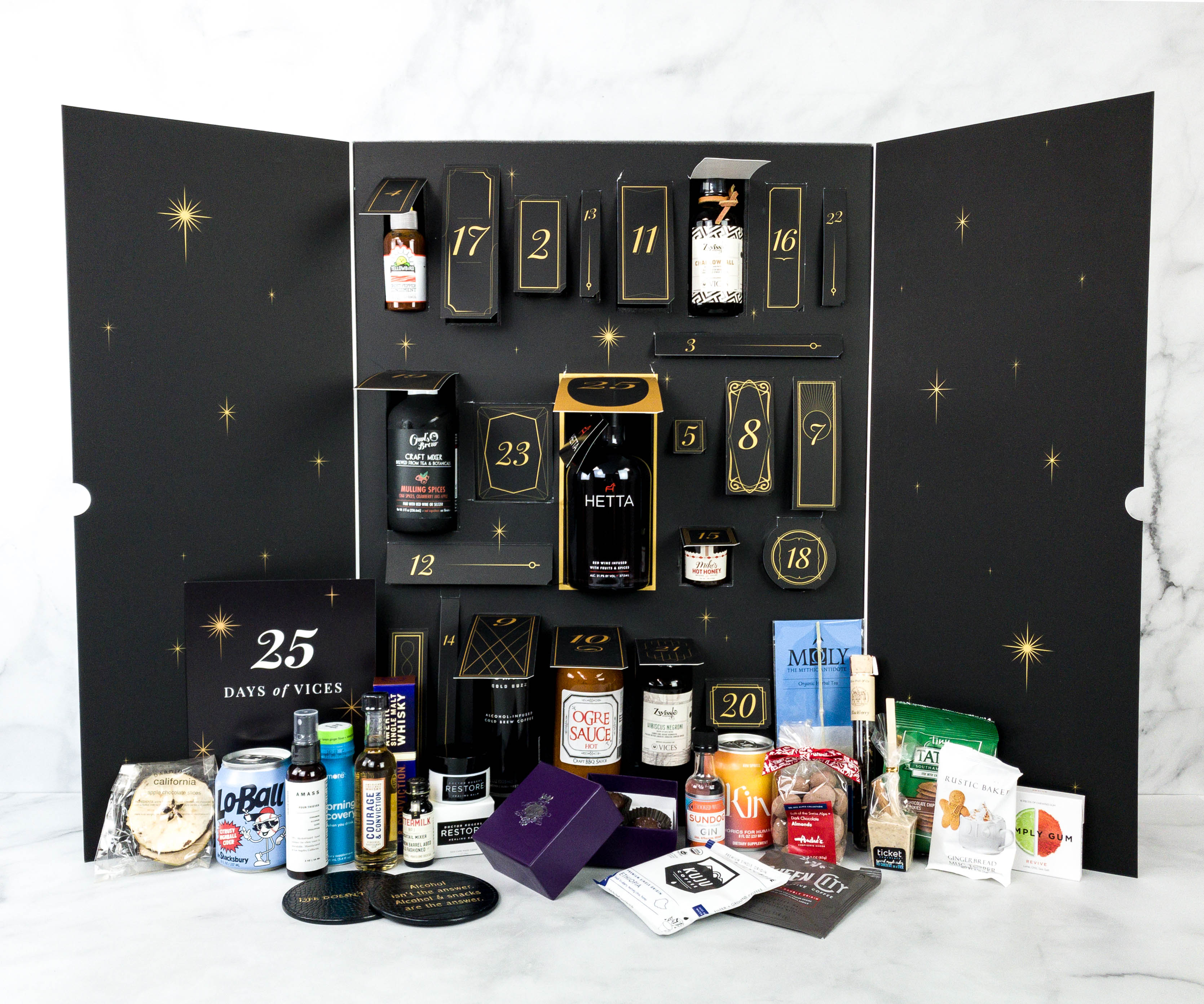 Everything in the Vices Advent Calendar 2020!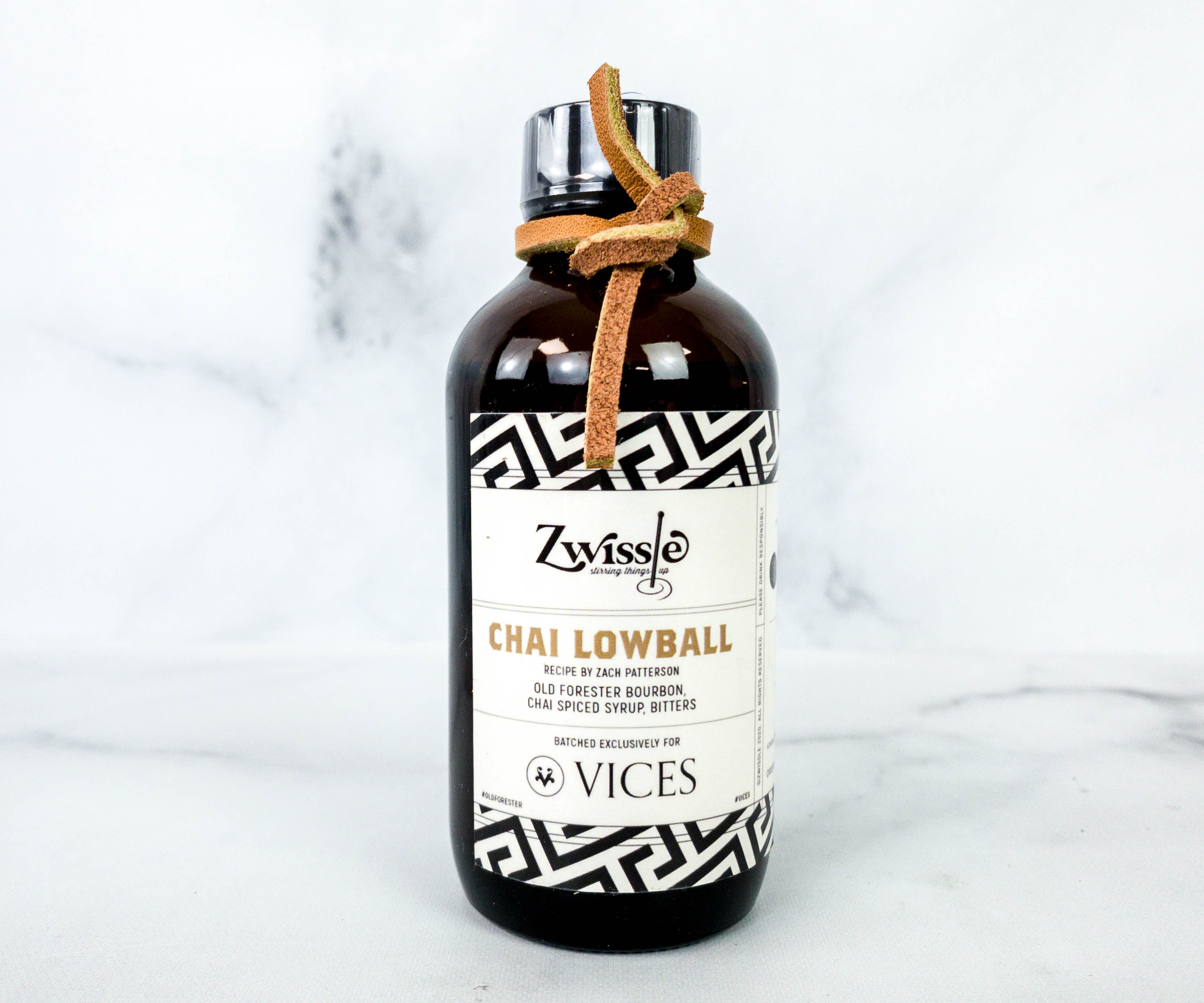 Zwissle Chai Lowball ($15) Here's the first item, a cocktail perfect for the chilly winter night. It's the usual Old forester bourbon, chai spiced syrup, and bitters with a modern twist and batched exclusively for Vices.
Andre's Salt of the Swiss Alps + Dark Chocolate Almonds ($7) Next up is a bag full of sweet and salty dark chocolate almonds. It's made with Swiss chocolate, freshly roasted and caramelized almonds, and Sel des Alpes, one of the purest salts in the world. This is a perfect treat for any sweet tooth out there.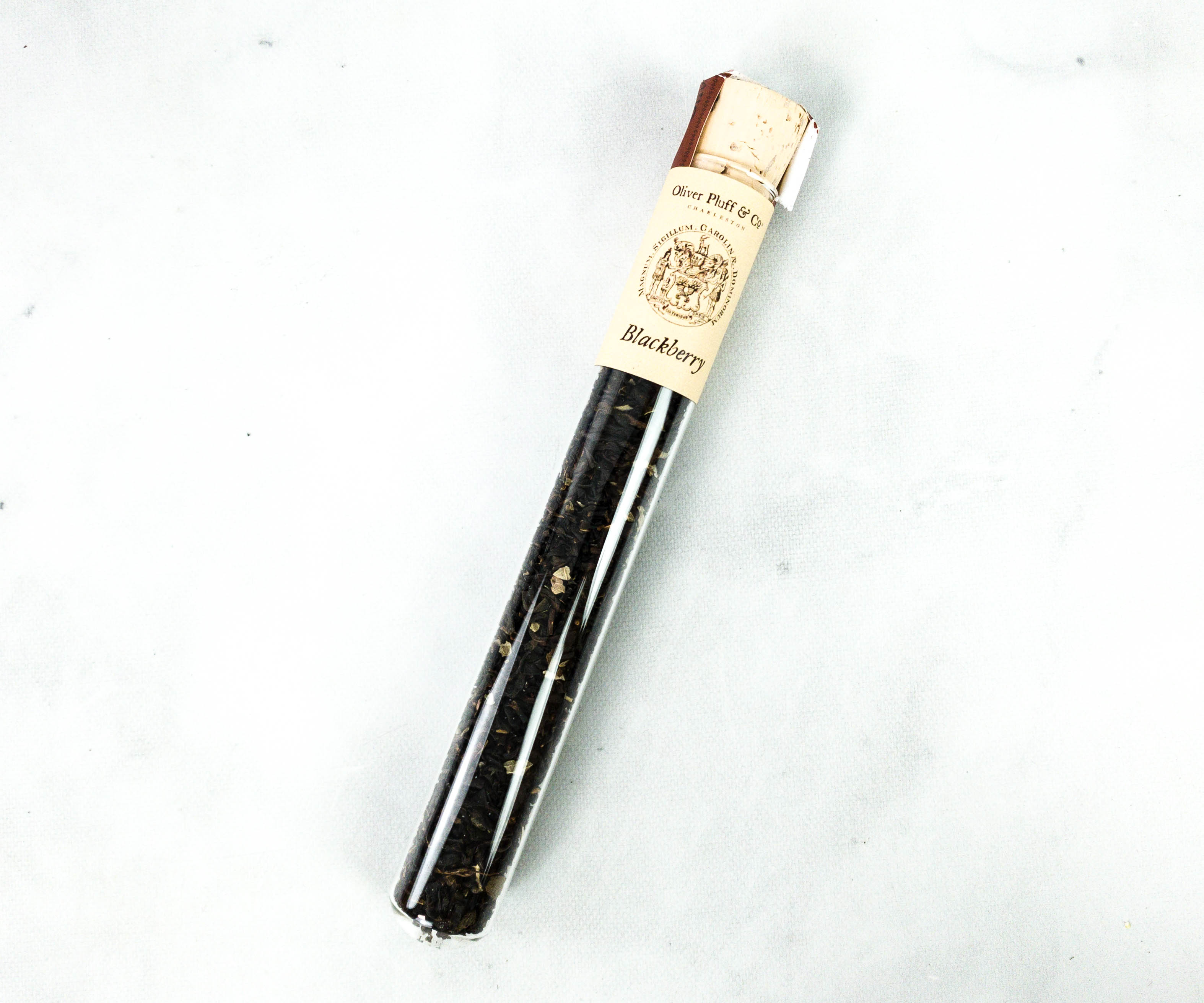 Oliver Pluff & Co Blackberry Tea ($12 Full Size 4oz.) This has got to be one of the best blackberry teas that I have tasted so far. The combination of the strong Chinese black tea leaves and the smooth sweetness of the blackberries is indeed a blend that will appeal to tea lovers.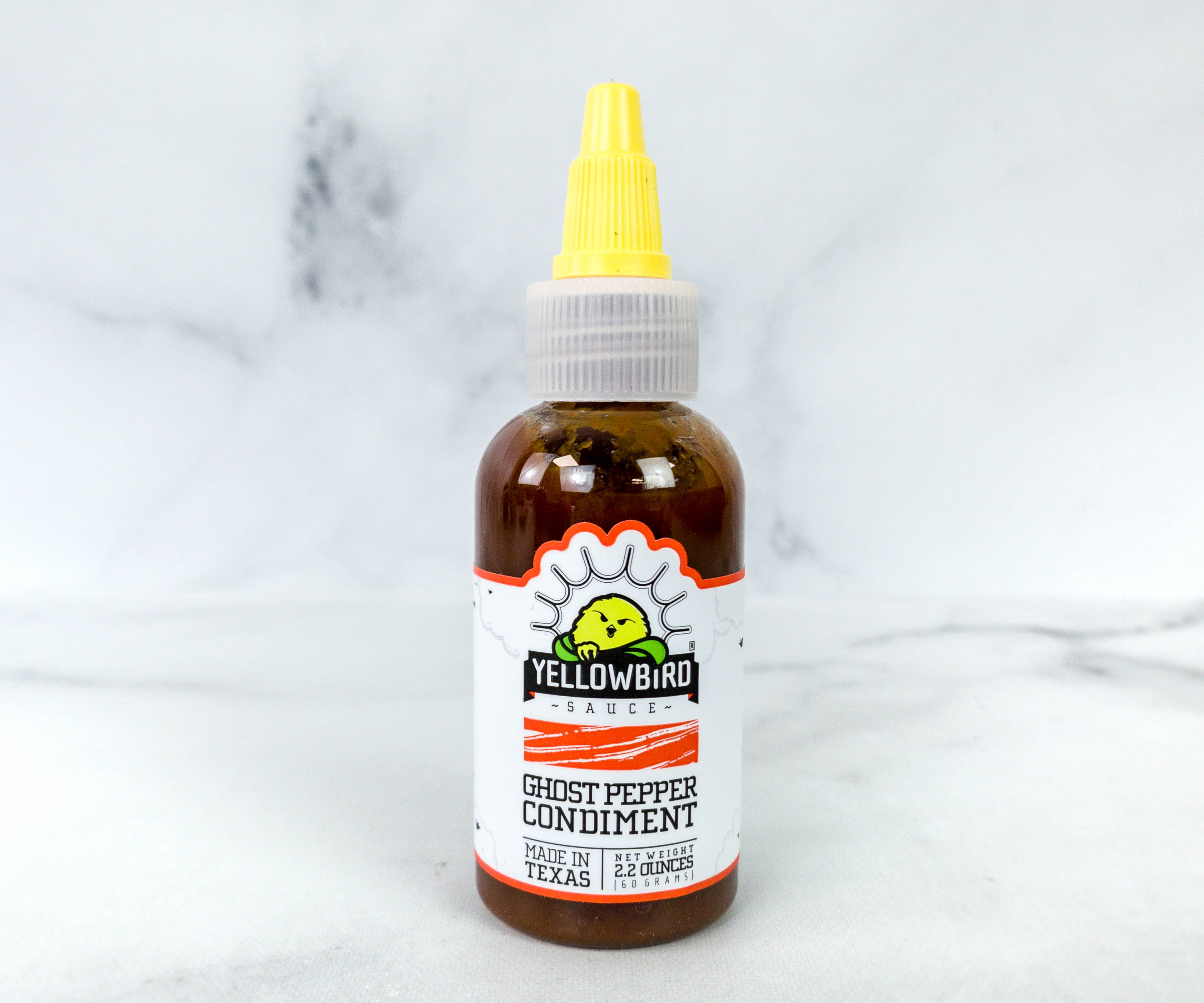 Yellow Bird Sauce Ghost Pepper Condiment ($2.11) Yellow Bird created this sauce using tomatoes, carrots, onions, and ghost pepper for the bravest souls out there! This heats up my favorite food without compromising its taste.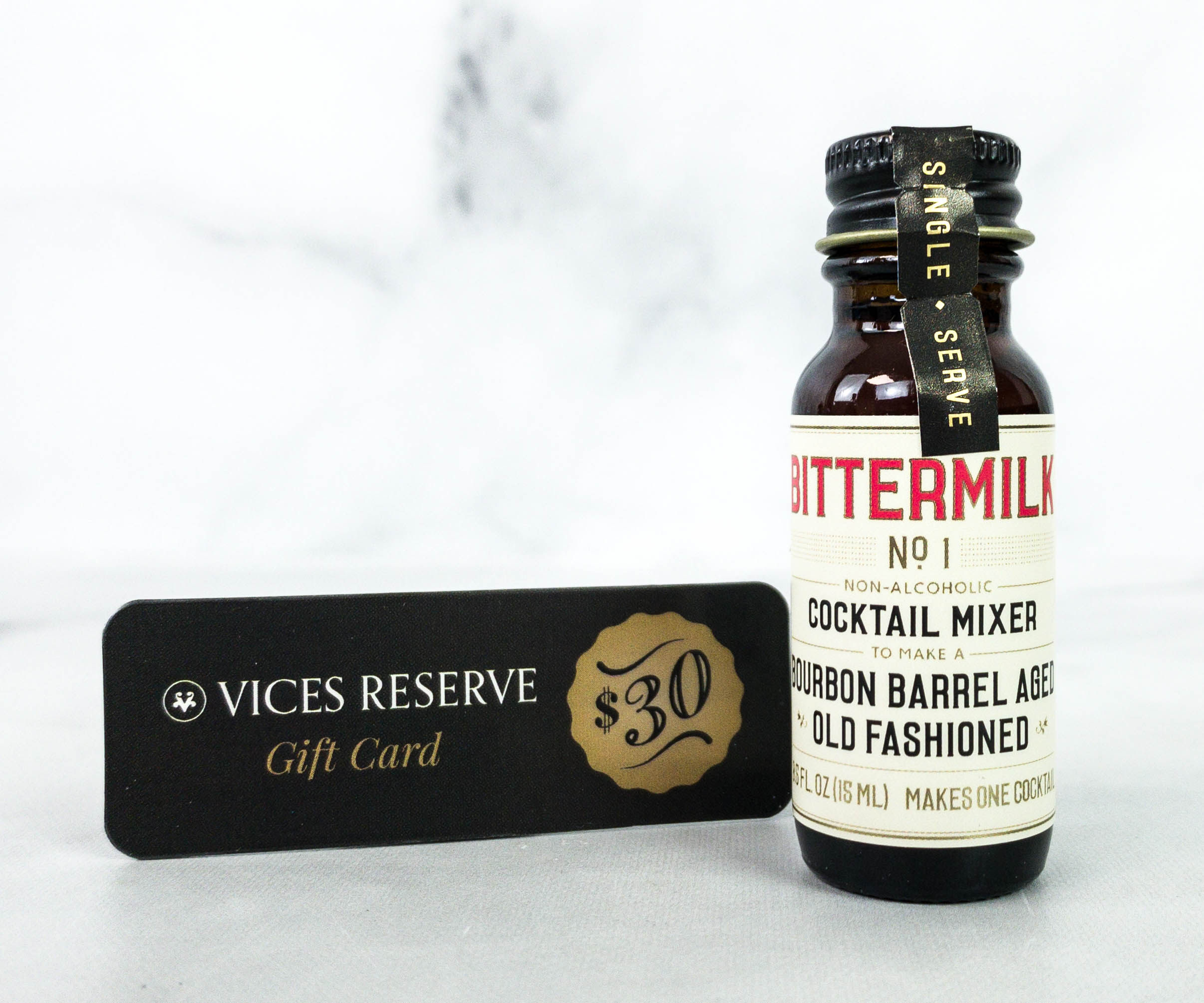 $30 Vices Reserve Gift Card ($30) I also received a gift card worth $30 that I can use to purchase from the Vices Reserve store!
Bittermilk Cocktail Mixer ($3) This single serve bourbon is barrel aged, giving you the flavor of an aged cocktail without the wait.
Amass Four Thieves Hand Sanitizer Spray ($10) To keep my hands clean and moisturized all the time, they included a 70% alcohol-based hand sanitizer in a handy spray bottle. It smells so good with notes of cinnamon and clove.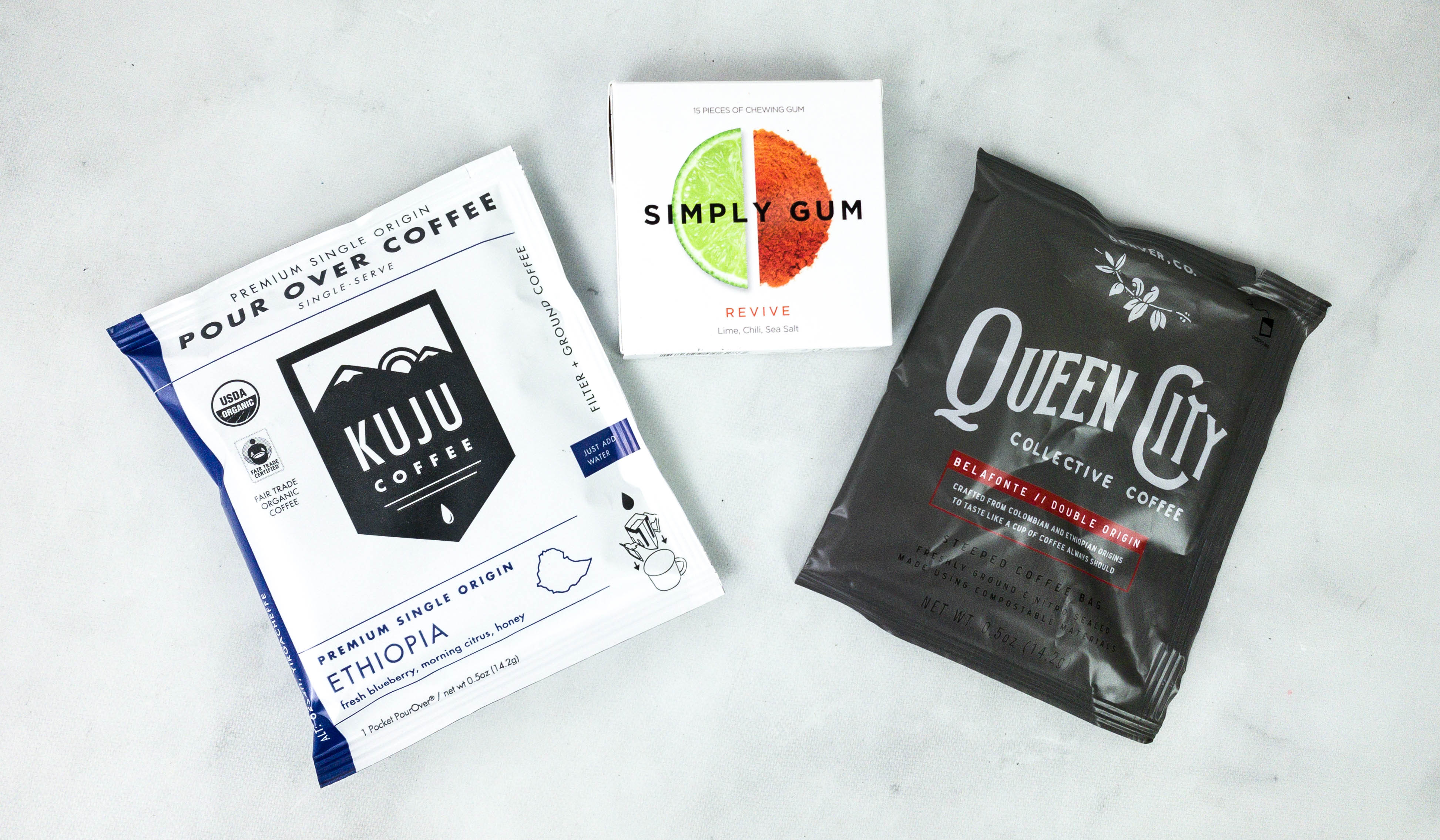 Kuju Pour Over Pack ($3) A perfect balance of premium flavors is present in this pour-over coffee pack. It has morning citrus, honey and Yirgacheffe's signature blueberry notes to complete the flavor of the delicious Kuju coffee.
Simply Gum Revive ($15.99) A good chew after a cup of coffee is indeed a good idea. This gum uses all-natural ingredients and there are also no artificial sweeteners and flavorings in it. Each box contains 15 pieces.
Queen City Ground Coffee. This coffee blend is made with beans from Colombia and Ethiopia. It comes in a compostable pouch that allows you to steep coffee just the way you like it!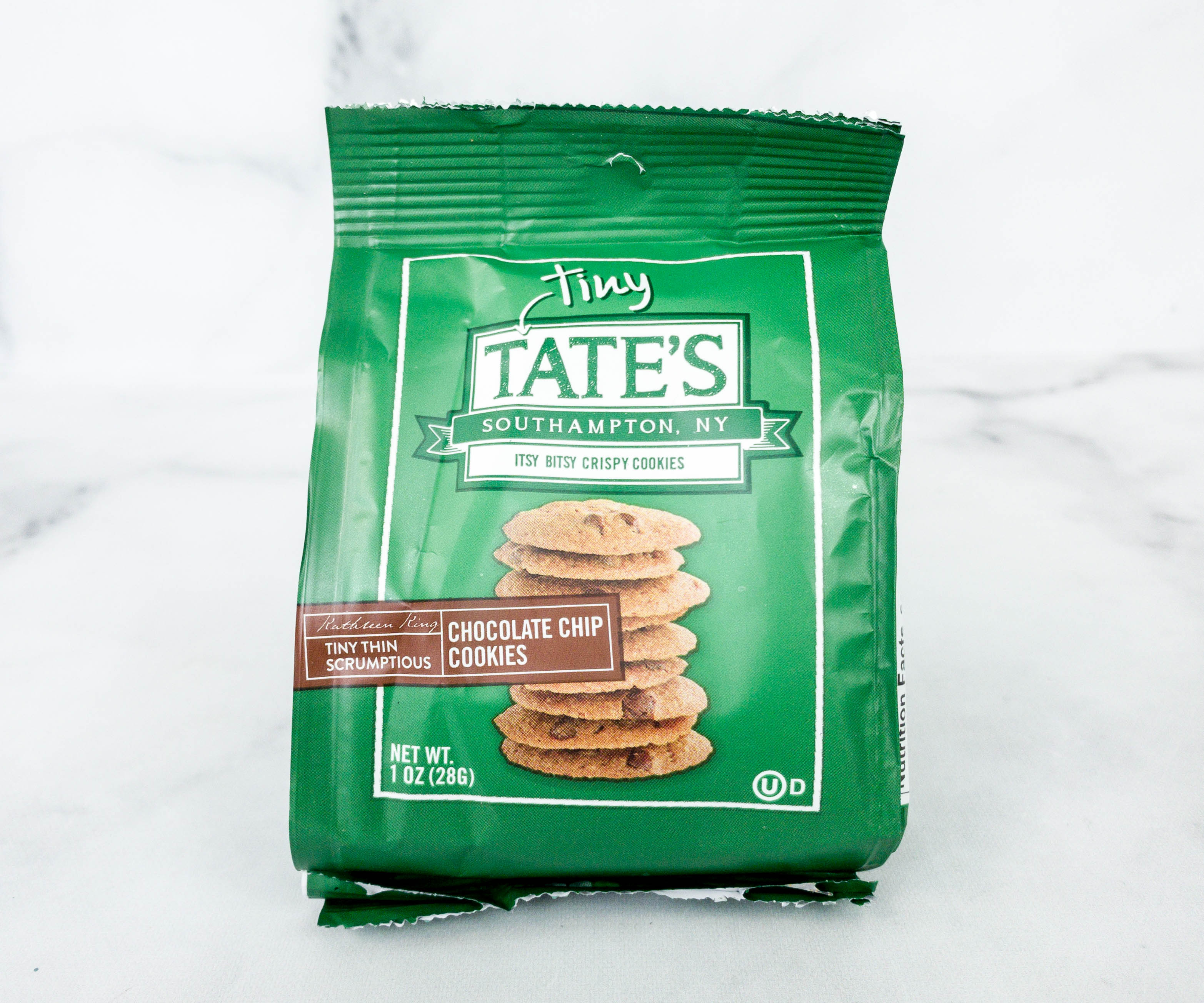 Tate's Chocolate Chip Cookies ($0.95) It may have the simplest ingredients but this pack of chocolate chip cookies doesn't disappoint with its rich taste. Each cookie is crispy and buttery, and it pairs well with coffee!
Bomani Cold Buzz ($4) It's an award-winning recipe made with 100% Arabica cold brew coffee infused with a clean, gluten-free, sugar-fermented alcohol. It doesn't have sugar, carbs, additives, and it only has 110 carbs for every serving. If you like both coffee and alcohol, this alcohol-infused brewed coffee is a must-try.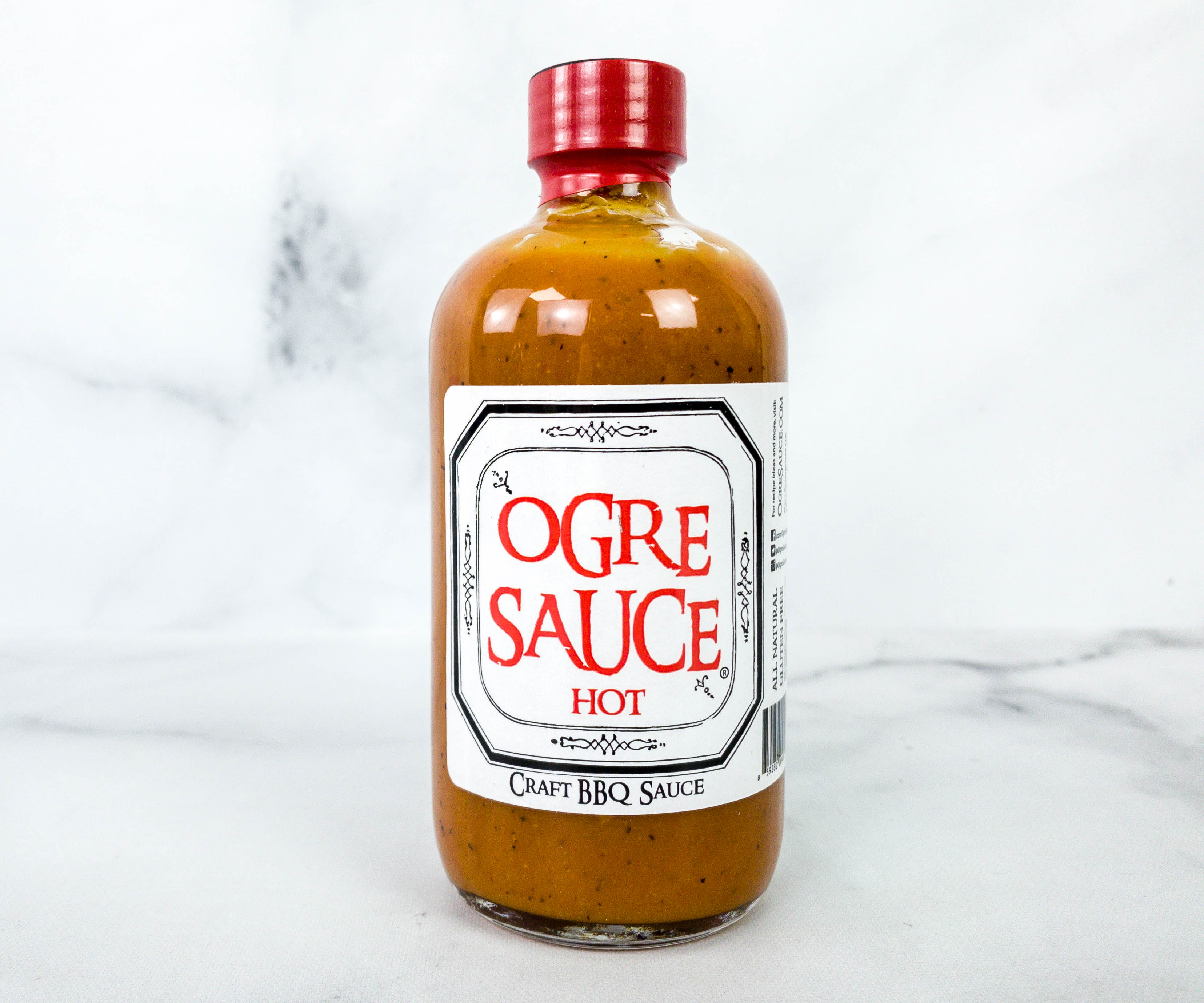 Ogre Sauce Hot Craft BBQ Sauce ($7.49) Here's a hot sauce that goes great with basically anything! Of course, it's perfect with barbecue but it also tastes great with pizza, chicken wings, burgers, and even fish and vegetables. It has the right amount of heat that keeps you wanting more.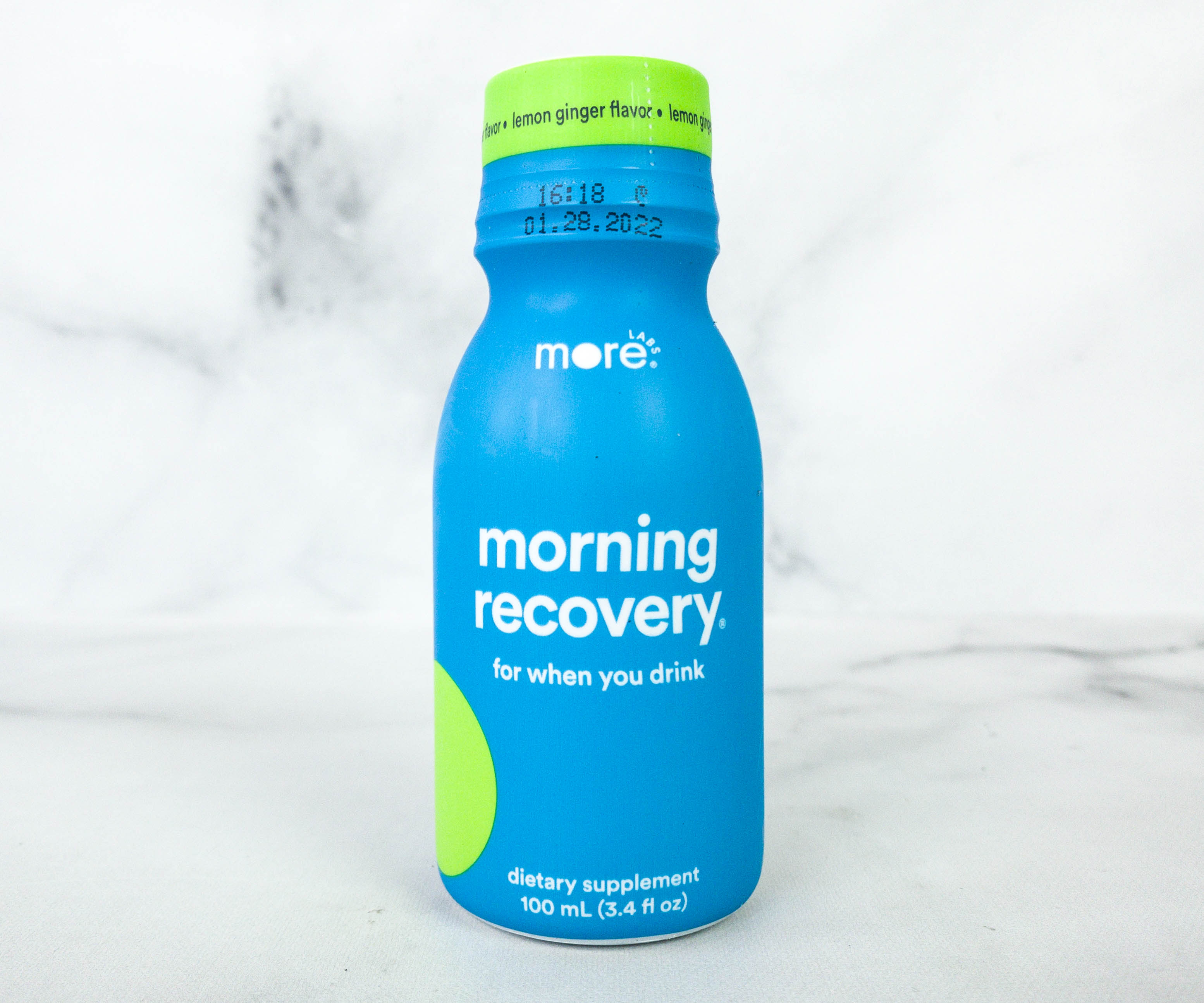 More Labs Morning Recovery ($3) I also received this hangover drink that promises to keep me away from headaches the next time I have a good time with alcohol. A bottle before the first drink is said to help in eliminating the toxins in your bloodstream and break them down faster. It's vegan, gluten-free, and nut-free.
Courage & Conviction Single Malt Whisky. Aged for at least 3 years, this whisky was distilled on Scottish-made copper stills with the finest malted barley and water from the Blue Ridge Mountains. It is then completed by a variety of casks that stretch from port wine to apple cider and more.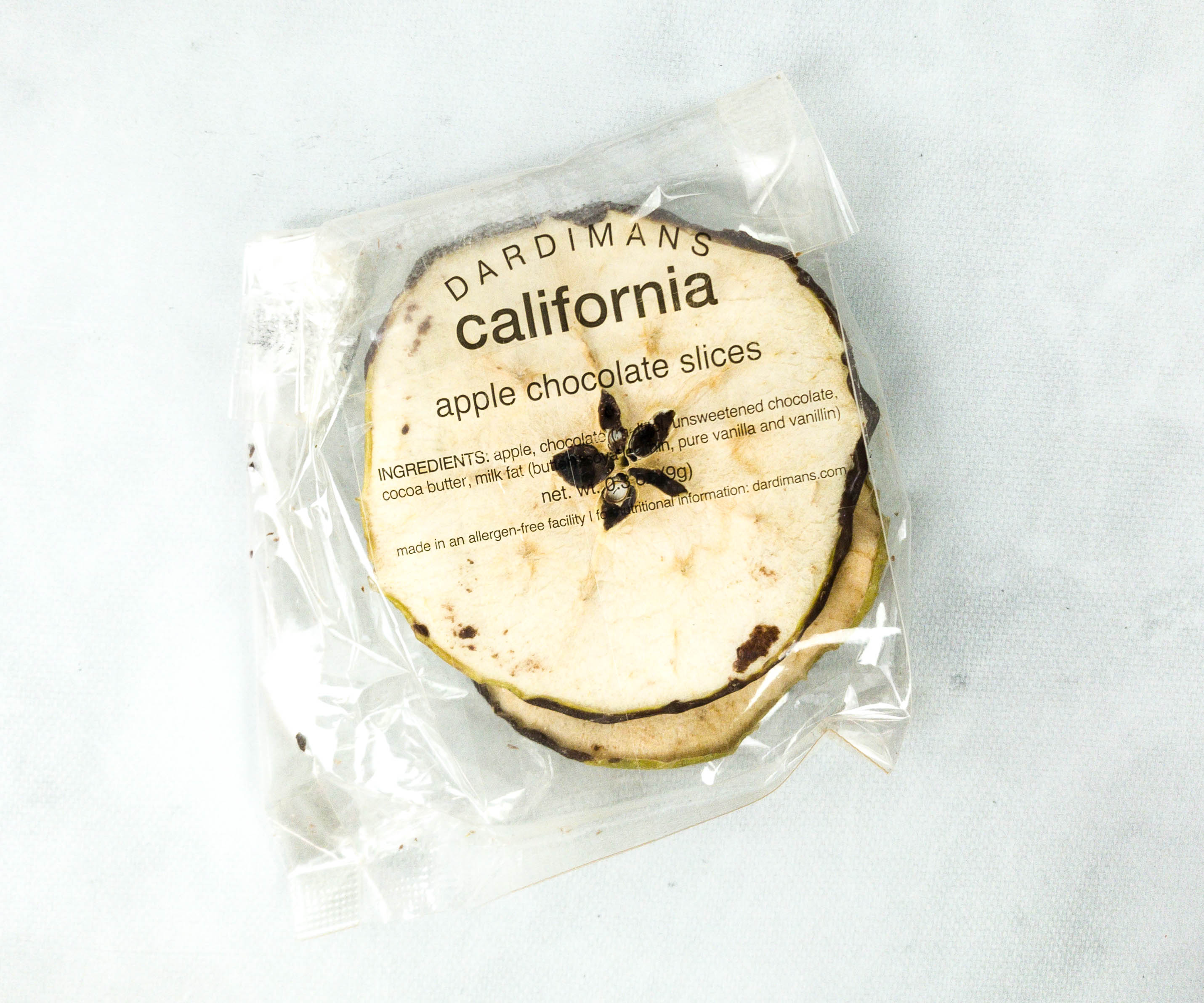 Dardiman's California Chocolate Apple Slices. They also sent me a healthy snack, a pack of chocolate apple slices. These crisps really hit the spot! I can taste the full apple fruit and the dark chocolate coating made it more delicious and fun to eat.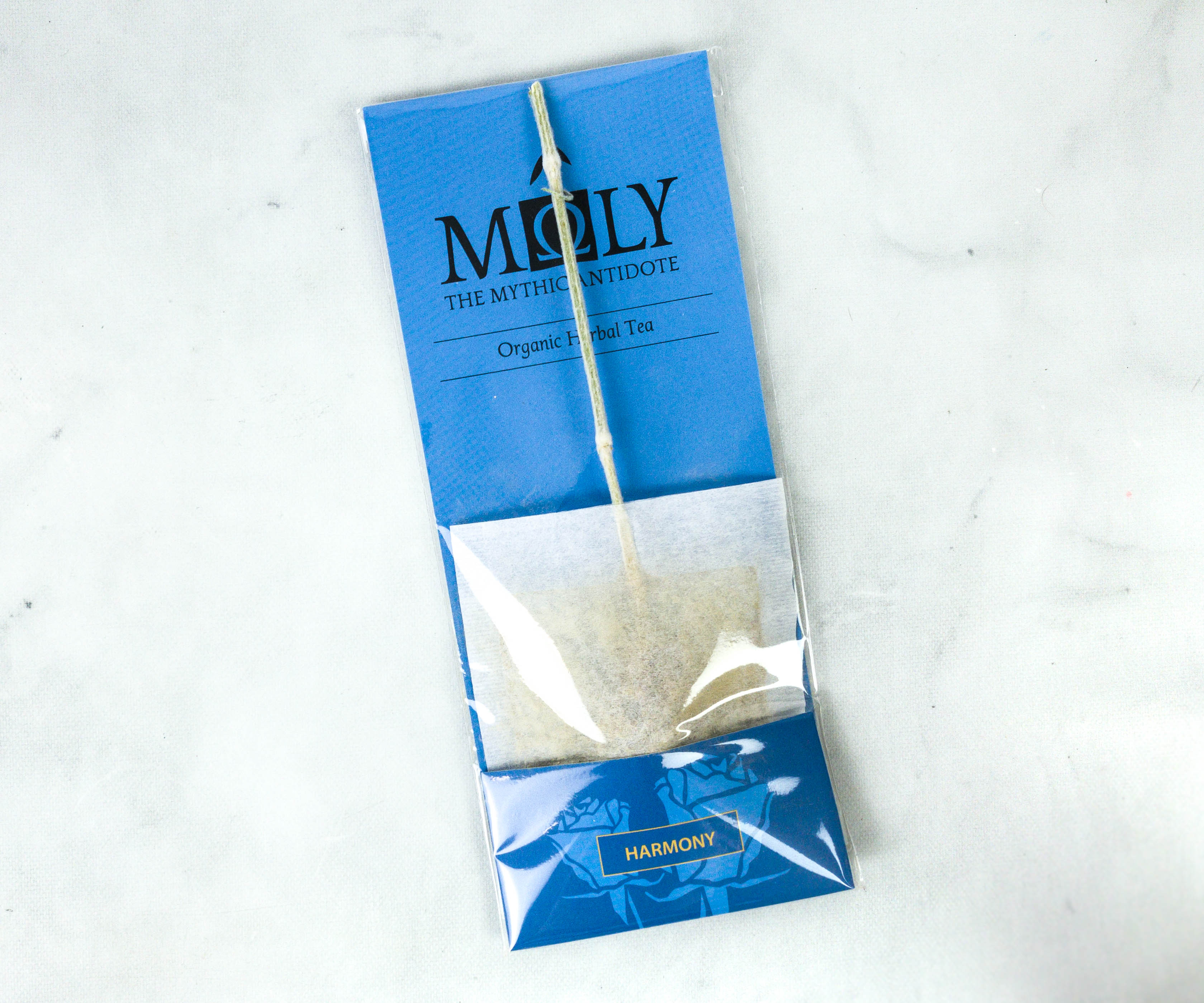 Moly The Mythicanantidote Harmony Herbal Tea This herbal tea is a product of combining natural and aromatic herbs that claim to lessen stress and anxiety. Ingredients include Mt. Olympus ironwort, lemon balm, Virginian skullcap, damask rose, licorice, and ashwagandha.
Mike's Hot Honey ($1.56) Another great addition to my go-to sauces is this honey with a kick. It's made with pure honey, real chili peppers, and vinegar, resulting in a perfect balance of sweet and spicy. I just love that I can put it in almost everything, even in my cup of tea!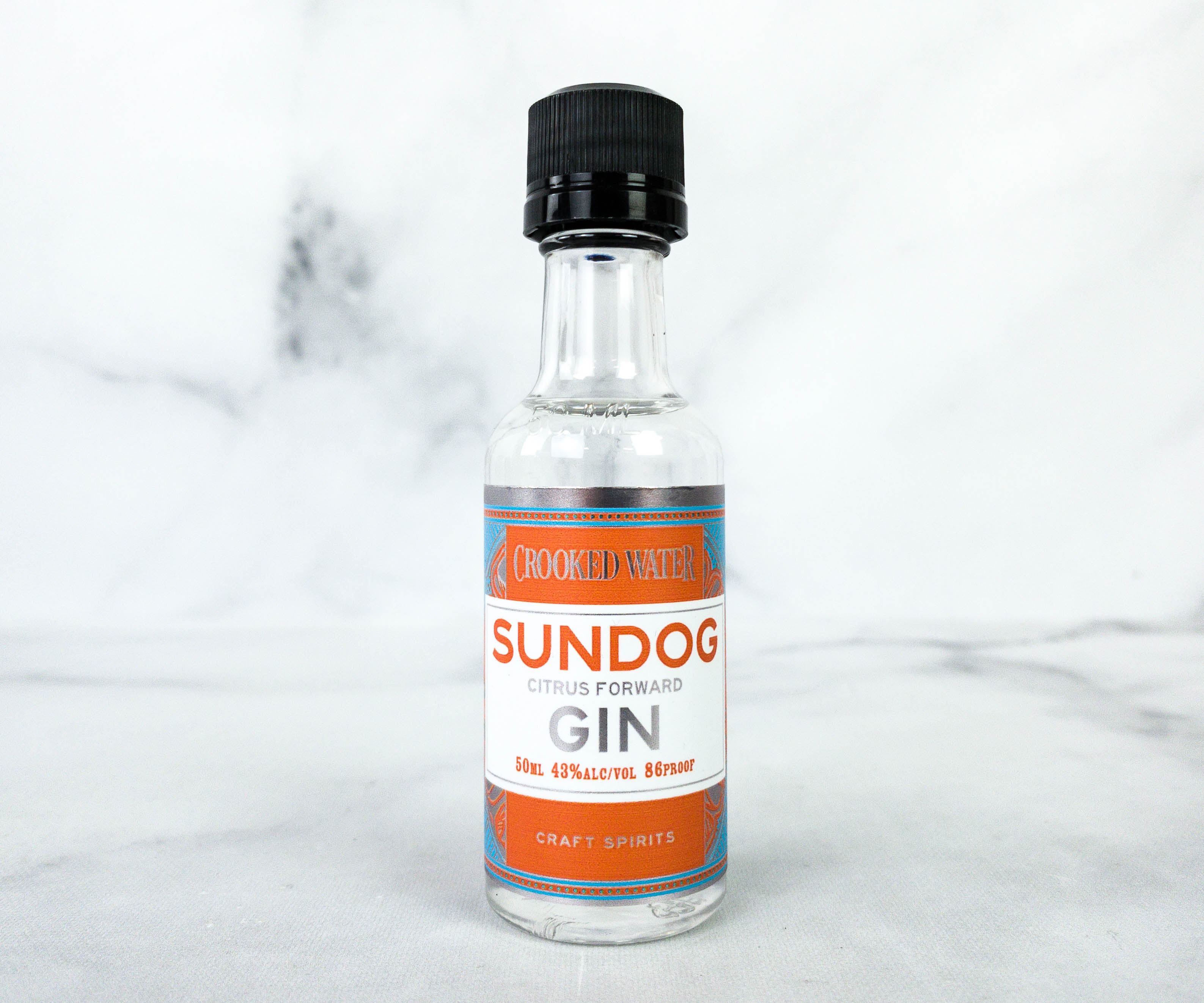 Sundog Citrus Forward Gin. This gin tastes so good that I can even enjoy it on its own! The drink has a rich citrus note and it also makes a great mixer as well.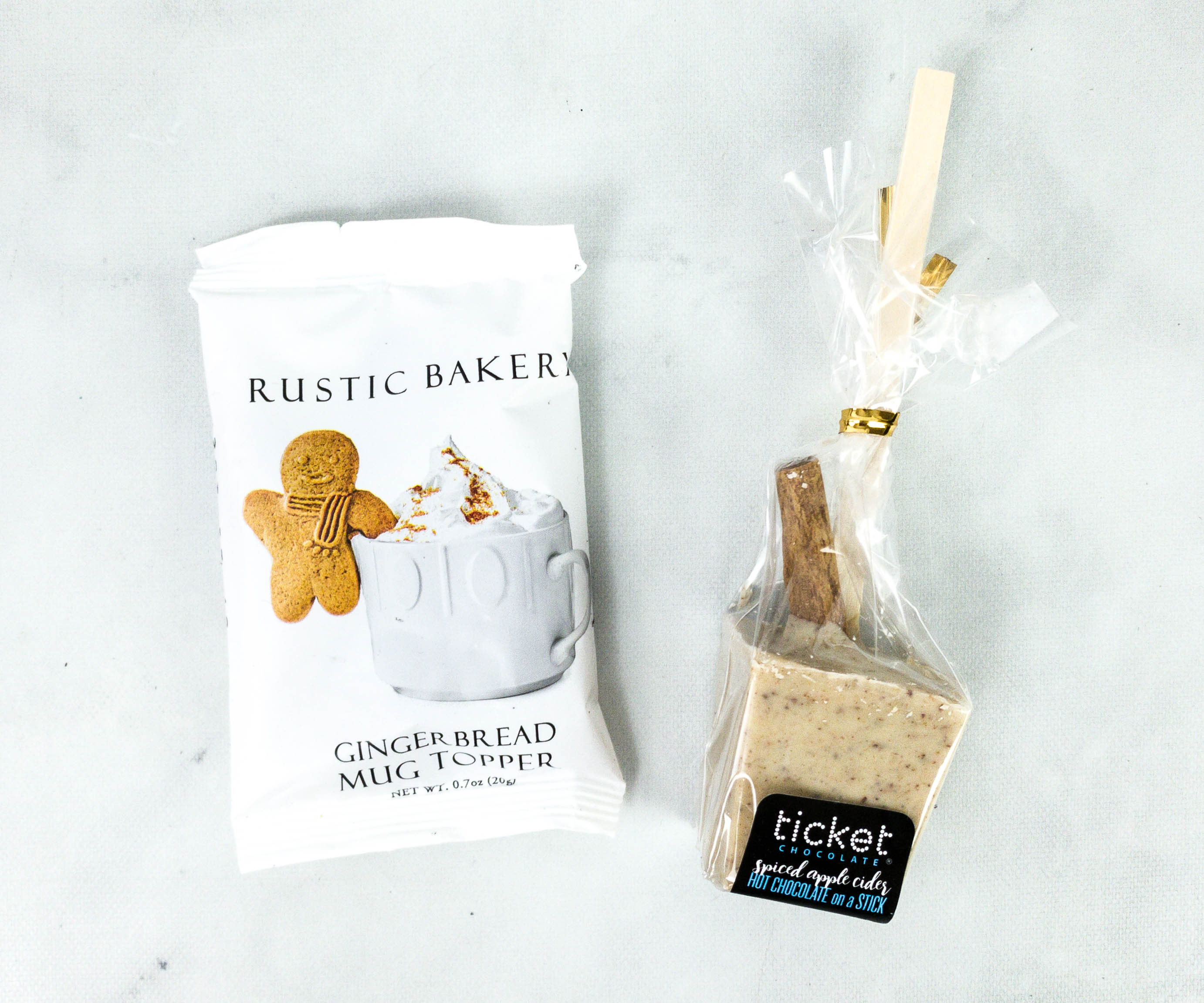 Rustic Bakery Gingerbread Mug Topper ($1.33) It's a tasty gingerbread cookie that I can rest at the edge of my mug. I just find this too cute to eat!
Ticket Chocolate Spiced Apple Cider Hot Chocolate On A Stick ($4.50) To pair with the gingerbread is this perfectly spiced apple cider hot chocolate. It's rich and creamy, plus it has a cinnamon stick embedded in the chocolate that melts along with the other ingredients.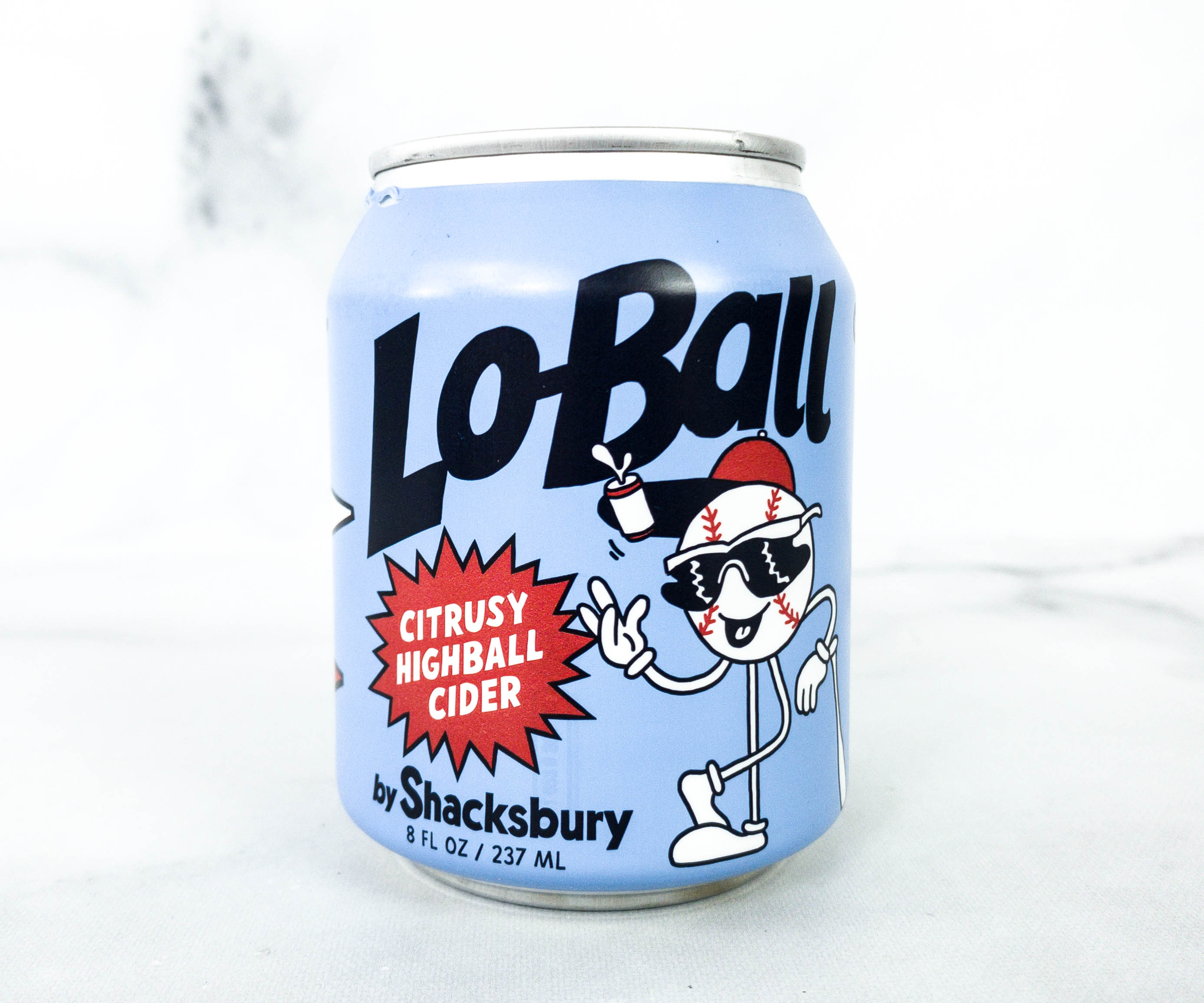 Shacksbury Lo-Ball Citrusy Highball Cider. This whiskey-inspired sparkling cider came in a compact 8-ounce can. Each sip is light and definitely citrusy!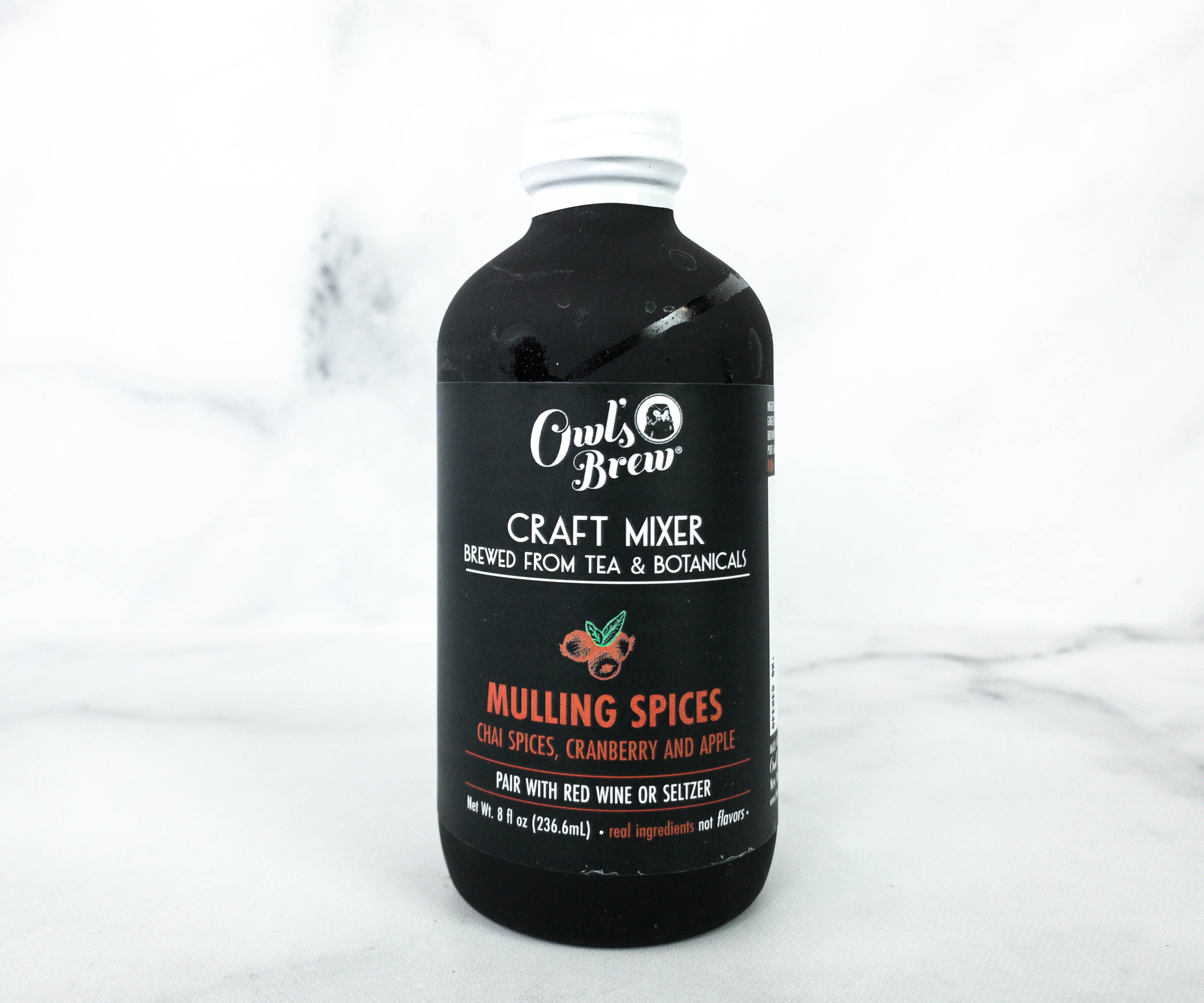 Owl's Brew Mulling Spices Craft Mixer ($6.49) This non-alcoholic craft mixer is made with fresh-brewed chai spices, cranberries, and apple pieces. It's best enjoyed with an equal part of red wine, but it also works with bourbon, champagne, or seltzer.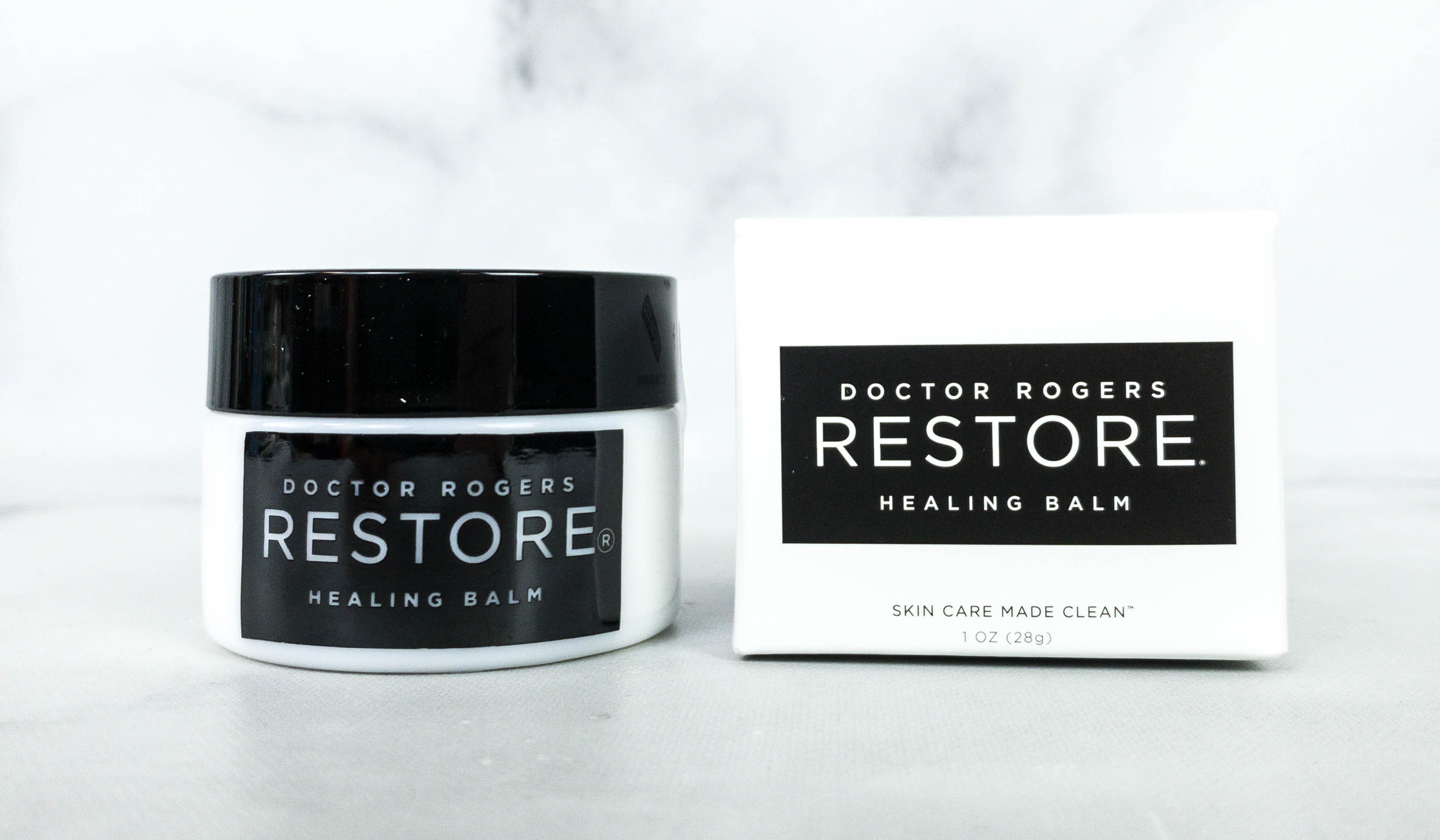 Doctor Rogers Restore Healing Balm ($44) This balm is hypoallergenic and safe for all skin types as it does not contain any irritating chemicals. It's easy to use and offers relief for damaged skin! It can be applied to lips and nails as well.
Zwissle Hibiscus Negroni ($15) Here's a classic Caribbean-influenced cocktail recipe with added sweet, floral hibiscus, and wintry baking spices. A glass with ice is all you need to complete this premium drink at home.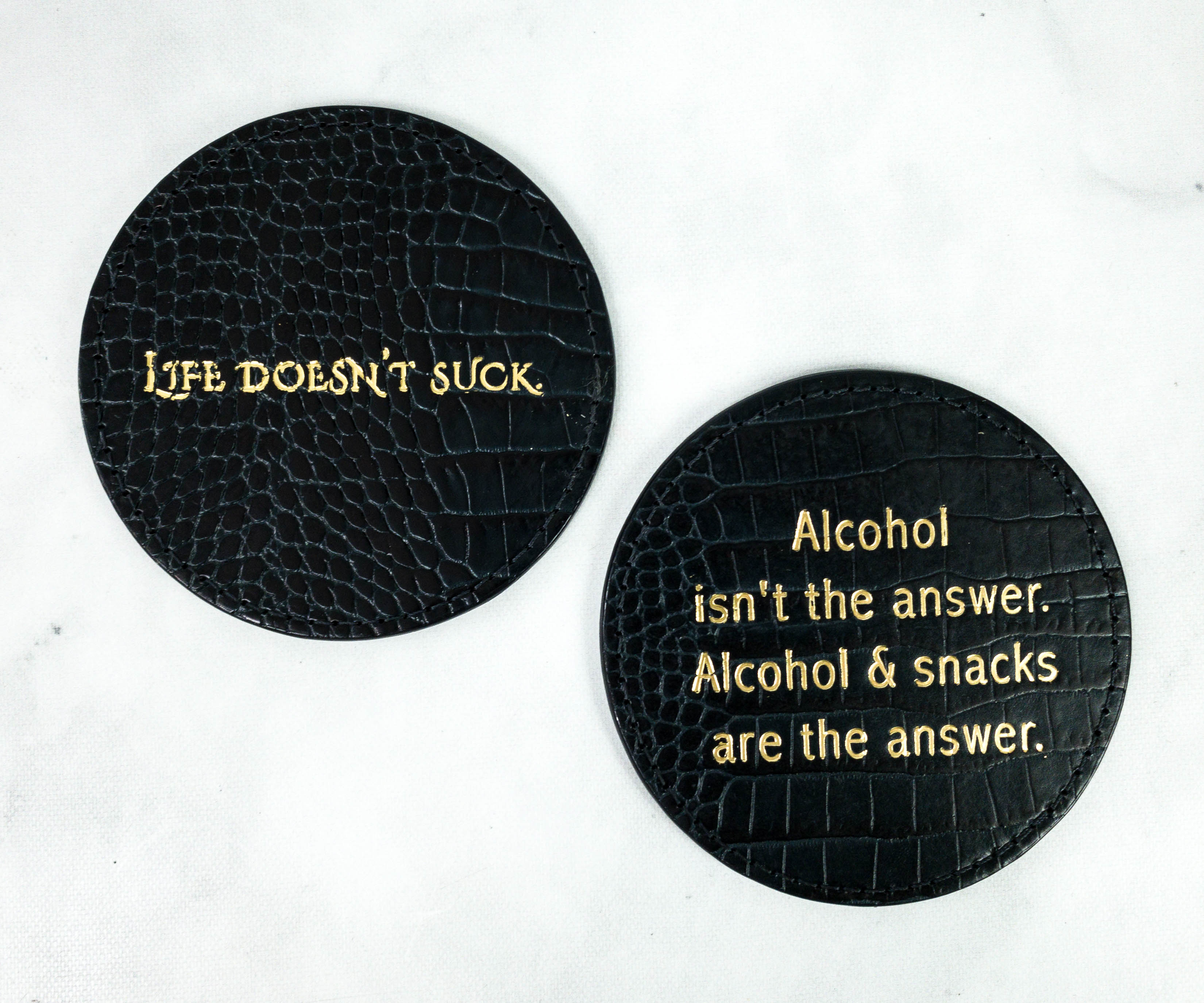 Coasters. I'm loving these coasters that I can use while I enjoy some of the fine drinks from this advent calendar. They are textured and designed with gold foil text.
Kin Euphorics Drink ($6.75) This non-alcoholic beverage makes a perfect substitute for cocktails. It's made with adaptogens, nootropics, and botanics, as well as fresh citrus, warm spice, hibiscus, and ginger for added flavor.
Vosges Piemont Hazelnut Praline Bonbons ($7.55) Here's a box of bonbons that taste great whether eaten as is or paired with a drink.
The box contains 2 pieces of praline bonbons. The combination of hazelnuts and milk chocolate makes each bite quite decadent.
Hetta Red Wine Infused w/ Fruits & Spices ($25.99) A product of Scandinavia, this red wine is known as a traditional warming drink. It has mulled wine, fruits and spices that result in a flavorful drink. This makes a great holiday beverage!
The Robb Vices Advent Calendar 2020 is nothing short of amazing. They were able to translate the classy and sophisticated feel of the regular box to the advent calendar, plus it includes luxurious items that can be enjoyed during the holidays or even on any day you want to treat yourself. I can't think of anything to add to make it better, this simply is the best! From the booze to the sweets and even the lifestyle items, I'm definitely pleased! With Vices, we can't say that the value is always there, but this calendar definitely showed that the experience certainly is. The December edition was an unexpected pleasurable addition to our holiday season!
What do you think of this month's Vices box?