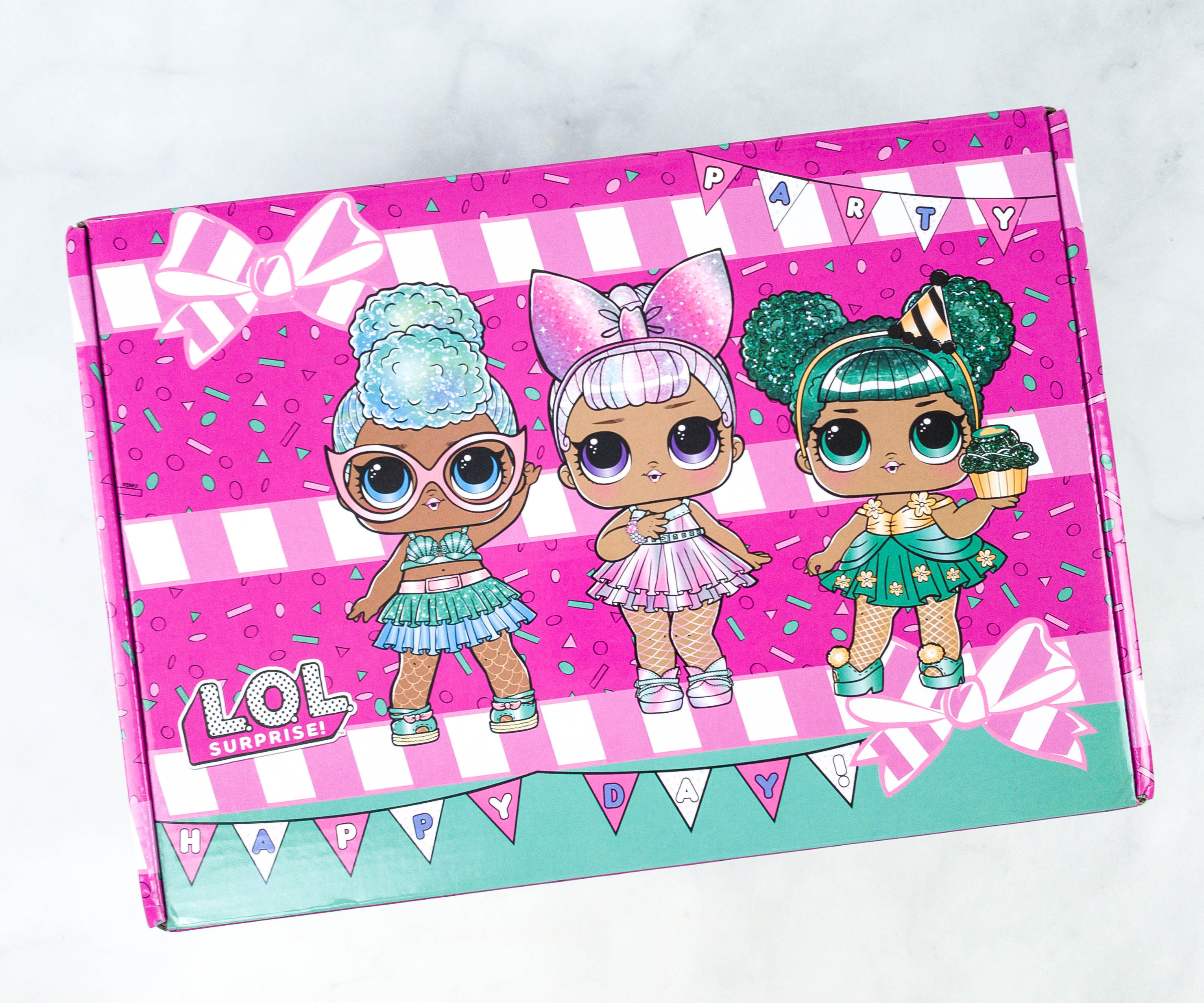 L.O.L. Surprise Box is a quarterly subscription box for kids and L.O.L. Surprise fans. For $38 per season, each box contains 6 to 8 L.O.L. Surprise goodies for kids to wear, use, and play with. They are all custom-made and exclusive, and you can't get them anywhere else.
DEAL: Get a FREE ITA bag when you sign up for the L.O.L. Surprise! Box annual plan! Just use this link to get started, no coupon code required!
The Winter 2020 theme is CELEBR8!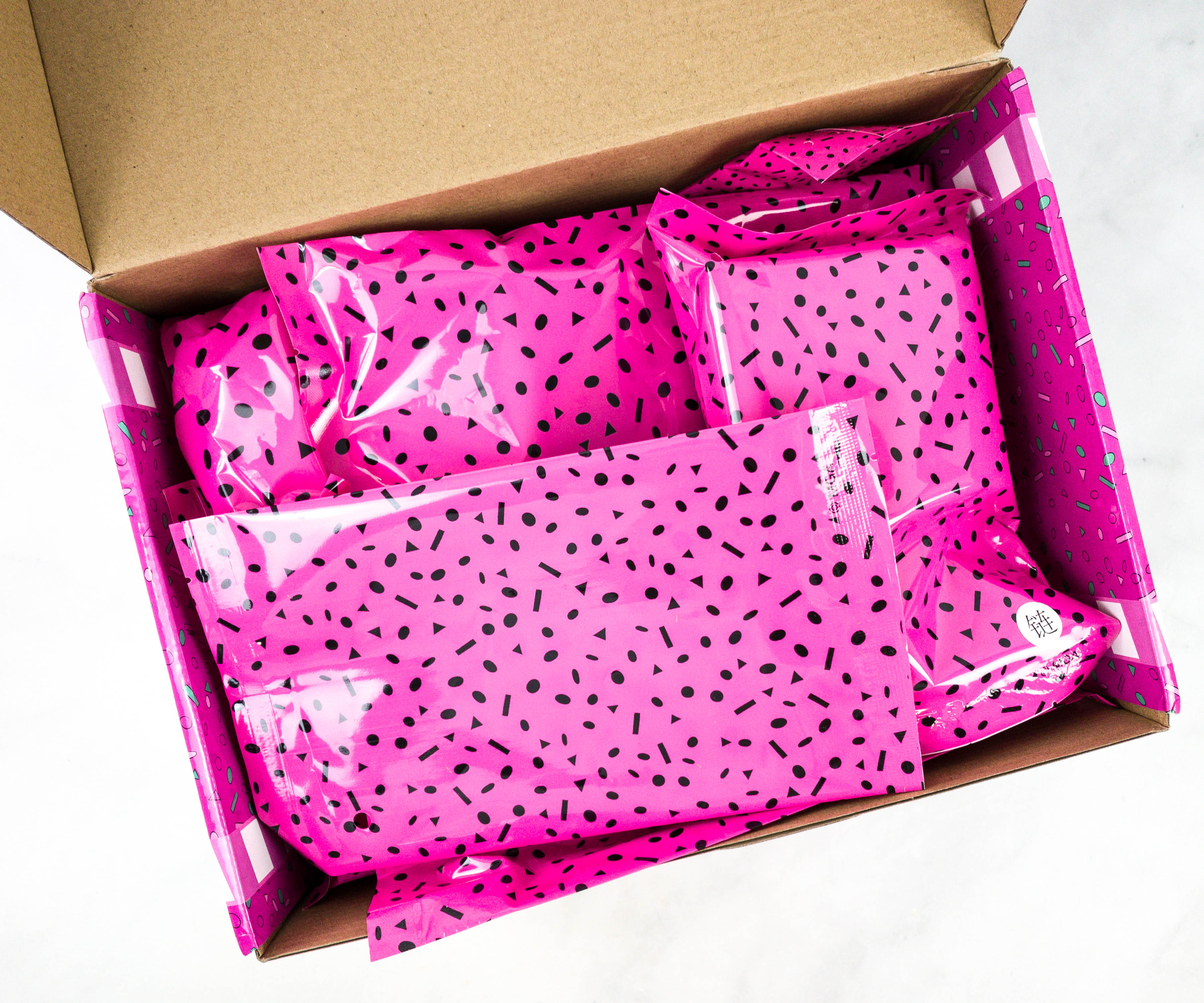 The items came in blind bags.
Every blind bag is easy to open as they have a slit on both sides where you can start tearing them up!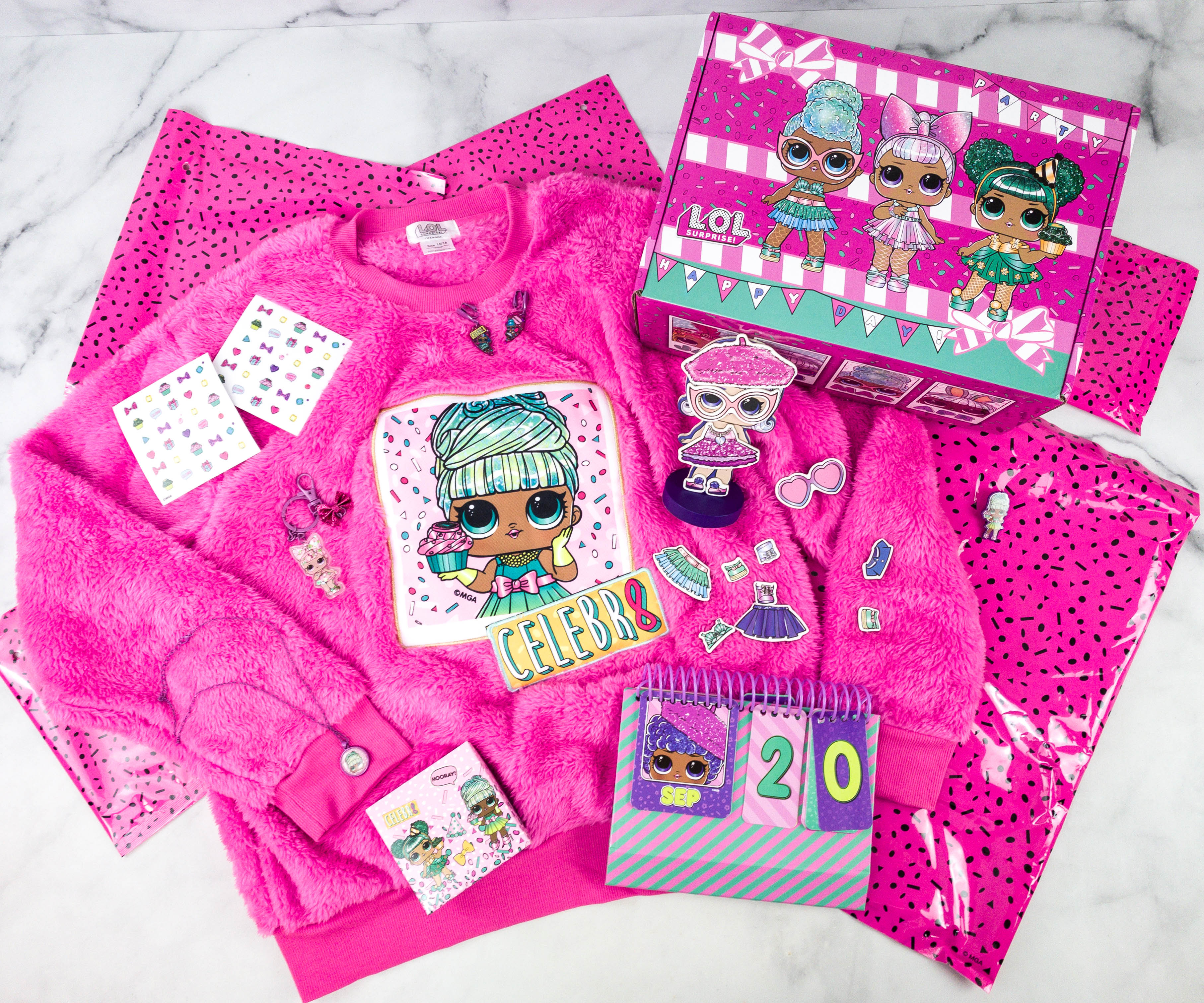 Everything in my box!
CELEBR8 Fuzzy Sweatshirt. My daughter was excited when she saw this sweatshirt! It's really nice and fluffy so I can't blame her. She also loves its striking pink color!
There's a big patch in the middle with a LOL doll holding a cupcake! It also has the word CELEBR8, which is the theme for this month.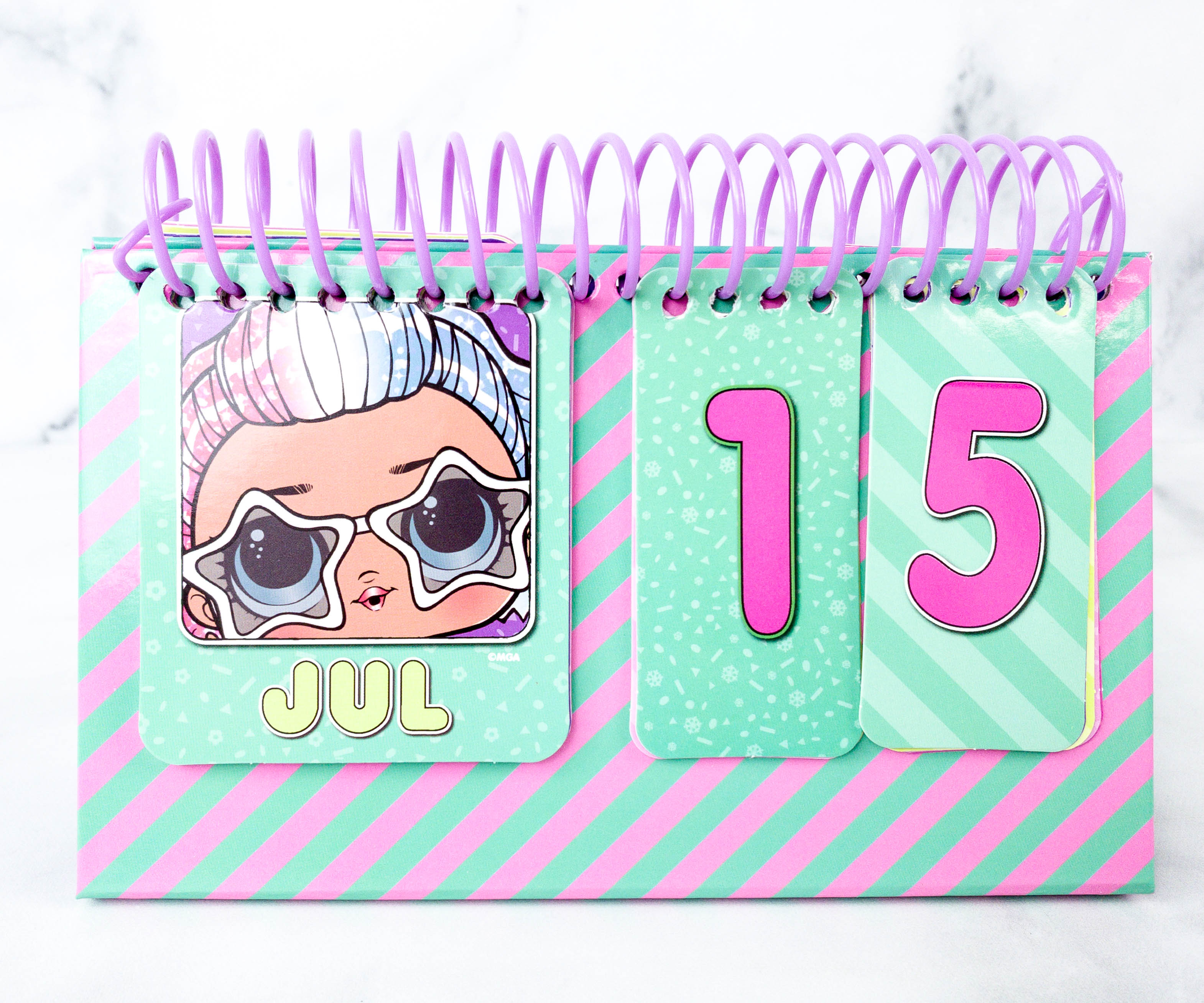 Perpetual Calendar. This cute table calendar can easily brighten up a desk or study area!
You can easily flip through the numbers to get to the current date and there's a new LOL character peeking out every month!
Exclusive LOL Surprise Magnetic Punch Out Clothes Playset. Remember those paper dolls popular back in the day? That's what this set reminds me of! It's so fun to mix and match the clothes and accessories!
There are a lot of different pieces to choose from so they can unleash their inner fashionista!
What's great is that the accessories included in this set is magnetic, so you can easily attach and remove them. The main doll also comes with a stand so you can showcase your style!
There's also a cute bubble patch included!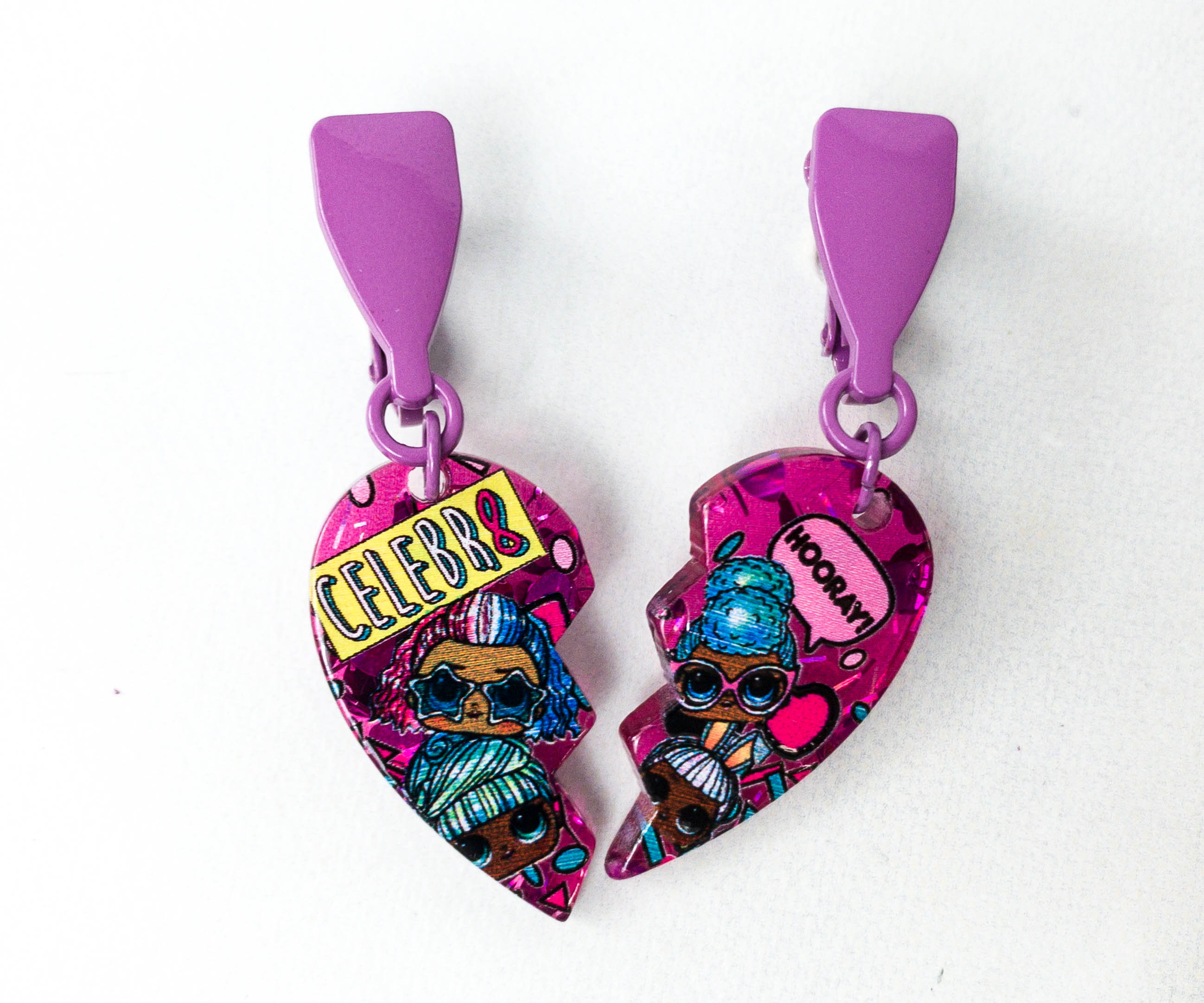 Keychain. This pair of keychains form a heart. One is meant to be kept by your child and the other is to be given to her best friend!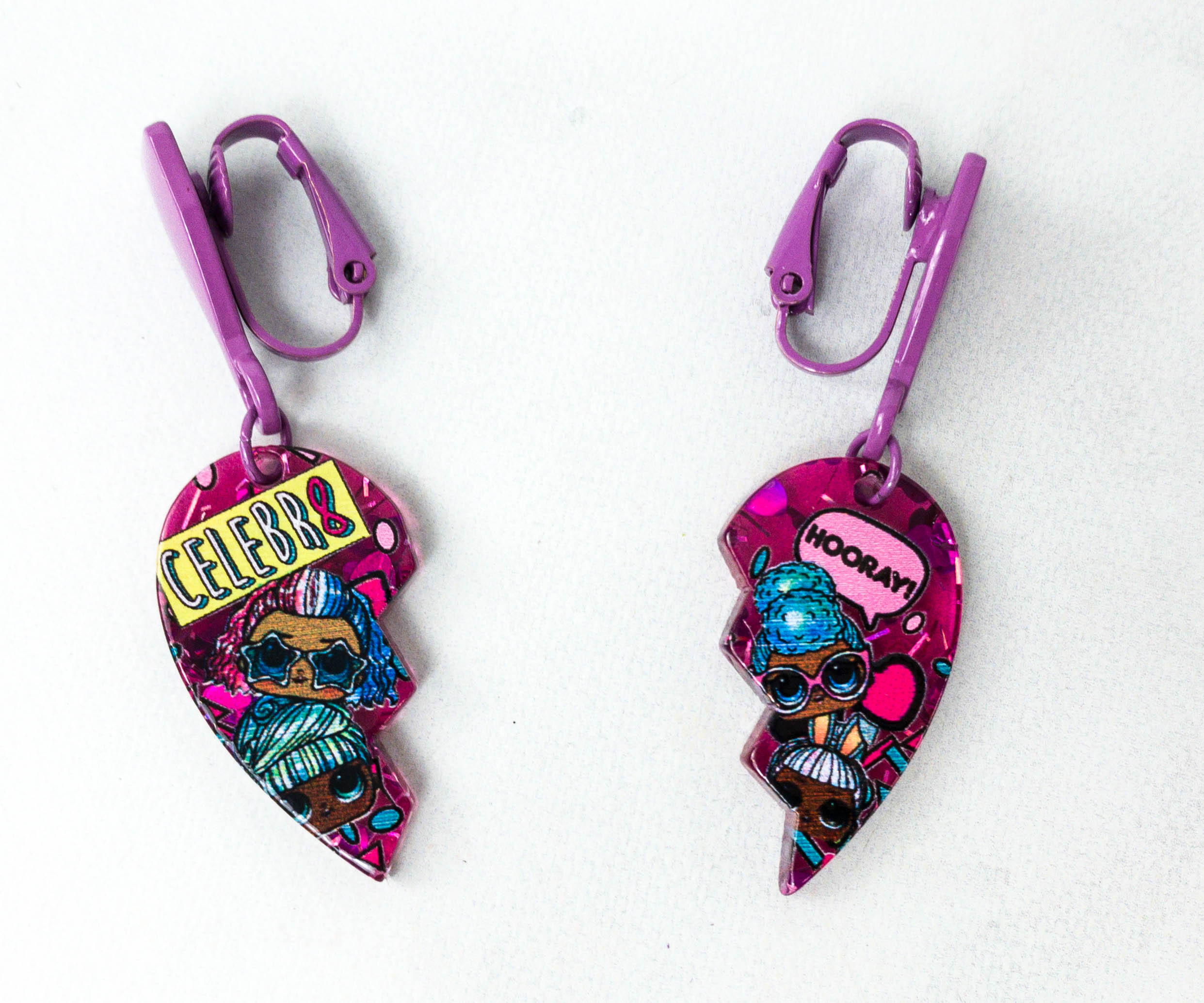 They are small but a cute token of friendship!
Keychain. Here's another keychain in the box and it's so adorable! There's even a pink bow charm for an added flair!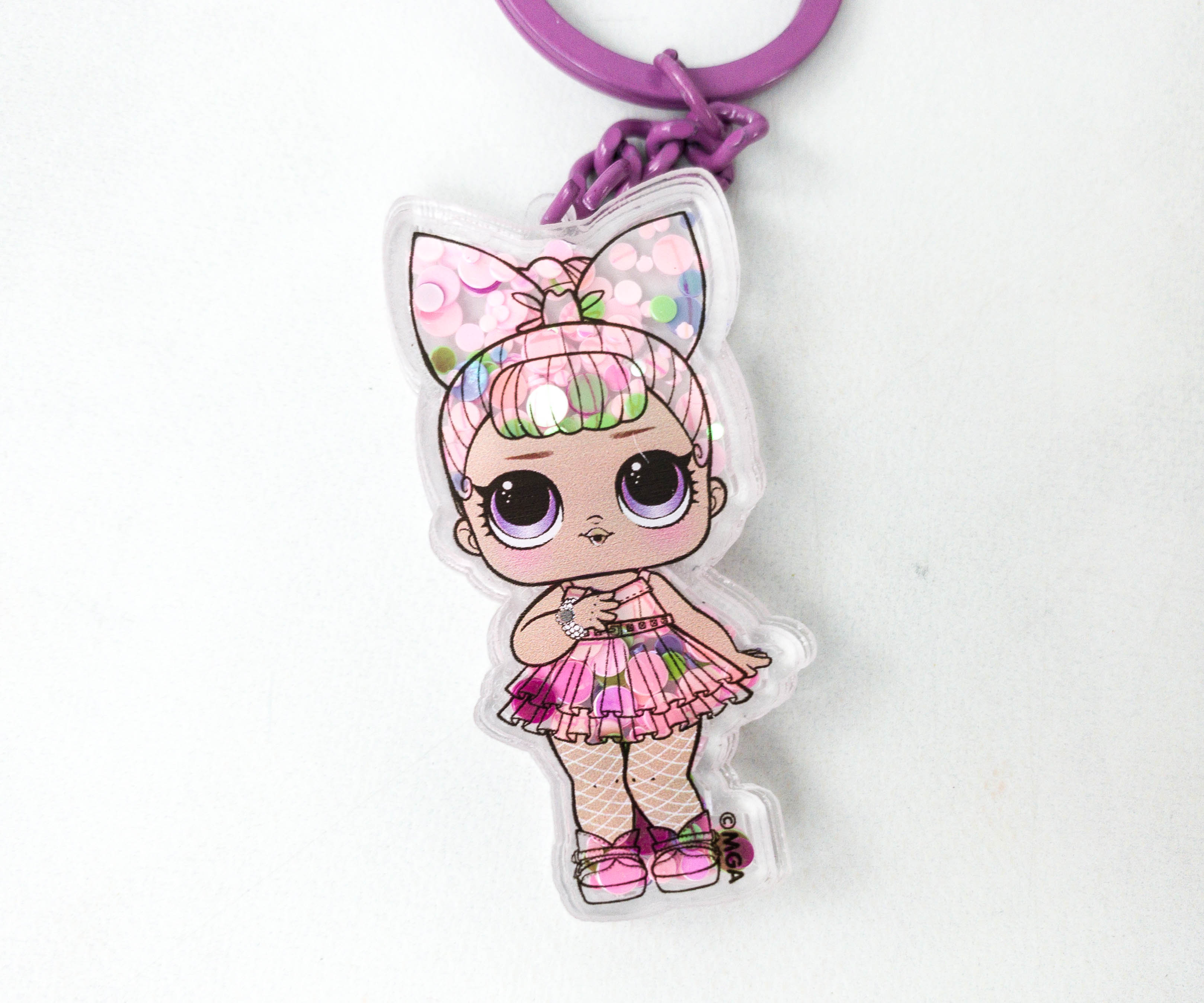 It features a lovely LOL doll and some of the parts are see-through so you can see the inside.
There's a bunch of chunky confetti glitters inside, which you can see on its dress, hair, and bow. It's really cute!
Necklace. The necklace came in its own box packaging. Following this month's theme, the box features two LOL dolls celebrating with their cupcakes!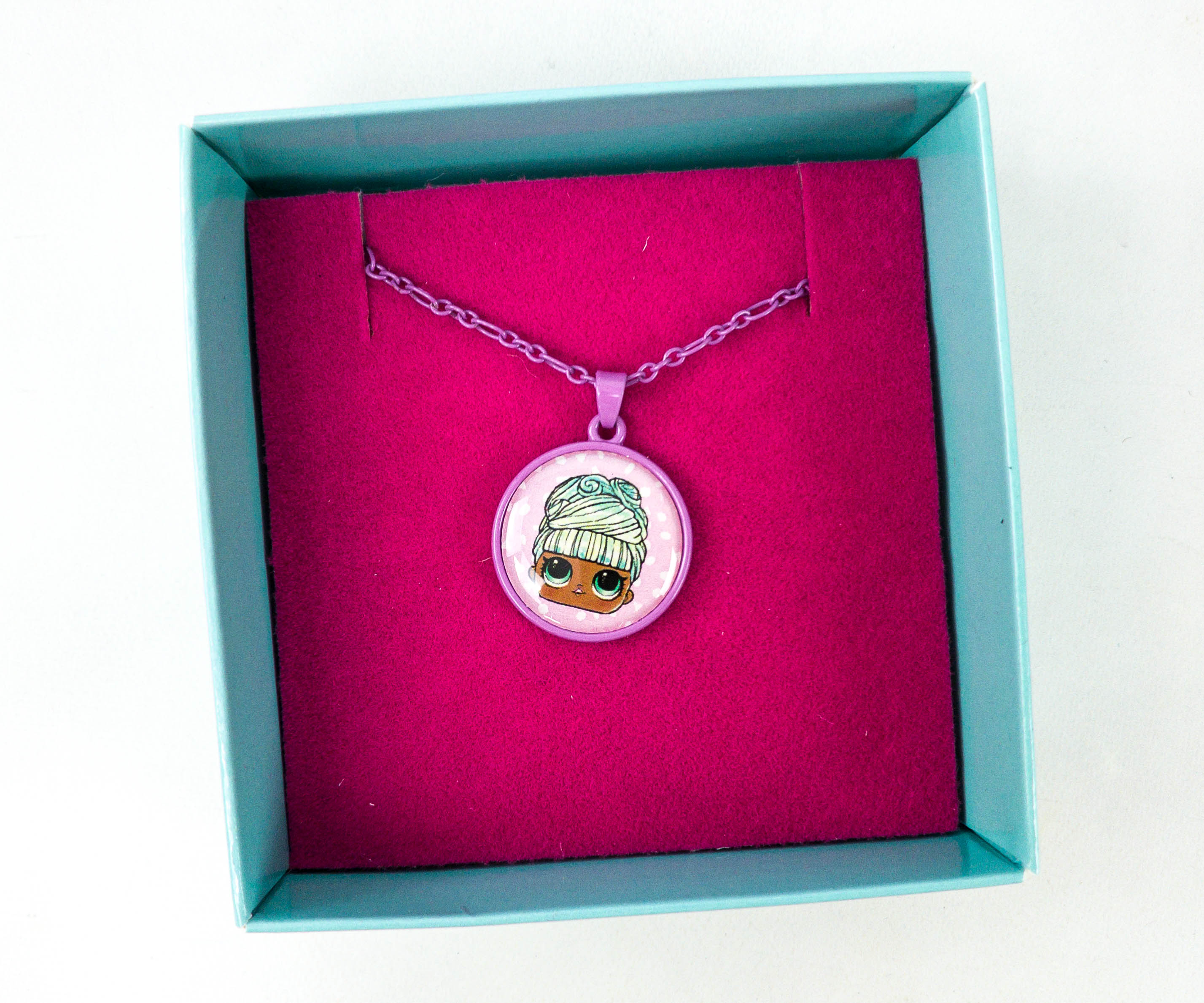 Inside the box, the necklace is nestled in a pink velvet-like cushion.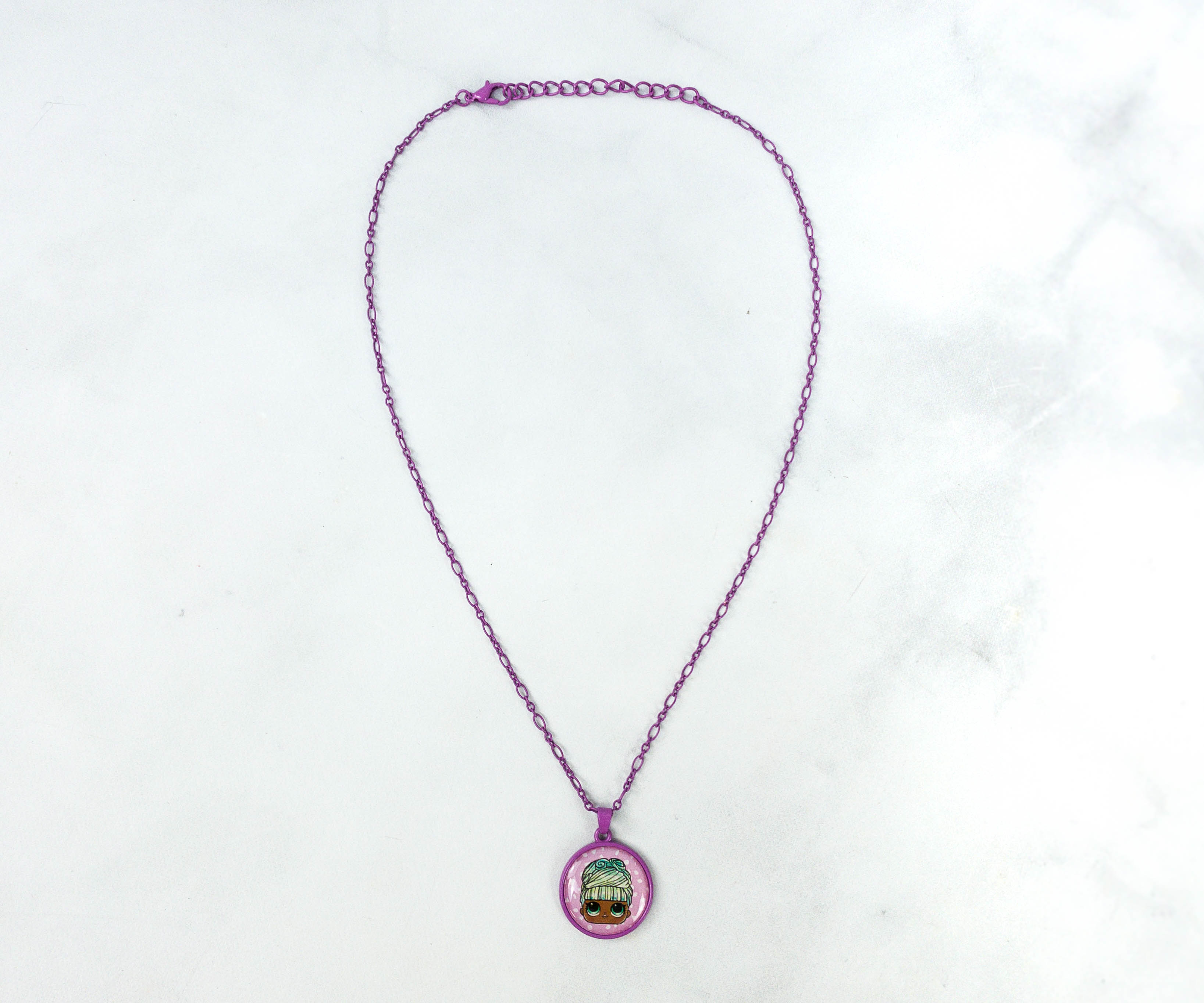 It's a stylish purple necklace that makes a great everyday accessory!
It features a LOL character head on the pendant. The LOL doll also has an up-do hair and it's so lovely!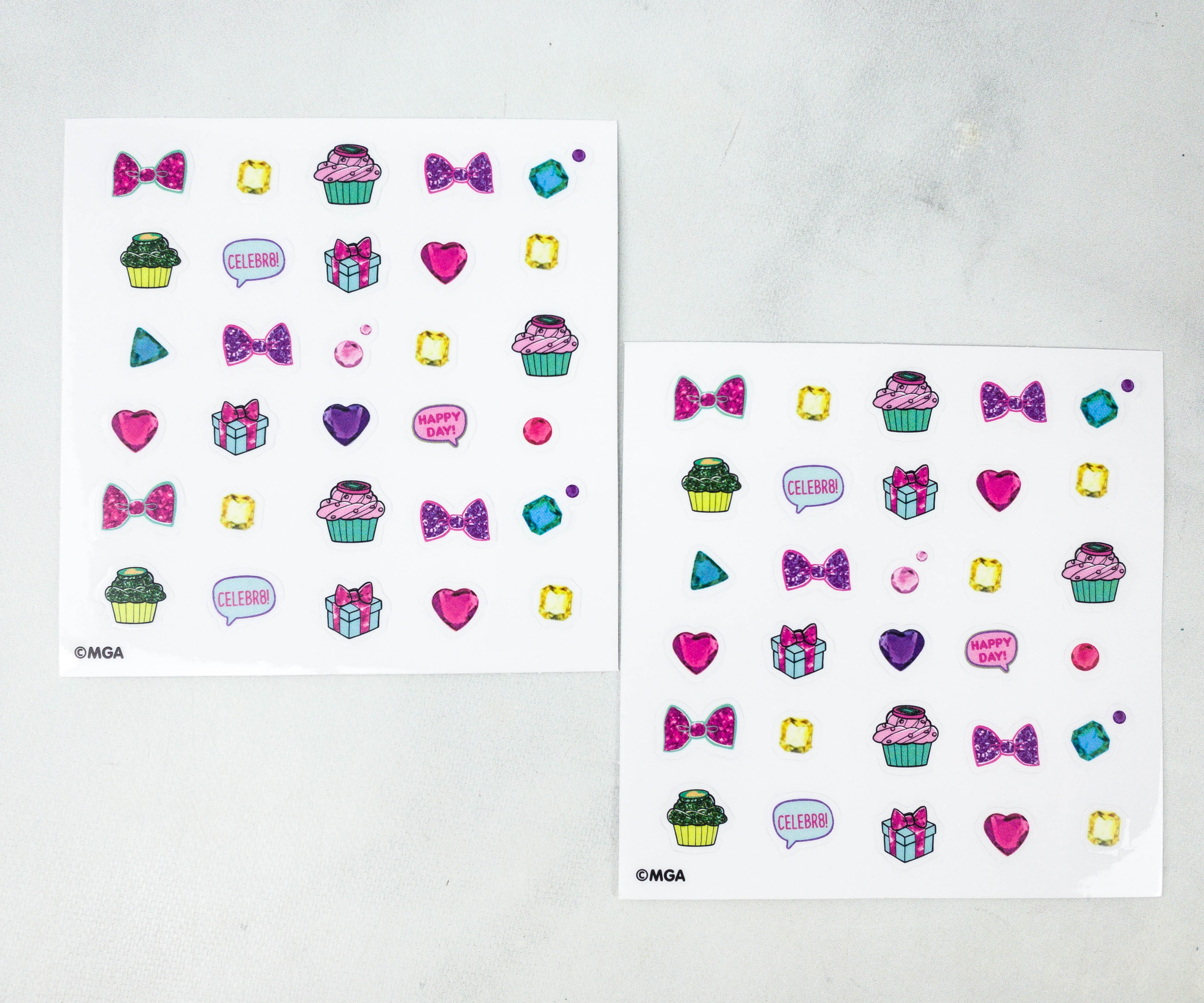 Stickers. The last item in the box is a set of little stickers that kids can use to design notebooks, journals, or just about anything. My daughter loves the purple hearts and pink bows!
My daughter enjoyed this quarter's box! The theme CELEBR8 is fun but unlike the previous box, I feel like the items in here didn't really match with the theme. They have the characters in party attire and there are cupcakes but I wish they included activity games or maybe even party decorations or photo props. Still, it was a good box and my daughter is very happy with it. Plus, the magnetic doll is so sweet and generates a lot of play opportunities, and the perpetual calendar can be used year after year. The pink furry sweater is wild and just what we want out of this box! We look forward to the LOL Surprise Box every season because it contains cute LOL merchandise, including unique LOL collectibles!
Are you getting L.O.L. Surprise Box?