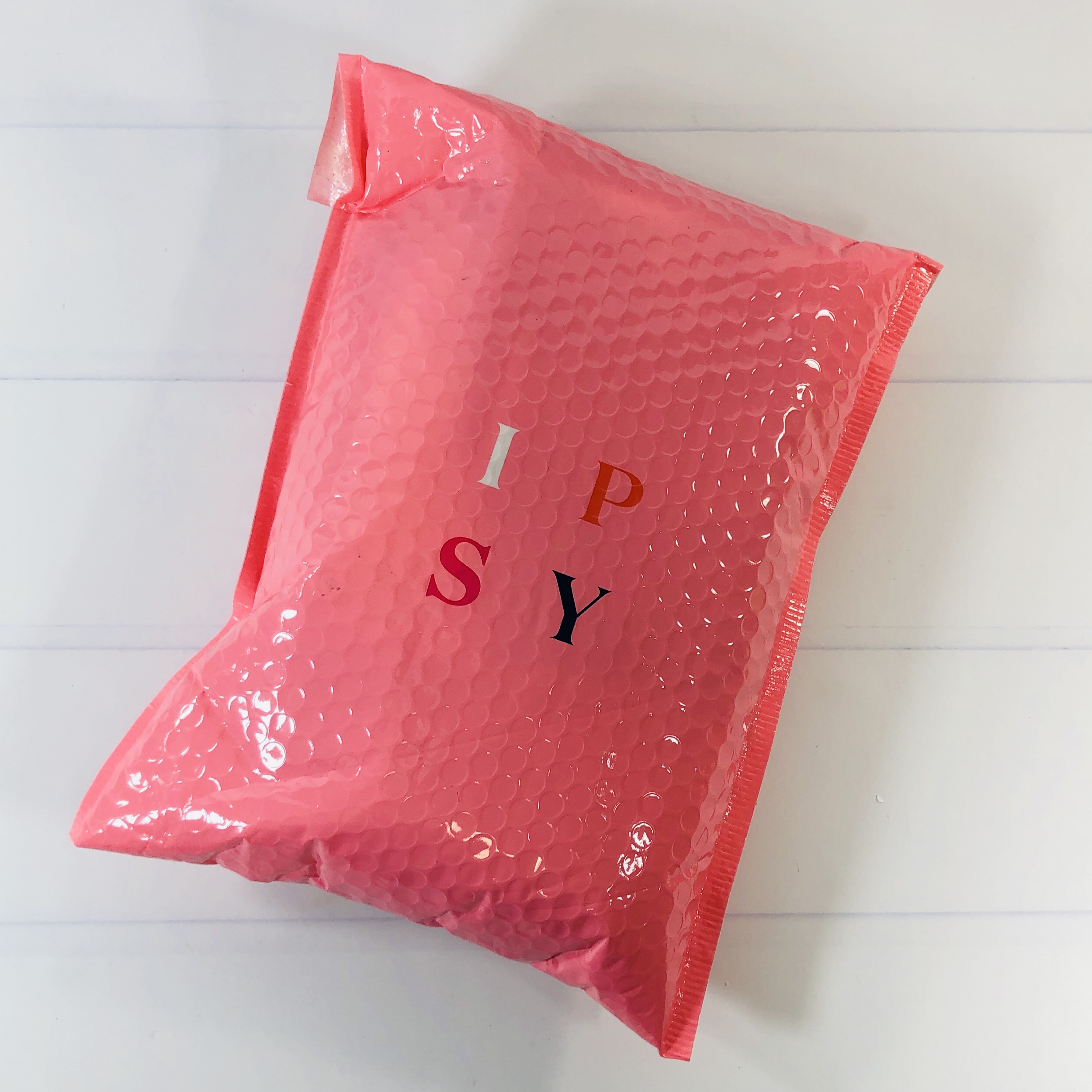 Ipsy is a monthly beauty subscription. You get five makeup, beauty, skincare, and hair care items in a cute bag for $12 a month! It's the most popular subscription box and a great way to sample new colors and beauty brands that you may have never heard of, as well as some of the bigger names. Ipsy also offers a Glam Bag Plus for $25 a month. They have just launched Refreshments and in February they are rolling out the quarterly Glam Bag X.
There are many bag variations every month for Ipsy – log in to your account to check out how-to videos and tips for your products.
IPSY was founded on a singular mission: to inspire individuals around the world to express their unique beauty. Everything we do is to support you on your journey to self-discovery, so you'll feel confident letting your unique beauty shine every day.
Most of my items were inside the cute makeup bag but make sure to double check the mailing bag, sometimes larger items (like makeup brushes) can be found there. I also got to try Refreshments, which will be at the end of this post.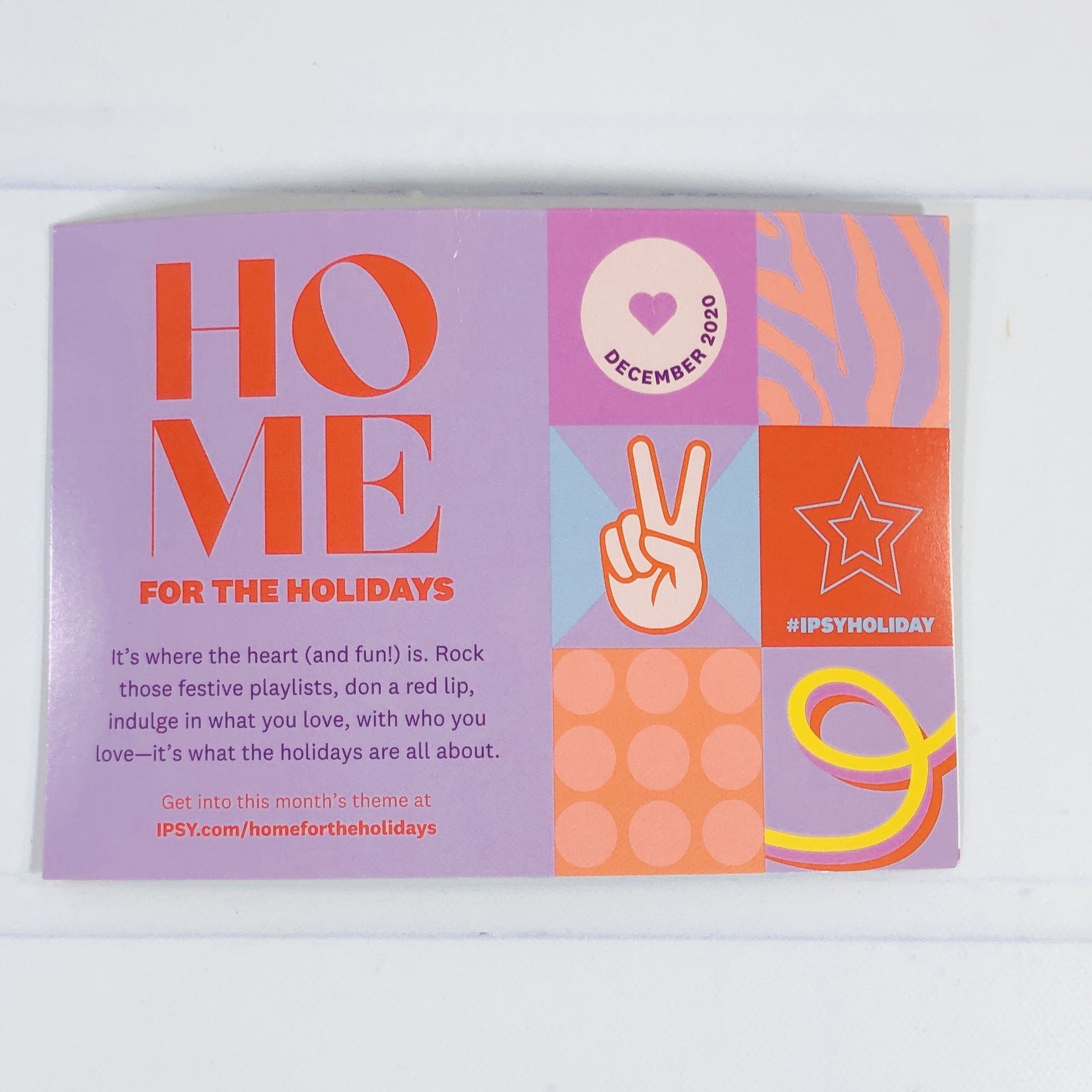 The theme for December is Home For The Holidays!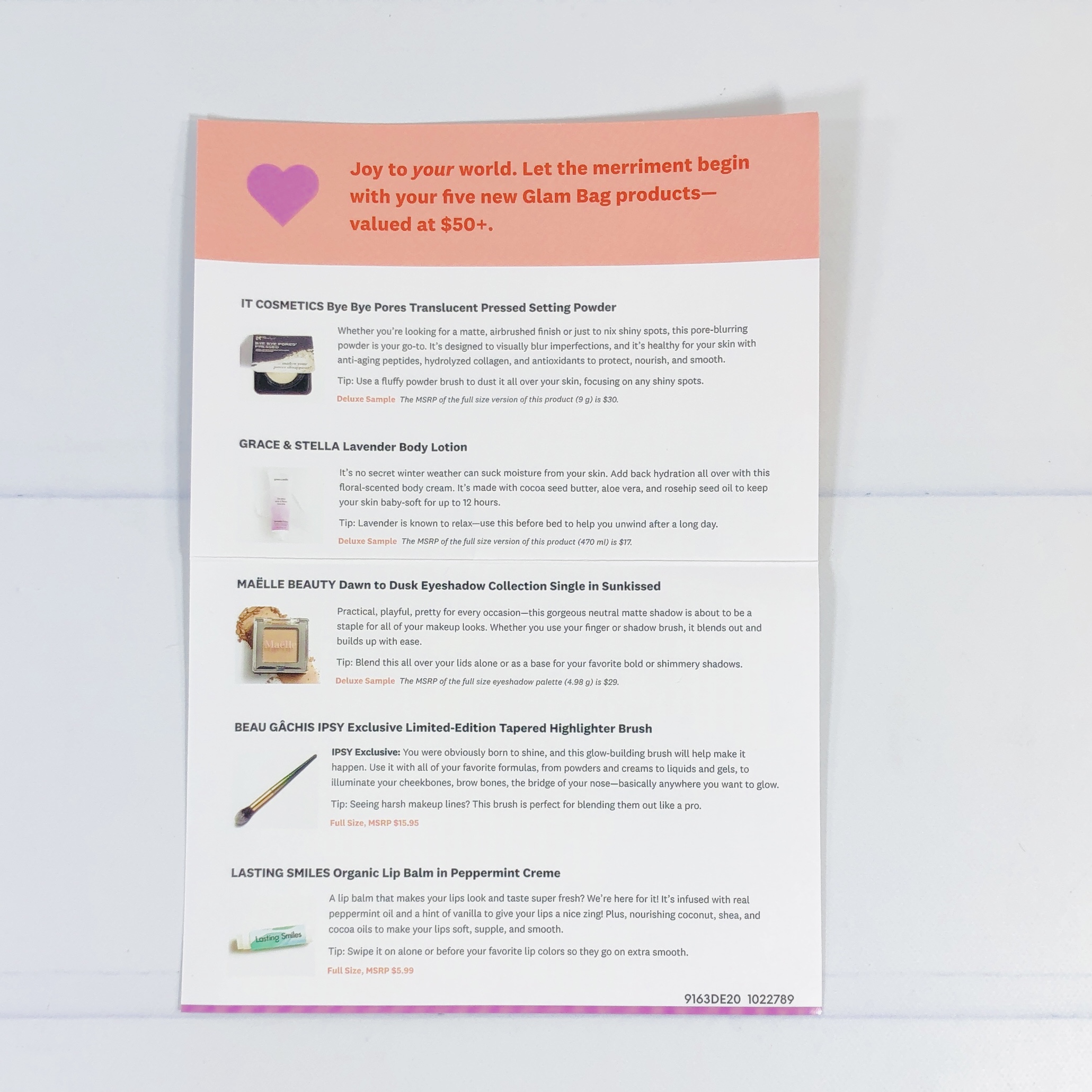 Inside Ipsy listed my 5 products and gave a brief description, plus it had the MSRP for the full sized product.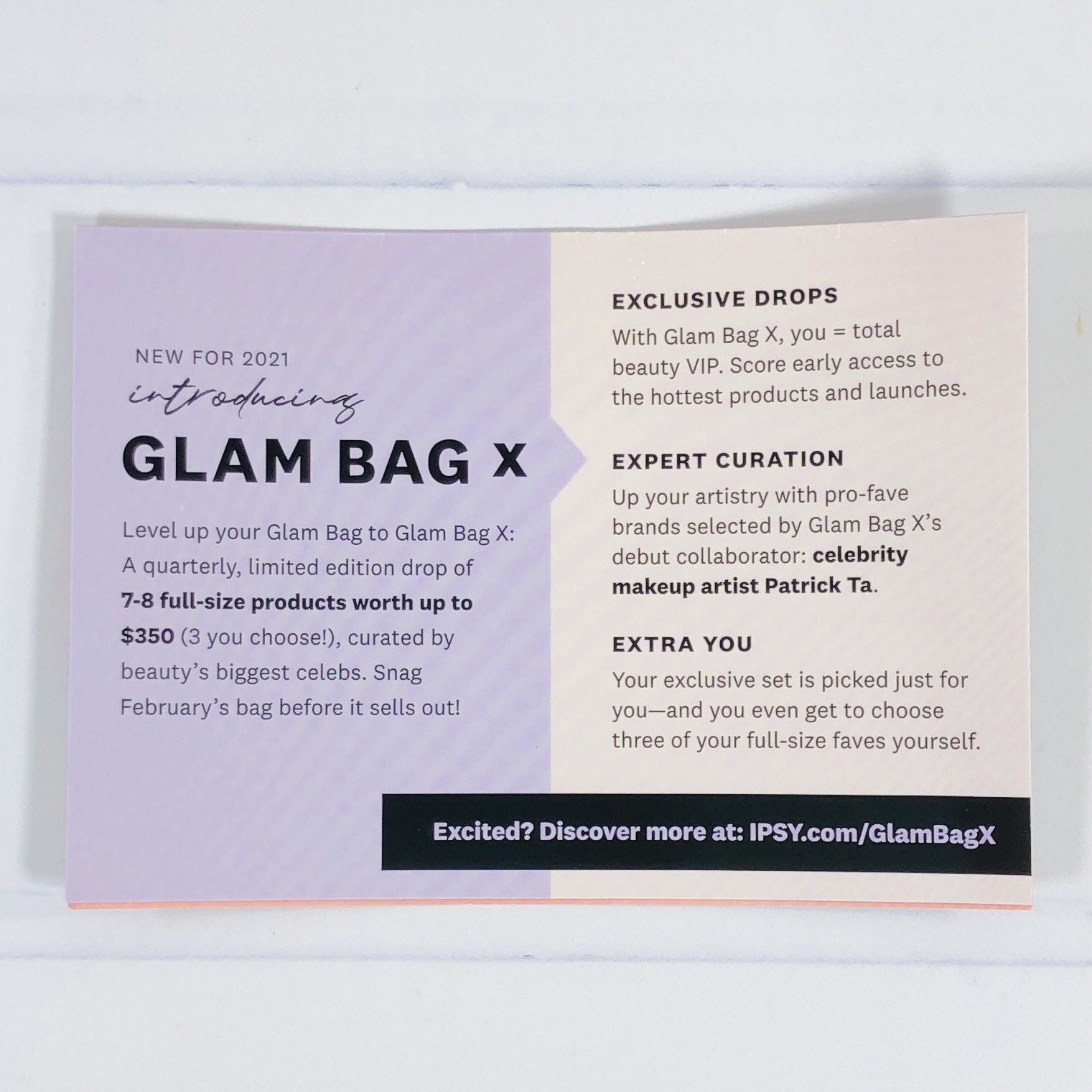 The back of the card discussed Ipsy Glam Bag X, which will contain 7-8 full-sized products and you get to choose 3 of them. I can't wait!
Don't forget that you can rate your items and you earn bonus points when you do that, so you can get additional products in your bag. All subscribers now have the chance to pick a product for their next bag – just log in on choice day and pick one!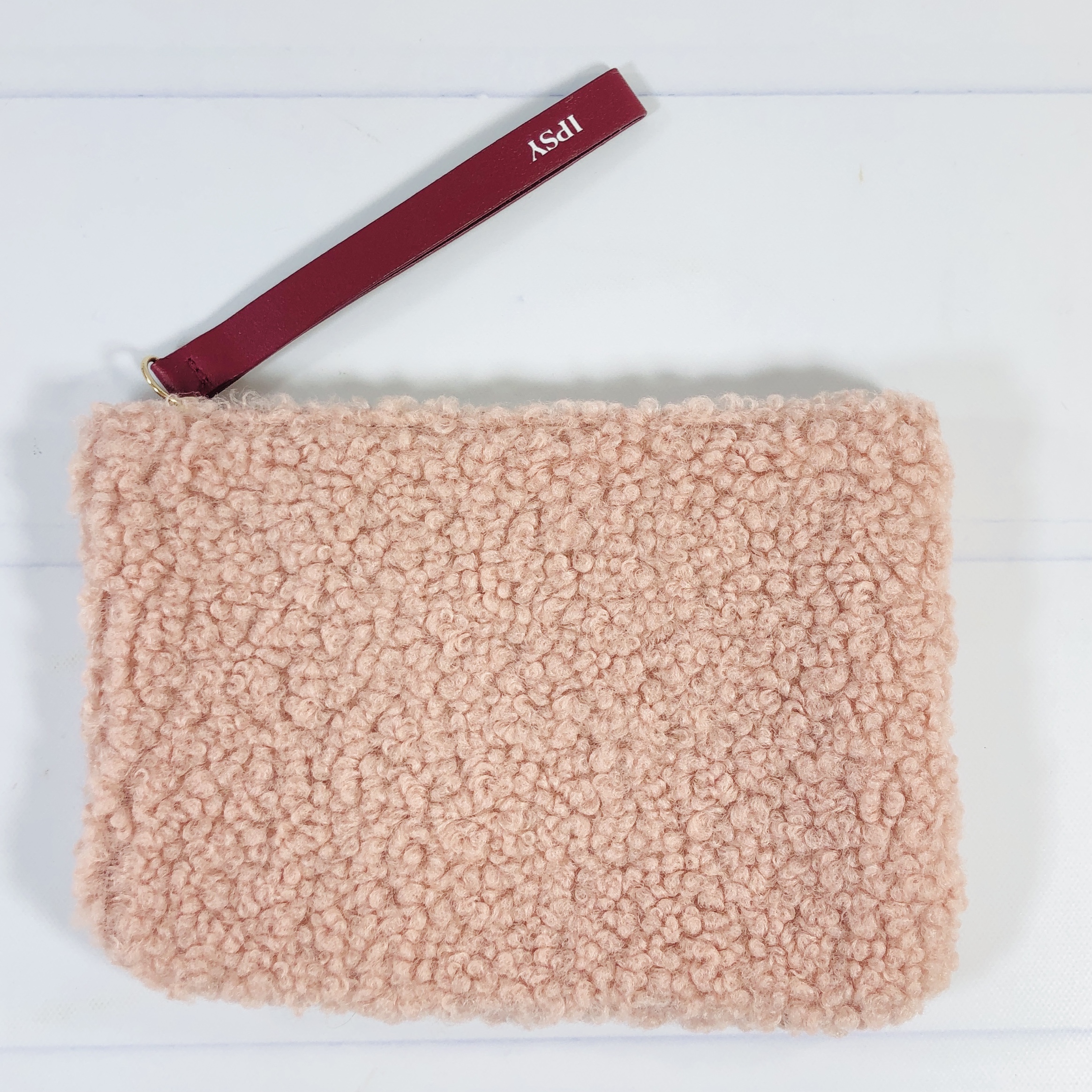 Ipsy Glambag This is such a sweet little bag, like a little pink lamb to hold my makeup!
The bag measures 7″ x 5″ and is made of material that reminds me of wool. The color is dusty rose and there is a maroon zipper pull with the word "IPSY" stamped in white.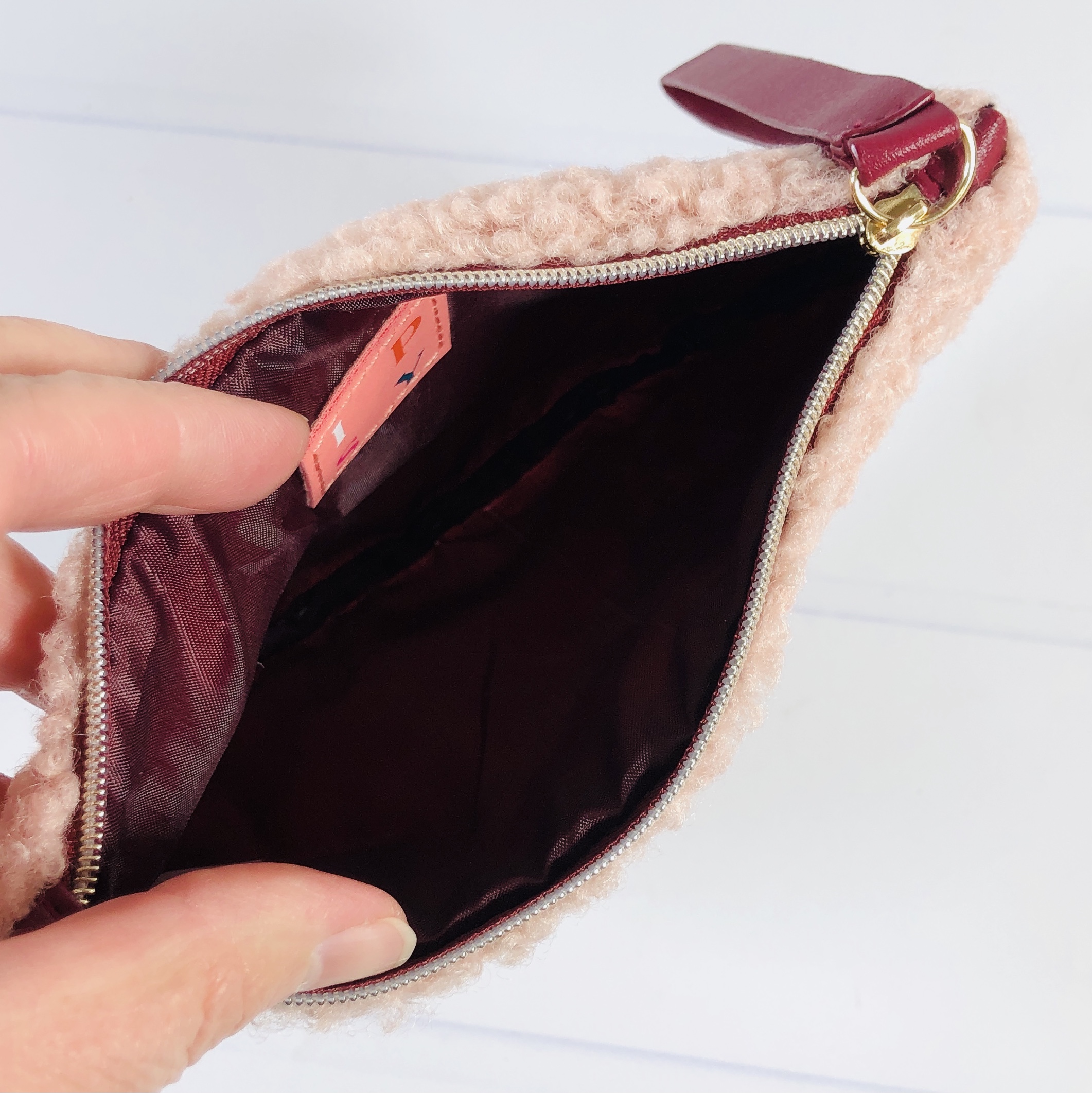 The inside is lined with maroon polyester material and has the IPSY logo.
Everything in my box! You can find instructions for use and ingredients on the Ipsy app and website.
Beau Gachis IPSY Exclusive Limited Edition Tapered Highlighter Brush ($15.95) I'm a sucker for a pretty brush and this one has an ombre handle that looks cool. The bristles are synthetic, handle is wooden, and ferrule is white gold tone. This was my Sample Choice!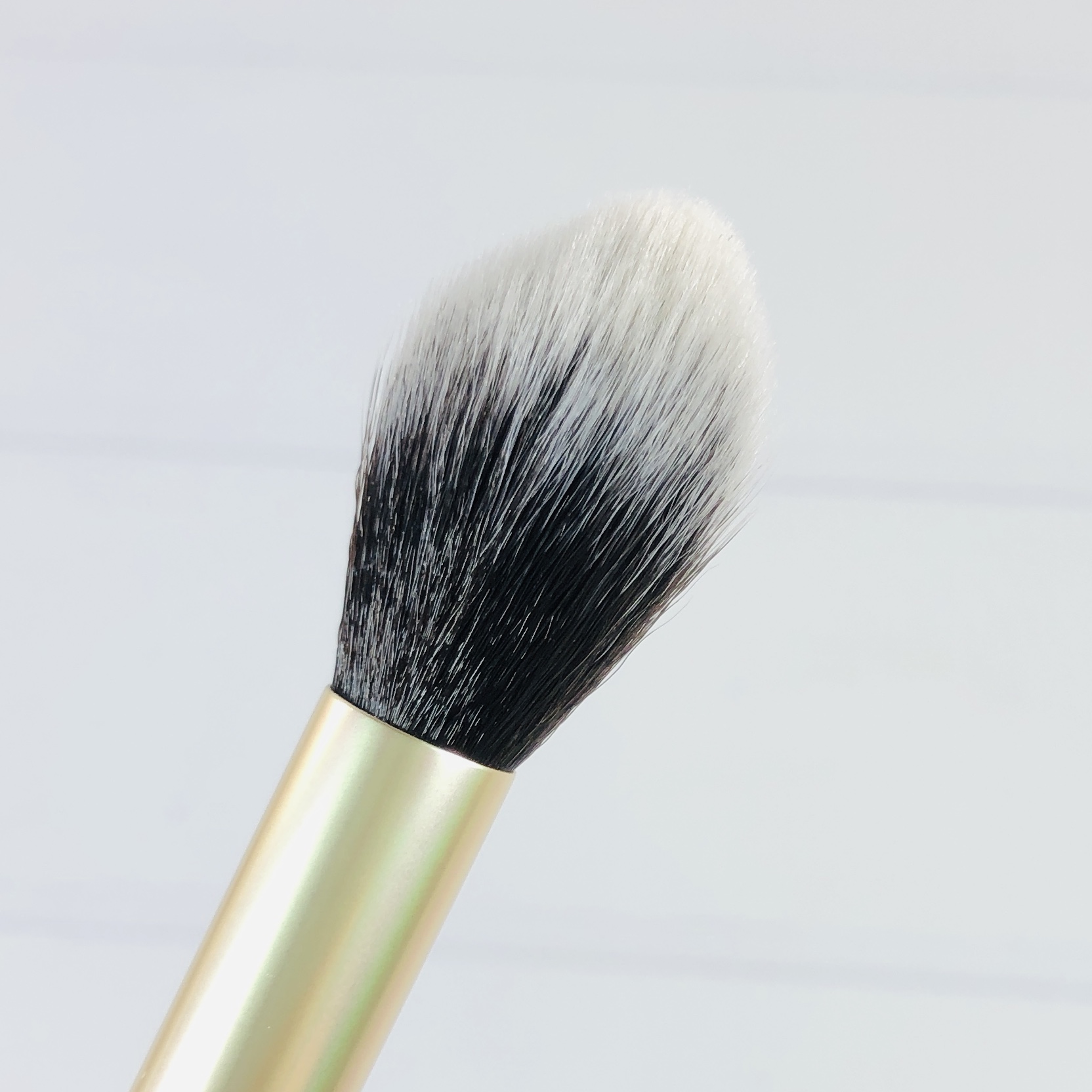 The brush is super soft and for me it was better at applying powder highlighter to my forehead and cheeks. When I ran it down my nose I didn't see much difference, it was just too soft, but I think it might work better with liquid highlight.
Grace & Stella Lavender Body Lotion ($5) I like perfumed body lotions and this one had a lovely light lavender scent that wasn't overwhelming or long lasting. It left my skin moist and soft. Mineral oil, shea butter, cocoa butter, and aloe are some of the softening ingredients in here.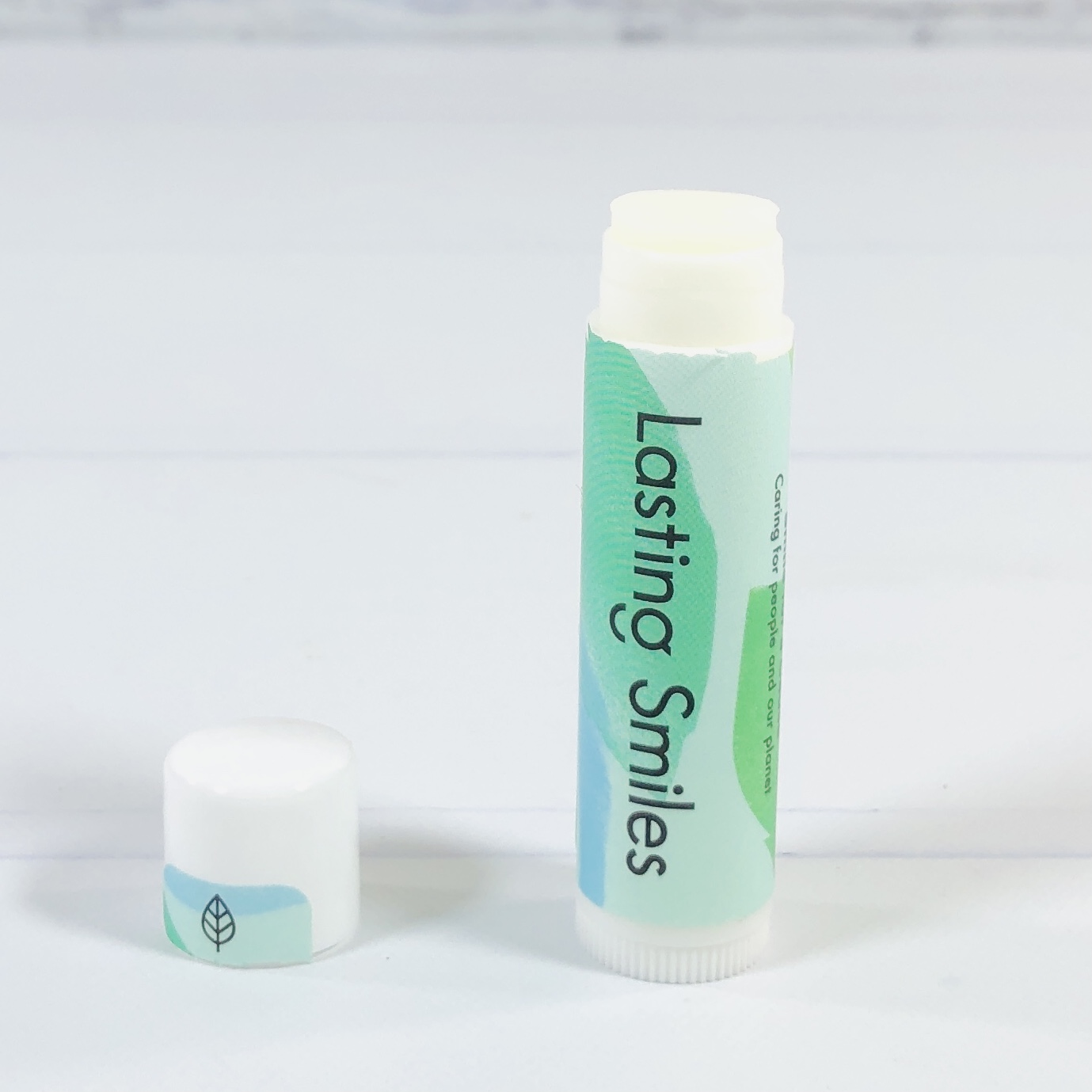 Lasting Smiles Lipbalm in Peppermint Cream ($4.99) I love, love, love peppermint and this lip balm is the bomb!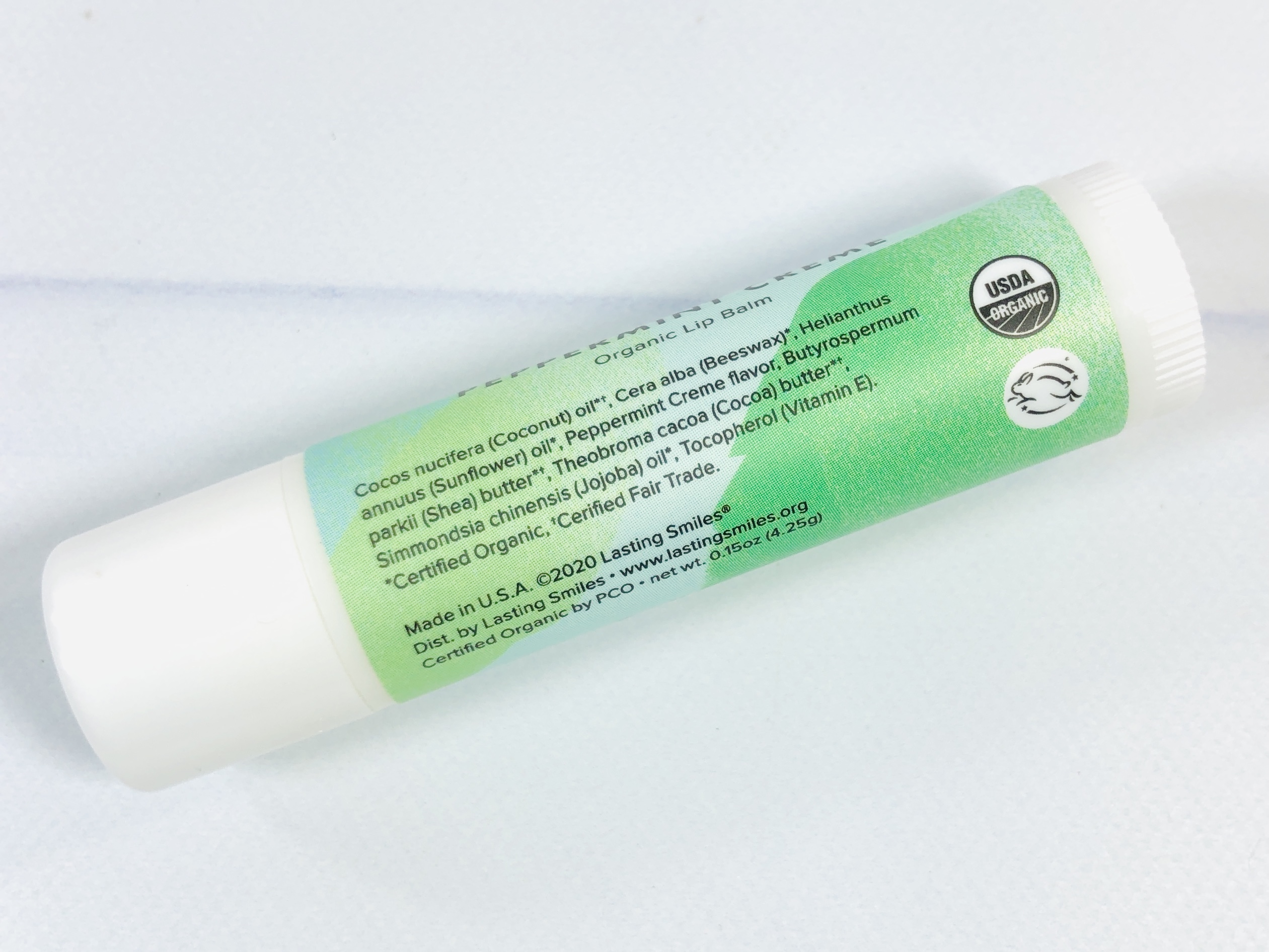 The ingredients are all things I can pronounce and don't have to look up to know what they are made of. Coconut oil, beeswax, shea butter, and a couple of other things helps it to glide on easily and it tastes/smells like sweet mint gum, my favorite. Did I mention I love mint?
IT Cosmetics Bye Bye Pores Pressed Powder ($5.60 value) I usually wear a powder foundation and therefore don't need pressed powder but I have a couple of CC creams (previous samples from Ipsy!) that I paired with this product.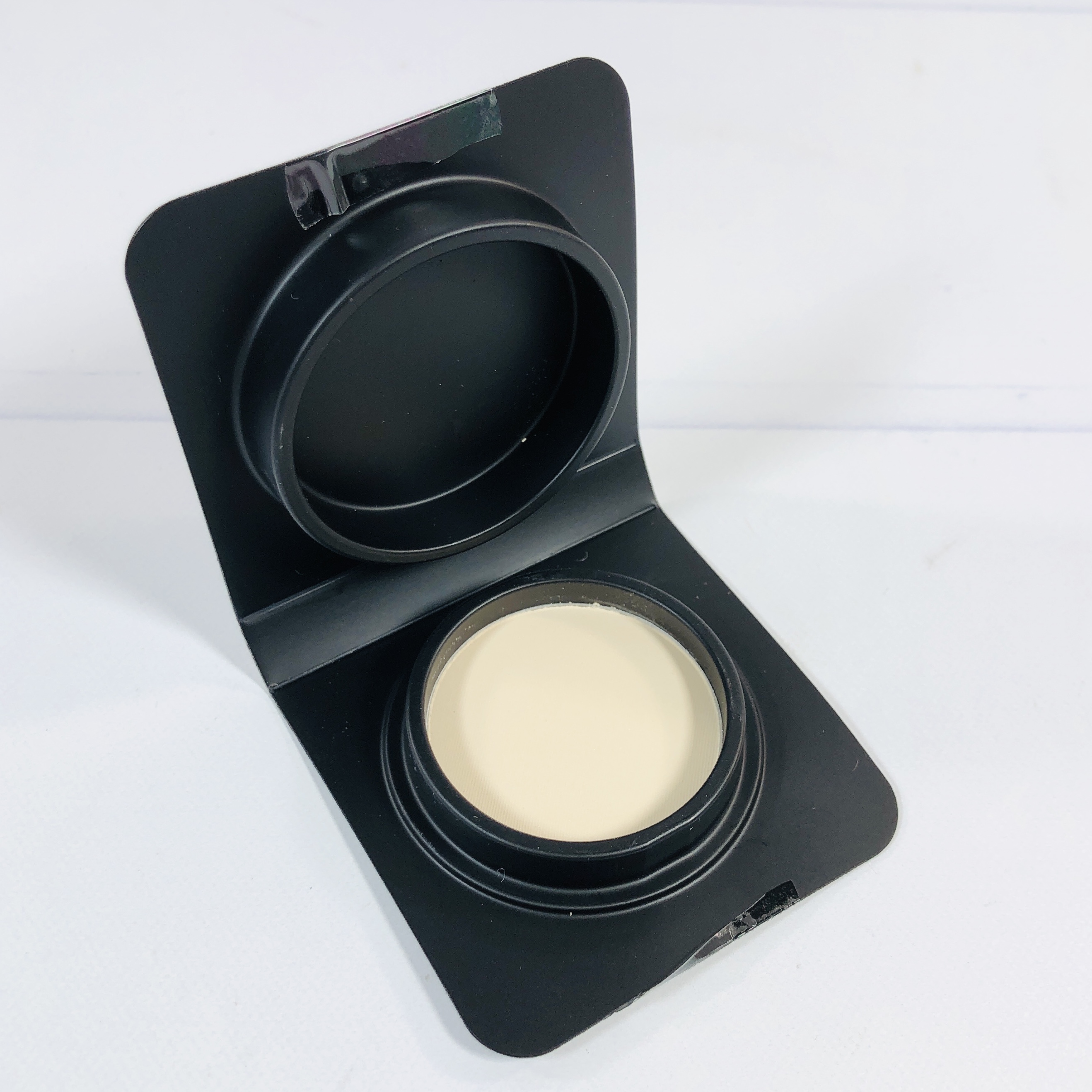 It's supposed to blur pores for a finish that looks airbrushed and flawless. It is also supposed to help keep skin healthy with a dose of niacinamide, antioxidants, and collagen. It has a translucent shade so it should work with most skin tones. I thought it did a good job of keeping shine away all day.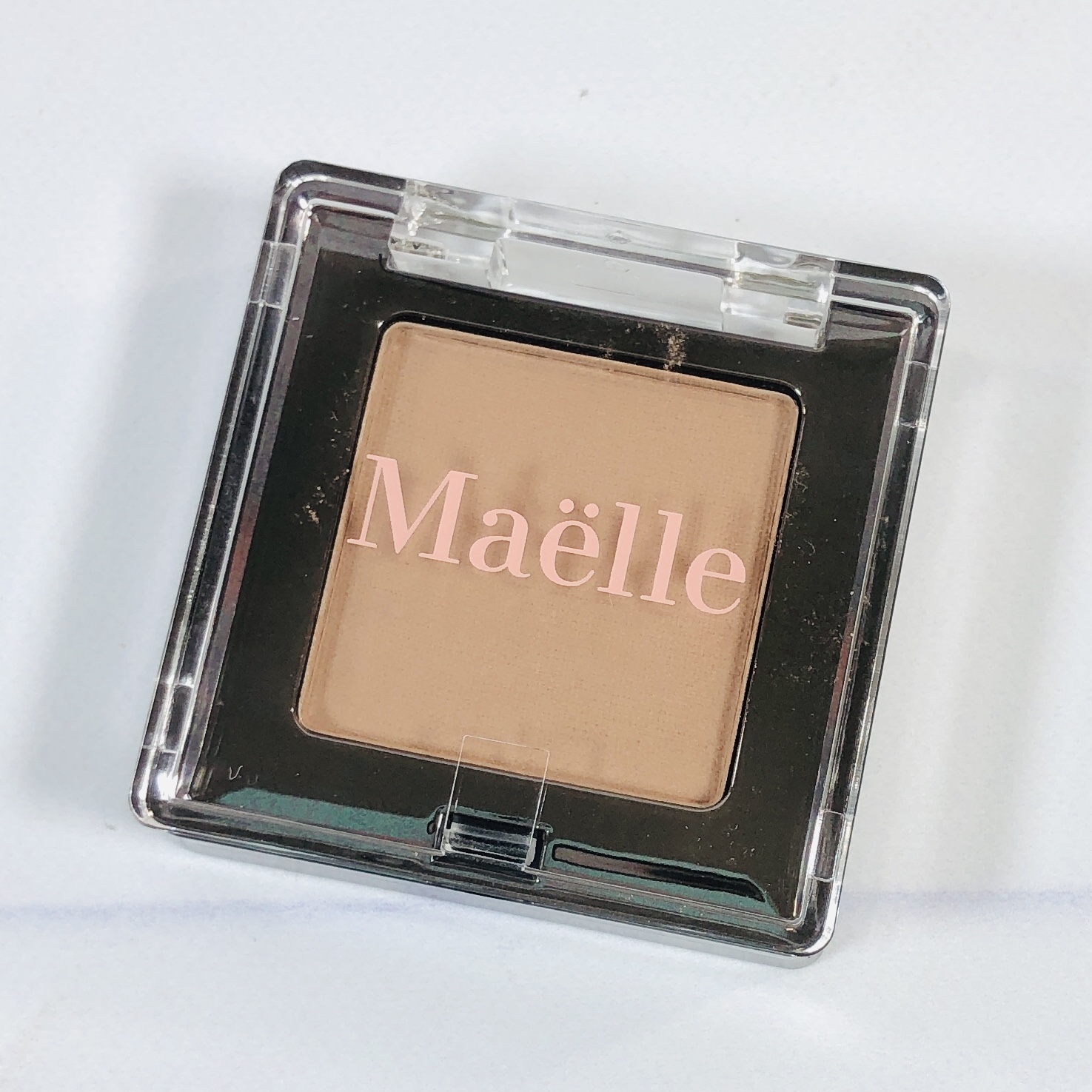 Maëlle Beauty Dawn To Dusk Eyeshadow Collection Single in Sunkissed (Buy the 8 shade palette for $29.99, about $3.33 value) I love to lay down a neutral color when starting my eye look and this one worked perfectly well for that job.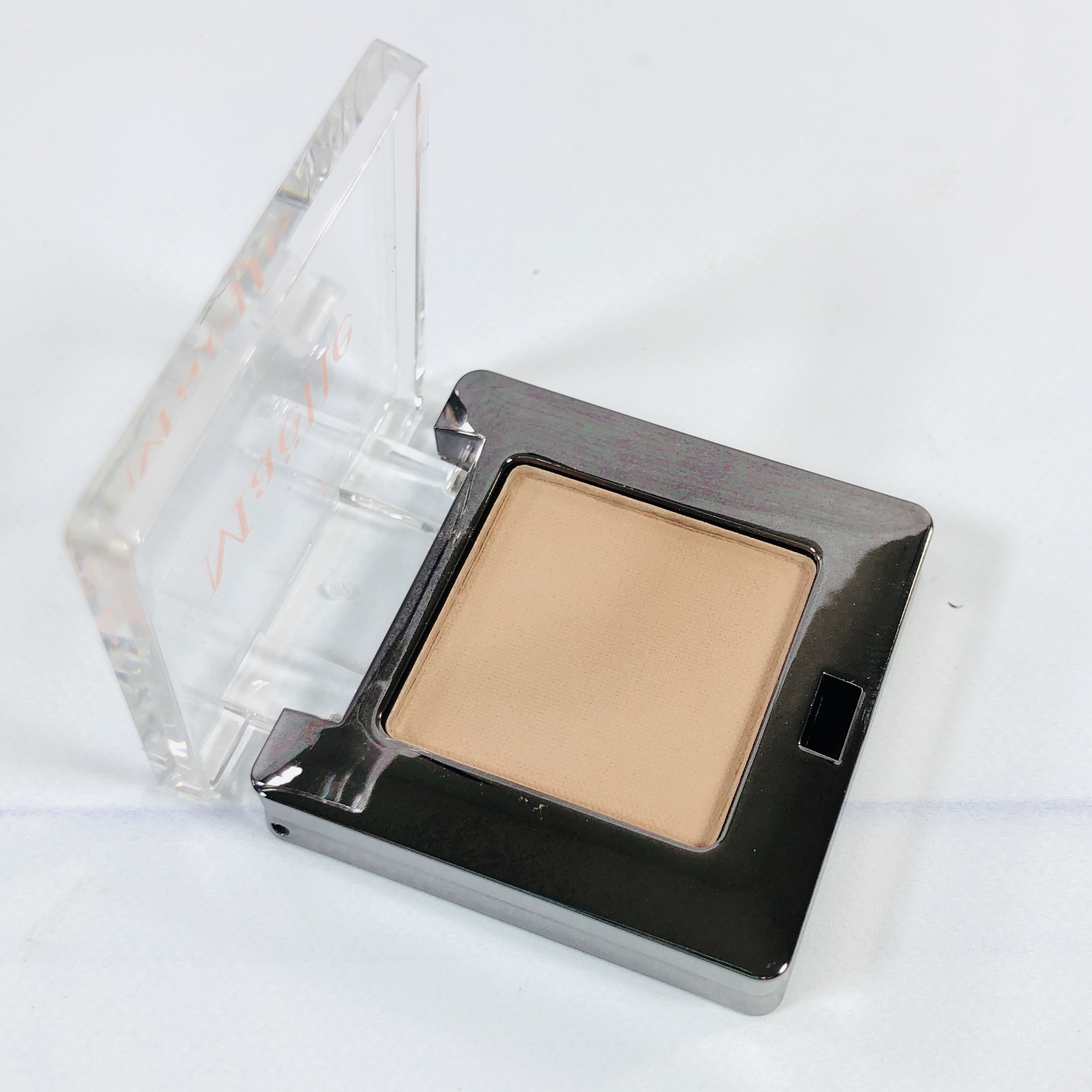 The shade was a warn neutral matte.
Here it is swatched. It went on easily and I added a darker shade to the crease and was good to go.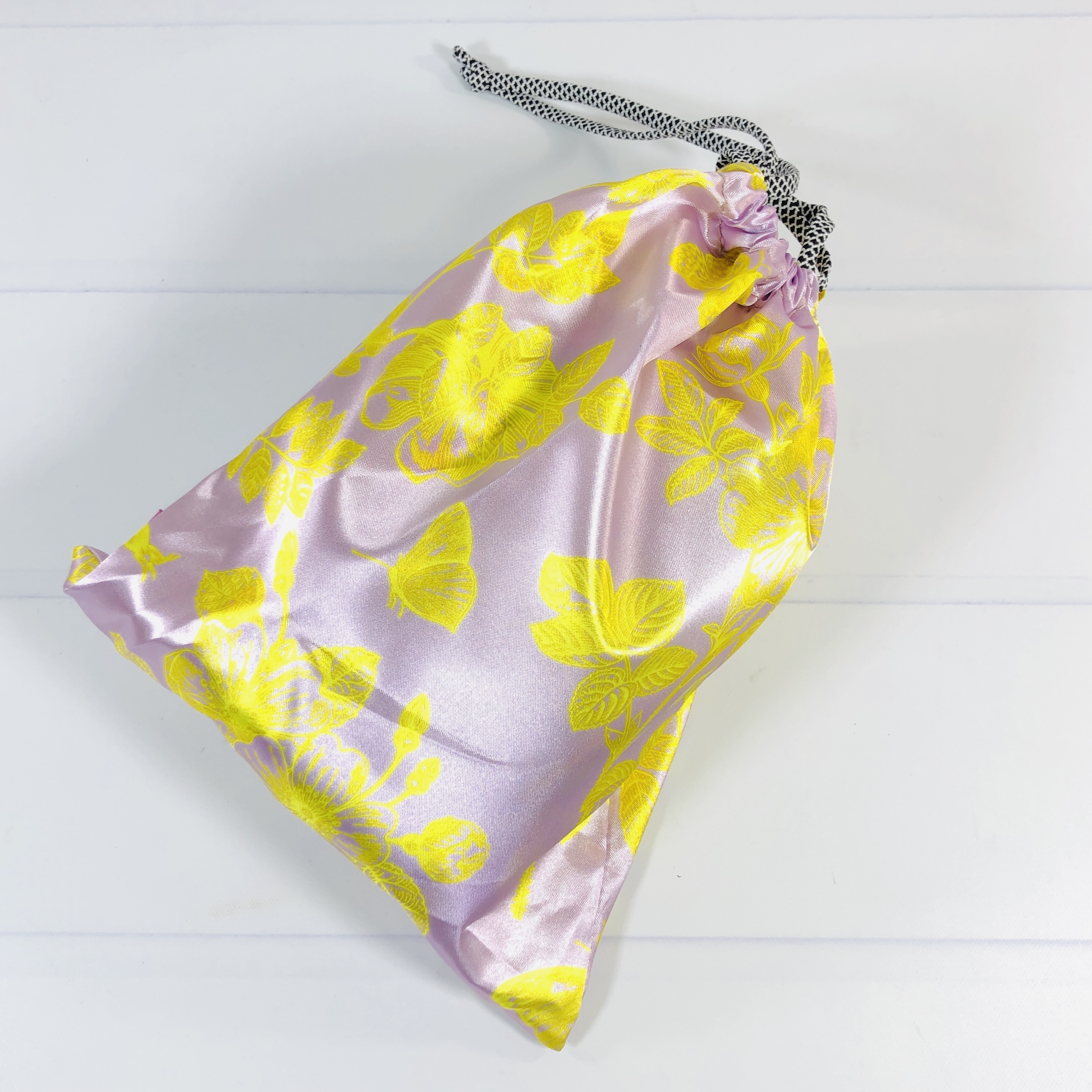 I also got the chance to try Refreshments!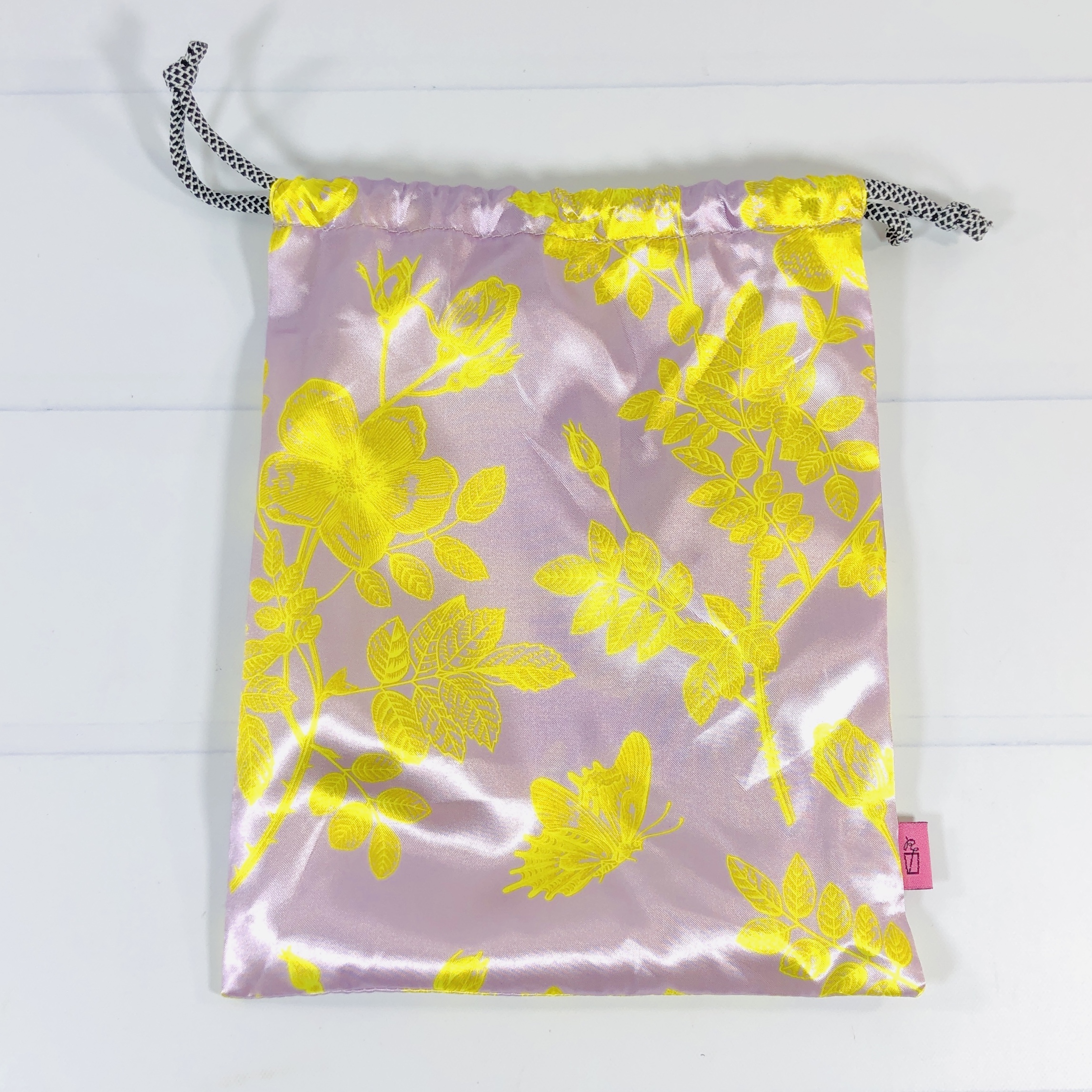 The bag has a drawstring closure and is made of silky material, like a satin pillowcase. The background is lavender and there is a yellow gold butterfly and rose print. The tag on the side has the Refreshments logo and the bag measures 10″ x 8″.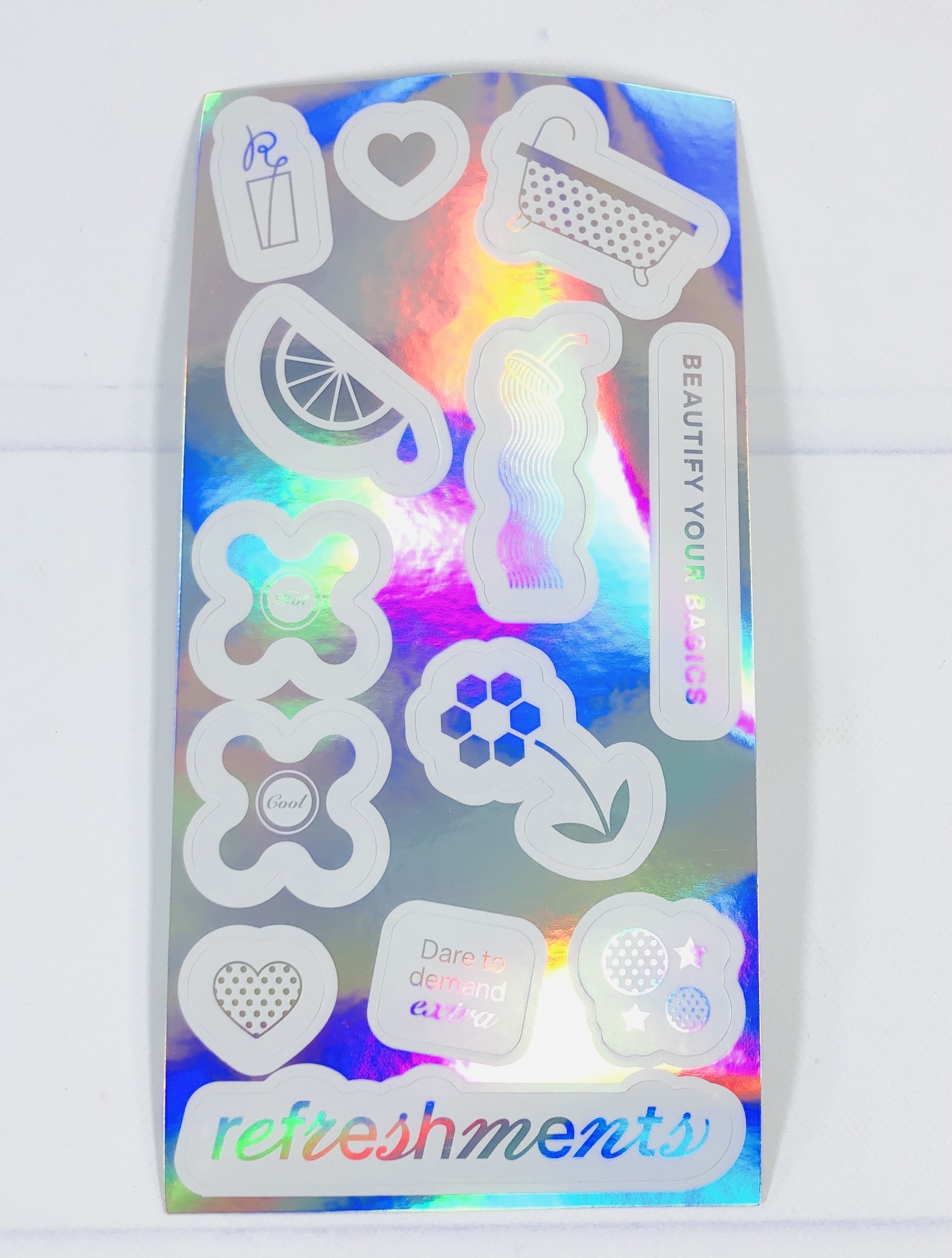 I also found some shimmery stickers!
I received a mini booklet.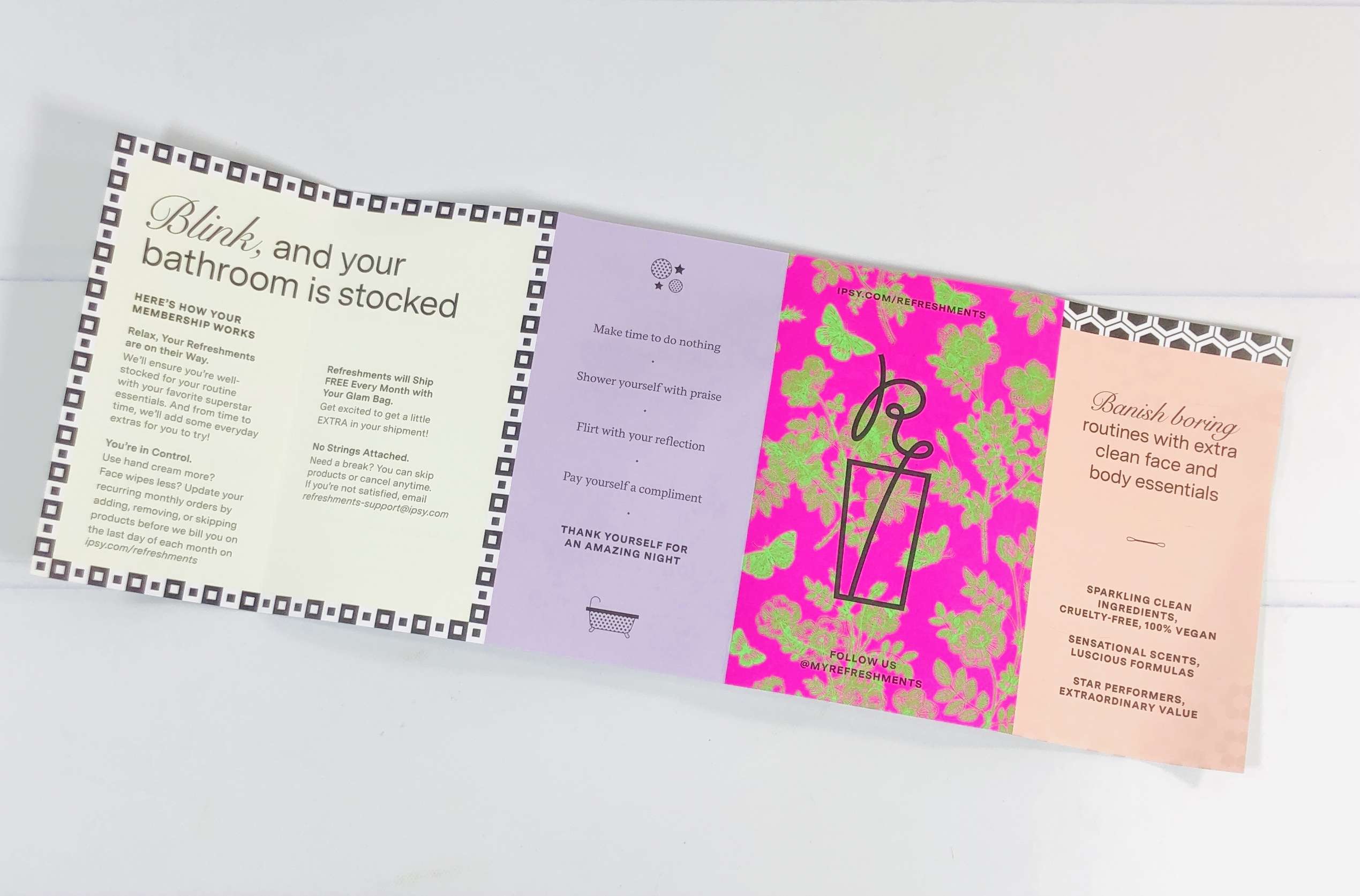 The inside told me about how the membership works. The products ship free as long as you're getting a Glam Bag of some sort.
The other side described the products. They have only released a few of them so far, others are coming soon. The member price was listed. You can start or stop easily, just go to your Ipsy dashboard and look for Refreshments. There are currently 4 items available.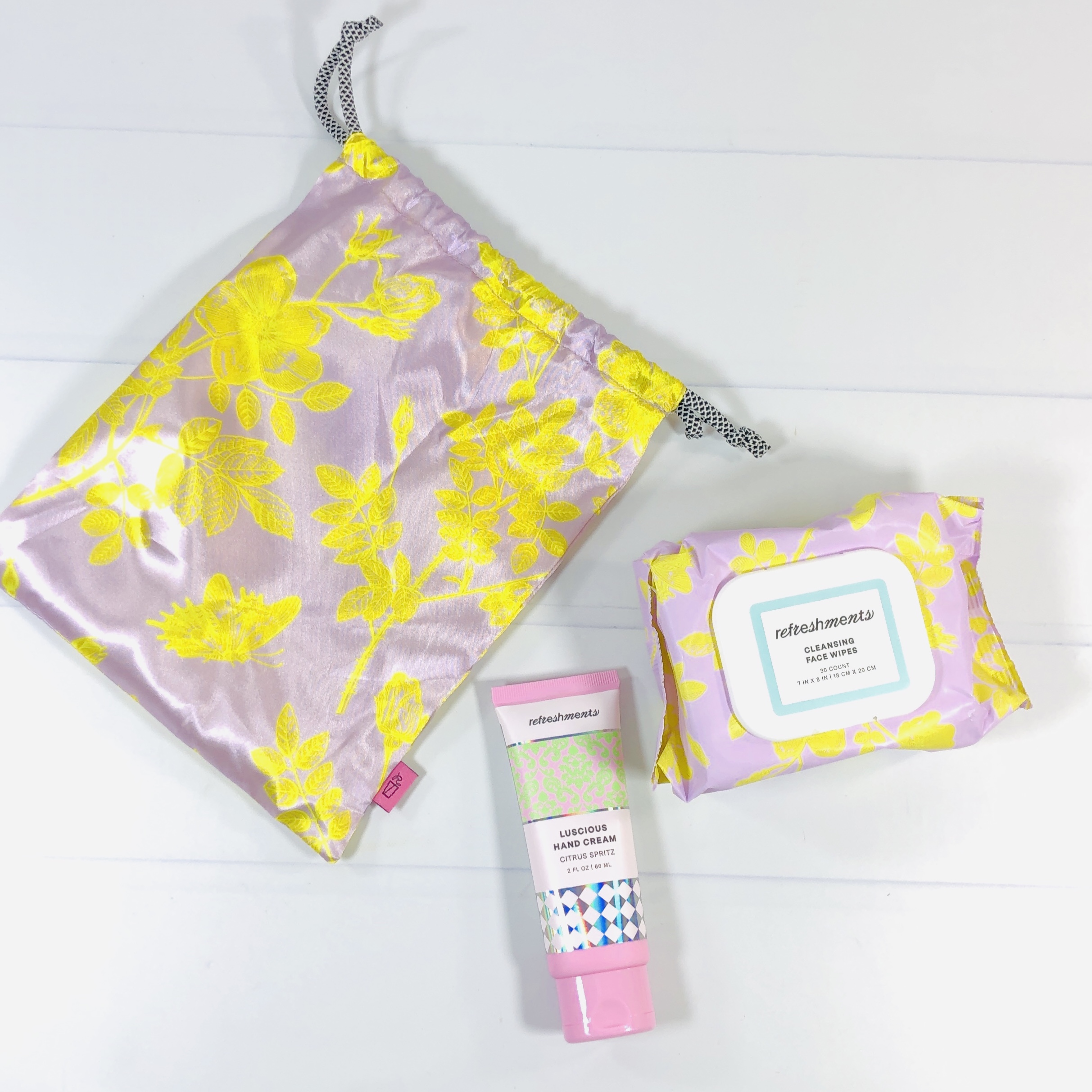 I'm trying the hand lotion and face wipes this month!
The packaging is too cute, I love the colors and prints!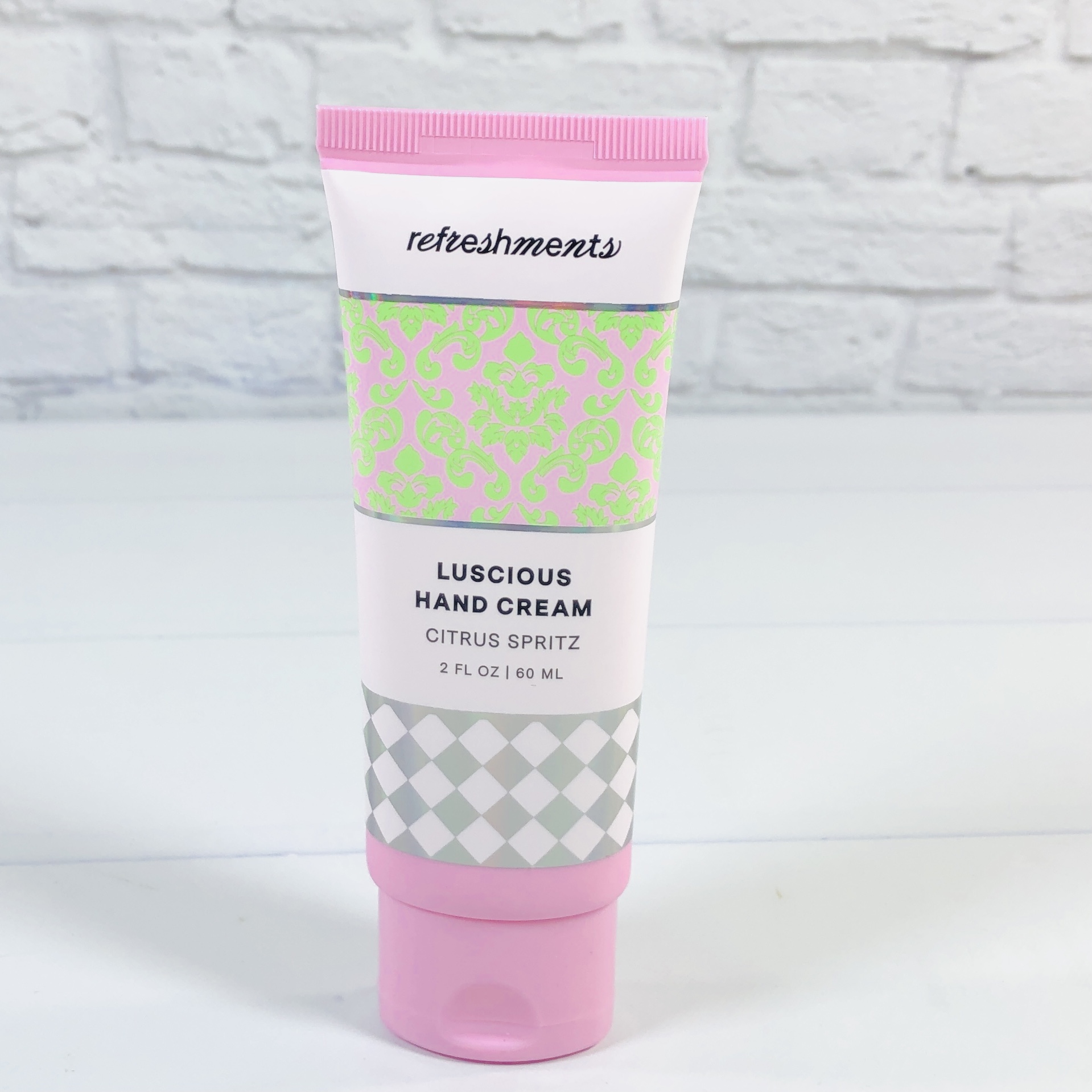 Refreshments Luscious Hand Cream ($7) We can probably all use some hand cream now, whether it's from the cold weather or extensive washing and generous use of hand sanitizer or whatever. My hands are feeling rough.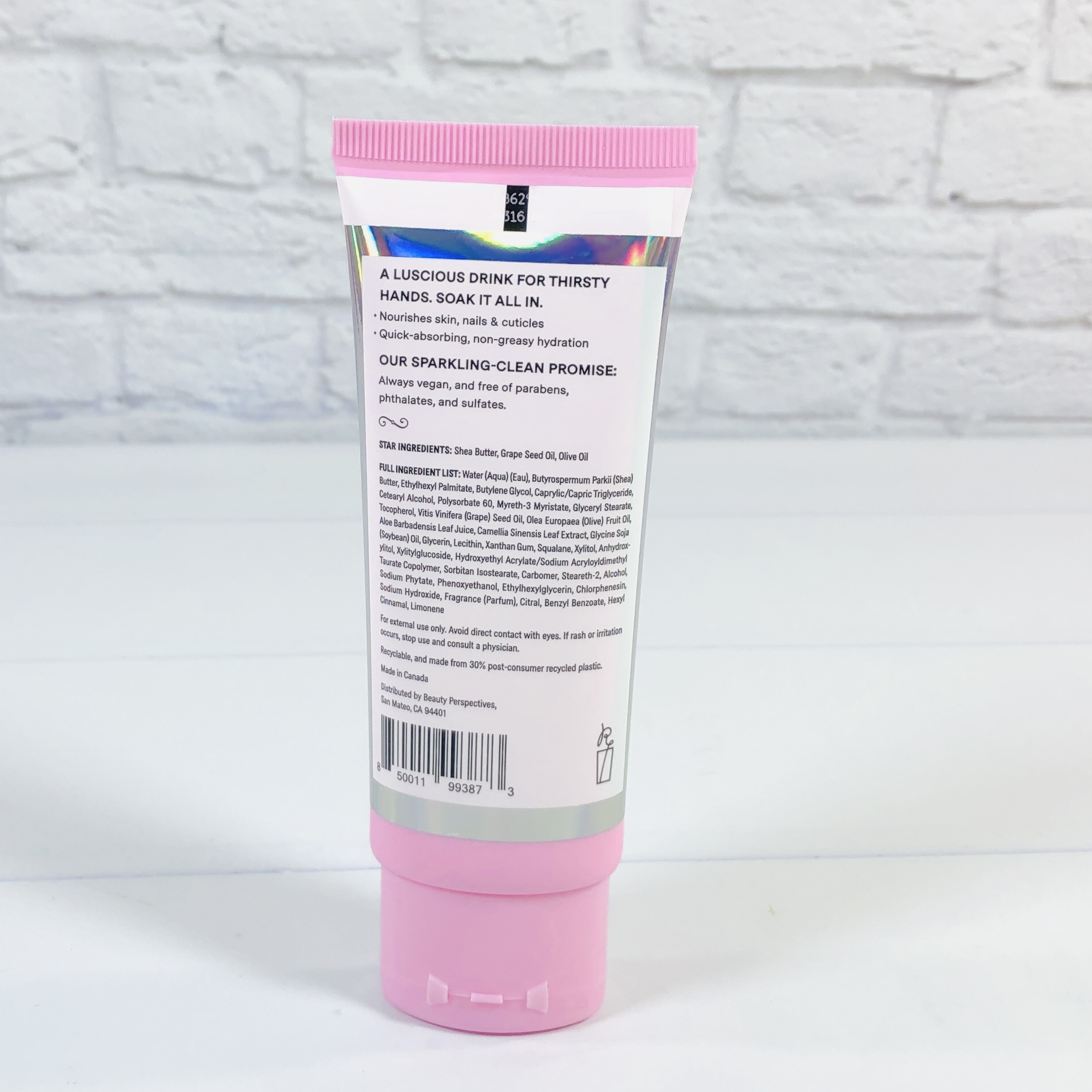 Shea butter, grape seed oil, olive oil, aloe, and tea extract all help soothe hands. The cream goes on feeling kind of thick at first but my hands absorbed it quickly and didn't feel greasy afterwards. The scent seems a little old fashioned, with hints of citrus and powder.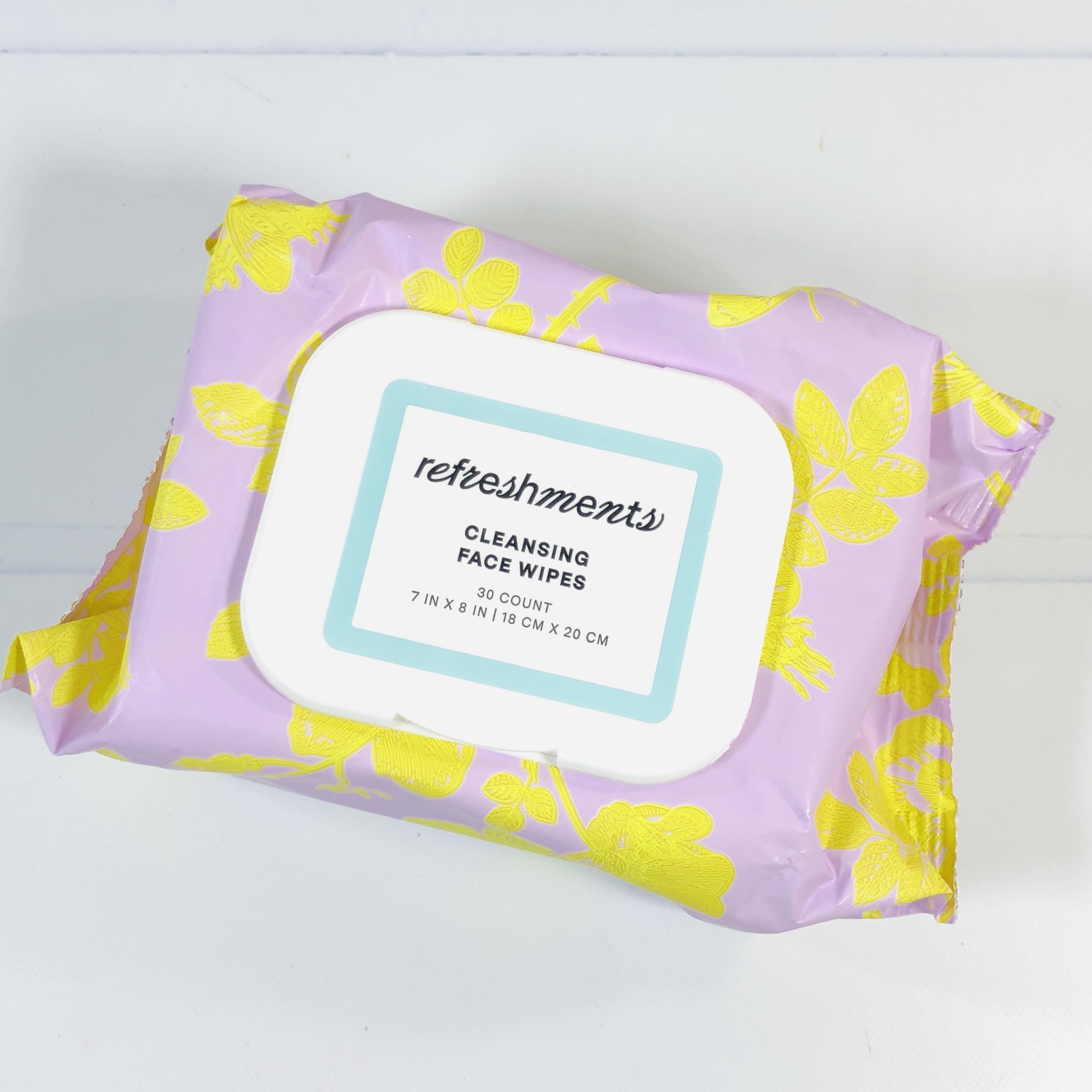 Refreshments Cleansing Face Wipes ($8) I love to use wipes to remove that first layer of eye and face makeup. These are pretty generous in the size department!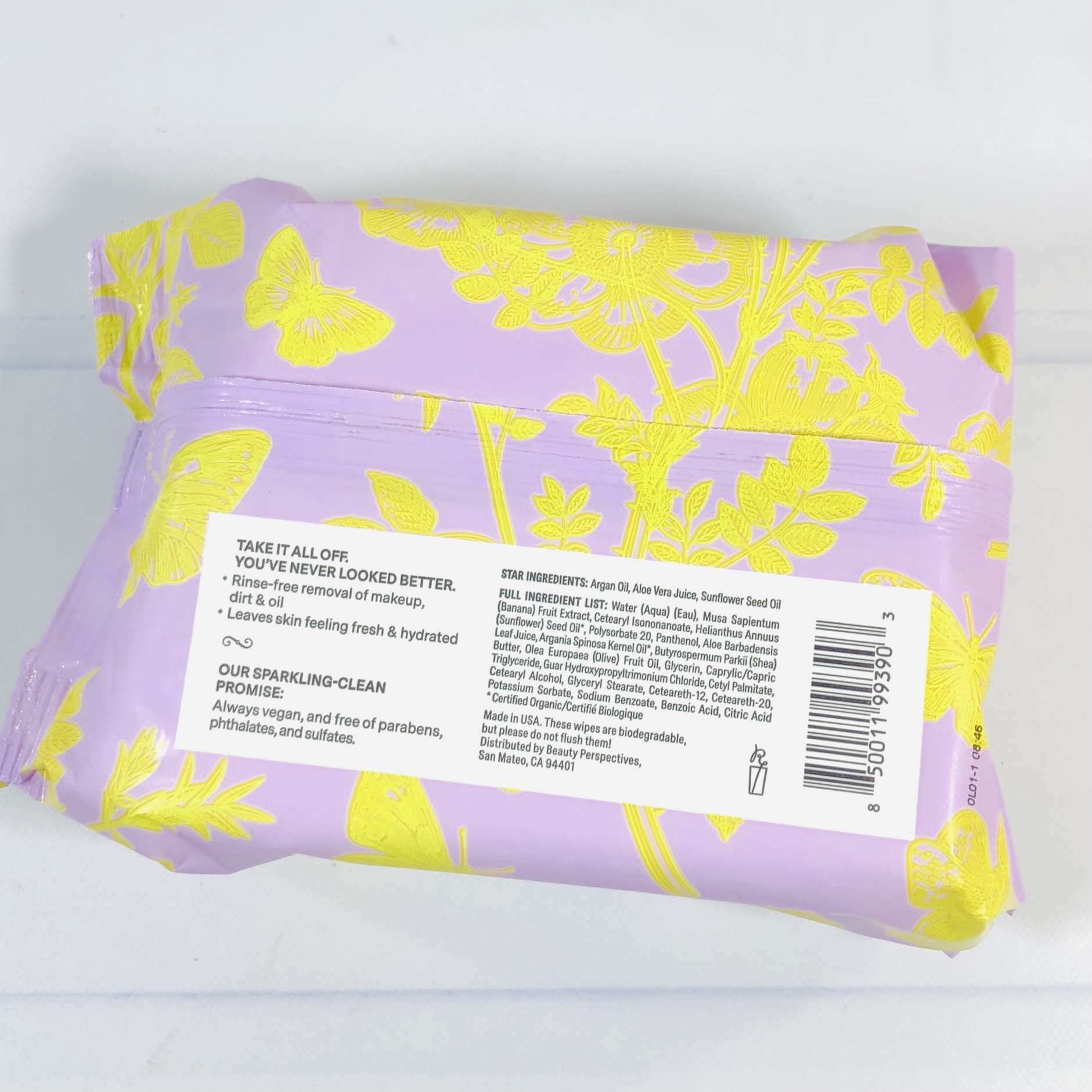 It has some of the same ingredients as the hand lotion, like shea butter and aloe, but there is also argan and sunflower seed oil.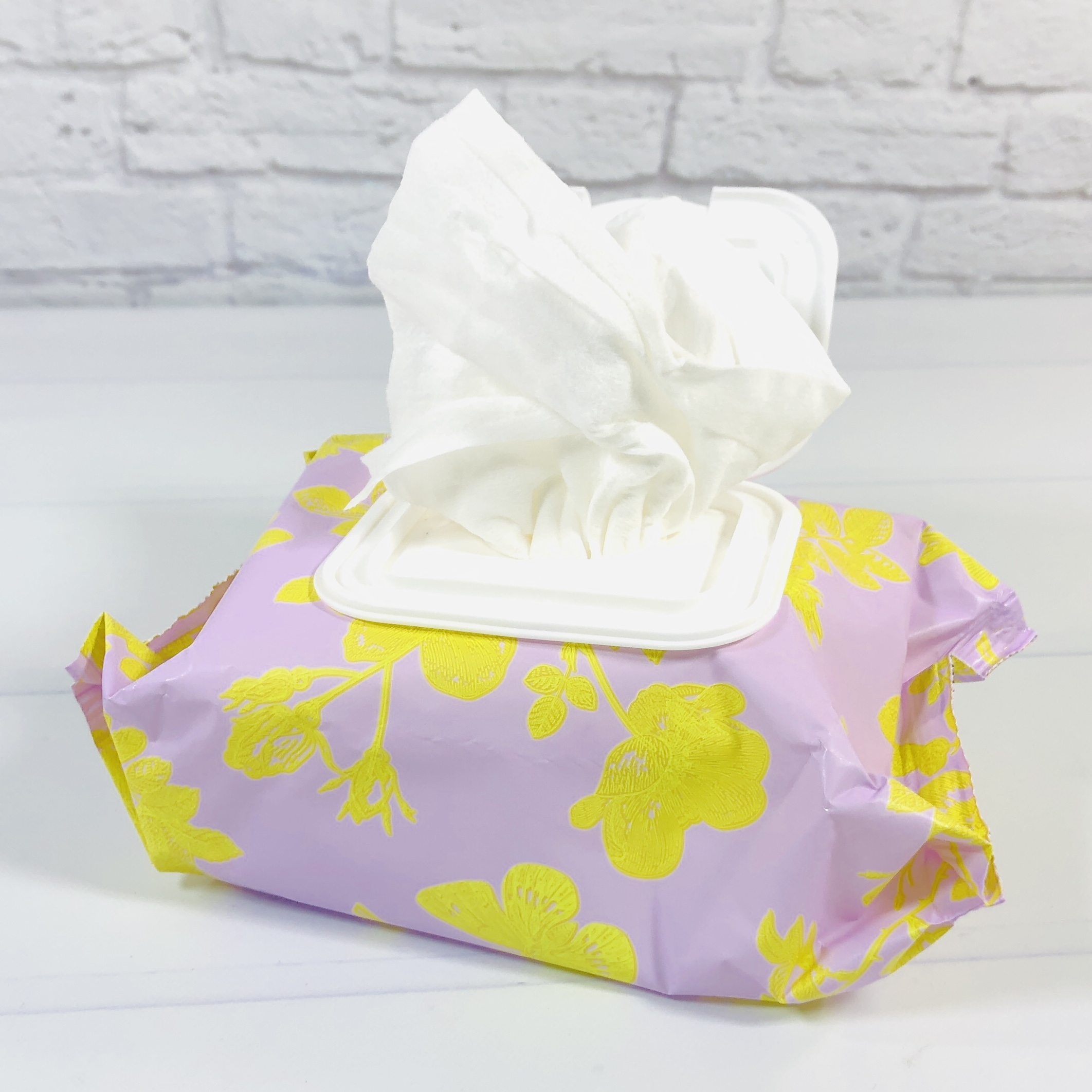 I used it to remove eye and face makeup with no irritation. It left behind a slight residue but then I followed with a second cleanse for both areas wipes are never enough for my full face makeup. Ipsy also suggests using these as a body wipe after a workout to "freshen up your personal nooks and crannies" and I think it would be pretty gentle since it doesn't have added fragrance, which I avoid in that area.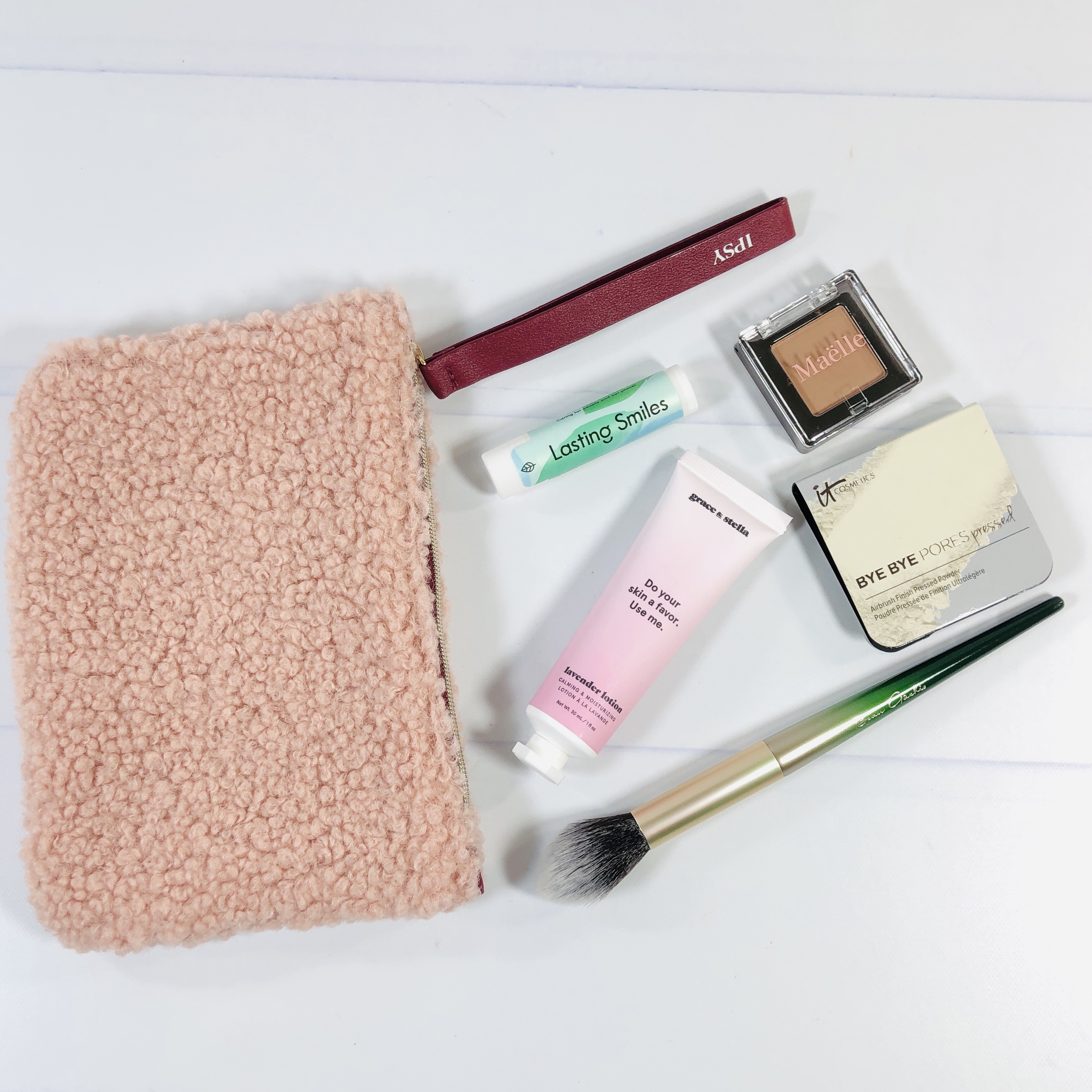 One again Ipsy sent a pleasing assortment of products and I am enjoying my December Glam Bag stuff! There were two makeup items, a makeup brush, a lip balm, and a body lotion and this variety made me pretty happy. I thought everything matched my profile well too. The bag is adorable and I enjoyed trying the two Refreshments items. The value for my assortment, not including Refreshments, was around $34.87 which is actually low for this subscription but I will happily use everything up and that's a win for me!
What did you get in your Ipsy this month?