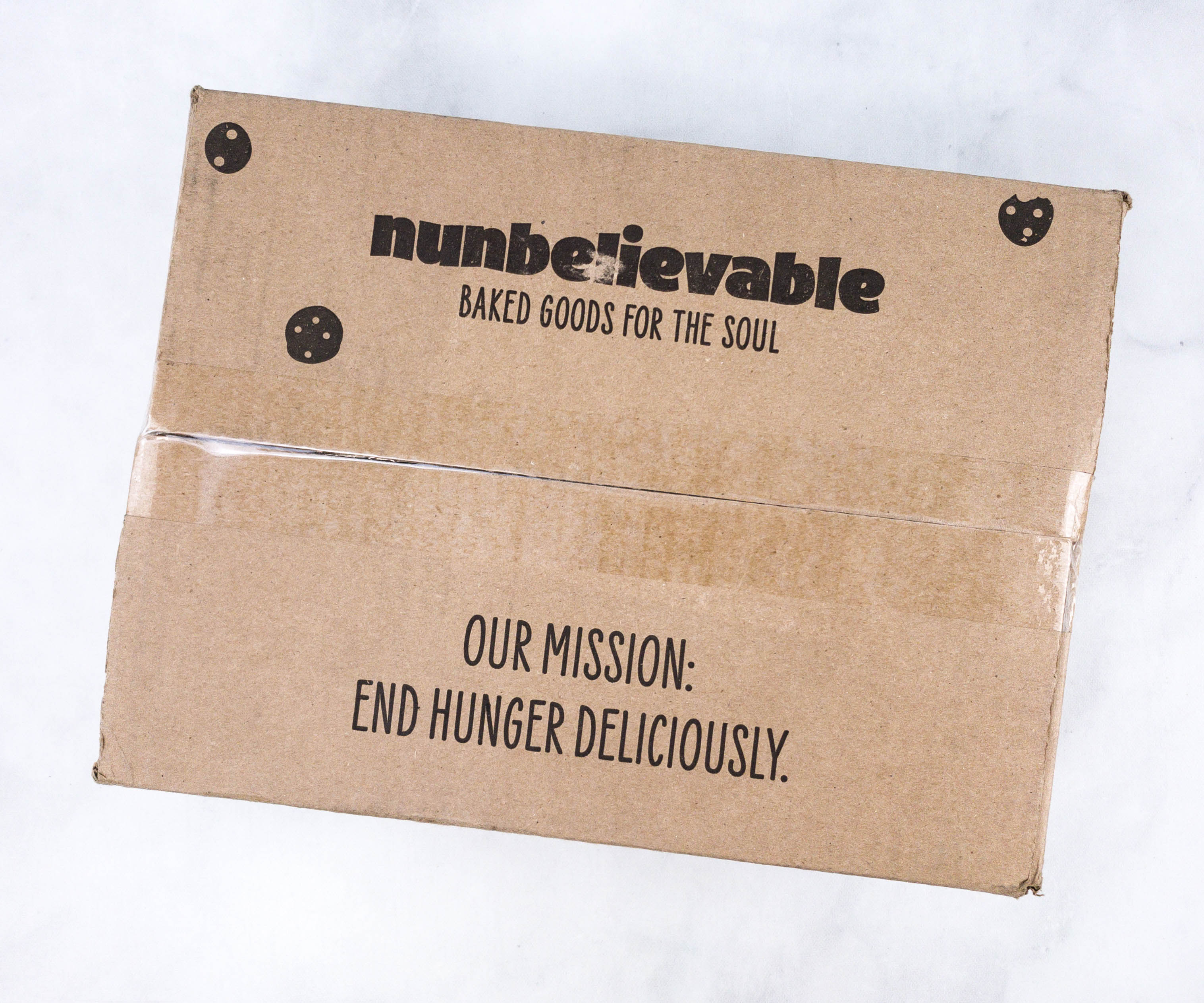 Nunbelievable, inspired by a group of nuns who made cookies from scratch, offers cookie subscriptions in different flavors. The cookies are made with non-GMO ingredients and they are preservative-free and artificial flavor-free as well. There are currently 5 flavor packs available: Chocolate Chip Cookies, Peanut Butter Cookies, Oatmeal Raisin Cookies, Double Chocolate Gluten Free Cookies, and Assorted Pack Cookies. You can also choose from 3 subscription plans: Angel (a 12-month plan for $339.88), Saint (a 6-month plan for $169.99), or Samaritan (a 3-month plan for $84.99). Or, purchase the cookies in their shop!
This is a review of the Assorted Pack Cookies.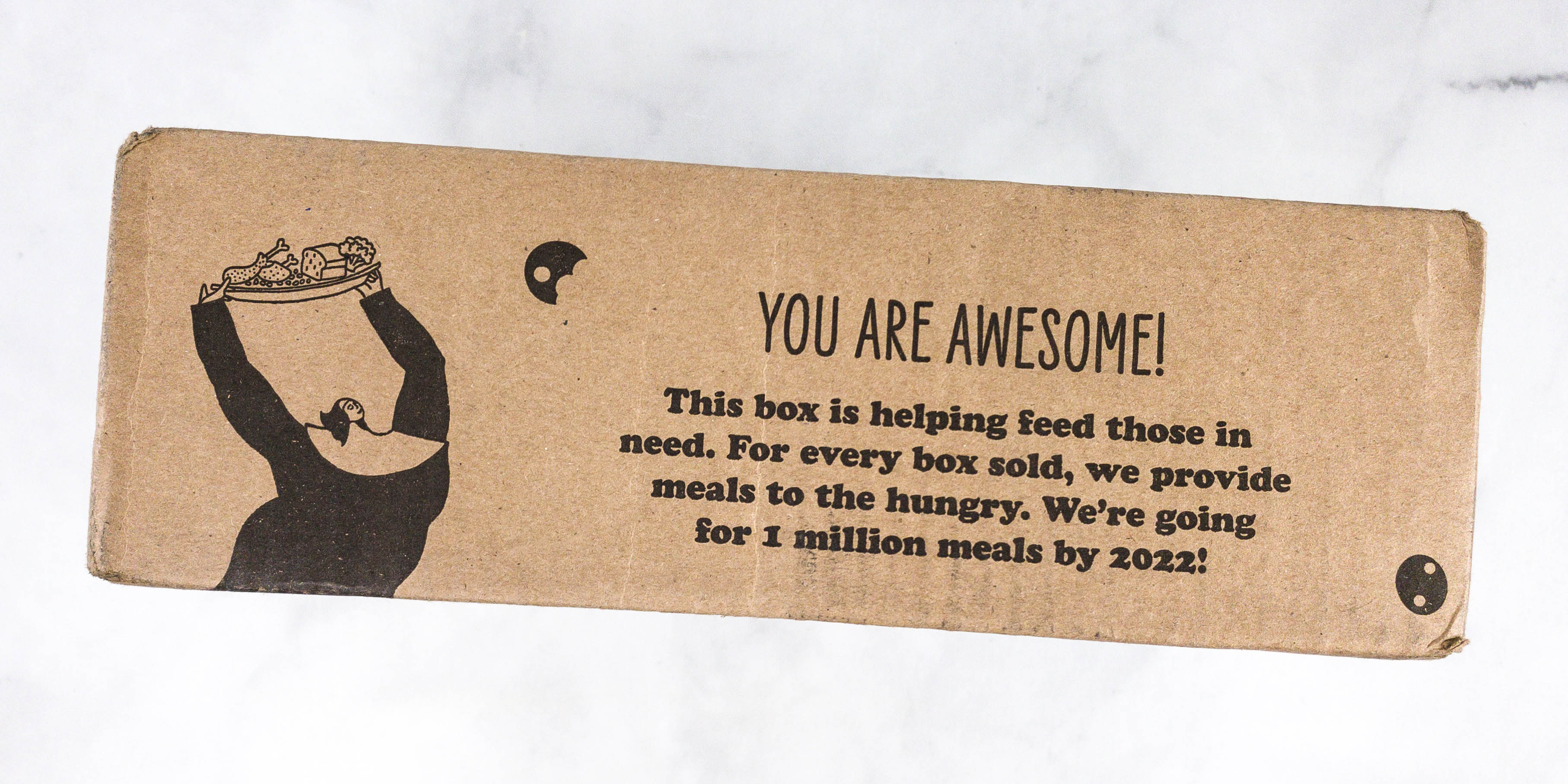 For every box sold, Nunbelievable donates meals to their partner soup kitchens to help end hunger.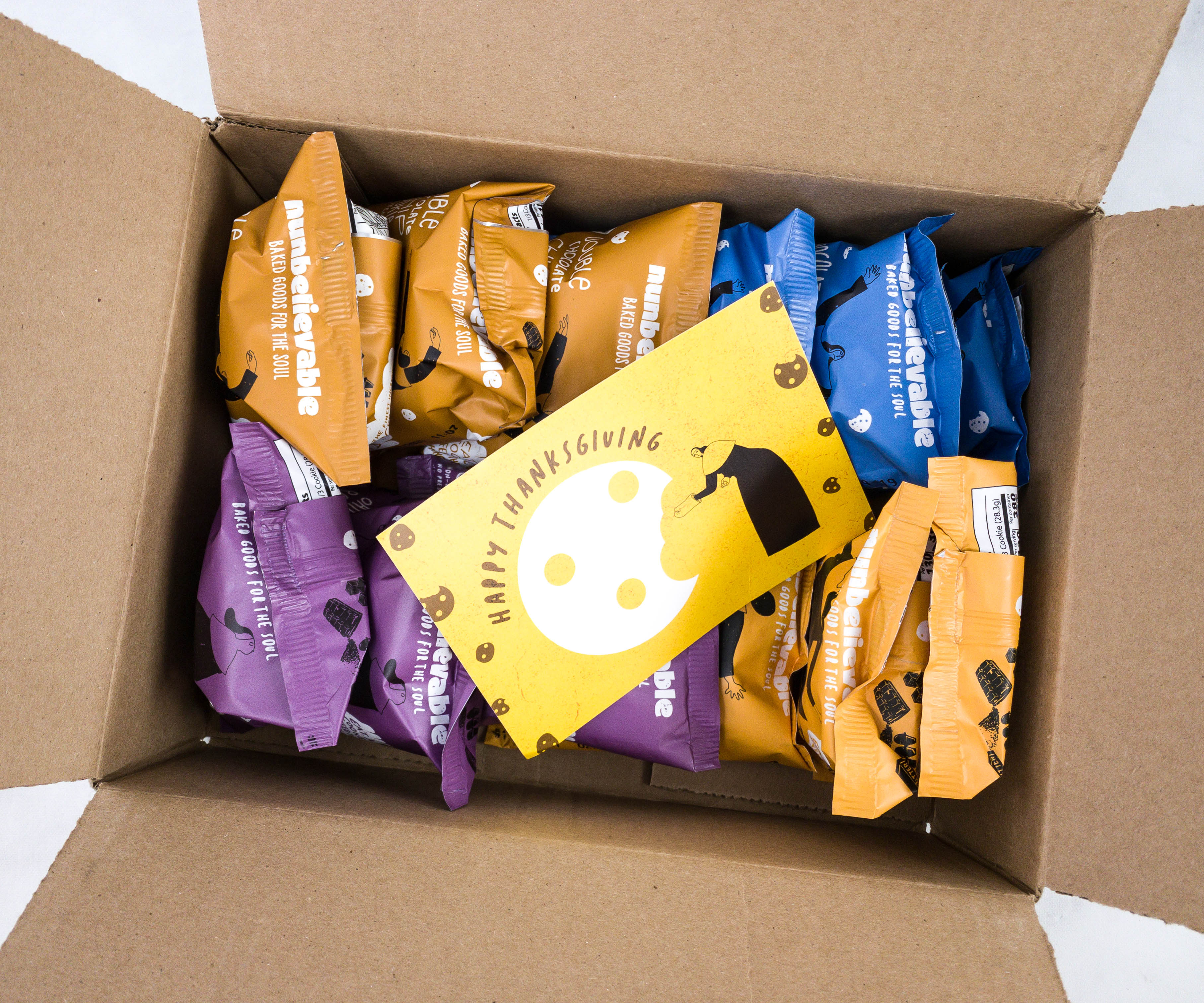 There are no extra packing materials but the cookies arrived in great condition.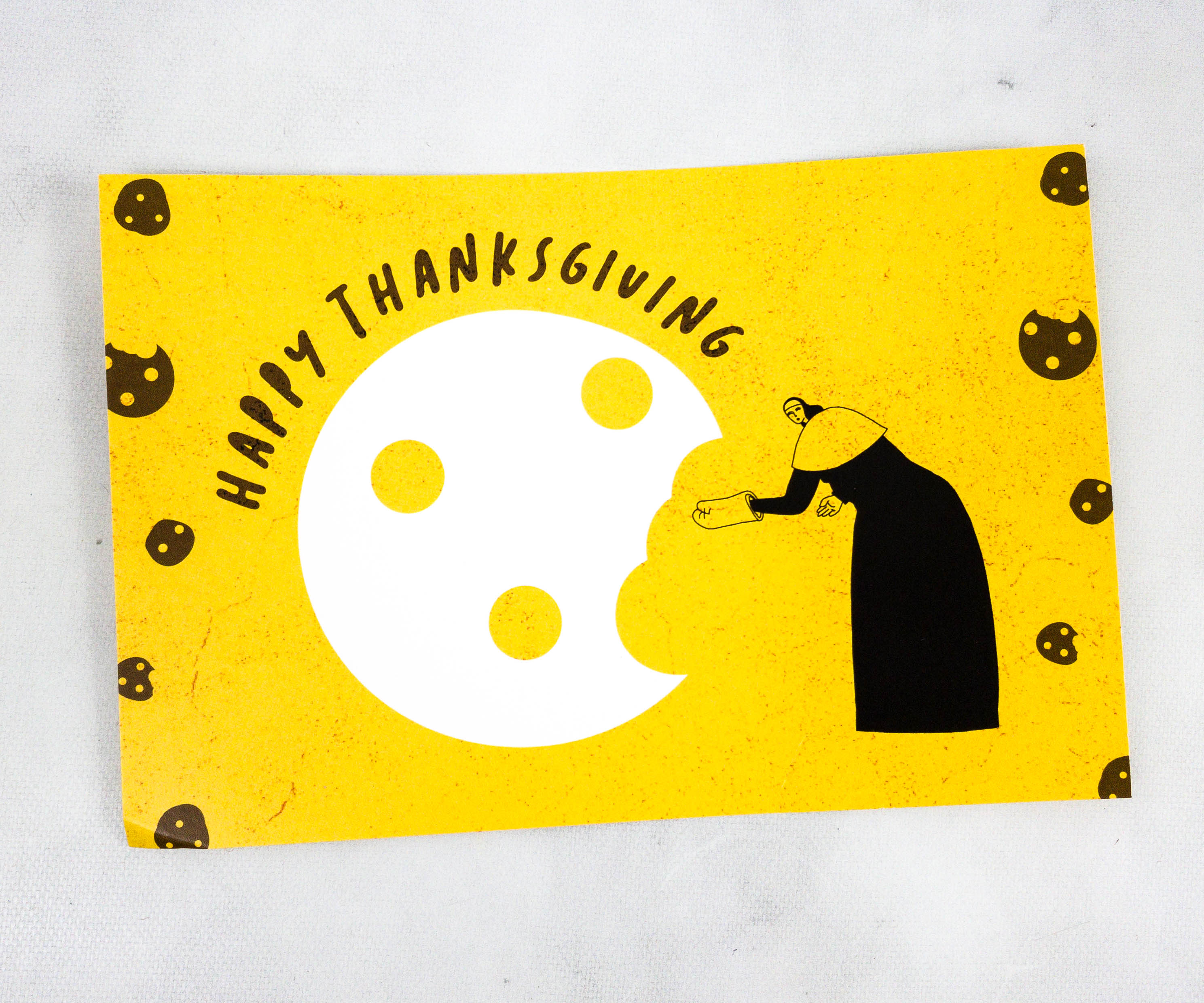 There's a card in the box!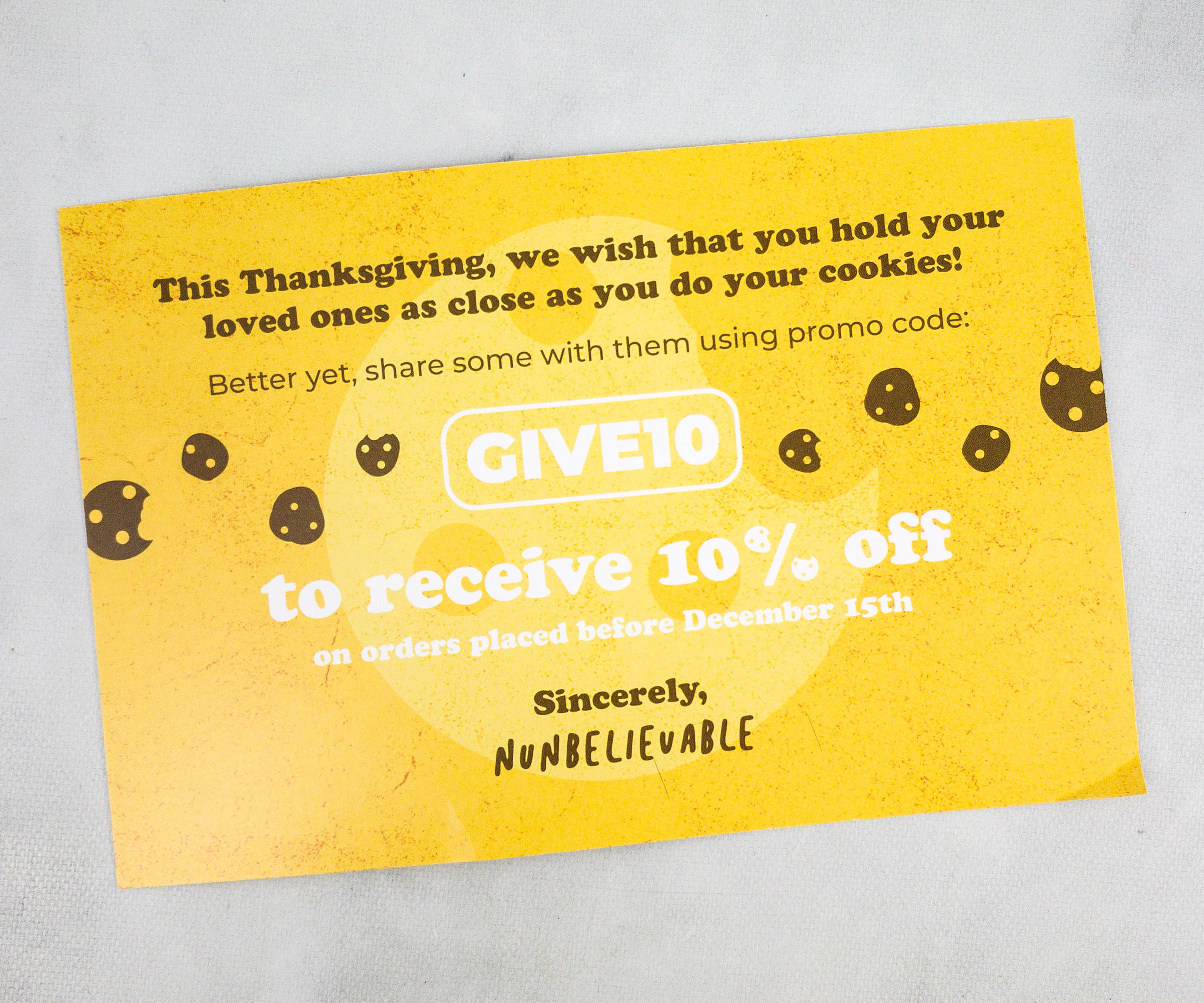 At the back, there's a 10% off coupon code for orders before December 15th.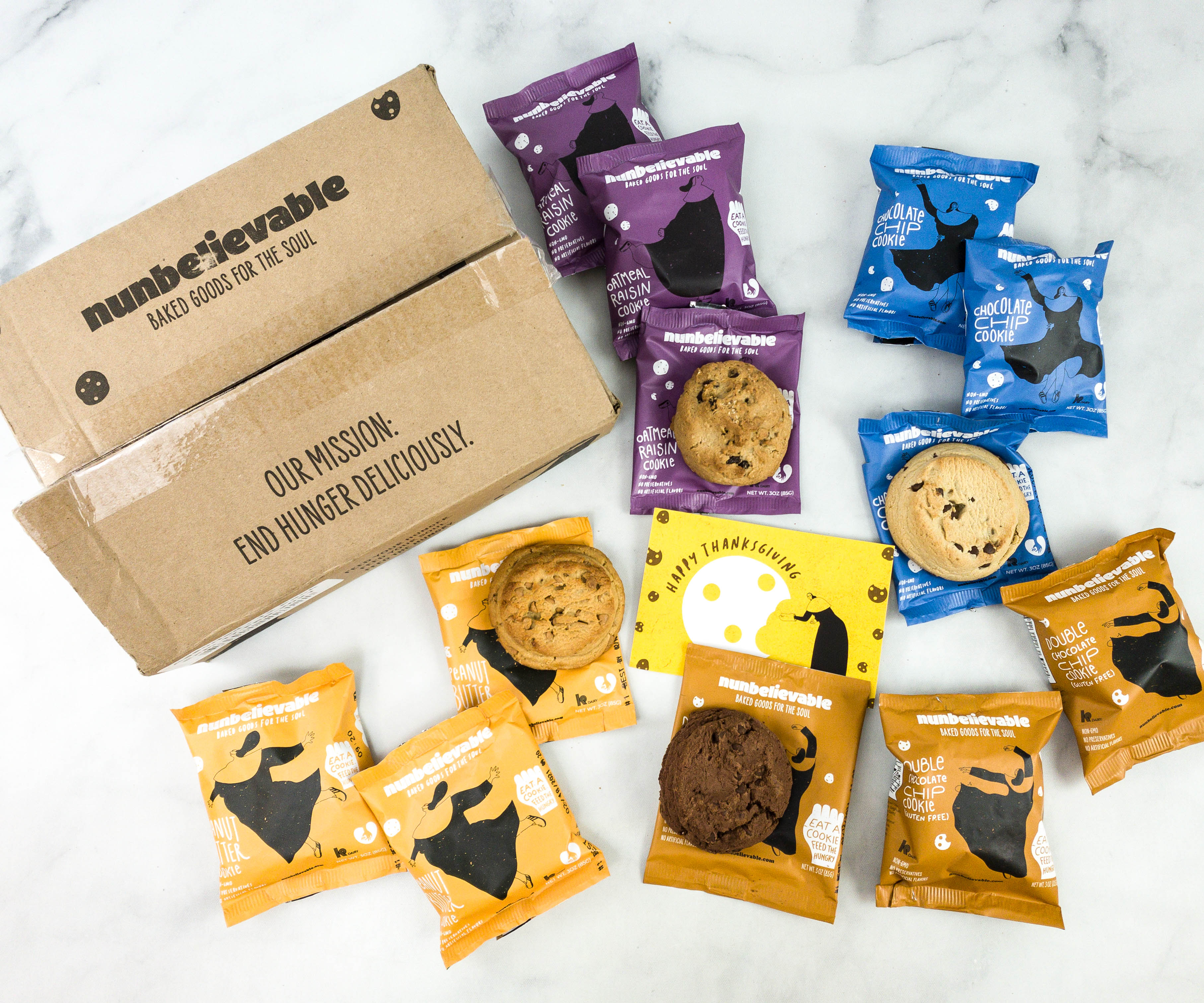 Everything in my box!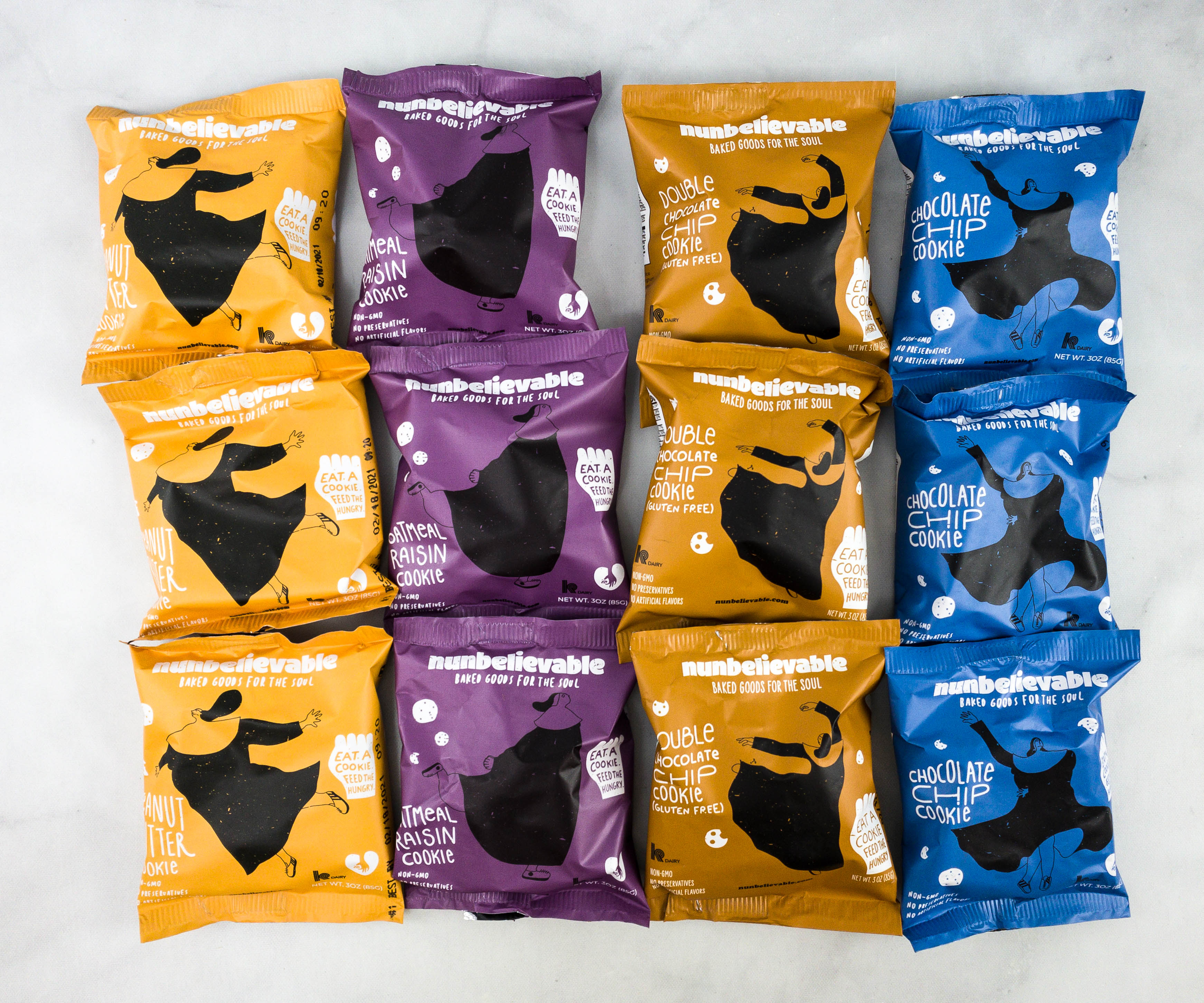 There are 4 flavors of cookies and I received 3 pieces of each flavor, so that's a total of 12 delicious cookies!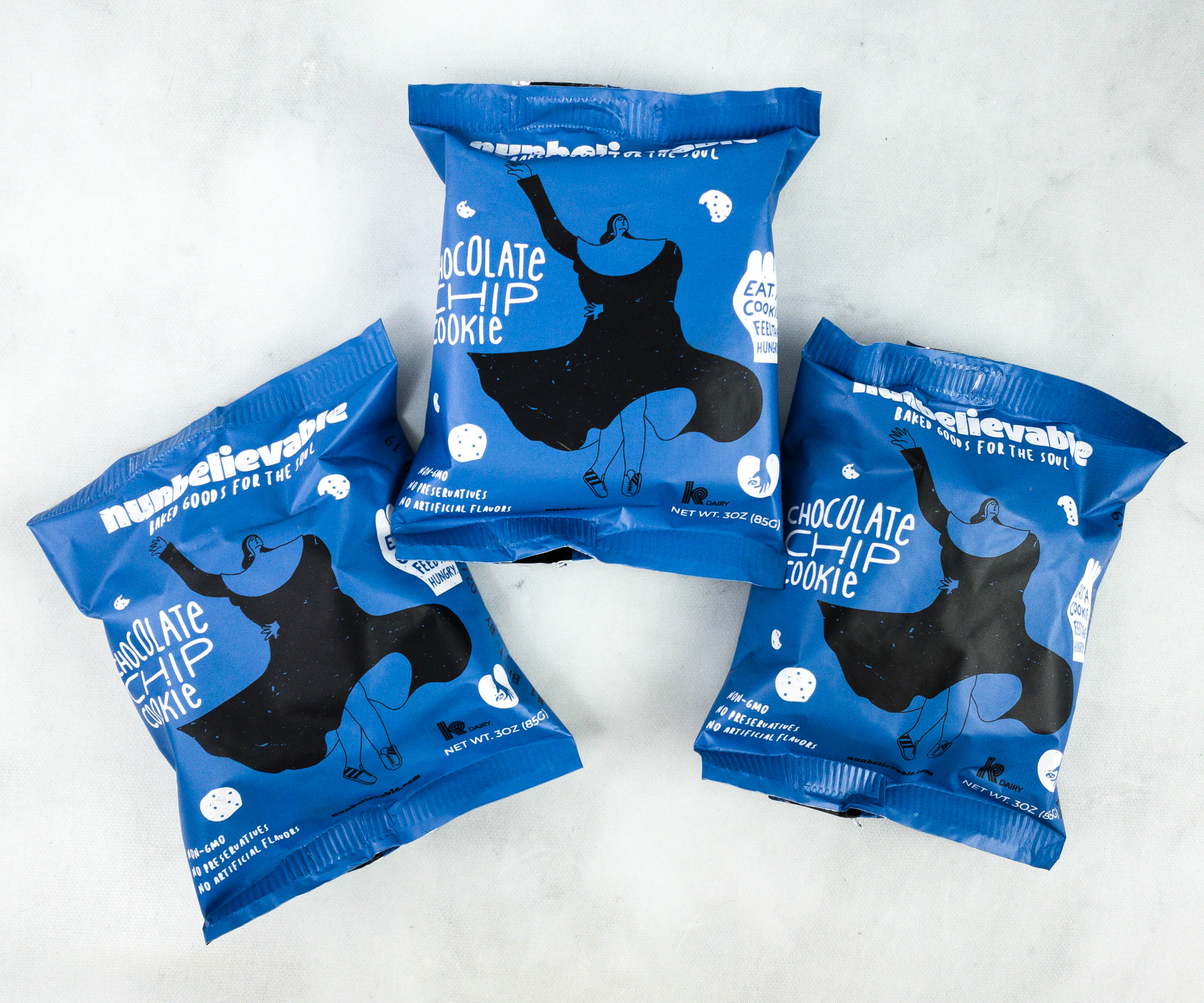 Chocolate Chip Cookies ($9) Chocolate chip is that classic cookie everybody loves! Nunbelievable's version is really good, as it has a perfect balance of sweetness and chocolaty goodness. Aside from the taste, the soft and chewy texture is also what makes this cookie so special!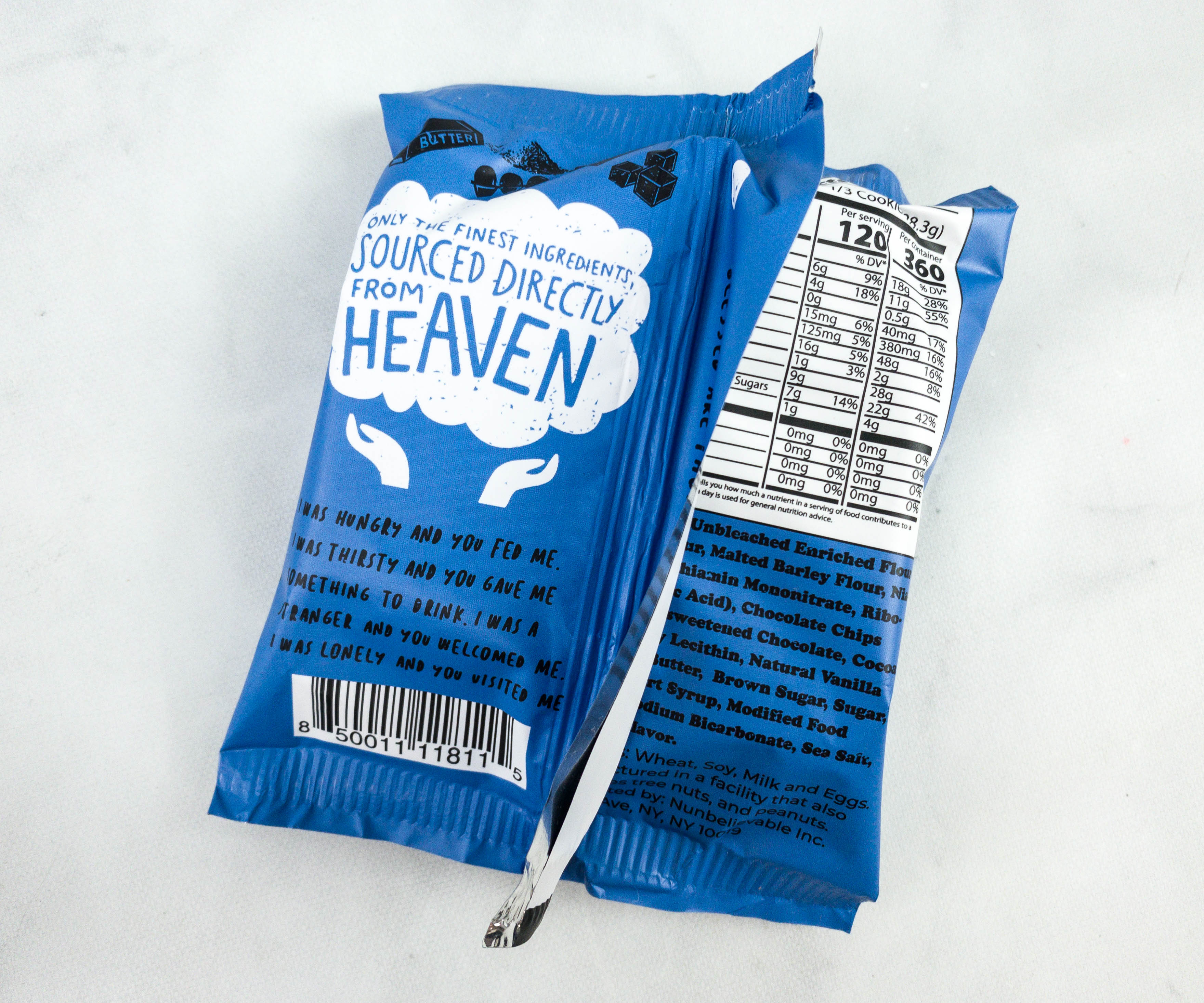 The back of each pack lists the ingredients of the cookie, as well as the nutrition facts.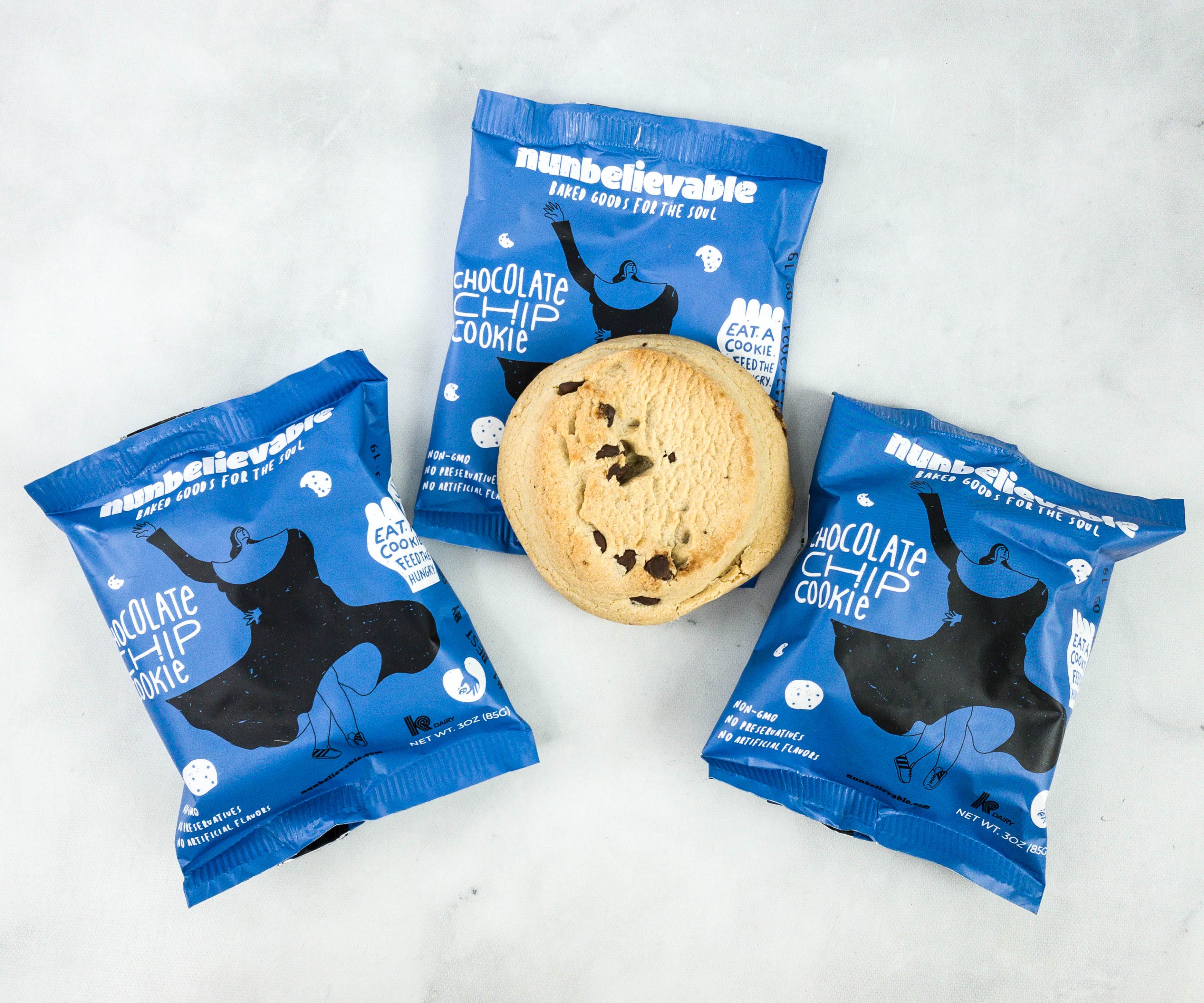 They are individually wrapped to ensure freshness.
One cookie is filling enough and it's great whether eaten as is or enjoyed with a warm drink.
This cookie is thick and loaded with lots of chocolate chips!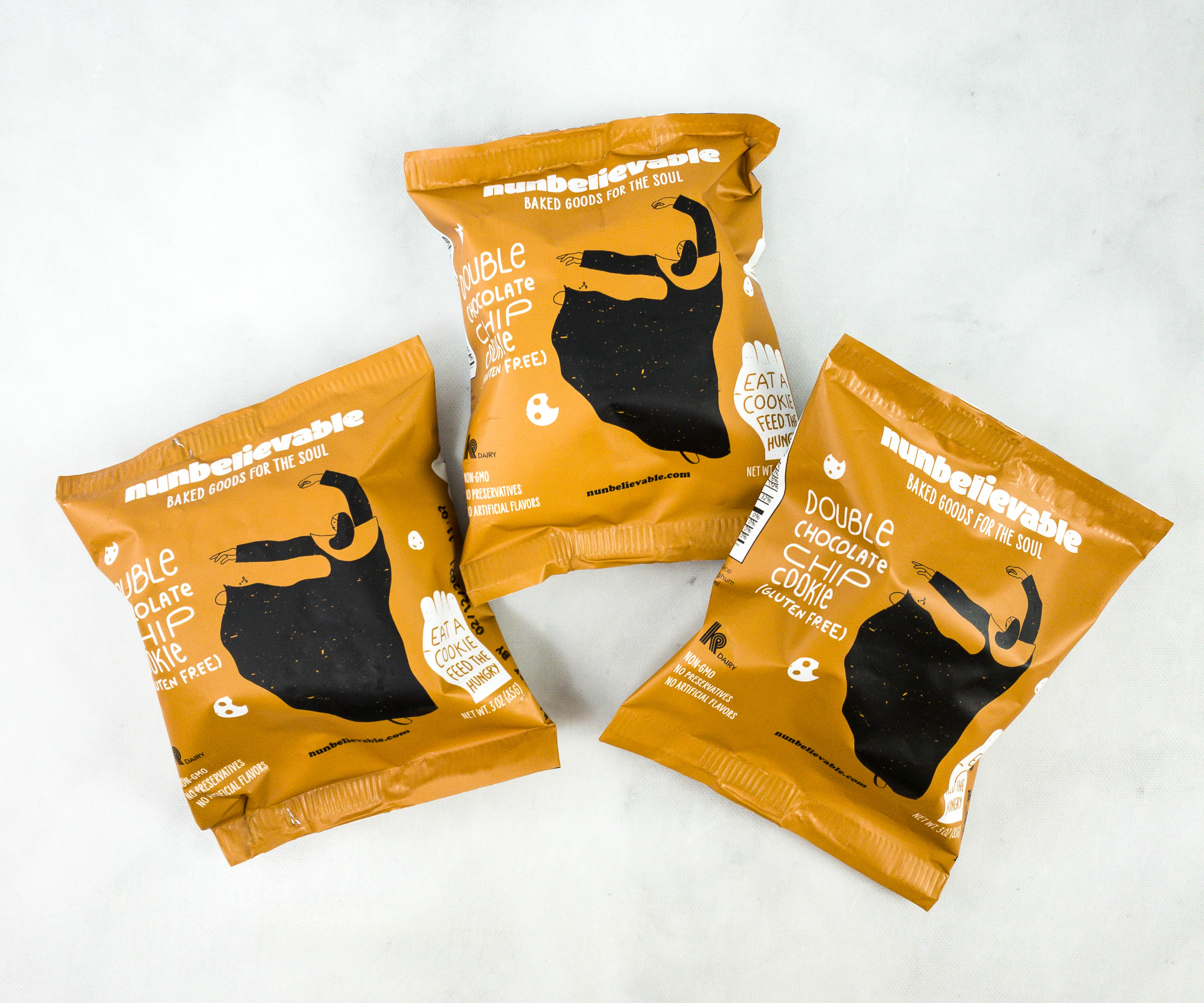 Double Chocolate Chip Gluten Free Cookies ($9) It's double the chocolate fun with this variant, the perfect cookie for any chocolate lover. It's also the only gluten-free cookie option from Nunbelievable!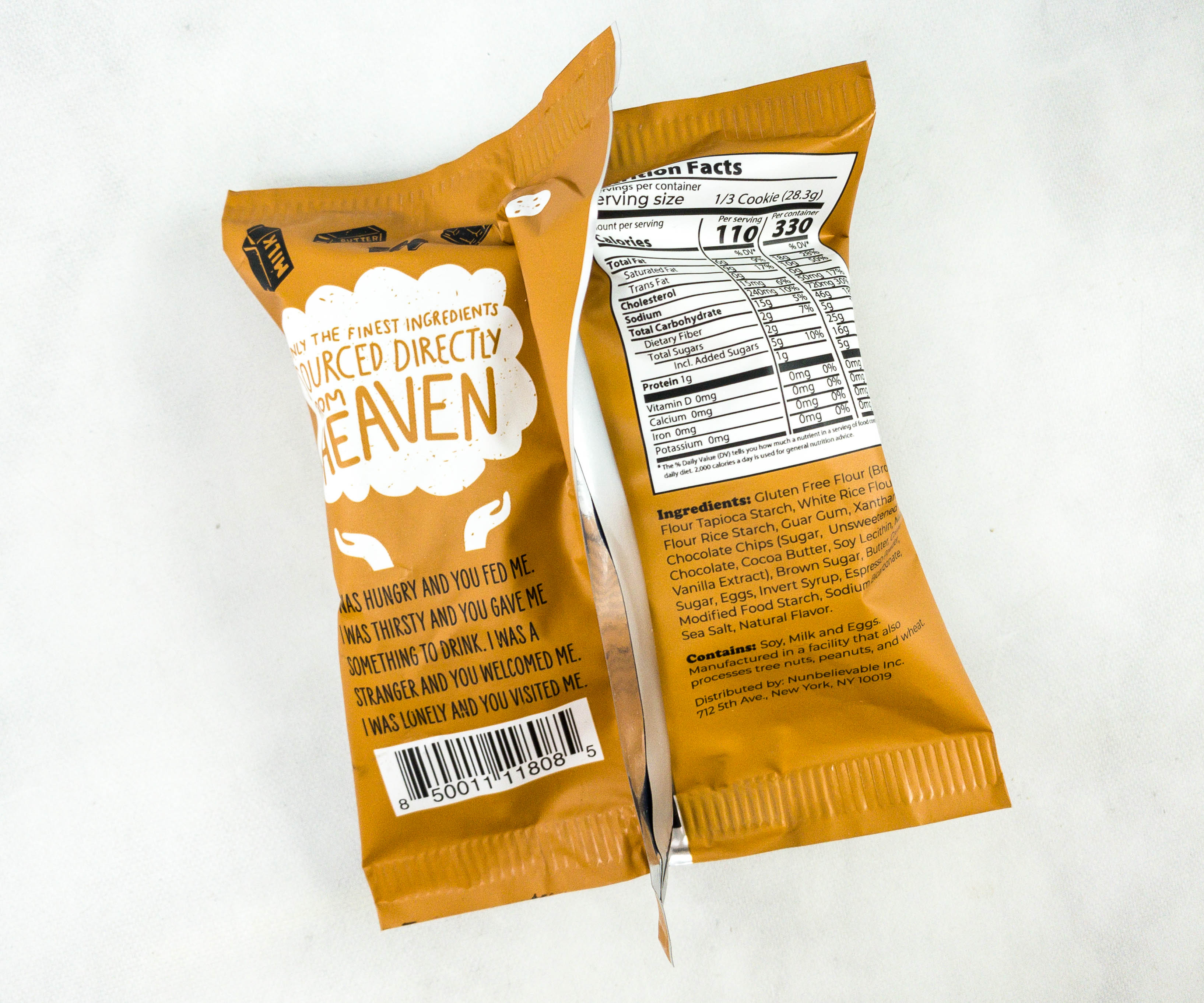 Just like all the cookies from this box, it's non-GMO and does not have artificial flavors!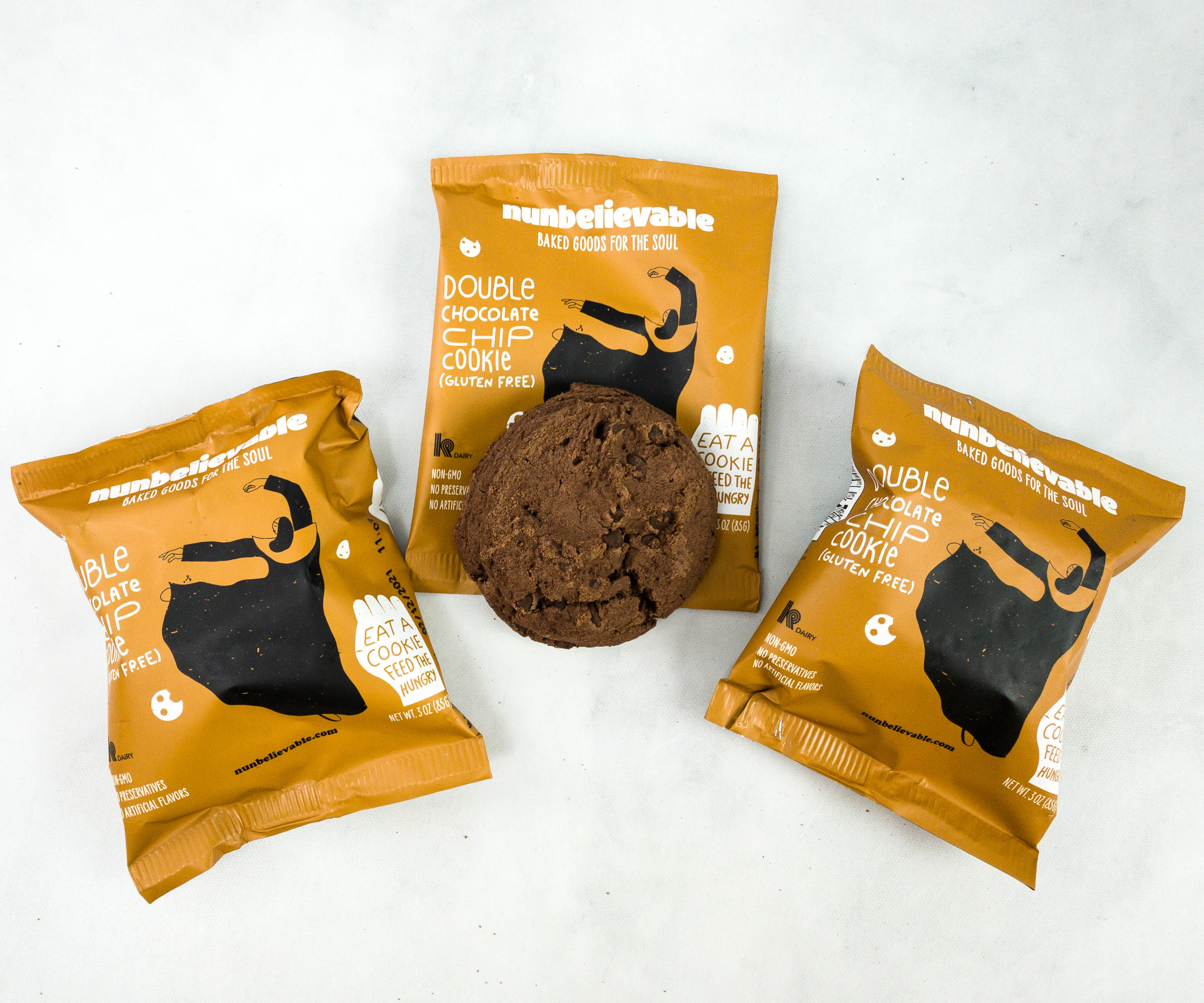 These individually wrapped cookies can also be stashed in your bag in case you get hungry while you're on the go!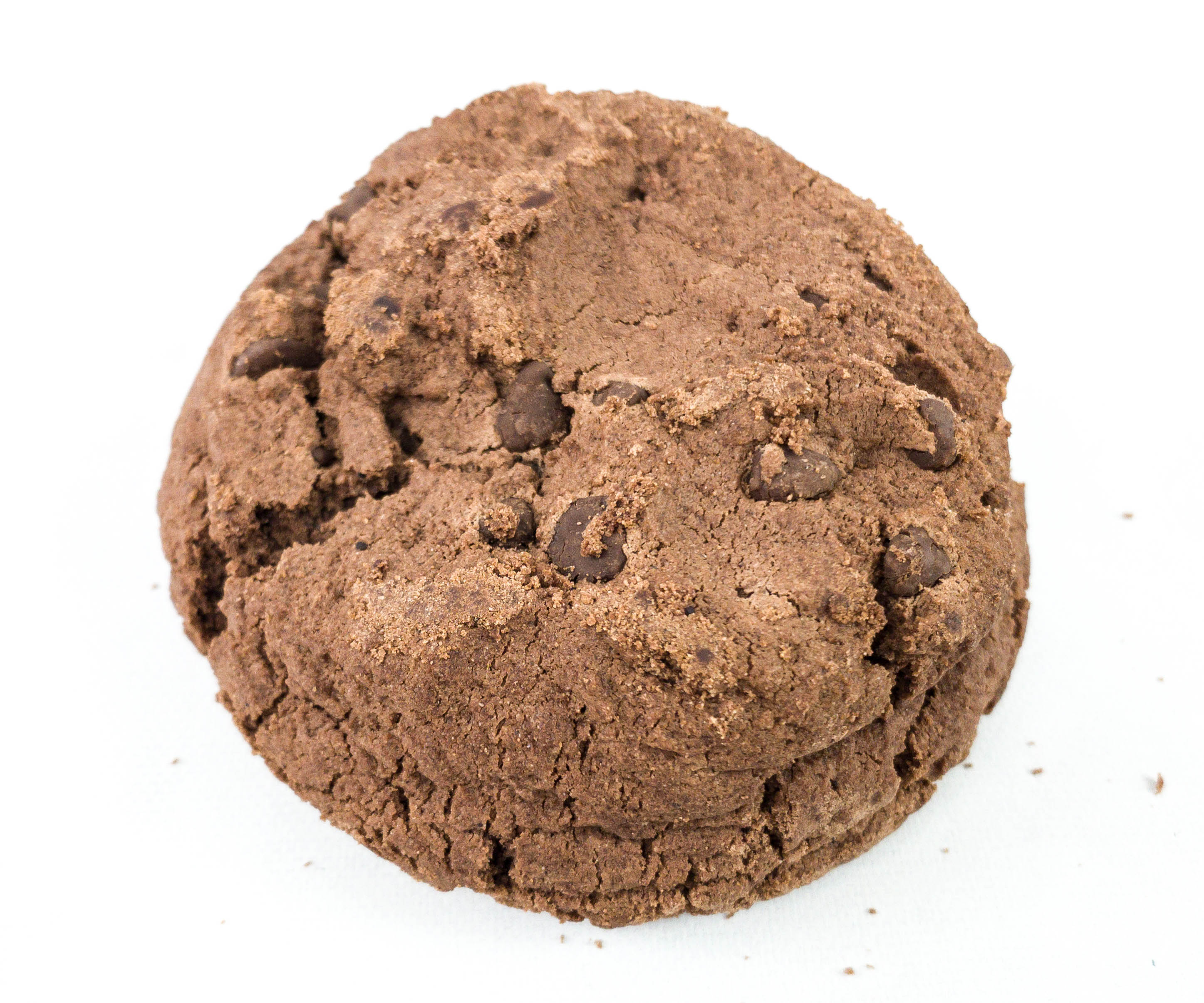 The color is darker than the regular chocolate chip cookie. It's also a bit chunkier.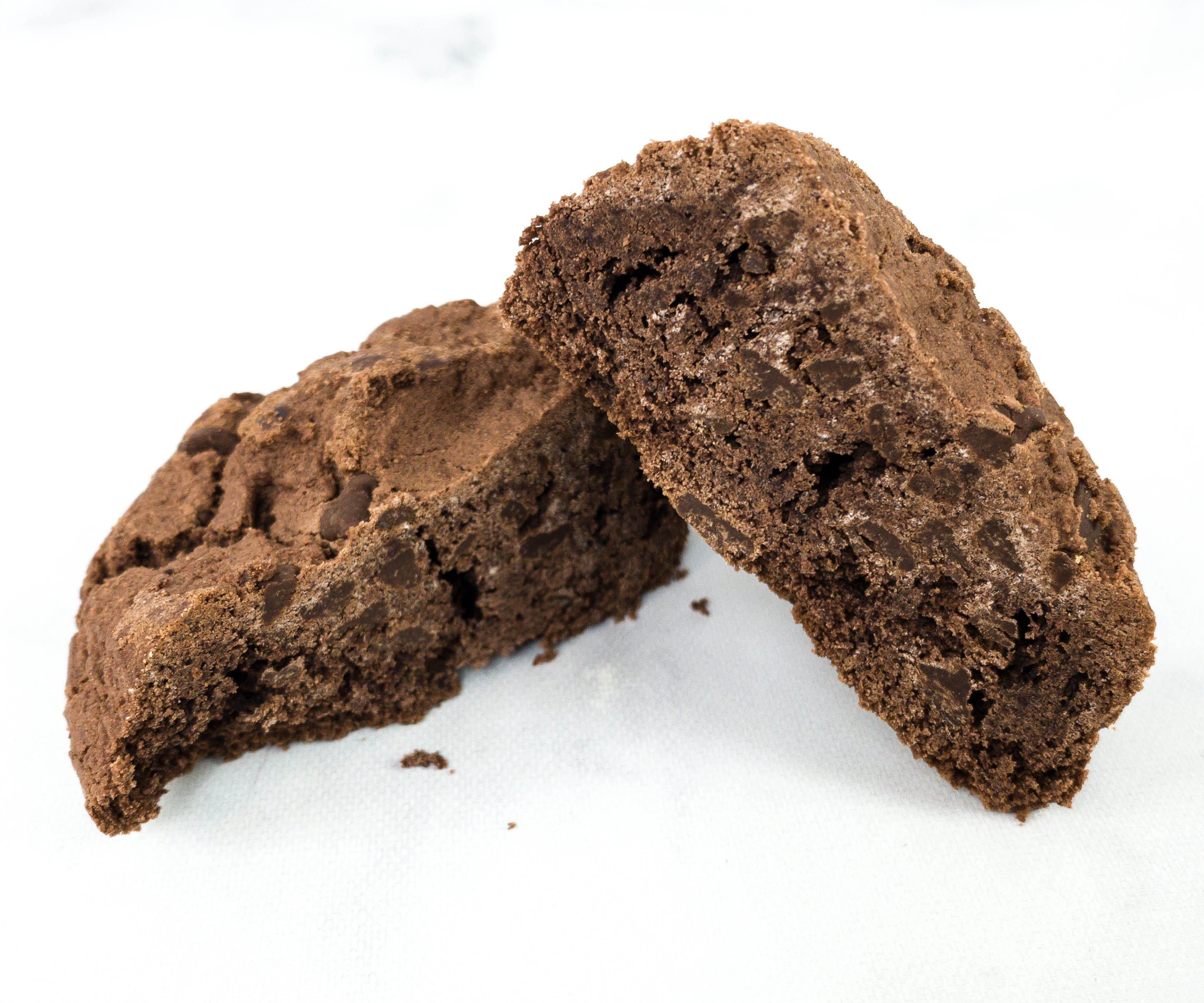 The inside of the cookie is perfectly fudgy!  Yum! It was good, but not as great as the other cookies. I sent along one of these packs to a celiac friend and she was sold.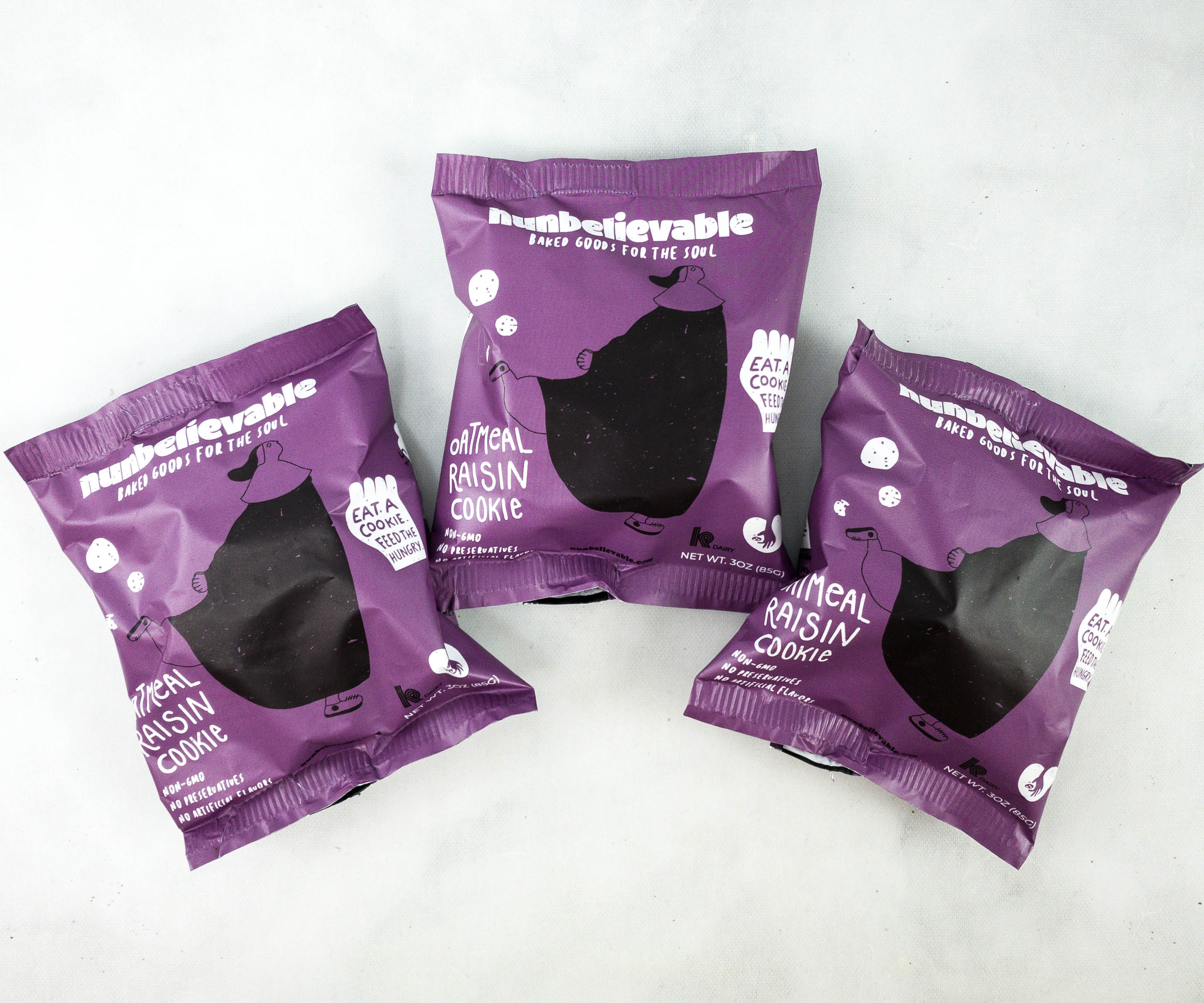 Oatmeal Raisin Cookies ($9) Here's another classic cookie, oatmeal raisin! The natural taste and texture of oatmeal plus the sweetness of raisins bring back childhood memories!
The packaging includes the cookie's best by date.
It's nice that I was able to share this with my family. They were surprised by how good the cookies are!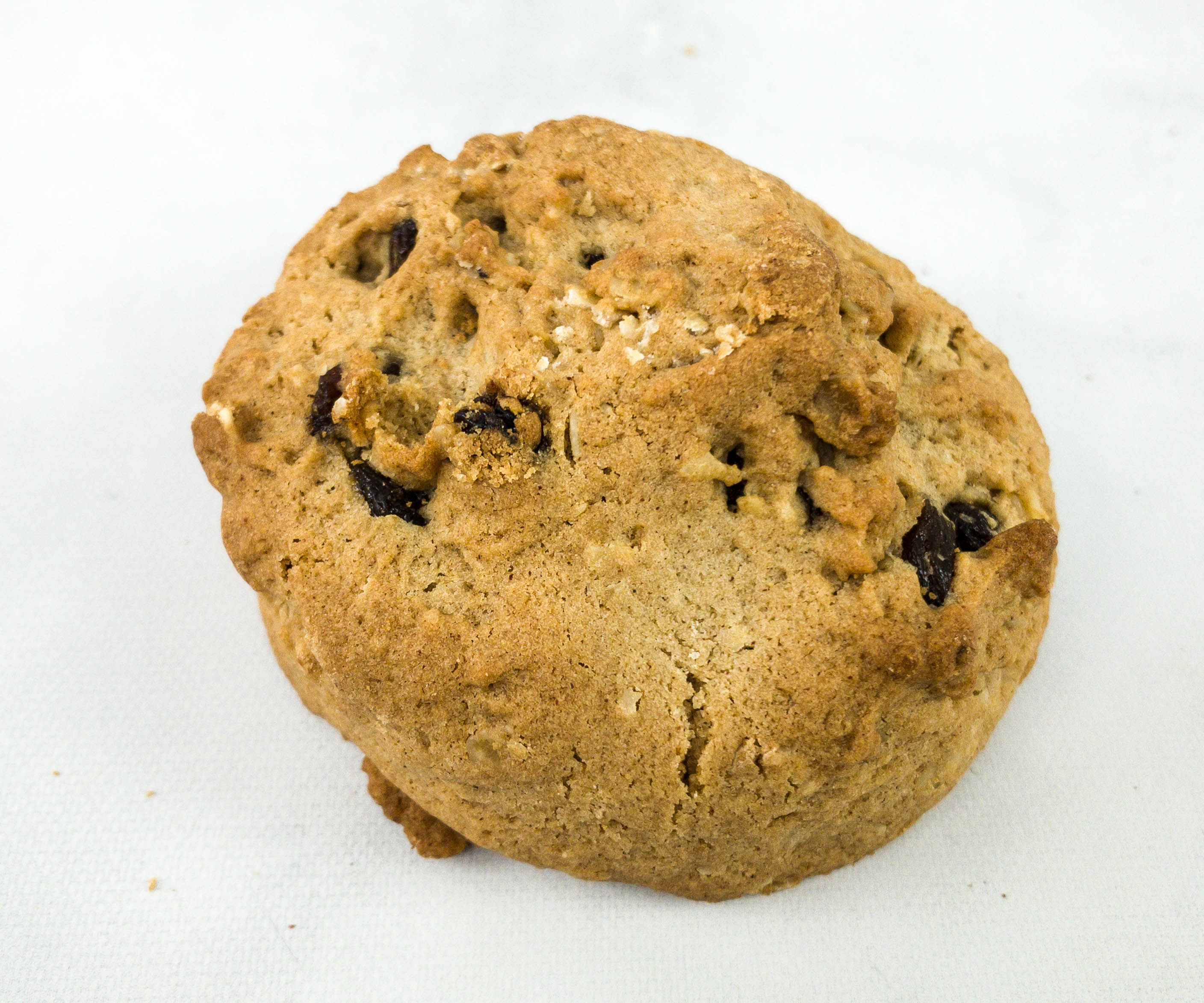 This cookie was baked to perfection!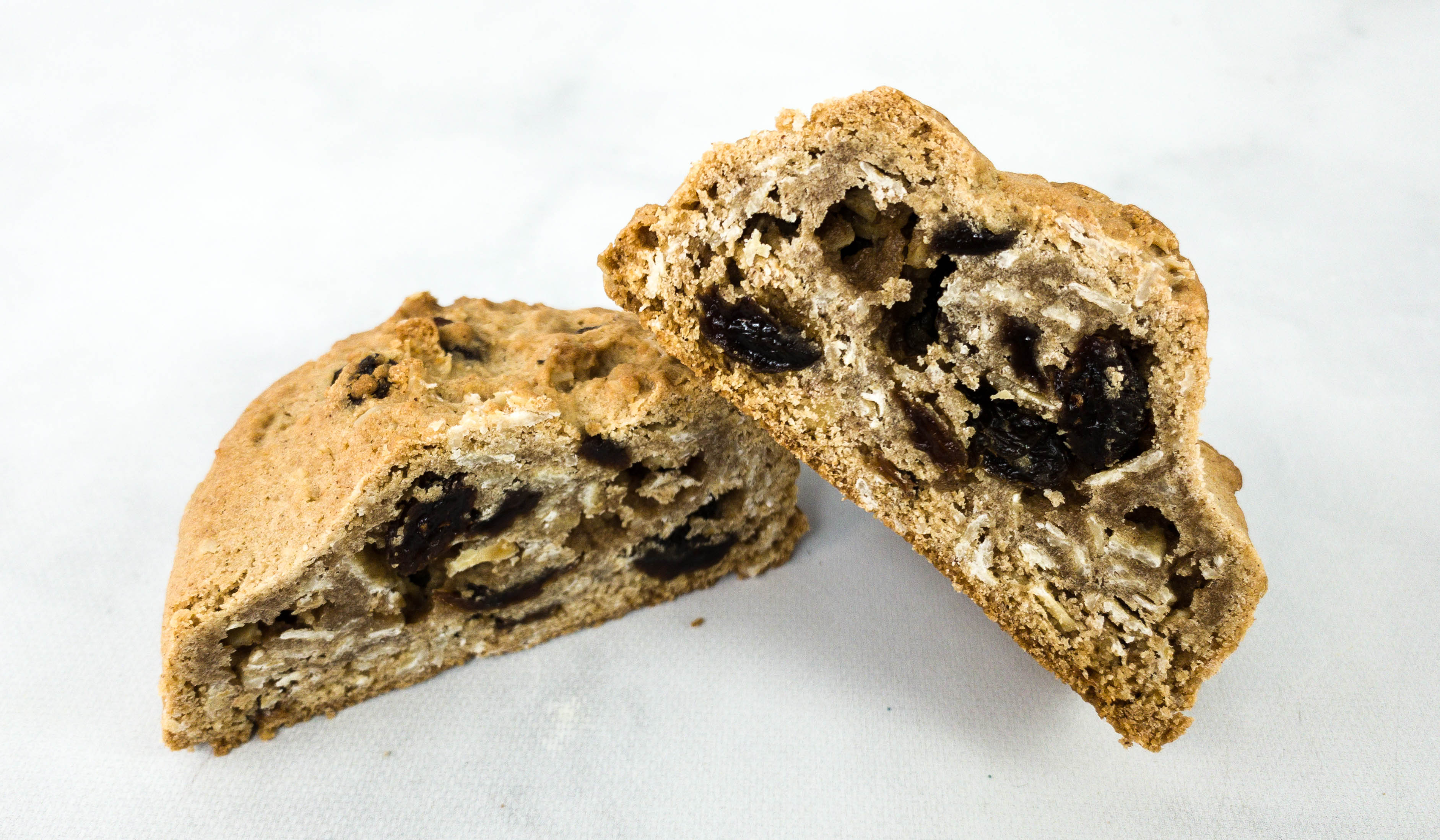 They surely didn't skimp on the ingredients. There are raisins in every bite!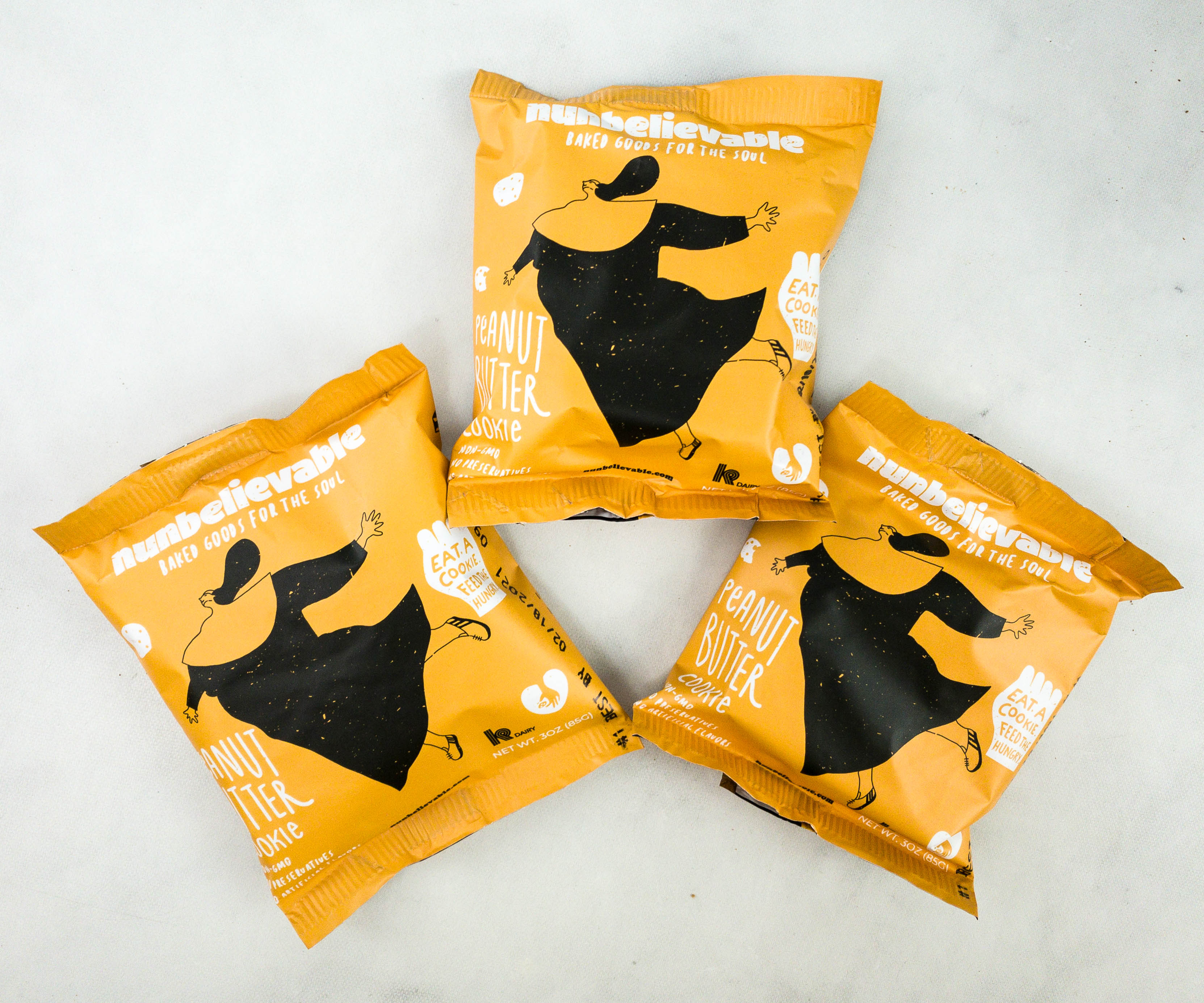 Peanut Butter Cookies ($9) There's also something for peanut butter lovers! These nutty cookies didn't disappoint, because the flavors were well-balanced.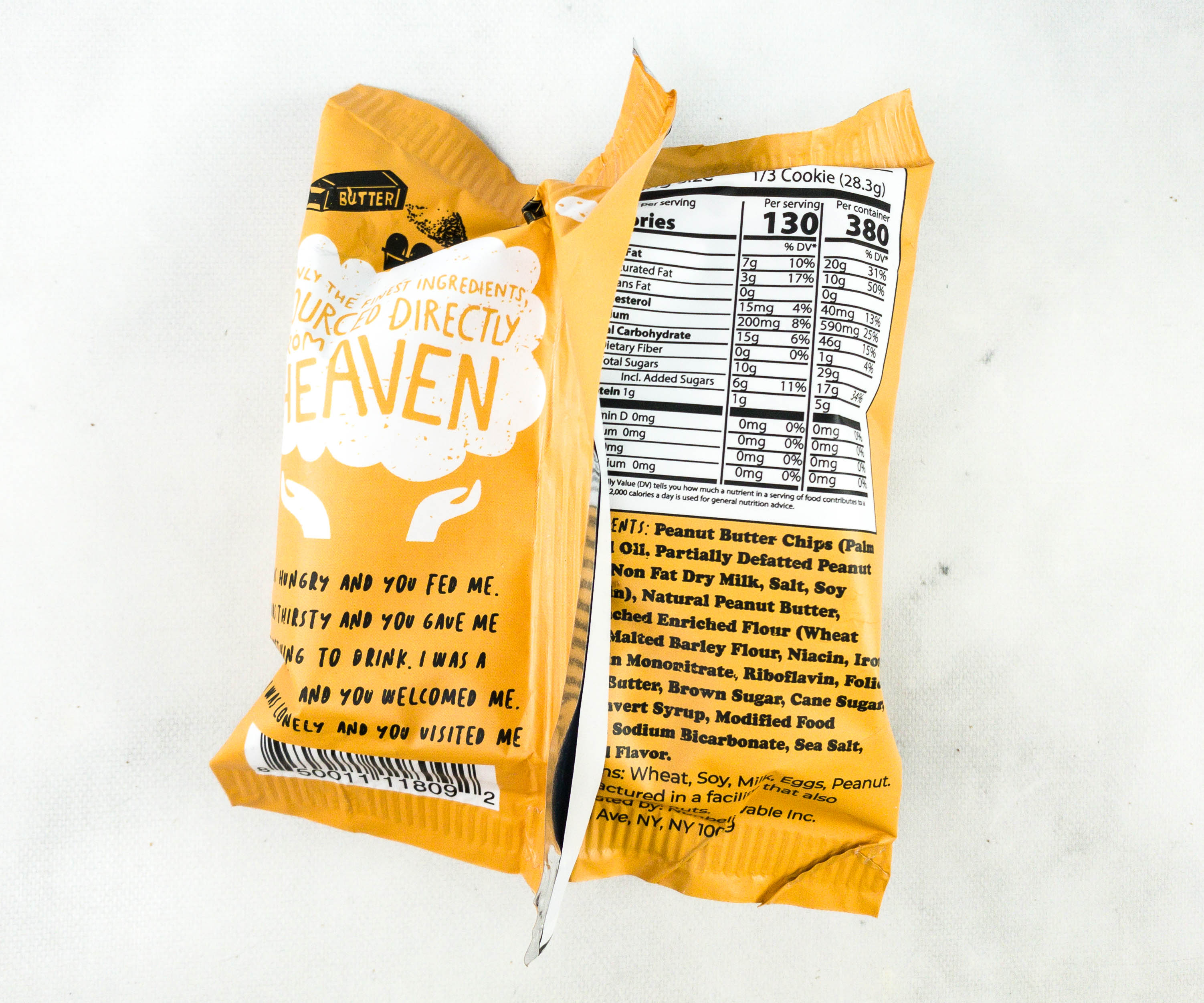 Another thing to note about the cookie's packaging is that it's recyclable under recycling code 5.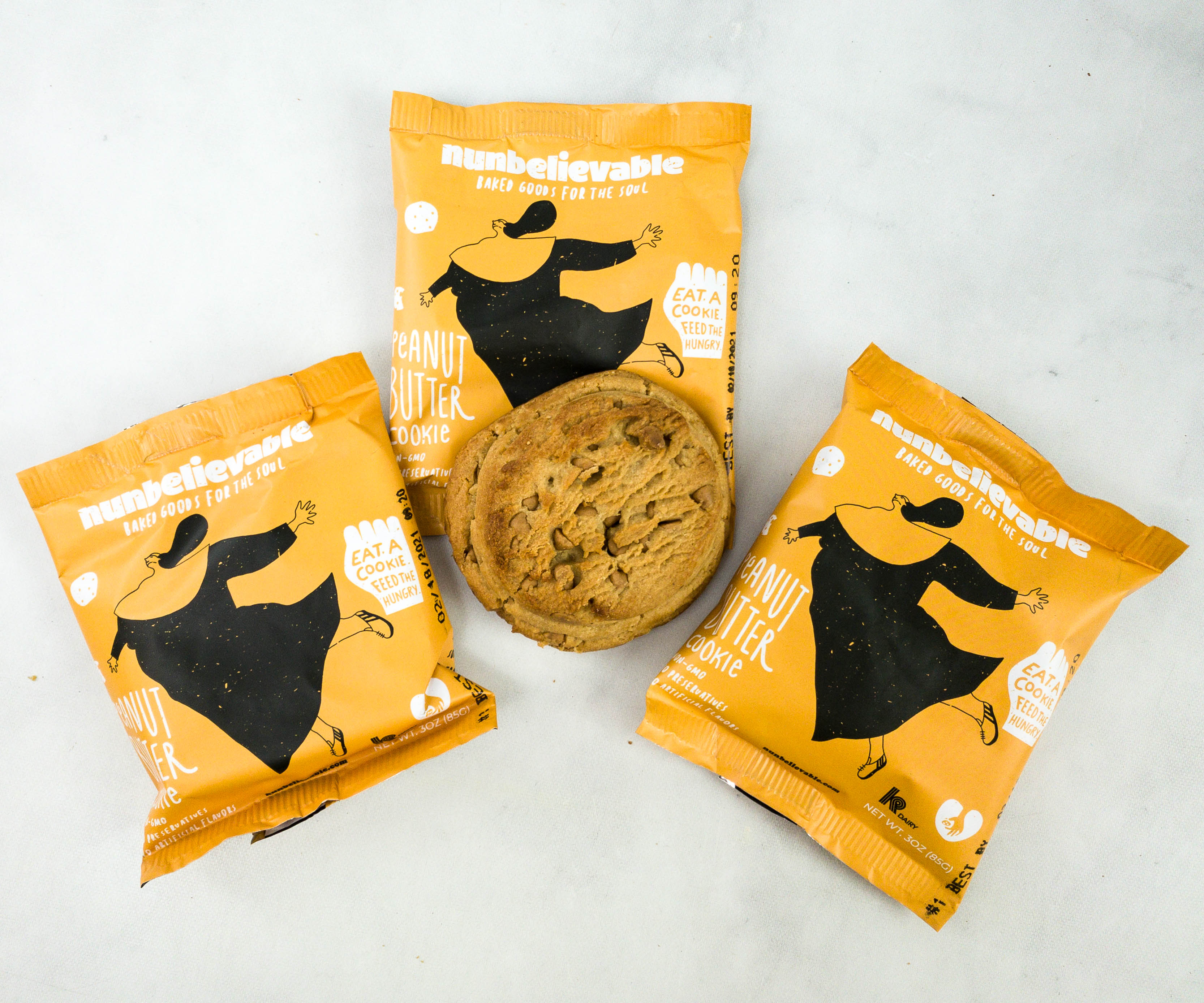 I'm definitely saving some for later!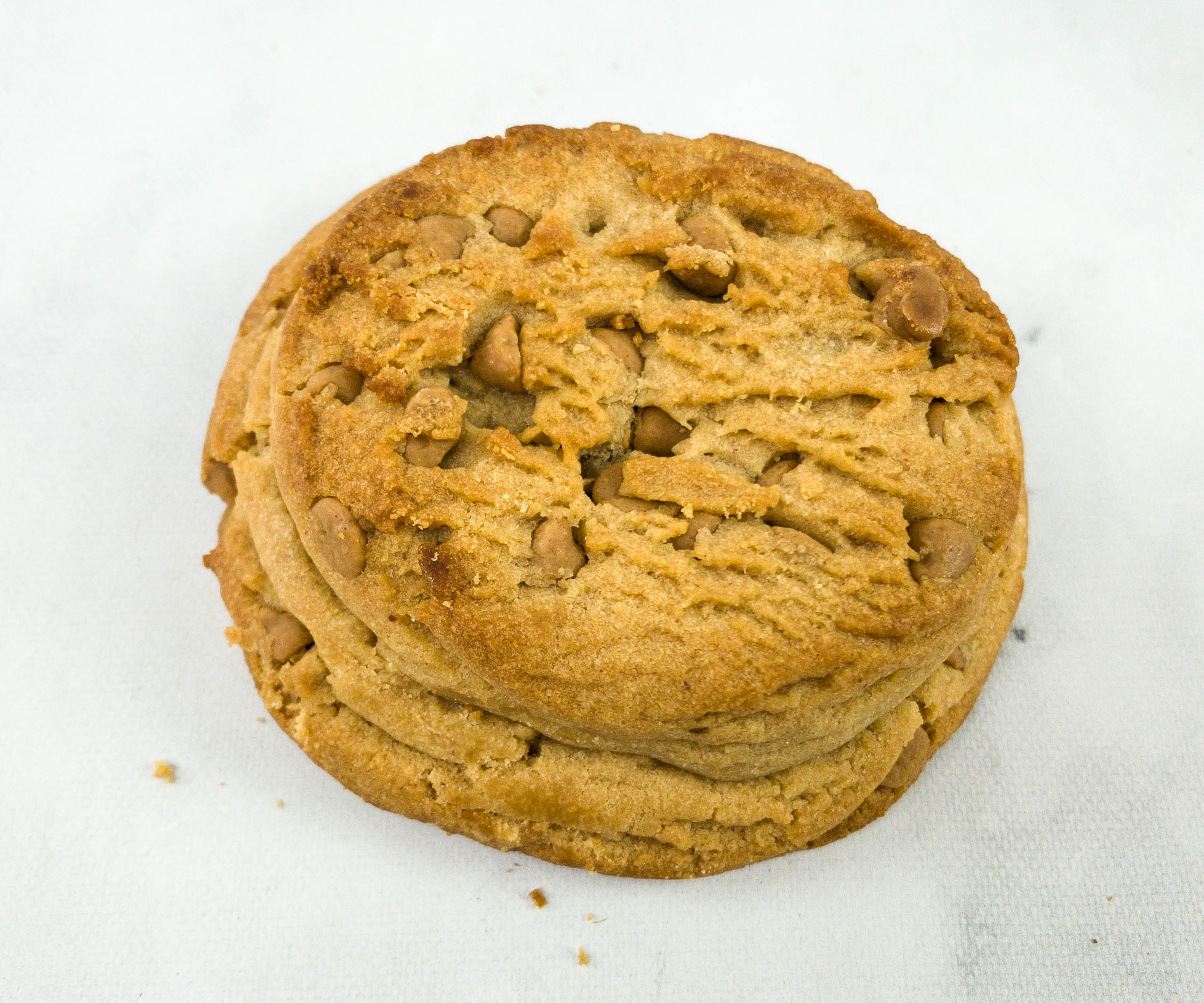 It smelled really nice when I opened the pack. The cookie is soft and crunchy at the same time, making it delightful to eat.
This is indeed one of the best peanut butter cookies I have tasted!
Nunbelievable is unbelievably good! They offer a variety of great-tasting cookies and it's also good to know that they only use clean ingredients in their products. I could tell that each cookie was baked to perfection because they were all soft and chewy. My whole family enjoyed everything inside the box, and we all agree that the best cookie is the chocolate chip ones! Also, it really goes well with a glass of milk! If you know anyone who loves cookies, this cookie subscription would make a nice gift. You even help end hunger by doing so because some of the profits from their products are used to help feed people in need.
What do you think of the Nunbelievable box?