My Stylish French Box is a quarterly lifestyle box that sends authentic and stylish items all the way from France! The box is curated by Sharon Santoni, an author and the blogger behind My French Country Home. This box is based in France and they work directly with highly coveted and timeless French brands to create a box that will help chic up your home and self.
What Is My Stylish French Box?

A selection of 6-8 French products, curated around a theme, and chosen for you and your home.  All products are full sized and truly French.  Many brands are only available in France.  The price you pay will always be lower than the US retail value, and it includes shipping to your door (small surcharge for shipping to Australia and New Zealand).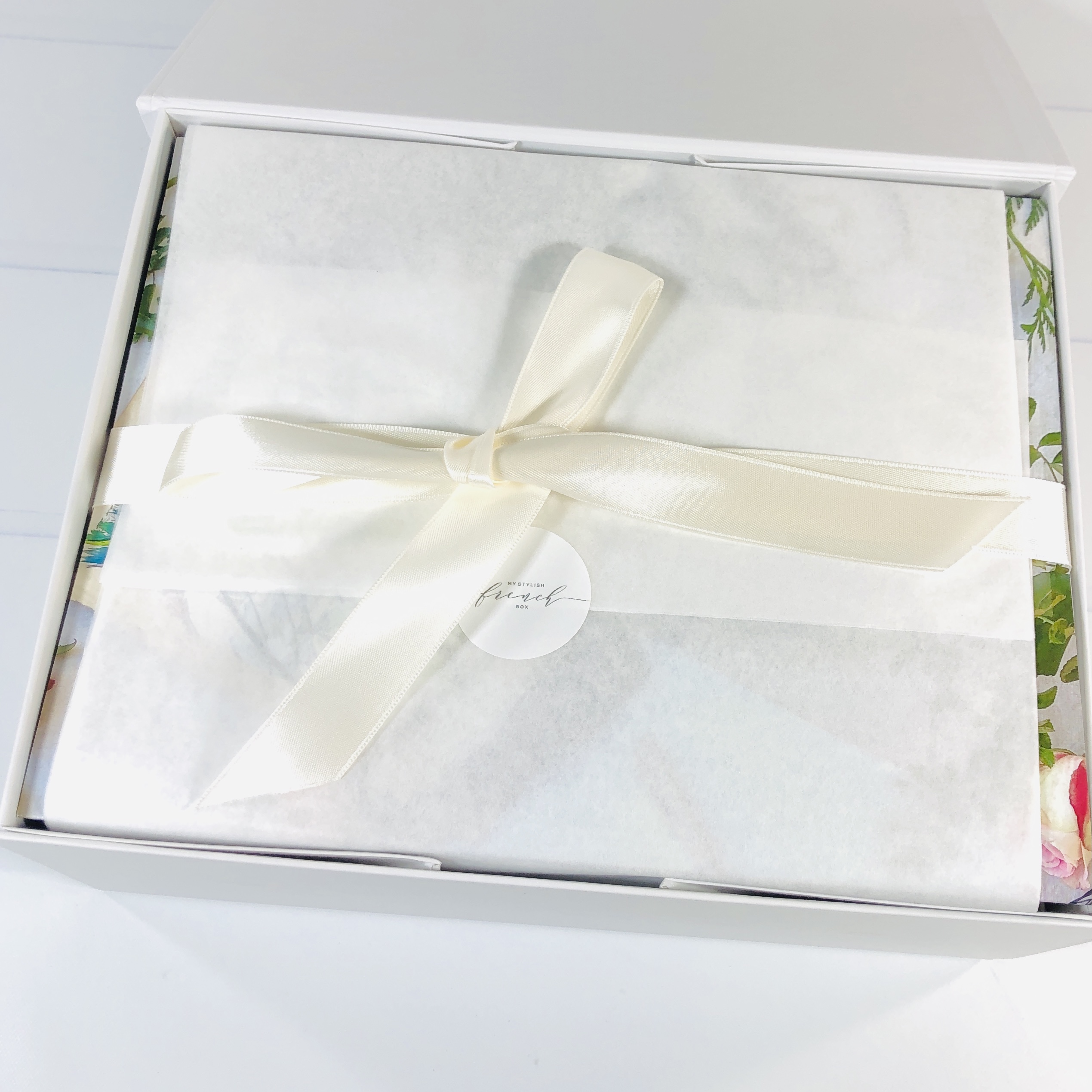 My items were shipped directly from France and came in a reusable white box. The box has a hidden magnetic closure and it makes a good storage box. It's simple and I like that I can reuse it. I opened it up to find my products wrapped in tissue paper with a satin ribbon around the parcel.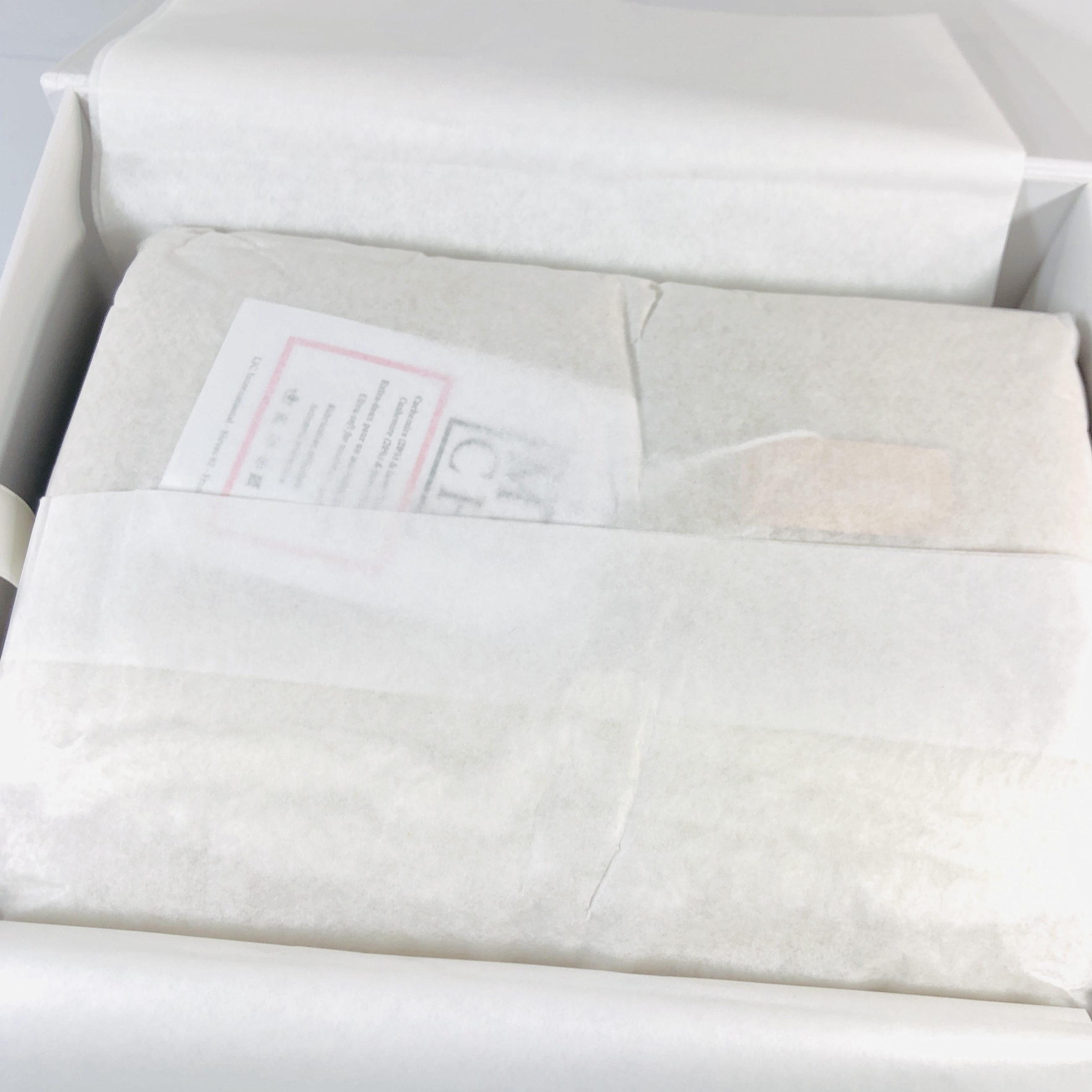 The item on top was wrapped in tissue and I lifted it out to reveal the rest of the contents.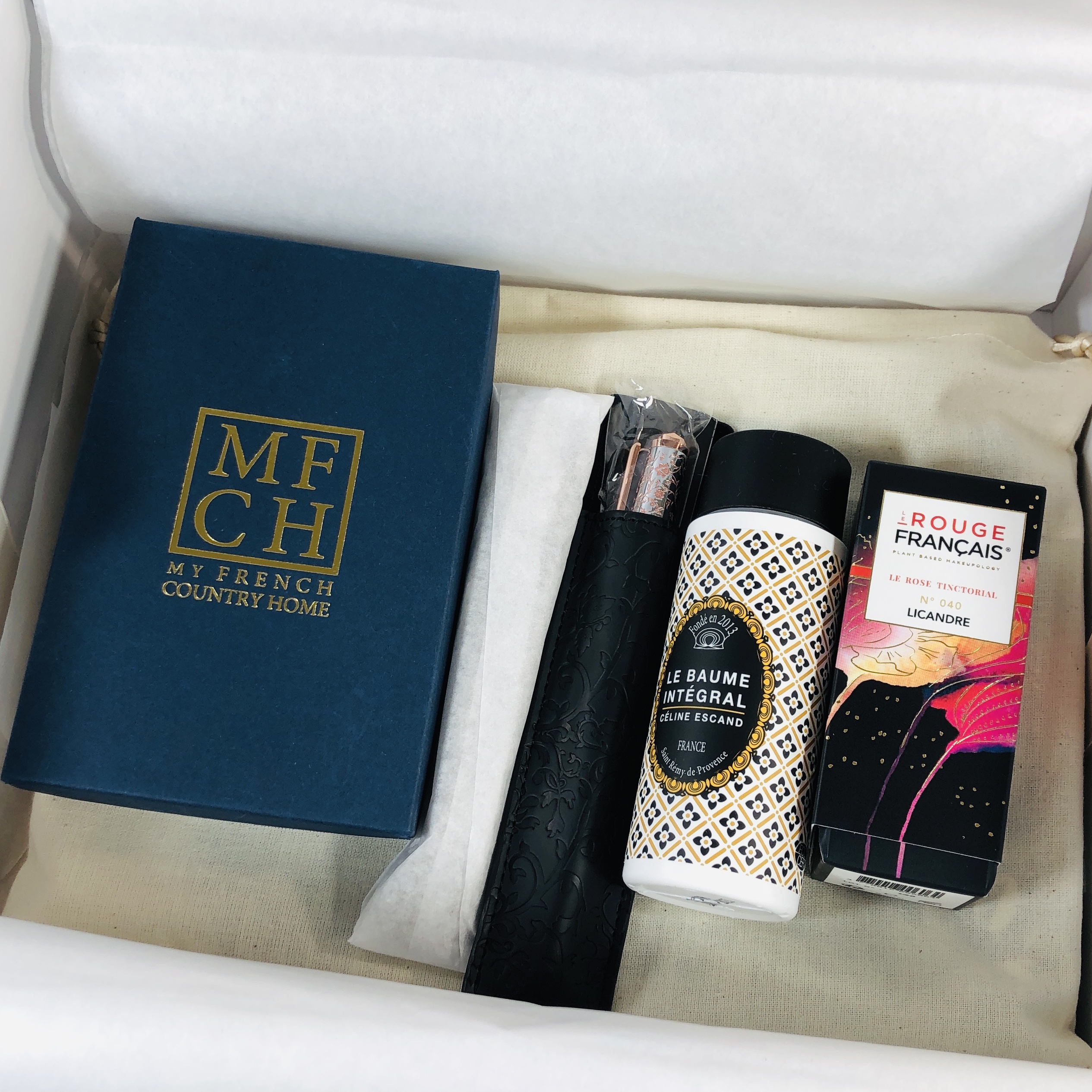 My Stylish French Box is $255 a quarter. A one-time, non-recurring gift box shipment is $265, while a year's prepaid subscription brings the price down to $245 a box. Shipping is free to the USA and other countries, with Australia and New Zealand paying an additional $15.
Each box comes with a beautiful full-color brochure showing each item.
The theme for the November 2020 box is Holiday Chic!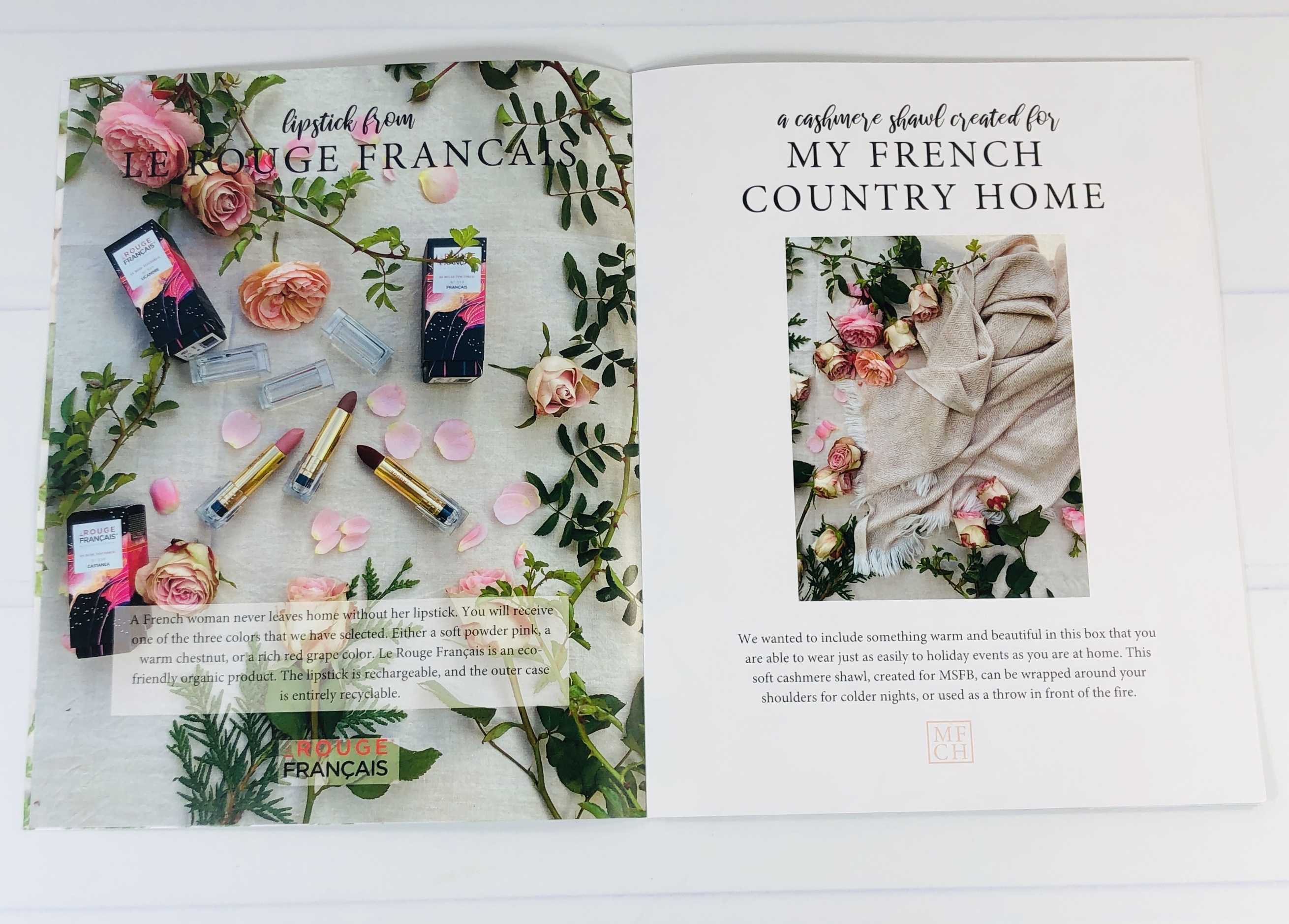 Each item is shown and mentions the maker.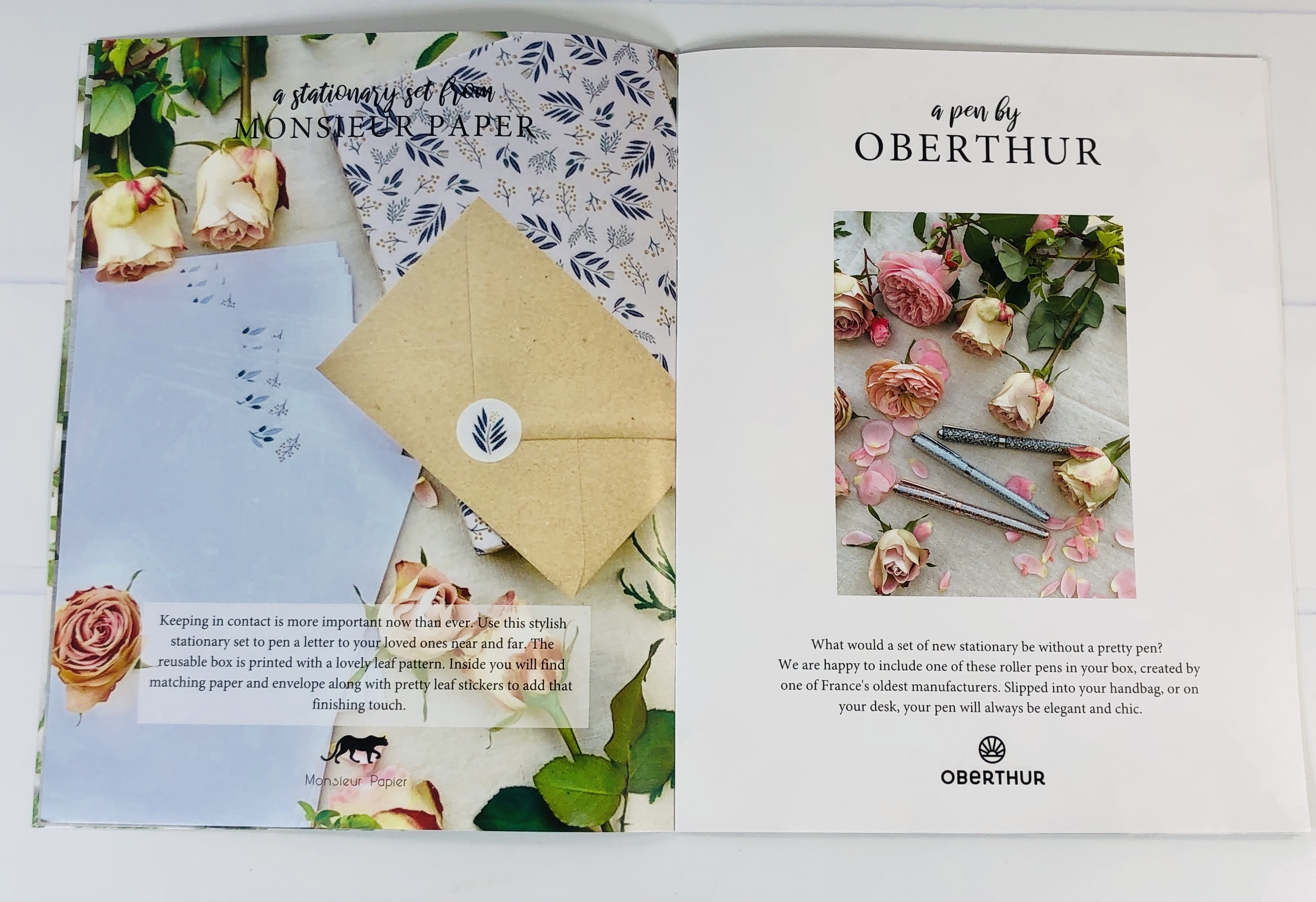 A brief description is so helpful.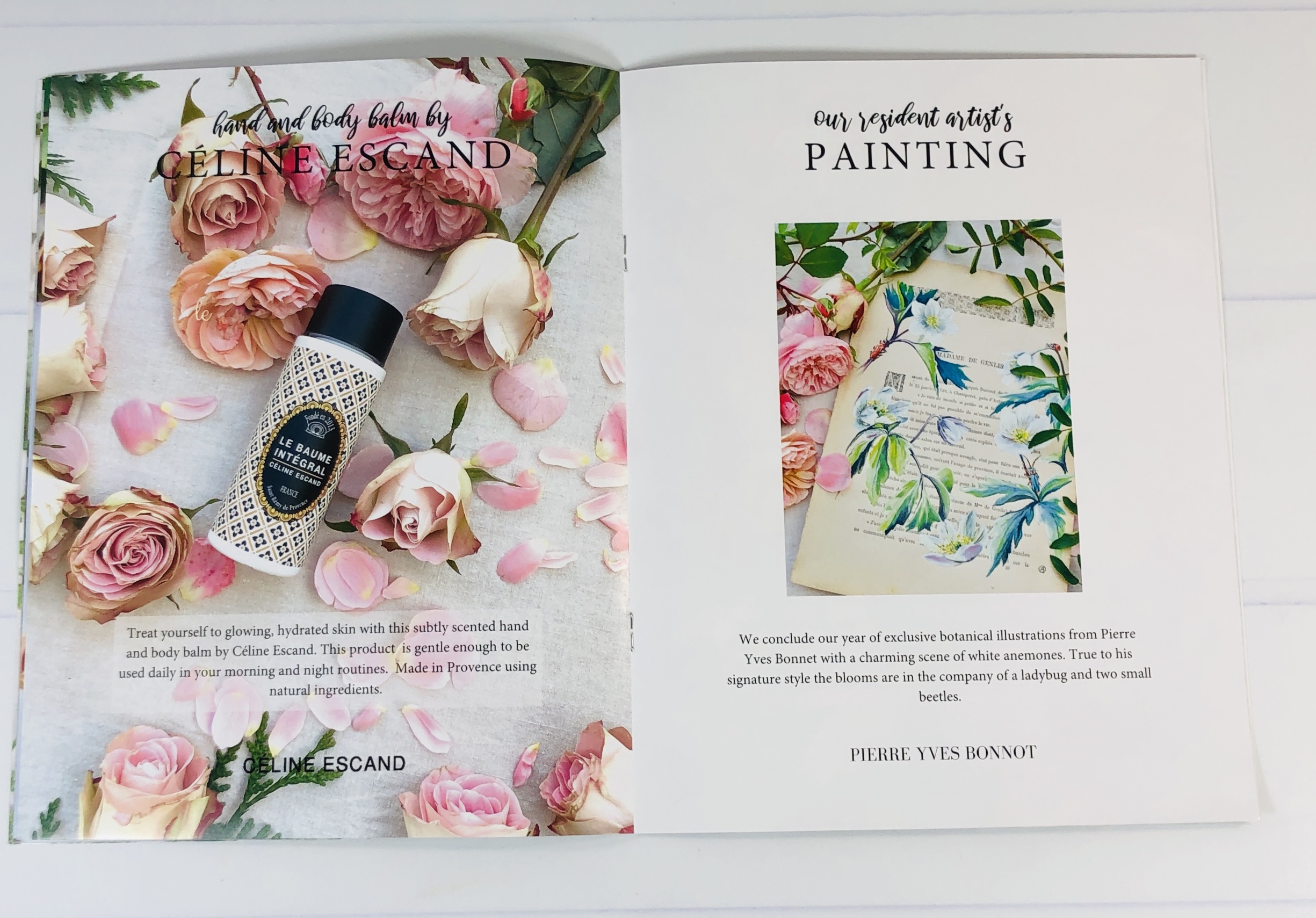 The colors are so pretty!
Annual and quarterly subscribers always receive a bonus gift, which is a Houlès Tassel for this shipment! My French Country Home Magazine was mentioned, and luckily a copy of the latest edition was included.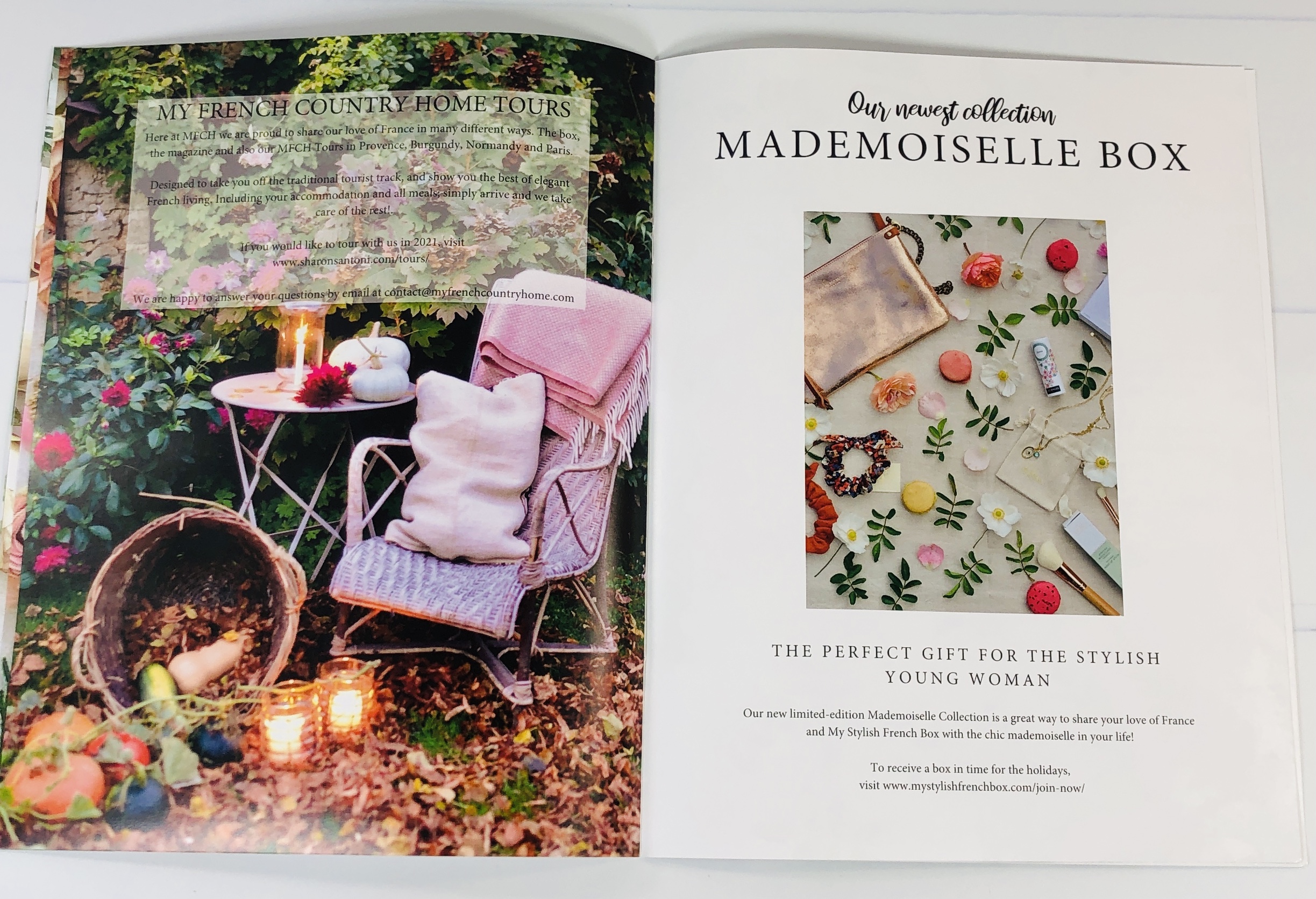 Tours of French country homes are scheduled to take place in 2021. There was also mention of the newest collection, the Mademoiselle Box, which looks like the ultimate luxurious gift.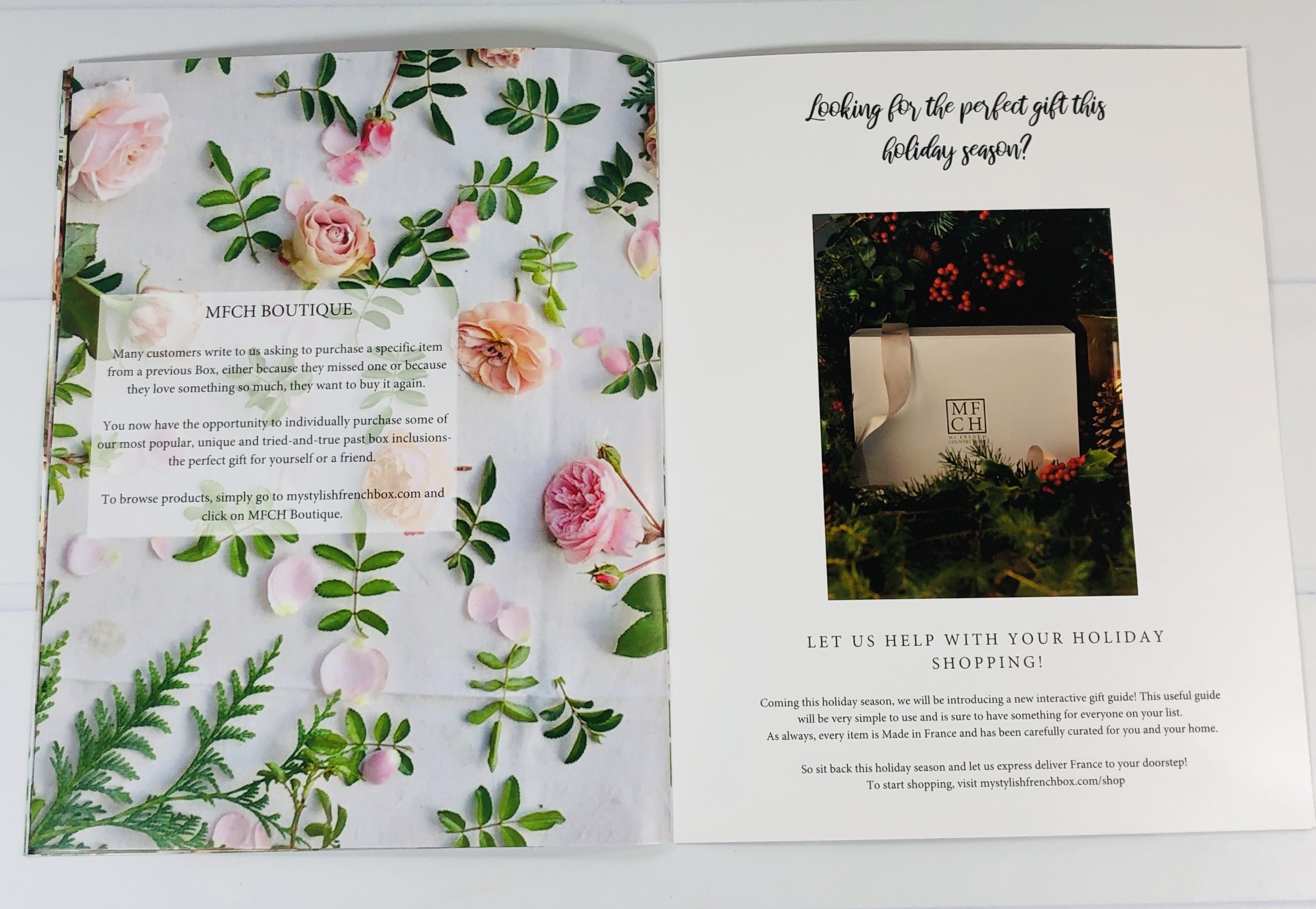 You can find merchandise from this box and previous boxes, as well as a selection of other high quality French made products.
Some websites with more info were listed on the back.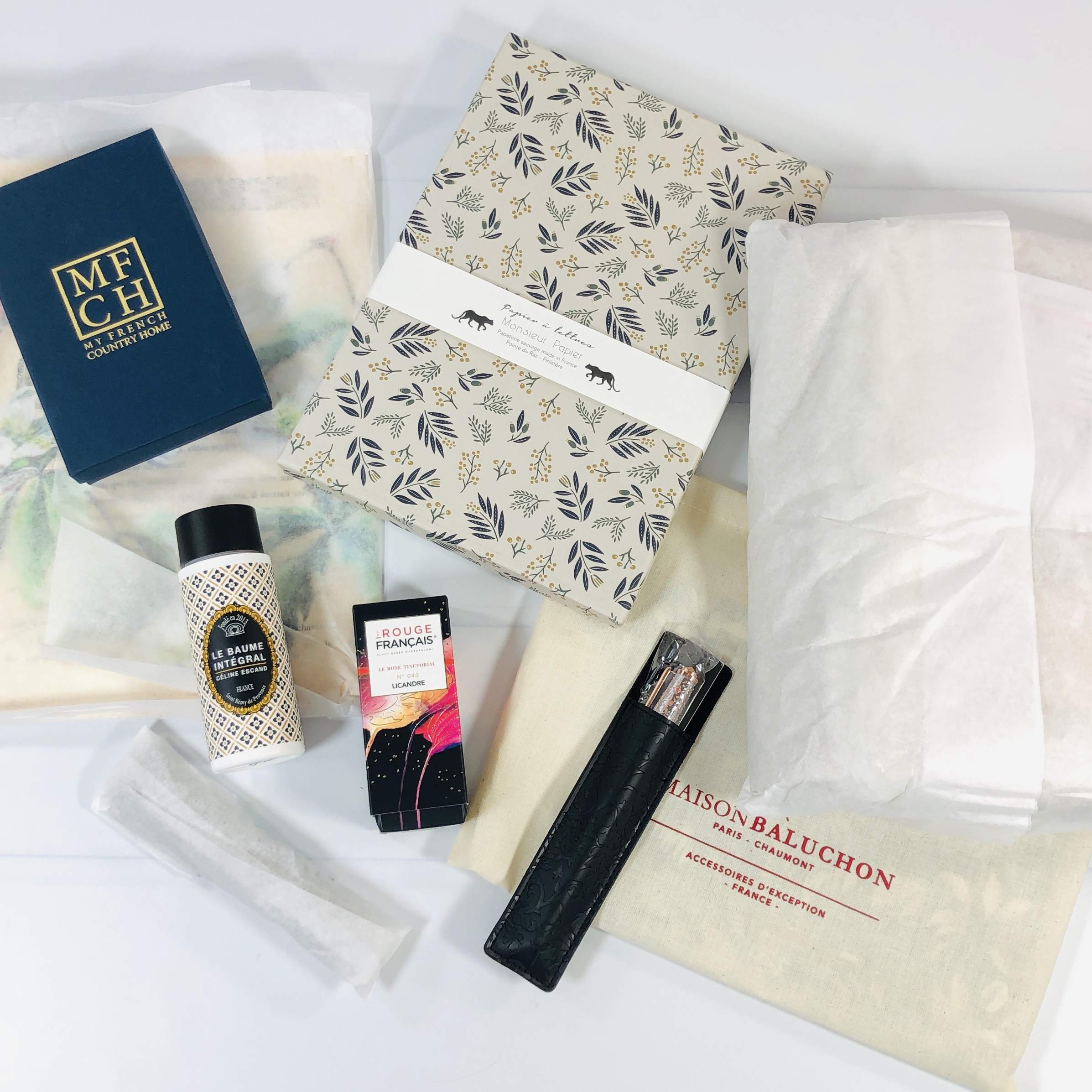 Some of the items came in their original boxes, others were wrapped in tissue paper.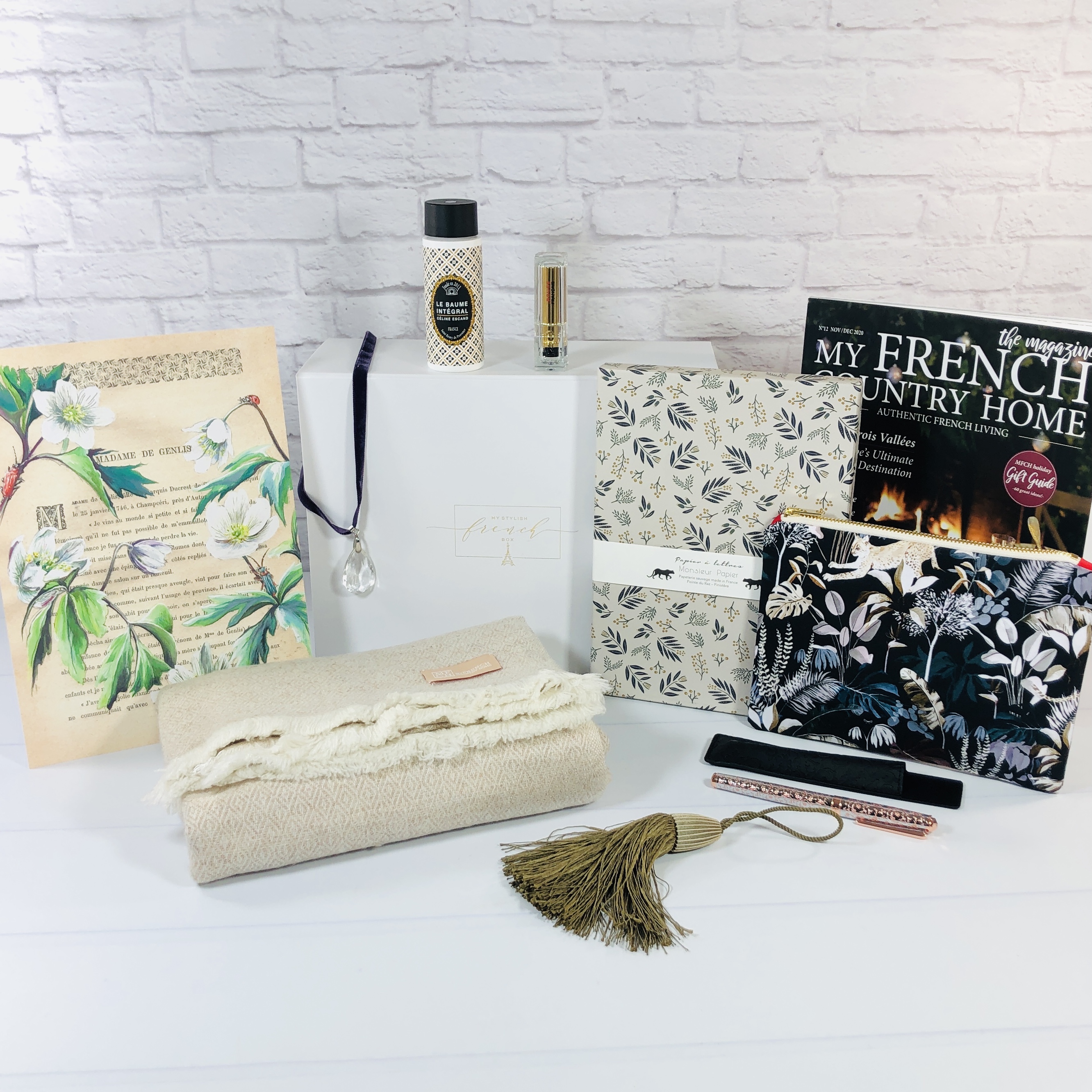 Everything in my box! I must say the experience of opening this box and learning about each item is magnificent! It is an elegant box and would make a super special box for yourself, or an exceptional gift for a friend or loved one.
My French Country Home Magazine Nov/Dec 2020 Issue ($12.99 for magazine, $6.99 for digital download) I so appreciate that this subscription comes with an issue of My French Country Home Magazine! It is so beautiful and I like nothing more than to curl up with a warm drink and a blanket while reading the stories and living vicariously through the issue.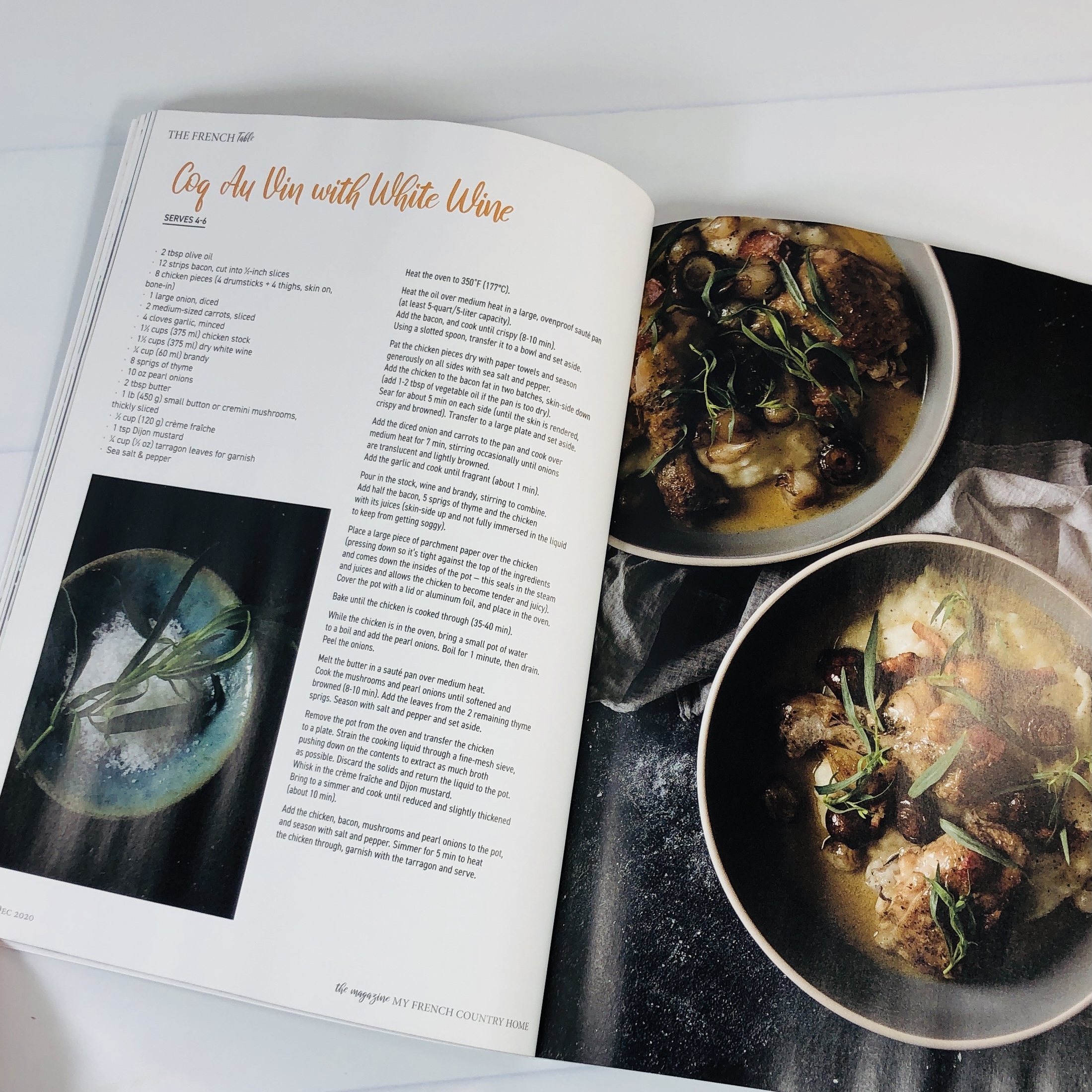 It has articles on life in France, The Louvre, home decorating, and places to visit. There are even a few recipes.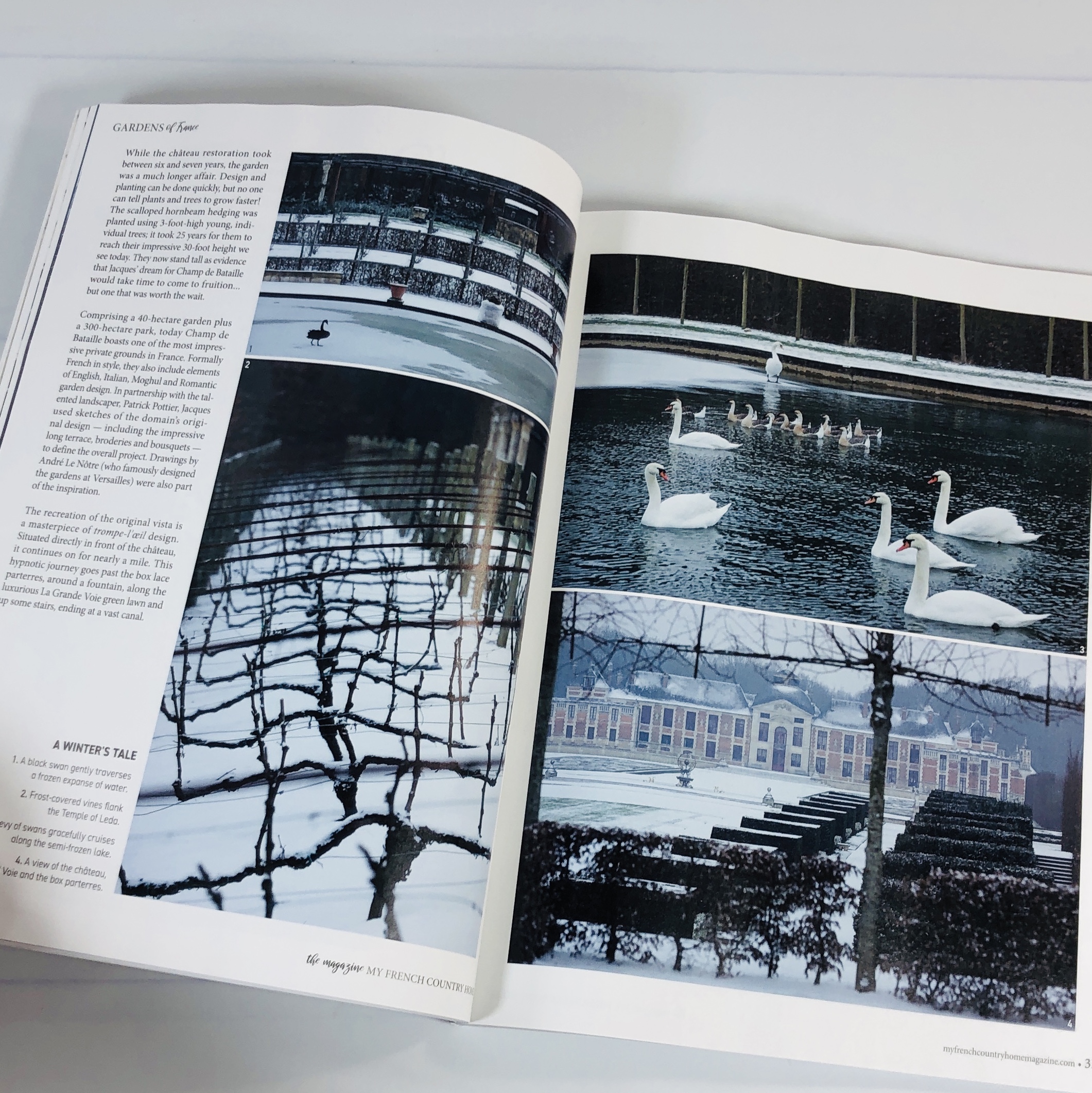 My favorite is the gardens of France feature.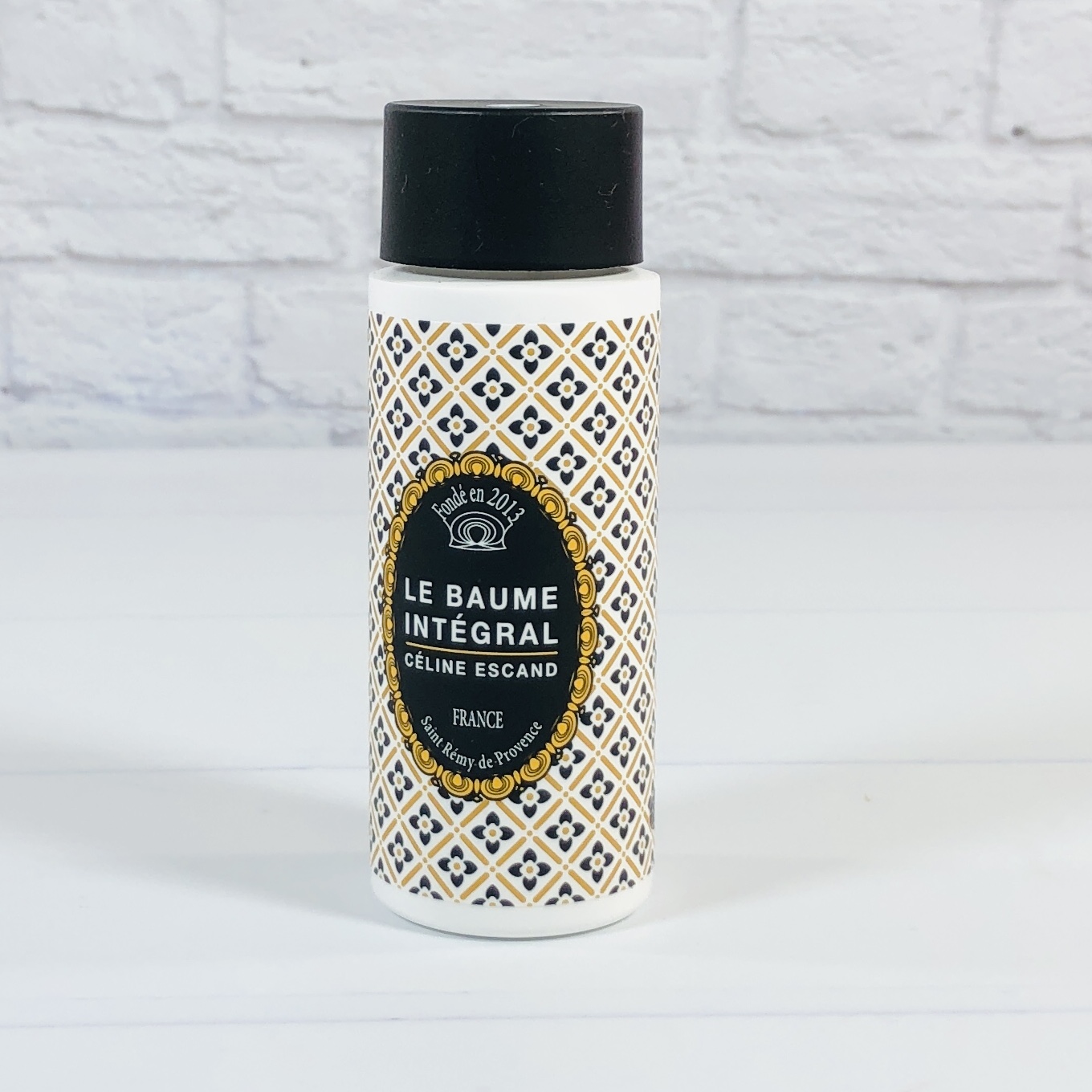 Céline Escand Le Baume Intégral #1 (€29, about $35.01 USD) Here is a multipurpose product that can be used for hands, hair, body, even makeup removal! This is the original version, in a generous travel size.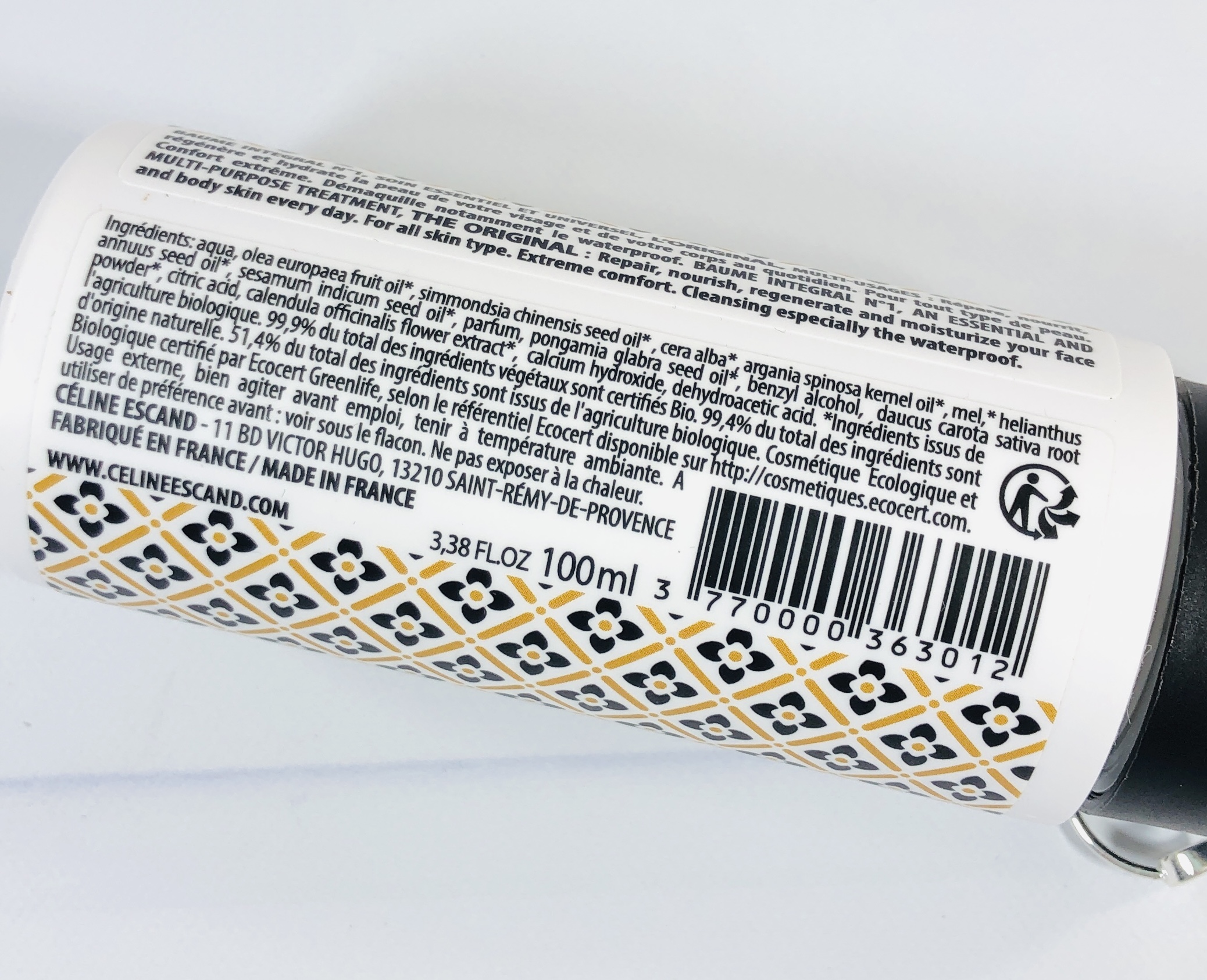 Ingredients include olive and jojoba oils, beeswax, and calendula. Make sure to give it a good shake before twisting open the lid to dispense. It was moisturizing but not greasy and has a light sweet scent, with a hint of honey and herby florals. It actually left my hands glistening, they looked so pretty after I rubbed it in!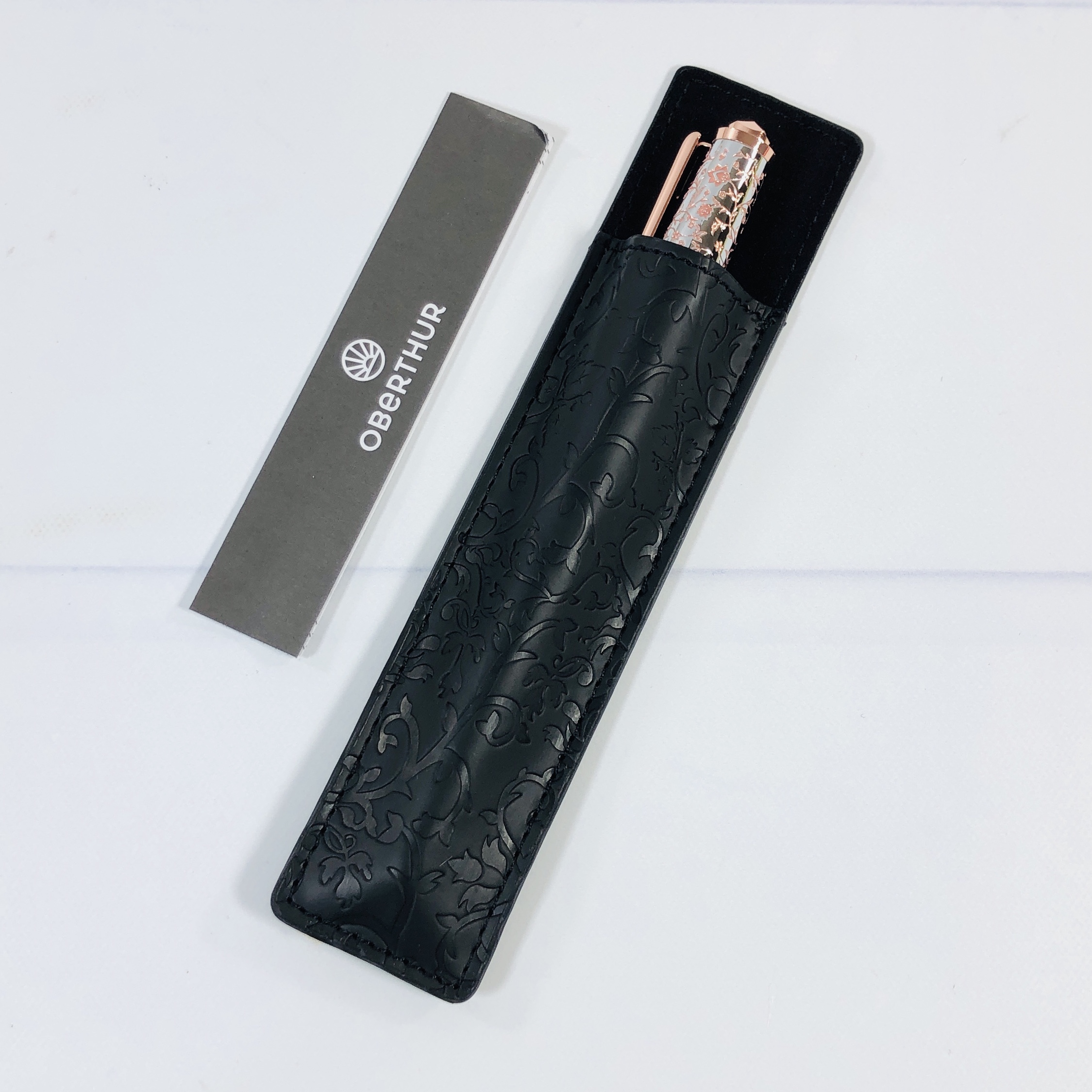 Oberthur Byzance Roller Pen (€39.90, about $48.17) I am absolutely thrilled to add this miniature artwork of a pen to my collection! Even the case is beautiful!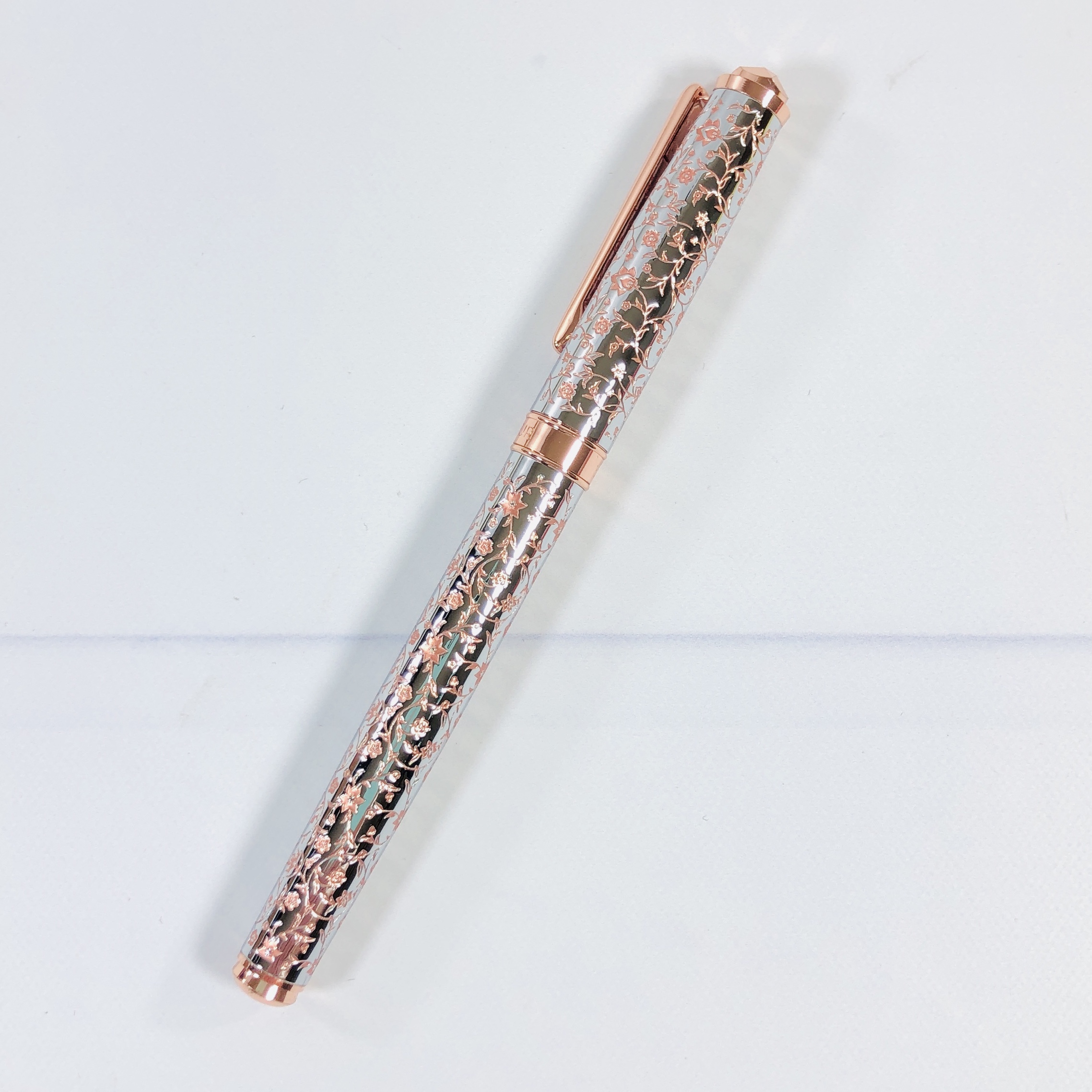 Colors may vary but I received it in a beautiful rose gold and silver color scheme, or maybe it's chrome/copper but I call it rose gold.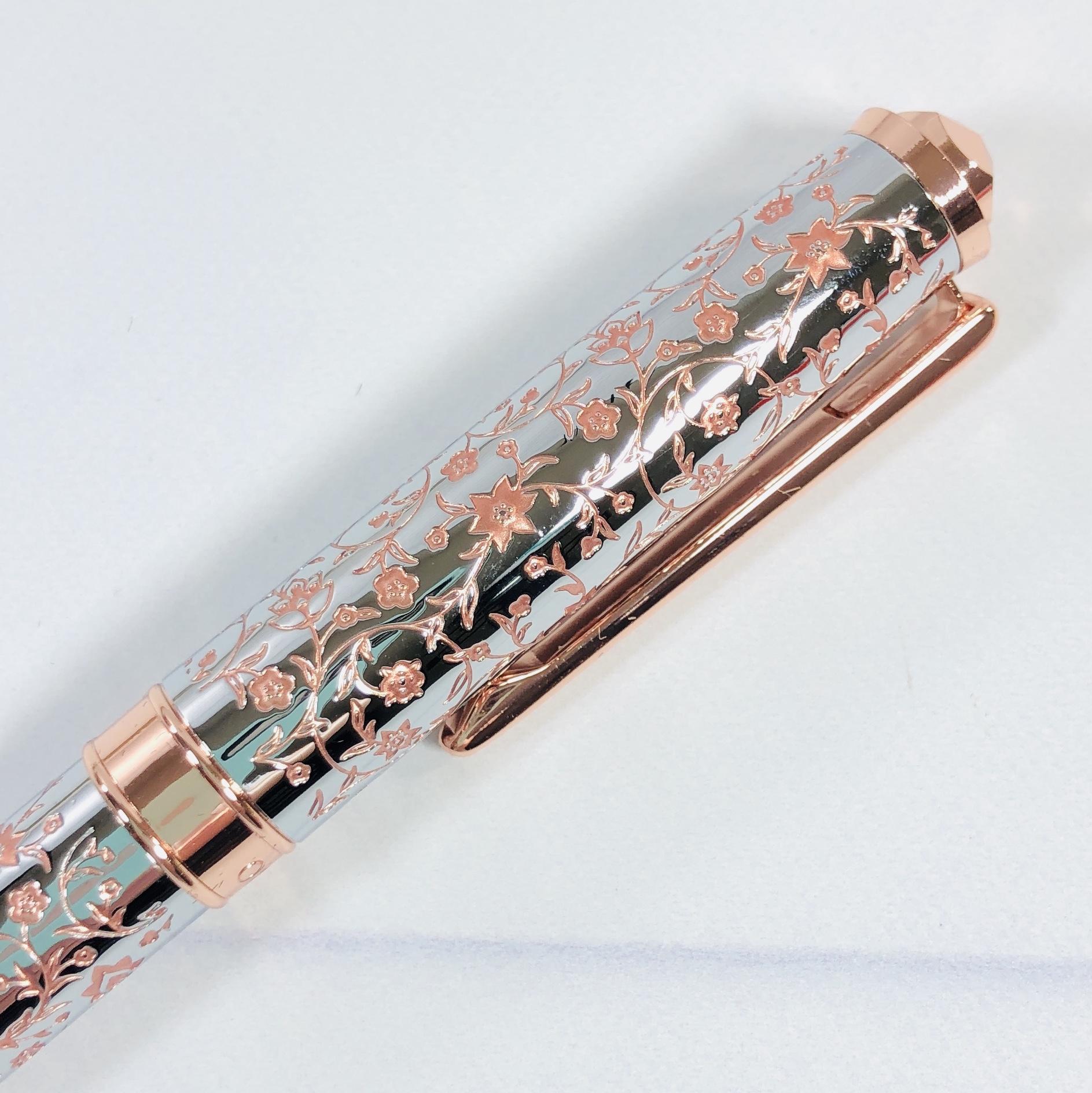 Look at the detail, with the ornate floral motif. It is oh so feminine.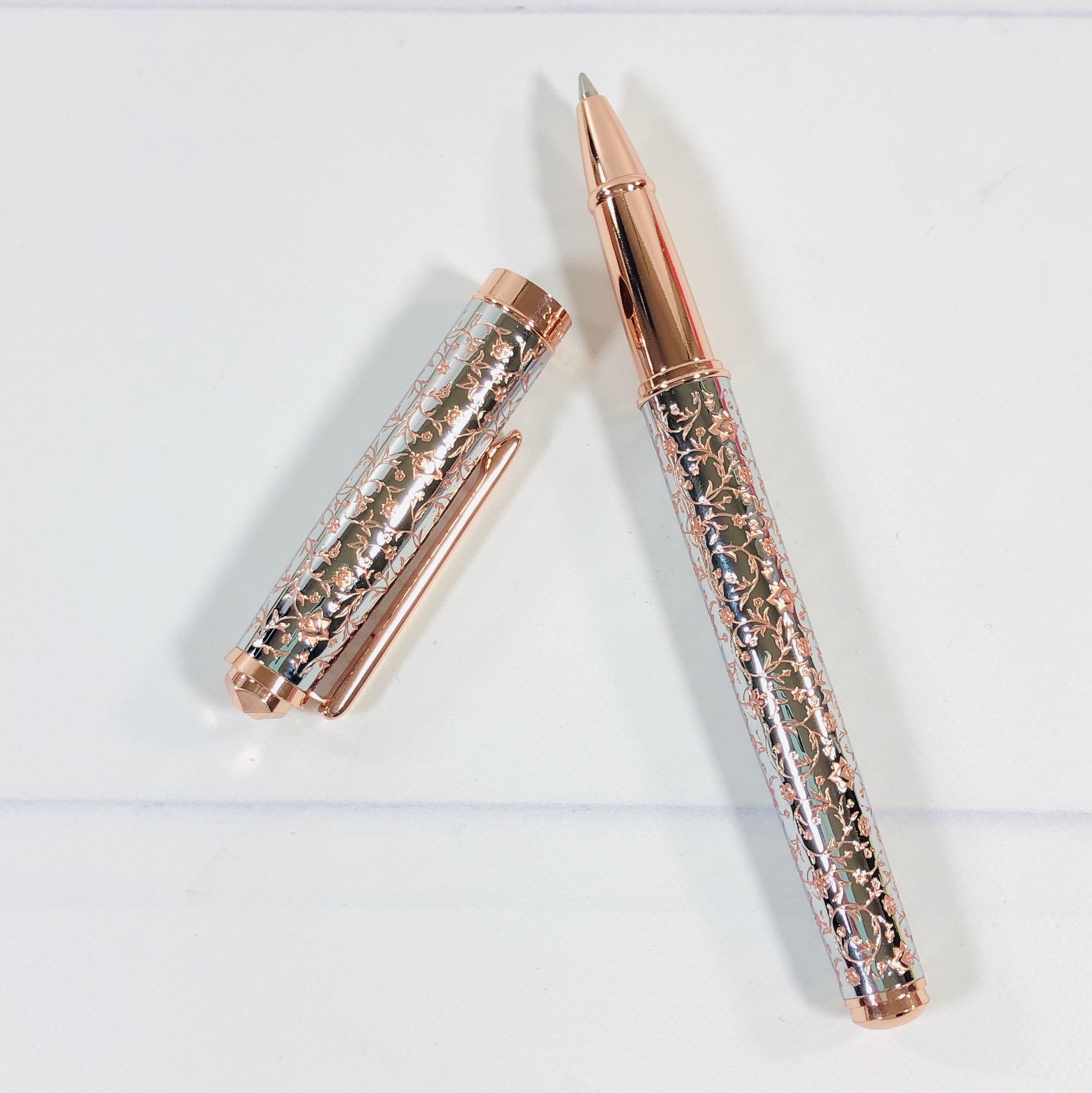 The inside barrel is also rose gold. The rollerball writes so smoothly in black ink without skipping.
Le Rouge Francais Lipstick (€45, about $54.42 USD) I have reviewed so many beauty items in the past several years but this has to be the prettiest packaging ever!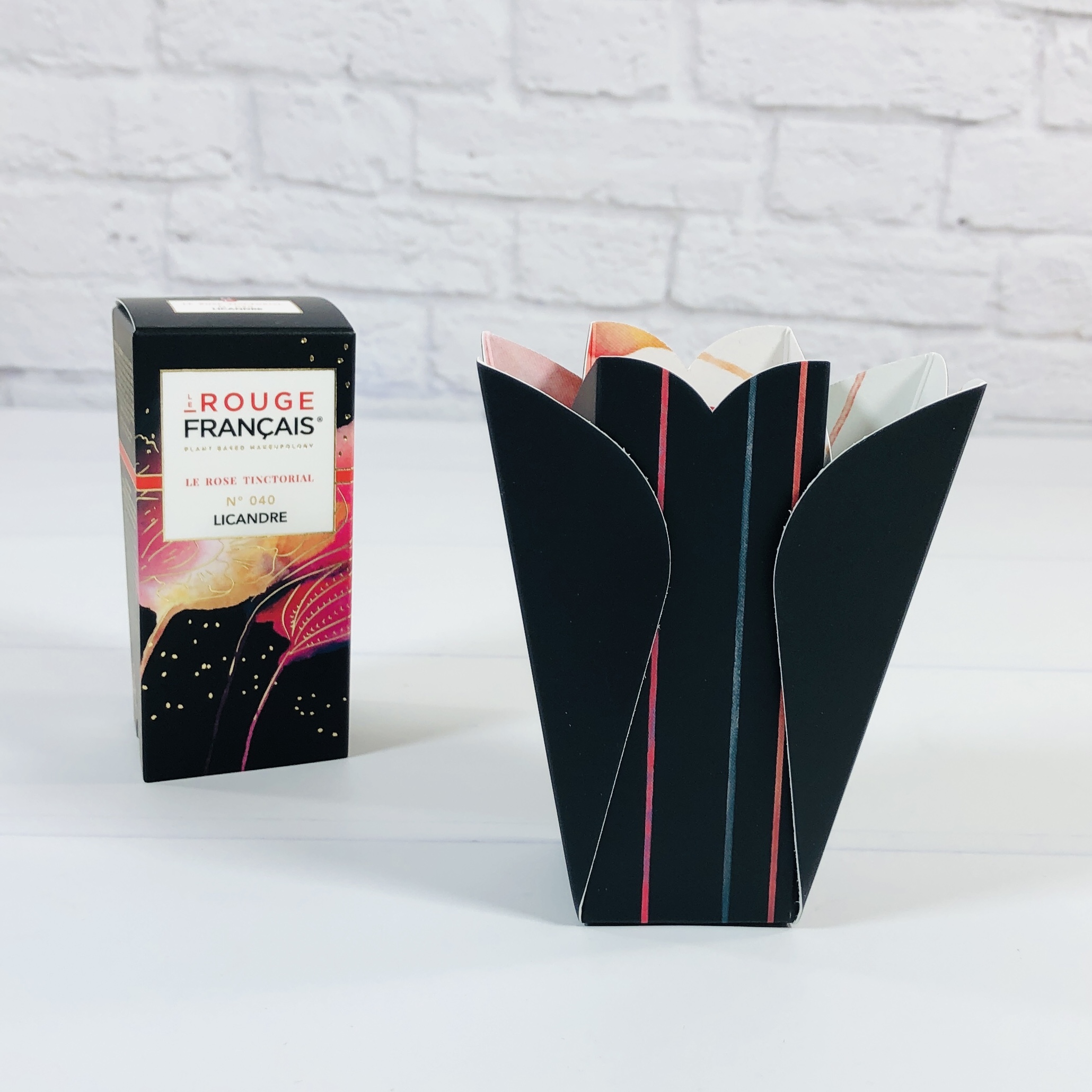 First pull the bottom box out.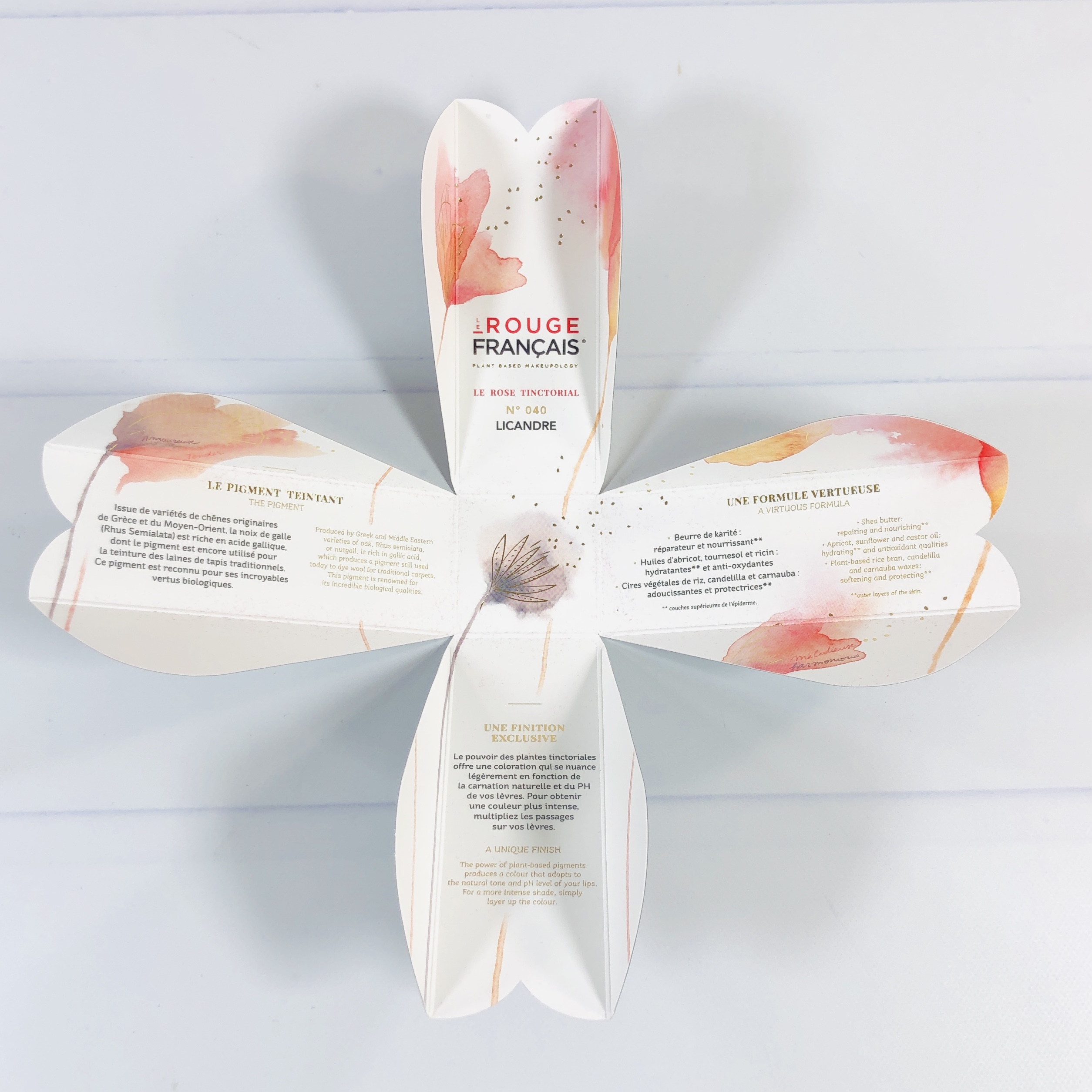 It opens up like a flower! There's even metallic gold touches, someone should get an award for producing such a lovely package. Inside you can read about the formula, finish, and pigment.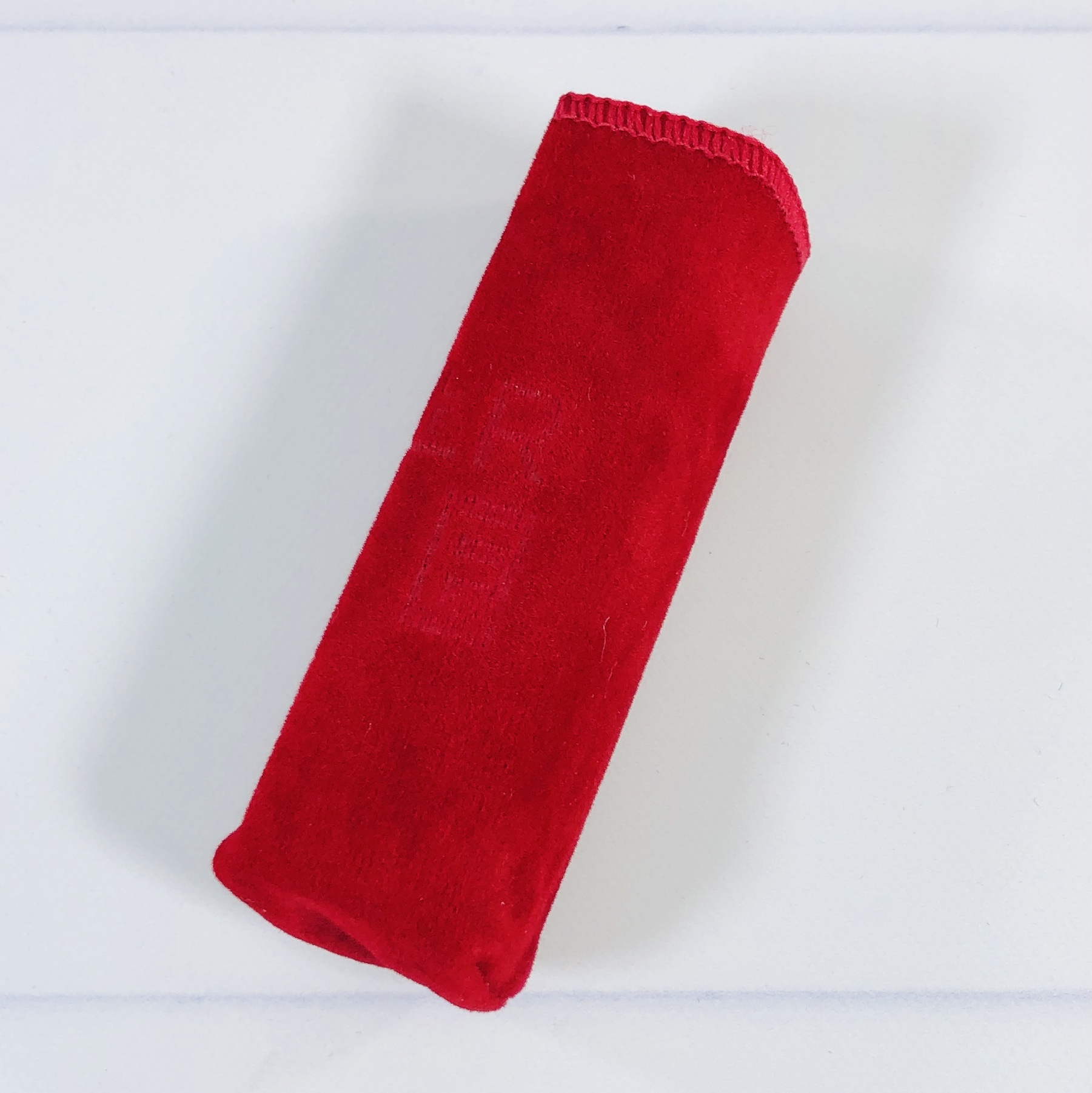 The lipstick was inside a red velvet pouch.
The lipstick case can be reused, just order the color you prefer and not only does it cost less but there is one less piece of plastic for the landfill. The case itself is made of vegetable oil!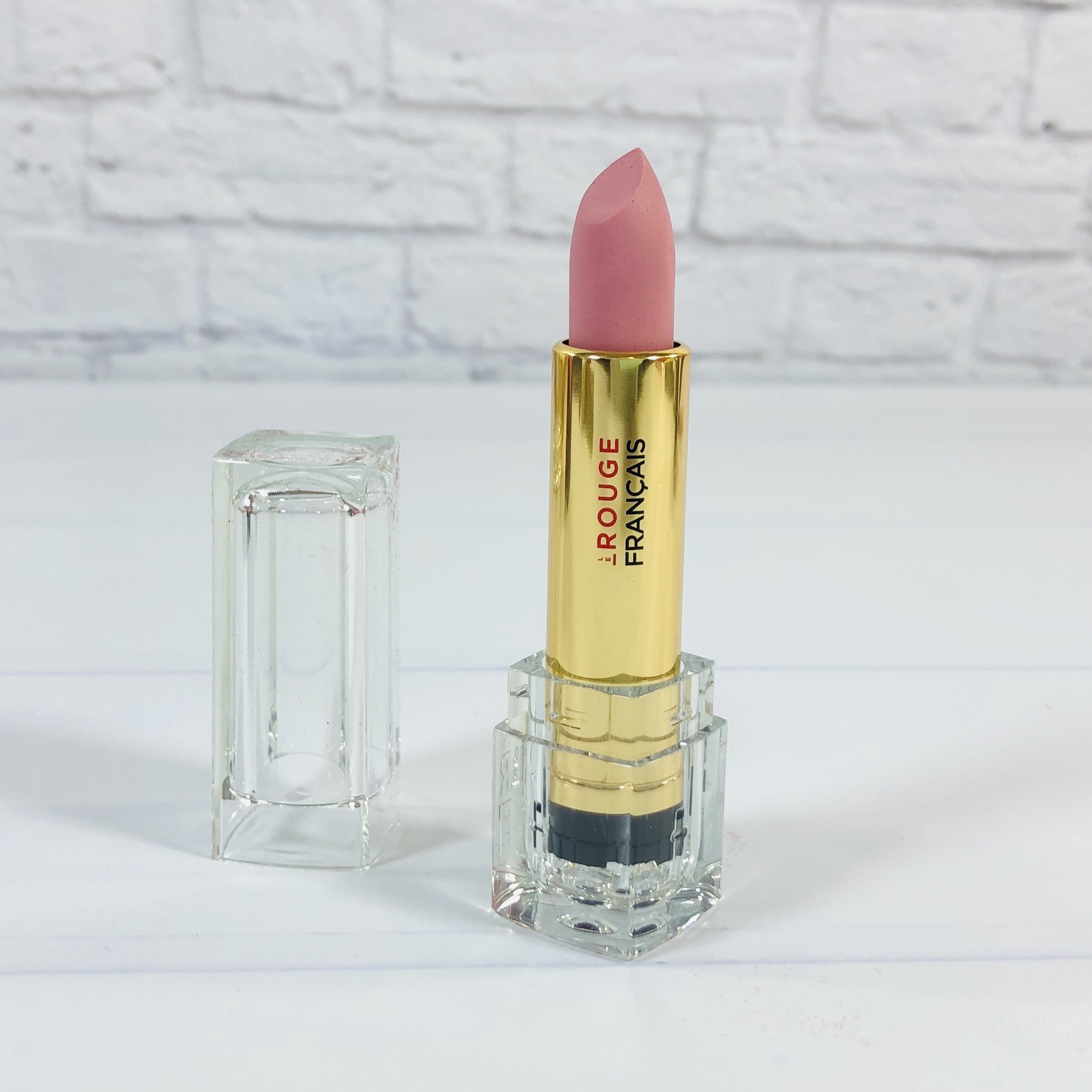 I received shade #40, Licandre. Two other shades were sent to subscribers, but this is the lightest of all three and it is supposed to change slightly based on pH level and other factors. The lipstick is all-natural and has a different texture than I'm used to, maybe less silky but still it feels good on my lips, doesn't really have a scent, and in the case of this shade, not much color. It's like I'm wearing a non-shiny lip balm. Not really anything to swatch.
An ode to softness, a confection with a hint of zest, with shades of rosewood and an innocent powder pink. A lightweight texture and a silky, iridescent finish.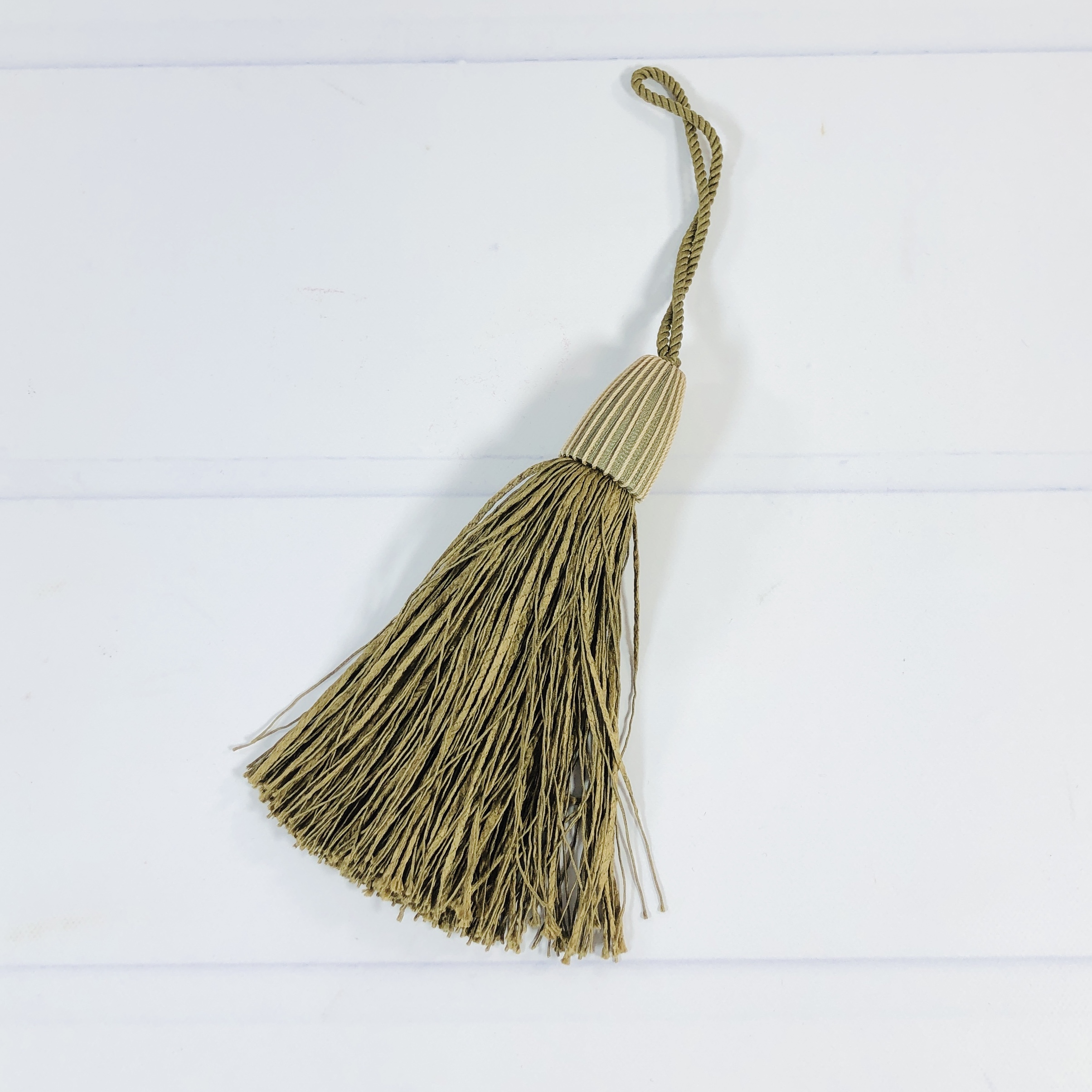 Houlès Tassel Both annual and quarterly subscribers always receive a little gift and this time it's a tassel! Colors may vary and it is suggested that it be used as a key chain or placed on a door knob or drawer handle. It's 8.5″ long and I'm placing it on my Christmas Tree!
My French Country Home Necklace I didn't see this next item listed in the info guide, although it was shown on the cover.
It's looks like a piece from a chandelier, but it's placed on a purple velvet ribbon!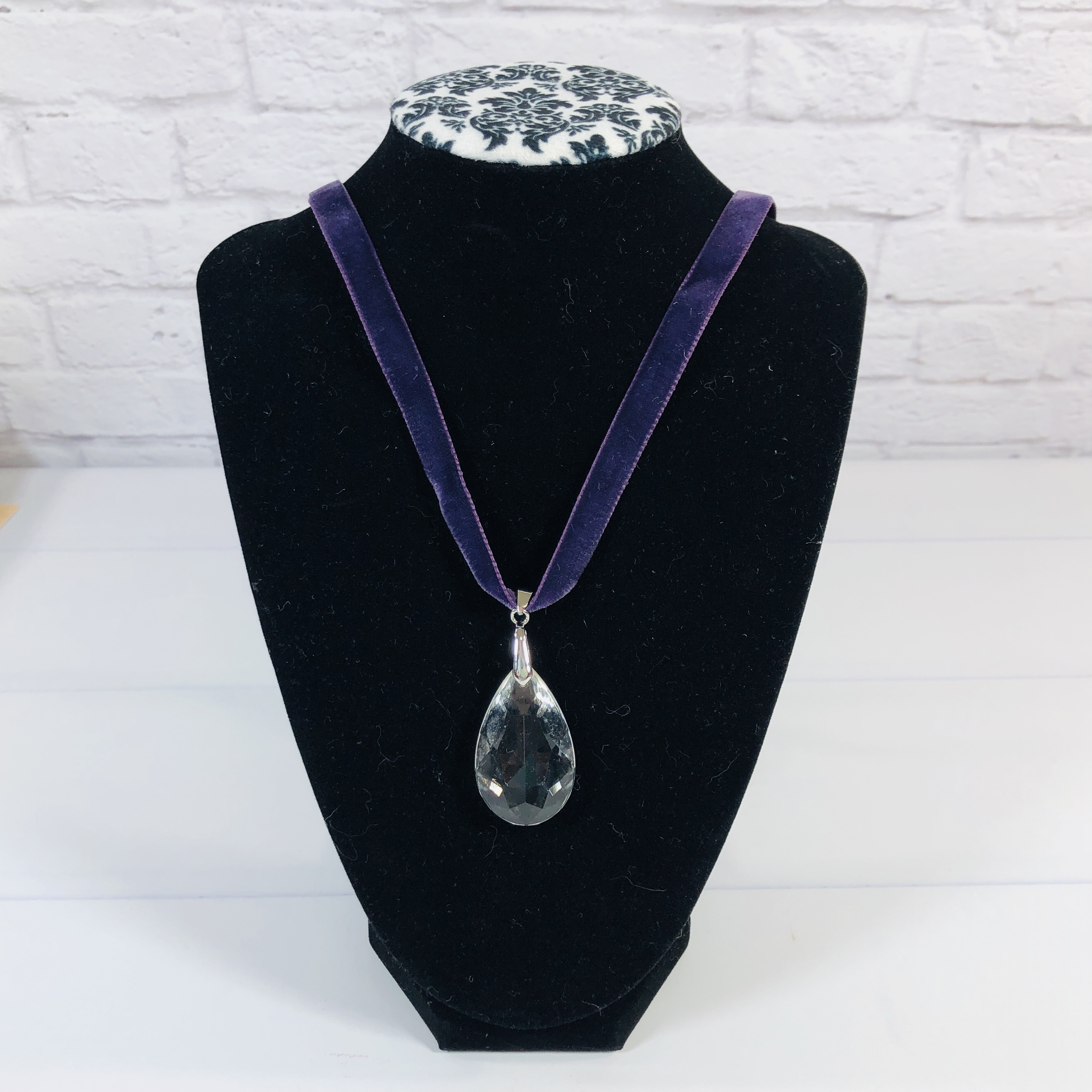 The crystal pendant is about 2″ long and the ribbon is 31″.
It can be adjusted to whichever size you prefer, just tie it where you want it.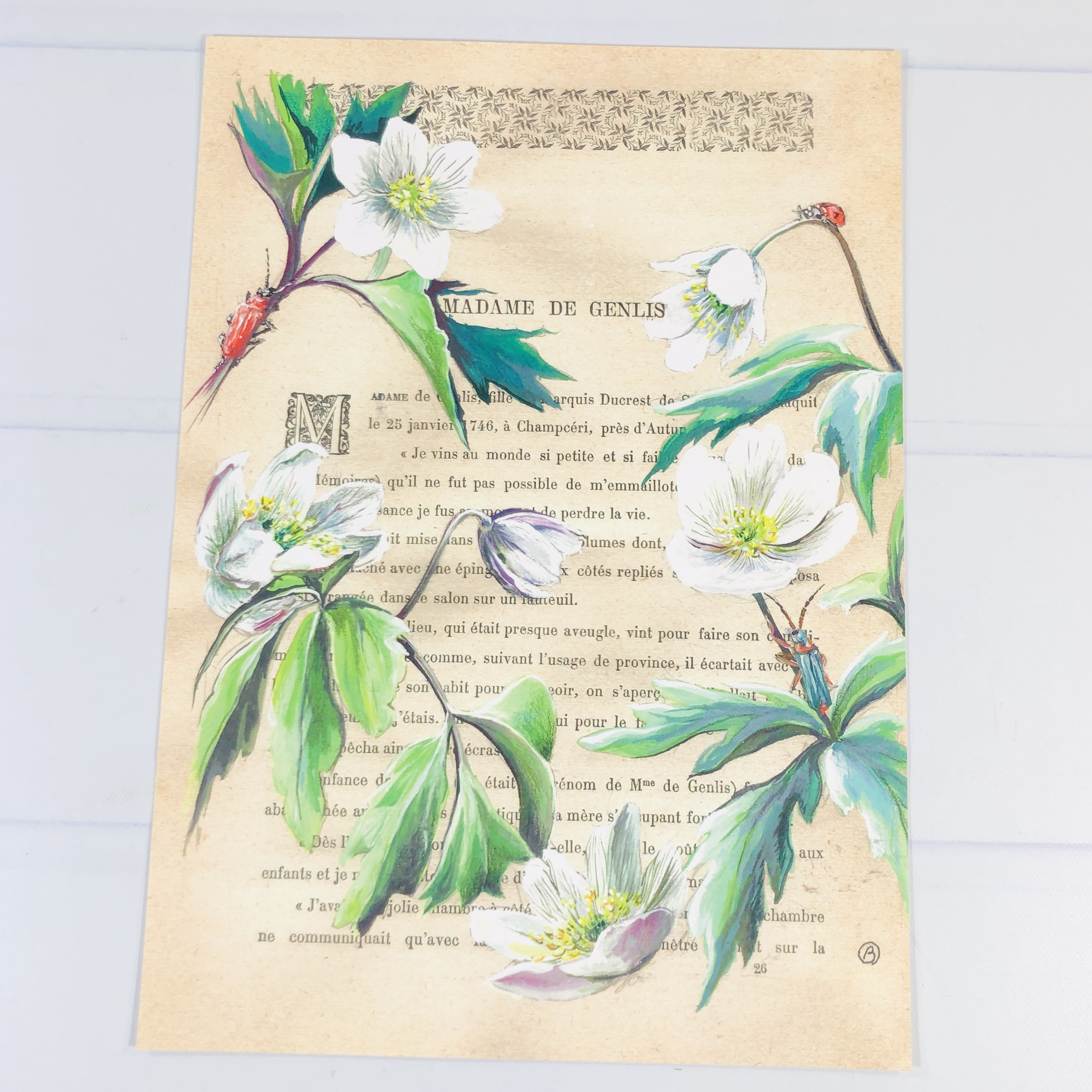 Pierre Yves Bonnet Painting The resident artist this past year has been Pierre Yves Bonnet. Each shipment has had a print from this artist and by now there should be a pretty collection suitable for framing and placing in a grouping if desired. The print is 10.75″ x 7.75″ and features pretty white blossoms and coloful insects over French words and a chamois colored background.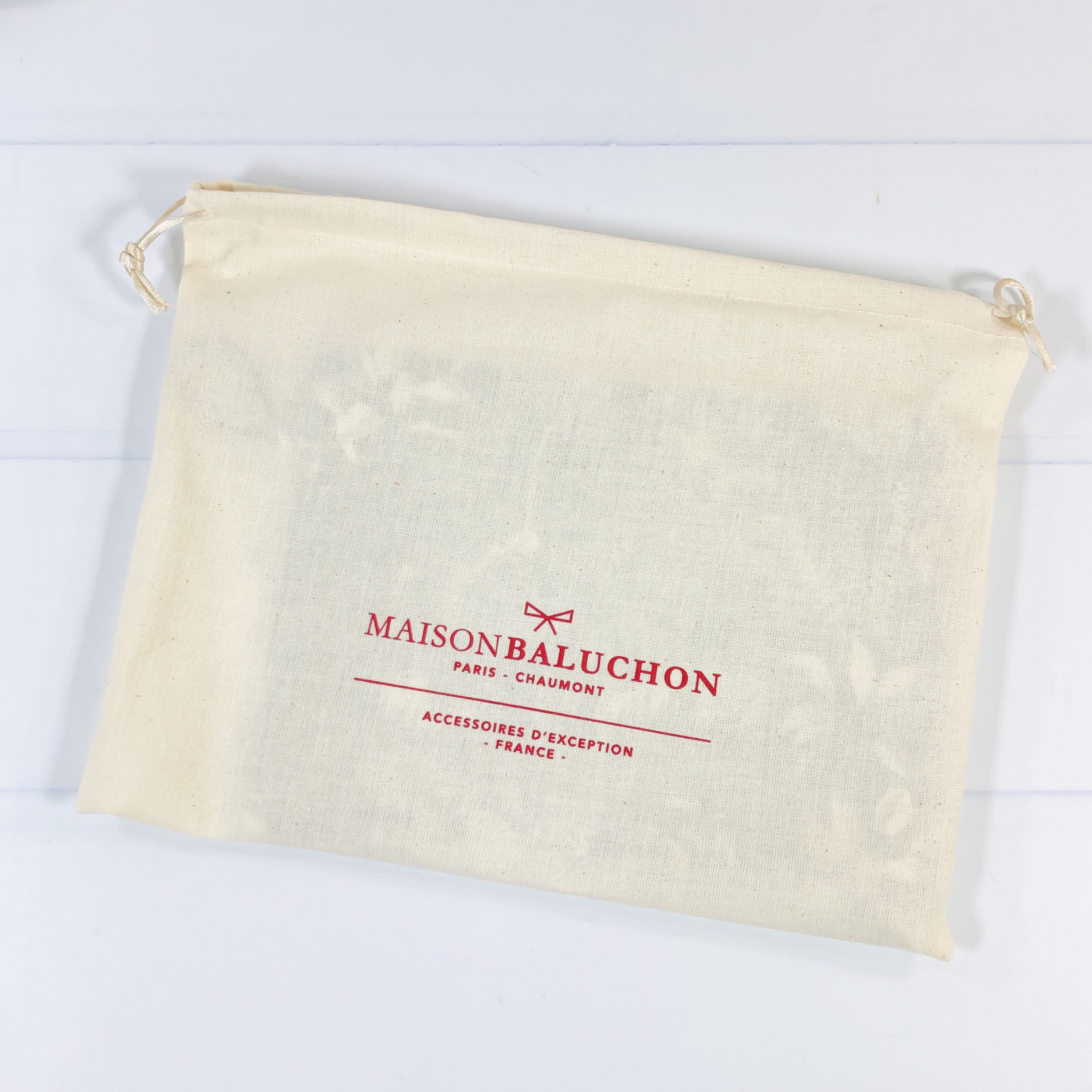 Maison Baluchon Pochette (€67.50, about $81.83 USD) The next item came in a case for safekeeping.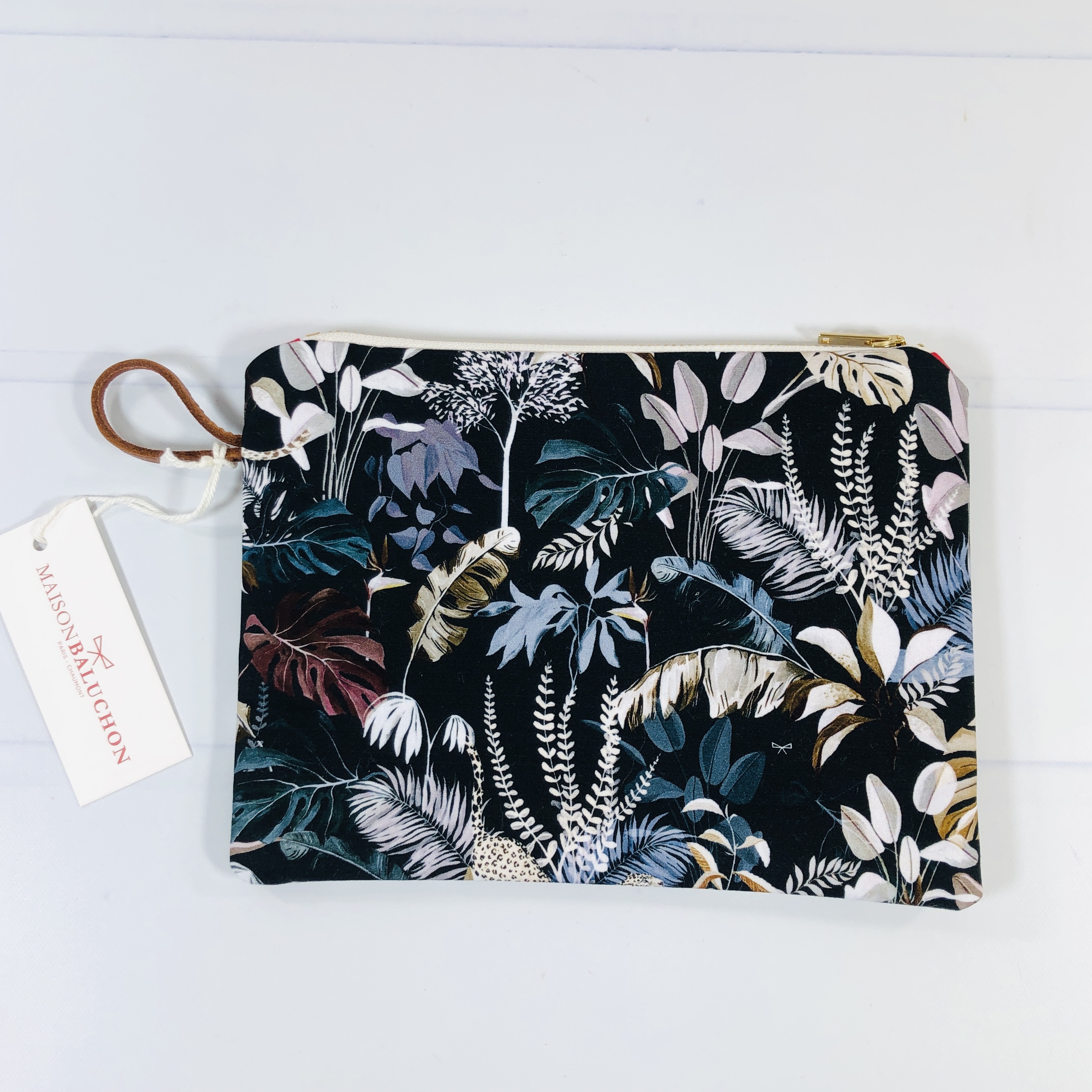 According to Maison Baluchon it is called a Small Pouch in Jungle No. 19. The pouch is 8″ x 6″ and is a cotton blend. It has a leather handle on the side and can be used as a small clutch or a makeup bag in a larger carryall.
Here's the other side. Check out that wild cat in the top corner!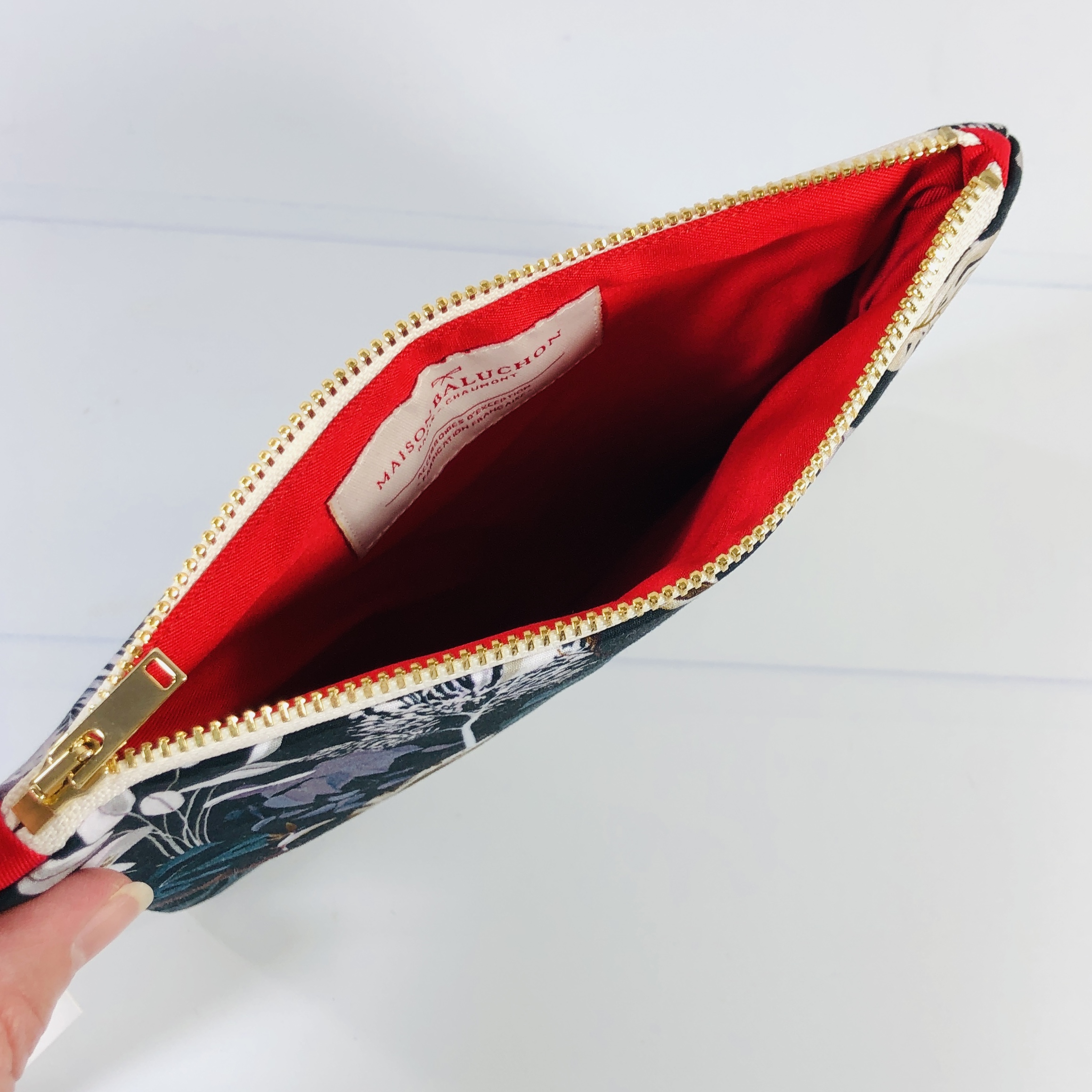 The zipper is gold tone and the inside is lined with crimson fabric. The bag is very well made and doesn't feel flimsy, it feels sturdy and I love the design, which is inspired by nature.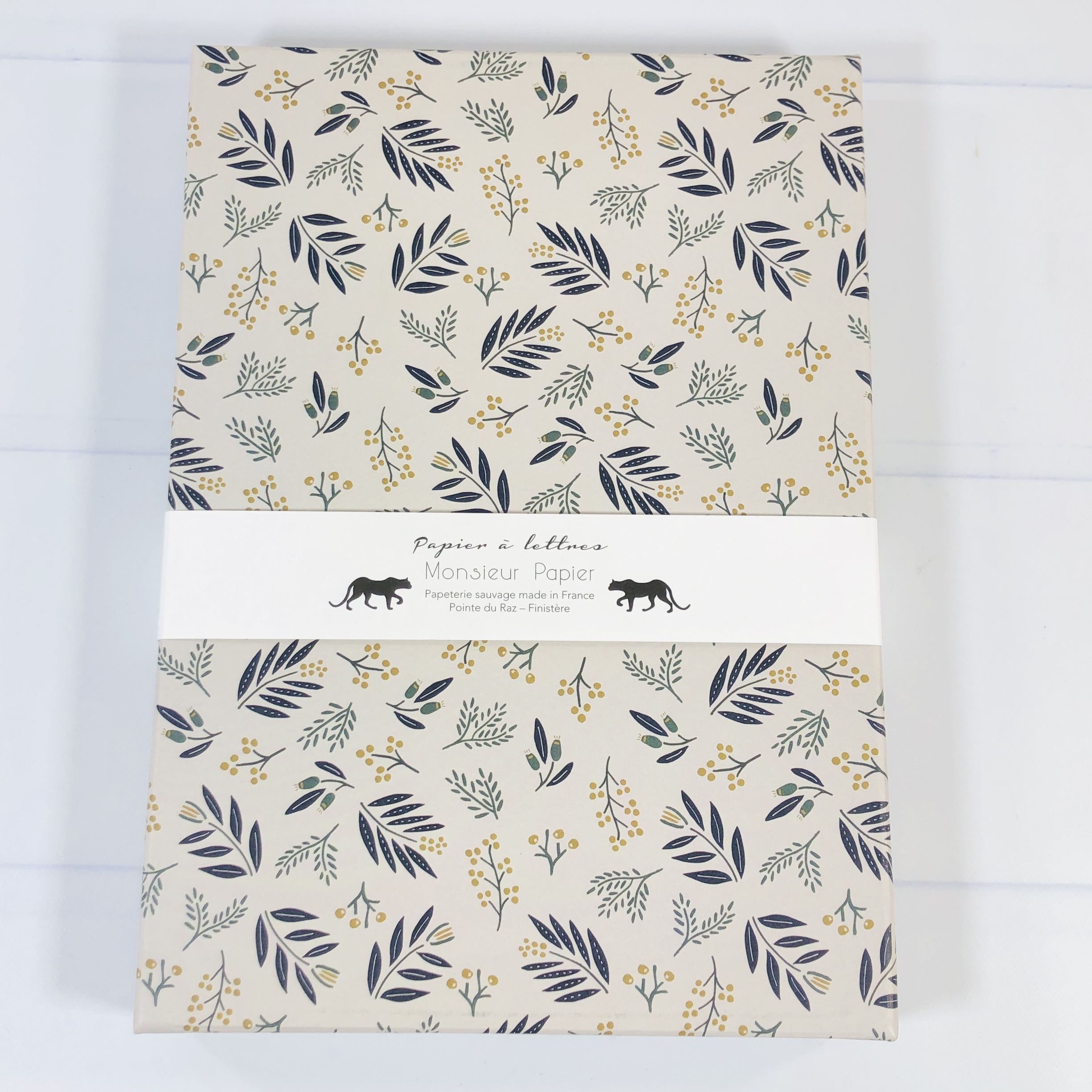 Monsieur Papier Writing Set in Mimosa (€24, about $29.10 USD) I love a coordinating stationery set! This one came in a keepsake box.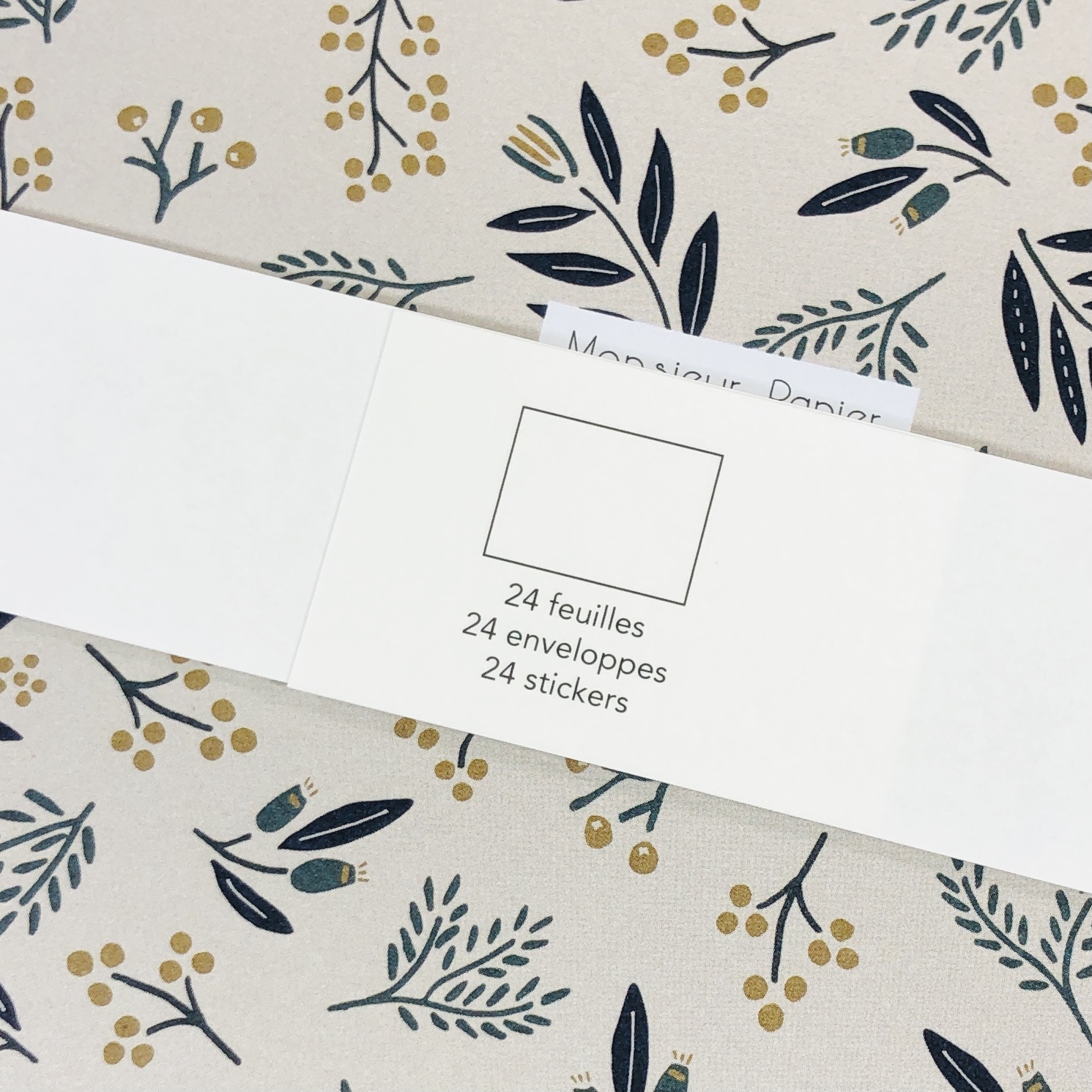 It has 24 sheets, envelopes, and stickers.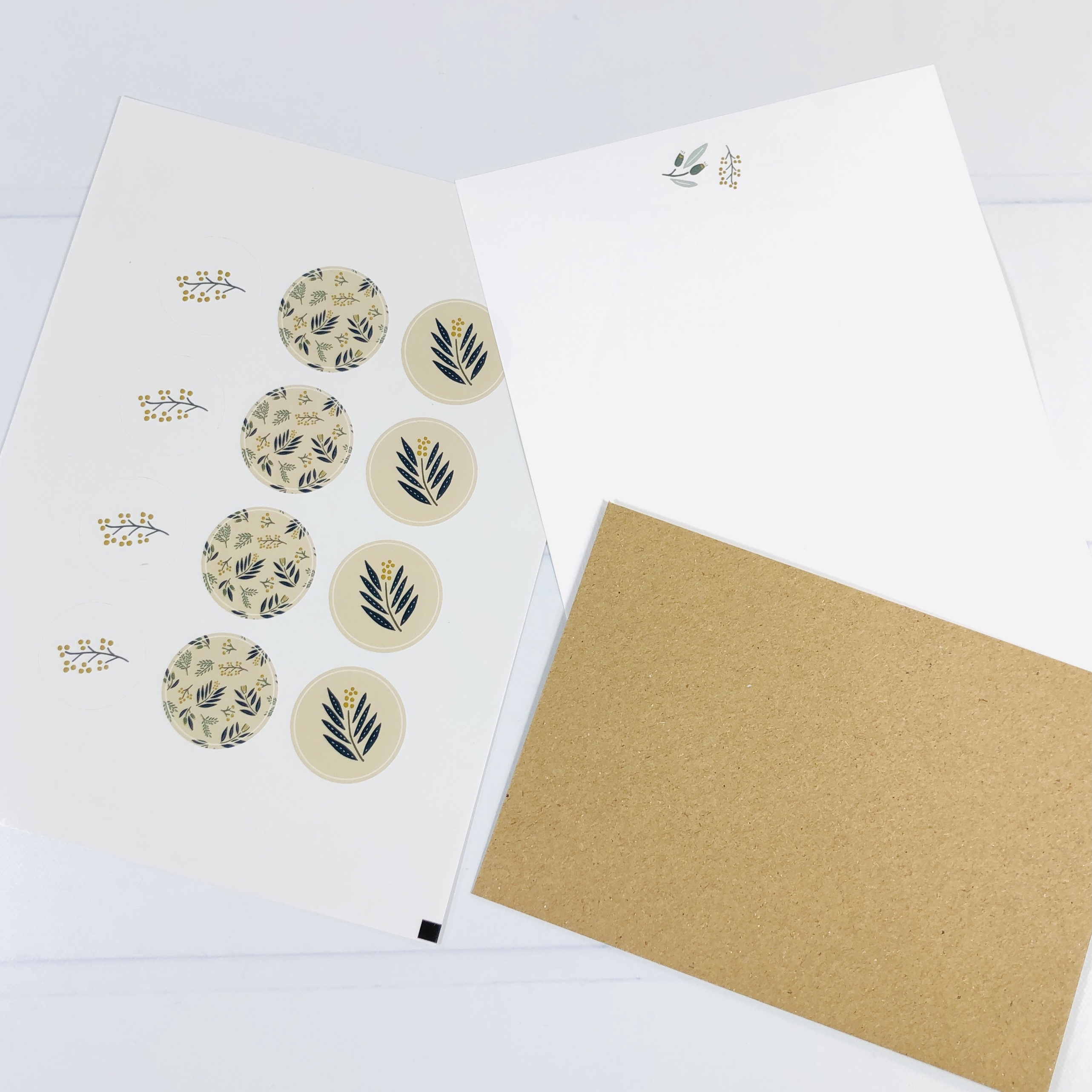 The paper is about 8.25″ x 5.75″ and is white with a botanical motif on the bottom. The envelopes are brown kraft paper and the stickers have that same motif.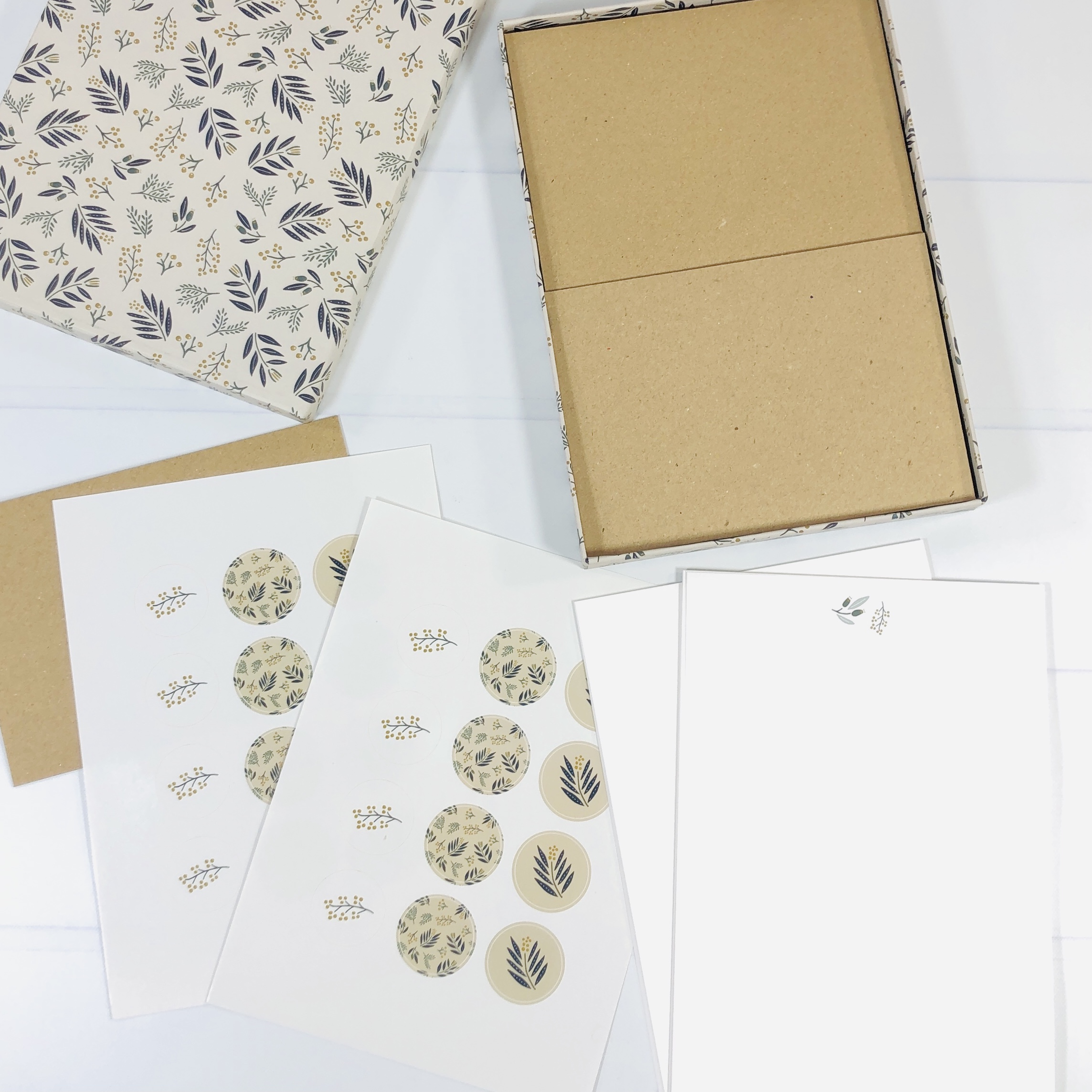 It's such an exquisite set and is perfect for sending a letter to a friend or loved one near or far.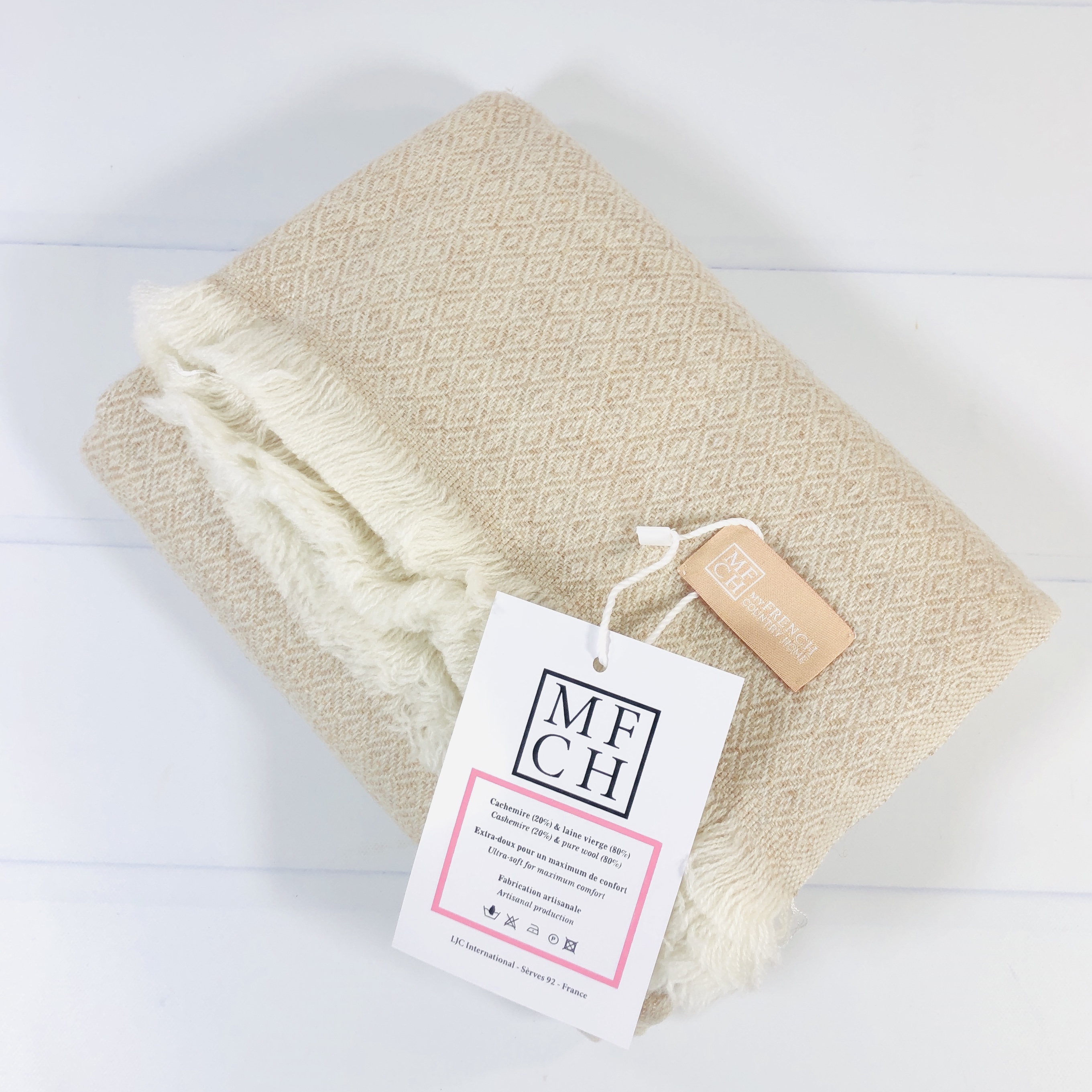 My French Country Home Cashmere Shawl An exclusive shawl from My French Country Home is our final product. The tag attached says that this is 20% cashmere and 80% wool and it should be hand washed.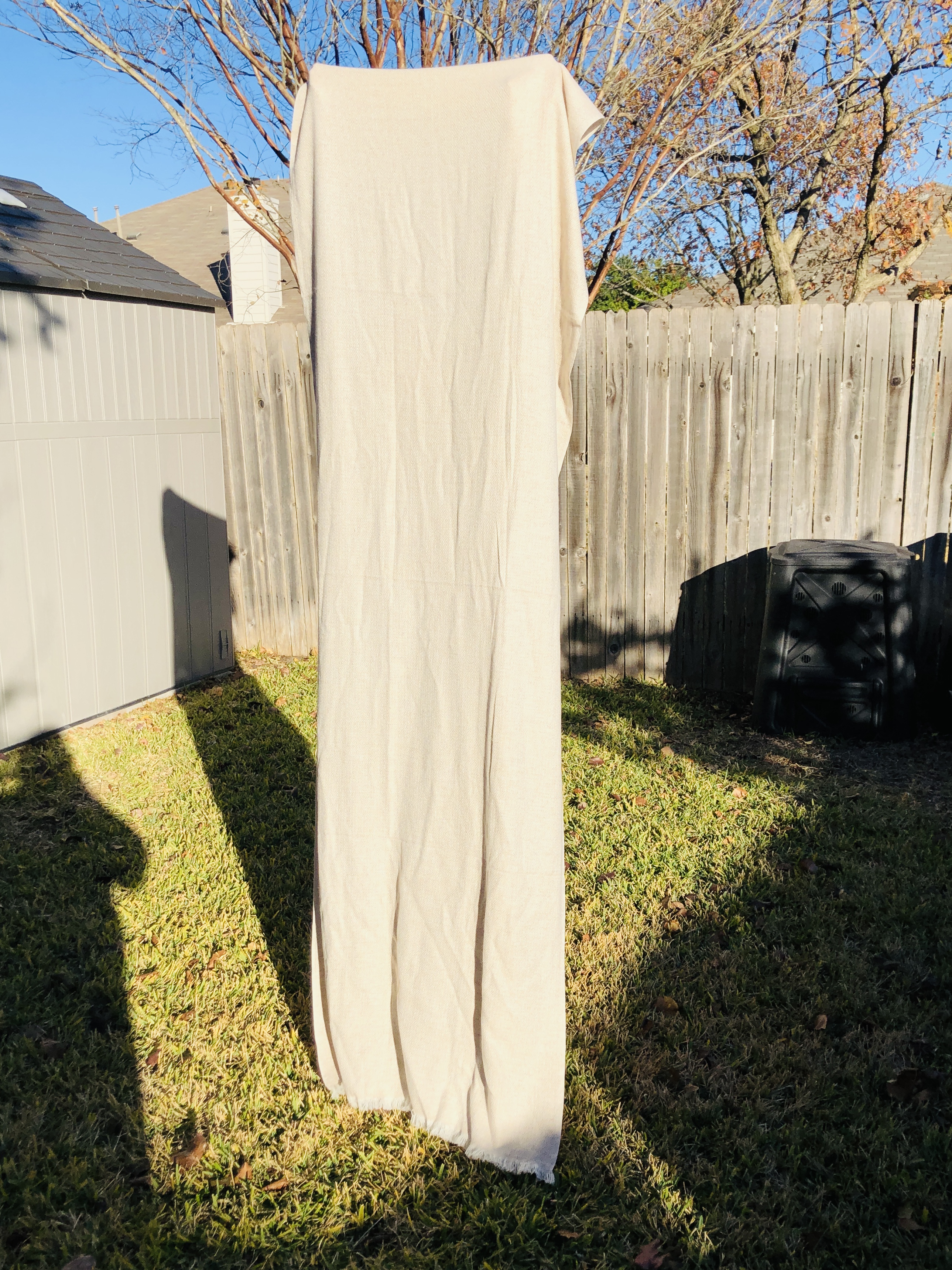 The shawl is long, about 88″ x 30″ and is very soft. It has some fringe on the ends and a diamond pattern in cream and beige.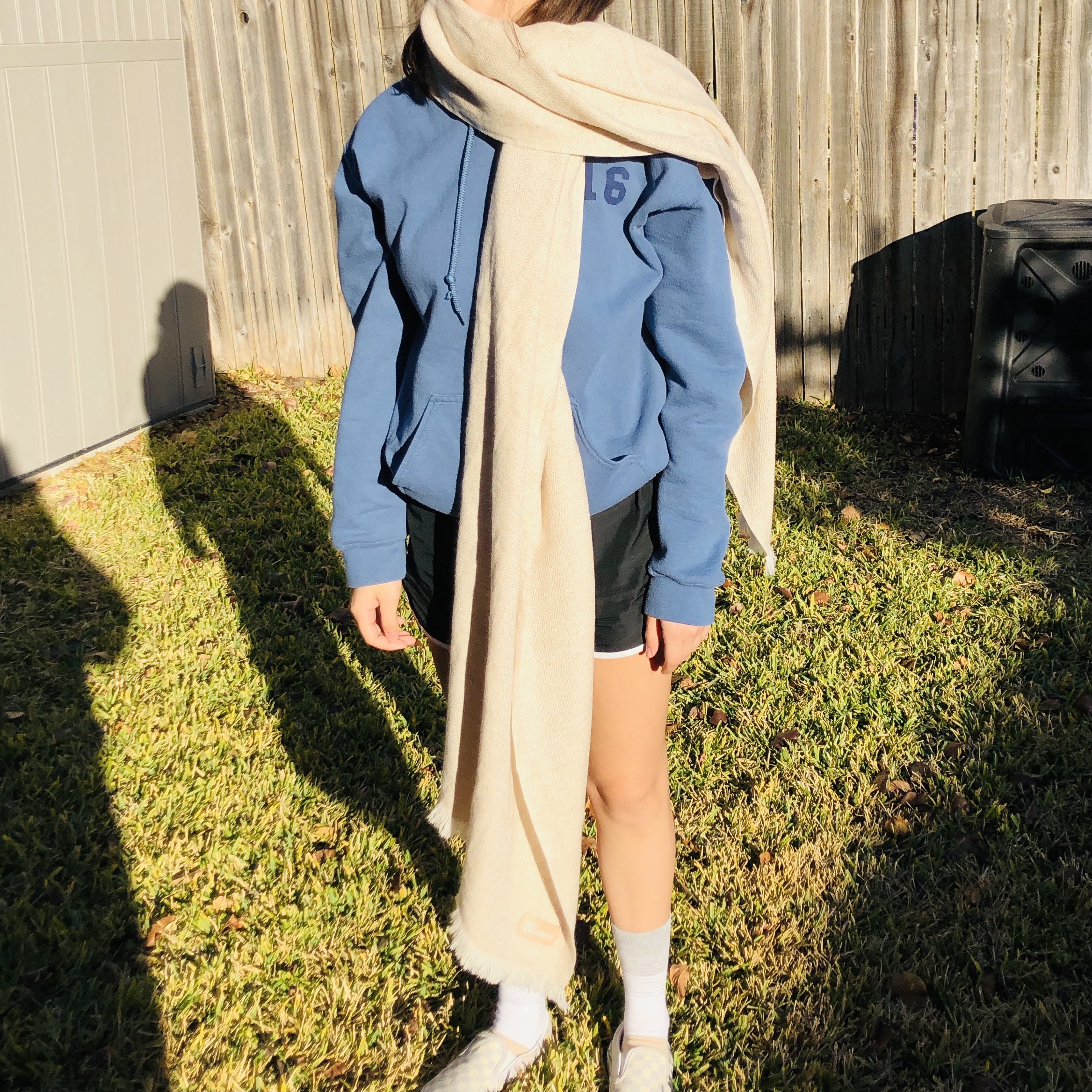 We roll pretty casual around here most of the time but on cooler days this will help keep me warm. I can even wrap it around my head to keep my ears from freezing on windy days when I take a walk.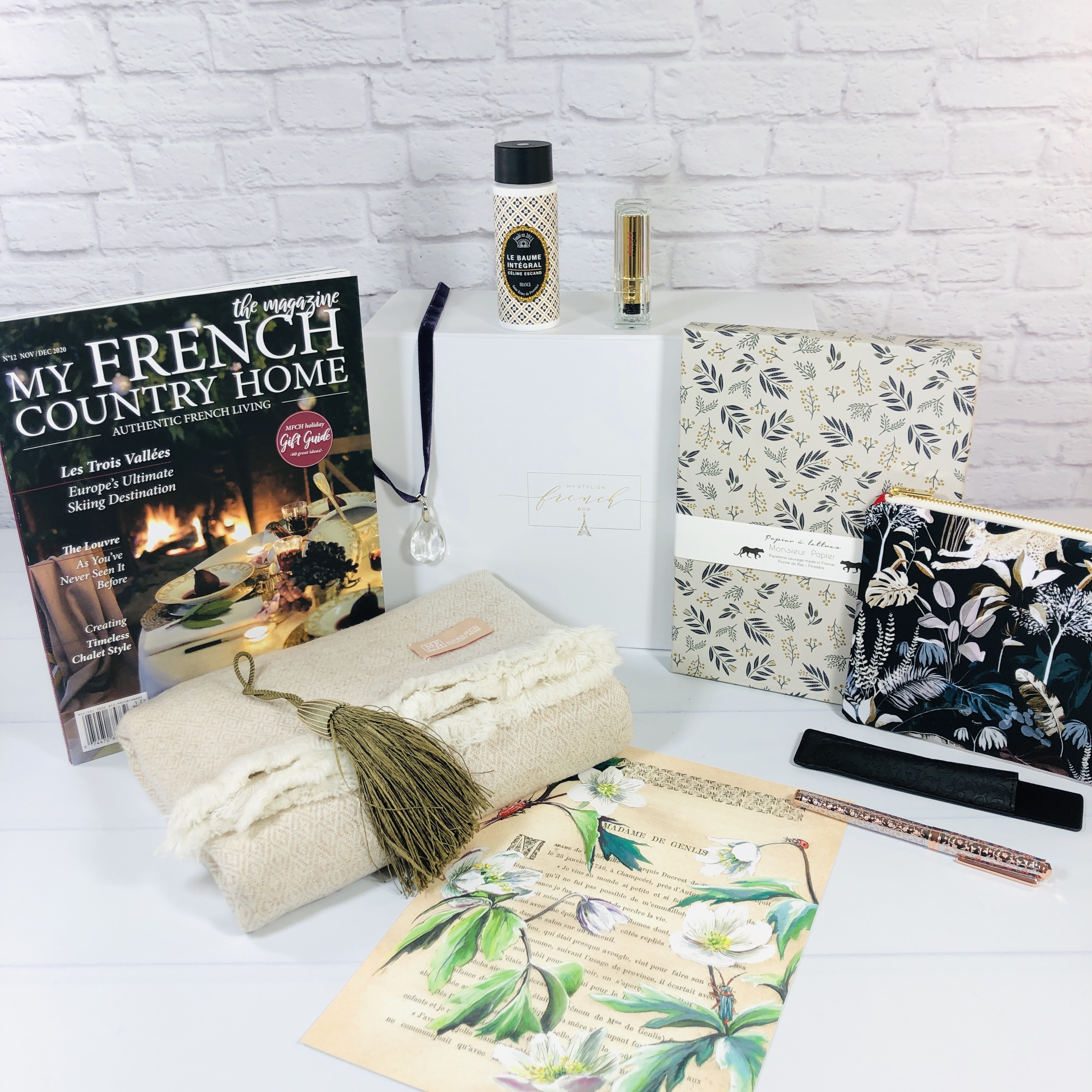 My Stylish French Box is such a luxurious, special treat! The Holiday Chic edition was full of products that feel lovely, look beautiful, and smell amazing. In fact, I think the box was spritzed very lightly with scent before shipping so it arrived smelling so good, and I really want to get ahold of that fragrance, I think it had patchouli. Opening up this box is a super special experience and even the lipstick box was a treat in itself. The balm will keep my hands and body moisturized during the coldest months and the shawl will warm my shoulders on cozy evenings at home or about. The pouch is amazing and the pen has me reconsidering my life choices, why haven't I used a pen this nice before? The tassel is on my tree, the necklace is so elegant yet a little boho too, and the stationery set makes me feel like I've just upped my snail mail game. Finally, I have a picturesque magazine to read and daydream about future trips. My Stylish French Box is a wonderful treat, whether you keep it for yourself or gift it to someone amazing who appreciates and deserves the finer things in life.
Any thoughts about My Stylish French Box? Let me know what you think of the Holiday Chic box!