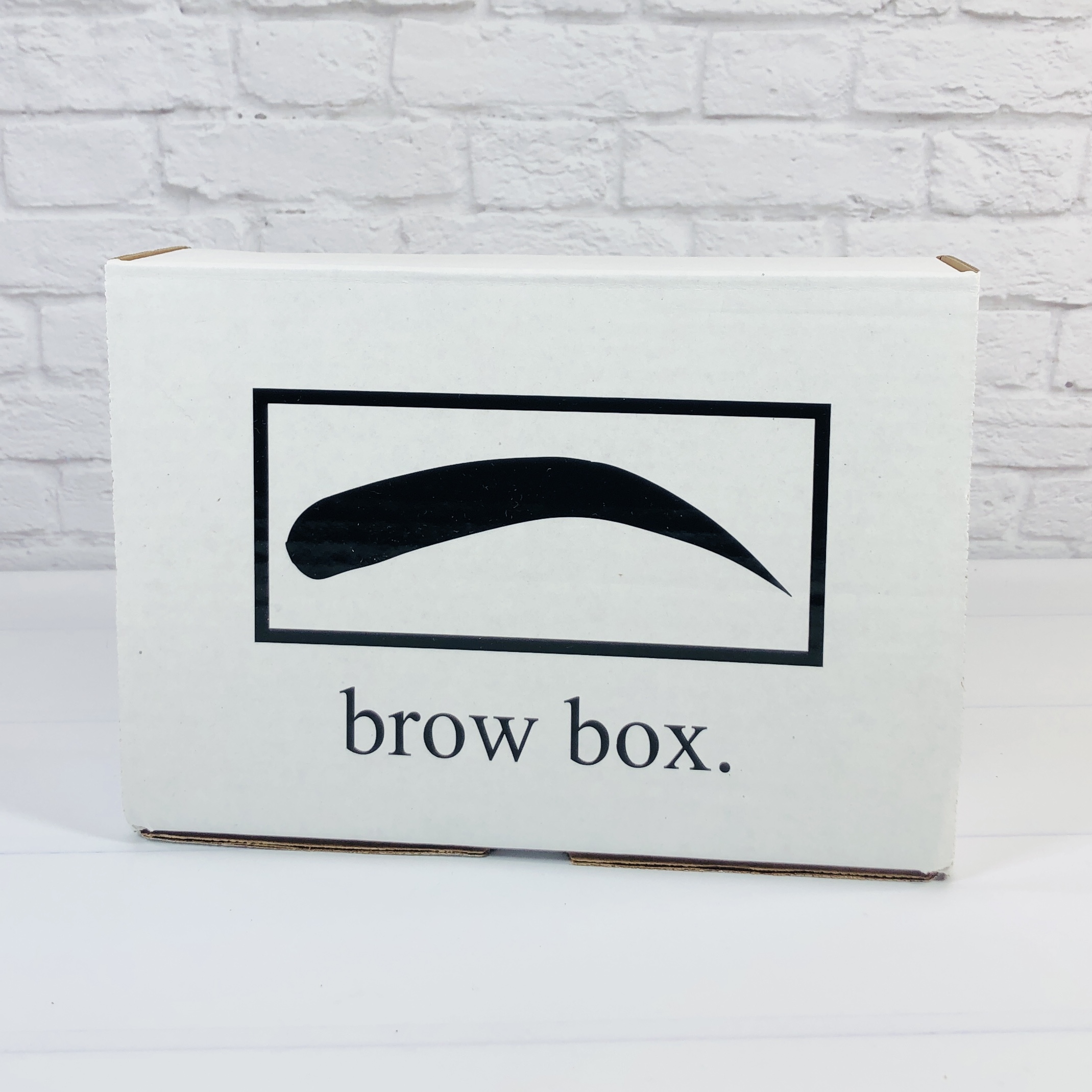 Brow Box is a bi-monthly brow beauty subscription box especially for eyebrow lovers! Every shipment includes full-sized brow makeup basics in your chosen color, brow-related keepsakes, and a product from the monthly featured eyebrow company. Whether brows are your favorite feature or you just like to keep them well-groomed, this is the box for you!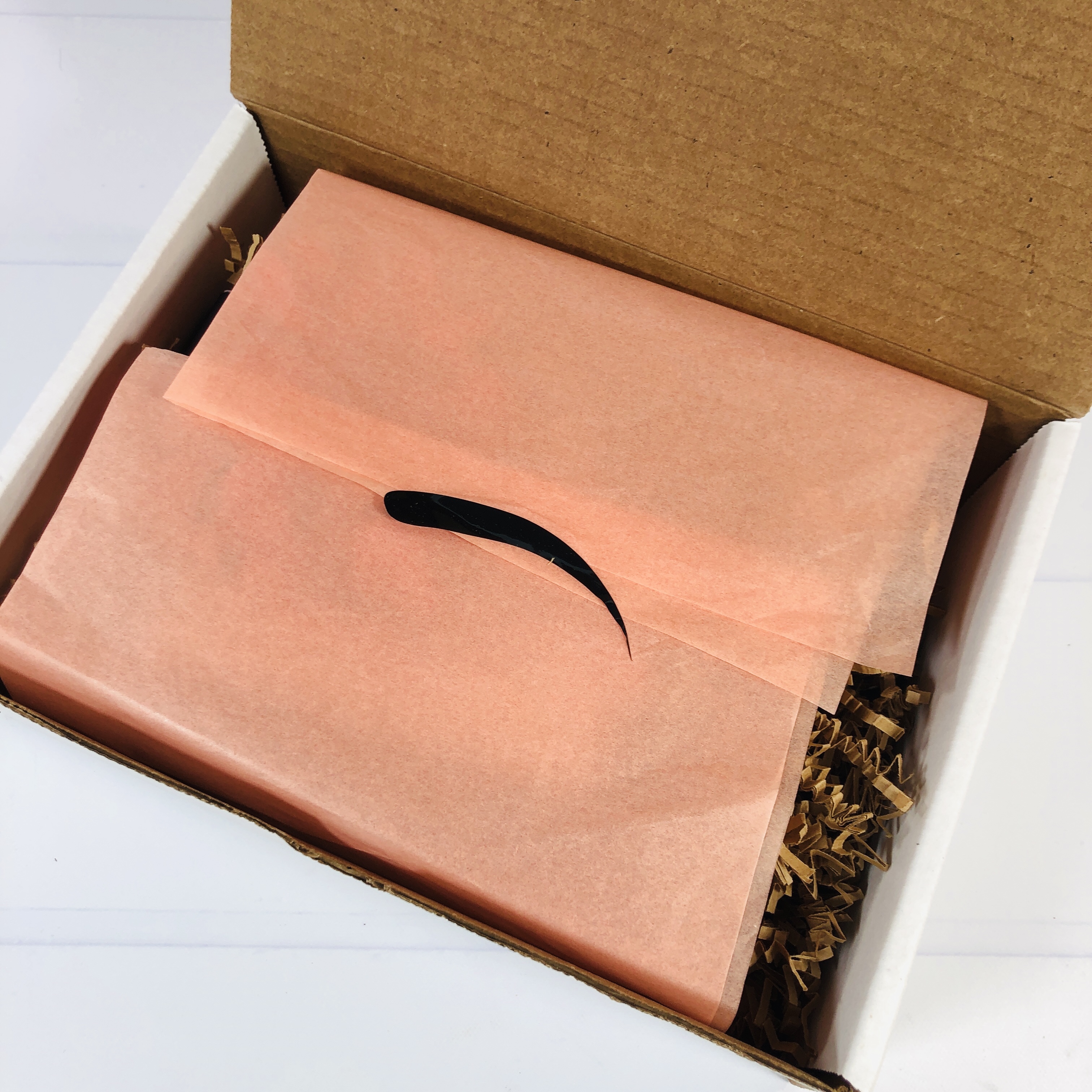 This is my very first Brow Box! Check out that sticker, it's shaped like a brow! When you sign up, make sure to pick the color that works for you along with t-shirt size, sized small through XXL (some shipments may include a shirt!). The brow makeup color choices are Blonde, Taupe, Deep Brown, Charcoal, and Auburn.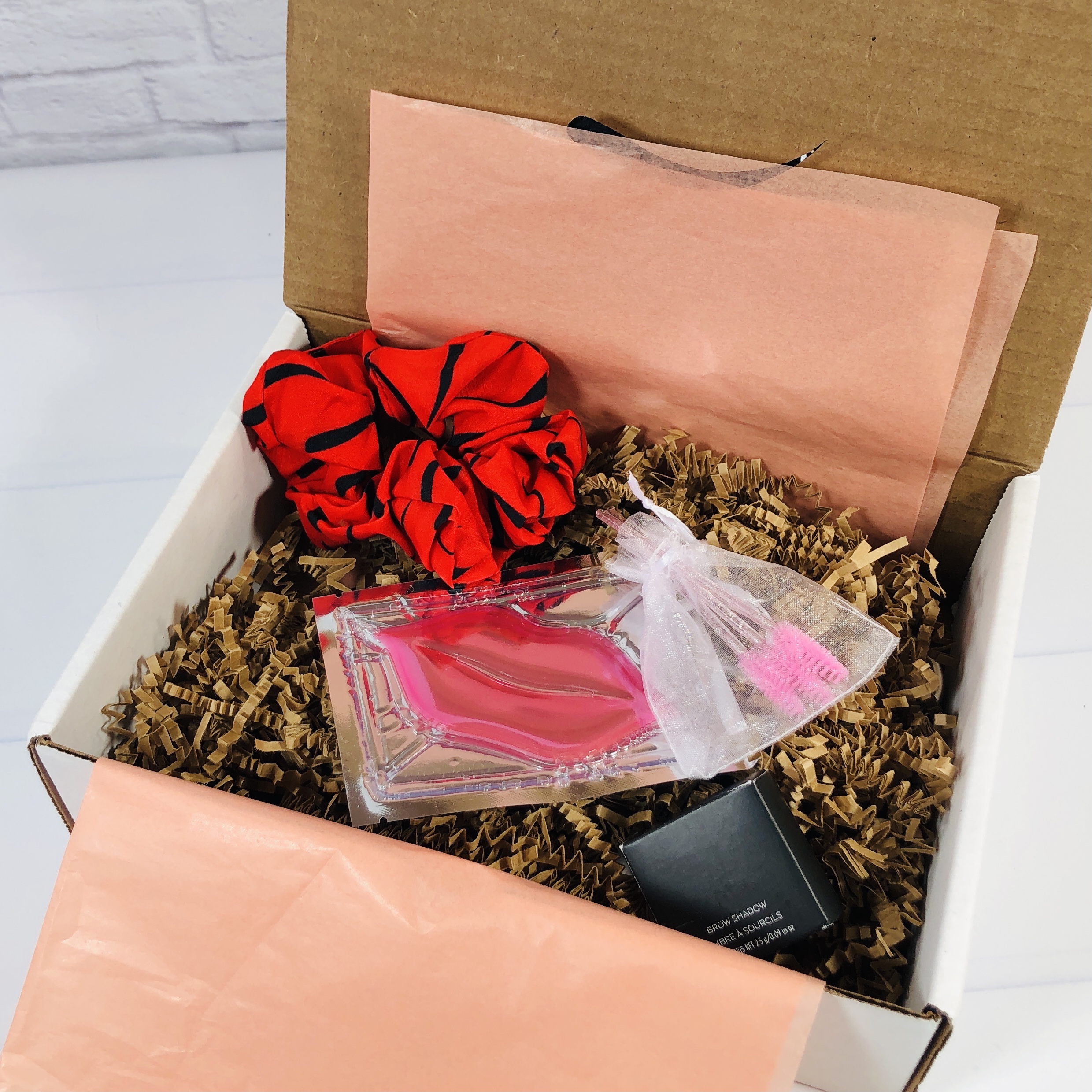 My items were tucked into shredded paper squiggles.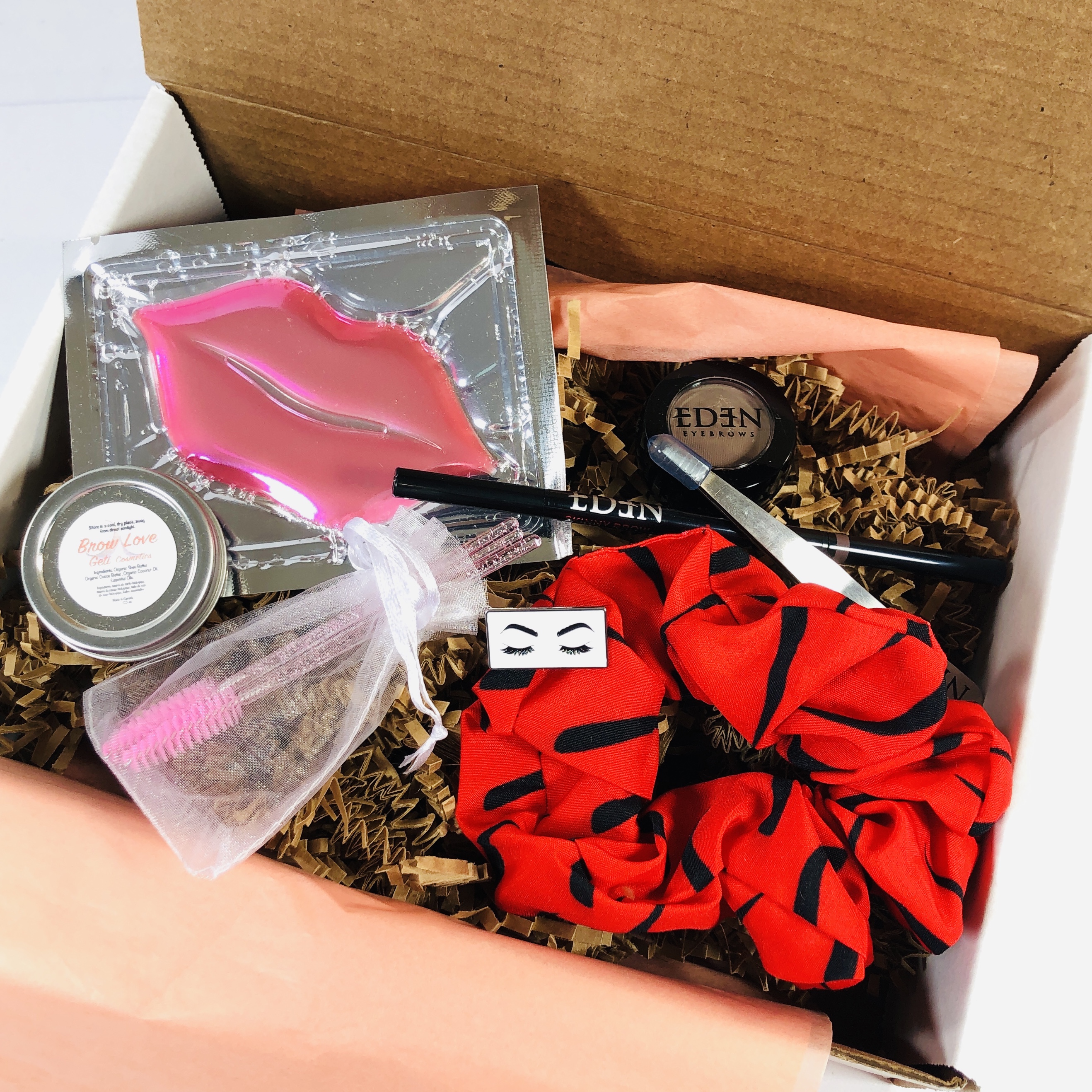 Everything in my box!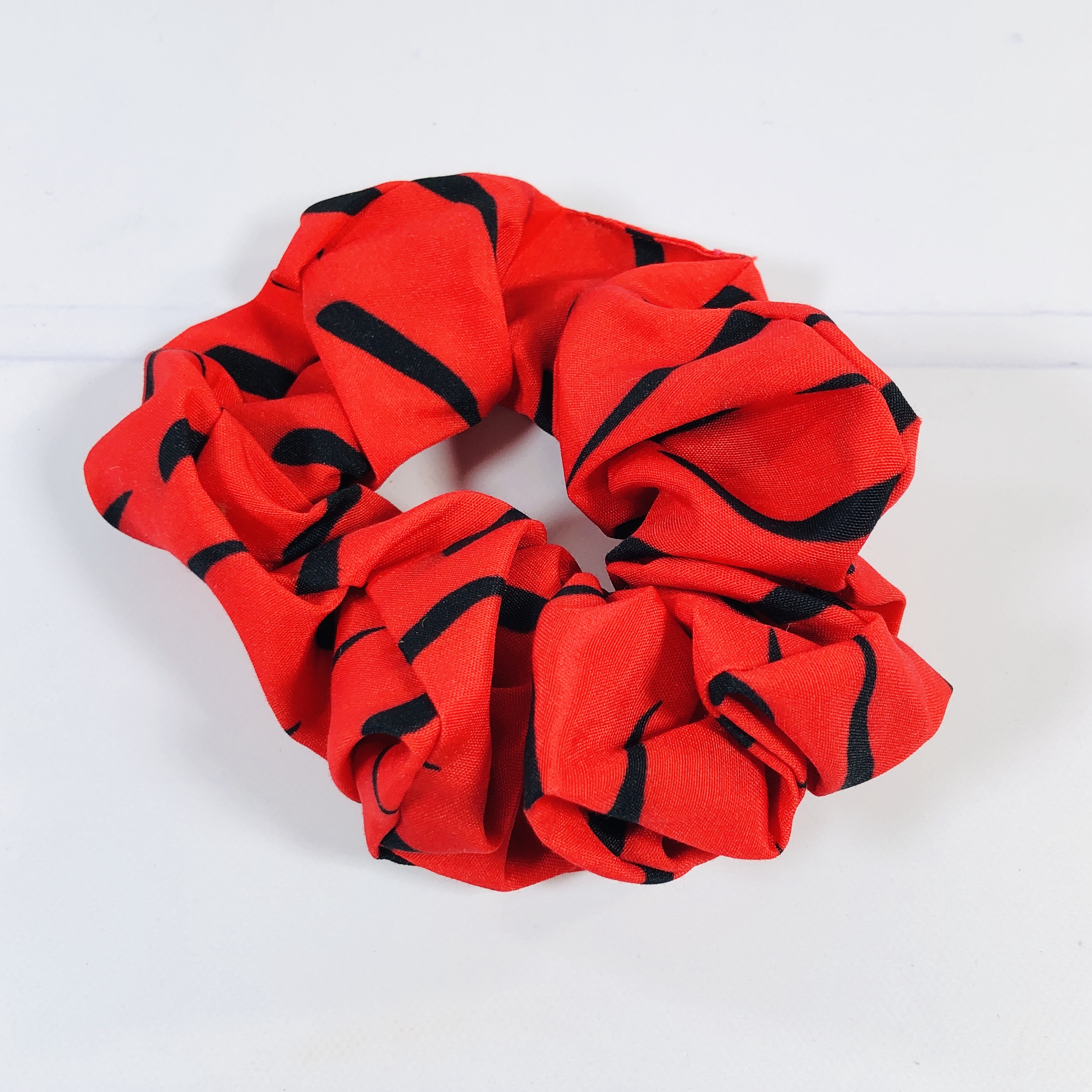 Eyebrow Print Scrunchie Show everyone your love for your favorite facial feature with this brow-print scrunchie. It also kind of looks like tiger stripes on a red background from far away. I would say it's made of polyester fabric with a silky feel to it.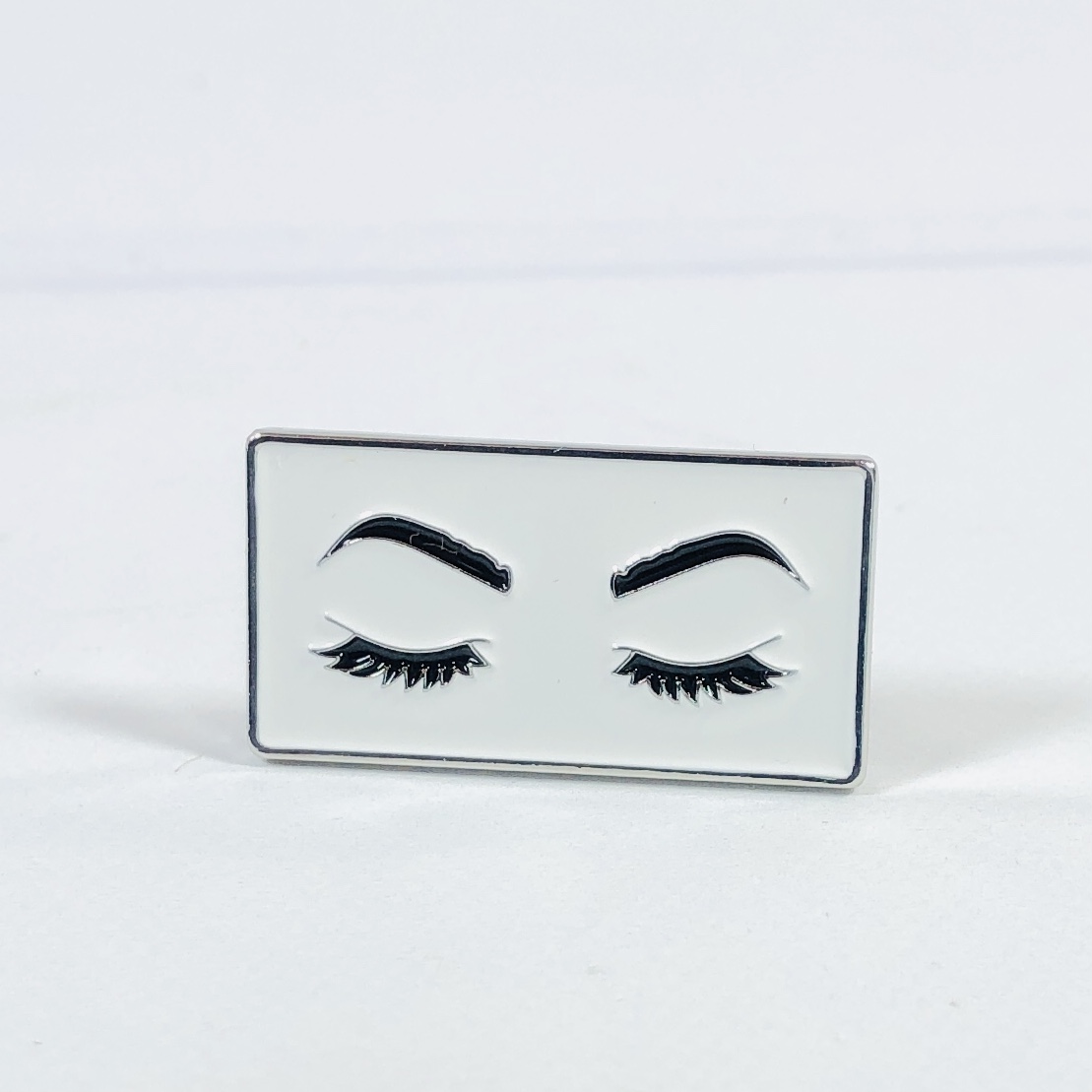 Eyebrow Pin Thanks to subscription boxes I have quite a collection of pins on my library book bag. This one is 1″ x 0.5″ and features groomed brows and lush lashes on a white enamel background.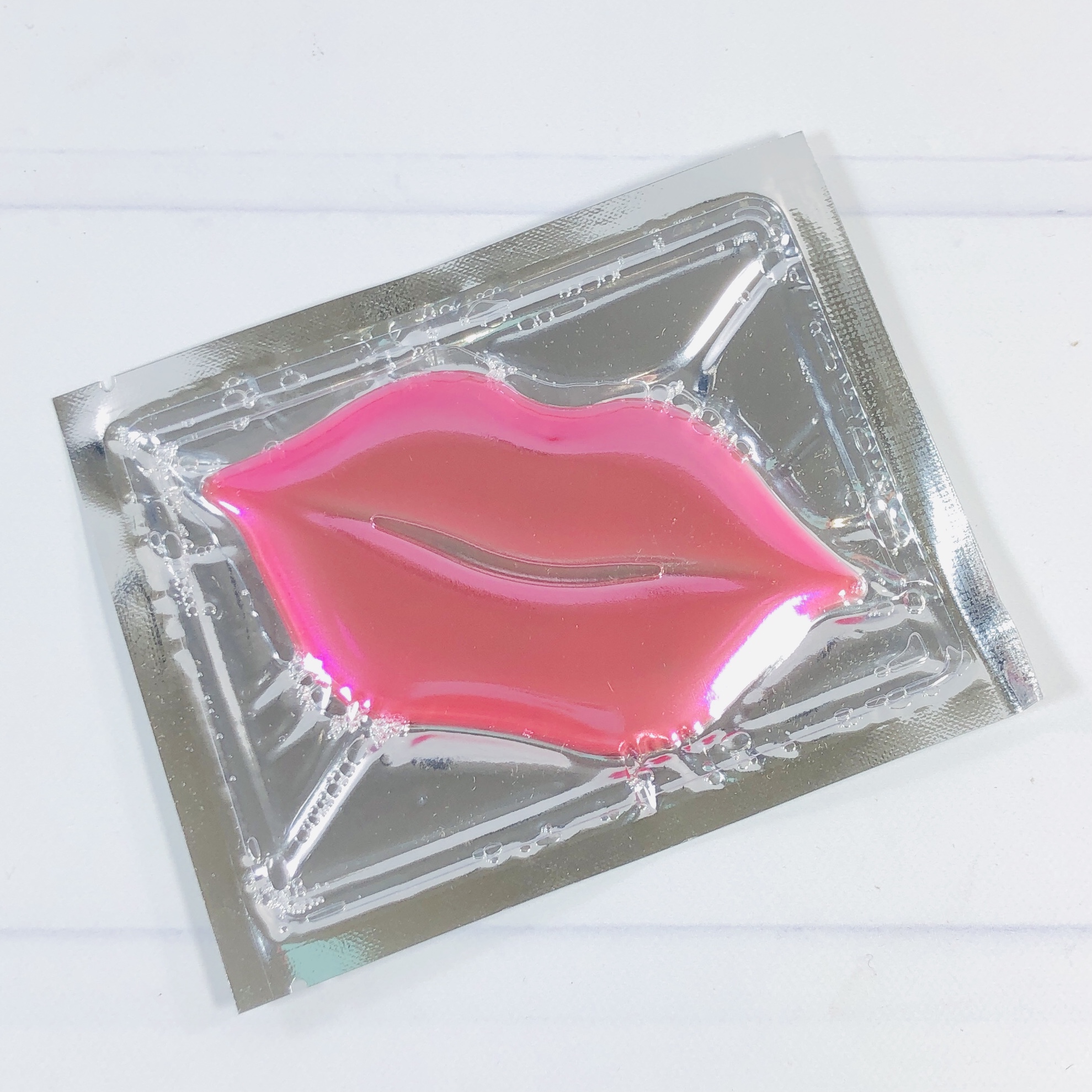 Lip Mask (Find similar item here, $12.99 for 30) The mask doesn't have any branding on it but has an expiration date of 03/2022 on the back. I am going to guess that it is collagen based and should be placed on clean lips for 10-15 minutes before removing and is one-time use only. I placed it on my lips and it was thick and kept sliding off. It also left me with a mouth full of perfume (blech) but didn't seem like it did anything to enhance my lips, except lightly irritate them.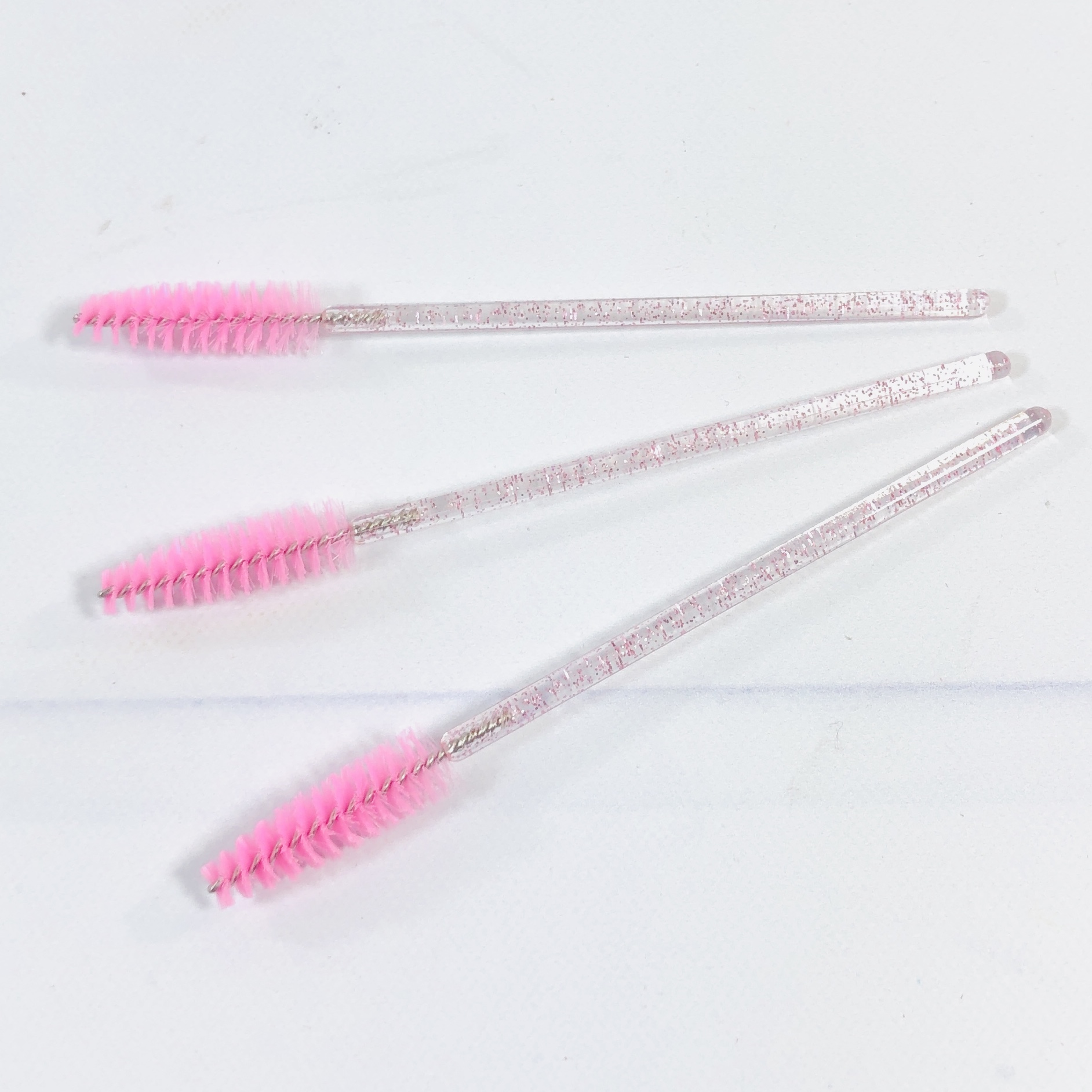 Pink Spoolie Brush (Find similar item here, $4.99 for 100) When working on the brows it's important to make sure they are brushed so they look their best. I would suggest using the brush before AND after using the makeup products. Before so they are going the right way, after to make sure the makeup is well blended. If you trim your brows then the brush can be used to make them easier to cut.
These are each 4″ long and can be used on lashes too.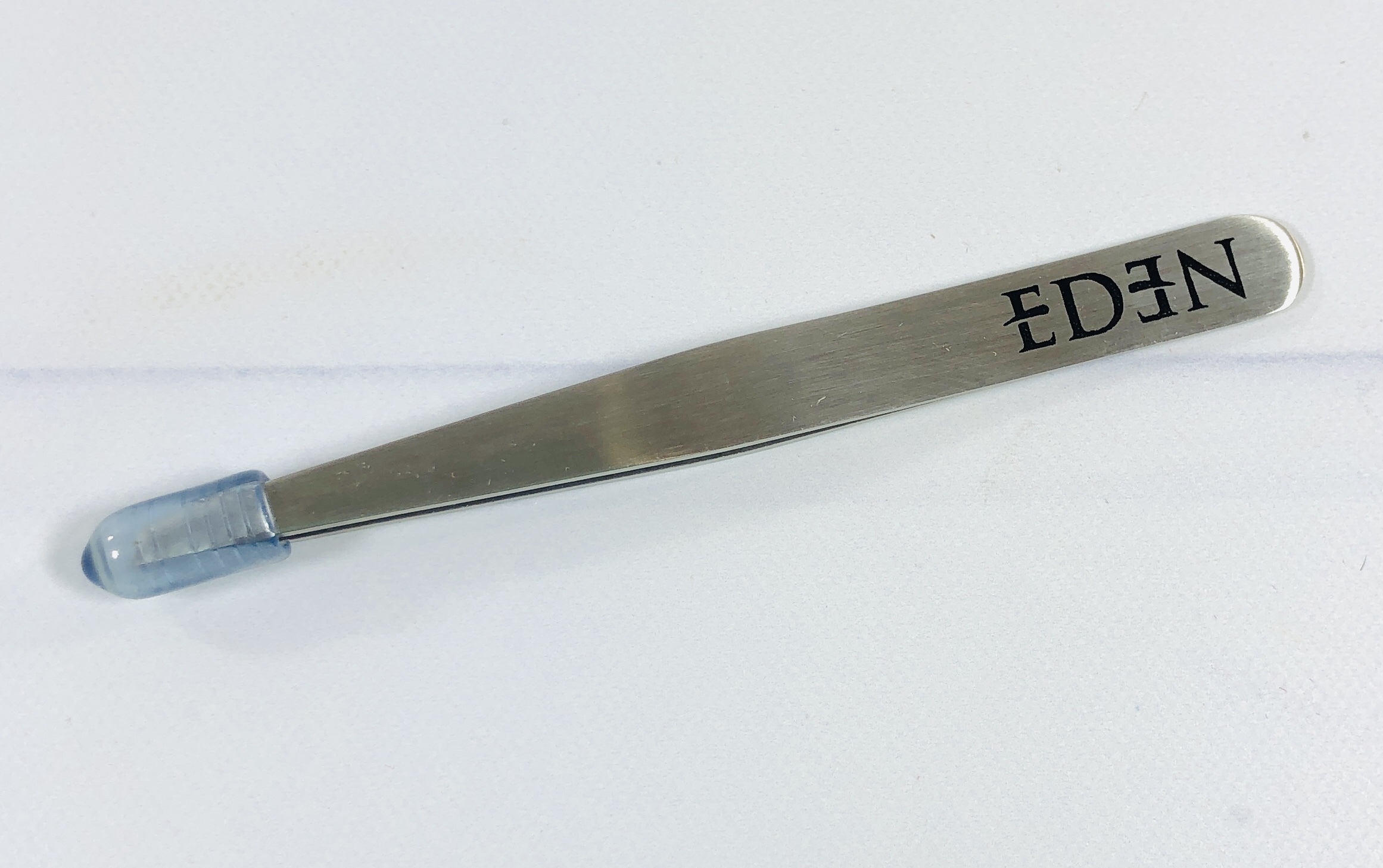 Eden Slant Tweezers ($18 CAD, about $13.79) I'm old-school and tweeze my brows myself, mainly because they aren't all that bold. My daughter has her brows professionally done (or did before the pandemic anyways) and I've tried waxing and threading but this works best for me. Hmm, I wonder what microblading is like?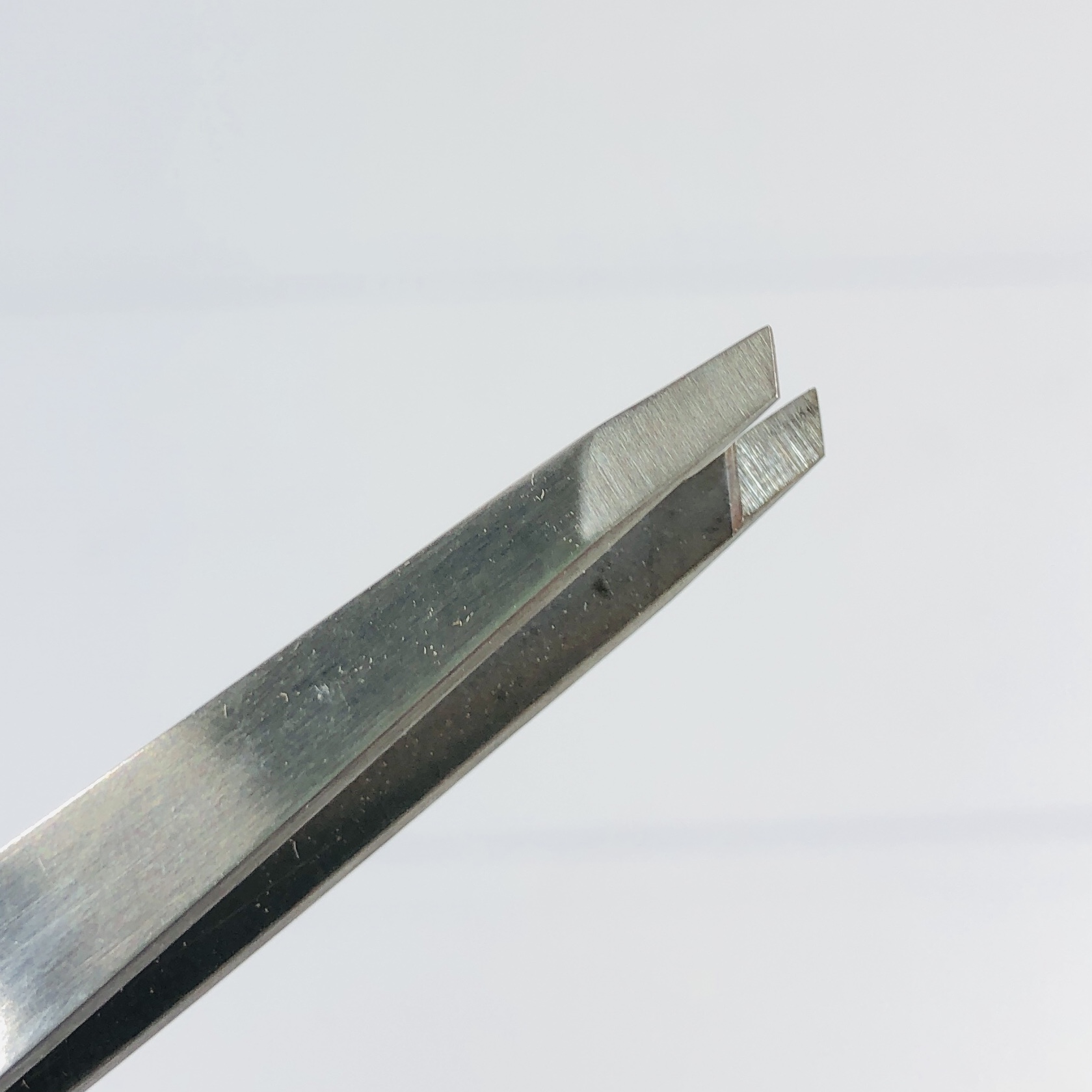 The slant-tip helps get the best angle for plucking. I do 5 hairs on each side and then wait until the next day and repeat until I'm caught up and then it's just maintenance.
Geti Cosmetics Brow Love ($15 CAD, about $11.49 USD) I tend to be low-key most days with my makeup and yet I still want my brows to look groomed and this product is perfect for that very thing. Ingredients are shea and coconut butters, coconut oil, and essential oils. There is the barest hint of scent, maybe tea tree or rosemary?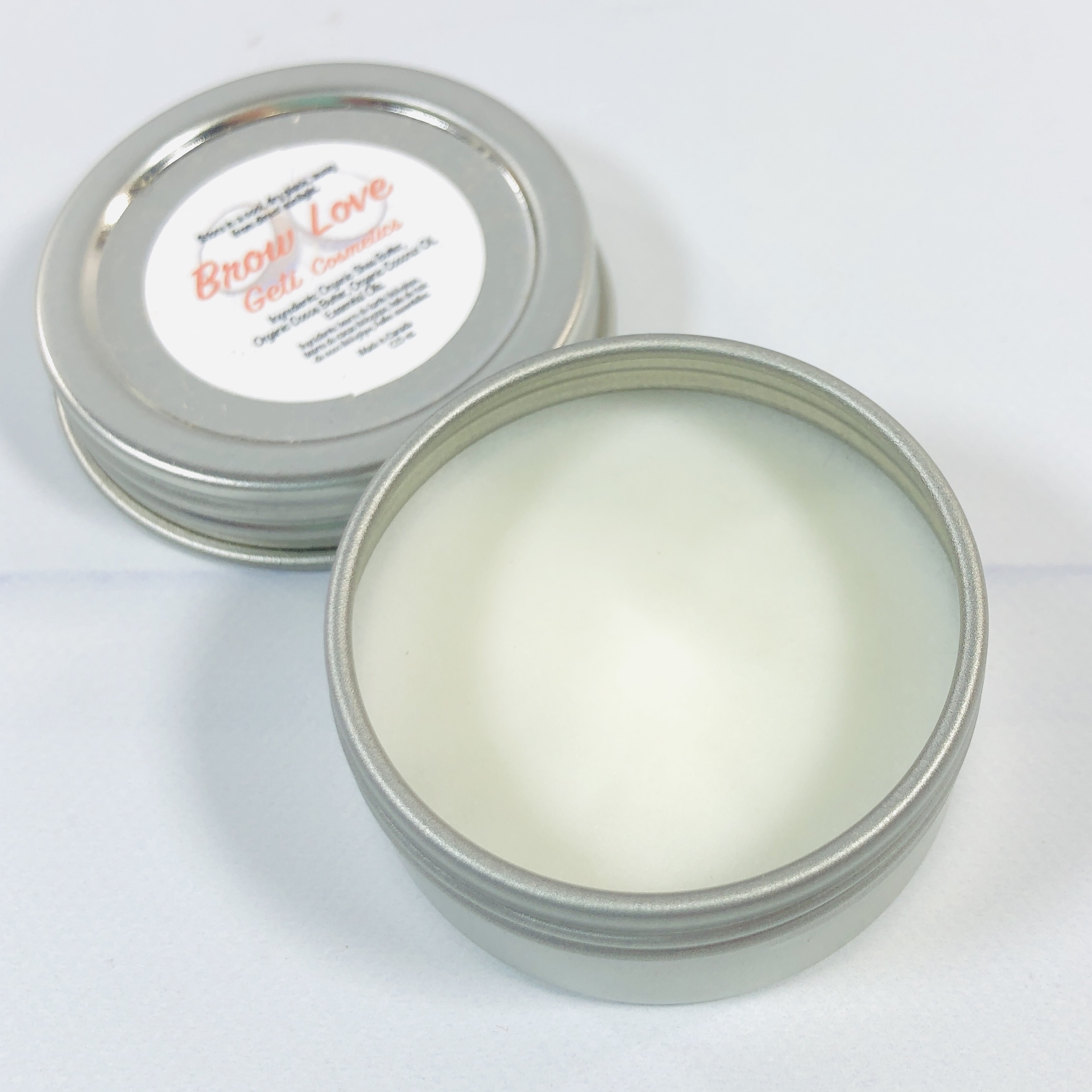 This product goes on clear but you can buy a tinted version, and they will even make a custom color that matches a picture you upload if you want something precise. I simply swiped it on my brows and combed them up and then back into place for my regular look. I also tried it out with the product shown below.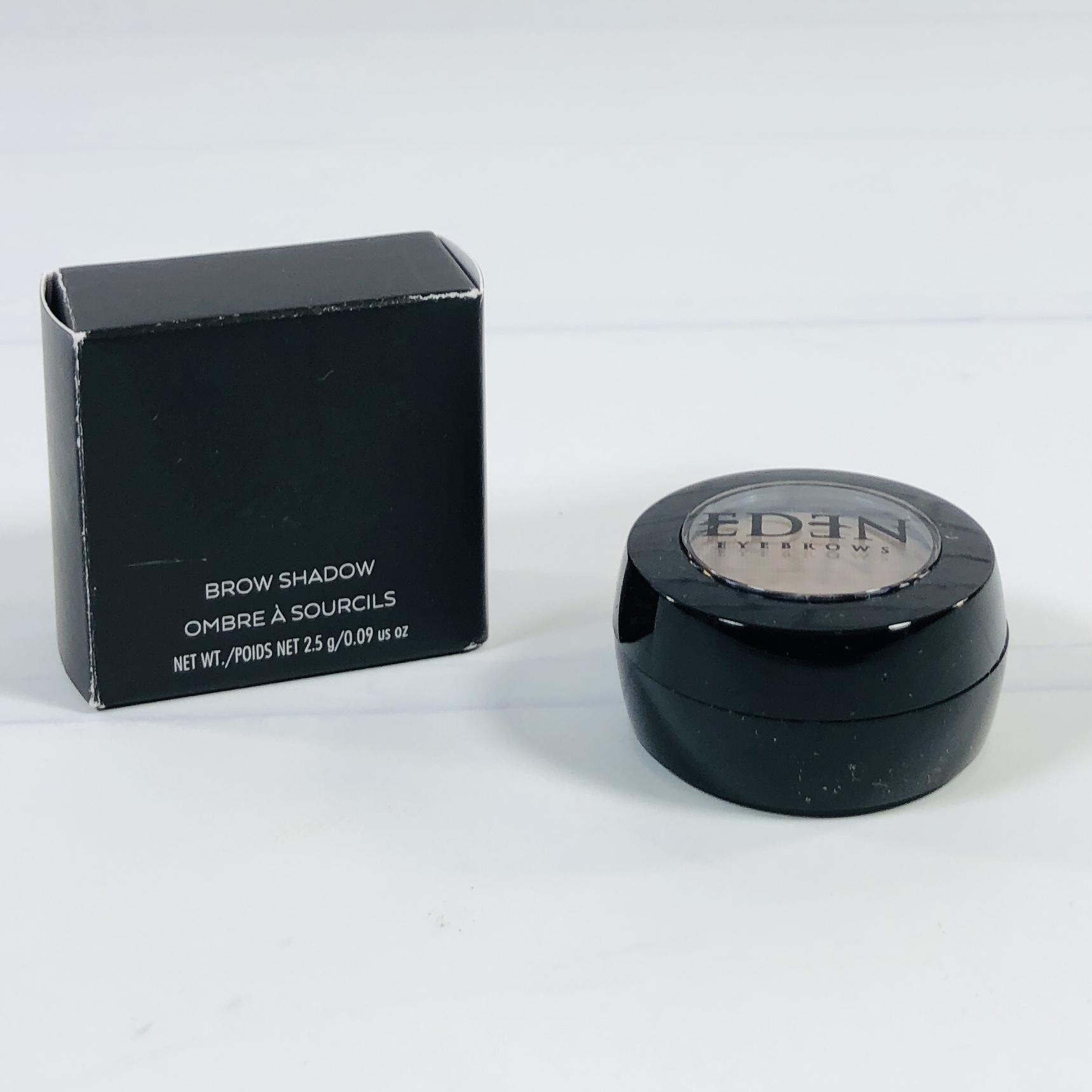 Eden Brow Shadow in Ash Brown ($15 CAD, about $11.50 USD) When I signed up I chose "taupe" as my preferred color and I think this is perfect for my ash brown hair. I prefer not to do my brows too dark as it makes me look severe.
Here's the ingredients.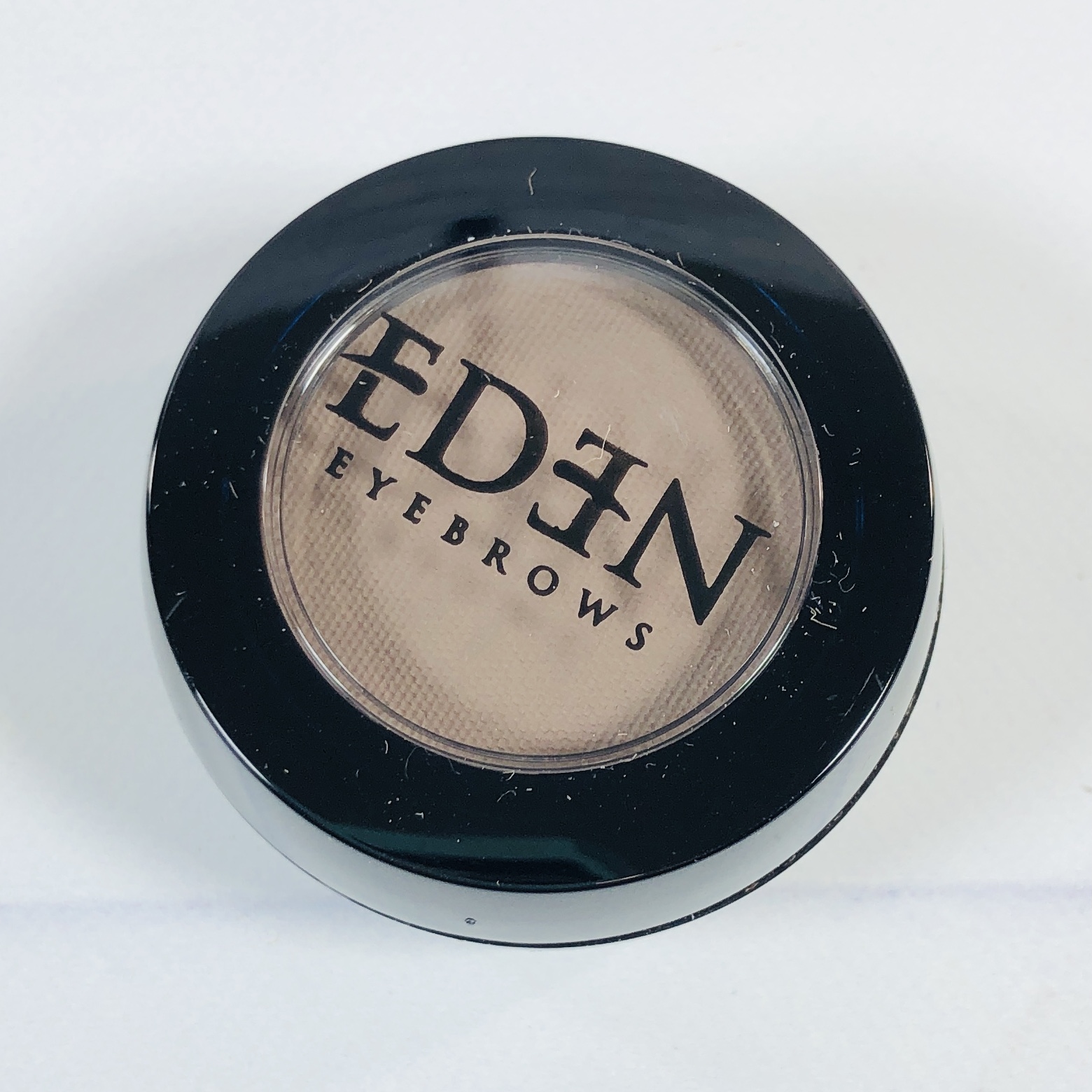 It comes in a container that is easy to carry. It's a pressed powder, similar to eyeshadow. This is one of the items that is sent in every shipment.
I used the Brow Love shown earlier in the review and then took a brow makeup brush and applied the powder over top. It looked really good and filled in the sparse spots and helped my brows look full but not too severe. It stayed in place all day long too but wasn't hard to remove at night.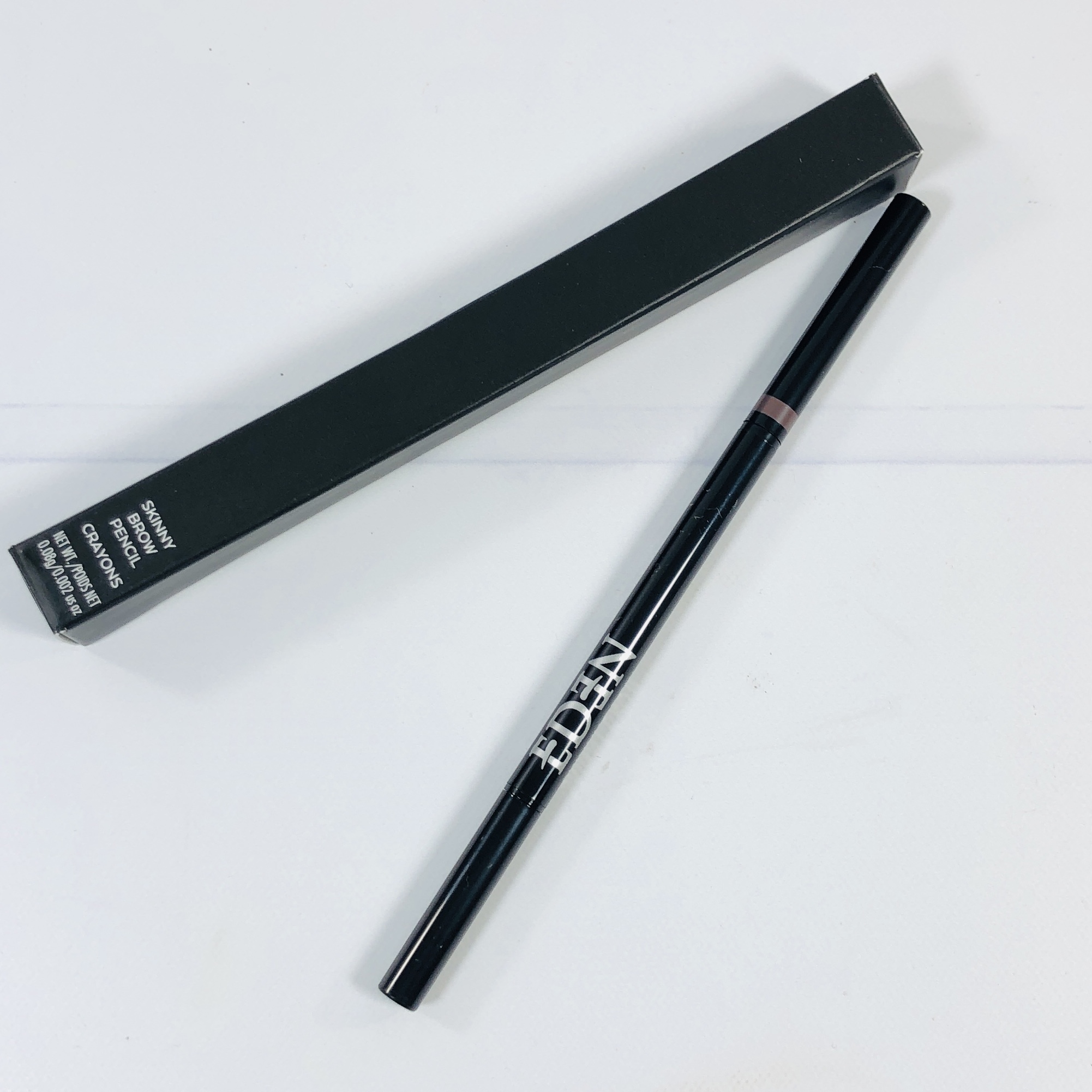 Eden Skinny Brow Pencil in Taupe ($18 CAD, about $13.80 USD) I received a matching brow pencil, and again, this item will be replaced every shipment.
Here's the ingredients.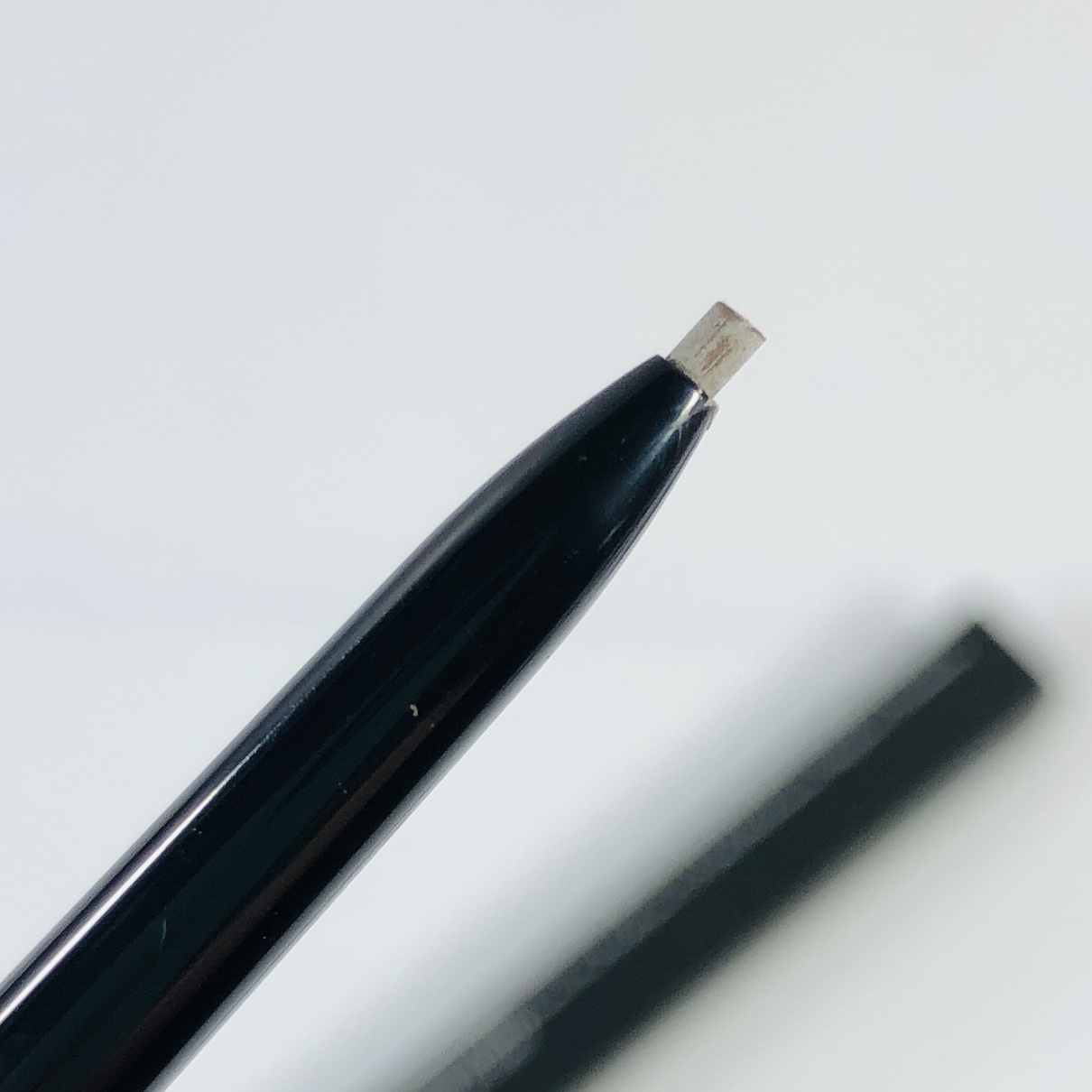 You draw it on in light strokes to build up to your preferred brow look. I think it probably looks denser and lasts even longer than powder, it just depends on what look you are going for. Twist the container to reveal more liner. Swatched below.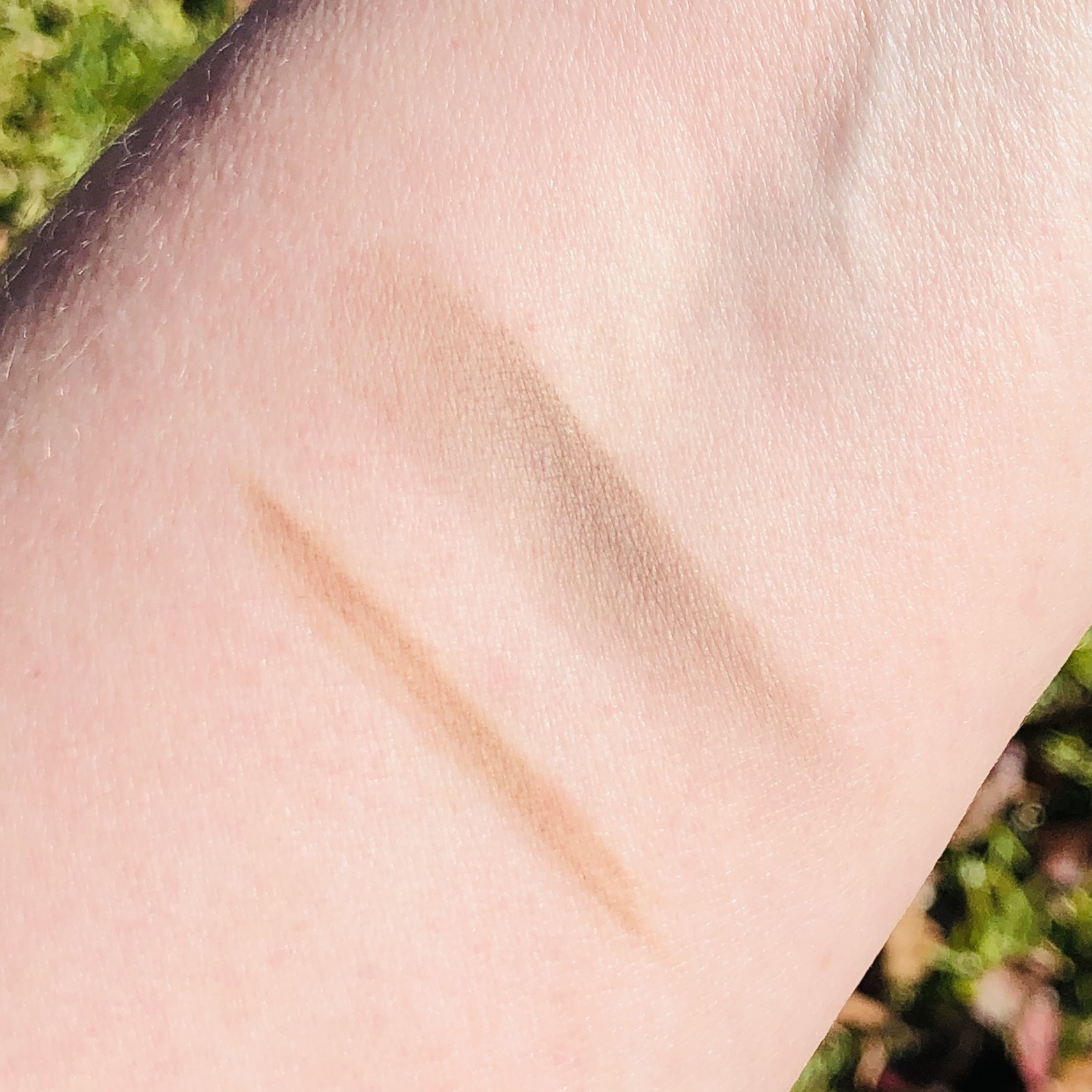 Swatched on top is the powder, below is the pencil.
I thought my very first Brow Box was so cute, and yet they also provided must-have products for my makeup collection! The scrunchie and pin were so sweet and definitely show my brow love to everyone, while the tweezers and spoolie brushes were things I use on a regular basis. I liked that the Brow Love product can be used by itself for a low-key look or combined with the powder for a more bold finish. The pencil also worked well and I thought both products matched my hair and brow colors. The lip mask was a nice extra and although it didn't work out for me it was still nice to try.
What do you think of this month's box?