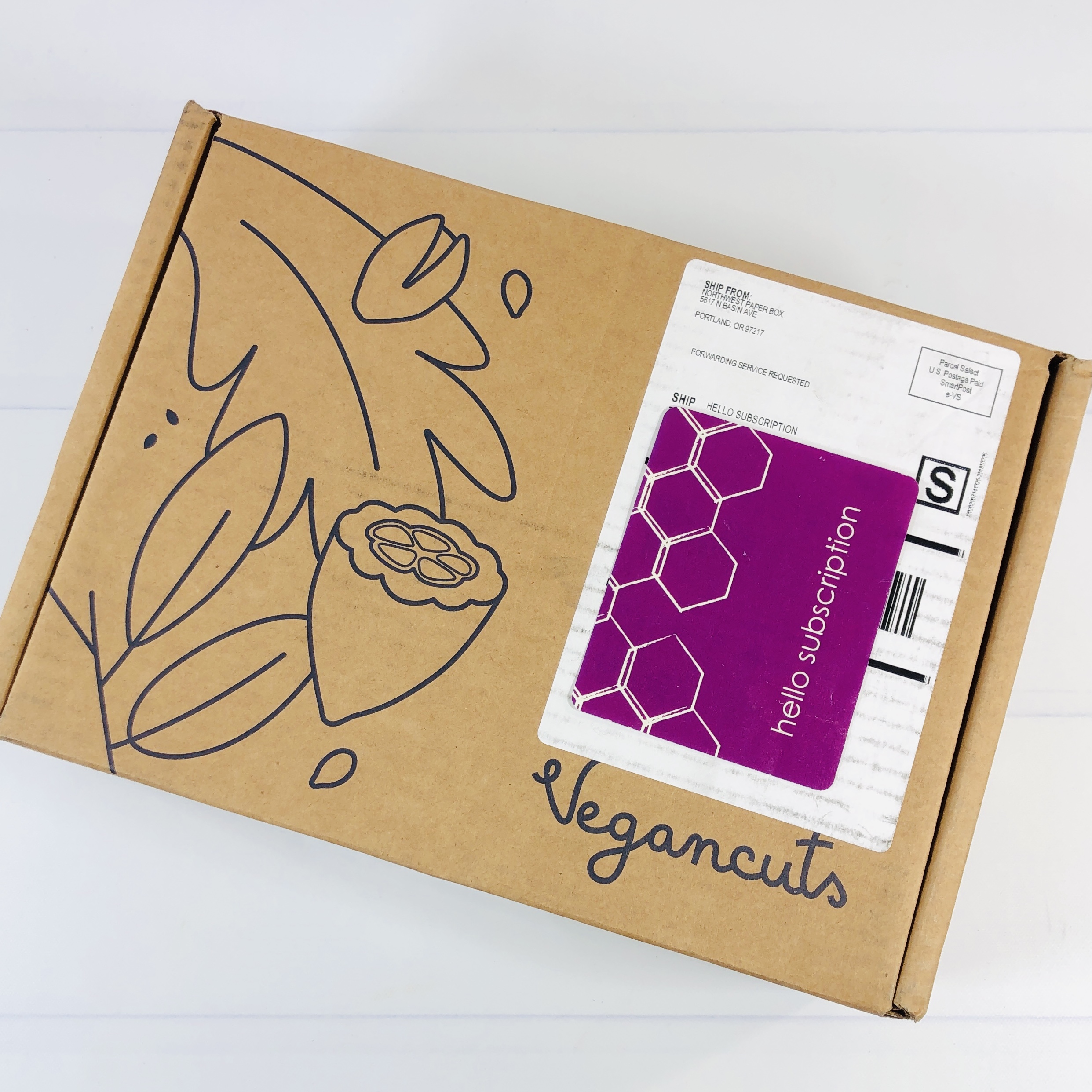 Vegancuts Beauty Box is a monthly beauty subscription service that sends 4 or more items ranging from unique cosmetics to luxurious skincare. Best of all, they are 100% cruelty-free and vegan, plus most items are natural and non-toxic! Monthly recurring shipments are $24.95 with free shipping in the USA (there is an additional charge for other countries). This sub is also available in 6 or 12-month terms that do not renew but that do earn you a discount.
Each month you'll receive a delivery of 4 or more new deluxe or full-size products, from unique cosmetics to luxurious skin care, that treat your outside as good as you treat your inside.
DEAL: Use the coupon code hellosub to get $5 off your first box on any Vegancuts subscription!   It can only be used once per customer, but it can be used on multiple subscriptions at once so long as they are in the same transaction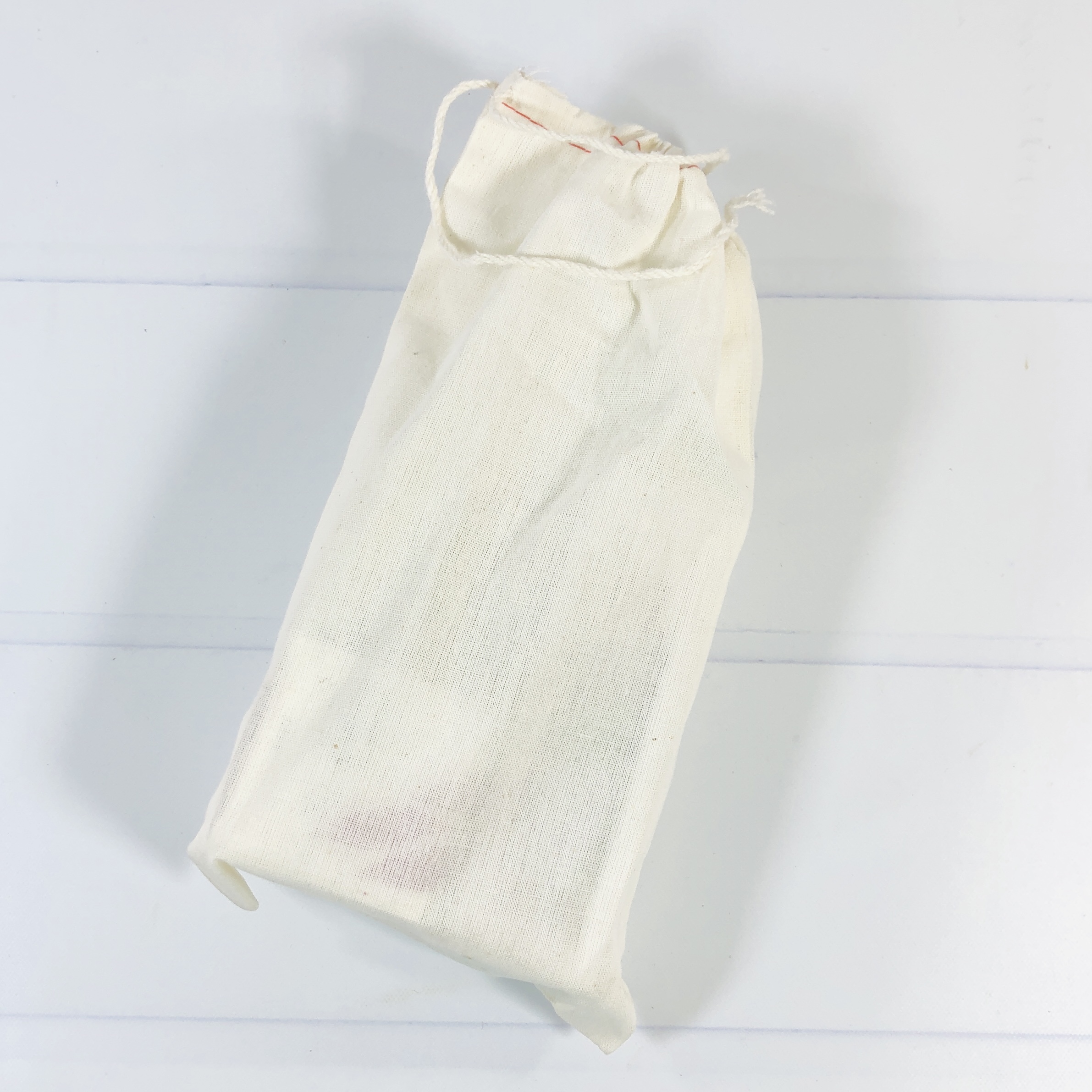 My beauty items come in the same box as my snack subscription, but they are always placed in a separate bag.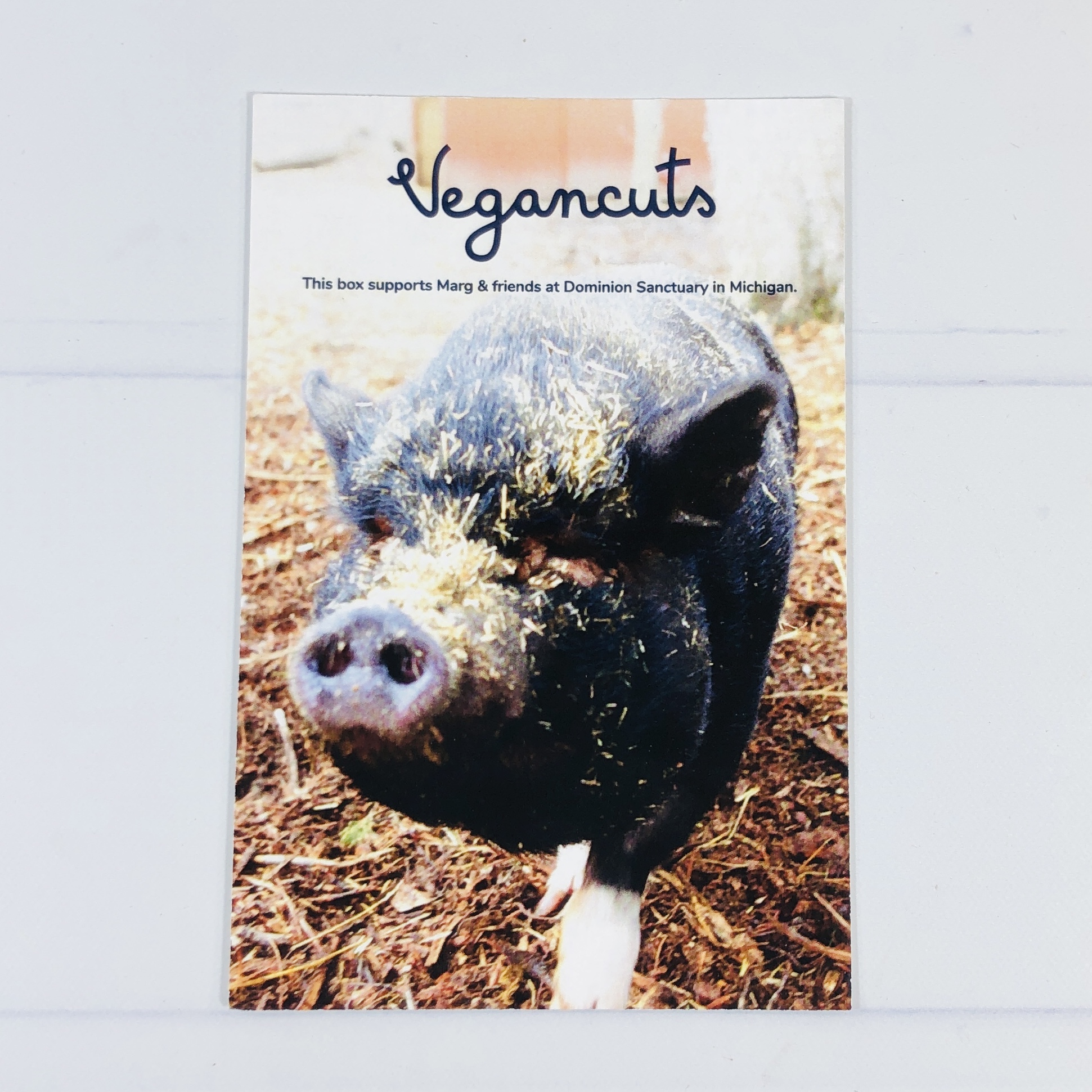 There was a card that says we are supporting Dominion Sanctuary.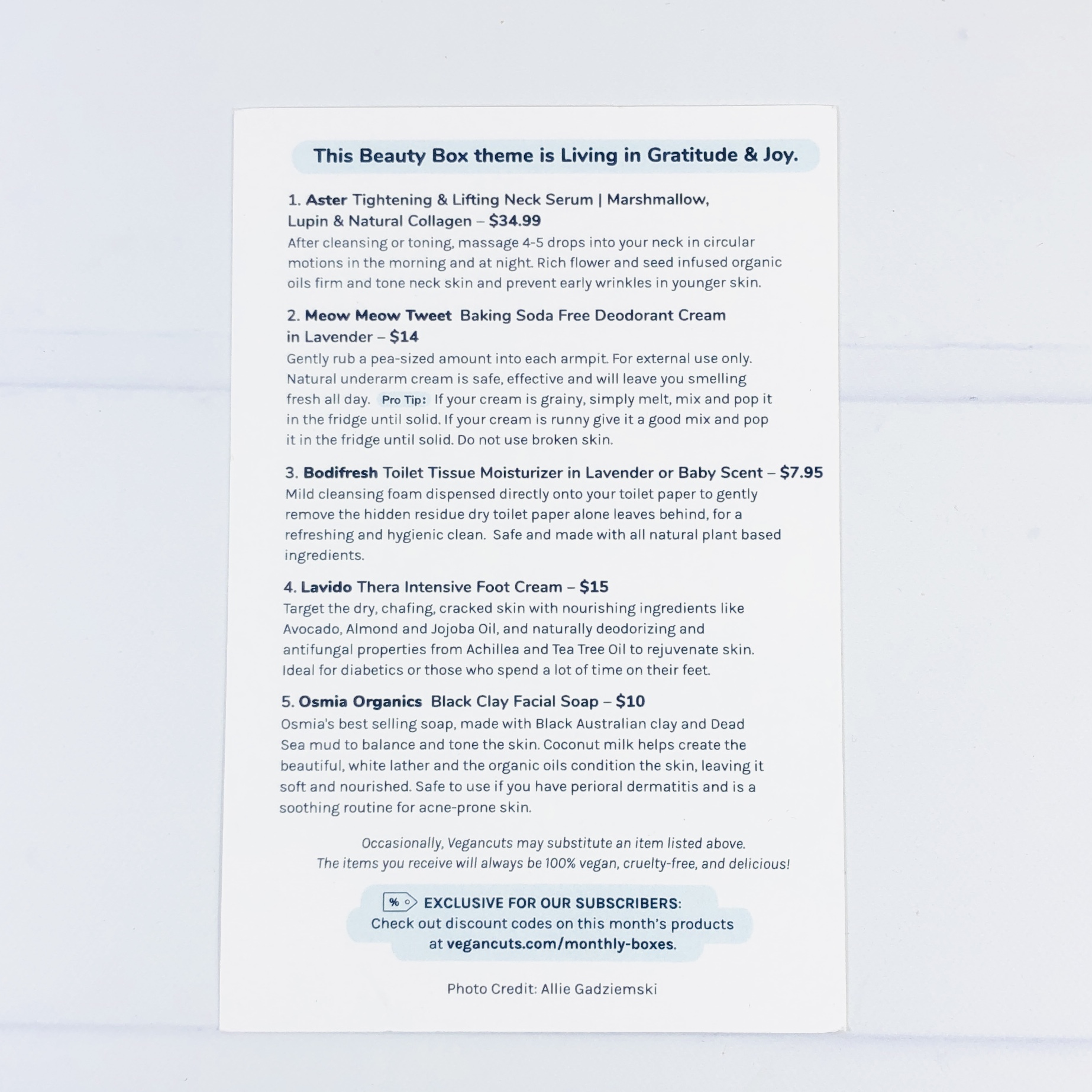 The back of the card lists the items and retail value. The theme for November is Living in Gratitude & Joy.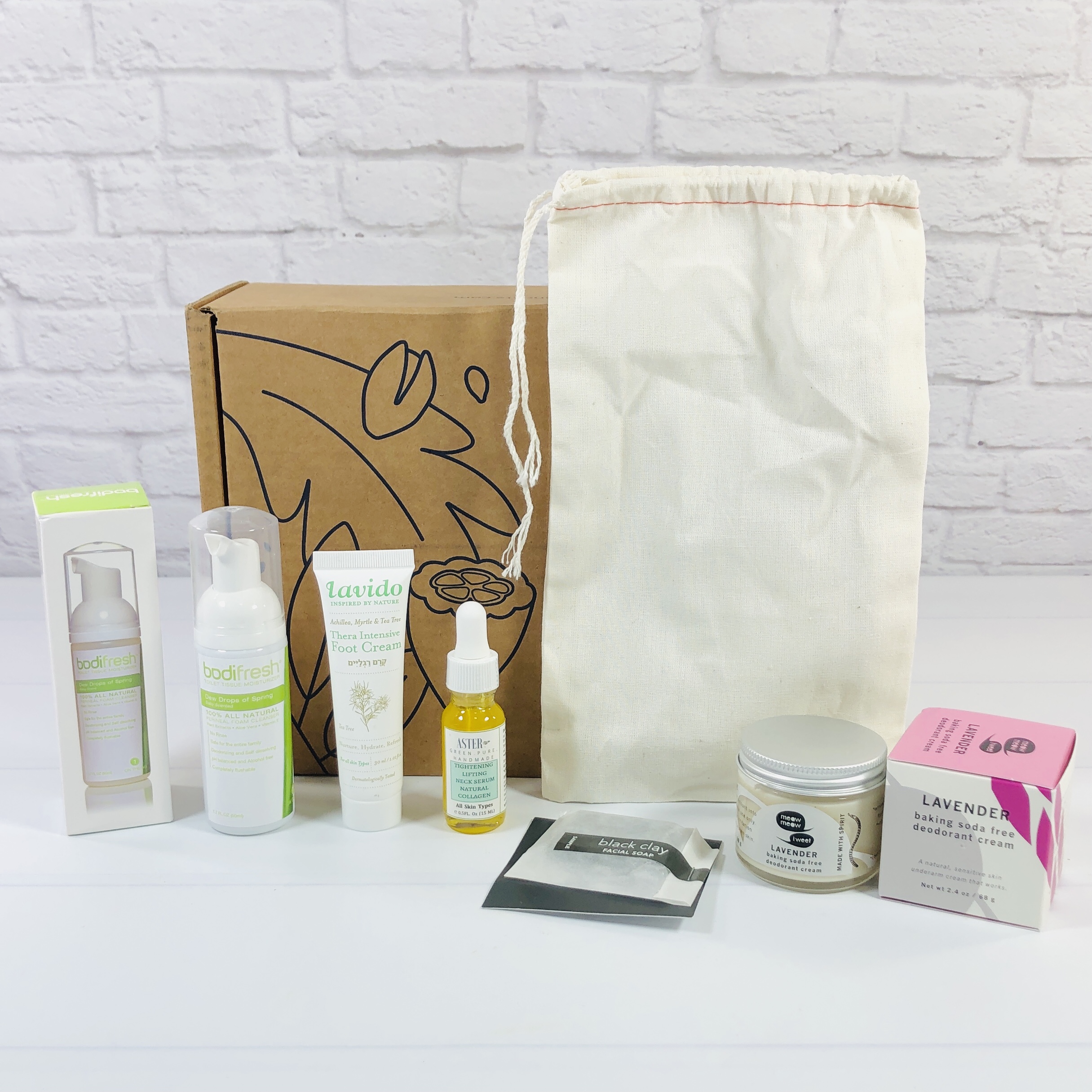 Everything in my box!
Osmia Organics Black Clay Facial Soap ($5) Our first item is a sample sized bar of black clay facial soap.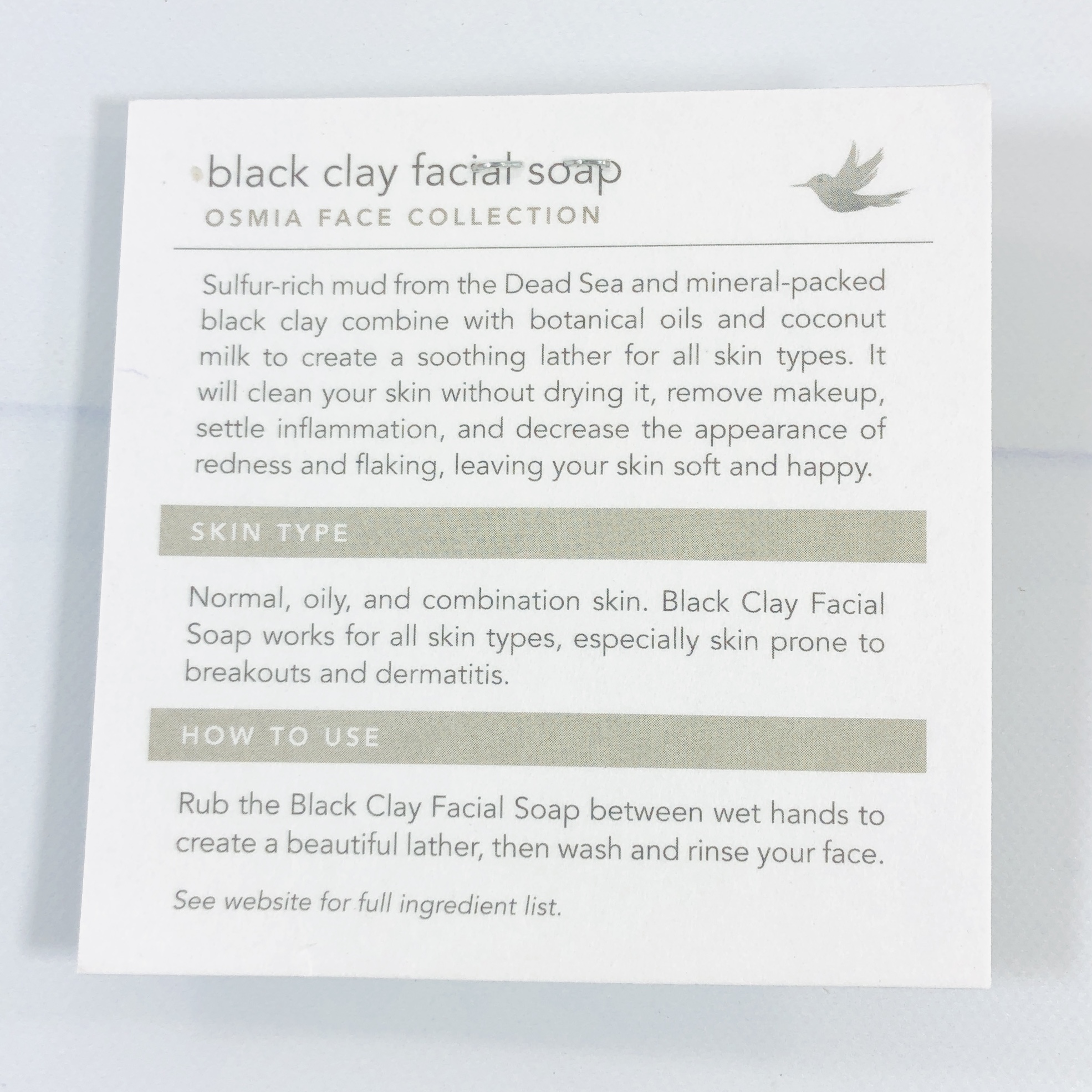 It is best for normal, oily, and combination or acne-prone skin. It has mud from the Dead Sea and sulfur is a known acne fighter.
Other ingredients include saponified oils from plants such as olive, palm, and coconut; coconut milk; black clay from Australia; and essential oils (like bergamot and lemon). This sample should last about a week and it has a mild scent that just reminds me of soap.
Bodifresh Toilet Tissue Moisturizer in Baby Scent ($7.95) Bodifresh is a foam cleanser that is used after one uses the toilet. Its aim is to remove the "hidden residue dry toilet paper leaves behind". Basically you squirt it onto toilet paper and then use it in the same way you would use flushable wet wipes
Ingredients include water, glycerin, wheat protein, aloe, and fragrance. I understand that some might like to use this but I personally avoid using scented items in that area due to sensitivity. The product comes out like a mousse and smells like baby powder. It does seem like a good alternative to wet wipes, since those tend to possibly not break down in the sewer the way toilet paper does.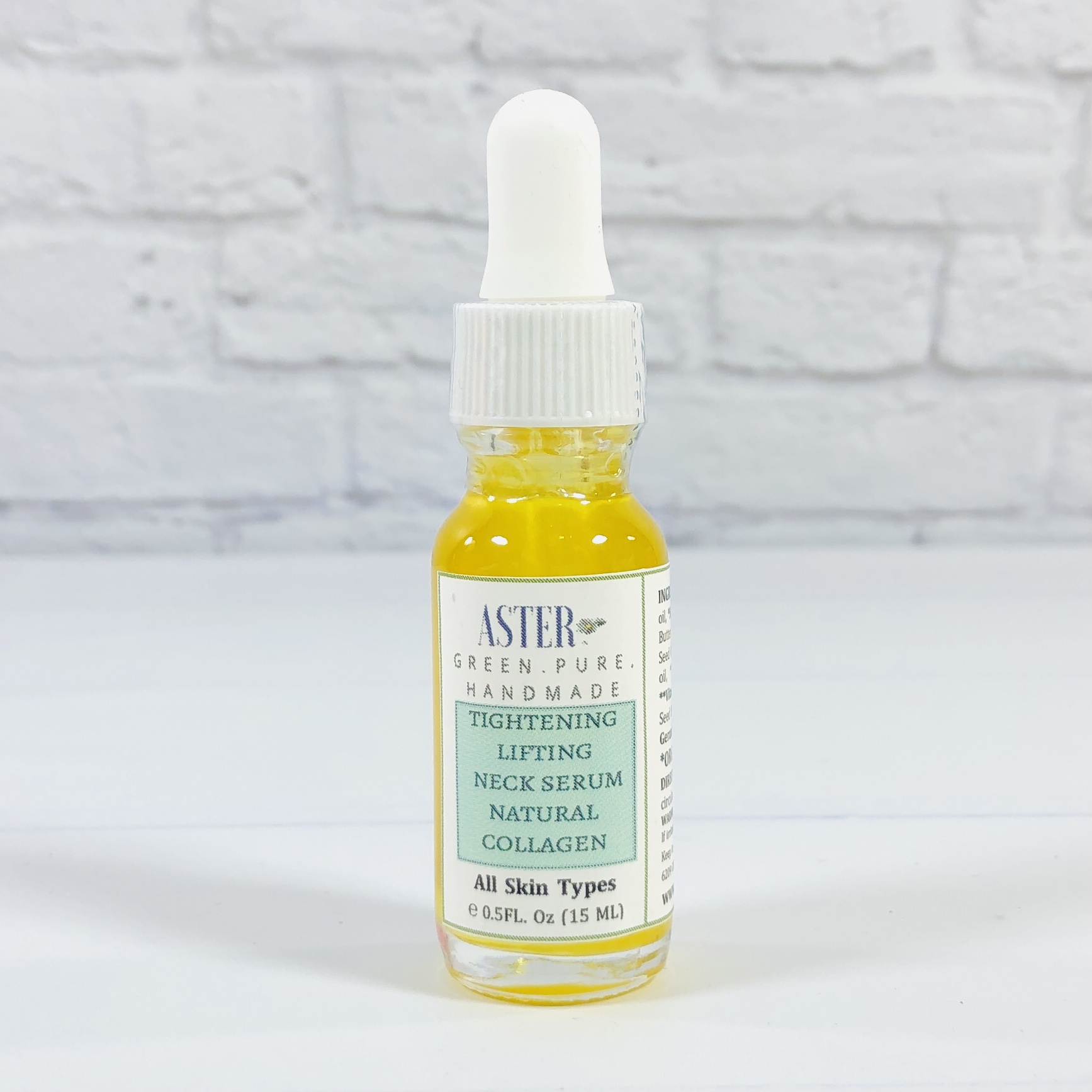 Aster Tightening & Lifting Neck Serum ($34.99) I am at an age where I really worry about my neck health and I guess I should have started worrying about it 20 years ago.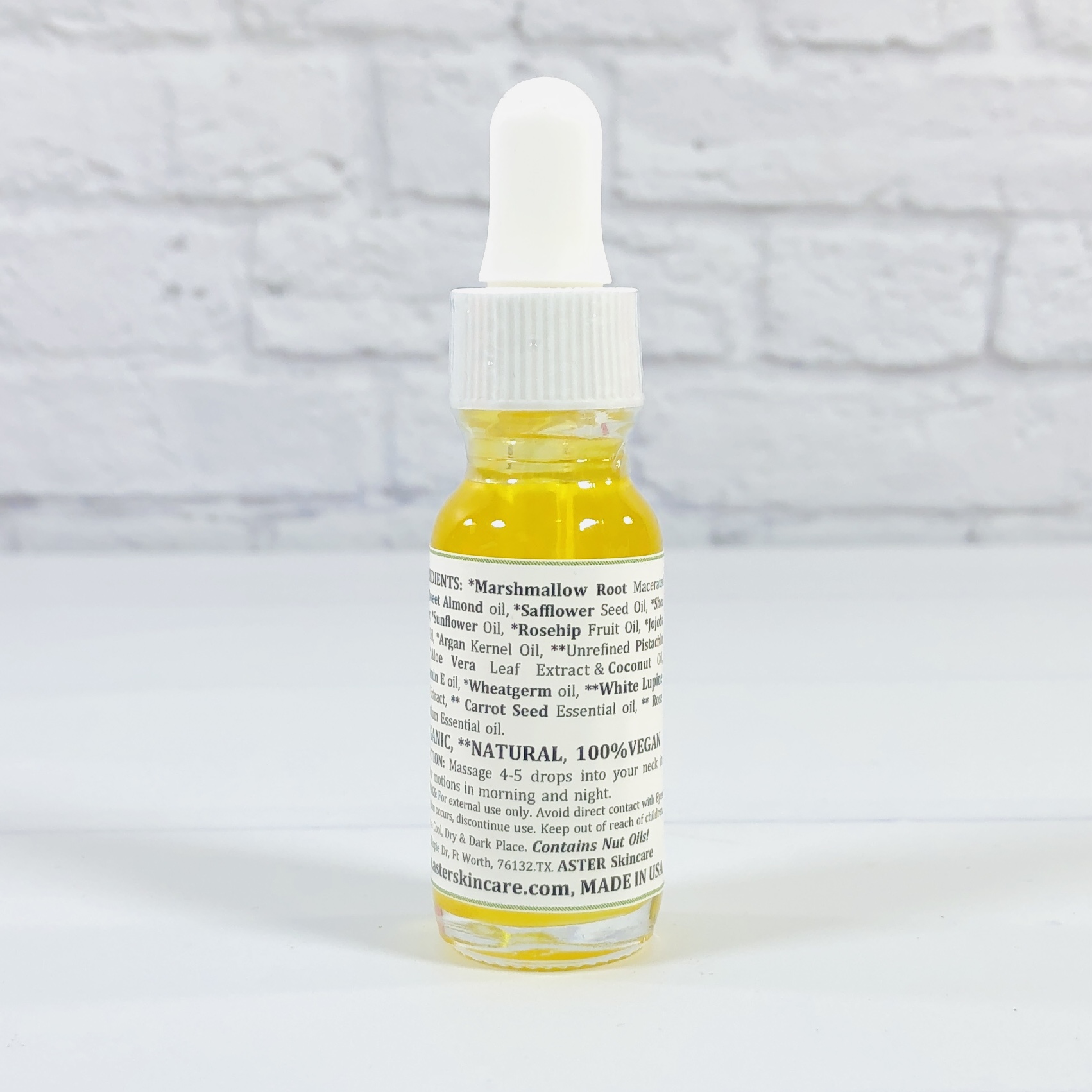 It has all kinds of plant oils like sweet almond, pistachio, and shea butter. It also has a few unusual oils like white lupine and carrot seed. The oil is supposed to promote collagen growth, fight free radicals, and repair the skin barrier.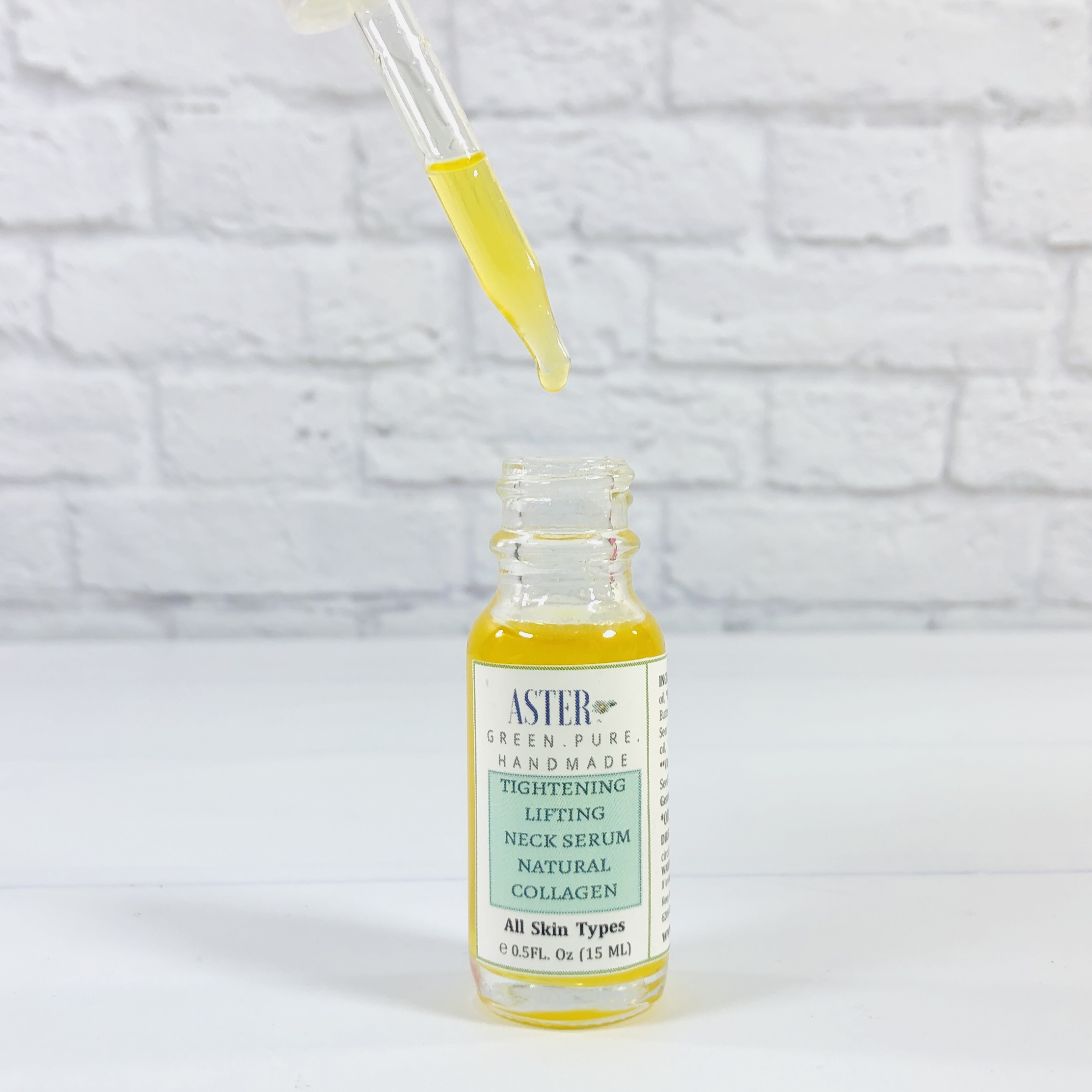 I placed a few drops in my hands, warmed it up, and then gently smoothed it over my neck. It has a very light scent, nothing that interferes with my sleep. I have been wearing this at night and the area feels smooth when I get up in the morning.
Lavido Thera Intensive Foot Cream ($7) Another area that likes to rejuvenate over night is my feet! I think it's best if socks go on over top after applying but it's been so warm here that I just pop it on before bed and it doesn't make my sheets greasy.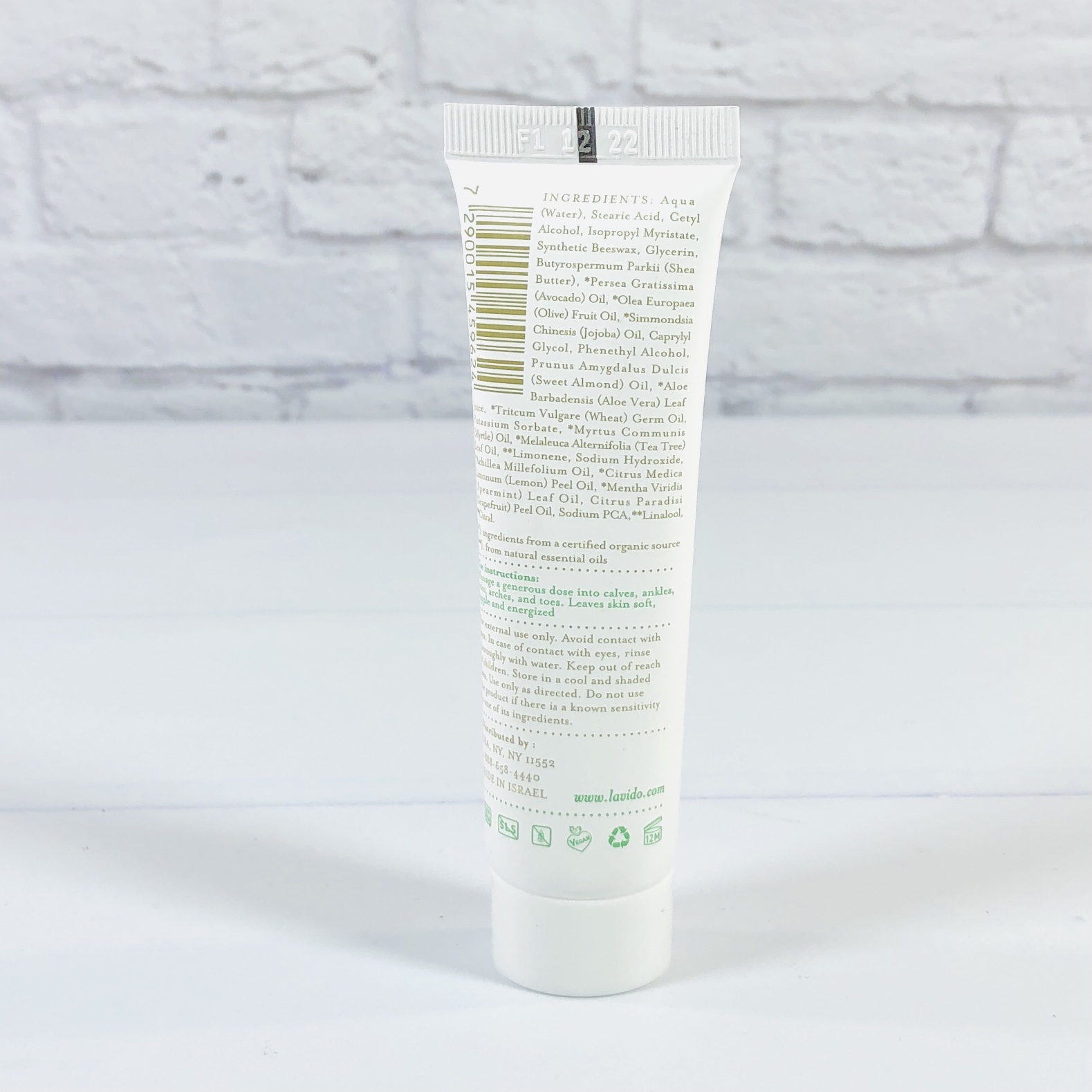 Ingredients include jojoba oil, shea butter, and olive oil and there are essential oils like myrtle, tea tree, and lemon. It is creamy and smells warm but not super strong. You can also apply this as a body lotion.
Meow Meow Tweet Baking Soda Free Deodorant Cream ($14) Every once in a while we receive a natural deodorant in this subscription and I was really pleased with this one!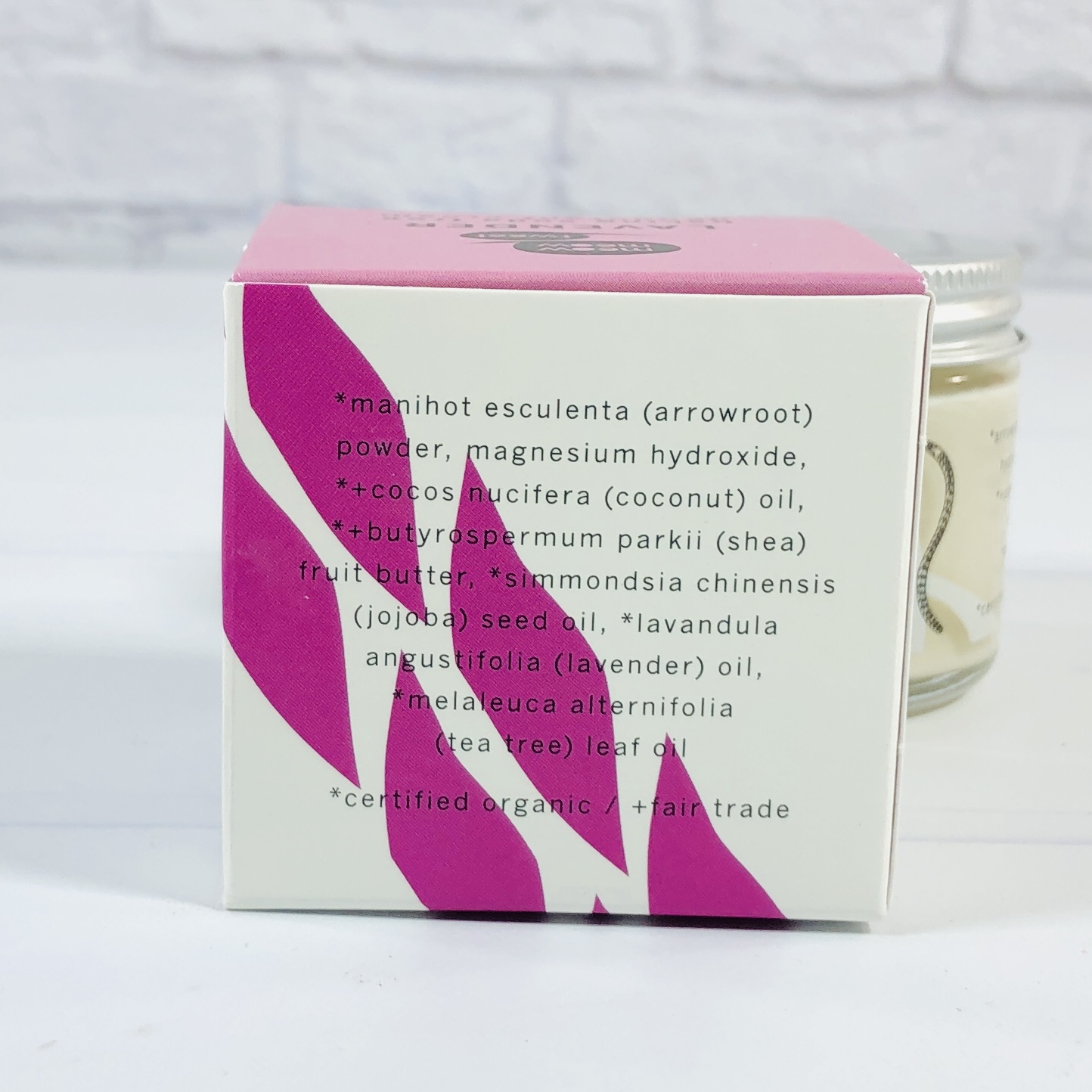 It has arrowroot powder, coconut oil, shea butter, and a few other things. It smells mostly like tea tree but in a very mild way.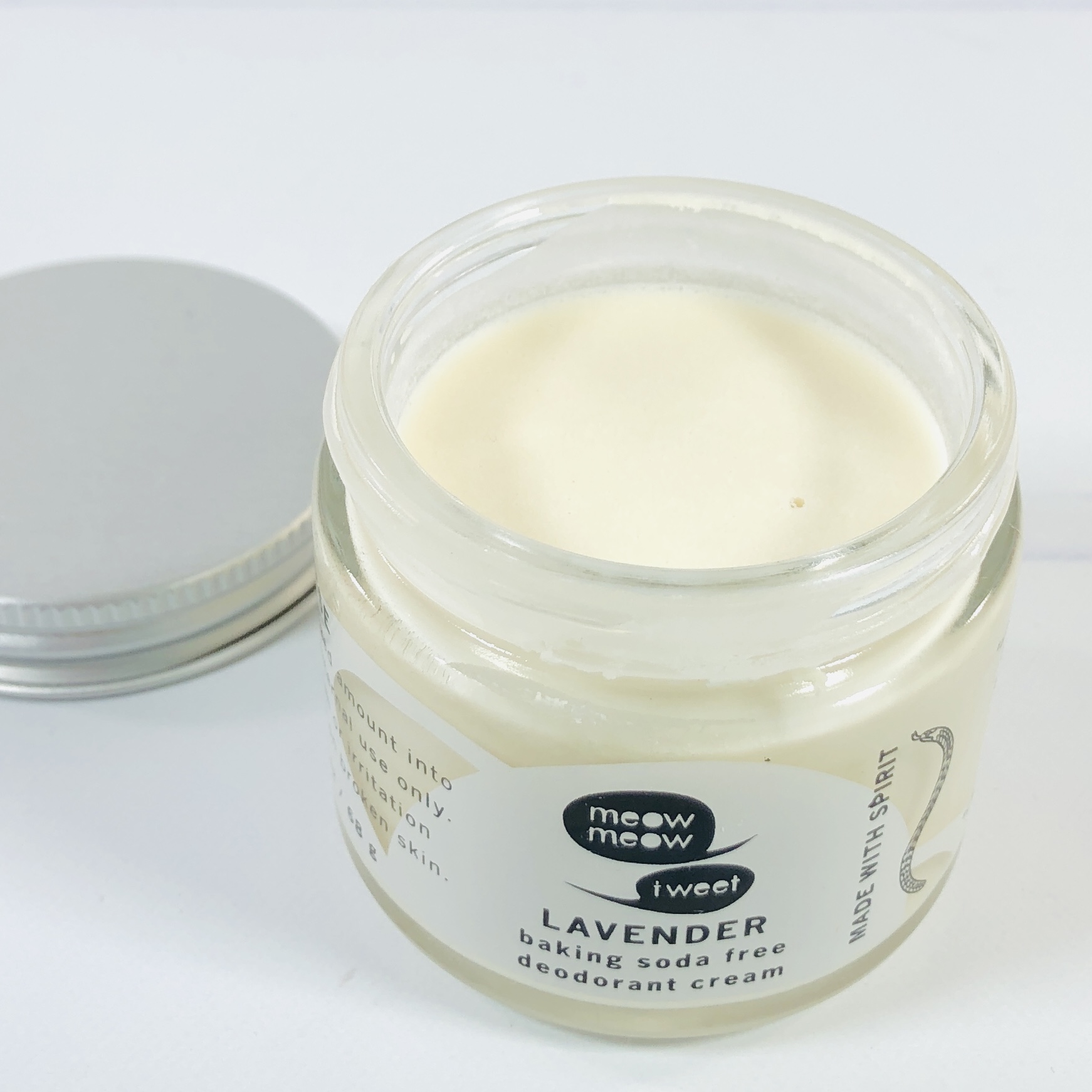 Just apply a pea-sized amount to clean underarms and rub it in, your body heat will help it melt. It's a deodorant, which means it's supposed to stop the stink but not necessarily the sweat. I didn't notice any wetness nor did I detect any stinky pits. Of course it's November but it has been warm here in Central Texas and it's been 3-4 days that I've been using this successfully. Yay!
I thought that the Vegancuts November Beauty Box was pretty good, with three out of five being hits with me. I was a big fan of the deodorant, it worked well and smelled good and was made with clean ingredients. The neck serum and foot cream made great additions to my before bed routine. I won't be using the toilet mousse and the soap is for oiler skin than mine but there's always a friend or family member who is happy to try them out. The value for the November collection was around $68.94!
What do you think of this month's Vegancuts Beauty Box? Let me know which product you're loving in the comments!