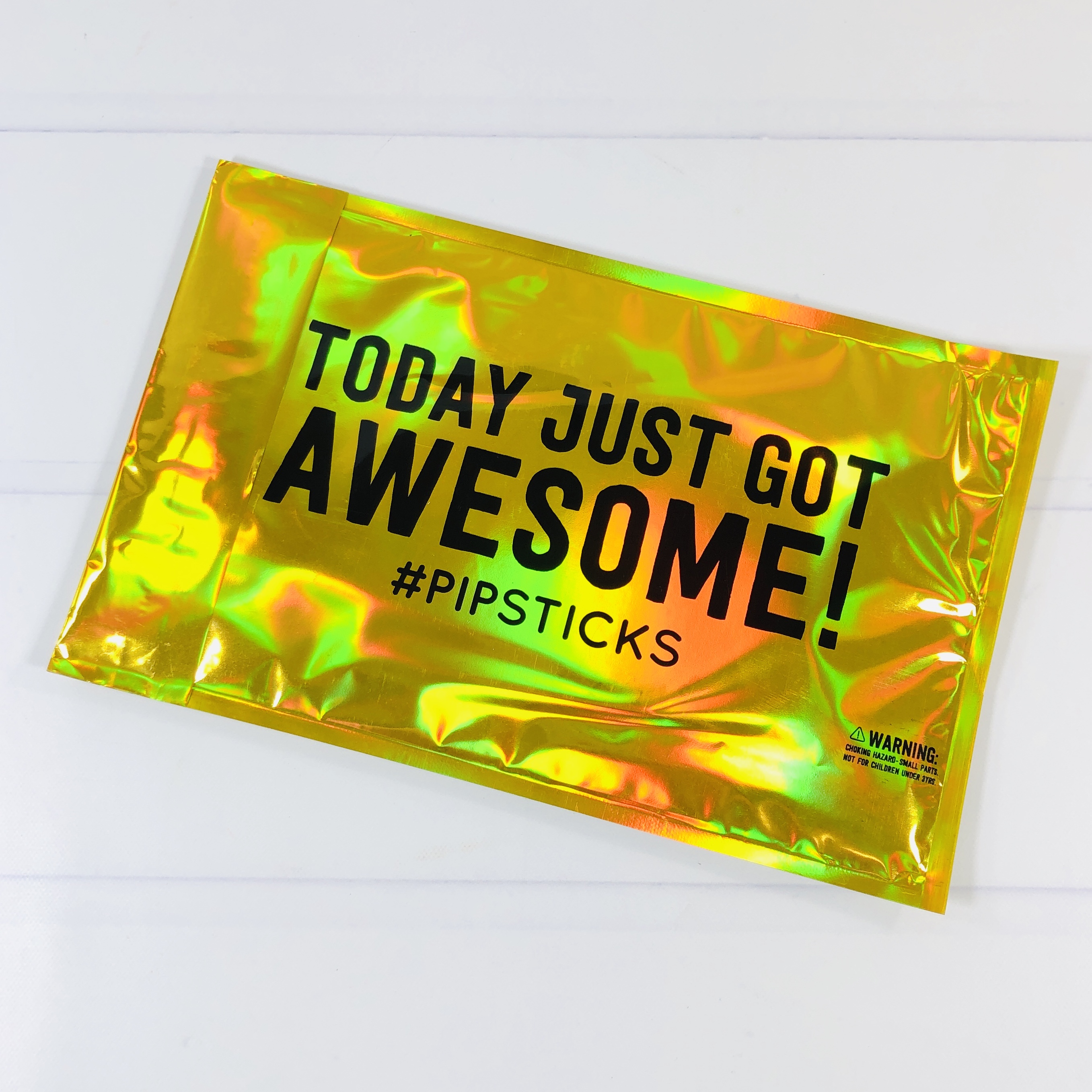 Pipsticks is a monthly sticker subscription that sends new designs from their collection in a super shiny holographic pack every month! The stickers come in a reusable sparkly pouch and include sticker sheets, paper products, and Little Pippy, an exclusive sticker magazine. You also get 5% savings in the online store and more. You can choose to get stickers for adults (Pro Club) or kids (Kids Club). Both clubs come in Classic (15 sheets for $17.95 a month) or Petite (7 sheets for $11.95 a month). Shipping is free to the U.S., and Pipsticks can even be shipped worldwide for a fee.
C'mon. Who doesn't love stickers? Any stationery lover, crafter or pen pal knows the true magic of these little guys. Stickers motivate, inspire, entertain and delight with unmatched simplicity.

The Kids sticker pack is totally child-friendly, they can do everything by themselves which means it's a break for the parents – yay!
DEAL: Save $5 on your subscription! Use this link to subscribe and coupon code FRIENDSROCK.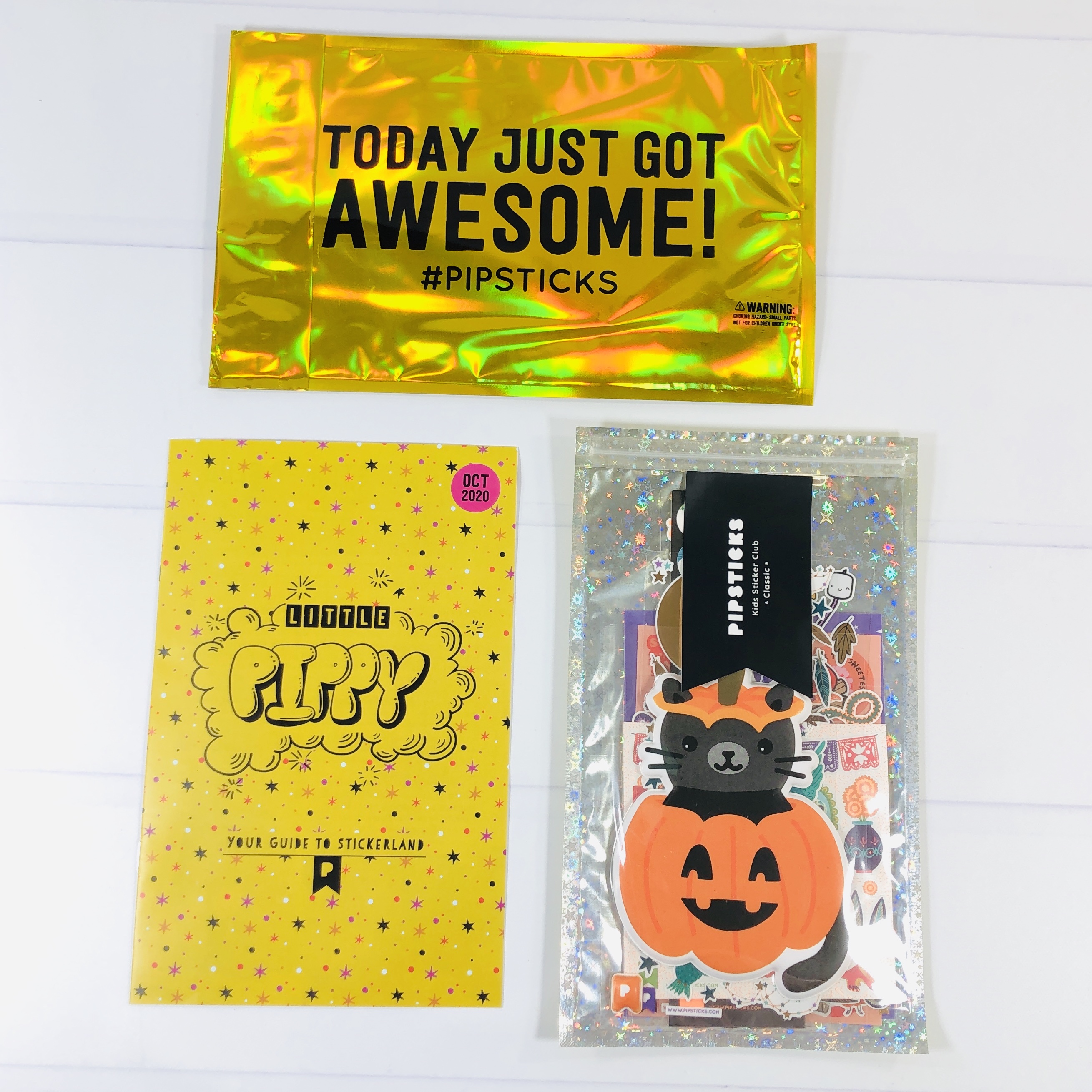 I am reviewing the Pipsticks Kids Club Classic! Each month subscribers can expect to receive 15 sheets of stickers, a coloring postcard, an activity booklet, a chance to win the monthly prize, 5% savings in the online store, and more!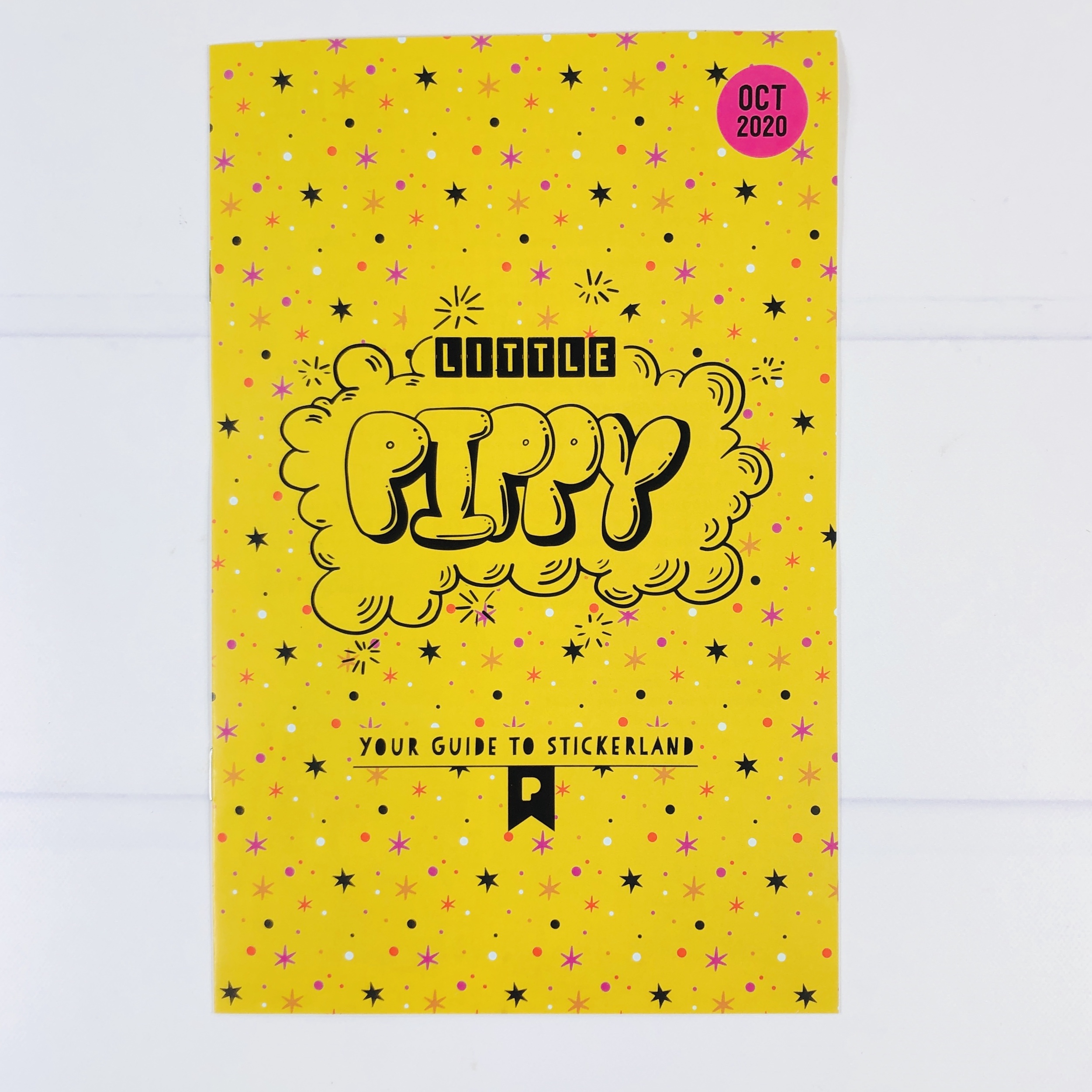 Pipsticks includes an exclusive magazine called Little Pippy.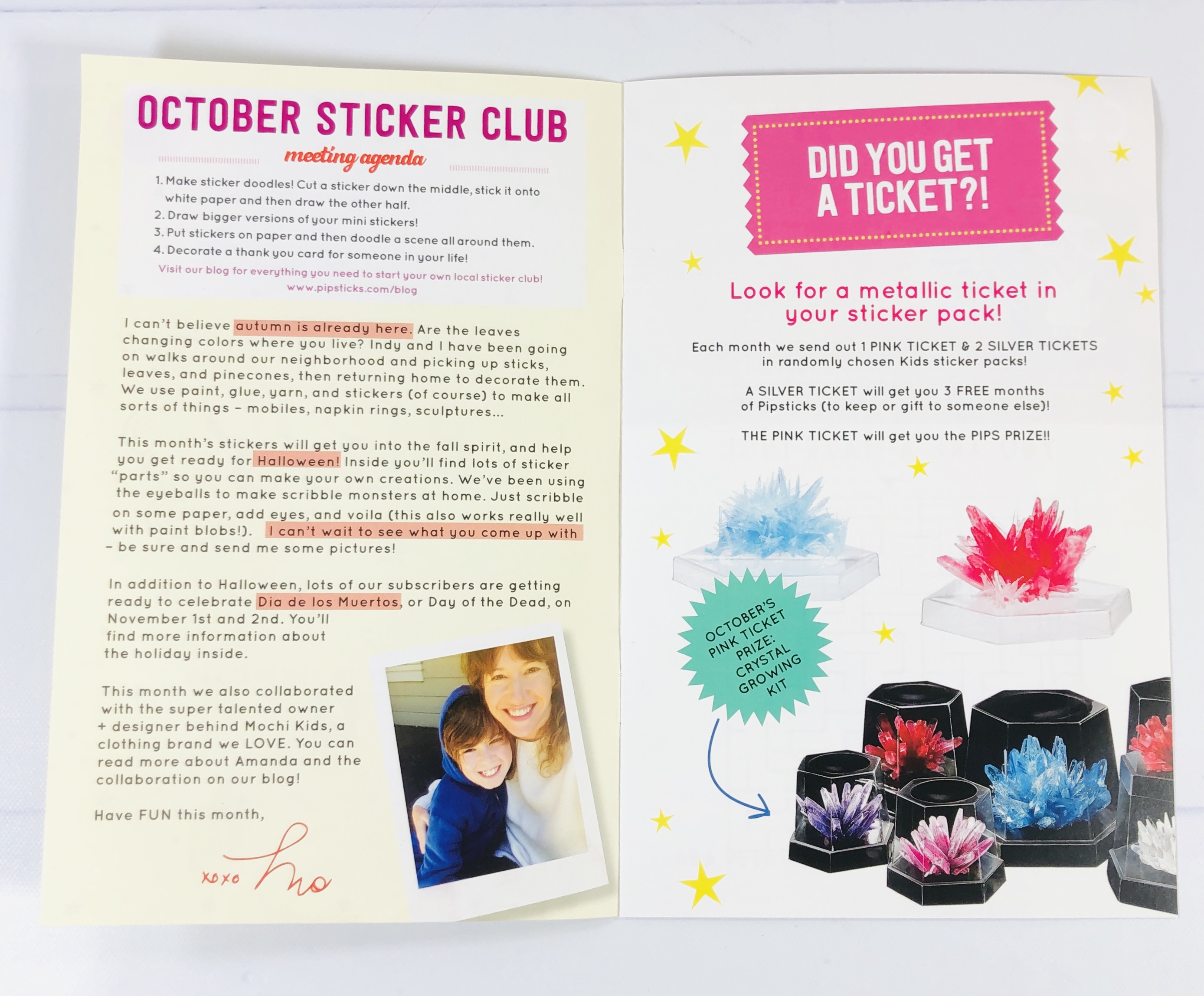 The booklet suggested meeting friends for a sticker club and ideas for using the stickers, such as making sticker doodles. Did you receive a special metallic ticket? If so, you can redeem it for a prize!
Info on the coloring contest was on this page, along with a decorating activity.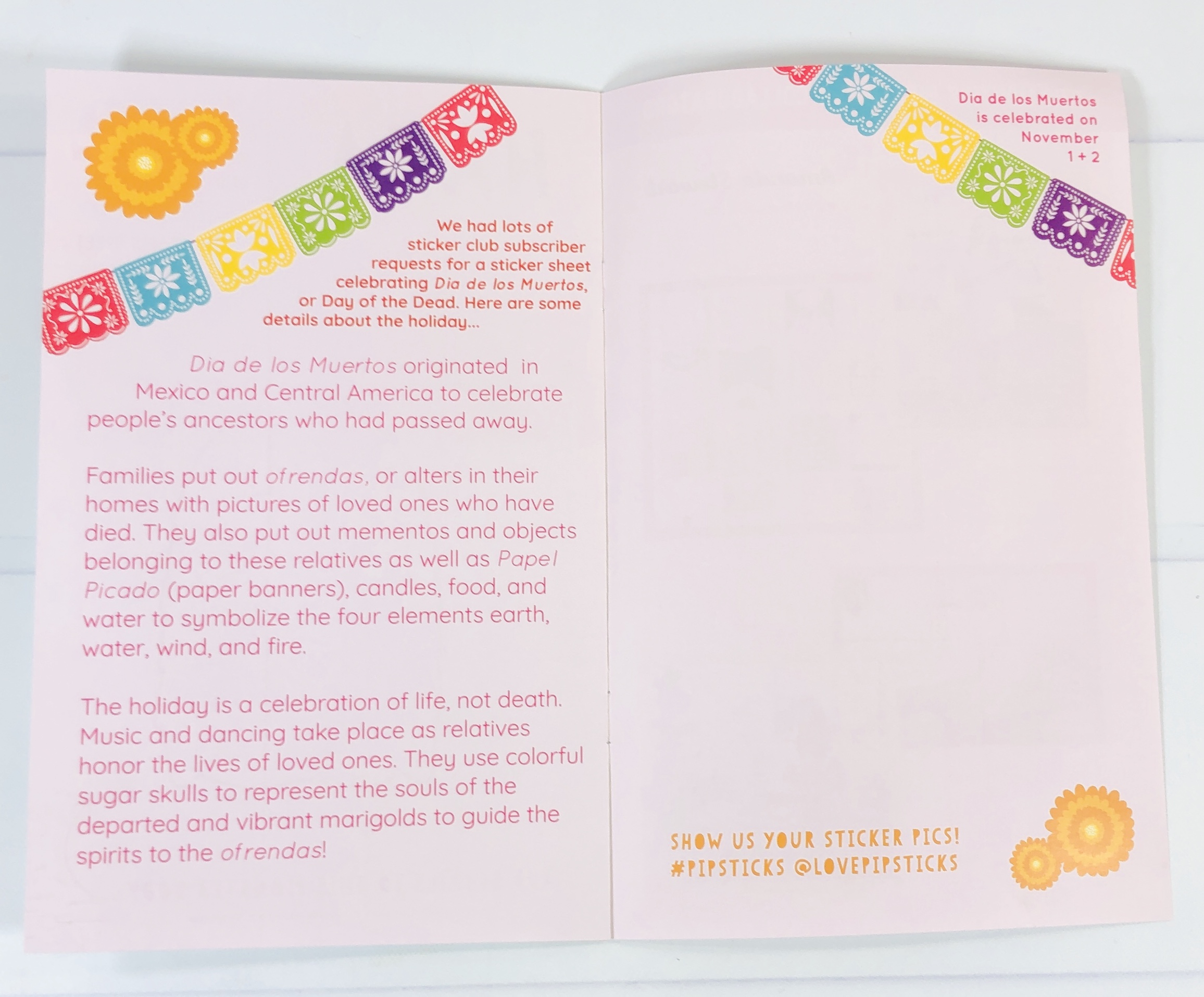 A little history about Dia de los Muertos was provided on this page.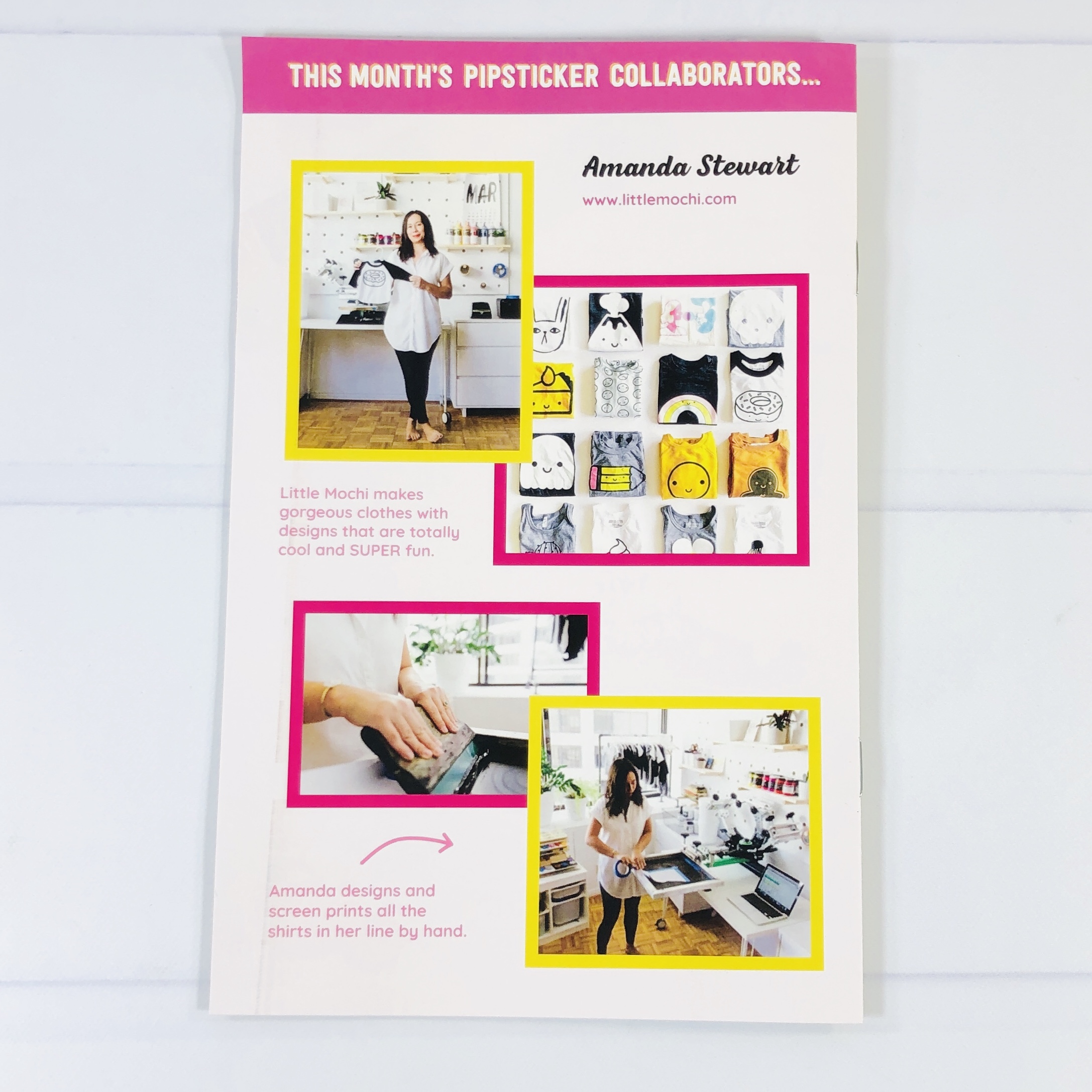 The back page showed this month's collaborator!
My stickers and goodies were tucked into this fabulous holographic zipper envelope. The back of this envelope is shimmery gold stars!
Everything in my box!
NOTE: You should be able to find the items in this month's pack in the Pipsticks online shop around mid month. They usually have previous packs available too.
Big Puffy Cat-O-Lantern ($5.95) Every month we receive a huge puffy sticker, this one is about 5.25″ tall!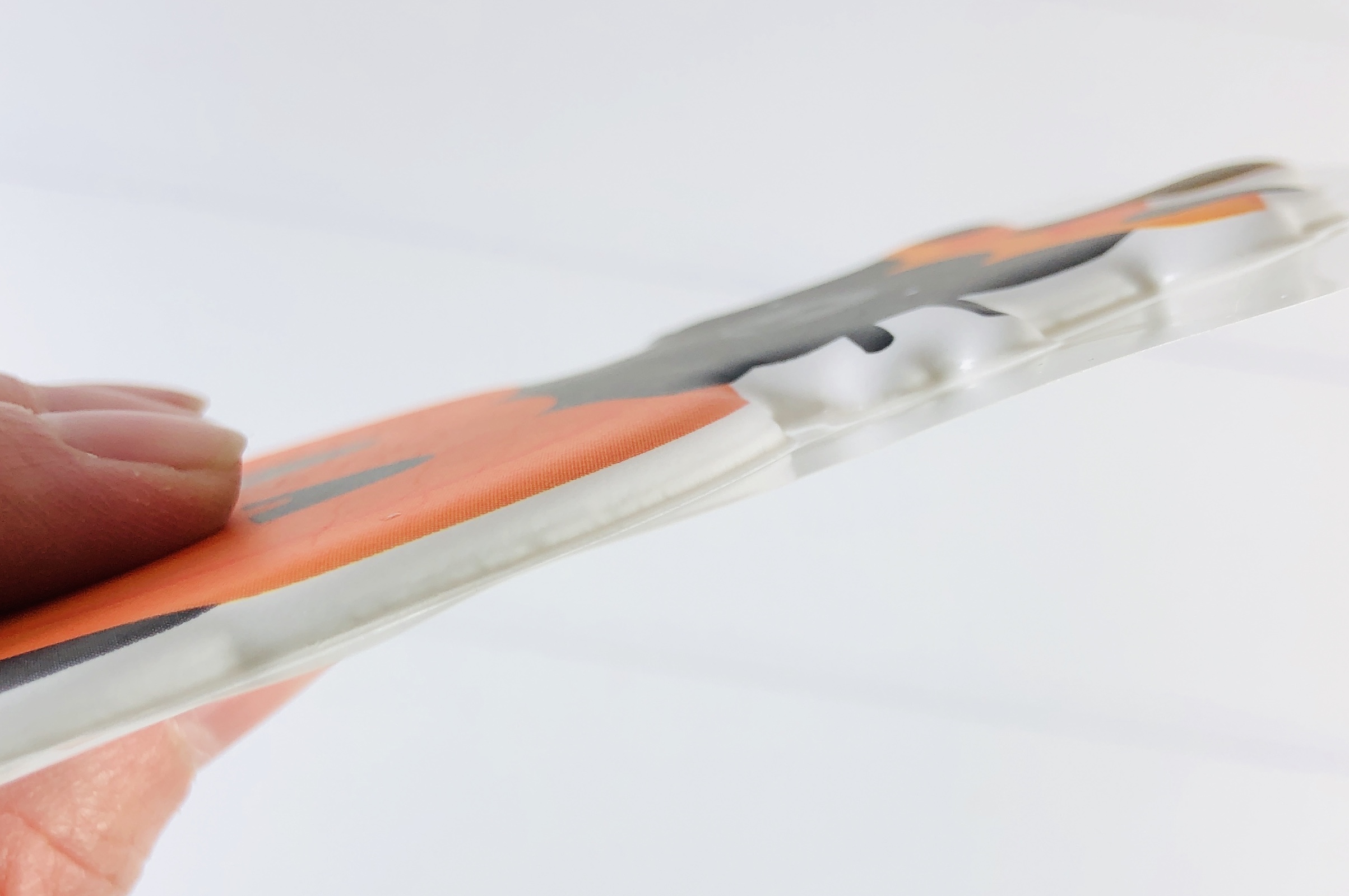 It's pretty thick too, about 5mm according to Pipsticks. Isn't it adorable?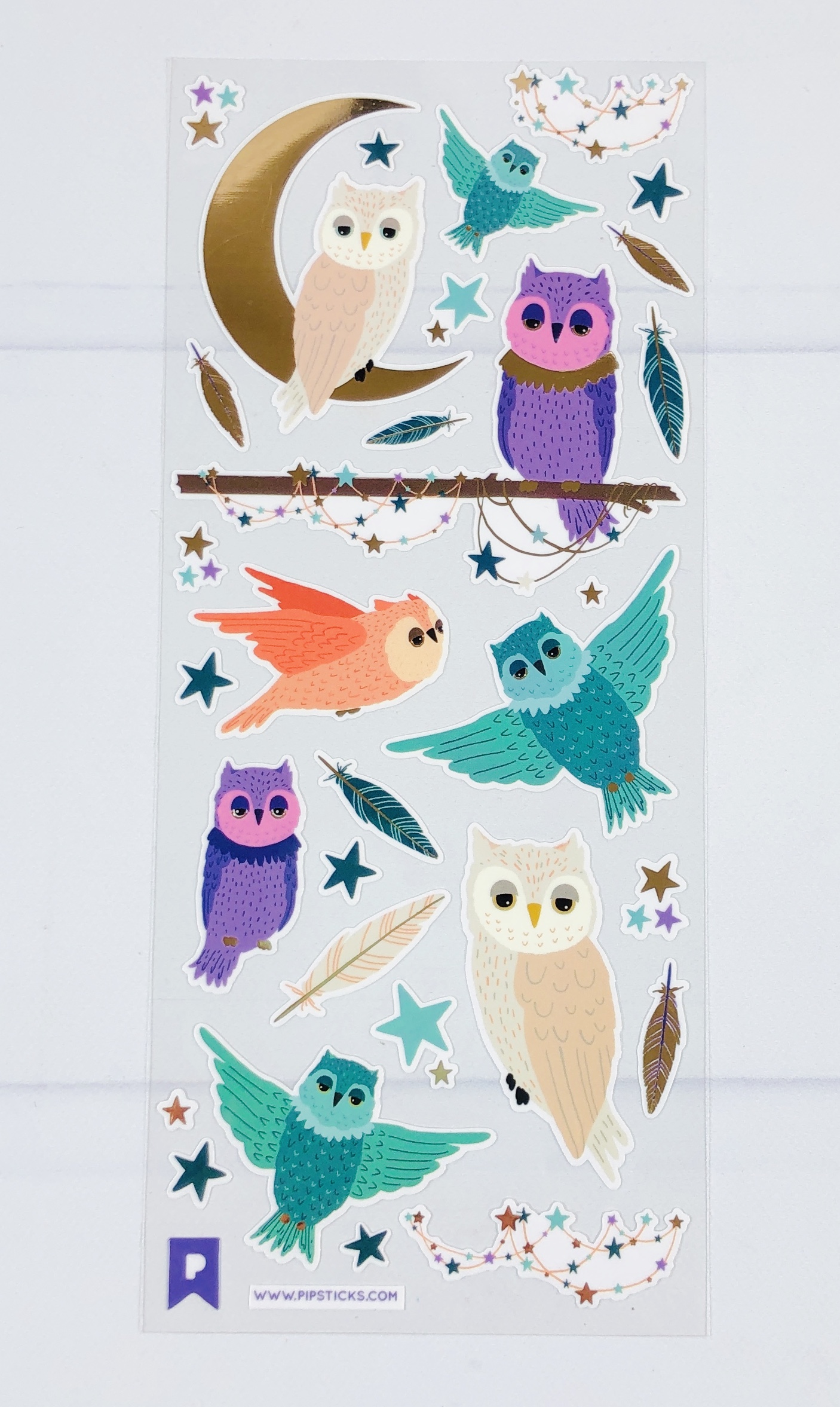 Up Owl Night ($3.95) I love owls, and these colorful birds even have loose feathers floating around. PVC with rose gold foil accents.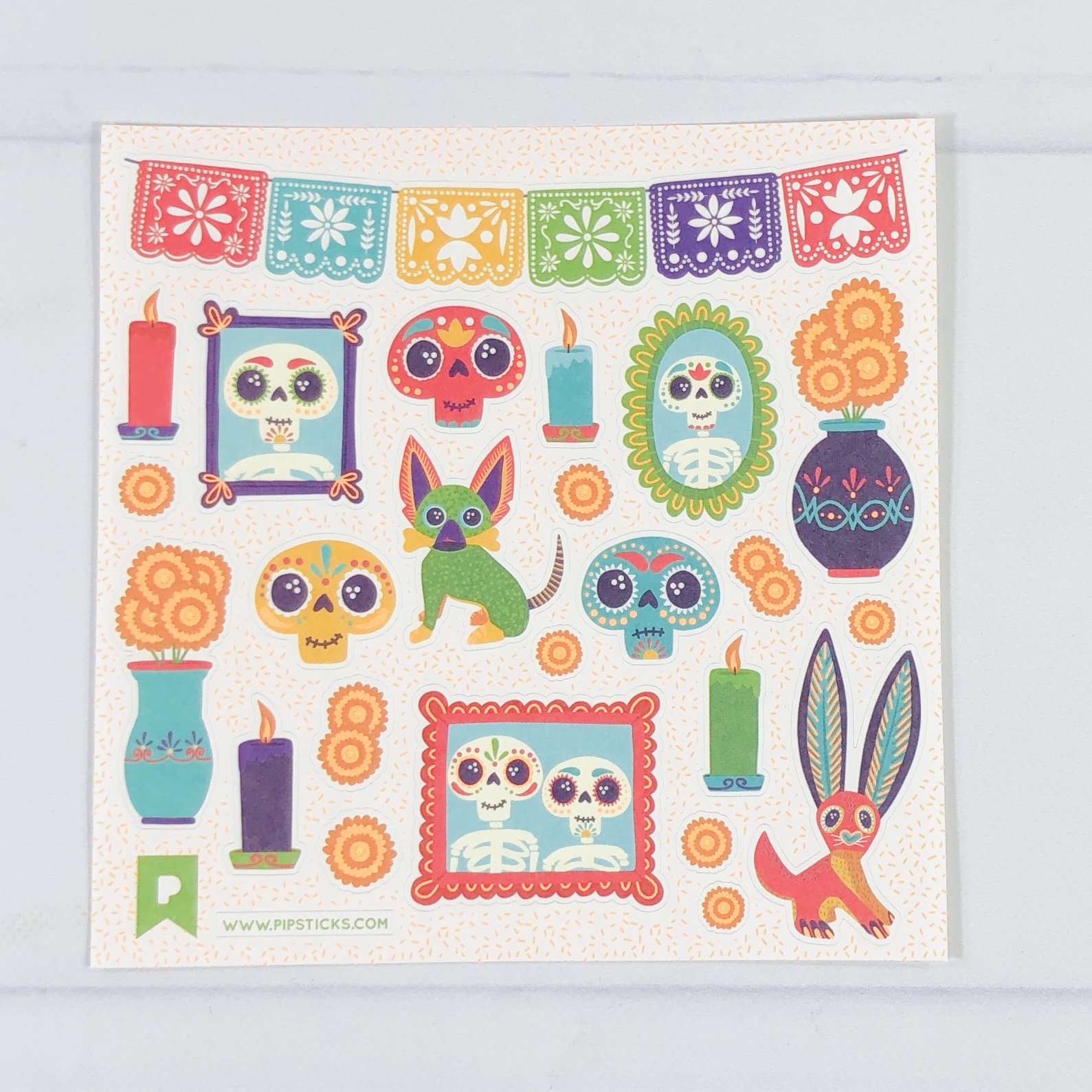 Honoring The Past ($2.95) is a cute take on Dia de Muertos, or Day of the Dead. Wood-free paper design with neon orange accents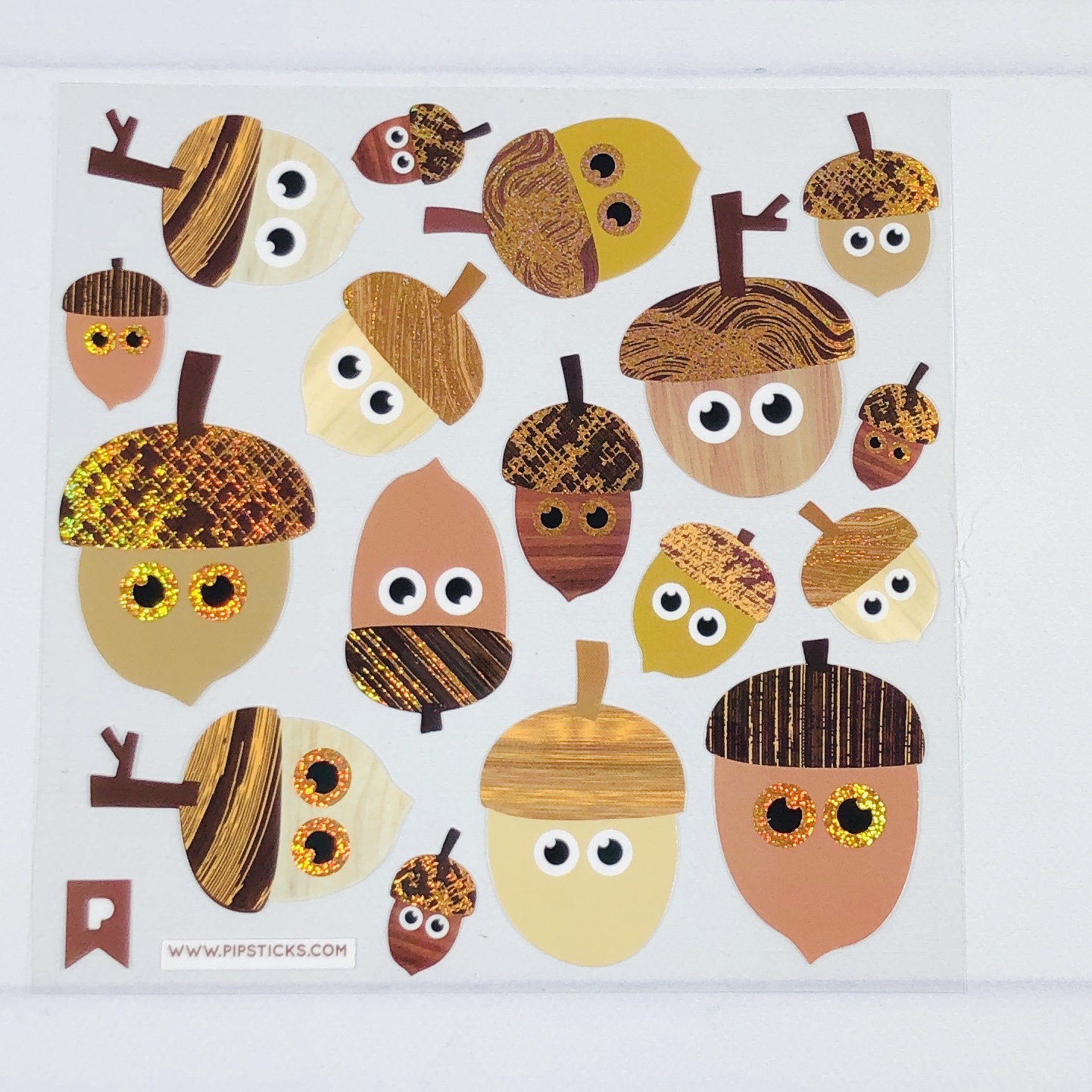 Acorny Bunch ($2.95) Last spring I pulled up so many sprouted acorns, and I don't even have an oak tree. I guess the squirrels planted them for me. PVC with gold glitter foil accents.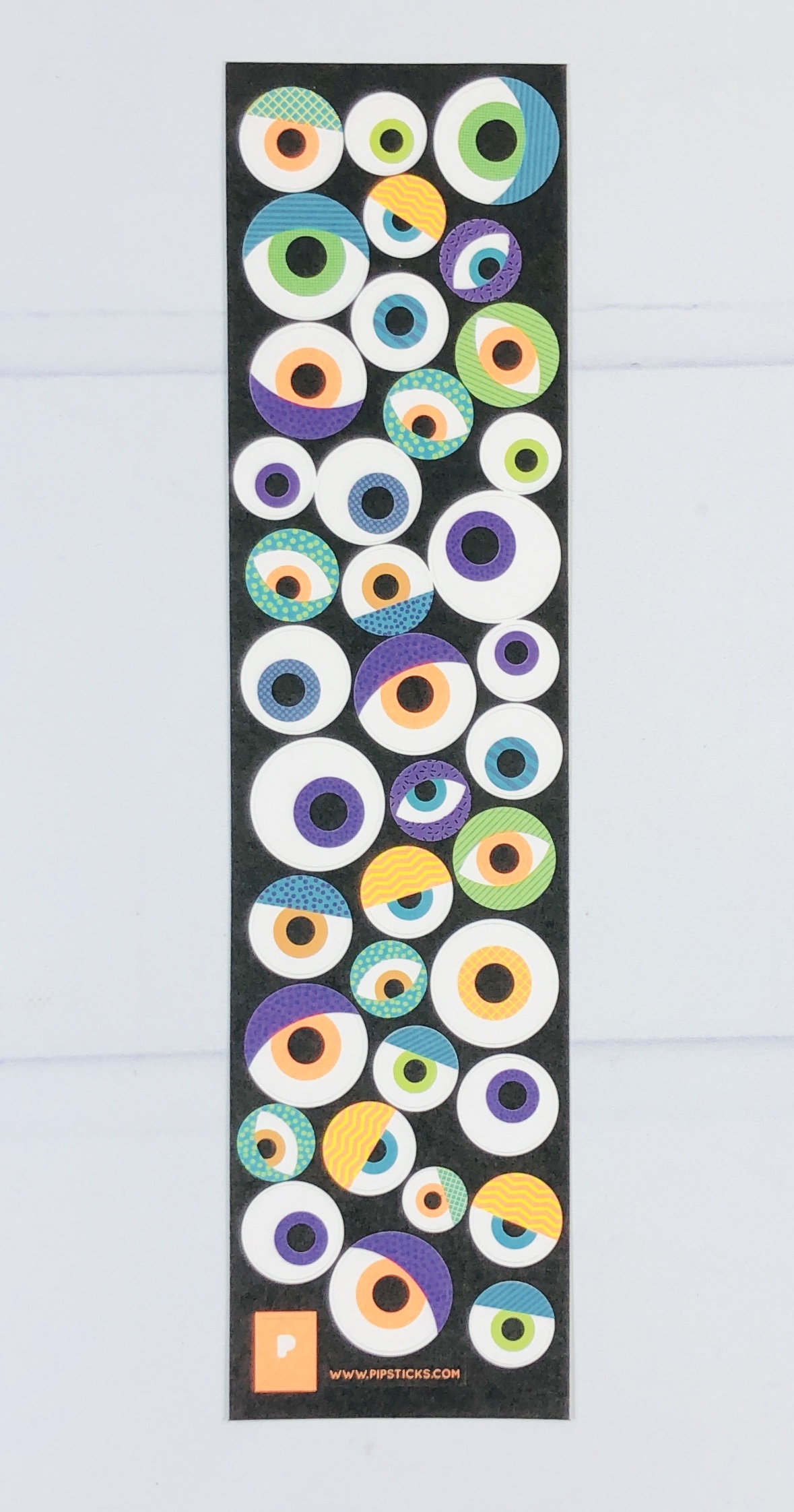 The Eyes Have It ($2.95) Random eyeballs always creep me out, but I bet it might look better when placed on a drawing of a face. Wood-free paper designs with neon orange accents.
Toadstool Minis ($1.95) are tiny, colorful fungi and I love them! PVC with holographic gold foil accents.
Givin' Me The Creeps ($2.95) I know most people feel like these creatures are creepy but I am actually interested in snakes and bugs and always have been! Wood-free paper with neon orange accents.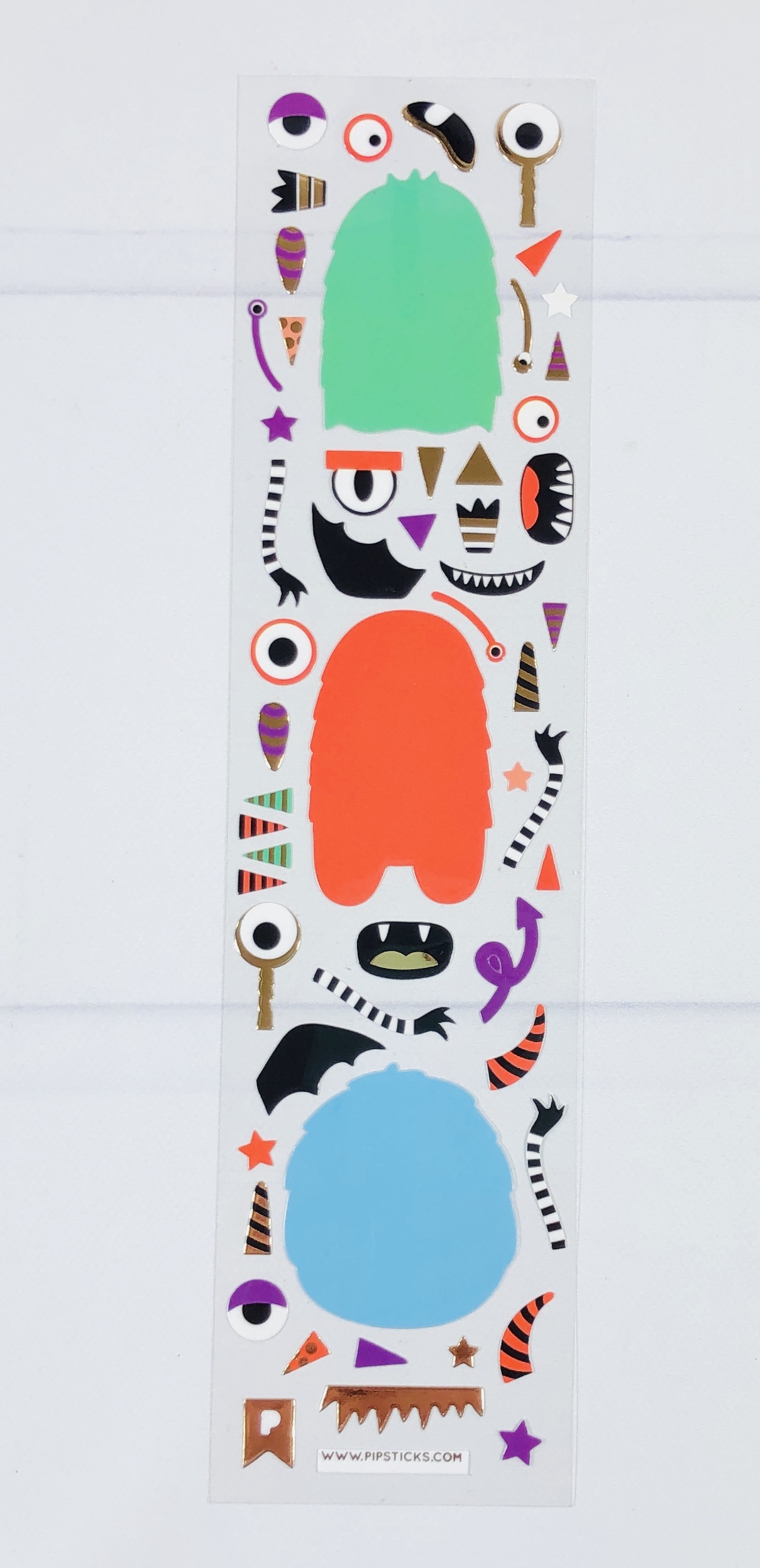 Monster Maker ($2.95) I love this sticker sheet! Kids (or adults) can decorate the three monster bodies however they wish! PVC with rose gold foil accents.

Fall Findings Minis ($1.95) has pumpkins, skulls, and candy corn. PVC with rose gold foil accents.
Making Faces ($2.95) Here is another DIY sheet, just place the facial features on a sheet of paper or a mini pumpkin. PVC with holographic silver foil accents.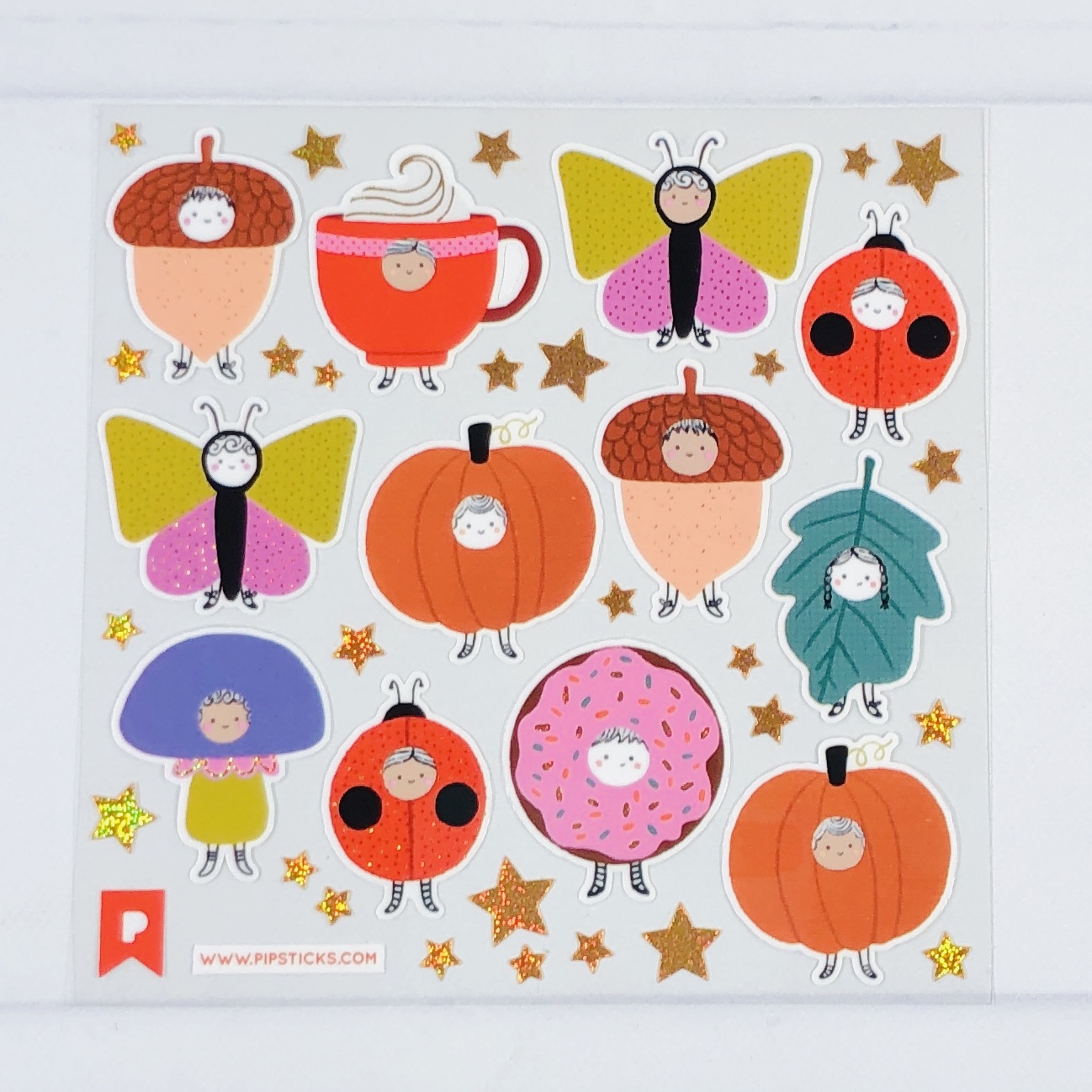 Autumn Pageant ($2.95) Aww, look at the littles with their amazing costumes, so adorable! PVC with gold glitter foil accents.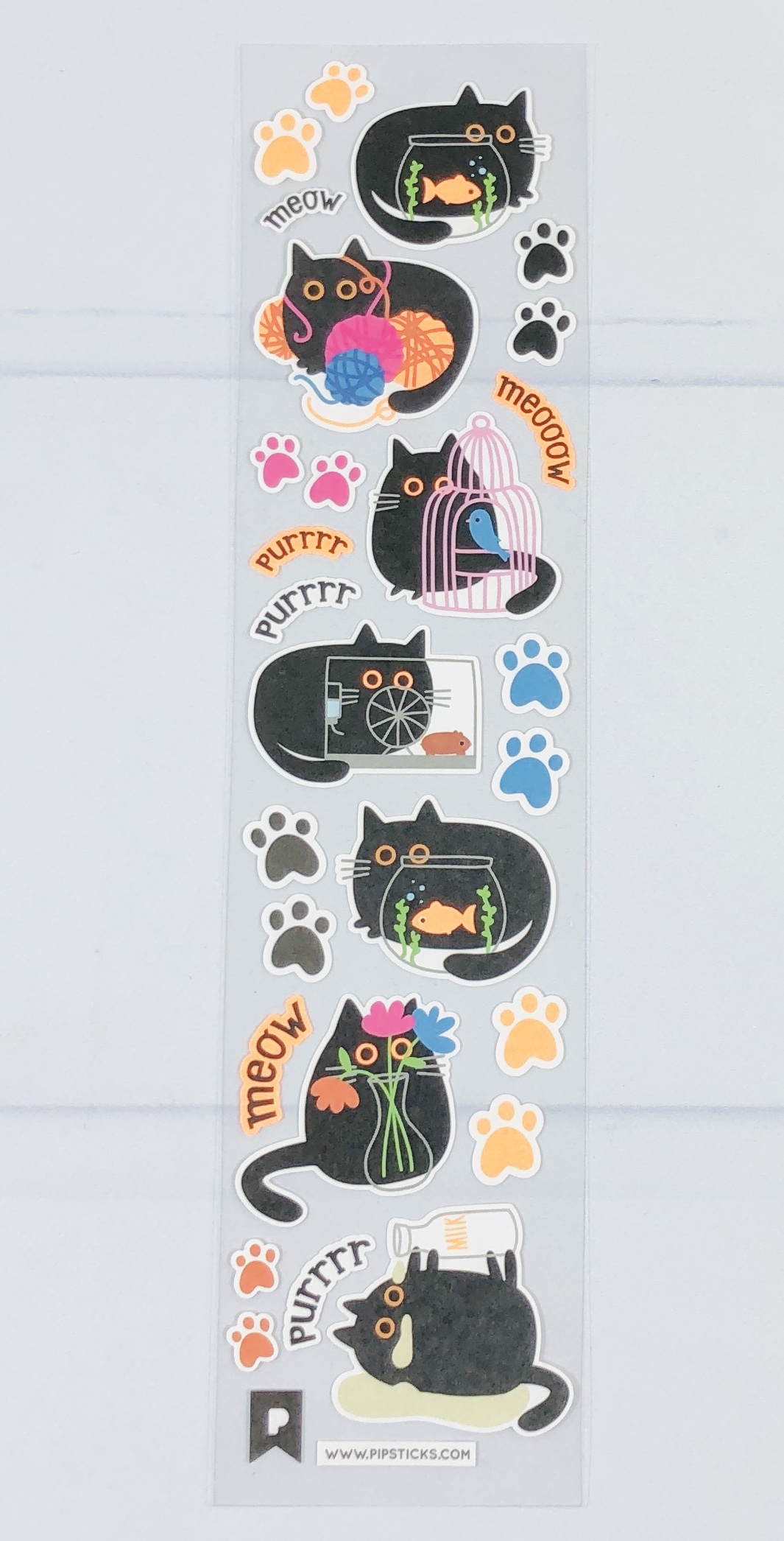 Curious Kitty ($2.95) I love cats and this one is keeping busy doing all kinds of things. Wood-free paper with neon orange accents.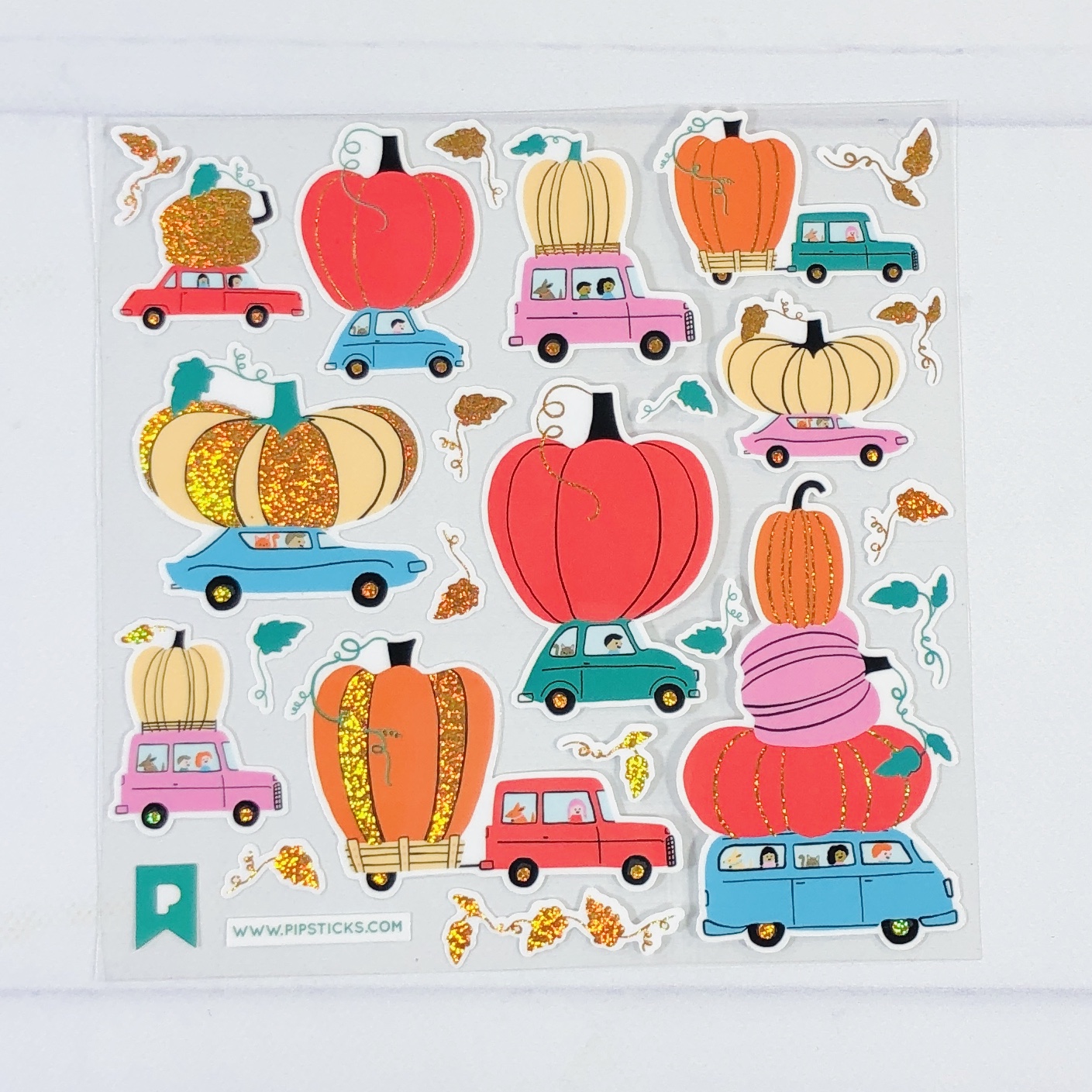 Pumpkin Parade ($2.95) What a cute design – the cars are bringing home huge pumpkins, similar to the way they might carry Christmas trees! PVC with gold glitter foil accents.
Campfire Cuties by Mochi Kids ($3.95) is the sheet designed by the featured collaborator for the month. The acorns, marshmallows, and mushrooms have sweet little faces! PVC with rose gold foil accents.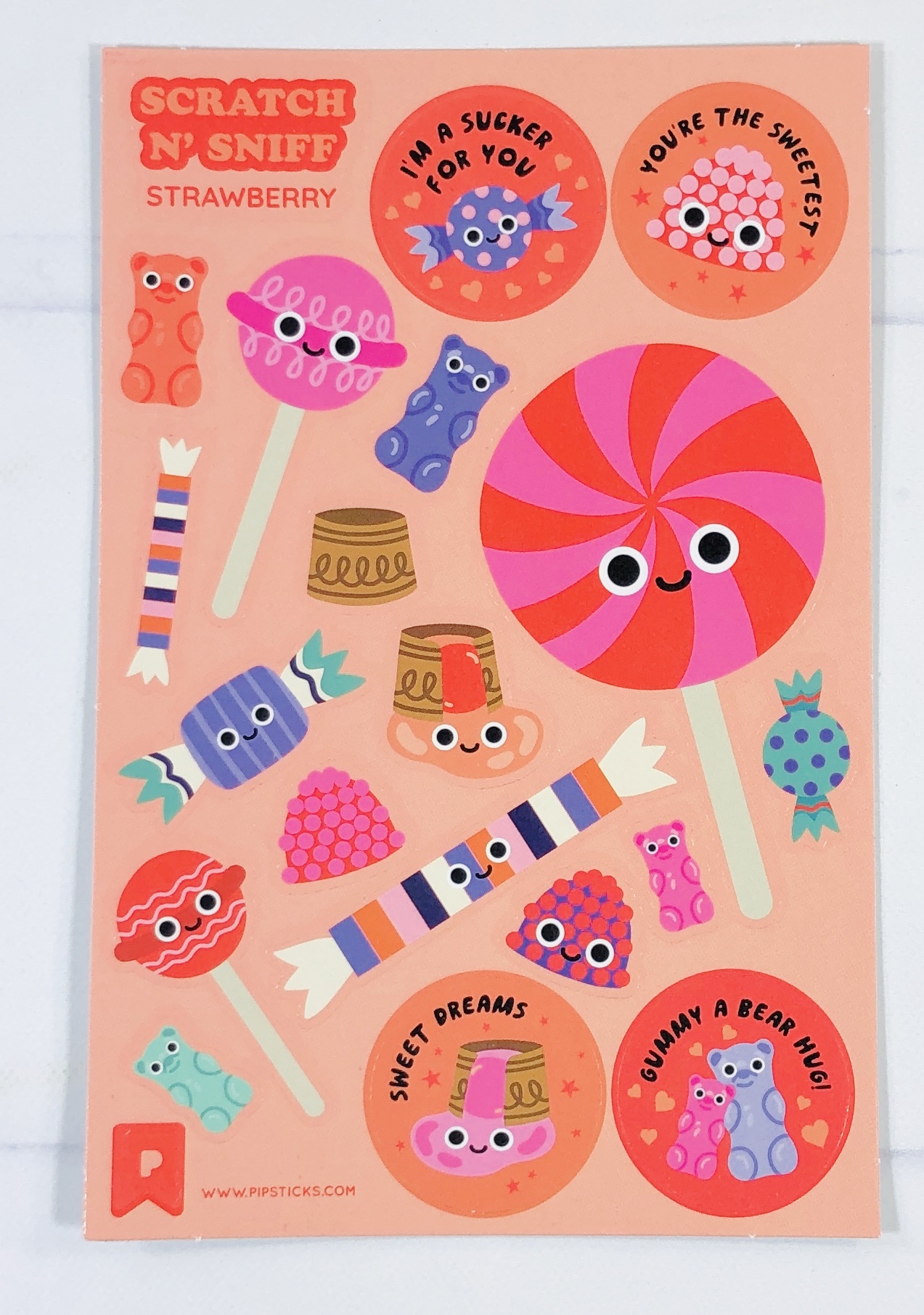 Sweet Things Scratch 'n Sniff ($3.95) We get a sheet of scratch 'n sniff stickers every month and this time around shows yummy candy, like gummy bears and lollipops. The stickers smell like strawberry licorice!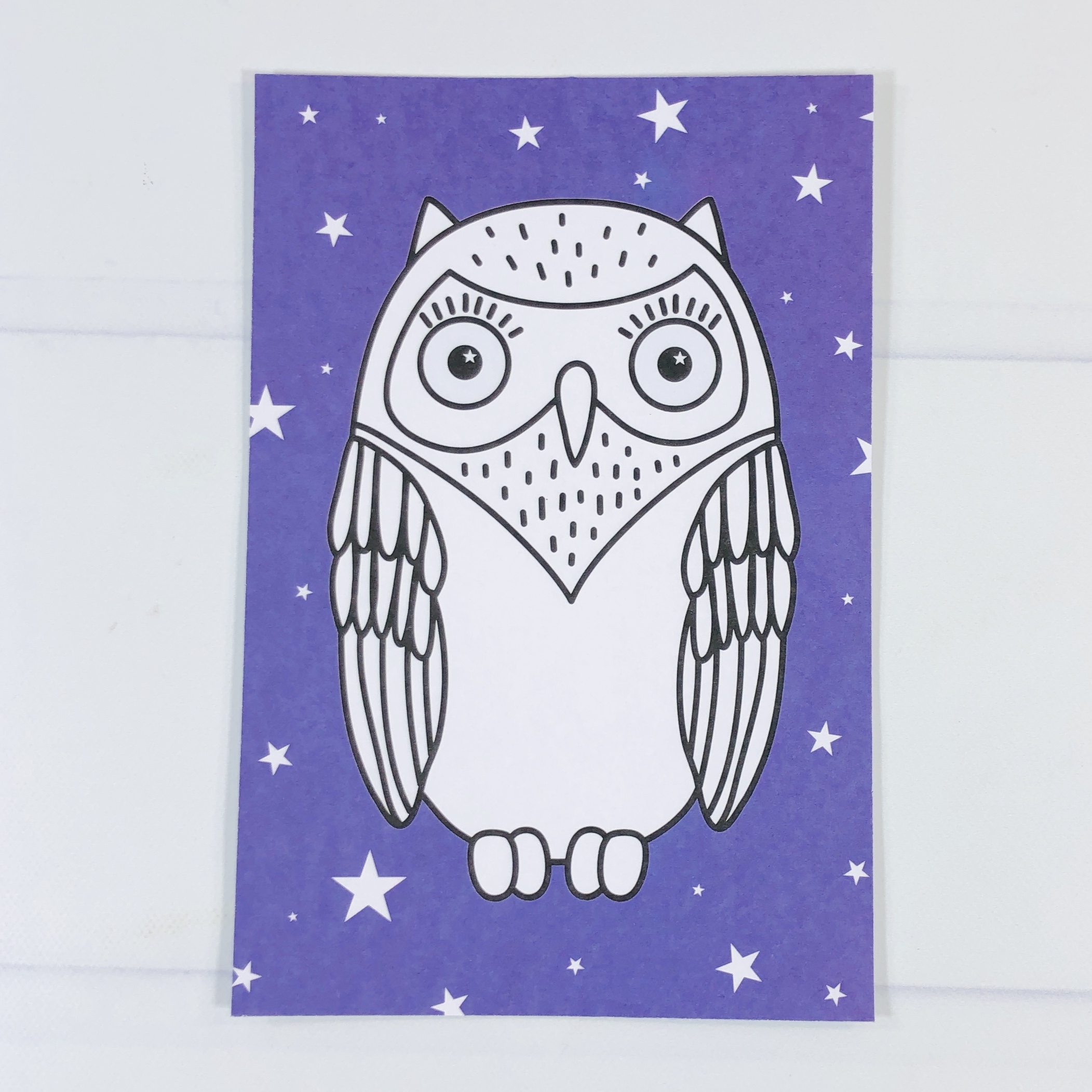 Owl Postcard You can decorate this 4″ x 6″ card and then enter the coloring contest (info is found inside Little Pippy magazine) and then send it to a friend or loved one!
The October Pipsticks Kids Club Classic had some of the cutest and most original stickers I have ever seen before! They weren't too scary or spooky but they did have adorable illustrations, and the pumpkins on the cars were so unique. There are a variety of finishes, with some printed on paper, some on PVC, some with no metallics, some with shimmers that show a rainbow effect. There were even a couple of DIY sheets, a sweetly scented sheet, and a postcard. I use the stickers in my planner and share them with my daughter, but you could also create a sticker bomb or use them to illustrate a journal.
Are you getting any of Pipstick's subscriptions?