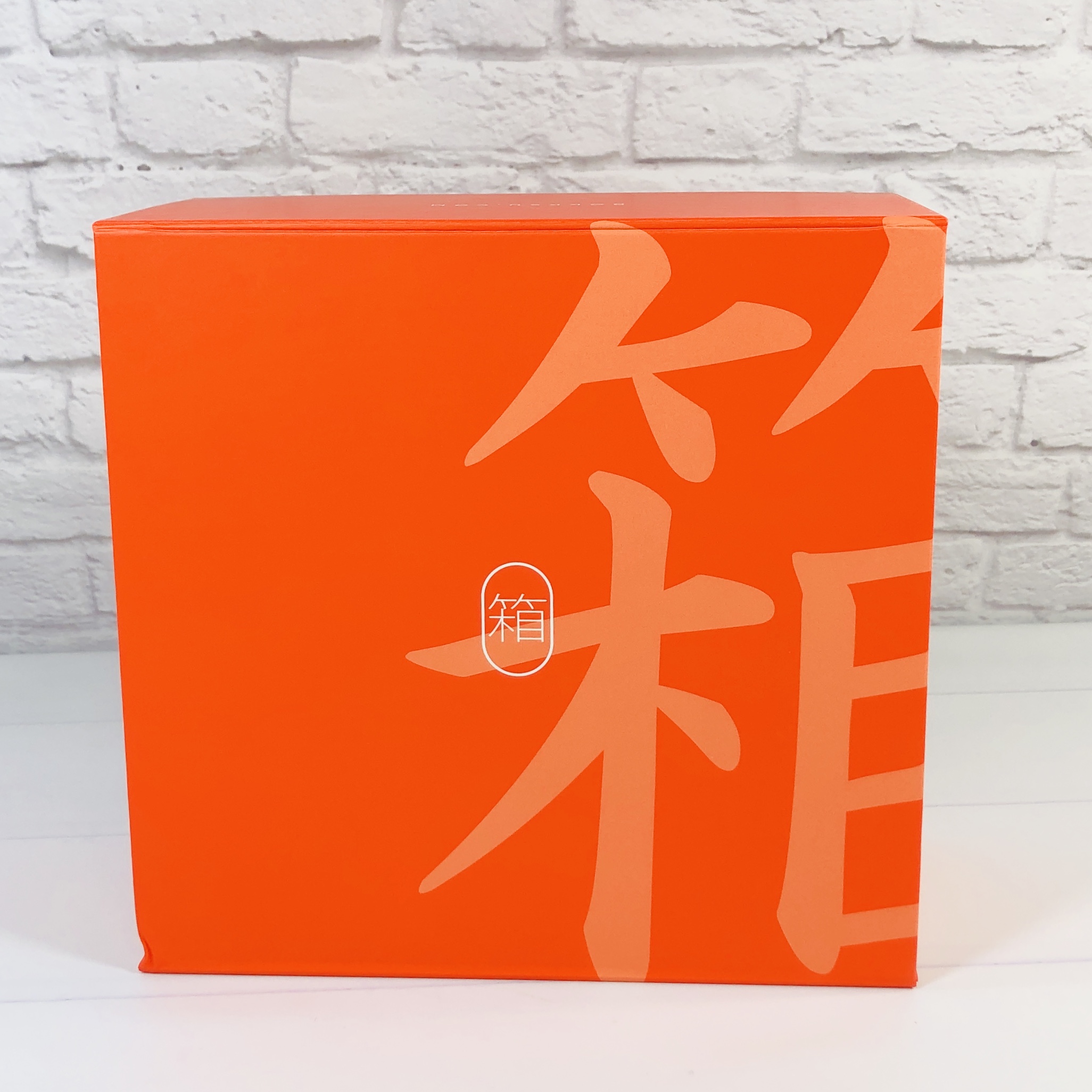 Bokksu is a premium snack box that features authentic Japanese snacks, as well as a tea pairing to go with it. There are two levels to choose from: Classic Bokksu ($44.99 USD) includes an assortment of 20-25 premium Japanese snacks and a tea pairing; Tasting Bokksu ($29.99 USD) includes 10-14 premium Japanese snacks and a tea pairing. Both boxes offer a discount for longer terms. The snacks sent are not easily found outside of Japan and this subscription ships internationally from Japan. Shipping is already included in the price. I am reviewing the Classic Bokksu.
Other Japanese snack subscription services use mass-produced mainstream snacks that can be readily found in most Asian markets outside of Japan. Bokksu directly sources its artisanal snacks from local snack makers in Japan (some of whom have been around for over 200 years!). We only curate high quality and gourmet snacks, never filler items. We are also the ONLY service that handselects a tea pairing for each box to complement that month's flavors.
DEAL: Save $5 on your first box with coupon code HELLO.
NOTE: Your first box will be the Seasons Of Japanshown here.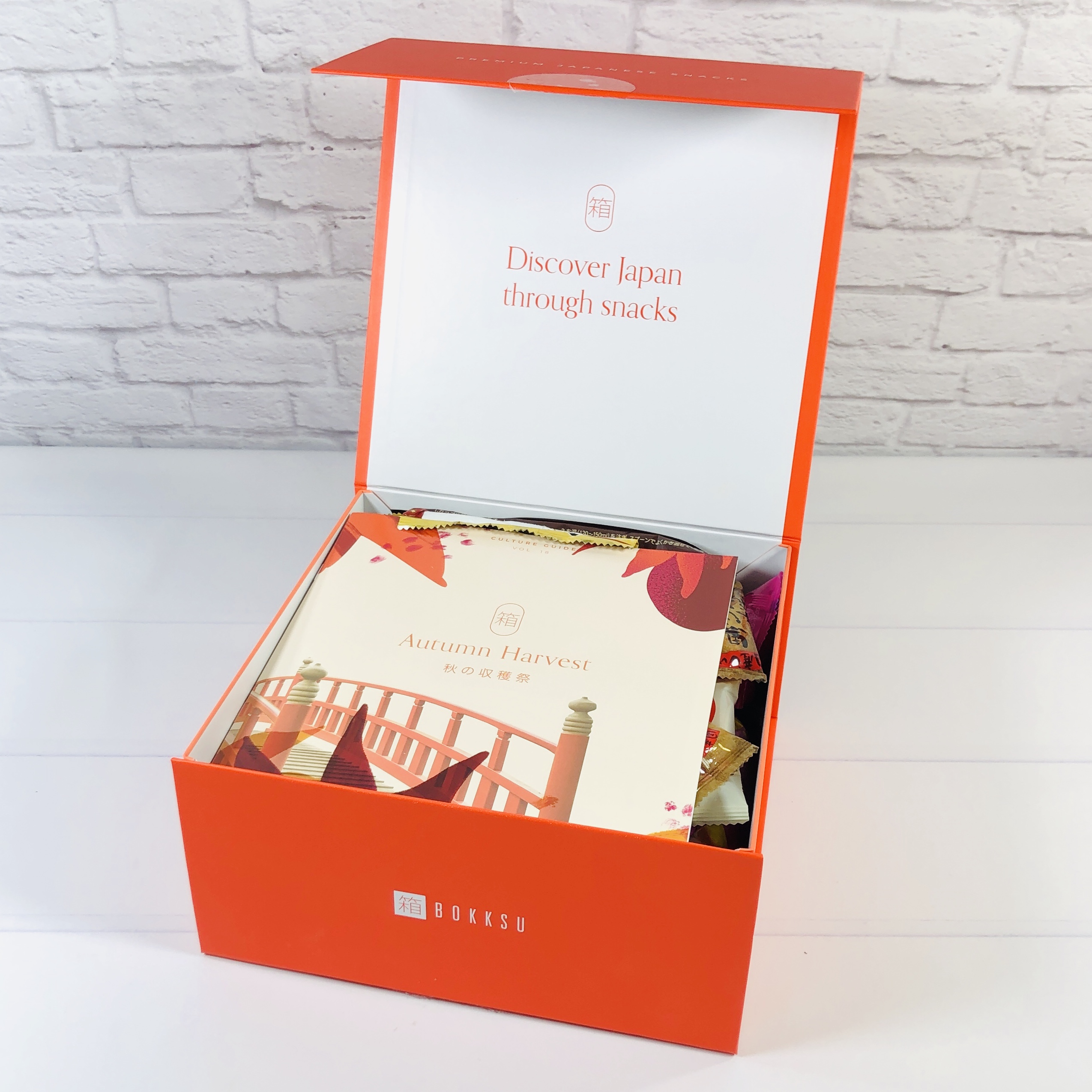 As always the snacks are packed in there so nicely. The box has changed and instead of a having a lid that can be lifted off, it is now all in one piece.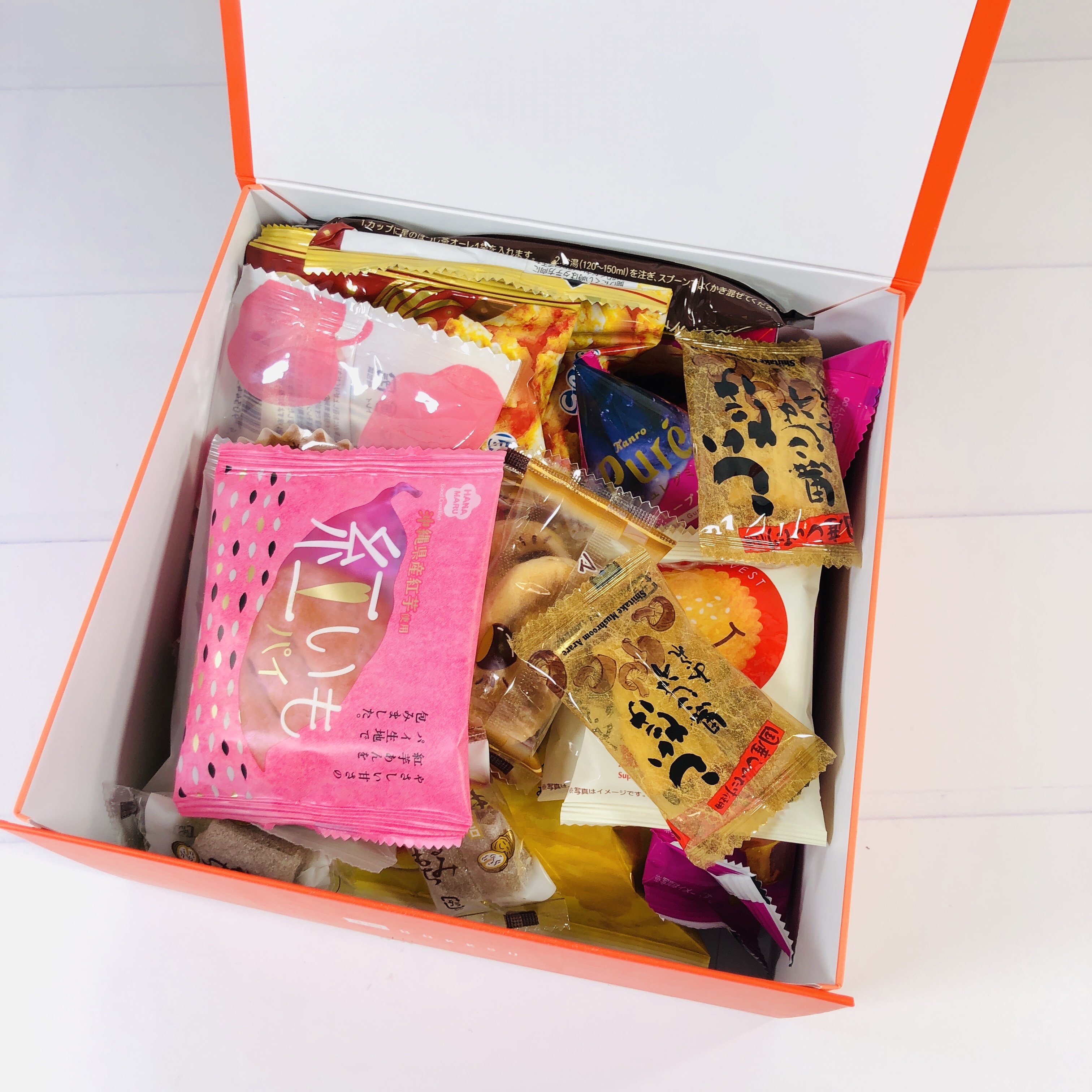 Looking good!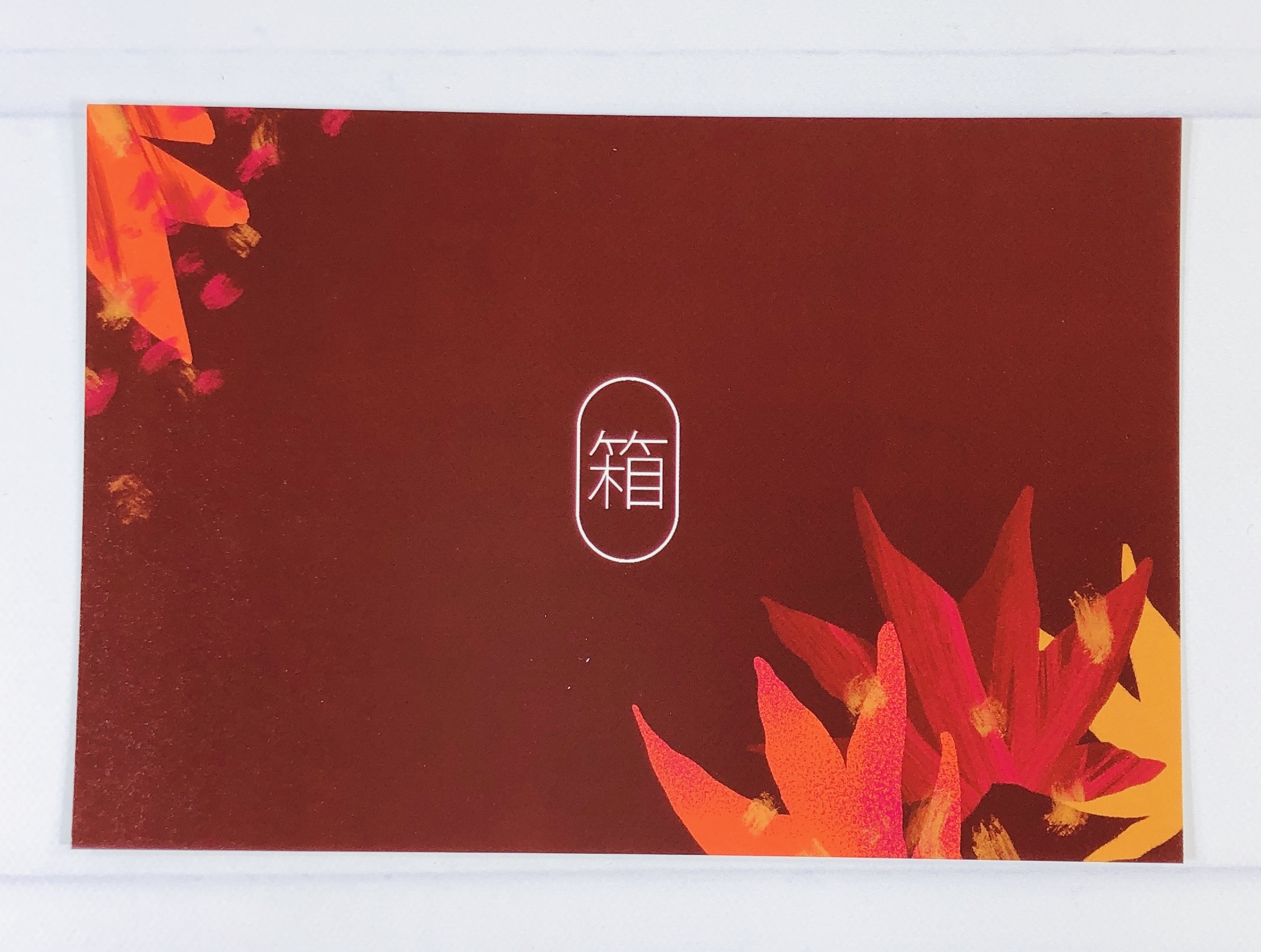 When I opened my box I found a card on top.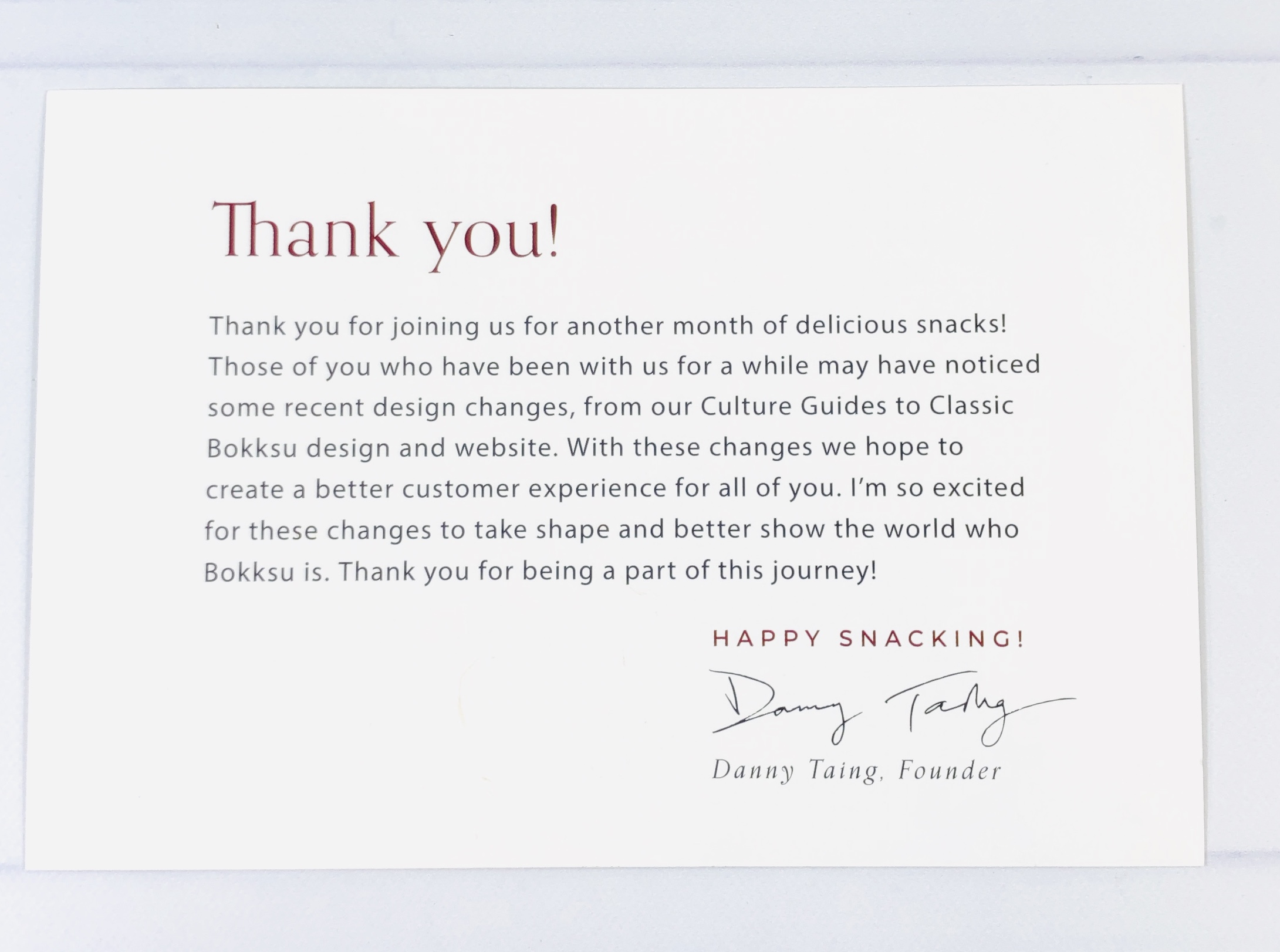 The back of the card mentioned some of the recent changes, such as to the box and guide.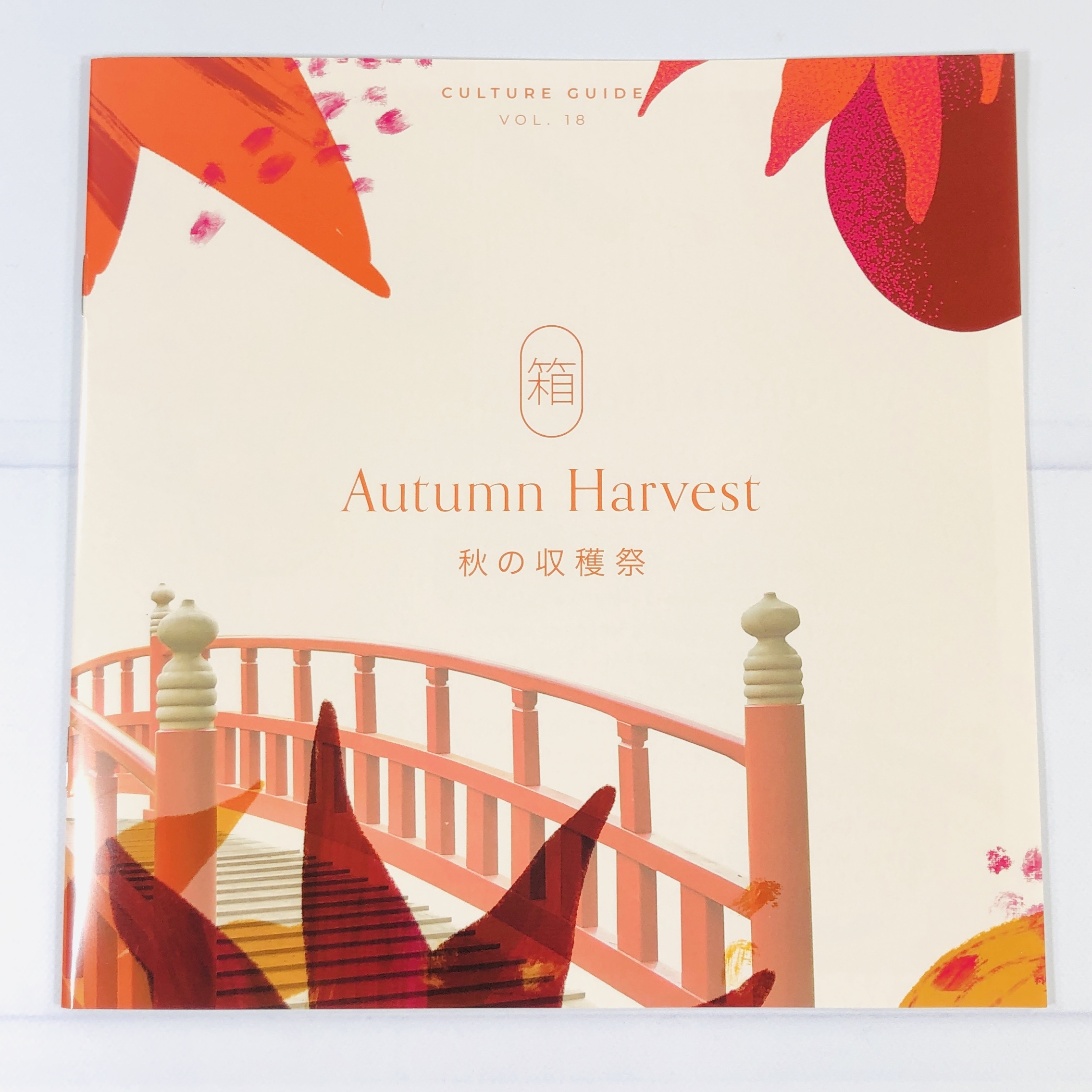 Bokksu provides a beautiful full-color info guide in every box.
October's theme is Autumn Harvest. The first page spread discussed this time of year.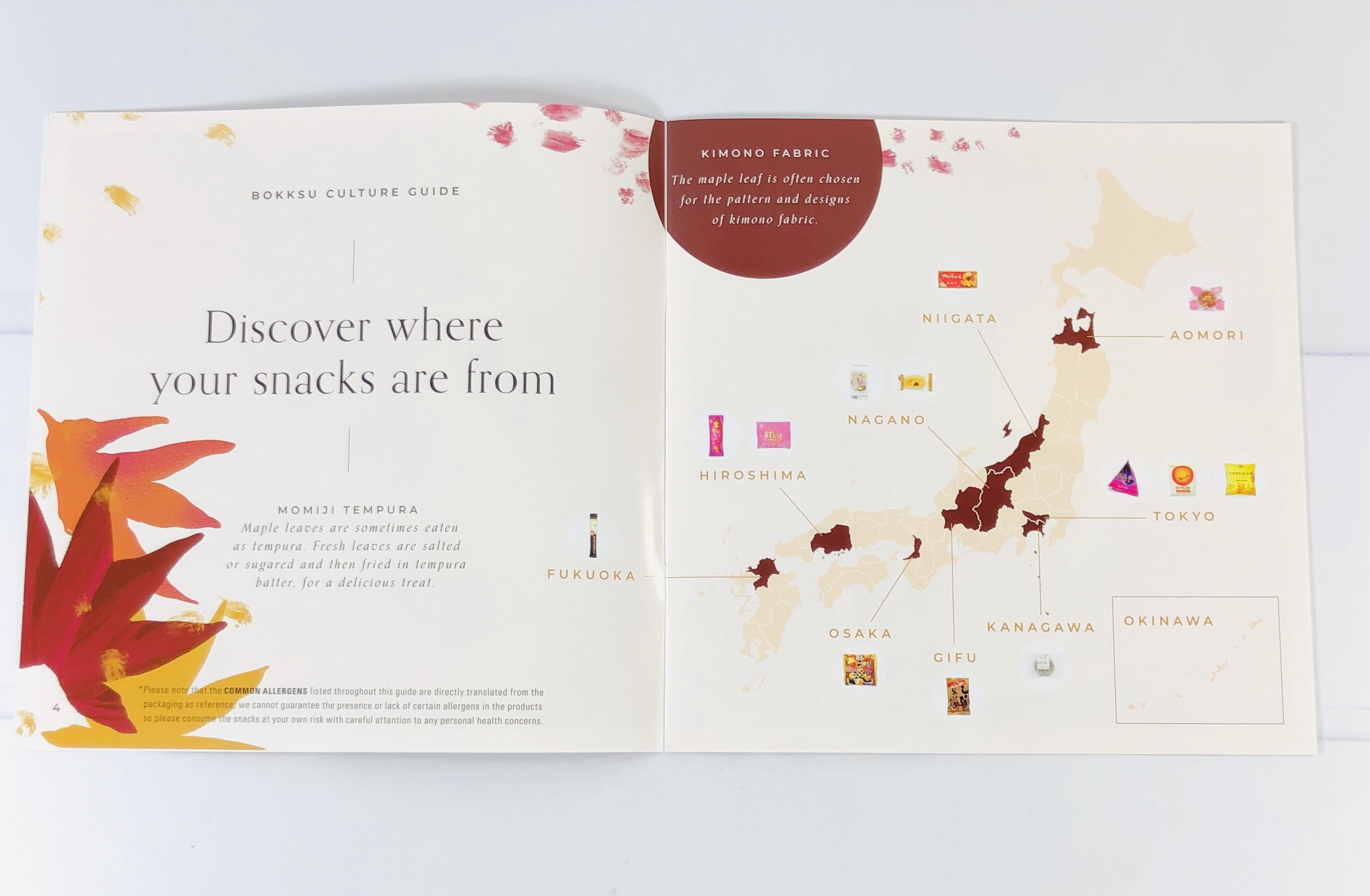 The next page has a map showing where in Japan each snack originated.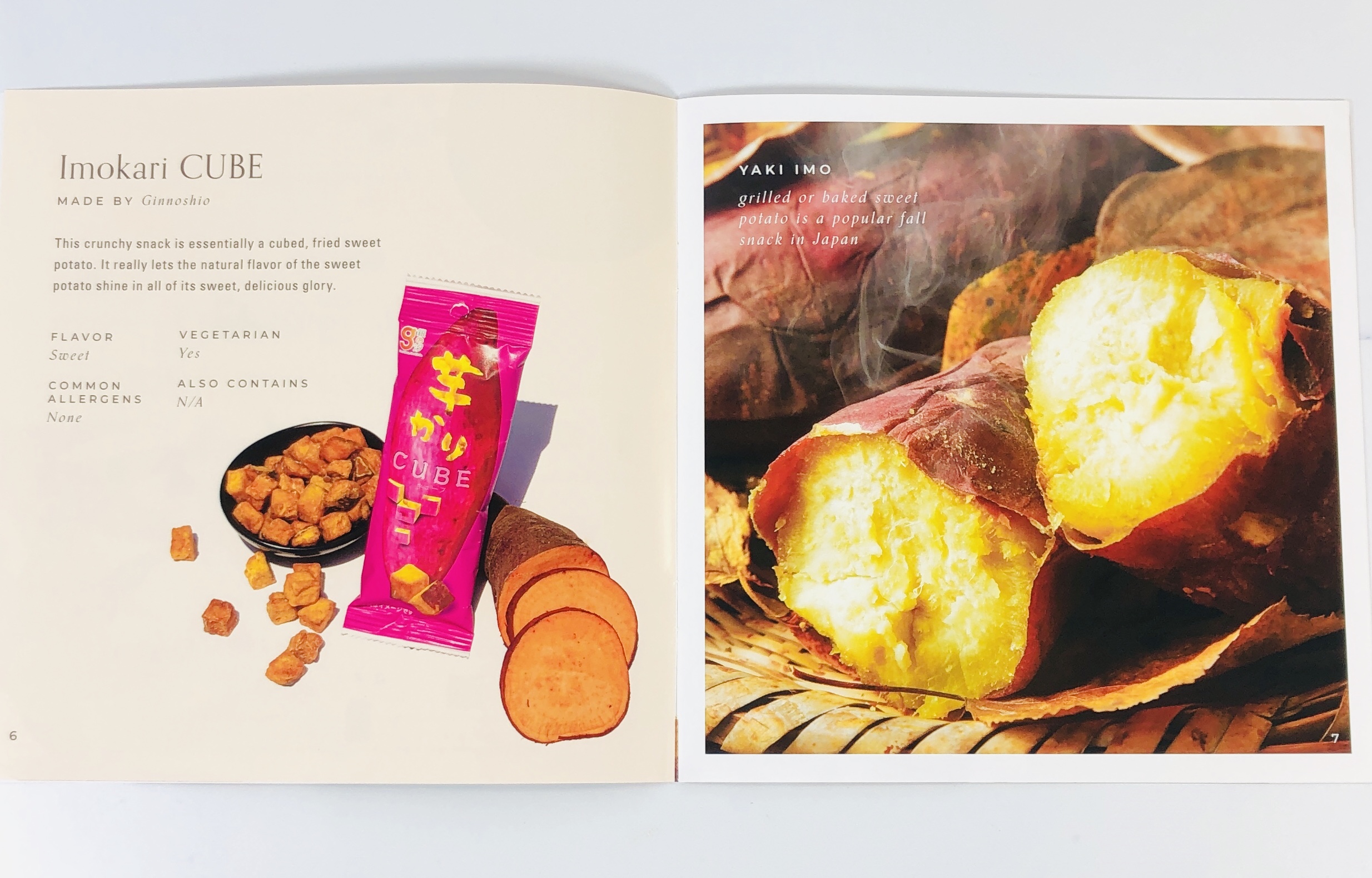 Each product was shown and lists brand name, common allergens, and a description.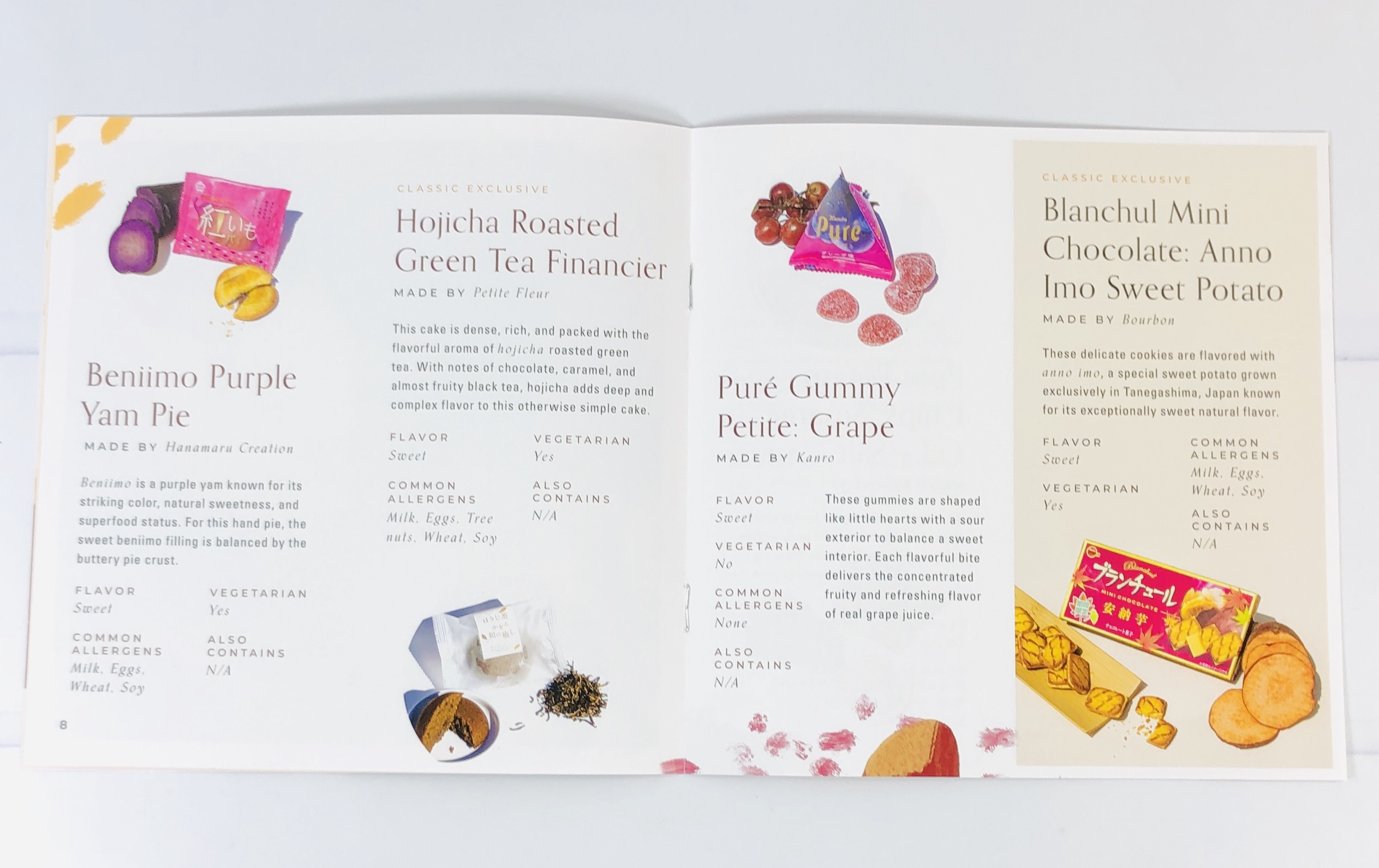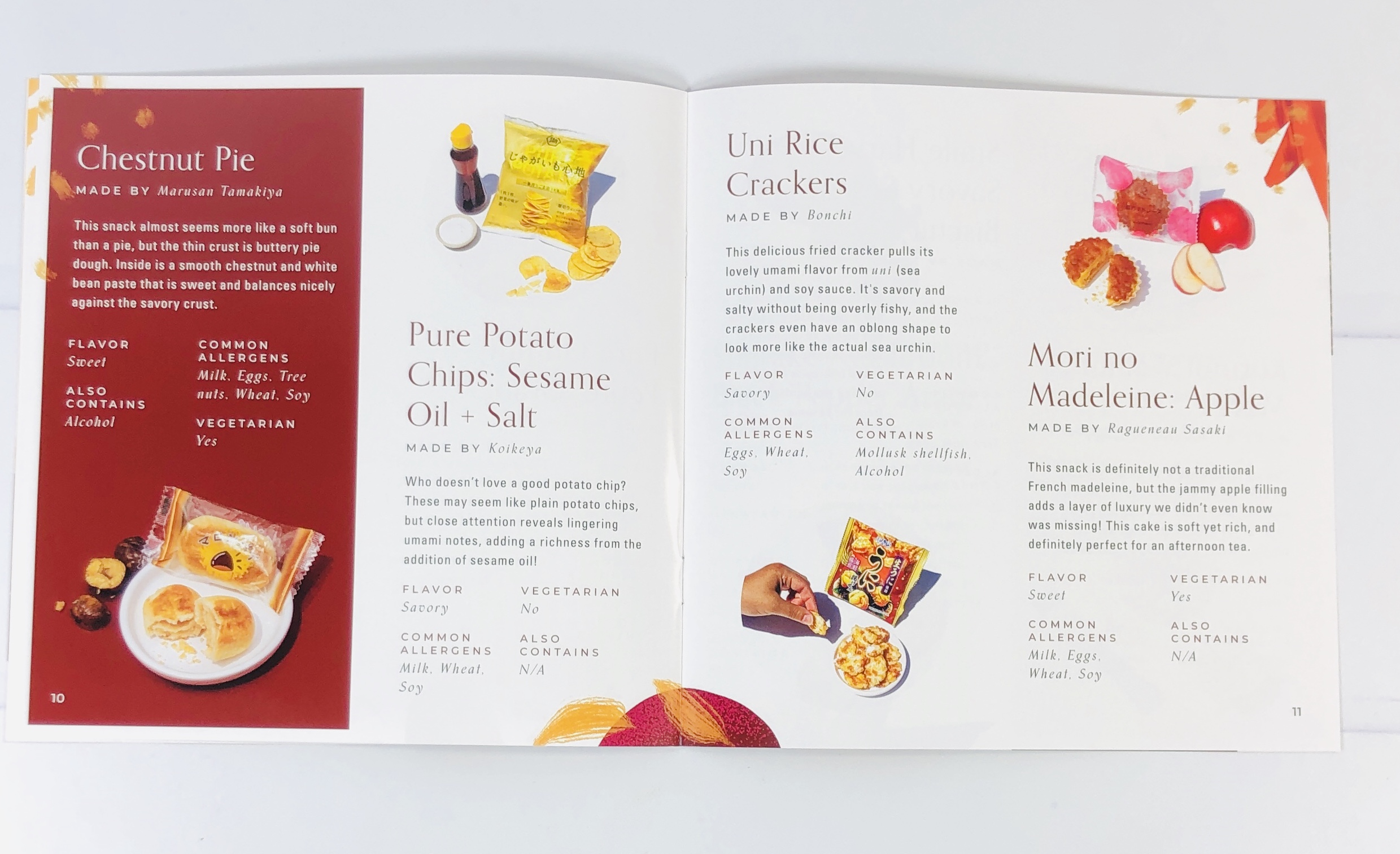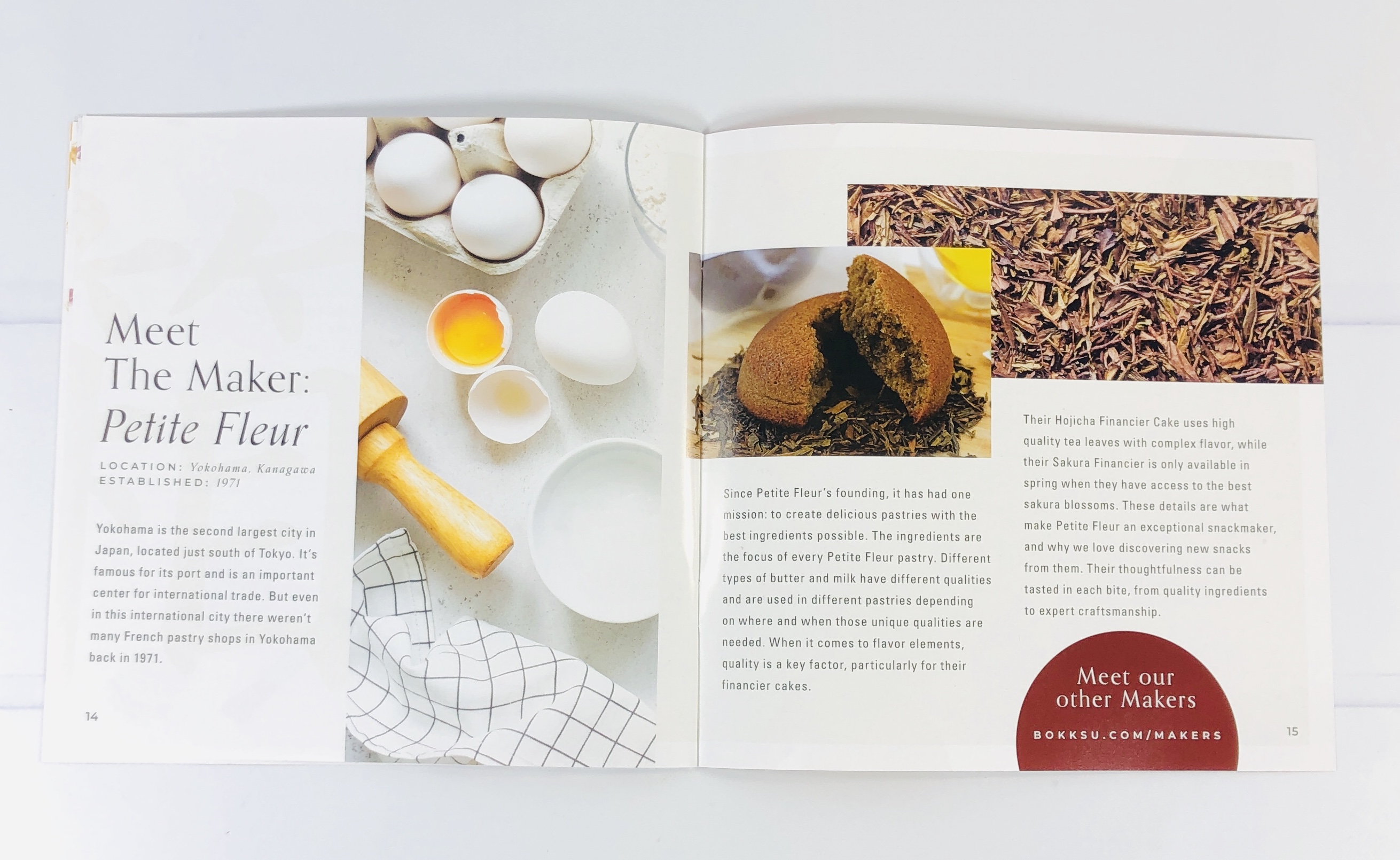 One of the makers was featured. You can meet more on the Bokksu website.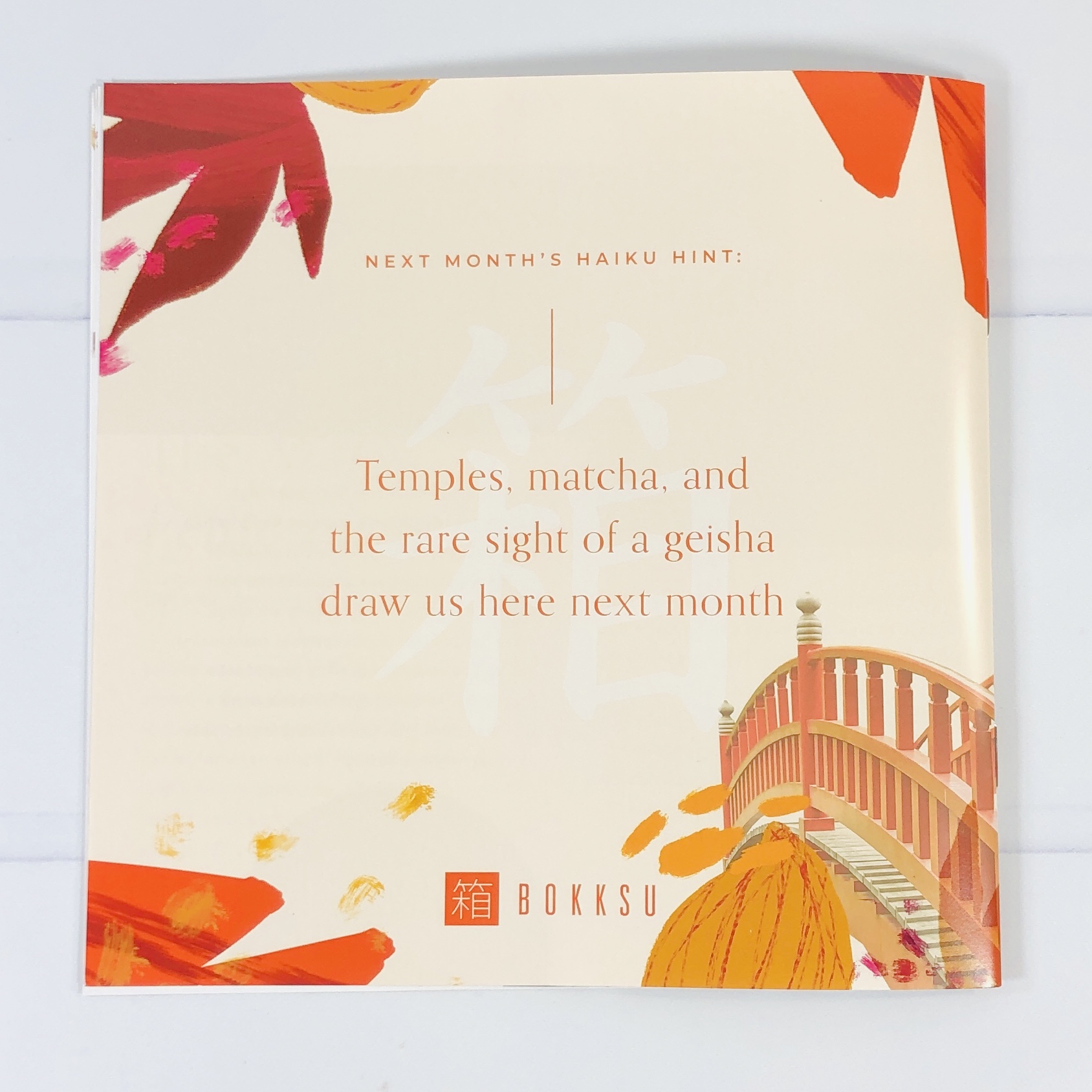 The back of the mag had a glimpse at the next box theme!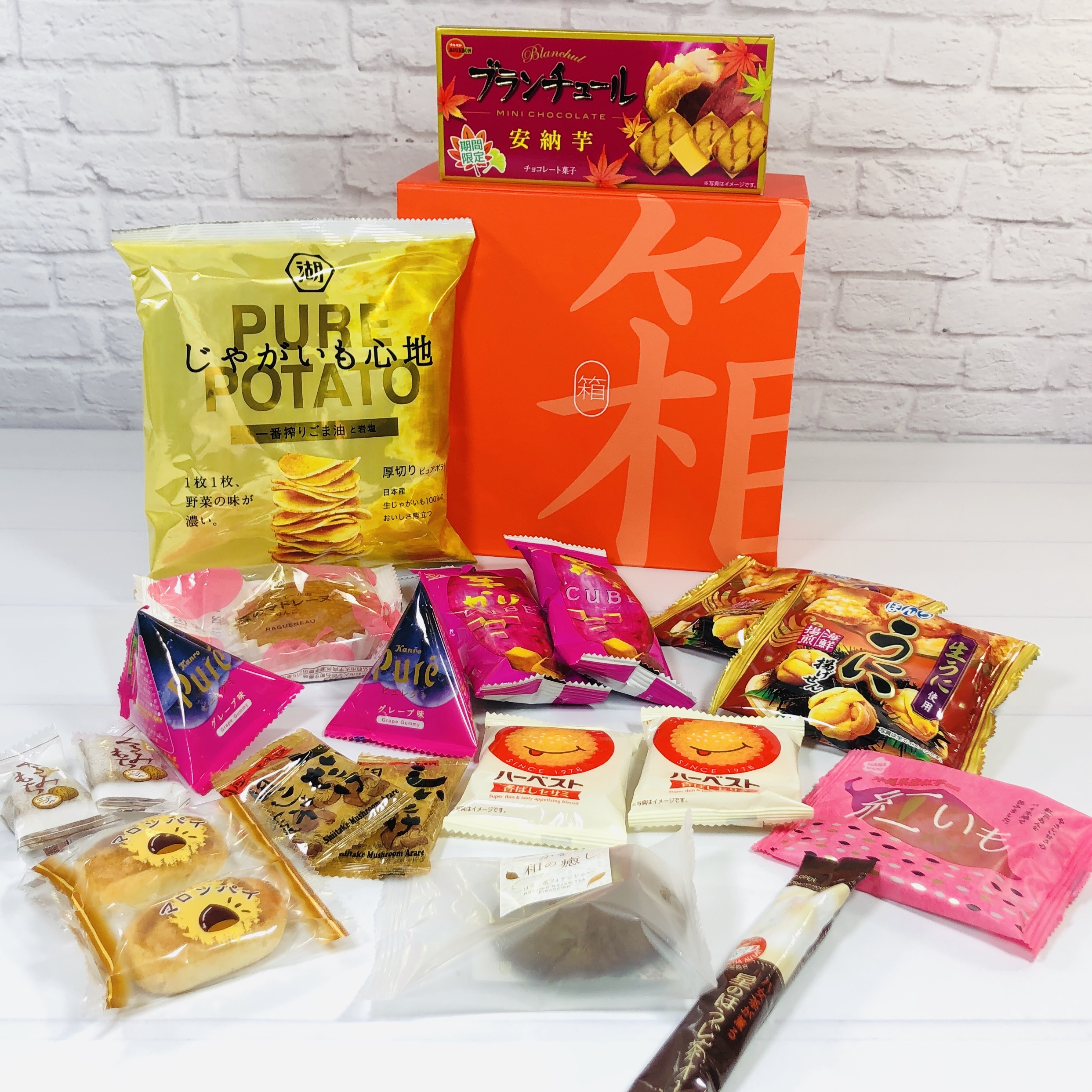 Everything in the October 2020 Classic Bokksu!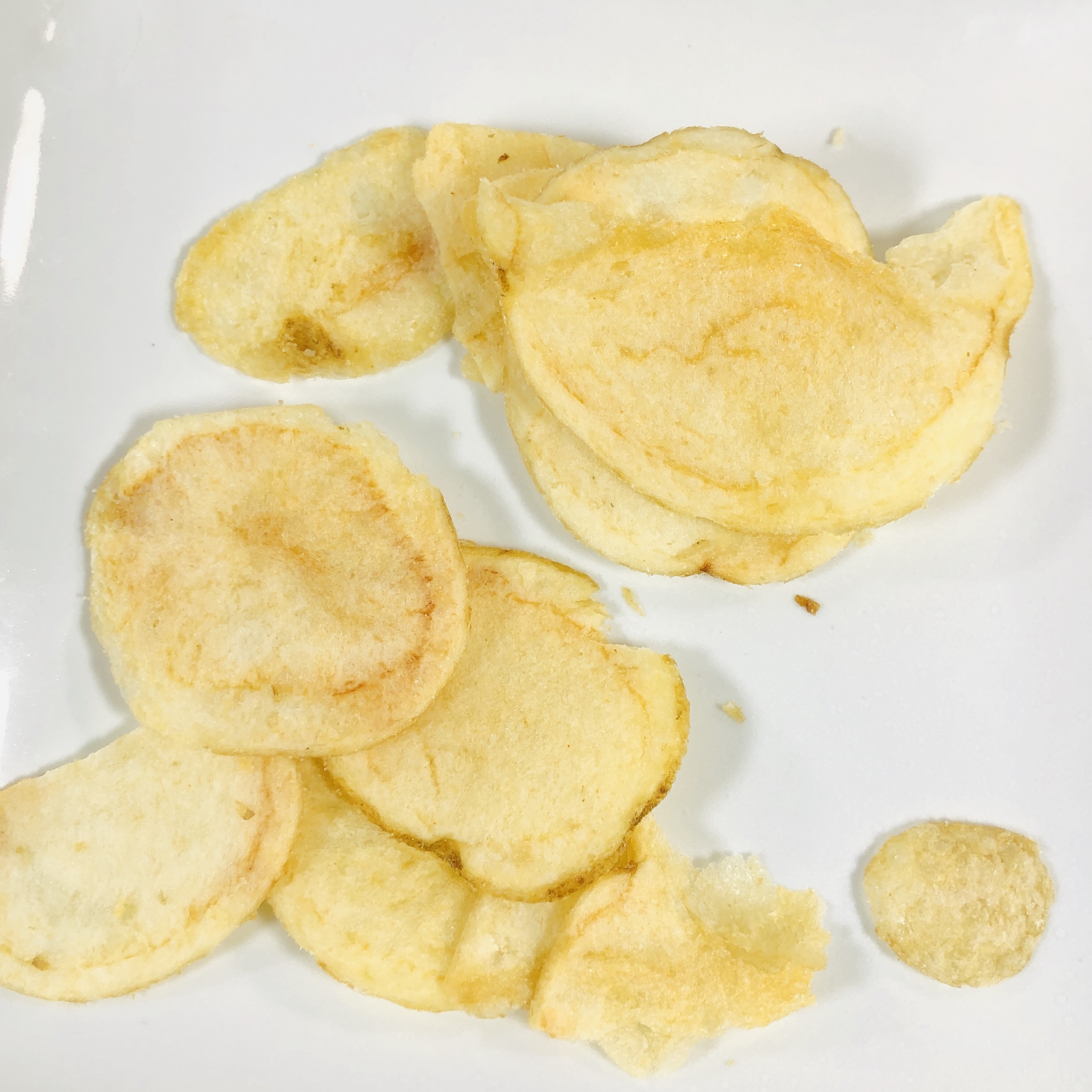 Pure Potato Chips: Sesame Oil + Salt I started eating these before I looked them up and thought they tasted like regular salted potato chips. Turns out they also have sesame oil and so I tried a couple more and they do taste superior to Lays or Ruffles but I still can't really taste the sesame.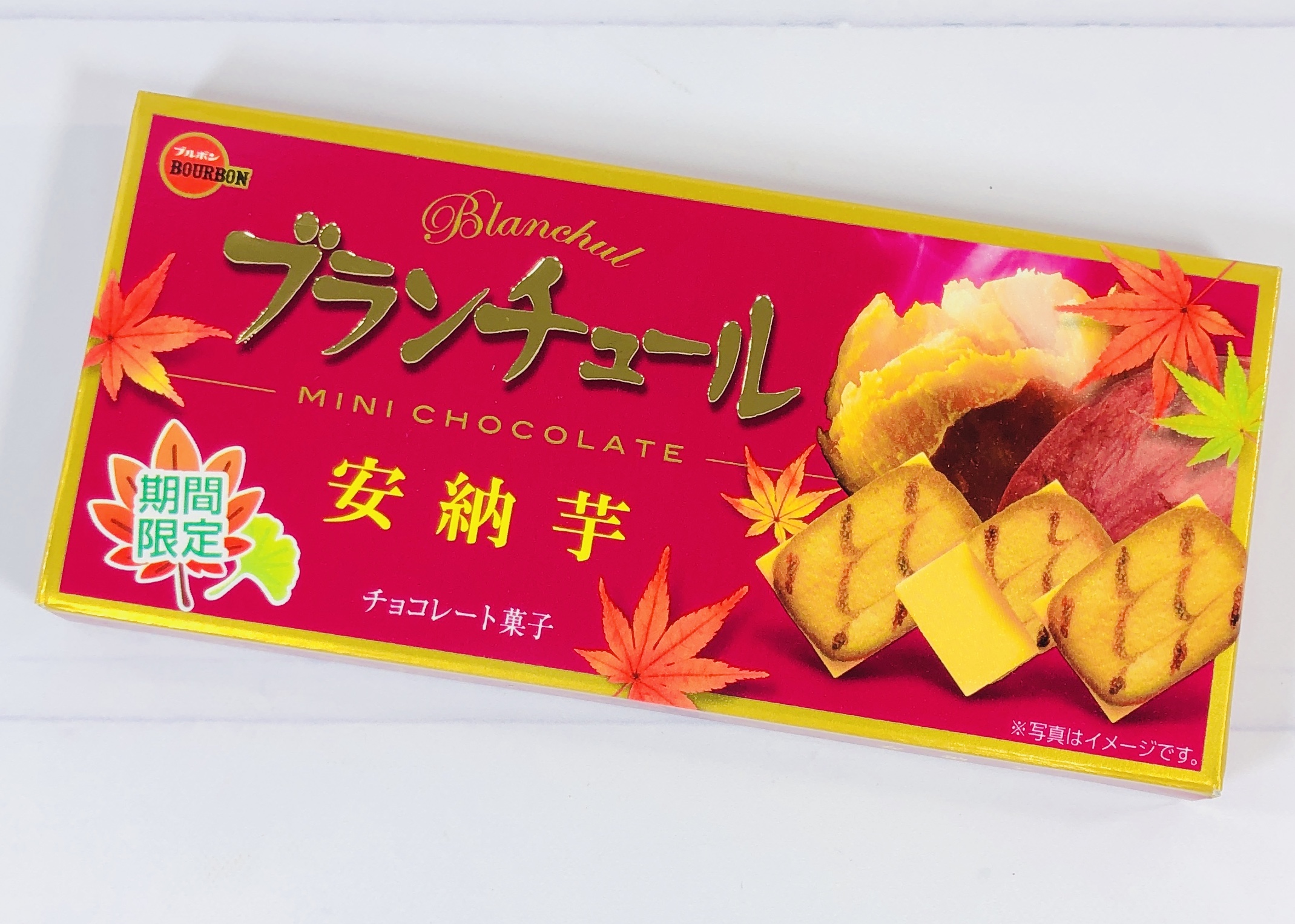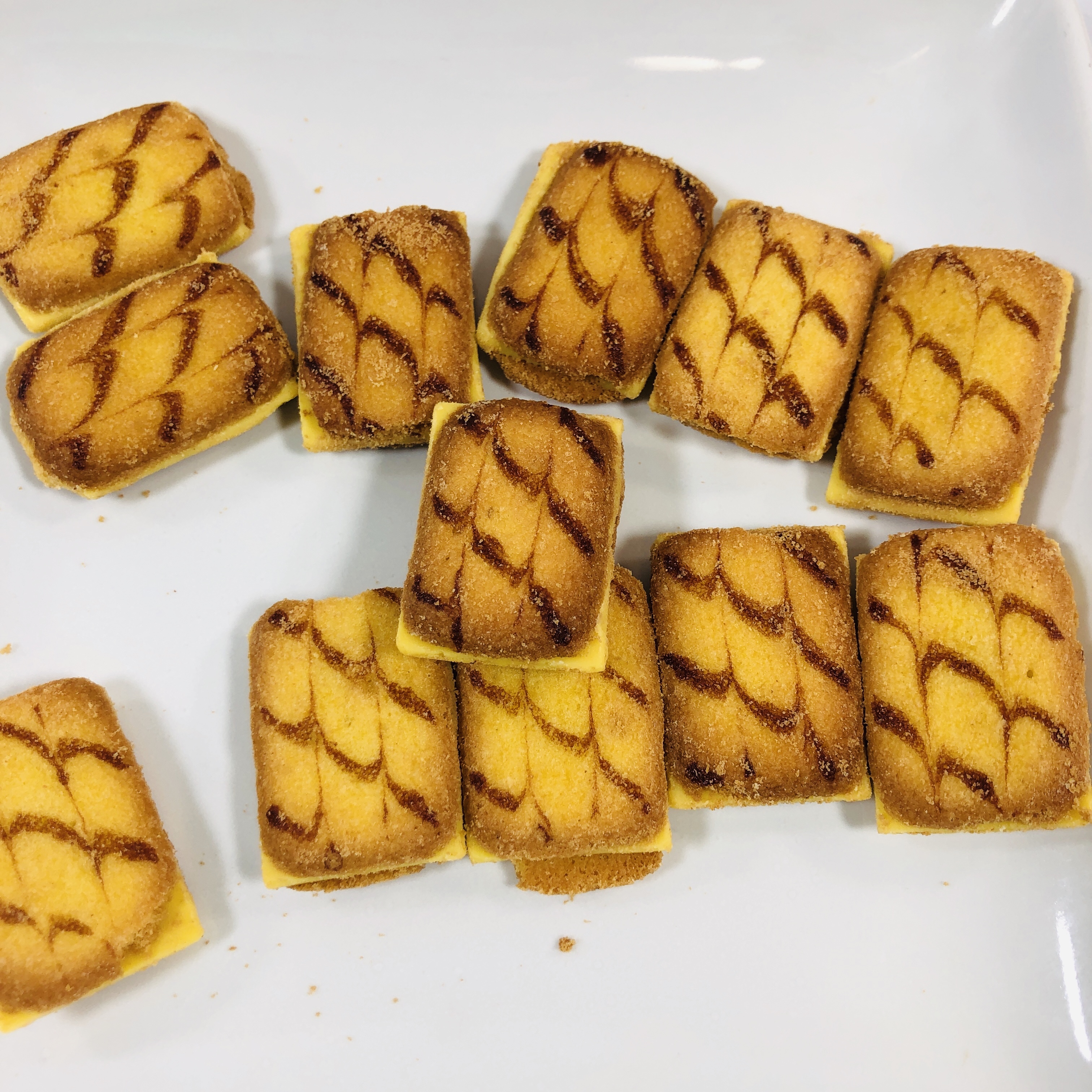 Blanchul Mini Chocolate: Anno Imo Sweet Potato Bokksu sends this cookie/candy combo every once in a while, but always in an interesting flavor! It's sort of like a Milano, with a crispy cookie on the outside and flavored white chocolate on the inside, but the chocolate this time is flavored with sweet potato.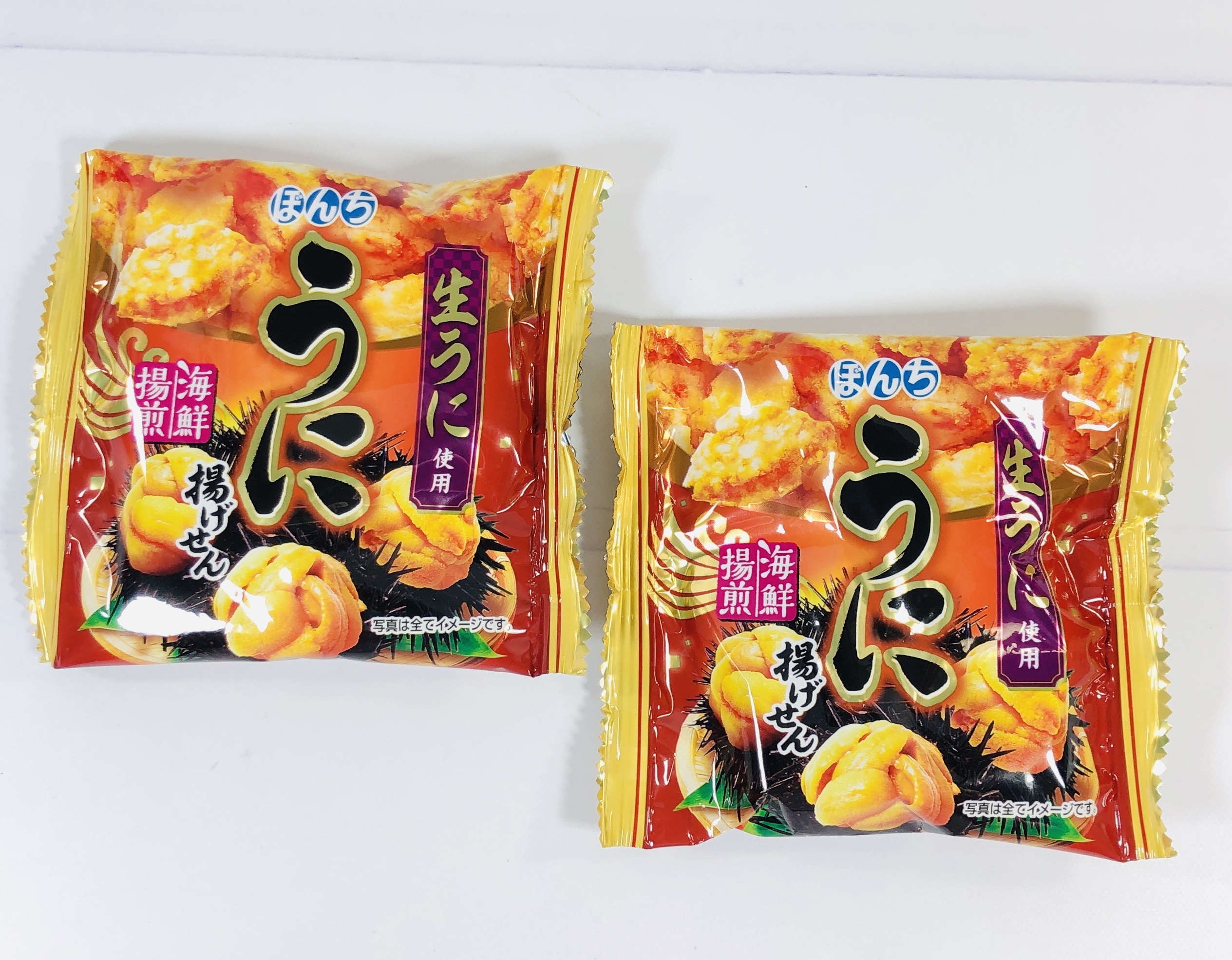 Uni Rice Crackers Uni is sea urchin but don't worry, these aren't very fishy flavored at all. They are crispy and kind of buttery with a hint of soy sauce and I enjoyed them.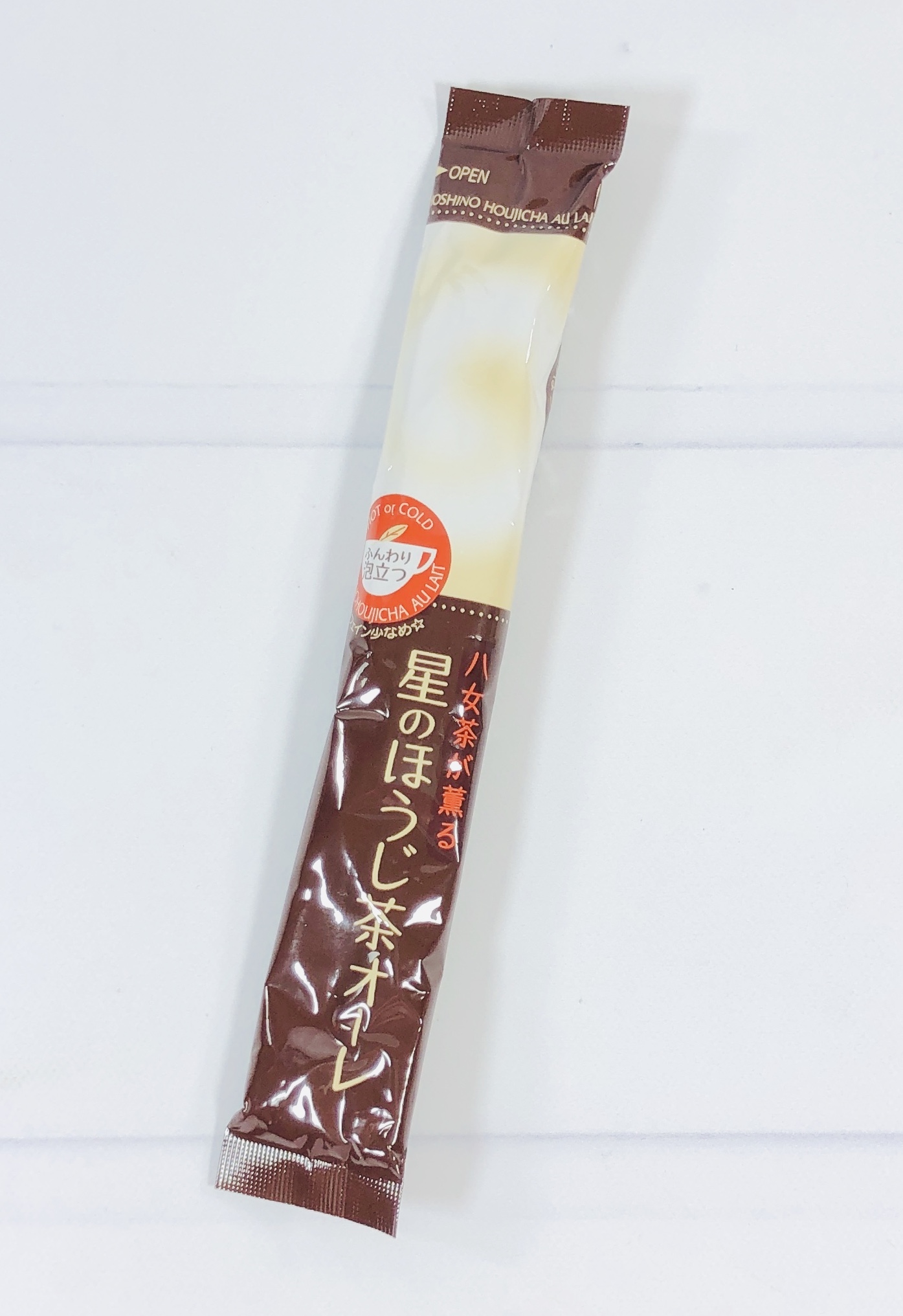 Hoshino Hojicha Latte Our tea selection this month is an instant latte, just add water! You can make it with hot water or cold, and I went with hot. I mixed it up and it reminded me of hot cocoa, but with tea instead of chocolate. It was milky and sweet and the tea, hojicha, is roasted  green tea so it has a smoky, almost nutty flavor profile.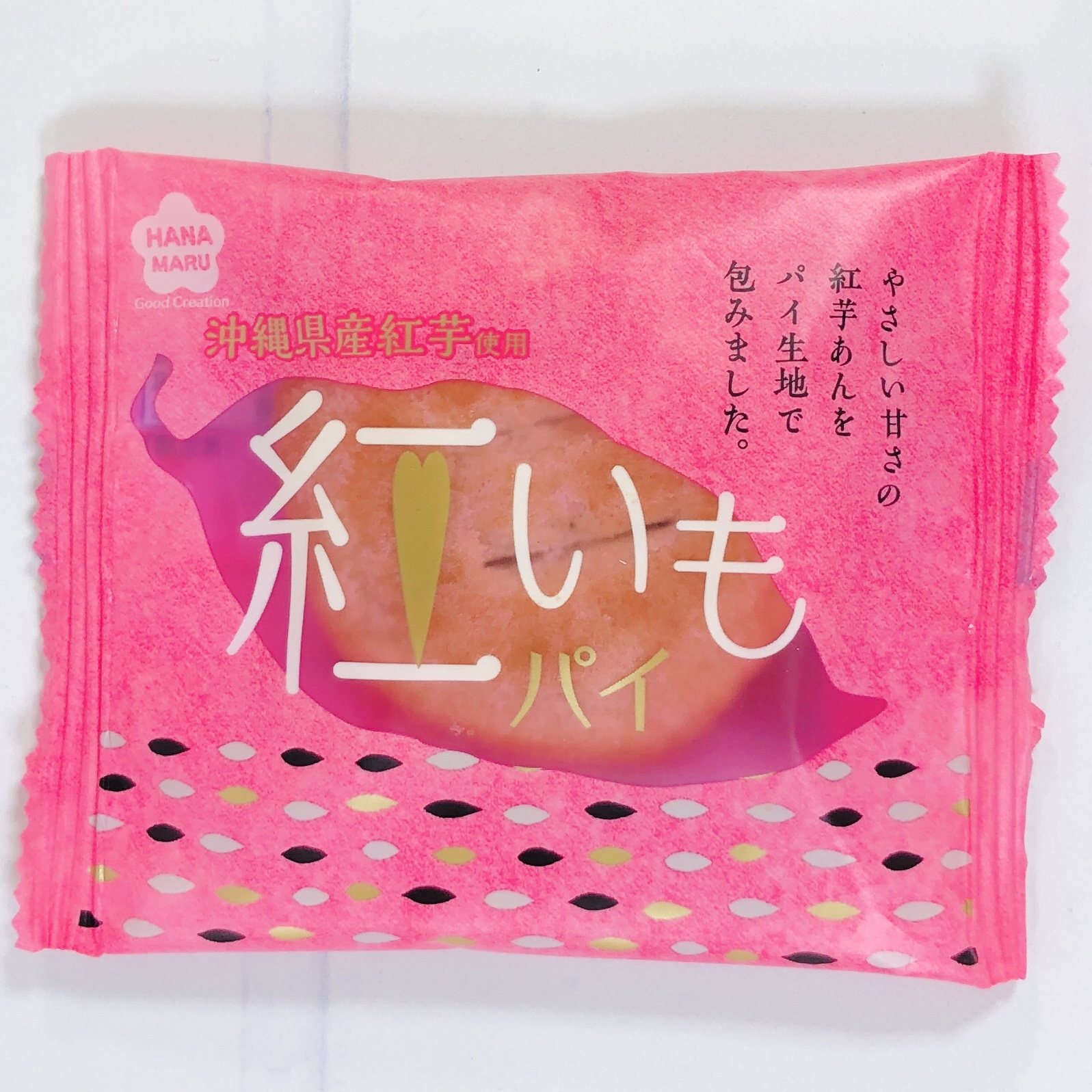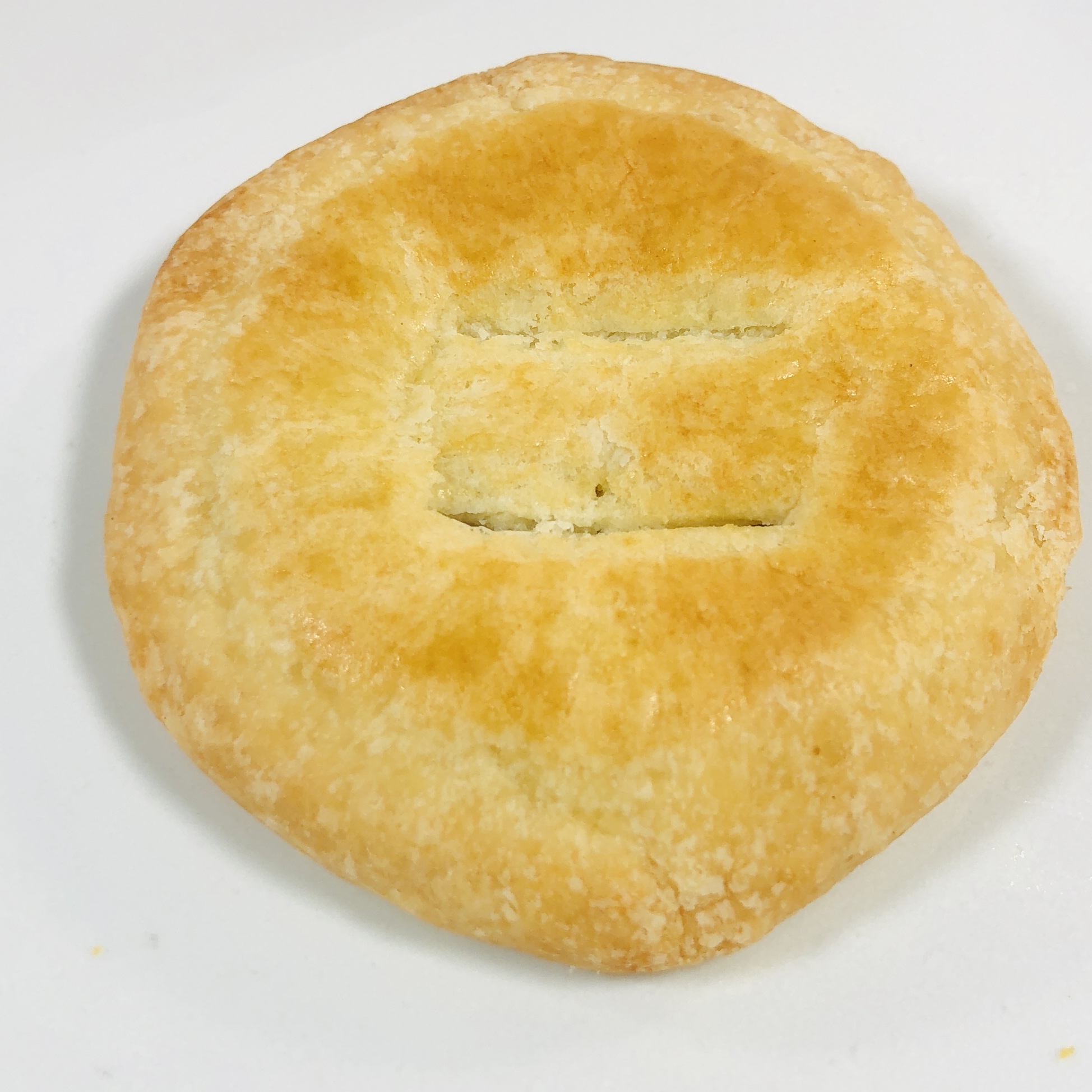 Beniimo Purple Yam Pie I was surprised when I opened up this pie and the filling was purple, but it is filled with purple yam! It's sort of like a pumpkin pastry, with the outside a flaky pie shell and the inside a sweet filling that is a bit drier than pumpkin.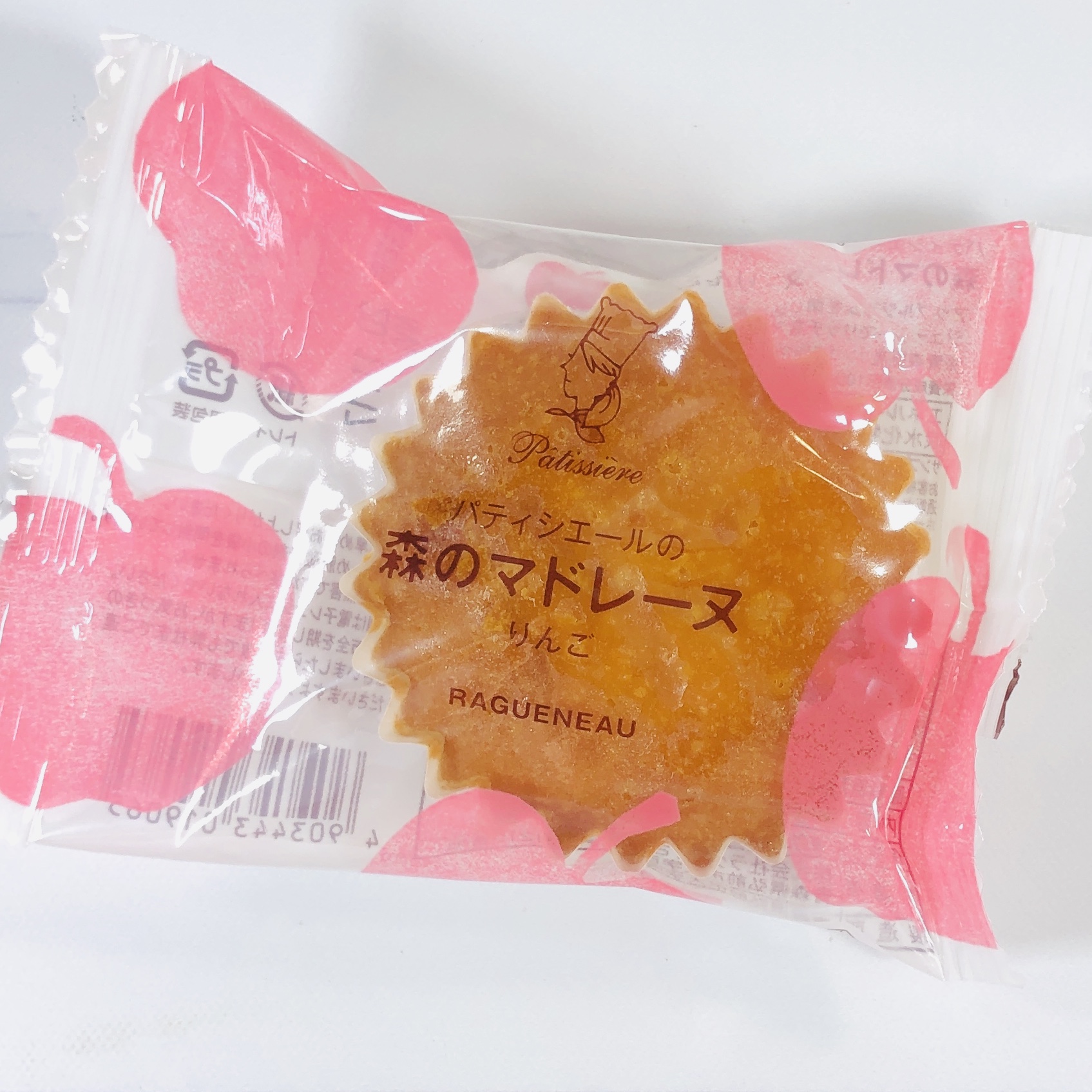 Mori No Madeleine: Apple is an oh so buttery madeleine cake with an apple filling. It is soft and moist and the apple flavor is not very strong, although the butter flavor is!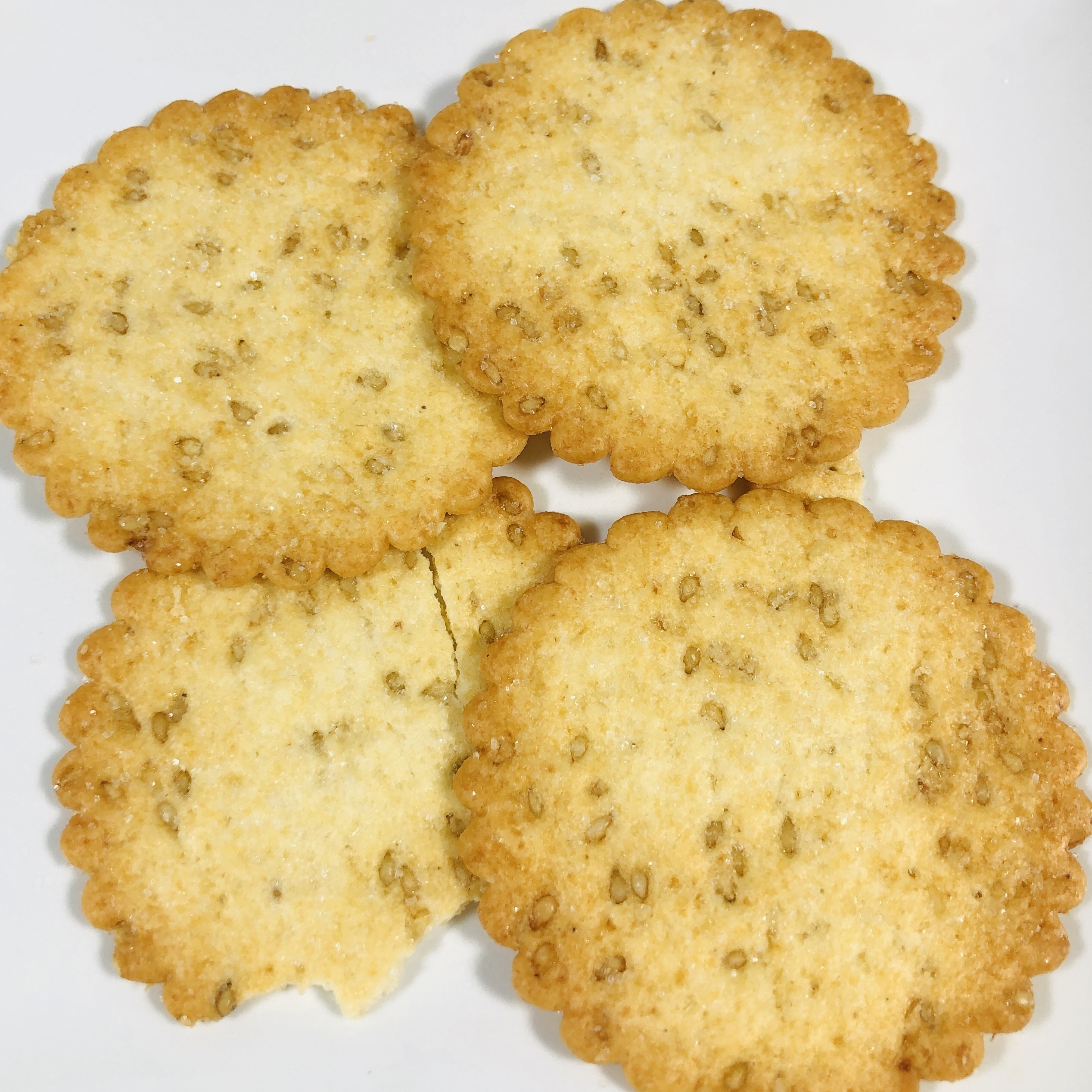 Smile Harvest Sesame Biscuit The Bokksu website calls these savory biscuits but they are actually sweet, with a hint of sesame. They are very thin and crispy with a sprinkling of sugar on top.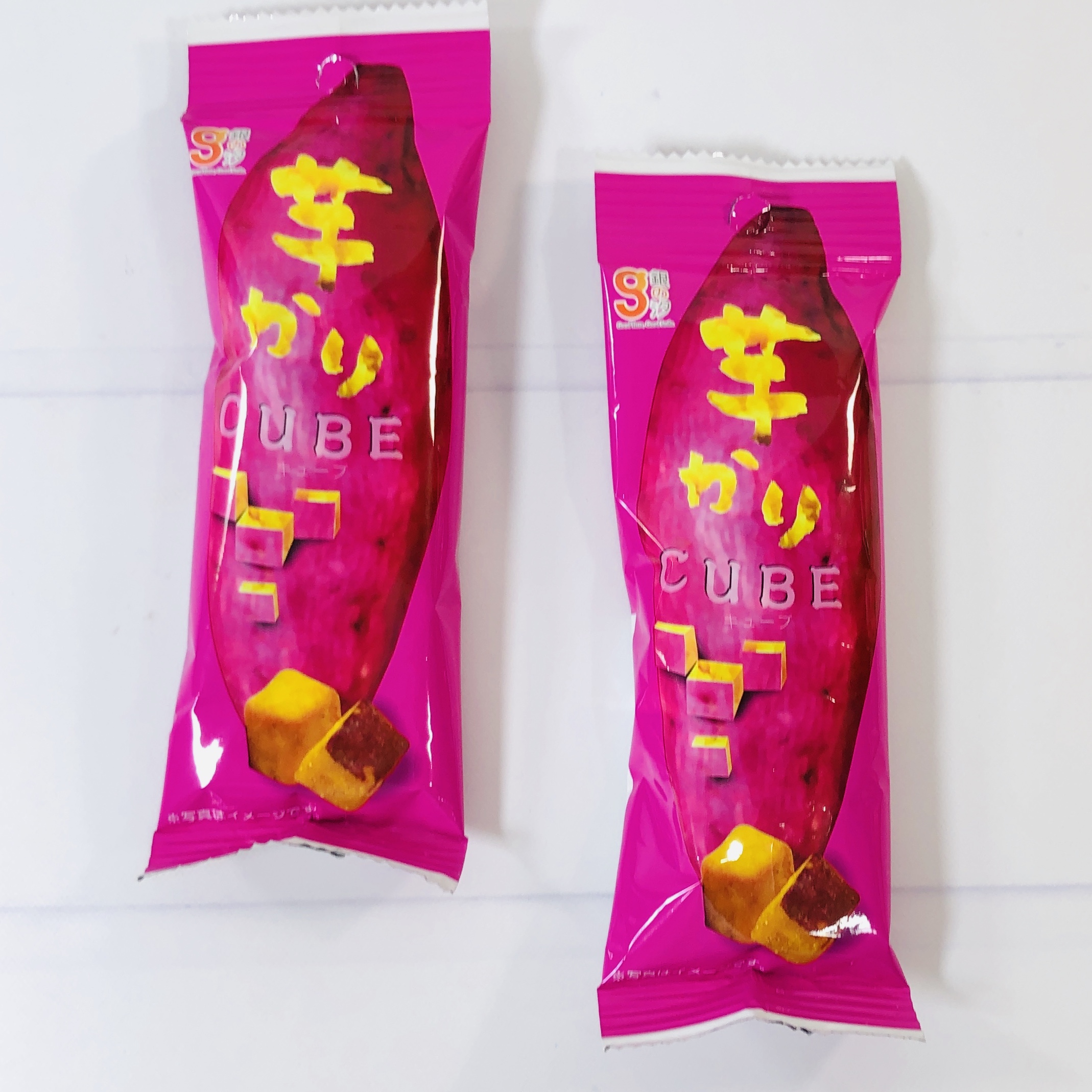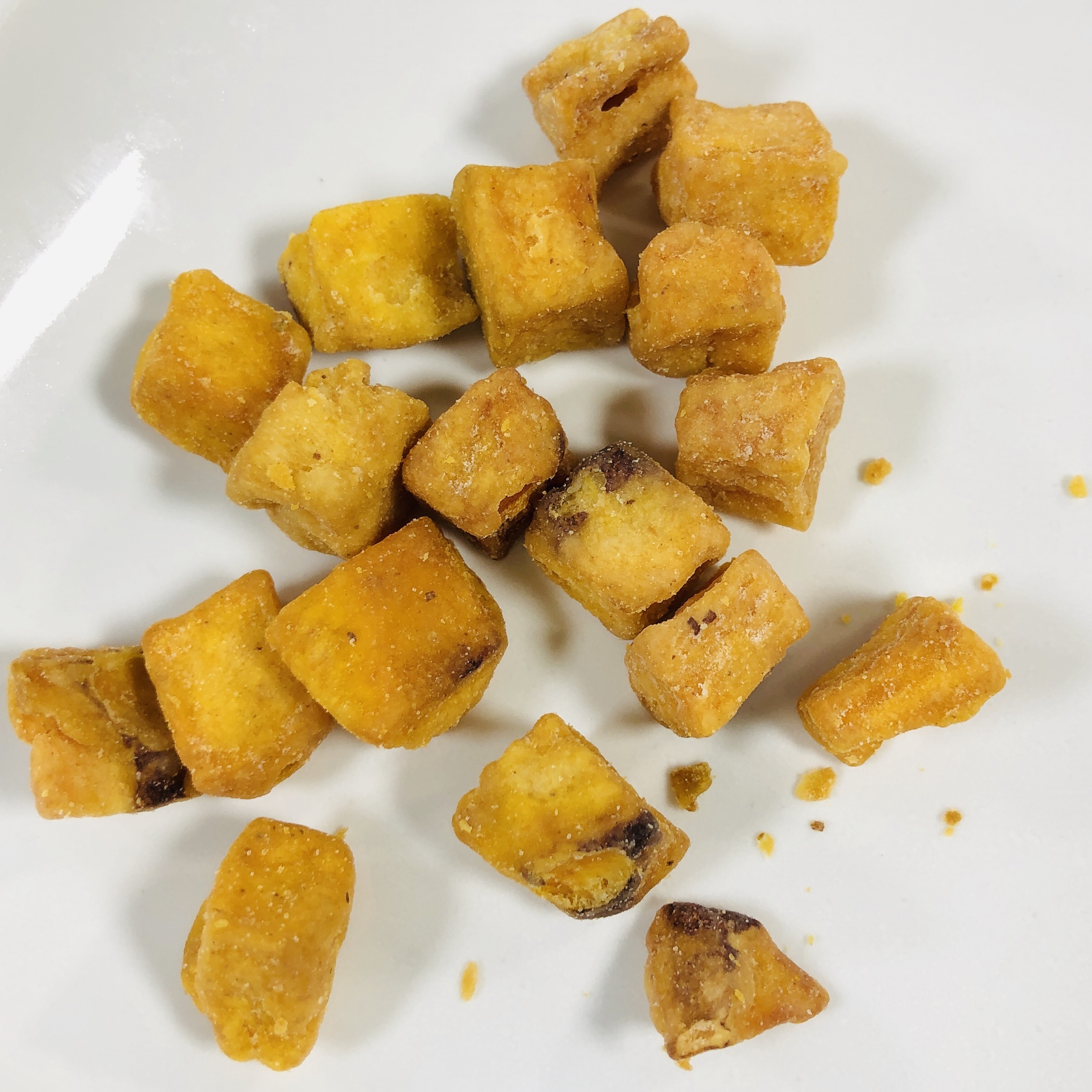 Imokari Cube Here is another fried potato product, except it is made with sweet potatoes and they are cut into cubes! They are extra sweet and crispy and taste similar to sweet potato chips.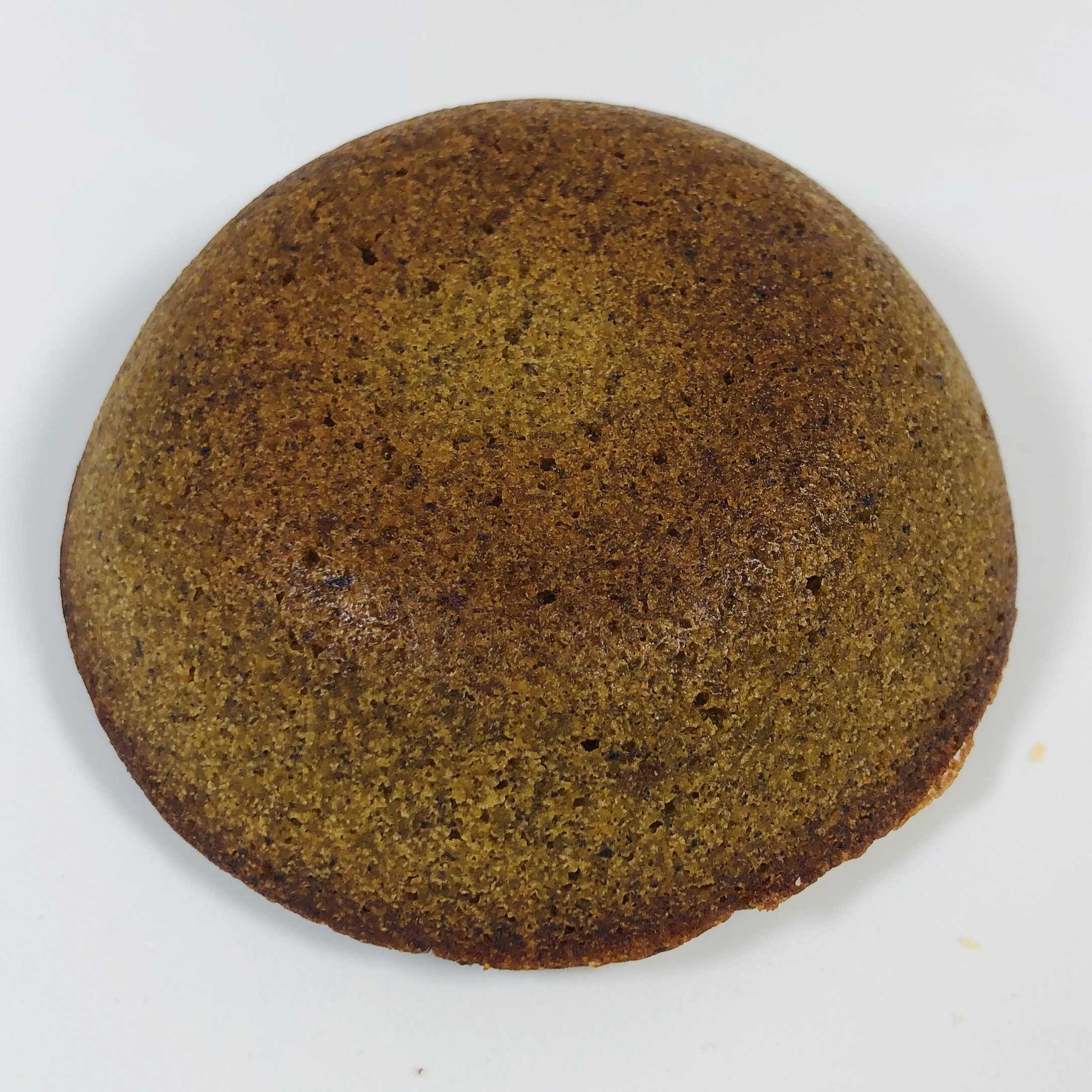 Hojicha Roasted Green Tea Financier is a soft, moist cake with a strong hojicha flavor. I don't mind hojicha tea, but the flavor was super strong in this cake so I wasn't a fan.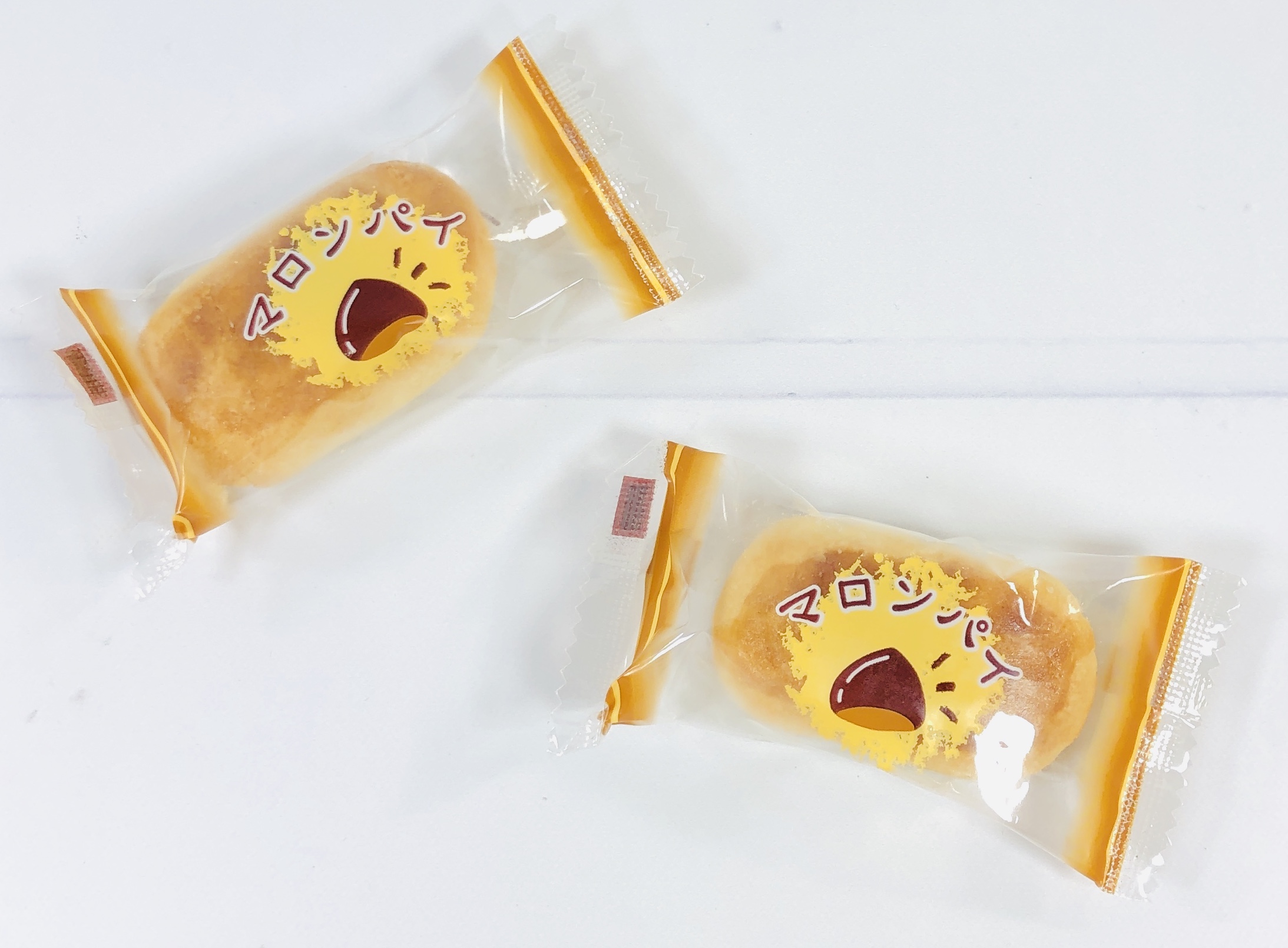 Chestnut Pie I couldn't tell you what a chestnut tastes like, I refuse to eat the watery kind that are in Chinese dishes and I've never roasted one over an open fire (although I saw that in London once!). This is a flaky pastry with a white bean paste on the inside that tastes simply sweet, but not like much of anything.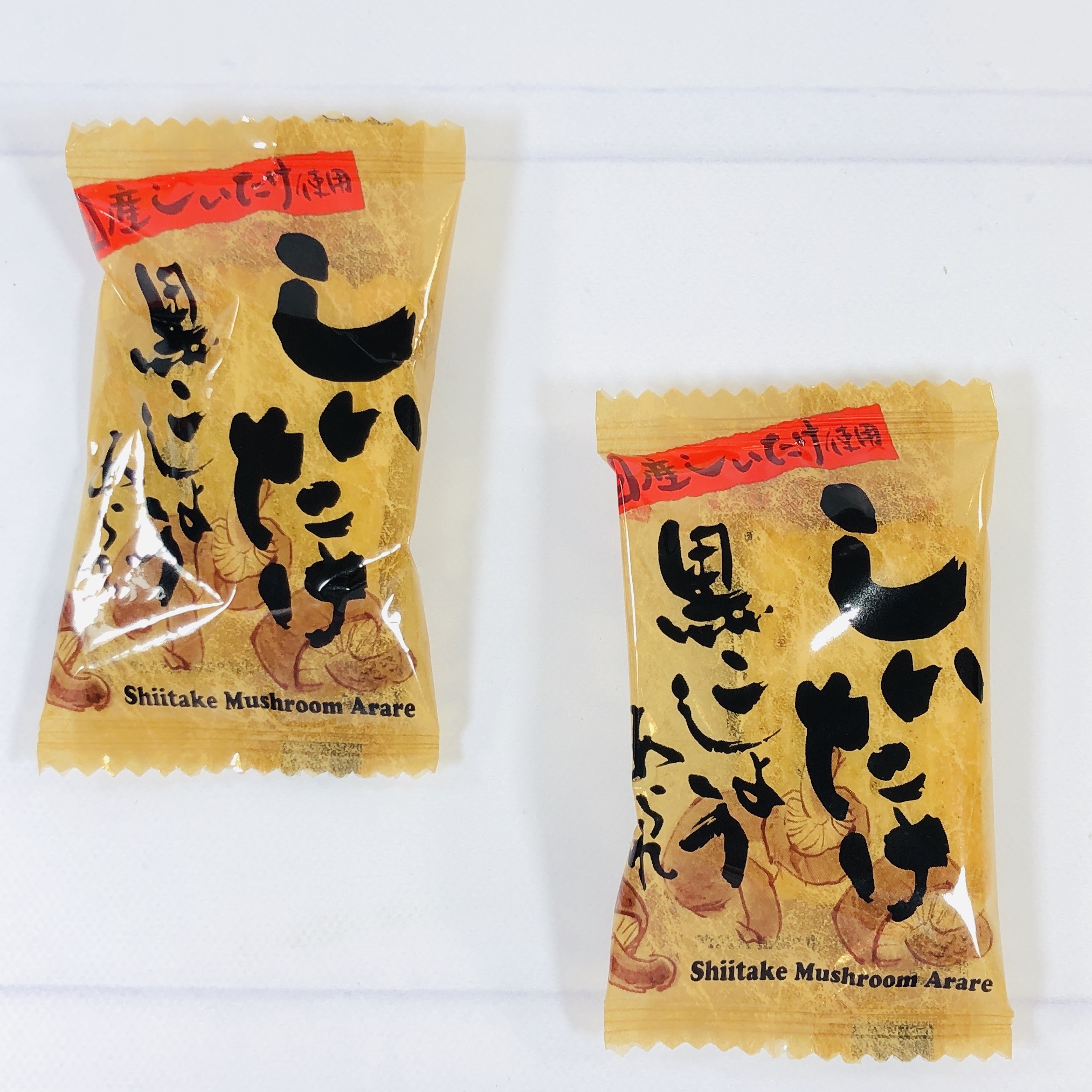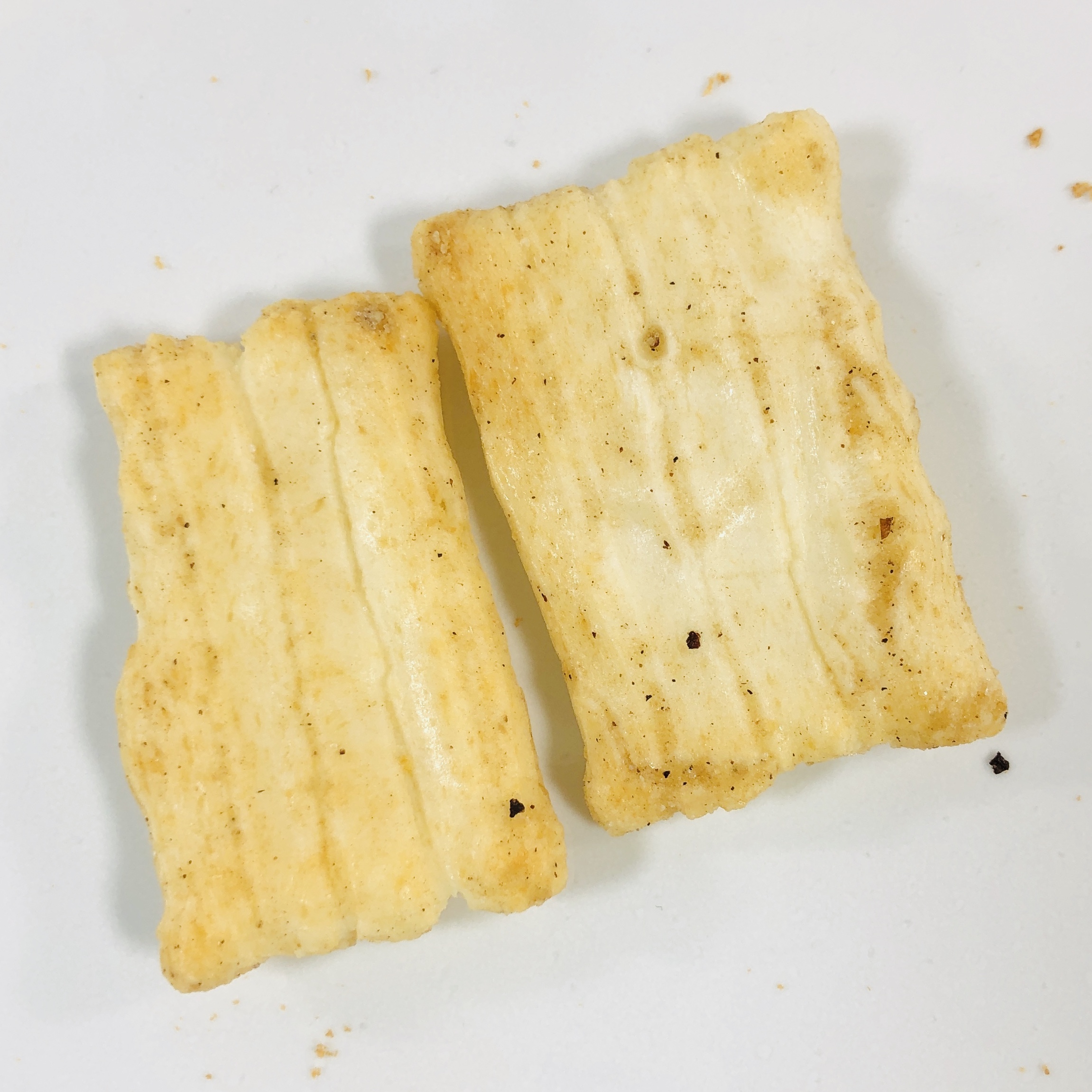 Shiitake Mushroom Arare are peppery rice crackers that have a slightly spicy black pepper and umami flavor, but I don't think it tastes like mushrooms.
Kurumi Walnut Mochi reminds me of Aplets and Cotlets, which my mom would give us at Christmas time. This is a chewy piece of sweet mochi with tiny bits of walnut inside, and a sugary coating on the outside.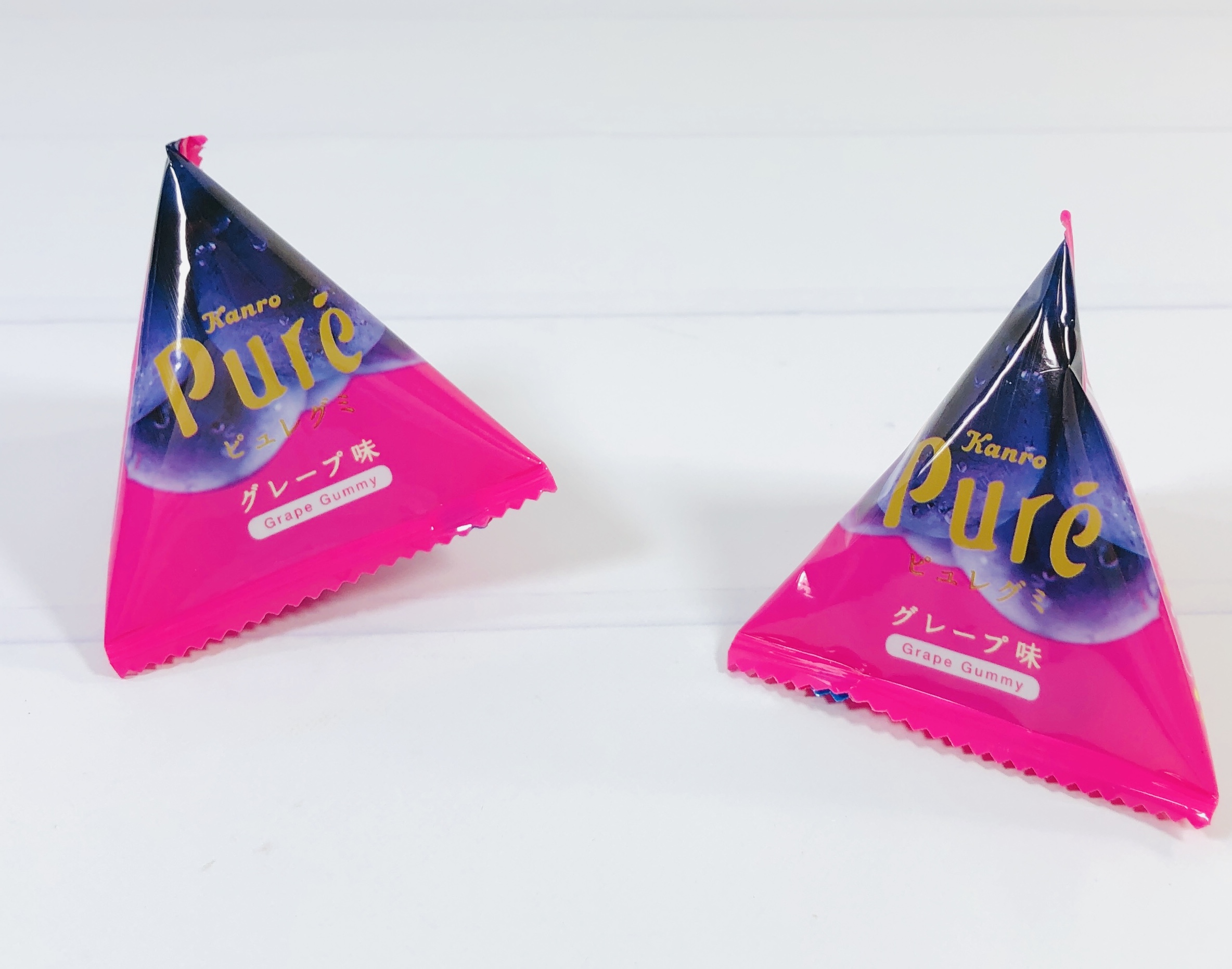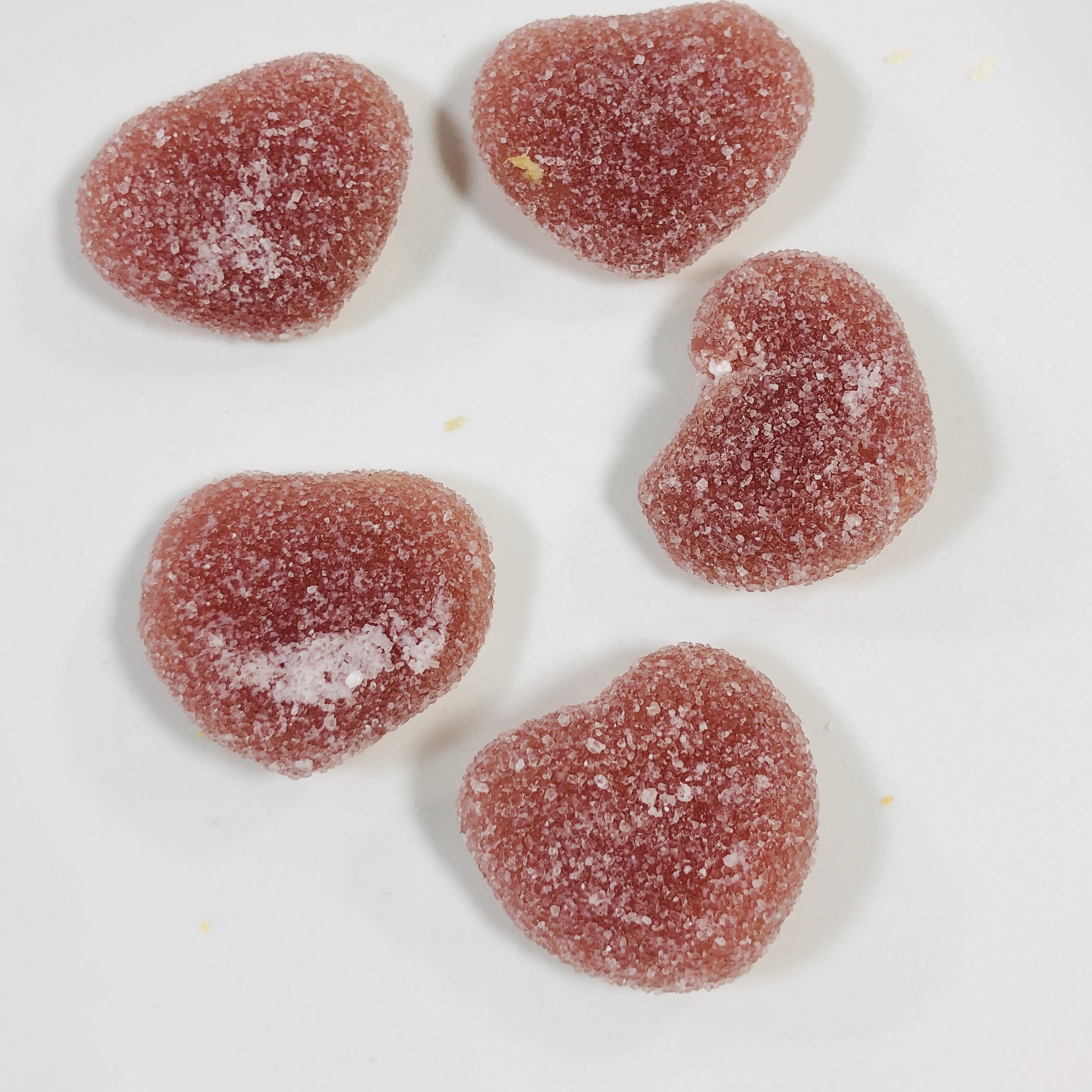 Puré Gummy Petite: Grape My daughter gets all things gummy but I tried one of these soft candies. It is covered with a sour sugar coating and the inside tastes like classic grape soda.
Bokksu is such a fun subscription, plus of course it is tasty too! I love sharing these treats with my family, we all have our favorites. My husband prefers the salty snacks, my daughters prefer the sweet, and I like anything crispy or buttery. The booklet is so pretty to look at and I love reading about Japan and learning about the makers. It's like a mini travel guide and of course the pictures are gorgeous too.
What's your favorite snack from this month's box?