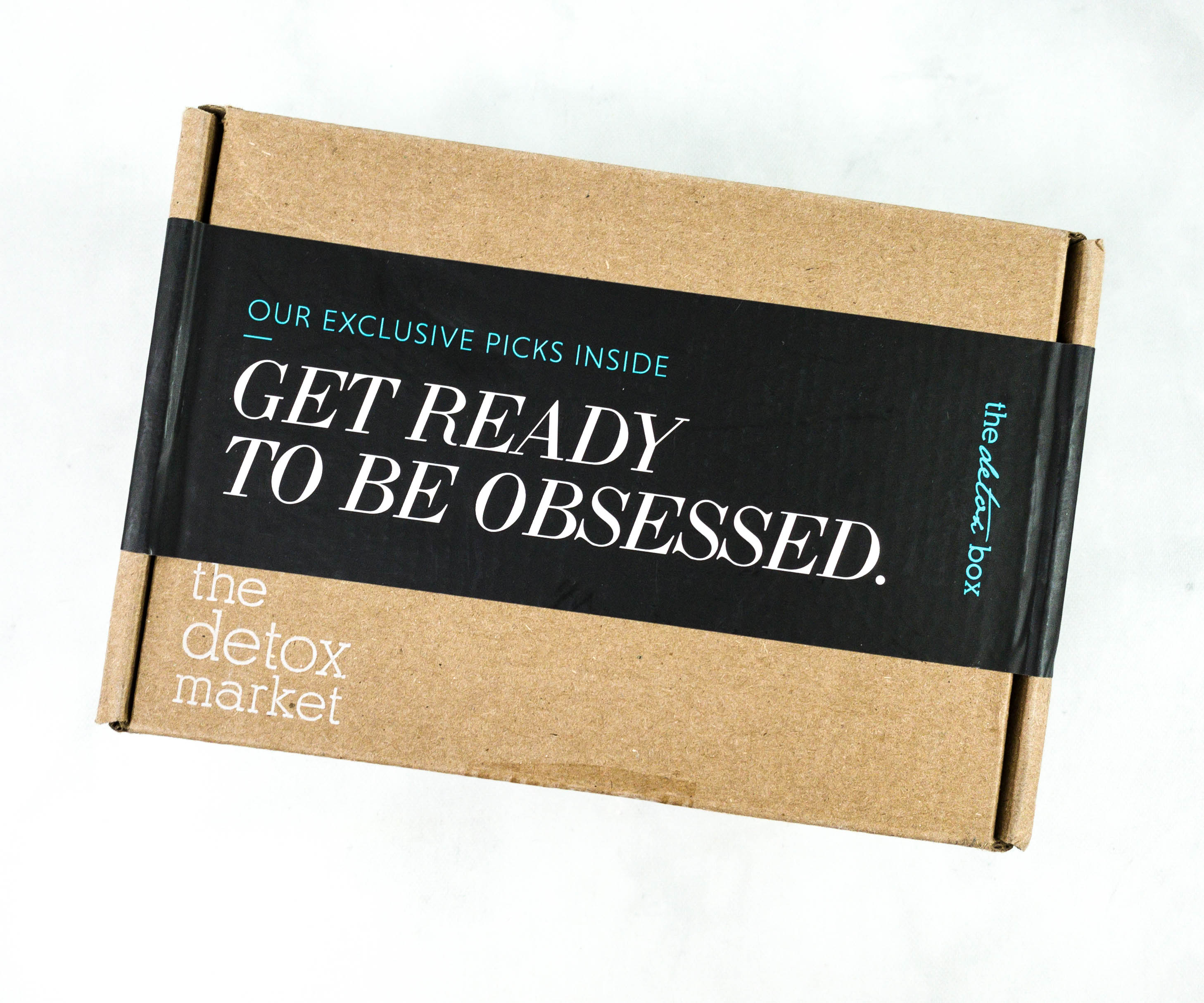 The Detox Box focuses on green and natural beauty. It's a beauty subscription from The Detox Market, with each box featuring one or more green beauty products from the featured brand of the month. They promise at total retail value of at least $90 in every box. A monthly subscription costs $55, with significant monthly discounts if you select a 3-month or a 6-month subscription. On a six-month plan, this box is only $39.95 per month!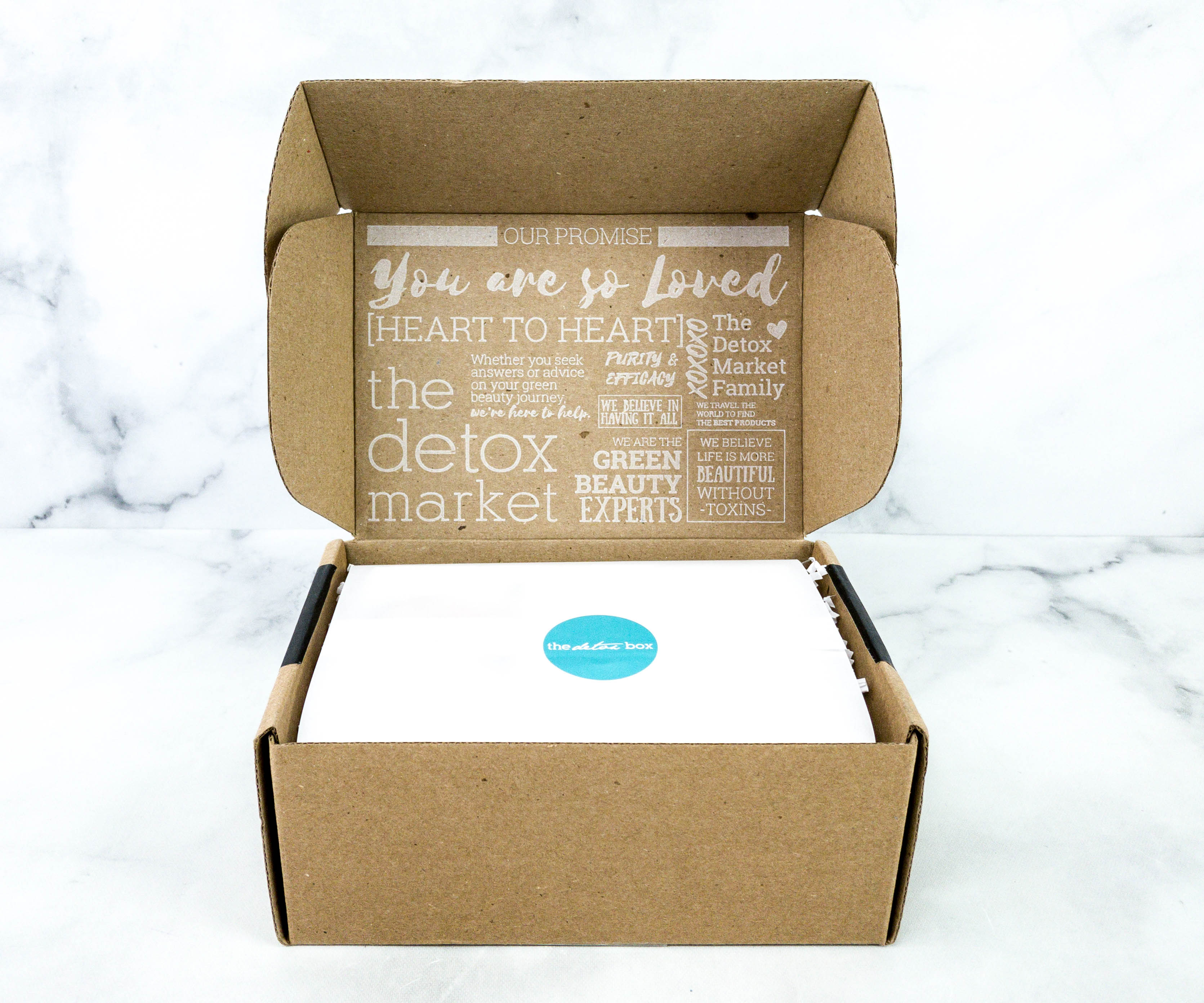 The inner lid of the box includes feel-good messages.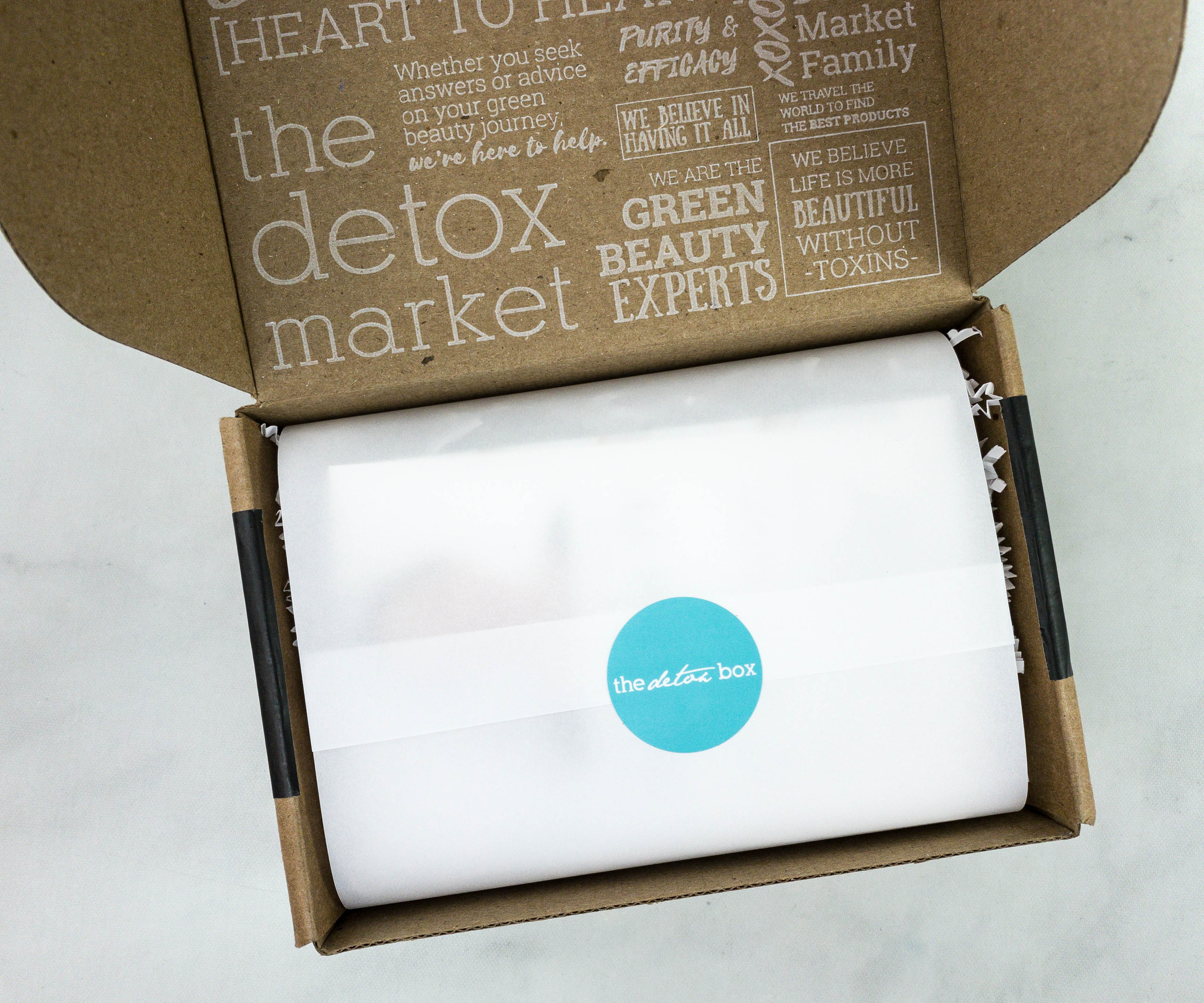 The products were wrapped in white tissue paper, sealed with a sticker.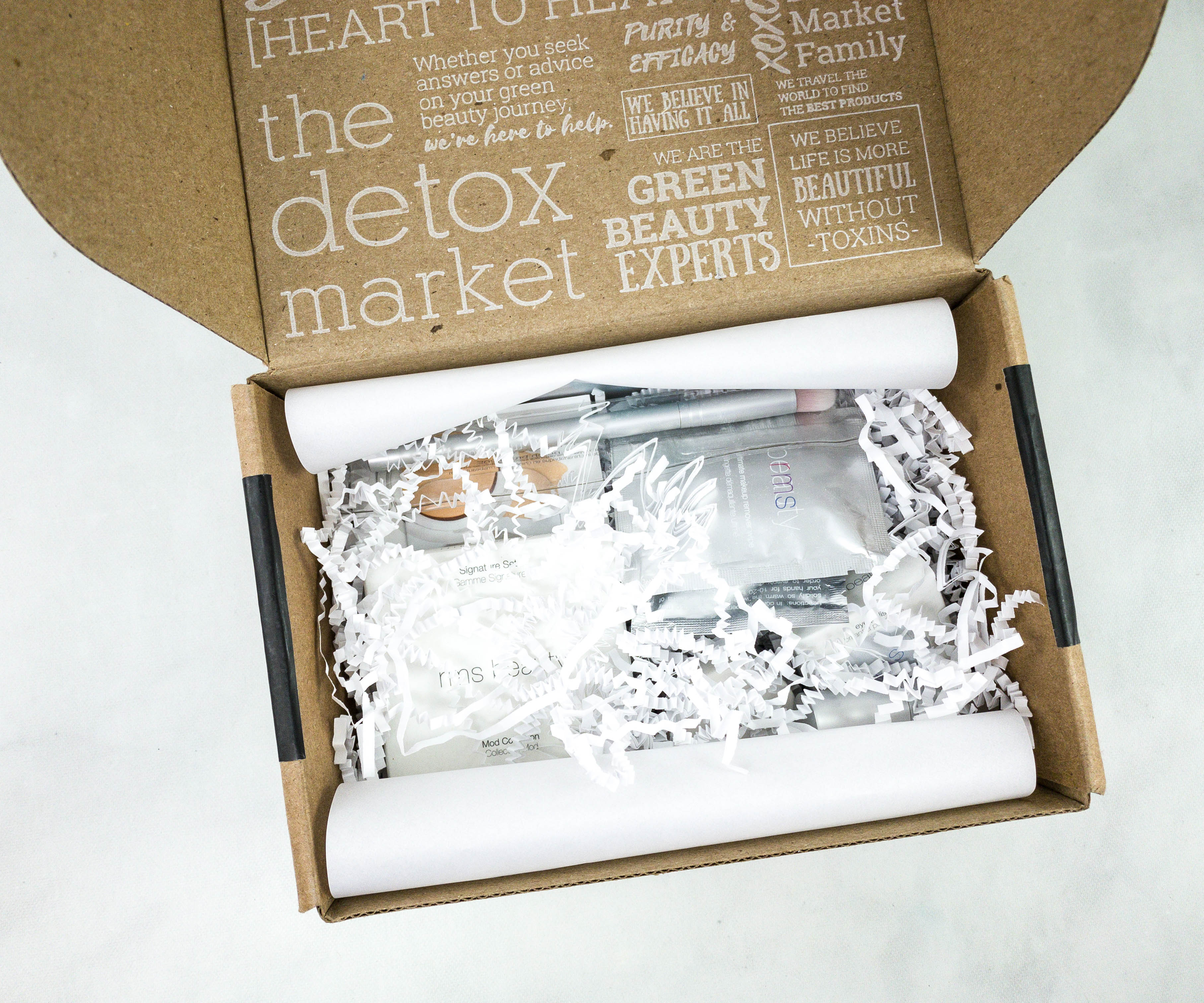 The items were also cushioned with squiggles.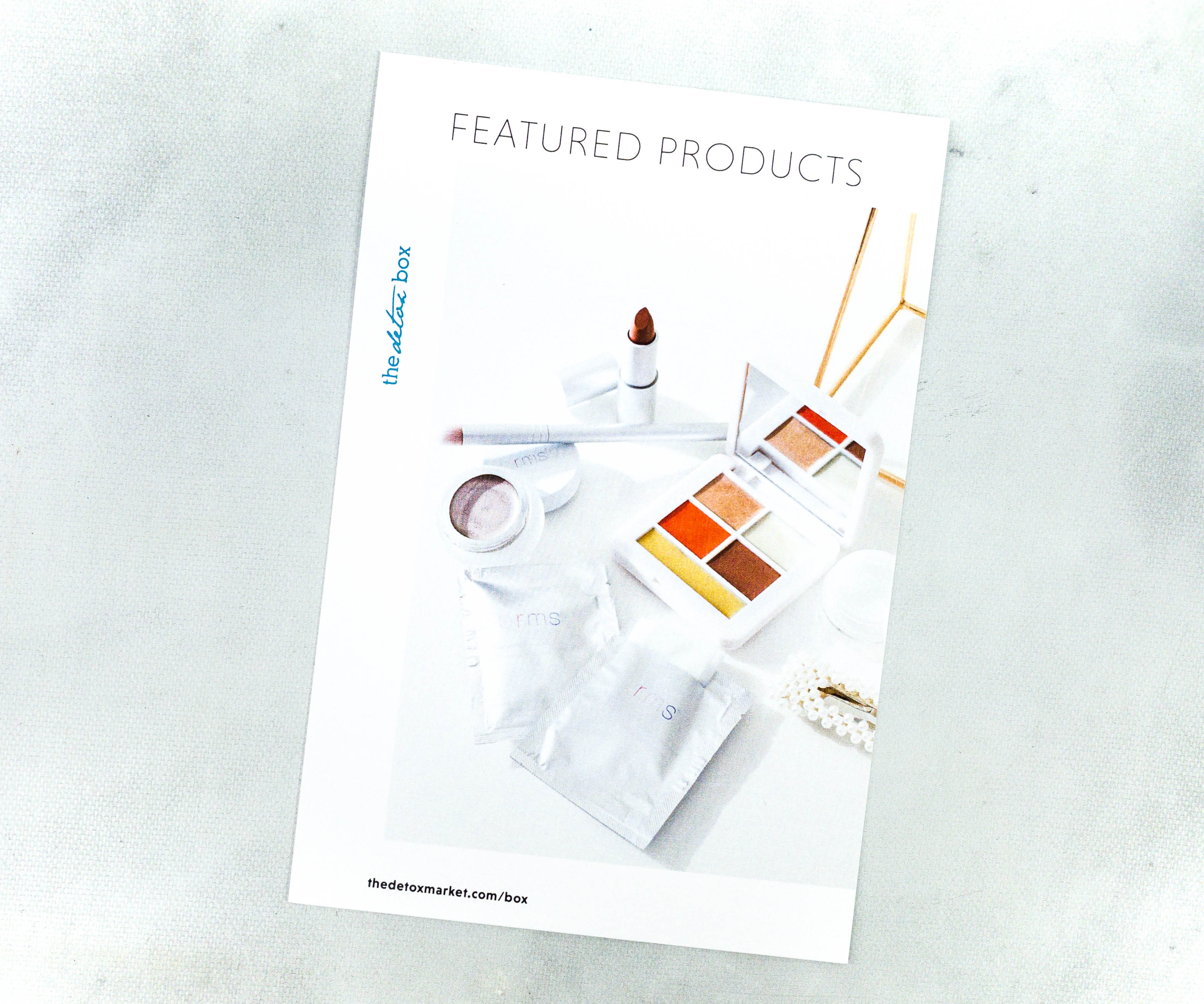 This month's featured brand is RMS Beauty!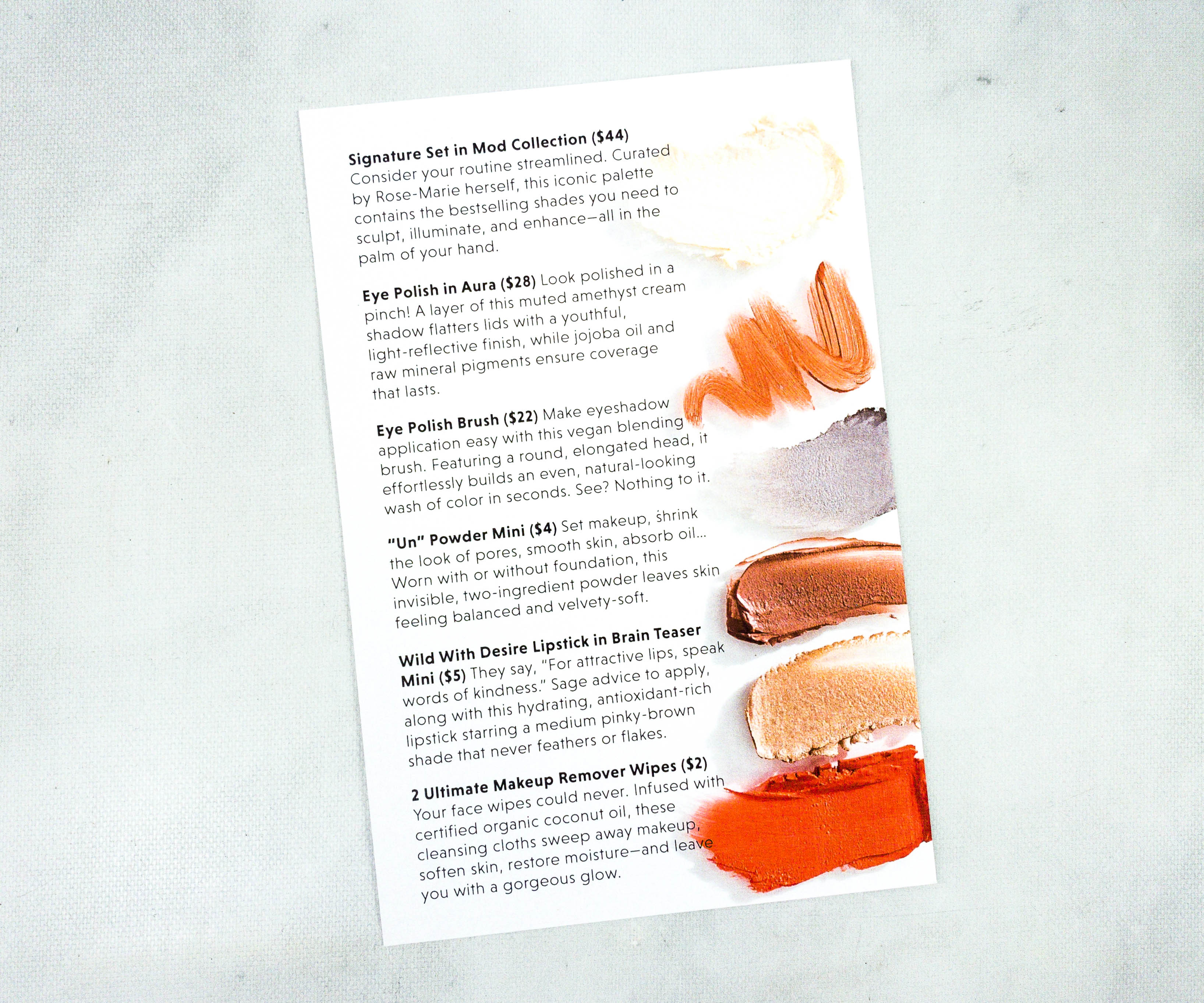 The card features a list of the items in the box plus a short description.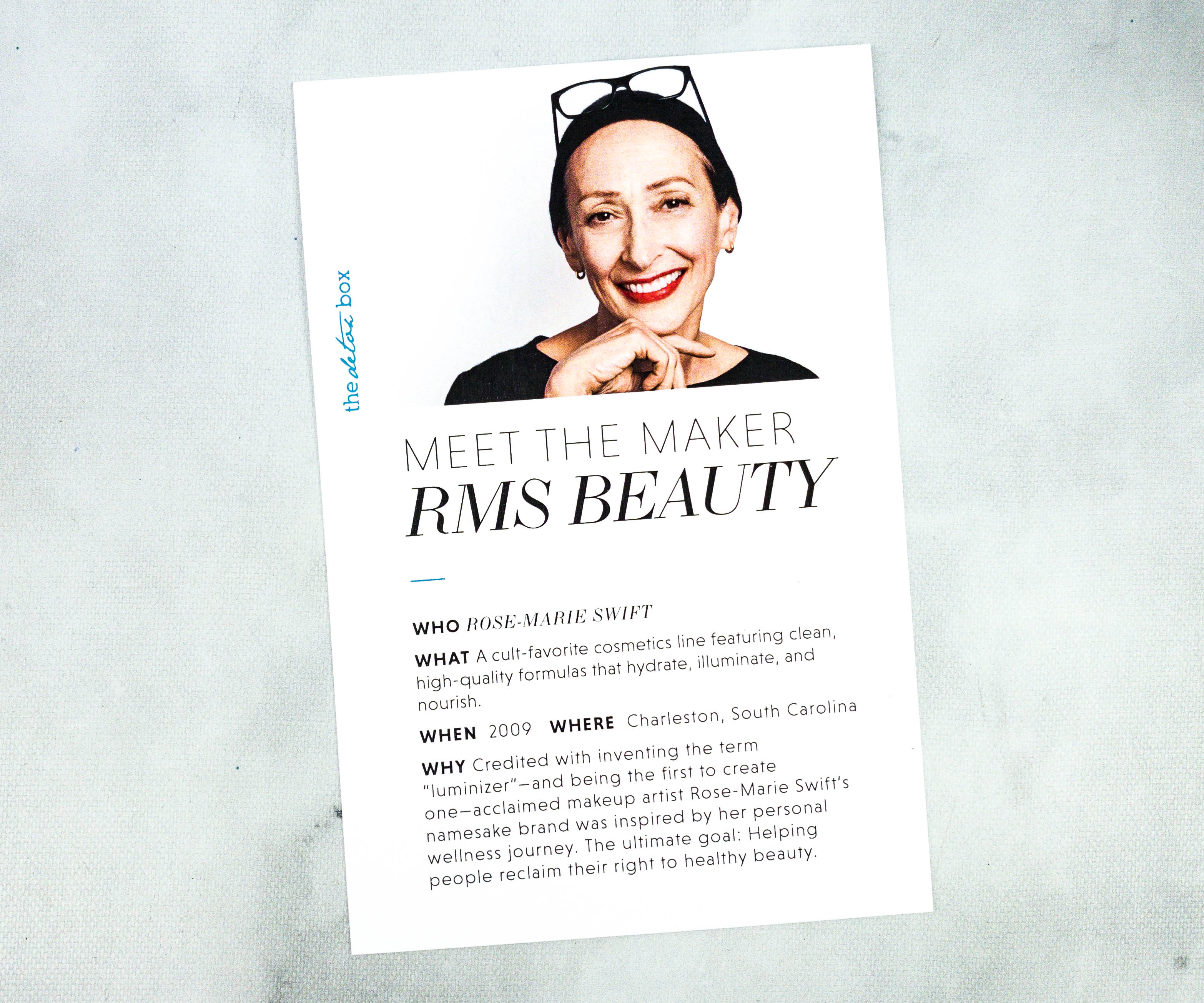 This card introduces us to Rose-Marie Swift, the maker of RMS Beauty!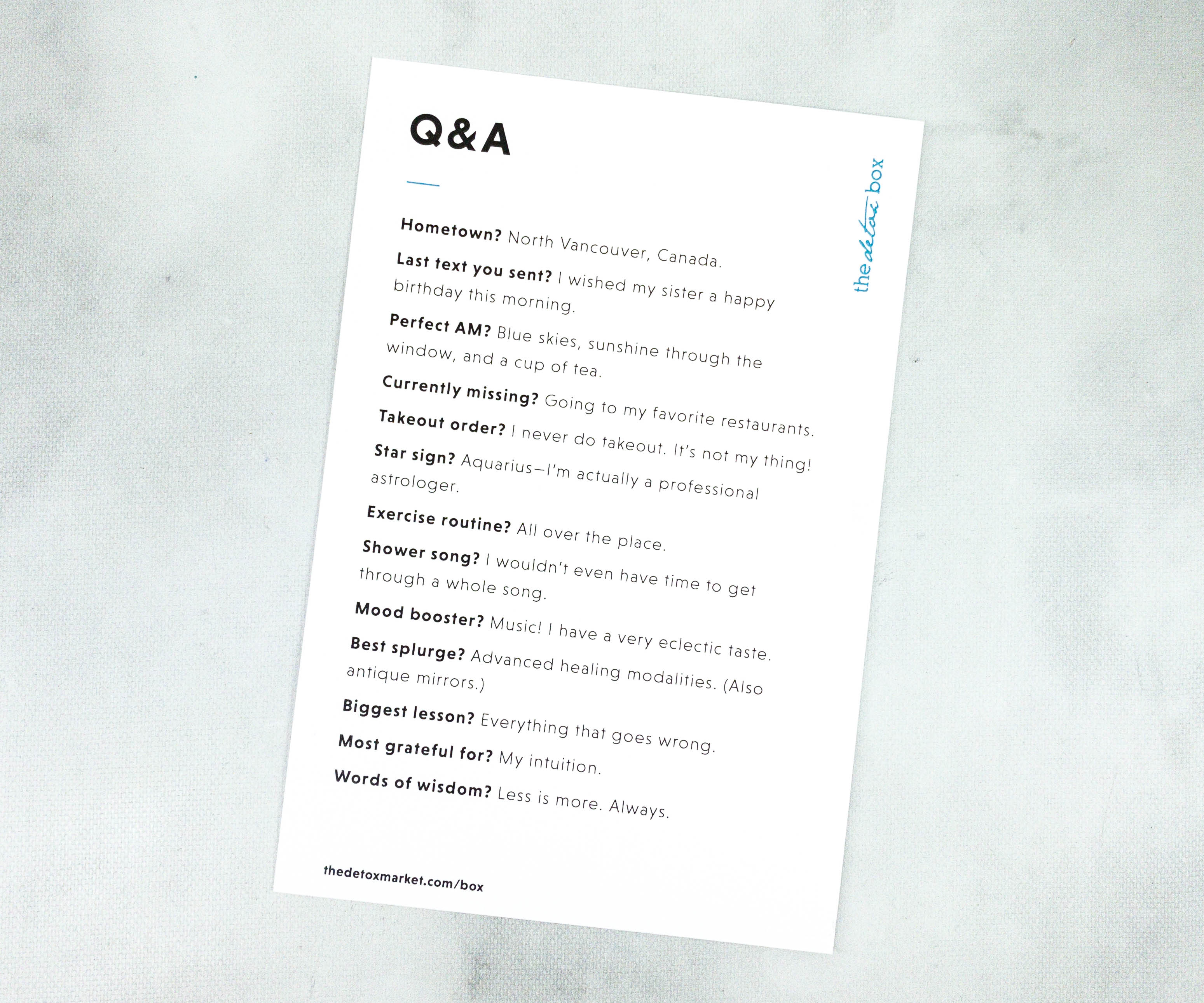 At the back is a Q and A with her!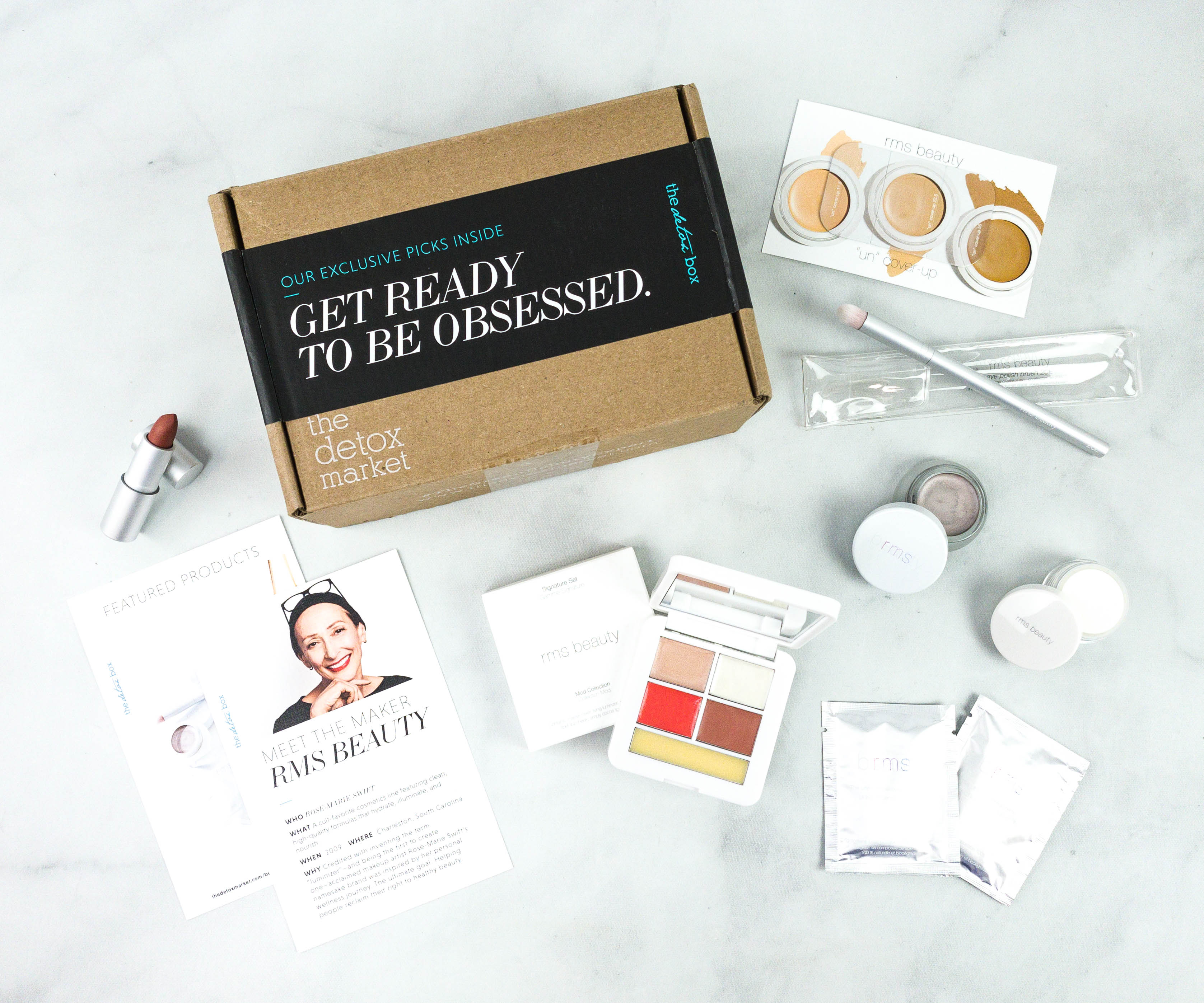 Everything in my box!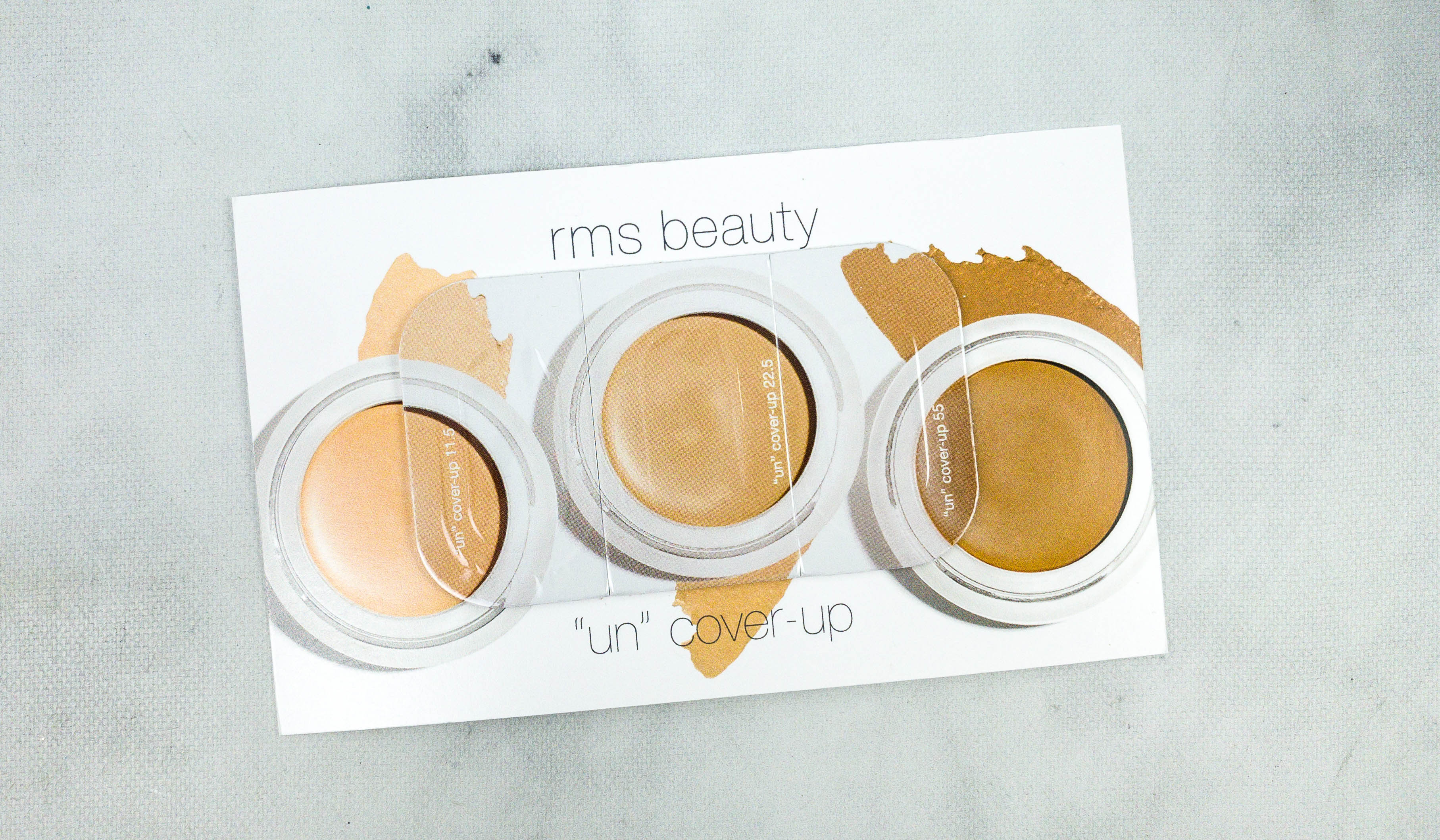 It's a card sampler of the "un" cover-up cream foundation. It contains 3 sample shades for me to try out and it includes shades 11.5, 22.5, and 55. It's a wide range that's great for light to medium skin tones.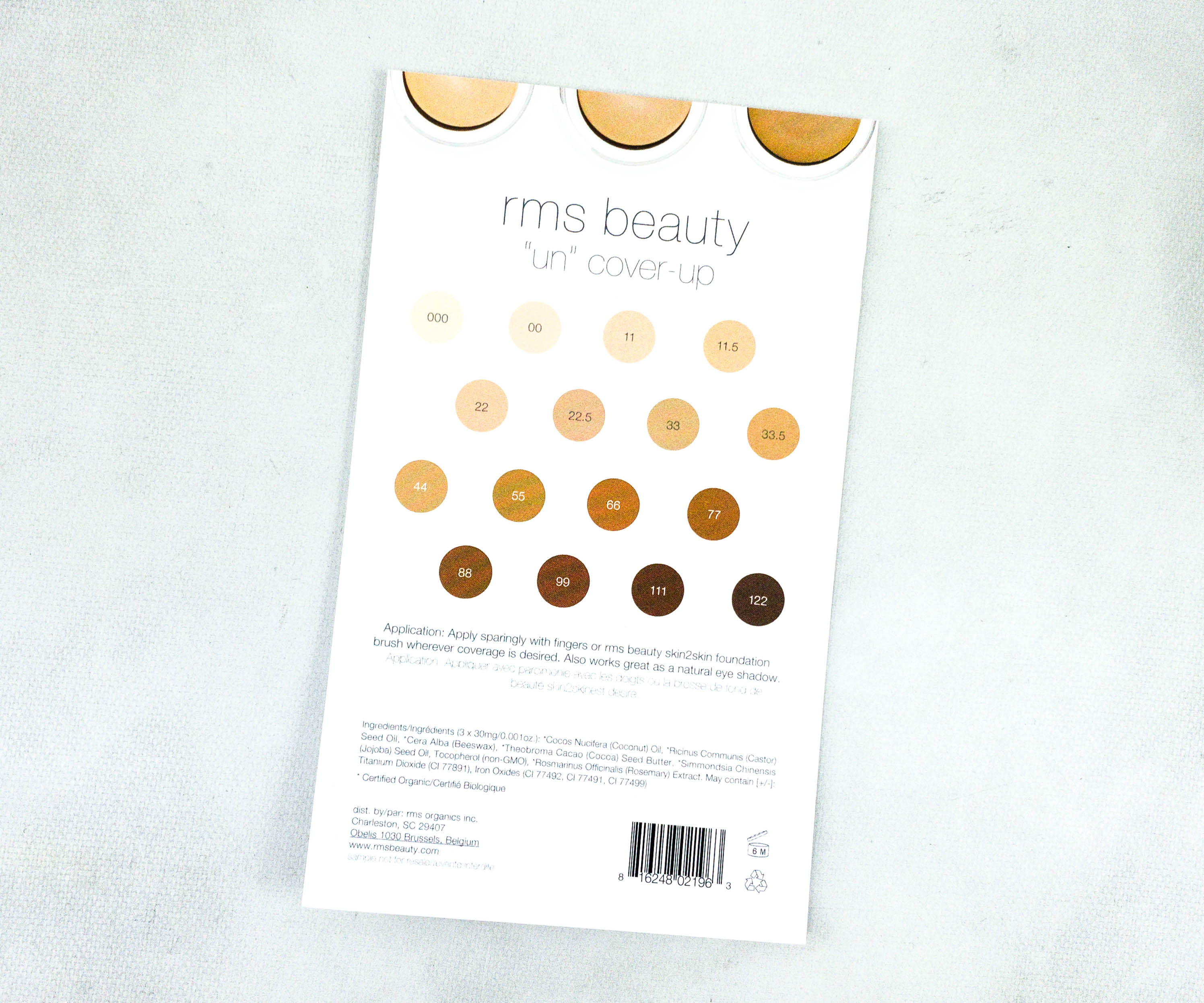 You can see the full shade range at the back of the card for reference!
RMS Beauty Signature Set in Mod Collection ($44) The multi-use palette came in a sleek, travel-friendly packaging. It includes two creamy highlighters, a lip and cheek combo, and a lip and skin balm!
What's great is that they used organic coconut oil and jojoba oil to keep your skin moisturized even with makeup on. I love that it's so skin-friendly!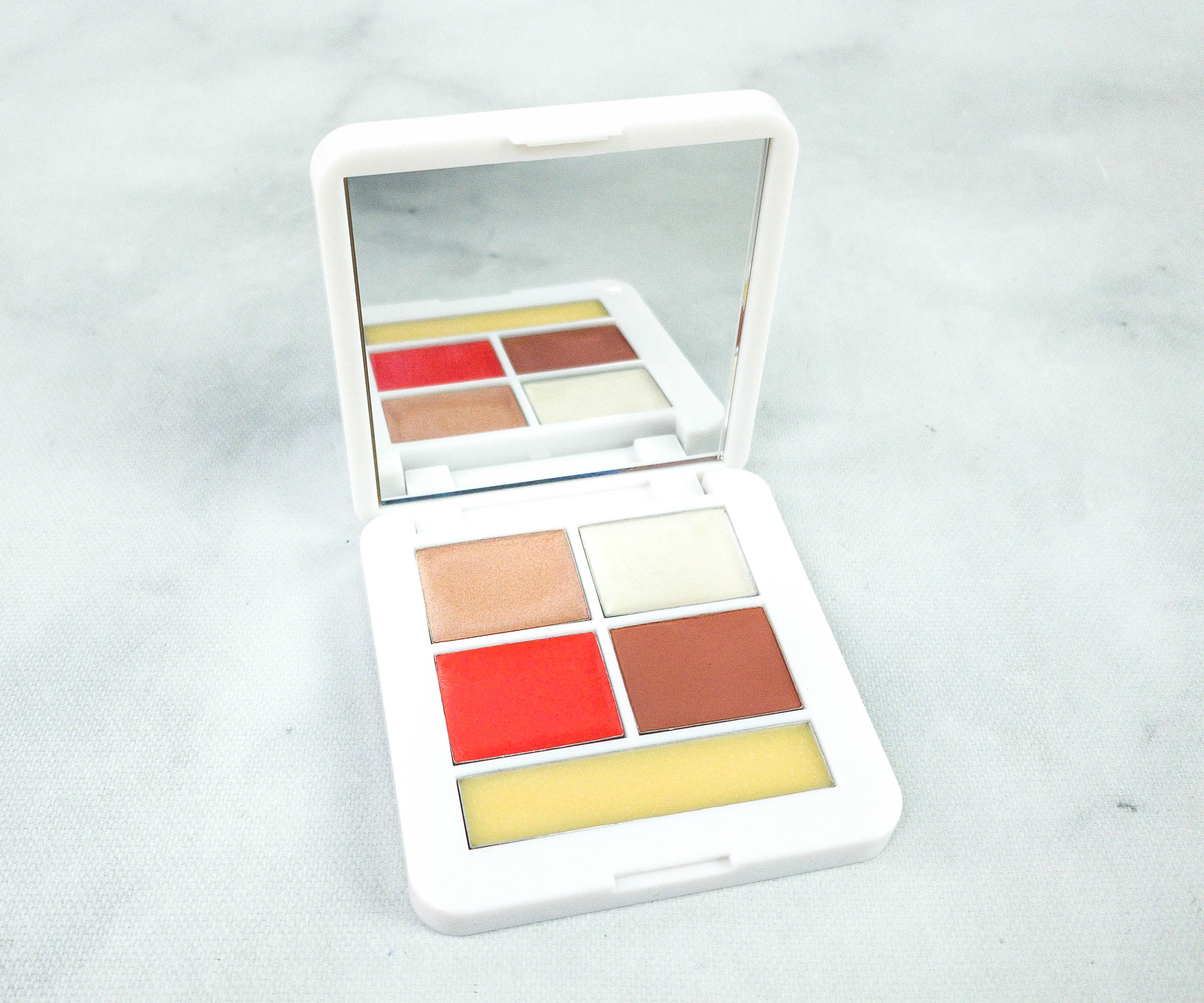 The palette came with its own mirror for easy touch-ups.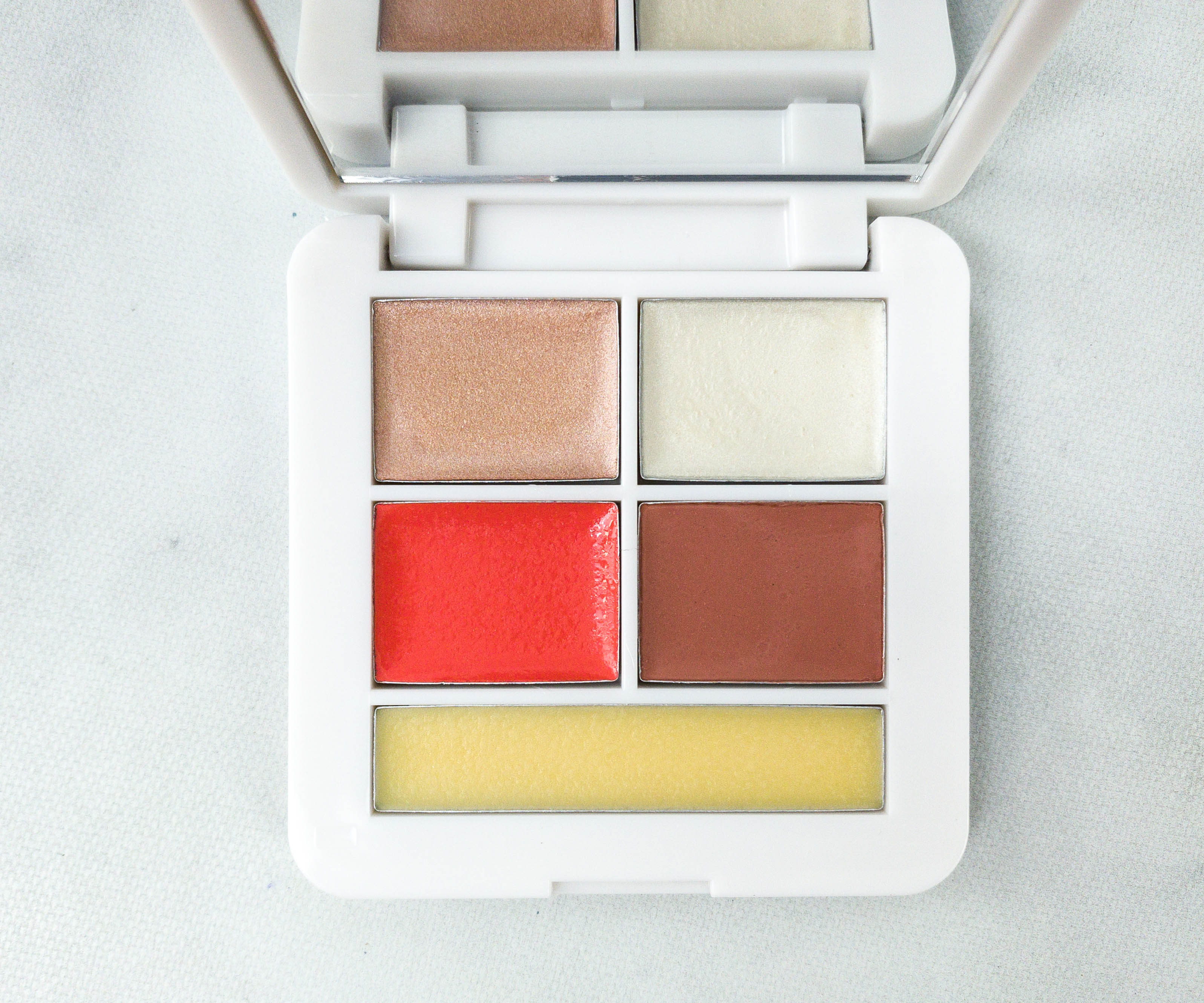 This is really the perfect palette when you're on the go because it's so easy to use and you can even apply it with your fingers (just make sure your hands are clean). You can use the colors as it is or you can even mix and match them to create more looks The lip & skin balm makes sure that your skin and lips stay hydrated so the application will always be easy and flawless!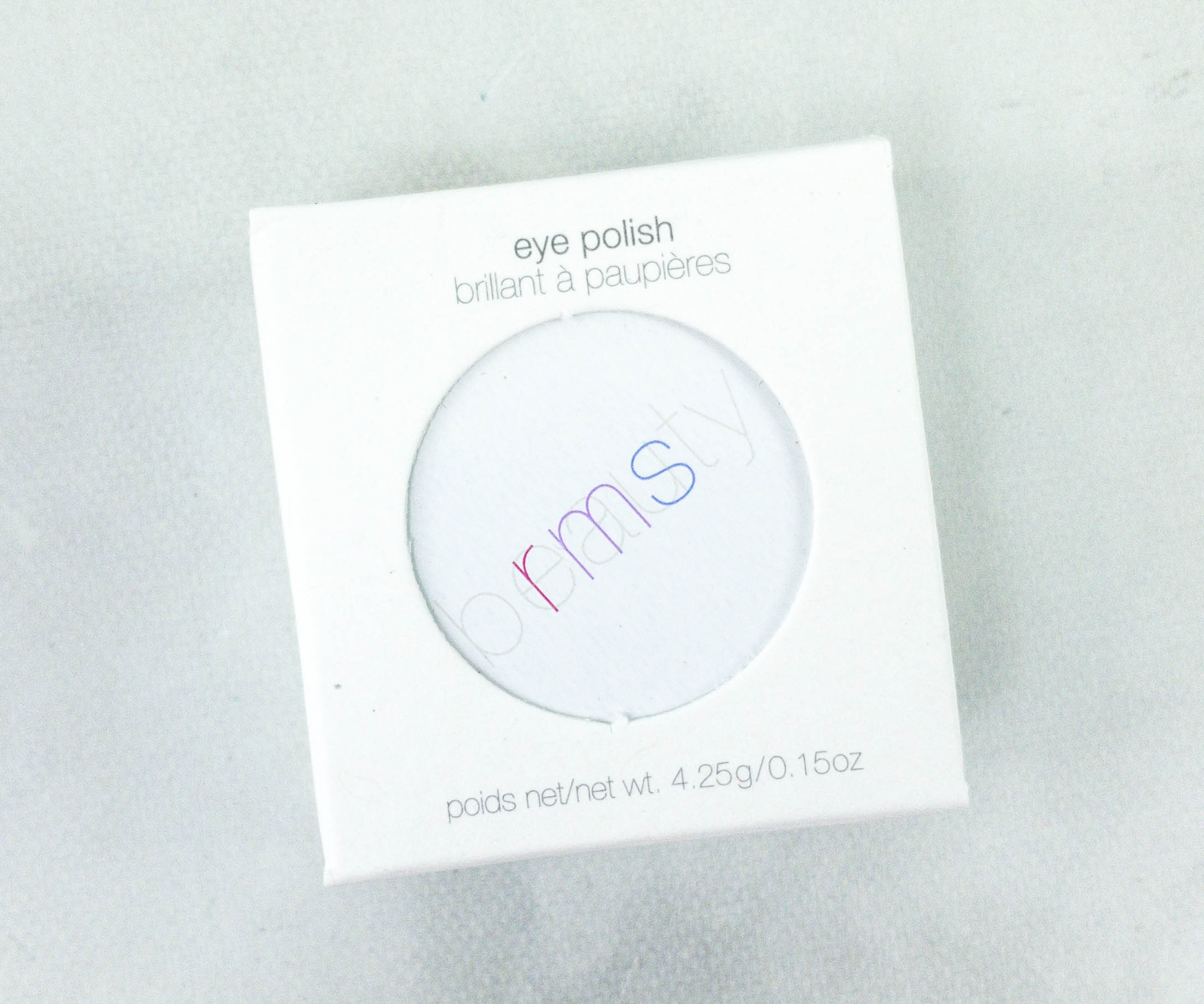 RMS Beauty Eye Polish in Aura ($19.60) This eye polish is actually an eyeshadow with a light-reflecting quality. It looks flattering on the eyes!
Another thing I love about this is that it has a natural oil base so, unlike regular eyeshadows, it's not drying and it's gentle on the delicate skin on the eye area.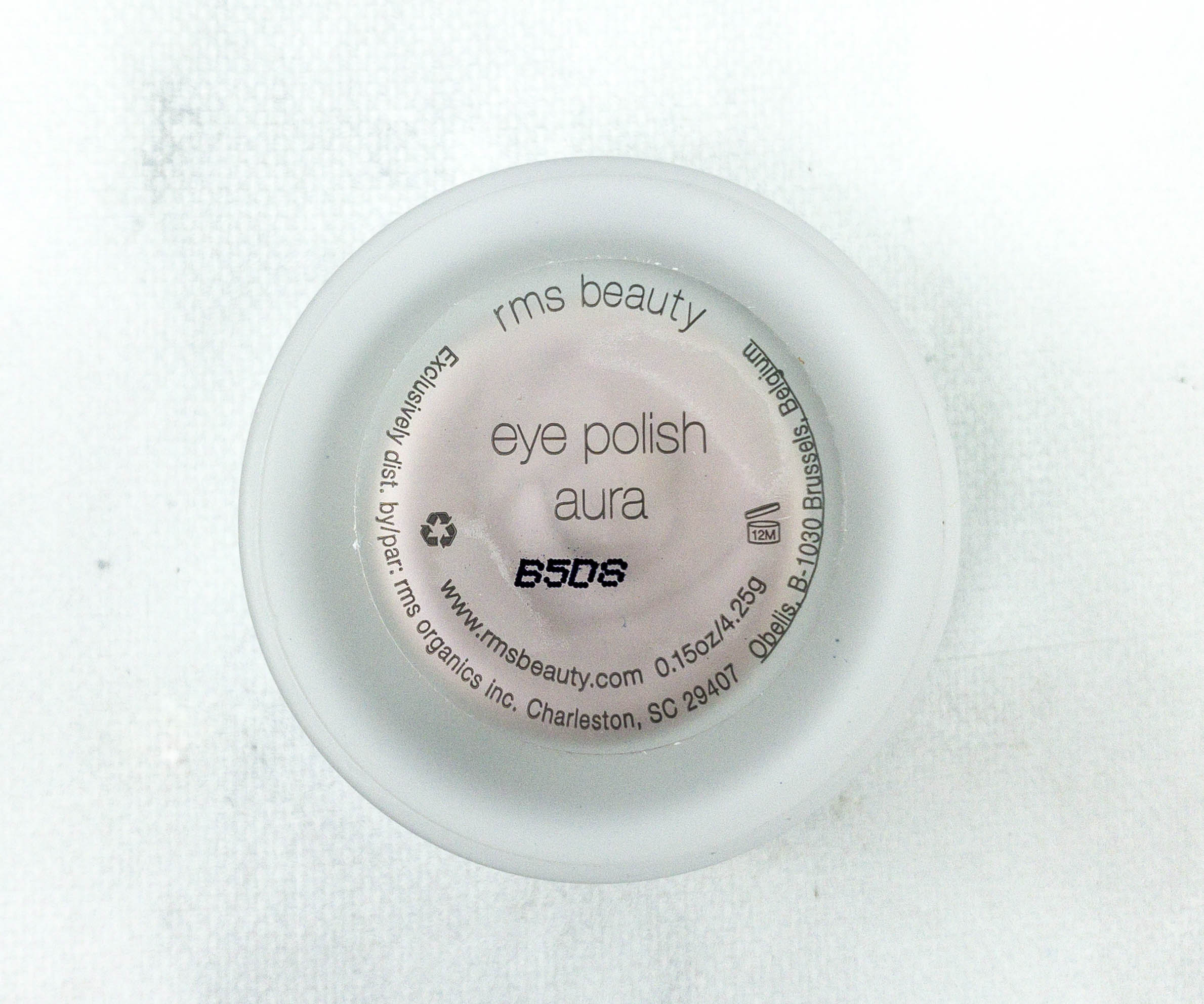 I received the shade Aura, a lovely rose-quartz pink. It's light and playful and it has that slight shimmer to it.
I like the tub screw cap packaging because it's easy and convenient to use.
This will be great when worn as is! The formula is really easy to blend but it's not as pigmented as I would like it to be. I'm finding it a bit hard to build up the intensity so I guess this will work well for subtle looks.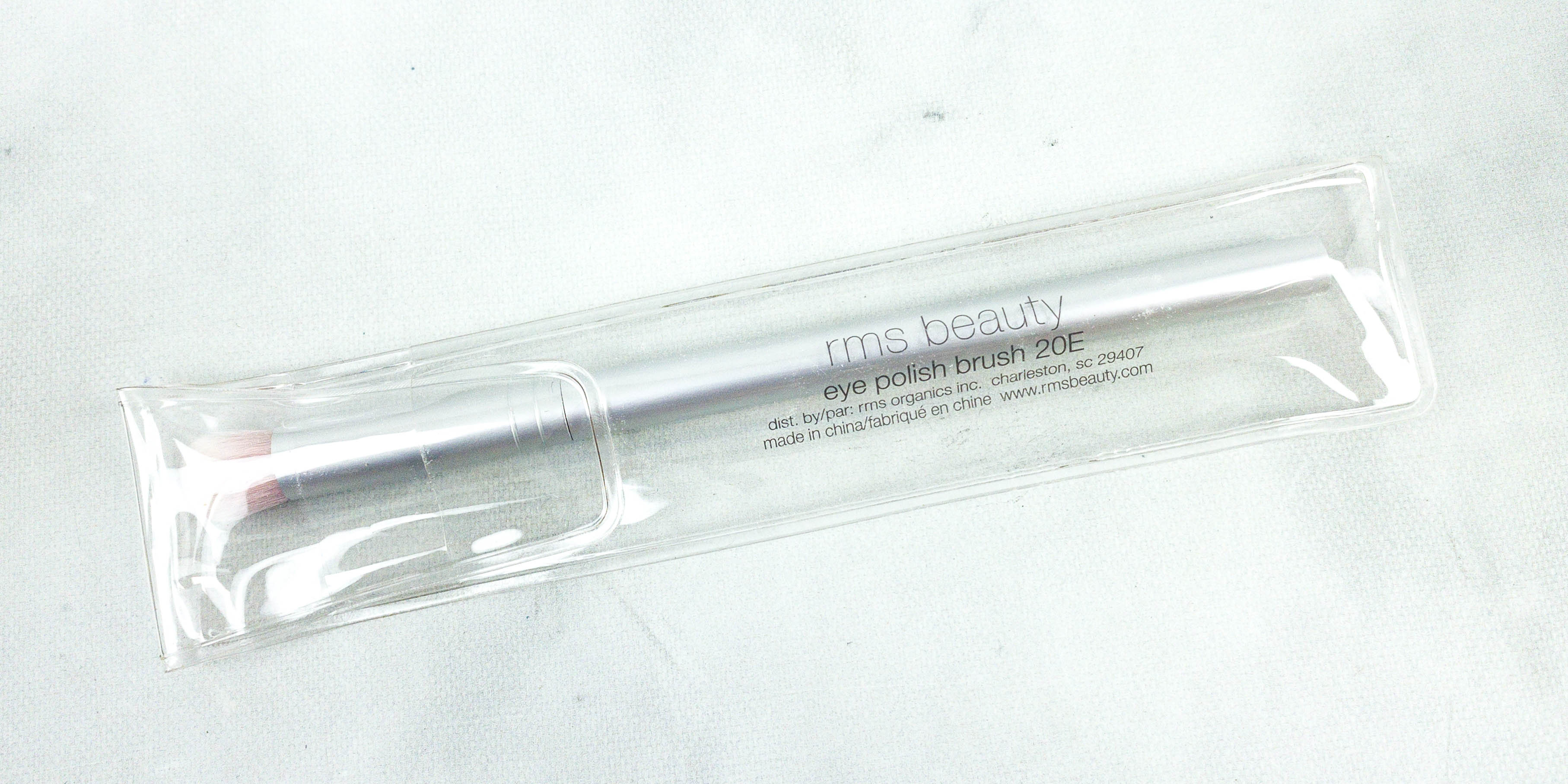 RMS Beauty Eye Polish Brush ($22) To use with the eye polish is this brush. It comes with its own plastic pouch!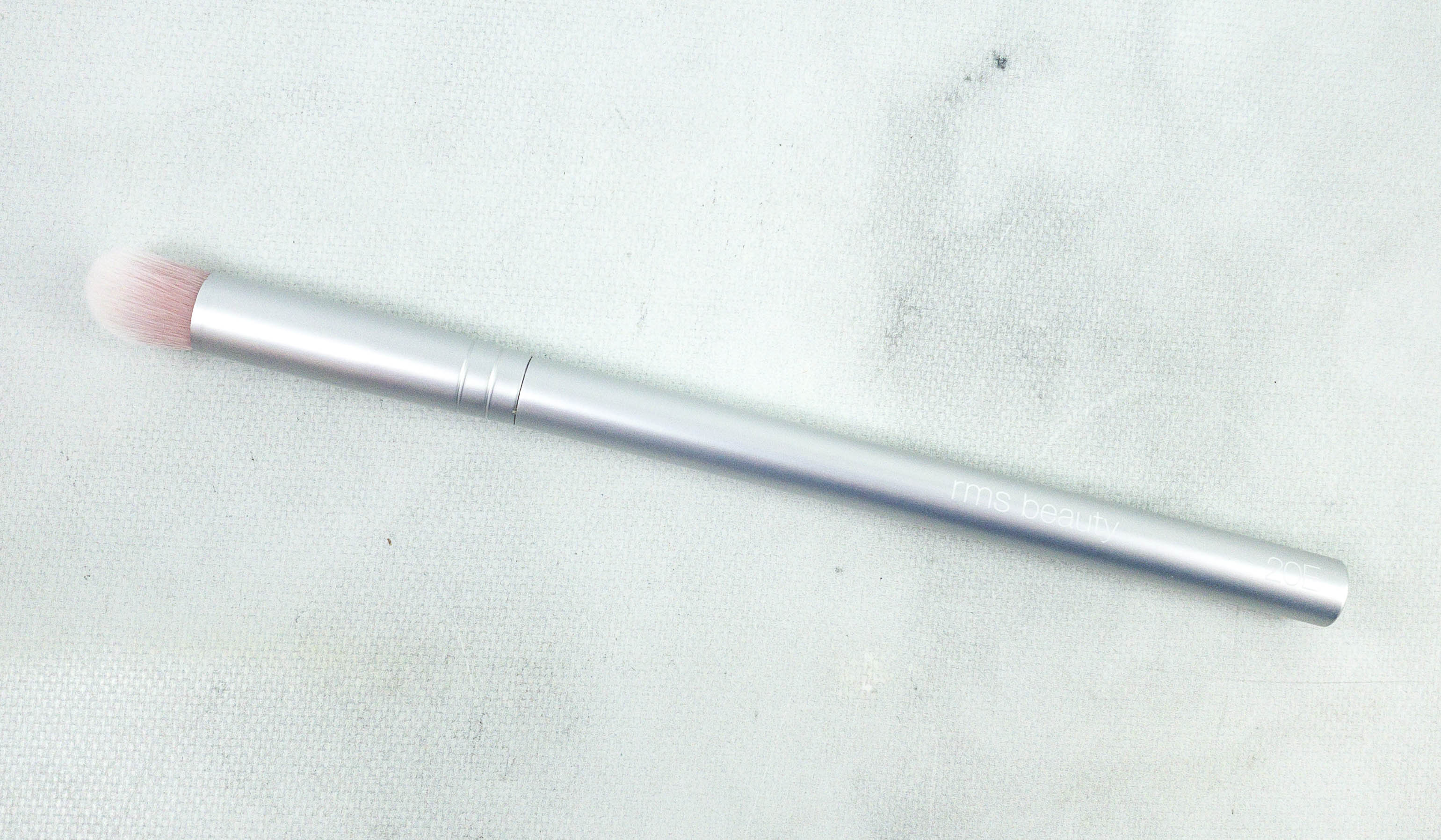 I love the aesthetic of the brush. It has a metallic-matte silver handle!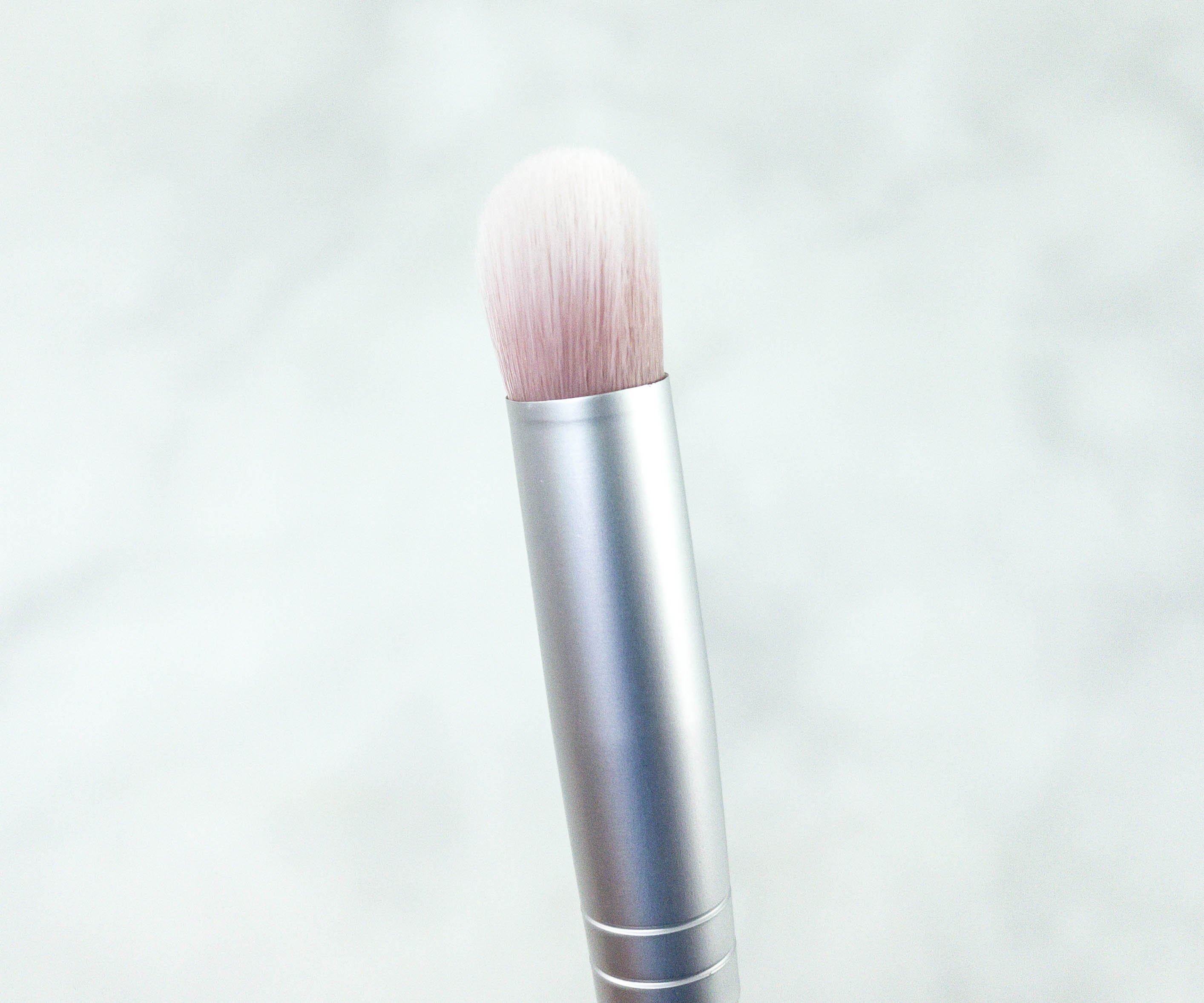 The bristles are super soft and I think this will be perfect to use with cream-based products!
RMS Beauty Mini Wild With Desire Lipstick in Brain Teaser ($28) To complete the look, here's a lipstick in the shade Brain Teaser!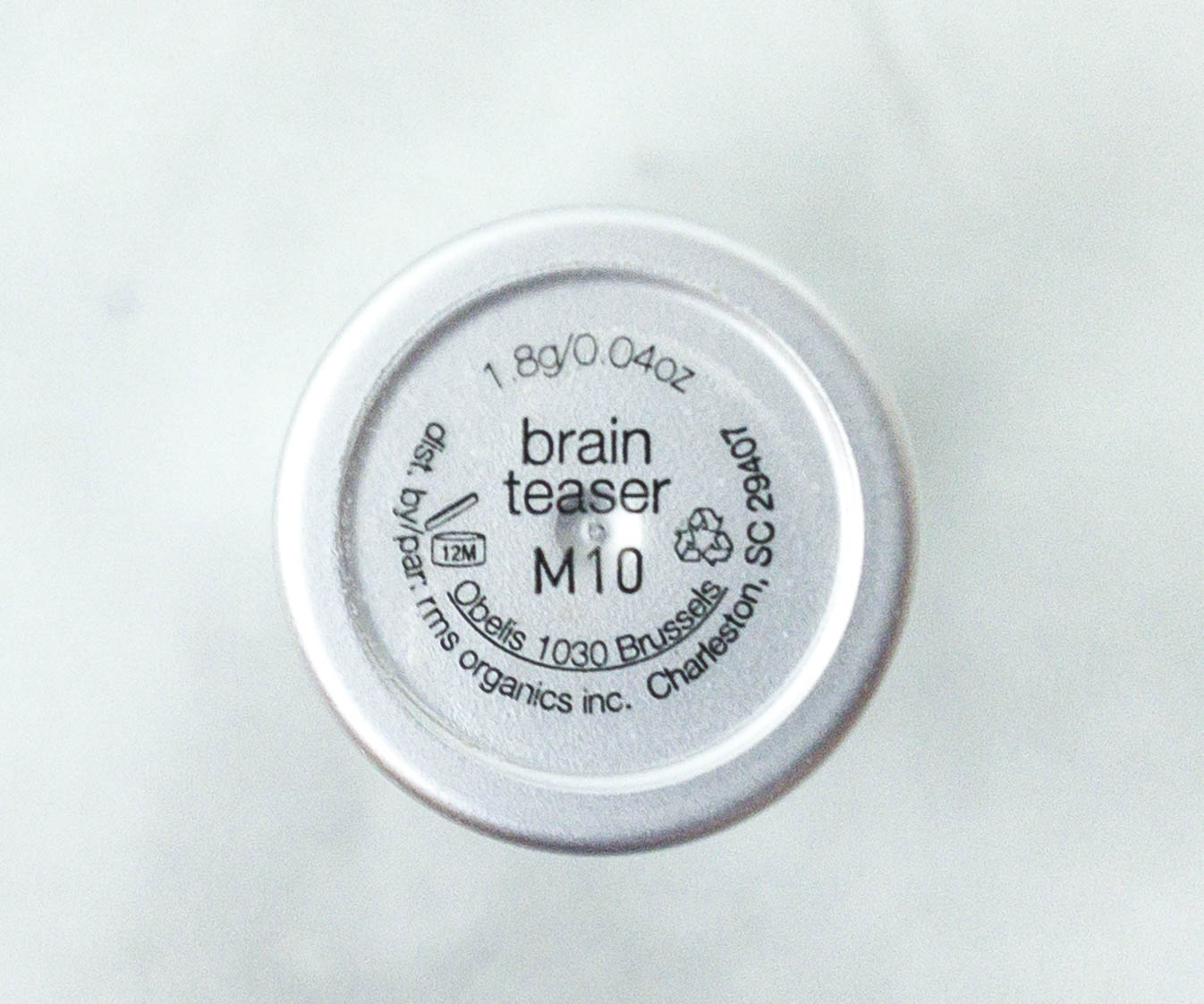 It's a lovely mauve shade that is perfect for fall. I like the creamy formula, it's easy to apply and it glides on smoothly on my lips. I love the pigmentation of this product because I can easily achieve the full opacity of the color in just a couple of swipes!
RMS Beauty Mini "Un" Powder ($36) They even included a setting powder to make sure my make-up stays in place and looks good for a longer period of time!
Their setting powder is translucent. I love that it takes away the shine on my face in the middle of the day and refreshes my make-up. You can also use this as it is without any make-up underneath and it will help in making the skin look clearer and in blurring the appearance of pores!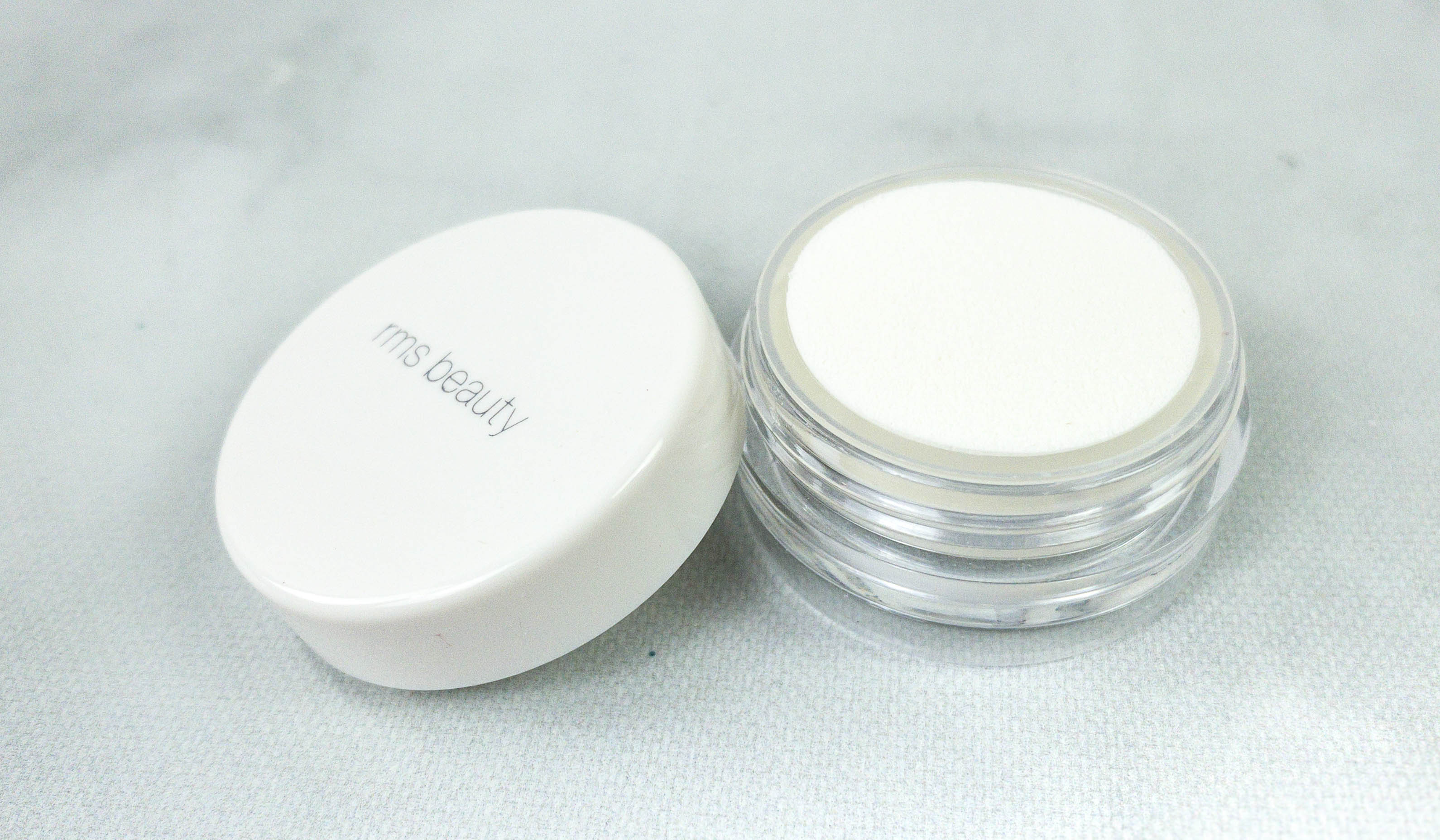 The product came with its own puff which works really great when you're "baking" and setting the t-zone and under-eye areas but I personally like to use a big and fluffy powder brush when applying it on my bare face!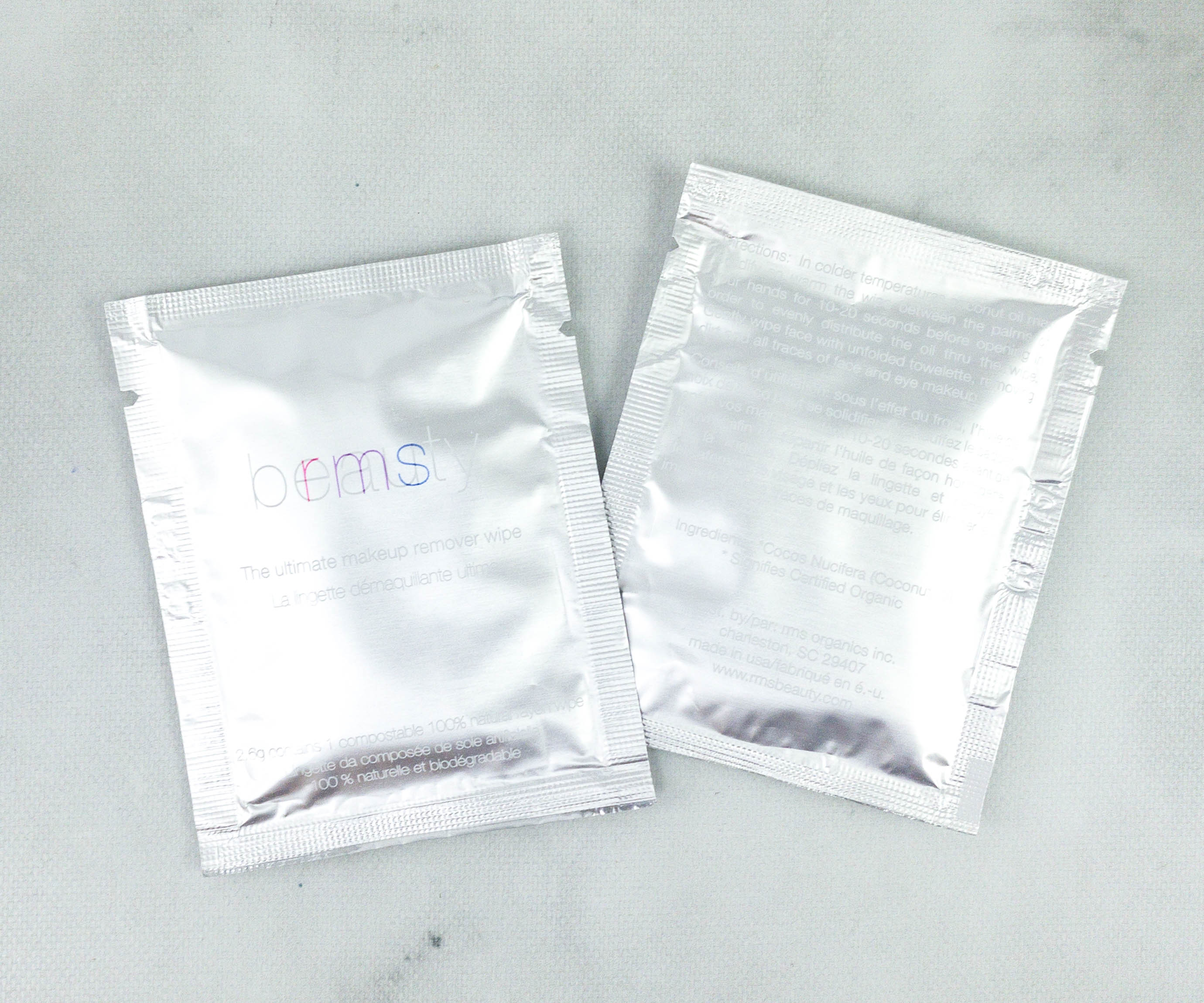 RMS Beauty 2 Ultimate Makeup Remover Wipes ($2) Lastly, here are make-up removing wipes! I'm so happy I received two individually packed pieces. This way, I can make sure that the wipes don't dry out and I only use what I need. These are also travel-friendly. Each wipe is infused with organic coconut oil that helps melt the make-up while soothing and moisturizing the skin!
I usually receive skincare products from this subscription but this time they focused on makeup, and I'm not complaining since everything is skin-friendly. I love that RMS Beauty uses natural oils in their products to keep them hydrating and nourishing. The box even includes a brush to help me apply makeup effortlessly, plus two packs of wipes that remove makeup without stripping the skin of moisture. My favorite item in the curation is the lipstick because it's comfortable to wear and it's well pigmented. The shade is also perfect for the season. All in all, this was a wonderful box that gives value for money! I'm happy to get all of these skin-friendly makeup products for a fraction of the price!
What do you think of this month's featured products?