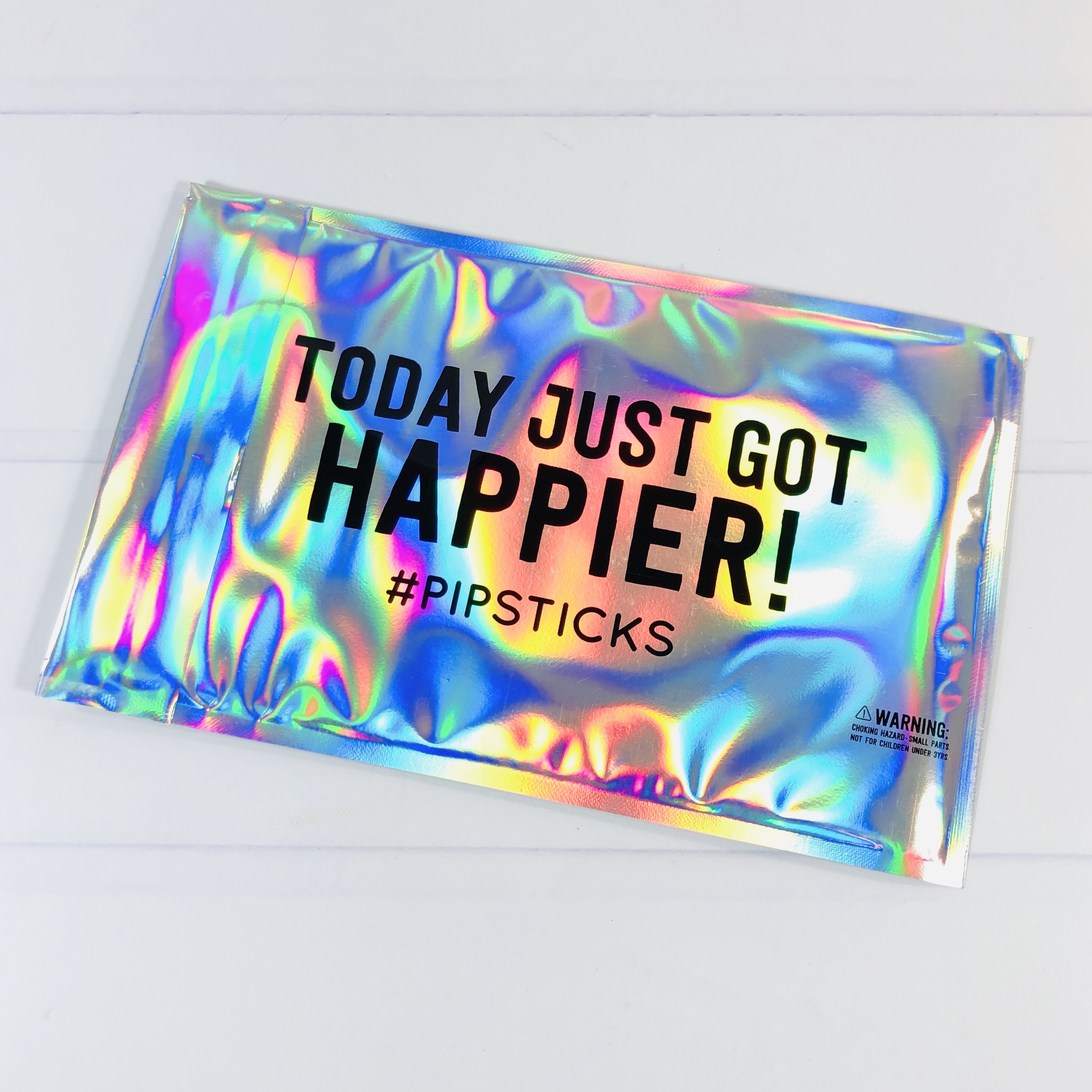 Pipsticks is a monthly sticker subscription that sends new designs from their collection in a super shiny holographic pack every month! The stickers come in a reusable sparkly pouch and include sticker sheets, paper products, and Zippy, an exclusive sticker magazine. You also get 5% savings in the online store, and more. You can choose to get stickers for adults (Pro Club) or kids (Kids Club). Both clubs come in Classic (15 sheets for $17.95 a month) or Petite (7 sheets for $11.95 a month). Shipping is free to the U.S., and Pipsticks can even be shipped worldwide for a fee.
C'mon. Who doesn't love stickers? Any stationery lover, crafter or pen pal knows the true magic of these little guys. Stickers motivate, inspire, entertain and delight with unmatched simplicity.

The Pro sticker pack (Adult Pack) is perfect for scrapbookers, snail mailers, planners and sticker lovers from the age of about 10-13 and up.
DEAL: save $5 on your subscription! Use coupon code FRIENDSROCK.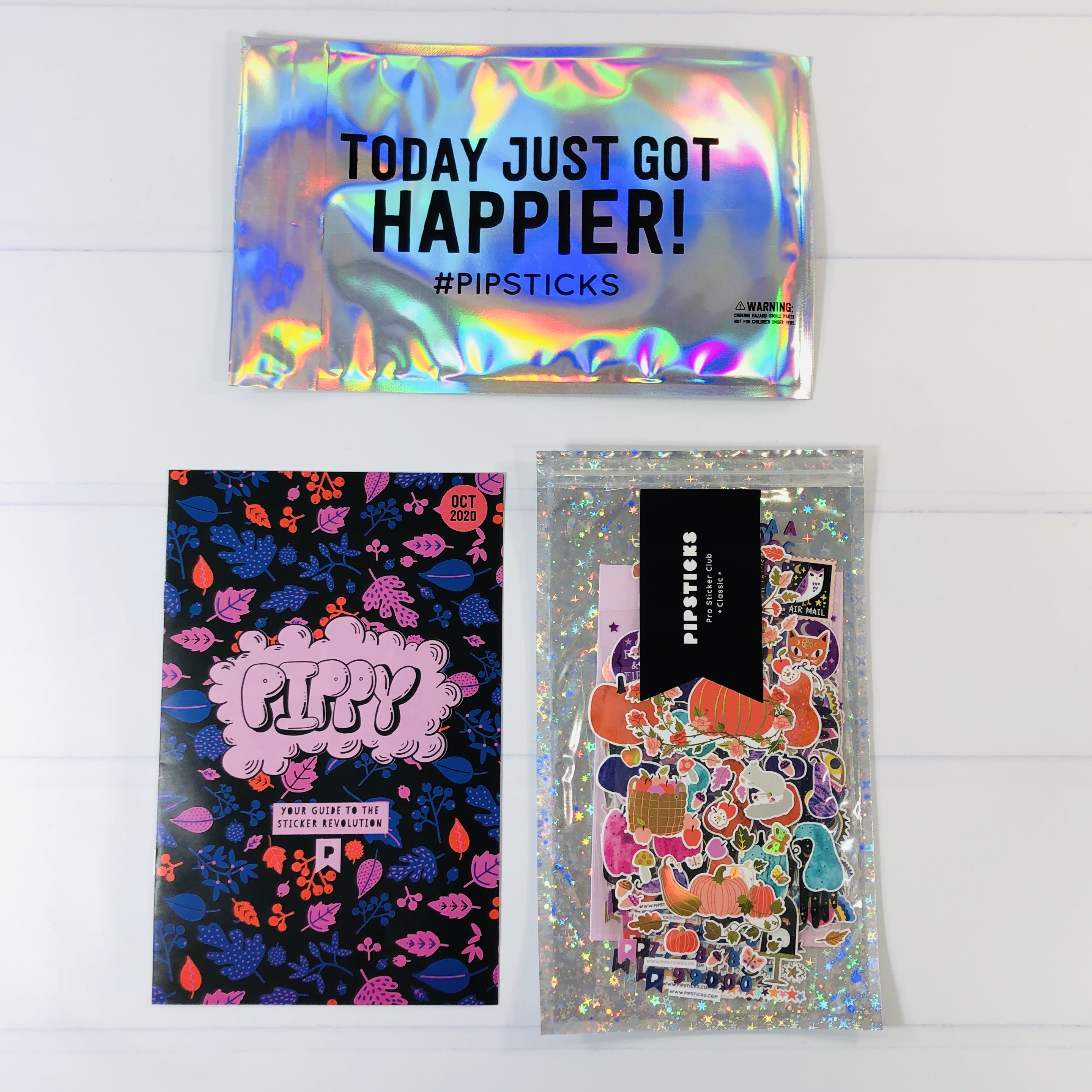 I am reviewing the Pipsticks Pro Club Classic!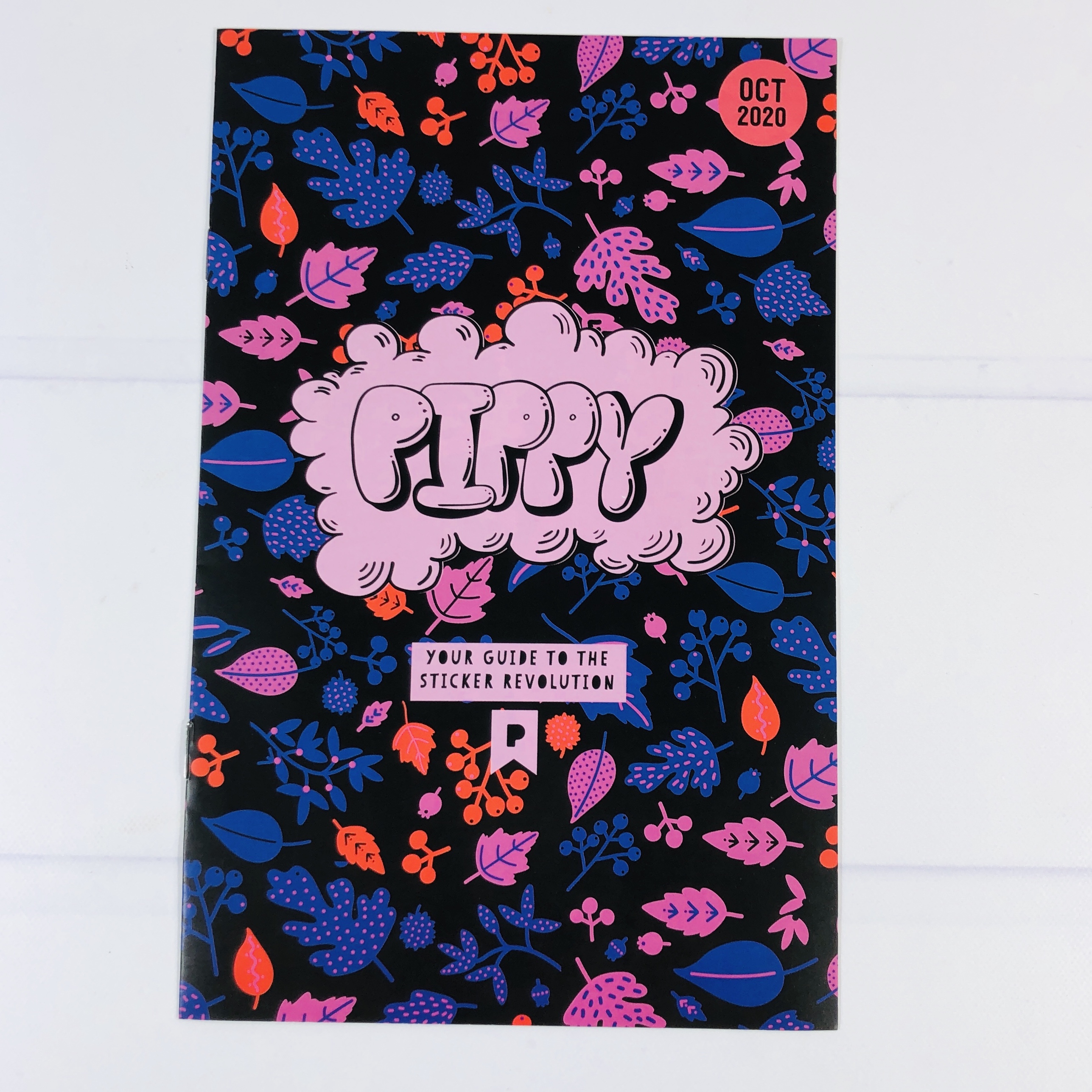 Pipsticks includes an exclusive magazine called Pippy.
Some fall activities and a collaboration were discussed on this page spread.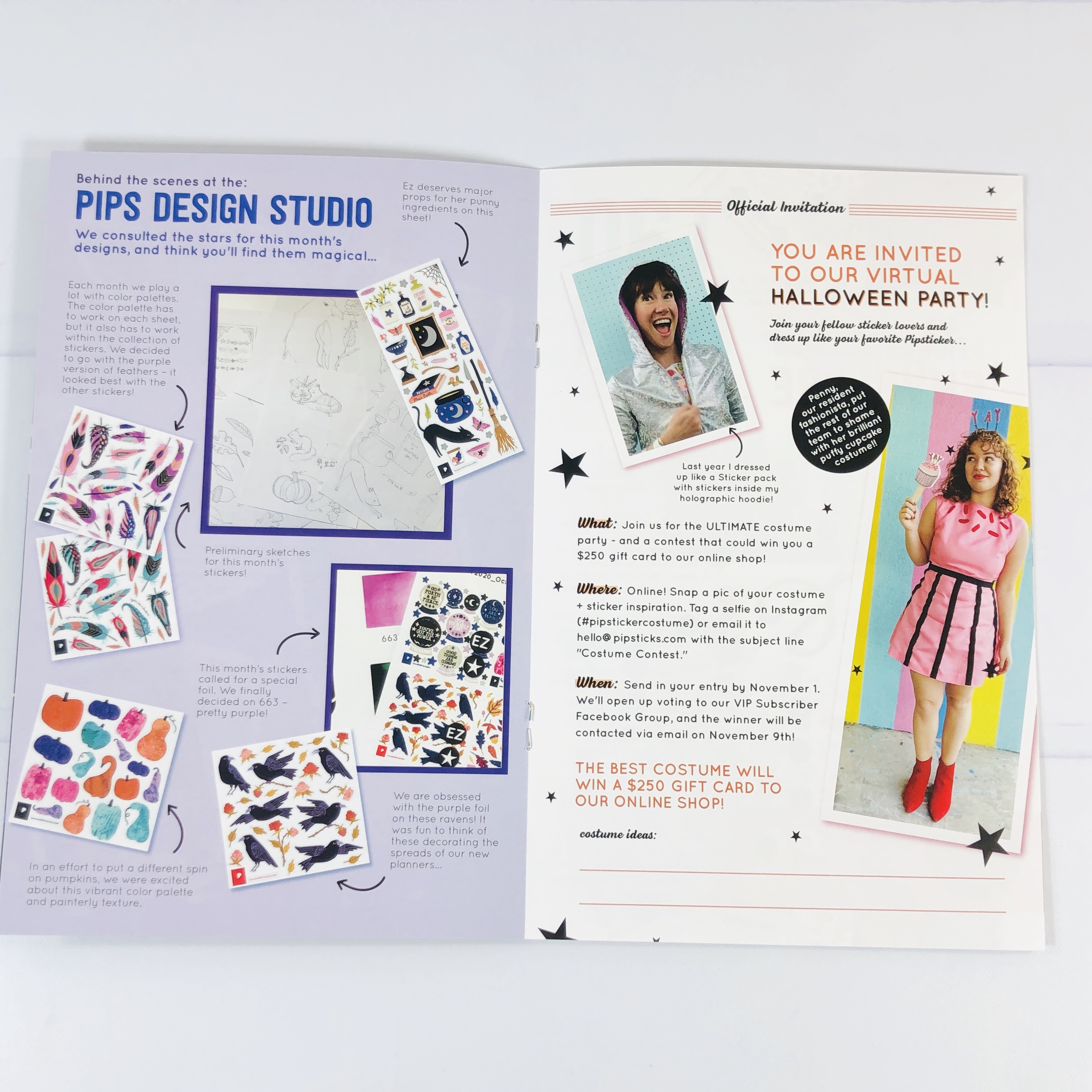 Some behind the scenes pics were shown, along with info on a costume contest.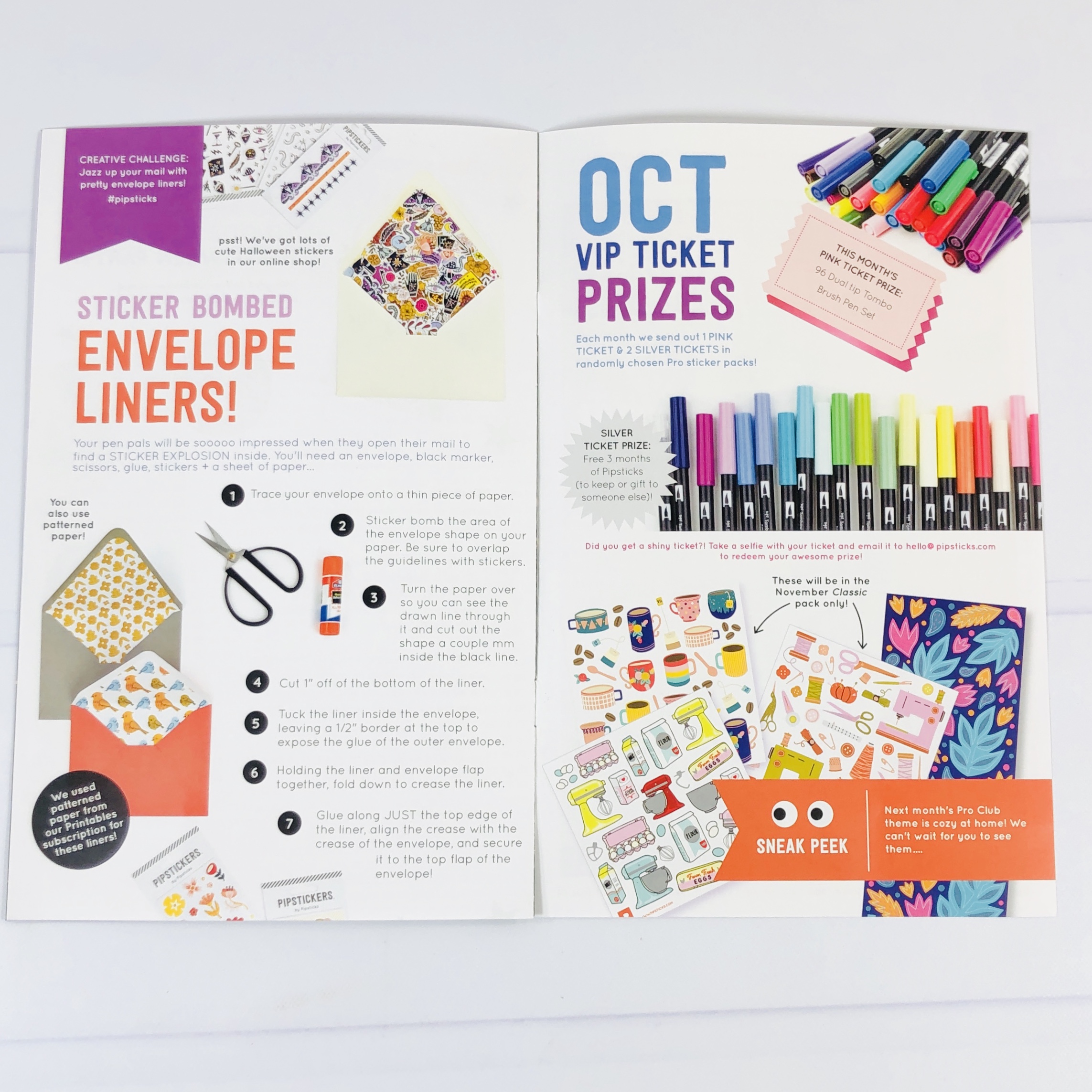 A craft idea (using stickers of course!), the VIP Ticket prizes, and a sneak peek for November were shown here.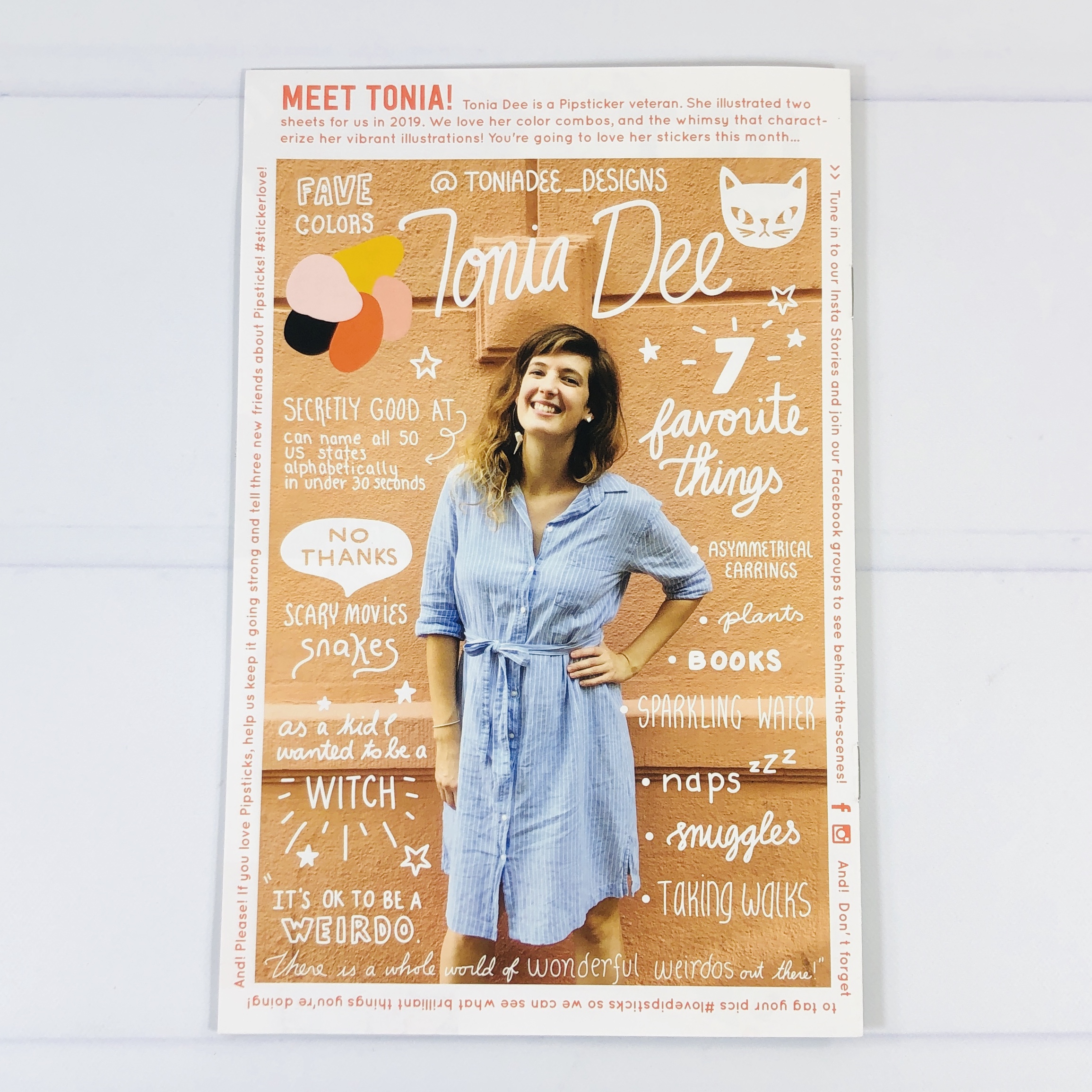 The back cover introduced one of the illustrators.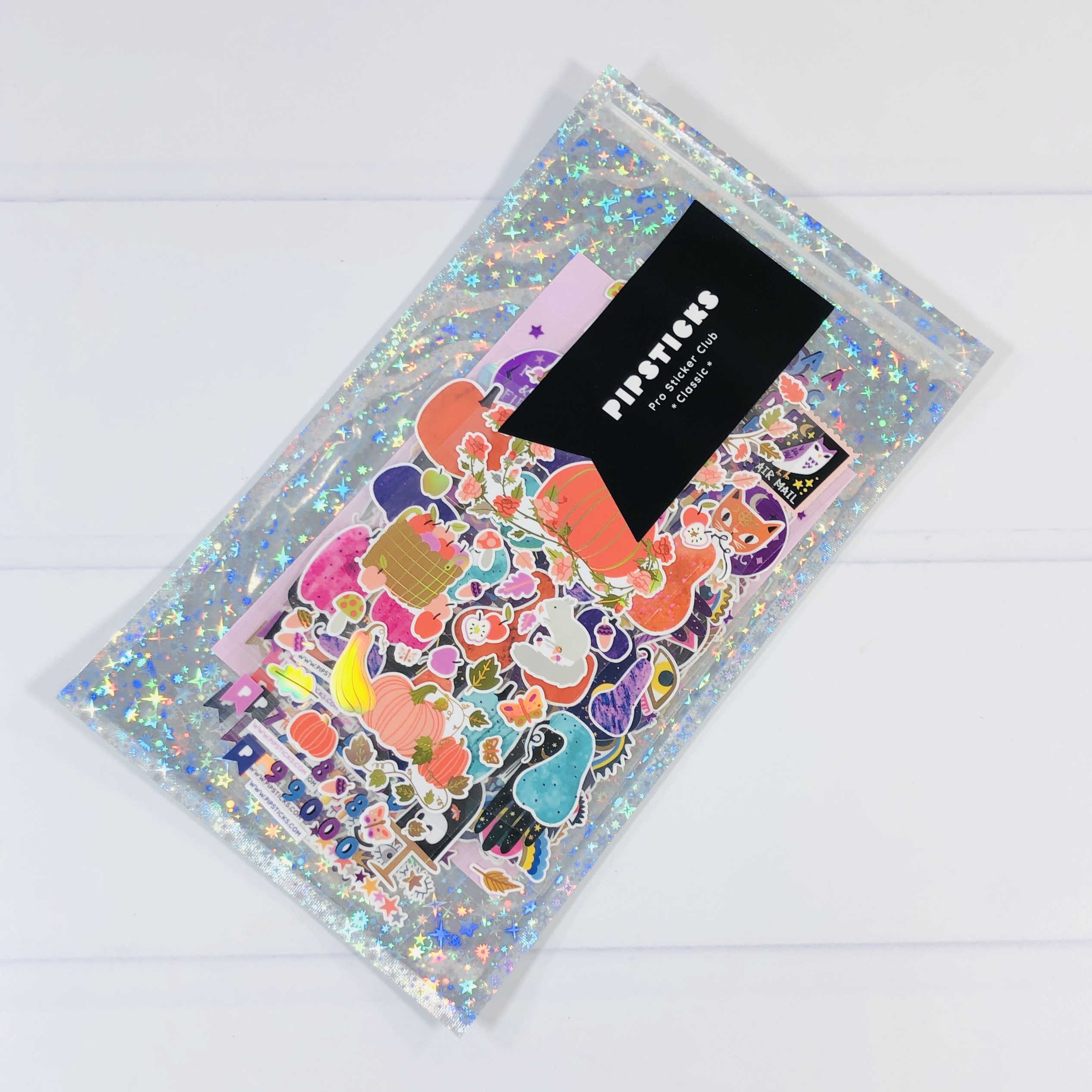 Look at the storage pouch, it's got holographic stars all over it!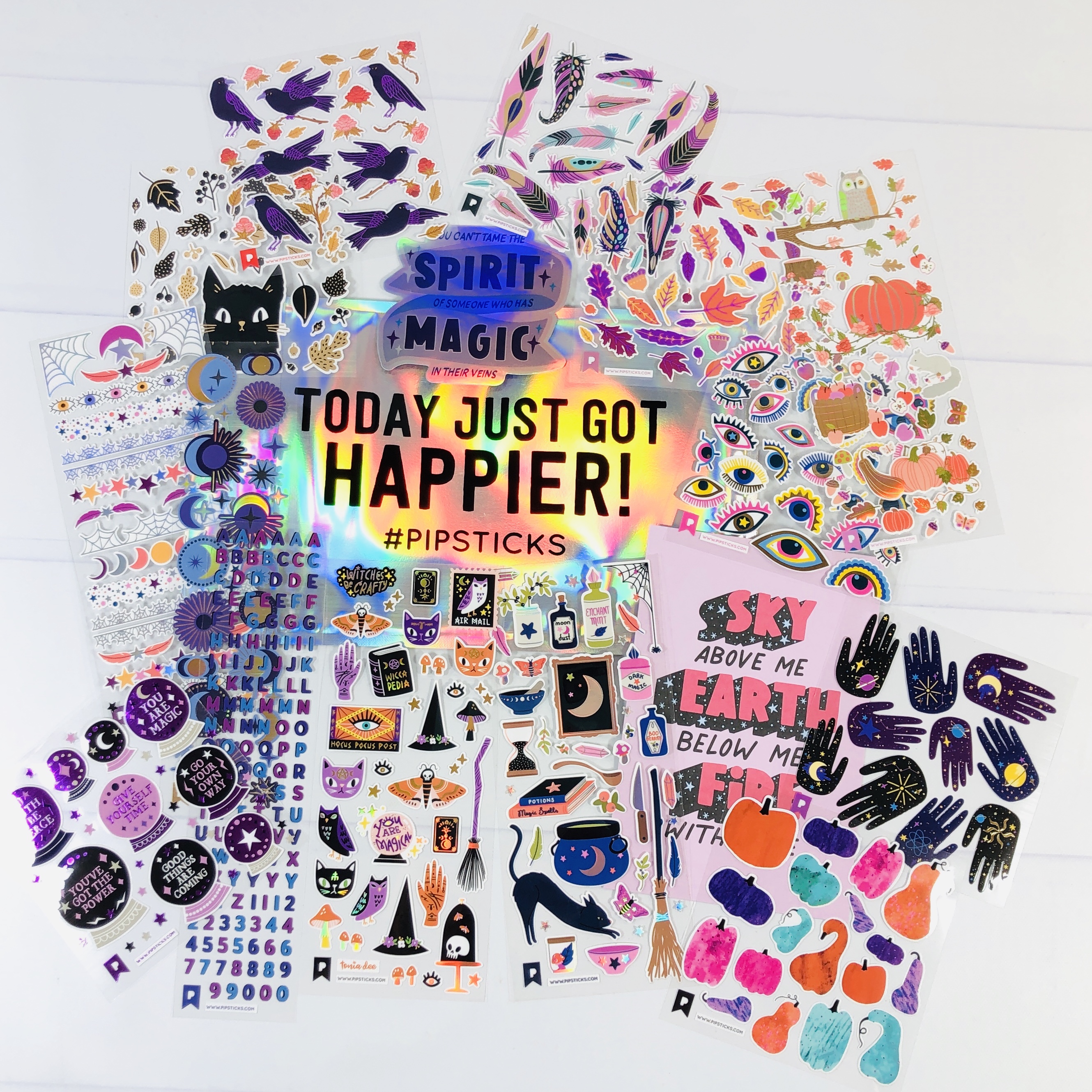 Everything in my box!
Note: You can find the following items, and even past sticker packs, in the Pipsticks online shop.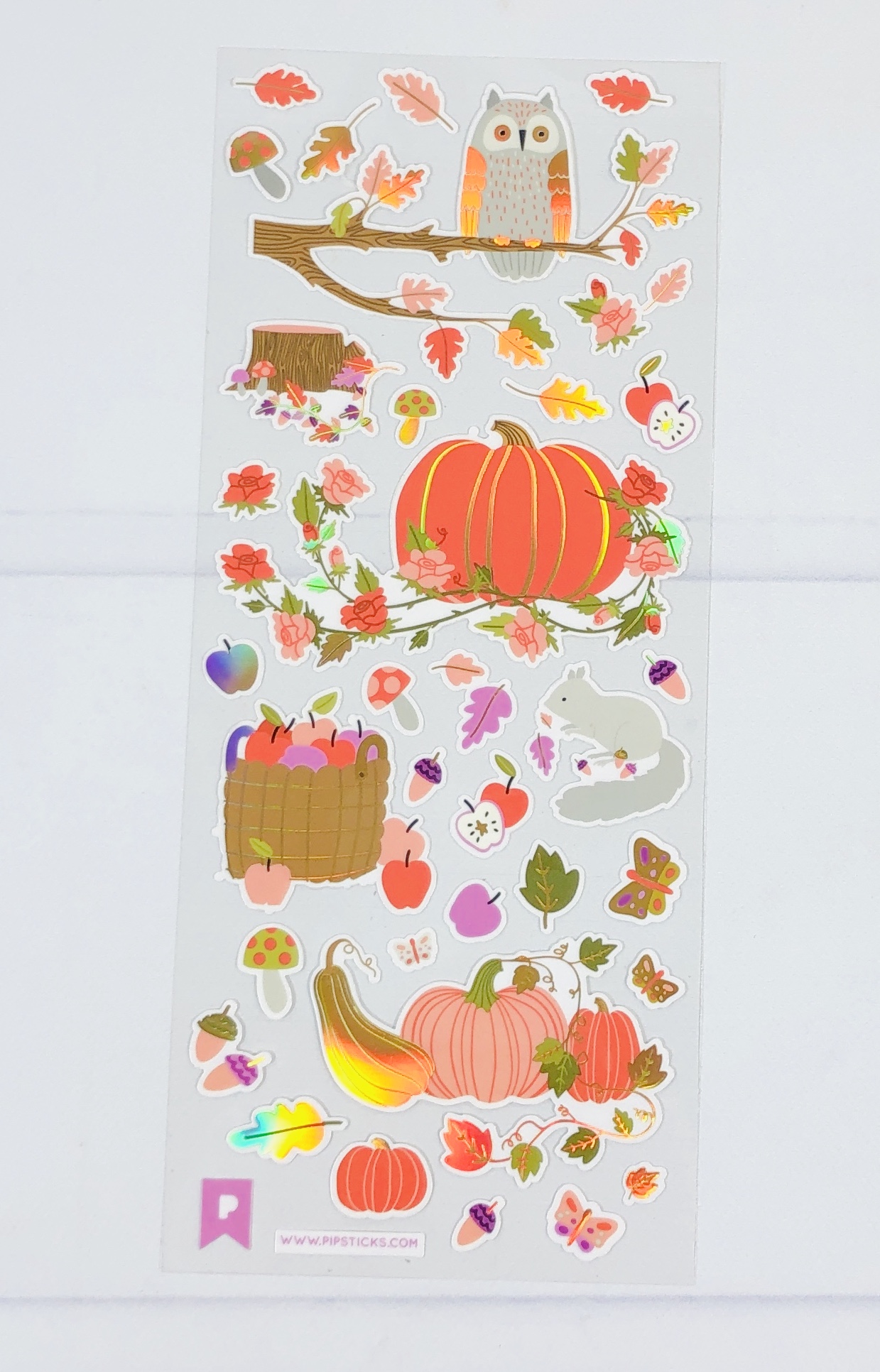 Harvest Season ($3.95) shows pumpkins, squirrels, mushrooms, and all kinds of things you might see in the fall. PVC with holographic gold foil accents.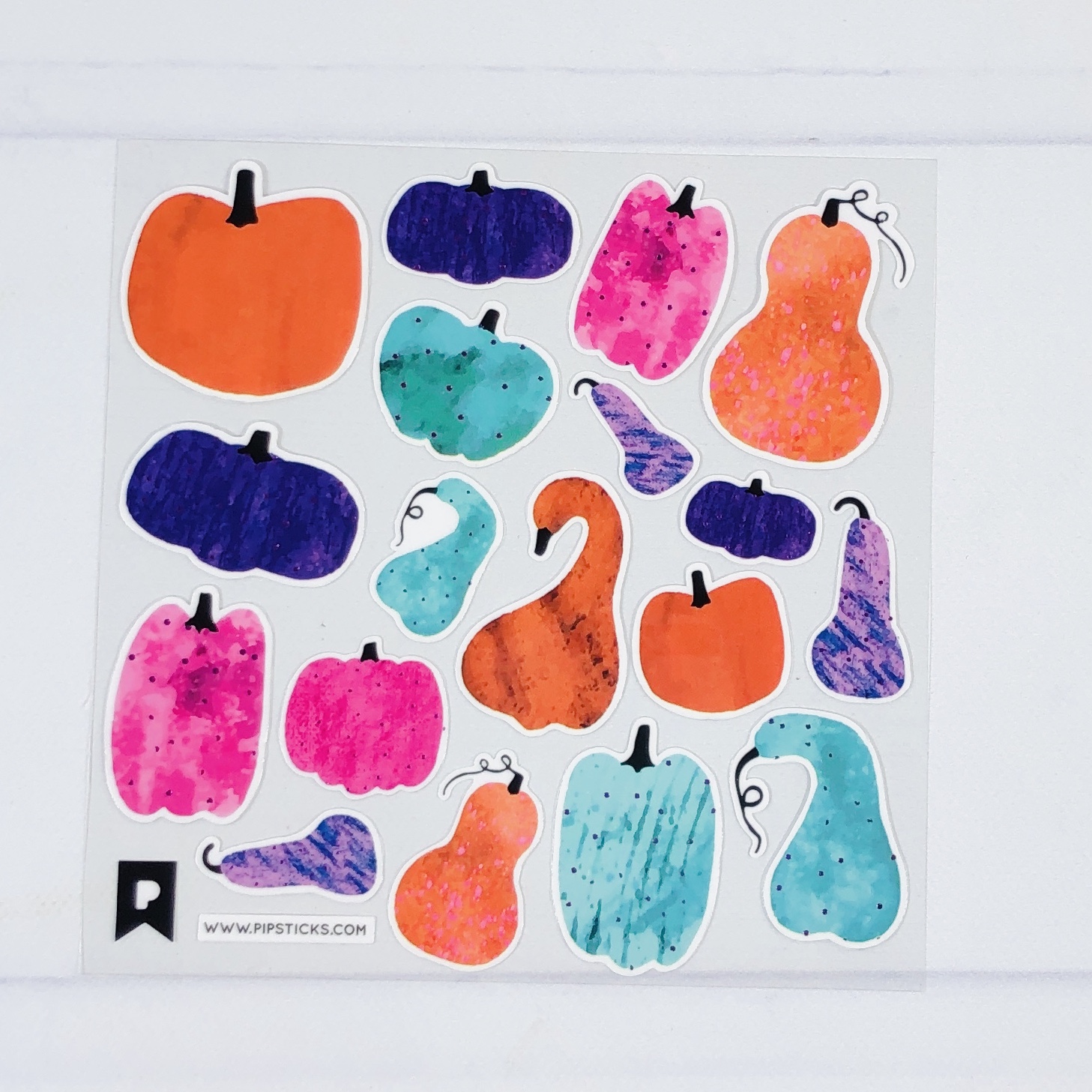 Simply Gourd-geous ($2.95) has all kinds of colorful squashes and most of them have shiny purple dots on top. PVC with purple foil accents.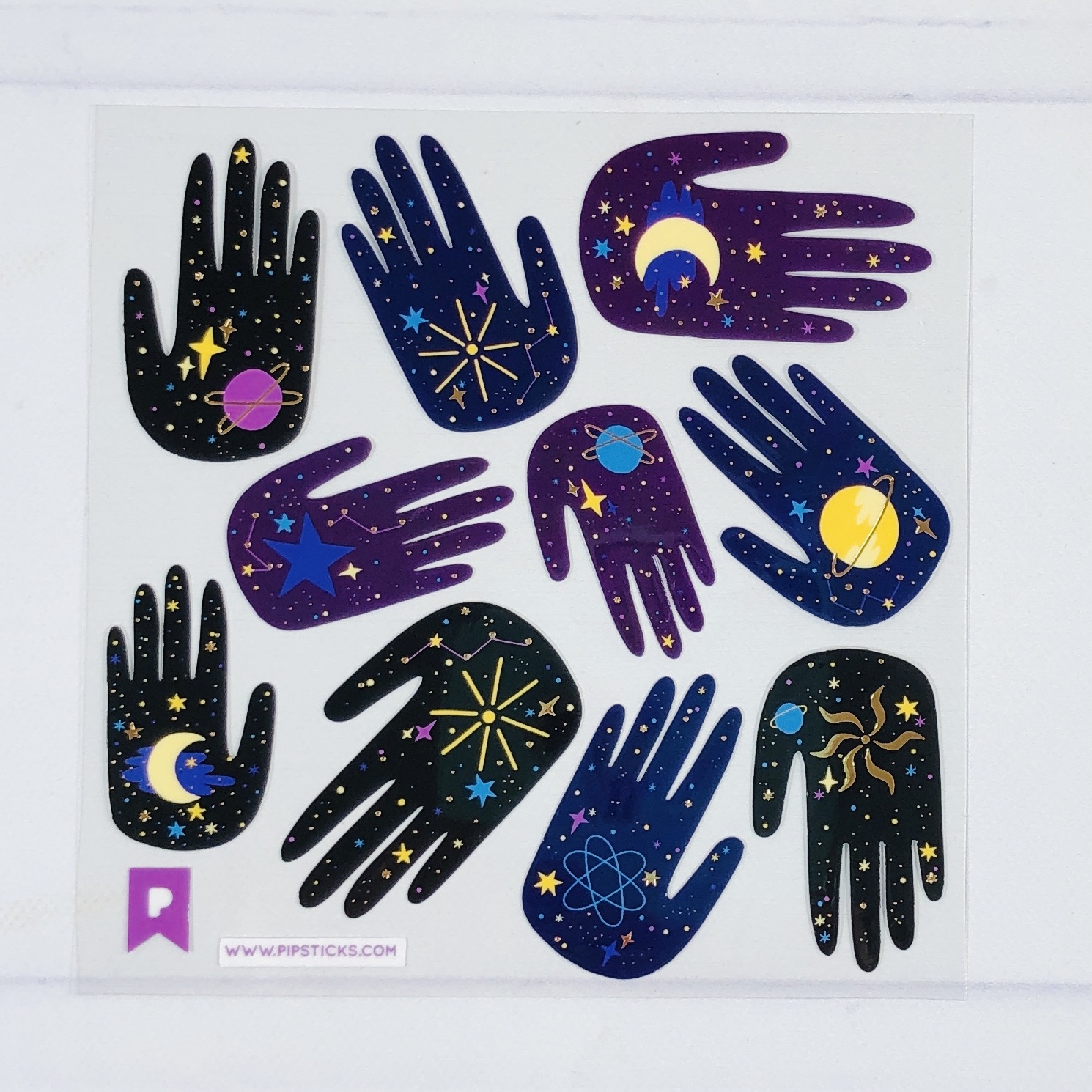 Handful of Stars ($2.95) You can find planets and more all over these palms. PVC with rose gold foil accents.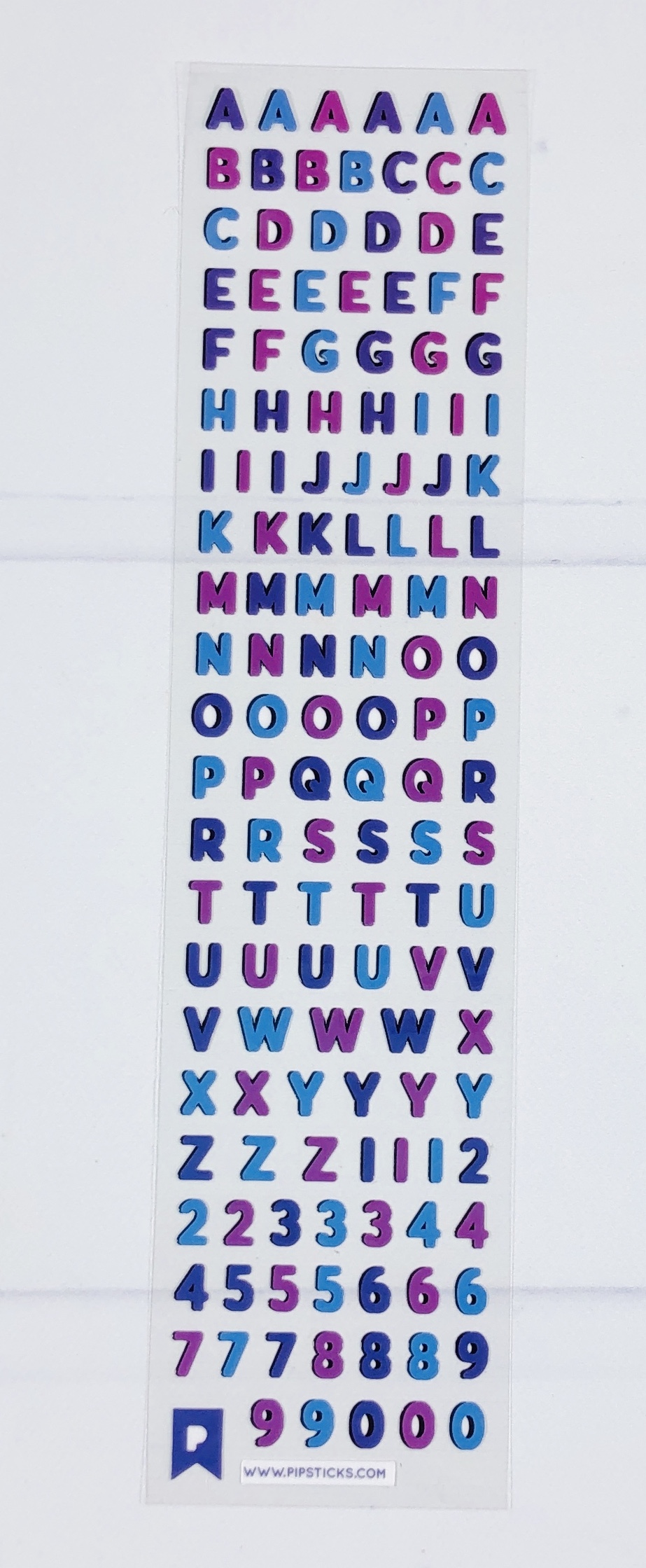 Twilight Alphabet ($2.95) These letters and numbers are the same colors that you see in the sky just after the sun sets. Printed on PVC.
Witches Be Crafty ($3.95) is from Tonia Dee, the featured collaborator for the month. I like that they are not too spooky. PVC with holographic gold foil accents.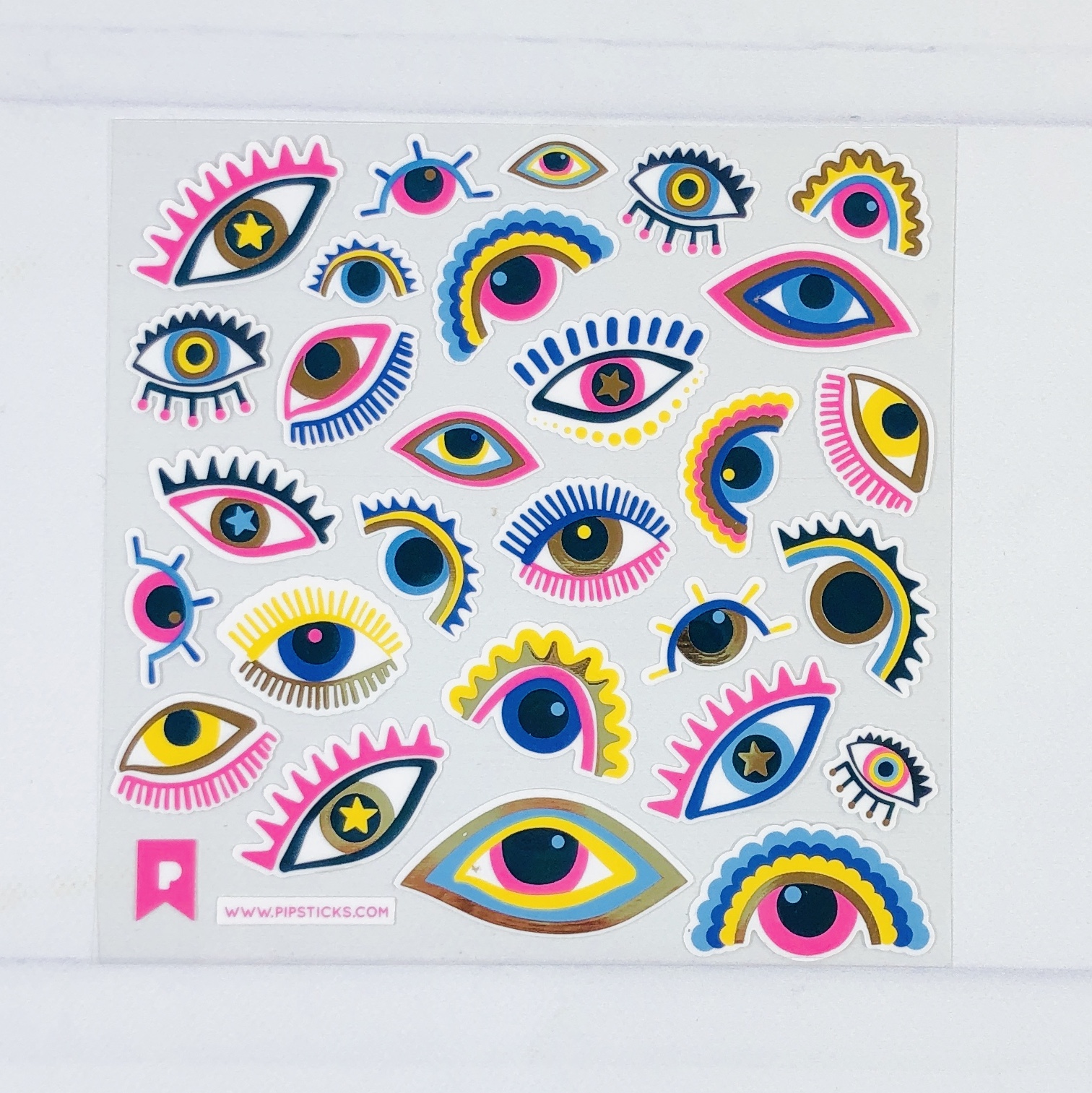 Eye See ($2.95) Do you ever get the feeling you're being watched? Eye can't help but feel that way now! PVC with rose gold foil accents.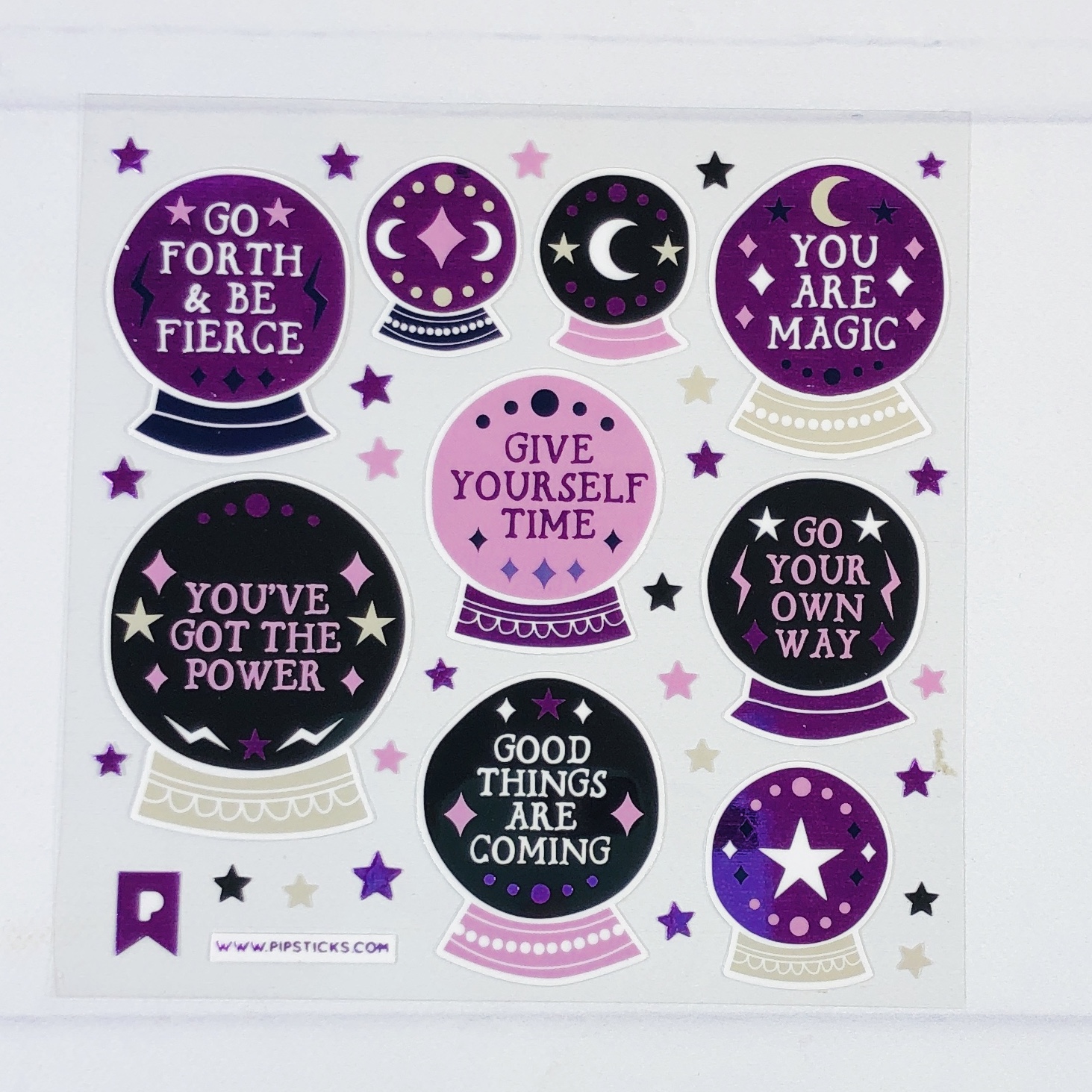 See Your Future ($2.95) I like these predictions and positive statements. I wonder what 2021 will bring? PVC with purple foil accents.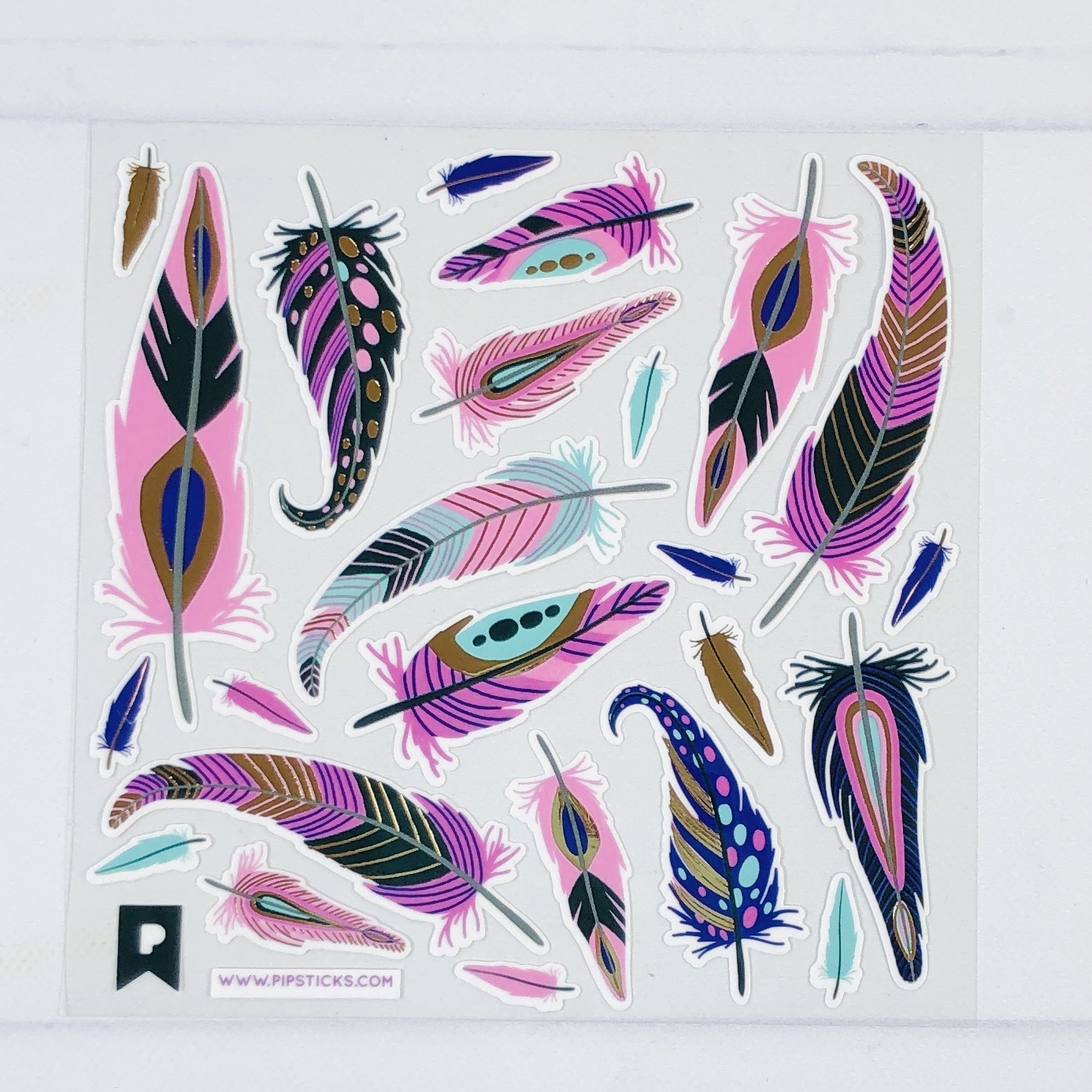 Light As A Feather ($2.95) Woah, I just had a flashback to a slumber party when I read this sheet's name! These are pretty stickers, I love fancy feathers. PVC with rose gold foil accents.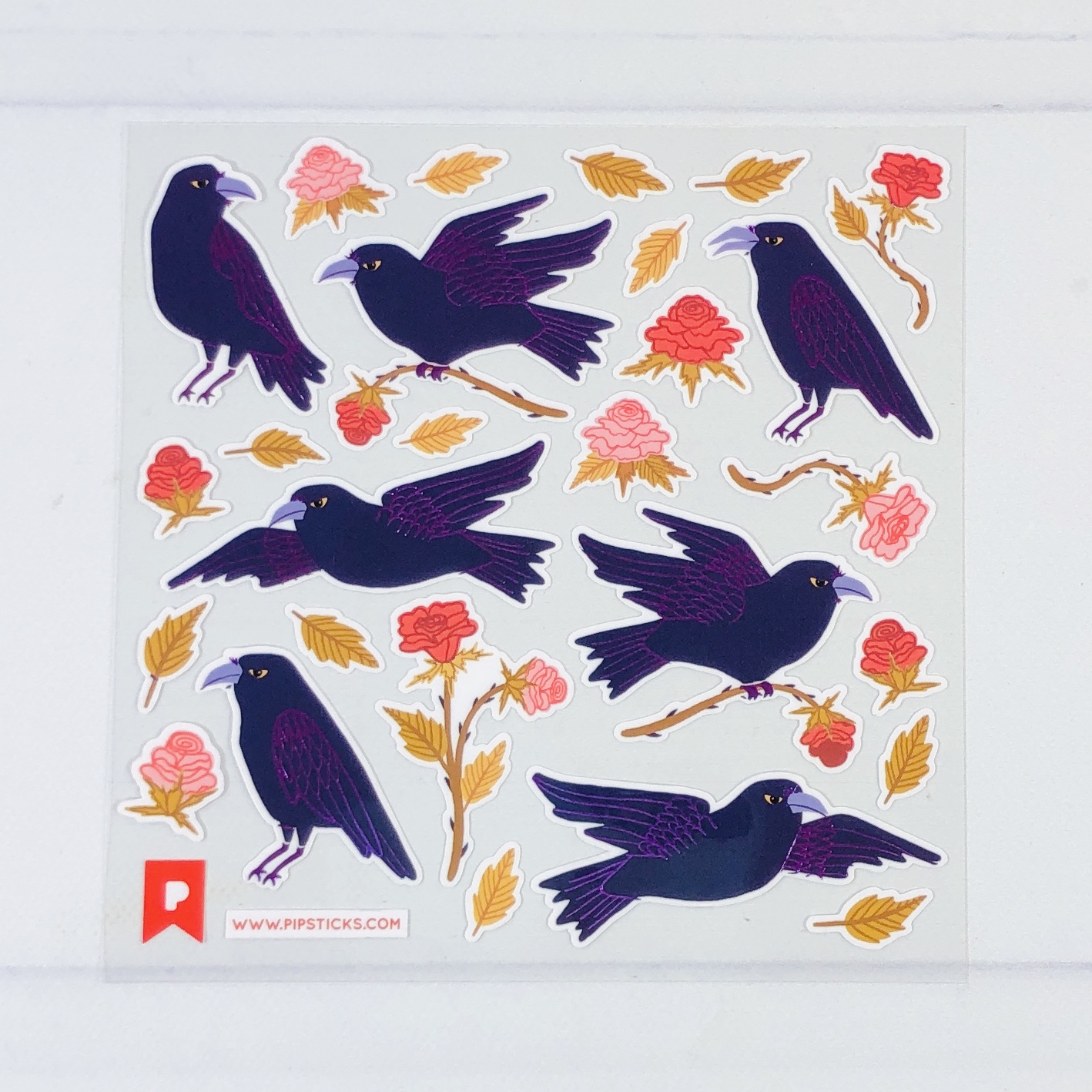 Ravens & Roses ($2.95) My camera cannot capture how amazing these stickers actually look, and this sheet especially has beautiful purple foil accents on the wings. Printed on PVC.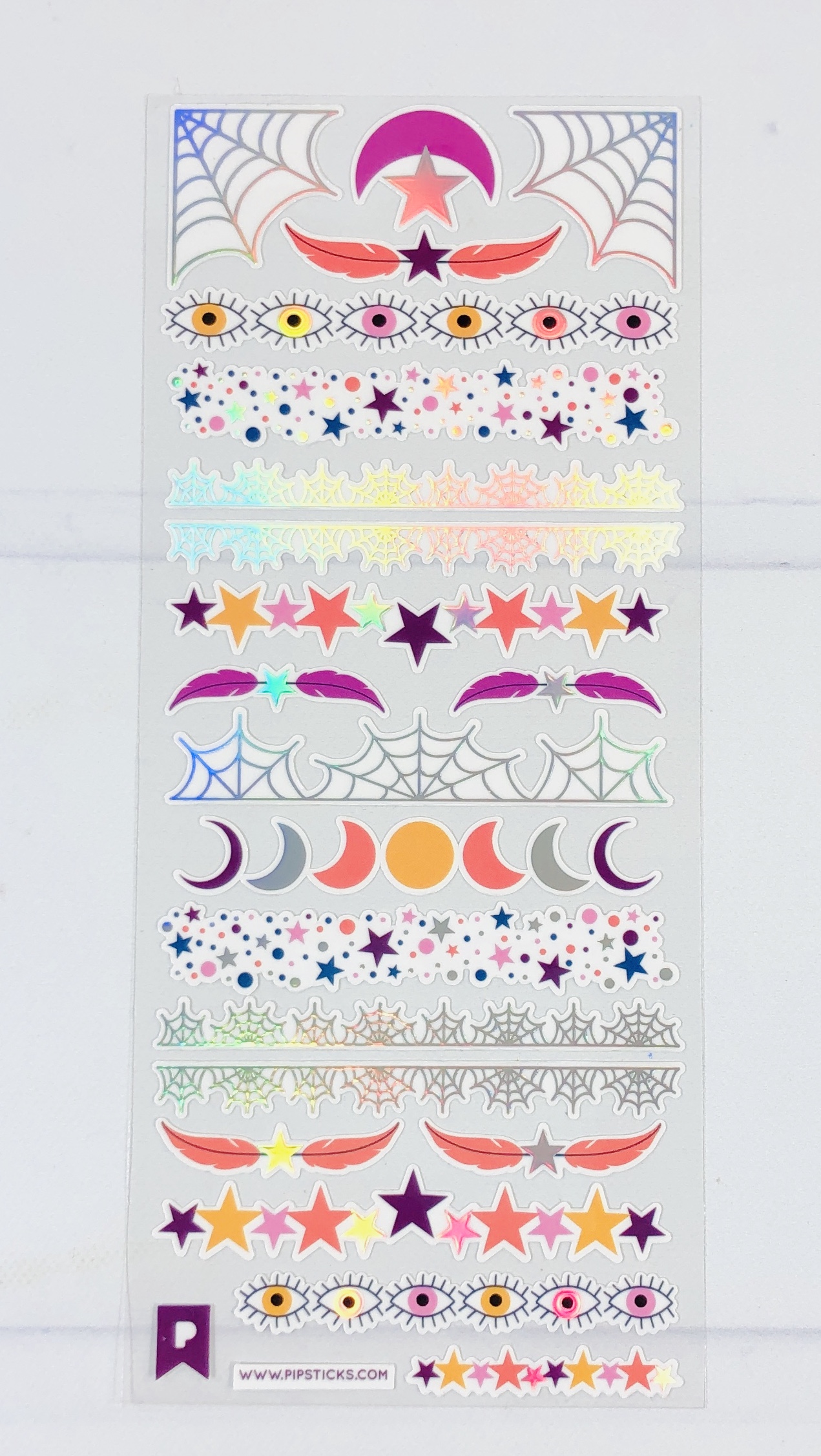 Arts & Witchcrafts ($3.95) The punny names get me every time! This sheet has stickers that would work well as frames, like a mini border. PVC with holographic silver foil accents.
Moonlight ($2.95) Mystical looking purple and gold moons abound on this sheet. PVC with holographic gold accents.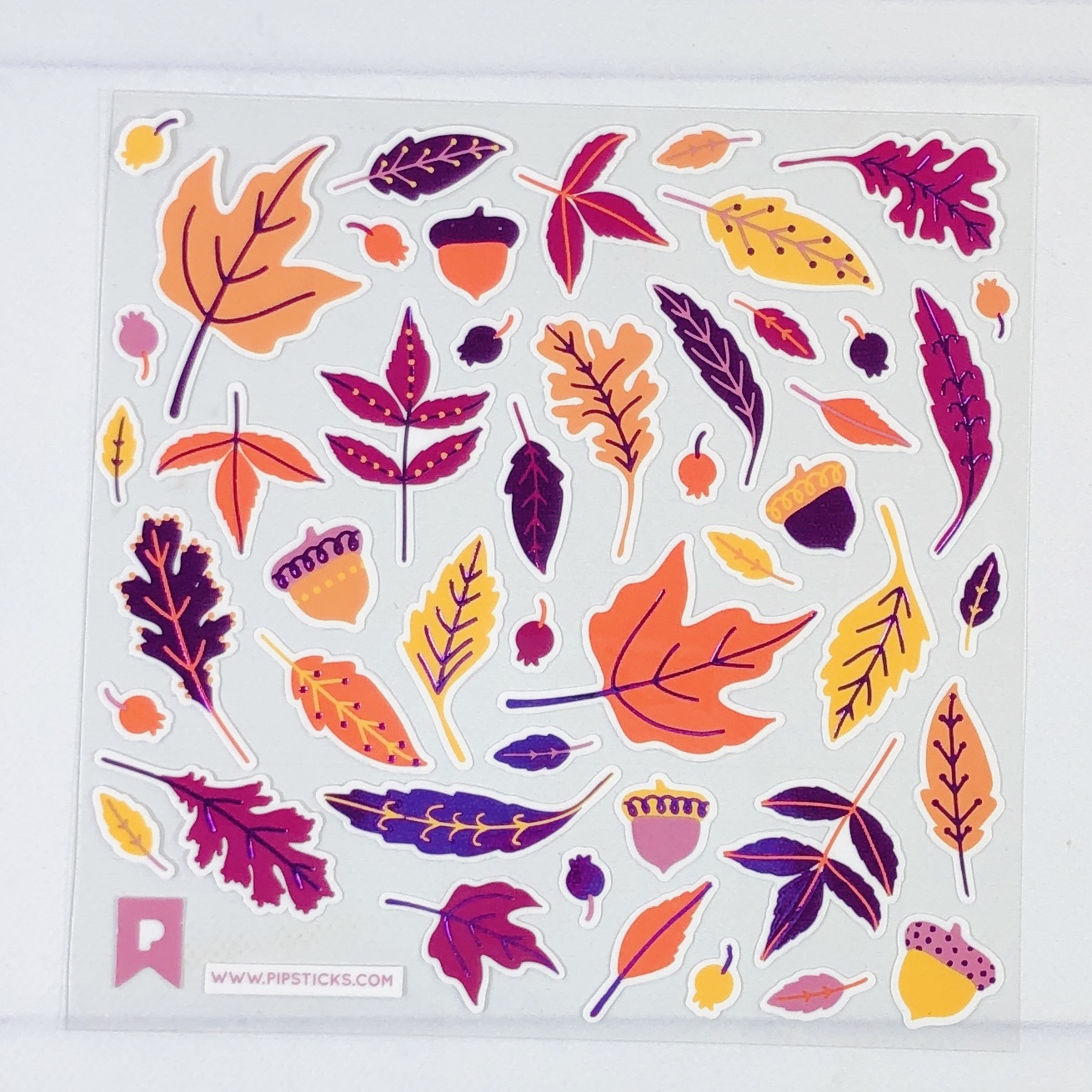 Breezy Leaves ($2.95) Colorful fall leaves, acorns, and even rosehips will look so pretty in my planner. PVC with purple foil accents.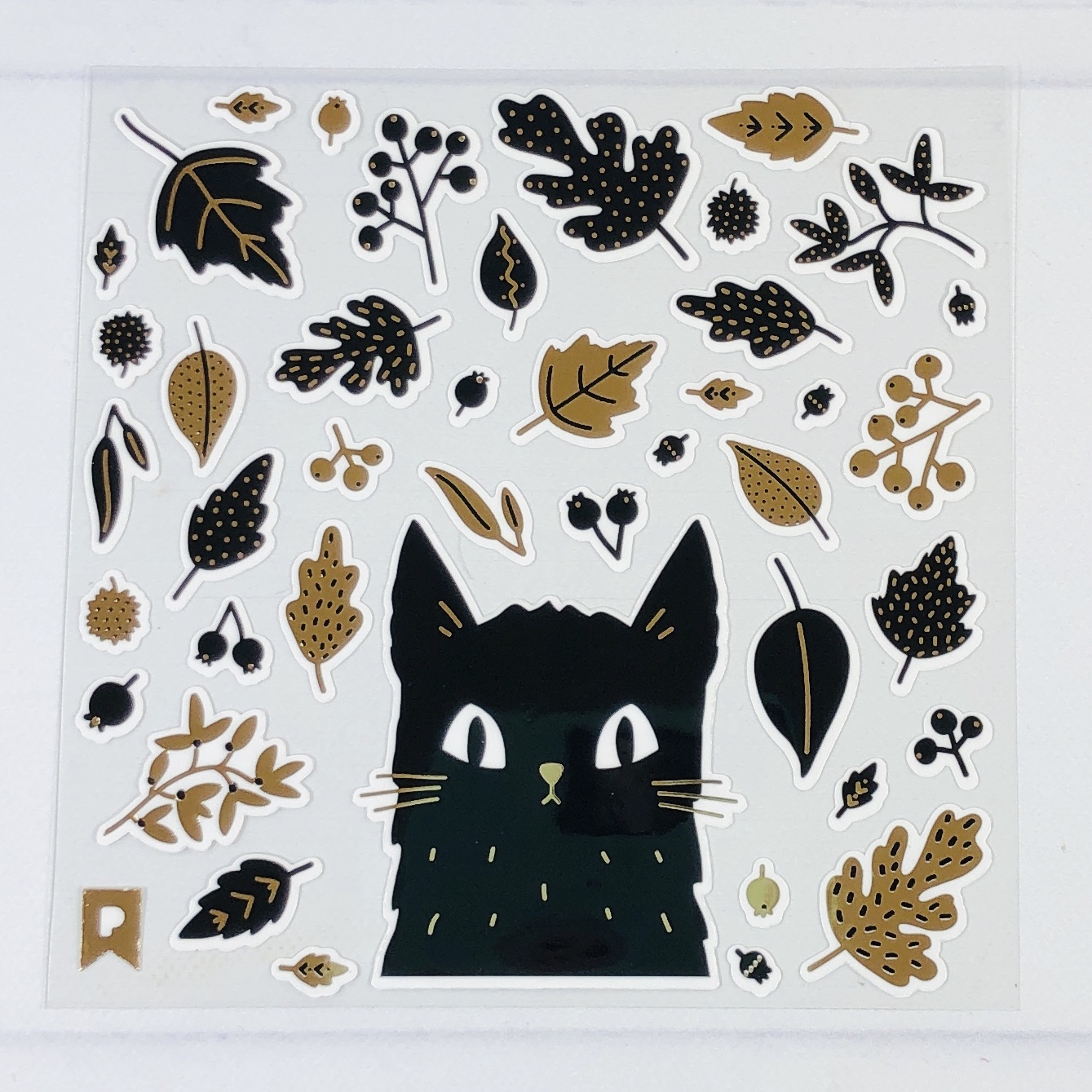 Midnight Meow ($2.95) has more leaves, but these are black and gold. Plus, there's a cat with big eyes! PVC with rose gold foil accents.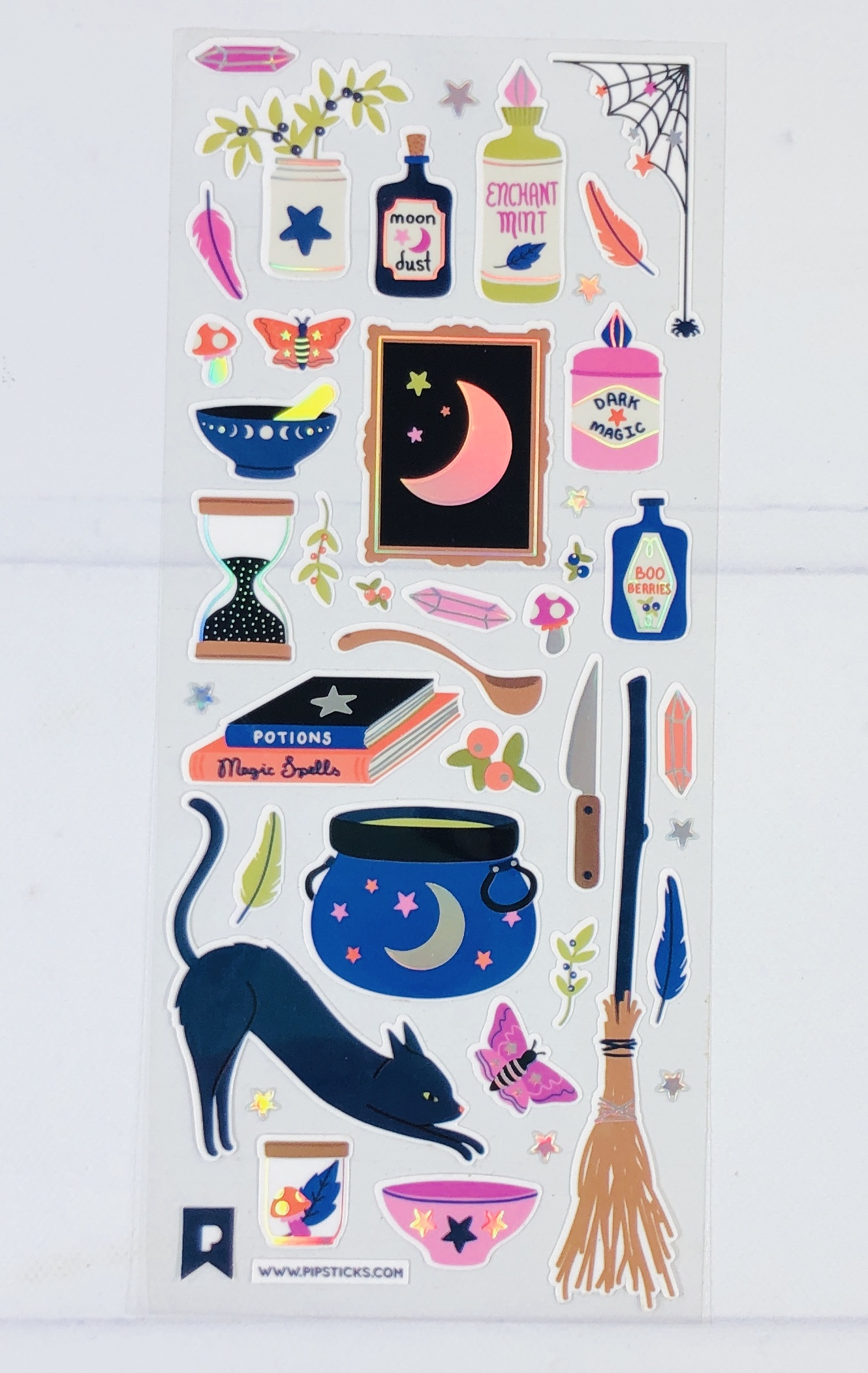 A Brew-tiful Life ($3.95) Another cat, a broomstick, and magic potions – looks like the supplies of a spell maker! PVC with holographic silver foil accents.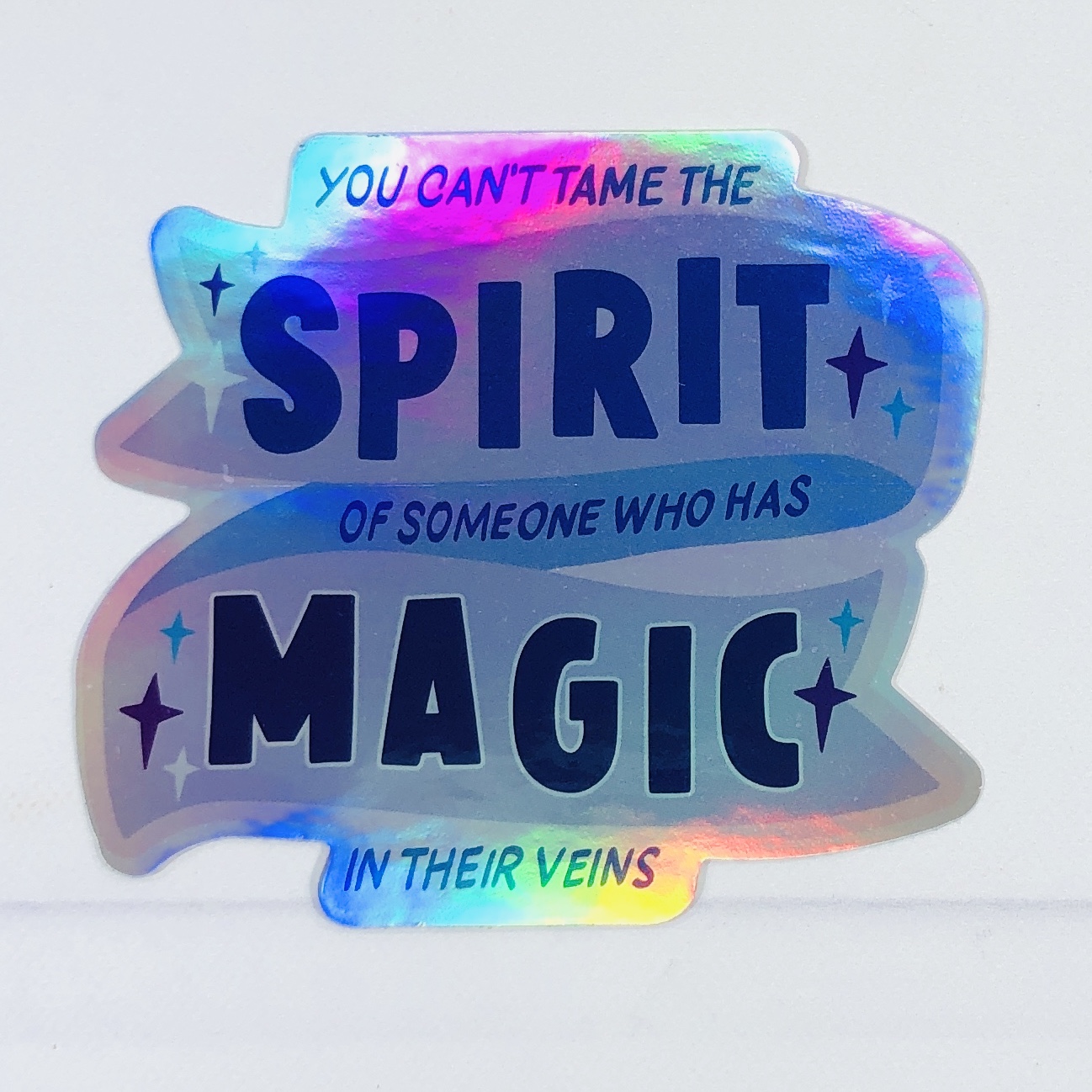 Spirit Magic Vinyl ($2.95) is the largest of our stickers, 3.25″ at its widest point.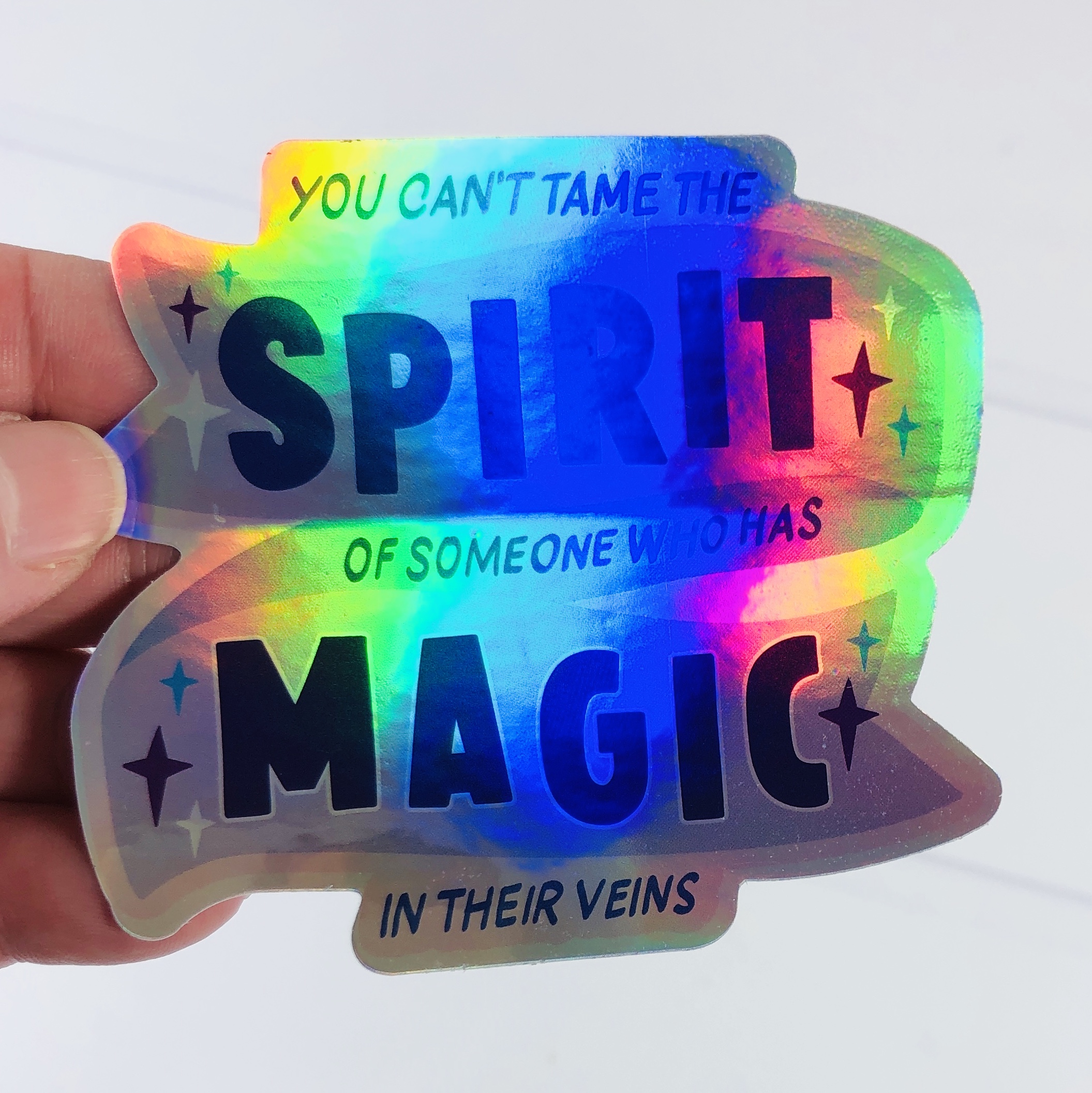 The colors change as it moves so you get the whole rainbow spectrum!
Postcard The back of this 4″ x 6″ card has light blue stars all over and can be used as a postcard, desk art, or journal card.
I prefer my Halloween stickers to be not too scary and the October Classic Pack fit the bill perfectly. I adored the prints, colors, and holographic finishes of the various sheets and usually put them in my planner, while my daughter will use some to decorate her phone case. If you are into adorable stickers that change color with the light, then check out Pipsticks, they are super adorable!
Are you getting any of Pipsticks' subscription?