Bluum is a subscription service for parents who want to discover new products for their baby, toddler, or preschooler. They will curate the box depending on your child's age and stage. You can get a box from your first month of pregnancy, all the way until preschool (up to 5 years old). Each box costs $34 and it will contain at least 4 items with a retail value of $45 or more. Items may include toys, books, utensils+gear, and essentials. Subscribers will also get a sneak peek at the box contents via email every first week of the month.
DEAL: Get a free box with 6 or 12-month subscription. The deal applies automatically, just visit and subscribe.
Everything in our September 2020 box!
There's no information card with Bluum, but the items come in original packaging and are often self-explanatory. You'll get the information about the items sent to your inbox – there's also a preview feature that lets you swap boxes or skip if you're not loving the featured items.
Never Ever by Jo Empson ($8.99)
Nothing ever happens to me. Never, ever. Ever, never. Nothing. Or does it? Jo Empson's debut picture book Rabbityness was published to universal acclaim in 2012. Never, Ever displays her inimitable sense of fun, her love of storytelling and surprise, and her delight in the magical world of the imagination.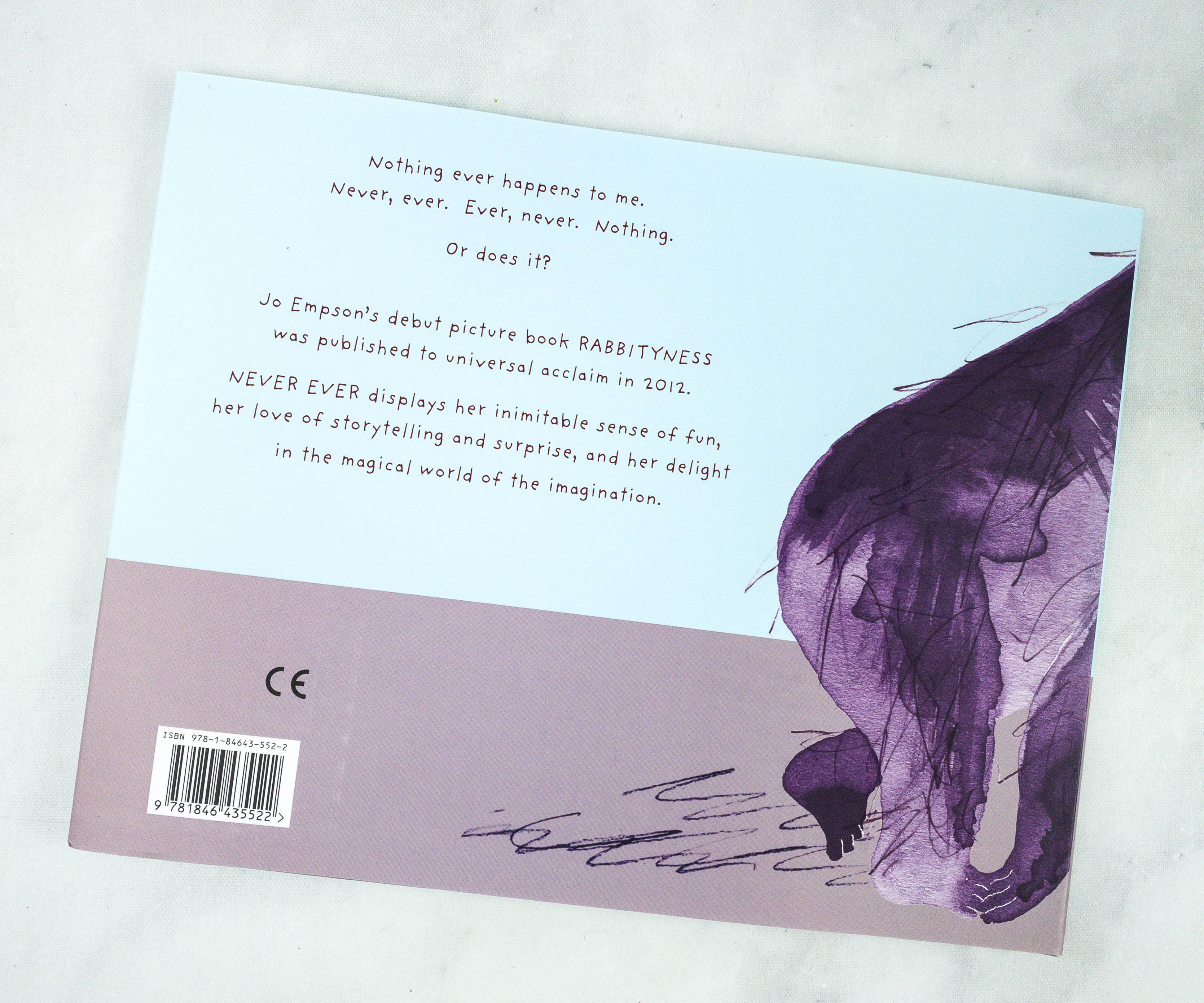 It's a fun picture book with an engaging story and quirky illustrations that kids love!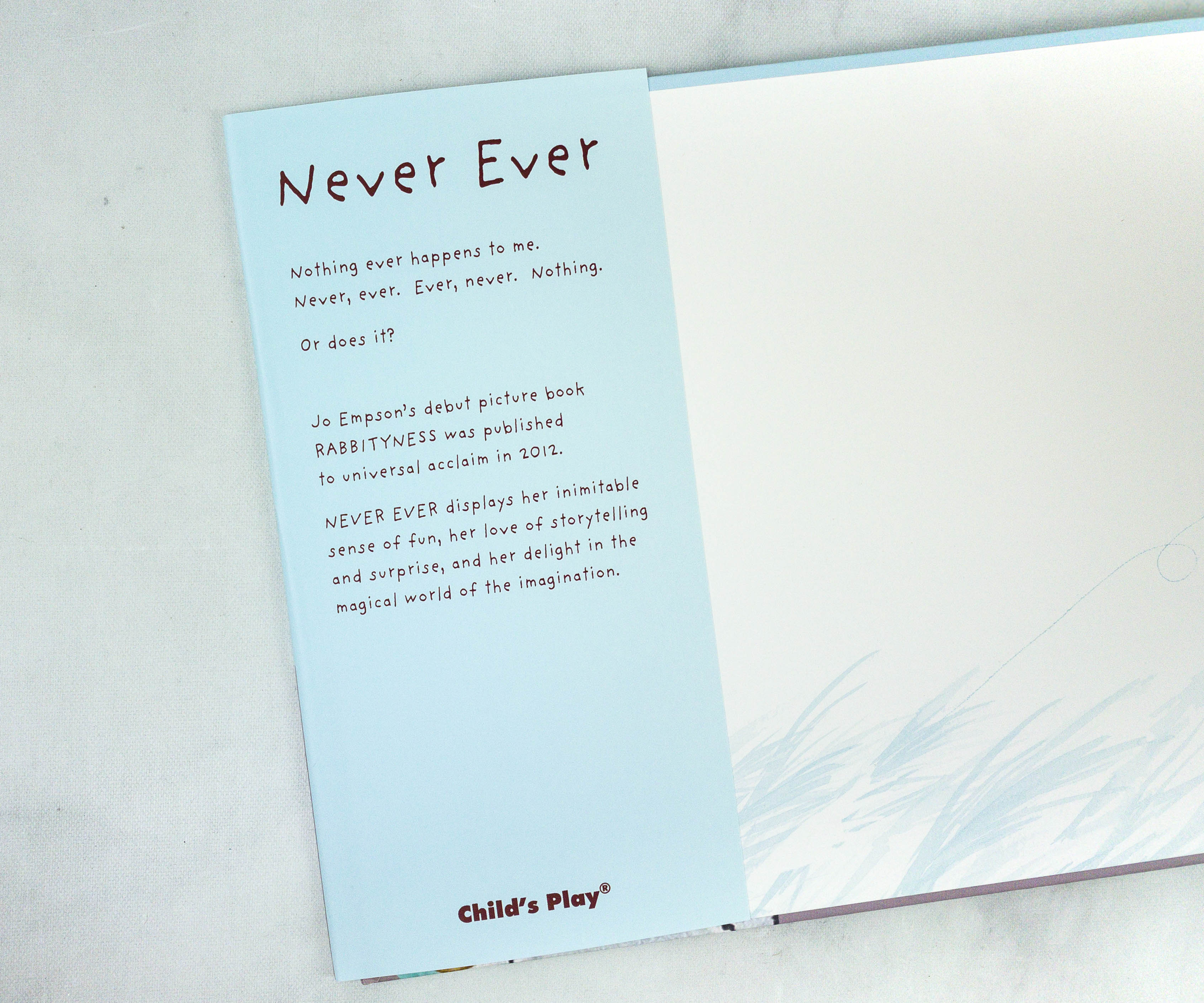 The story synopsis is also printed on the flap of the dust jacket.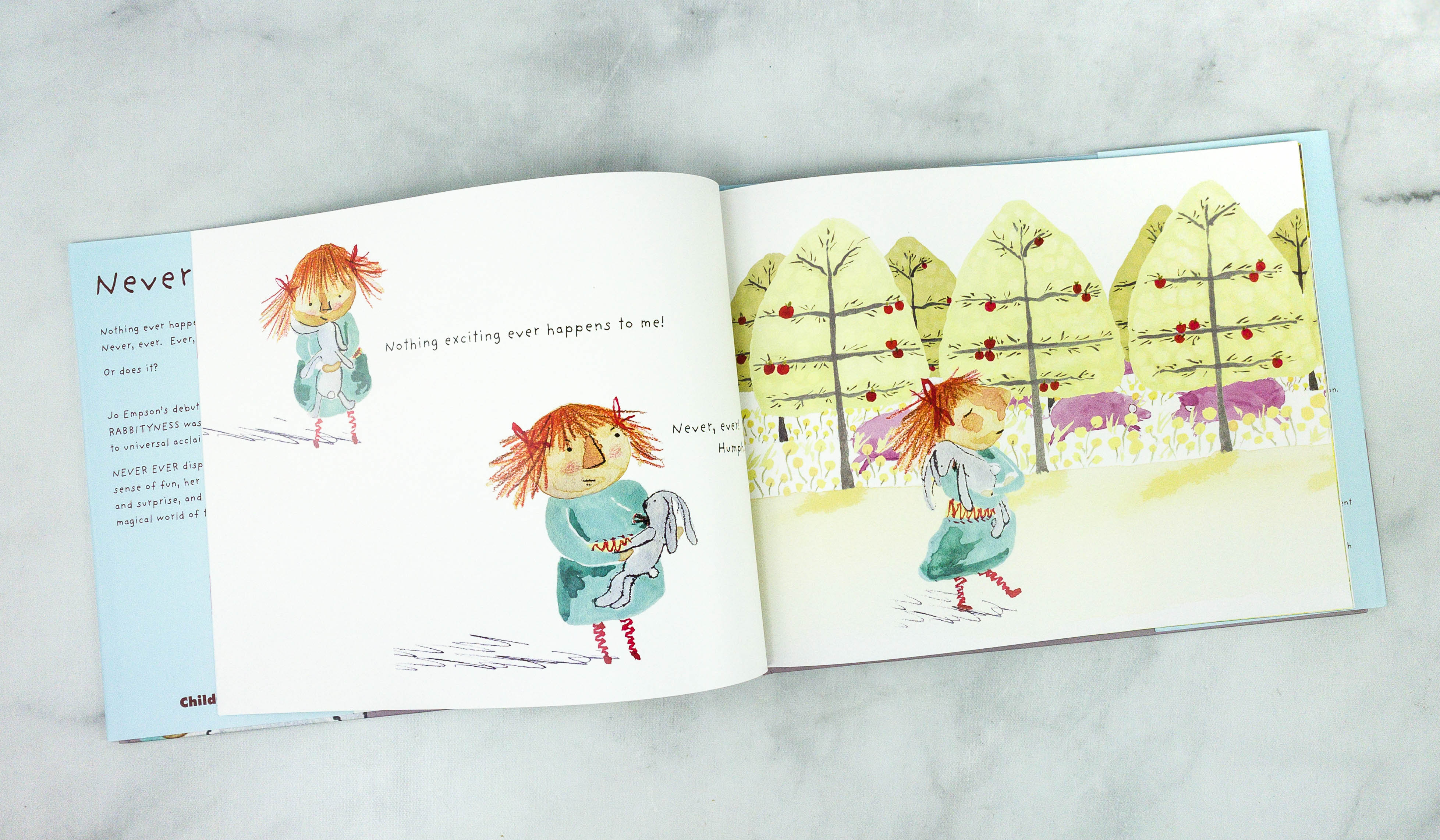 The book tells us a story of a little girl who thinks that nothing fun and exciting ever happens to her when it is, in fact, the opposite. We love how simple this book is, yet it teaches kids an amazing lesson: stop focusing on the bad and start looking at the big picture!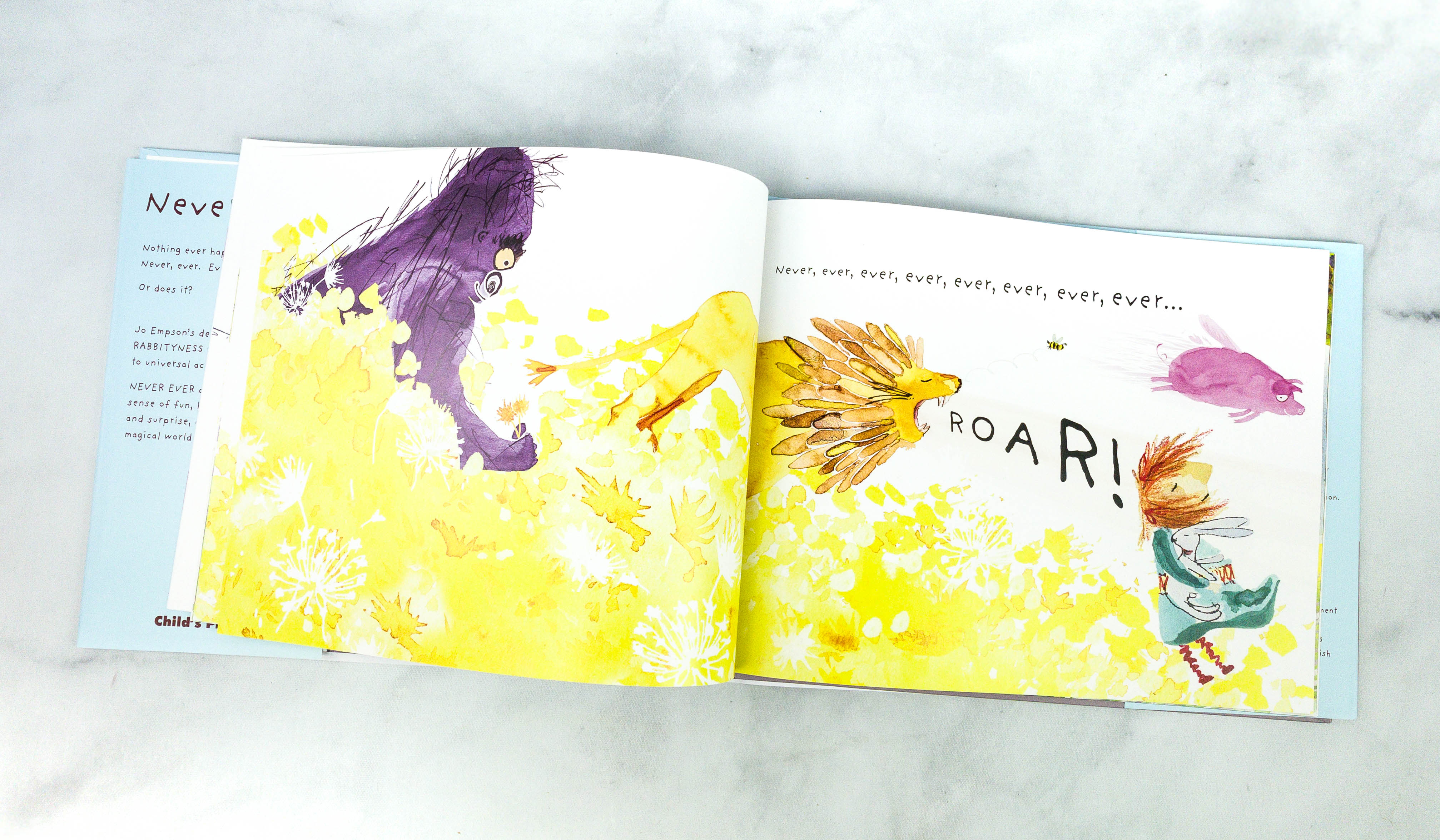 My kids love the cute illustrations in the book. It's colorful and fun. It's a nice bedtime story as well!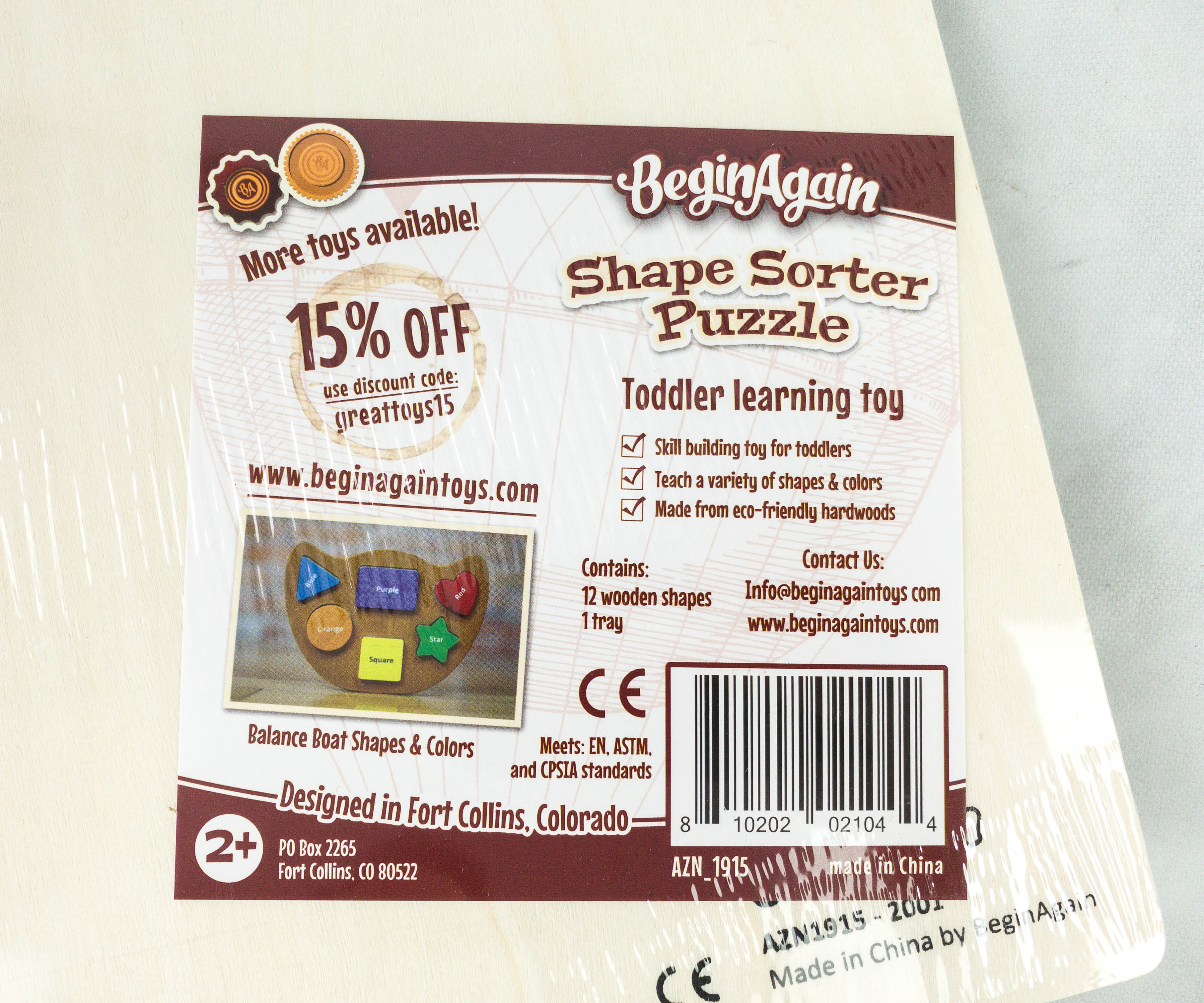 BeginAgain Shape Sorter Puzzle – SIMILAR ($10) This shape sorting kit helps improve a child's fine motor skills, including hand-eye coordination. It even helps stimulate critical thinking and problem-solving!
It's made from sustainably sourced hardwood and non-toxic wood stain finish. Aside from the basic shapes, they also included more complex shapes like the trapezoid, hexagon, and octagon!
They also made each shape a different color which I'm sure is very beneficial for toddlers who love discovering new things. This way, we can incorporate teaching shapes and colors!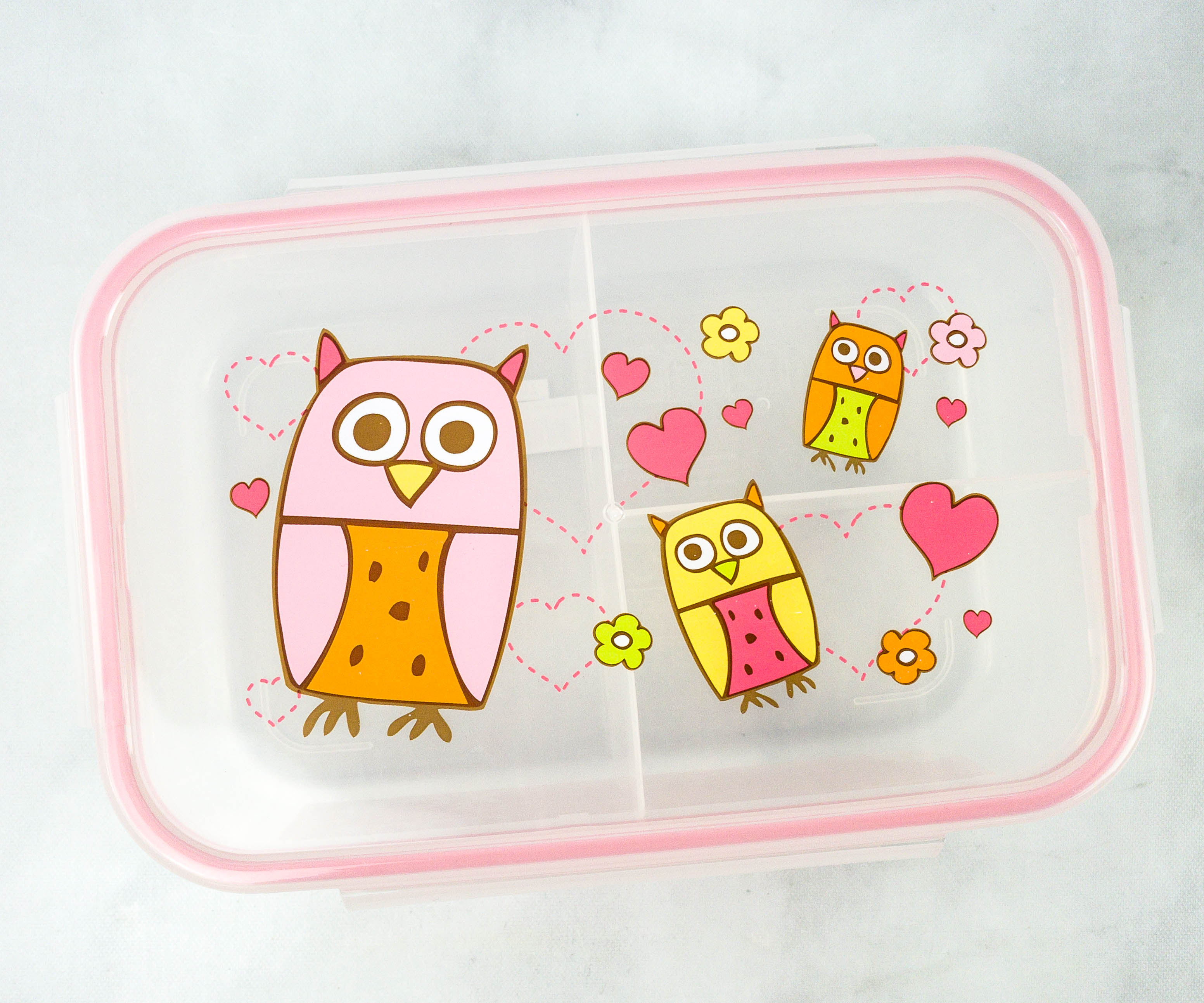 Sugarbooger Hoot Bento ($9.99) For the moms, here's a useful item for food preps! It's a bento box featuring a cute owl family design that my daughter adores.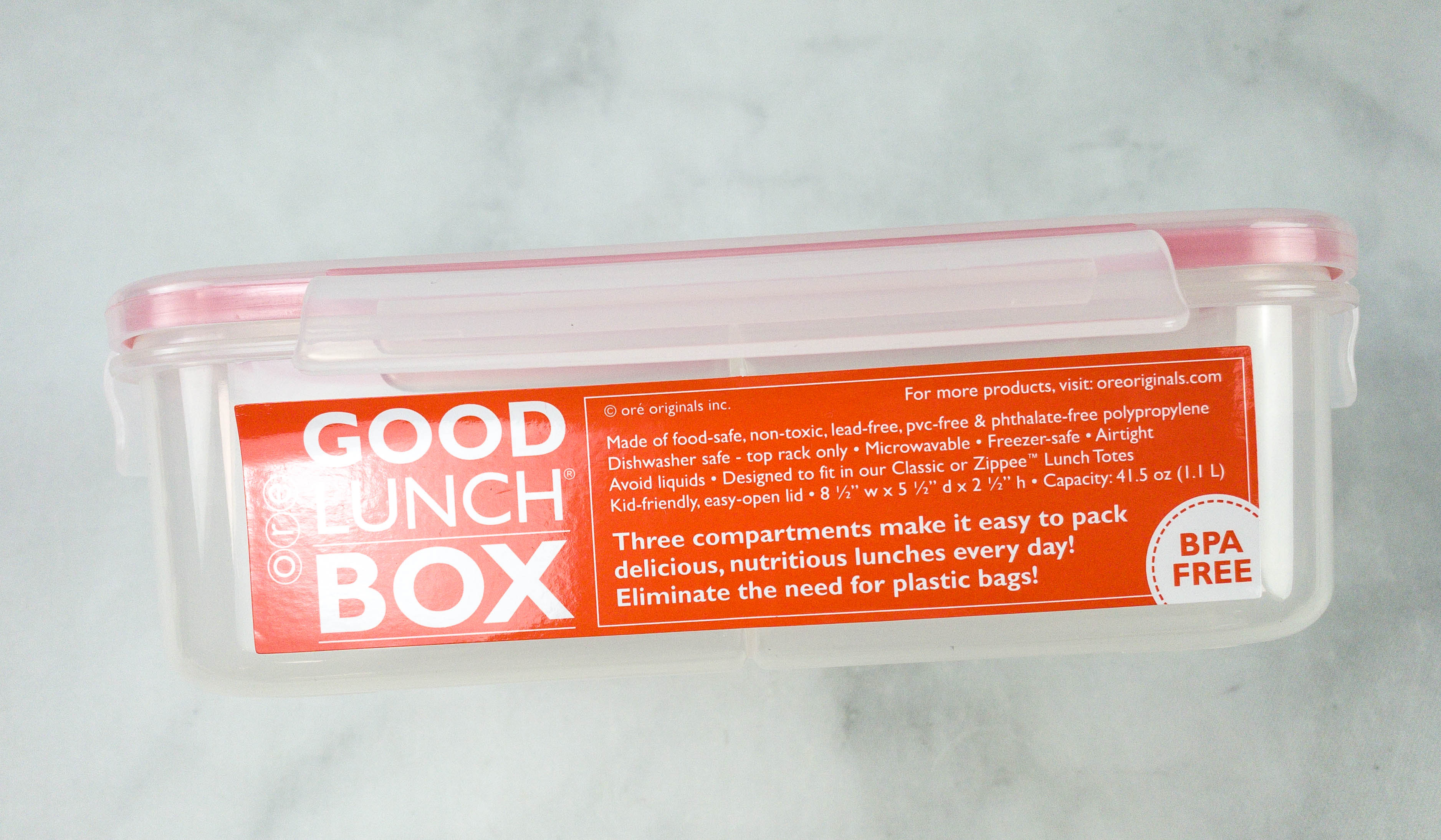 I love that it's lead-free, PVC-free, and phthalate-free. It's also freezer safe, microwavable, and top-rack dishwasher safe!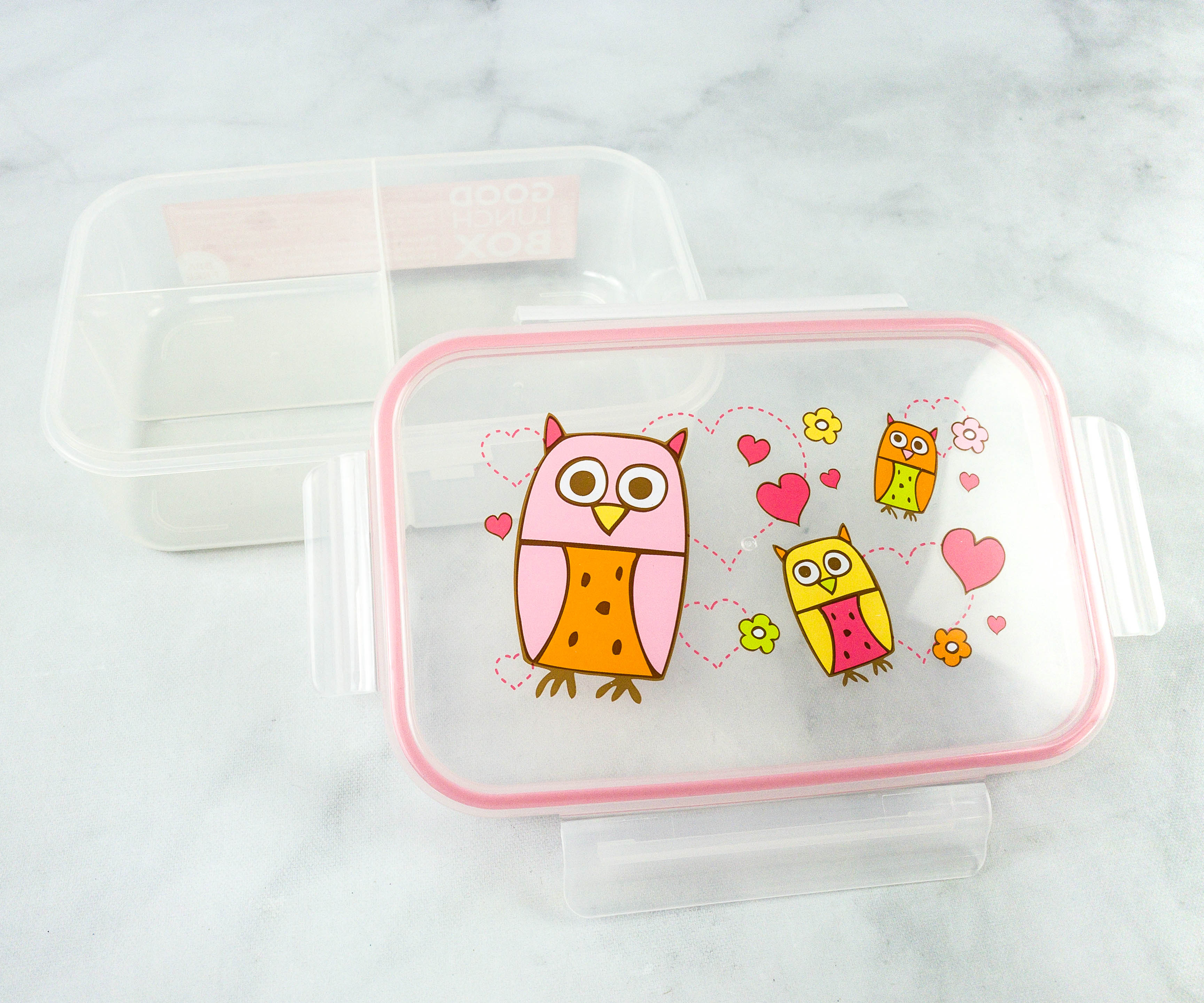 The airtight lid will make sure that whatever I put in will still be fresh so I can do advance meal prep!
Inside it has three compartments so you can easily separate the food. You can put bite-size cut sandwiches on the biggest part the add some cut-up fruits as well as biscuits on the others for a full snack!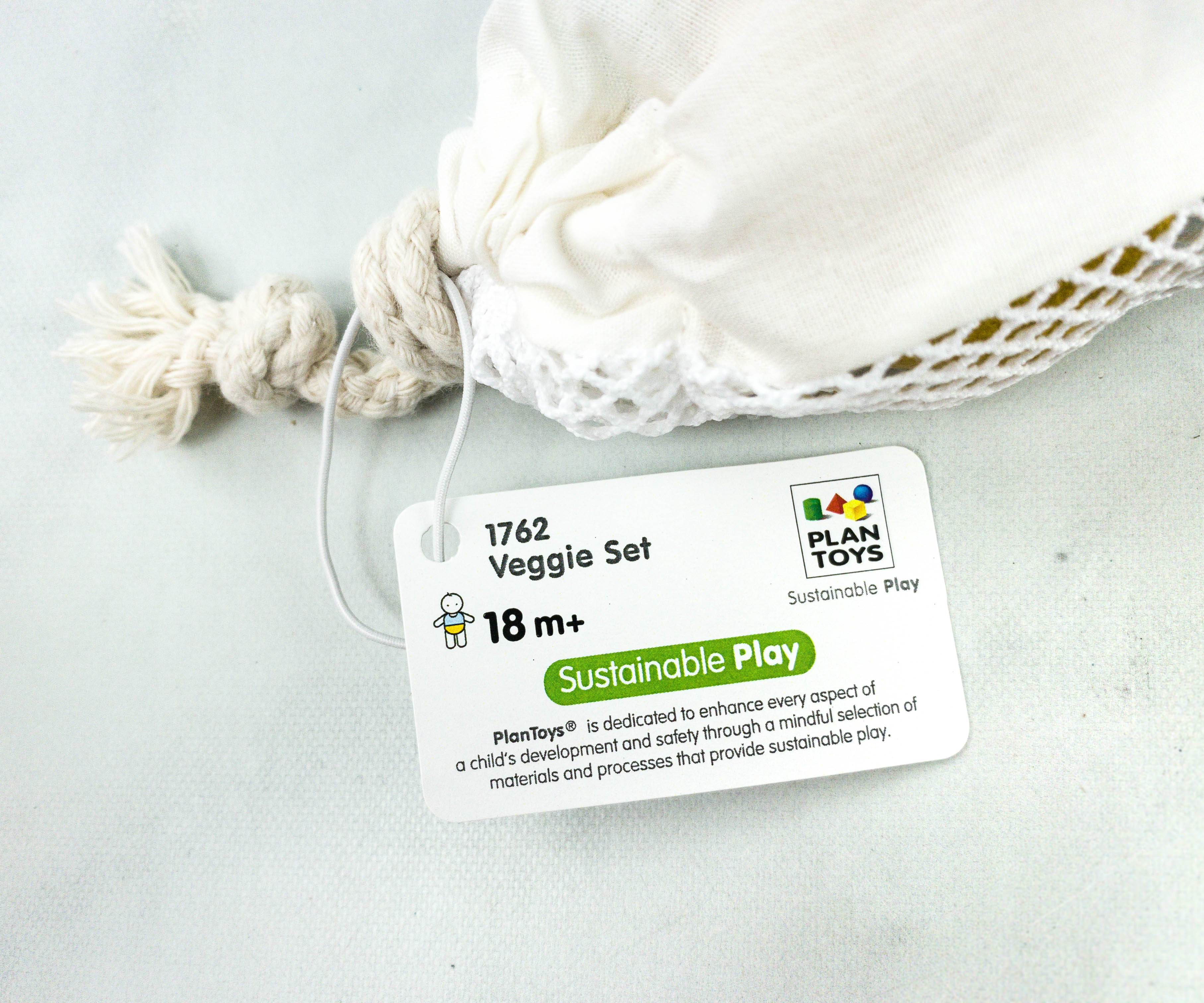 Plan Toys Fruit or Veggie Set ($15) These sliceable veggies are made with sustainable natural wood. They are great toys for pretend play!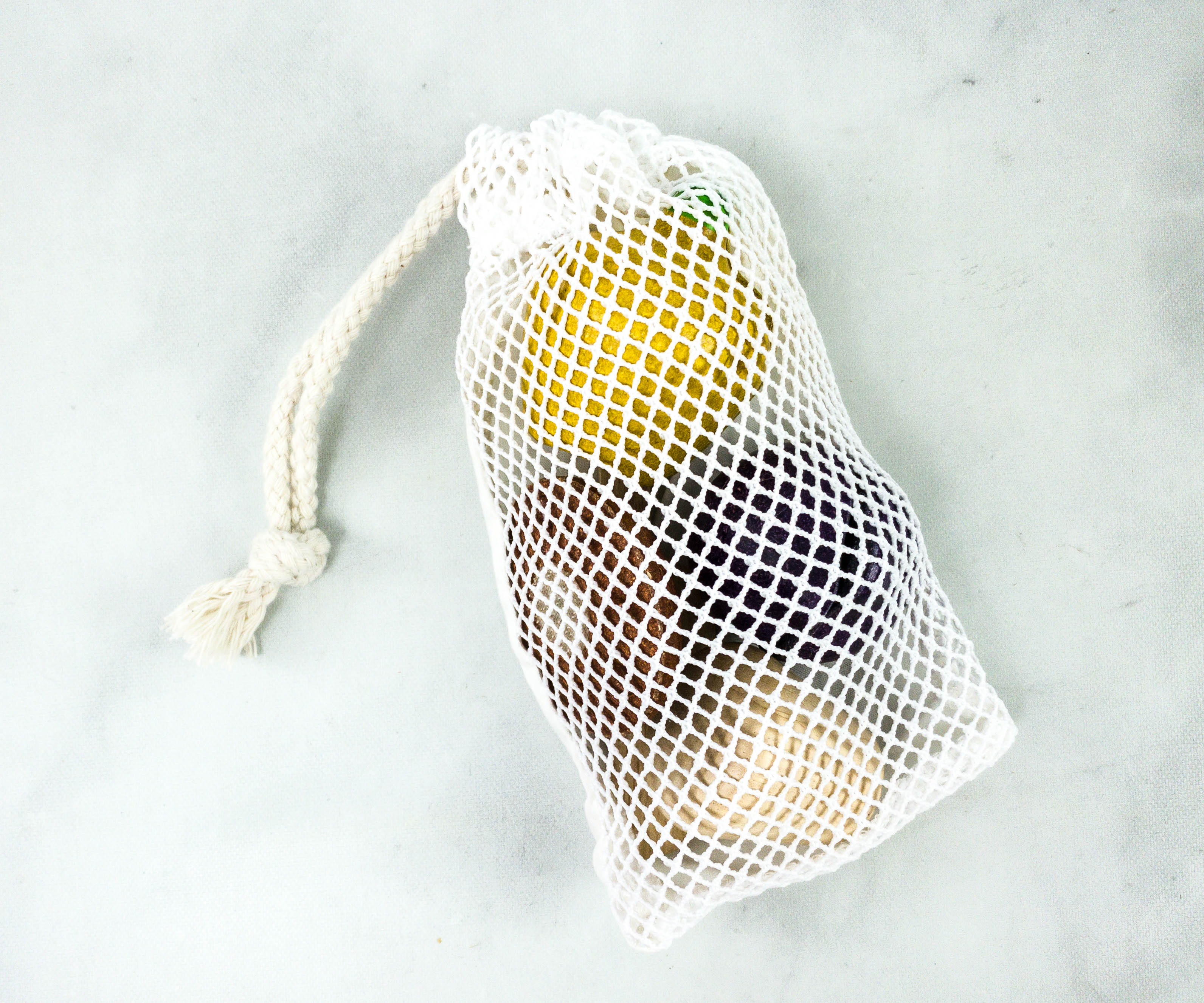 The toys came in this reusable mesh pouch.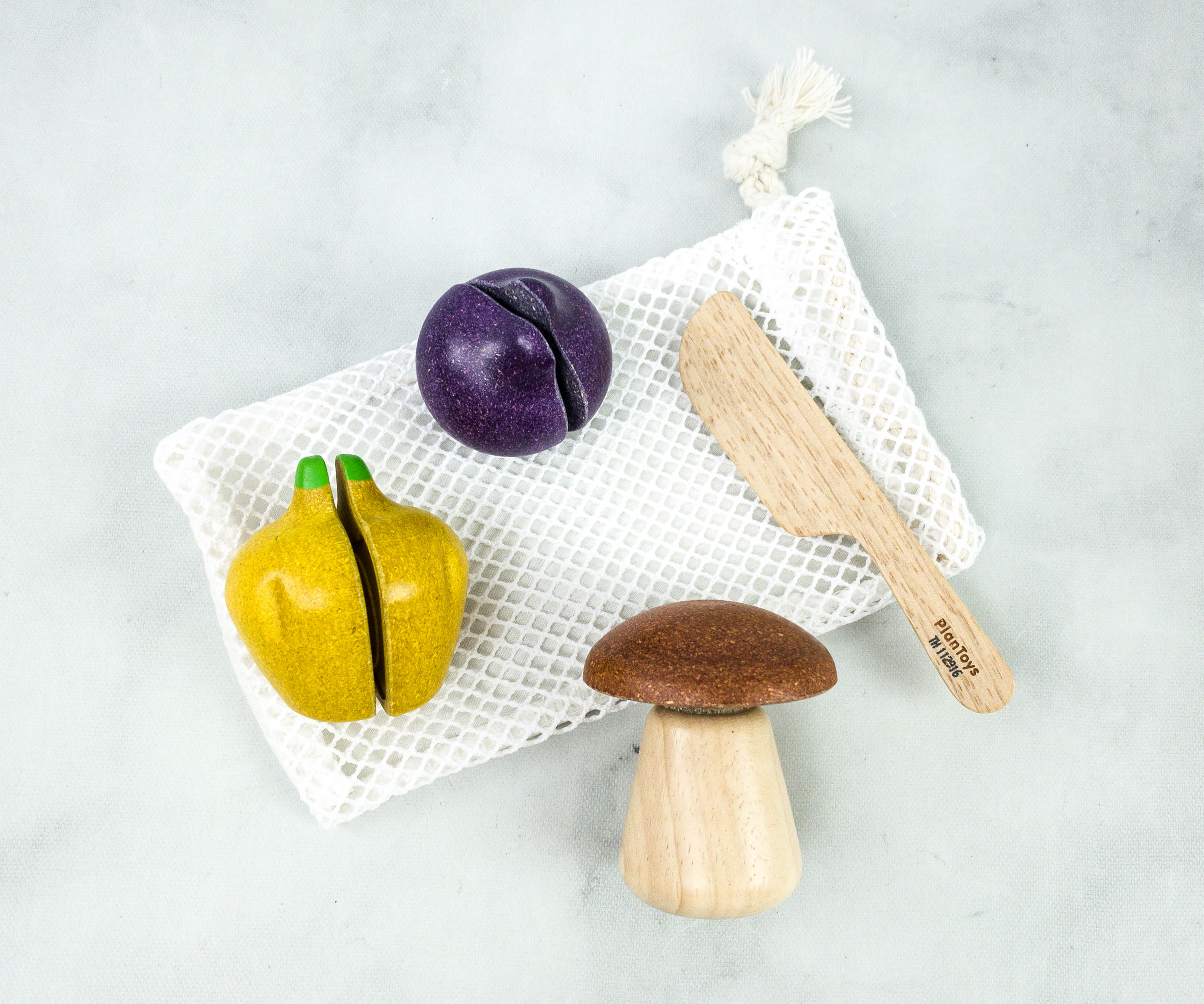 The veggie set even came with a wooden knife! Don't worry because the knife is safe to play with, it isn't sharp.
This is a toy that my daughter really enjoyed! She got to cut up the veggies because they were held together by velcro. It's a fun interactive way to play and it also helps kids, especially toddlers, develop their fine motor skills.
What a great Bluum Box! My daughter loved the toys in the box, especially the wooden veggie set. She wouldn't even let it rest and kept chopping the veggies! Meanwhile, I liked the bento box because it's useful when preparing her meals or snacks. This is an ideal subscription for kids and also for parents looking for high-quality developmental toys for their children!
What do you think about Bluum?