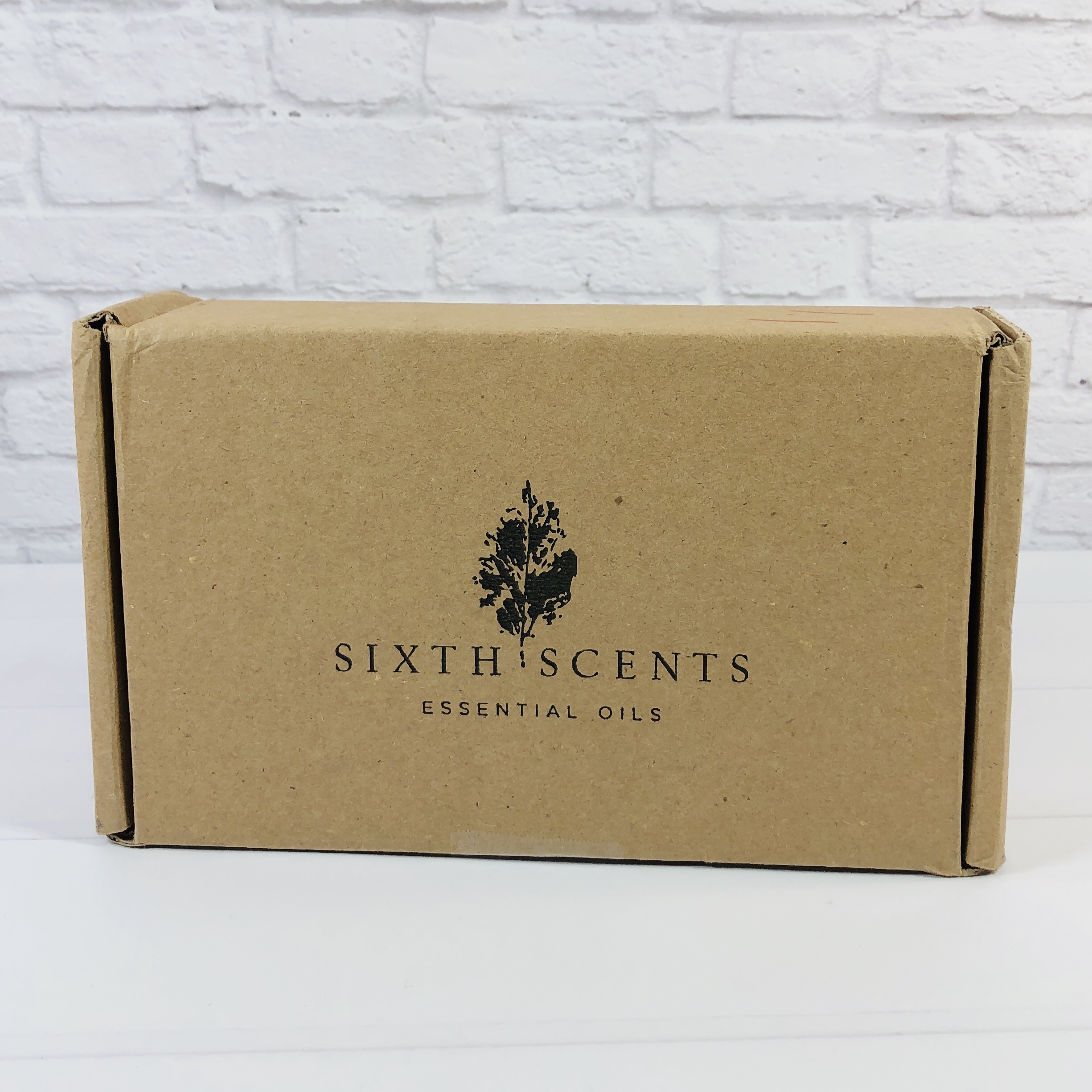 Sixth Scents is a monthly subscription box of essential oils. Every month will include 6 bottles of 100% pure oils for all kinds of aromatherapy uses. The oils are curated to the month and season and will have oils one might associate with a certain time of year. Boxes are $59 a month and shipping is free to the U.S., $15 to Canada.
Enjoy the Scents of Each Month and Season with Your Sixth Scents Essential Oil Box. Every month will be a new set of beautiful, 100% Pure oils for all of your aromatherapy love. These oils have been curated to suit the needs and moods of each upcoming month.

100% Pure Oils- Non-toxic and free from synthetic fragrance, sulfates, parabens, formaldehydes, phthalates, and mineral oil
Made in the USA with globally and sustainably sourced essential oils.
Vegan and Cruelty-Free
Highly recyclable, earth-conscious packaging
6% of profits donated to small global farmers
DEAL: Get $10 off your first box! Use coupon code HELLO10.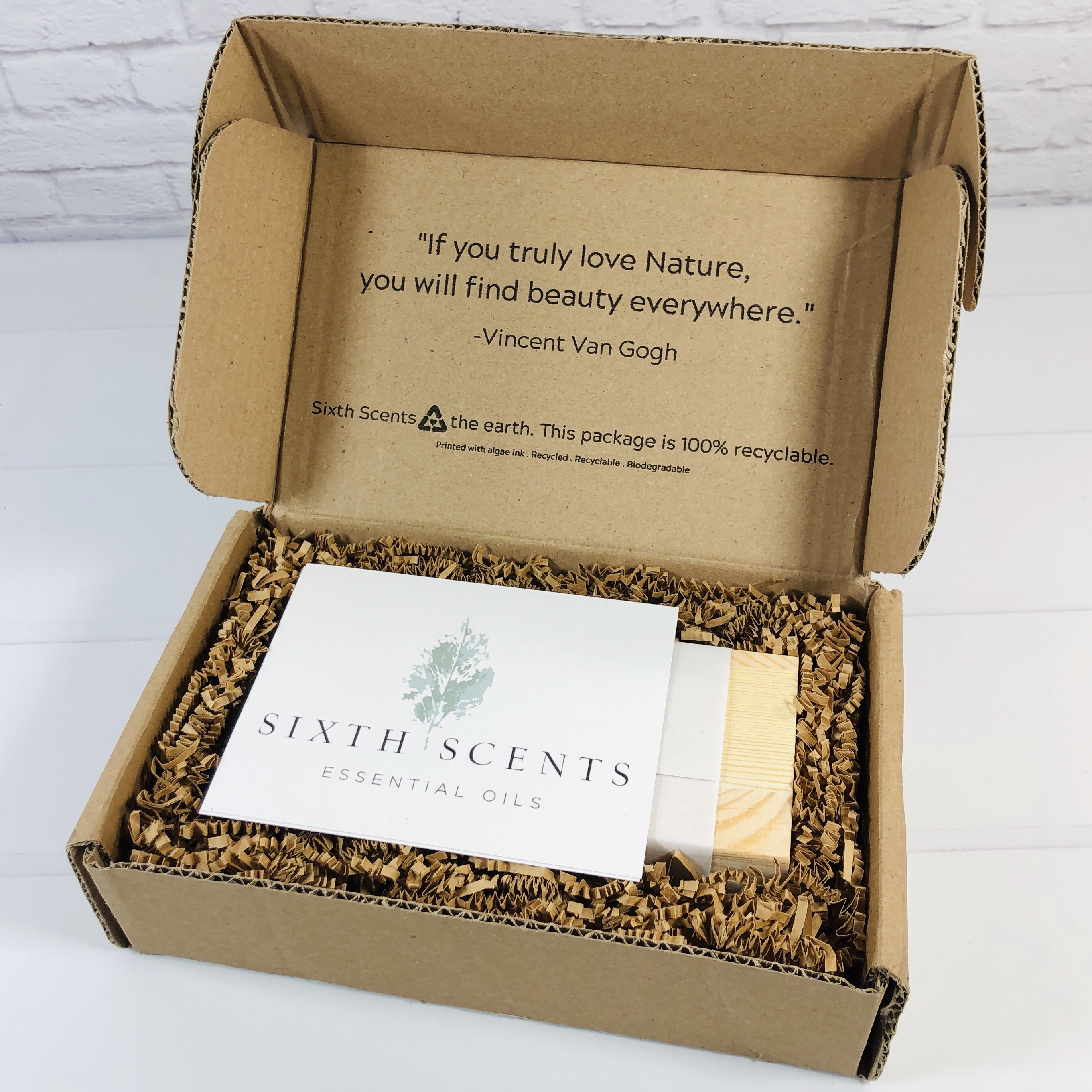 I love this quote on the inside of the box!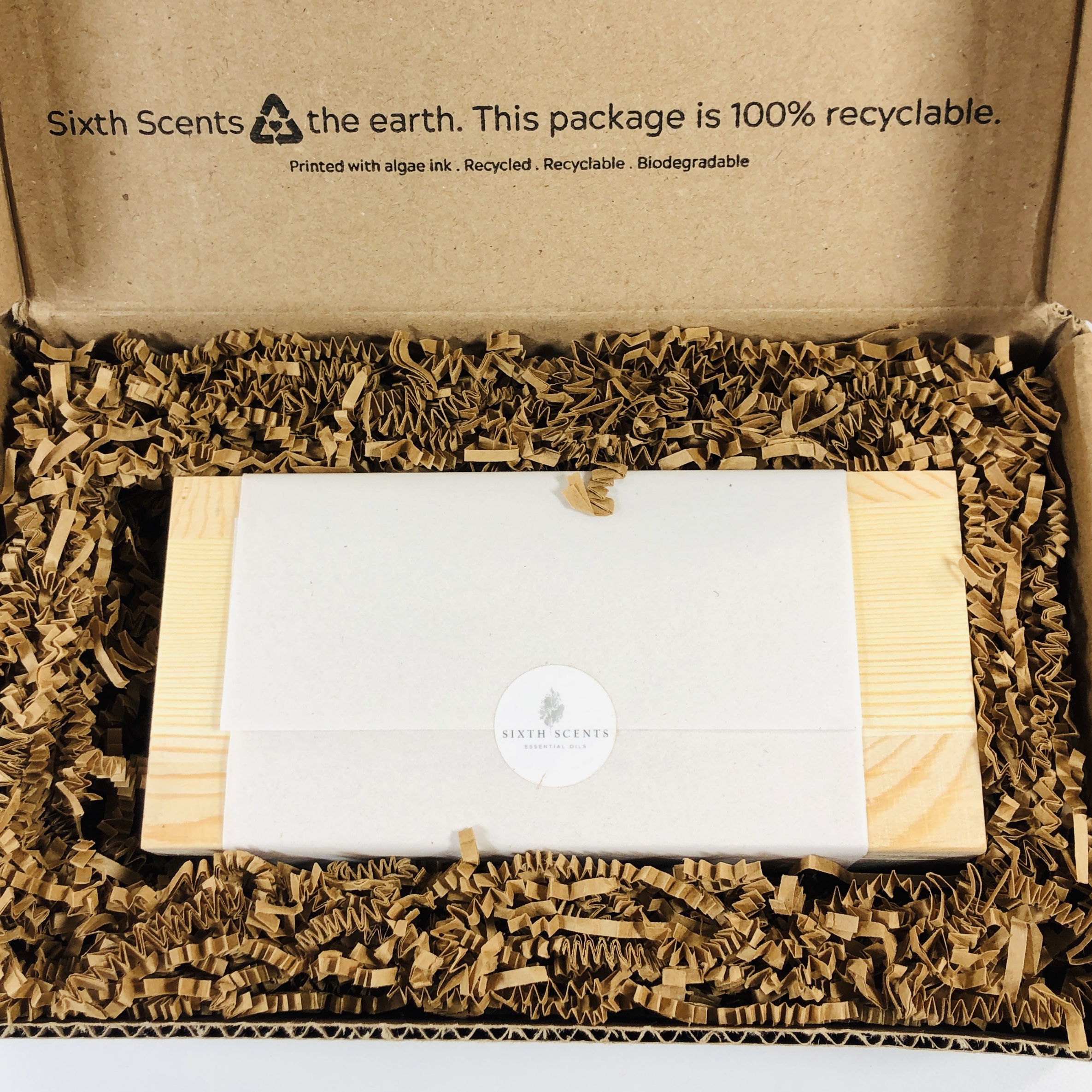 I found a wooden box nestled in a bed of shredded paper squiggles.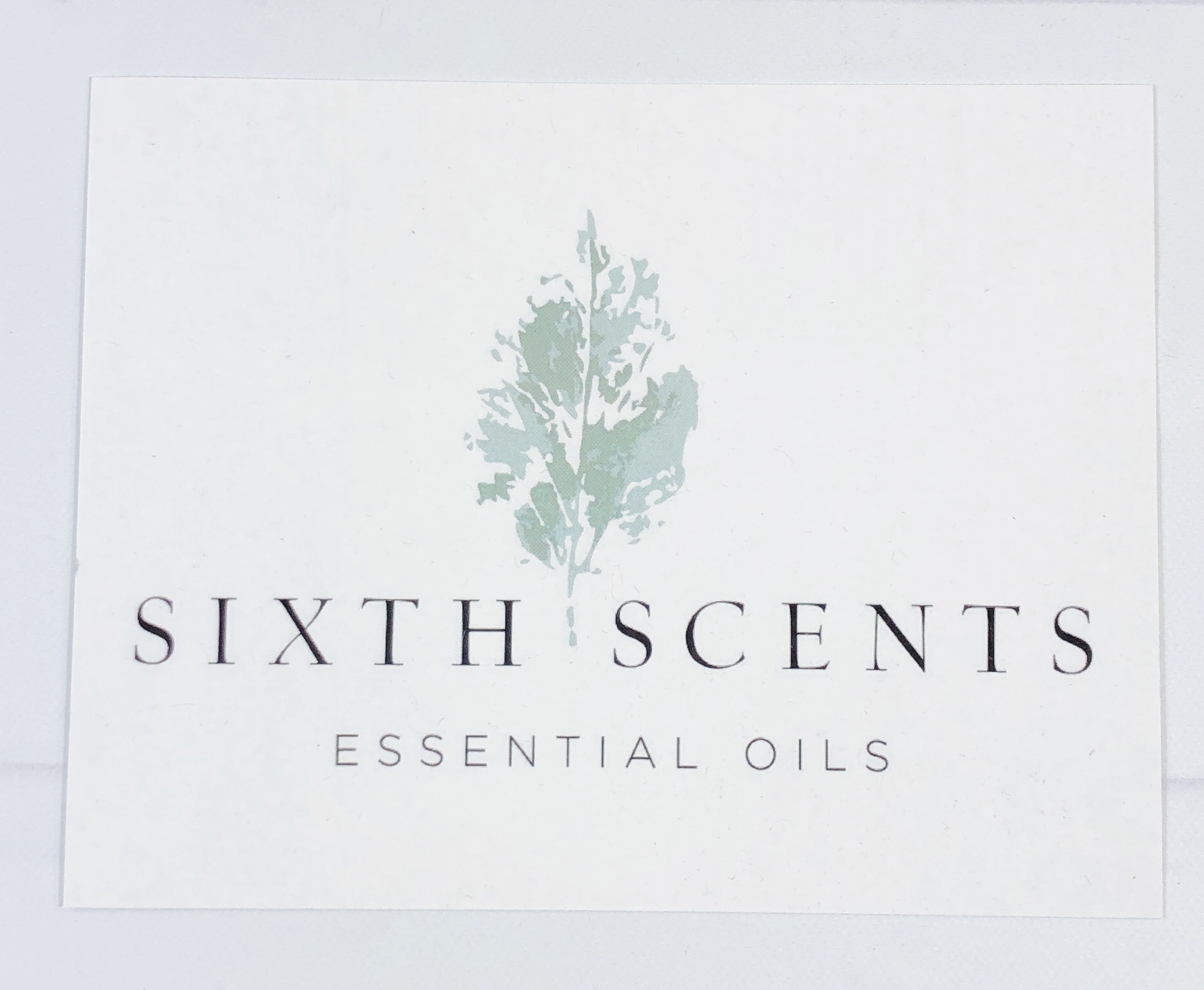 I found a card in the bigger box.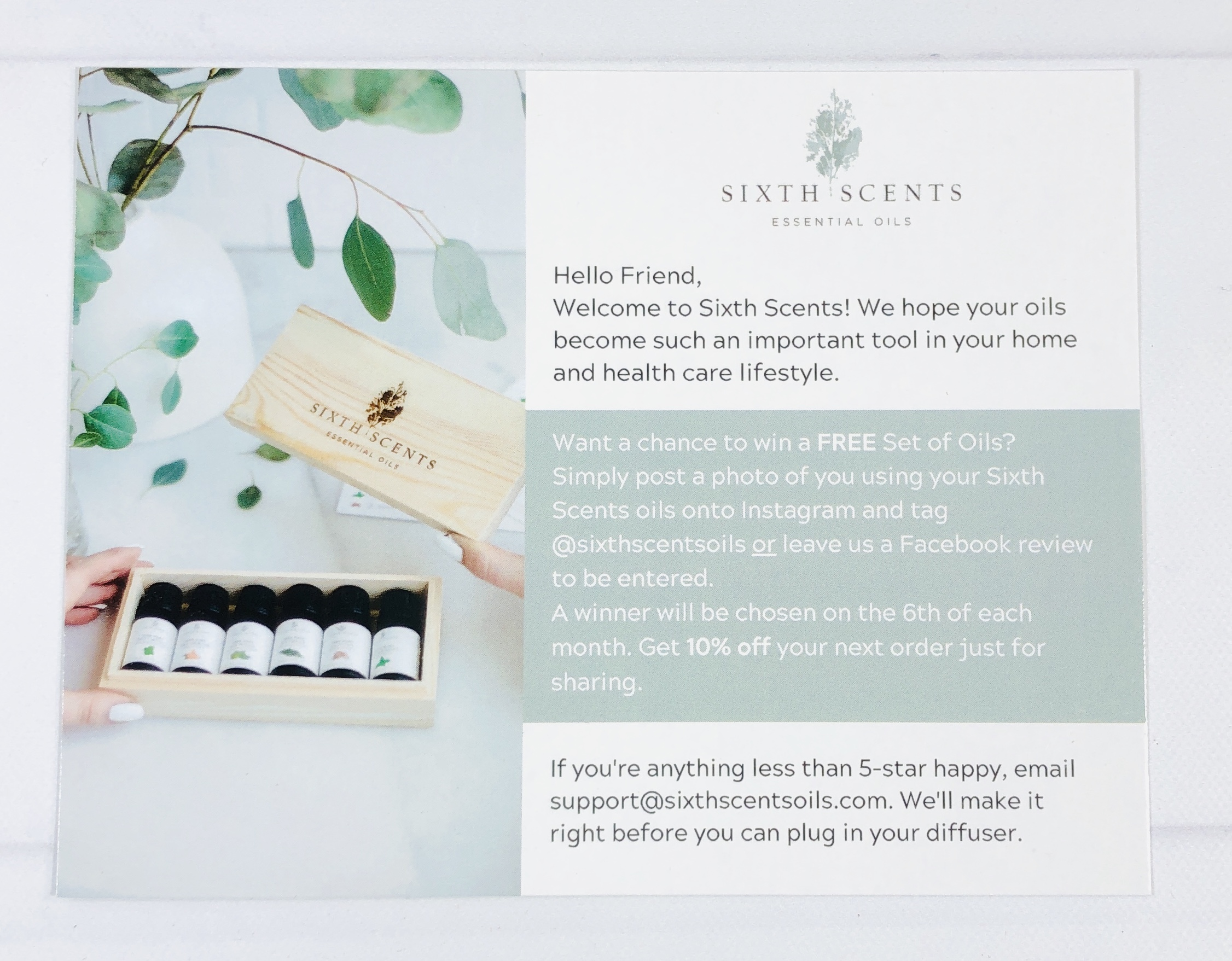 The back of the card described how you can enter to win a free set of oils for sharing pictures of the oils in use.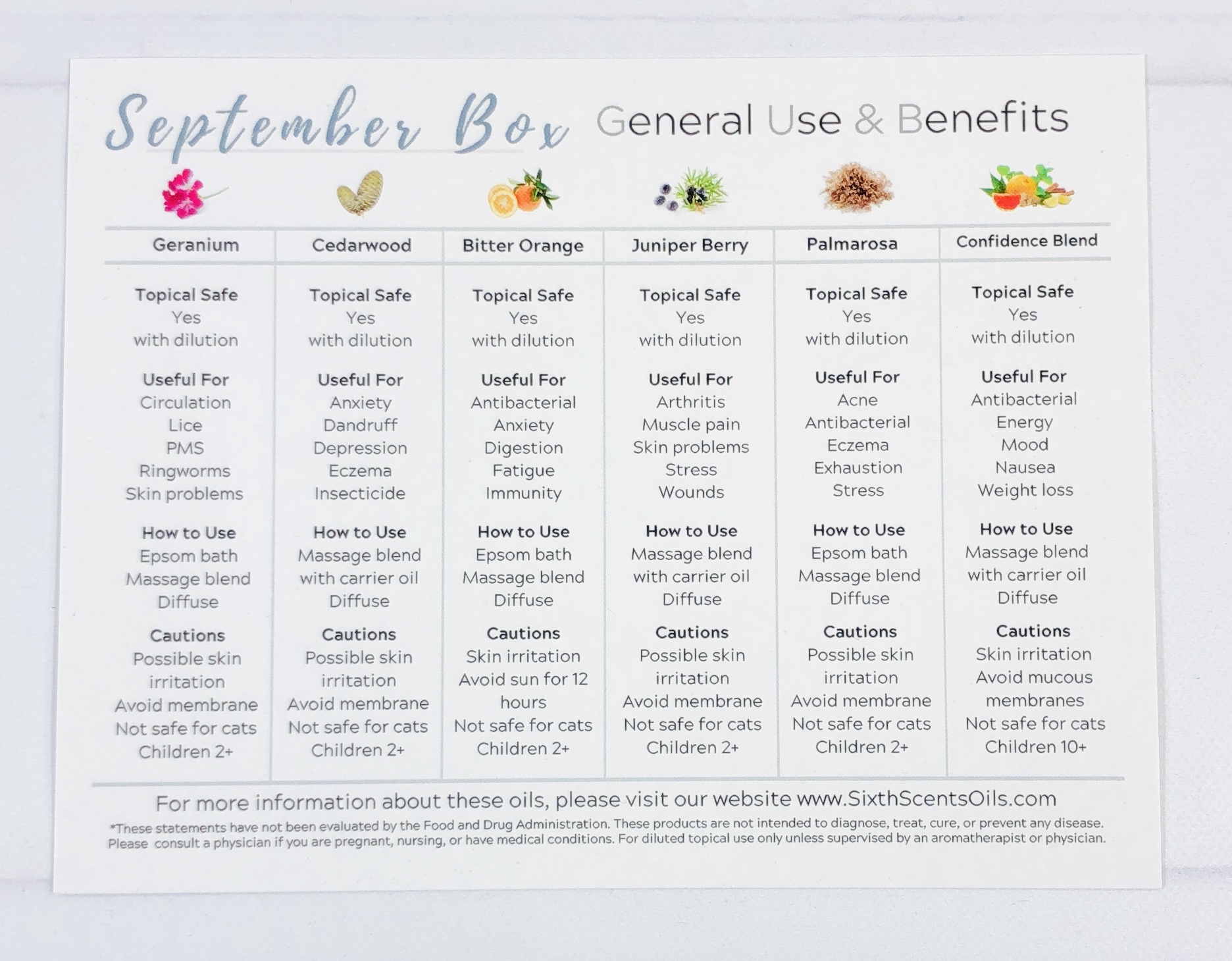 I found a second card with all of the oils I received listed plus some general ways to use them. I have an aromatherapy book that I can refer to but I have also found additional uses on Pinterest.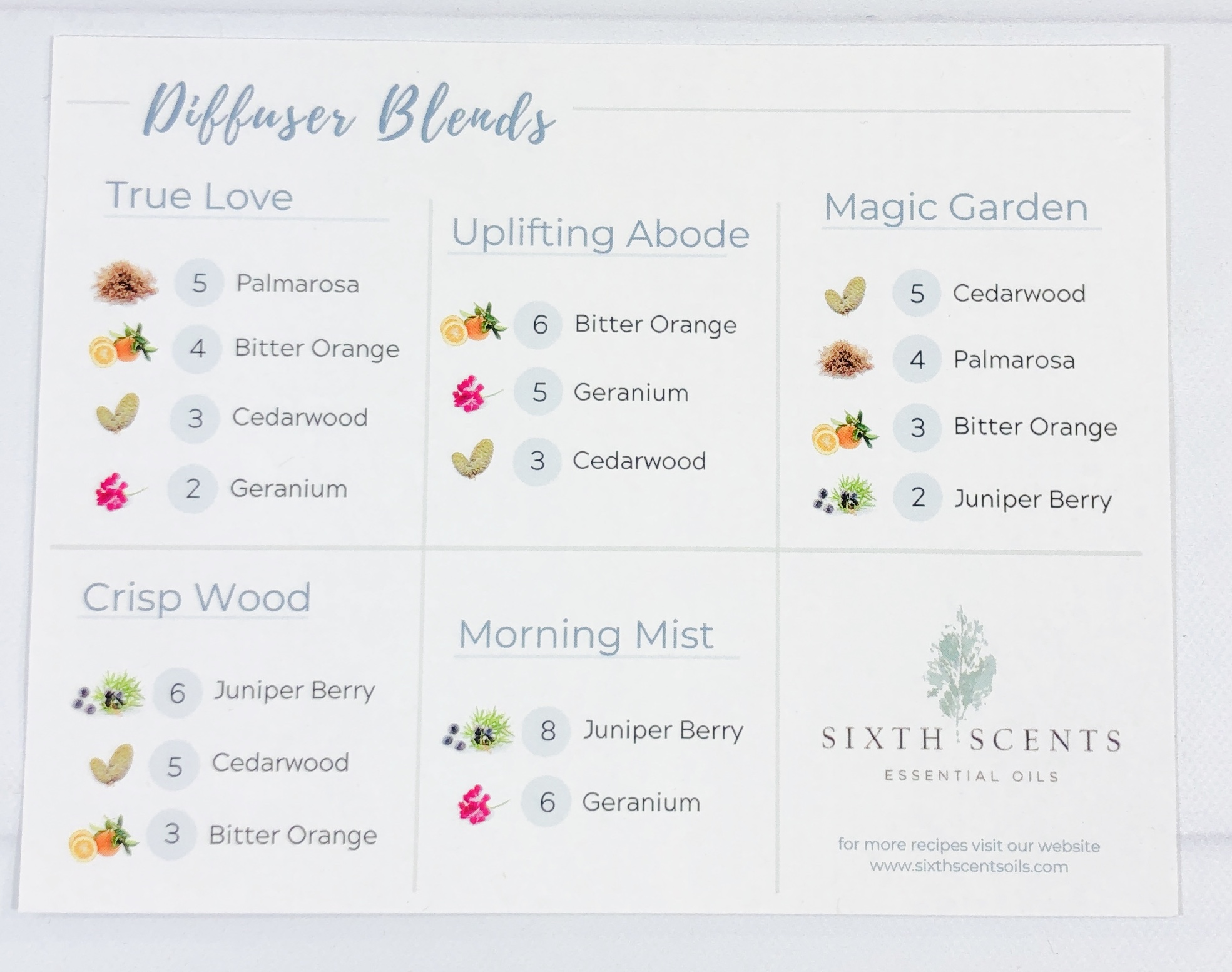 The back of the card listed a few diffuser blends to get me started.  I am currently diffusing "Magic Garden" and can't wait to try the other suggestions.
NOTE: Although the oils are supposed to be non-toxic, please use caution when using oils. Do not use if pregnant or nursing, be careful around pets and children, and do not take internally. Check with your doctor if you have any existing health problems, and consult with a doctor if you have any questions. Also, some oils are very toxic when taken internally, and essential oils need to be diluted with a carrier oil before using on skin, and some can even burn your skin when exposed to sunlight. I love essential oils, but I also do my homework before using.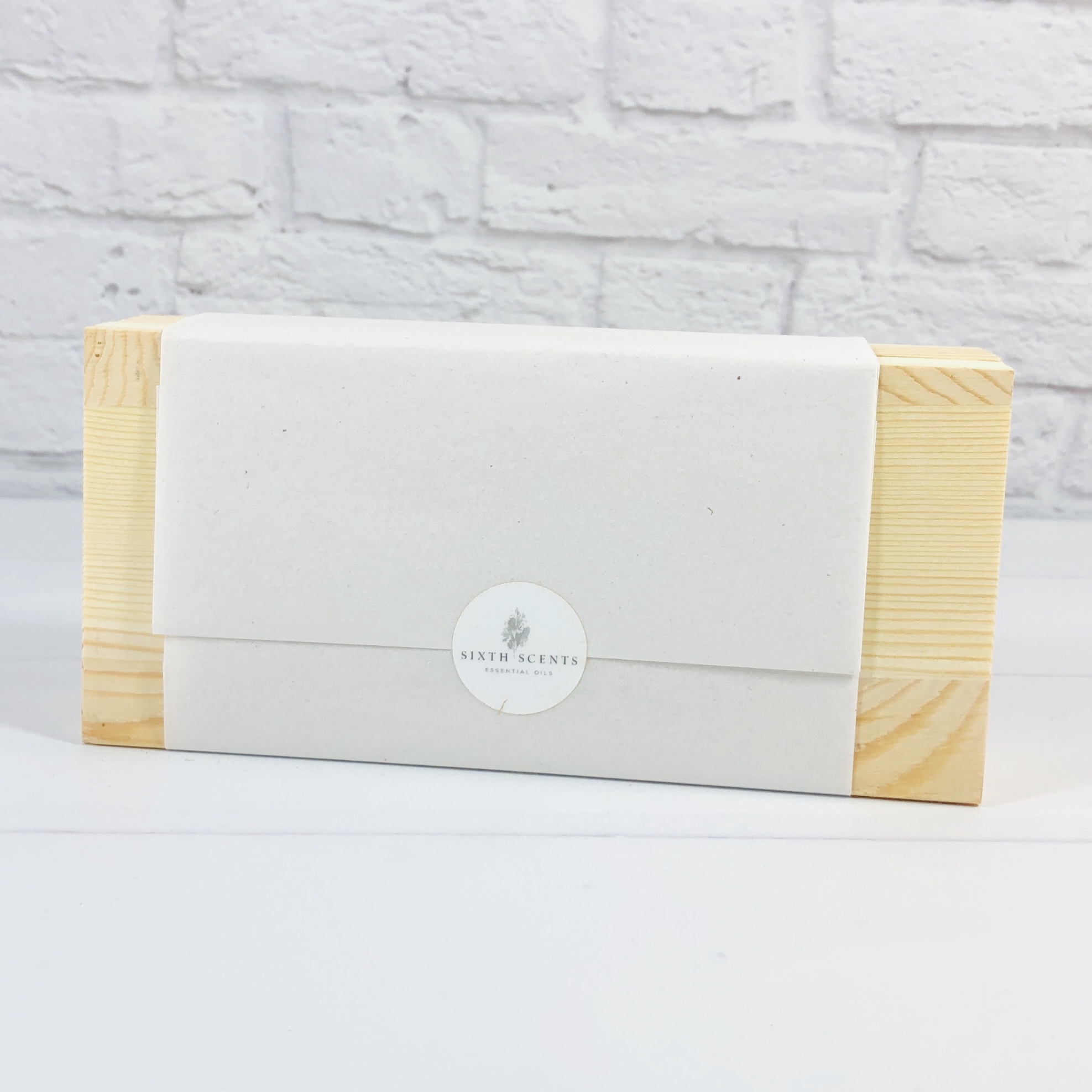 My oils were in a reusable wooden box. I can keep them in the box for storage and they will stack neatly on a bookcase. I also discovered that 10 oils will fit in the box if you place them standing upright, instead of lying down.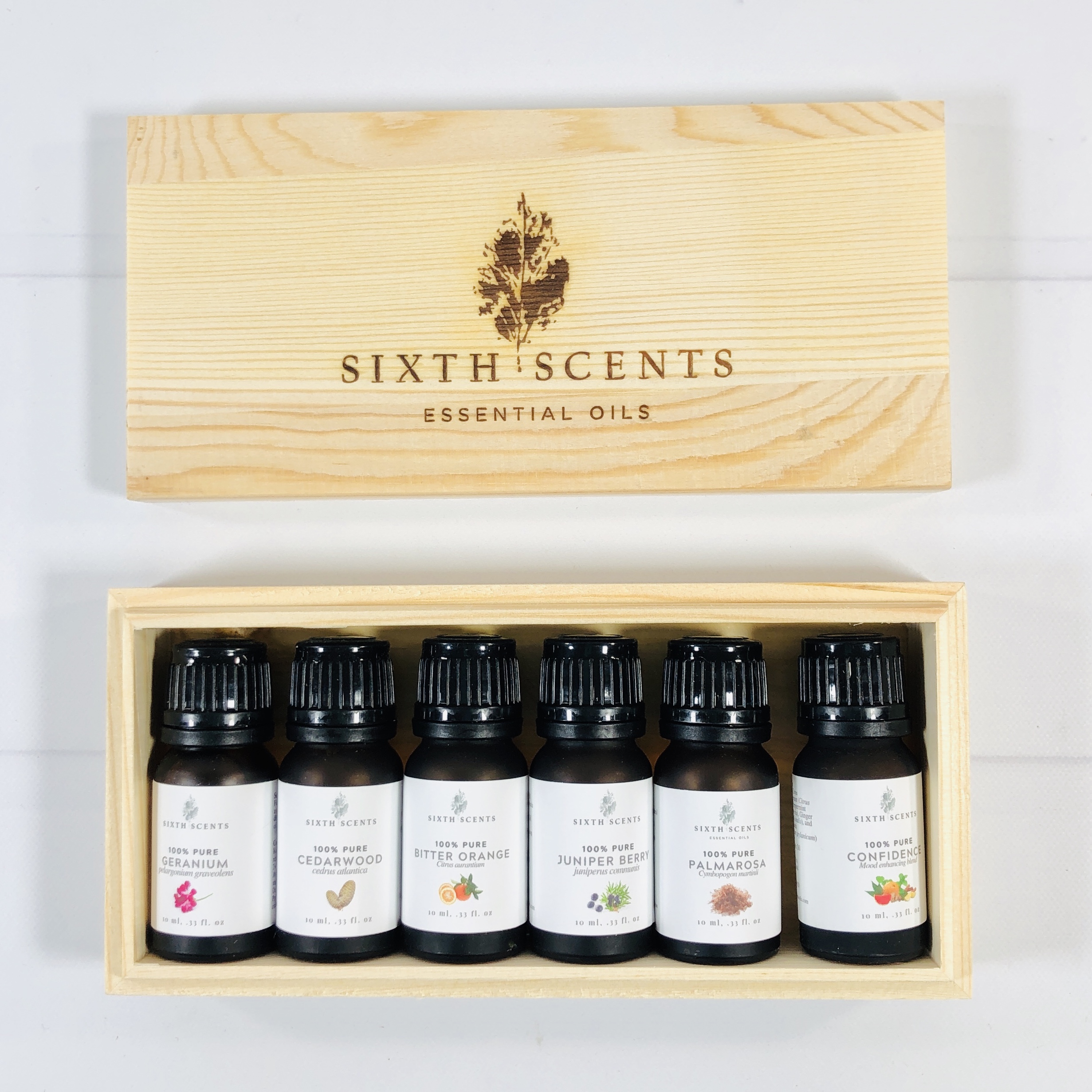 Look at all of those beautiful oils!
I see some newbies for my collection!
Everything in my box!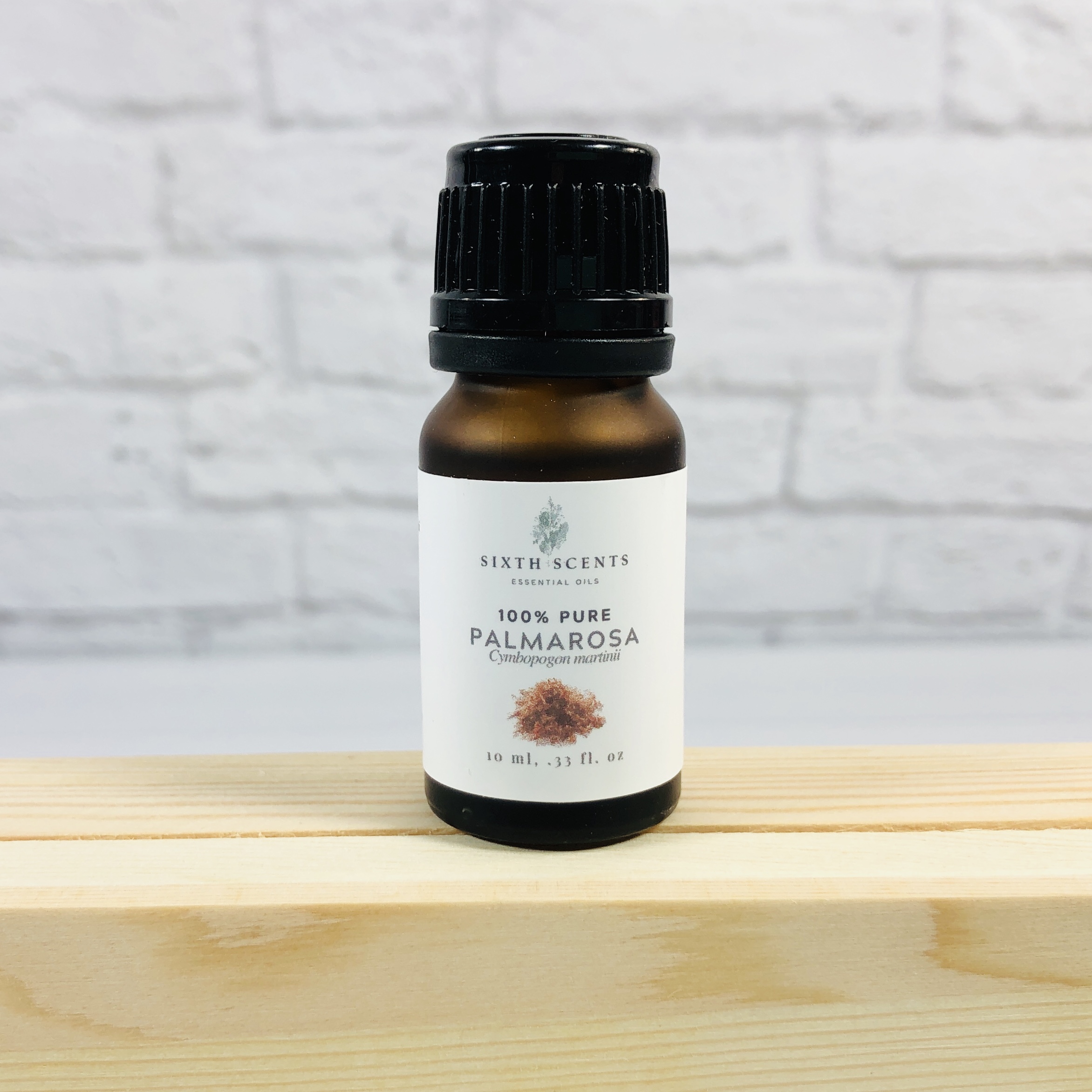 Palmarosa ($14) Palmarosa is new to my collection thanks to Sixth Scents. It is an anti fungal and controls oil in the skin. It has a warm earthy scent with a hint of rose.
Each oil has a euro dropper to help control how many drops come out at a time. I almost always over drop anyways.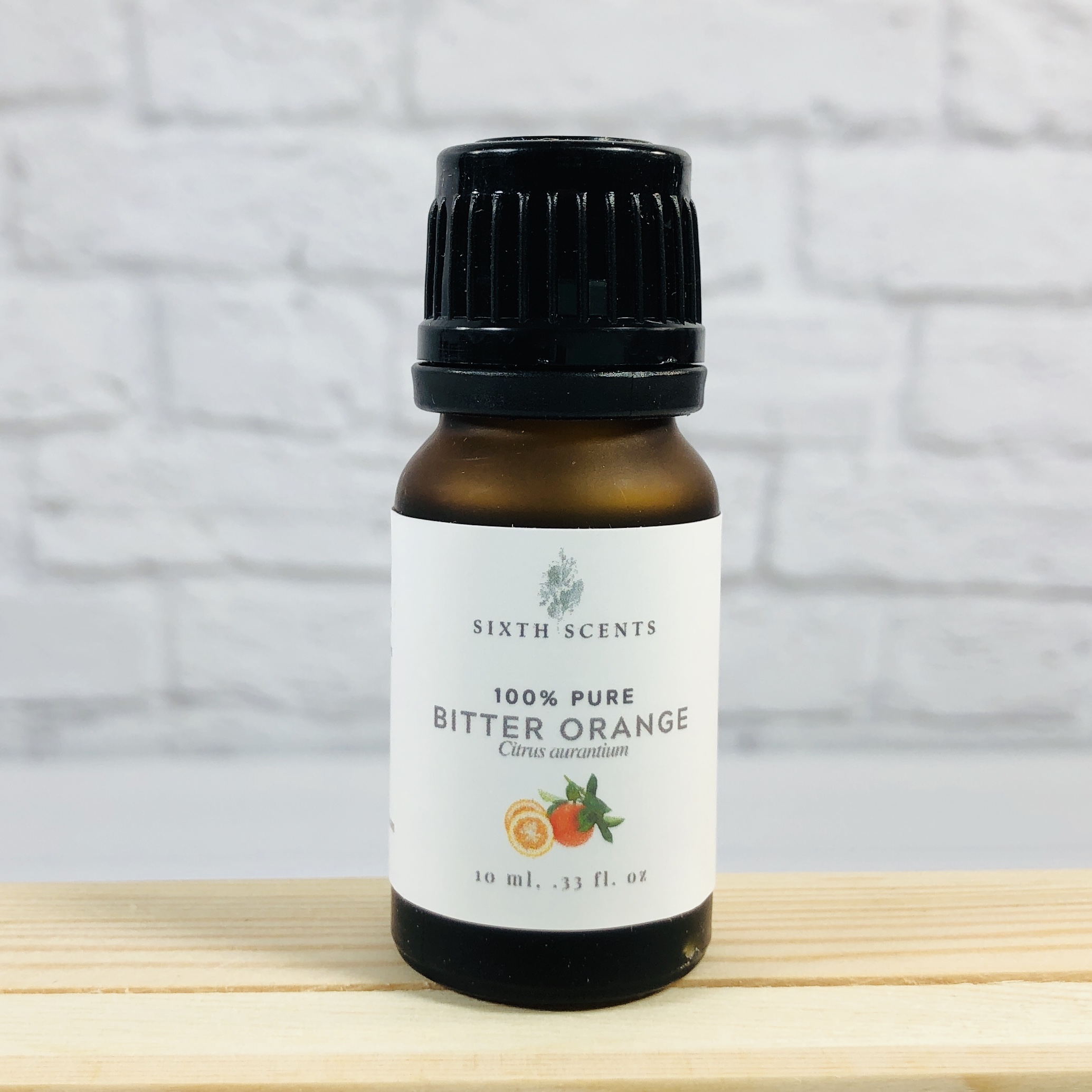 Bitter Orange ($11) is anti-bacterial and uplifting. It can be used in both stimulating and relaxing diffuser or aromatherapy blends. It smells just like the rind from a citrus fruit and here's a fun fact: neroli comes from the blossom of this fruit, petitgrain comes from the leaf!
Cedarwood ($14) has been in use for centuries and this particular type (Cedarwood Atlas) is used in perfumery too. Some consider it an aphrodisiac and it has been used for lung congestion and UTI's. It has a warm and sweet scent.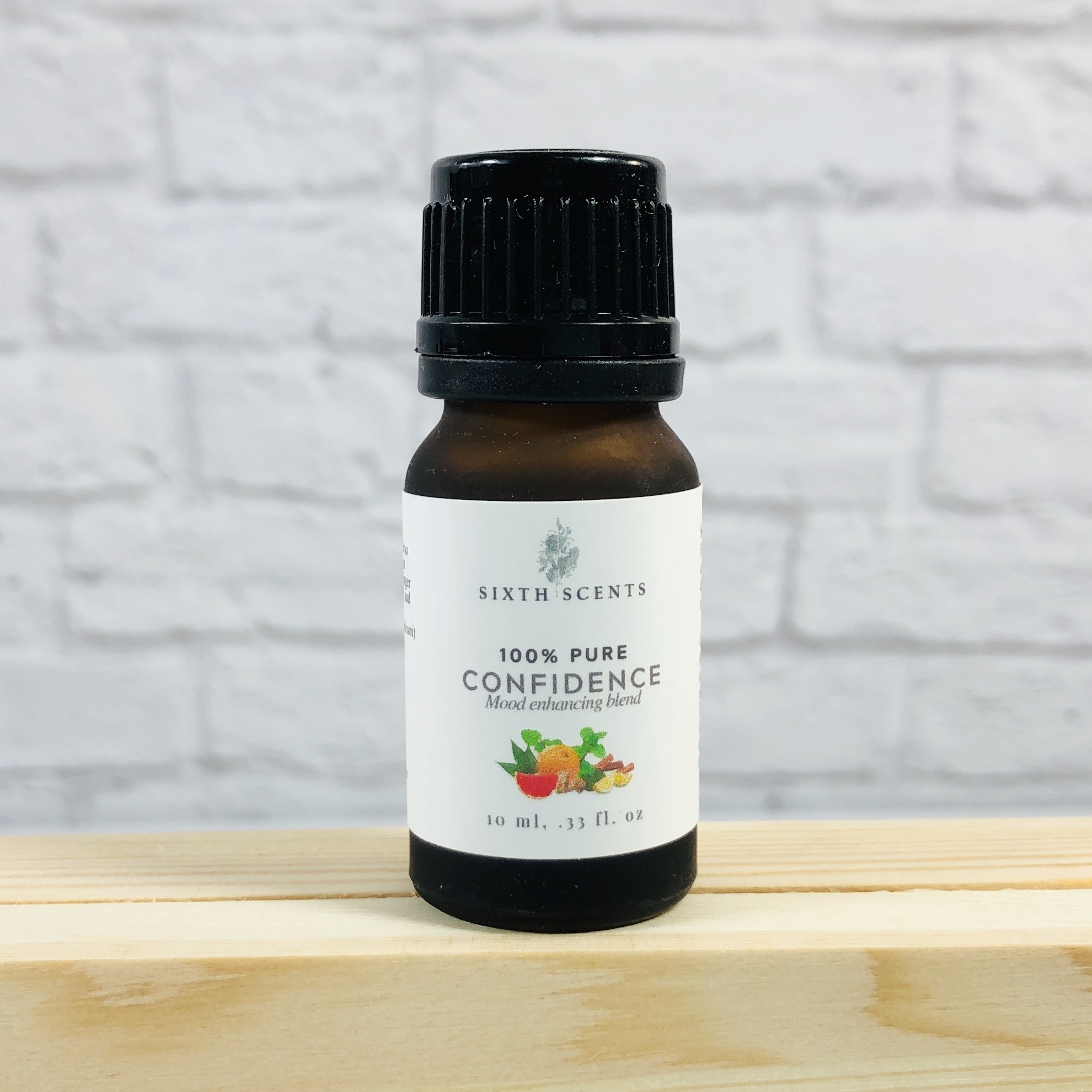 Confidence Blend ($18) is the only blend in this box and it's simply a combination of different oils.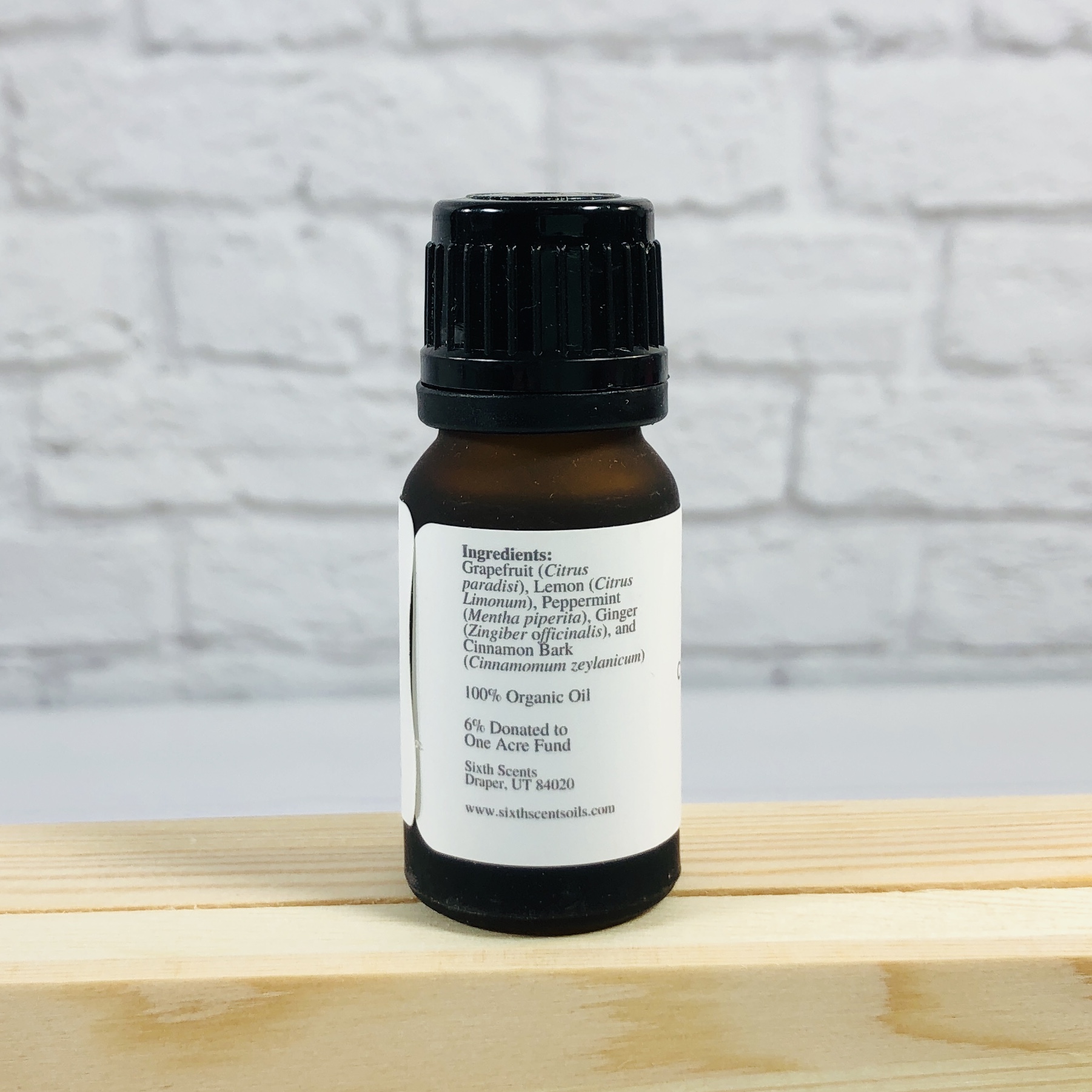 This combo is made of grapefruit, lemon, peppermint, ginger, and cinnamon. It can put some pep in your step and also may be an appetite suppressor. I already have a blend in my diffuser but this oil is next in line. I can smell the citrus and cinnamon first thing but it also has a cooling effect thanks to my favorite, peppermint.
Geranium ($22) Geranium is another oil I am happy to add to my collection. I see it all the time in my skin oils but it can also improve circulation. It has a green, floral, and woody scent.
Juniper Berry ($15) is another beneficial skin helper and it is used to flavor gin! It can be mixed into a carrier oil and rubbed over sore muscles and joints to relieve aches or rub on the abdomen to get rid of monthly cramps. It smells like an evergreen, reminds me a bit of winter holidays.
I am so pleased with the oils I received in my September Sixth Scents box! There were several that are new additions to my herbal apothecary and the blend was a well appreciated surprise. Essential oils need to be mixed with a carrier oil for use but coconut or olive oils usually work well and are close by, or look for jojoba or grapeseed, even apricot seed oil at the natural health section of the supermarket. I mostly use them for diffusing but they have lots of additional uses, just search online and make sure to use them safely. Sixth Scents gives several suggested uses on their website under each oil too.
Do you like this month's box? Let me know what you think by leaving a comment!