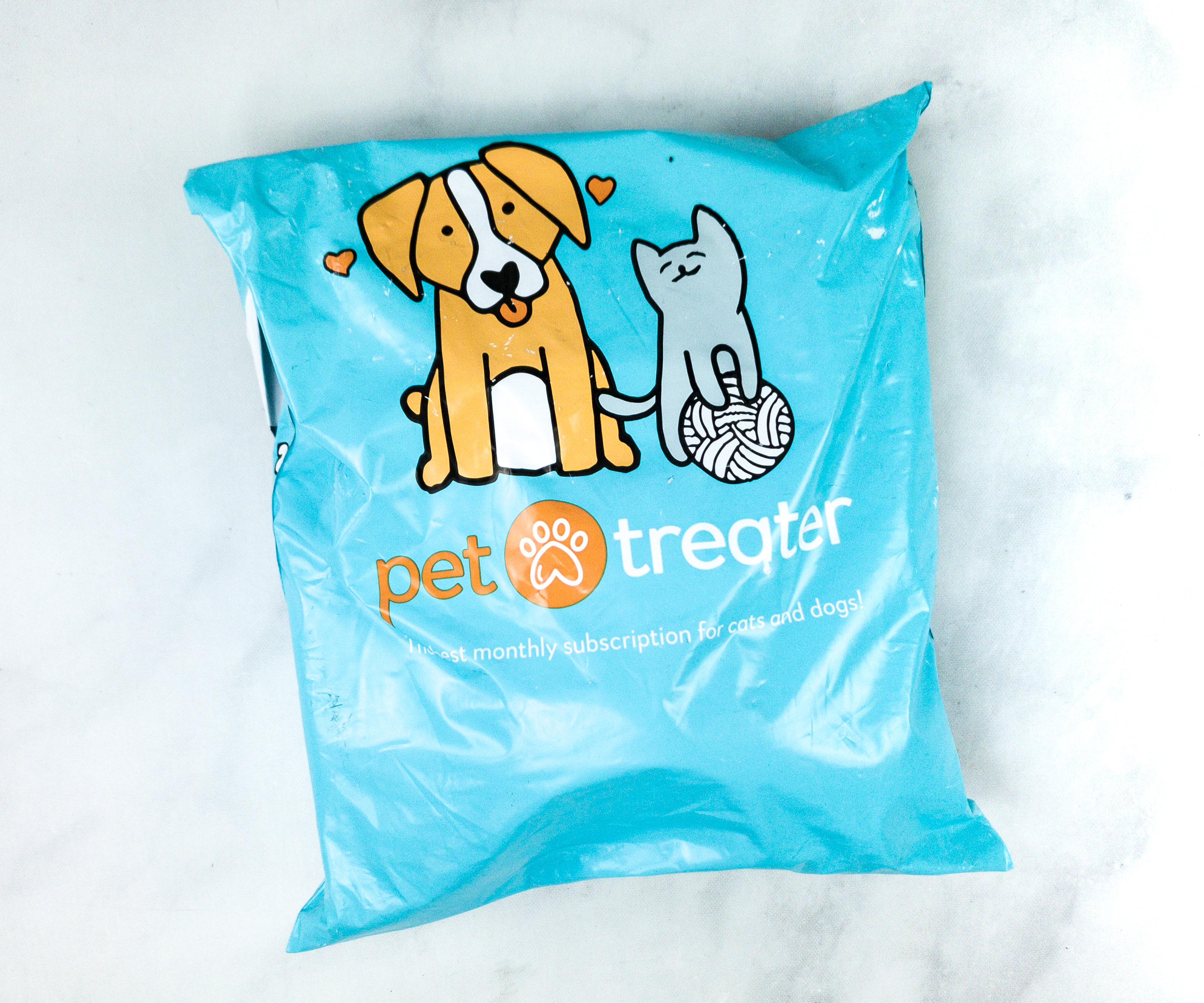 Pet Treater Dog Pack is a monthly dog subscription! Every month you receive at least one bag of treats made in the USA or Canada along with one toy each month for $15 and free shipping. Small, medium, and large dog options are available. Subscribers have access to secret deals and add-ons. It's formerly known as Mini Monthly Mystery Box for Dogs and Pet Treater Dog Box Mini. Pet Treater Dog Pack is a smaller version of Pet Treater's Deluxe Dog Pack.
DEAL: Get 10% off your first month with coupon code DOGPACK10.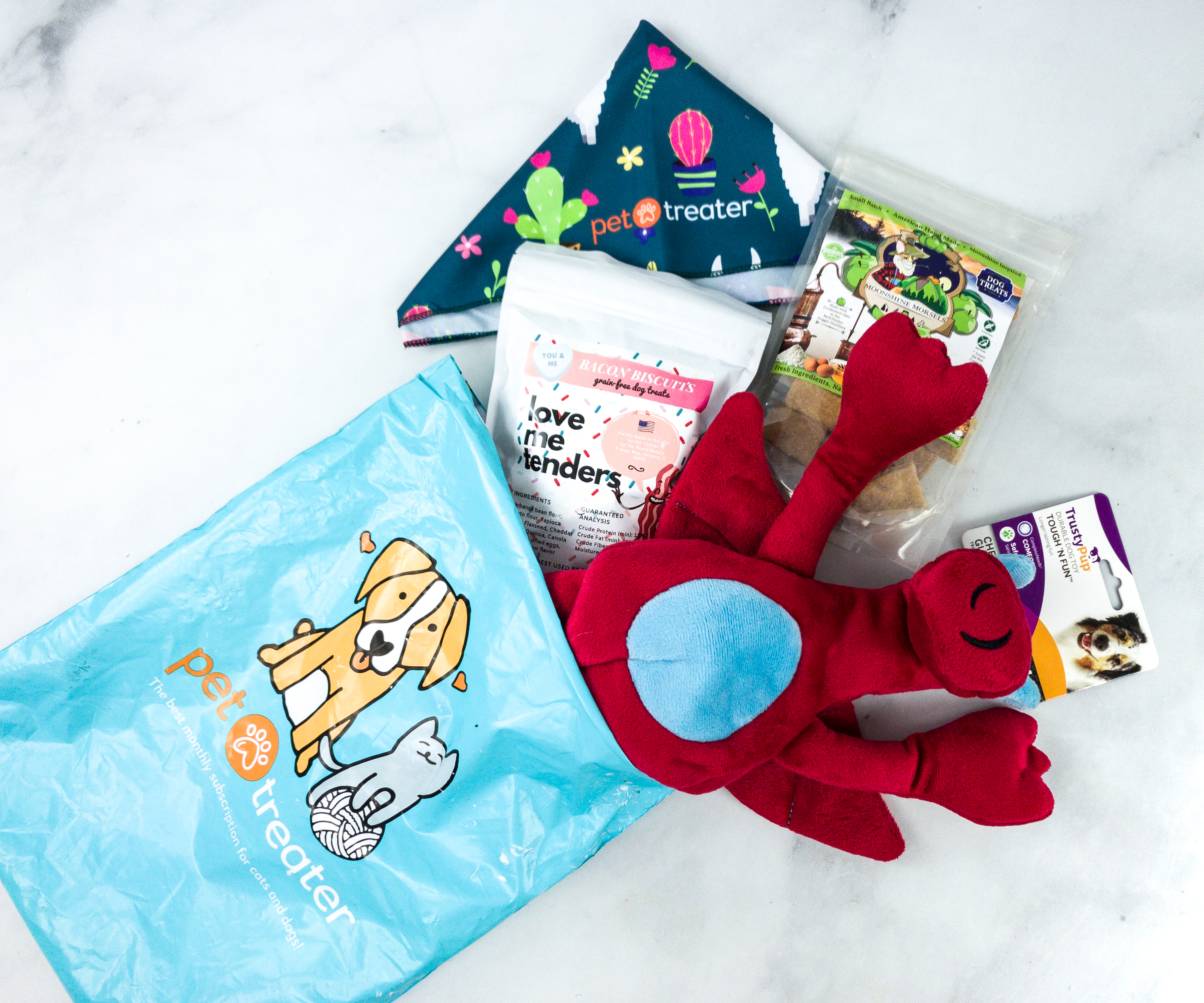 The items arrive in a pouch instead of a box. The package this month has no extra packaging and all the items arrived in perfect condition.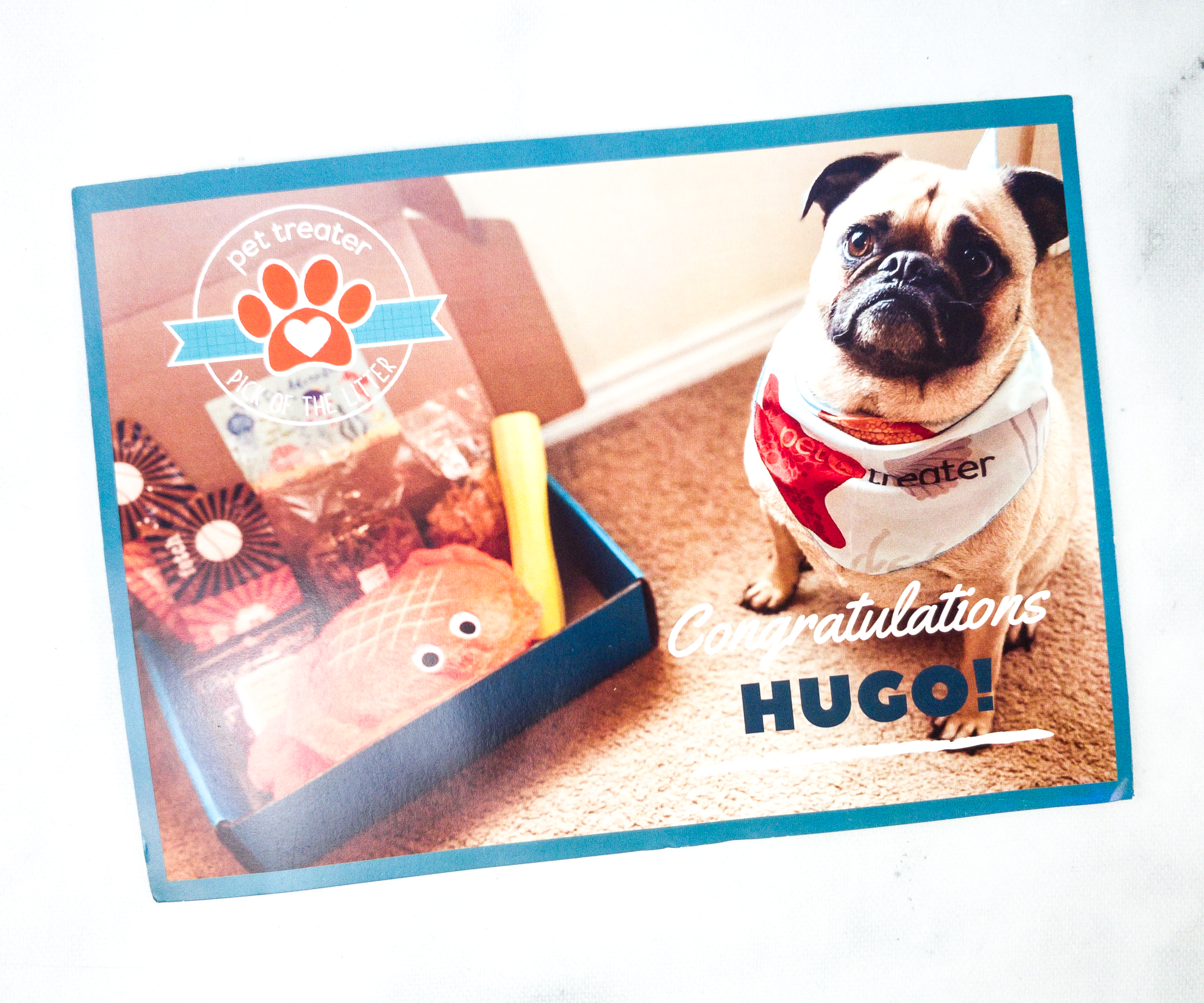 Also included is a card that features this month's Pick of the Litter, Hugo!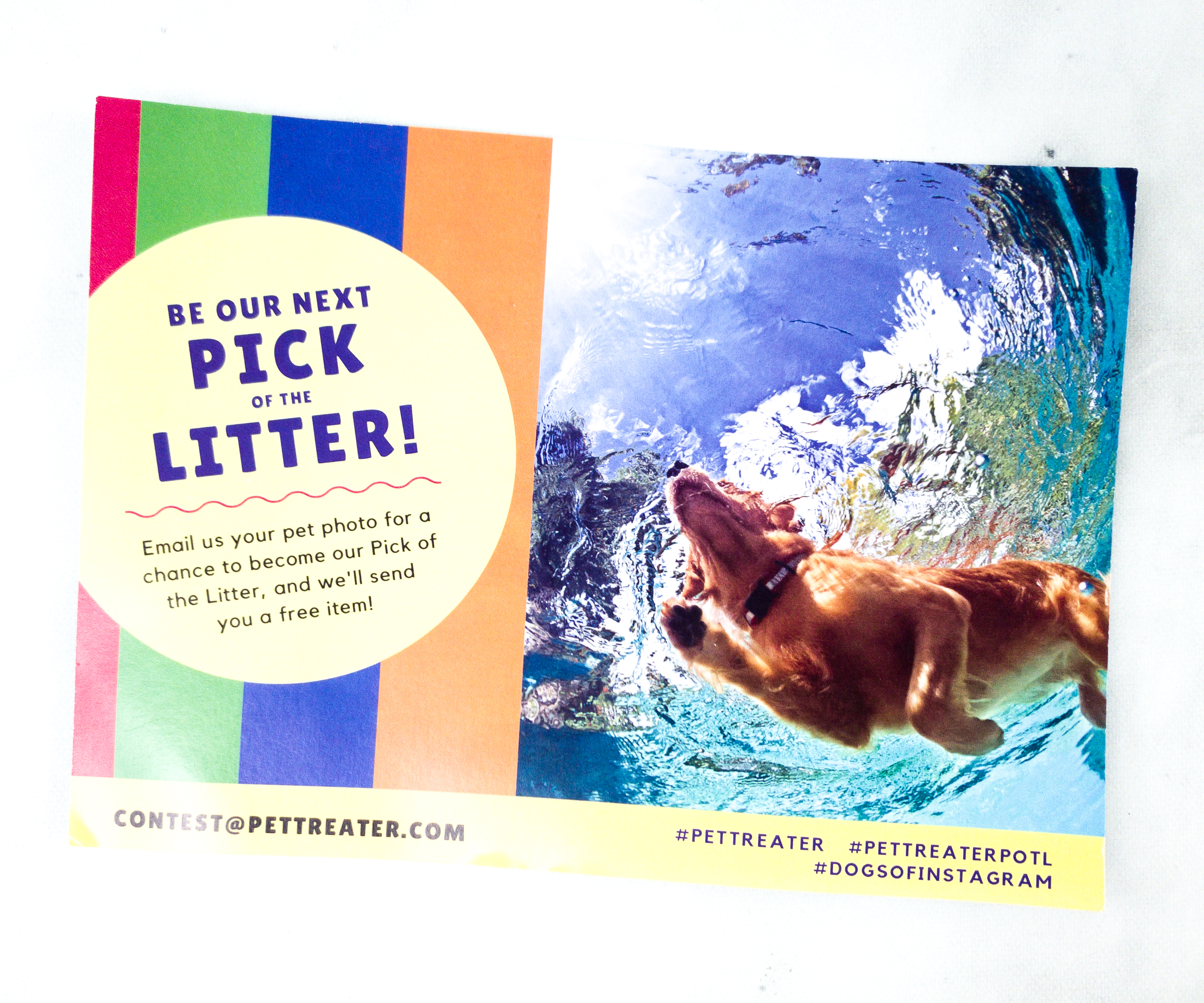 You can also share the photos of your dog enjoying their favorite Pet Treater goodies to get a chance to be featured on the next month's Pick of the Litter card.
Here's another card from Pet Treater!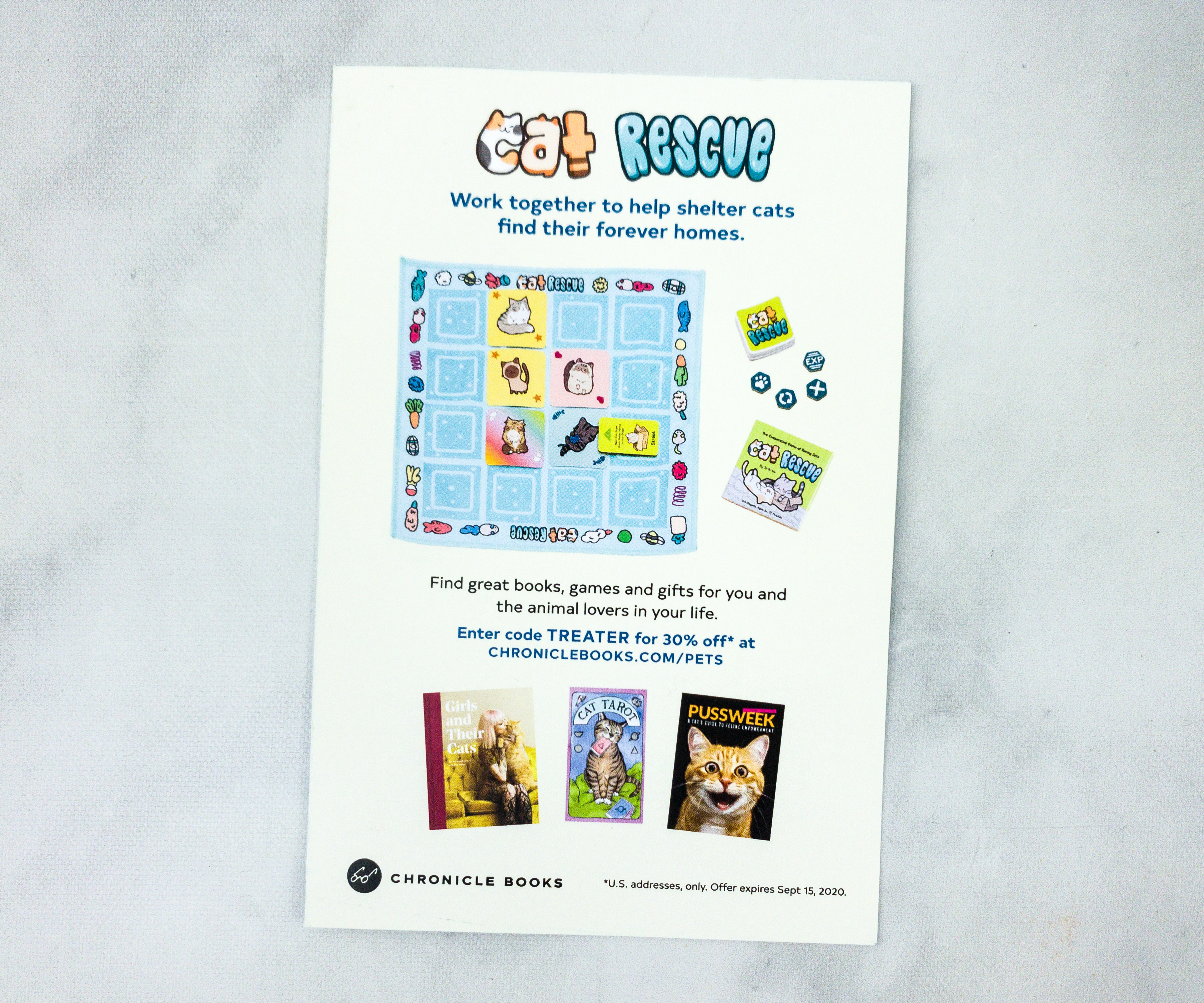 Featured at the back of the card is a code that you can use to get 30% off your purchase from Chronicle Books.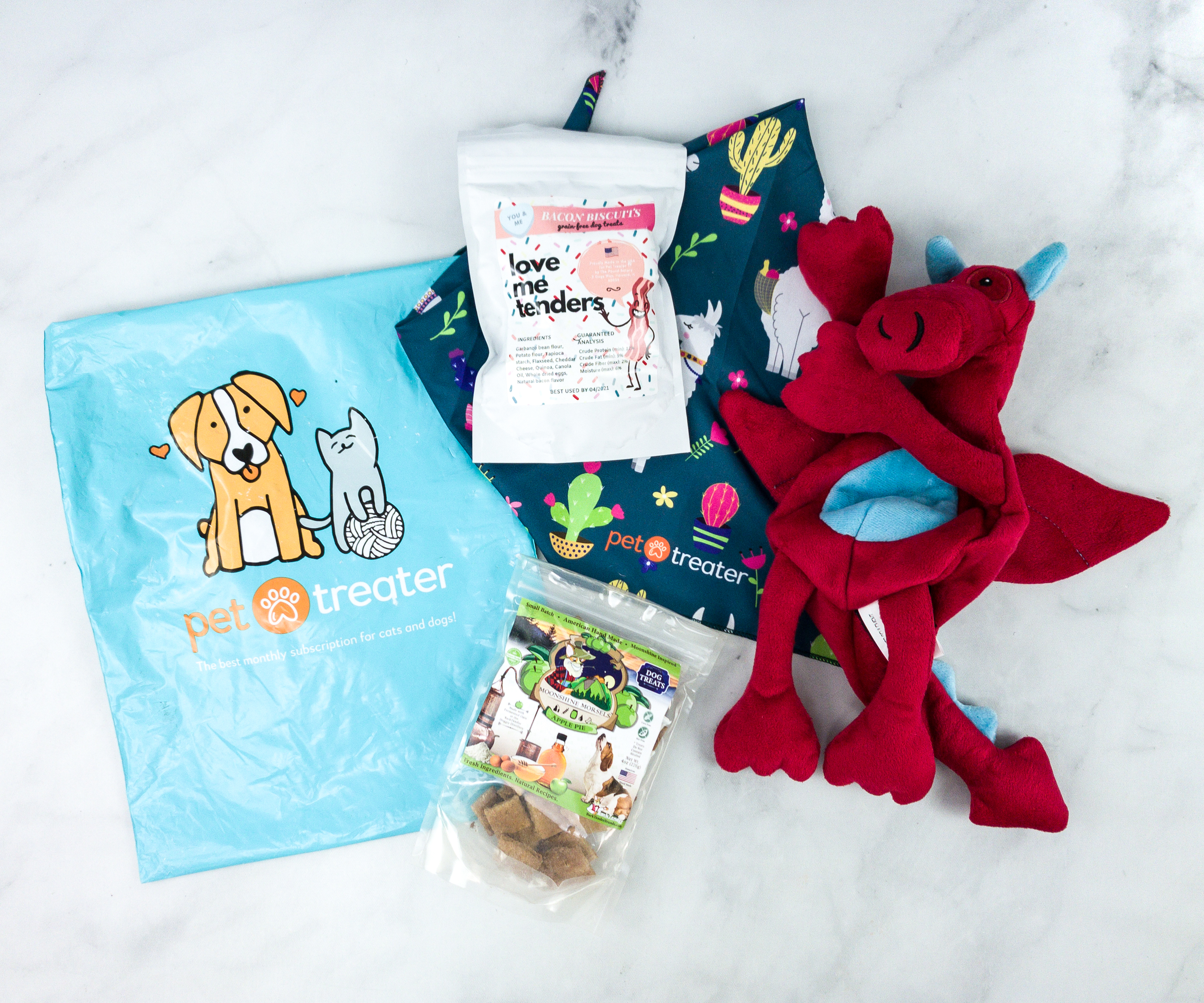 Everything in my July 2020 box!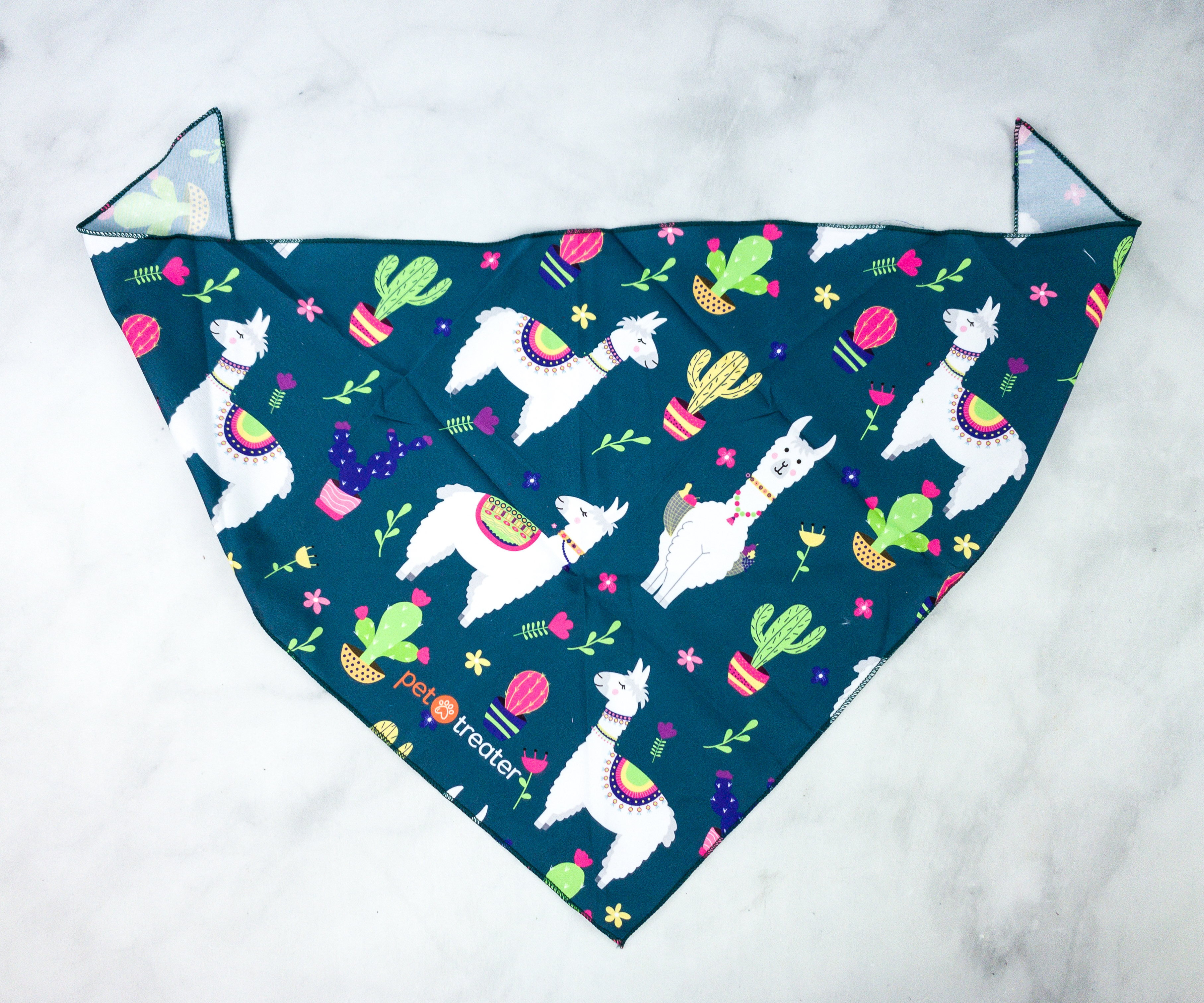 Bandana. This month, we received a soft and lightweight bandana with a peacock blue base color.
It's a well-designed bandana that features cute and colorful prints of llamas, cacti, leaves, and even flowers!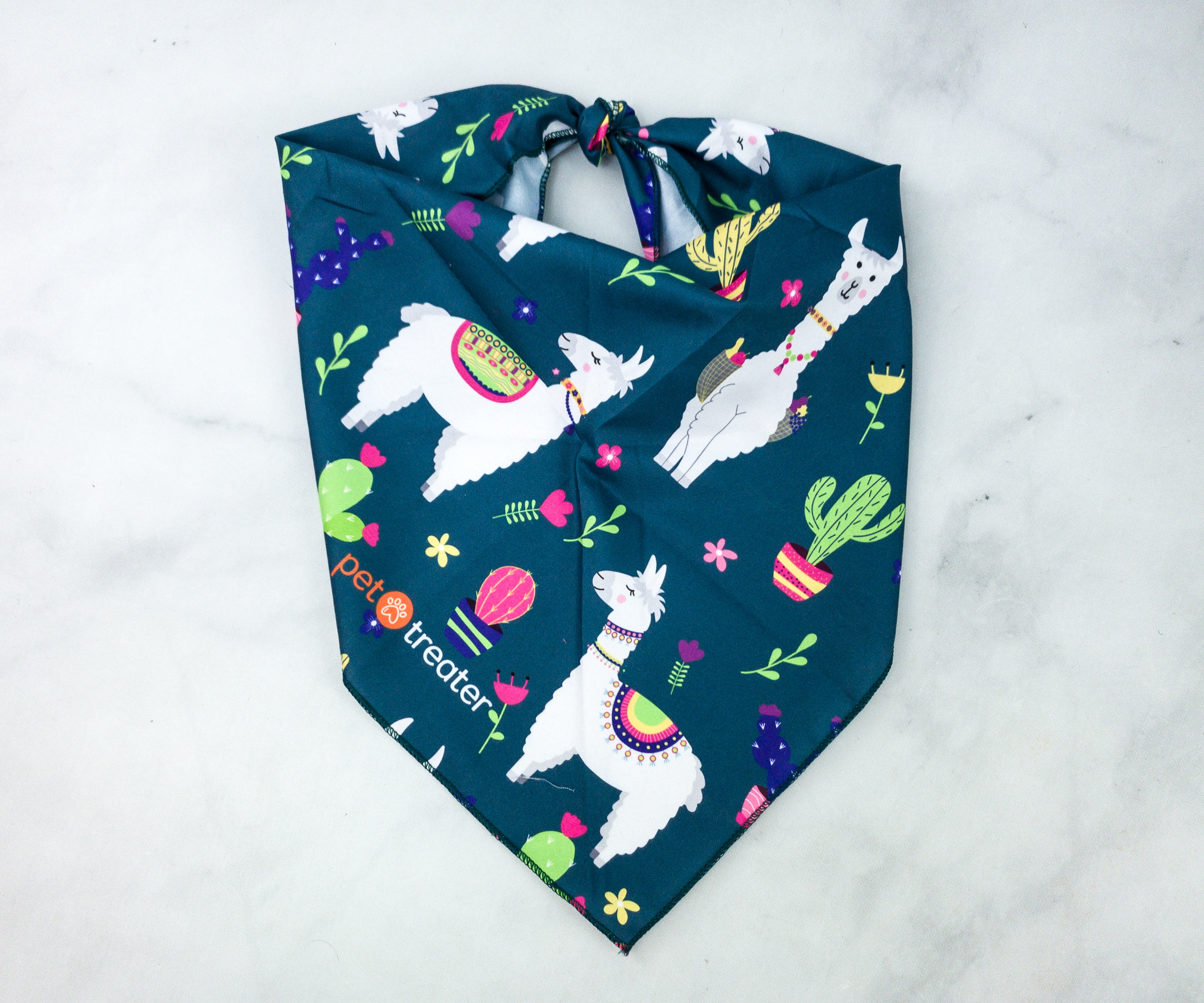 Since it's soft and lightweight, I can tie it on my dog's neck easily. Plus he's comfortable wearing it!
Moonshine Morsels Apple Pie Dog Treats ($3.33) It's a bag full of crunchy and tasty treats made from fermented oat flour, chicken broth, egg, honey, dehydrated apple, natural apple extract, cinnamon, and more!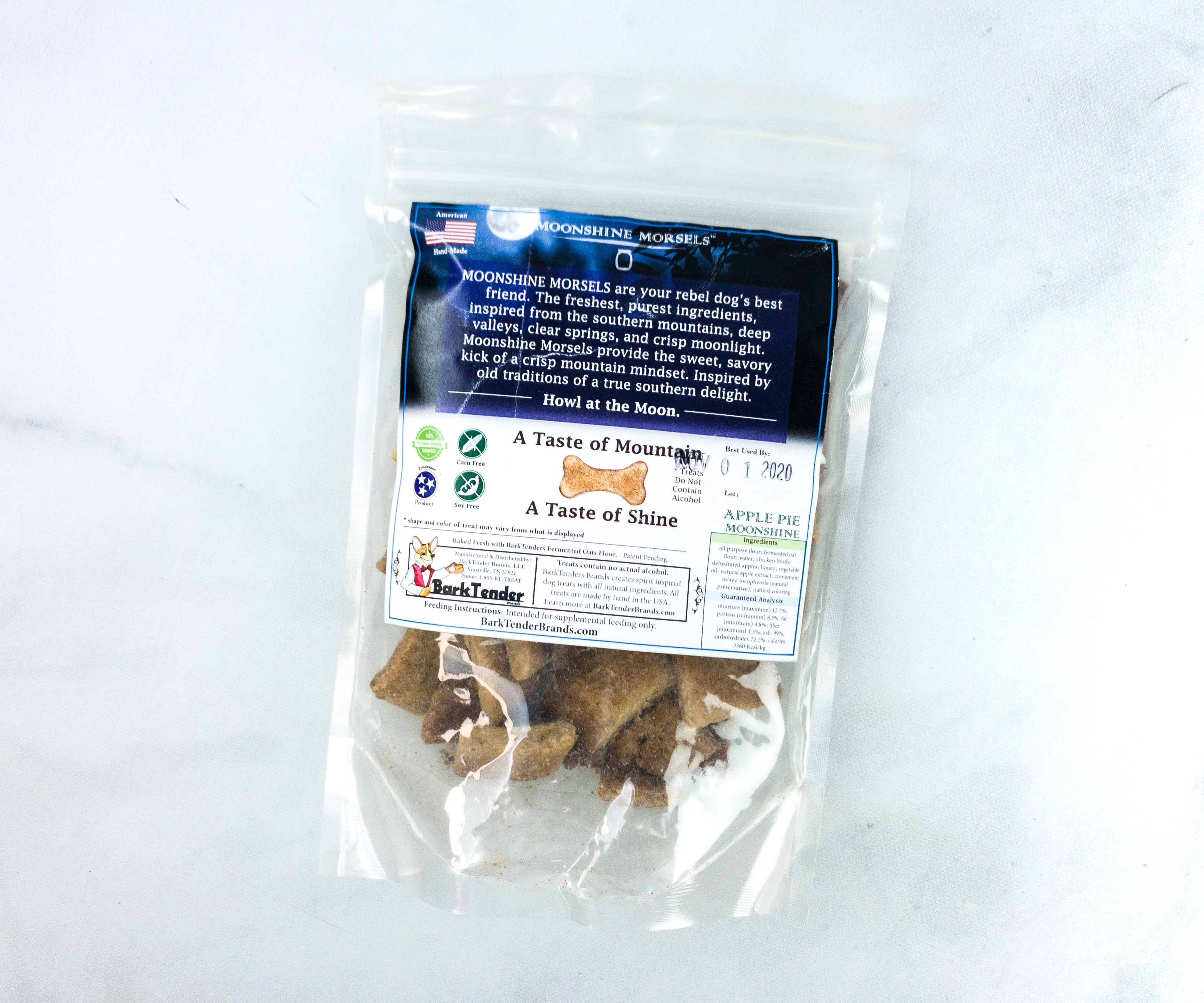 It's a nutritious snack packed with protein and fiber. They are also corn and soy-free!
Inside the bag are perfectly baked square-shaped biscuits! They have a rough texture, and I could tell how crunchy they are by the sound they make when Dean bites into them.
You & Me Bacon Biscuits Grain-Free Dog Treats. Here's another bag of healthy snacks for dogs! They are made from garbanzo bean and potato flour, flaxseed, cheddar cheese, quinoa, canola oil, whole dried eggs, and natural bacon flavor.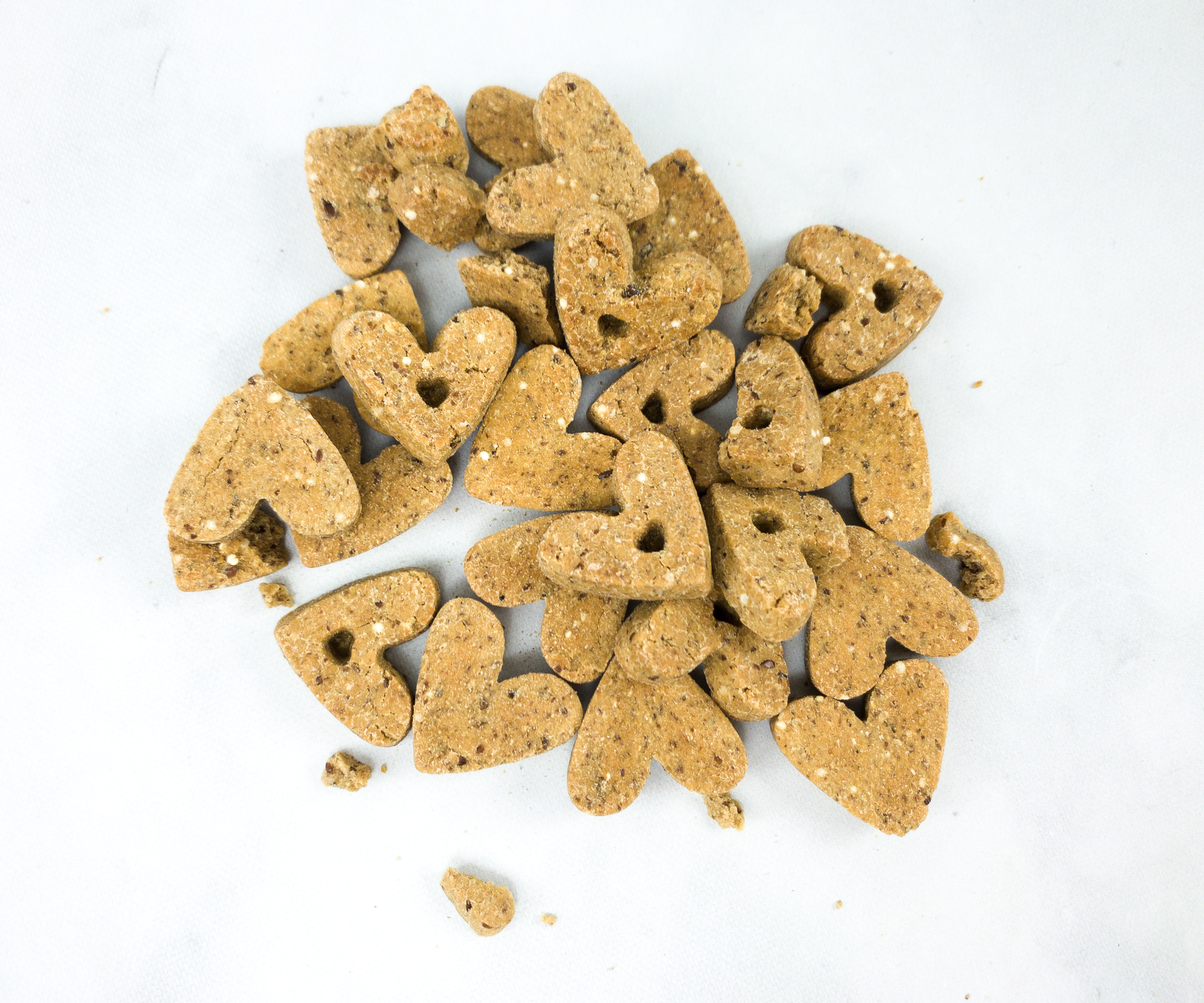 Garbanzo beans, also known as chickpeas, are rich in fiber, protein, vitamin K, folate, potassium, and other minerals that our dogs can benefit from. Each treat is heart-shaped and bite-sized, making it easy to consume for our pups. The snack is free from corn, soy, and wheat as well!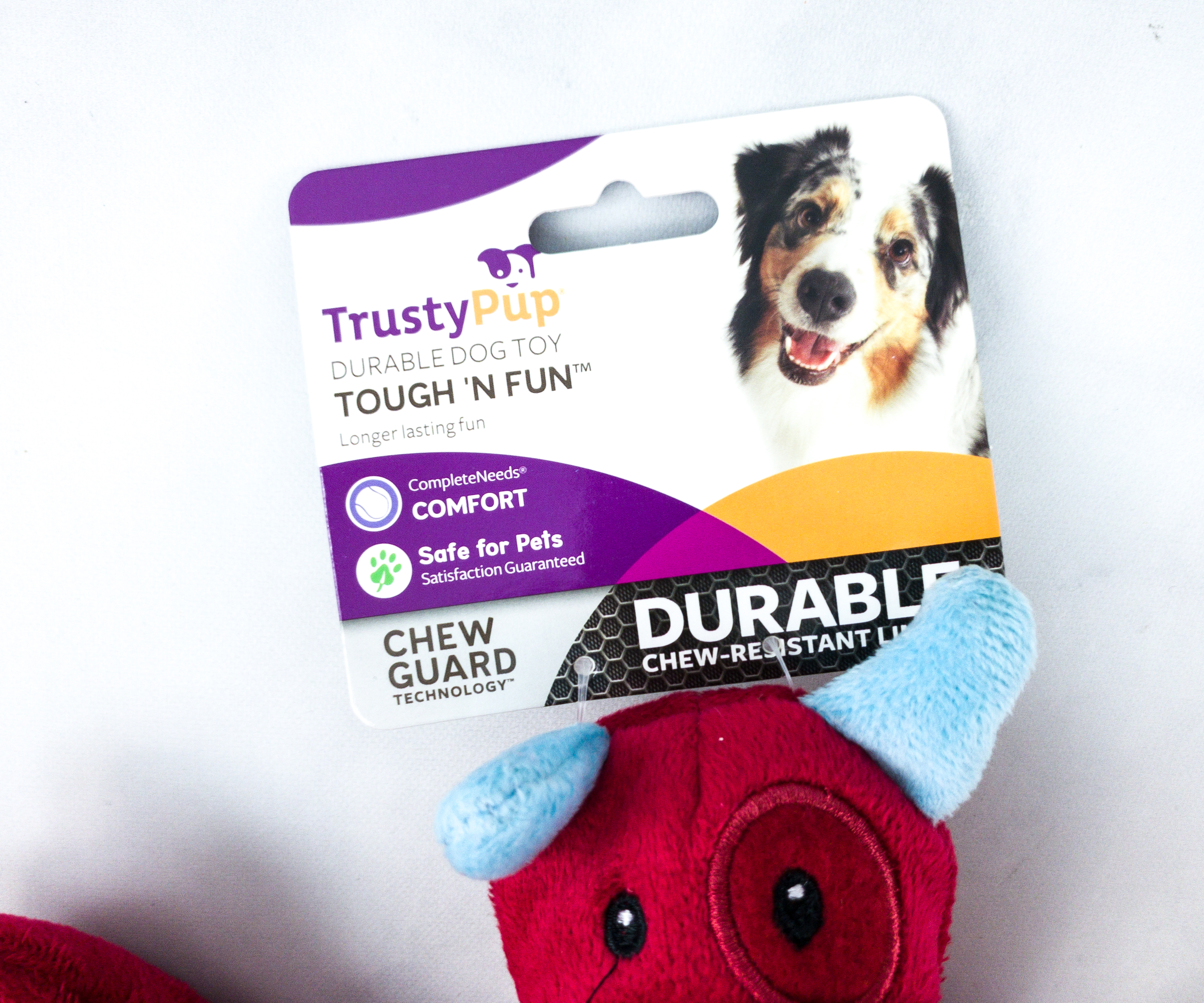 Trusty Pup Durable Dog Toy. This month's featured toy is a soft yet tough plushie made from premium-quality materials with Chew Guard Technology!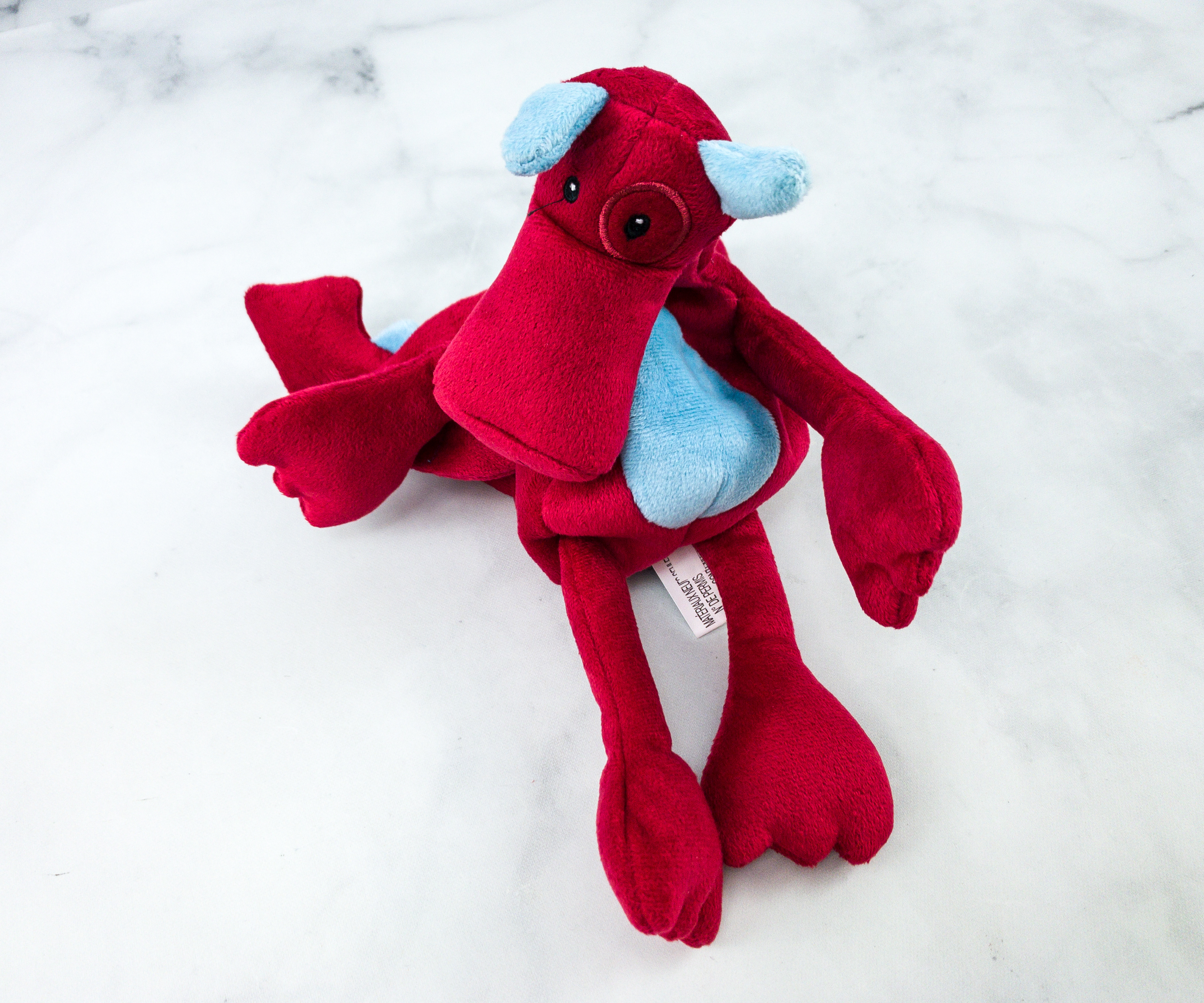 The well-designed toy looks like a red dragon!
The plushie has a pointy tail, pair of wings, and small horns.
Don't be deceived by its cute design and soft body, this toy is pretty durable.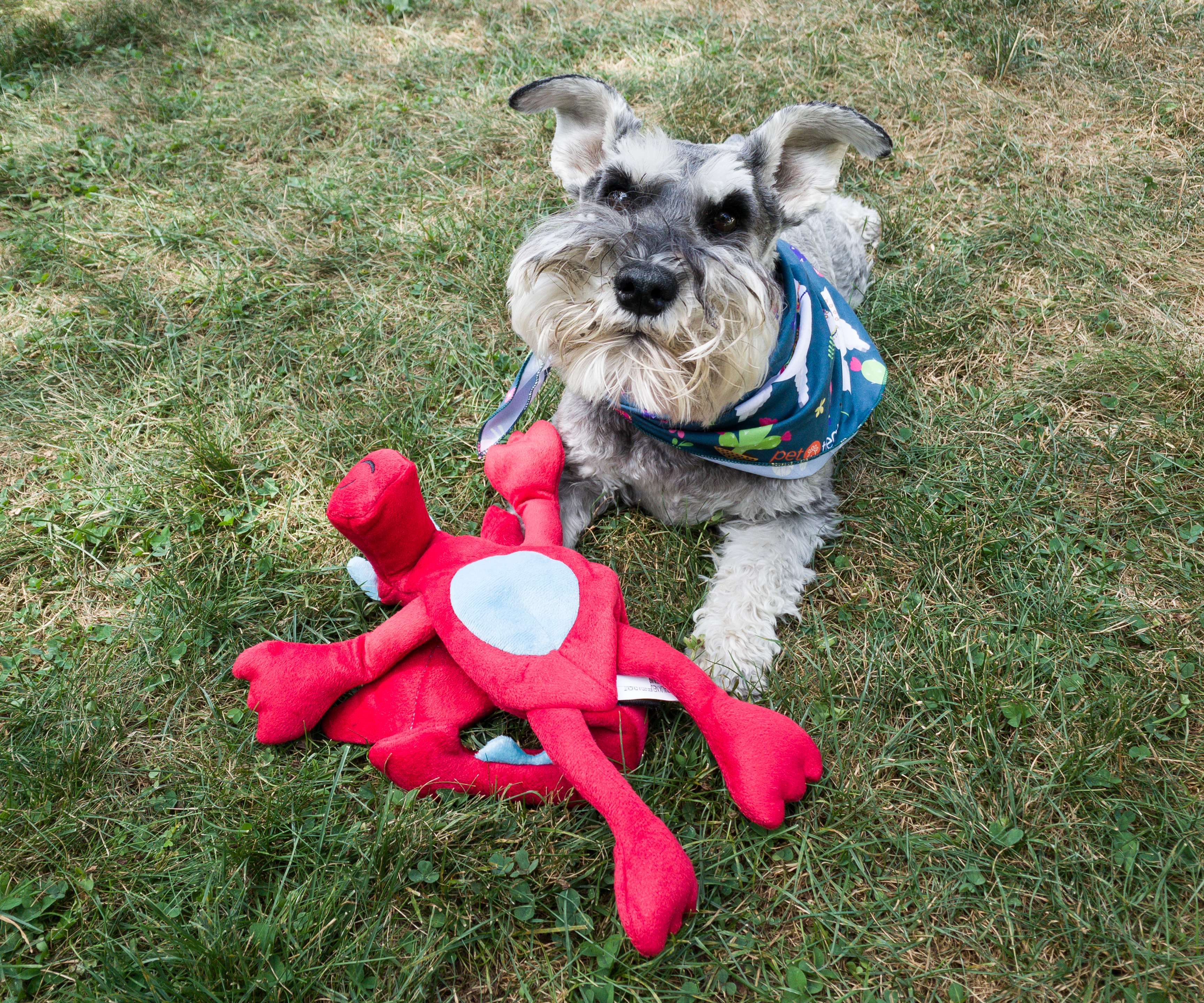 Dean has bit it, dragged it, and slammed it, and the toy is still in great condition.
Pet Treater keeps our pups happy with their premium curation of toys and treats! We only have one toy in this pack, but it definitely satisfied my playful dog. The treats were also great because they are made with healthy ingredients. We could tell our pups love them by the way their tails wag when we feed them! As always, the bandana is well-designed and it looked great on Dean. This is really a great subscription for dogs and for any pet parent who wants the best for their furbabies!
What do you think of this month's Pet Treater Dog Pack?