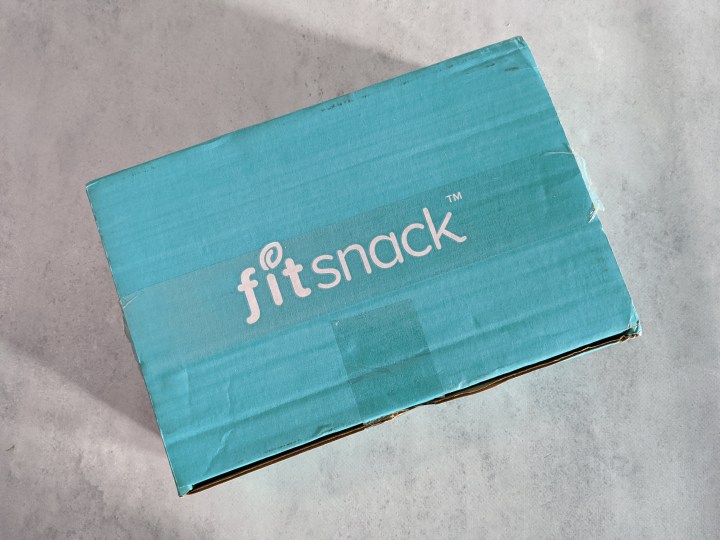 Fit Snack is a monthly subscription box delivering healthy nutritious snacks directly to your door. Fit Snack curates its boxes according to the following criteria:
Each product always containing two or more of the following: GMO-free, high in protein, low in sugar, gluten-free, organic, raw, vegan, and all-natural.
Plus, we add in bonus items such as energy boosters, nutritional supplements, or refreshing beverages.
If you sign up for a 6 month or 1-year plan, you will receive exclusive fitness inspired bonus items.
DEAL: Save $3 on your first box! No coupon code needed, just visit and subscribe.
The info card has a QR code to access exclusive recipes, live workouts and live meditations, as well as Tips from your Fit snack Nutritionist that explain when or why fuel ourselves with the snacks in this box.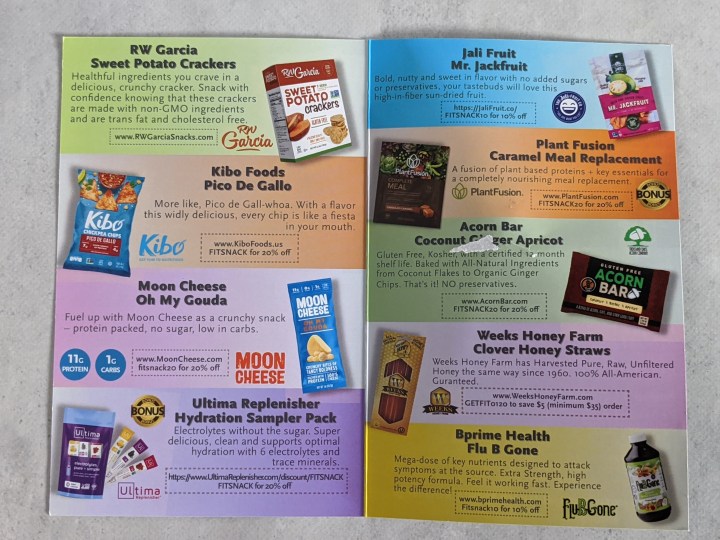 Inside the booklet, we have a list of all this month's snacks.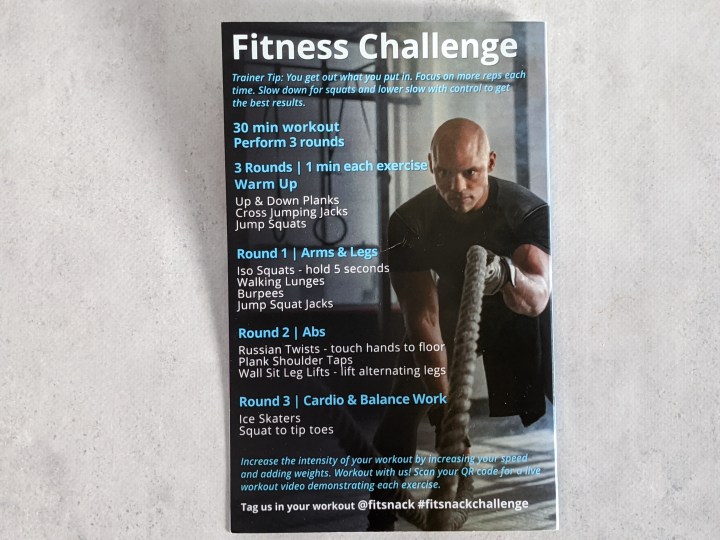 On the back of the box, we have our Fitness Challenge / 30 minutes workout.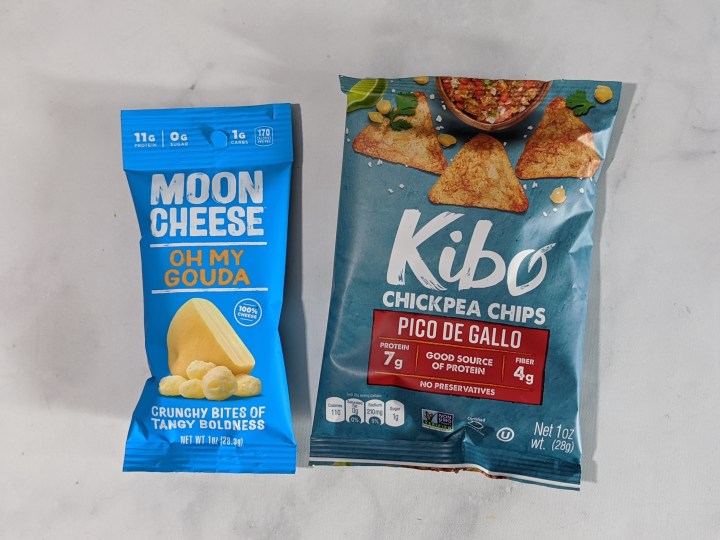 Moon Cheese – Oh My Gouda. I love Moon Cheese snacks. They are little puffed cheese bites with a non-salty cheesy flavor and a bag has 11g of protein for 170 calories.
Kibo Chickpea Chips – Pico de Gallo. Another savory protein snacks with 7g of protein and 110 calories, these chips have just the right amount of crisps. The texture reminds me of something between light corn chips and a puffed rice cracker. The flavor is quite good as well, although I prefer the Himalayan Salt flavor we received a couple of boxes ago.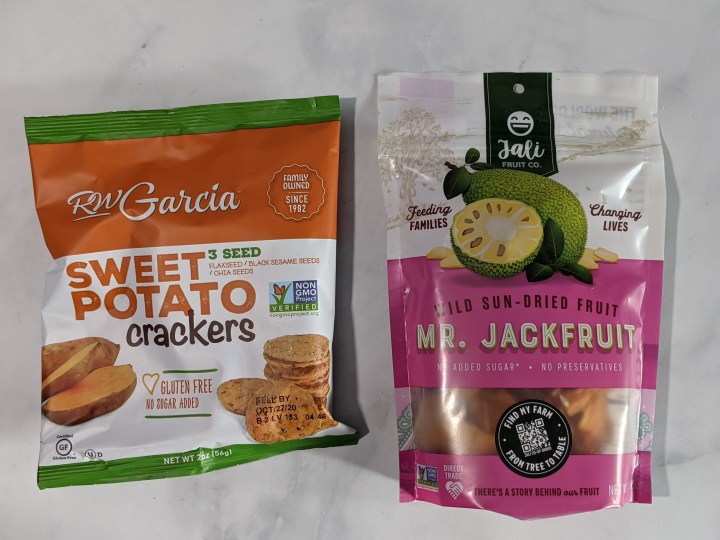 RW Garcia Sweet Potato Crackers. Made with yellow corn, sweet potato, flaxseed, black sesame seeds and chia seeds, these gluten-free crackers are delicious, crunchy and are perfect to serve with a dip.
Jali Fruit Co. Wild Sun-Dried Fruit Mr. Jackfruit. They have no added sugar, but they are quite sweet, and high in fiber, and I love the chewy texture that reminded me of jerky.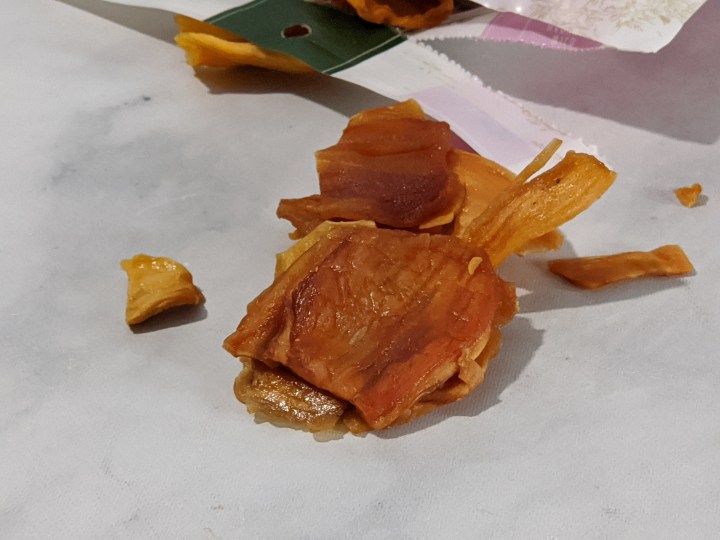 It doesn't have the "dried" texture that most fruits have and it was quite nice to snack on.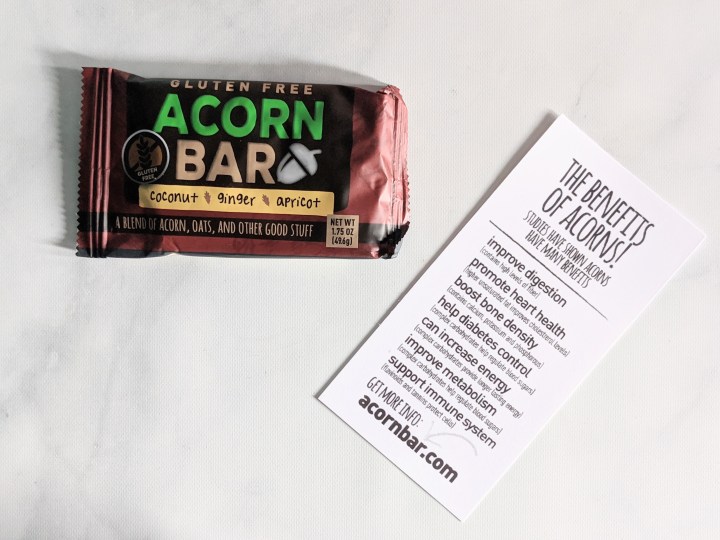 Acorn Bar. Made with tasty ingredients (Brown Cane Sugar, Oats, Real Butter, Eggs, Acorn Starch, Coconut Flakes, Dried Apricots, Organic Ginger Chips and Vanilla), thus bar us gluten-free and contains only 100 calories. It is quite "wet" and crumble easily and is really sweet. I'm not a big fan of coconut, so that was the only flavor I could get out of this bar, but it's quite good otherwise.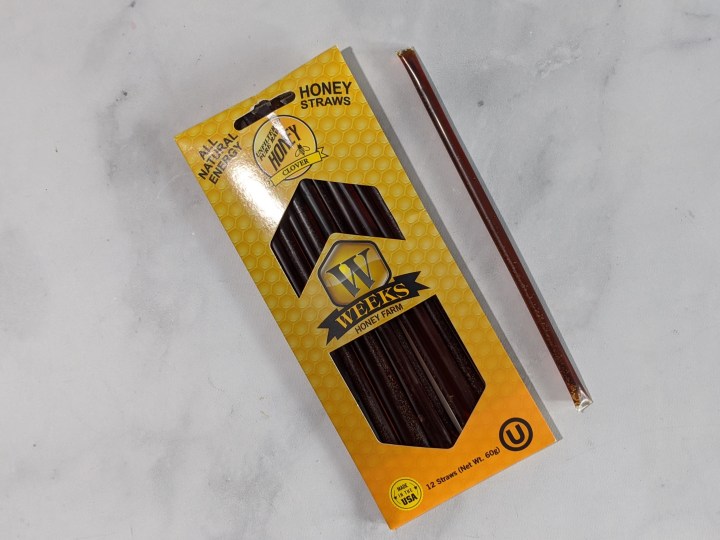 Weeks Honey Farm – Honey Straws.
12 honey straws that are easy to open with a bit of pressure, and the honey is thick and really tasty.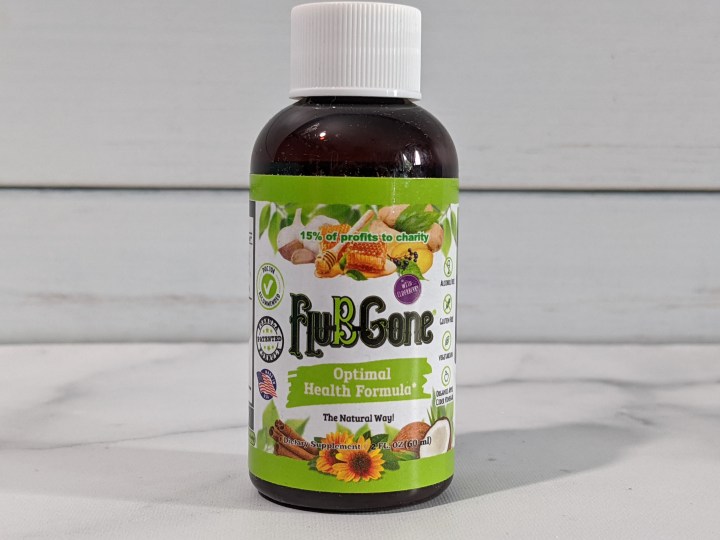 BPrime Health – FluBGone. Made of a blend of Apple Cider Vinegar, Elderberry, Ginger Root, Horseradish, Garlic, Cinnamon, Echinacea and more.
It is marketed as a natural immune-boosting antibiotic alternative which helps fight seasonal sickness symptoms at the source.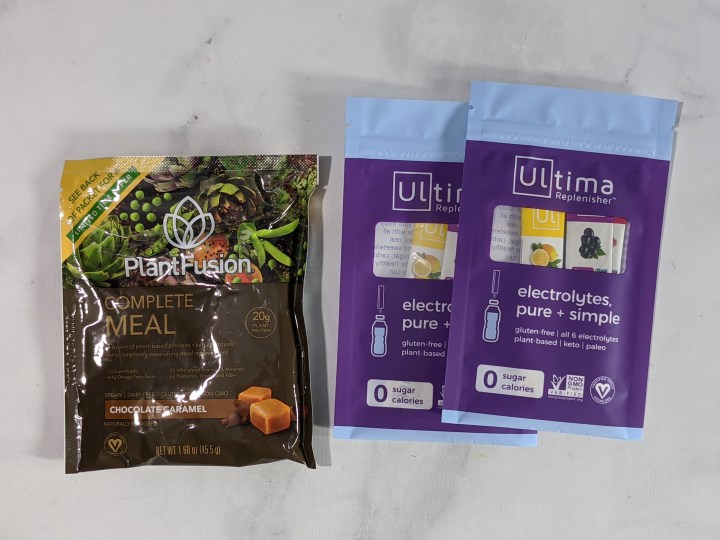 Plant Fusion Complete Meal in Chocolate Caramel. Vegan, Dairy-Free, and Gluten-Free, one serve contains 200 calories and 20g of protein. It also contains 6g of probiotics, greens, and fiber, as well as 4.4g Omega Fatty Acids. It contains no added sugar but is sweetened with Stevia Leaf Extract and Erythritol which might not be to everyone's taste.
Ultima Replenisher Electrolytes (Raspberry, Grape, Lemonade). These single-serve electrolytes contain no sugar for a 0 calorie drink. They are sweetened with stevia leaf, and they have that strong stevia leaf taste, which is a bit too much for me. They are sweetened with stevia leaf, and they have that strong stevia leaf taste, which is a bit too much for me.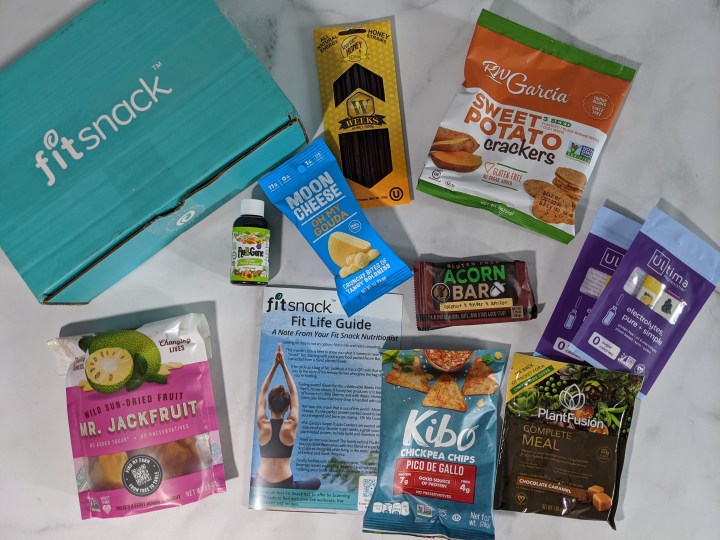 Although I enjoyed most of this box, I'm kind of over the Ultima electrolytes and the Plant Fusion that we seemed to have received in the last three boxes, probably due to the fact I don't really like them. But overall, I loved everything else, especially the Jackfruit, the Moon Cheese, and the Sweet Potato crackers. I also really liked that we got a mix of sweet and savory and that we had a variety of flavors.
What do you think of this month's box?