BookCase.Club is a monthly book subscription box where you'll receive two hand-picked books in one of eight genres. (For the children's picture book box you'll get four books!) This is an inexpensive book subscription – less than $15 including shipping per month!
This is the Strange Worlds Case, which is all about Sci-Fi/Fantasy.
DEAL: Save 50% on your first month! Use coupon code HELLOSUB501M. OR Get 10% off your entire order! Use coupon code HELLOSUB10.
When you sign up, you'll pick the genre.

The books were wrapped with a tissue paper featuring the BookCase Club logo and social media handles.

This month's Strange Worlds book picks are The Guns Above by Robyn Bennis and Dreaming Death by J. Kathleen Cheney.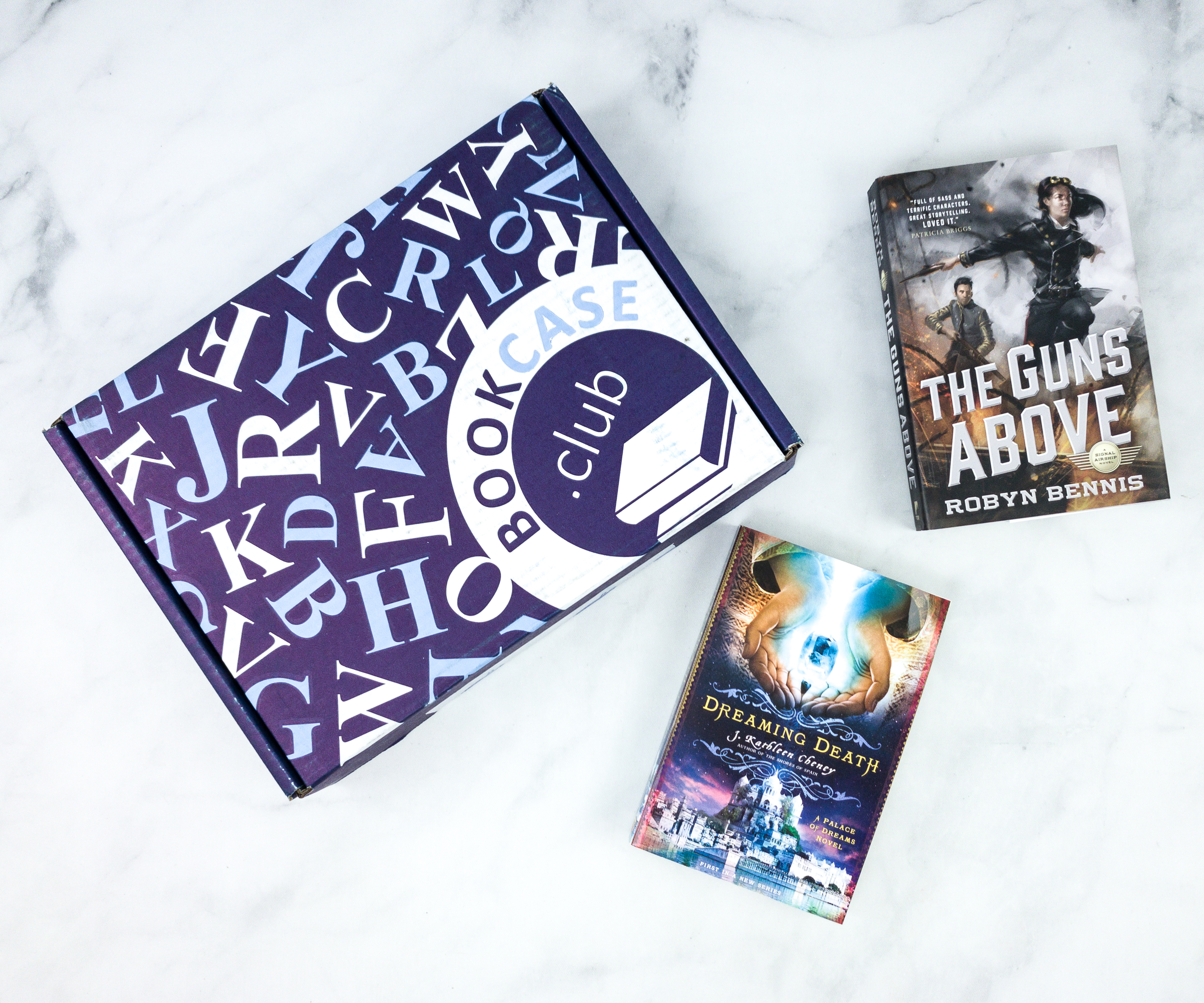 Everything in my box!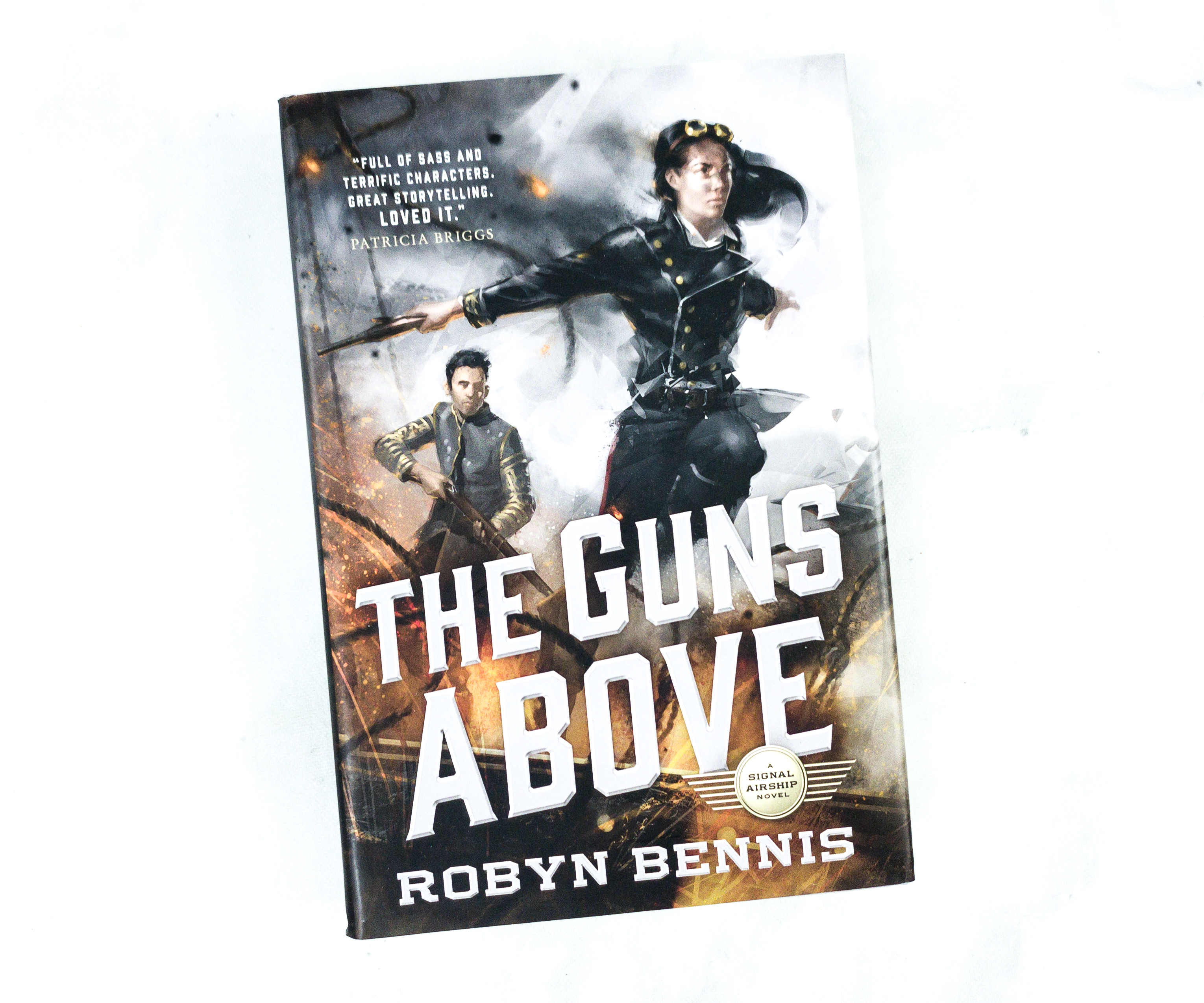 The Guns Above by Robyn Bennis ($10.95)
Robyn Bennis's THE GUNS ABOVE is an adventurous military fantasy debut about a nation's first female airship captain.

They say it's not the fall that kills you.

For Josette Dupre, the Corps' first female airship captain, it might just be a bullet in the back.

On top of patrolling the front lines, she must also contend with a crew who doubts her expertise, a new airship that is an untested deathtrap, and the foppish aristocrat Lord Bernat, a gambler and shameless flirt with the military know-how of a thimble. Bernat's own secret assignment is to catalog her every moment of weakness and indecision.

So when the enemy makes an unprecedented move that could turn the tide of the war, can Josette deal with Bernat, rally her crew, and survive long enough to prove herself?

"Full of sass and terrific characters. Great storytelling. Loved it." ―Patricia Briggs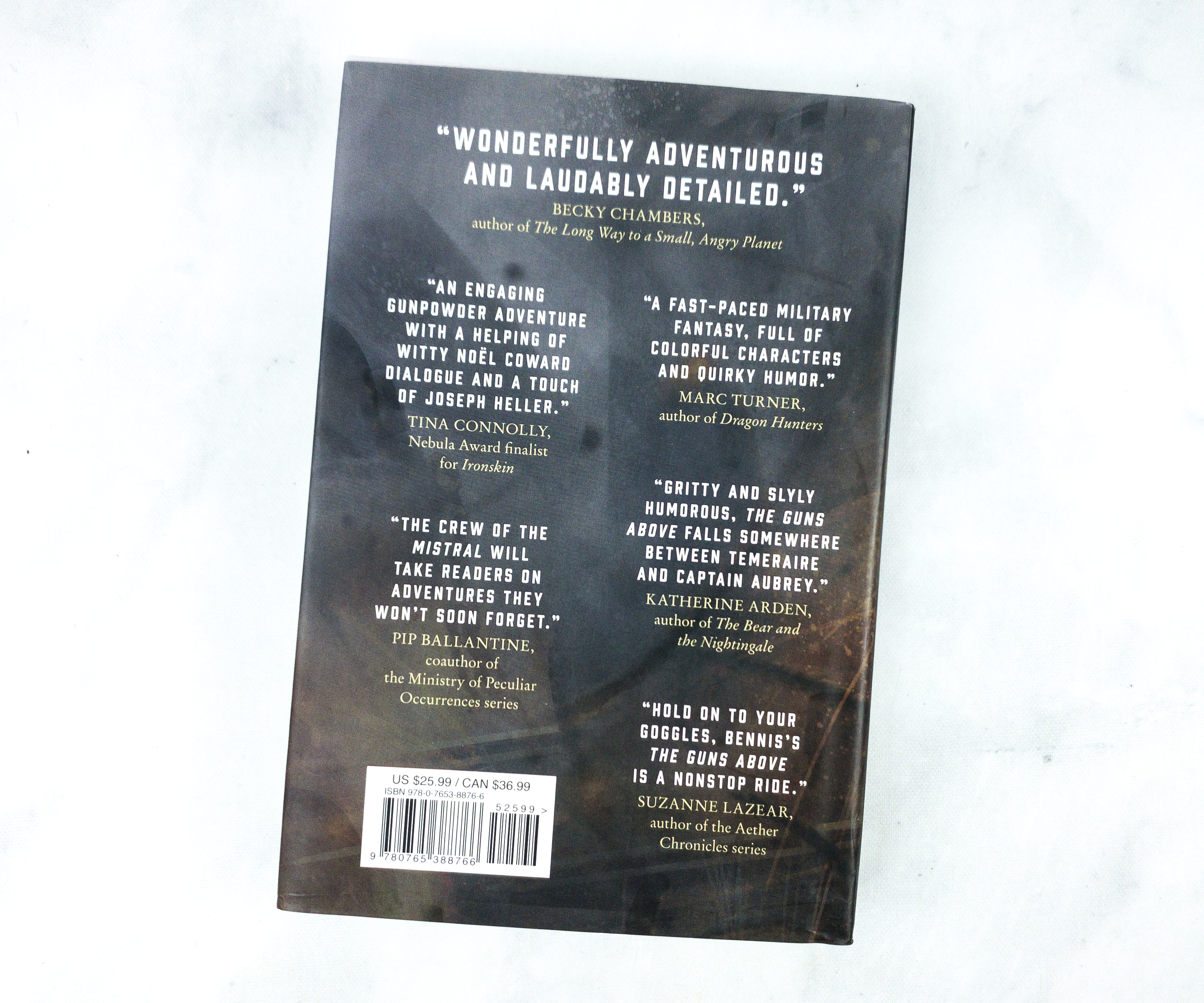 This book is recommended for fans of steampunk and military science fiction!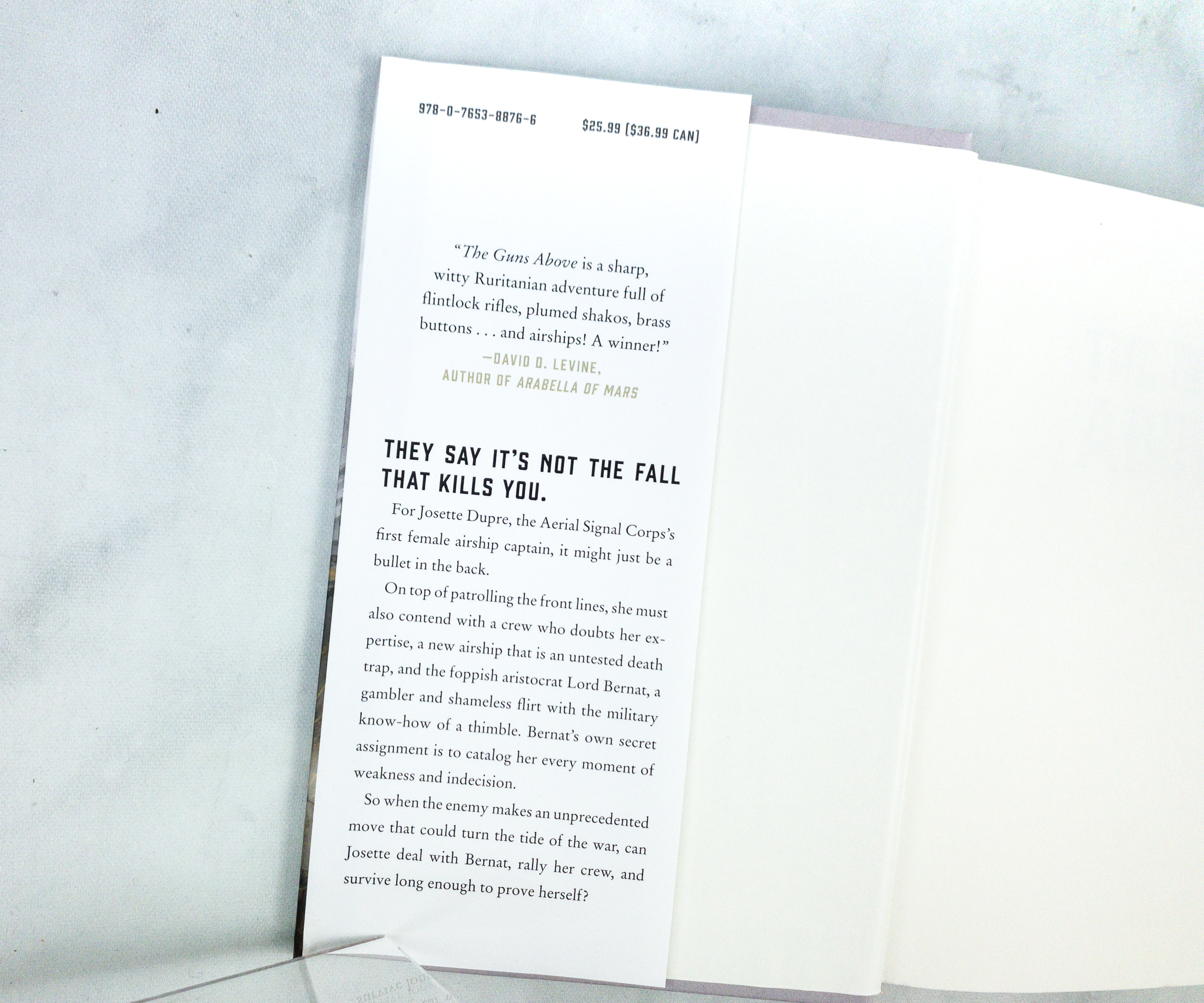 It promised action, and that is exactly what the story delivered!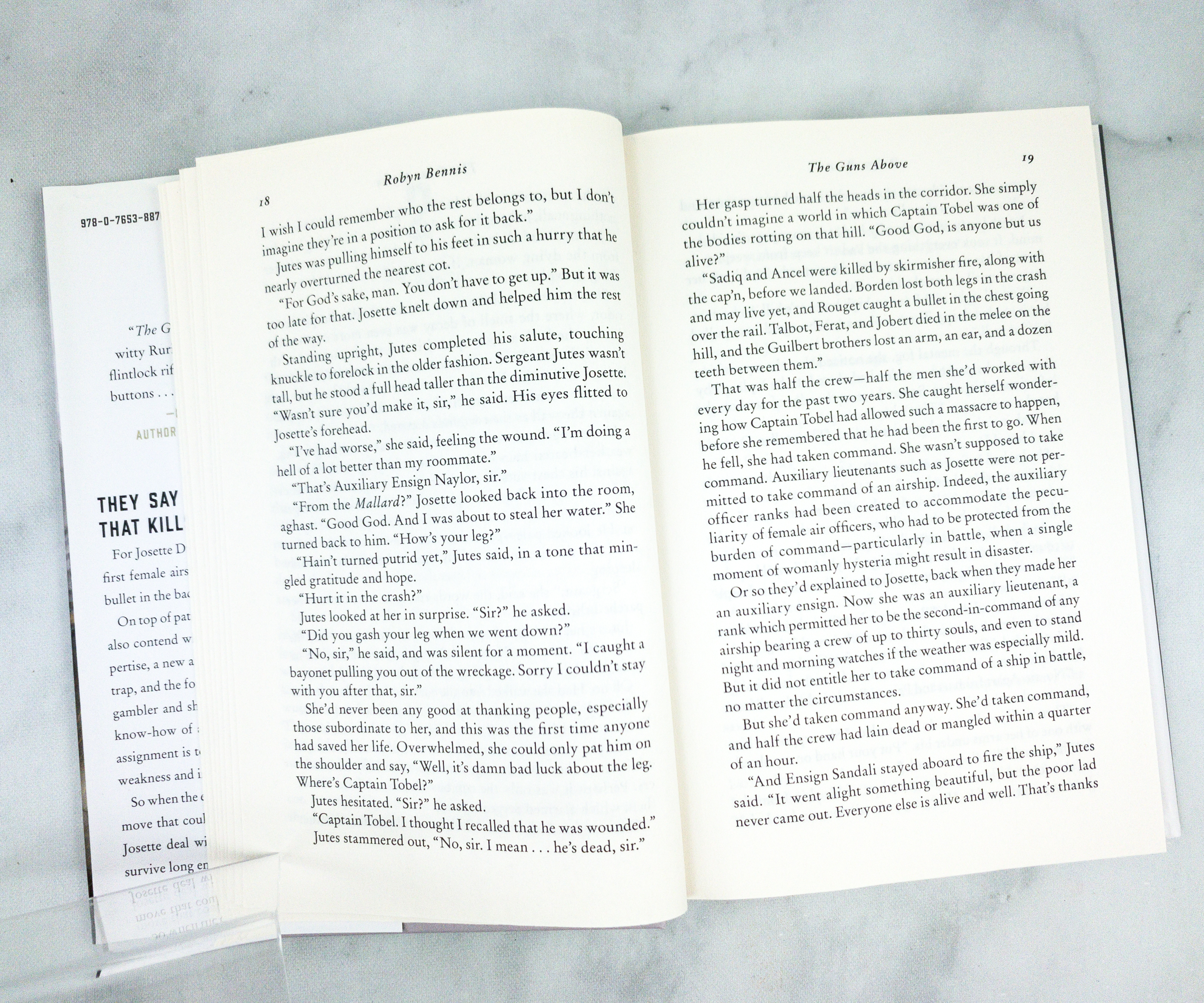 The author did a great job of building a world full of airships, as well as creating well-developed characters and inserting humor in their dialogue at the right timing.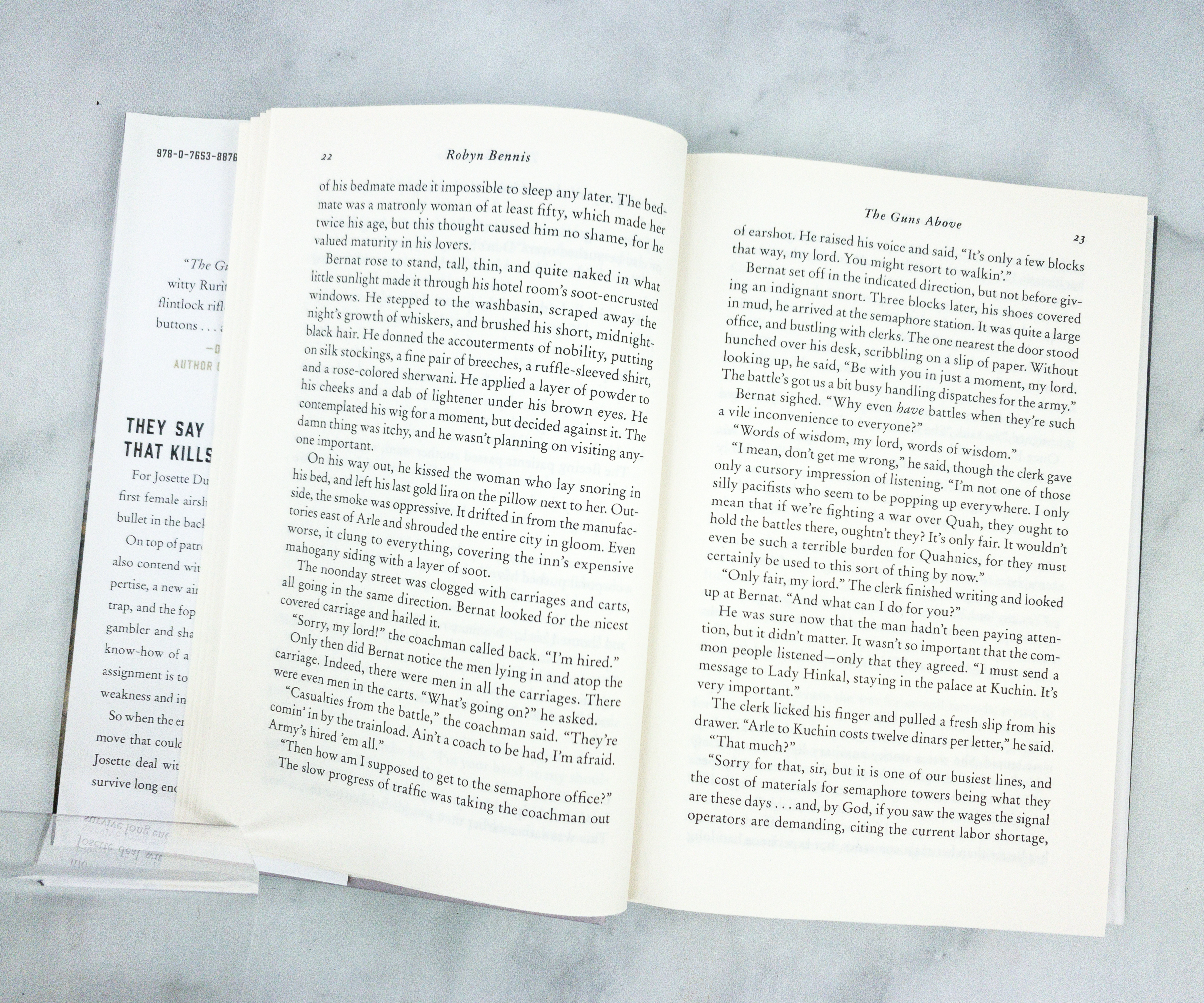 The story also tackles issues such as imperialism and sexism. It's a fast-paced read that I enjoyed from cover to cover!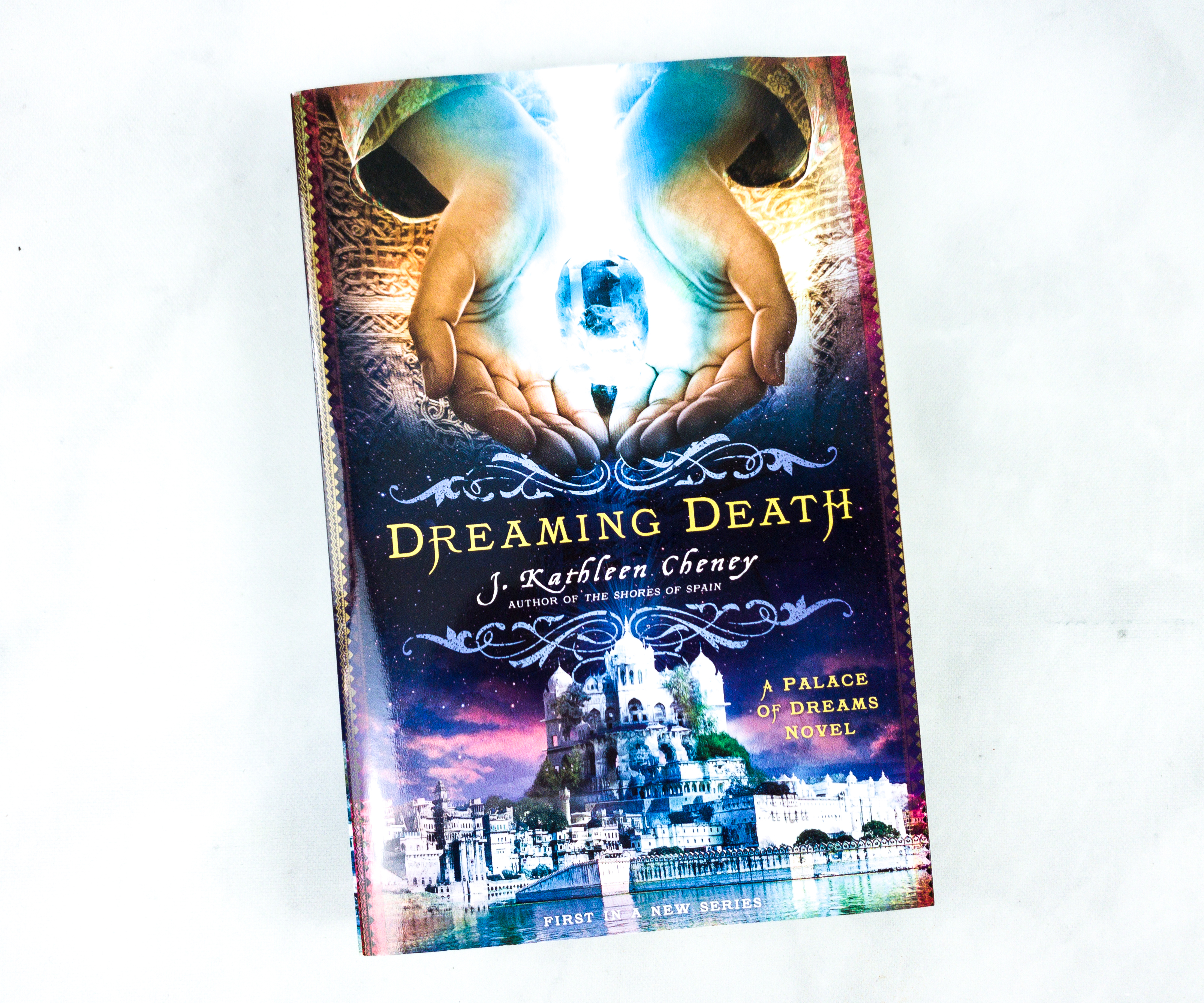 Dreaming Death by J. Kathleen Cheney ($16)
In the Novels of the Golden City, J. Kathleen Cheney created a "mesmerizing" (Publishers Weekly) realm where magic, history, and intrigue combine. Now, she presents a new world ruled by psychic talents and fatal magic…

Shironne Anjir's status as a sensitive is both a gift and a curse. Her augmented senses allow her to discover and feel things others can't, but her talents come with a price: a constant assault of emotions and sensations has left her blind. Determined to use her abilities as best she can, Shironne works tirelessly as an investigator for the Larossan army.

A member of the royal family's guard, Mikael Lee also possesses an overwhelming power—he dreams of the deaths of others, sometimes in vivid, shocking detail, and sometimes in cryptic fragments and half-remembered images.

But then a killer brings a reign of terror to the city, snuffing out his victims with an arcane and deadly blood magic. Only Shironne can sense and interpret Mikael's dim, dark dreams of the murders. And what they find together will lead them into a nightmare…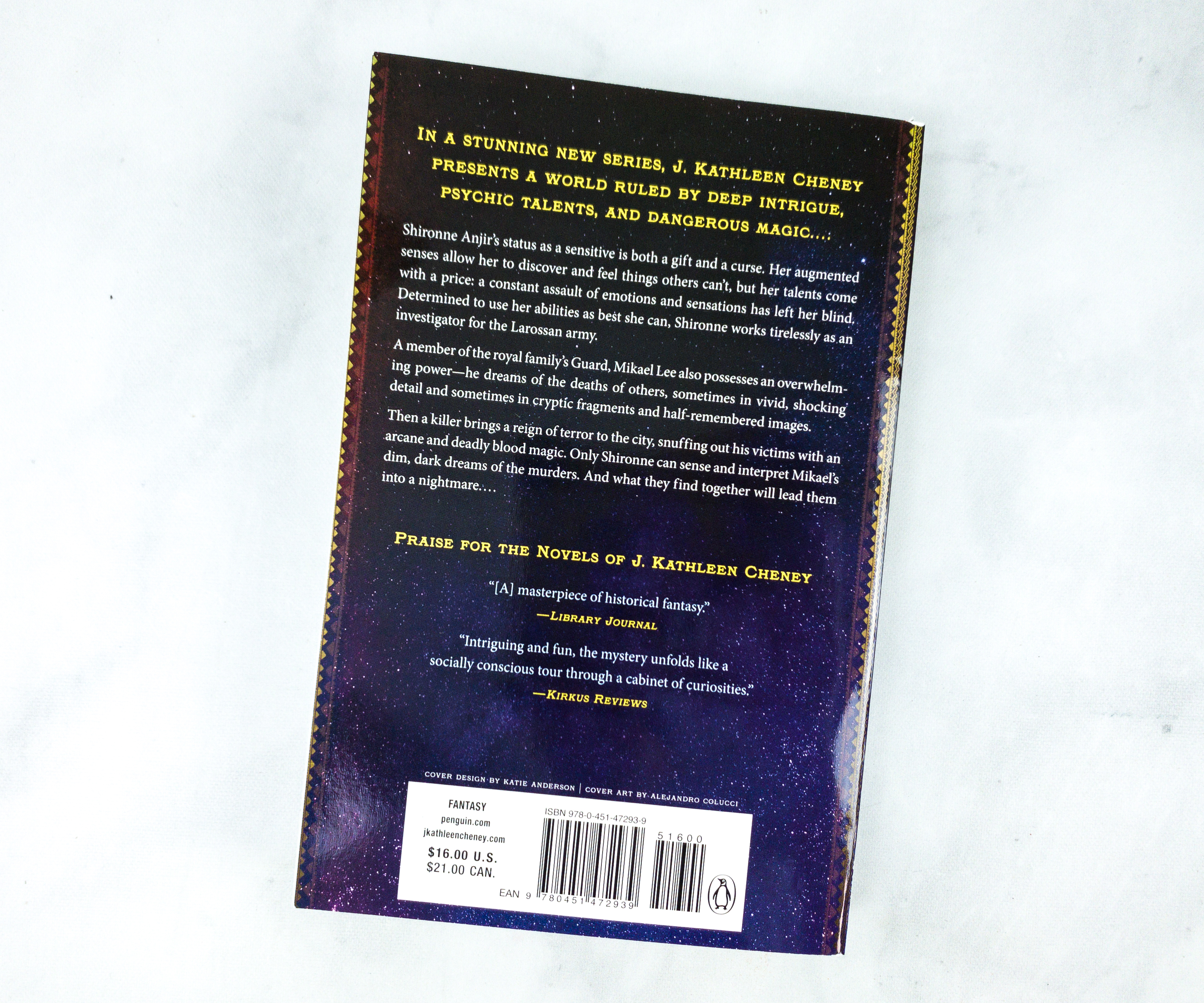 This sci-fi fantasy also involves some mystery and a romance between the main characters, and I'm all for it!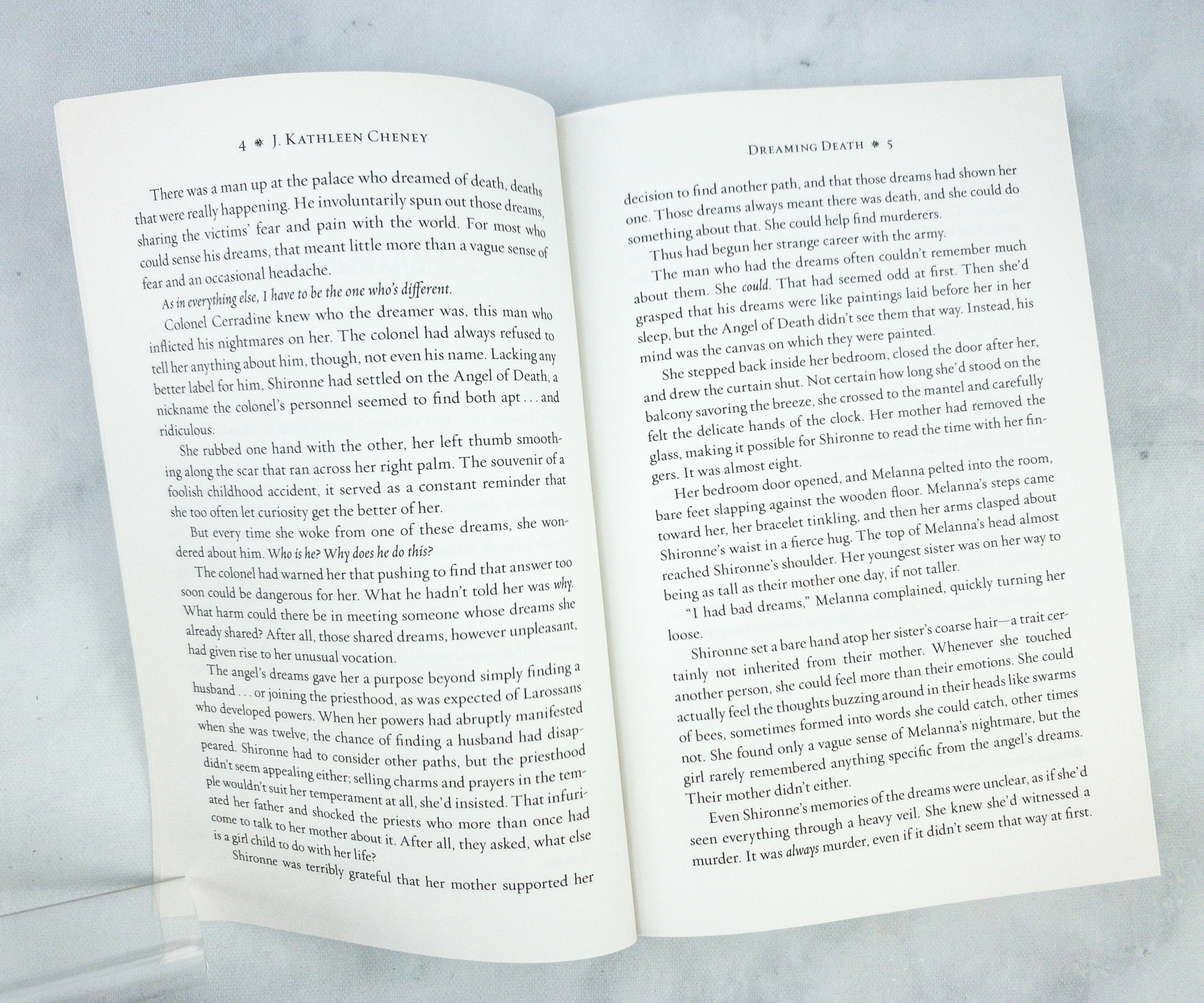 Shironne and Mikael, the story protagonists, have psychic powers and they need to solve a murder mystery together. The romance between these characters is really good!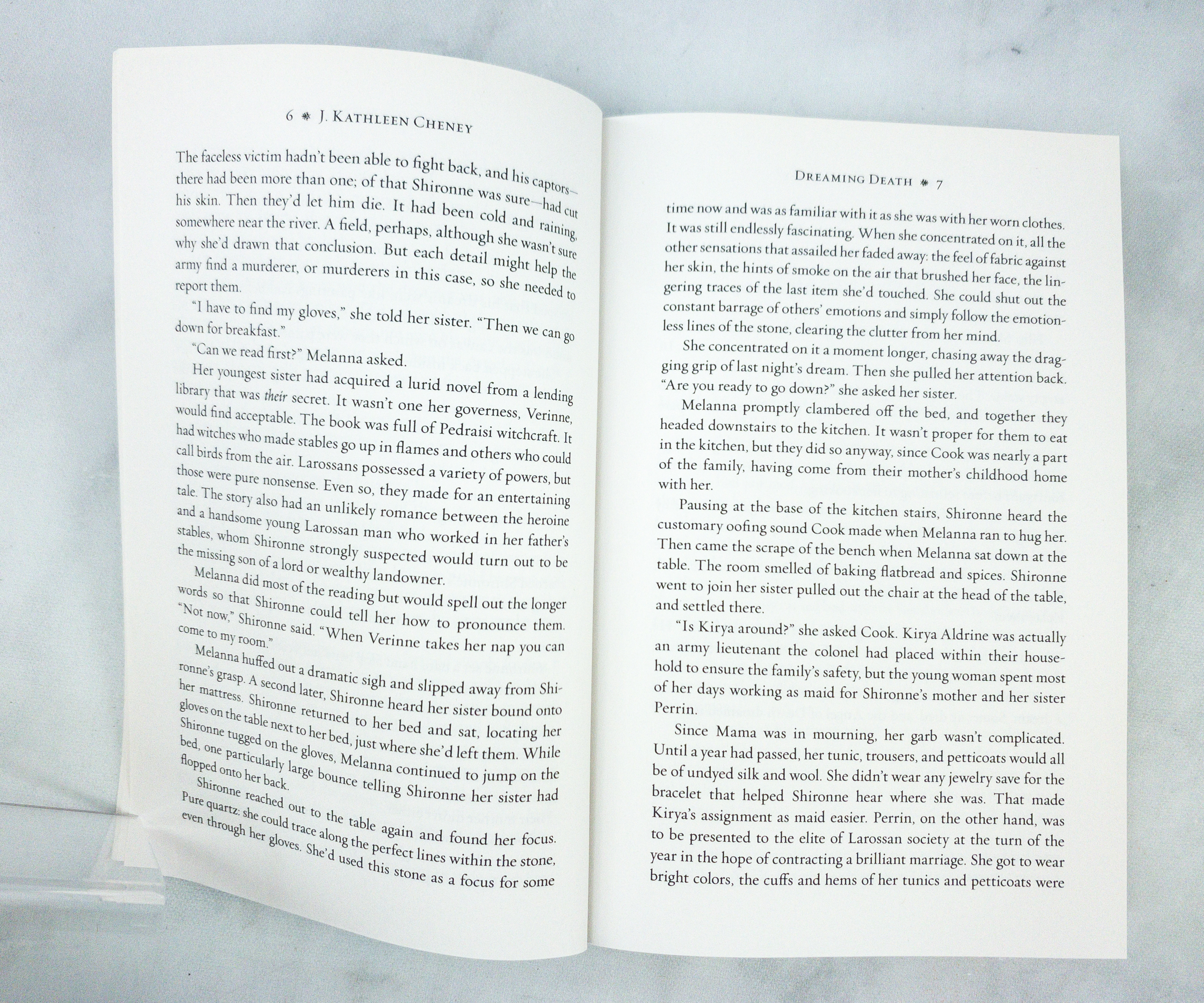 Although the pacing is a bit slow, this book is still an entertaining one. It's the first book in a series and I'm excited to read the next one already!
BookCase.Club makes it easy for me to get my hands on new reads from my favorite genres! This month's sci-fi/fantasy book picks are really good. The first one is a well-written steampunk, and the other book is really interesting because of the character's psychic powers. Both stories were definitely worth my time! If you're also a bookworm, you might want to check out this inexpensive subscription that sends 2 books in every box!
Have you tried BookCase.Club? What are you currently reading?