We have the spoilers and shipping update for the Summer 2020 JourneeBox by Kevia – they're now removing the Terracotta Vase from the box and replace it with a Suede And Gemstone Tassel Necklace! Shipping will also now start 8/15.
Here's the full announcement:
Hello JourneeBox Members!

I wanted to share an update about the delivery of the Grand Canyon JourneeBox. But first we must say, thank you for taking this Journee with us. Our ultimate goal is to create an unboxing experience that engages the senses and imagination. We hope our box brings you some small amount of solace during this public health crisis as well as during this period of social unrest and social change.

We have had to pivot as we put together our latest box for three reasons. First the unexpected one month closer of our custom packaging and raw material factories in China. Our original attempt to catch up on delivery, thwarted by a 40% price increase due to raw material scarcity in the entire supply chain. Second, the airfreight and ocean freight costs increases and delays continue to negatively impact our delivery time frames and costs. Finally, two of the original products for the box were disrupted by the COVID-19 outbreak in the Navajo Nation. We are donating PPEs (mask, gloves, and sanitizer gel) to our friends via https://www.nndoh.org/donate.html and encourage you to give as you can to underserved communities who are being disproportionately affected by the outbreak.

As a result of production delays due to the drying time needed, I have made the decision to cut the terracotta vase from the box and replace it with a suede and gemstone tassel necklace. Finally, the initial plan to get back on track was to ship the box raw materials and packaging via air freight rather than ocean freight. However, the cost to do that has gone up 5 times since April and this week we finally had to concede defeat on the original delivery scheduled for July. The French Riviera box shipped July 15th 2019.  In addition we are definitely taking a look at our production schedule as it relates to our 30-60 day freshness guarantee on skincare and beauty items to allow us to ship further in advance of the box delivery.  In recognition of our inability to ship on time,  I  added the straw hat to the box so that Quarterly members get 8 items (two extra including the wipes) and annual members will have 9 items You have my deepest apology, an updated schedule is below:

Customization and add-on open July 15th
The current start ship for the box is August 15th 

Annual member spoiler item released  July 17th 

Quarterly subscribers  billed July 24th

Annual member renewal, if due,  July 30th 

I apologize for the delay as I know you have been looking forward to the box and truly failing to deliver is the absolute last resort for us. I made the mistake of waiting to reach out until we had firm dates from my freight forwarder, which I now realize was a mistake as well.  In kind we are making the following changes:

Renewals have been frozen until July 17th before customization. 
We will continue with communication as things progress.
We included a second extra item in each box.
We have created a user experience survey you can fill out to give us feedback on your experience with JourneeBox products and the website interface.  To share your comments click the survey link, https://bit.ly/3dXzG3s. 

If you have any questions or comments please email me personally, [email protected].

We love and value each member of our community. Next up is the Zero Waste box.  This box will feature designs from countries that are minimizing waste, especially petrol plastics.  Some of the countries represented will include Vietnam, Sweden, and Columbia . Be safe & stay tuned!

Take Care,

Kevia
The theme this quarter is GRAND CANYON!
Journee to the Grand Canyon. While we are all chilling at home, take a trip with the latest JourneeBox as we tour the Grand Canyon.
DEAL: Get $10 off your first JourneeBox! Use this link to subscribe and coupon code SUMFUN2020.
Each box includes: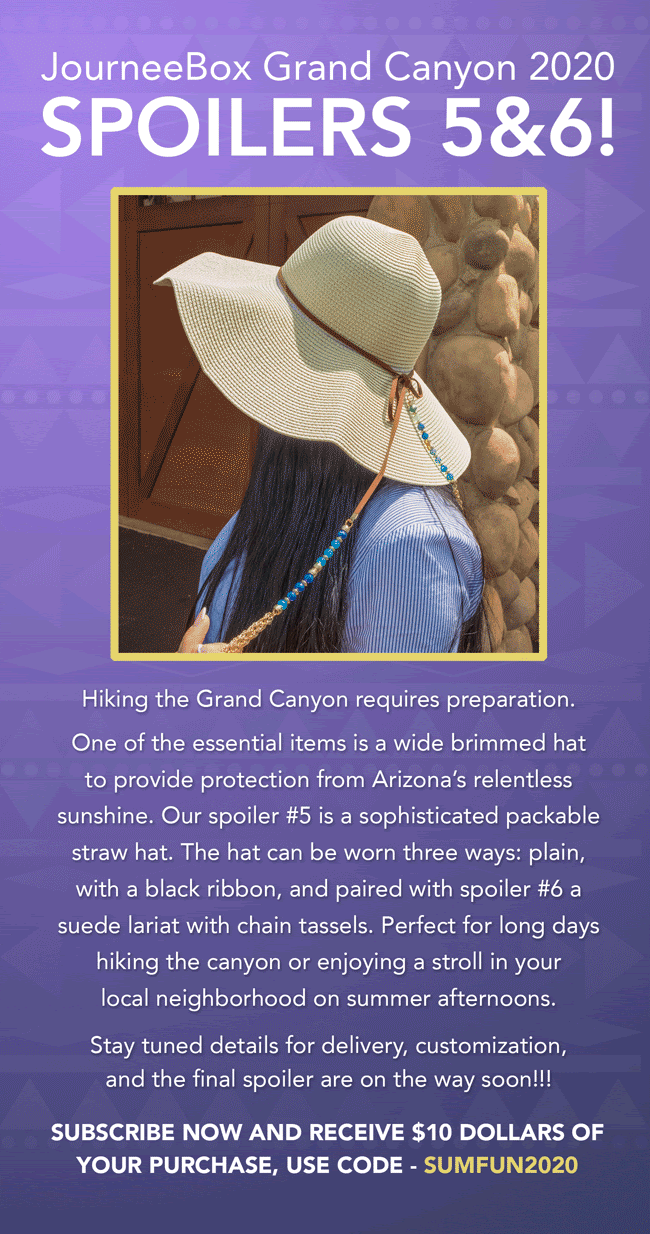 Straw Hat & Suede Lariat with Chain Tassels
Water Bottle in Ivory, Pink Lemonade OR Cool Gray
Plus: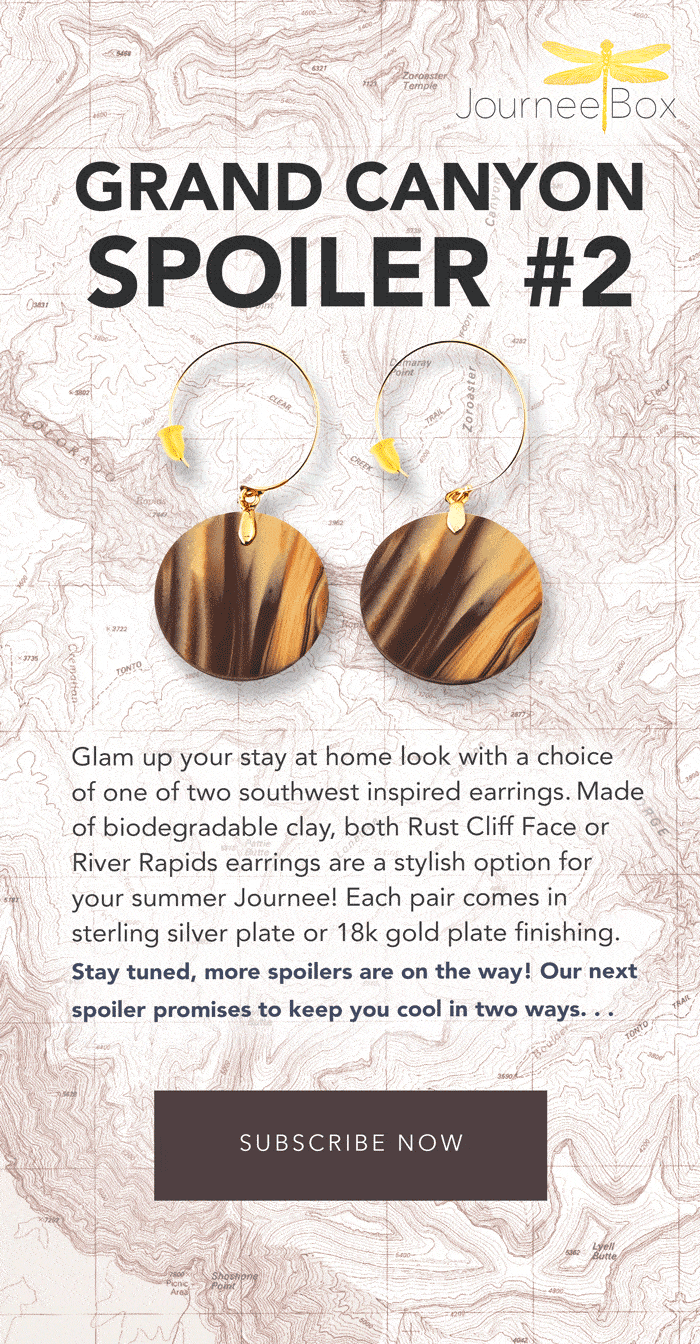 One of these Grand Canyon Earrings in Rust Cliff Face OR River Rapids!
These handmade earrings are made of biodegradable clay. What is your first choice for the Grand Canyon Earrings?
Kevia Disinfecting Wipes!
After your morning hike, break out your picnic fixings and cleanse your hands with our moisturizing wipes. Featuring aloe vera, essential oils, and 70% isopropyl alcohol these wipes are a good companion wherever your Journee takes you.
What do you think of the JourneeBox spoiler?