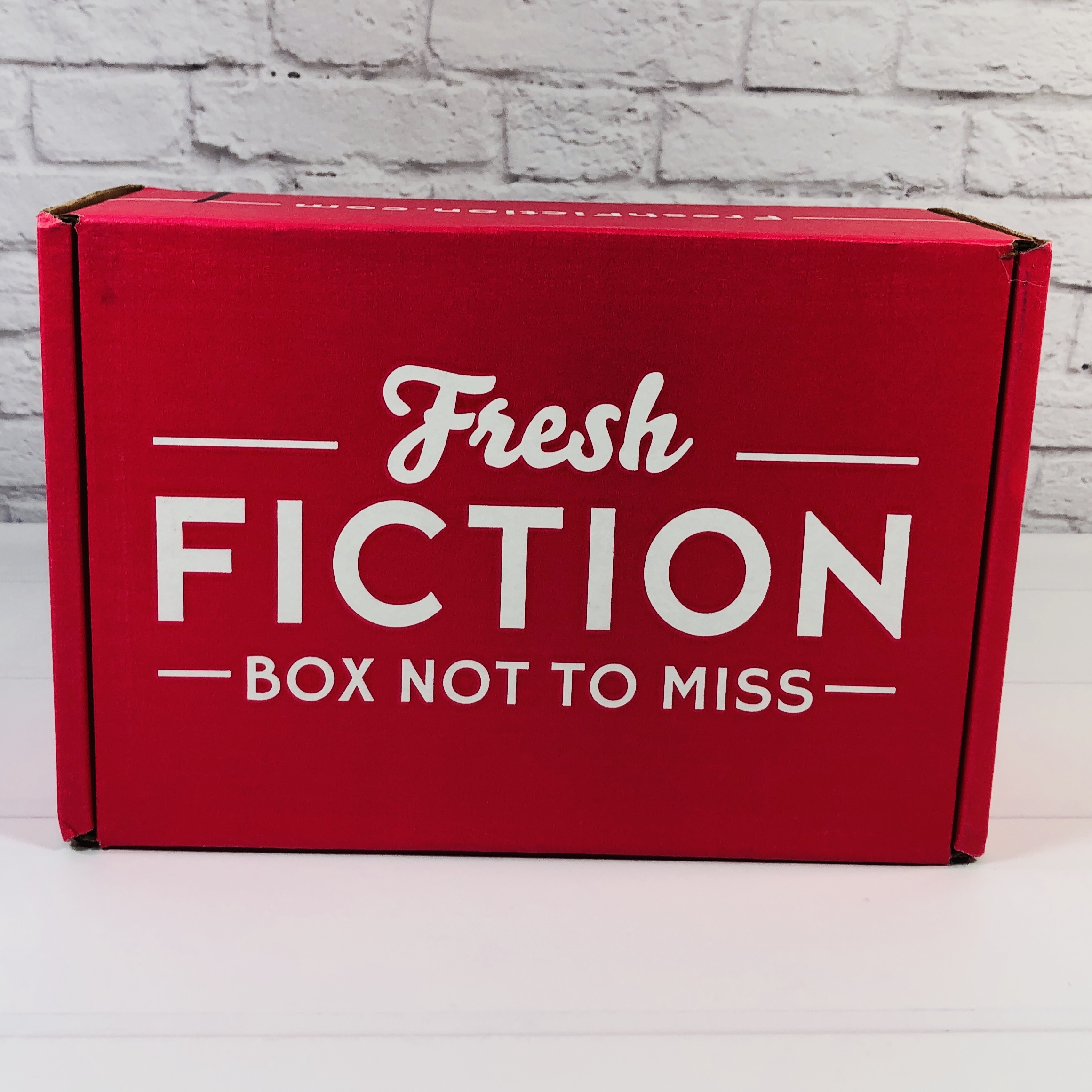 Fresh Fiction Box Not To Miss is a monthly book subscription that sends 3-5 print books and 1-3 eBooks for $25.95. Shipping is free to the U.S. and extra to Canada. You can choose from a 1 or 3 month plan and both plans auto renew. Alternatively, you can also buy a one-time box from their online shop. Books are a random selection of the month and no two boxes are the same. Most of the books will be from the romance genre but they may occasionally send mystery, erotica, YA, and paranormal books too.
When you sign up for Fresh Fiction Box Not to Miss, every month you will receive a box full of new print books and eBooks. Fresh Fiction focuses on genre fiction, romance in particular. There will be the occasional mystery, erotica, and paranormal as well. Some months may even include advanced reader copies (ARCs), which means early editions of books in your hands a month before the release date.
DEAL: Save $3 on your first Fresh Fiction Not To Miss box with coupon code HELLO.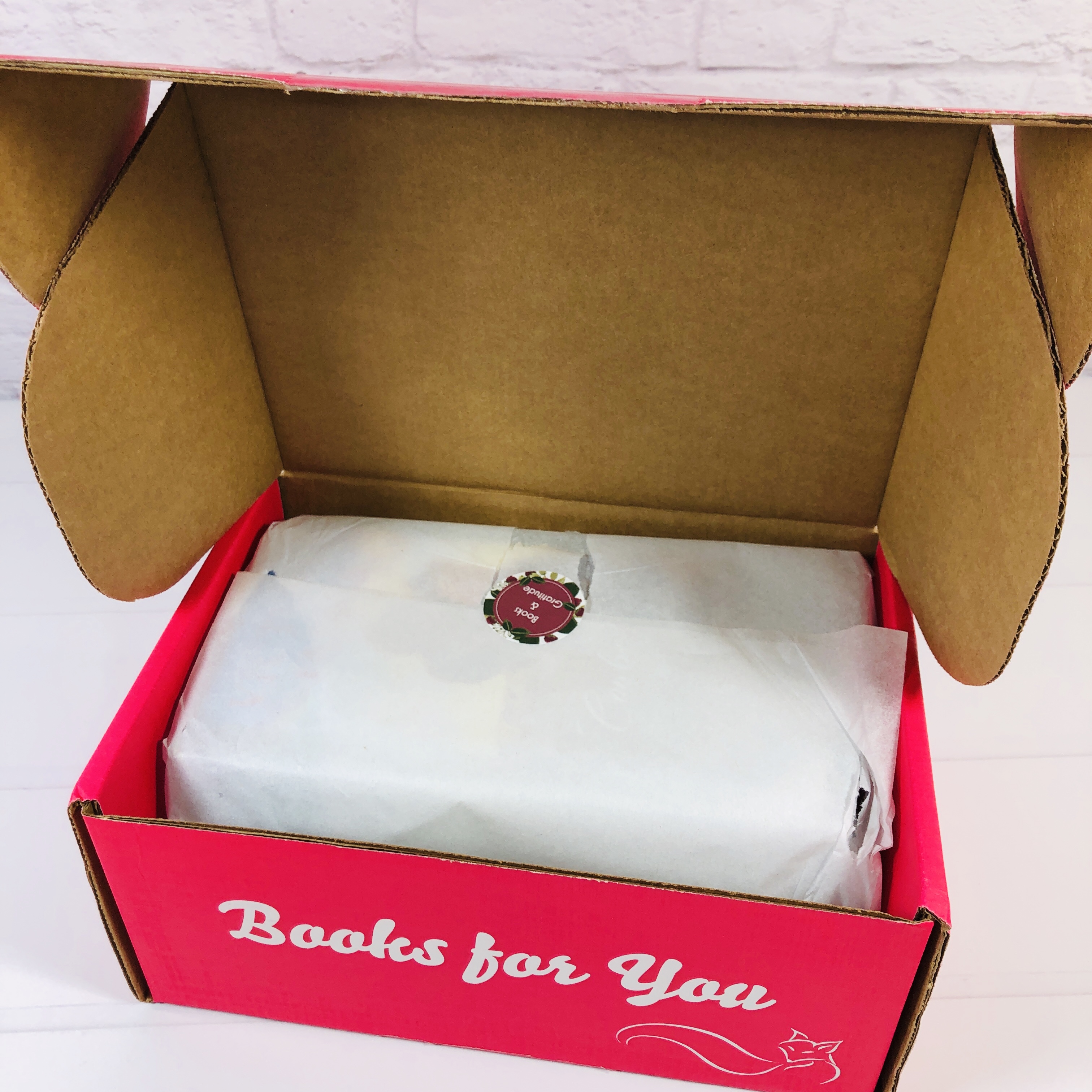 I opened the box to find tissue paper sealed with a sticker!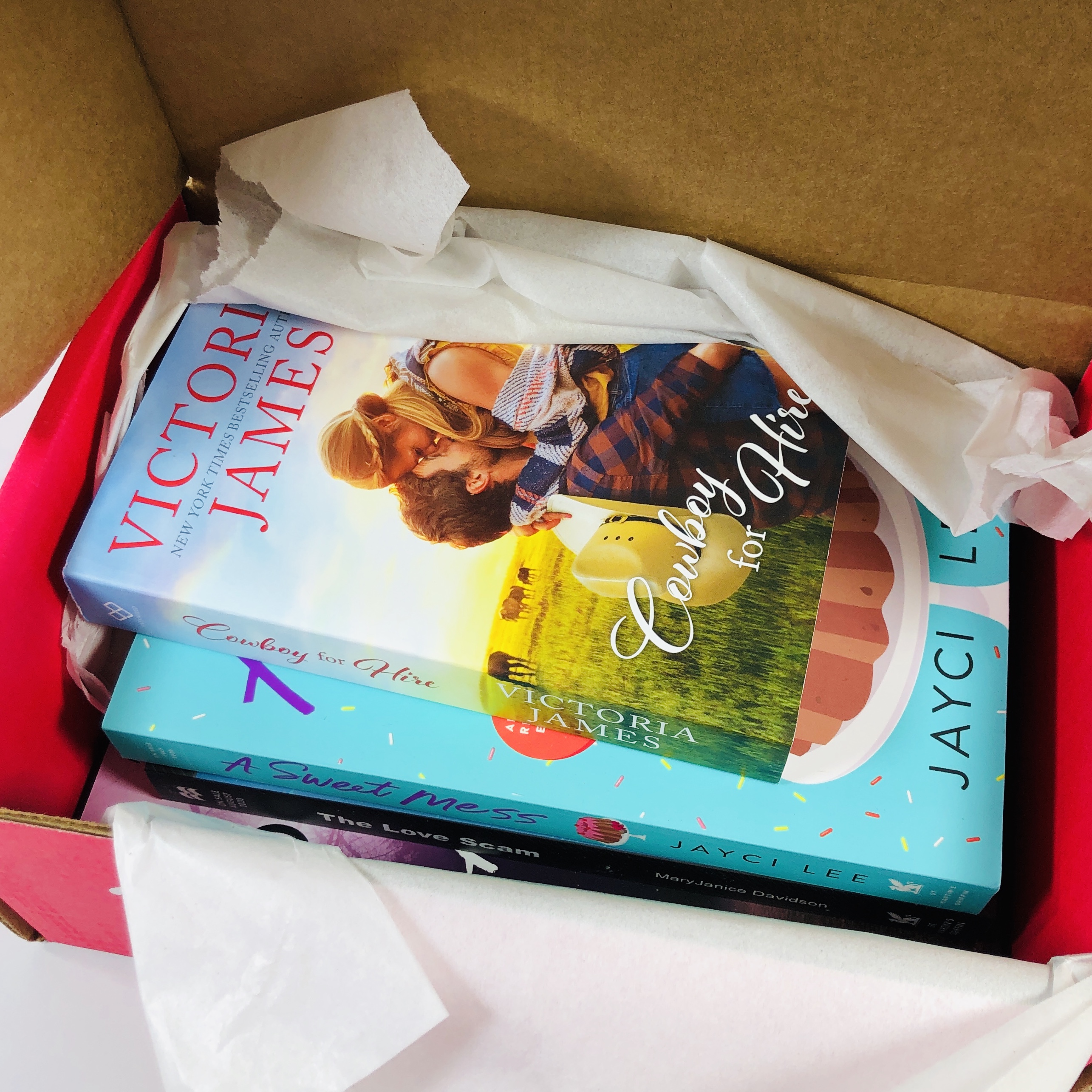 I found 4 books in the box!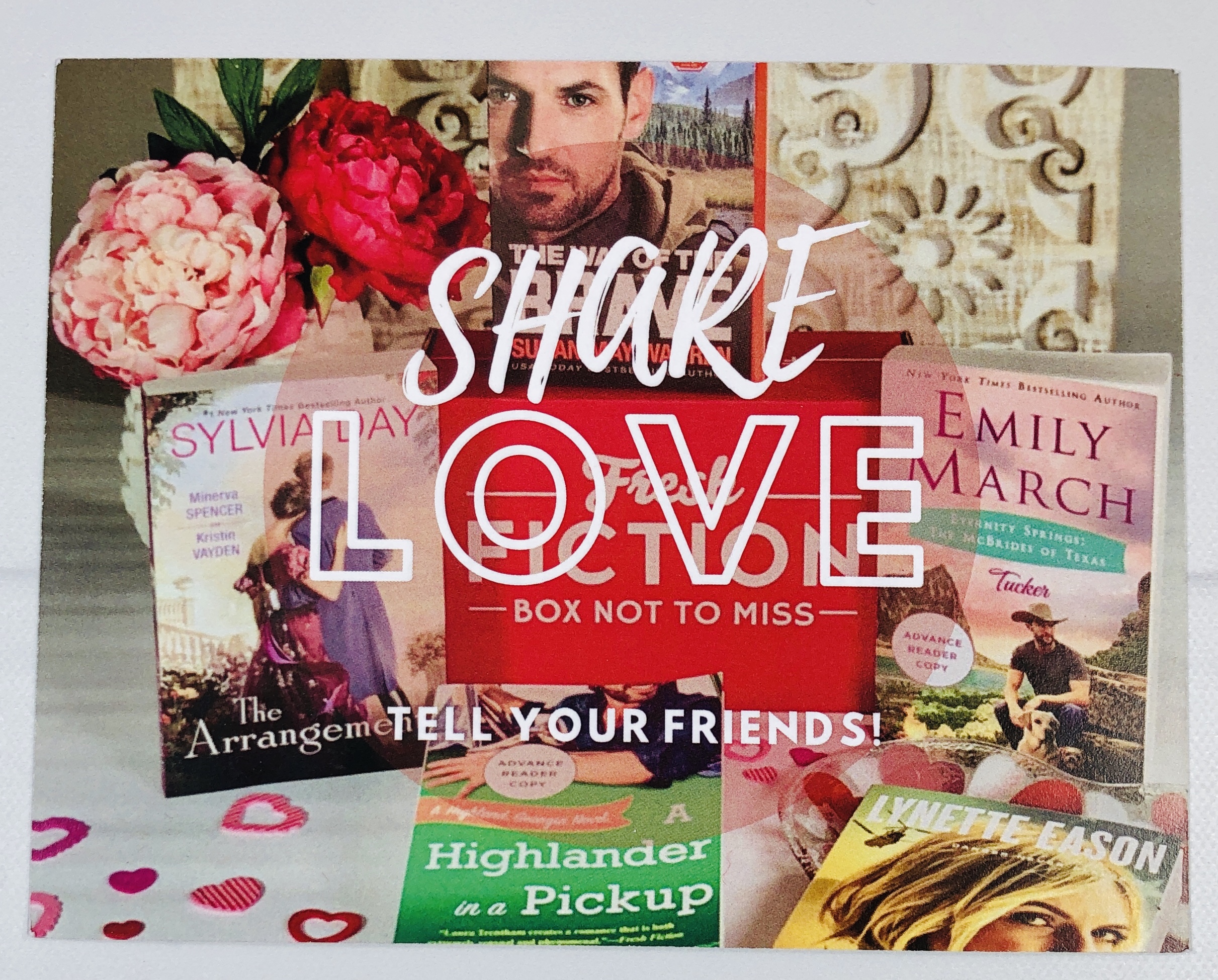 I received a card…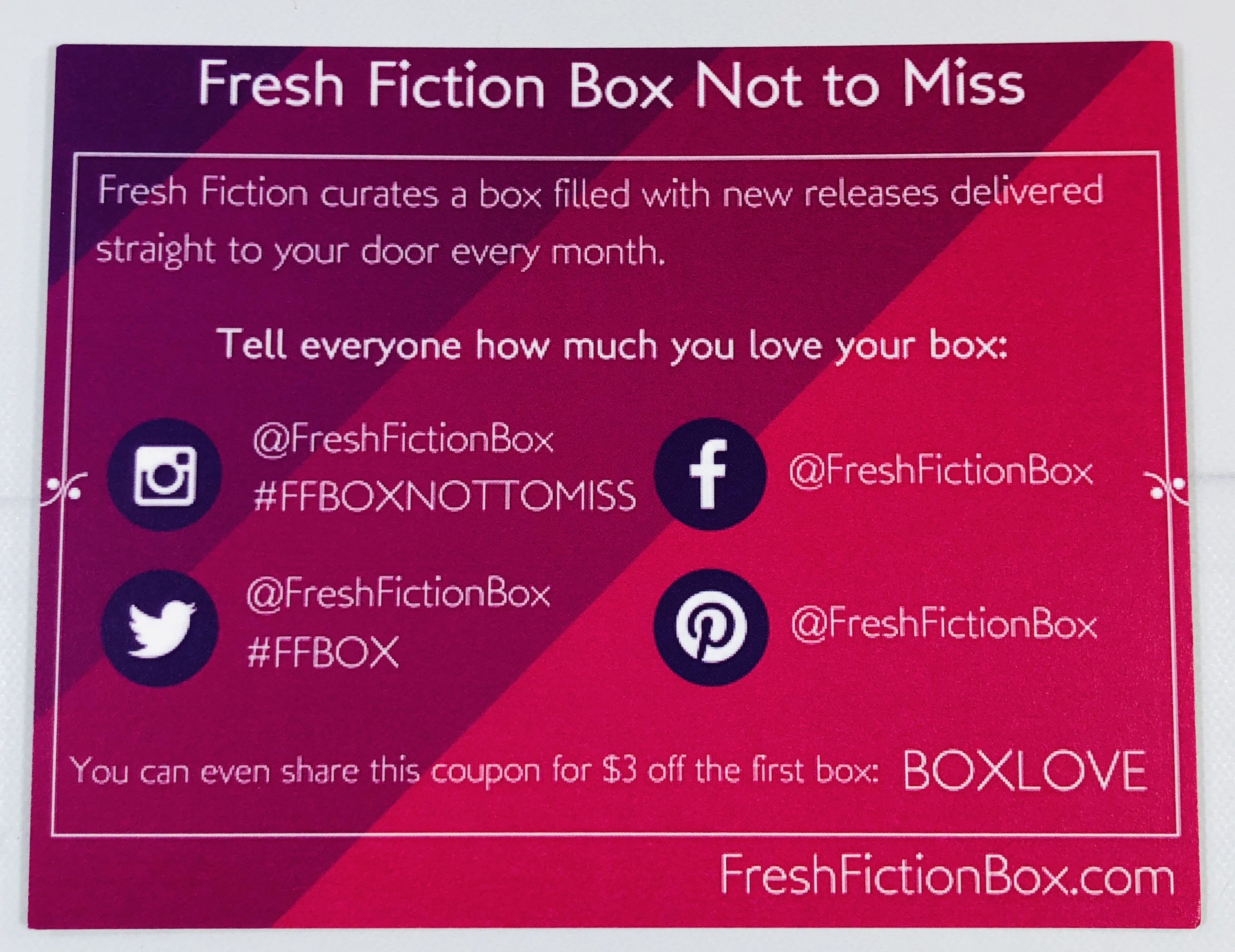 …that had a coupon code listed, along with the social media accounts for Fresh Fiction.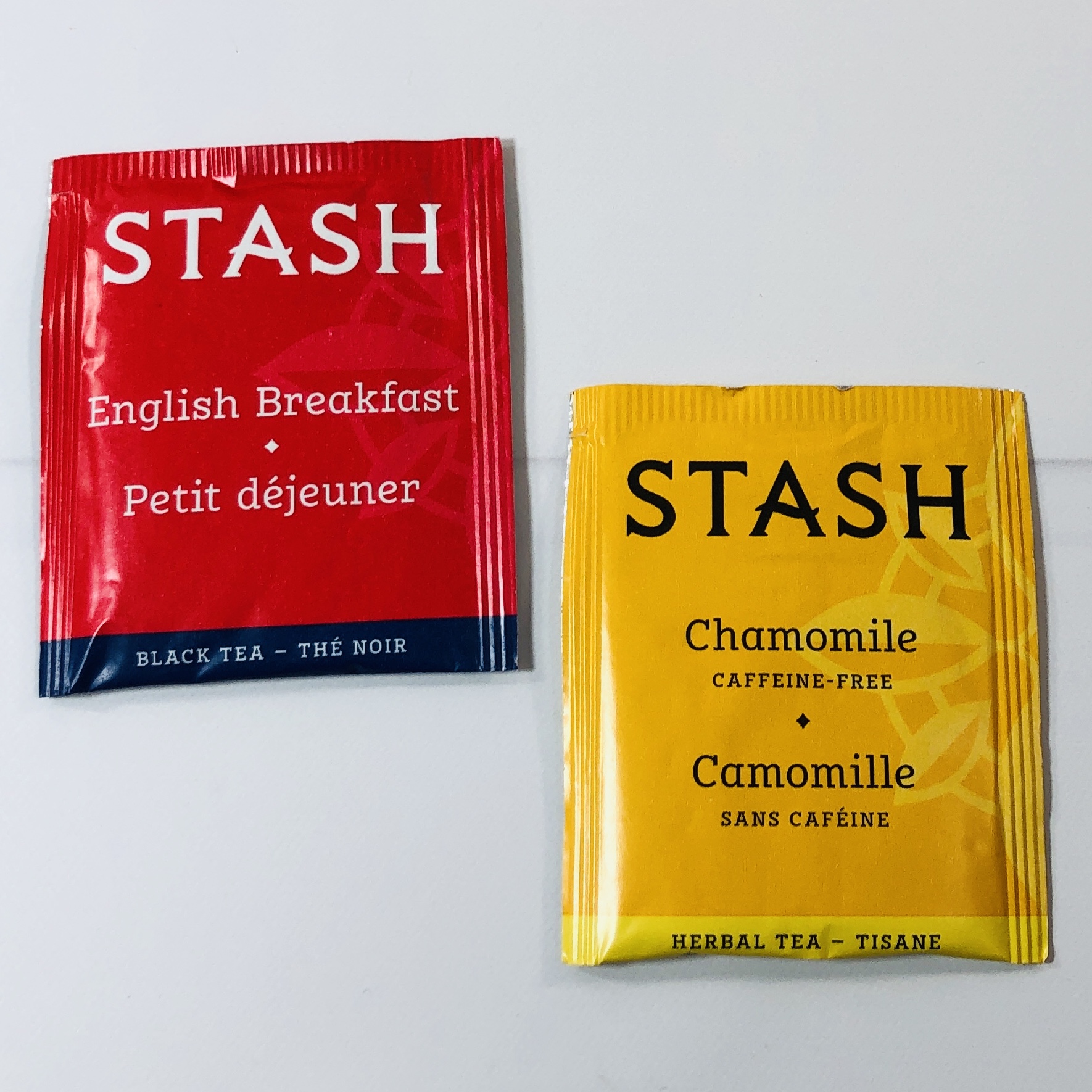 I found two teas from one of my favorite tea makers, Stash Tea.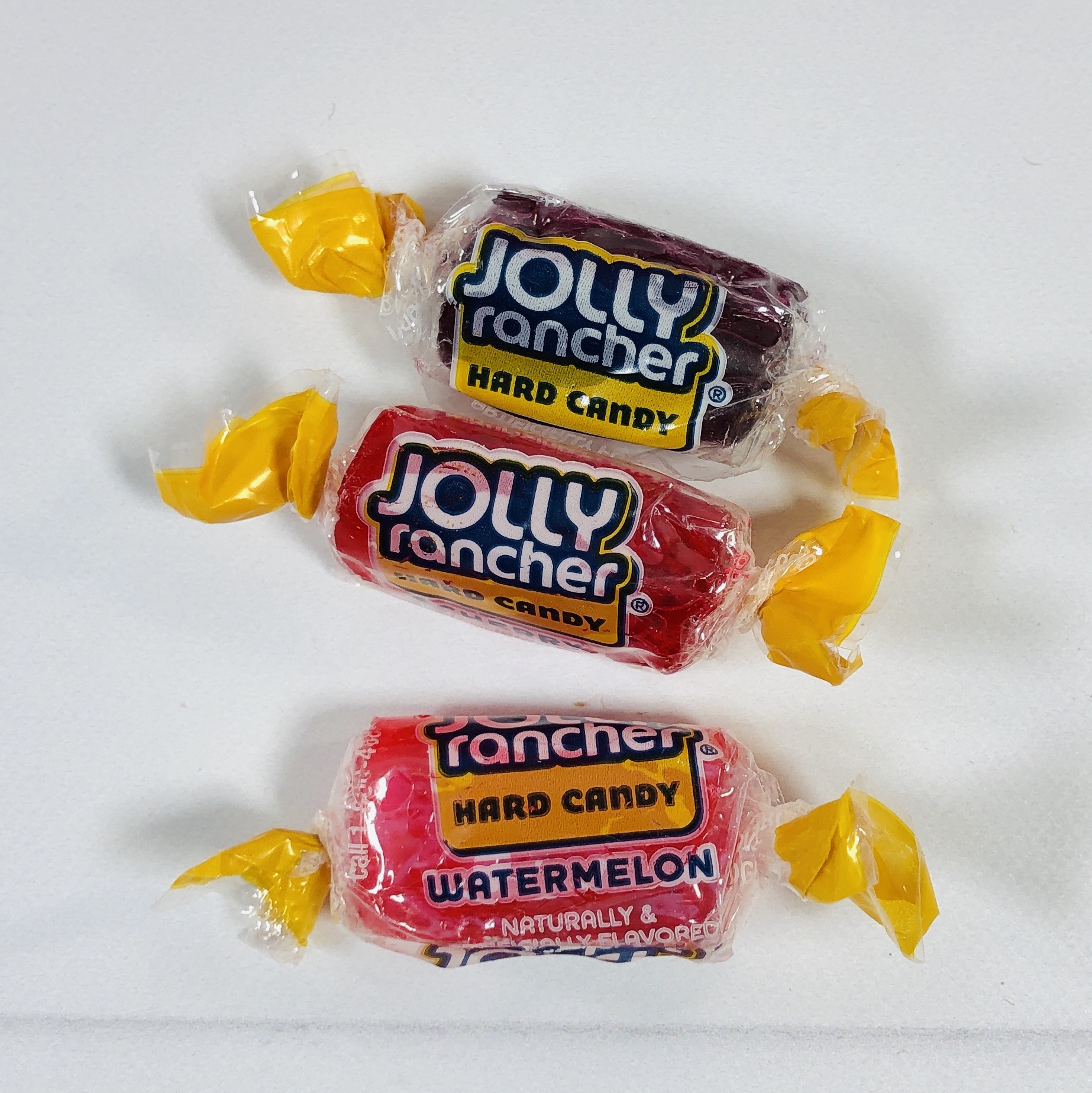 Plus 3 Jolly Rancher candies. I was super excited to find that one of them was watermelon, my favorite!
Everything in my box!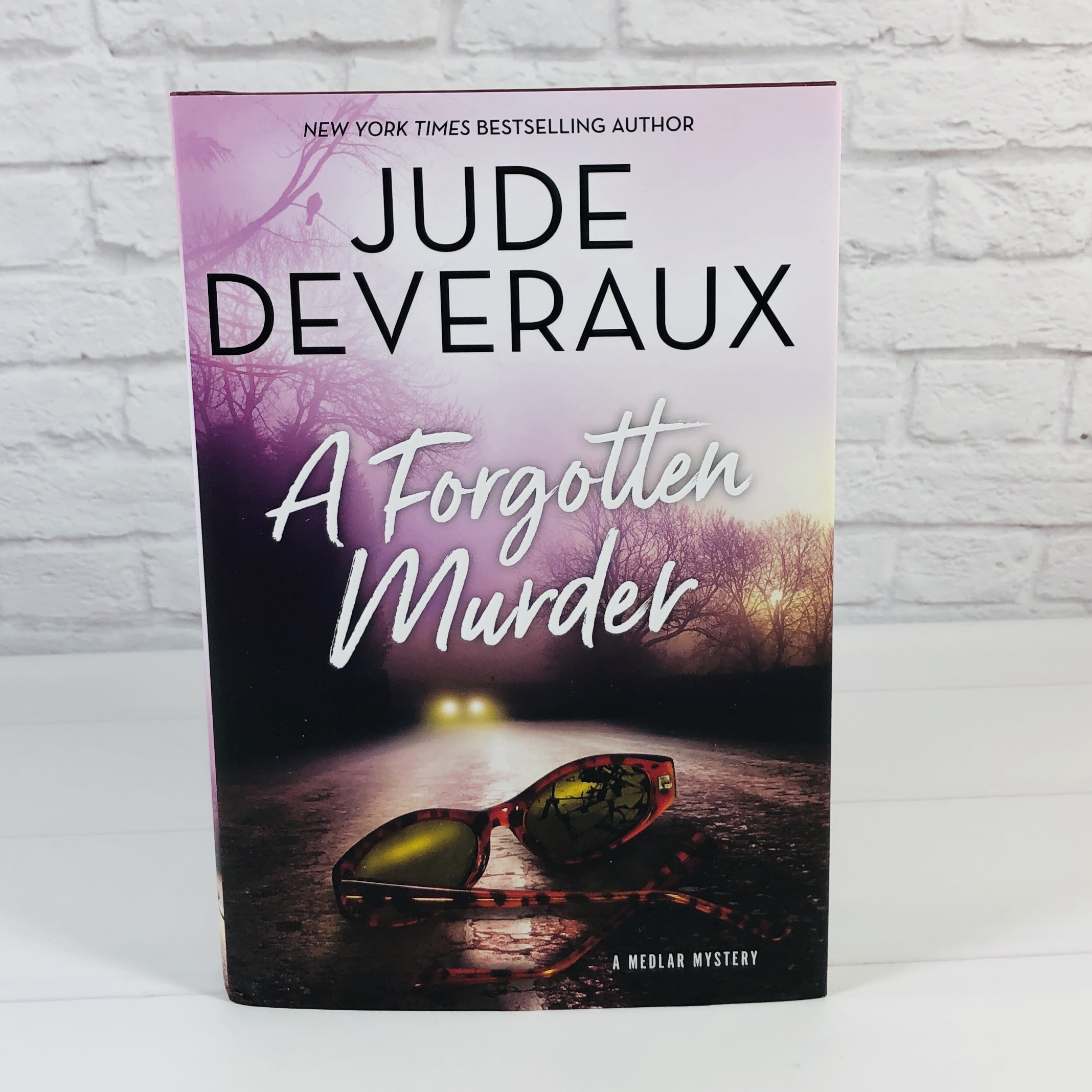 A Forgotten Murder by Jude Deveraux (List price $26.99, currently $17.79) is Book 3 of 3 in the A Medlar Mystery Series and since I haven't read the first two books in the series I will place this one on my bookshelf until I get the chance to catch up. I love that it takes place in England for the most part and I also love mysteries, and I used to read every book put out by this author, so it's a win-win-win.
An English manor home, an unsolved mystery, too many suspects to count… It's the perfect holiday for romance novelist Sara Medlar.

After solving two murder cases in their hometown of Lachlan, Florida, Sara Medlar, her niece Kate and their friend Jack need a change of scenery. Sara arranges for them to visit an old friend of hers in England. Upon arrival at Oxley Manor, a centuries-old estate that has been converted to a luxury hotel, Kate and Jack quickly realize that Sara is up to something. They learn that Sara has also invited a number of others to join them at Oxley.

When everyone assembles, Sara lets them know why they are there. Decades earlier, two people ran off together from Oxley and haven't been heard from since—and Sara wants to solve the case. As the people who were there the night the two went missing, the guests find themselves cast in a live mystery-theater event.

In reenacting the events of that night, it becomes clear that everyone has something to hide and no one is safe, especially when the discovery of a body makes it clear that at least one of the people who disappeared was murdered.

Sara, Jack and Kate are once again at the heart of a mysterious case that only they are able to solve. But someone is willing to continue to kill to keep the truth about Oxley Manor buried, and none of the guests are safe.

New York Times bestselling author Jude Deveraux has crafted another irresistible case in her bestselling Medlar Mystery series.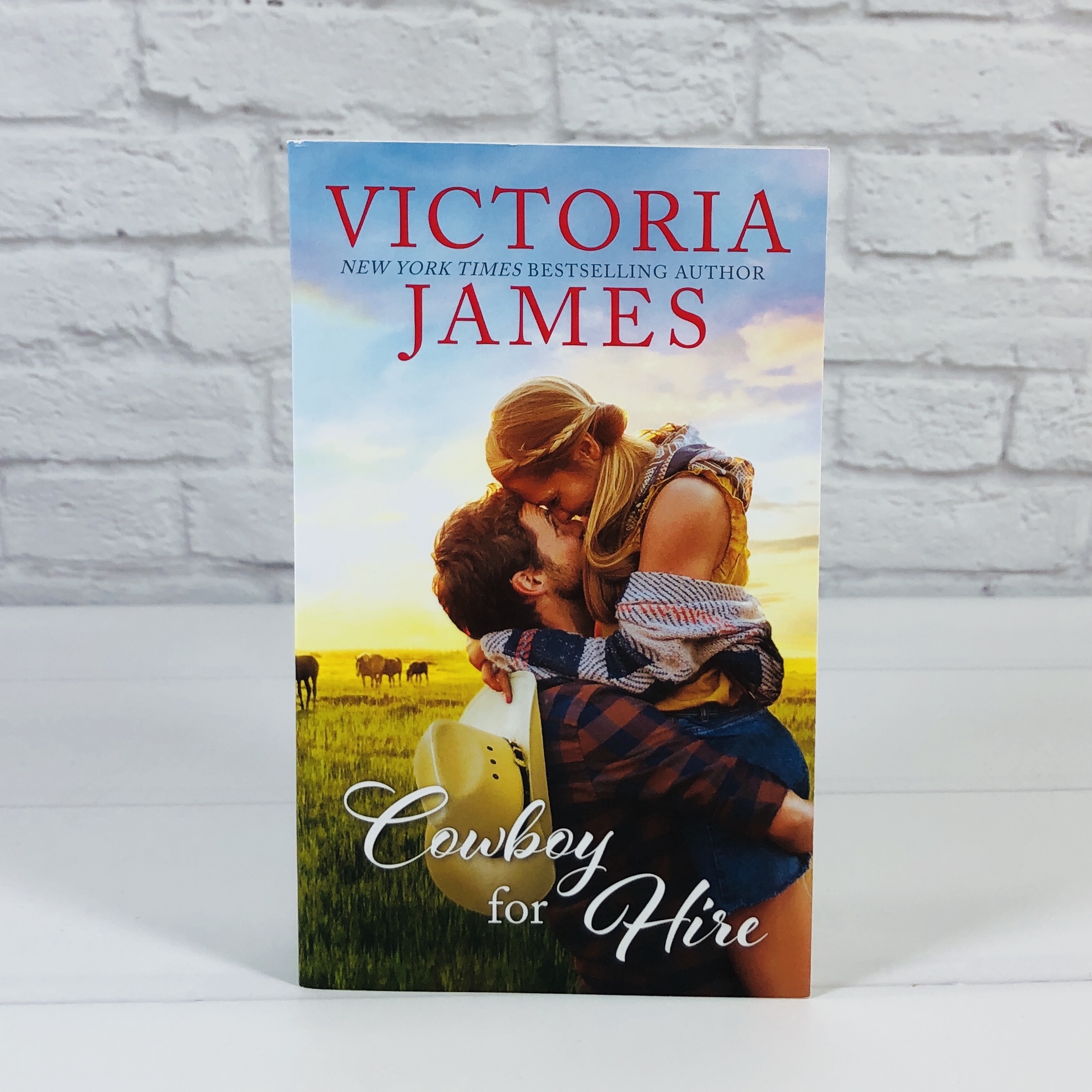 Cowboy For Hire by Victoria James (List price $7.99, now $5.98) is Book 2 of 2 in the Wishing River Series but according to Amazon you can read it without needing to read the first book since it's a standalone. I always thought it would be fun to live on a ranch but I can't imagine trying to run the whole place!
"A heartwarming story about faith and starting over." -Kirkus Reviews

When a shy woman inherits a ranch, she'll have to find an inner strength to succeed―and open herself up to love―in this heartwarming novel from New York Times bestselling author Victoria James.

Sarah Turner has led a very sheltered life. So when her parents pass away tragically, suddenly she's left in charge of the family ranch with little know-how but plenty of will to keep it afloat. Determined not to lose her parents' legacy or her newfound independence, she needs a hero fast―not to save her, but to show her how to save herself. But she's unprepared for the ruggedly handsome cowboy who answers her ad.

"Cowboy for Hire," the ad said, and Cade Walker is quick to respond. Betrayed as ranch manager by his former boss, he's looking for a new place to put down roots―without the pressure to prove himself again. Except when he meets his new boss, it's clear he's not only there to run a ranch but to also teach Miss Independent how to run it. But as they struggle to make the ranch flourish, they'll both need courage if they hope to find a family…together.

Each book in the Wishing River series is STANDALONE:
* The Trouble with Cowboys
* Cowboy for Hire
NOTE: The next two books are Advance Reader Copies, which are books that haven't been published yet and may not be 100% perfect, but for the most part will be the same as when published. They are also provided free so they have no retail value.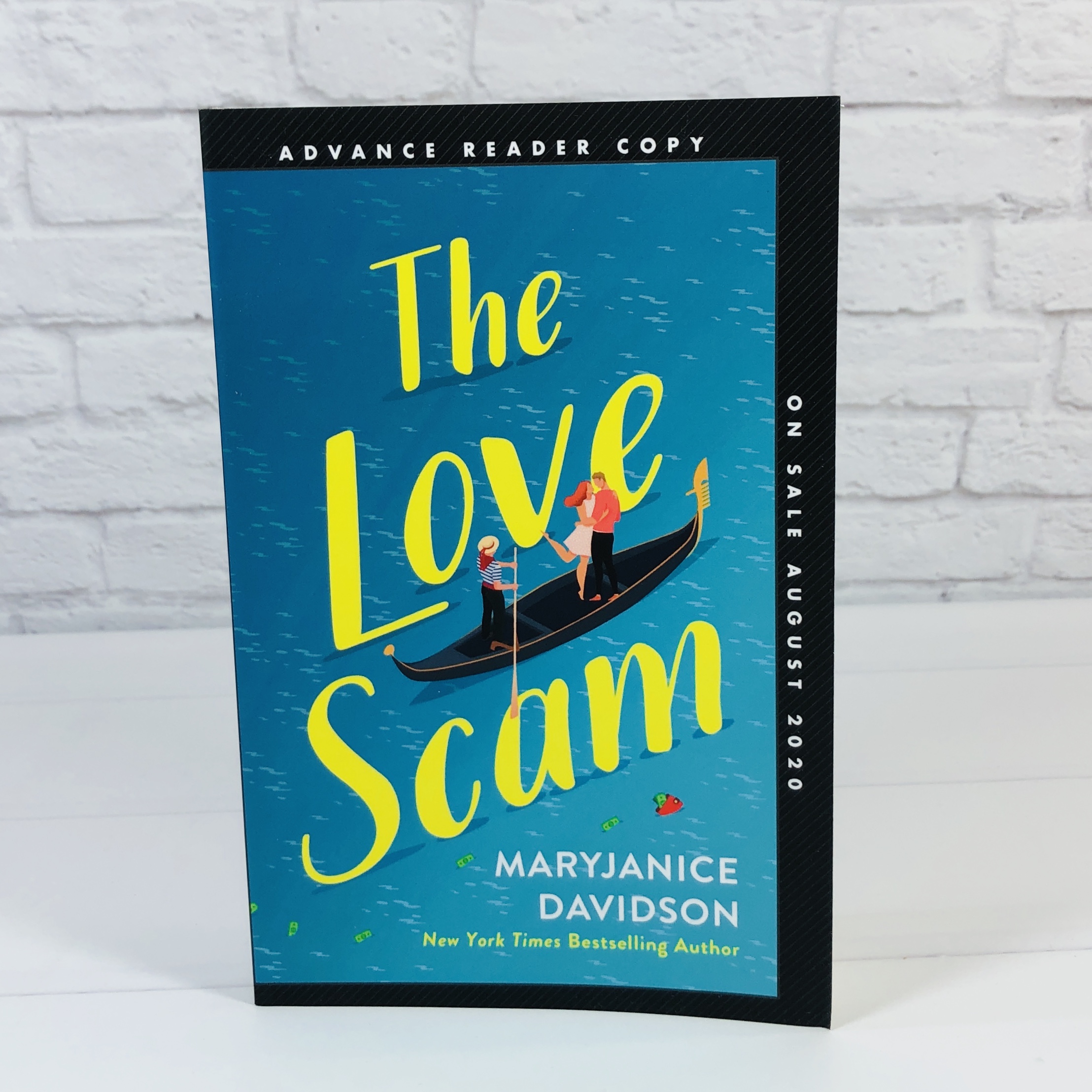 The Love Scam by MaryJanice Davidson (ARC, will have $16.99 MSRP when released 8/9/2020) is Book 2 of 2 in the Danger Series and is a contemporary romance. Apparently Rake is the twin brother of Blake, who was in the first novel of the series.
The Love Scam is a sweet and sassy romantic comedy from New York Times bestselling author MaryJanice Davidson.

Rake Tarbell is in trouble. When the fabulously wealthy and carefree bachelor wakes up horribly hungover in Venice, it's not something that would normally be a problem…except he has no idea how he got there from California. Or who stole his wallet. Or who emptied his bank account of millions. Or who in the world is Lillith, the charming little girl claiming to be his long lost daughter. For the first time in his life, Rake is on his own and throwing Benjamins around aren't going to solve his problem. Now if only the gorgeous, fun, and free-spirited woman who brought Lillith into his life was willing to help the situation…

Claire Delaney finds Rake's problems hilarious and is not in the least bit sorry of adding to them by bringing Lillith into the mix. A pretty Midwestern girl with a streak for mischief, Claire isn't the type to hang around with a guy like Rake. Even if he is drop-dead handsome and charming as all get-out. Even if he needs help and she has all the answers. But if this helps Lillith, she will go out of her way. And with a guy like Rake, she's willing to bend her rules a bit for some fun.

But when adventure-filled days turn to romantic nights as they search for answers, and someone starts following them through the streets of Venice, Claire realizes she's playing more than just a game. And maybe, just maybe, she isn't willing to let go of Rake or Lillith just yet.
A Sweet Mess by Jayci Lee (ARC, will have $16.99 MSRP when released 7/14/2020) is the only book we received that isn't part of a series and it's another light-hearted rom com. The story line sounded very familiar and it turns out I already received this ARC last month.
Jayci Lee delivers "a perfect balance of impeccable wit, laugh out loud hilarity, and off the charts chemistry. A Sweet Mess is a sinfully decadent romantic comedy."―New York Times bestselling author Helena Hunting

Aubrey Choi has been content running her highly successful bakery Comfort Zone and with its first expansion taking up all of her time, dating has been the least of her priorities. Then a one-night-stand with gorgeous Korean hunk Landon Kim makes her want things she didn't think she had time for. Too bad it turns out he's a celebrity food critic whose scathing review of Comfort Zone goes viral and nearly destroys Aubrey's business―and her fond memory of their night together.

Landon tries to clean up the mess he made by offering Aubrey a spot on the new celebrity cooking show he's producing. She agrees to use this as a way to save her bakery and her reputation―no thanks to him―but vows to guard her heart. Now Aubrey and Landon find themselves sharing a villa in California wine country, which is a guaranteed recipe for disaster. For the next three weeks, baker and critic will tempt each other as they struggle to resist admitting that they have all the necessary ingredients for love.

"A rich, vibrant romance that's a feast for all the senses."―#1 New York Times bestselling author Lauren Blakely

Includes Delicious Dessert Recipes!
I received one hardcover and three paperback books in my latest Fresh Fiction Box! There was one mystery and three lighthearted romance novels, which is perfect for getting through the hot days of July. I'm not sure why I received a duplicate novel but with everything that's going on right now I'm really not that worried about it. The value for the June box, using the two novels that aren't ARC's and using the current selling prices on Amazon, is about $23.77, not too bad considering that I also received two other books plus a couple tea bags and candies!
Which book would you read first? Let me know in the comments! 
Visit Fresh Fiction Box Not To Miss to subscribe or find out more!