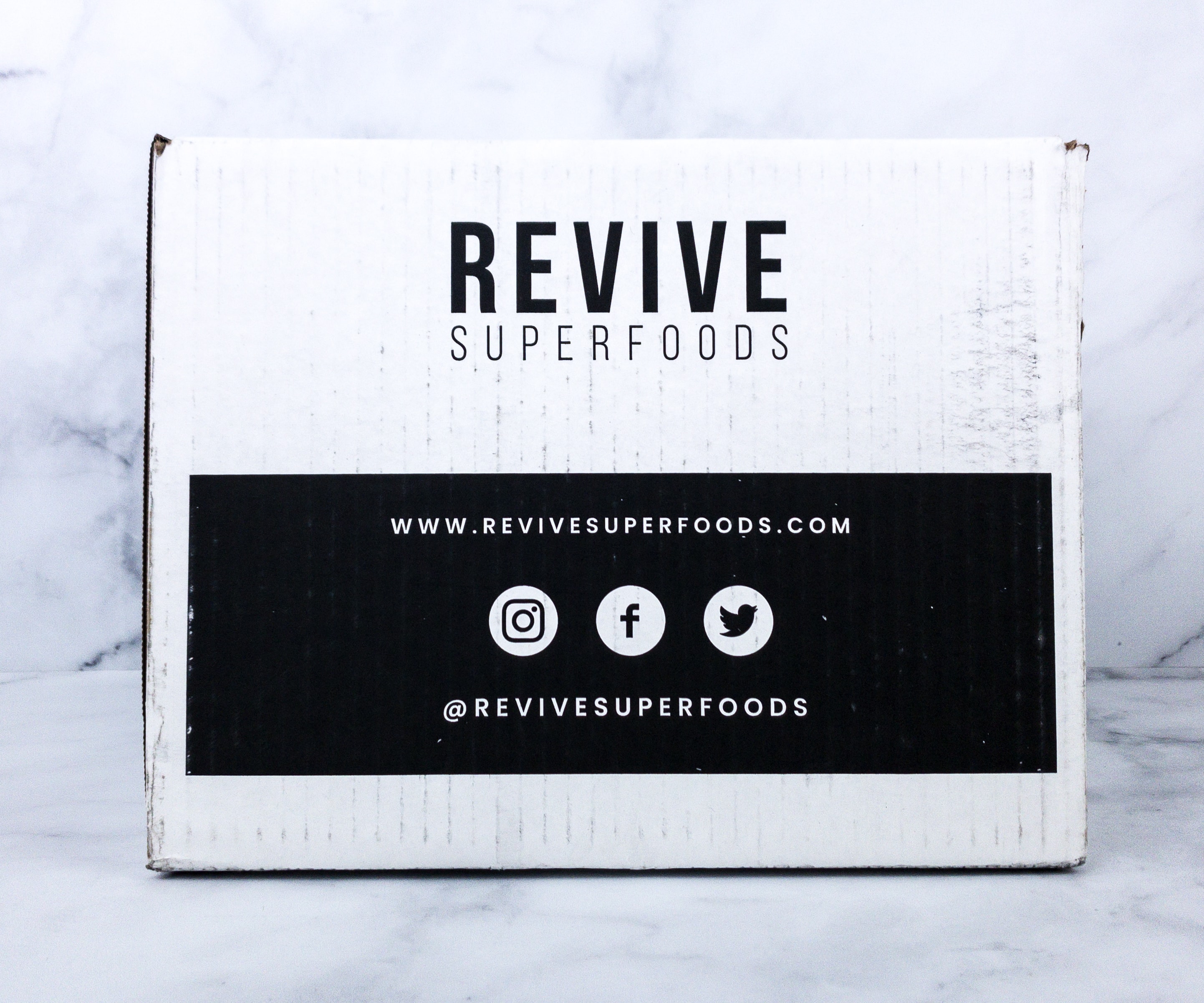 Revive Superfoods is a frozen superfood subscription service that delivers nutritious superfood eats including smoothies, pre-made oat bowls, acai bowl, and ready-to-eat SuperMeals. Each week, you can get a weekly plan of 9, 12, or 24 cups, or monthly plan of 12 and 24 cups for $6.49 per cup or as low as $58.41 per week. The superfoods are pre-portioned, premium, and nutritious, and they can be easily prepared in seconds. The foods are expertly crafted by their team of nutritionists and food scientists to provide tasty and nutrient-rich food that fuels a busy lifestyle.
DEAL: Get 50% off your first box! Just use this link to subscribe and coupon code SUPER50.
This is the review of Revive Superfoods Smoothies and Oat Bowls.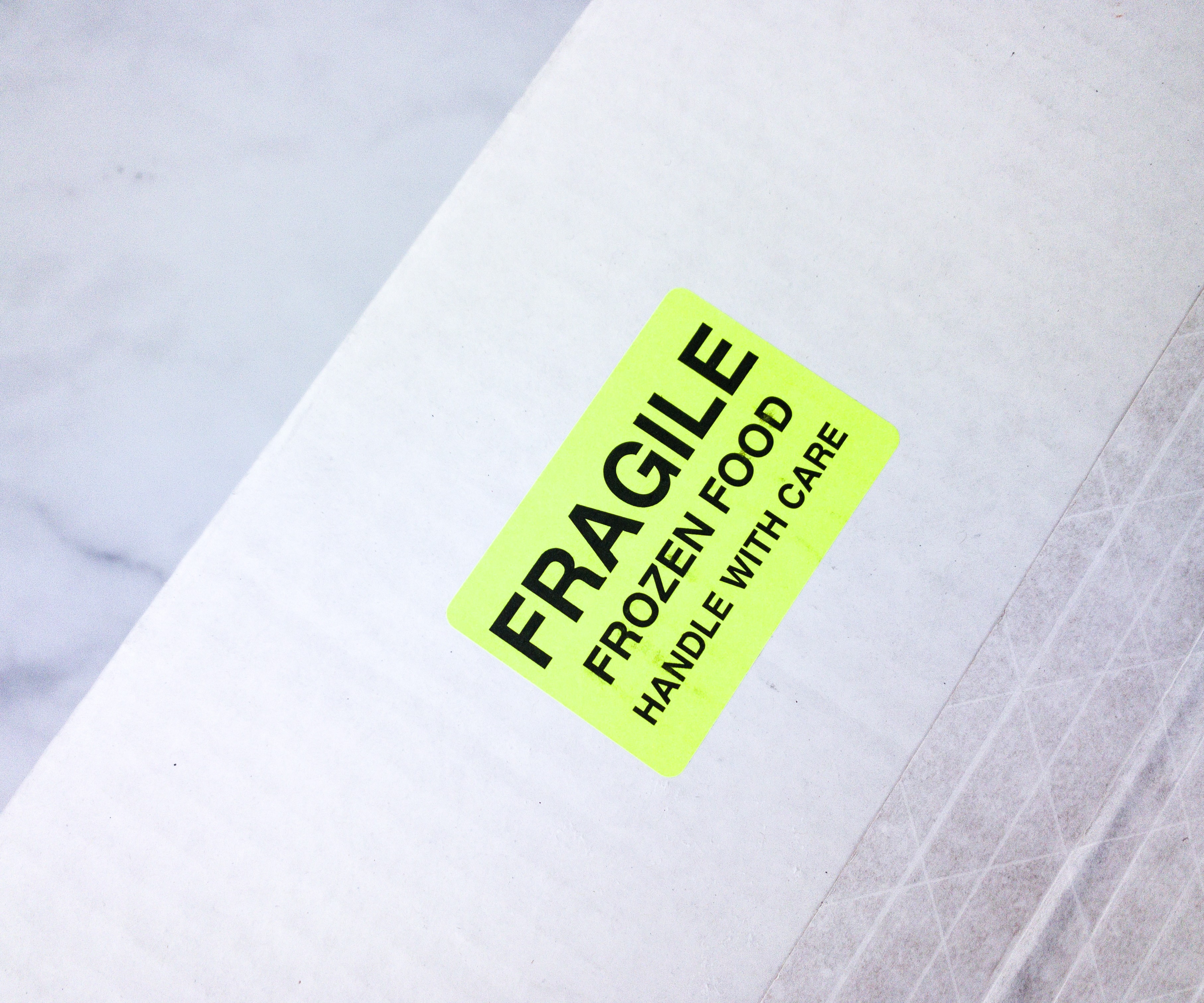 There's a warning on the box that says the contents are fragile and should be handled with care.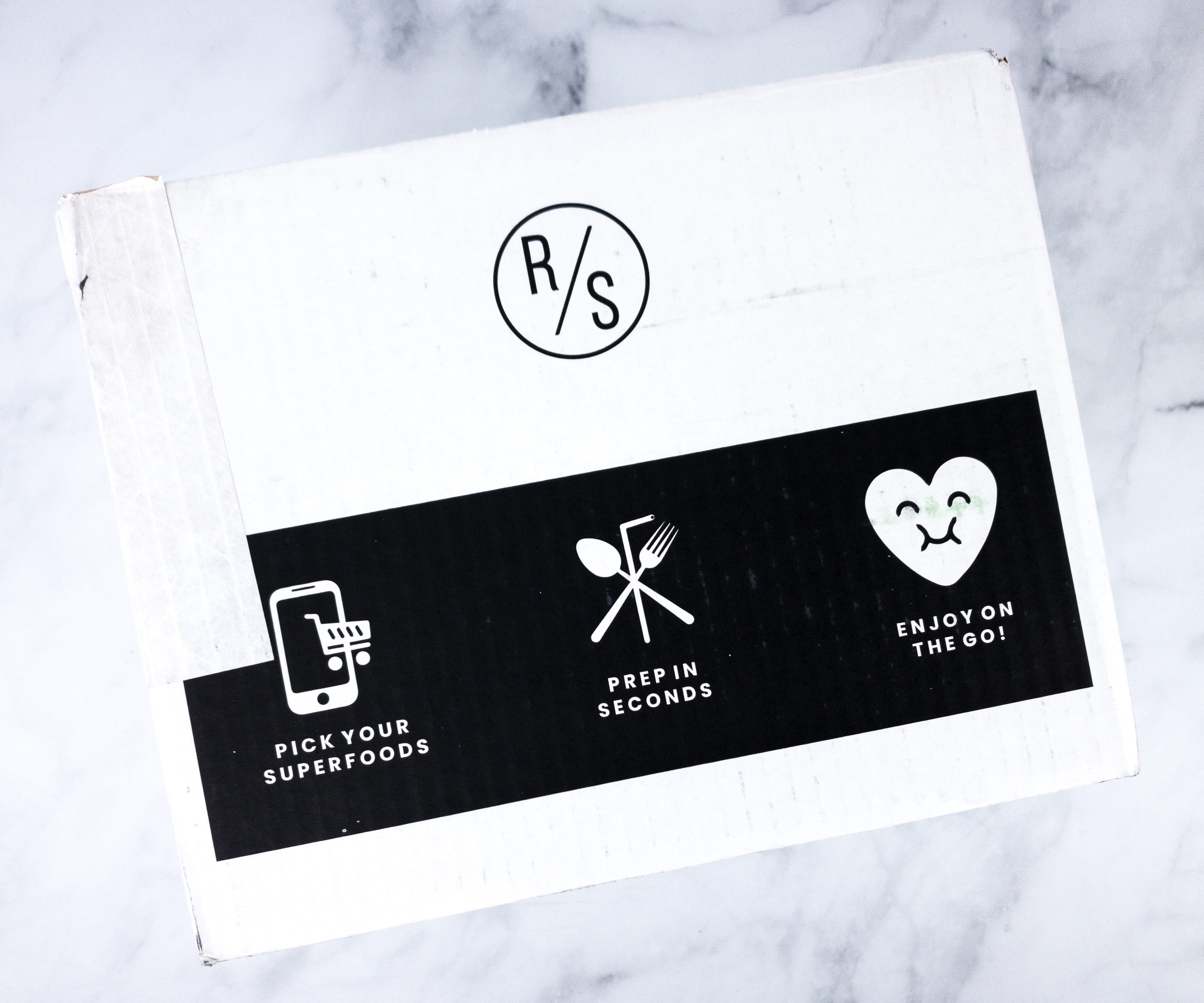 You can enjoy this subscription in 3 easy ways: pick your superfoods, prep in seconds, and enjoy on the go!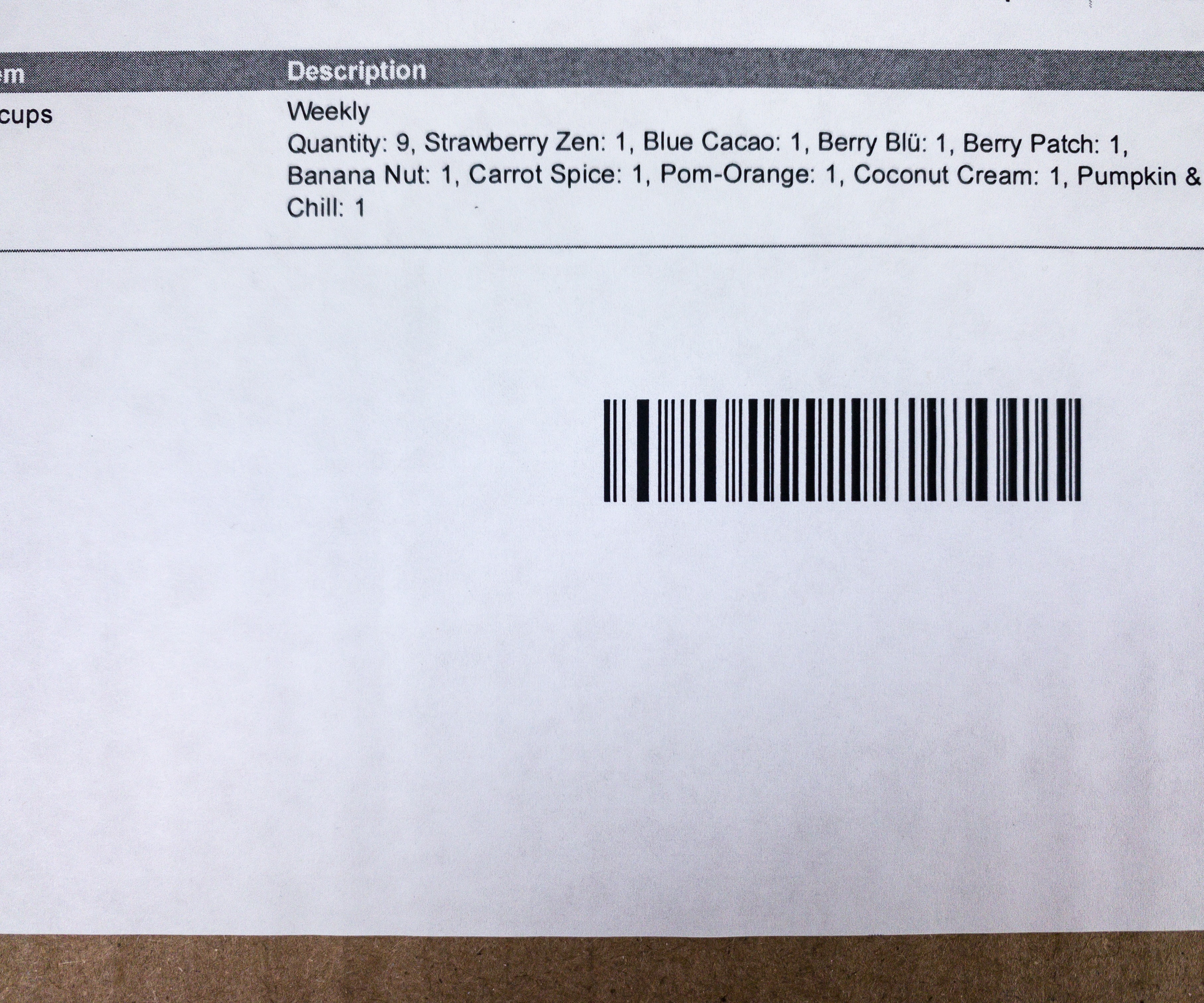 What's great about this subscription is that you can build your box, which means you can select the superfood eats you like! You can also change your cup selections every week/month, if you want to try different flavors and products! For our box, we picked 9 cups that includes Strawberry Zen, Blue Cacao, Berry Blu, Berry Patch, Banana Nut, Carrot Spice, Pom-Orange, Coconut Cream, and Pumpkin and Chill.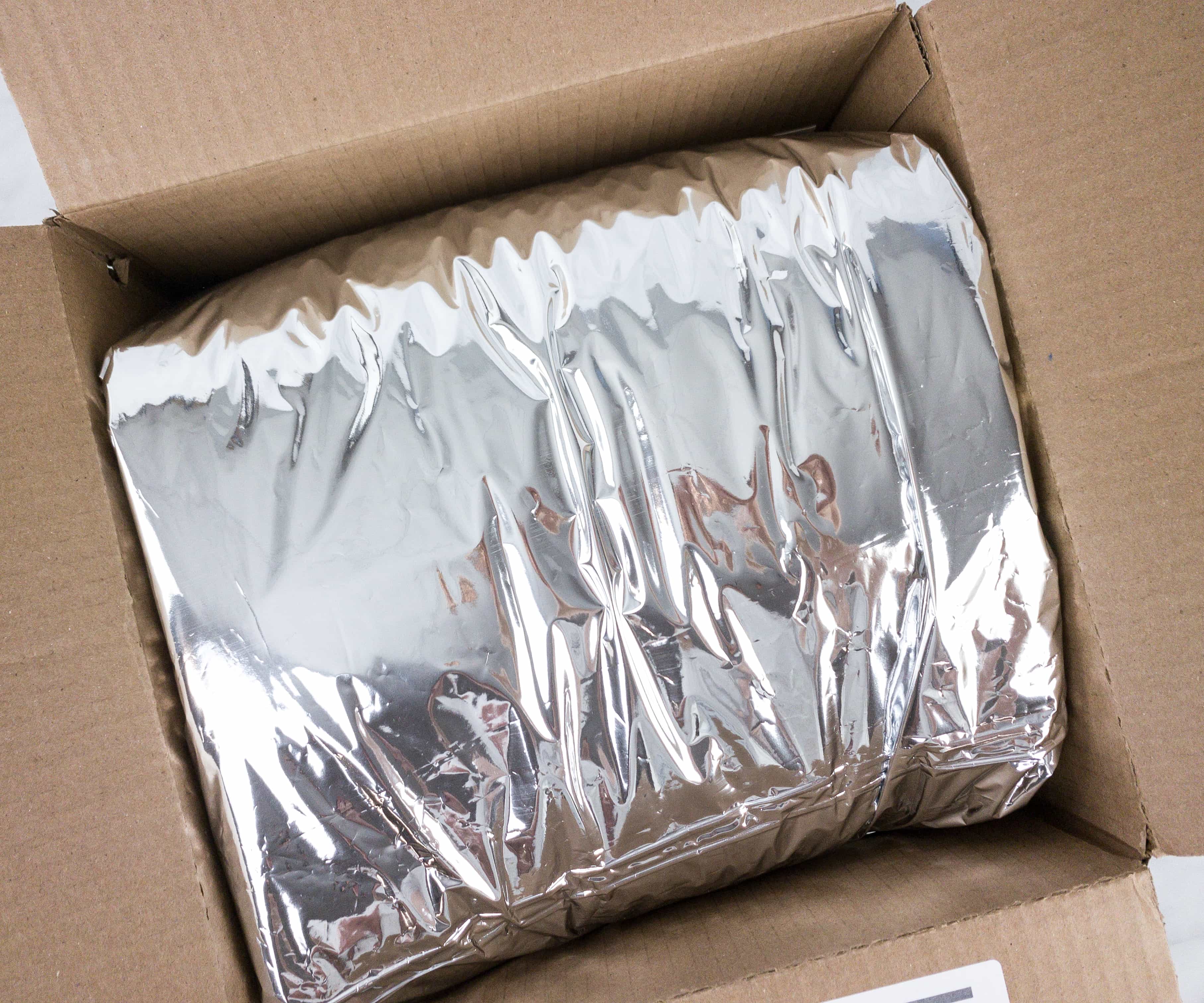 The cups are packaged and insulated to retain coolness and freshness.
They are also alternately arranged inside the box to fit everything and transport them easily.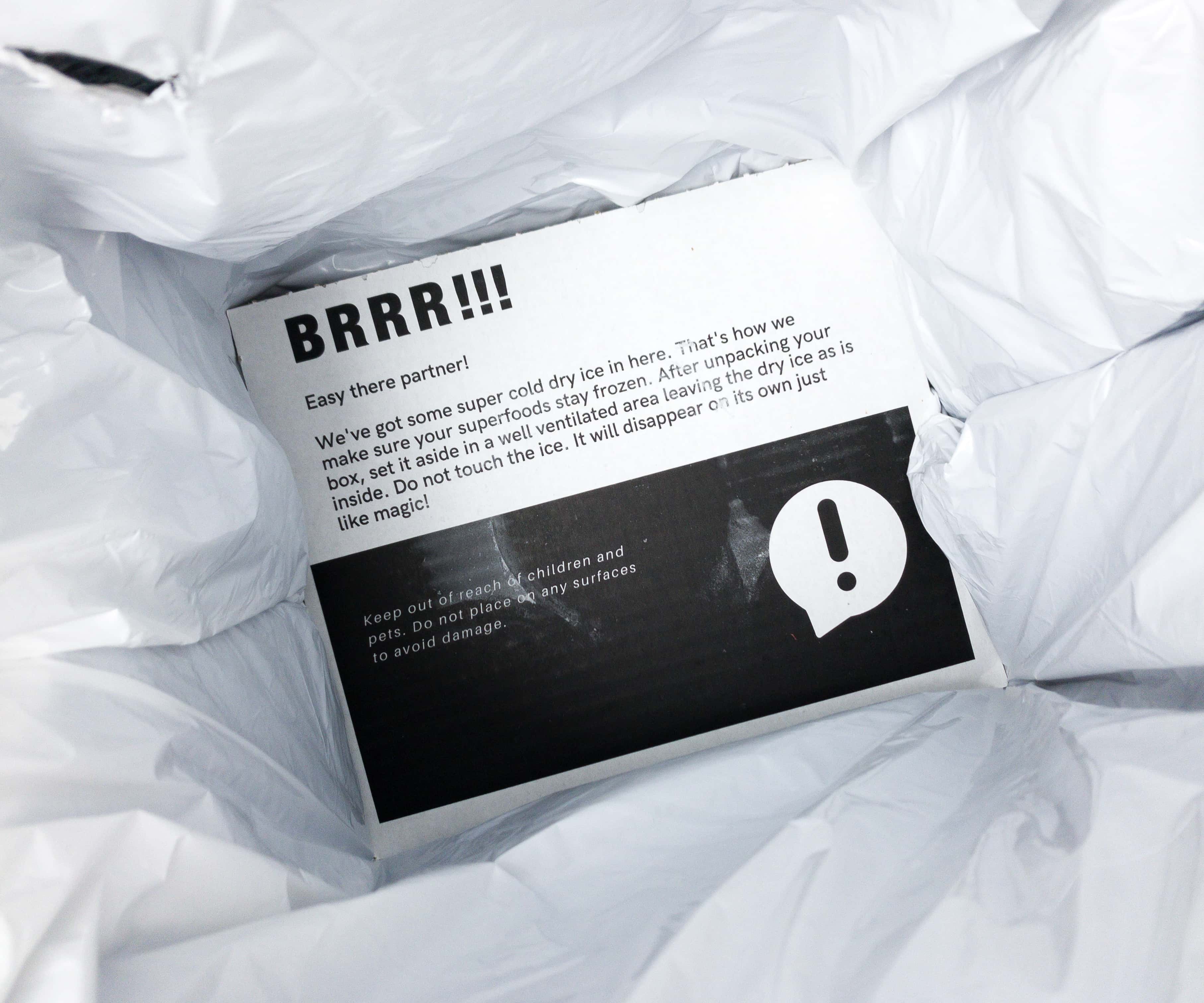 There is a pack of dry ice at the bottom of the box, and it should also be handled with care. Both the cardboard box and dry ice liner are recyclable.
Everything in my box!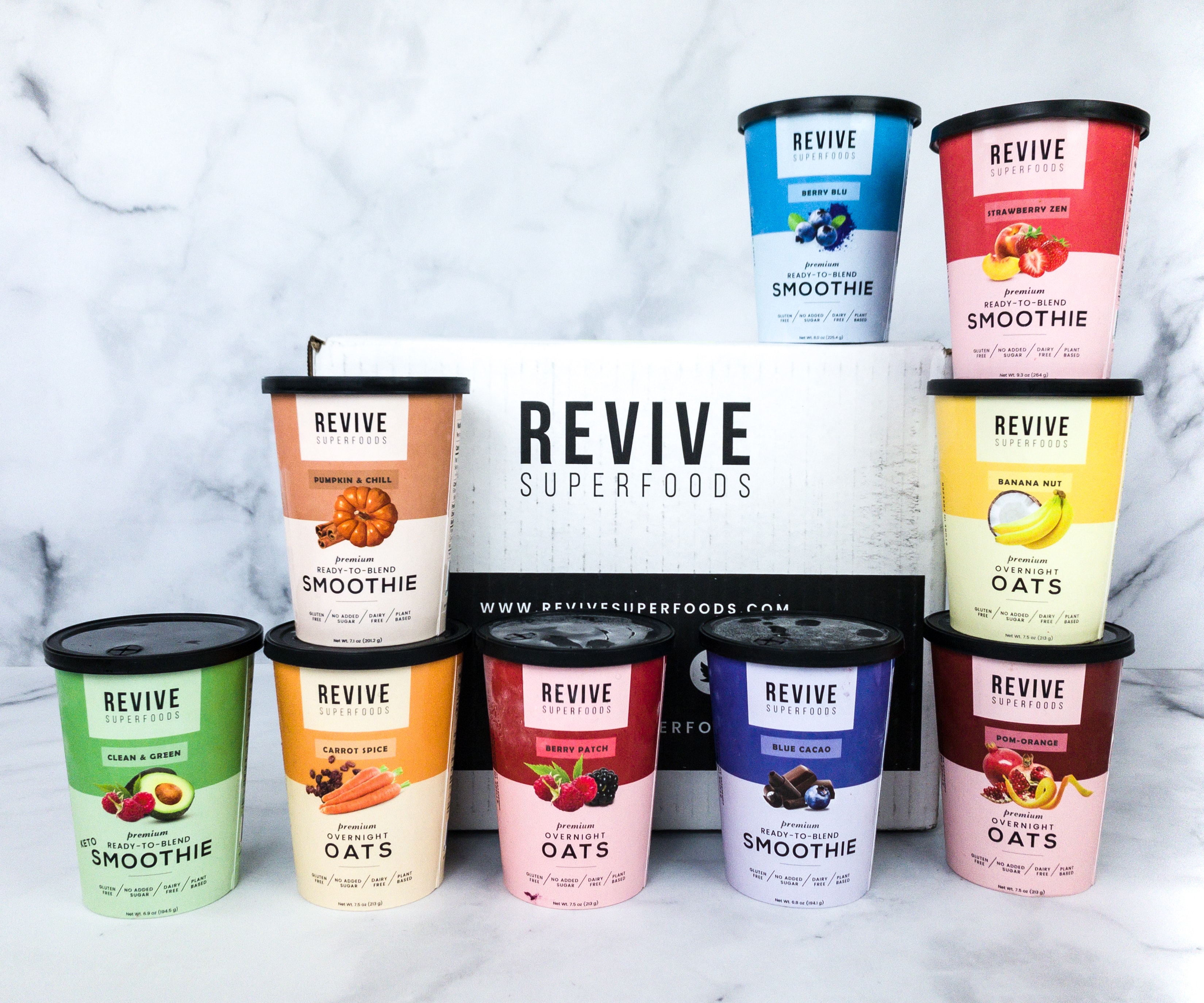 We have 5 smoothie cups and 4 oat cups. Each cup holds approximately 17 ounces of superfood, equivalent to 1 serving.
They all come in different colors too! Such a beauty to look at while they are all stacked!
The oat cups are: Pom-Orange, Banana Nut, Carrot Spice, and Berry Patch.
Banana Nut Overnight Oats. Banana and chocolates go well together, and it is yet again proven with this delightful and filling breakfast cup! These overnight oats can replace your usual toast and coffee for something more enjoyable and nutritious.
The Superfoods in this cup are the gluten-free oats, cinnamon, coconut, and chia seeds.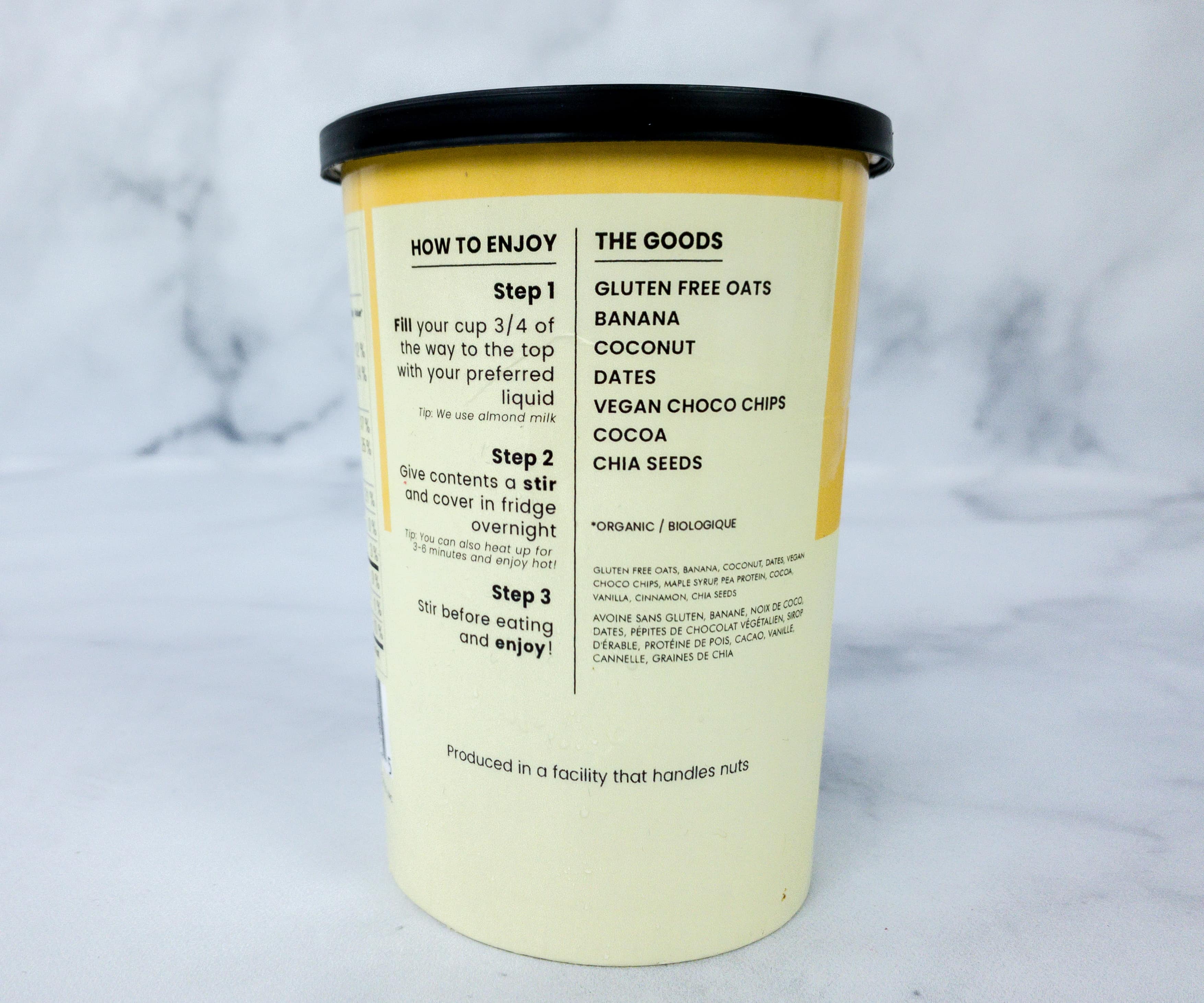 Aside from the 4 highlight ingredients, the cup also contains banana, dates, vegan choco chips, and cocoa.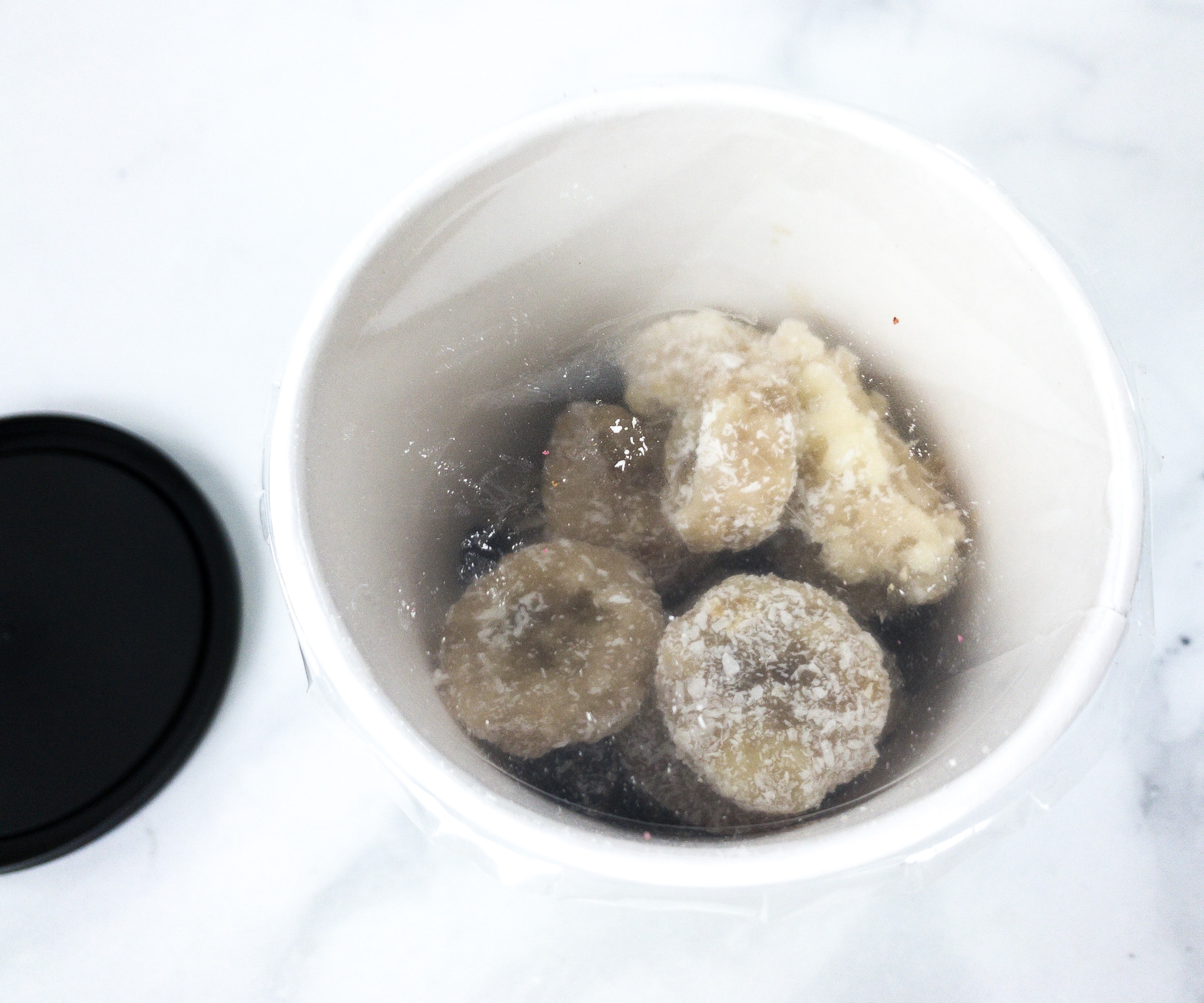 The cup is sealed in plastic when you take off the lid and you can easily see banana slices inside!
If you choose to enjoy your oats cold the next morning, you can soak the contents of the cup overnight first by adding the liquid of your choice, then just pop the lid back and place it on the fridge. The following day, take it out and give a good stir then enjoy!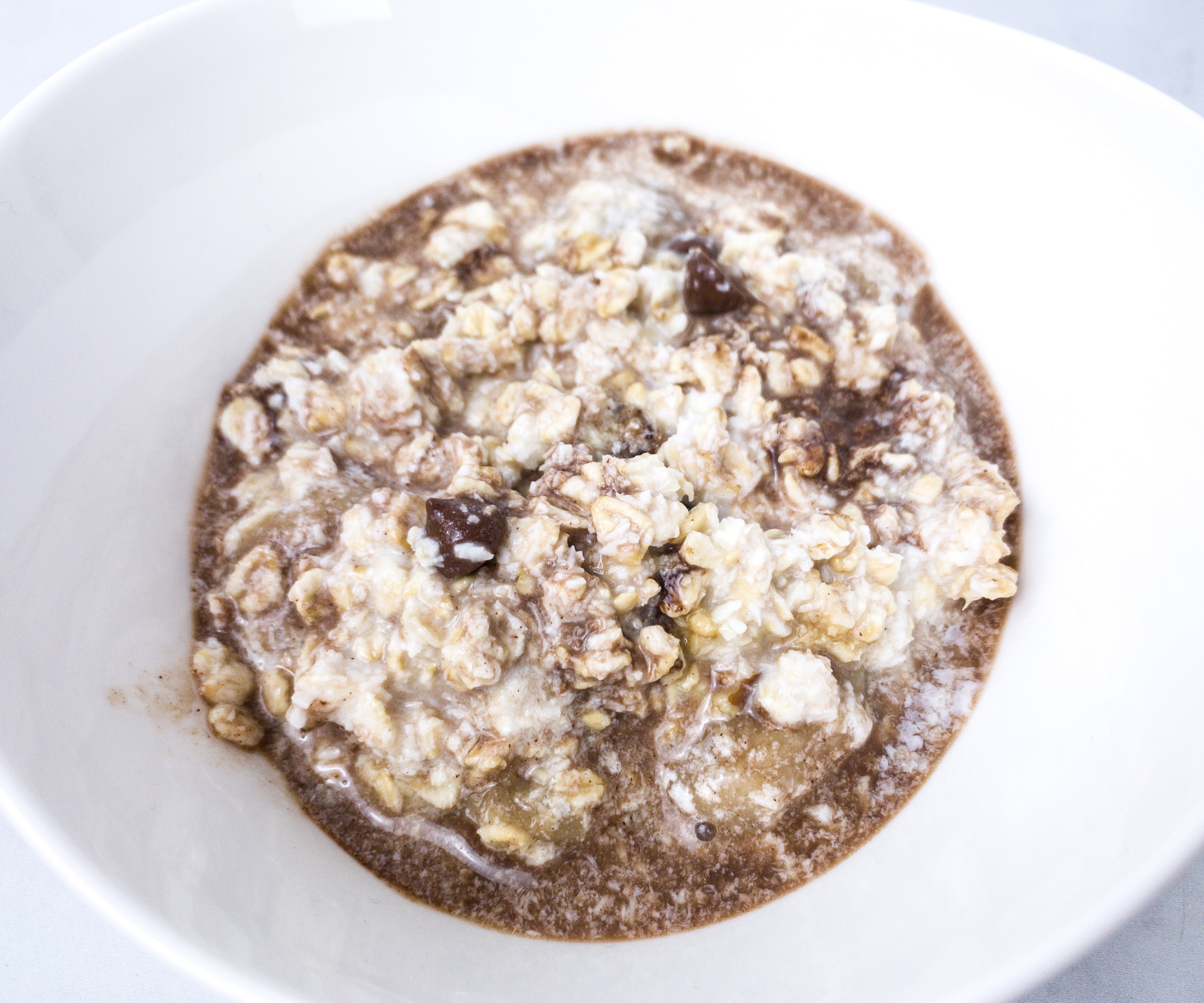 You can also enjoy it hot by heating it over a stovetop on a pan, or in the microwave for 3-6 minutes. Just don't forget to transfer the contents on a microwave-safe bowl, and give it a stir halfway until ready.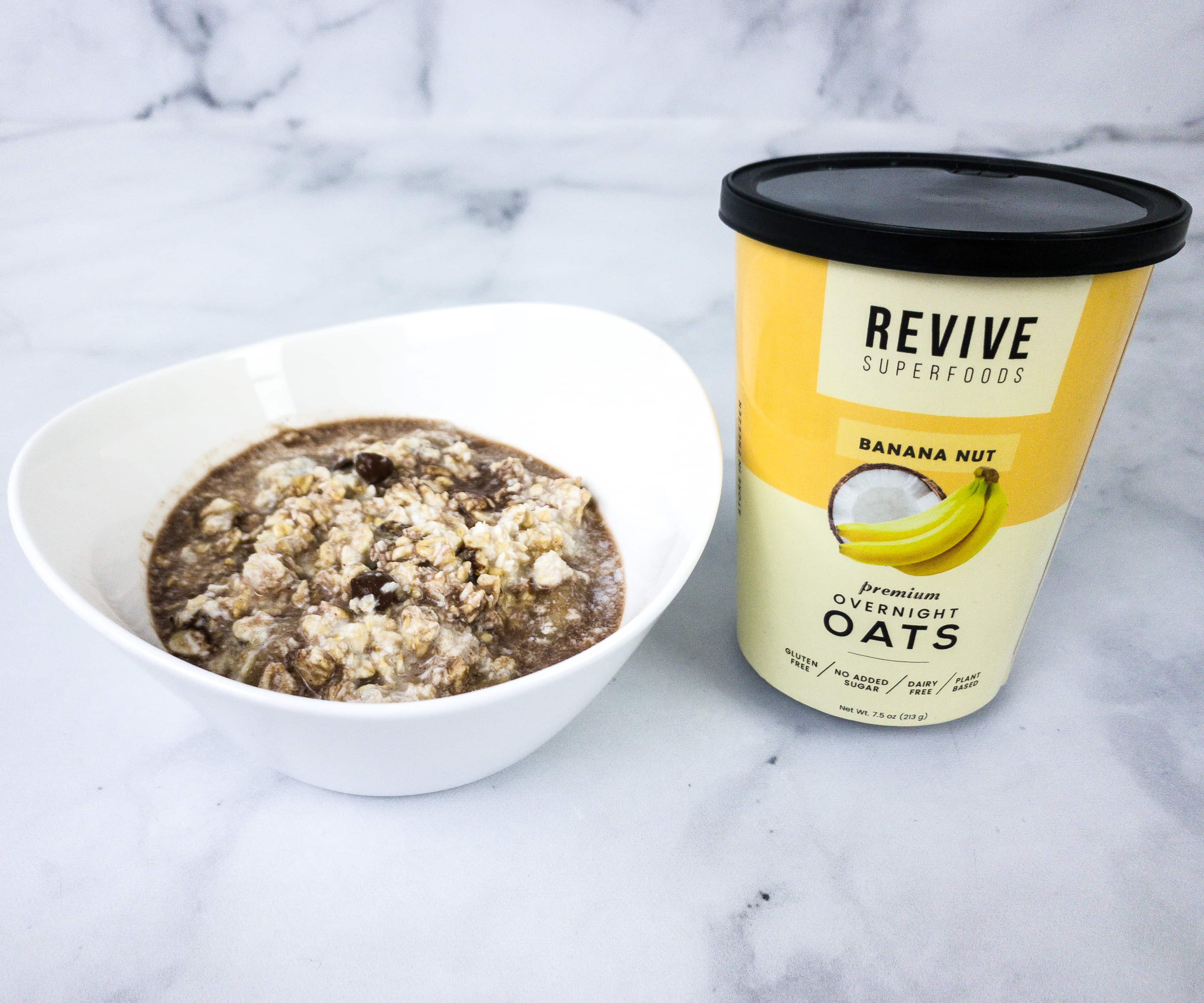 It has all the good stuff that your body needs, and you can have chocolate in the morning without the guilt as it is mixed with some of the best superfoods there is! It looks yummy and tastes amazing This blend is good for the heart and the digestive system!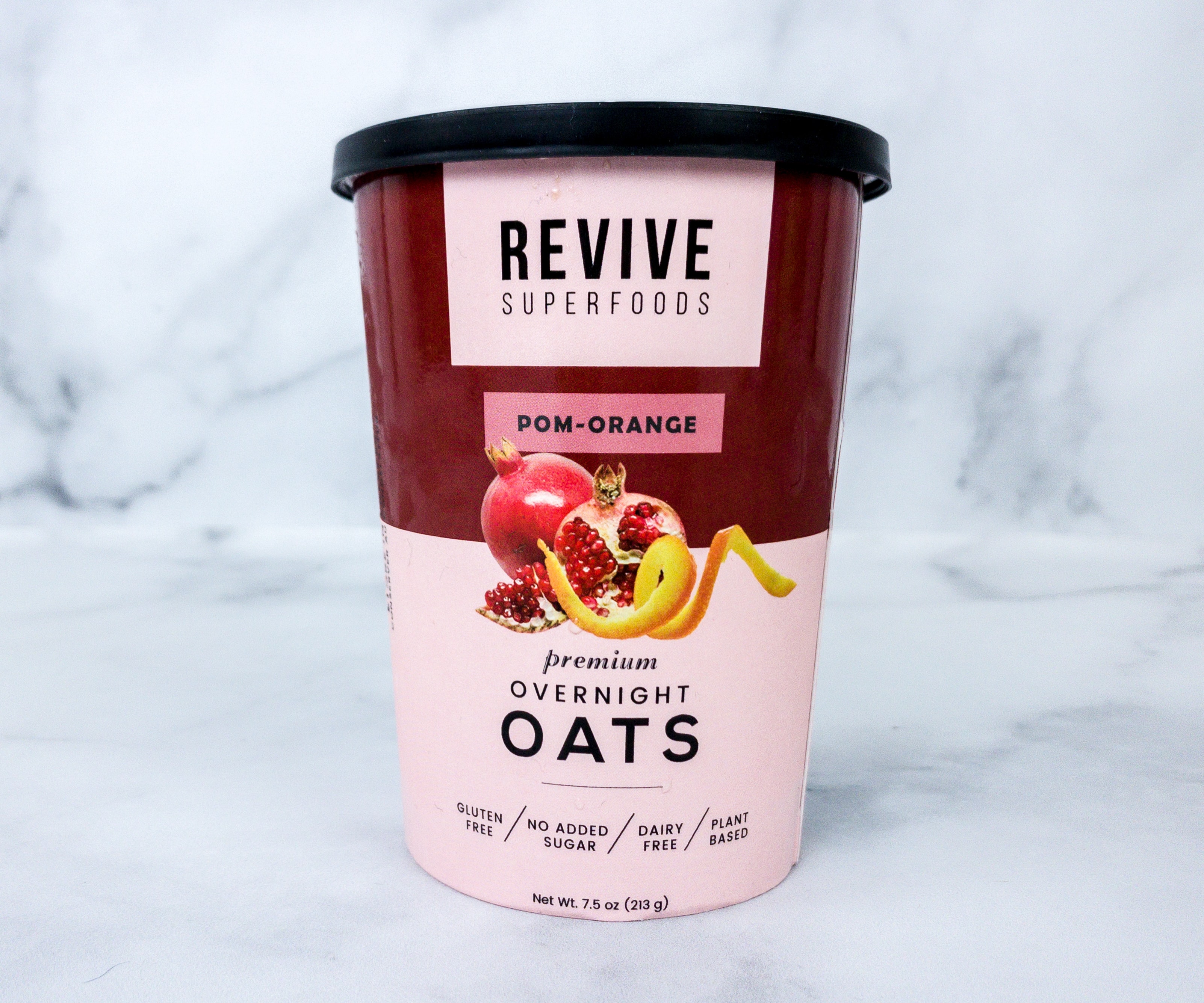 Pom-Orange Overnight Oats. The next cup of overnight oats is tangy and refreshing, and not like the usual rich and super creamy oatmeal. It has a burst of citrusy flavor that is not just delicious but also truly nutritious!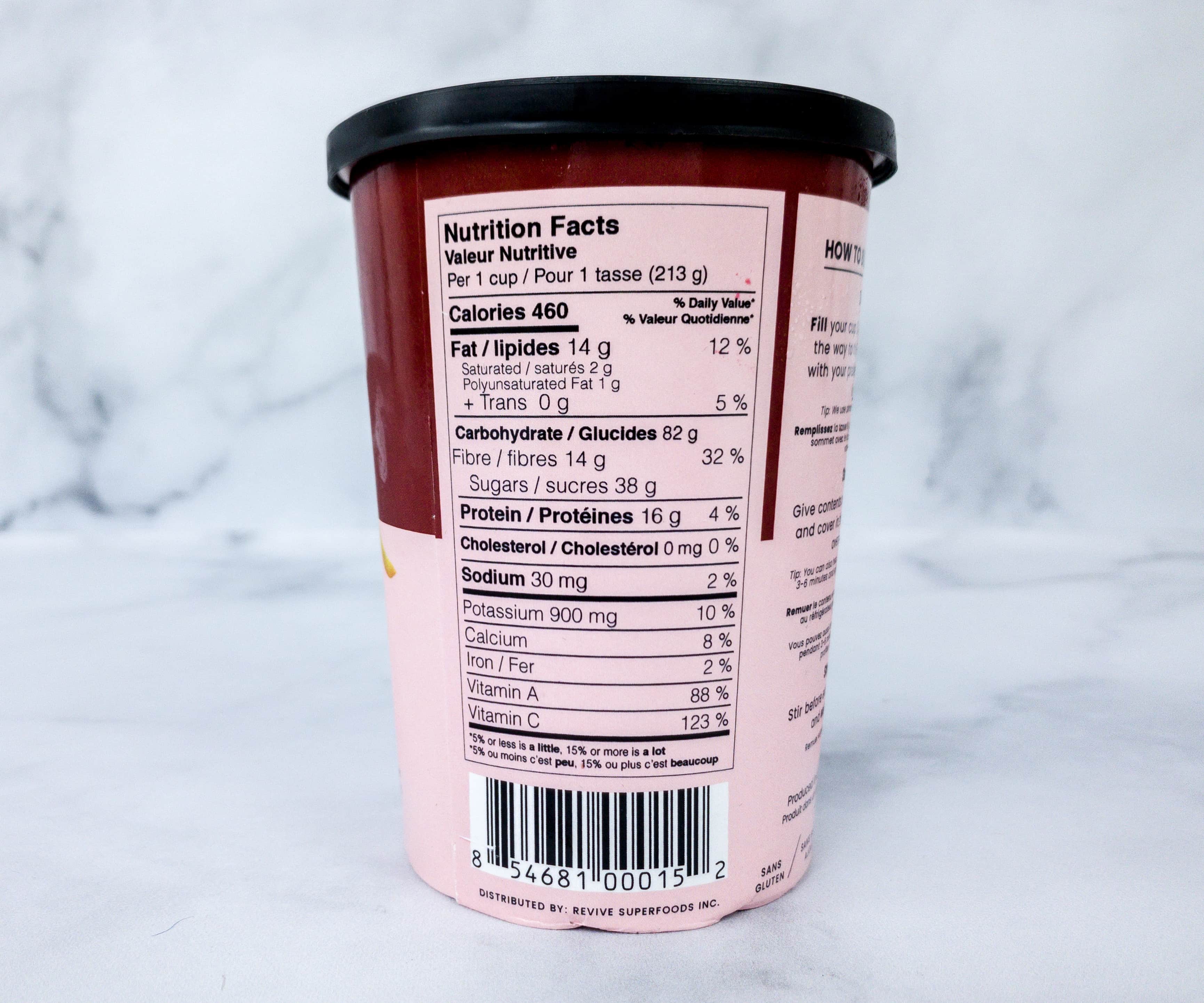 The superfood highlights for this oats cup are gluten-free oats, Himalayan sea salt, and Maca.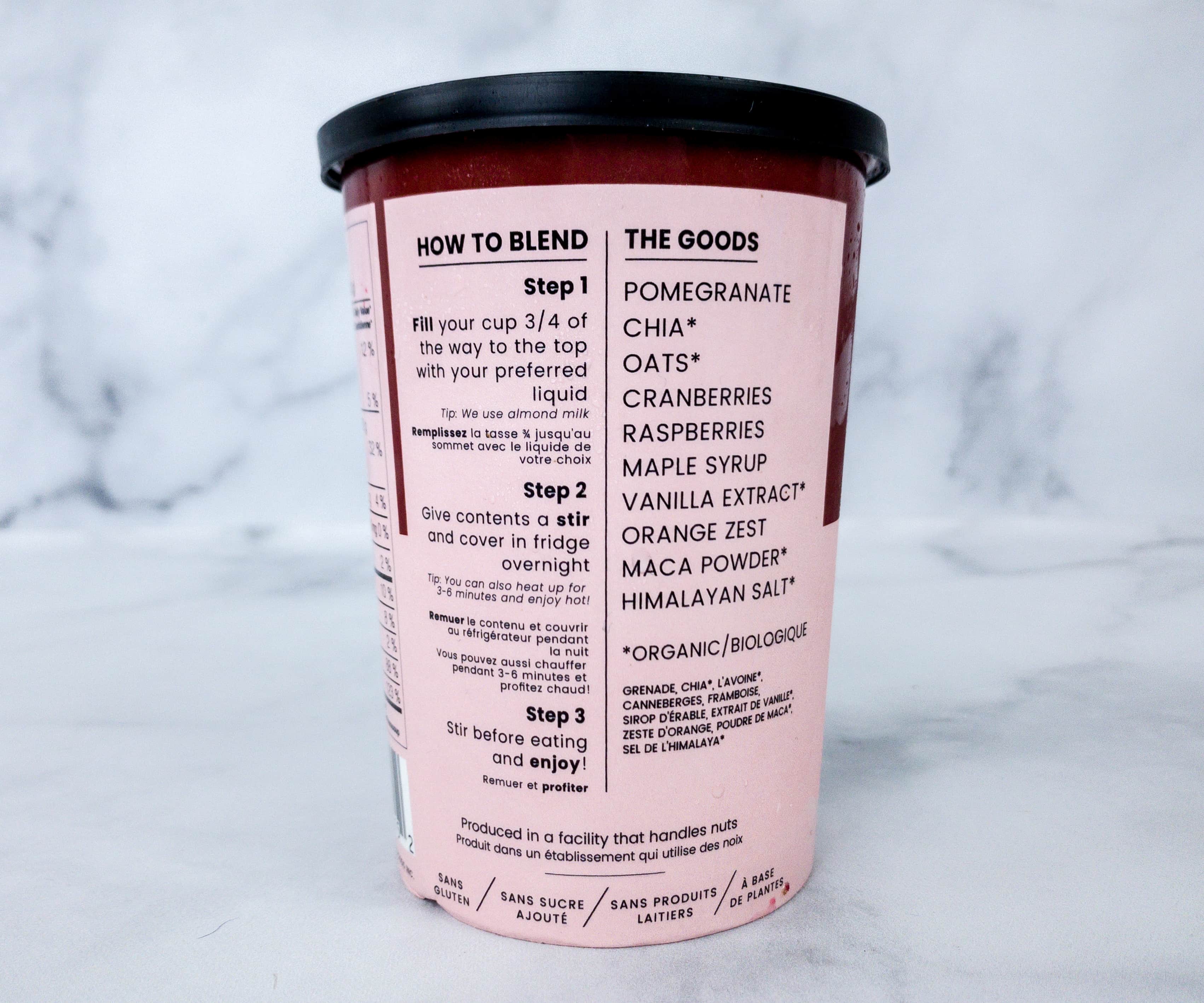 Aside from the 3 highlight ingredients, the cup also contains pomegranate, chia, cranberries, raspberries, maple syrup, vanilla extract, and orange zest.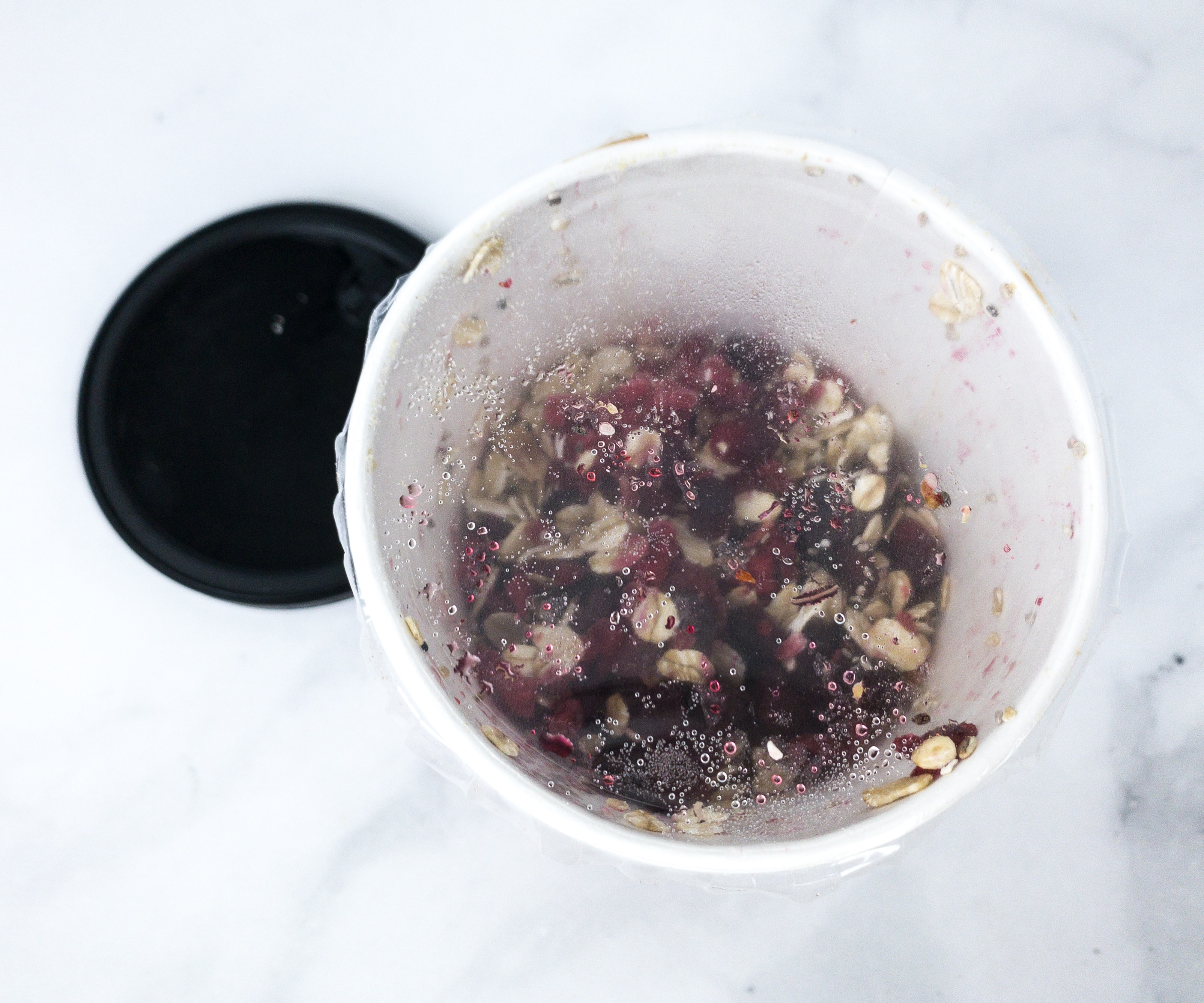 You can see the colorful pomegranate when you open the lid!
This oat cup looks beautiful, as some of the contents look like flower petals caused by the beautiful color of the pomegranate.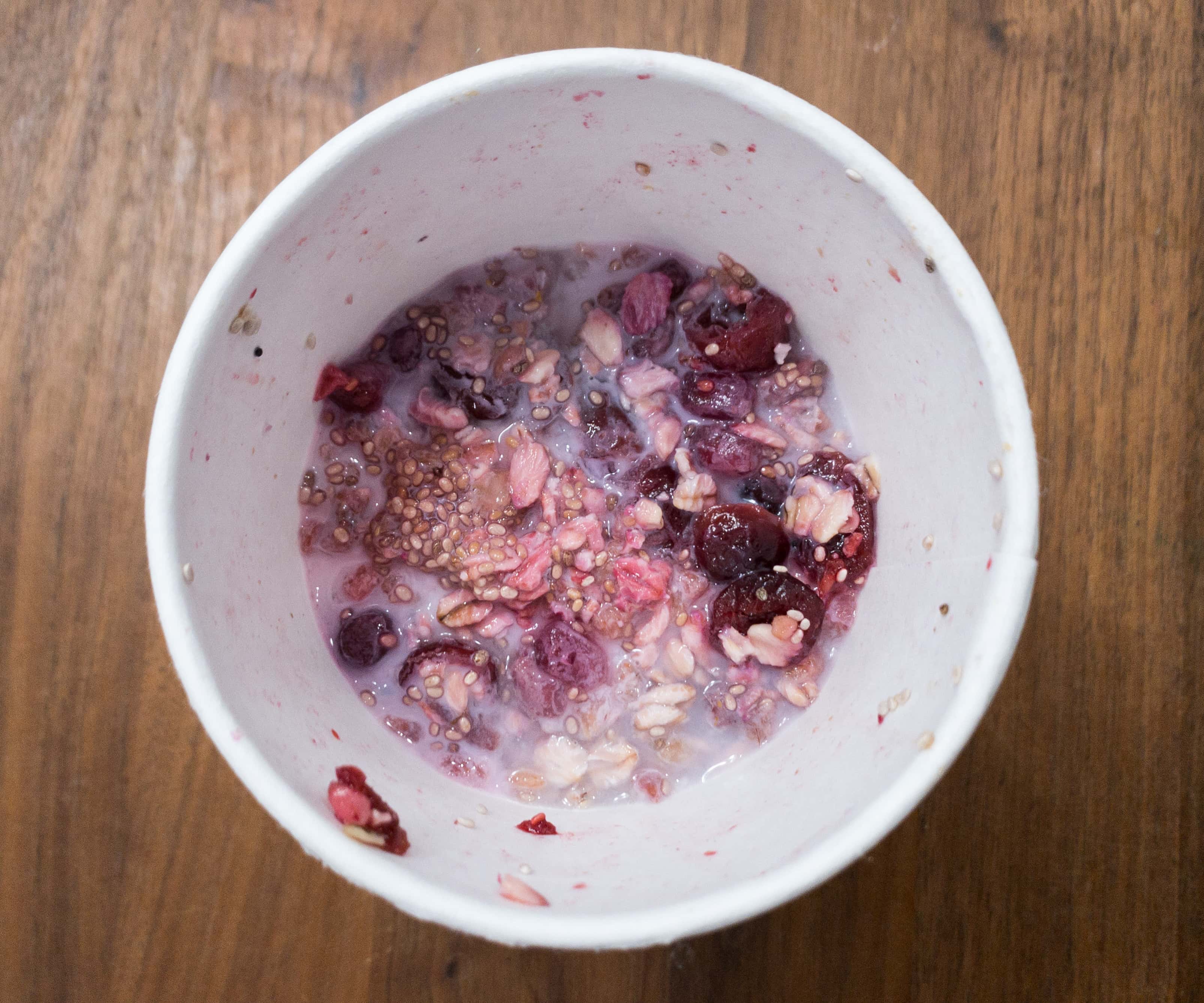 You can also enjoy this one cold in the morning by soaking it on your liquid of choice overnight in the fridge.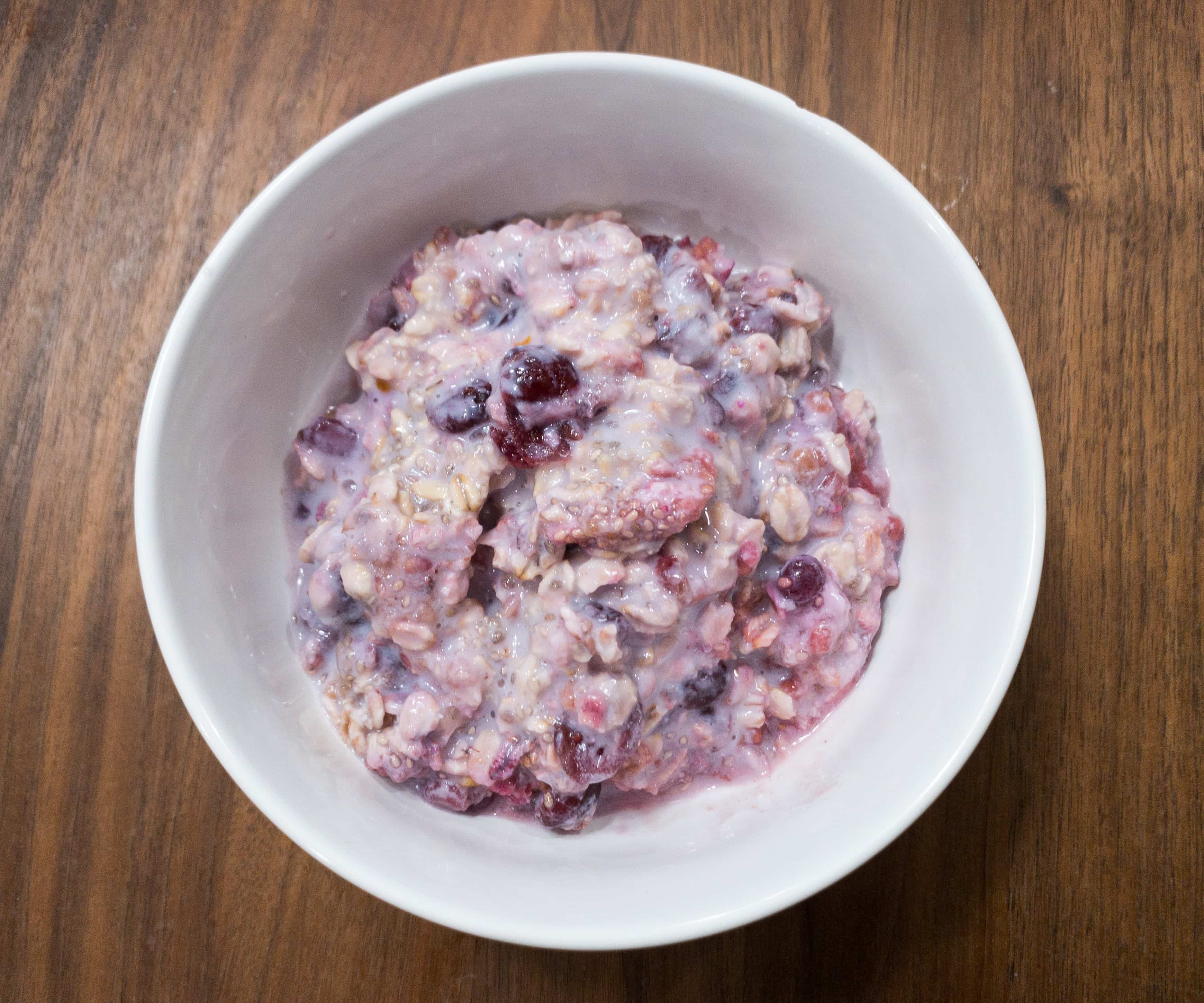 Or you can heat it on a saucepan or the microwave to enjoy a warm, hearty meal.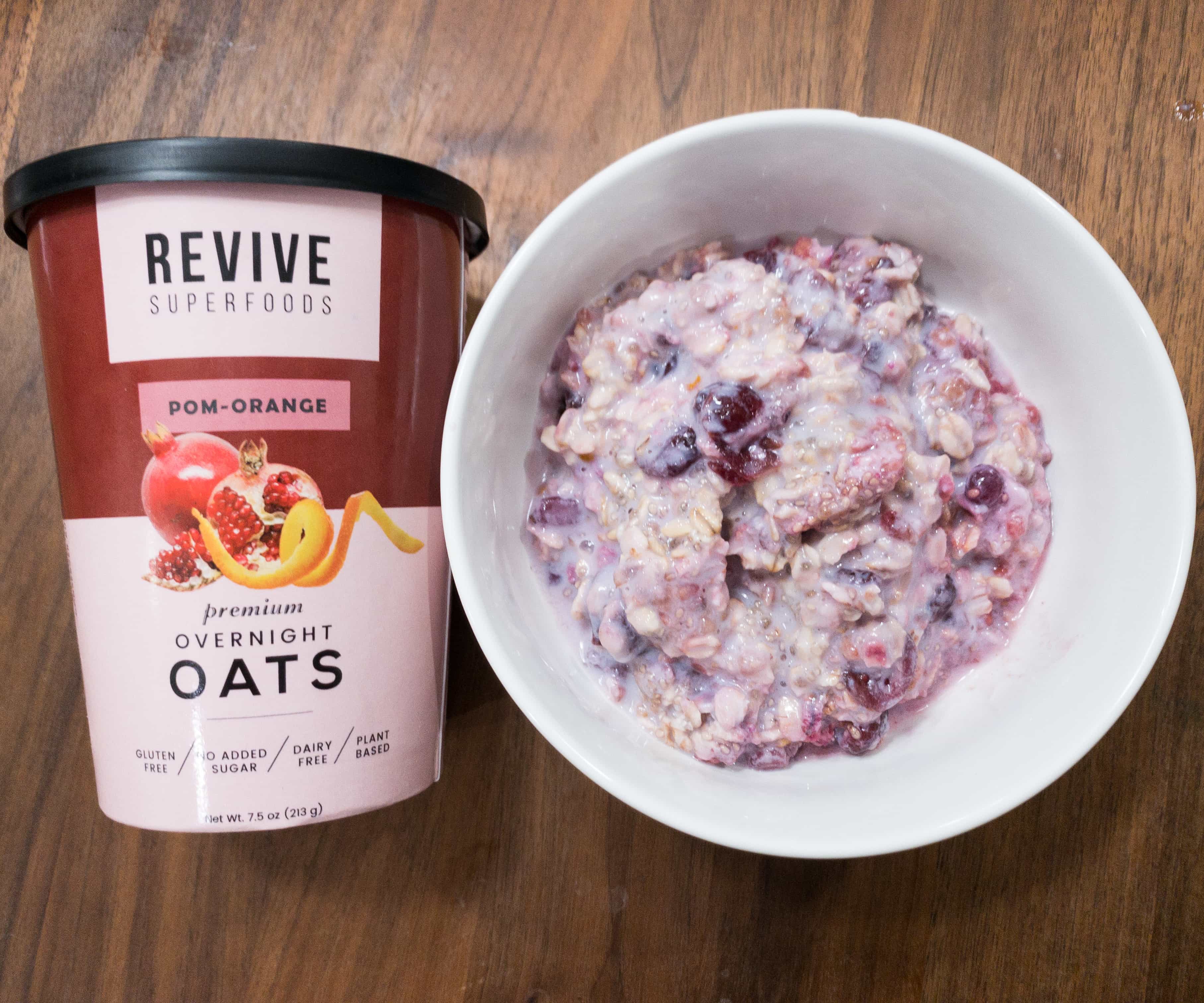 It's a meal fit for springtime and it also has great benefits for the heart, the immune system, and the digestive system!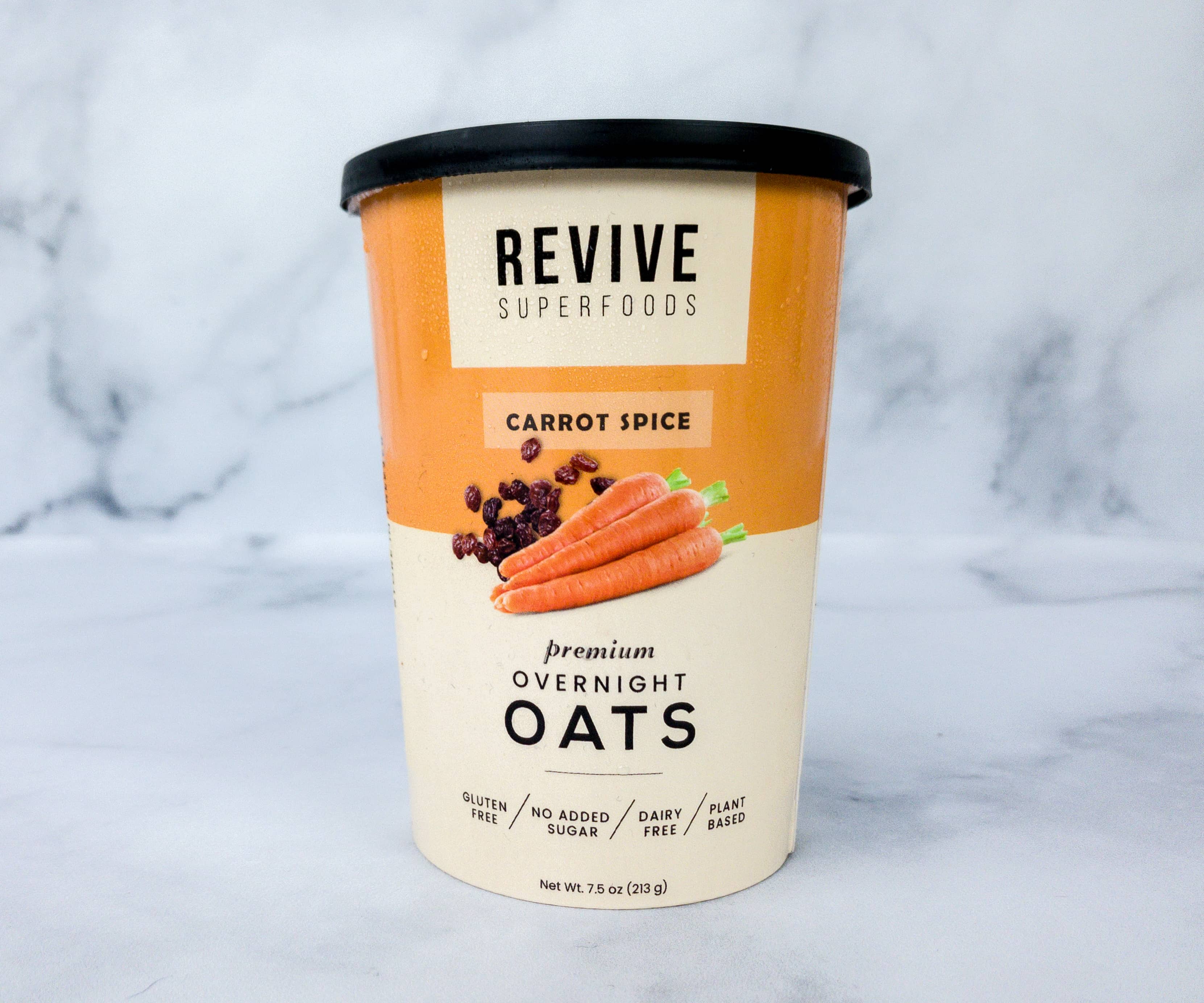 Carrot Spice Overnight Oats. Carrot cake without the sugar? Yes, please! This cup of overnight oats with carrot is sweetened by maple syrup and raisins, so it's really guilt-free!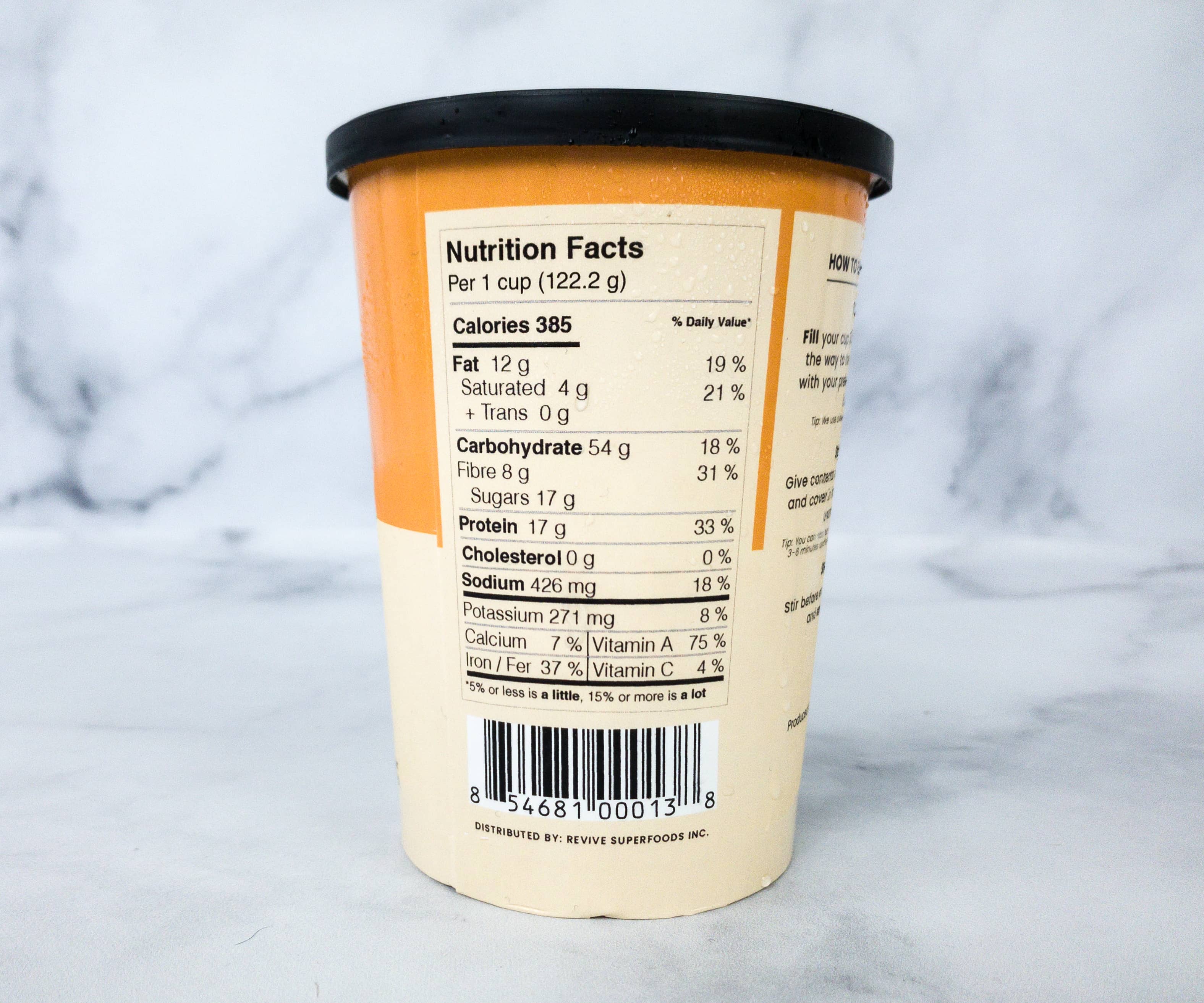 The superfood highlights are the following: gluten-free oats, pumpkin seeds, ginger, Himalayan sea salt, coconut, cinnamon, and chia seeds.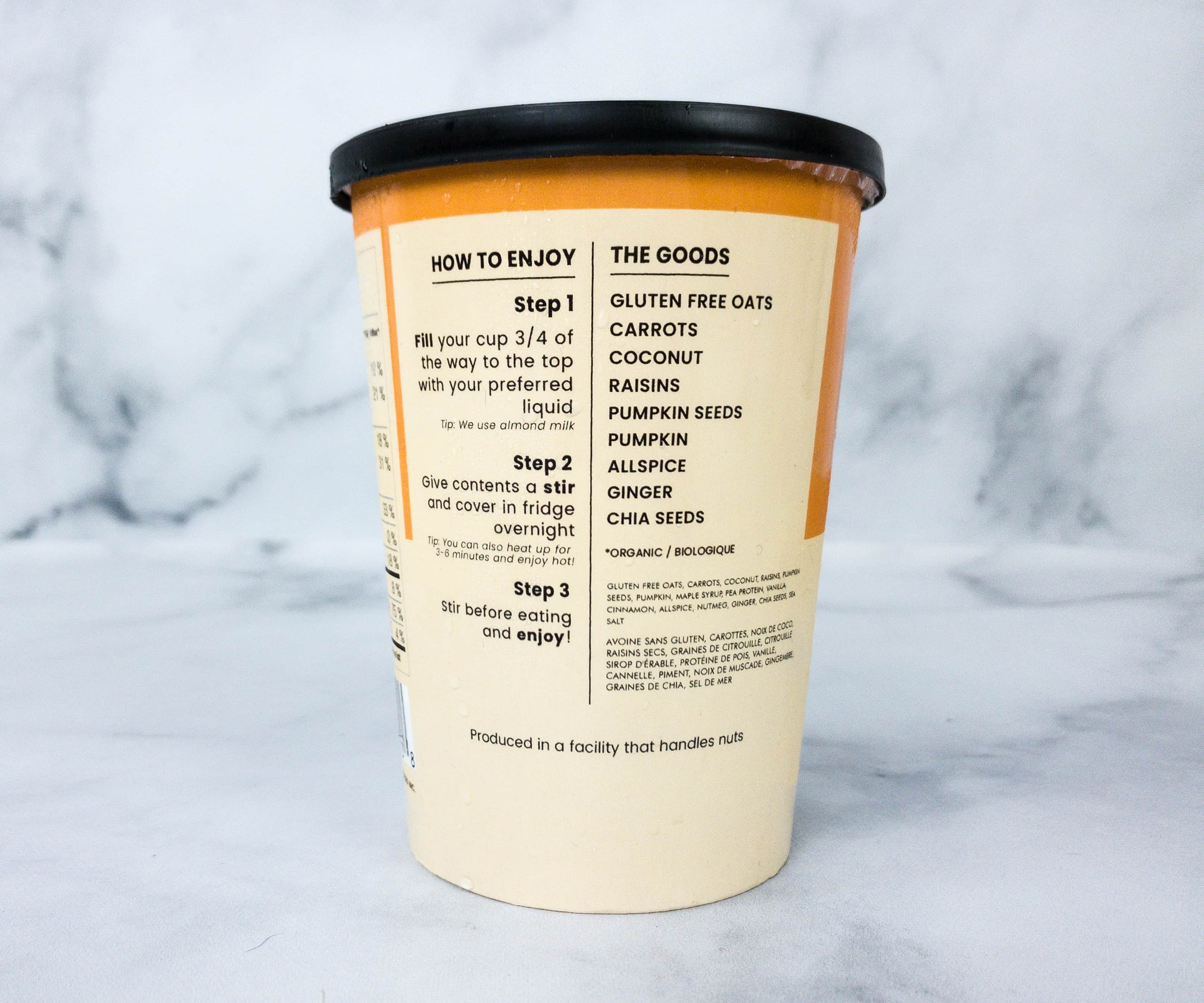 Aside from the highlight ingredients, the cup also contains carrots, raisins, pumpkin seeds, pumpkin, and allspice.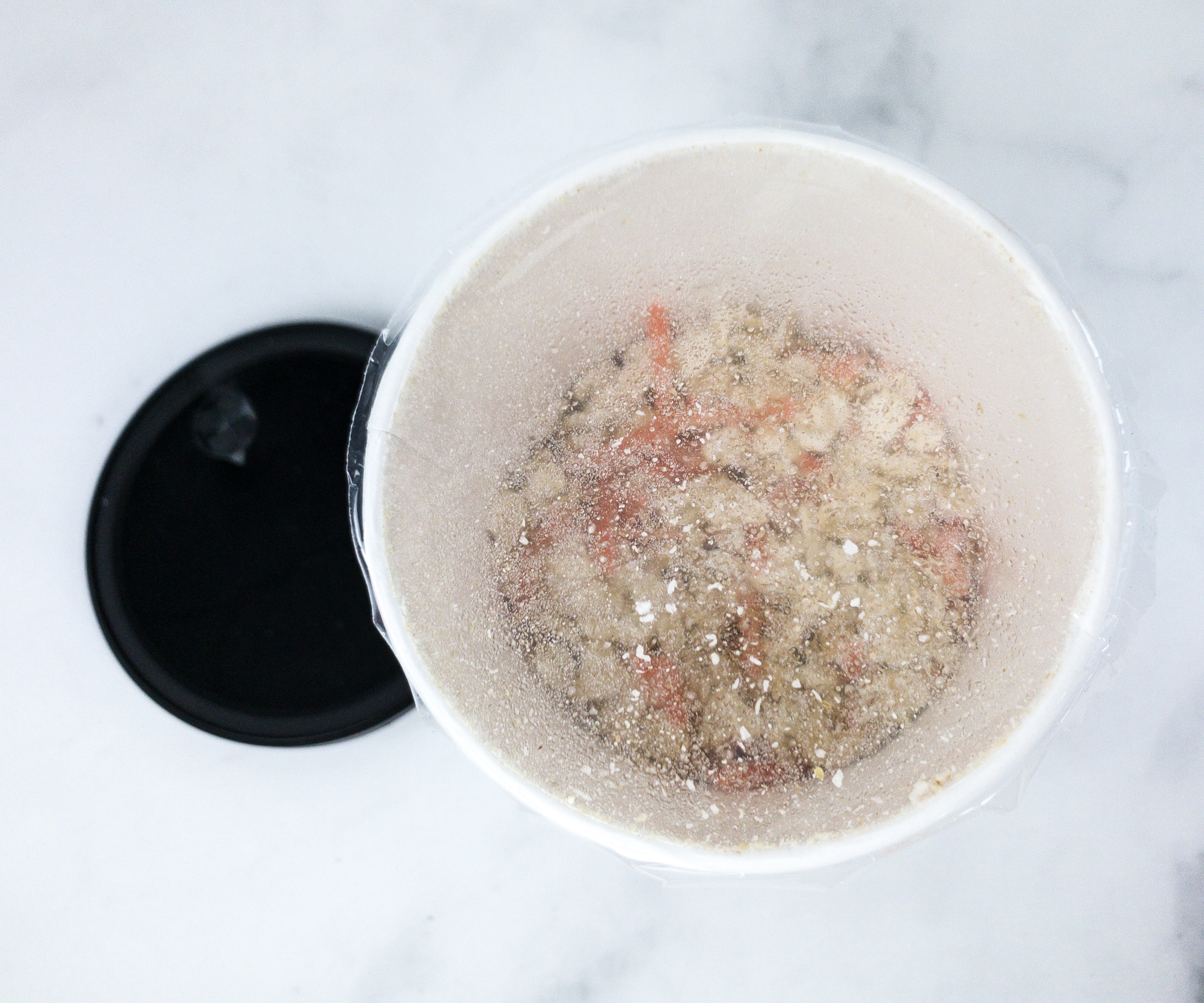 Just like other cups, this one was well sealed!
The spice is just right and complements the oats and carrots perfectly, as well as the sweetness from the raisins!
What I like about these oat cups is that you can choose to enjoy them cold or warm, and with the use of the liquid you like.
Berry Patch Overnight Oats. This cup offers a delicious burst of antioxidants, as it contains different kinds of berries!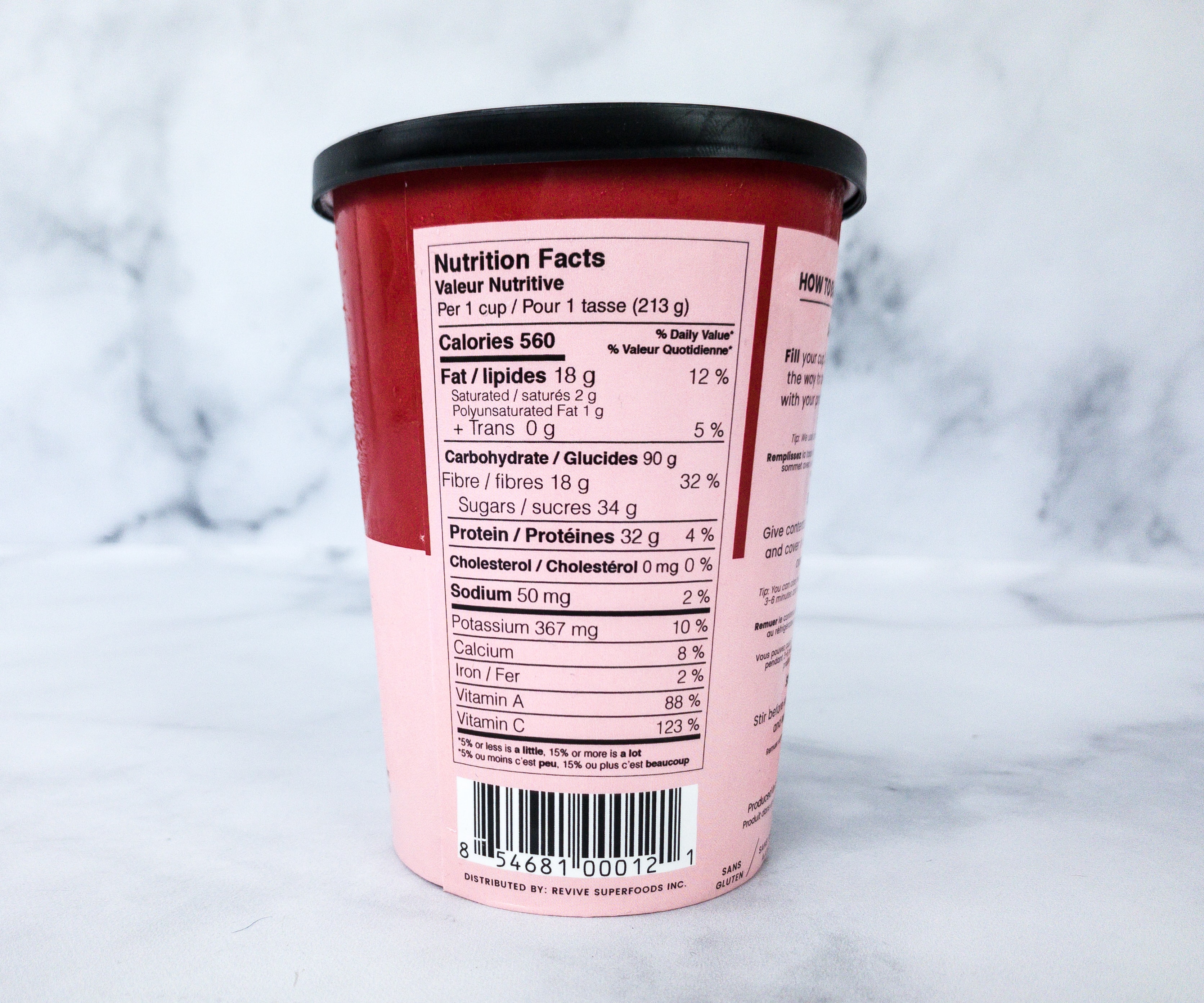 The superfood highlights for this cup are gluten-free oats, blueberries, chia seeds, mulberries, and watermelon seeds.
Aside from the highlight ingredients, the cup also contains blackberries, raspberries, banana, Medjool dates, hemp seeds, goji berries, almonds, maple syrup, vanilla extract, Himalayan salt.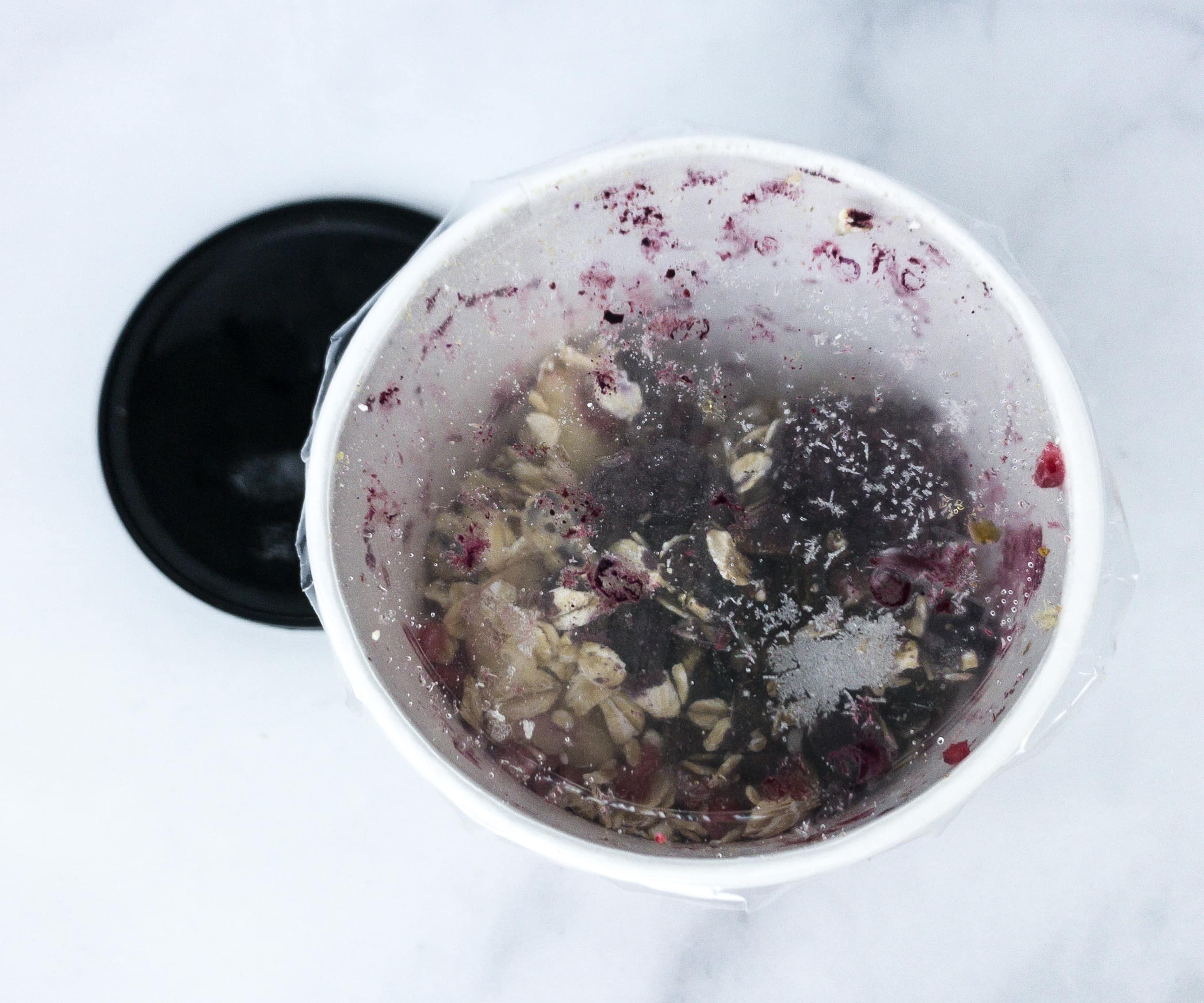 Aside from berries, this is also packed with seeds and nuts. This is indeed an energizing blend for breakfast!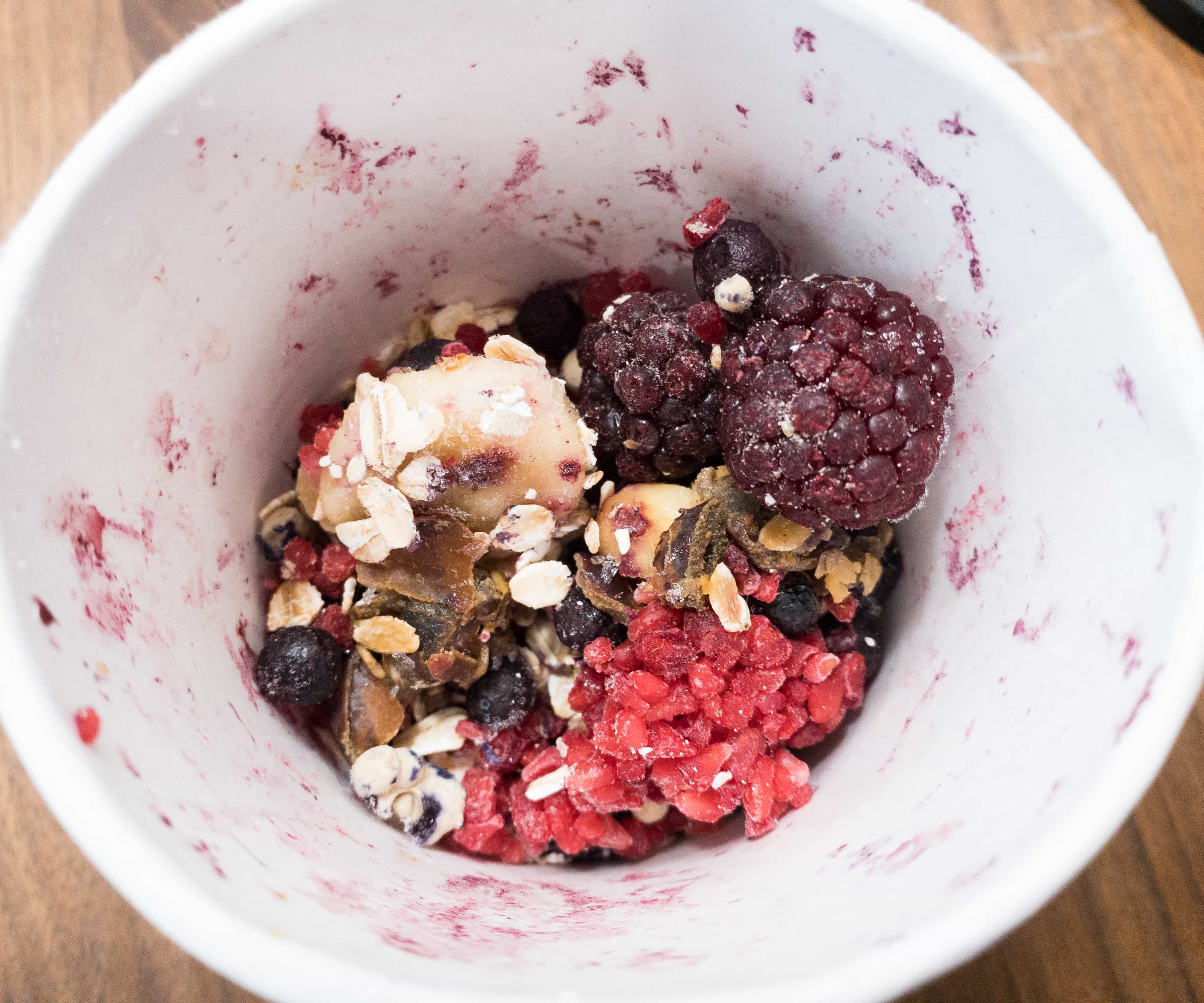 When we opened the cup, there were thick banana slices and a generous amount berries in the cup!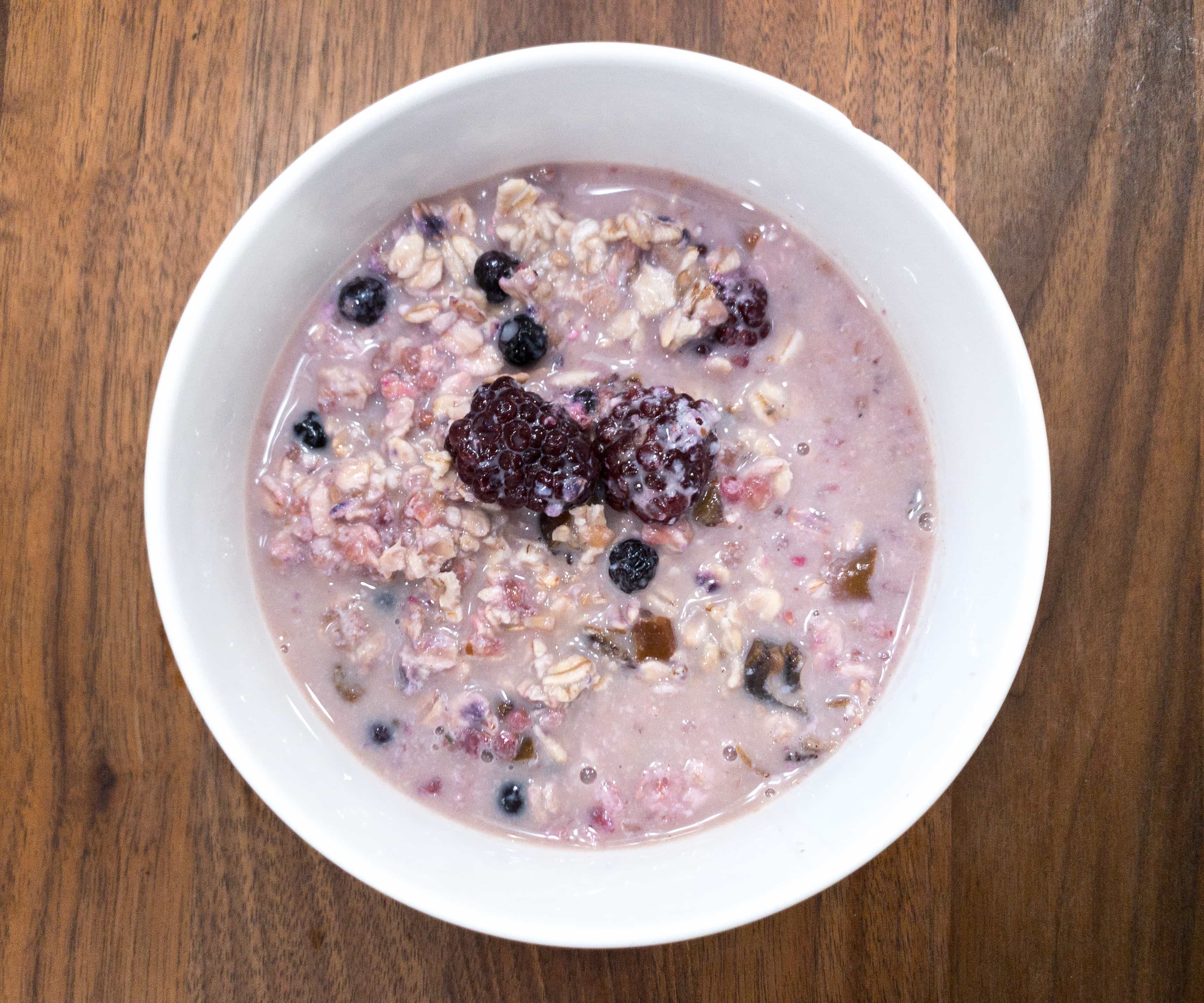 A bowl of berry, nut, and oats is the perfect breakfast because it can provide all the energy and nutrients you need to go through the day!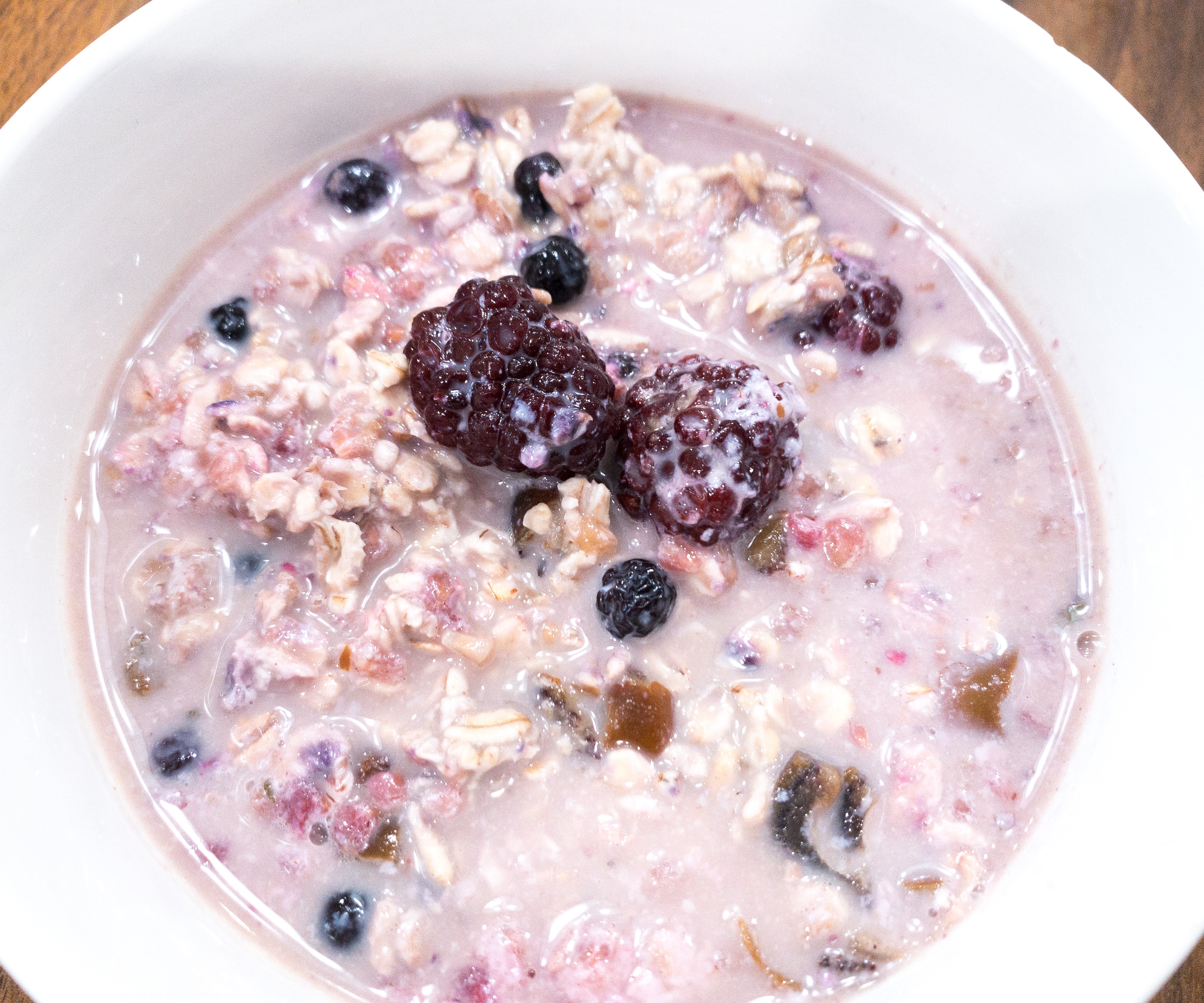 Like all the oat cups, you can enjoy this one with your liquid of choice, may it be milk, almond milk, coconut water, or coconut milk, or just water! Have it cold or warm, whichever you prefer!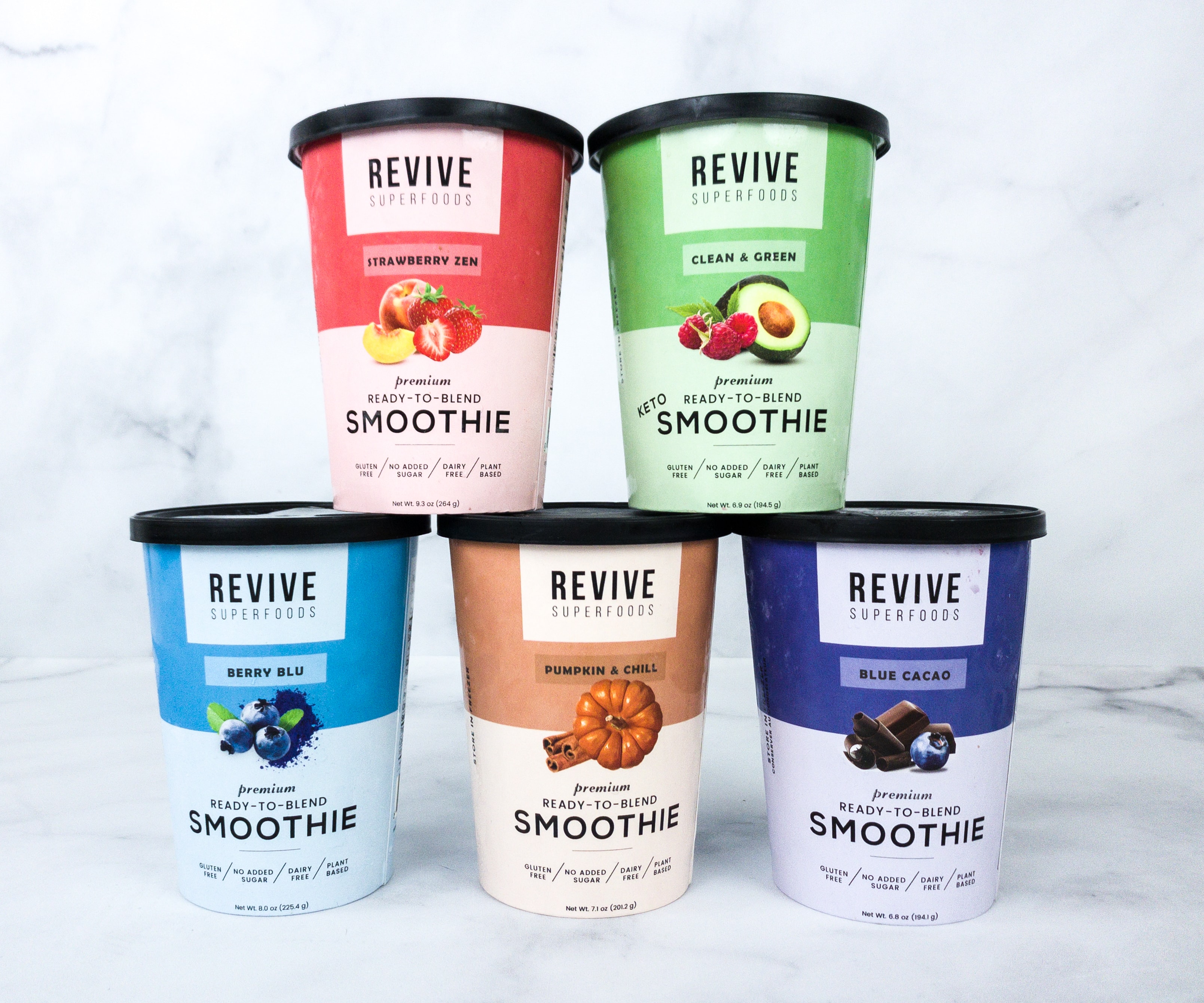 For our smoothie cups, we have Strawberry Zen, Clean and Green, Berry Blu, Pumpkin and Chill, and Blue Cacao.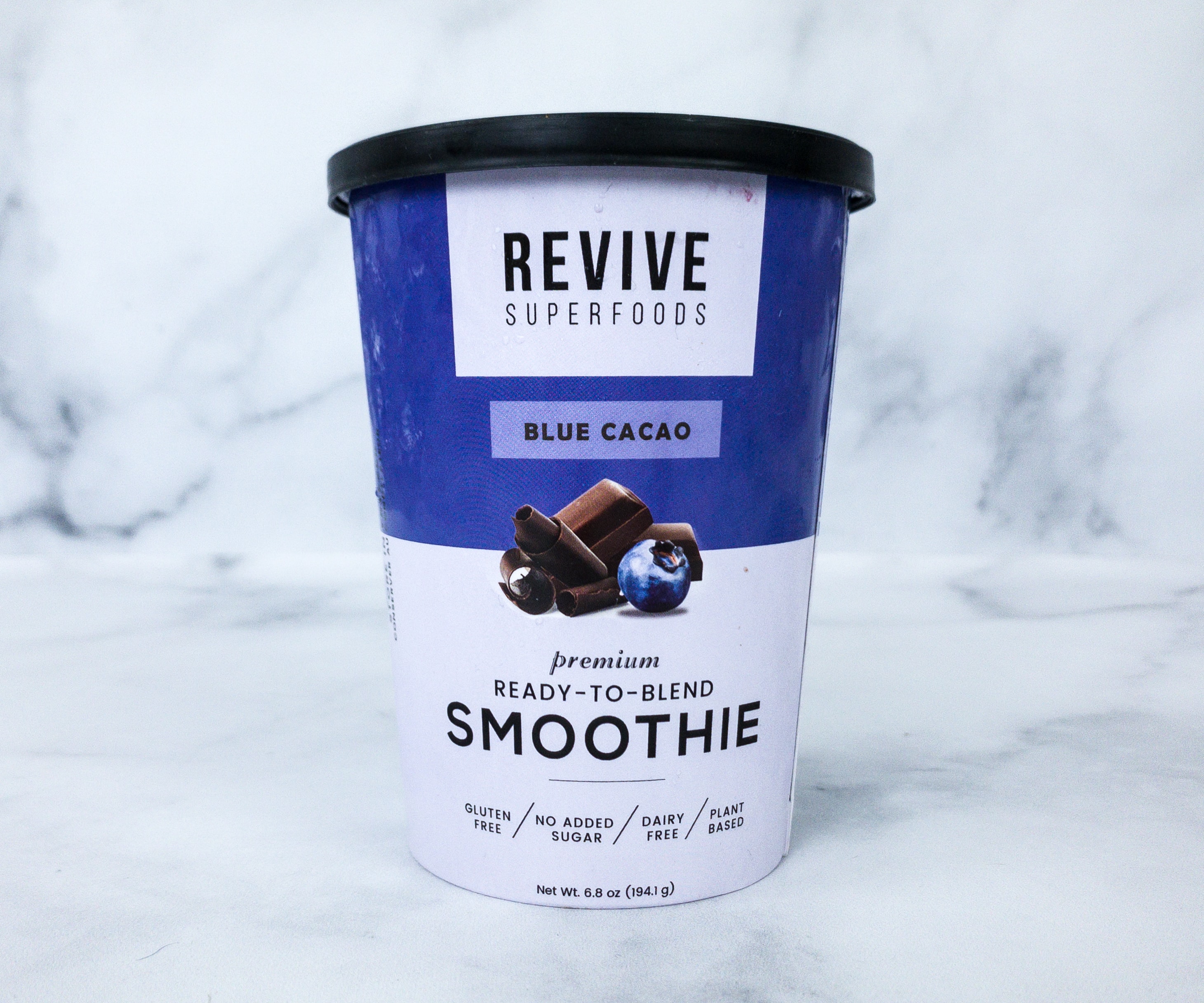 Blue Cacao Smoothie. Chocolate and blueberries sound great! The blueberries are rich in antioxidants, and the other ingredients are energy-enhancing, mood-lifting, and just delicious. It's like dessert minus the guilt, and instead, you'll get all the nutrients that you need!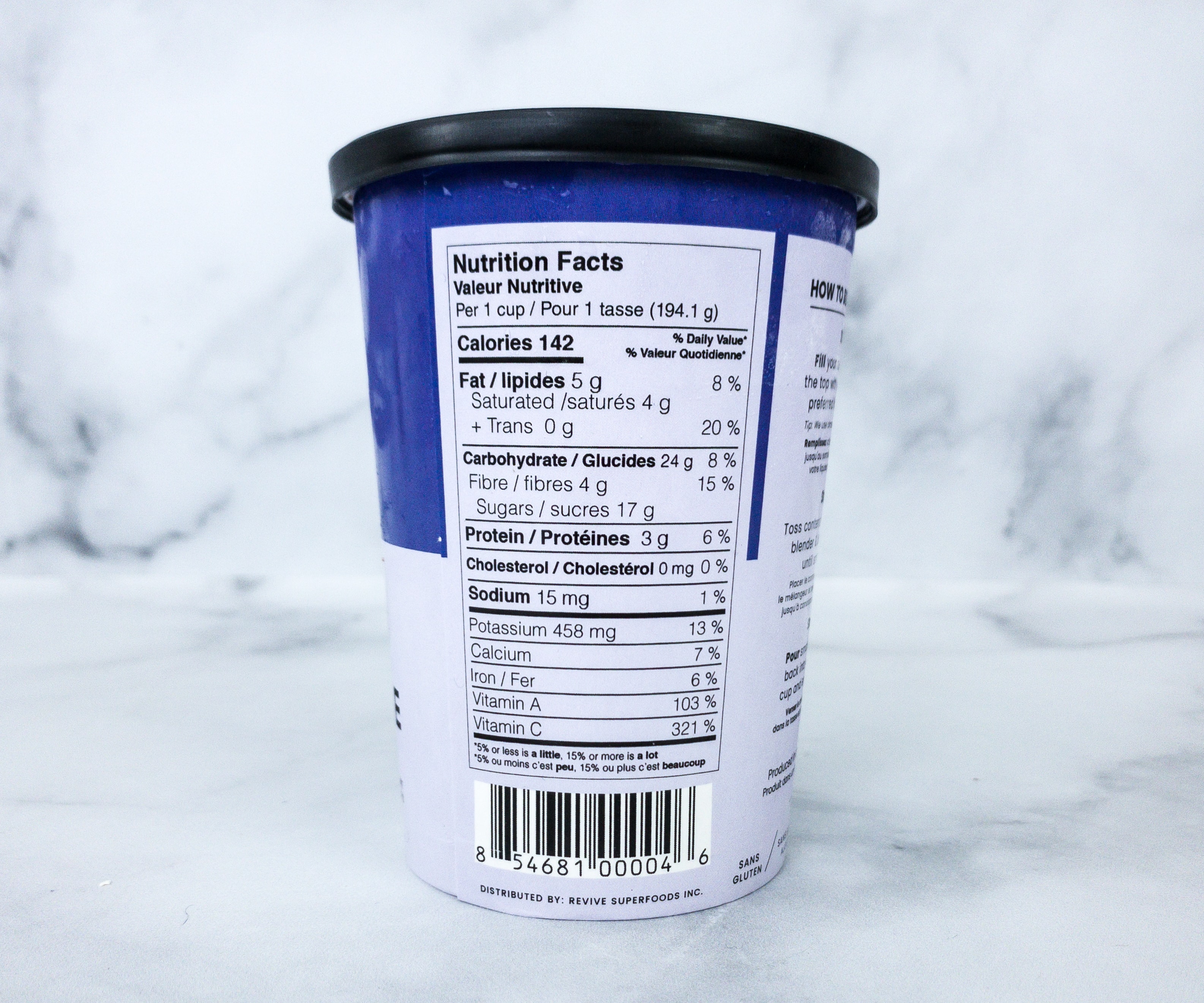 The superfood highlights for this smoothie are blueberries, sunflower seeds, Himalayan sea salt, avocado, and Maca.
Aside from the highlight superfoods, the cup also contains the following: kale, banana, cashews, cacao, vanilla, and Medjool dates.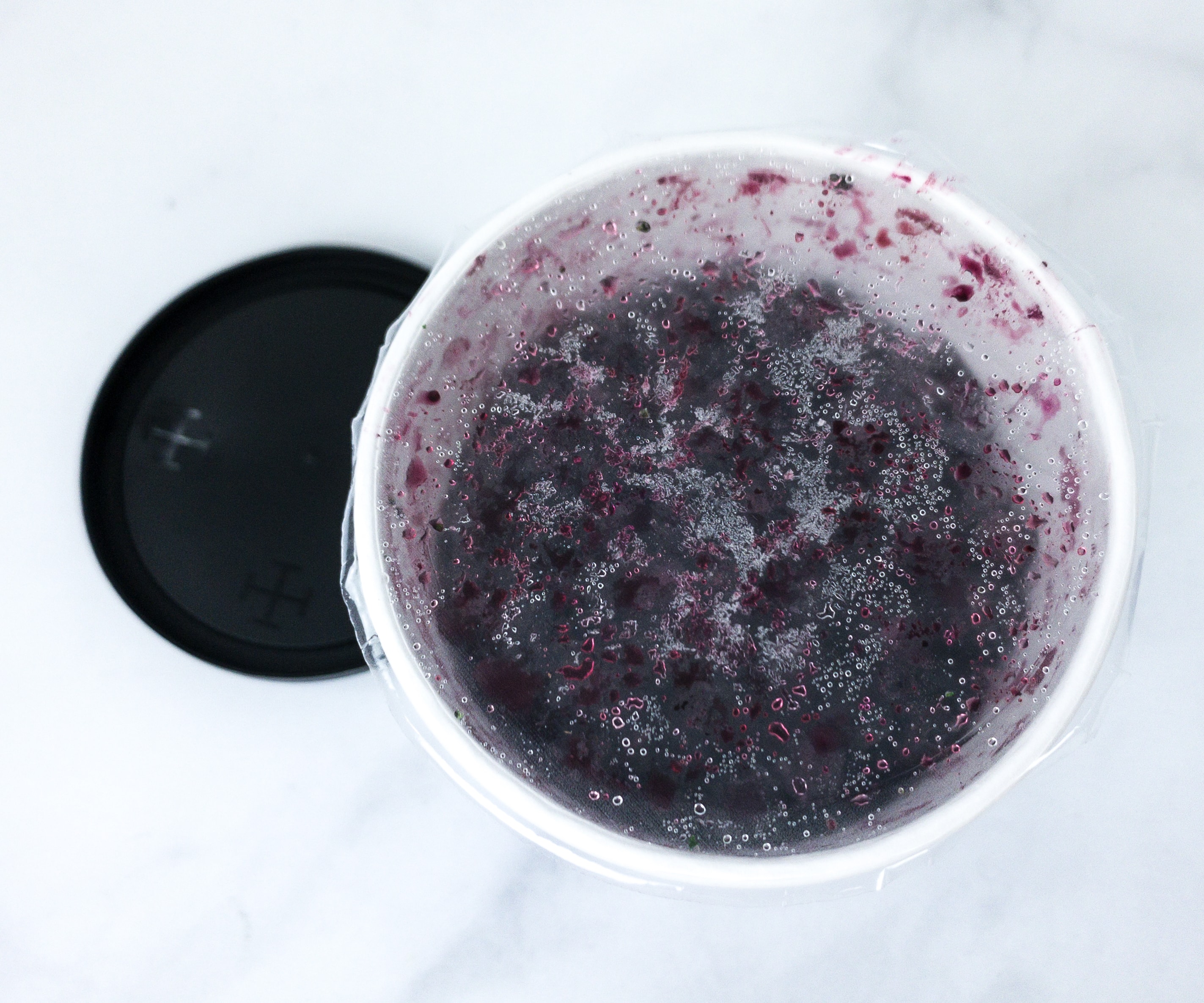 The cup is also sealed when you take off the lid. There are lots of berries and dates in the cup!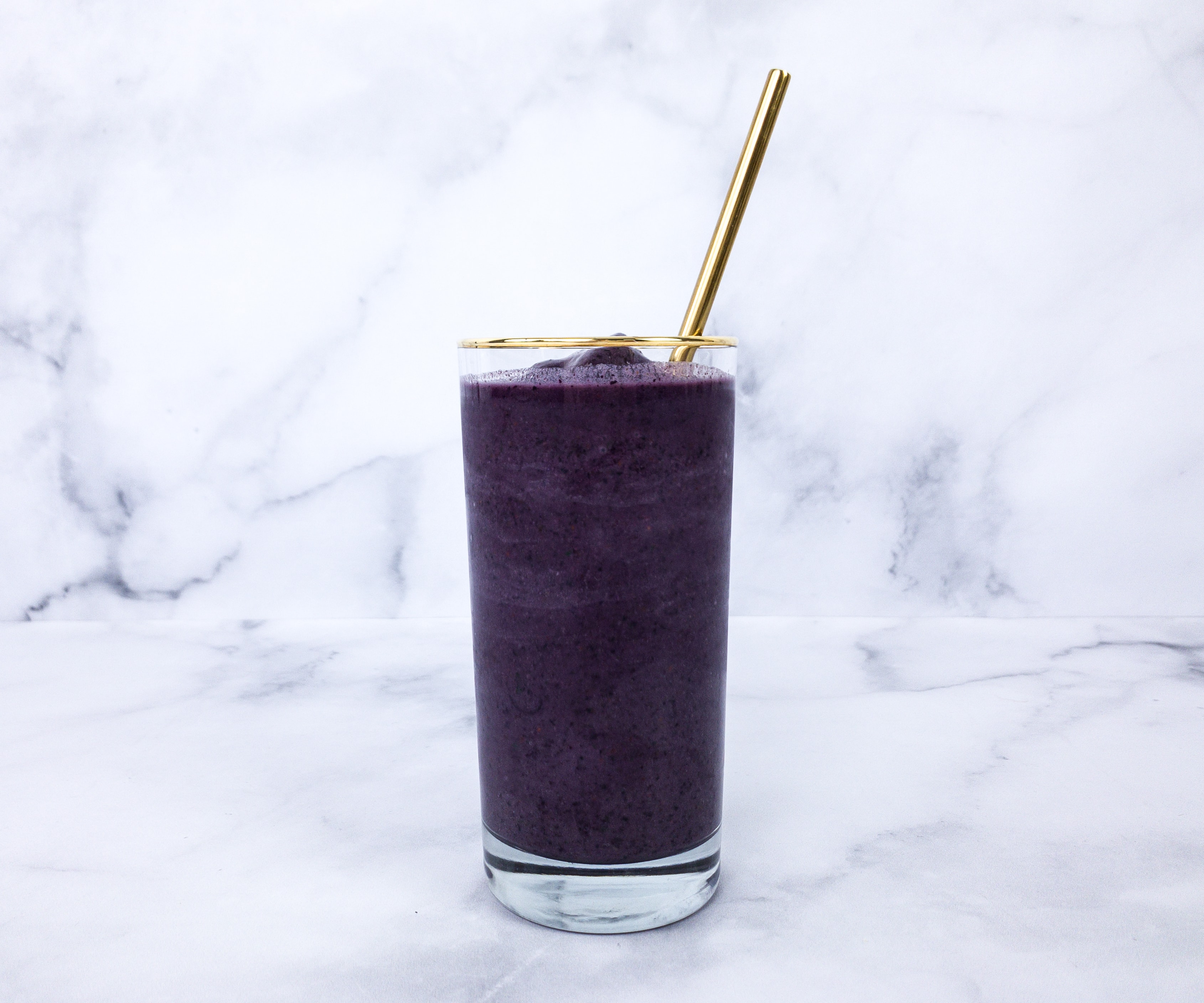 Before blending, you can use your cup to measure the liquid that you'll use along with the cup's contents to make your smoothie. Then blend everything until smooth, transfer to a glass or use your cup again, add straw, and enjoy!  You can also pop the lid back as it has a straw slot.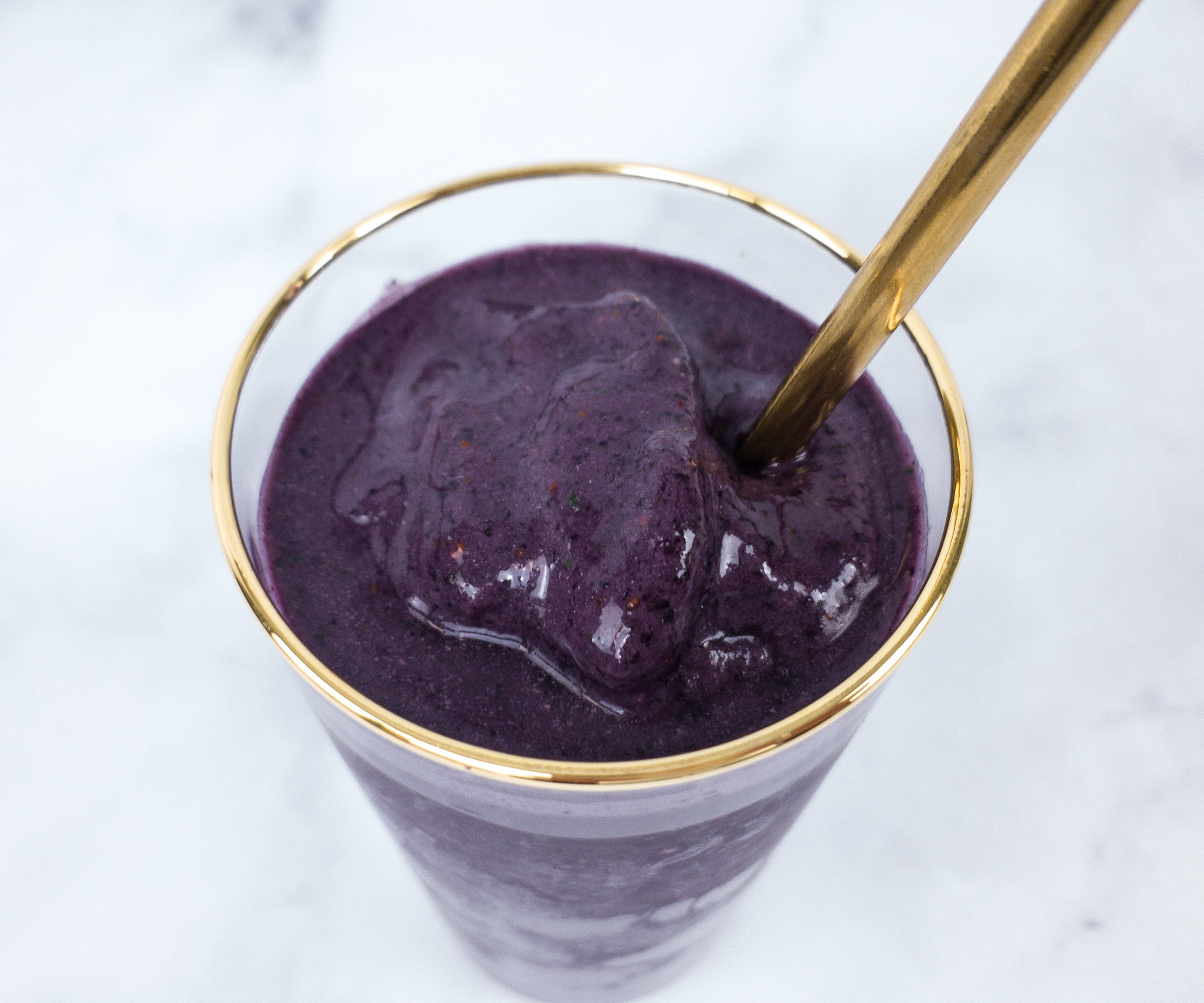 It looks great! It's so rich and creamy, while the other flavors are masked by the luscious blueberries and chocolatey taste!
Pumpkin & Chill Smoothie. If you like a kick of spice in your smoothie, you can try this creamy and nutritious mix of apple, banana, carrots, and squash, with dates and earthy spices like cardamom and nutmeg. You can replace your pumpkin spice latte with this smoothie and still enjoy the delicious taste that reminds you of autumn. It's rich in antioxidants, and will also boost your vitamin A and C intake!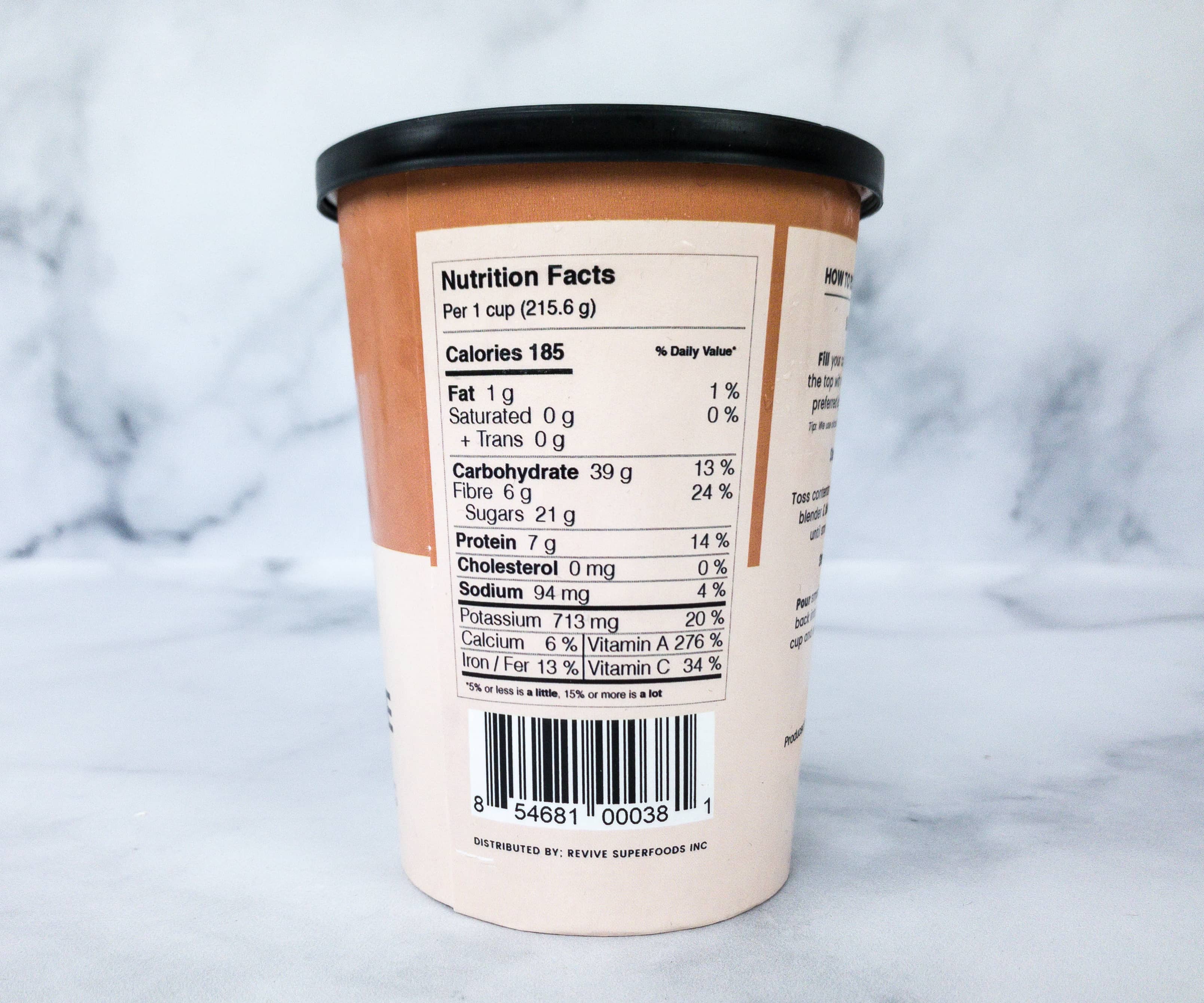 The superfood highlights for this smoothie are Lucuma, ginger, and cinnamon.
Aside from the superfood highlights, this smoothie cup contains apple, banana, carrot, butternut squash, dates, and pumpkin spice.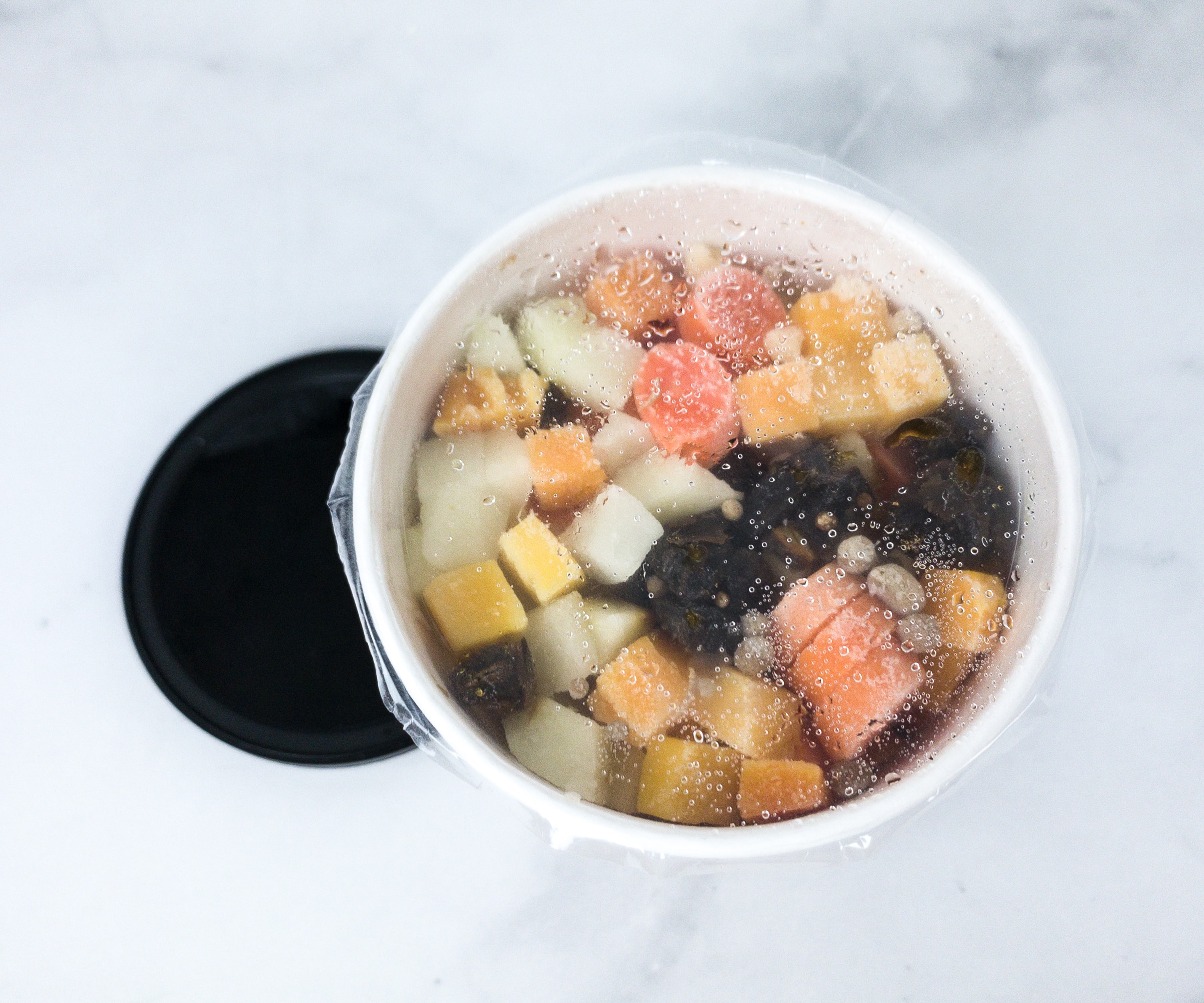 You can easily see the superfood ingredients when you take off the lid.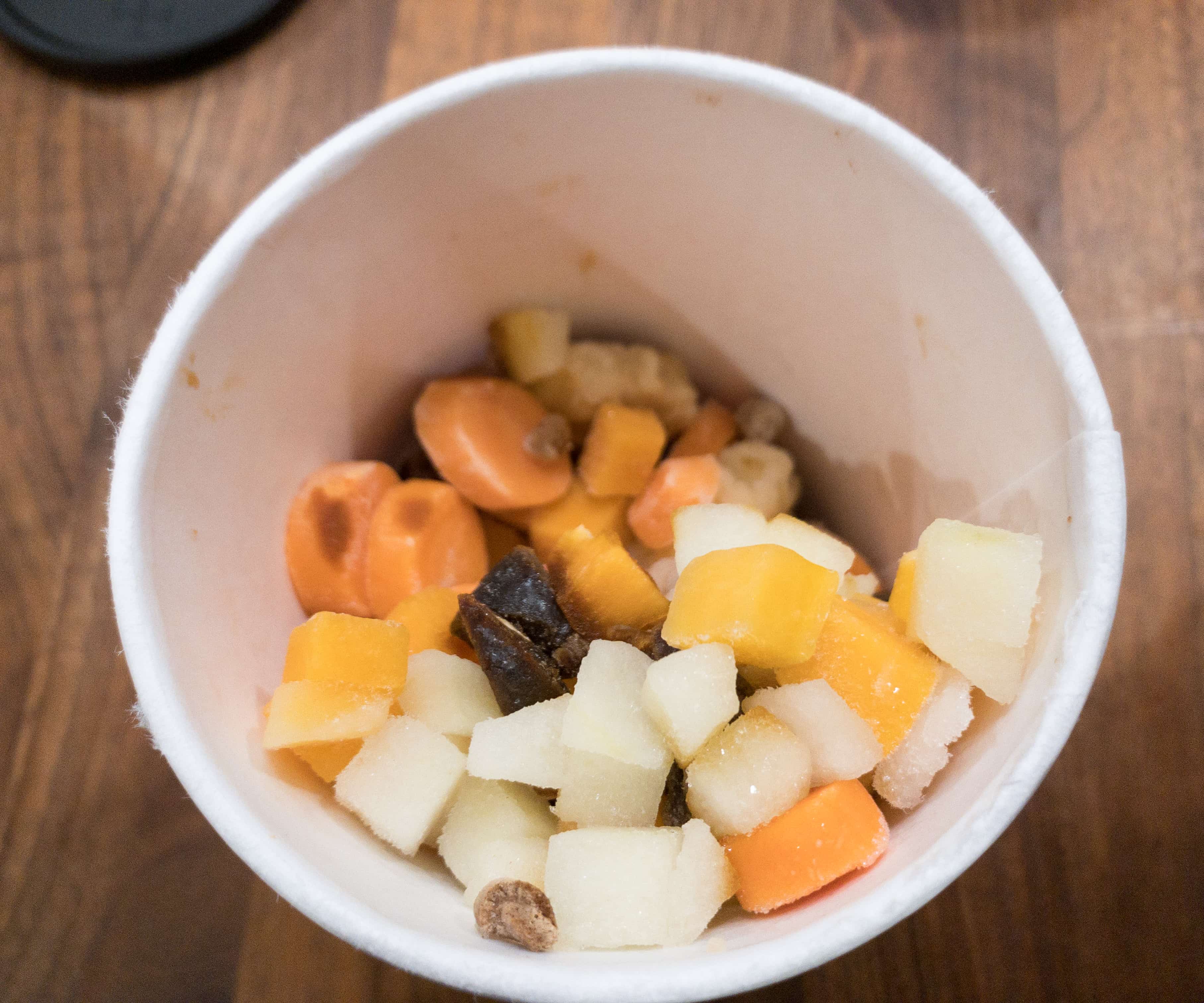 Seeing the carrot and fruit pieces ensures that what we're making only uses real and nutritious ingredients.
After blending the contents of the cup, it results in a bright orange smoothie! It's smooth and totally refreshing!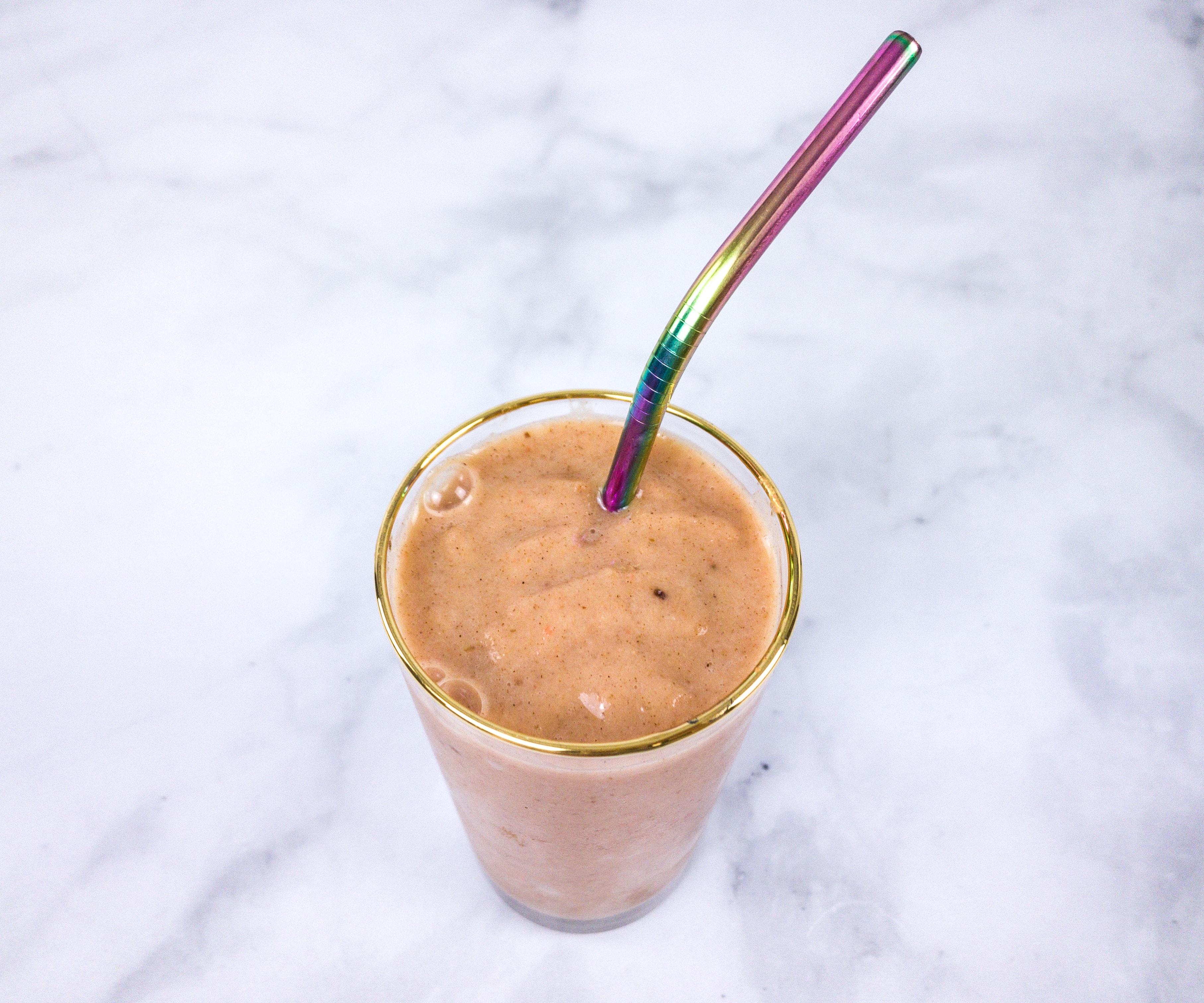 It also has anti-inflammatory benefits and even aids the immune system.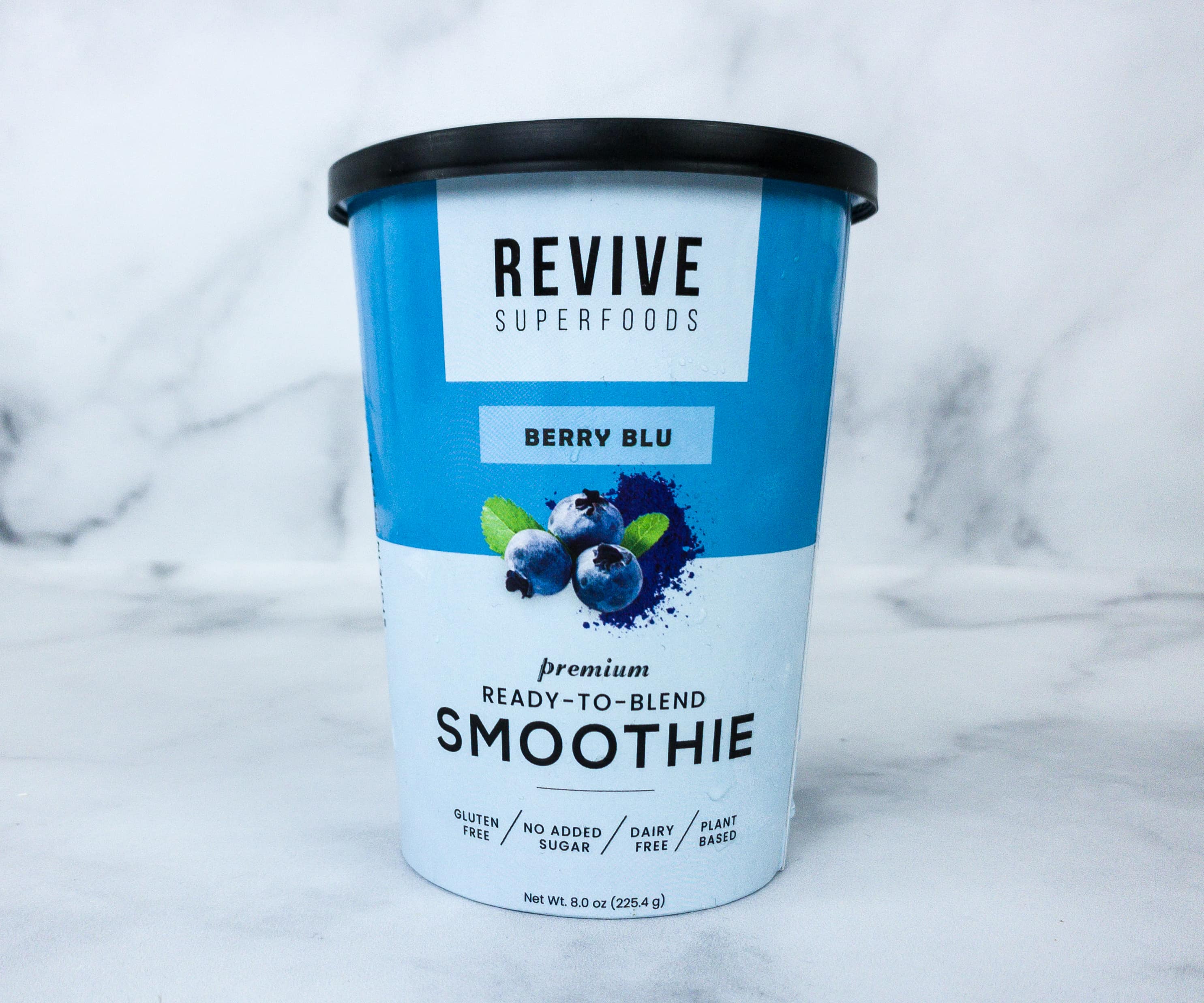 Berry Blu Smoothie. This smoothie blend with blue spirulina protein didn't make us feel blue! It's delicious and packed with antioxidants and anti-inflammatory properties, and even helps reduce the effects of aging!
The superfood highlights for this smoothie are the following: cauliflower, avocado, chia seeds, zucchini, and spirulina.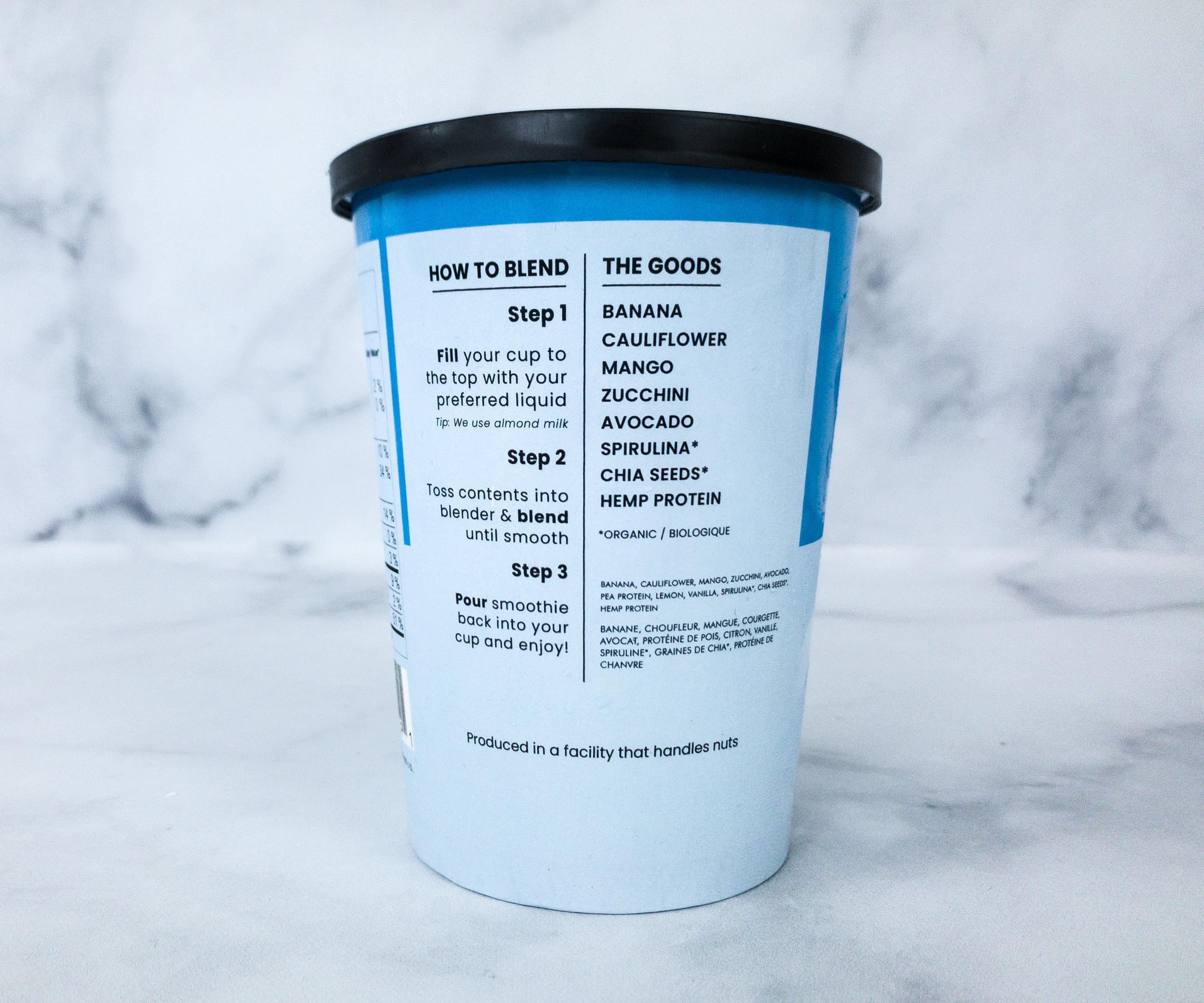 Aside from the 5 superfood highlights, this cup of smoothie also includes banana, mango, and hemp protein.
When we took off the lid, there were banana slices and cauliflower florets on top!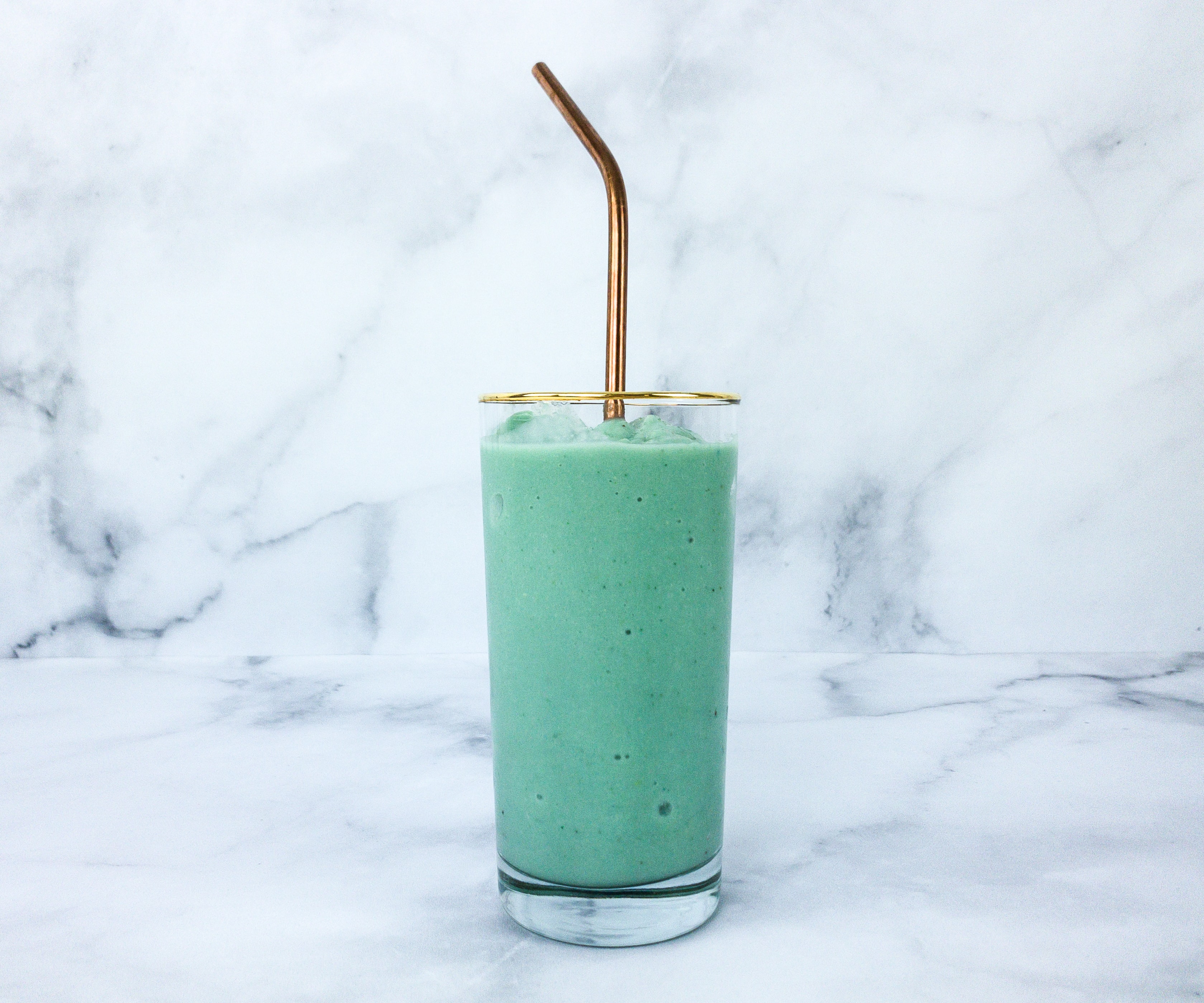 When the smoothie is well-blended, it is a beautiful pastel green color! It also reminds us of mint chip ice cream!
You can really taste the refreshing mix of the cauliflower florets and the creamy banana, avocado, and mango mix! It's nice and it's a nice smoothie for a hot day! It's refreshing to the eyes too! It's also best to take after a workout, and it helps boost the immune system, and supports digestion.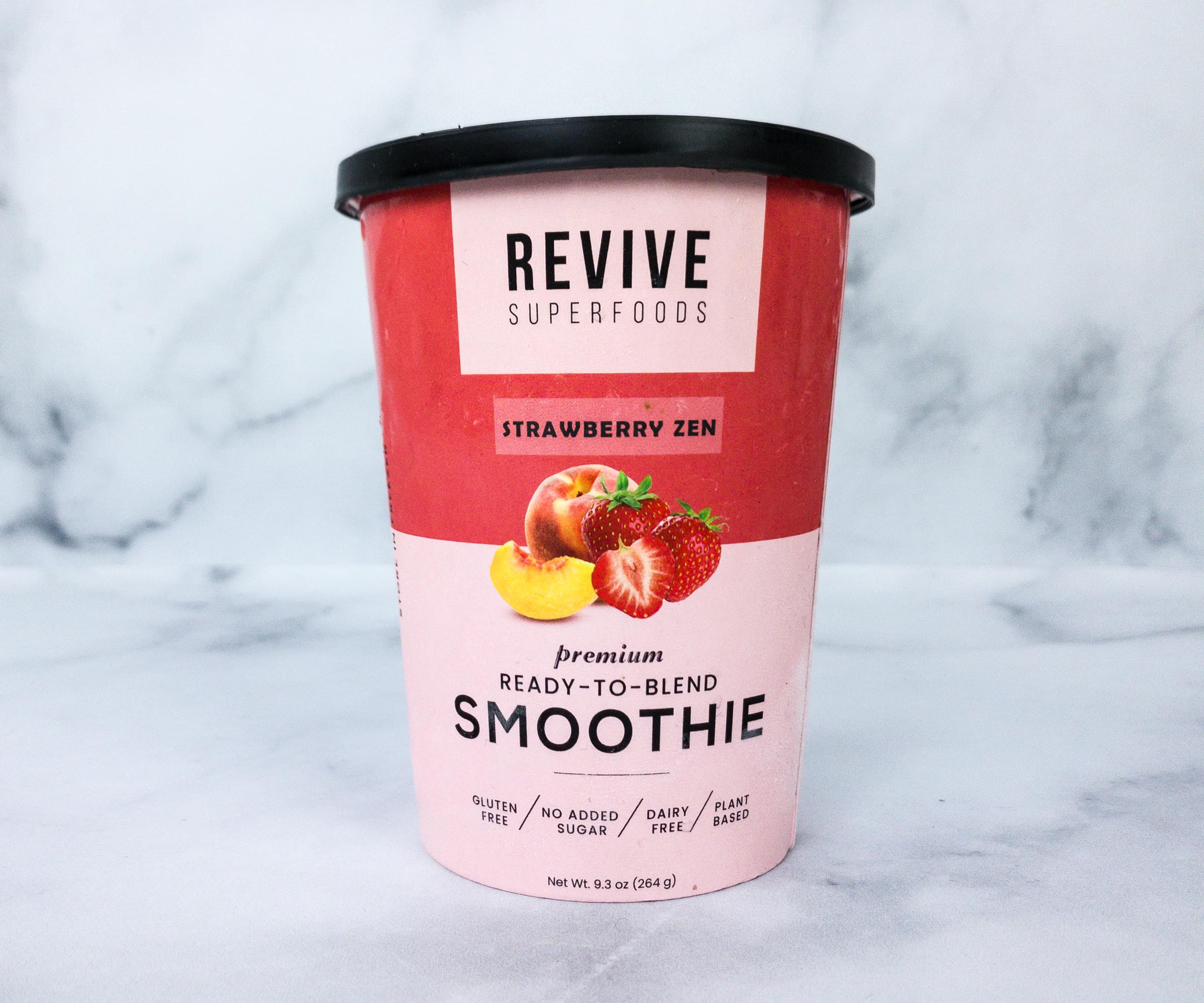 Strawberry Zen Smoothie. Here is another berry-filled breakfast smoothie! It's rich in antioxidants and energy-boosting ingredients to keep you going all day!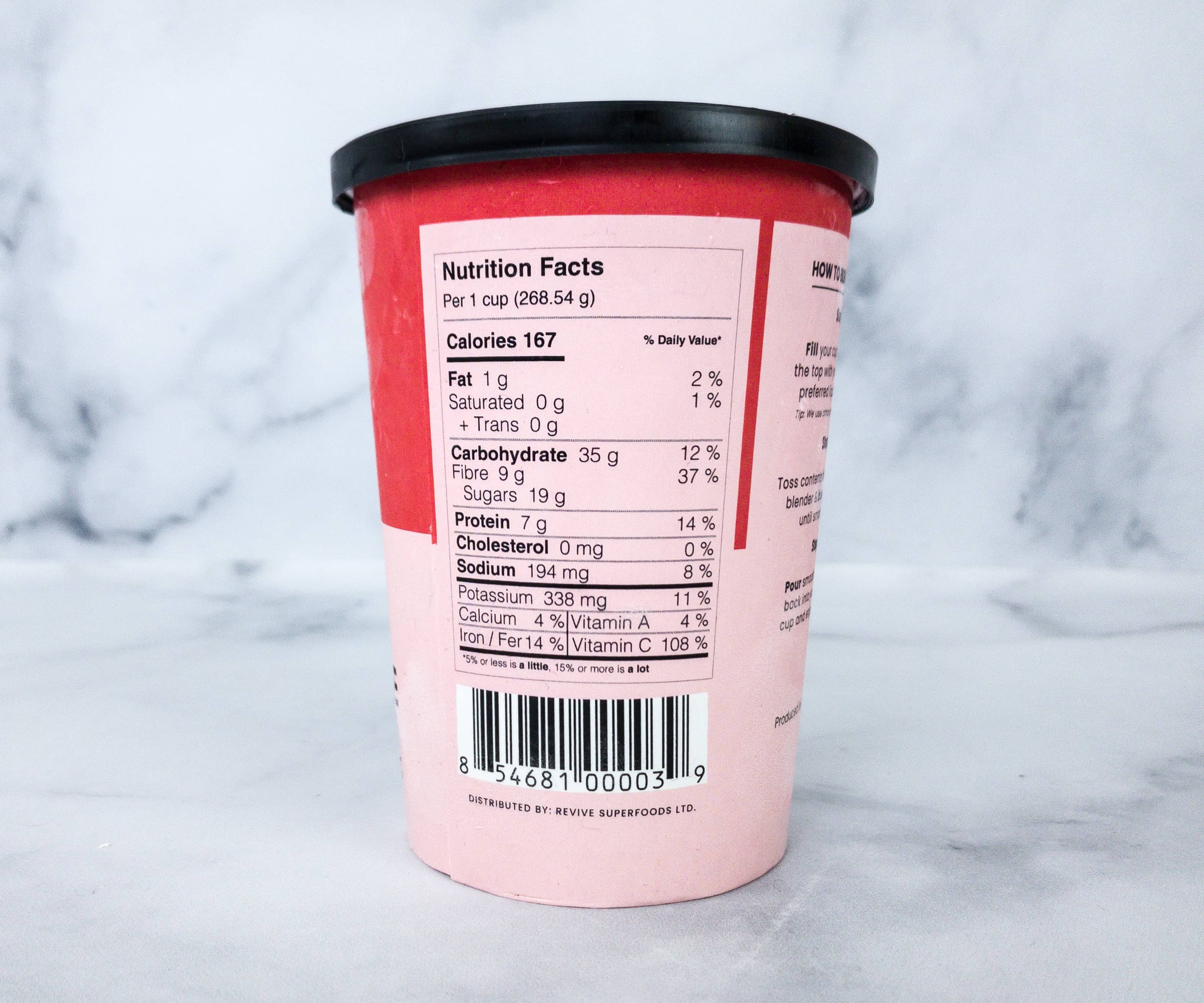 It highlights the following superfoods: zucchini, flax seeds, chia seeds, and coconut oil.
Aside from the superfood highlights, it also contains these other ingredients: banana, peaches, raspberries, strawberries, and cranberries.
The cup is quite full! On top are banana slices, zucchini pieces, and some berries as well!
It's best to blend the ingredients while they are frozen with your prefered liquid so you can get that creamy consistency.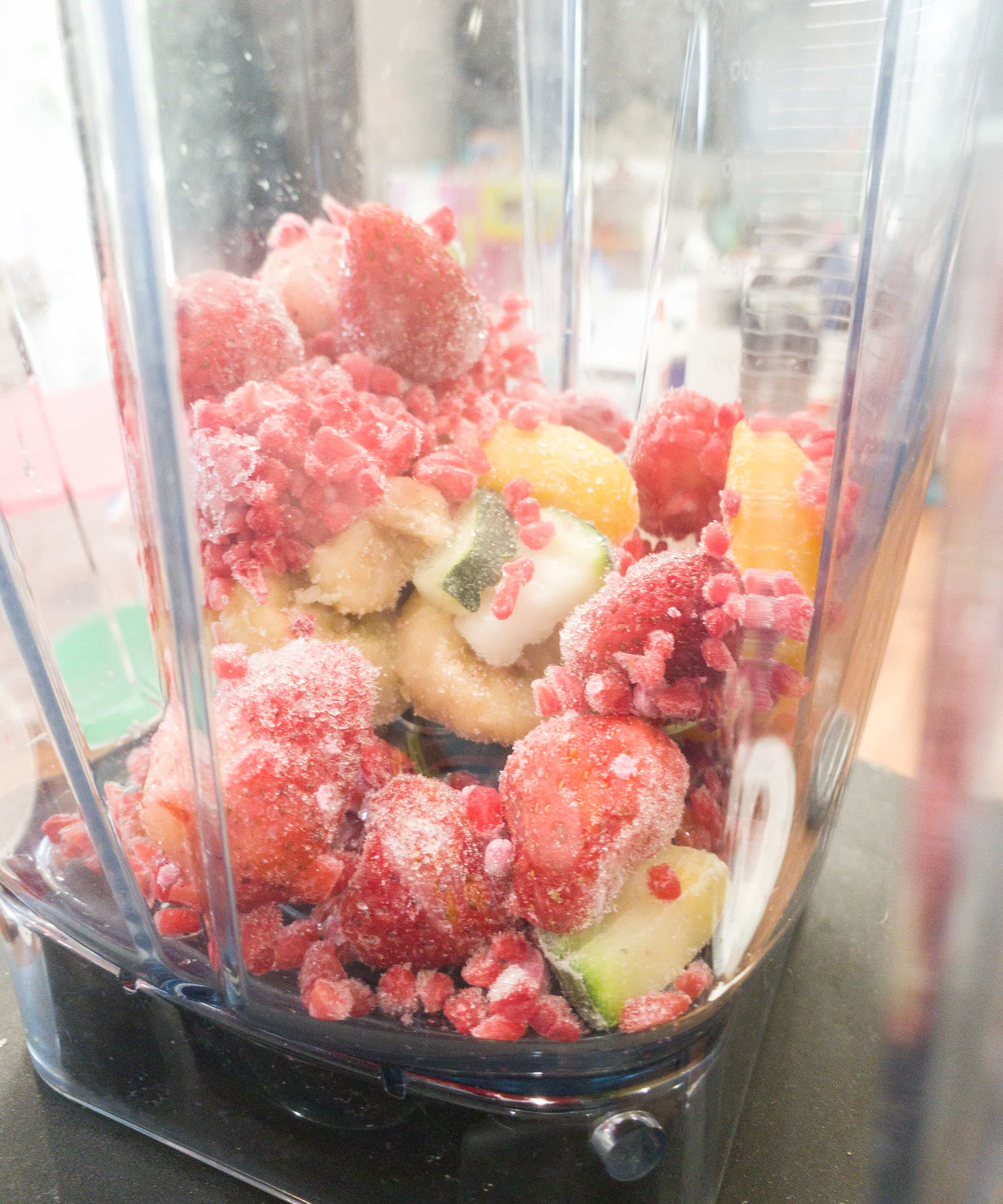 This one looks really colorful!
Of course, the resulting smoothie has a beautiful pink color because of the berry mix!
It's not surprising that it's one of the best smoothies we have in this box. It has well-balanced sweet and tangy flavors!
Clean & Green Smoothie. This smoothie is great for those who have a keto diet! It's packed with antioxidants, good fats, and fibers. It's also low on sugar and carbs but stays creamy and tasty.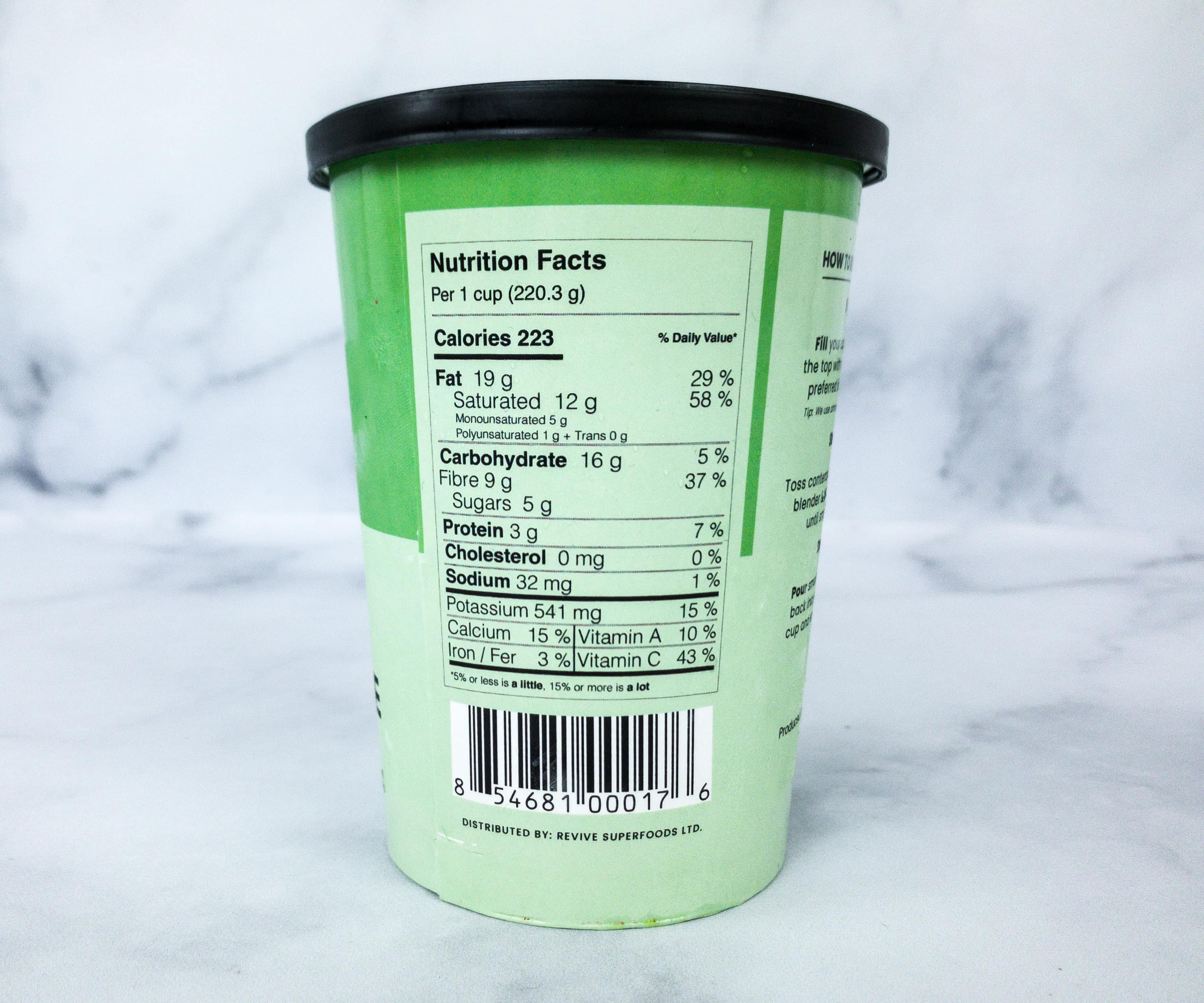 The superfood highlights for this smoothie are avocado, coconut oil, turmeric, zucchini, and Psyllium husk.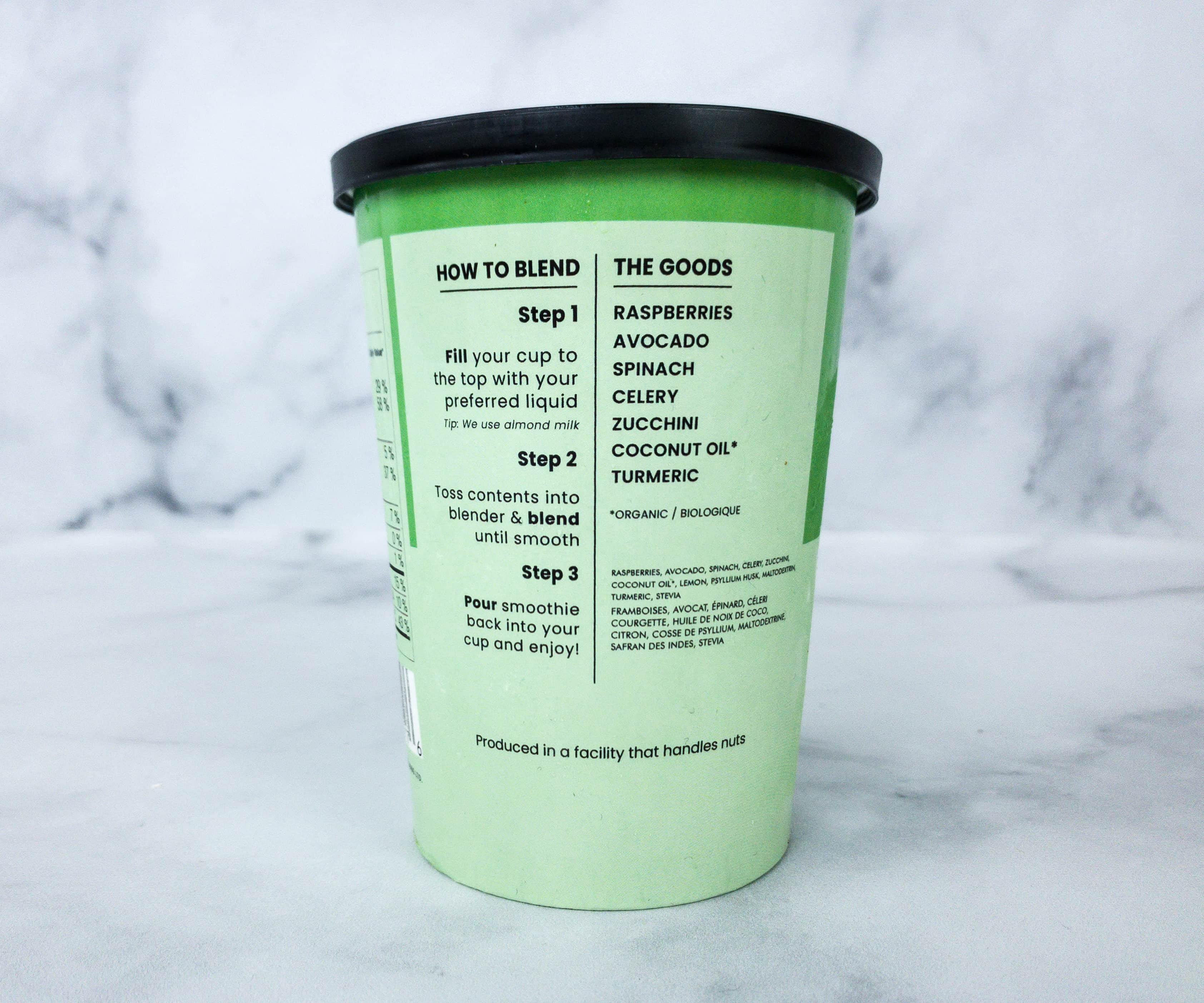 It also contains these other ingredients aside from the superfood highlight: raspberries, spinach, and celery.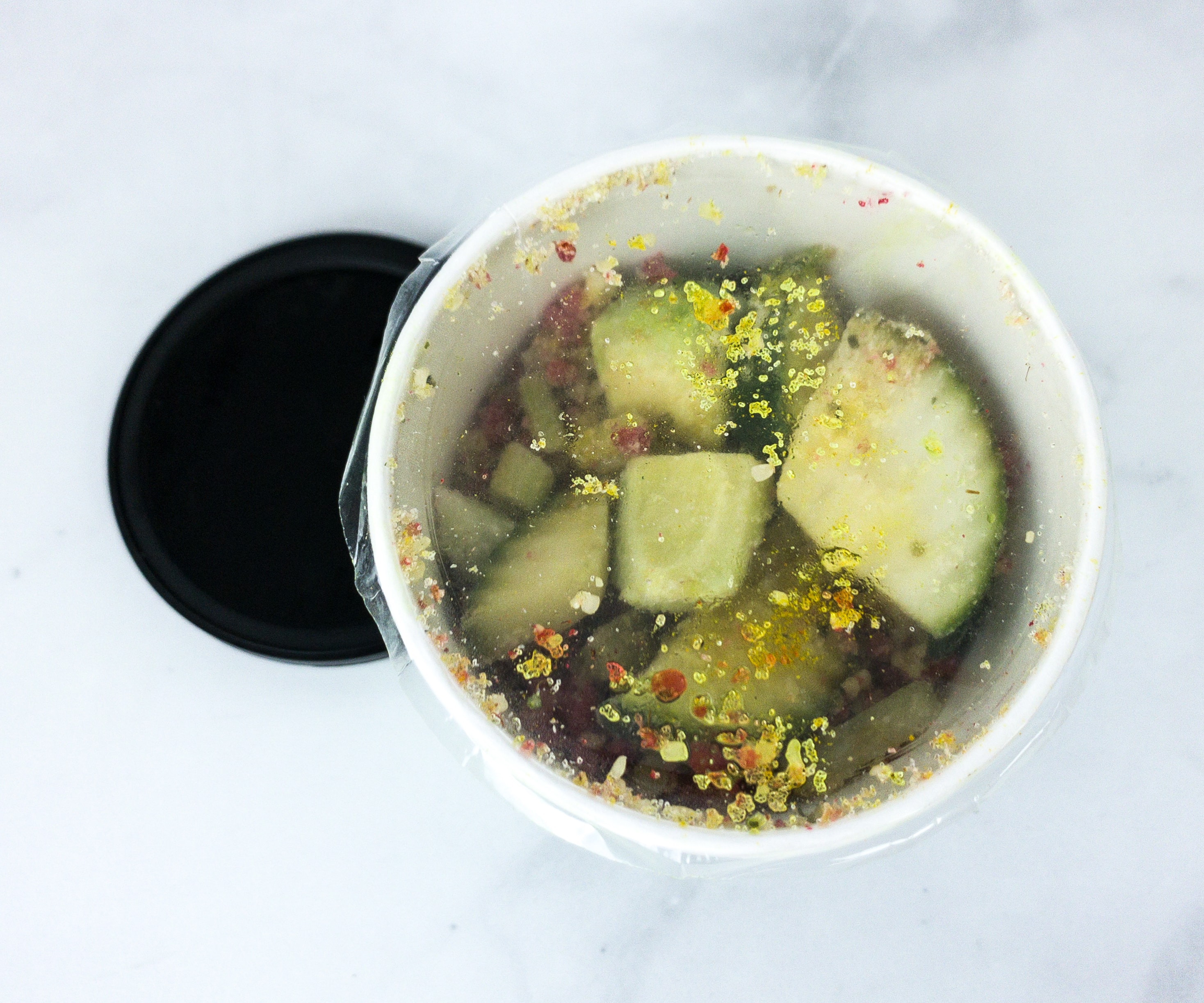 You can see the green ingredients easily when you take the lid off. You can blend this up until smooth and put it back on the cup and cover with the lid, add a straw, and bring on-the-go!
Revive Superfoods offers frozen superfoods in a cup, which are not just fresh and healthy but also easy to prepare. They have oats, smoothies, acai bowls, and other nutritious blends that you can enjoy whether at home or on the go. In this box, we have oats and smoothies, and everything tasted great! It's totally up to you if you want to have your oats hot or cold. They are delicious and filling either way! The smoothies are also awesome as they are jampacked with healthy ingredients and come out well balanced. They even have a keto-friendly smoothie, which is absolutely tasty but guilt-free. These superfoods in a cup are great breakfast options. There's no long prep time and you'll still get the nutrients your body needs!
What do you think of this month's box?