Free Your Tea is a tea discovery service that sends 6 samples to you in your first month based on answers you give to their tea survey. You try those samples and then rate them on the Free Your Tea website, and the next month they will send you a large bag of tea (enough for a daily cup of tea) plus one sample so you can keep discovering flavors you love. They also offer a caffeine-free option for those who prefer less stimulation from their beverage. Free Your Tea is $20 a month, or sign up for longer terms and the price drops, as low as $16 a month for the 12-month plan. You can also add on additional bags of tea.
Free Your Tea is a personalized tea subscription that tailors teas to taste based on subscriber preferences and tea ratings. The teas are premium loose leaf teas sourced from tea plantations around the world. The goal is for everyone to discover new favorite teas.
DEALS:
Get 50% Off You First Month of Personalized Tea subscription! Use coupon code BLACKFRIDAY50.
Pay only $15 per month for 6 months of Personalized Tea subscription – that's $30 off! Use coupon code BF6MO25.
Save 10% on 3+ month prepaid subscriptions! Use coupon code HELLOPREPAY.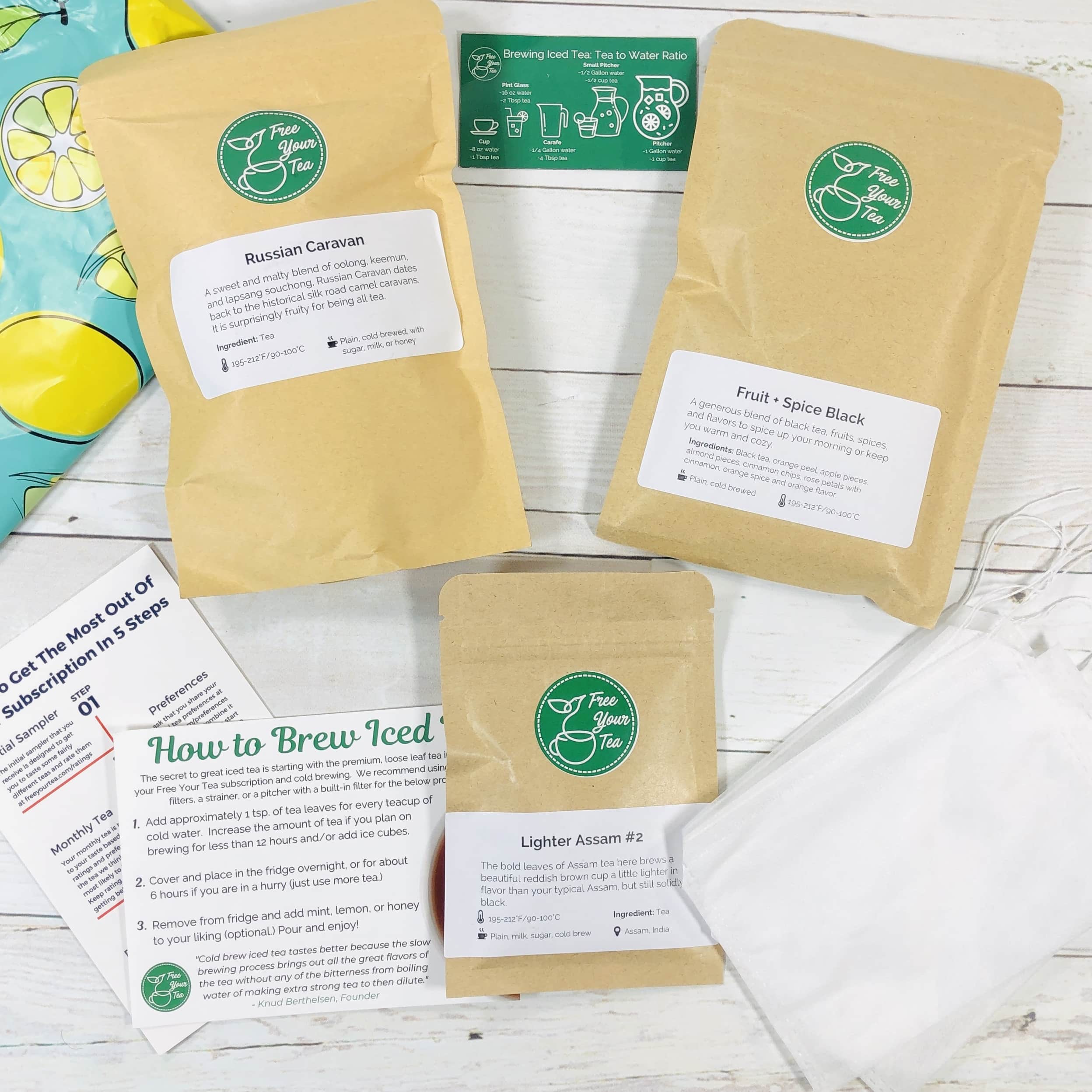 Everything in my box! In have rated my previous shipments, so this month I received 2 full-sized teas and a sample based on those ratings. The standard subscription comes with a full-sized bag of tea plus another sample, and you can add extra bags of tea for an additional fee. The big bags have enough tea to make about 30 cups each, while the sample is enough for around 3 cups.  
I found a card that told me how to make the most of my subscription, and the key is to rate your teas! Some kind of magical alchemy happens when you submit your results because then you get some really awesome tea in your next shipment. The initial quiz is also helpful.
Check out the helpful fridge magnet that I received. Free Your Tea is gearing up for summer with a focus on teas that are great iced or hot. They have 3 options to choose from: The Weekly Pitcher ($20 for 1 full sized bag and 1 sample), The Daily Tall Glass ($30 for 2 full sized bags and 1 sample) and The Summer of Tea, which is 3 months of The Daily Tall Glass plus a free pitcher. Just like the hot tea subscription, your first box will come with a sampler of 6 teas that you will rate. I am reviewing The Daily Tall Glass, which is $30.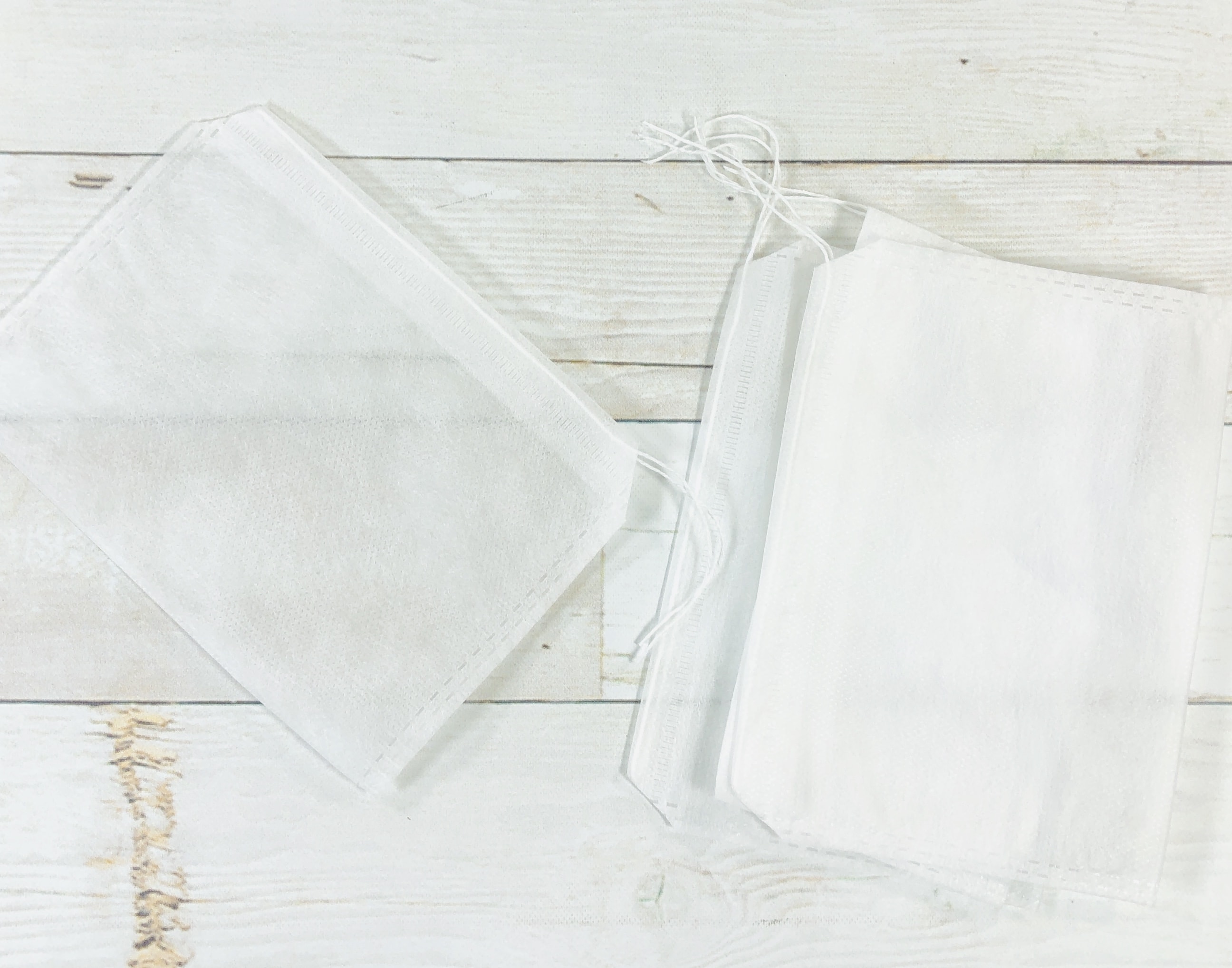 I received four large compostable drawstring bags so I can try cold-steeping my new teas in the fridge!
Instructions for steeping were included.
I received 3 flavors that are perfect for hot or iced tea. I only drink iced black tea (no herbal or green, although you can certainly use those too) and am happy to try some additional flavors to broaden my tastes, but it still needs that black tea base.
Russian Caravan Tea is a "sweet and malty" blend and let me tell you, it kind of smells like chocolate cake! It has a blend of oolong, keemun, and lapsang souchong tea leaves. The front of the package lists tasting notes and ingredients and gives me the water temperature needed for steeping as well as the best way to serve the tea.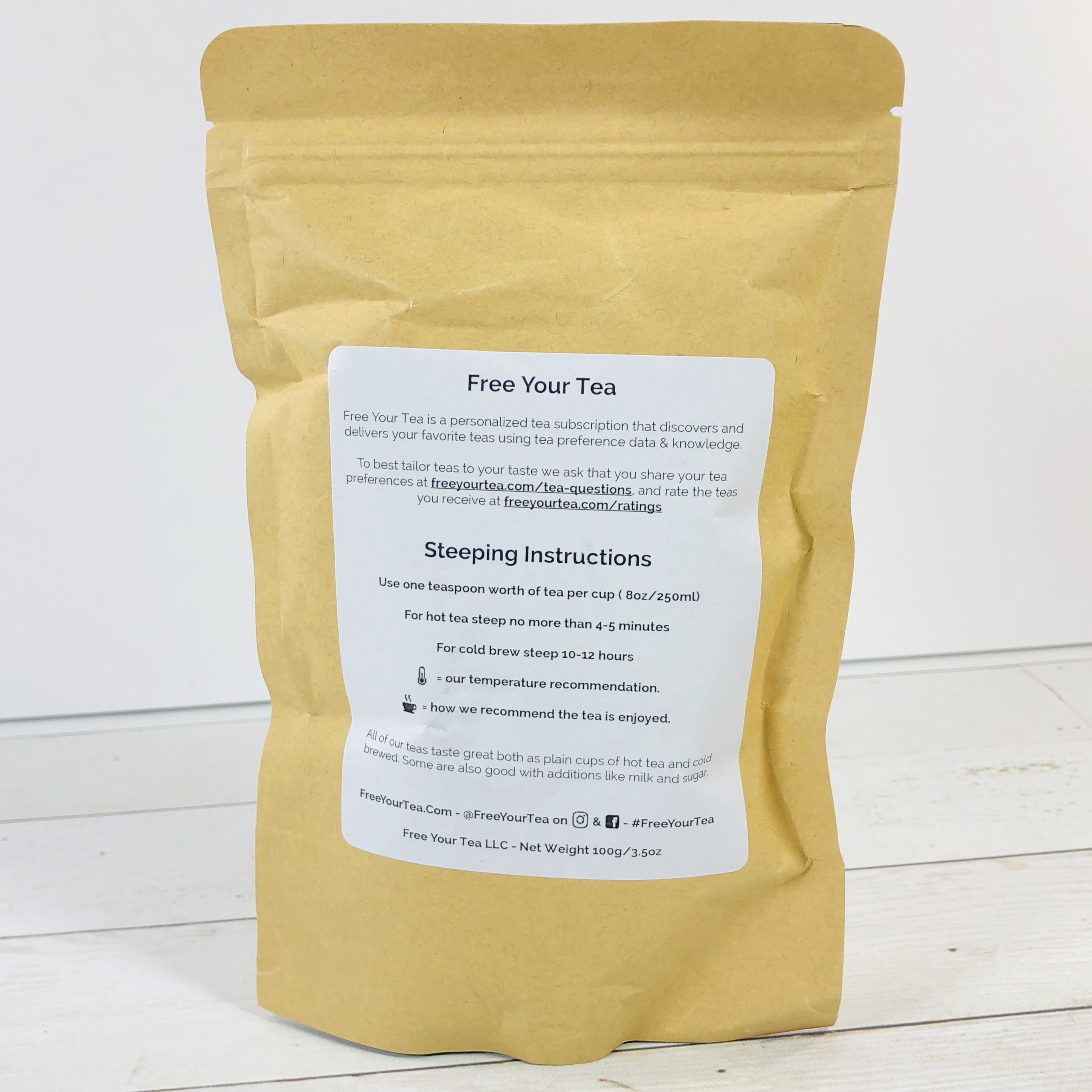 The back of each package gives more steeping instructions and tells me how to cold steep.
Doesn't this look lovely? I steeped as directed and was surprised to find that the tannins were low yet the tea was still hearty enough for sugar and milk. I liked the floral notes and again, it smelled like dessert!
Fruit + Spice Black Tea is perfect for a hot cup on a chilly morning or for a unique fruity flavor of iced tea in the summer.
Orange peel, sliced almonds, apple pieces, and more join black tea leaves and the flavor is just amazing. It tastes like mulled cider! It gives a new twist to iced tea too.
Lighter Assam #2 Tea My tea sample for the month is of Lighter Assam #2. I love a bold black in the morning, but in the afternoon I prefer a lighter flavor and this Assam hit the spot.
After steeping I could see that the lovely color in my cup wasn't as dark as my typical English Breakfast yet the flavor wasn't watered down, just lighter. It still had some of that astringency, and I still added a bit of sugar and milk, but the flavor was on point!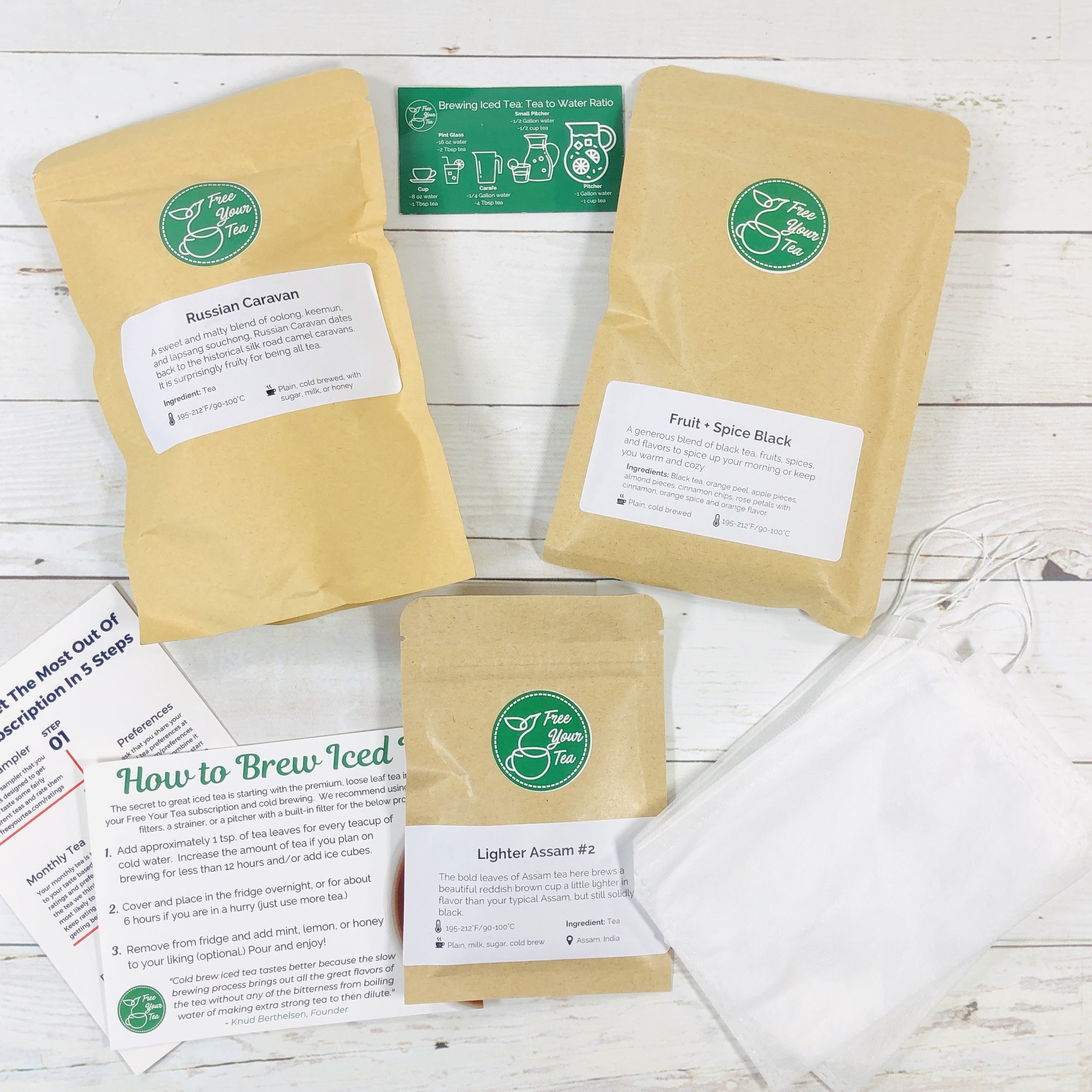 Free Your Tea is a wonderful tea subscription box and I always enjoy the flavors from this brand! My April box fit my profile to a t(ea) and I am super impressed with both the high quality of the teas, and the amount included in each bag. I have 3 new tea flavors to help me keep cozy when the days are still cool, and to help me keep my cool when the temps start rising. No matter your taste in tea, try Free Your Tea and let them show you their extensive selection of flavors and keep in mind that this makes a great gift because the recipient can rate their teas from the sampler so it's the gift that keeps on giving.
What do you think of this month's box?