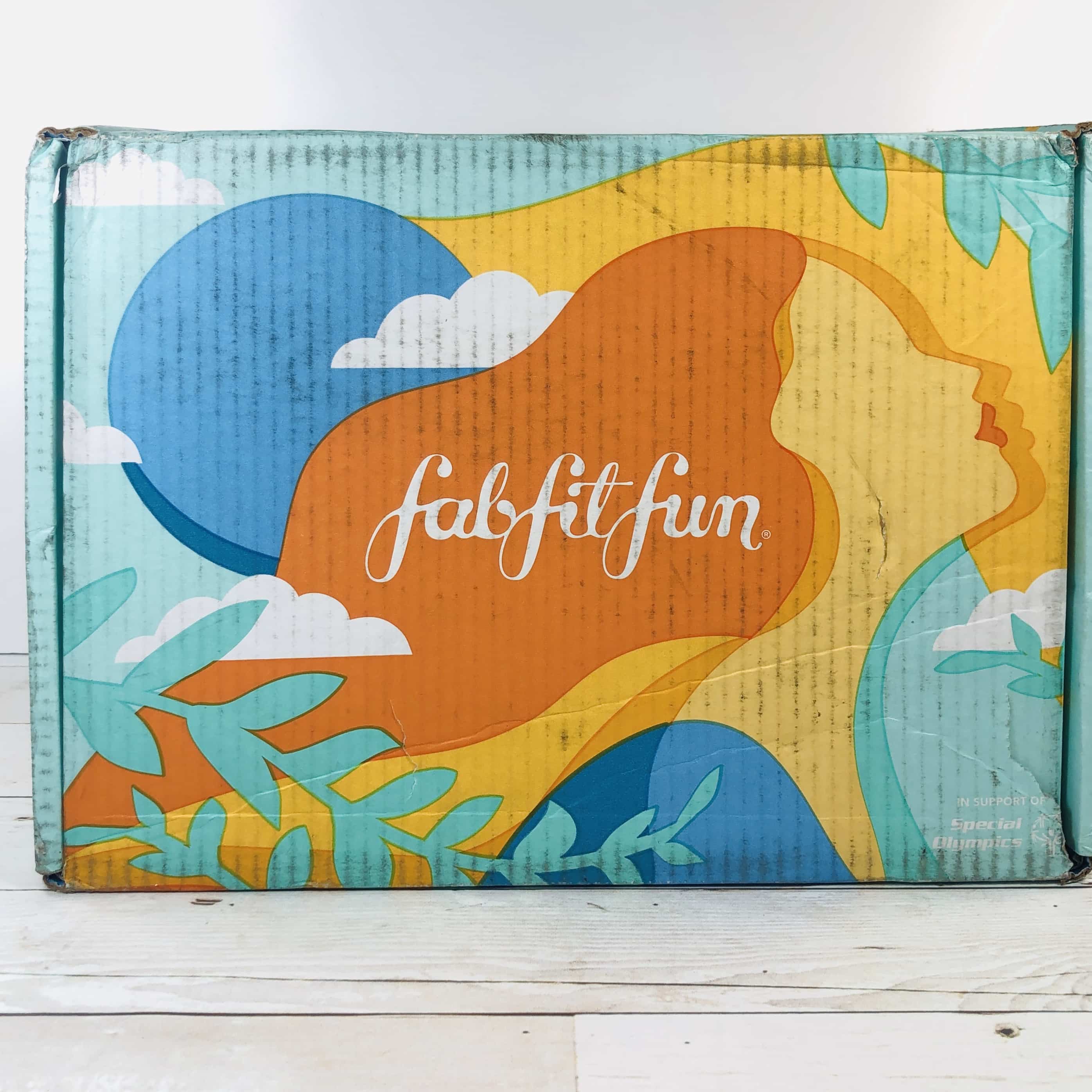 FabFitFun Box is a quarterly women's subscription box that promises fabulous beauty, fashion, and fitness items every quarter. Some items can be customized, some are a surprise, but all of them are super fun! FabFitFun Box is billed quarterly – get more customization options when you get an annual subscription.
This box is currently still available!
Indulge in the best in beauty, fitness, wellness, home, and everything in between.
DEAL: New members can save $10 with coupon code FAB10!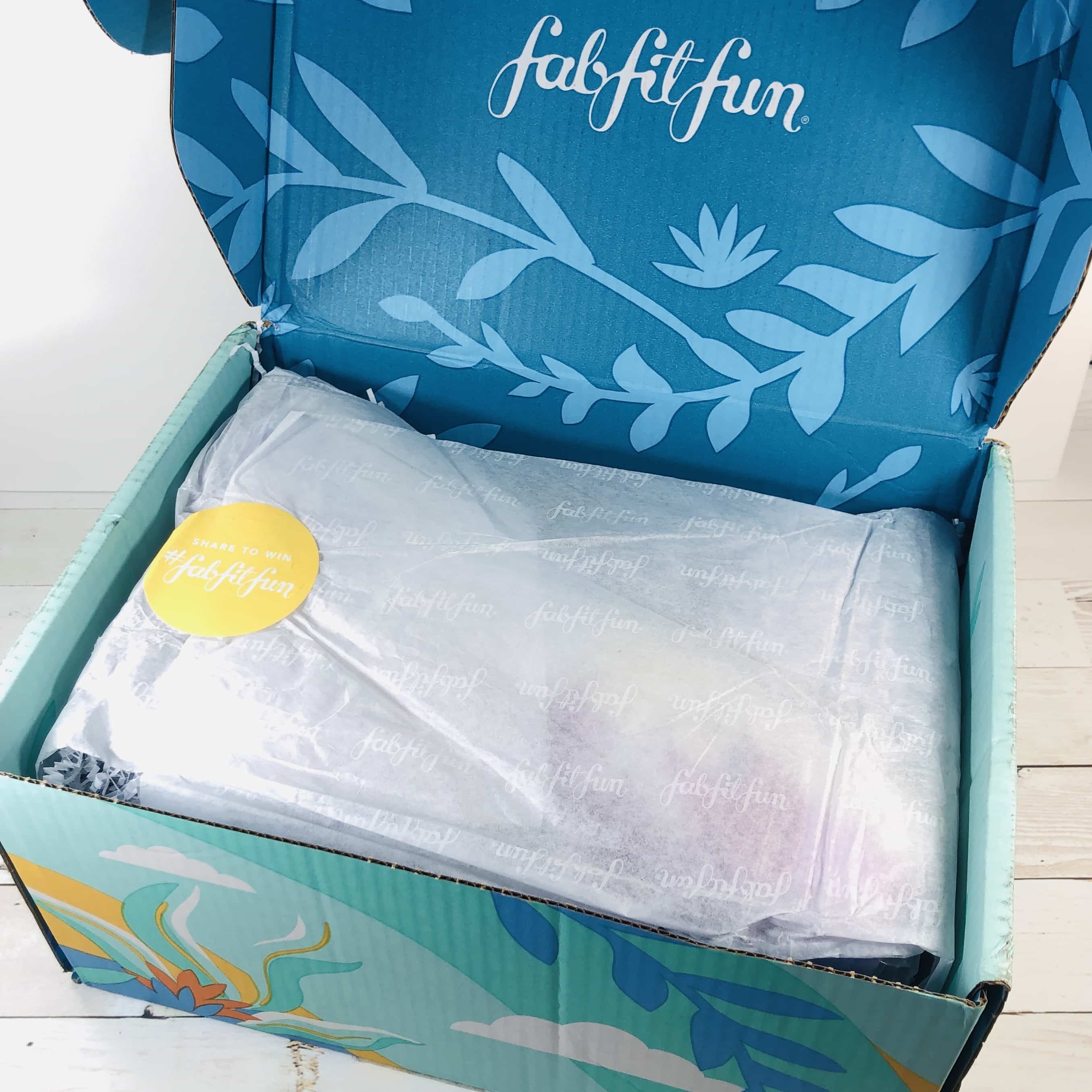 This quarter, the box design is by Kayla Krainock. The colors are so bright and yet soothing. The items were wrapped with white tissue paper and sealed with a sticker.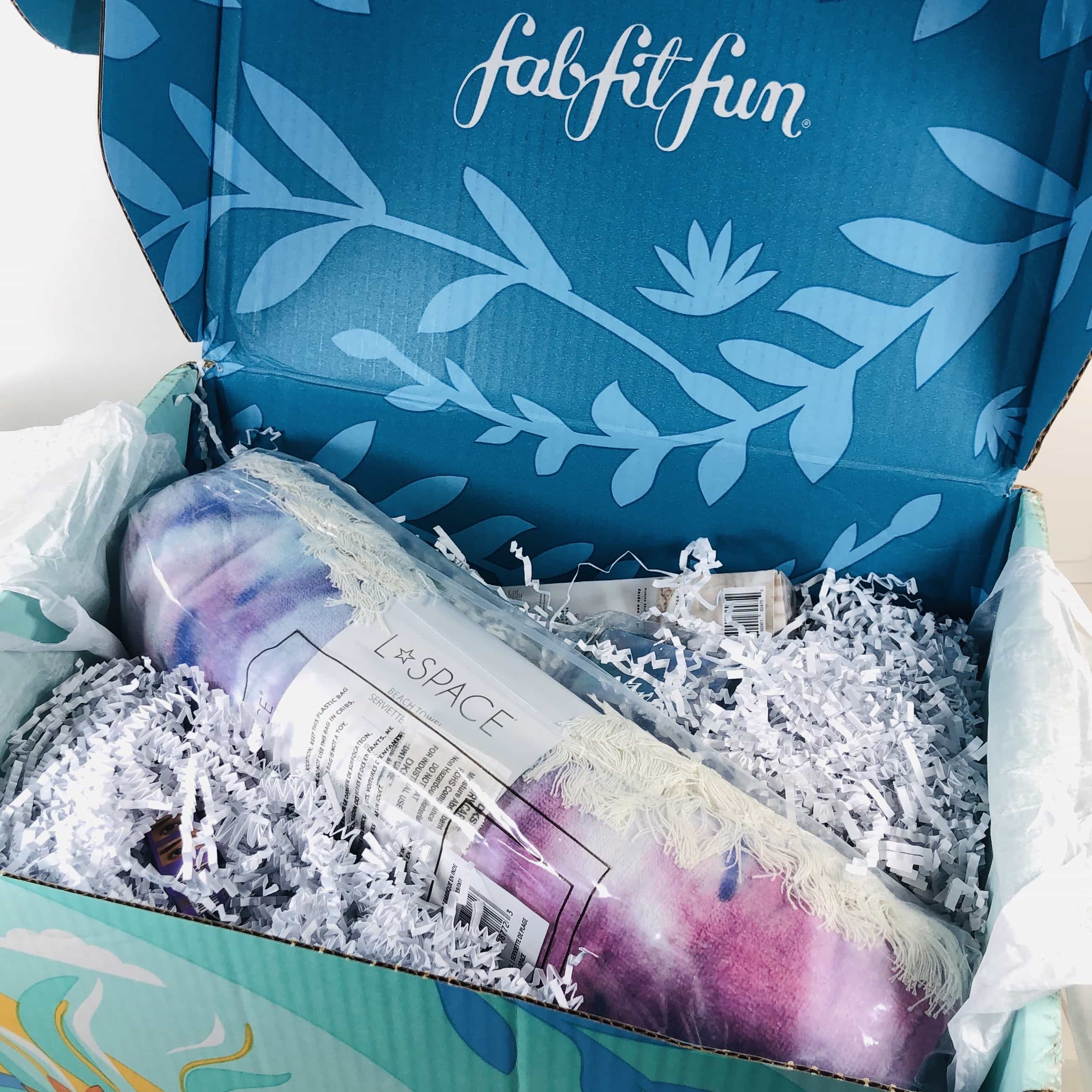 I am so excited, this is my first ever FabFitFun Box!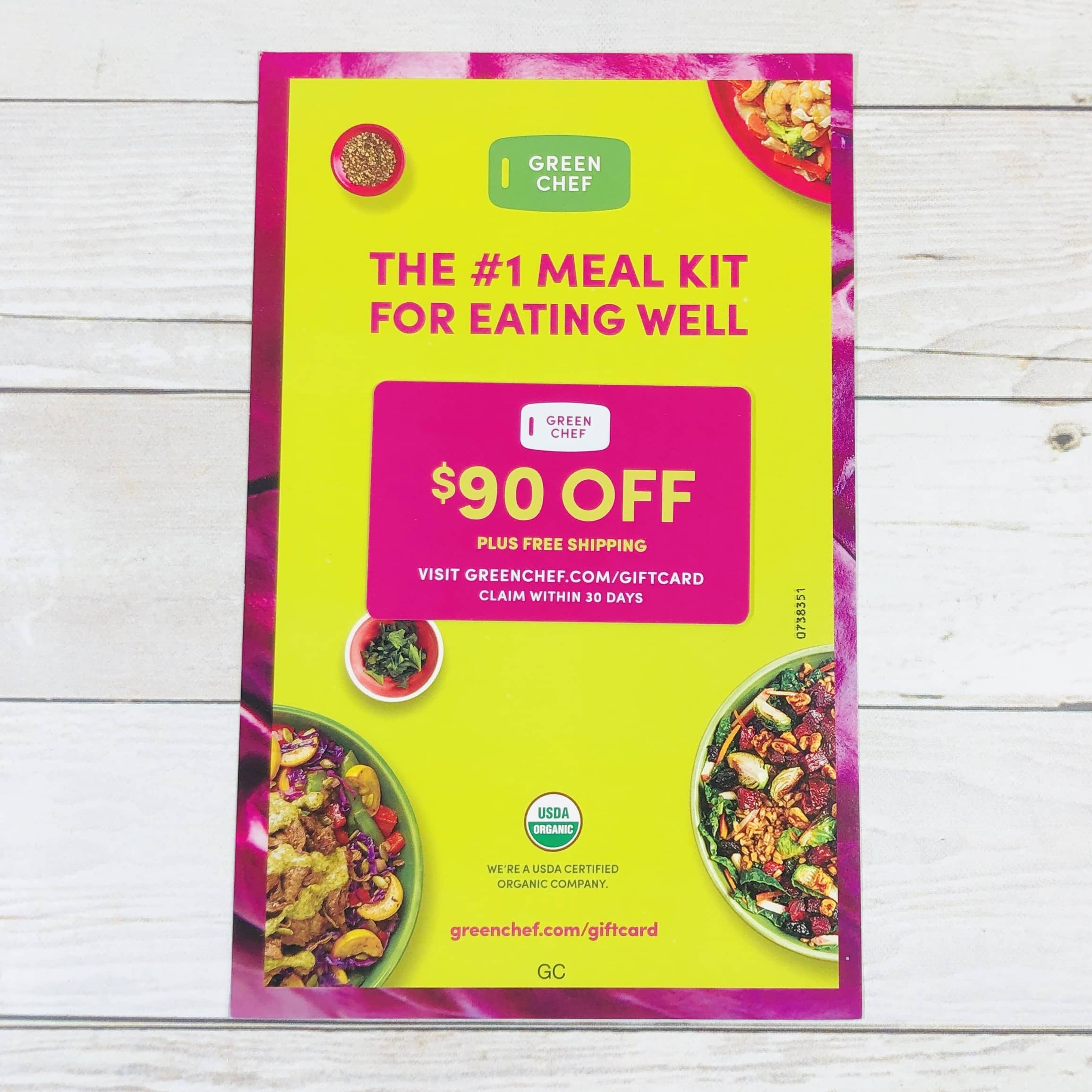 A gift card from Green Chef was included.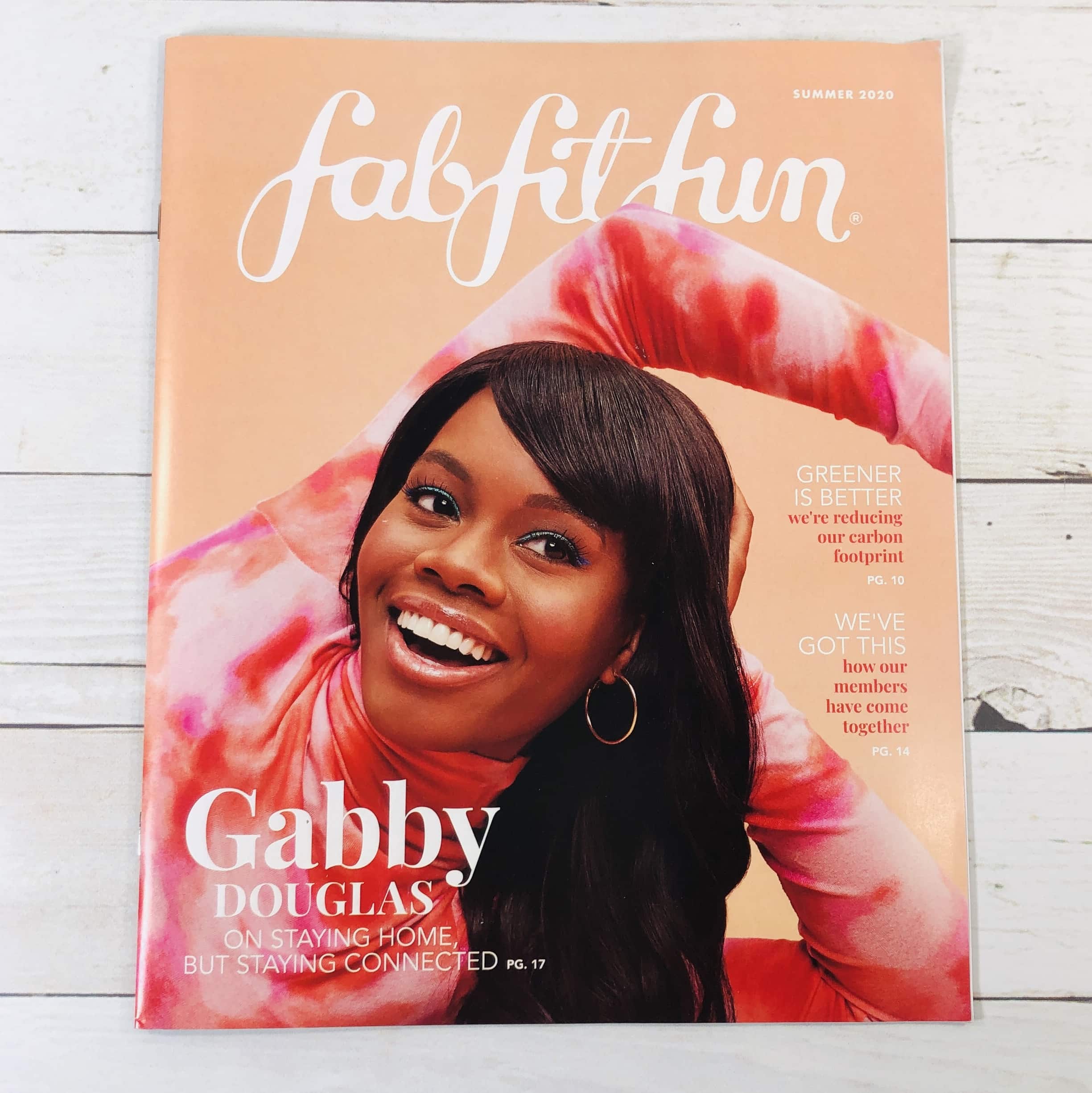 A large-format mini-magazine was included. It features gymnast Gabby Douglas on the cover. The back cover mentions a giveaway where you will get the chance to win a huge prize pack when you post your Summer box on social media.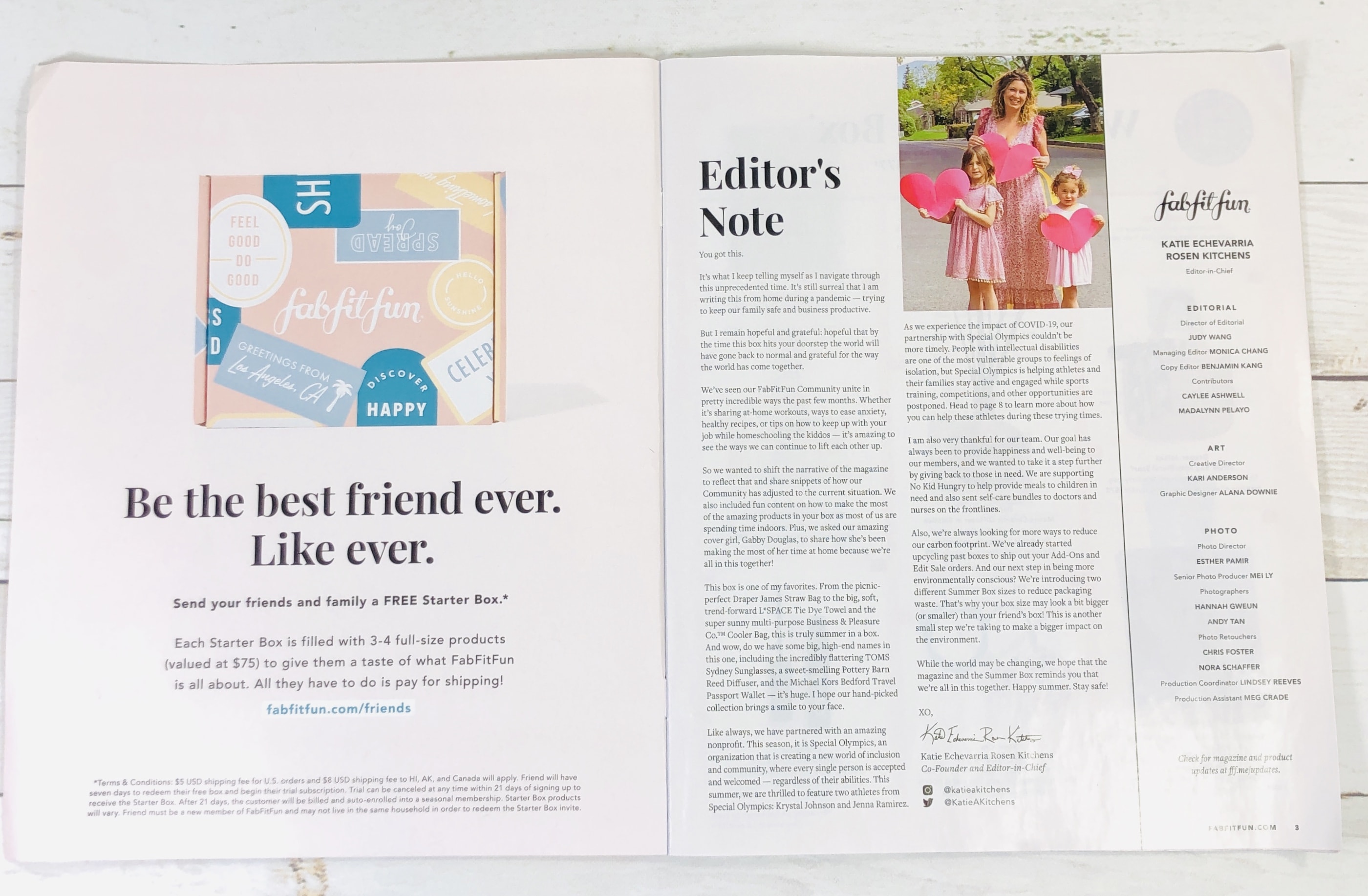 The first page has a message from Co-Founder and Editor-in-chief Katie Echevarria Rosen Kitchens!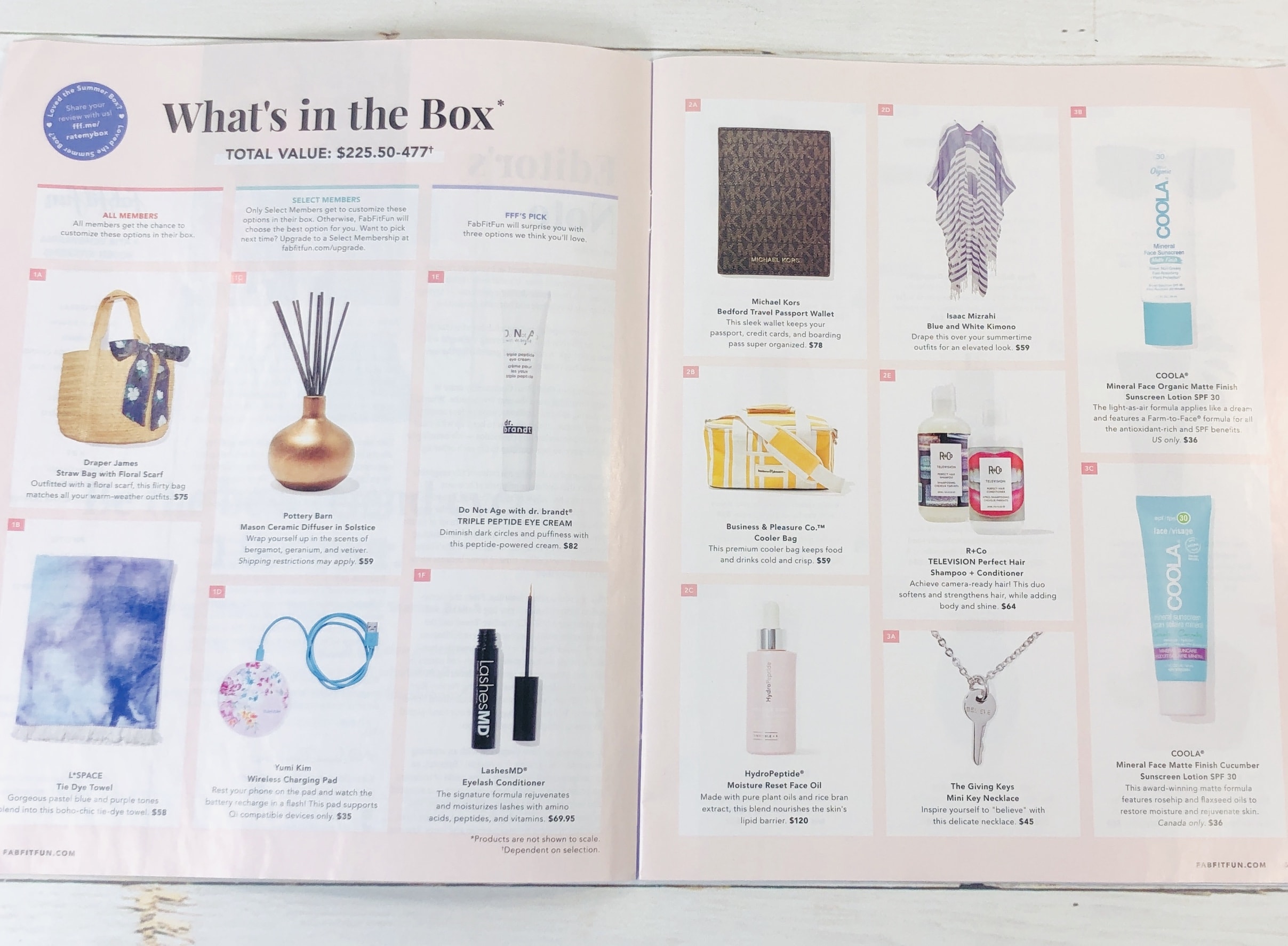 The magazine provides all the details on the products, plus fun lifestyle articles (see all the lifestyle articles at the bottom of the review). You can see that the value (depending on which items you receive) can vary from $225 through $477 total!
Variations of these will be in your box but you won't receive all of them. A full 4-page spread gives details on every item and variation in the box. It's color coordinated so you can see which option is which. Pink is for all members, green is for Select members, and purple is for FFF picks.
Everything in my FabFitFun VIP Box for Summer 2020! There are lots of item variations that are detailed below.
Subscribers with an annual subscription are able to make a few extra choices. We received a lot of comments this year about choices being sold out – we really recommend that if you want the best selection on choosing items for your box, that you select an annual subscription, if it's within your budget.
FFF Picks
In case you missed it, there are no longer "everyone receives" items in the box! FFF will select 3 items from the FFF picks for the season. For Summer 2020, the FFF picks subscribers might get are:
I got: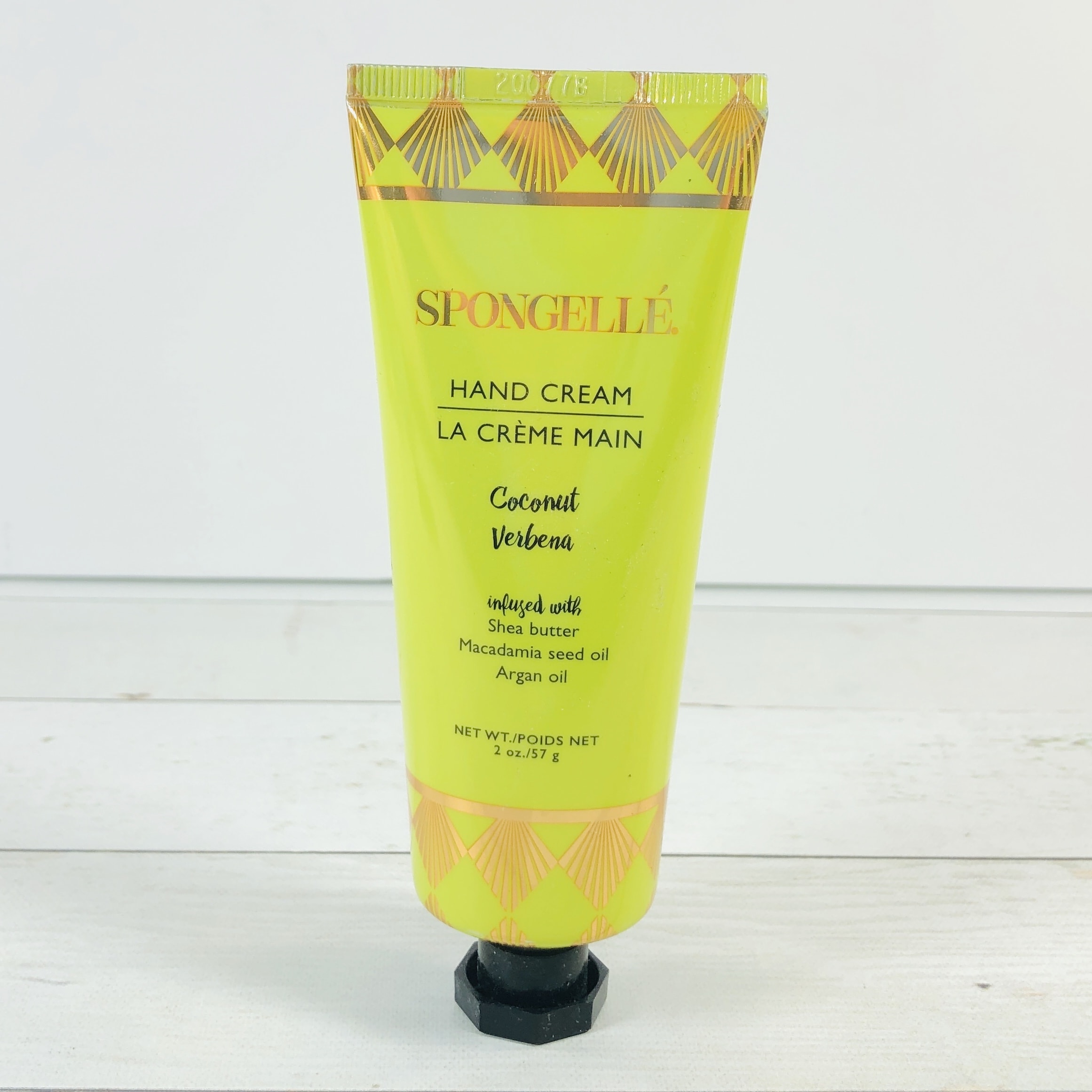 Spongellé Coconut Verbena Hand Cream ($18) If you've tried more than a handful of beauty or lifestyle boxes before then it's possible you've received a Spongellé gel-infused shower buffer in one of them. I had no idea that they also make hand cream!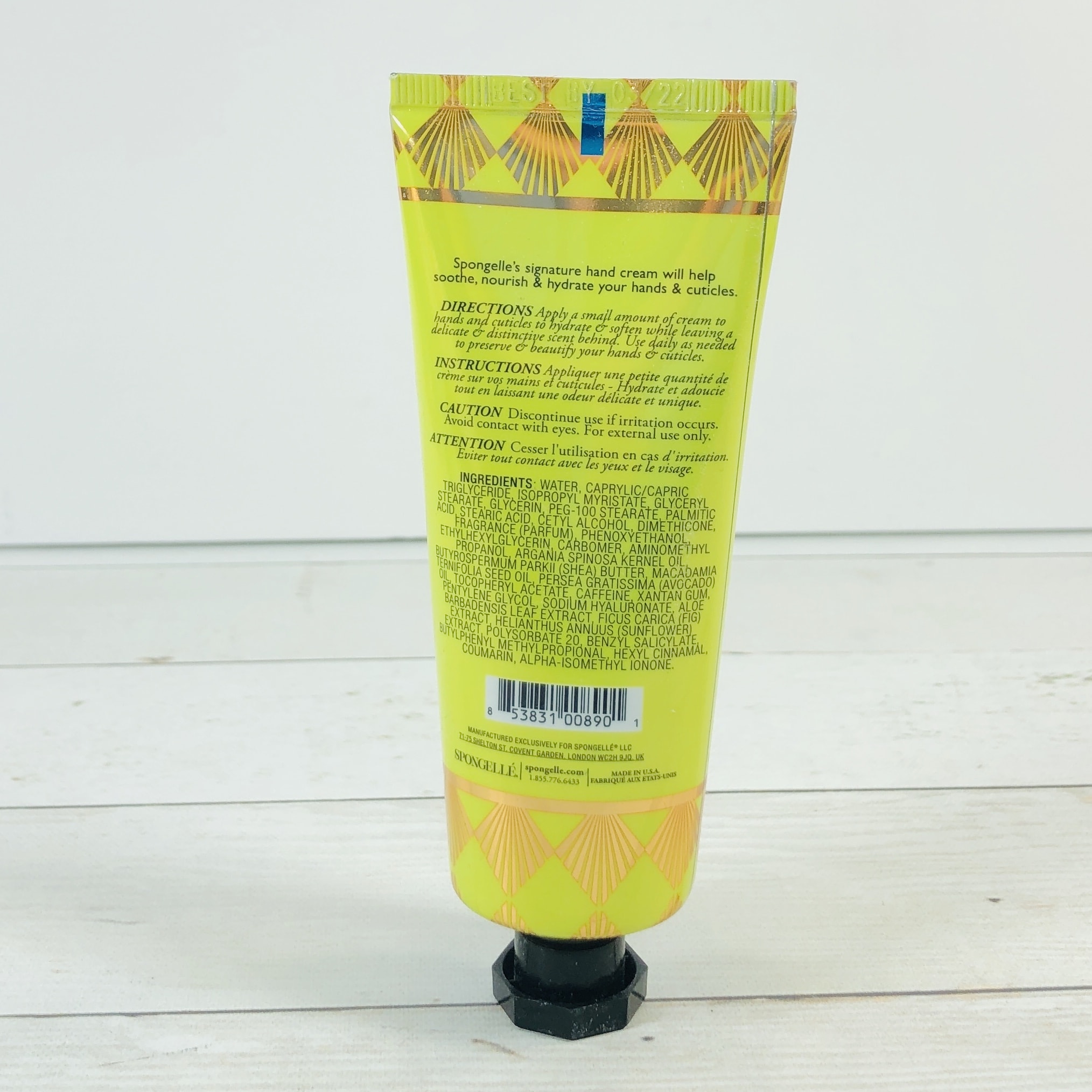 I have the foot buffer in this scent and now I am excited to own the hand lotion too. The fragrance is perfect for the season, and the lotion isn't too heavy – it's light, great for summer. Shea butter, argan oil, and macadamia nut oil are a few of the softening ingredients. Scent notes include peach, amber, and jasmine but of course the tropical citrus scent is a clear winner in my book!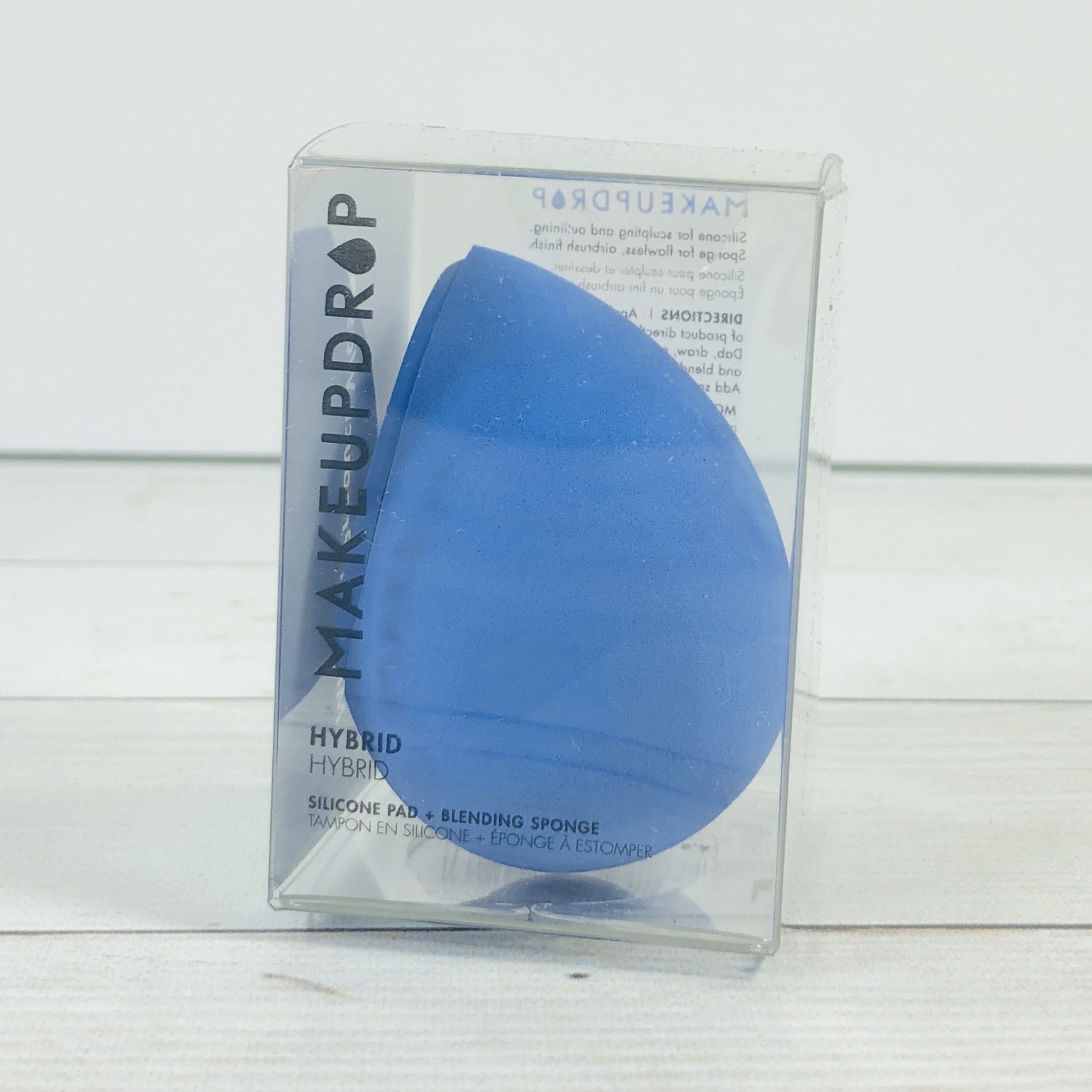 MakeupDrop Hybrid Makeup Applicator ($20) I've used a latex-free sponge applicator before, but this is a hybrid product and has a silicone side to it.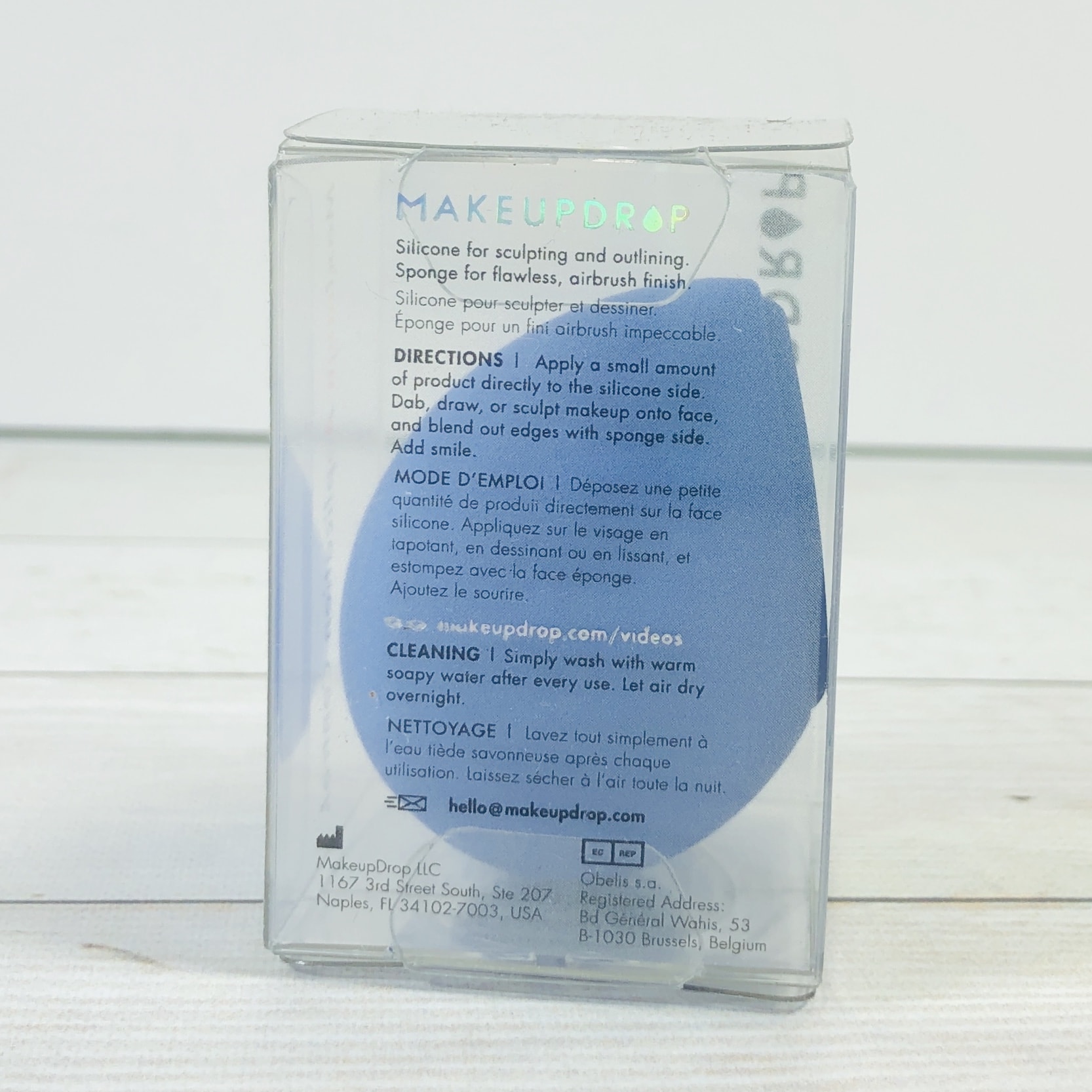 The back of the box has cleaning instructions.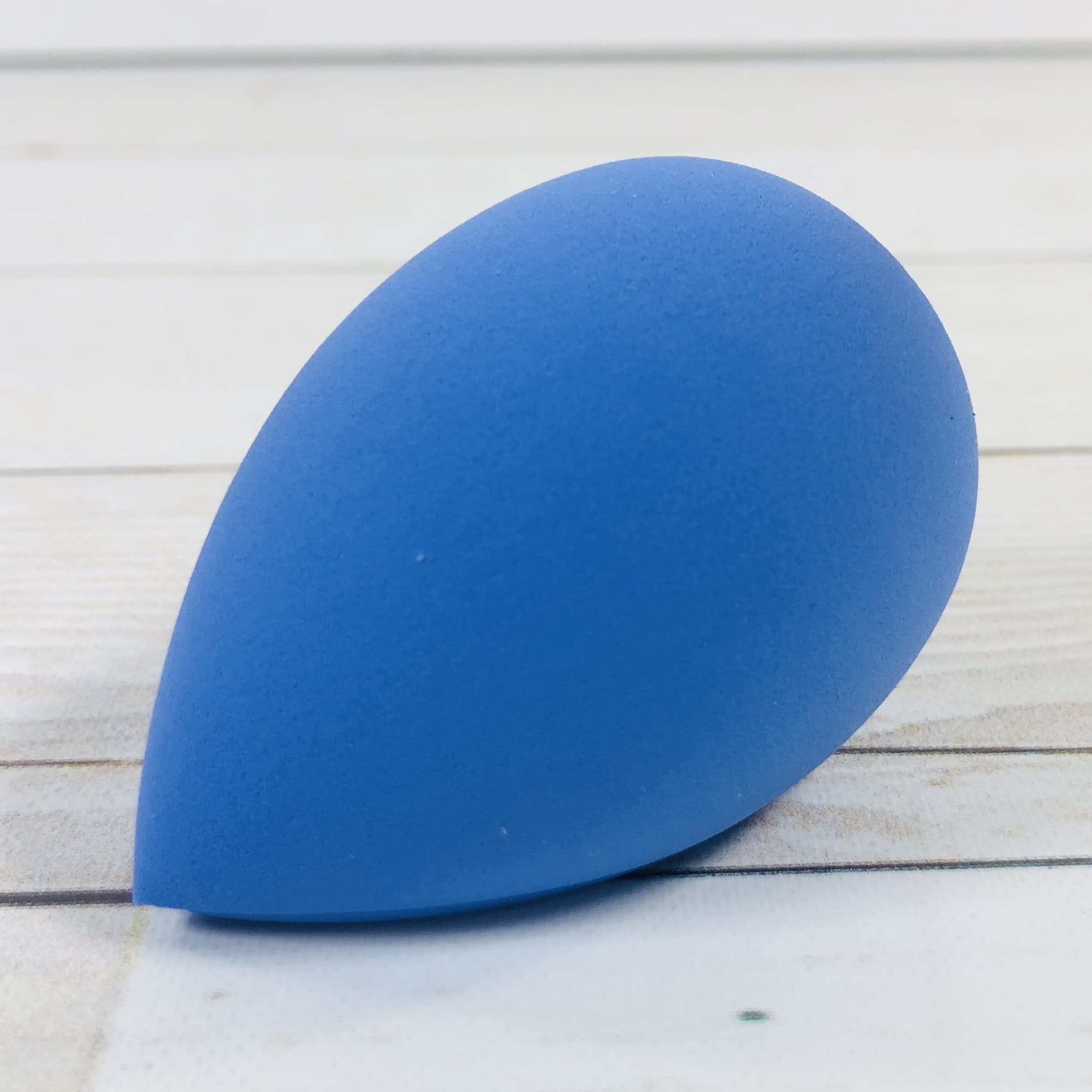 Here's the sponge side. Use it to apply liquid foundation or other creamy makeup items, like blush or highlighter.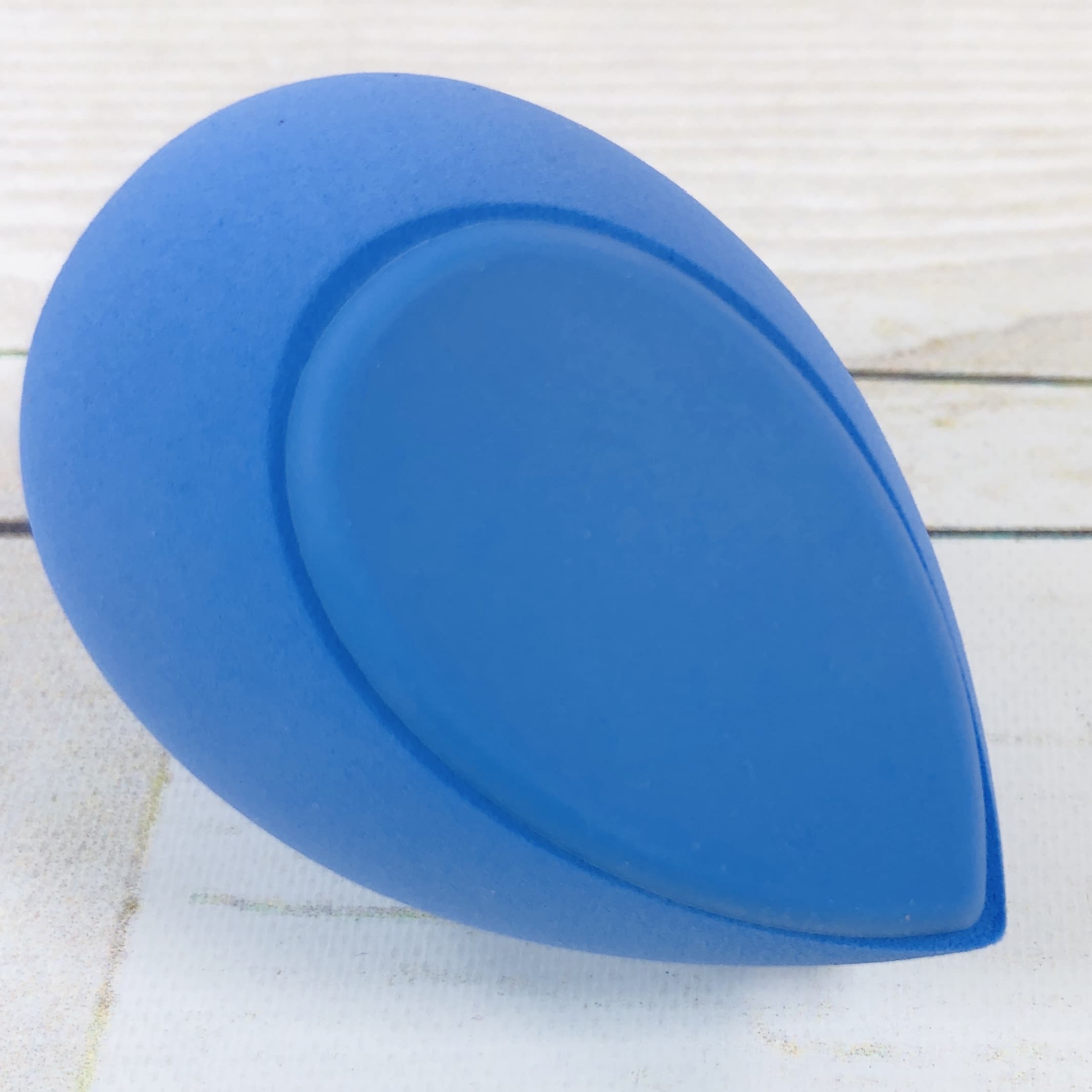 Use the smooth silicone side to blend product on the face. I think this would be a good way to blend out bronzer, and the product stays on skin and not on the applicator.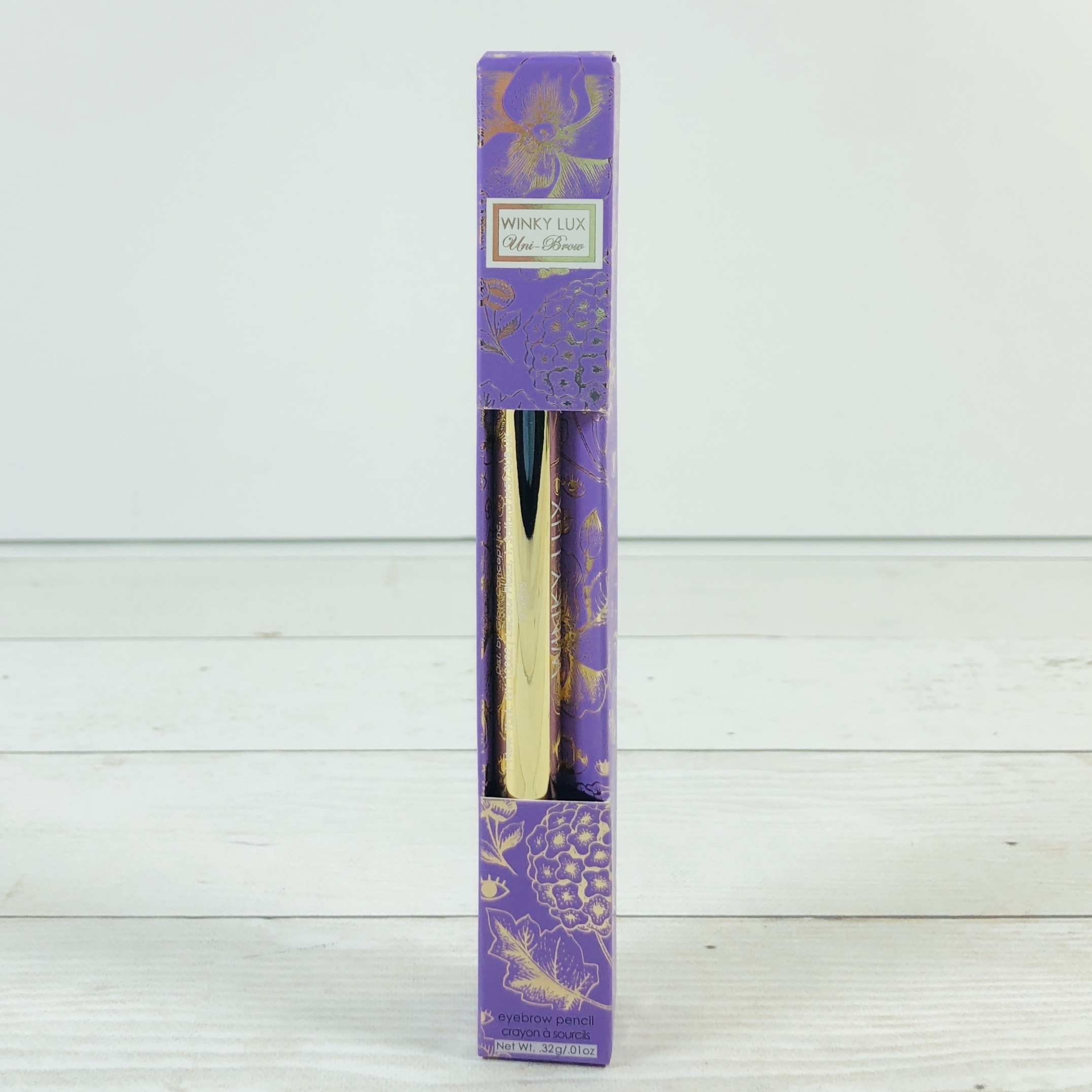 WINKY LUX Uni-Brow Universal Eyebrow Pencil ($16) The idea behind this product is that the shade should work for most brow colors.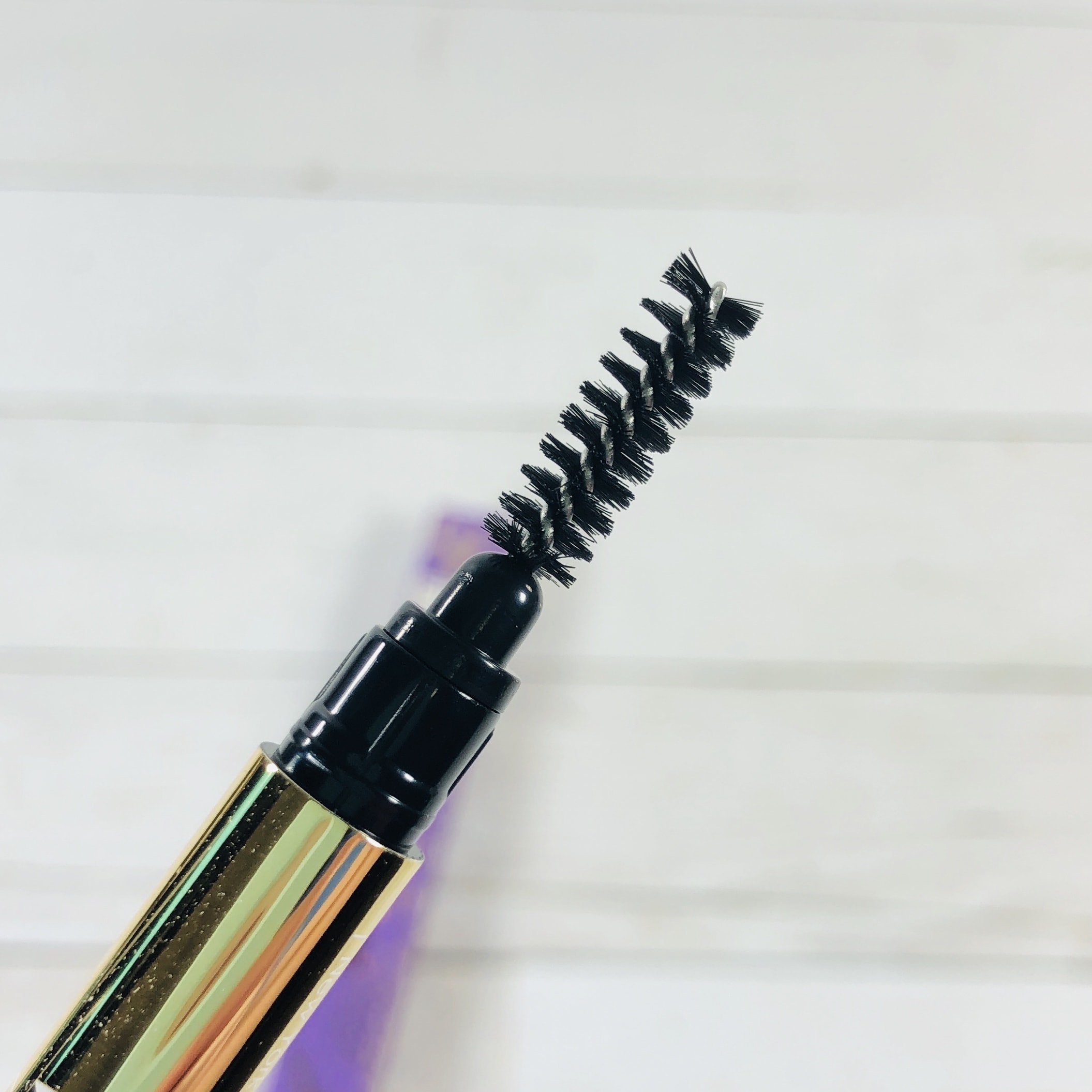 There is a spoolie brush on one end to help groom brows into shape before or after applying the pencil.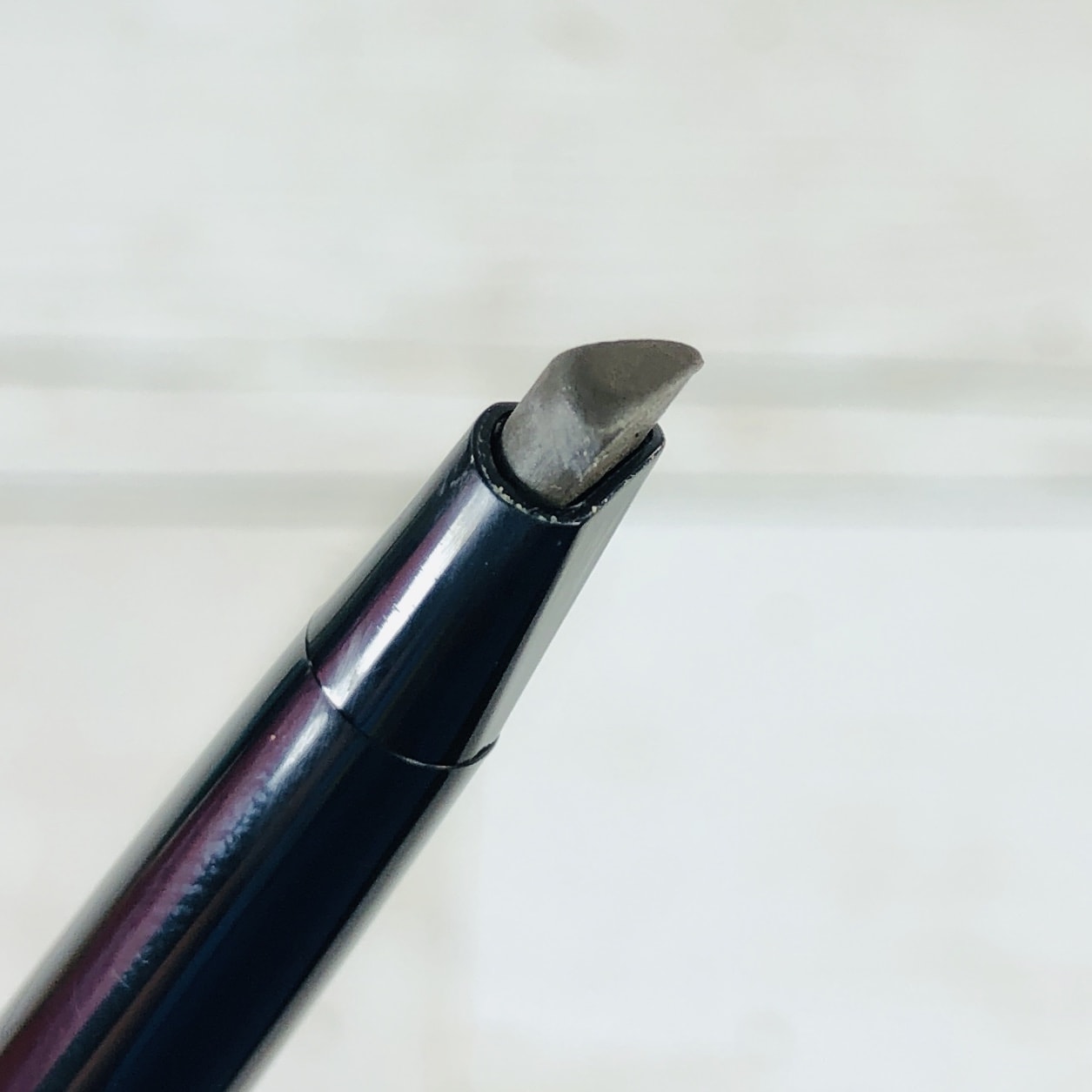 The triangle shape has a fine tip on top, wider on the bottom. You can fill in sparse spots with the smaller tip, or use the wider side to fill in larger parts of the brow.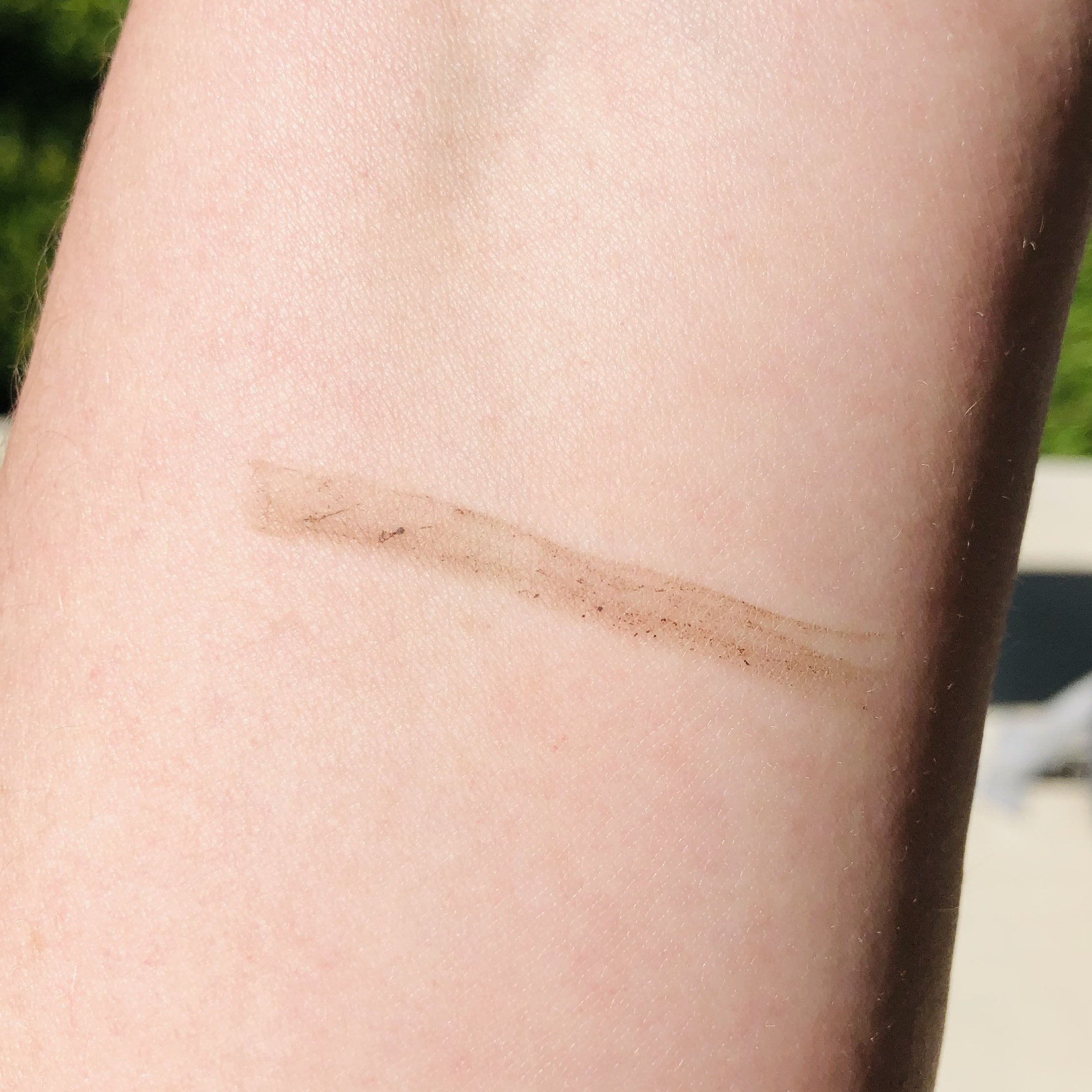 Here is a swatch. The shade worked well for my hair color and I thought it was easy to apply. It gave my brows a more defined look for when I do a full-face look.
CHOICE ITEMS

Subscribers will get to choose among the following:
I received The Lyfestyle Co. Beach Mist!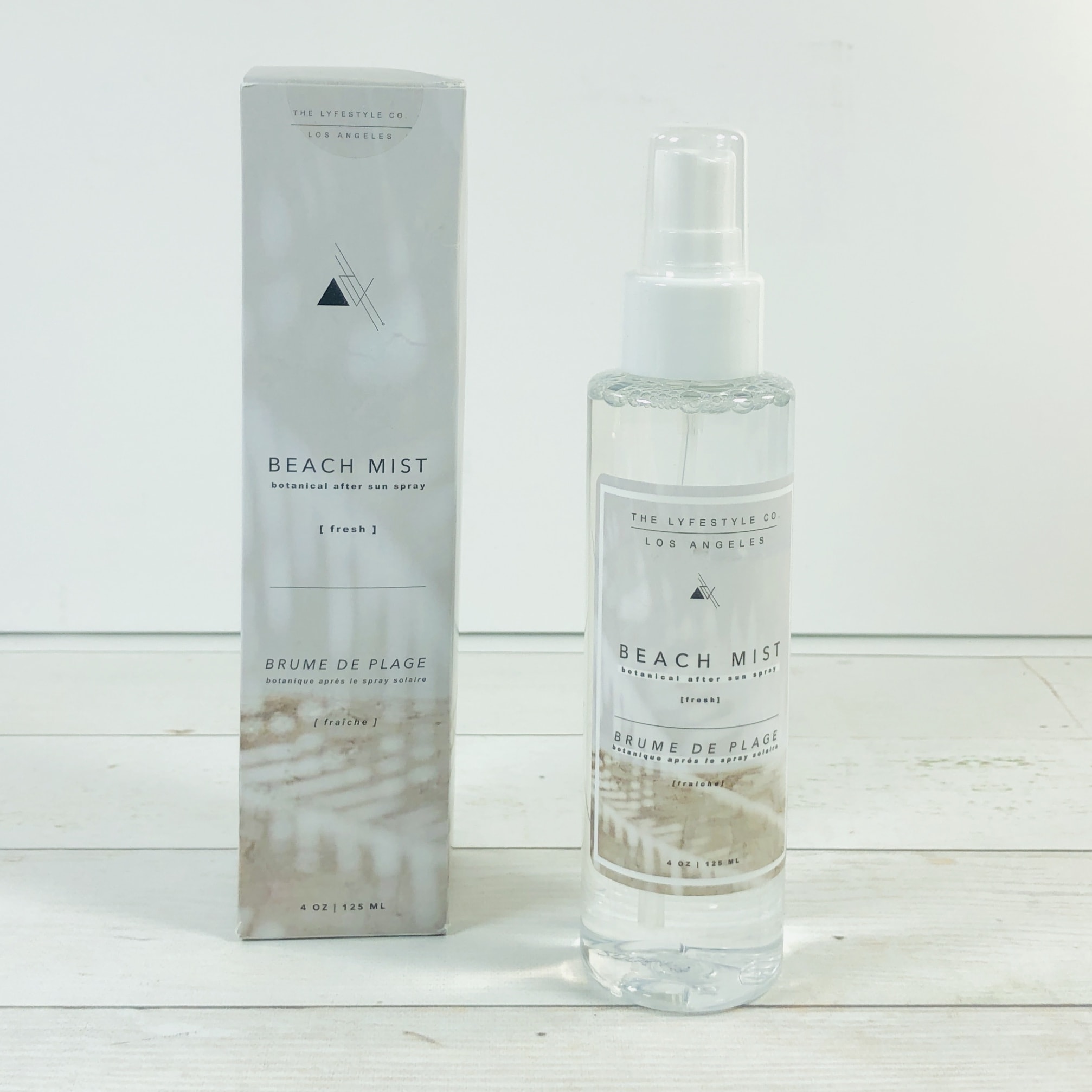 The Lyfestyle Co. Beach Mist ($42) With summer coming up I just know that I will get a bit too much sun at some point. A mist is a refreshing way to help revitalize tired, dried out skin.
This mist can be spritzed onto the face or body and is made with Dead Sea salt, panthenol, aloe, cucumber, and chamomile. It also has mint and lavender oils. The scent is very light and the spray was non-sticky on my skin.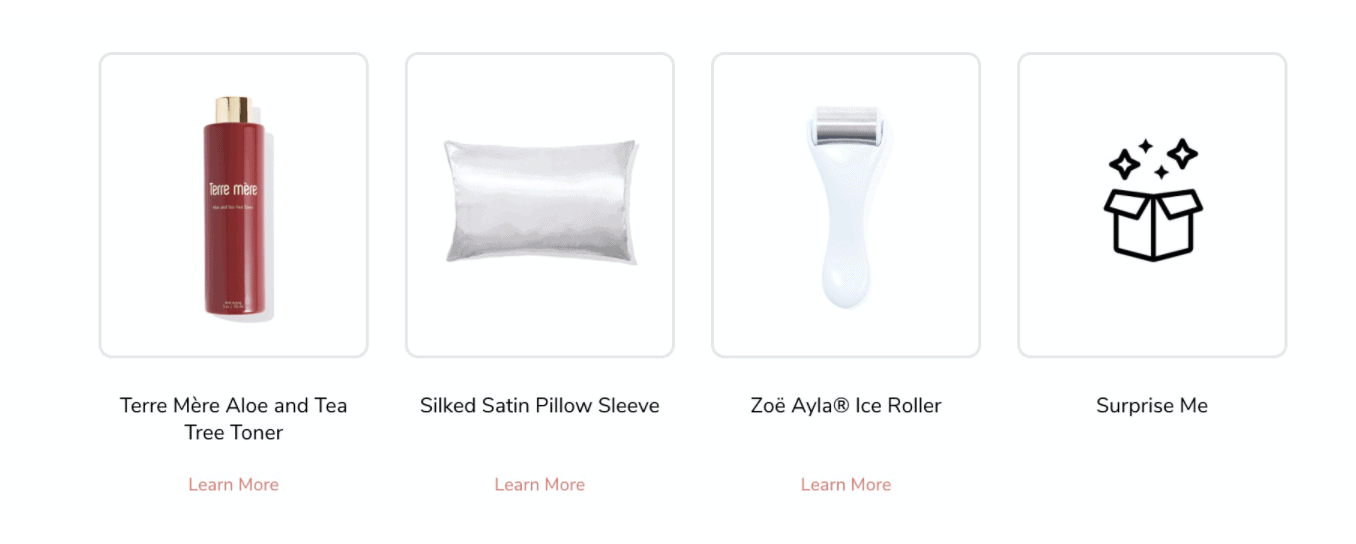 Subscribers will get to choose among the following:
I received the Silked Satin Pillow Sleeve!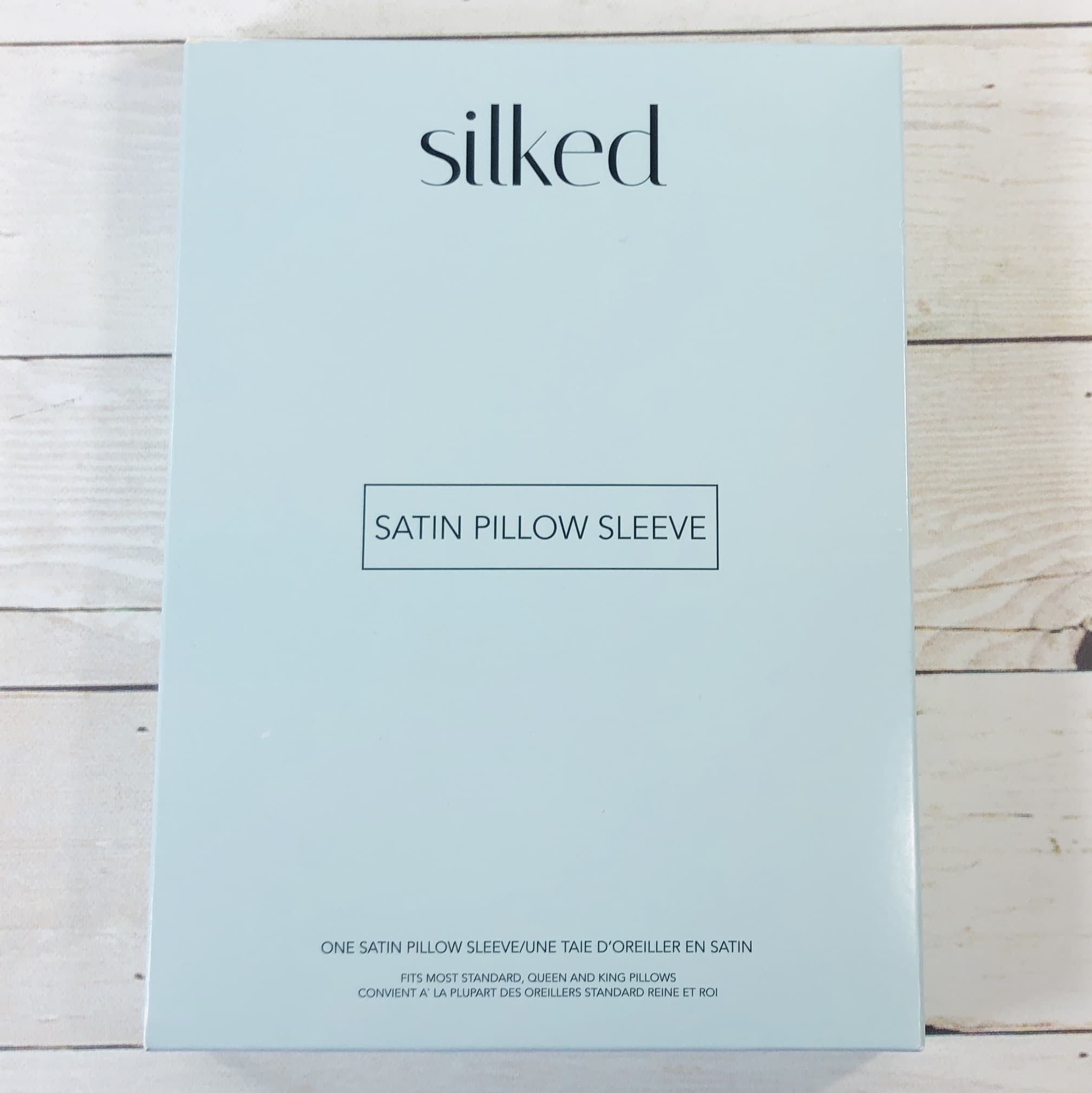 Silked Satin Pillow Sleeve ($29.50) I really adore a satiny pillow cover! They feel cool on a hot night and they are supposed to keep hair from getting frizzy.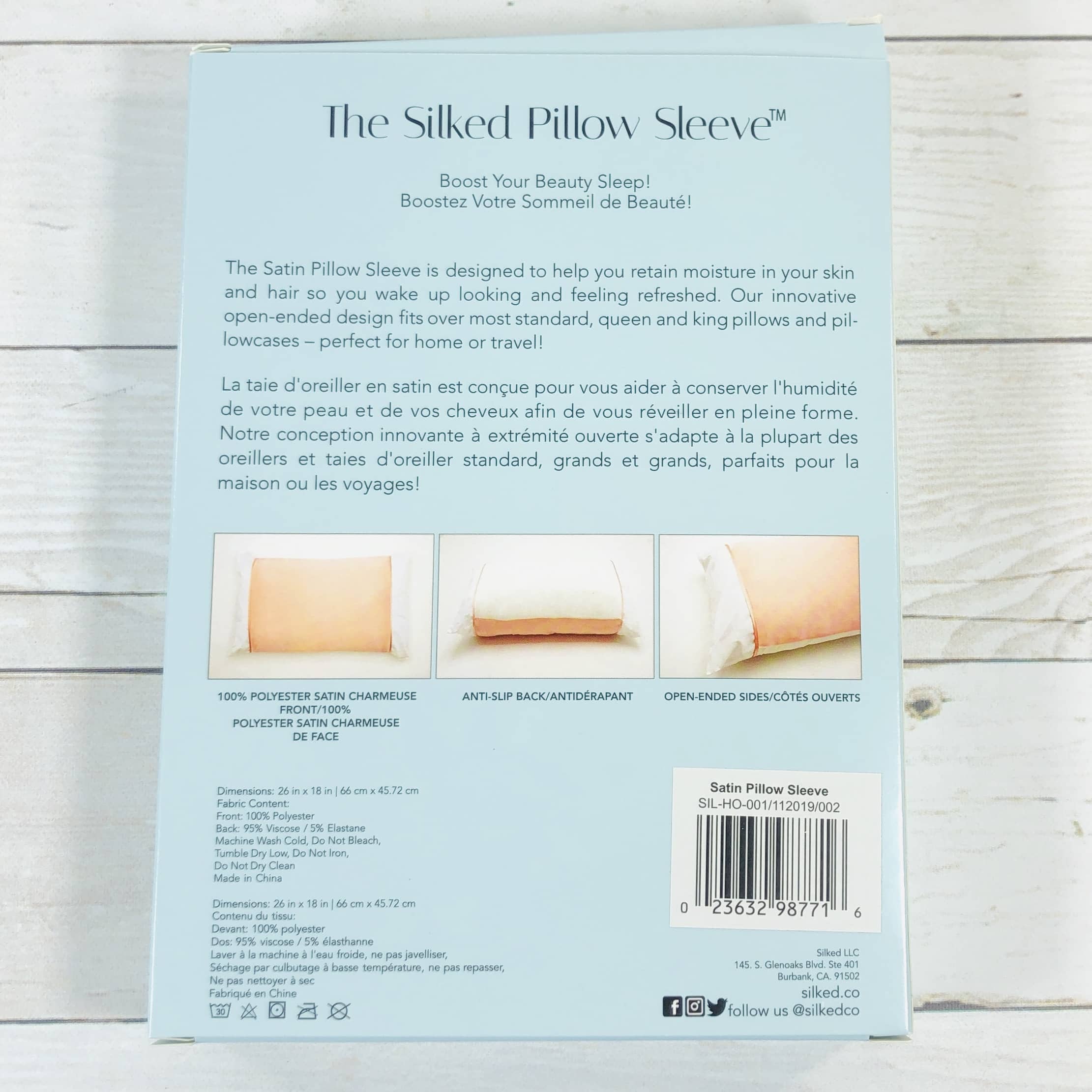 The pillow sleeve is made of 100% polyester satin charmeuse in the front and has an anti-slip back. The back is made of viscose and elastane and also feels silky smooth.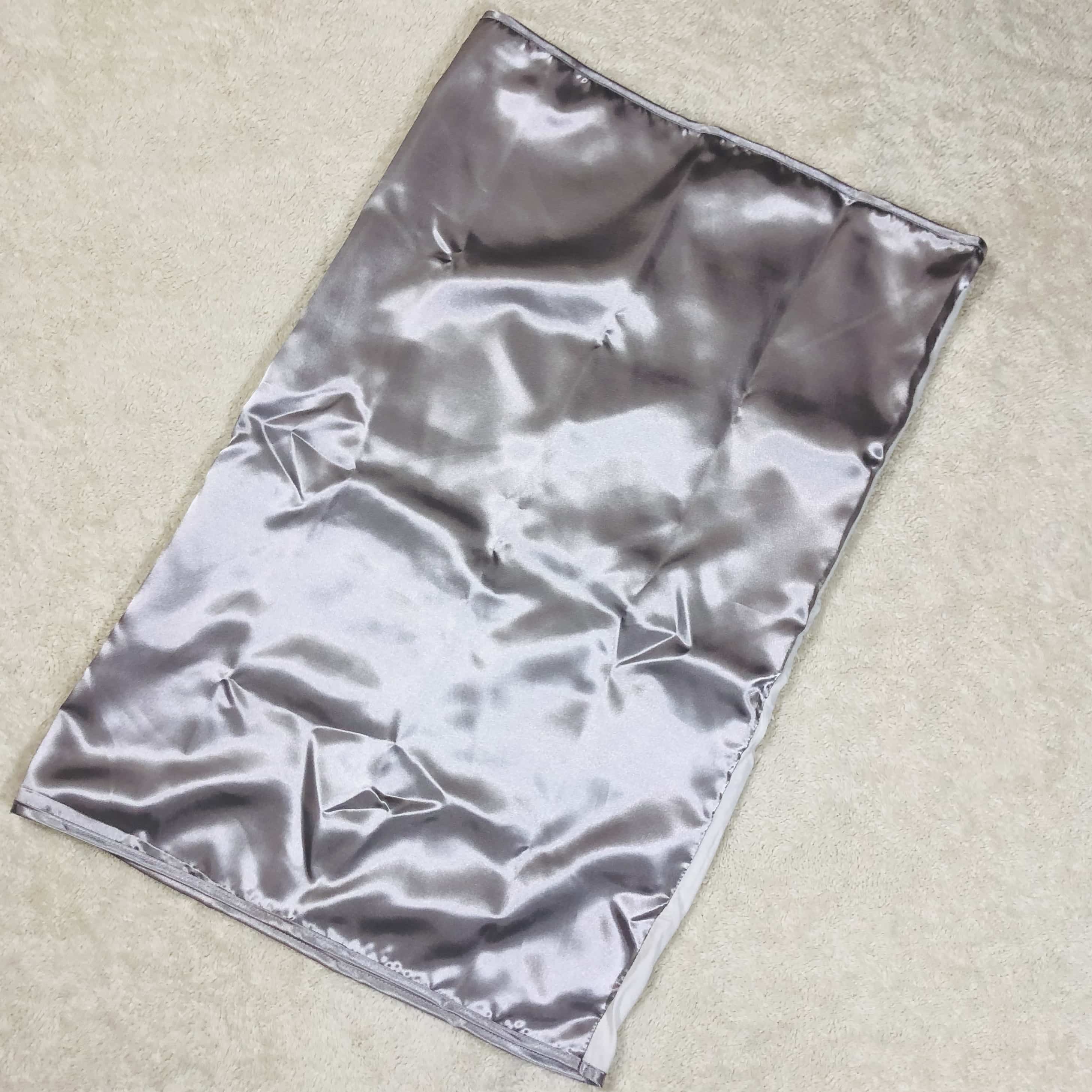 The pillow sleeve is 26″ x 18″ and fits most standard, queen, or king size pillows. It is a sleeve, so it is open on both ends, and not closed on one end like a traditional pillowcase.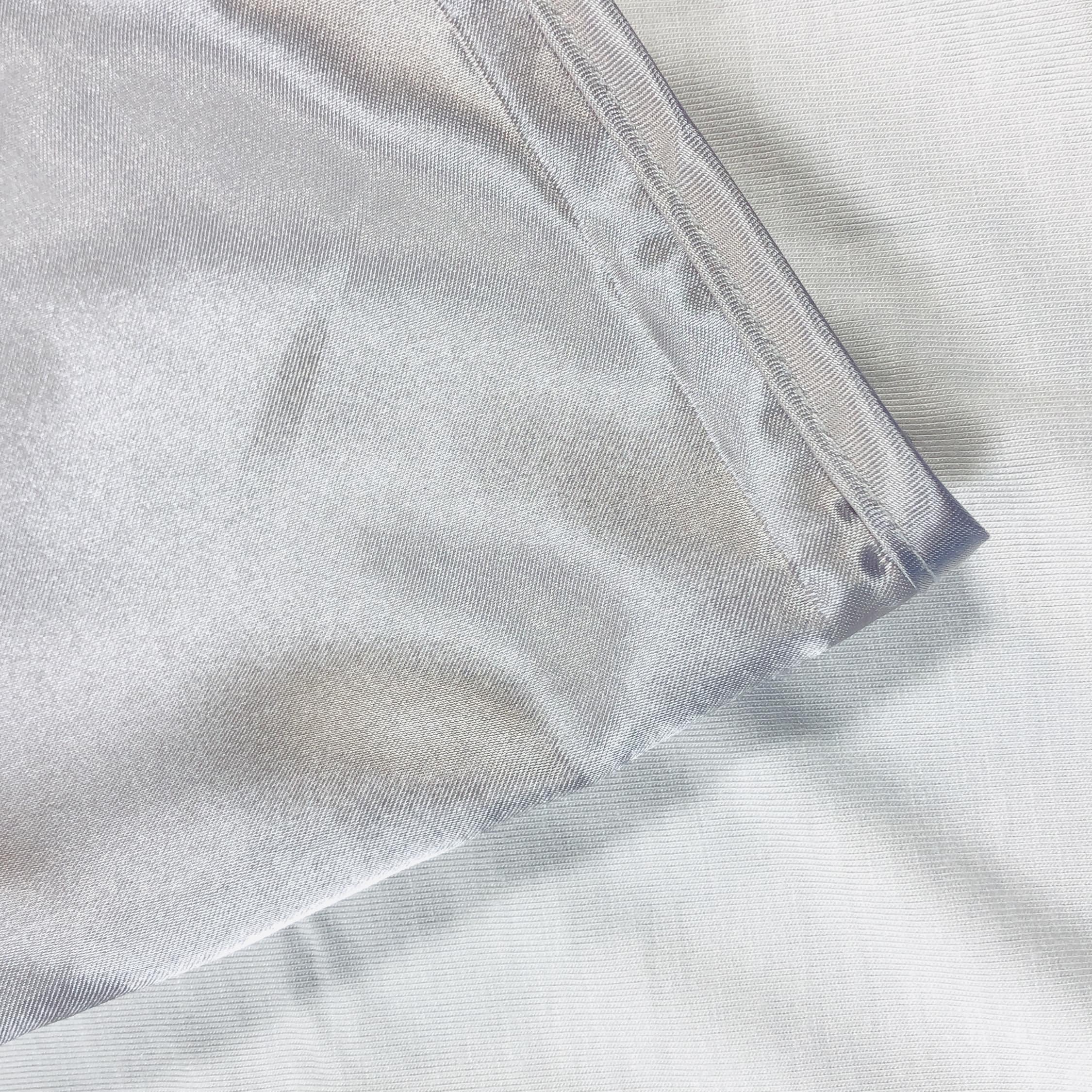 Here's a peek at both the front and back.
Subscribers will get to choose among the following: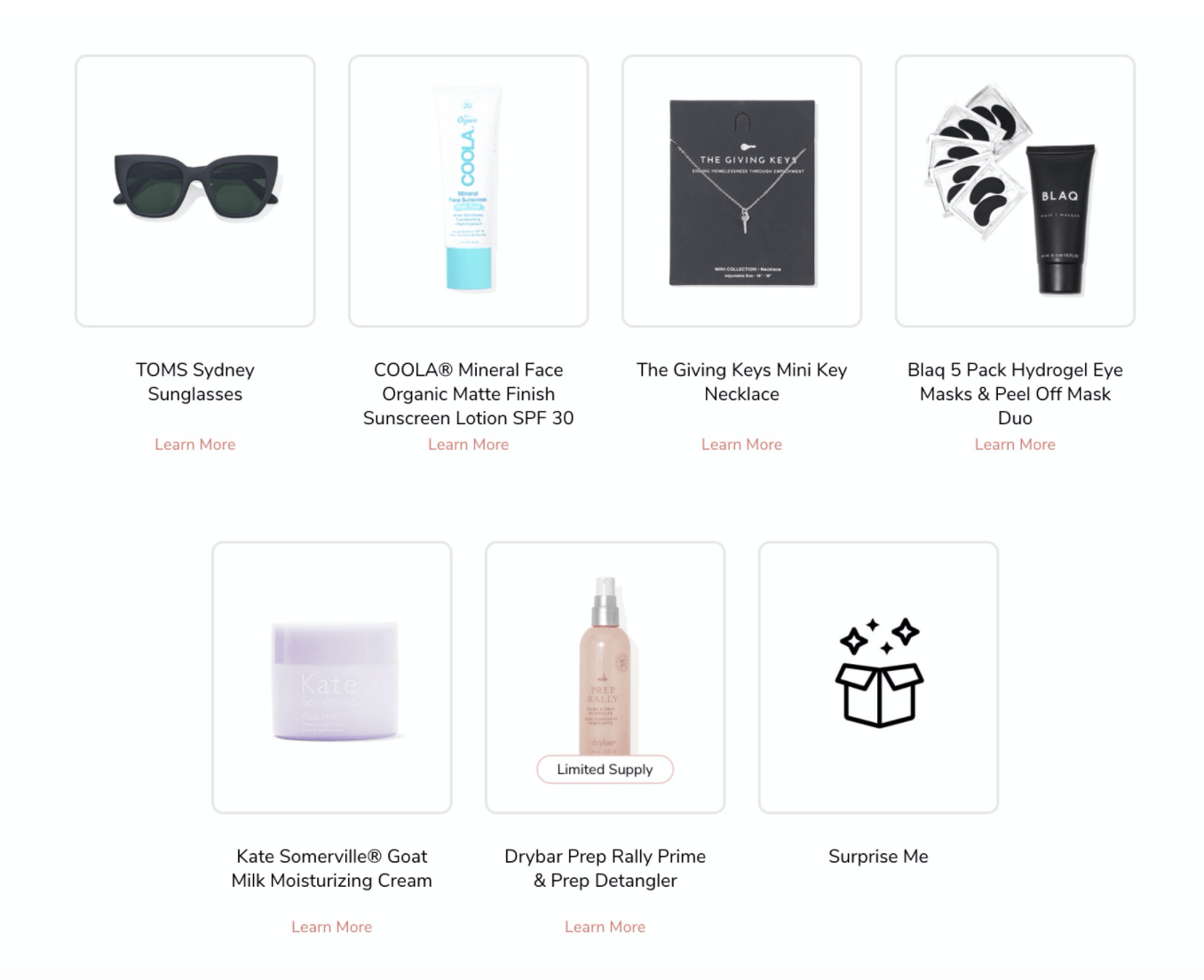 I received The Giving Keys Mini Key Necklace!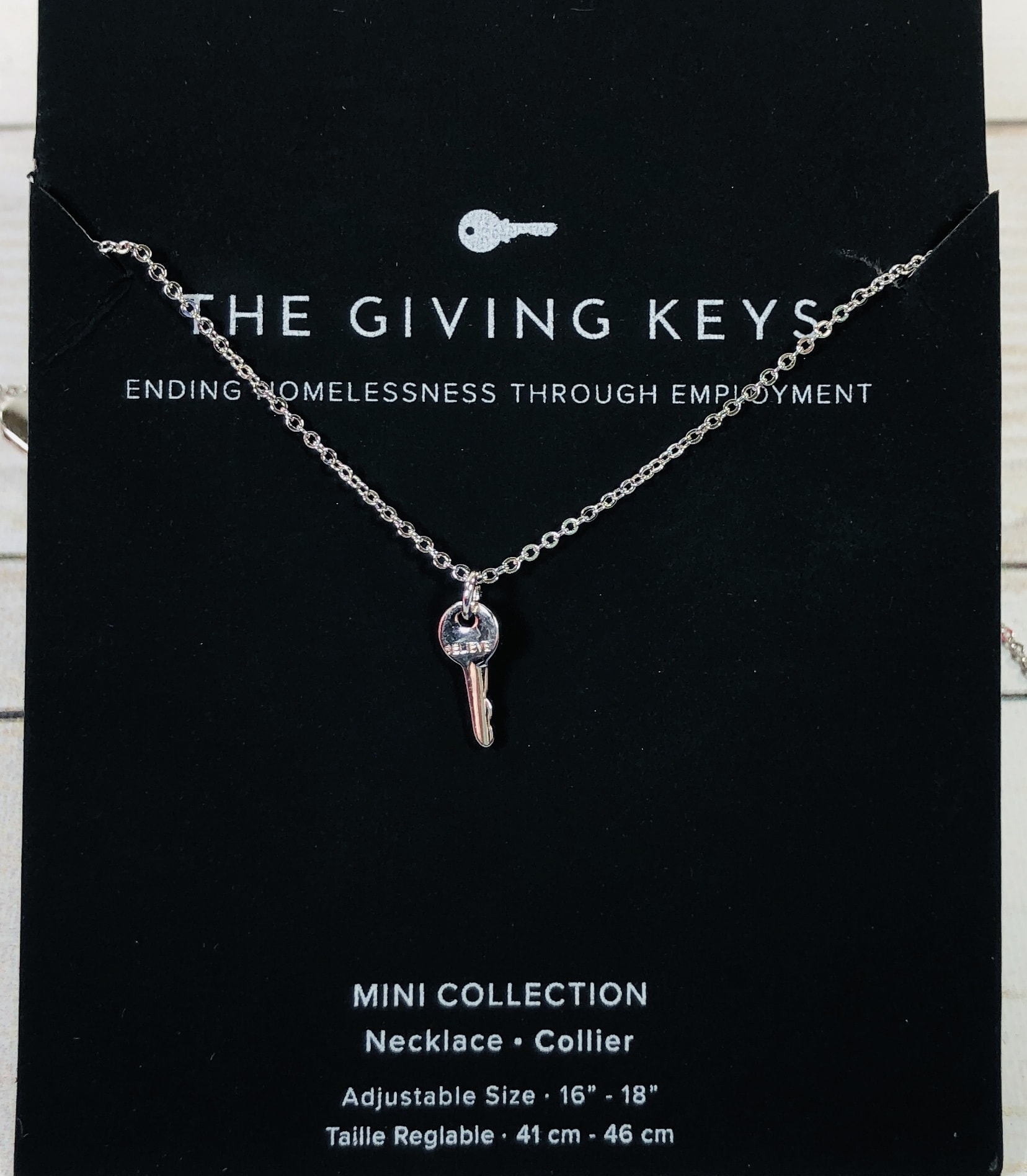 The Giving Keys Mini Key Necklace ($45) is a brand that gives back by providing jobs to workers in downtown Los Angeles who are transitioning out of homelessness.
It has a cute little dangly key and I can't believe they managed to get the word "believe" on there! The chain is odd though – it is supposed to be a 16″ chain and adjust up to 18″. My chain is 13″ at the first circle, and the attached extender adds another 4 inches, so 17″ total.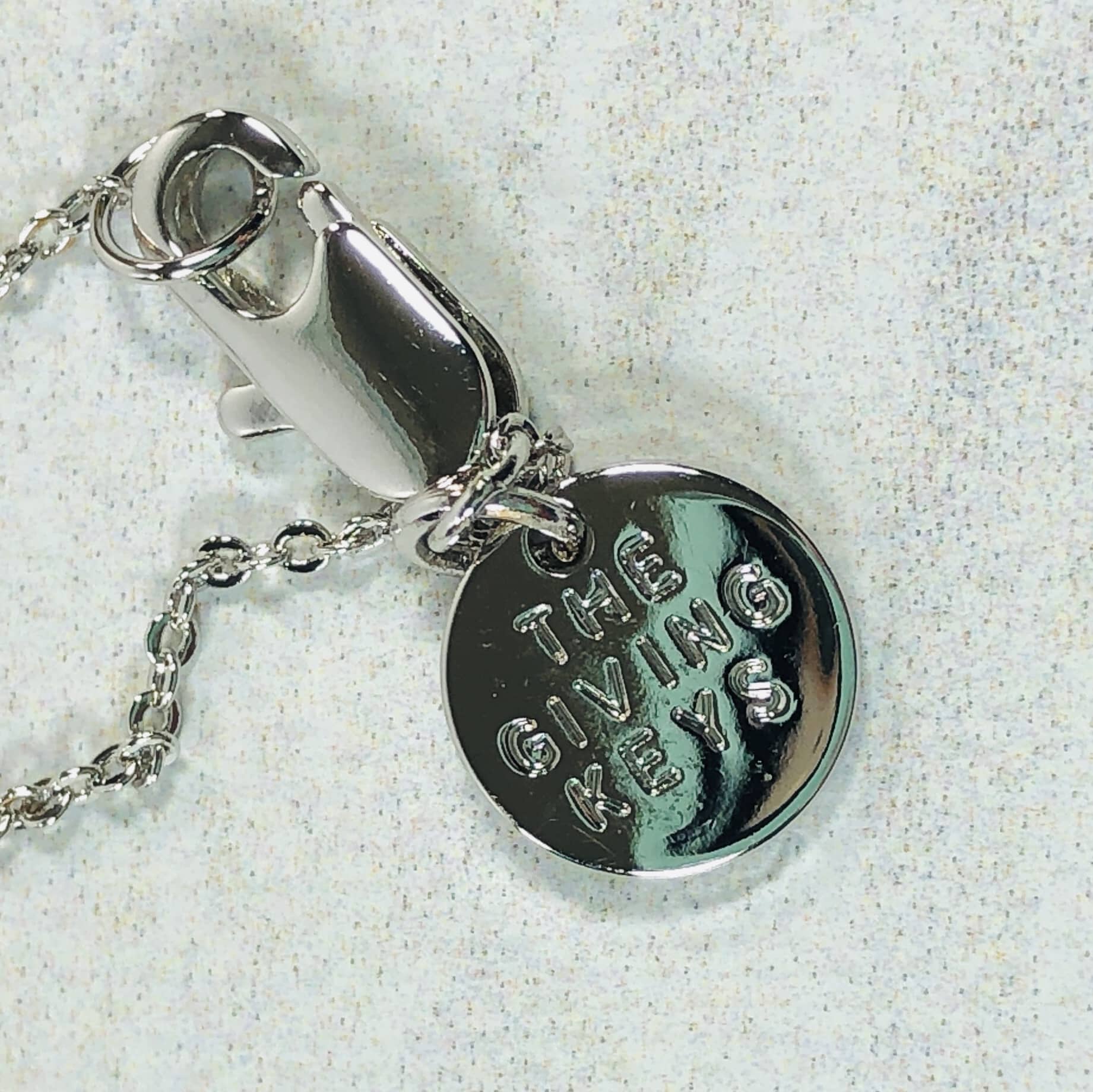 It has a lobster clasp and the logo tag is also adorable.
ITEMS WITH VARIATIONS (Annual Subscribers Choose Variations – Seasonal Subscribers No Choice, Random Item)
Annual Subscribers will get to choose among these items: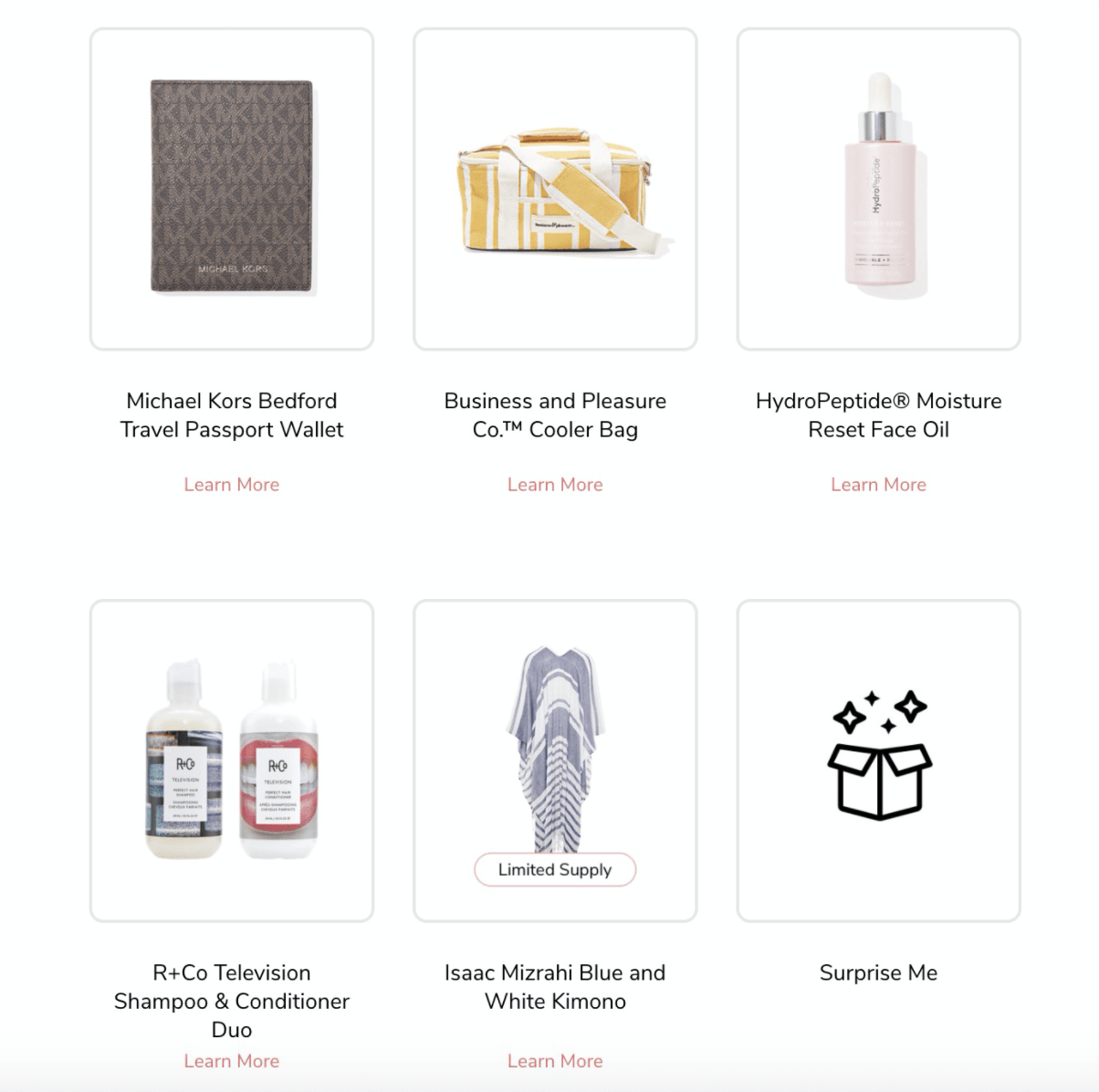 I received the Business & Pleasure Cooler Bag – Yellow Stripe!
Business & Pleasure Cooler Bag – Yellow Stripe ($59) I love the bright sunny color of this cooler bag! I had a similar bag when my kids were young so this brought back happy memories of trips to the splash pad.
The inside is lined with PVC to help keep things cool on a short trip. There is space for a few sandwiches and drinks, maybe some snacks too. It's probably a little too big for a work lunch but not big enough for a family of four for an entire day. Somewhere in between the two. Make sure your items are cold before placing inside and use some gel ice packs rather than ice cubes to keep it from getting messy.
The straps and handles are of cotton canvas and there is a small pocket on the front.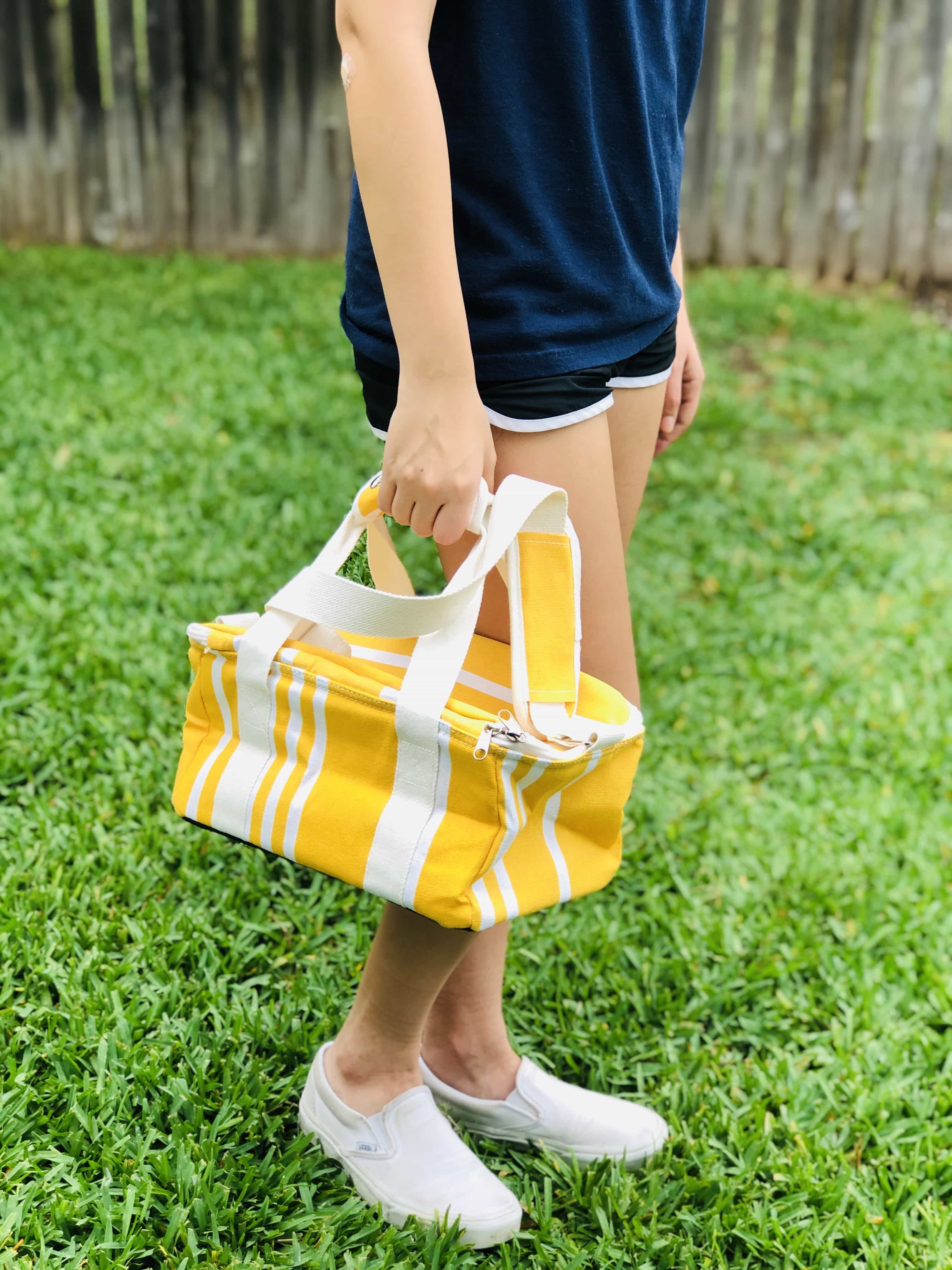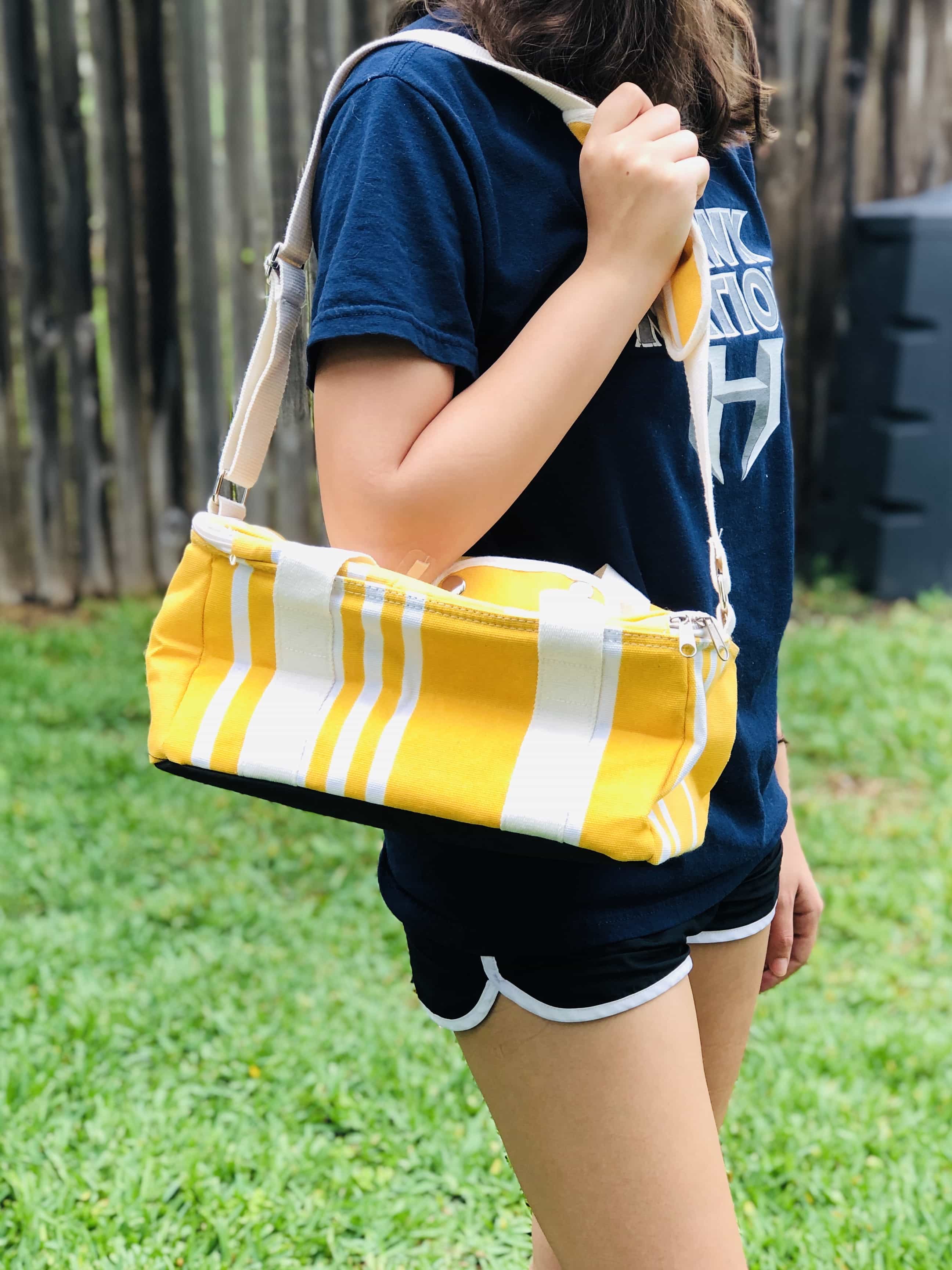 Annual Subscribers will get to choose among these items: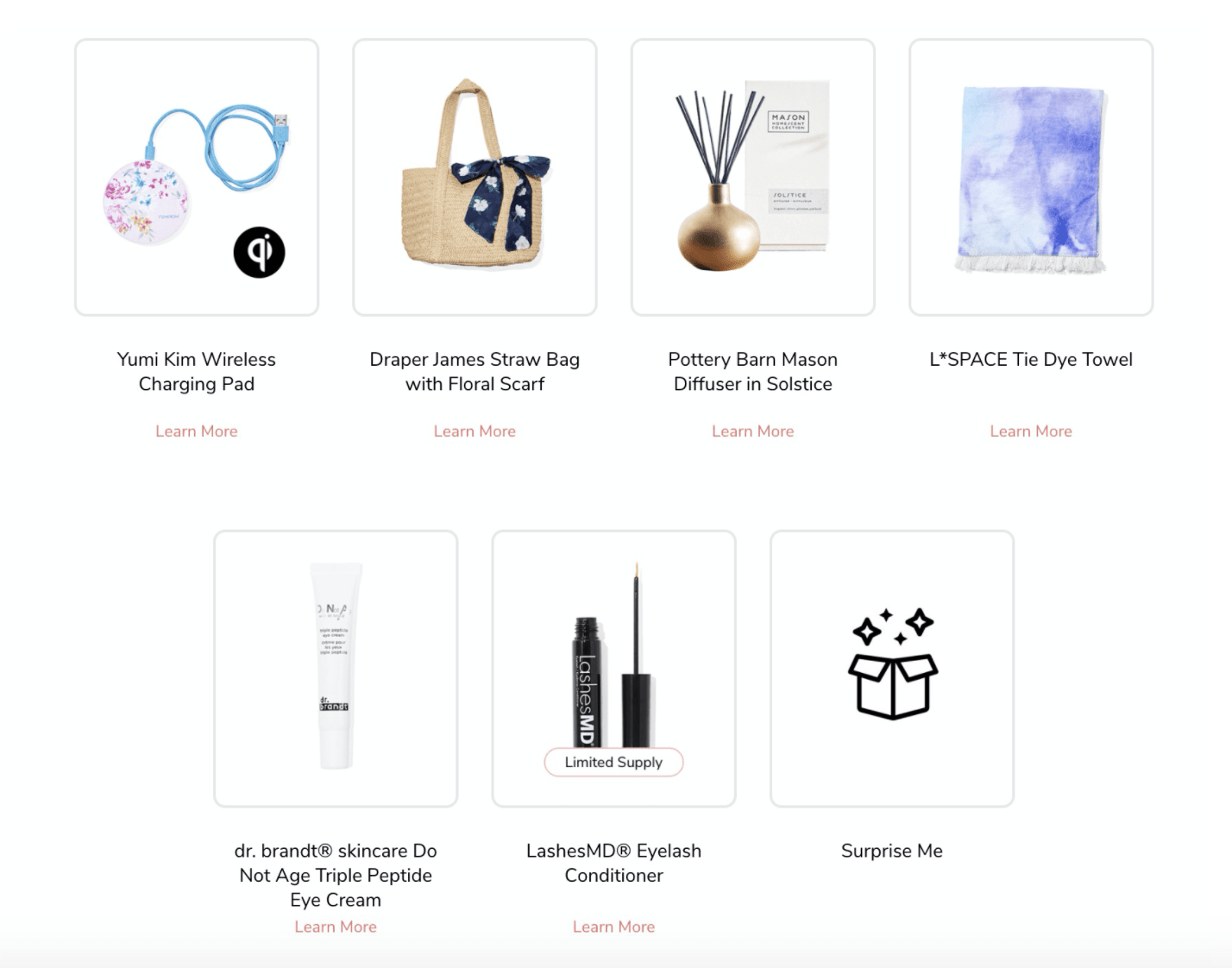 I received the L*Space Tie Dye Towel!
L*Space Tie Dye Towel ($58) I love a good tie dye pattern and this towel is in such a lovely color scheme.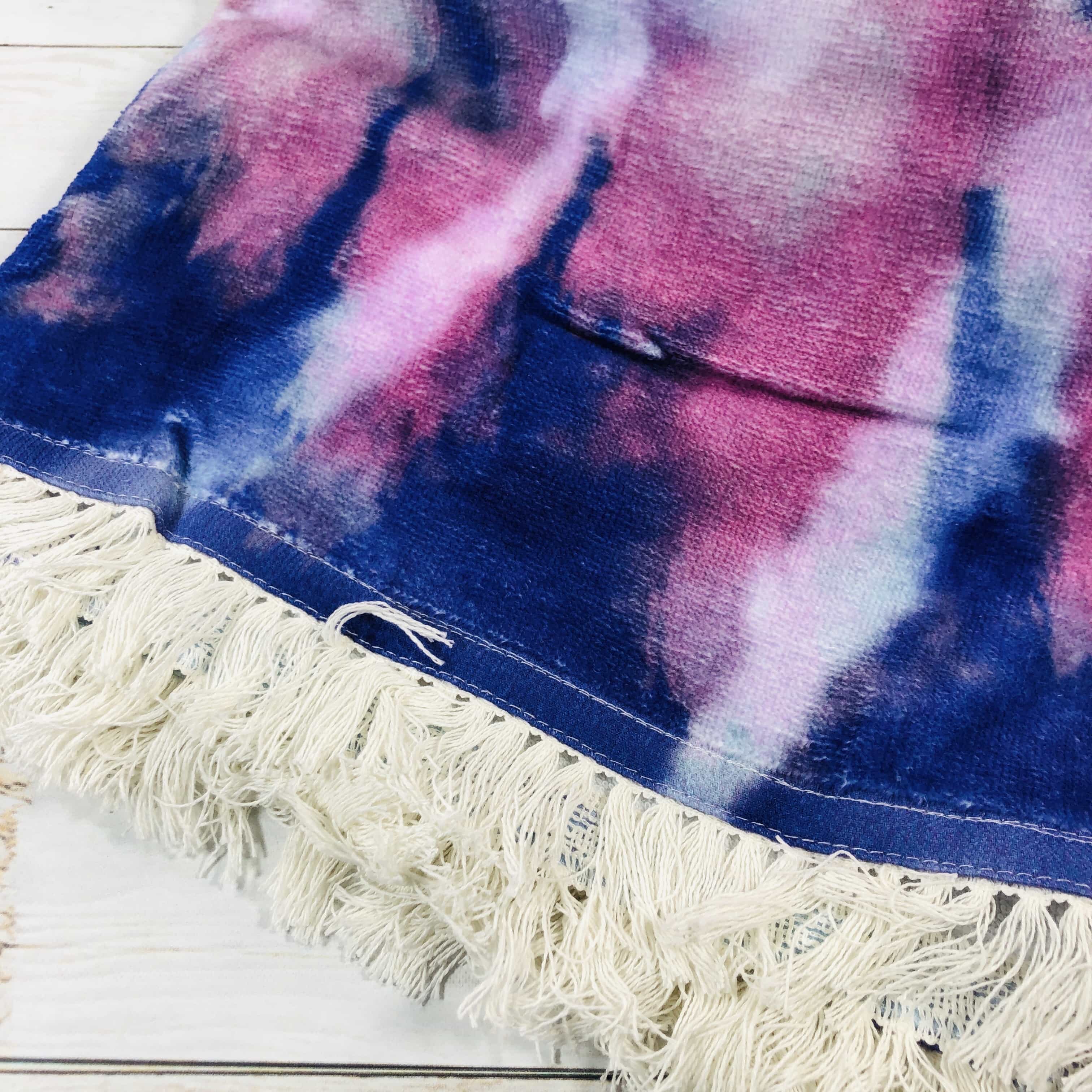 Purple, pink, and blue – it's got all of my favorite colors on one towel! The towel is made of 100% cotton terry cloth and there is fringe on both of the short edges. The towel measures 70″ x 30″ before washing.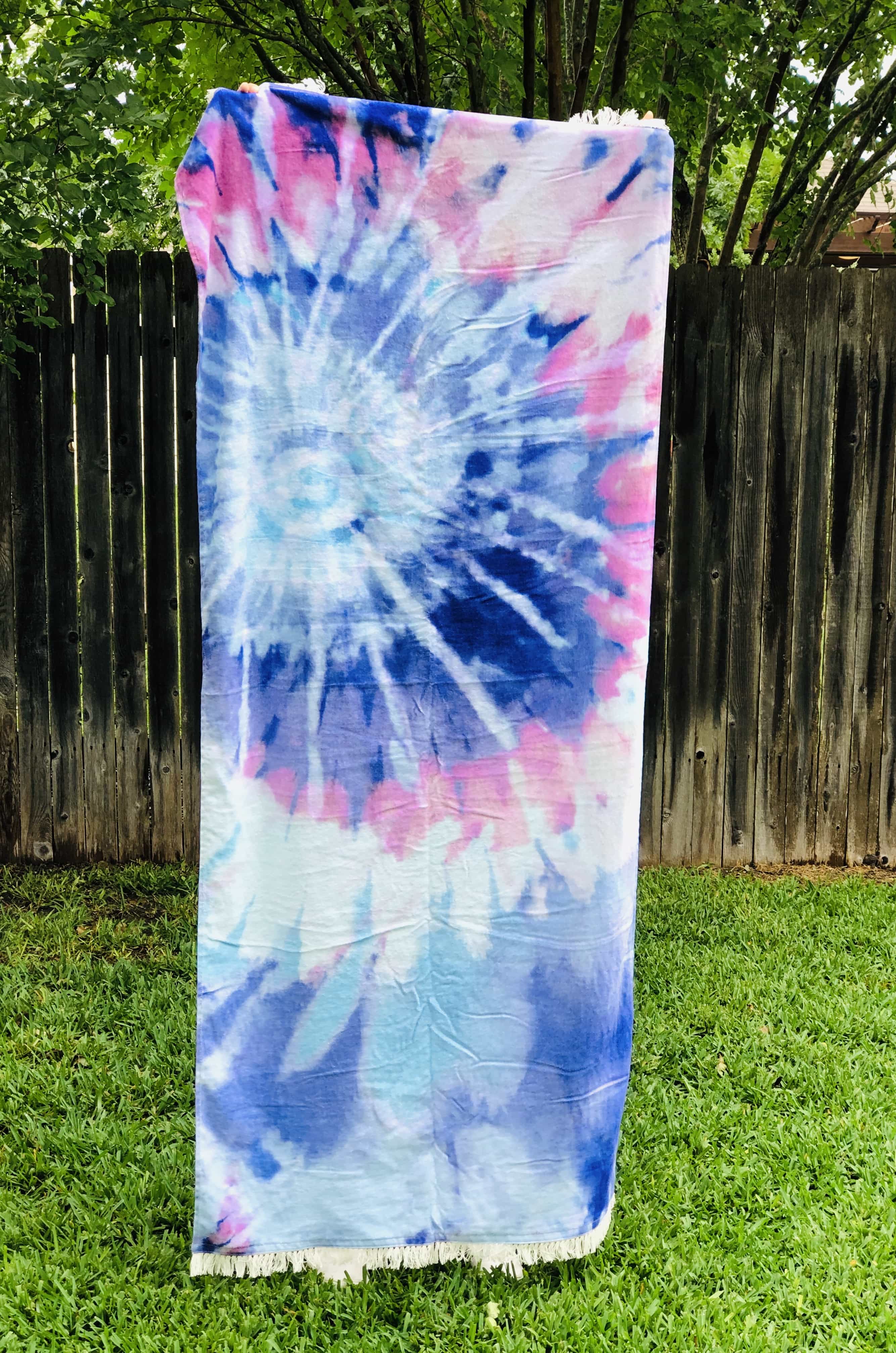 See how long it is? My daughter is holding her hands above her head and it is way taller than she is.
I really enjoyed my very first Fab Fit Fun Box! The items were both cute and helpful. The skincare items smelled good and worked really well. I am super excited about my new cooler bag and tie-dye towel, they both scream "summer" to me. I am happy that the necklace provides jobs for workers, and the brow pencil and makeup sponge are practical additions to my makeup collection. The value for my box was about $287.50!
What do you think of the FabFitFun Summer Box?
Visit FabFitFun VIP Box to subscribe or find out more!
Here's a closer look at the rest of the magazine!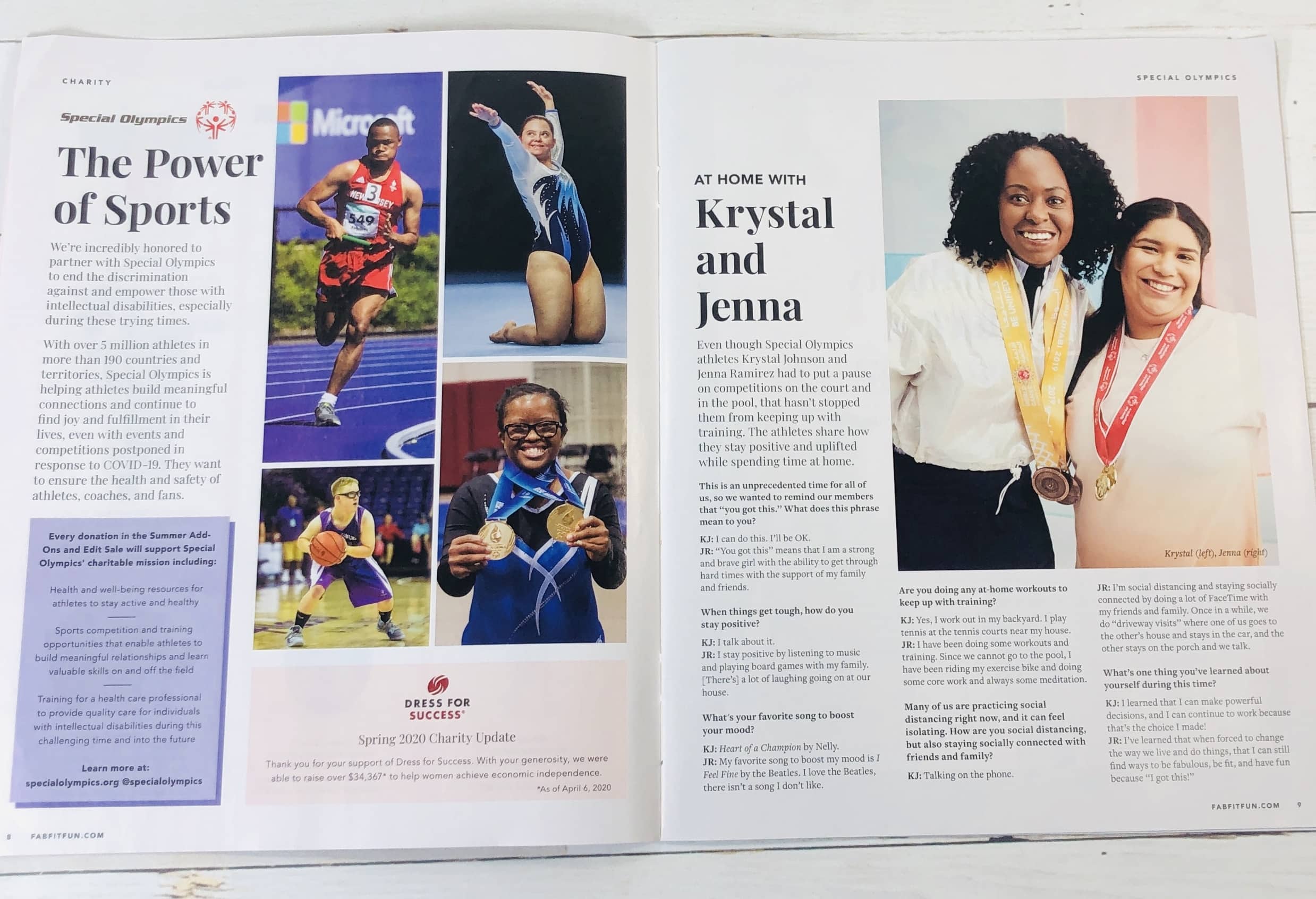 I am so excited that FFF teamed up with Special Olympics to make a donation to this organization that is close to my heart. I have several students who participate in Special Olympics, my daughter's school was recognized by ESPN as one of the top five in the nation for inclusion, and my daughter is a Unified Champions ambassador at her school!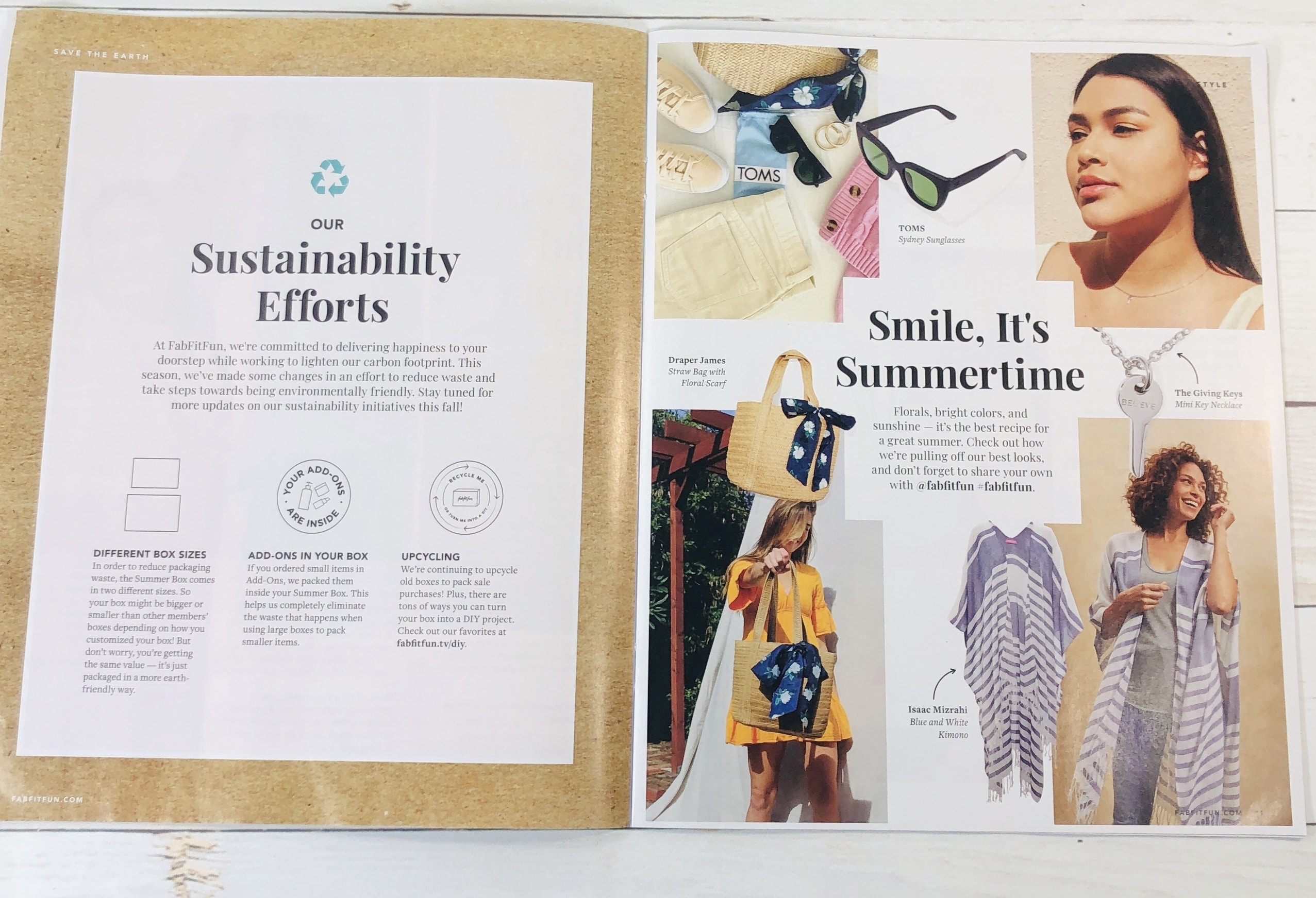 Some info on the new box sizes tells me that one size does not fit all and FFF now sends an appropriate box size depending on your item combinations.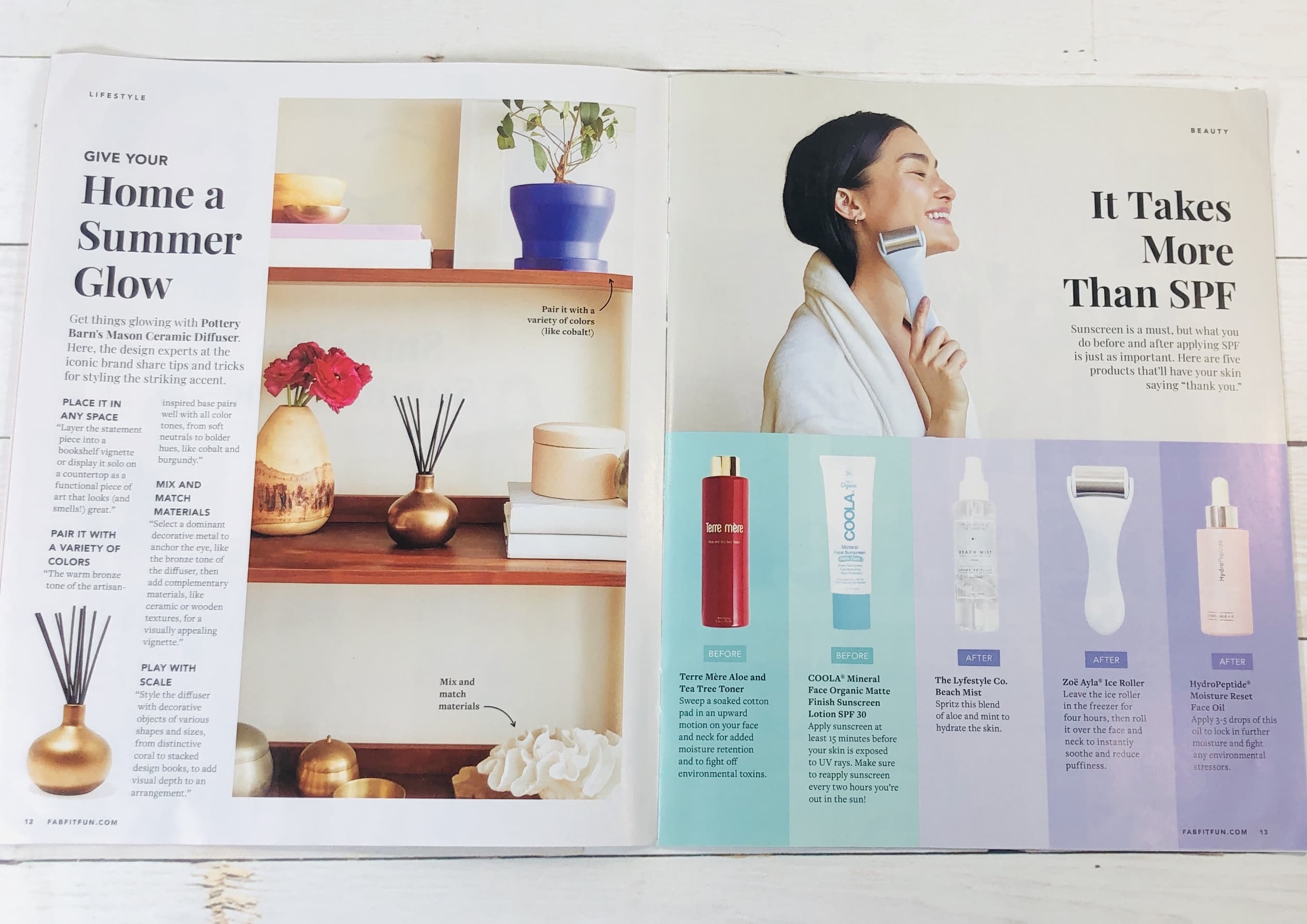 This spread shows me how to use some of the items that subscribers may receive.
The Community section highlighted what members are doing during the current quarantine.
Gabby Douglas told us what she is doing during the pandemic.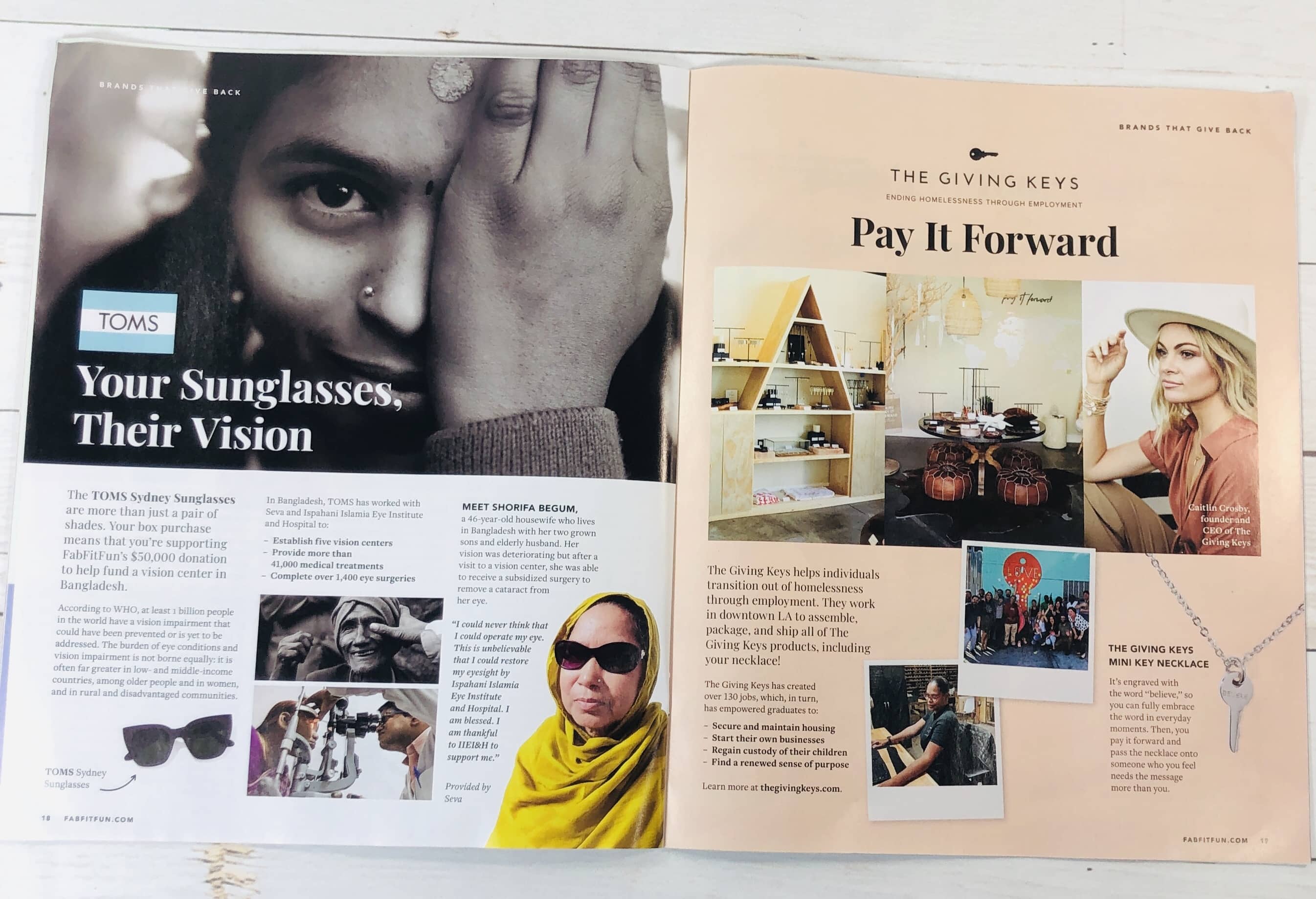 Two of the featured brands give back via charitable contributions.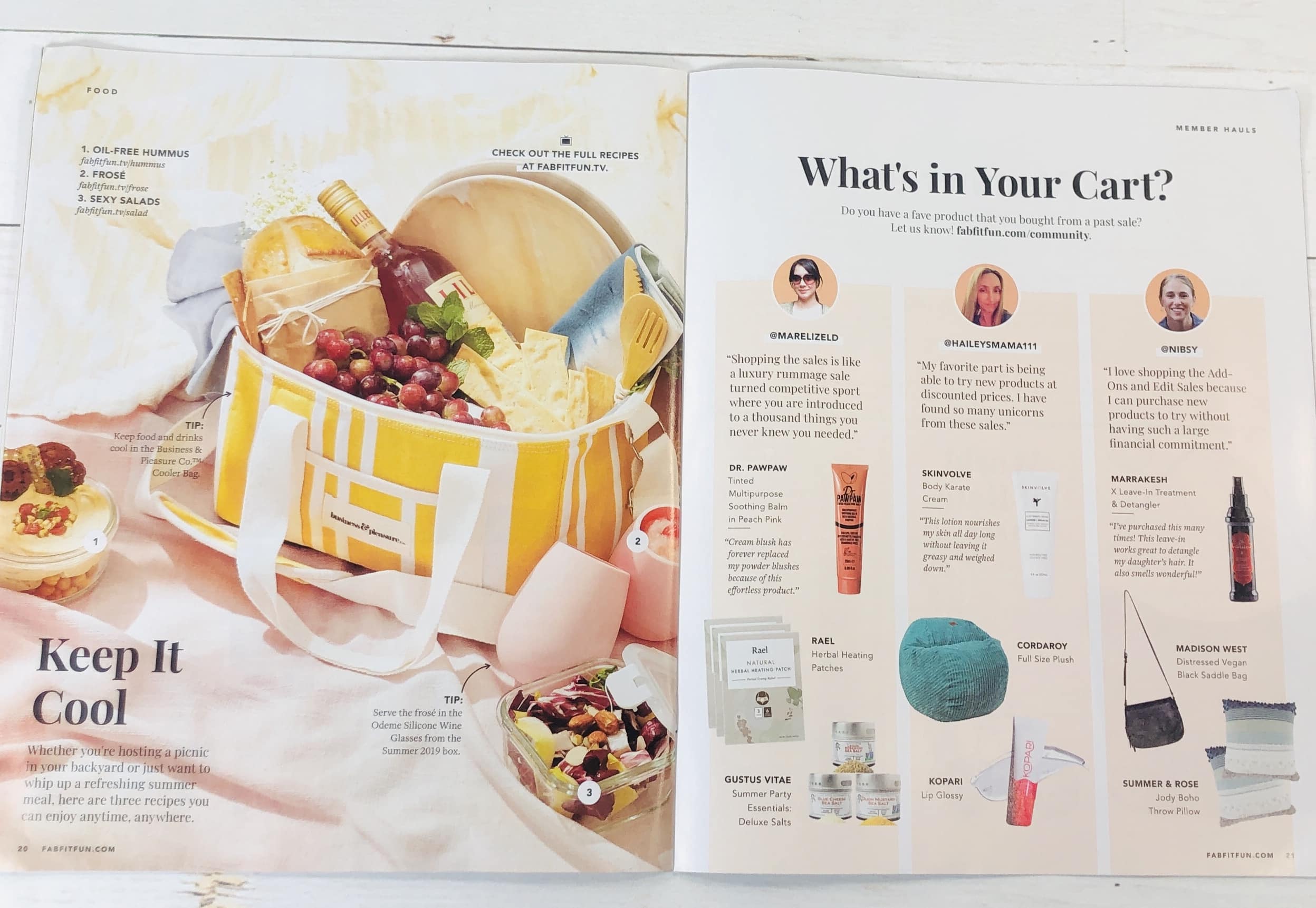 There's my new cooler bag. I might just pack it up and have a picnic in my neighborhood.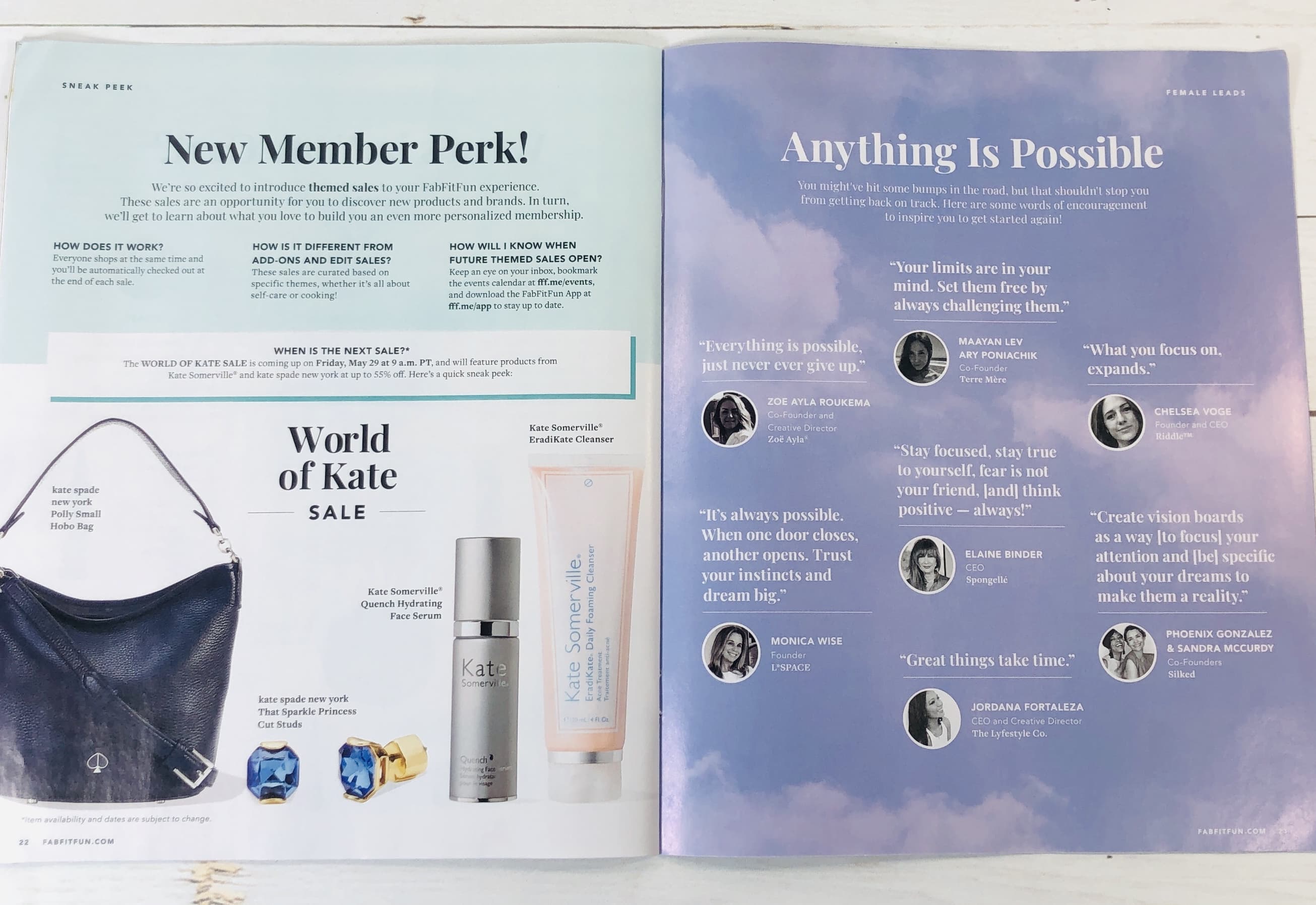 Members can stock up during the World of Kate sale on May 29th.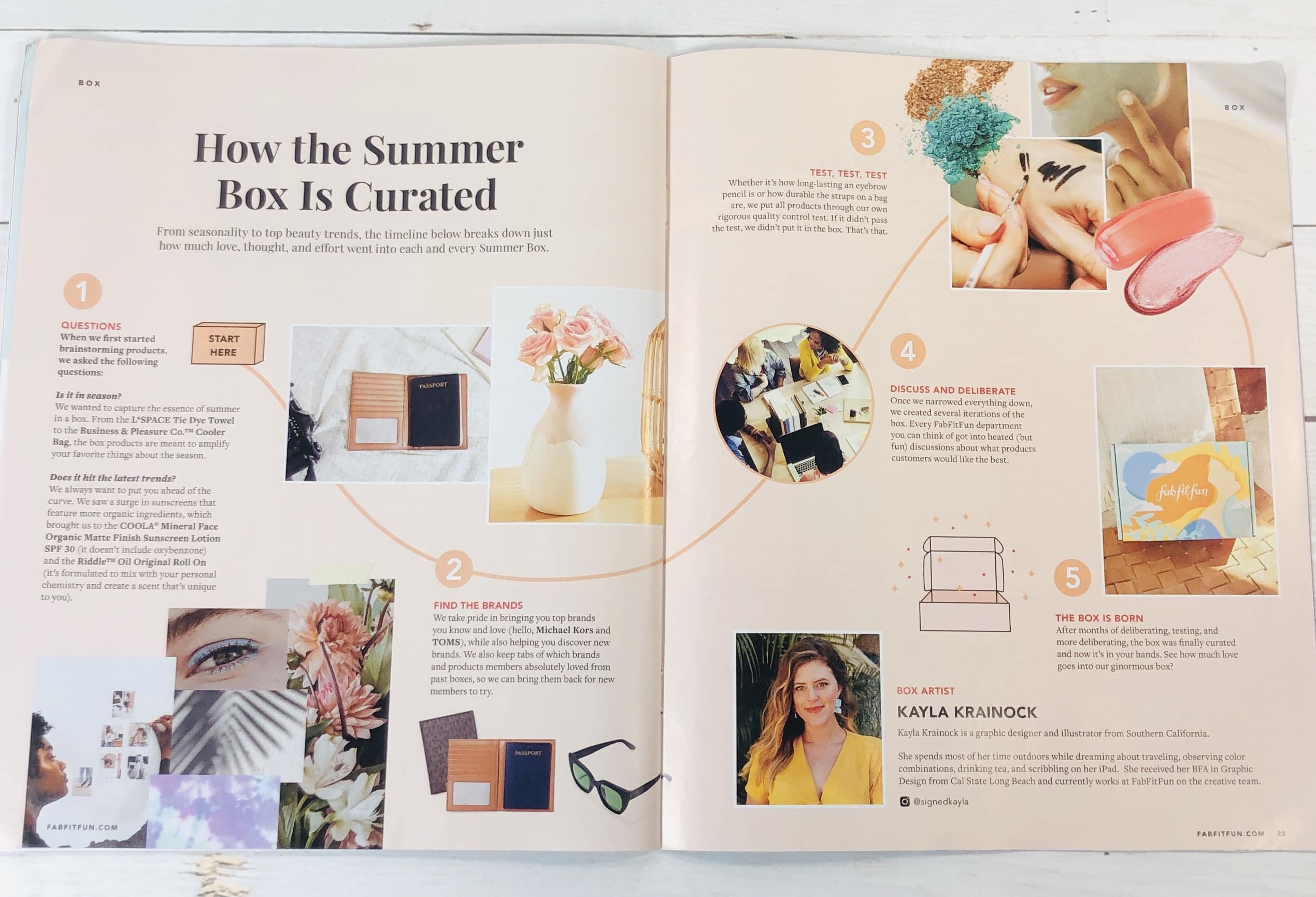 Ever wonder how a box gets curated? Here ya go!
The page on the left has a quote based on your star sign. The page on the right tells me there is a FFF app!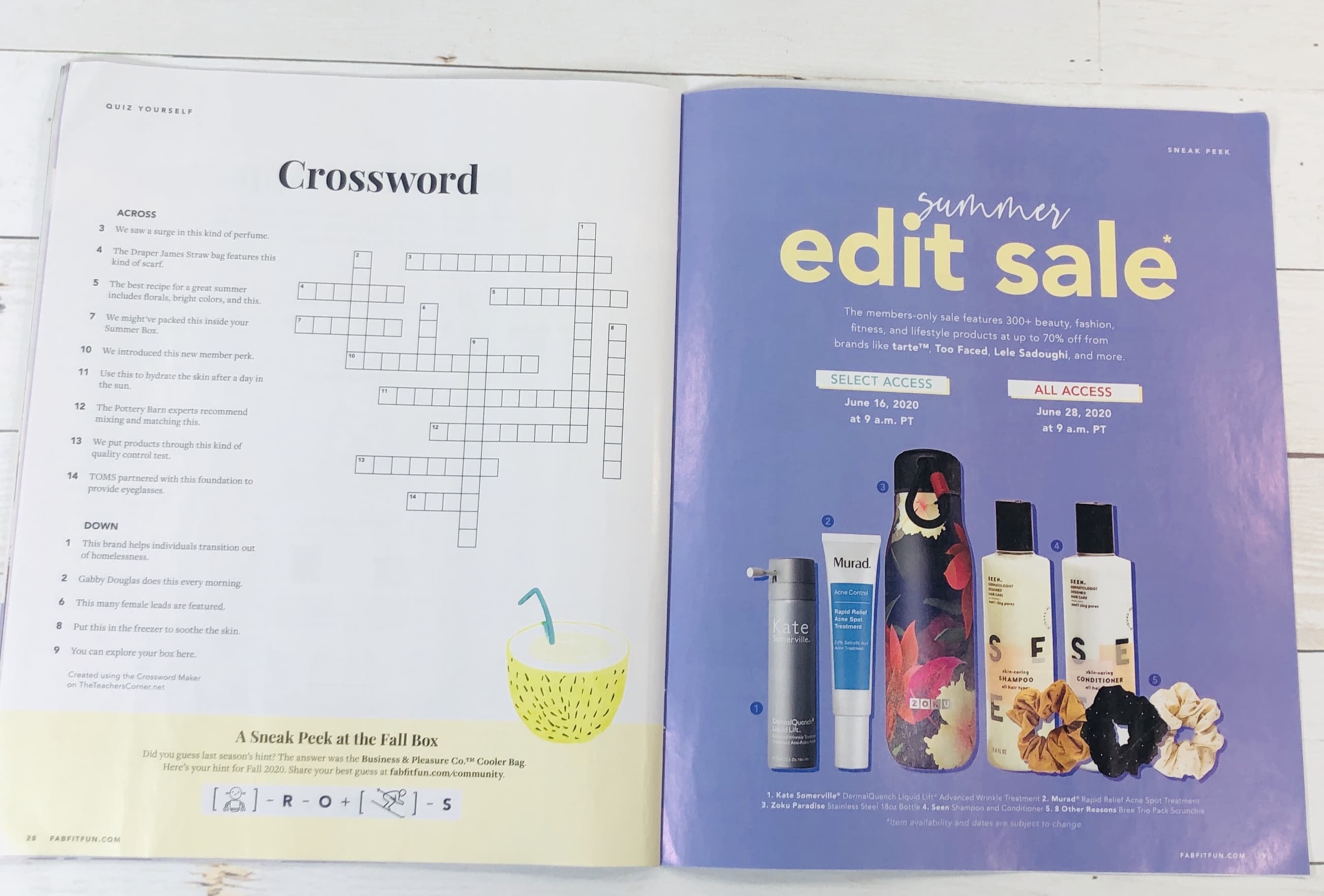 I love crosswords so this should keep me busy. Info on the Summer Edit Sale was given – make sure to note those dates to score some deals.
Coupon codes from the featured brands were at the back.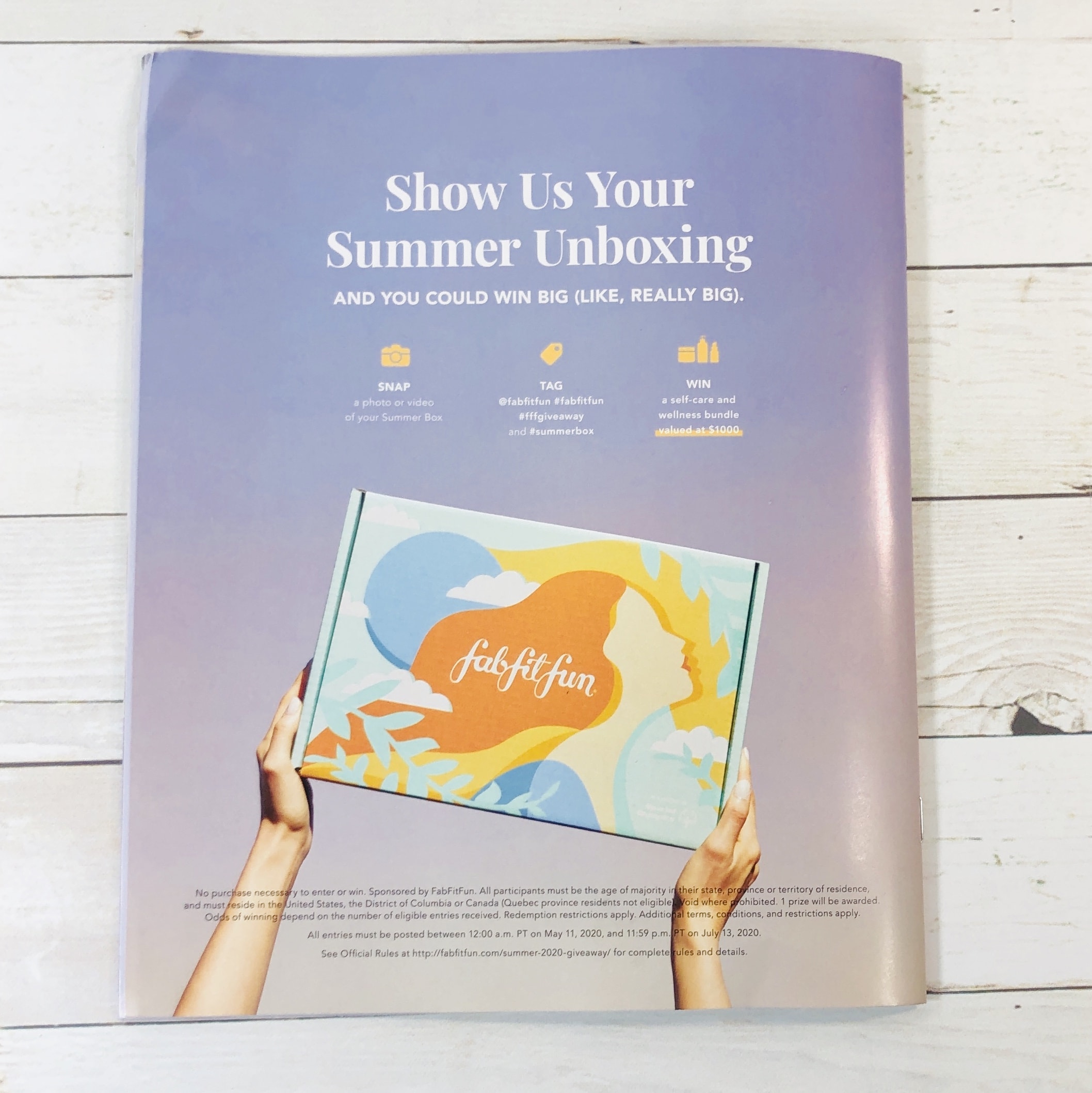 Make sure to enter the giveaway!