Bath Bevy is a monthly subscription box for those who love their tub time. You'll receive a box full of bath products like bath bombs, bubble bars, bath salts, body scrubs, handmade soaps, and more, 6-10 items per box! Too many bath bombs? Opt for a quarterly box instead or save some cash with a multi-month subscription.
Bath Bevy is a box full of carefully curated bath products delivered to your door every month. We will provide everything you need to elevate your bathing experience. Just add water.

Each month we carefully select a combination of bath goodies that could be bath salts, soaks, bombs, bubble bars, bubble bath, body scrubs or anything else you can enjoy at bath time. We feature different brands every month and everything in the box was tested by our Founder first!
DEAL: Receive 10% off your first subscription and renewals for the Bath Bevy Subscription Box. Use coupon code HELLO10.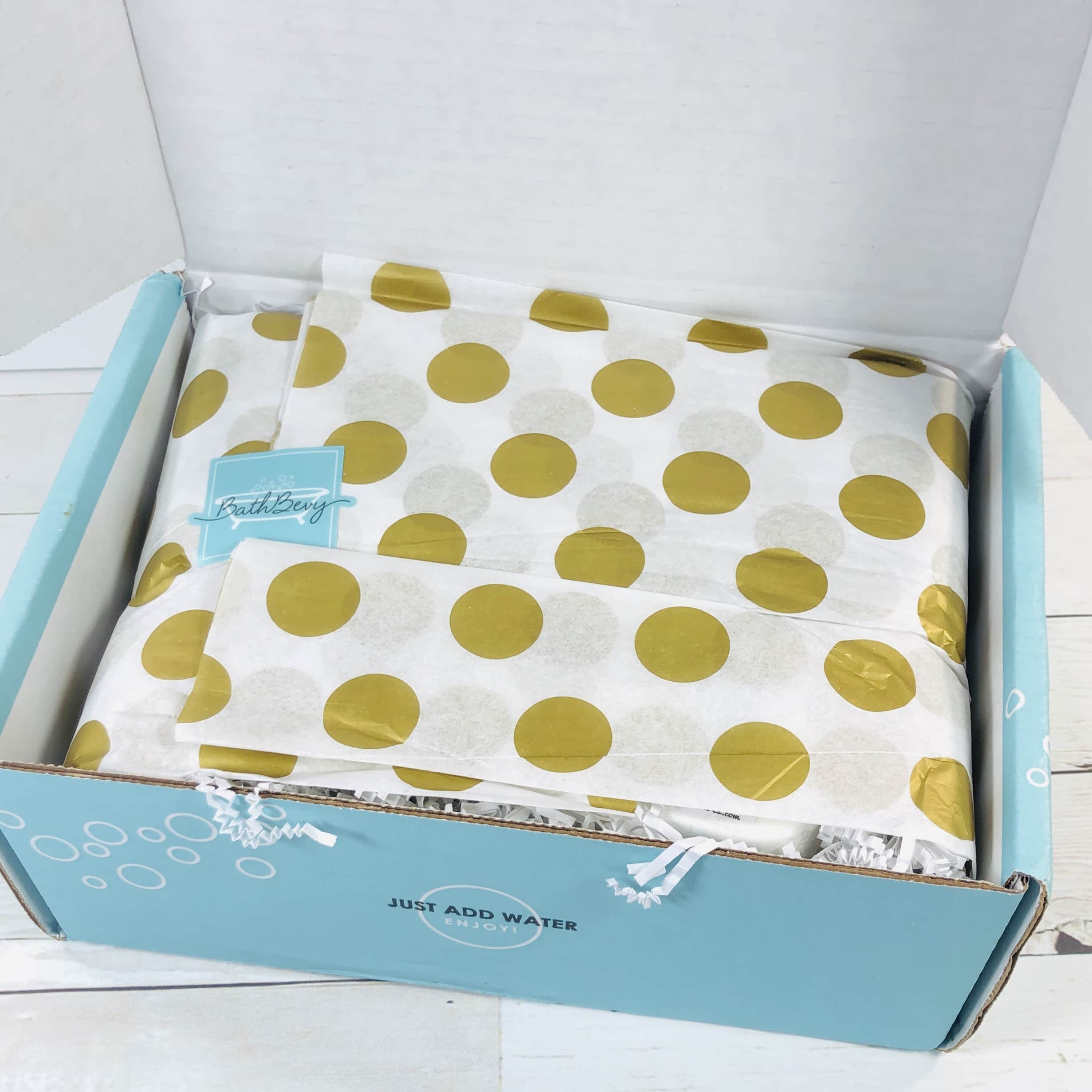 It is Bath Bevy's birthday so the items were wrapped in celebratory paper and sealed with a Bath Bevy sticker.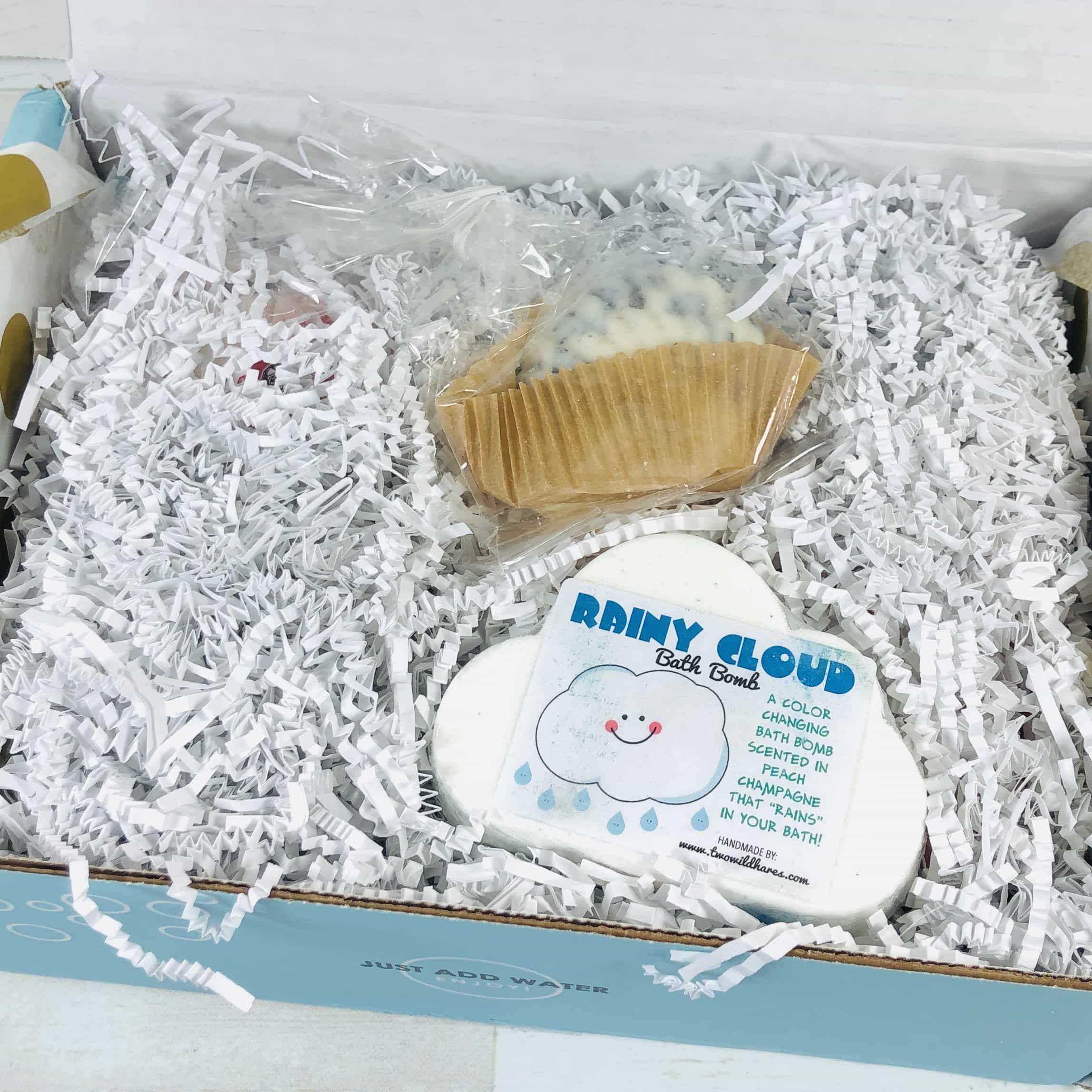 Everything was tucked into shredded paper squiggles.
I found a card that introduced the theme. The May theme is CELEBRATE!
The back of the card listed all of the products in the box plus it had a coupon code for the Bath Bevy website.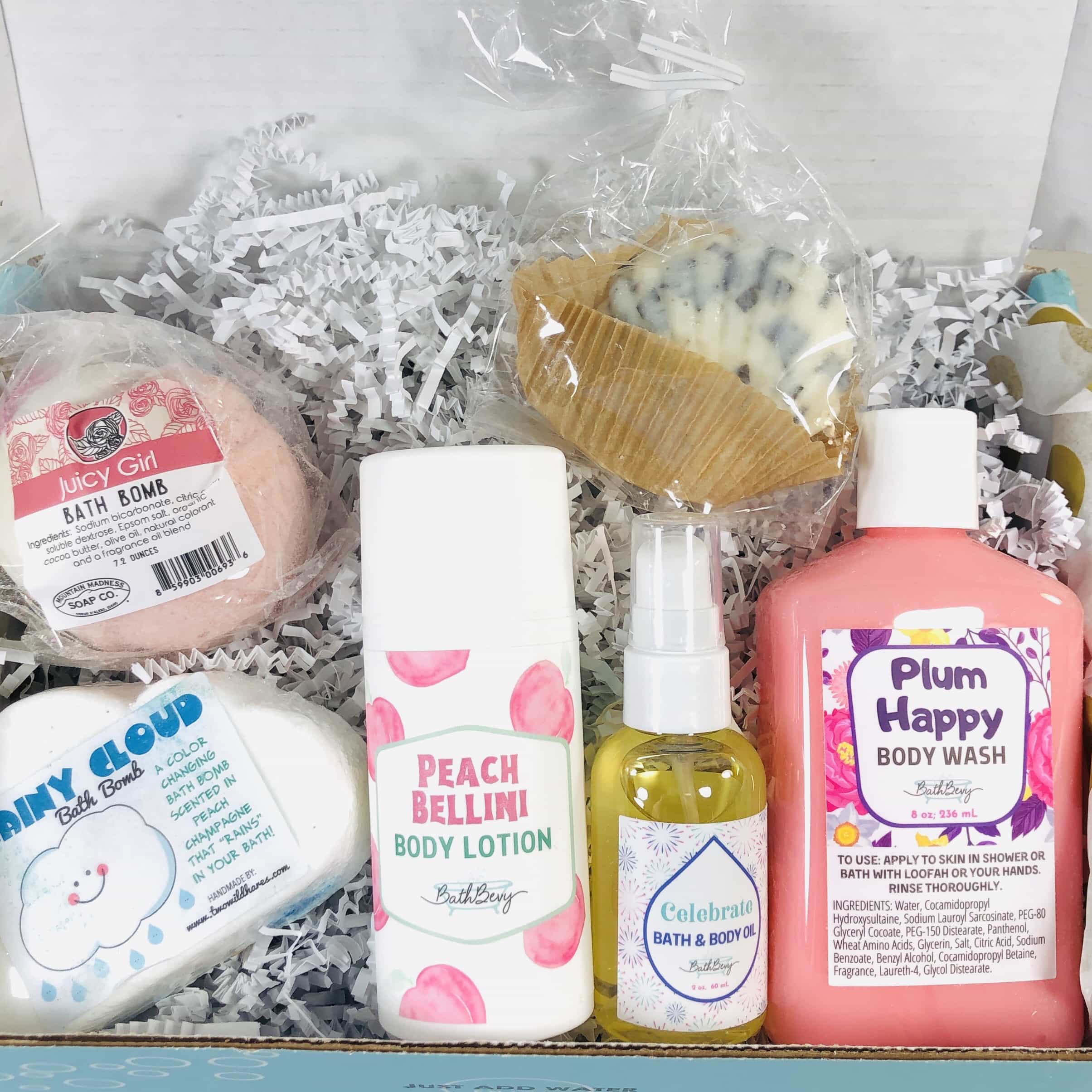 Everything in my box!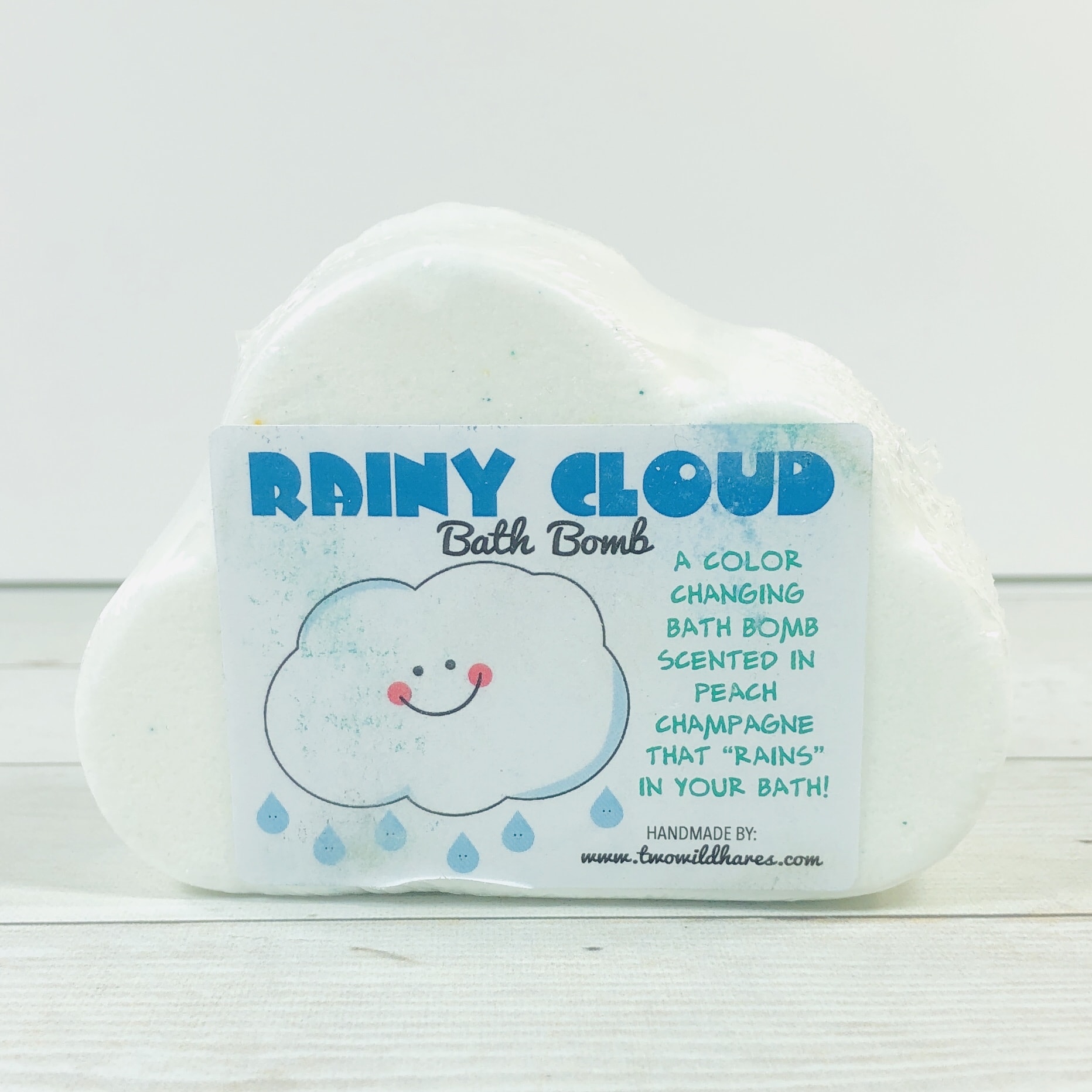 Two Wild Hares Rainy Cloud Bath Bomb (Sold out) What a cute idea, a bath bomb shaped like a cloud and that "rains" in your tub! If you click on the link above, it will take you to the brand's website, where they have a link so you can see it in action.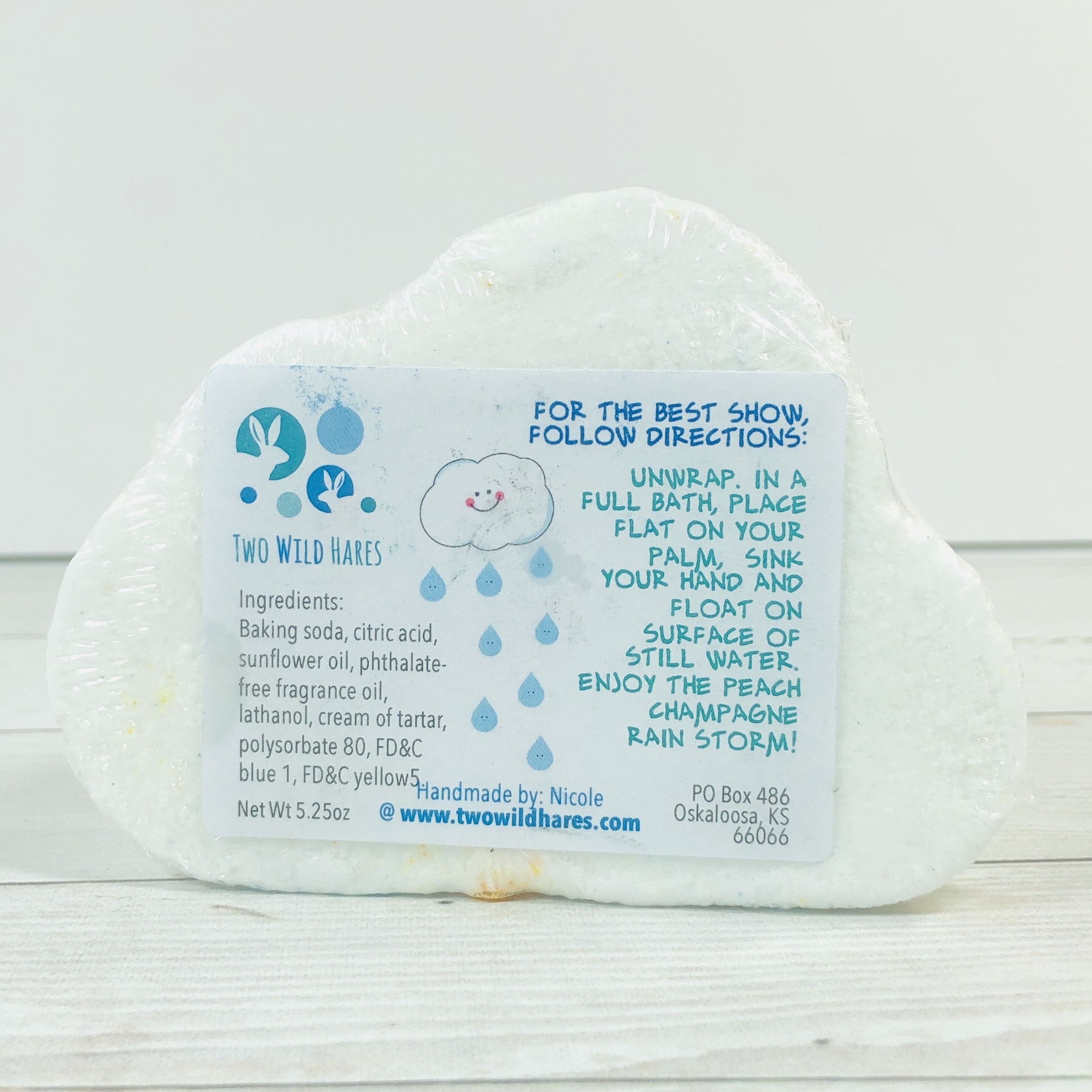 The scent is "peach champagne" and it smells fruity and sweet. The directions say to set it flat on top of the water while you are in the tub. First the clouds will grow bigger on top, then there will be blue "rain" coming from the bottom. What a cute bath bomb idea!
Bath Bevy Celebrate Bath & Body Oil I like a nice body oil and although you can add it to your tub before soaking, I prefer to apply it to damp skin after a shower.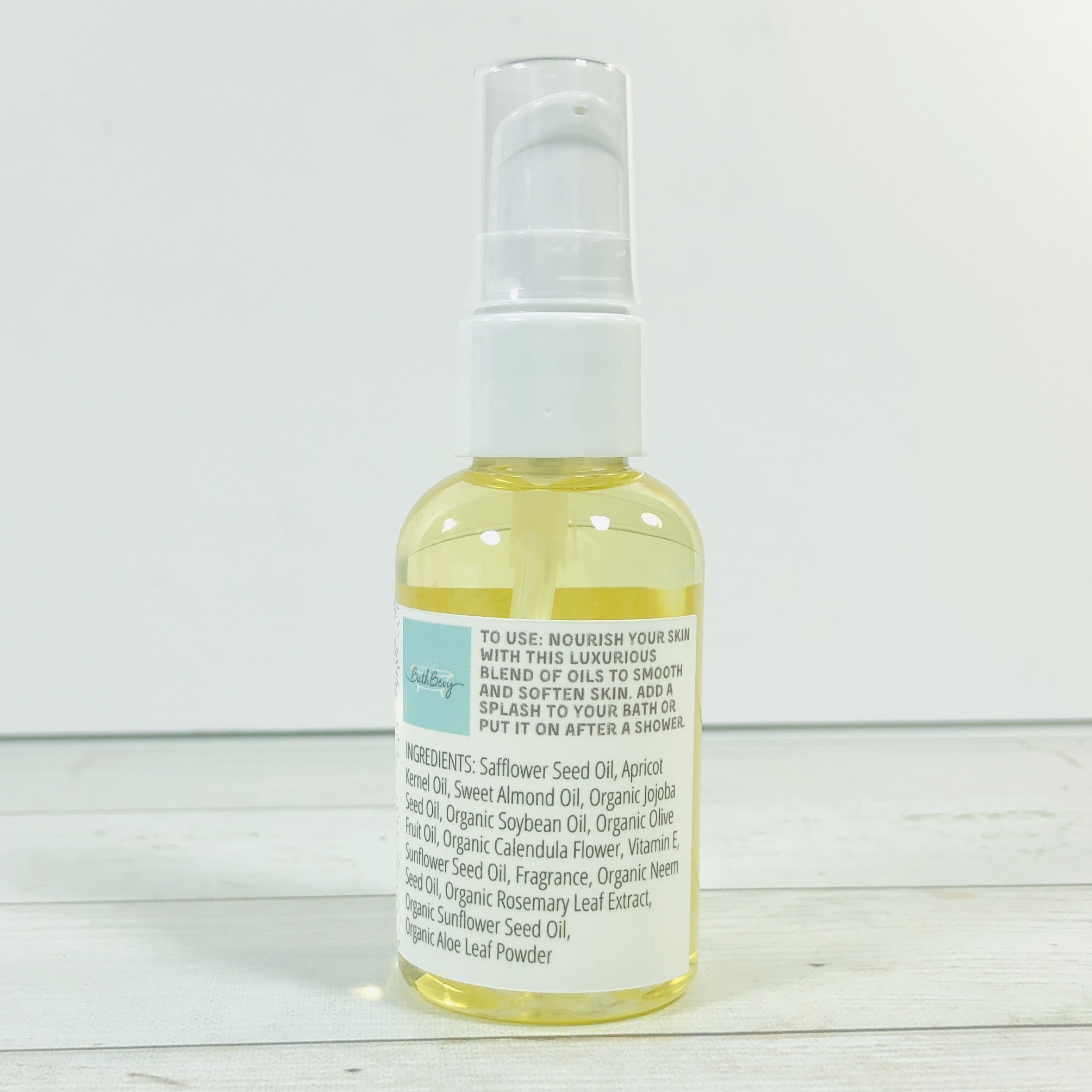 So many natural oils are in this combo! The scent is strongly perfumed and smells sweet and fruity with a blend of citrus, amber, vanilla, and apple notes. It left my skin soft but not greasy and the scent faded quickly after applying so you can still wear perfume.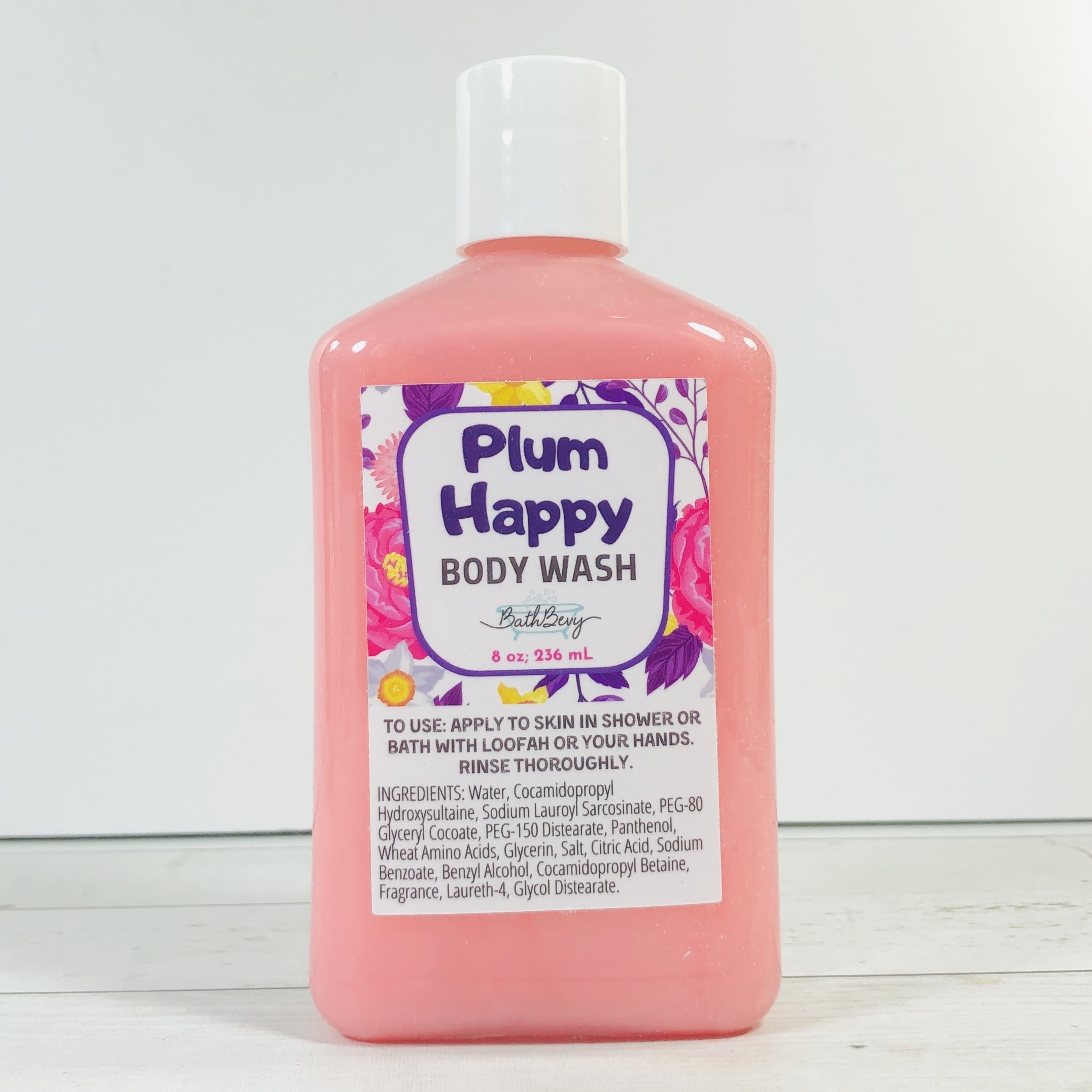 Bath Bevy Plum Happy Body Wash I am sorry to say that this product was like a science experiment gone wrong. I tried to squeeze it onto my shower pouf but the consistency was weird and it came out in globs. It wouldn't get sudsy or soapy at all and is even useless as a hand soap. It reminded me of a cross between homemade slime and ooblek. It came out in chunks that would melt back together. Maybe mine was a bad batch but I would love to know if your product worked well.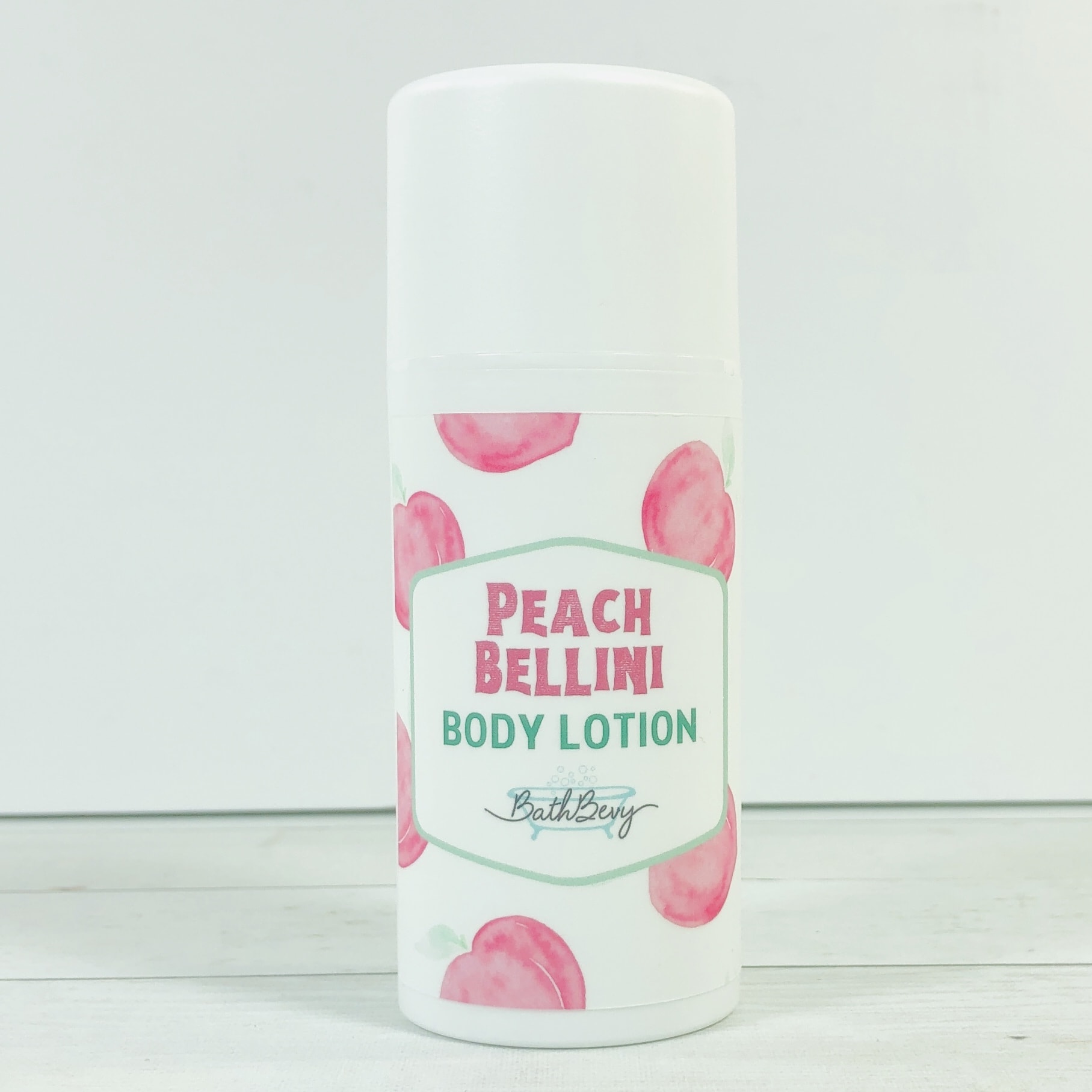 Bath Bevy Peach Bellini Body Lotion The body lotion was much nicer. It has a scent that is inspired by an adult beverage!
There is a safety latch that needs to be torn off before using but that keeps it from spilling during shipping. The scent is a combo of champagne, peach nectar, and mandarin and it smells fruity and sweet, like oranges. The scent lingered for several hours afterwards.
Mountain Madness Soap Co. Bath Bomb ($6) has that classic citric acid and baking soda combo but this one also has cocoa butter to leave skin soft.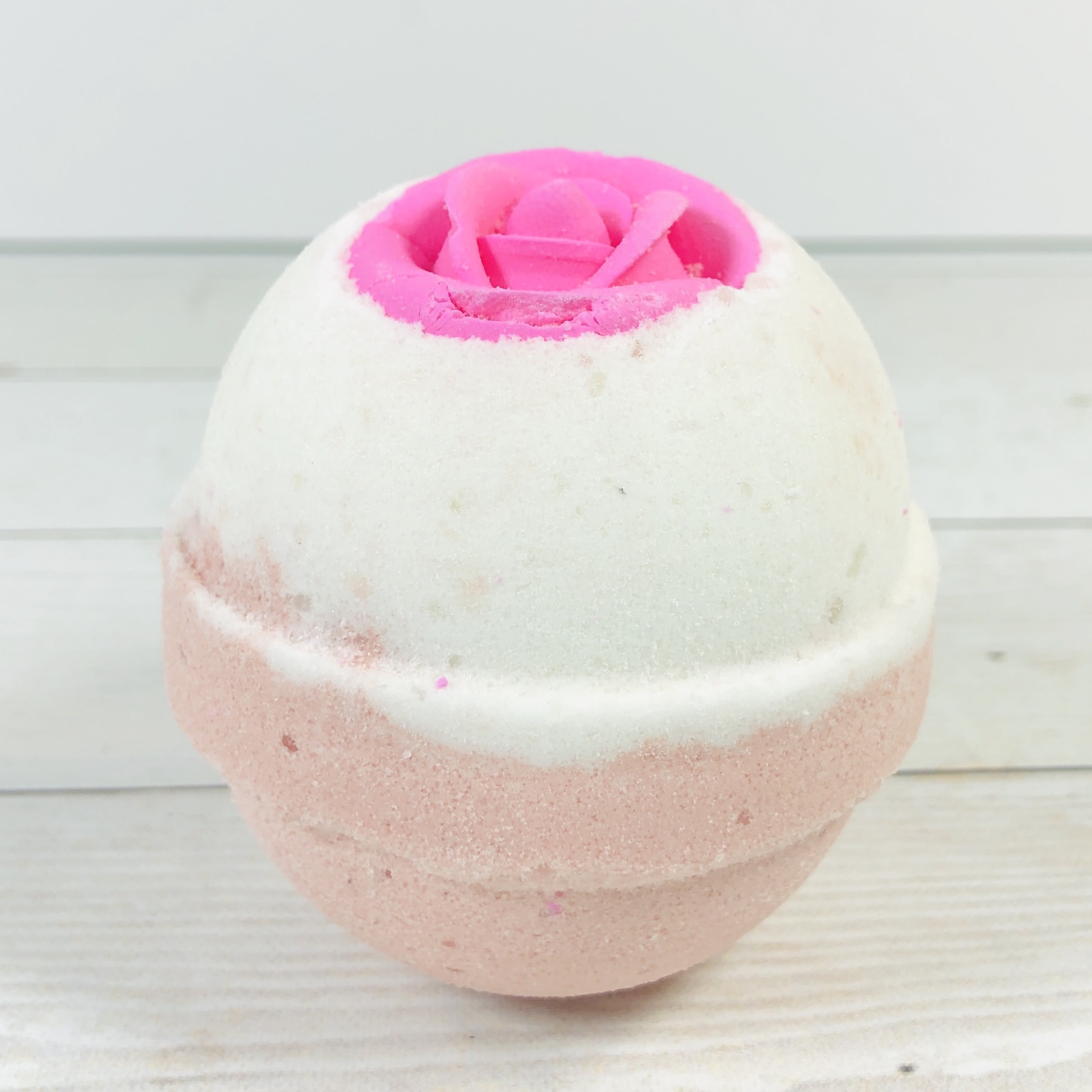 Isn't it pretty? It is supposed to smell like a "juicy" brand of perfume and just look at this description:
A floral fragrance which opens with notes of juicy mandarin and wild berries. A blend of heady florals encompass the heart of this scent, while the base is a gourmet rhapsody of caramel, vanilla, sandalwood, and pralines.
I don't know whether to eat it or soak in it! I don't wear the perfume that this is inspired by but my daughter thought it was similar.
Mountain Madness Soap Co. Bath Melt ($3.50) Bath melt is a new concept to me and the idea is similar to adding bath oil to the tub, but it's in solid form and melts thanks to the heat of the water. Shea butter, cocoa butter, beeswax, sea salt, nori, and fragrance are the ingredients.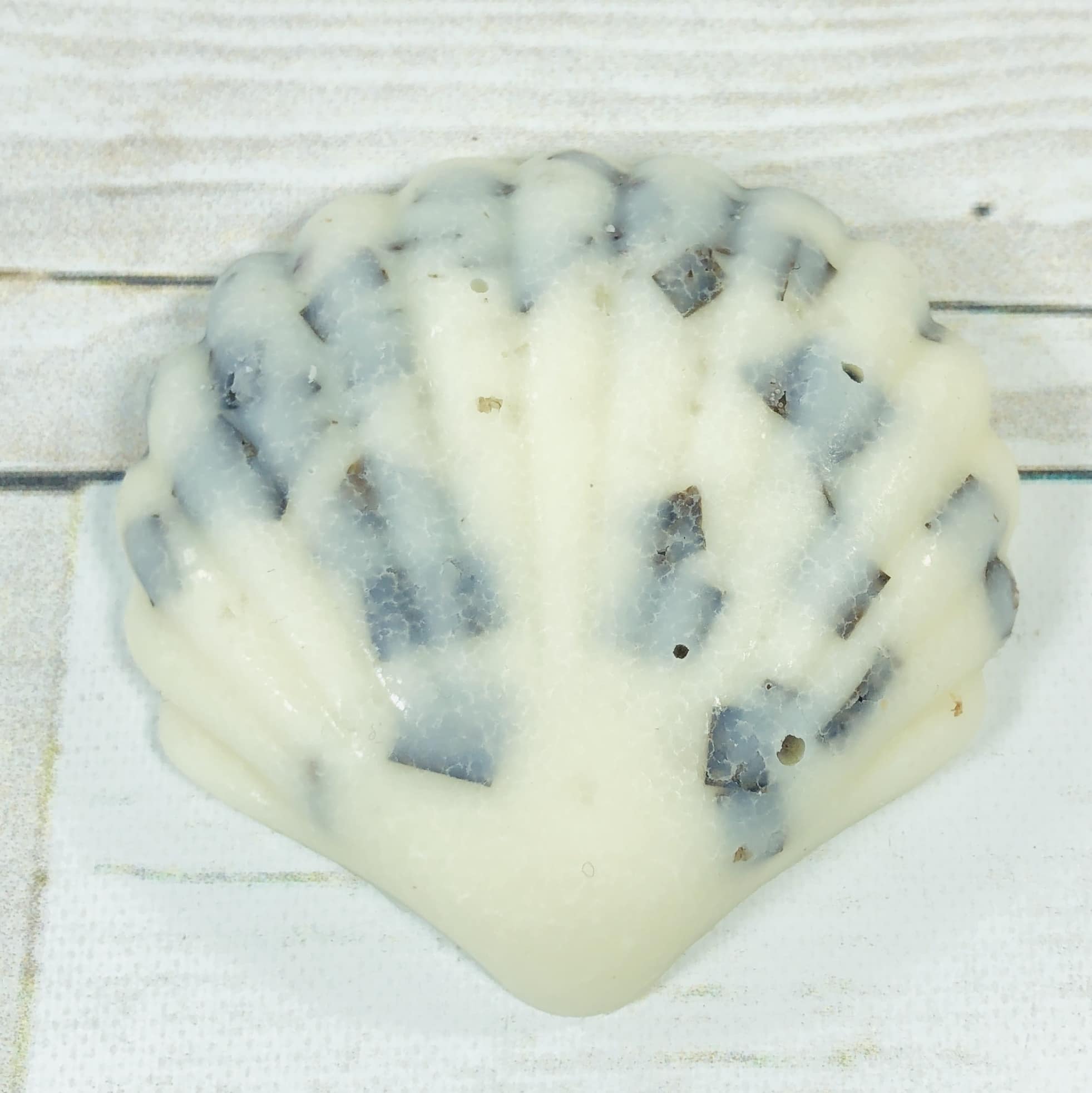 Nori is seaweed and you can see the bits in the shell-shaped melt. You can add the whole melt or cut it in half. Be careful because it will make the tub slippery. The melt is highly fragranced and smells like an "ocean"-scented candle.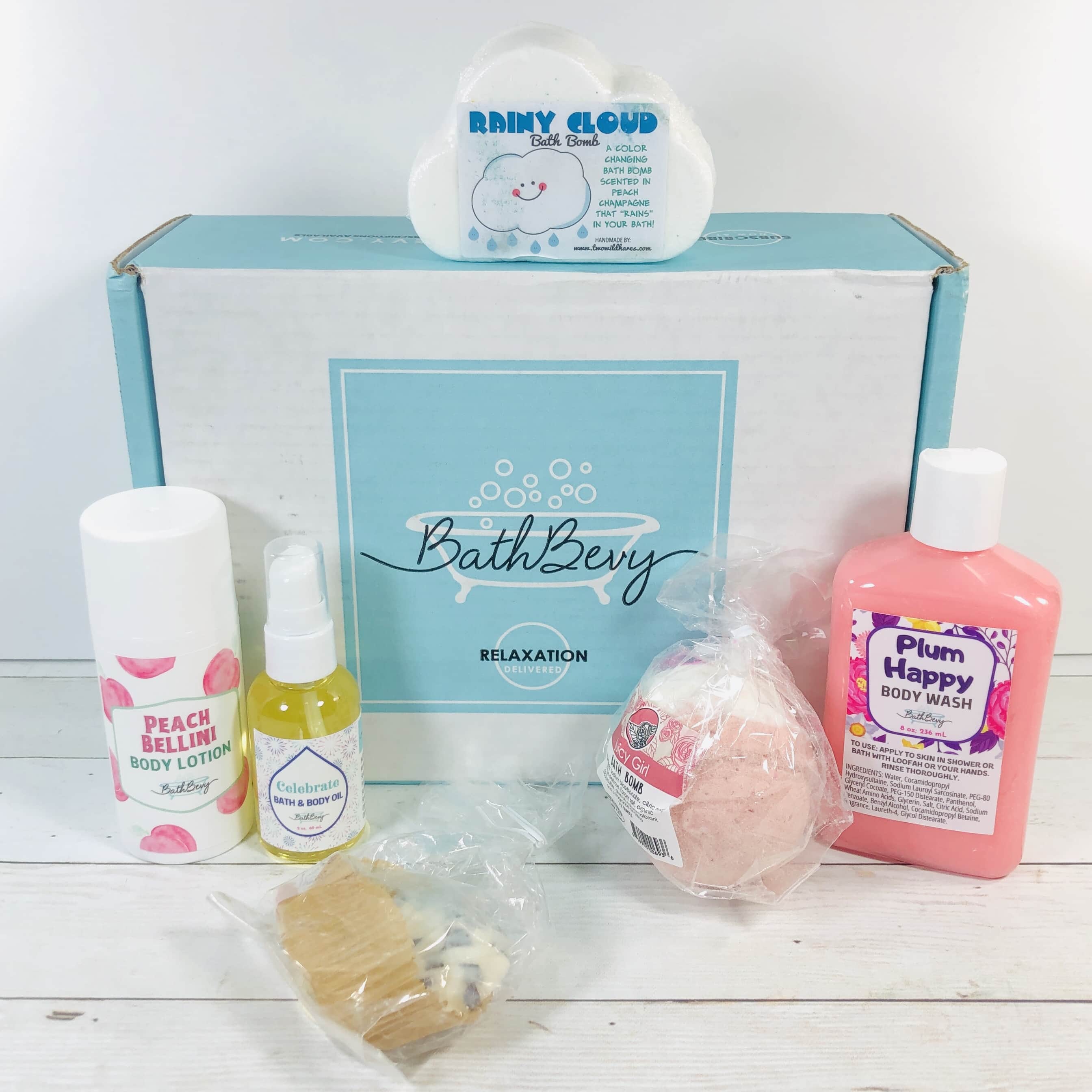 A lot of people are spending more time at home these days so if a relaxing soak in the tub is your idea of bliss, then check out Bath Bevy! I thought this assortment was a good one, with half of the products meant for the tub and the other half for when you get out of it. I love the smell of the lotion and bath oil, and the bath bombs smell amazing too. The only disappointment was the body wash, but the other products are perfect for celebrating, even when it's just in your own bathroom!
Did you love this month's box?