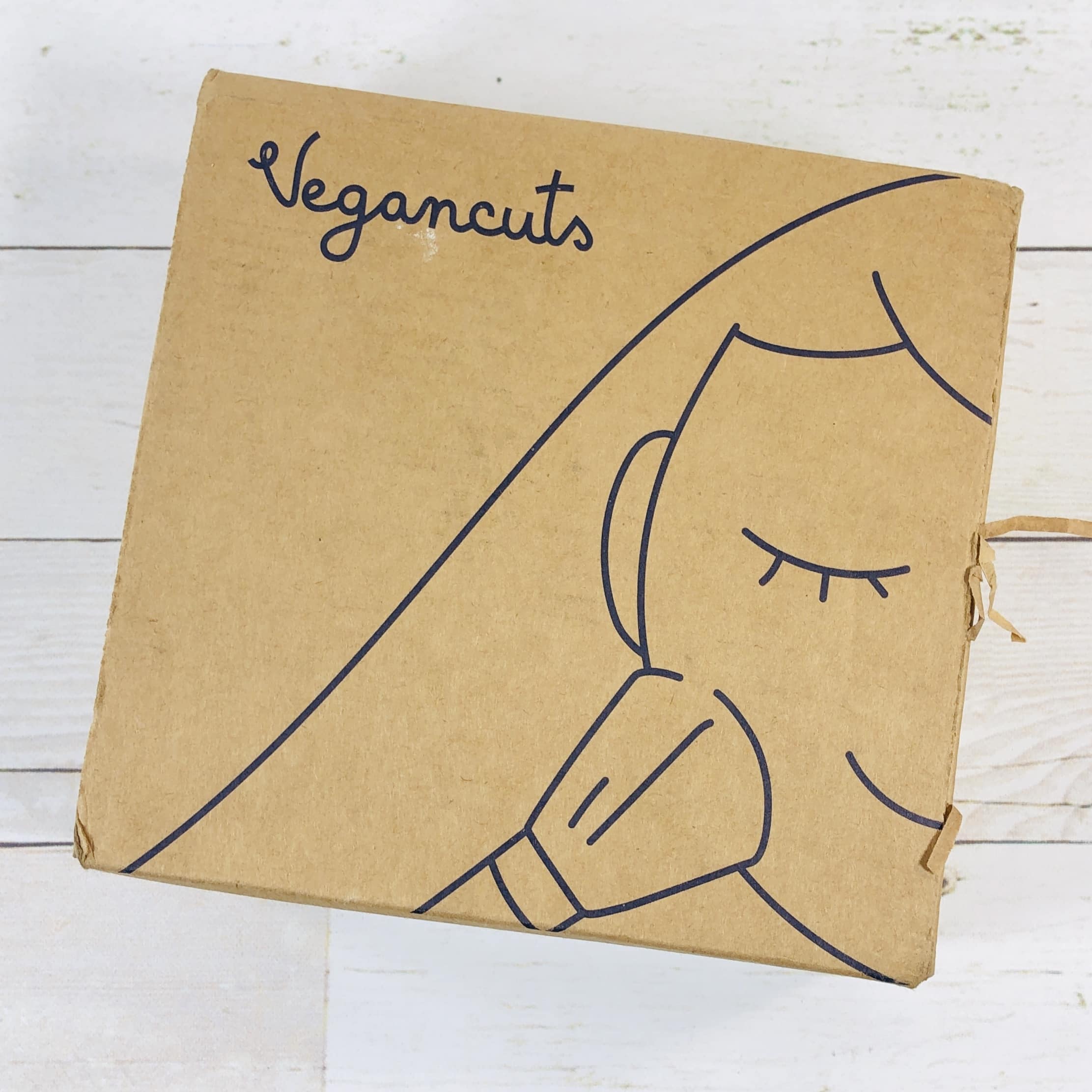 Vegancuts Beauty Box is a monthly beauty subscription service that sends 4 or more items ranging from unique cosmetics to luxurious skincare. Best of all, they are 100% cruelty-free and vegan, plus most items are natural and non-toxic! Monthly recurring shipments are $22.95 with free shipping in the USA (there is an additional charge for other countries). This sub is also available in 6 or 12-month terms that do not renew but that do earn you a discount.
Each month you'll receive a delivery of 4 or more new deluxe or full-size products, from unique cosmetics to luxurious skin care, that treat your outside as good as you treat your inside.
DEAL: Use the coupon code hellosub to get $5 off your first box on any Vegancuts subscription!   It can only be used once per customer, but it can be used on multiple subscriptions at once so long as they are in the same transaction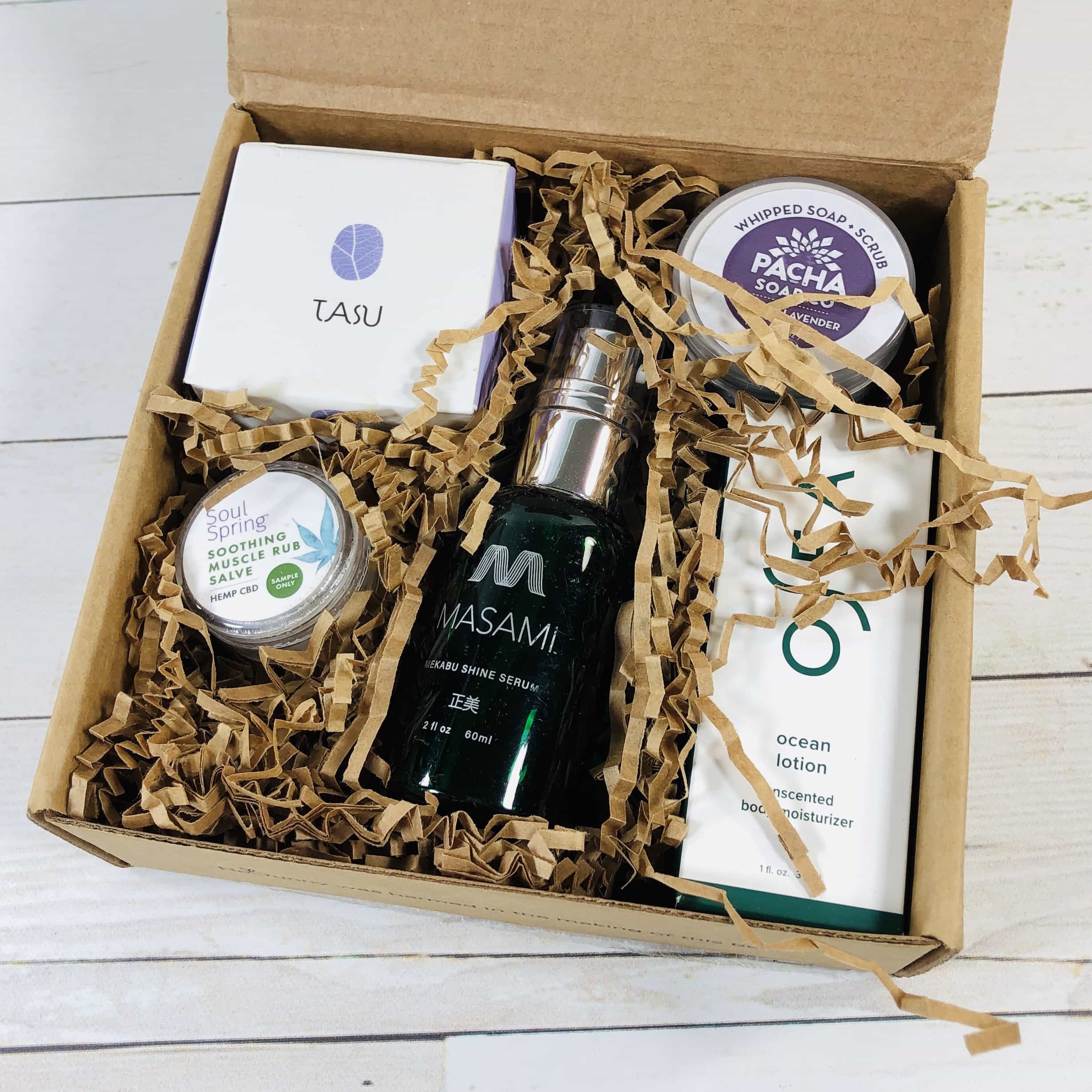 My items were tucked into shredded paper.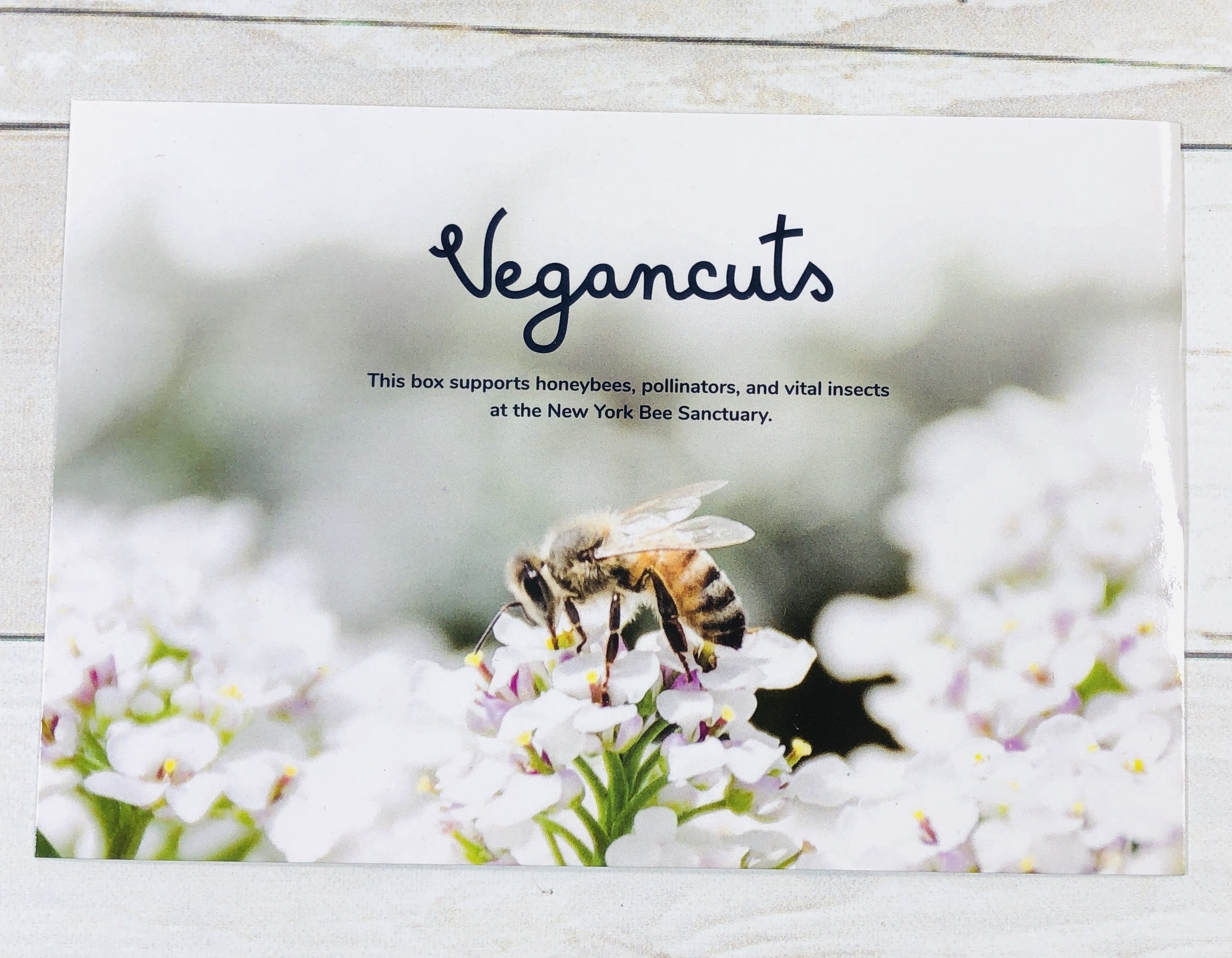 I received a card that informed me that proceeds from this month's box are going to the insects at New York Bee Sanctuary!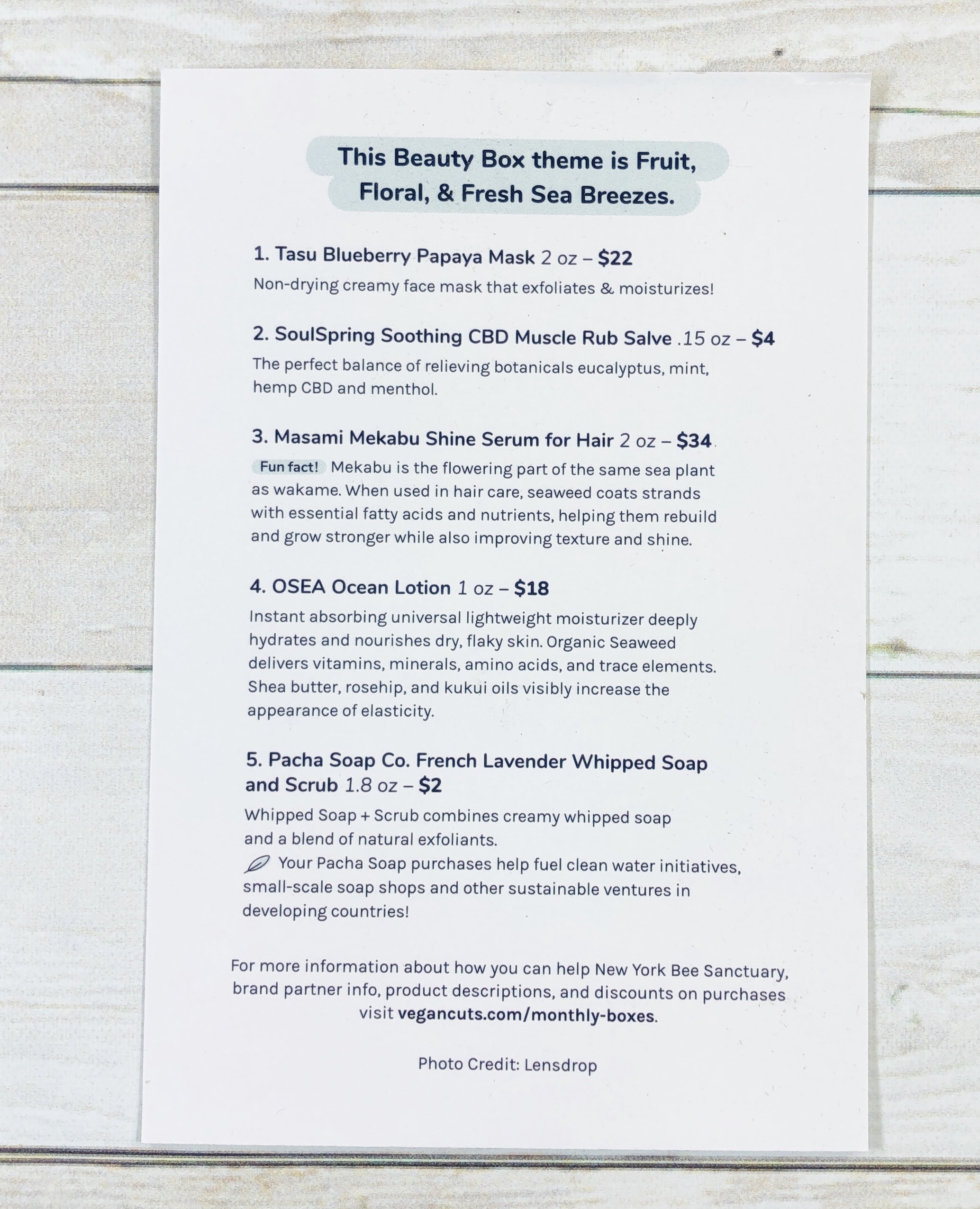 The back of the card lists the items and retail value and brief instructions. The April box theme is Fruit, Floral, and Fresh Sea Breezes. You can find even more info about the products (along with coupon codes) and info on the supported cause on the Vegancuts website.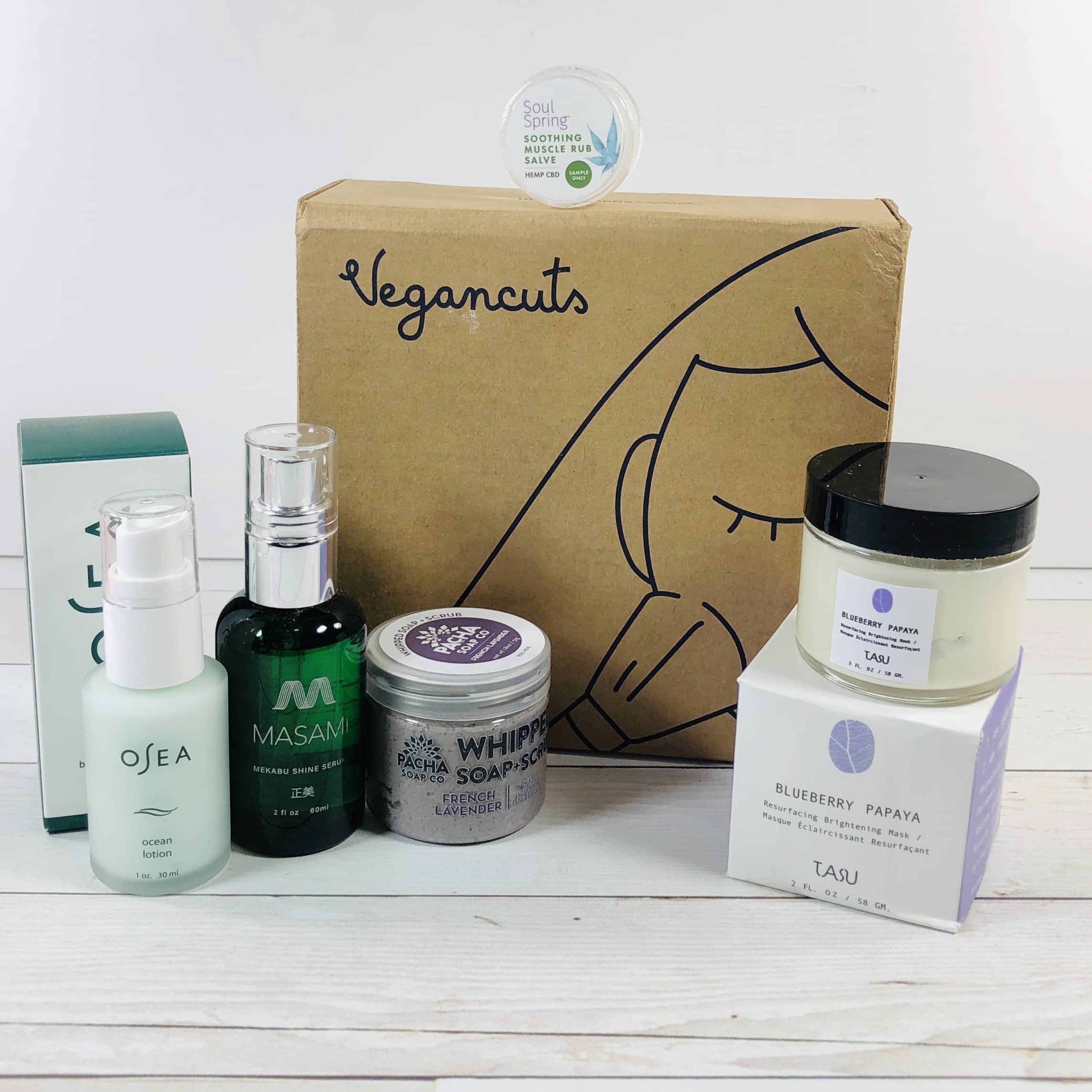 Some of the items came in their original boxes.
Everything in the box!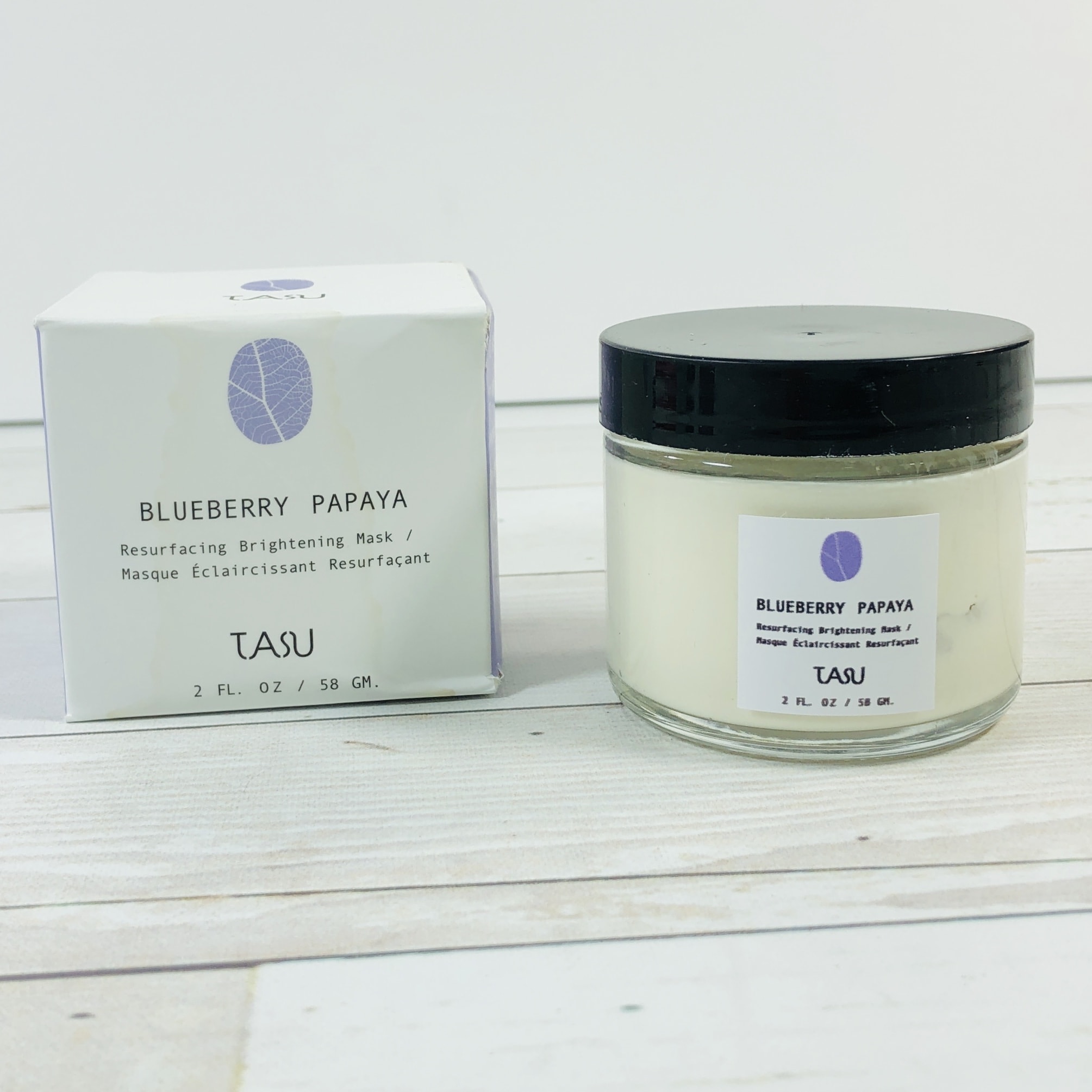 Tasu Blueberry Papaya Mask ($28 CAD, about $20 USD) TASU has their own subscription box and I was really excited to try one of their products!
Ingredients were listed on the box and include aloe, clay, blueberry + papaya extracts, and jojoba oil. It is scented with essential oils and I knew it had ylang ylang (one of my favorites!) before I even looked at the list!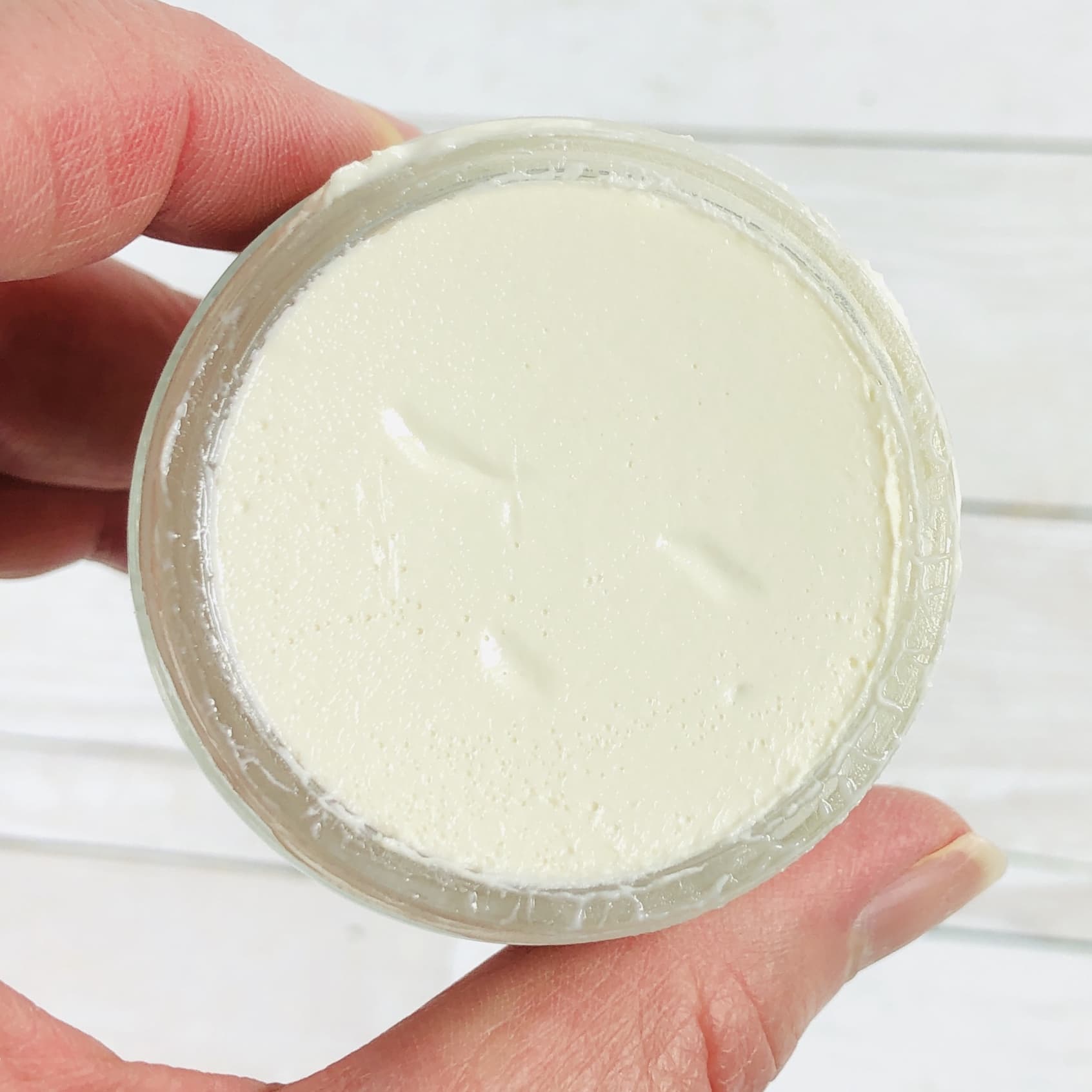 Apply a small amount after cleansing and wait about 10-15 minutes before rinsing. I experienced some slight irritation and redness after using, but then again I placed plant enzymes on my face so that was expected. It is supposed to be one of those masks that doesn't dry completely but my skin absorbed whatever moisture was in here and it felt soft after using.
Pacha Soap Co. French Lavender Whipped Soap & Scrub ($2.16) I love to receive goodies to use in the shower and this one sounded lovely. Don't let the name fool you – this is scented with English Lavender, not French Lavender.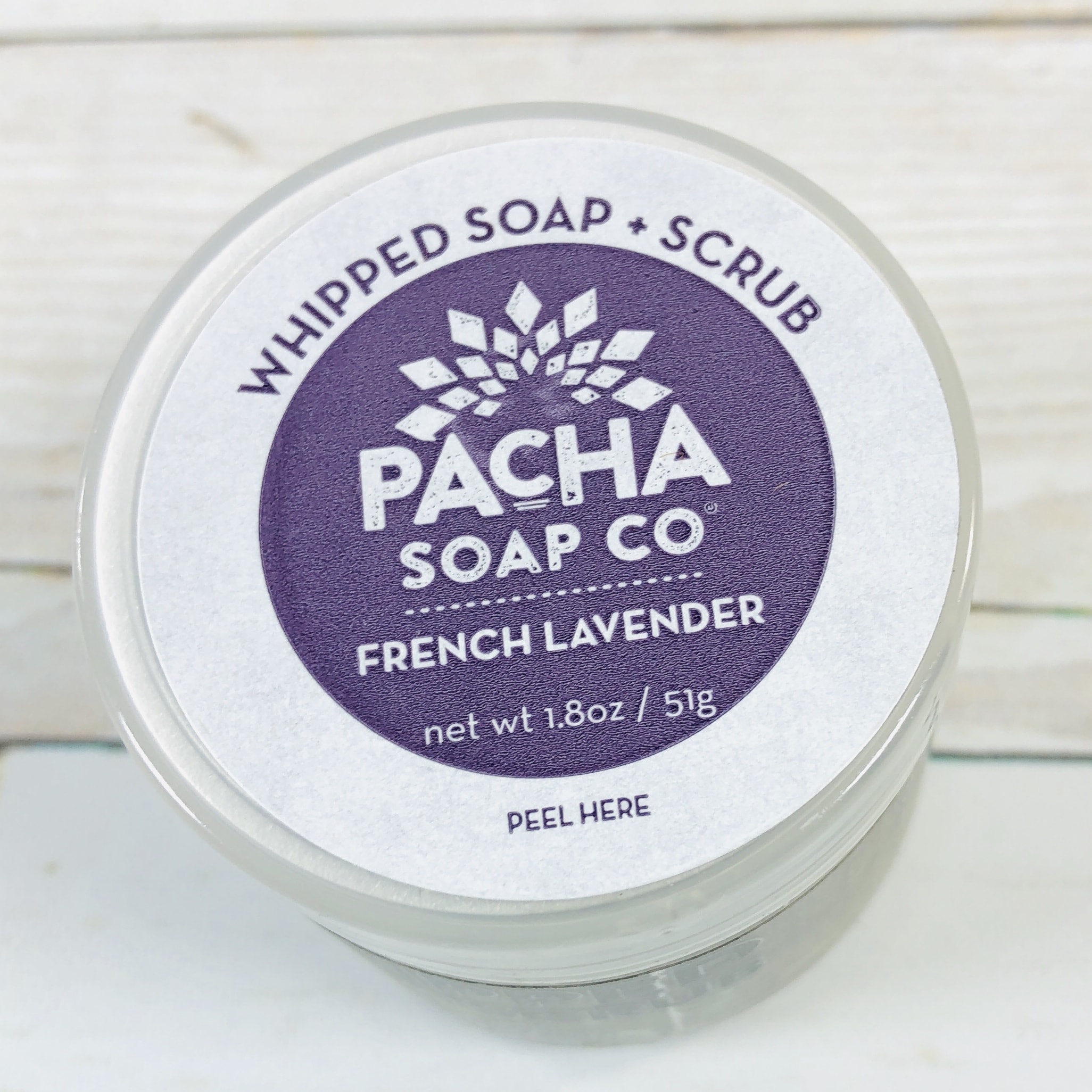 Need the list of ingredients? Just peel here…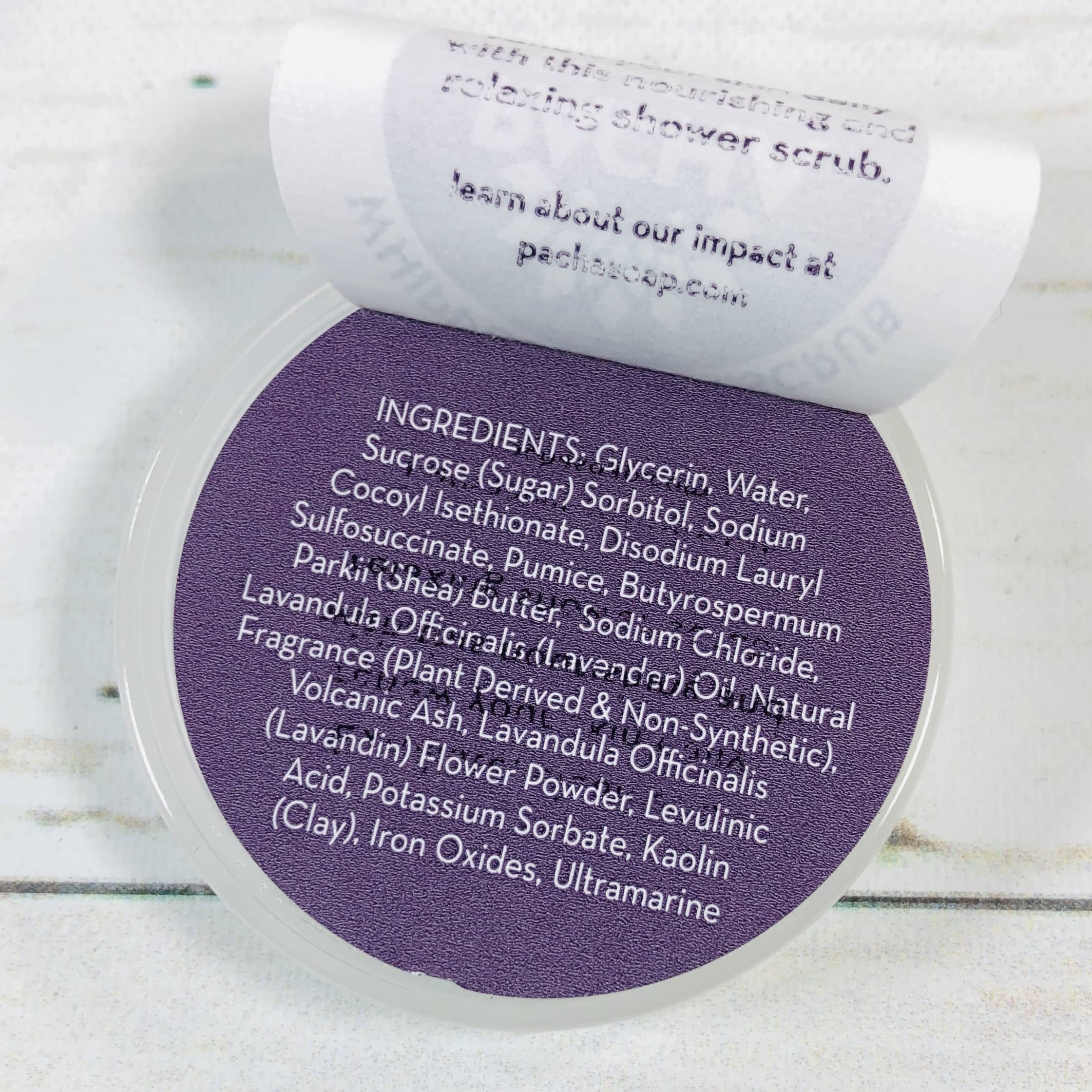 …and you will find it inside! Sugar is one of the first ingredients but pumice provides most of the super gentle exfoliating power. It also has clay, crushed lavender flowers, and shea butter.
It smells pretty wonderful, with a true lavender scent, not like perfume. It was a very gentle cleanser, I didn't get scratched and it didn't get very sudsy. It rinsed cleanly away. What a lovely way to start my day!
Masami Mekabu Shine Serum For Hair ($34) is supposed to help protect hair during heat treatments such as blow drying, while also being light-weight and non-greasy. It is also supposed to fight frizz.
It has mekabu in the ingredients, which is simply seaweed. I have very fine hair and I did feel like this made my hair sleek but also left my bangs looking greasy rather than shiny. I am sure it will work wonders for others and I did enjoy the light unisex fragrance.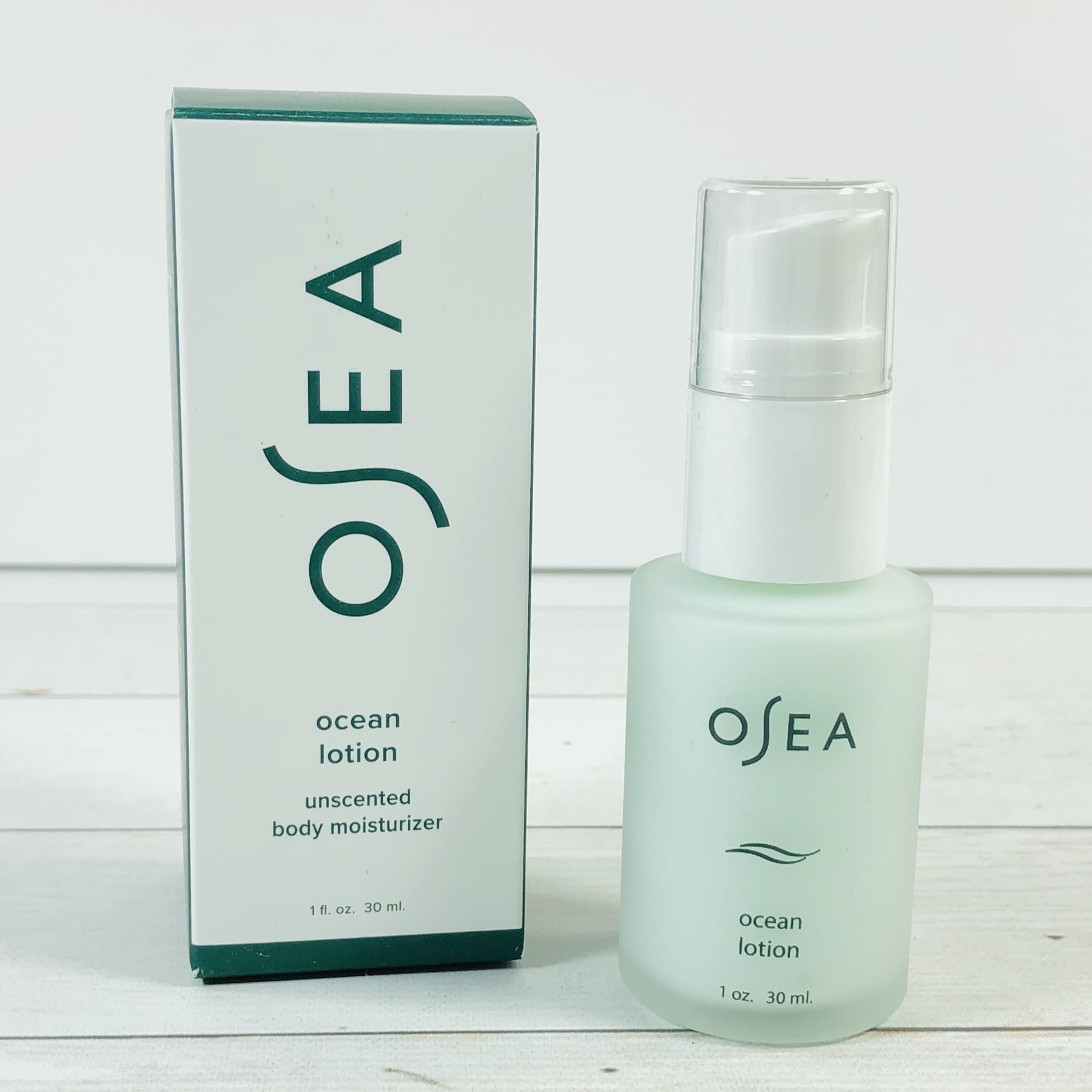 Osea Ocean Lotion ($7.60) I have tried several products from OSEA in the past but I think this is the first one meant to be used on my body!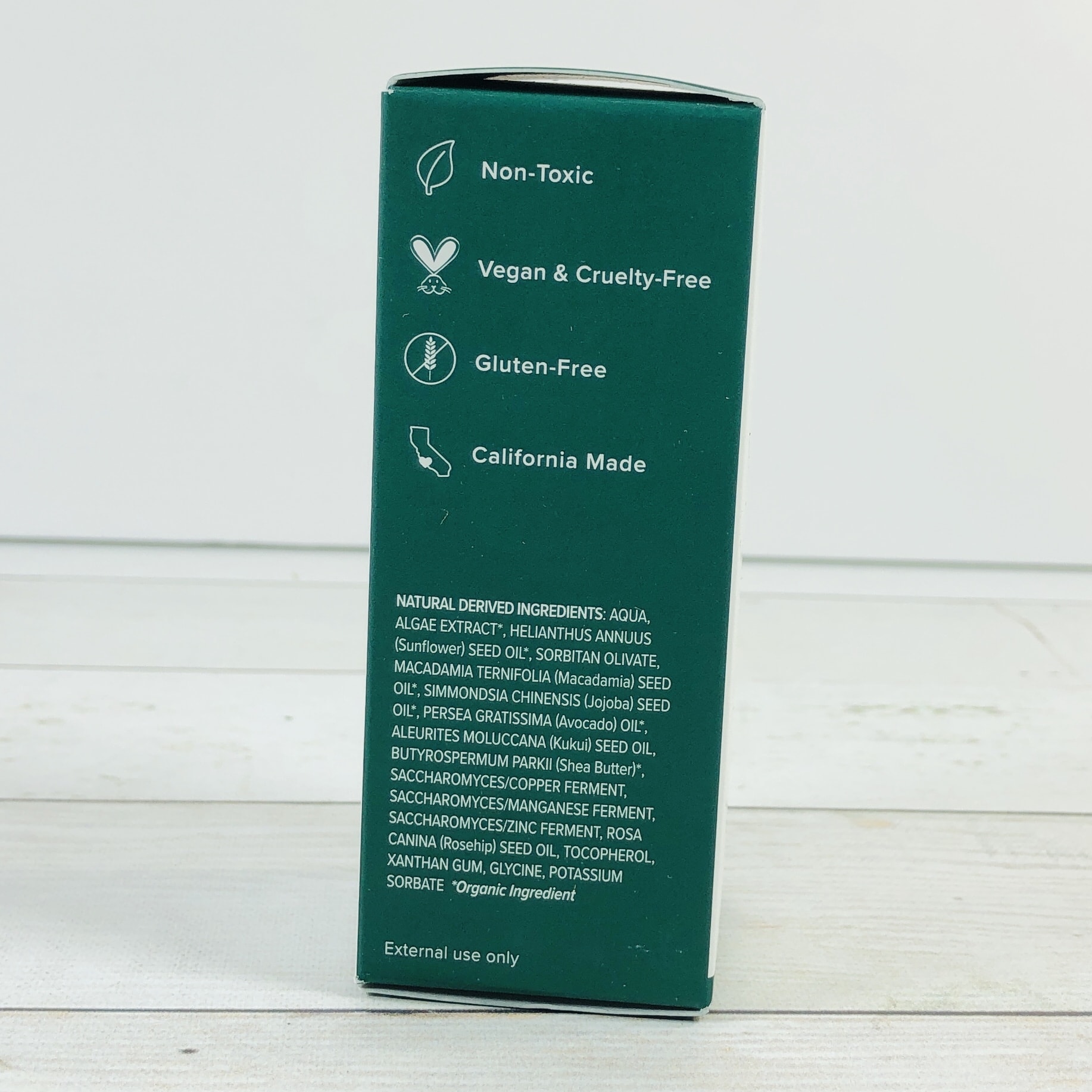 It's a body lotion with a water base plus some plant and seed oils (macadamia, sunflower, avocado), shea butter, and rosehip oil. I applied it after showering and it takes just a bit longer to rub in than traditional drugstore lotions. I didn't notice much of a scent at all and it left my skin feeling soft but not oily – this is a light-weight lotion and not a heavy cream or butter. A note about the size – one ounce isn't a lot when we're applying it to the body, so I used it on my arms only and there is enough for around 3 applications.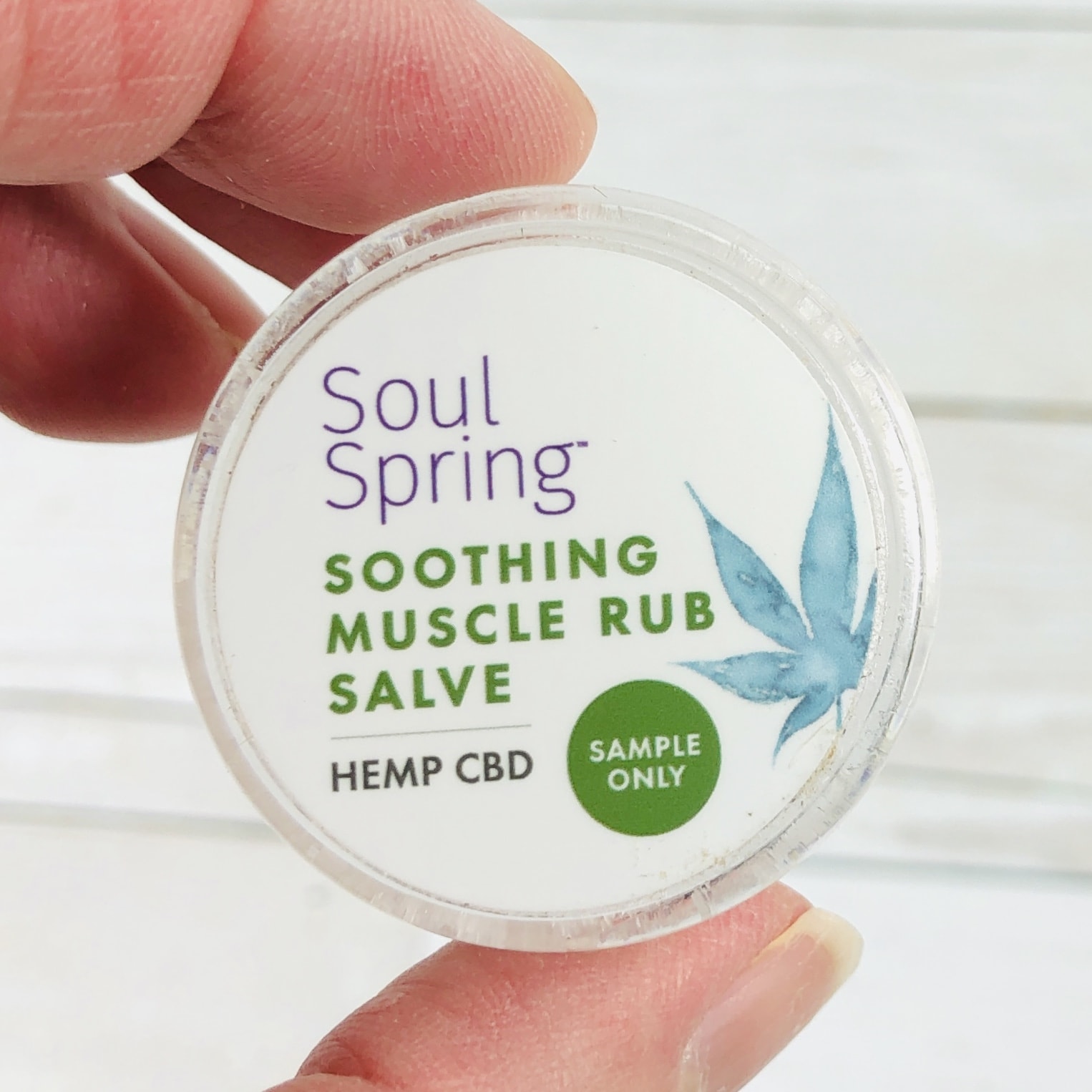 SoulSpring Soothing CBD Muscle Rub Salve ($4) Lately I've woken up with a sore lower back and so I applied this shortly after waking to see if it would work. I rubbed it on the sore spot and then I made sure to wash my hands, since just a bit near my nose was enough to really perk me up. It smells just like other menthol vapor rubs and felt the same too – I had that icy hot sensation that told me it was working. I think it's good to apply before bed too since it's kind of soothing.
Ingredients include shea butter, jojoba oil, and hemp oil plus a whole lot of essential oils. Keep this away from eyes, you don't need that kind of pain in your life. I think this a good natural alternative to the commercial stuff found in the grocery store, but it's also much pricier.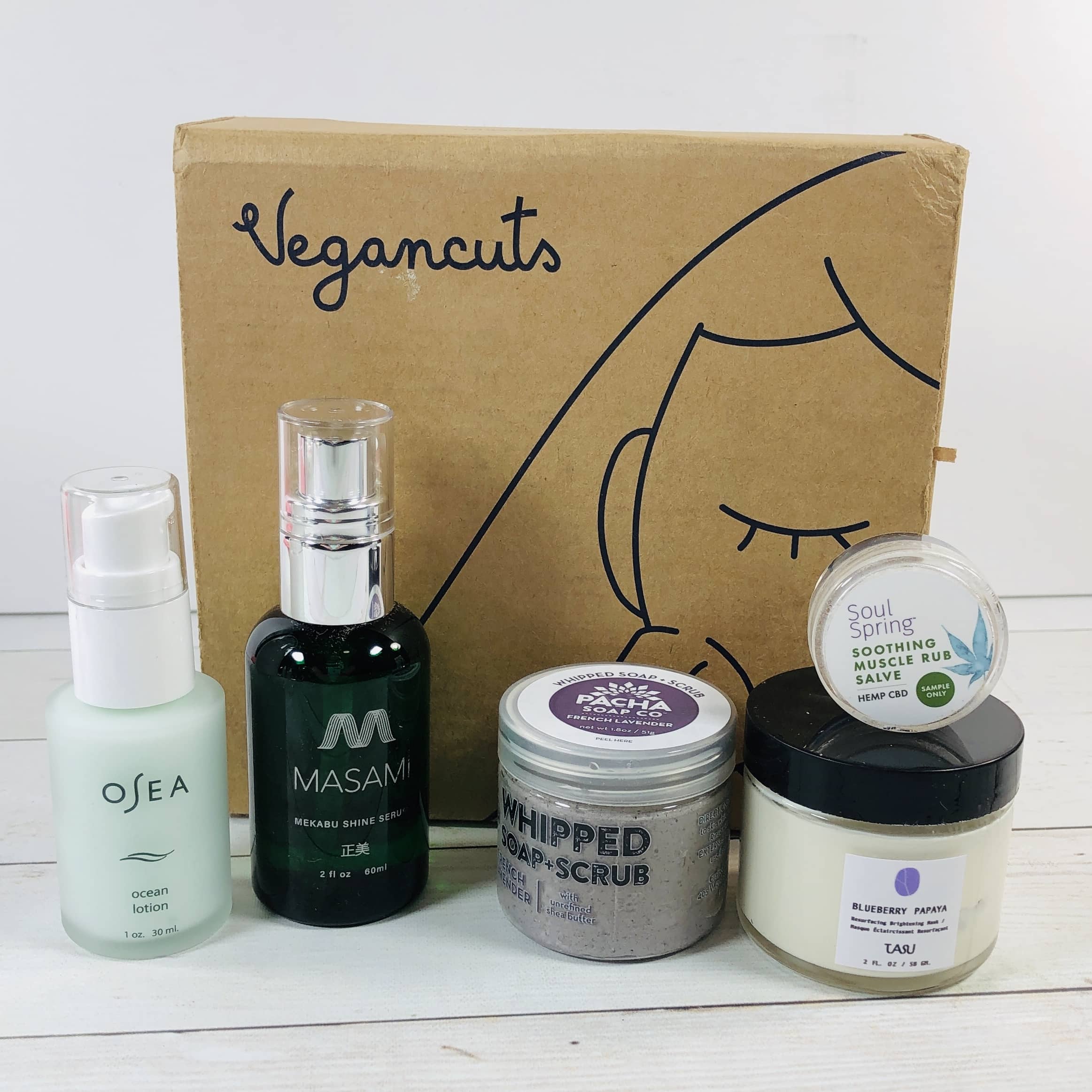 I think Vegancuts is on a roll and I loved trying my new products, plus 4 of these brands were new to me! Three of the items were meant for the body (and I adore natural body care items!) and I also found something for my face and my hair, so that's a great assortment for me personally. The items also smelled amazing, with the muscle rub narrowly beating out the body scrub and the face mask for the top spot. My products had a value of around $67.76, so I felt like it's a great value compared to the price of the box, plus, I discovered some new vegan and cruelty-free beauty brands!
What do you think of this month's Vegancuts Beauty Box? Let me know which product you're loving in the comments!