Loved + Blessed has undergone some changes! They're now a monthly membership and subscription care package for women who want to live life encouraged. Aside from the box of encouragement, subscribers will also receive access to a blog article, a 4-week life appreciation workbook, 4 video lessons, an online fellowship in their private community, and access to their library of past videos and workbooks. A month-to-month subscription costs $25 and you can also opt to get a 3-month prepaid subscription for $60, which means you'll save $15!
DEAL: Get $5 off your first box! Use coupon code HELLO5. Cannot be combined with other offers.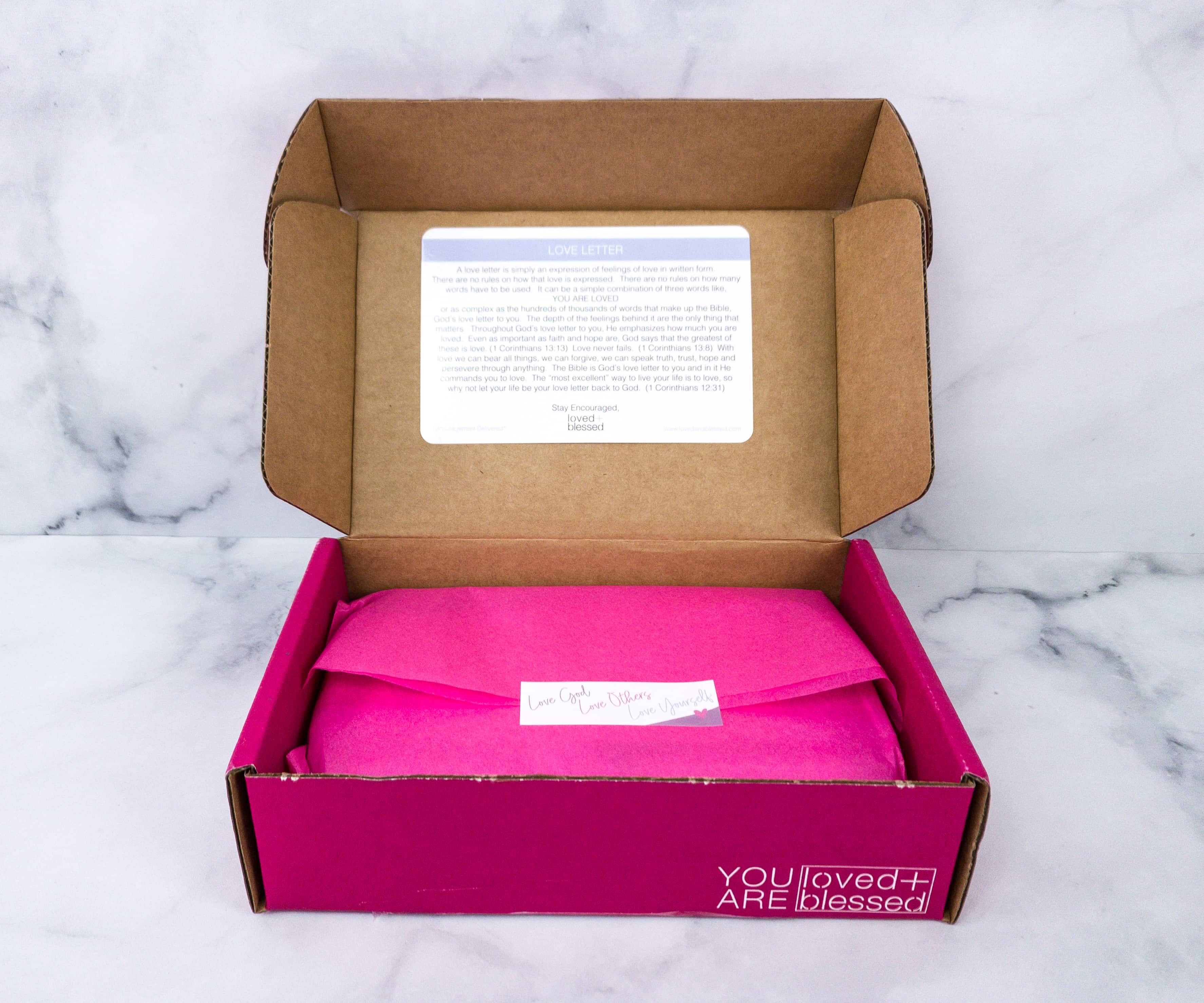 The items were packed with bright pink wrapping paper.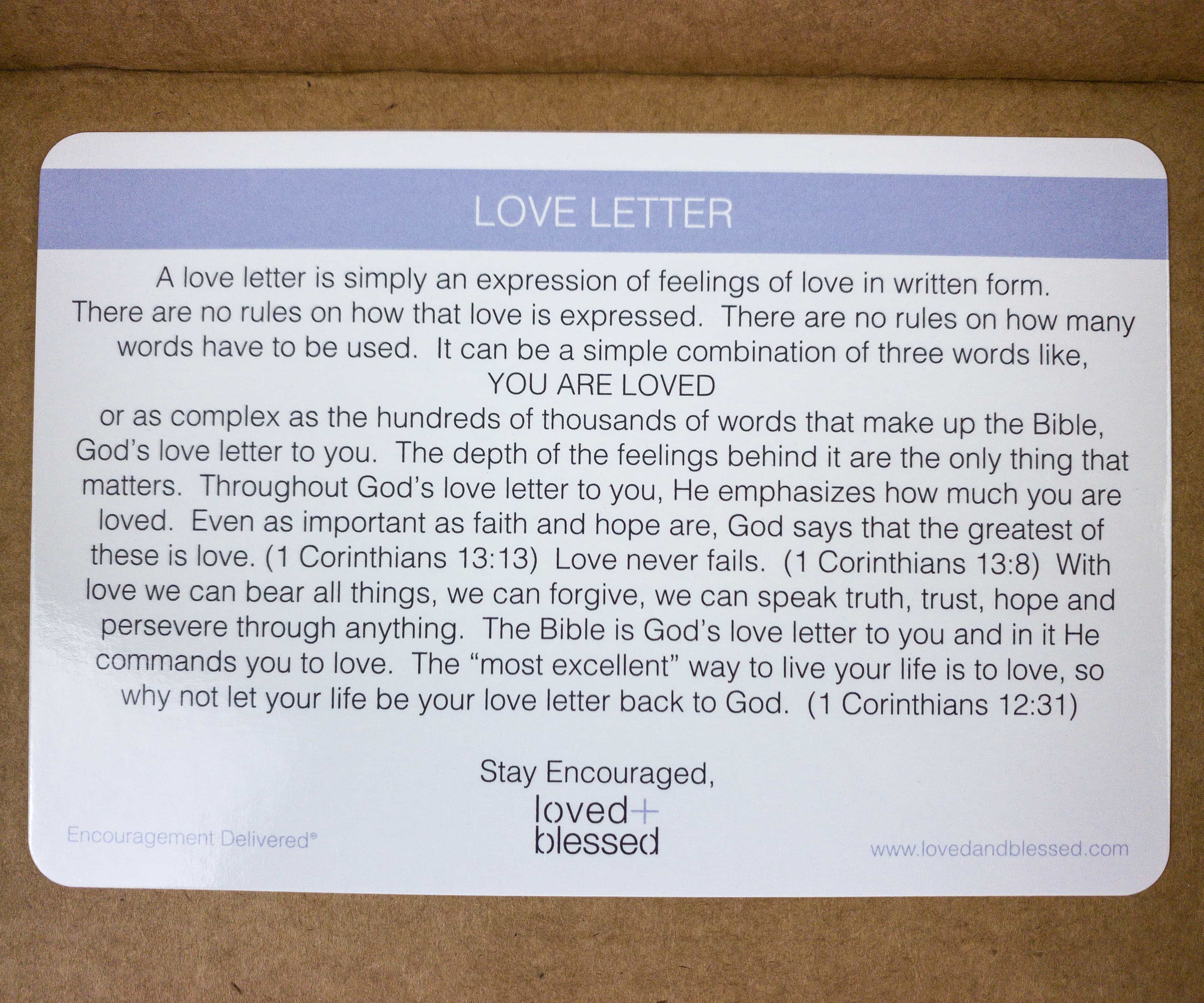 This month's theme is LOVE LETTER.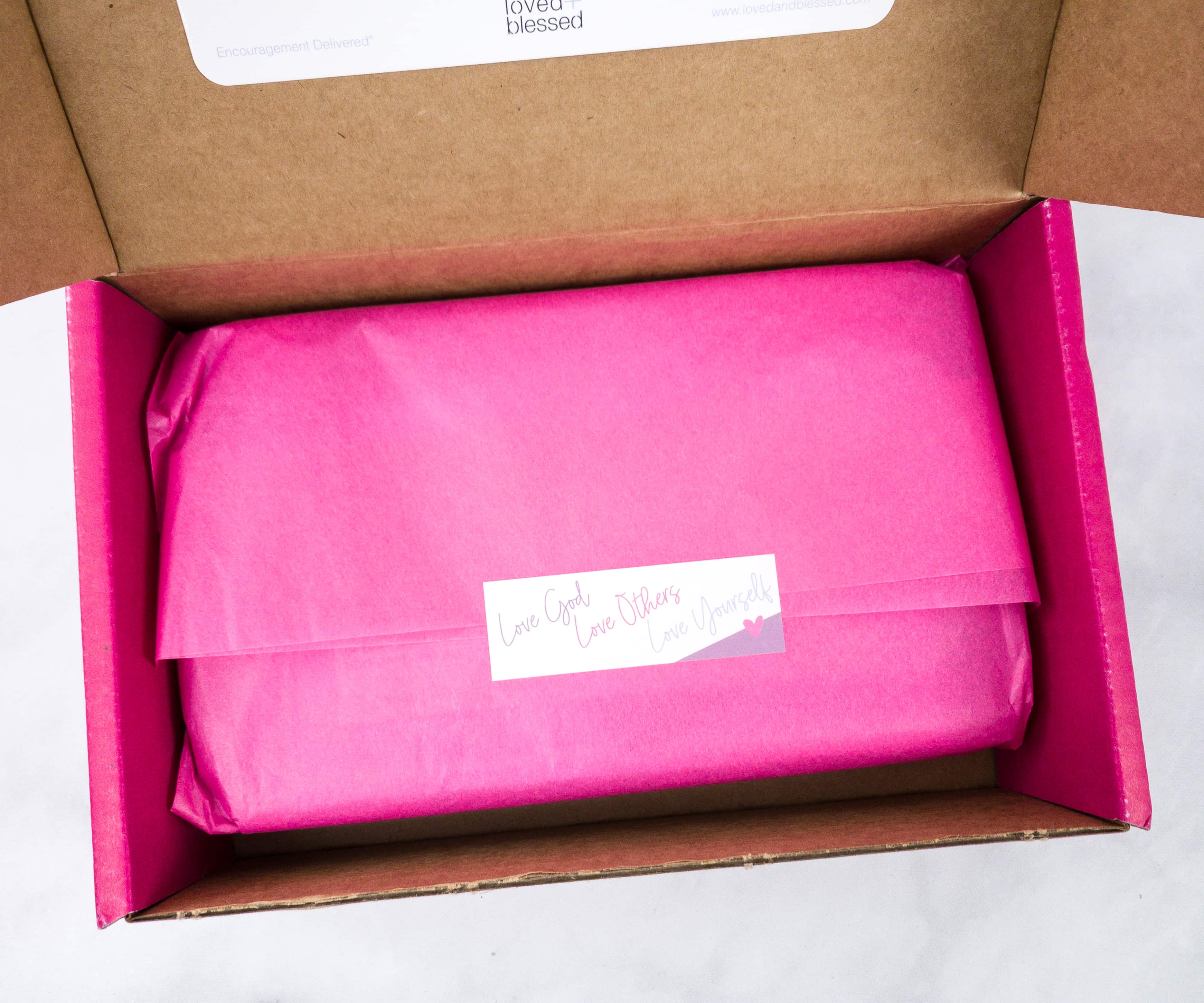 There's a sticker that seals the wrapping paper. It says "Love God. Love Others. Love Yourself."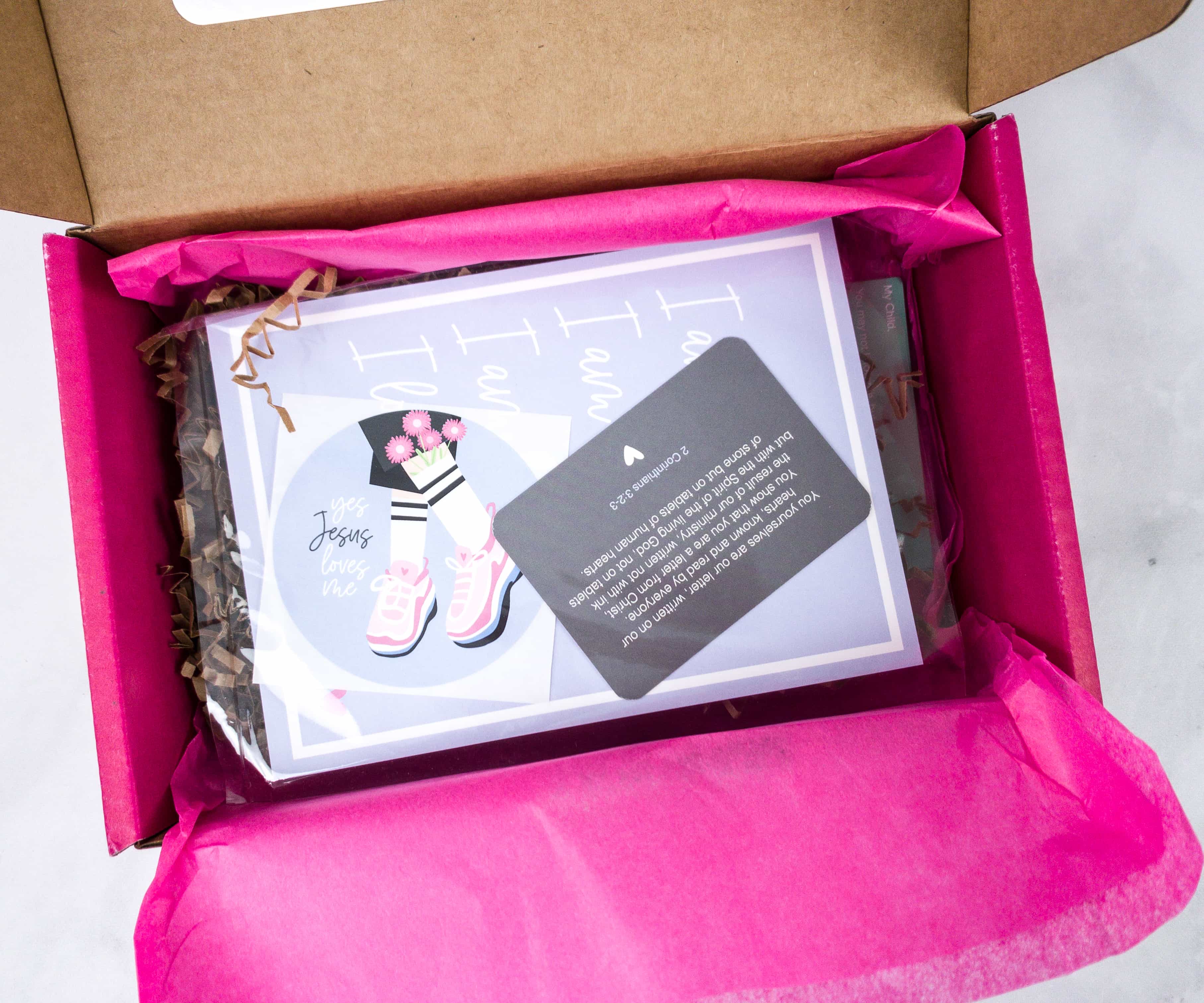 The items were neatly stacked in the box.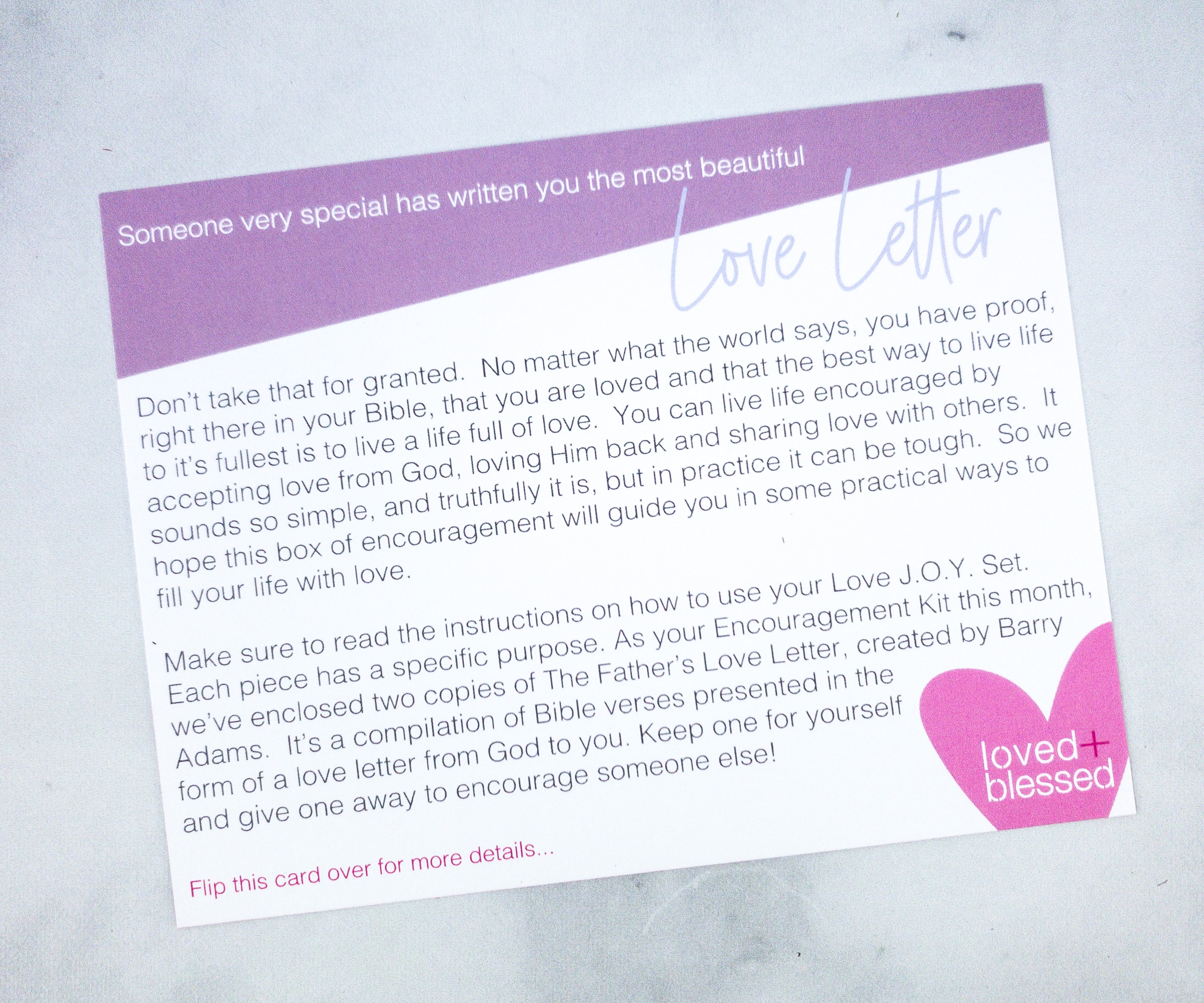 The card features a lot of nice things about this month's box and theme.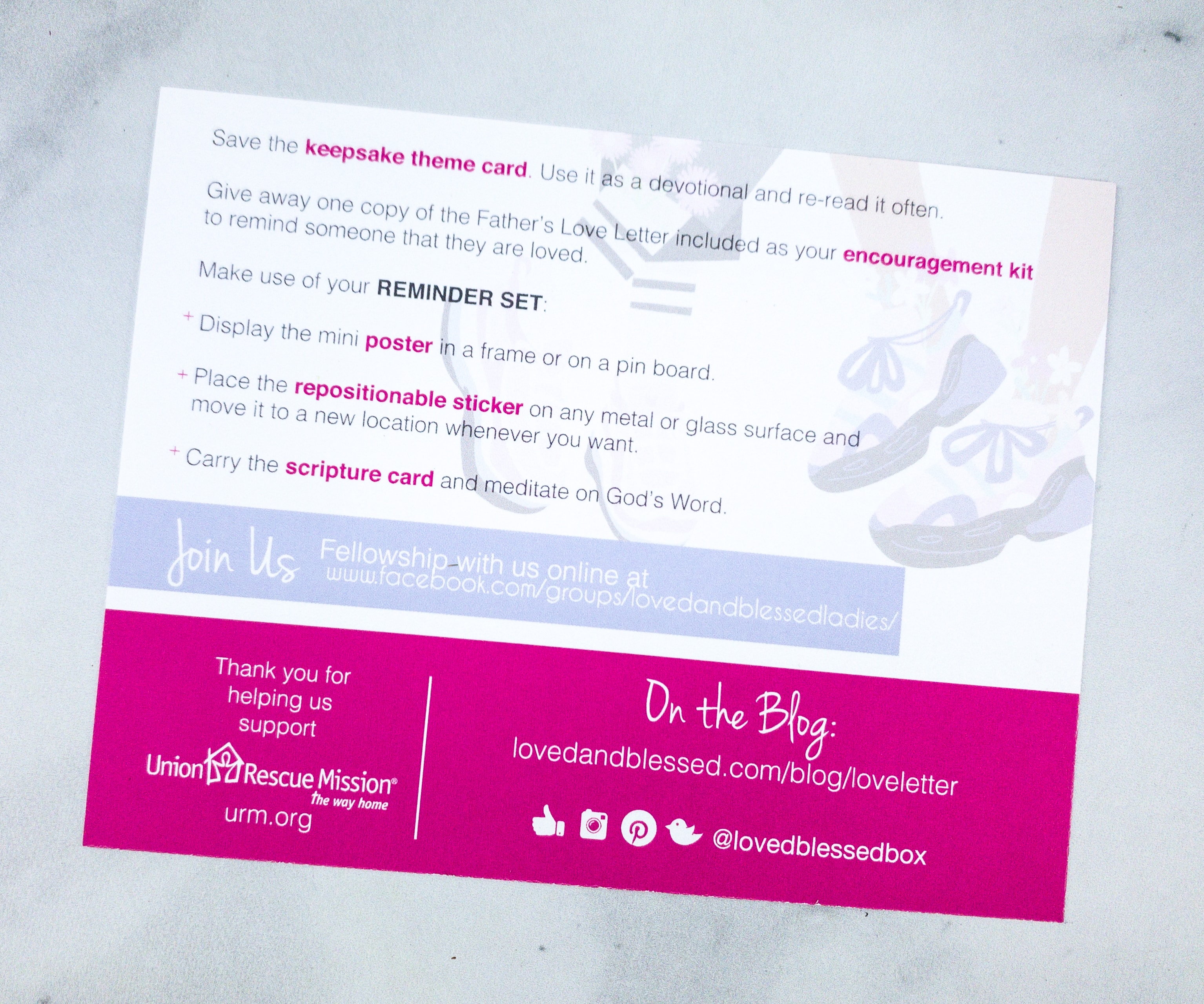 Listed at the back of the card are some reminders about the items inside the box. This box also supports the Union Rescue Mission.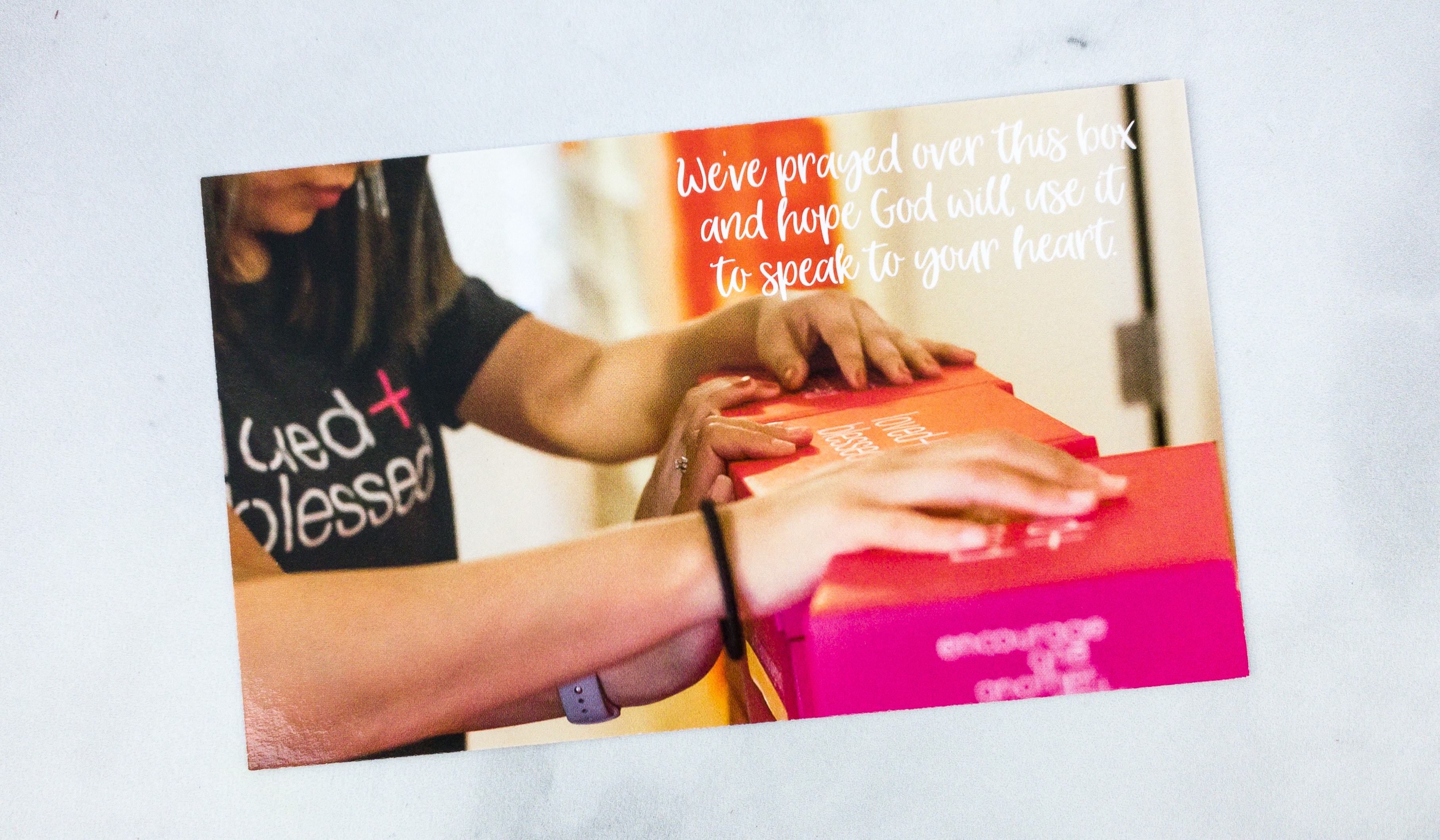 Here's another info card! It features a heartwarming message:
We've prayed over this box and hope God will use it to speak to your heart.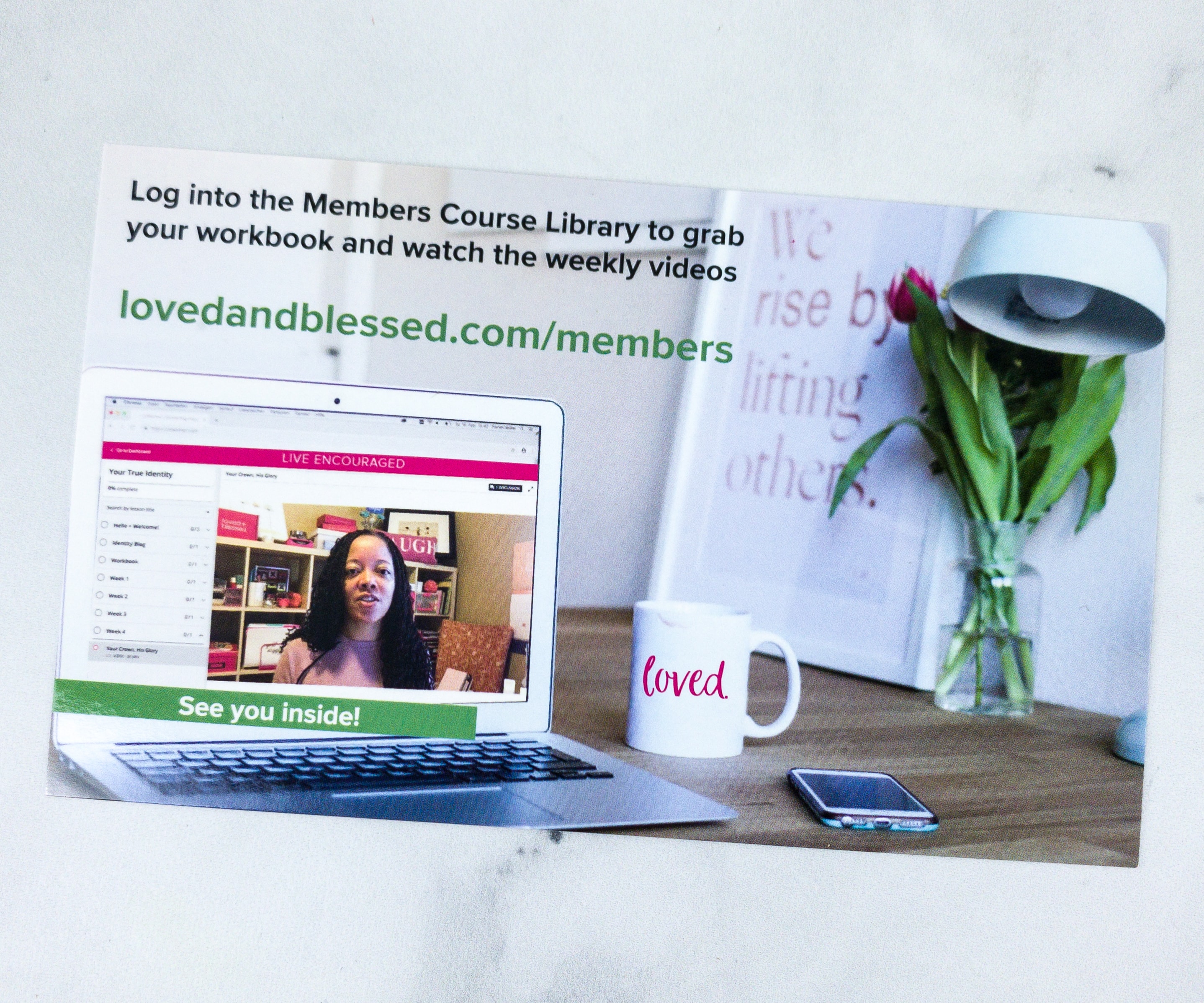 On the other side of the card, there's a reminder to log into the Members Course Library!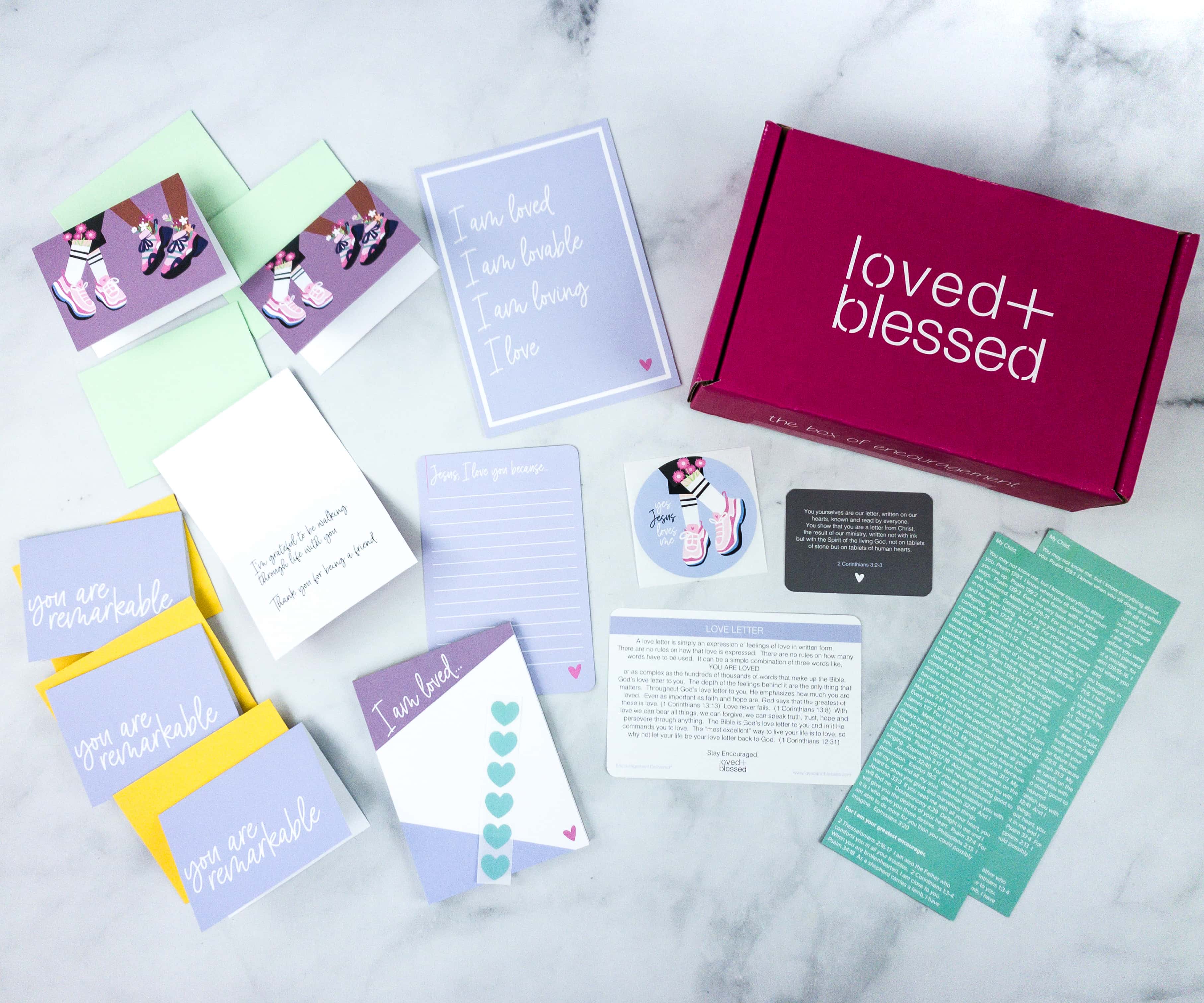 Everything in the April 2020 box!
Scripture Card.  Every box contains a scripture card! This month, the card has beautiful and colorful details which show 2 persons standing and facing each other, but only their legs and feet are visible. There are also flowers and leaves included in the art.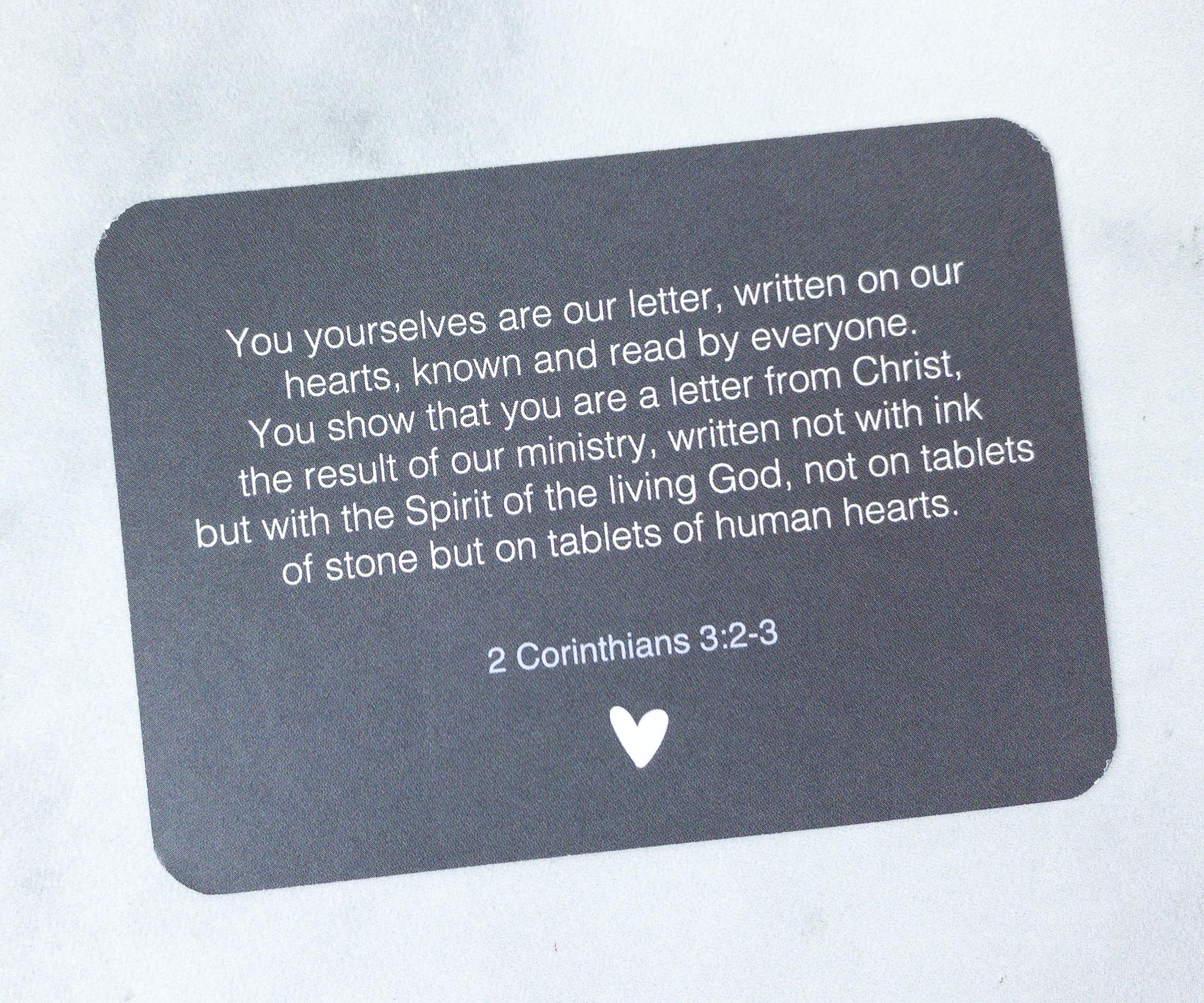 The scripture on the flip side is from 2 Corinthians 3:2-3.
You yourselves are our letter, written on our hearts, known and read by everyone. You show that you are a letter from Christ, the result of our ministry, written not with ink but with the Spirit of the living God, not on tablets of stone but on tablets of human hearts.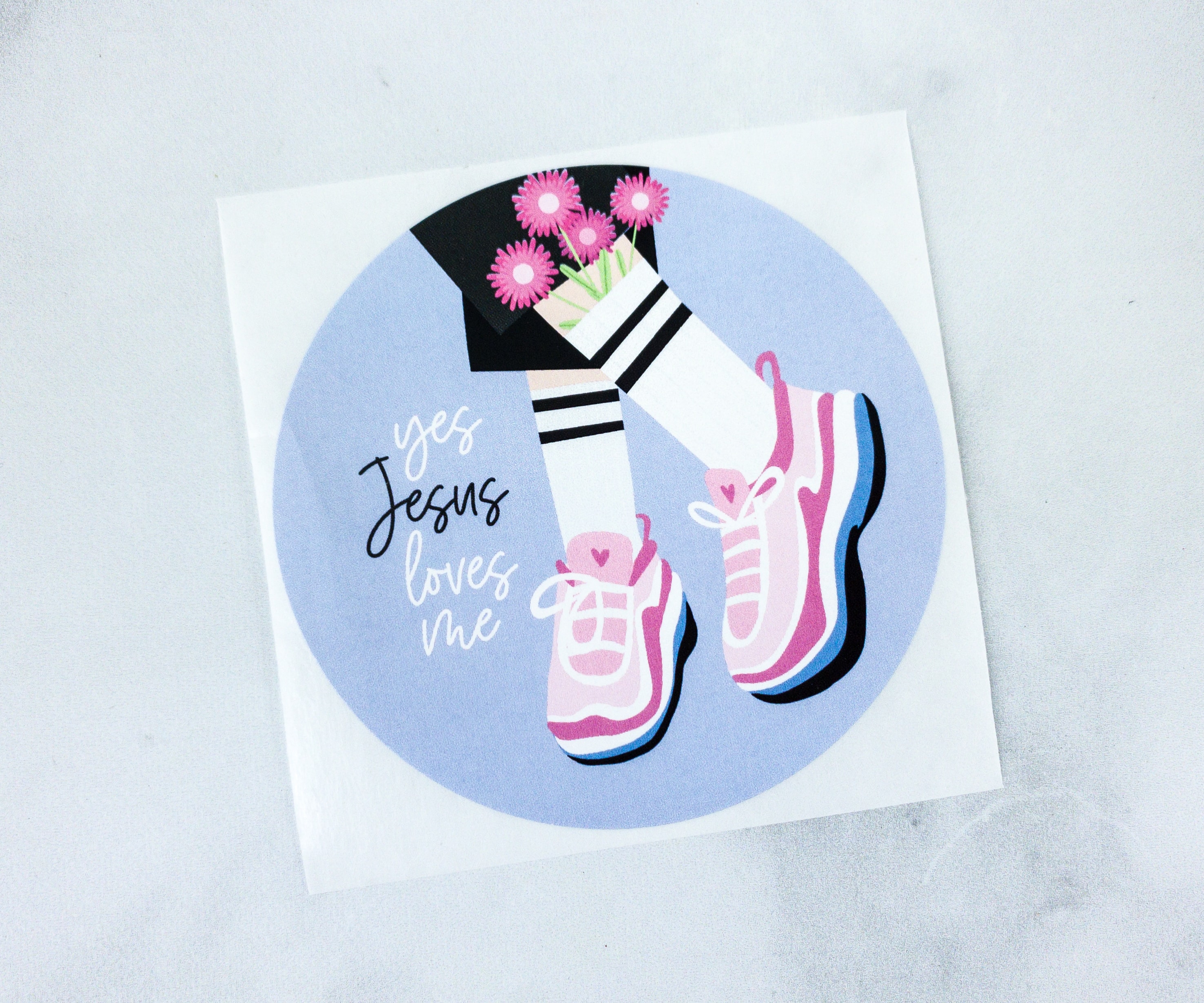 Sticker. The sticker reminds us that Jesus loves us! Like the design on the scripture card, this one also shows a pair of legs and shoes with flowers sticking out from one of the socks. The sticker is a nice addition to notebooks, laptops, or any flat surfaces you would like to decorate.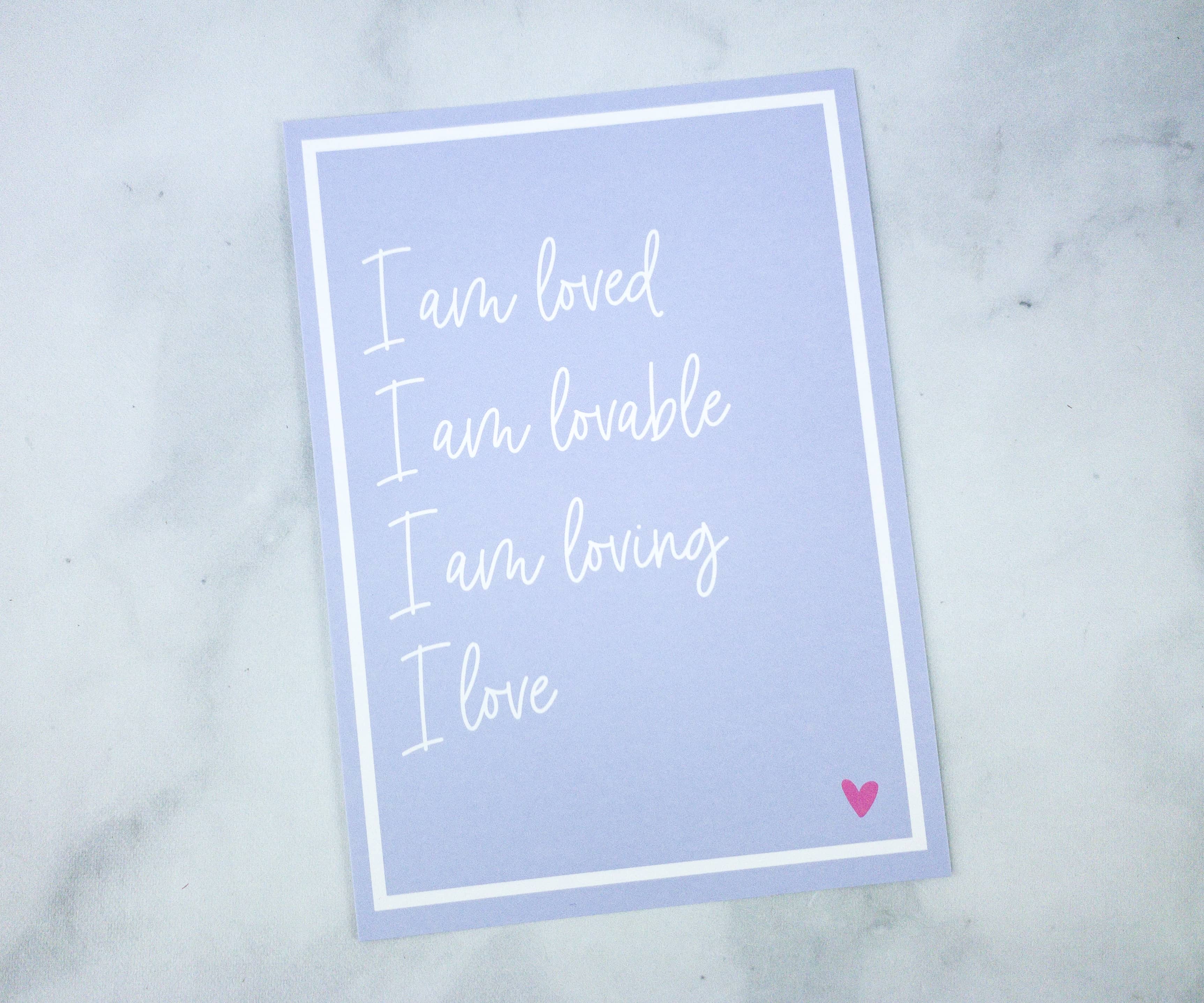 Poster. One of the things I always look forward to in this box is the poster! This month, the poster has beautiful words, and it's all about love!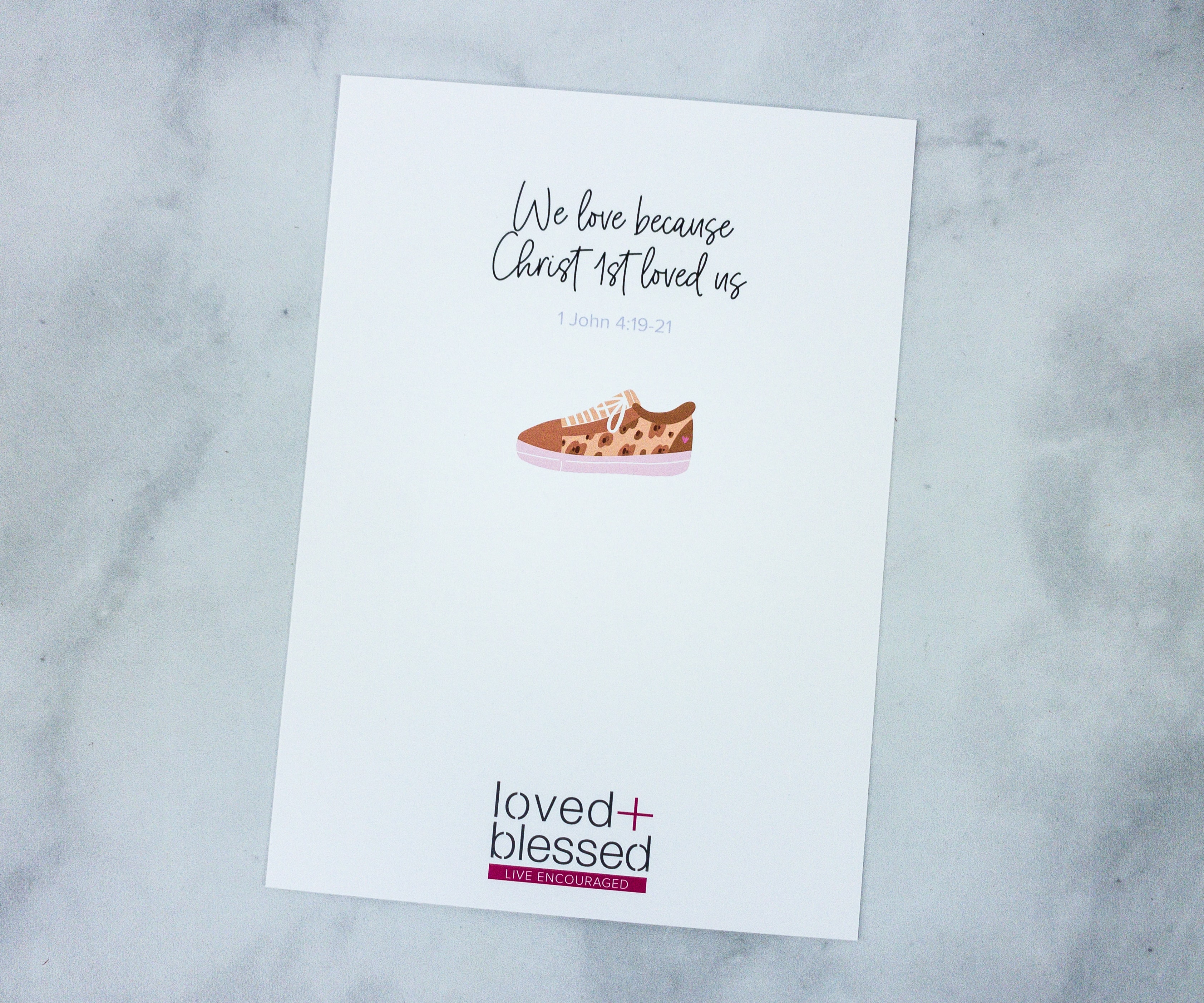 As always, there's another inspiring message on the flip side. This time, it's from 1 John 4:19-21:
We love because Christ 1st loved us.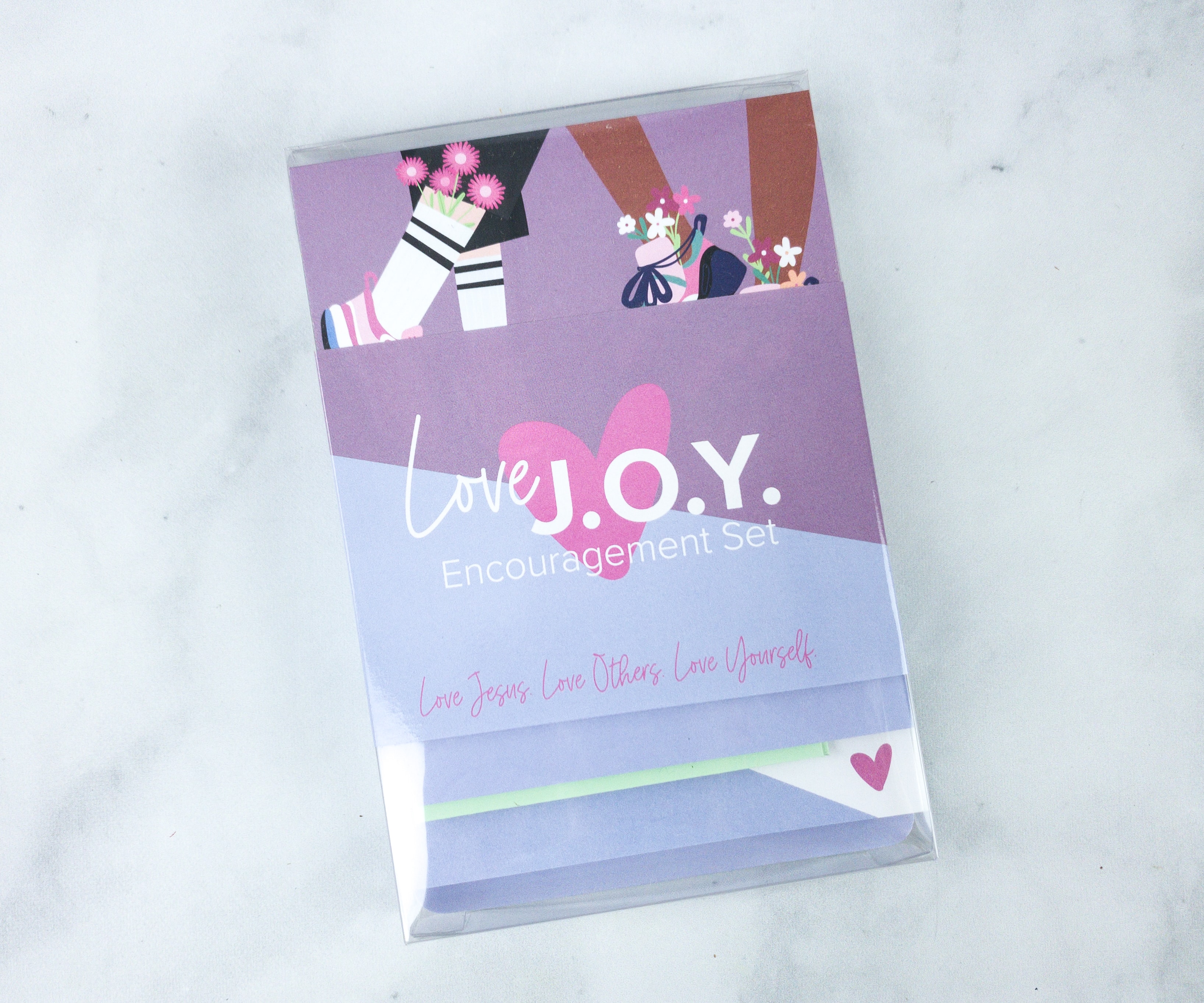 Love J.O.Y. Encouragement Set. The encouragement kit this month says Love J.O.Y. which stands for Love Jesus, Others, and Yourself!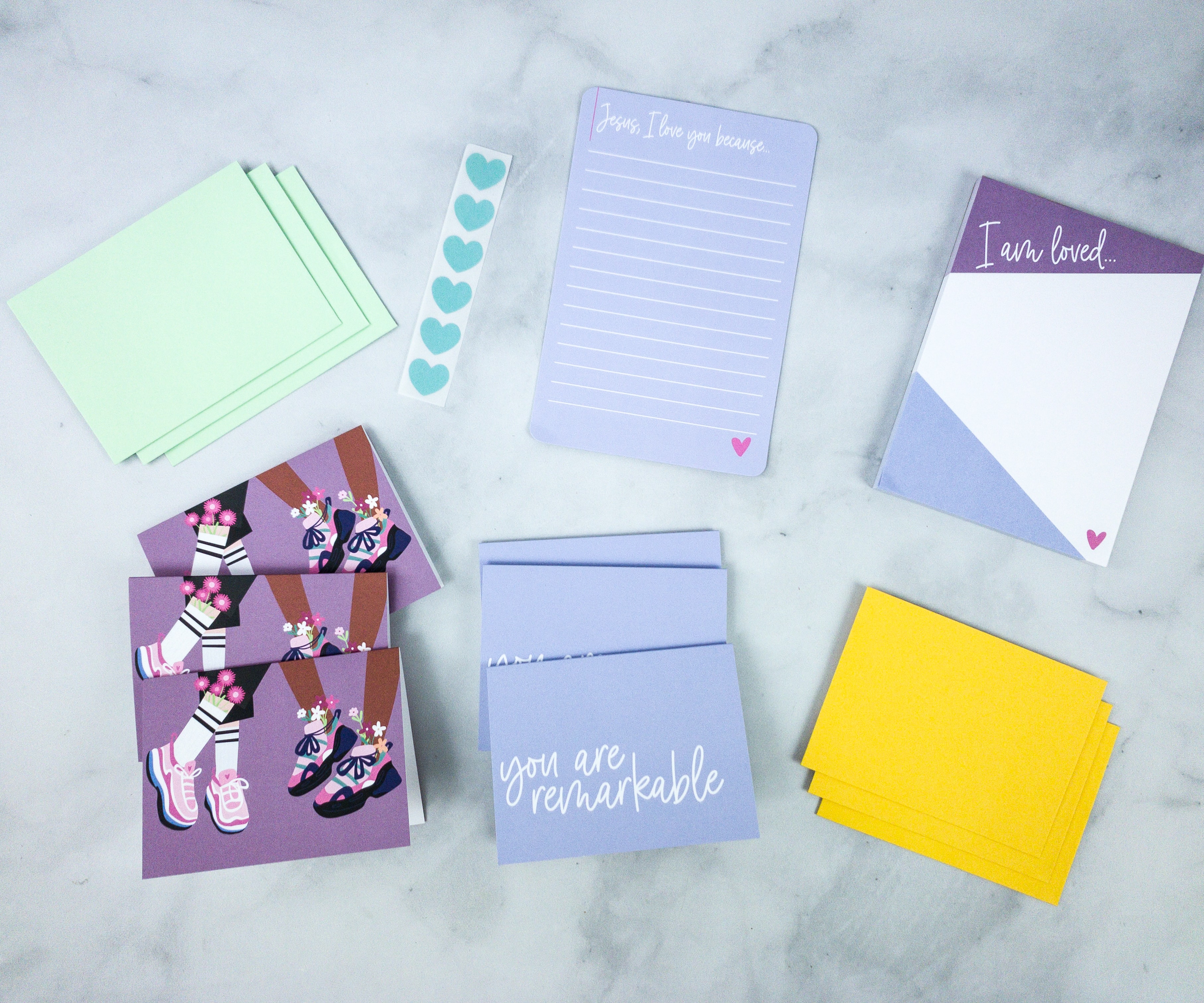 The set contains a lot of things that you can also share with others!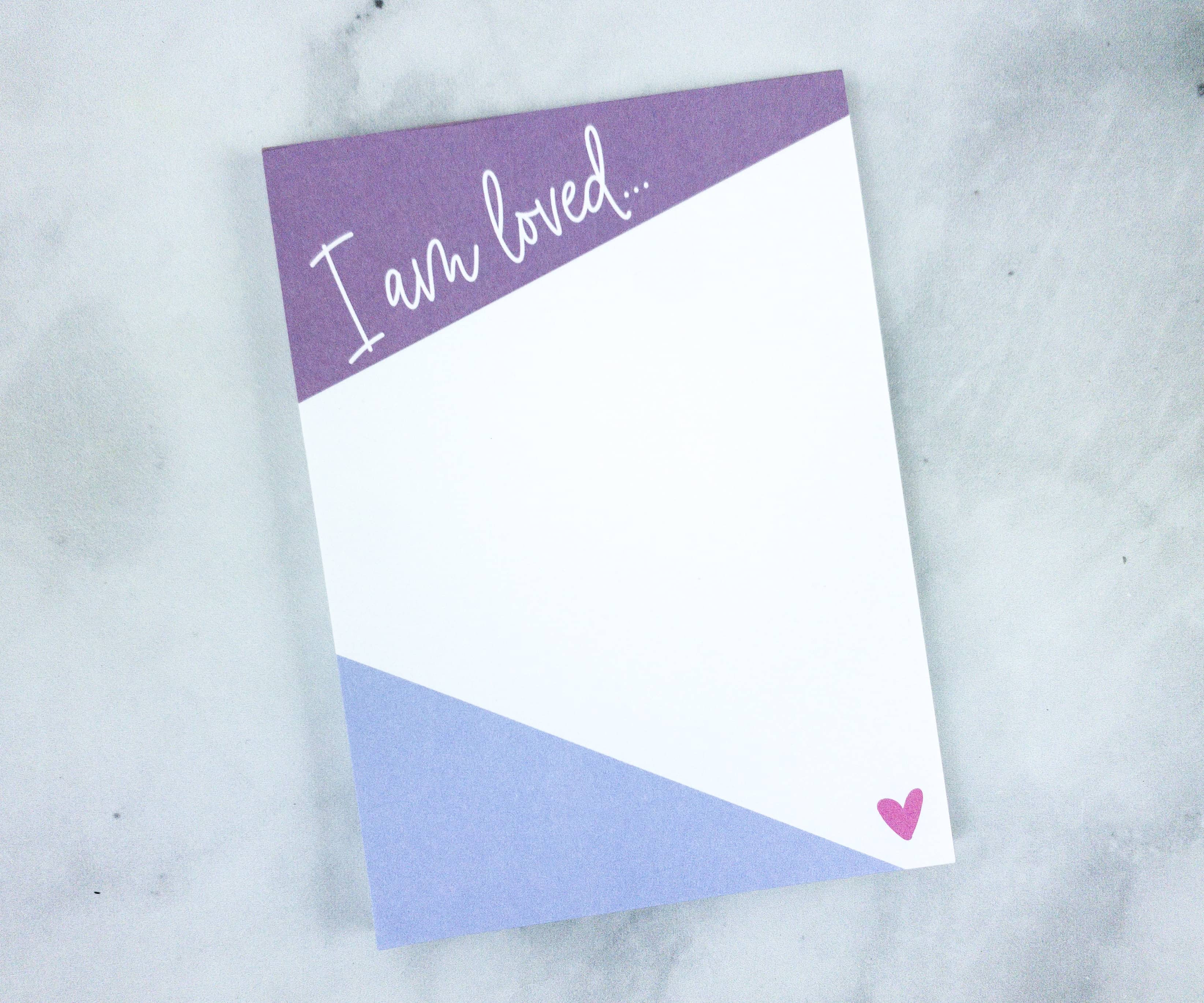 There's a beautiful notepad that reminds you that you are loved. You can use this to list all the reasons that make you feel you are loved!
There's also this card that you can tuck in your Bible so you'll always be reminded of why you love Him.
The back of the card has the instructions on how to use the Love J.O.Y. set.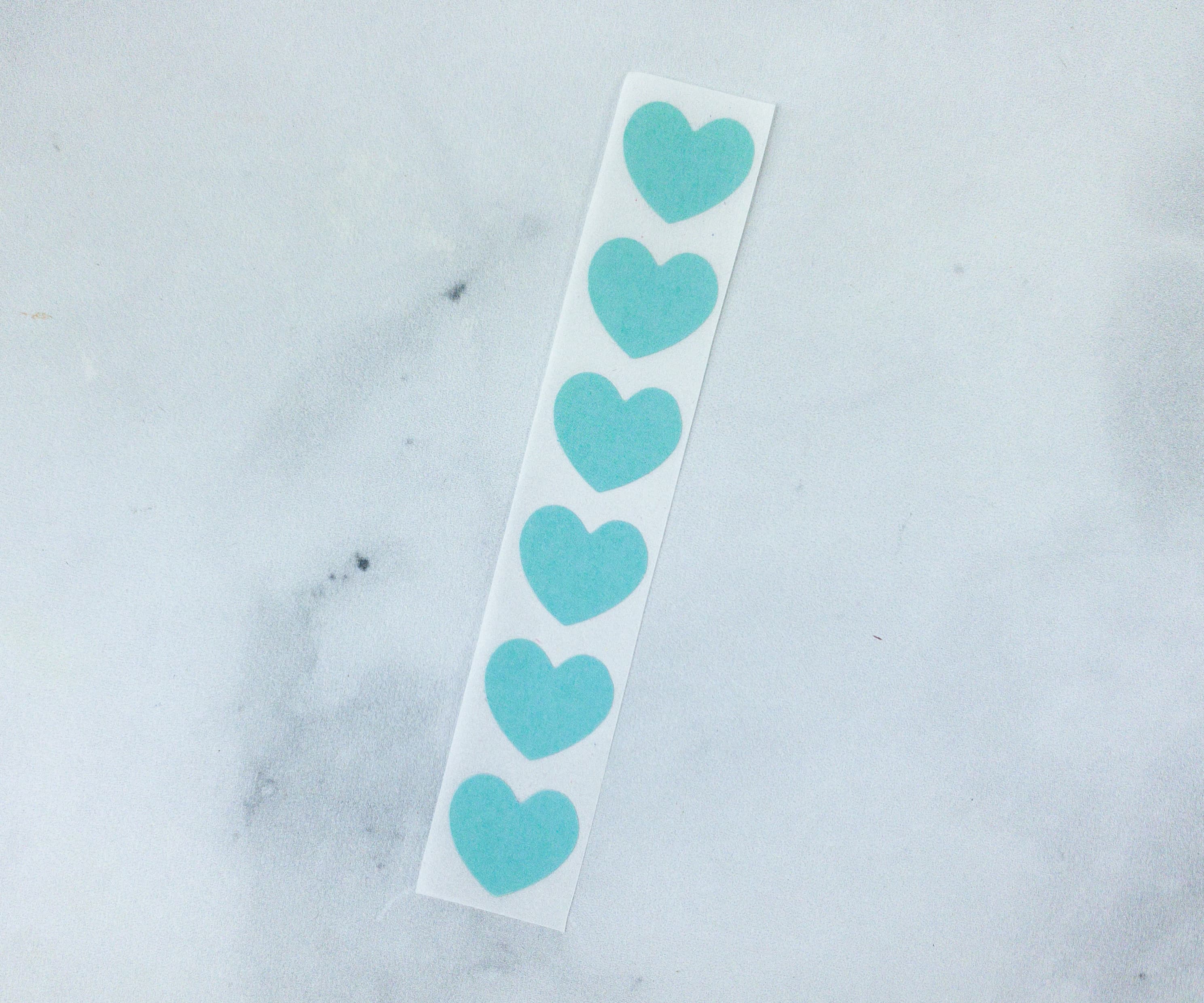 There are also cute heart closure stickers that you can use with the cards.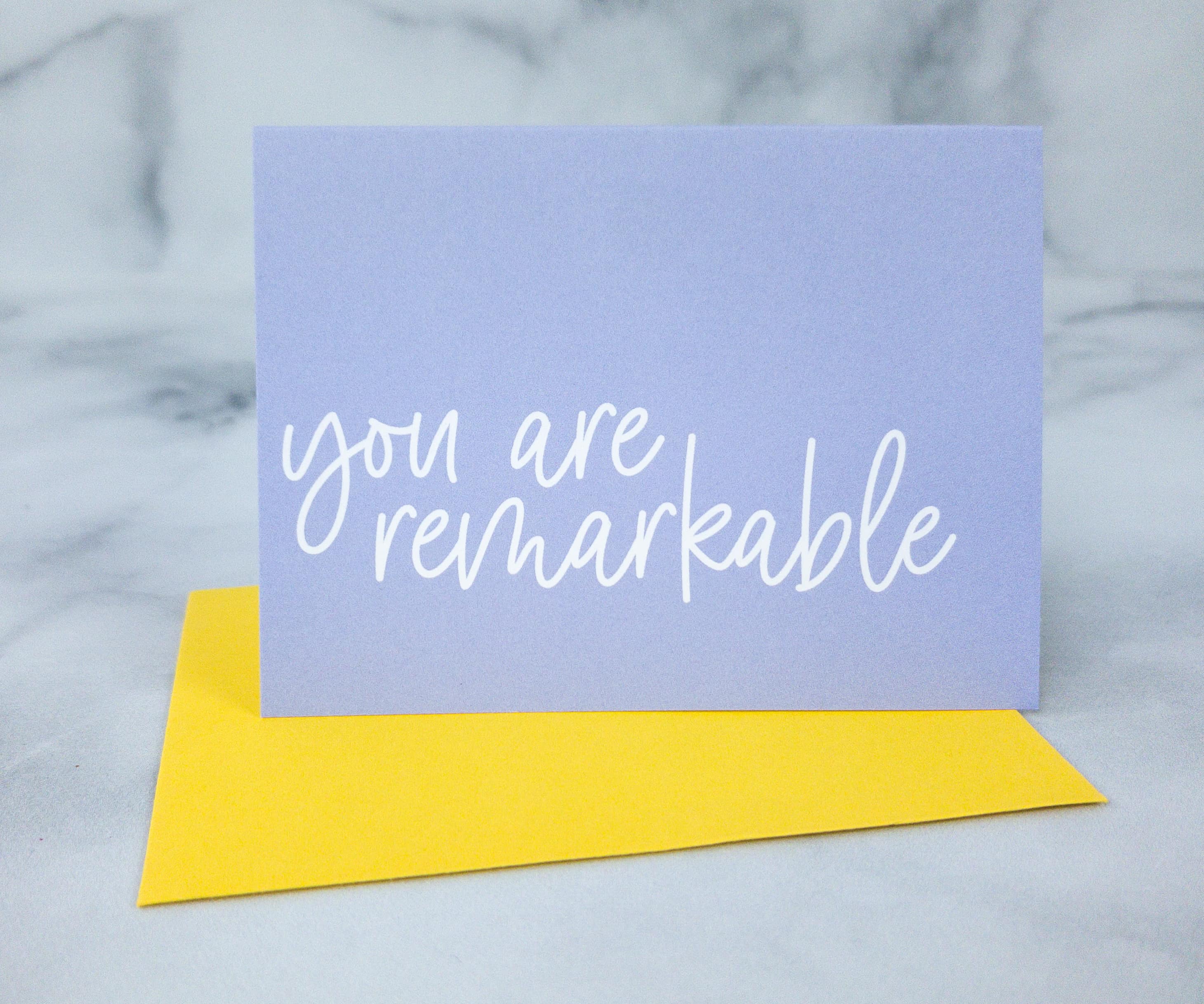 One of the cards says "you are remarkable". You can send it to a loved one to make them feel that they are also loved.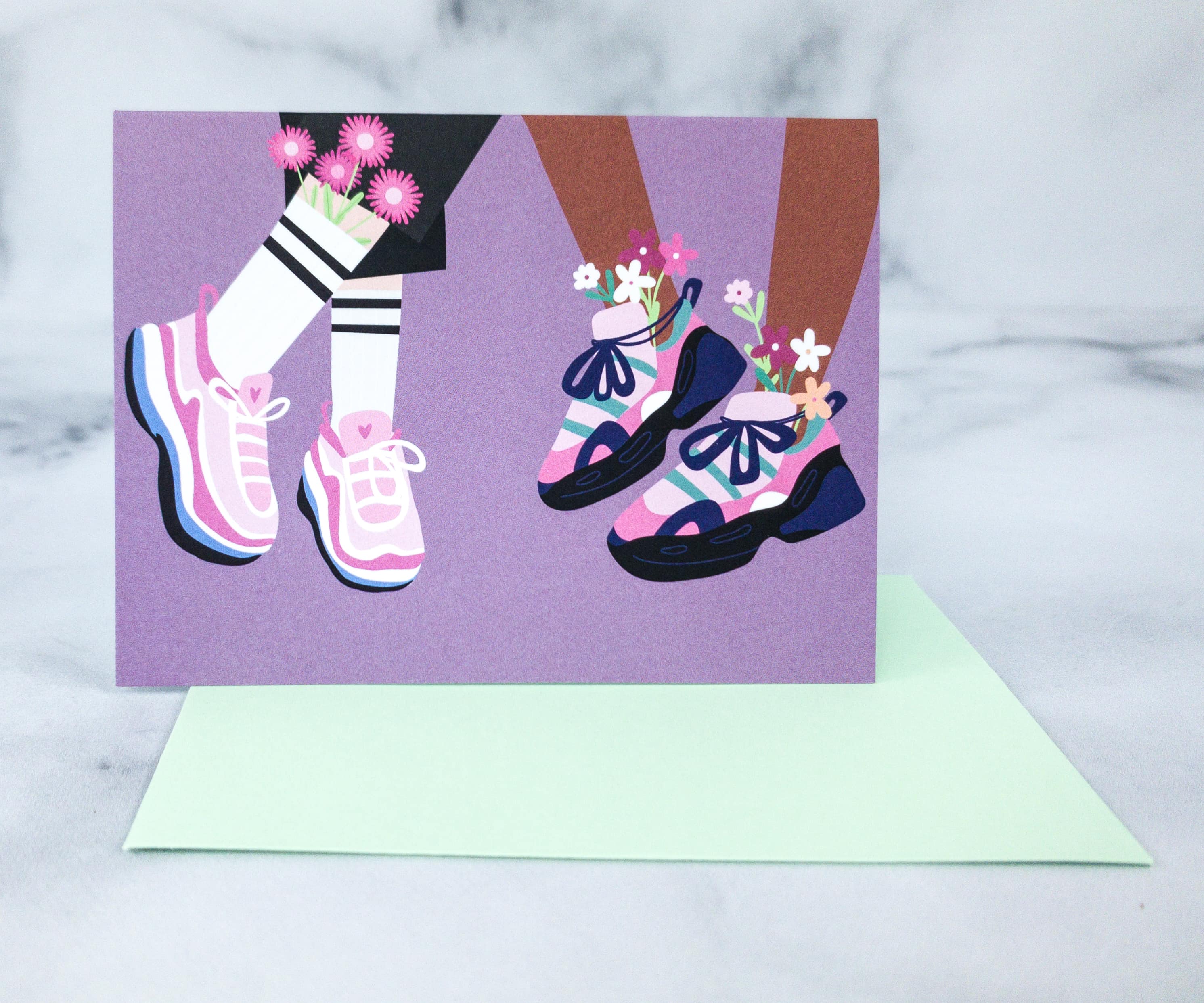 The other card has a similar design to the Scripture Card, which shows 2 persons standing and facing each other, but only their lower legs are shown, and there are also some floral details.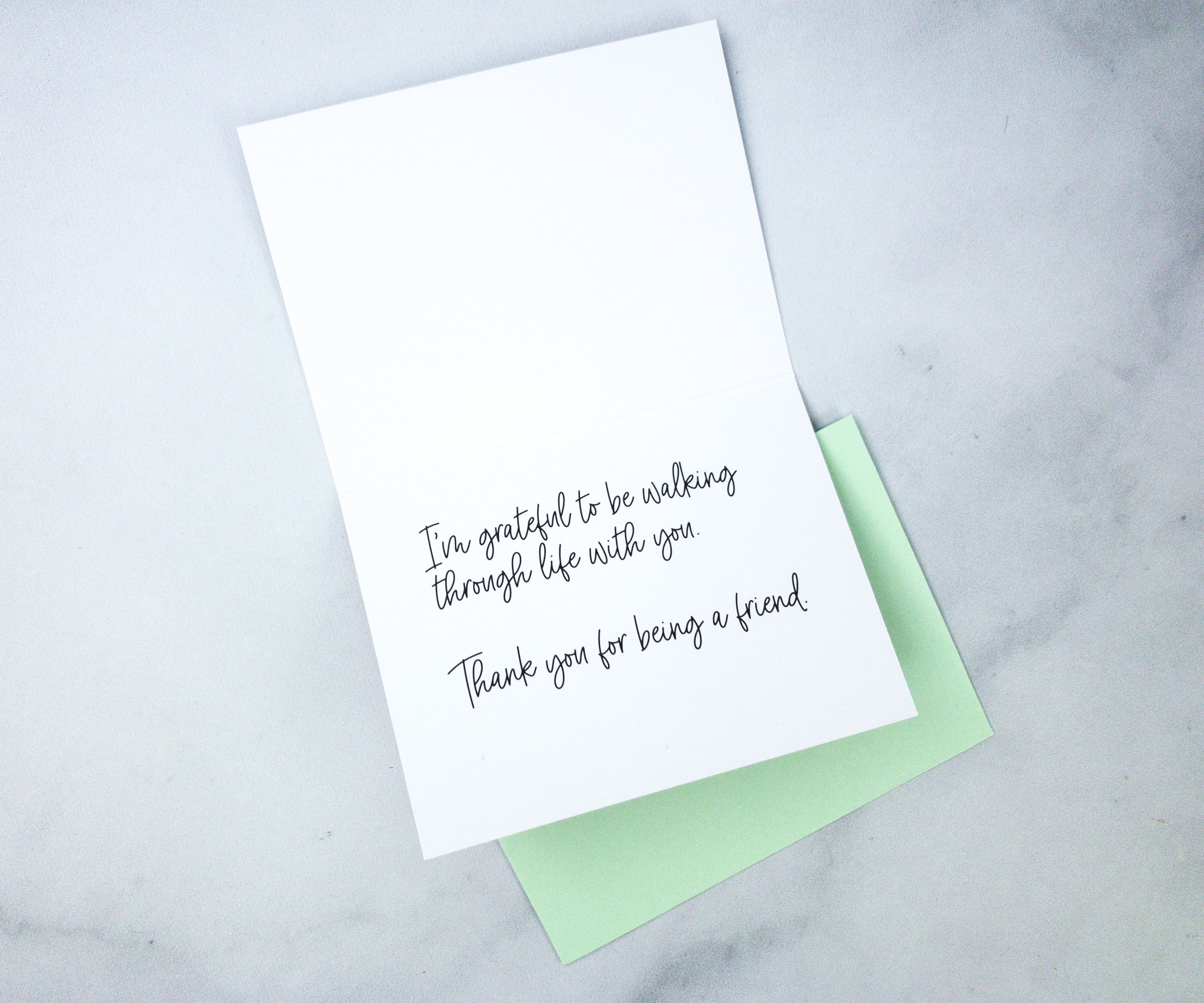 Inside the card is a message:
I'm grateful to be walking through life with you.

Thank you for being a friend.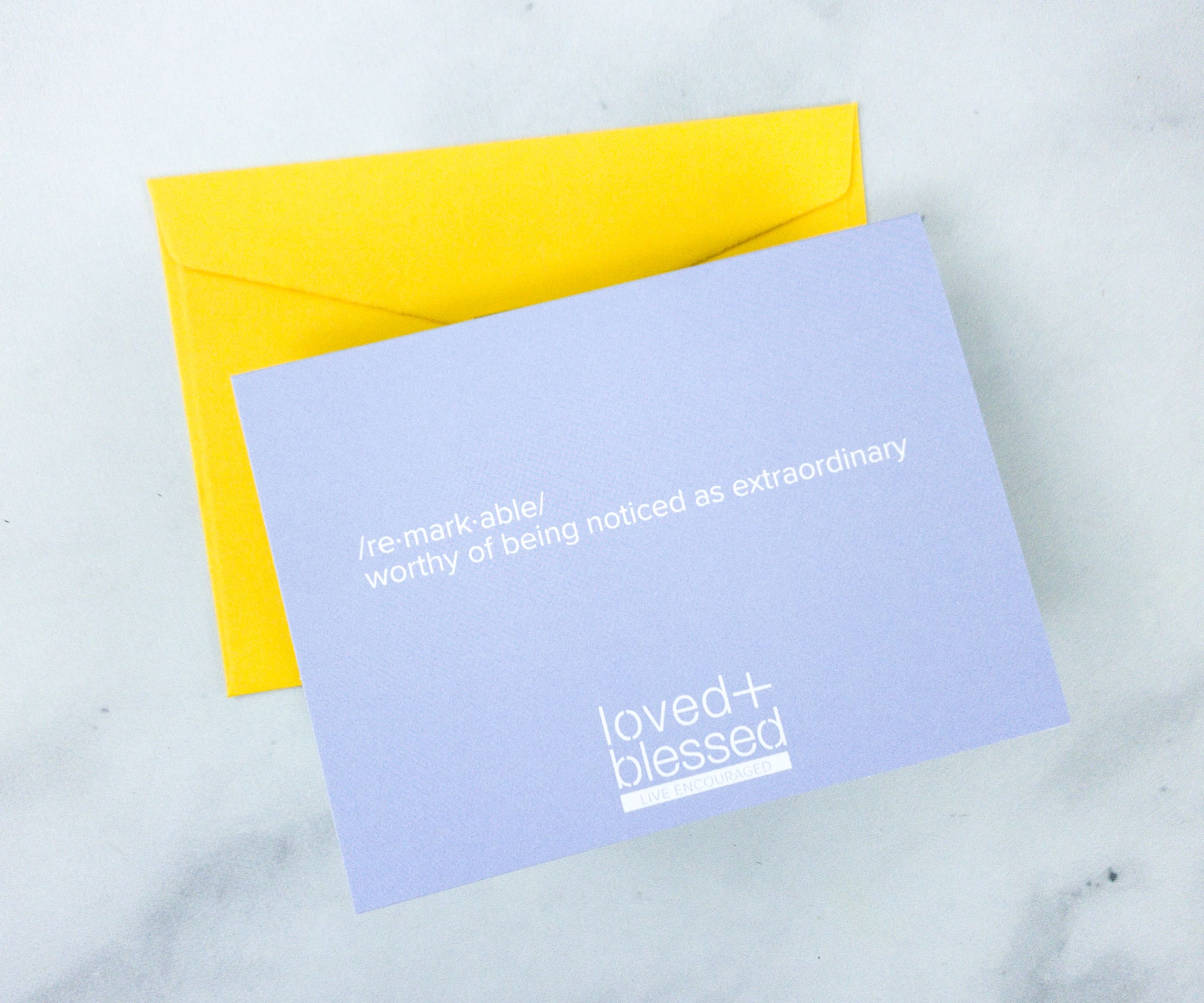 The card also includes the meaning of the word "remarkable", which is worthy of being noticed as extraordinary.
The Father's Love Letter. Also, there are two copies of The Father's Love Letter by Barry Adams, which is a compilation of Bible verses in the form of Love Letter from God. You can keep one and then share the other one with a special person or a friend to encourage them!
This box made me feel that God loves me and that He will never leave me alone by sending people who can love me the same way. I really feel so much blessed when I read all the "love letters" from this box, and I also love the Love J.O.Y. encouragement set, it's a nice way to share the love to the other people, and prove to them that God really loves His children. You can also encourage other people, and it will give you that feeling of contentment, where you are able to share and let others know that they are never alone. The themes are always well-thought-of and beautiful, and I am looking forward to receiving this box of love and blessings each month to uplift my spirit!
What did you think of Loved + Blessed this month?