Frey Laundry Kits is an eco-friendly laundry subscription service. Their laundry products are made with a non-toxic concentrated formulation, which means there are no overly-harsh chemicals such as OBAs, FBAs, damaging surfactants, and phosphates. At present, they offer two men's fragrance inspired scents for their laundry detergent: Cedarwood, Oakmoss, Amber and Sandalwood, Bergamot, Clove. A tree is planted with every order!
Customizable laundry plans start at $27. Just answer a few questions about your lifestyle and laundry upon sign up and they will take it from there. Also, subscribers get free shipping and 10% off for life. To further their eco-friendly mission, they plant a tree for every order you place.
We previously reviewed the Trial Kit, see it here. 14 days after receiving the Trial Kit, they will send you an email about your first regular Frey shipment. You can edit this at any time by emailing them back, or directly in your account.
This is the review of the FREY Concentrated Clothes Detergent, Fabric Conditioner and Fabric Sheets Complete Package. 
DEAL: Get 2 fragrances of FREY Detergent for FREE – just pay $1 for shipping! No coupon needed, just use this link to grab the deal.
Instead of relying on harsh chemicals, they use a specialized blend of enzymes and environmentally friendly surfactants. Their bottles are sleek and easy to use, and look nice too!
There were 2 beautifully packaged laundry detergent concentrates in the box. Each contains 16 oz. of concentrate, which is good for 50 loads. There's also a pack of dryer sheets!
It came with a booklet that has Frey products shown in front.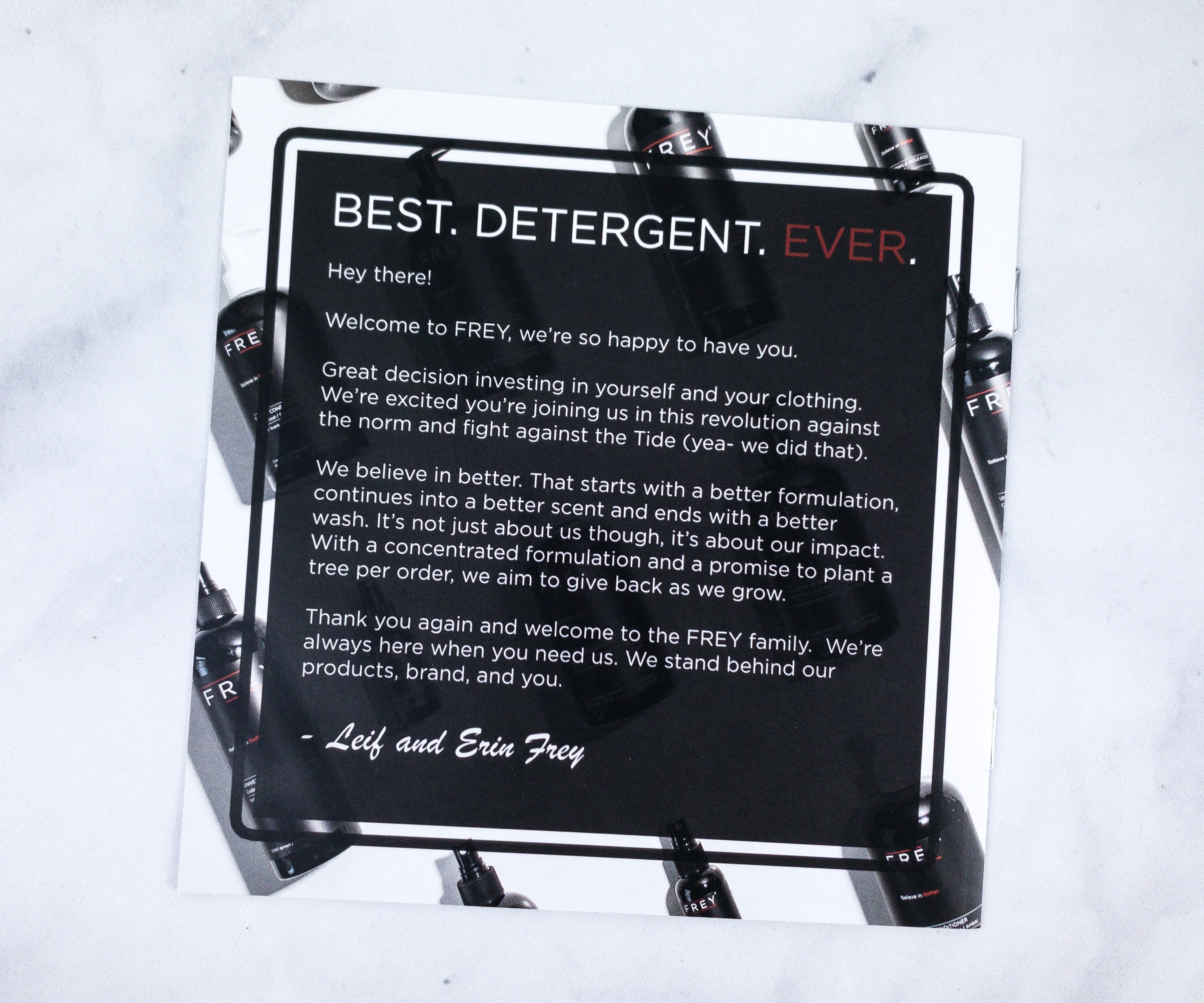 At the back, there is a brief message from Leif and Erin Frey where they tell us a bit more about their brand.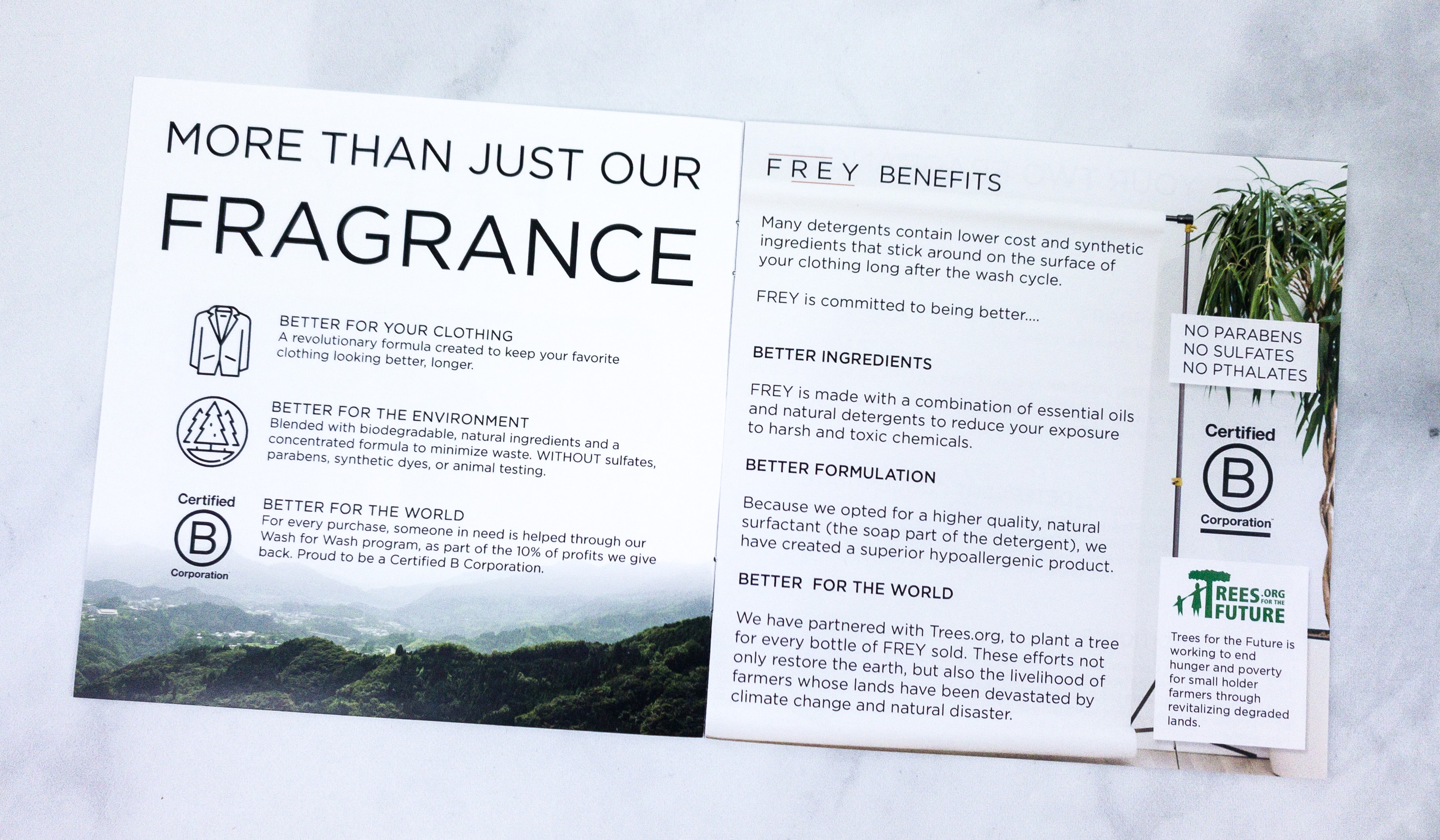 The booklet has a lot of information about the products. In here, it lists down the benefits of using Frey.
BETTER INGREDIENTS

FREY is made with a combination of essential oils and natural detergents to reduce your exposure to harsh and toxic chemicals.

BETTER FORMULATION

Because we opted for a higher quality, natural surfactant (the soap part of the detergent), we have created a superior hypoallergenic product.

BETTER FOR THE WORLD

We have partnered with Trees.org to plant a tree for every bottle of FREY sold. These efforts not only restore earth but also the livelihood of farmers whose lands have been devastated by climate change and natural disaster.
There is also a comparison of the two fragrances available, plus a list of other Frey products available!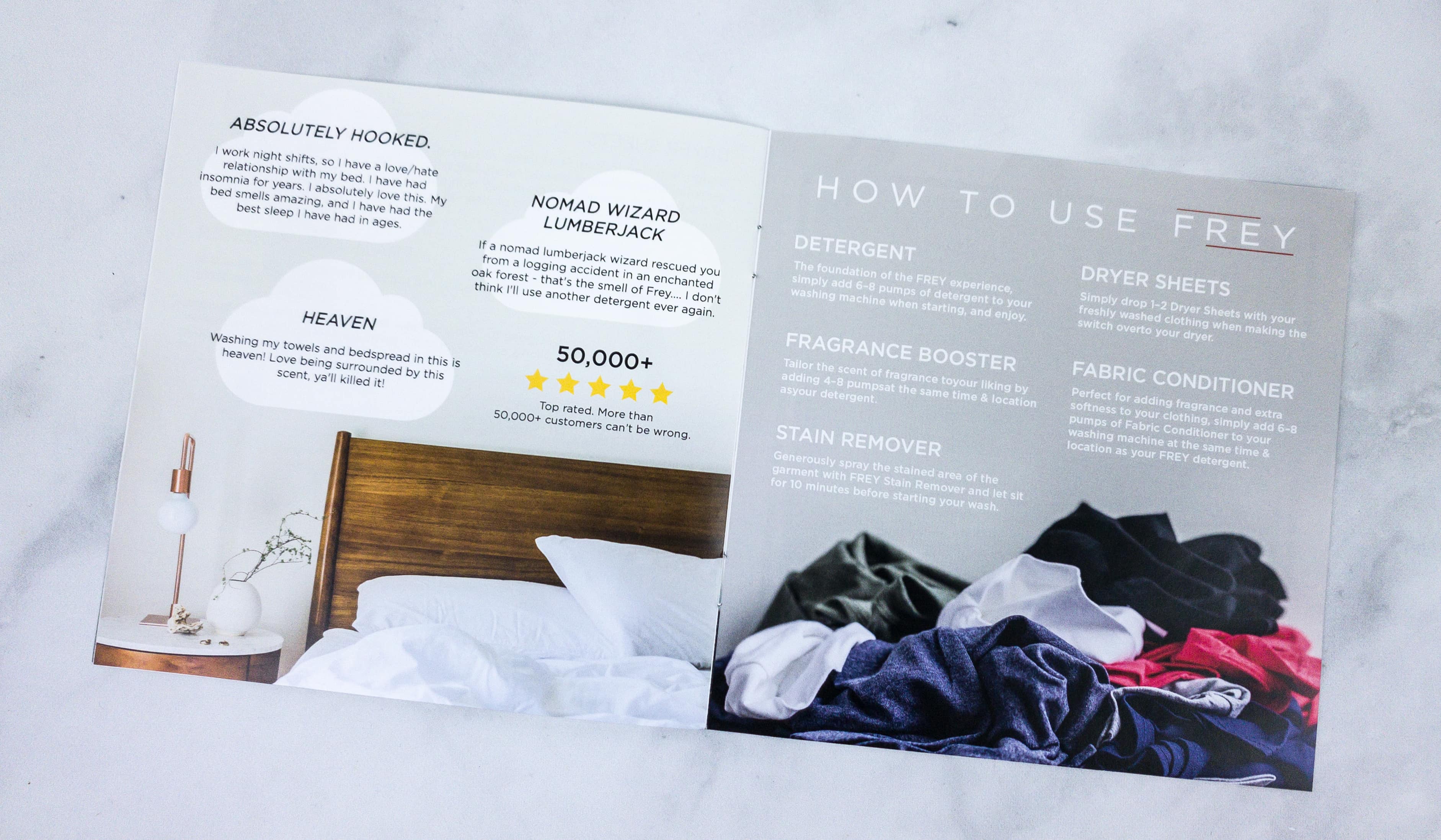 They also put some customer reviews as well as a user guide to their products!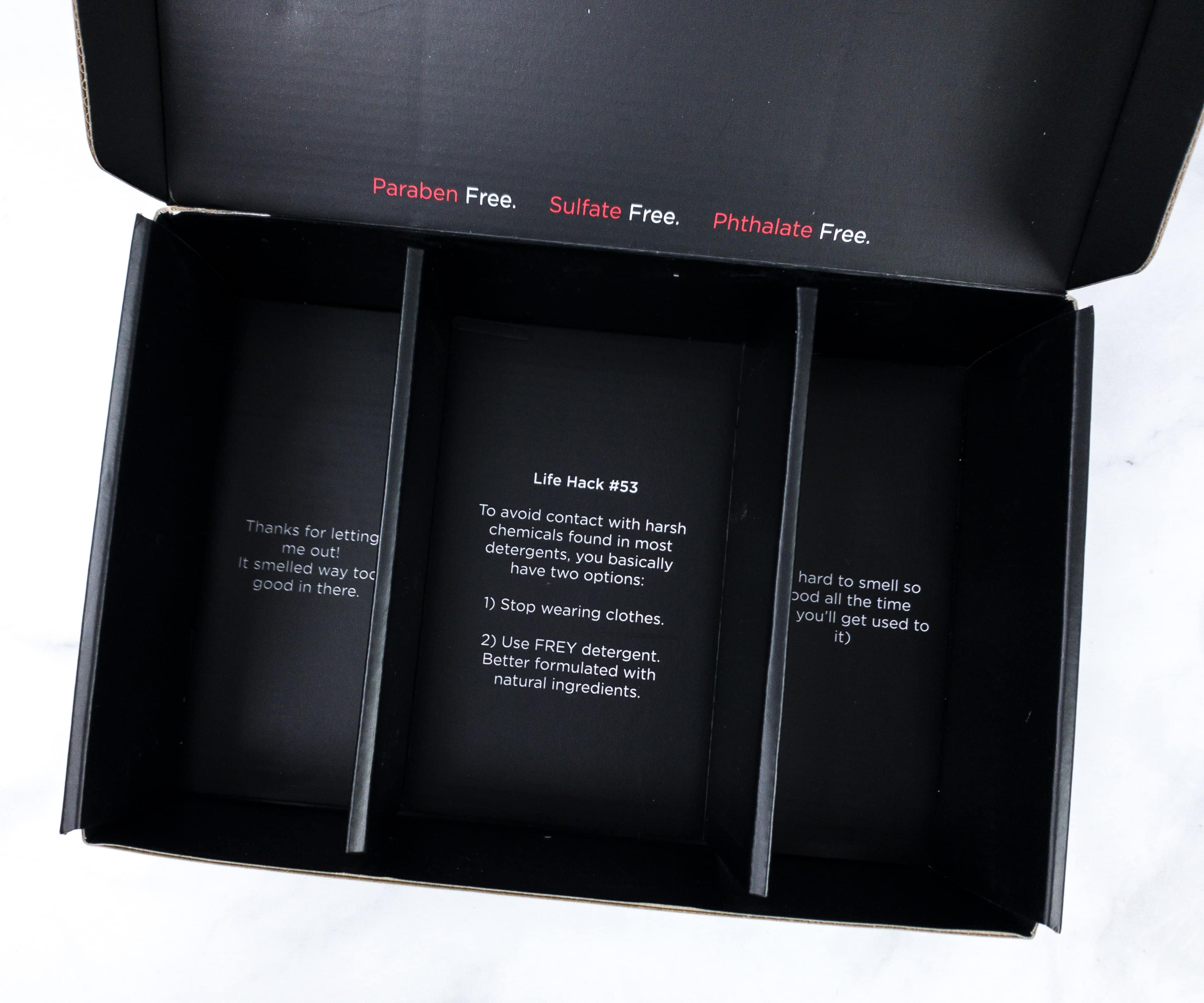 The bottom of the box contains "Life Hacks"!
Life Hack #53

To avoid contact with harsh chemicals found in most detergents, you basically have two options:

1) Stop wearing clothes.

2) Use FREY detergent. Better formulated with natural ingredients.
FREY Concentrated Clothes Detergent, Fabric Conditioner and Fabric Sheets Complete Package ($46) Here's everything in my box!
Free from harsh chemicals, the Frey Laundry Detergent is mild and gentle to the skin. It also has natural ingredients that make it safer to use, not just for our family but also for the environment!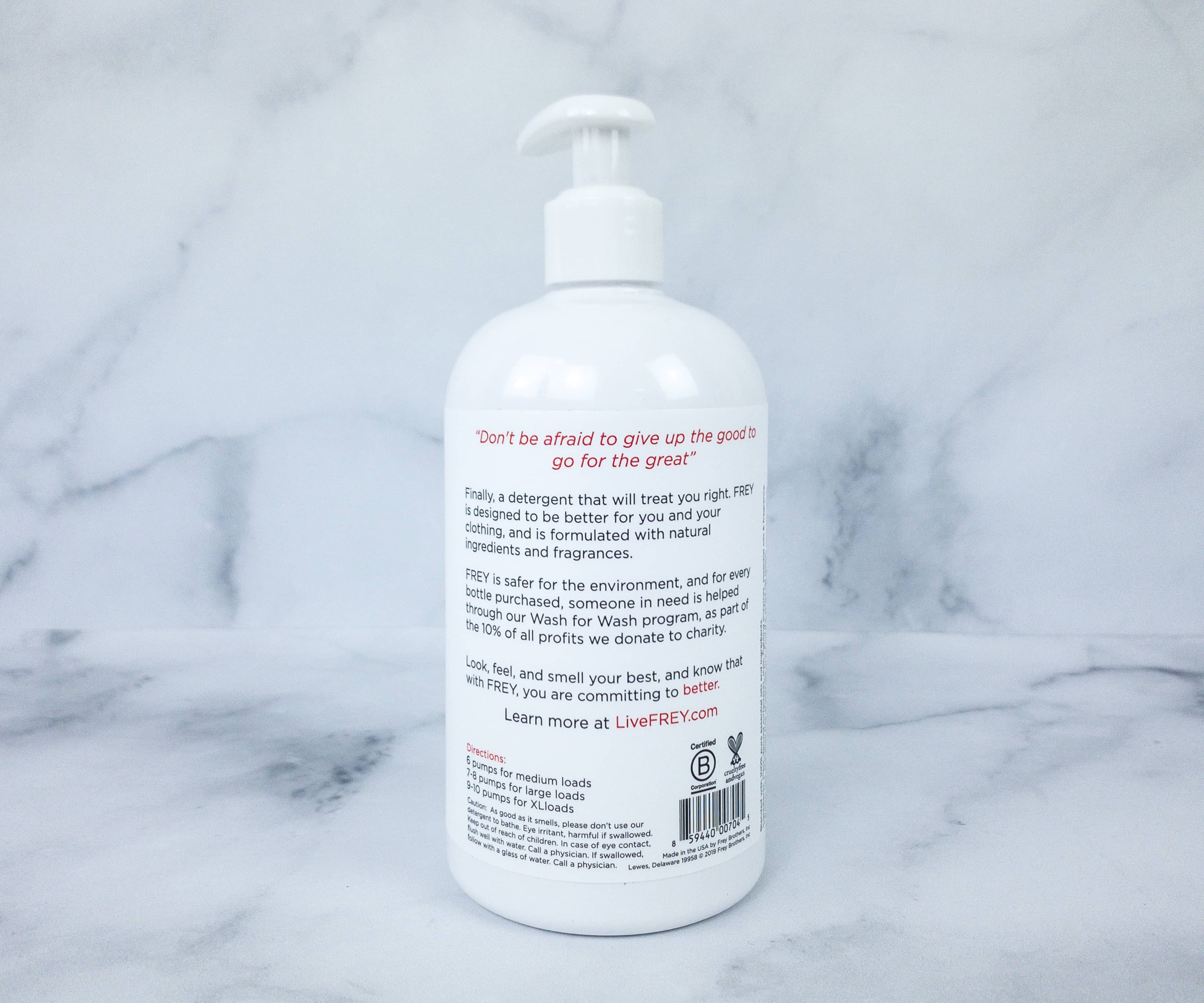 The concentrated laundry detergent means a little goes a long way. A small bottle like this one will last you up to 50 loads without sacrificing the integrity of the wash. I love that we thoroughly cleansed clothes all the time because of this!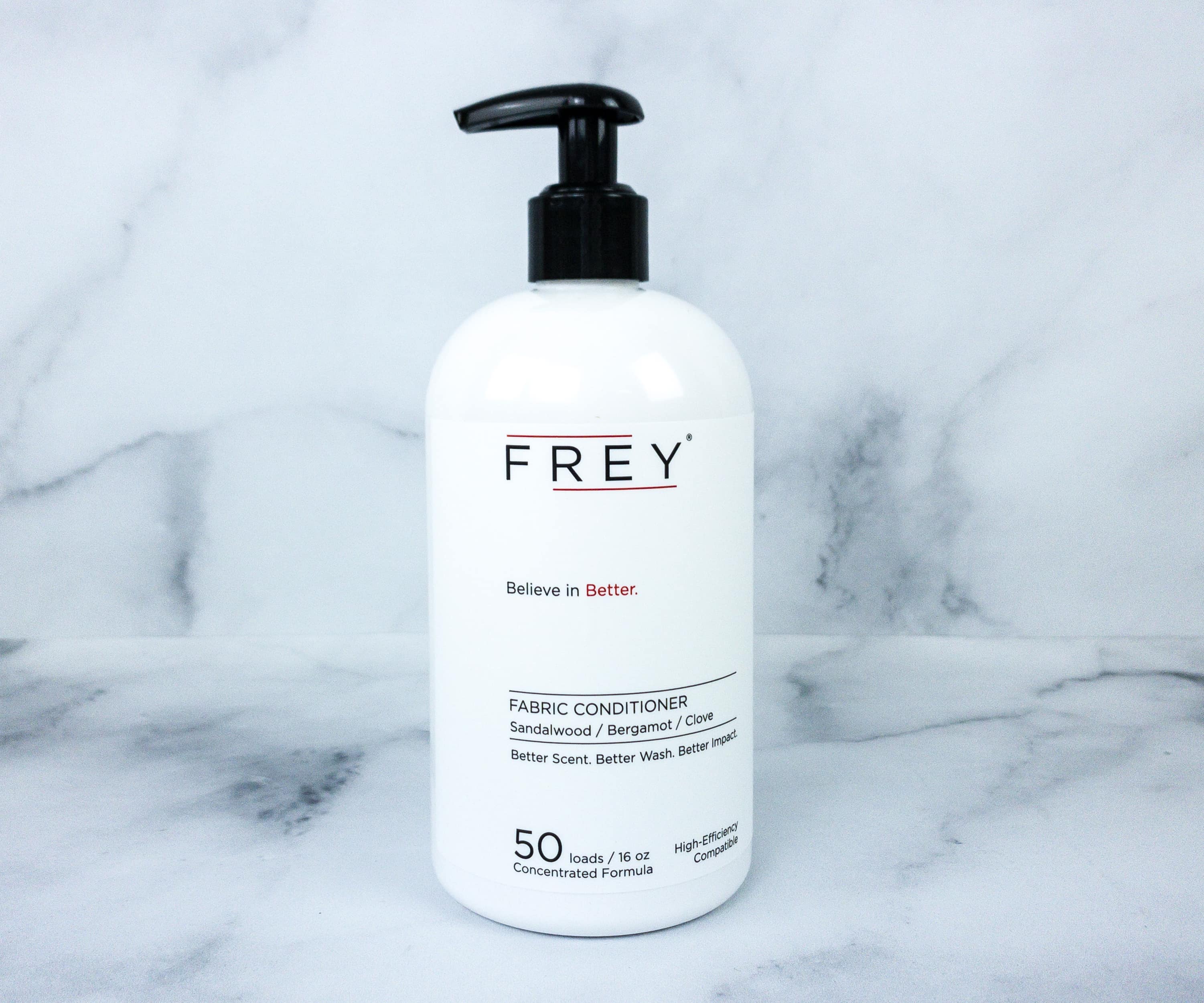 Next, we have the Frey Fabric Conditioner. It's a blend of natural ingredients that keeps clothes looking smooth and feeling soft!
The revolutionary formula contains softening agents that polish the wrinkles out! It's also a concentrated formula which means a small bottle can be used for up to 50 loads!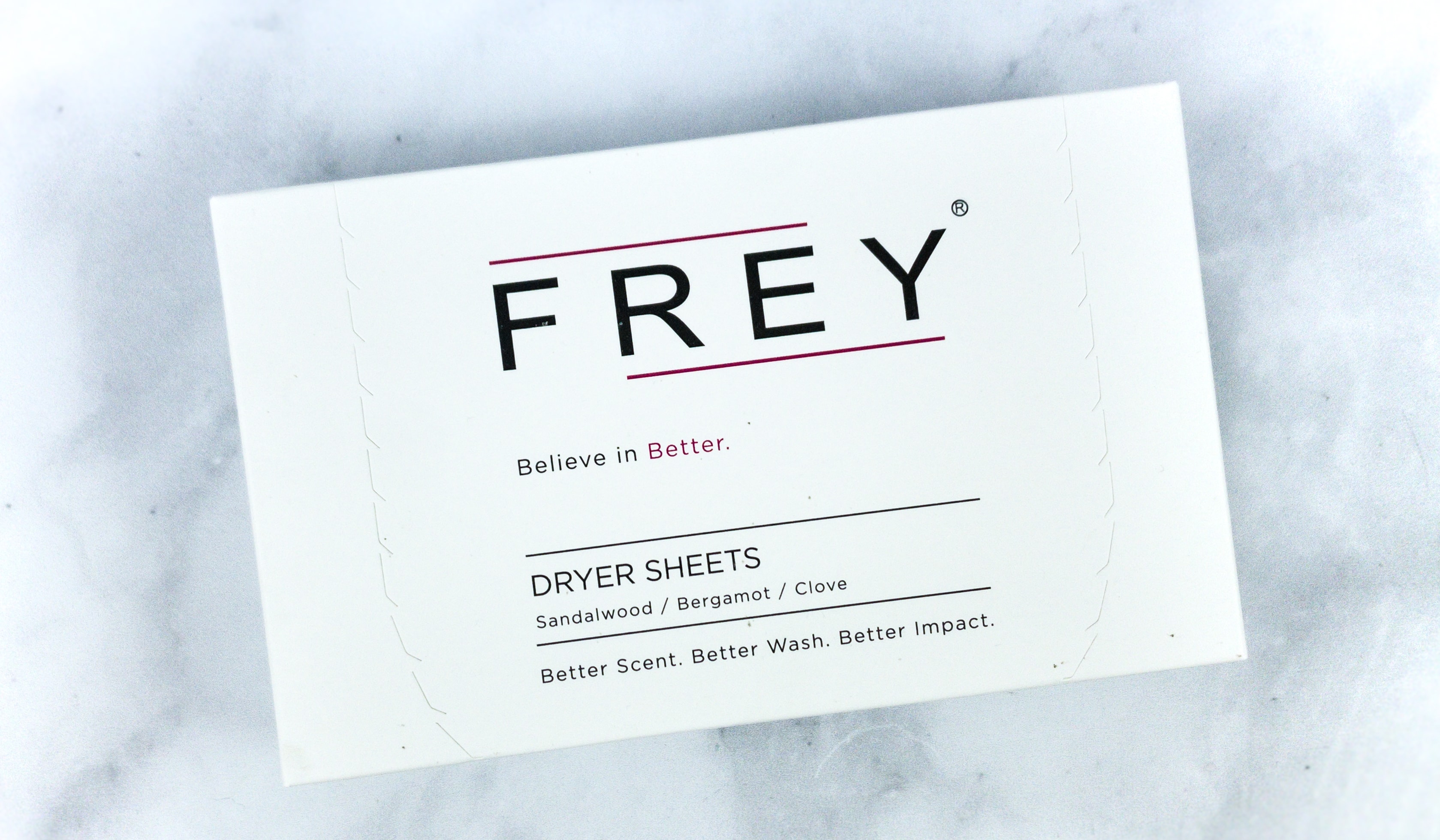 Lastly, we have the Frey Dryer Sheets! Just like the laundry detergent and conditioner, this came in Sandalwood, Bergamot, Clove scent.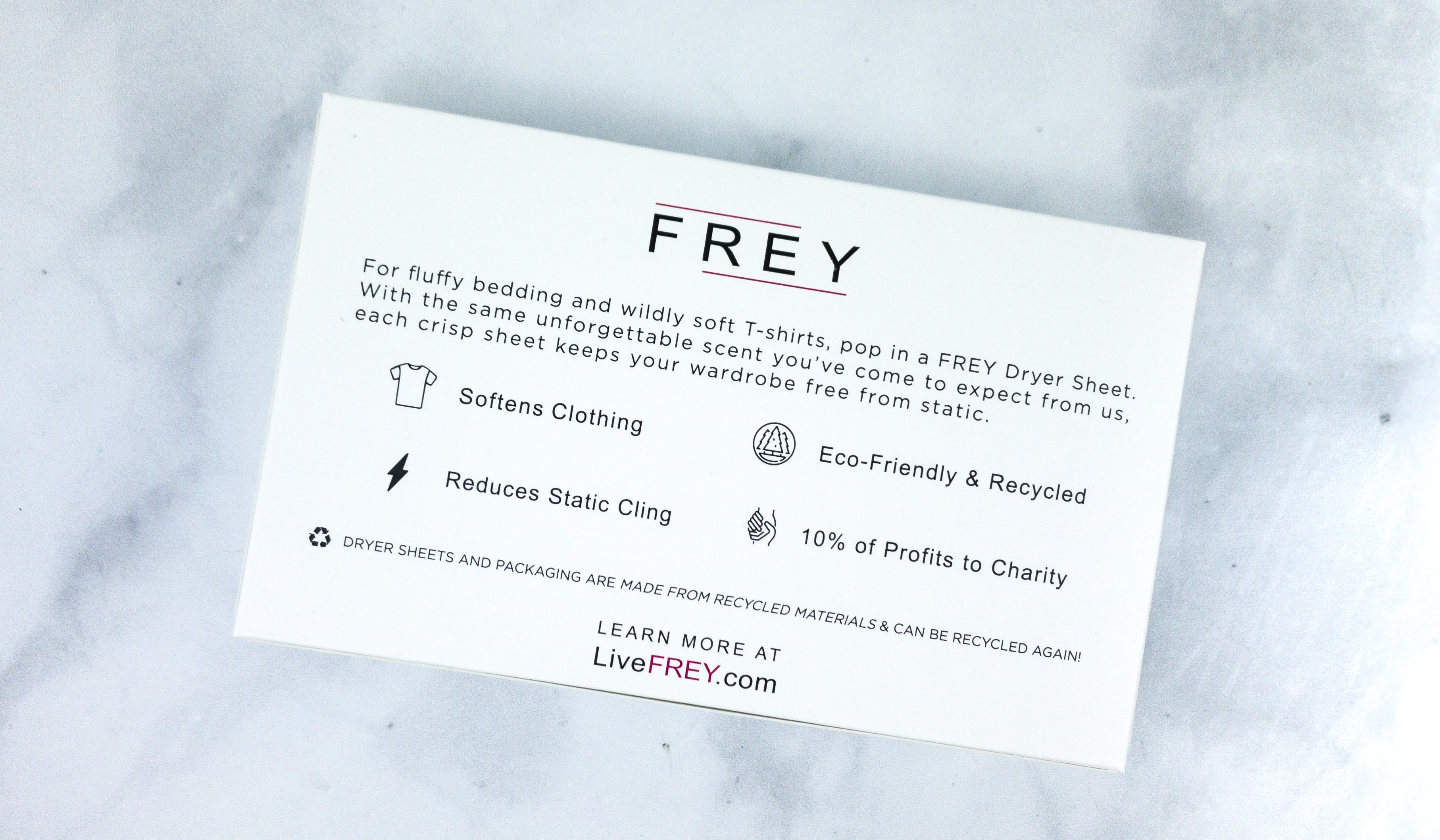 They're definitely something you want to keep in handy during laundry time. Dryer sheets help soften clothing and reduce static cling. To use, you just have to pop them on top of your clothes in the dryer!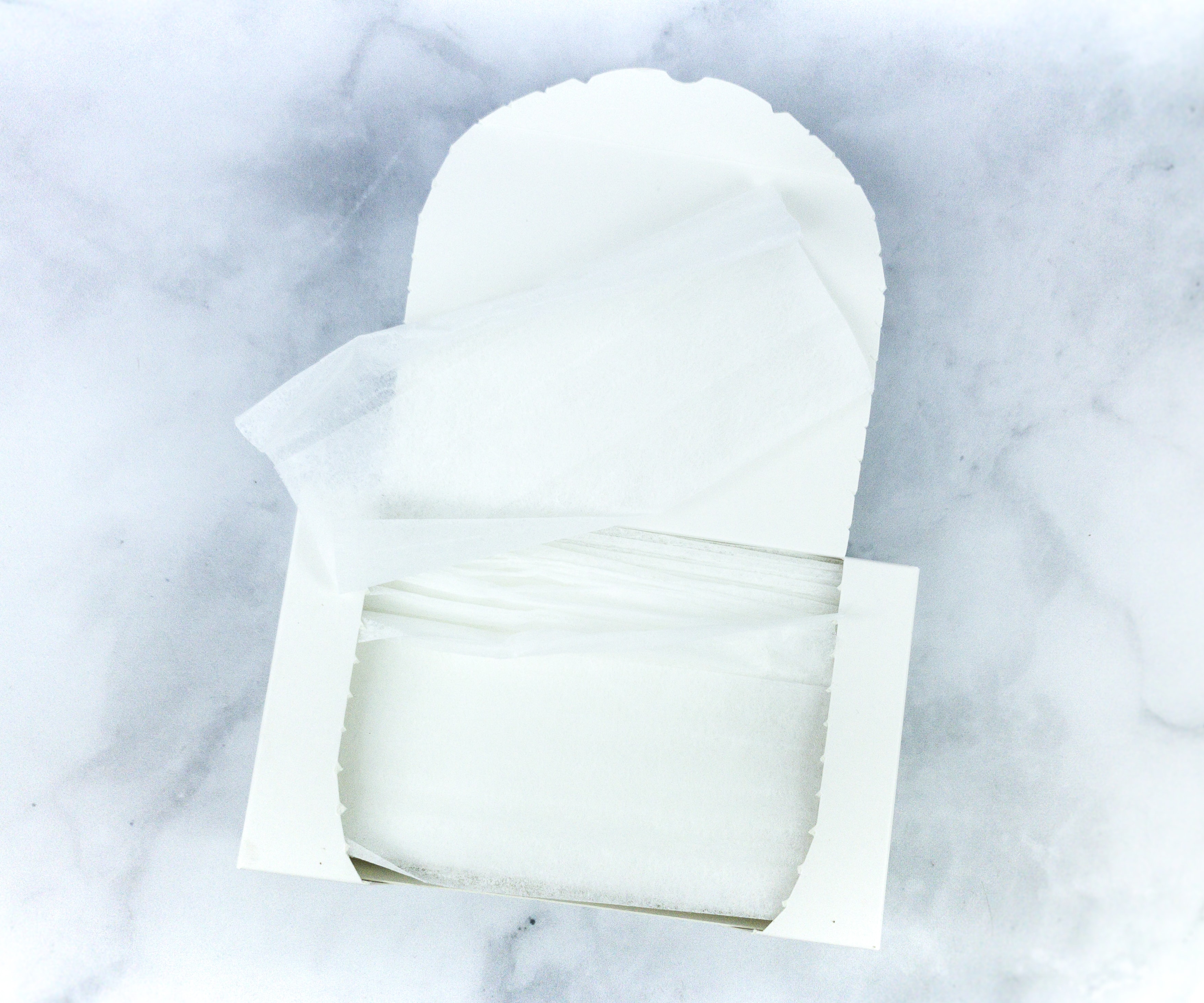 This pack has 40 sheets! They are made with biodegradable, natural ingredients plus a concentrated formula. It doesn't contain sulfates, parabens, and synthetic dyes either.
Unlike any other dryer sheets, this infuses the scent all the more making your clothes smell fresher and better!
Dryer sheets are used to create a guard against the buildup of static electricity when machine drying most fabrics. It prevents clothes from gathering lint. This specific formulation is designed to make your favorite shirt look better for longer!
Truly an amazing combination of laundry products! Laundry has never been this exciting!
I'm pretty amazed by this package! In the trial kit, we were able to try the laundry detergent and it was amazing. Now, with this trio, I couldn't really ask for more because it has pretty much everything I need to keep our laundry clean and soft. The laundry detergent did a great job of cleaning our clothes down to the very last stain. The fabric conditioner made our clothes softer and practically wrinkle-free as well! The dryer sheets were also amazing because they protect the fabrics from lint as they dry. The scent was also amazing. Our clothes stayed smelling fresh all day, even without perfume.
Once you try out Frey and move to the full plan, you'll get these items – the detergent, conditioner, and laundry sheets. You can also add on Fragrance Booster, Freshener (for clothes and rooms), and Stain Remover!