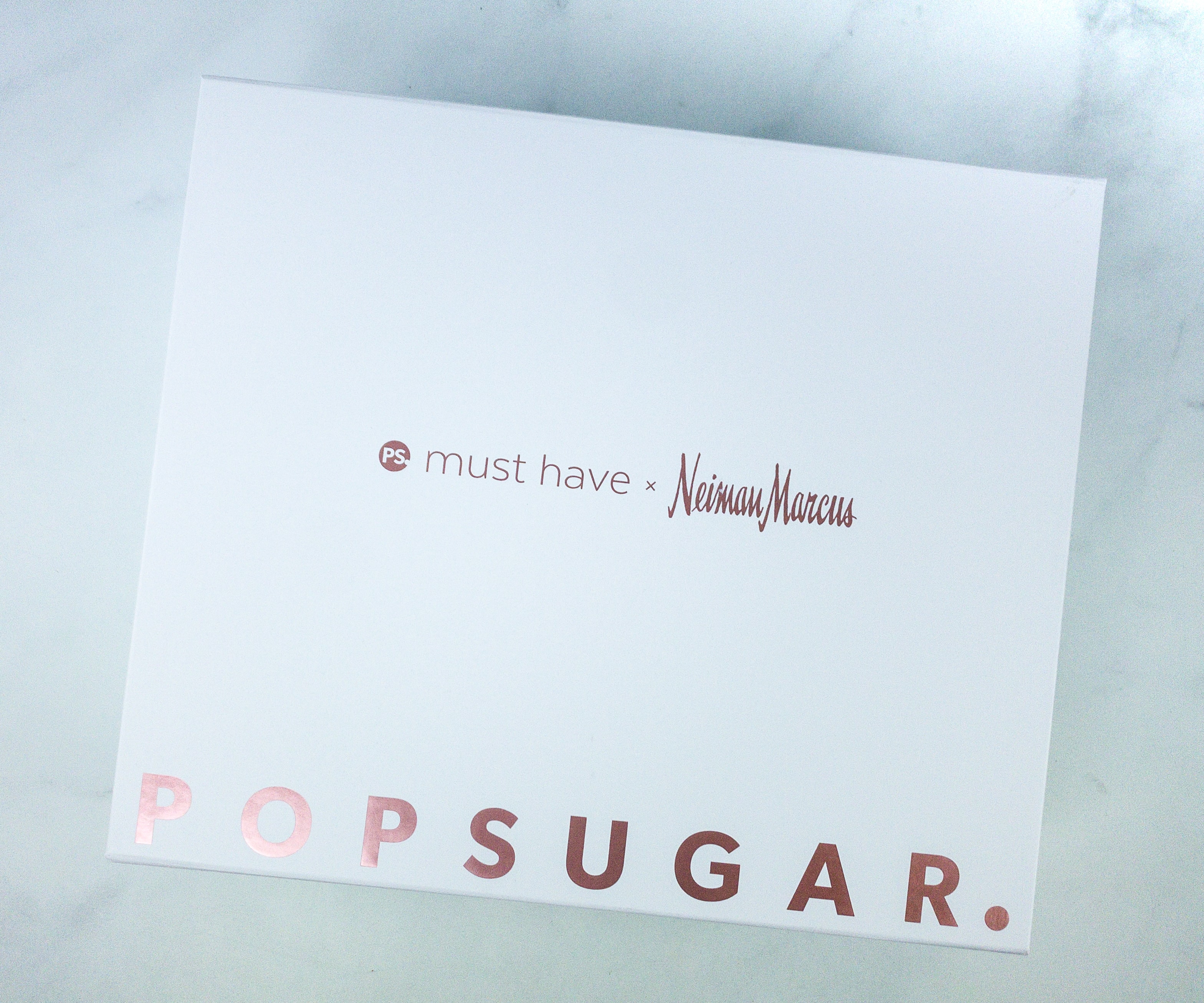 POPSUGAR releases three holiday gift boxes every year, including the POPSUGAR Must Have Neiman Marcus box! This box is co-curated by POPSUGAR Founder and President Lisa Sugar and  the Neiman Marcus team. This box costs $275 and it's SOLD OUT.
If you're unfamiliar with them, POPSUGAR Must Have Box is a quarterly lifestyle subscription box! You'll receive items from a mix of categories like beauty, home, accessories, and jewelry. The quarterly POPSUGAR subscription is $75 per season, with over $250 of products.
For the regular POPSUGAR subscription – DEAL: Save $20 on your first box with this link and coupon code MSA20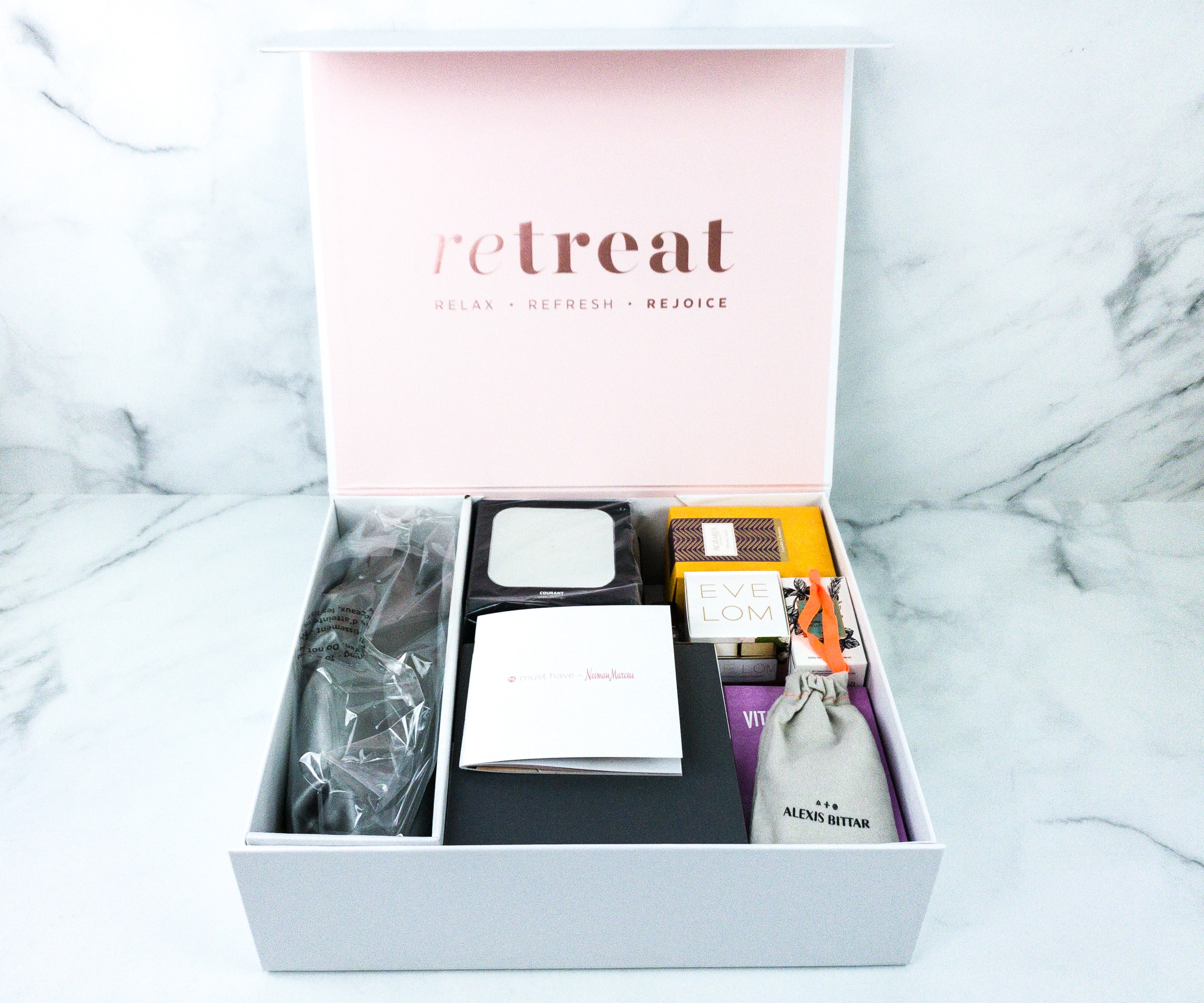 The items were neatly packed!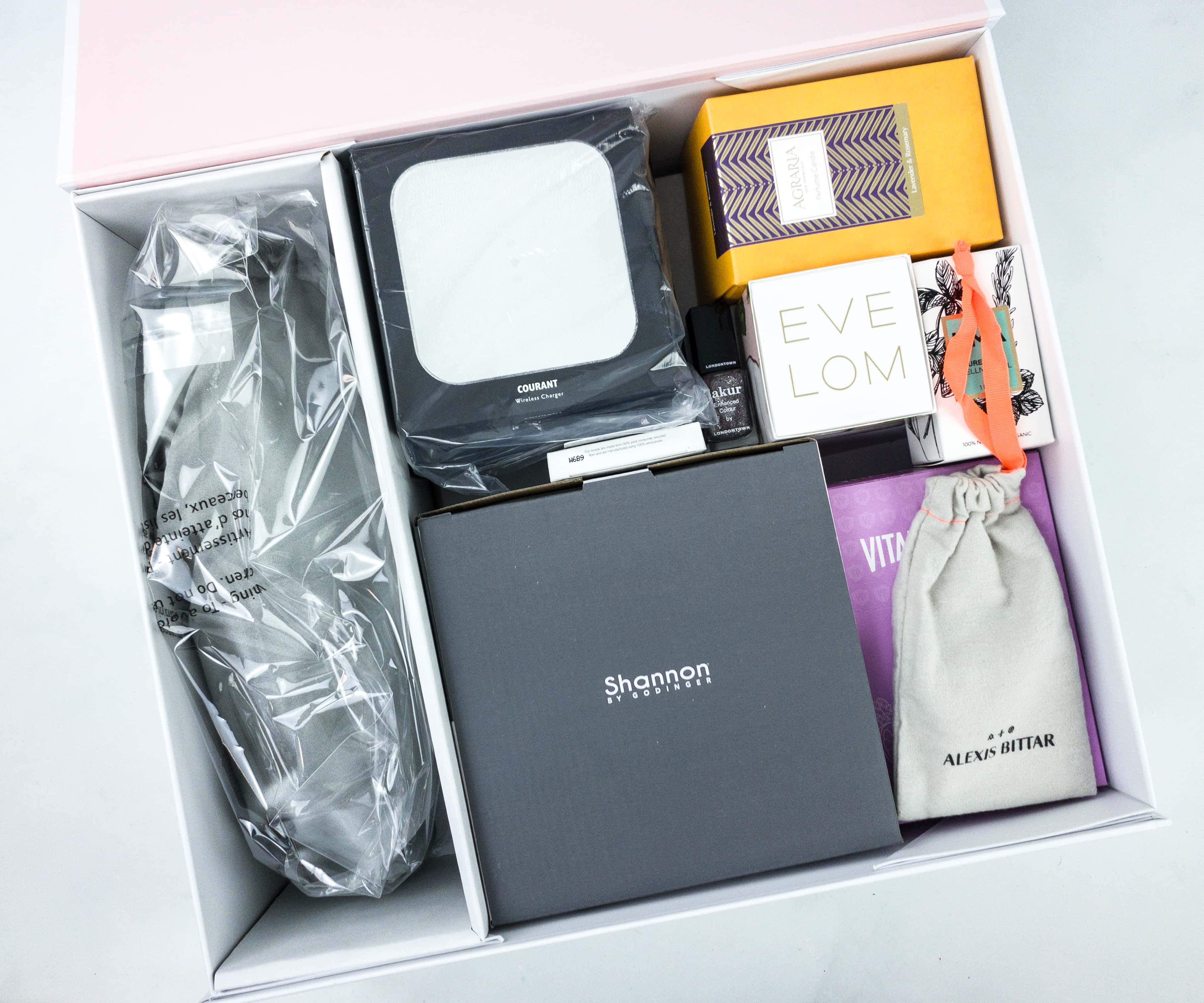 Most of the items came with their own packaging.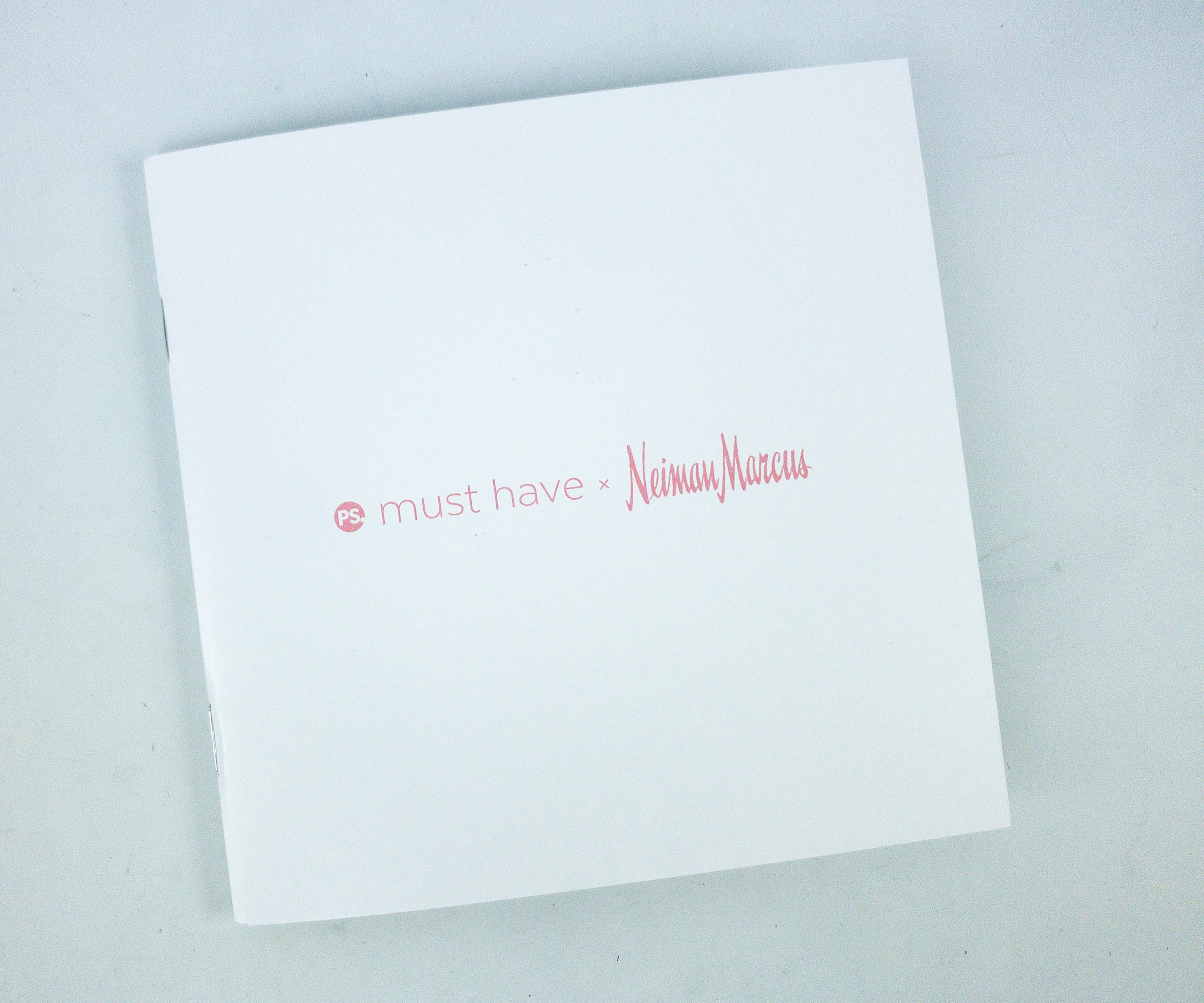 The box is white with a pink POPSUGAR x Neiman Marcus branding. It looks nice and neat.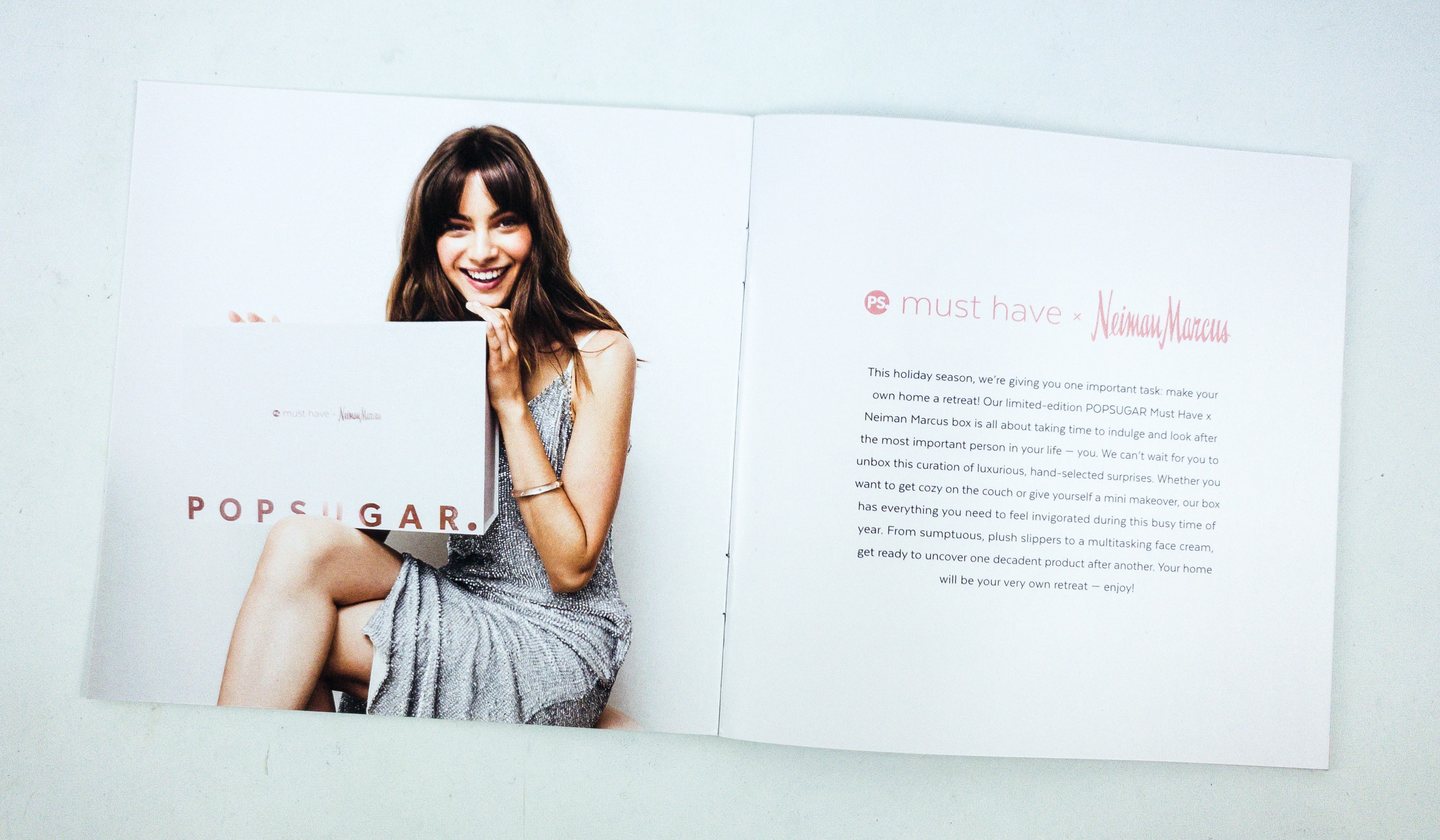 It came with a mini magazine that tells us all about the box!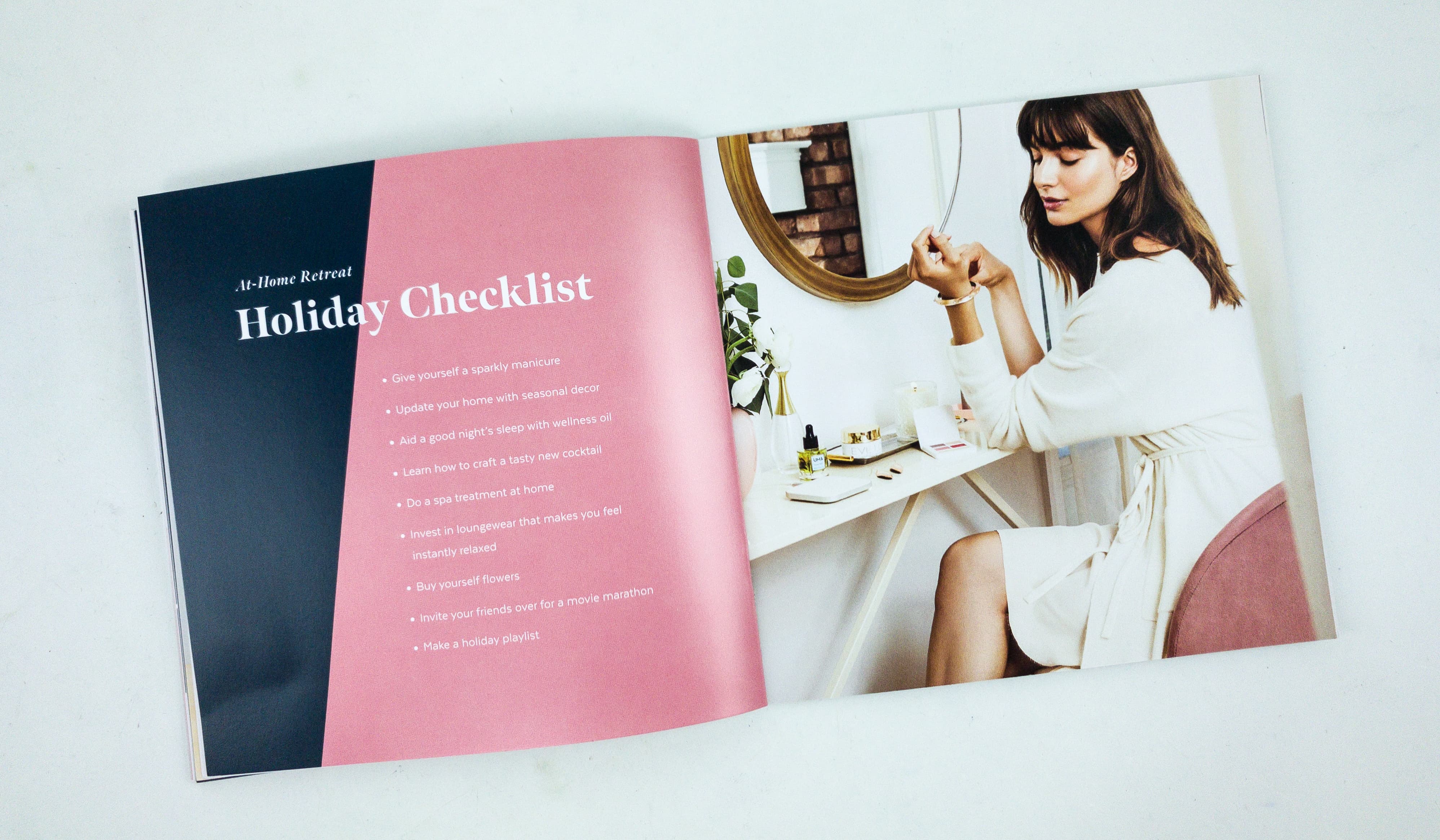 They also included a Holiday Checklist.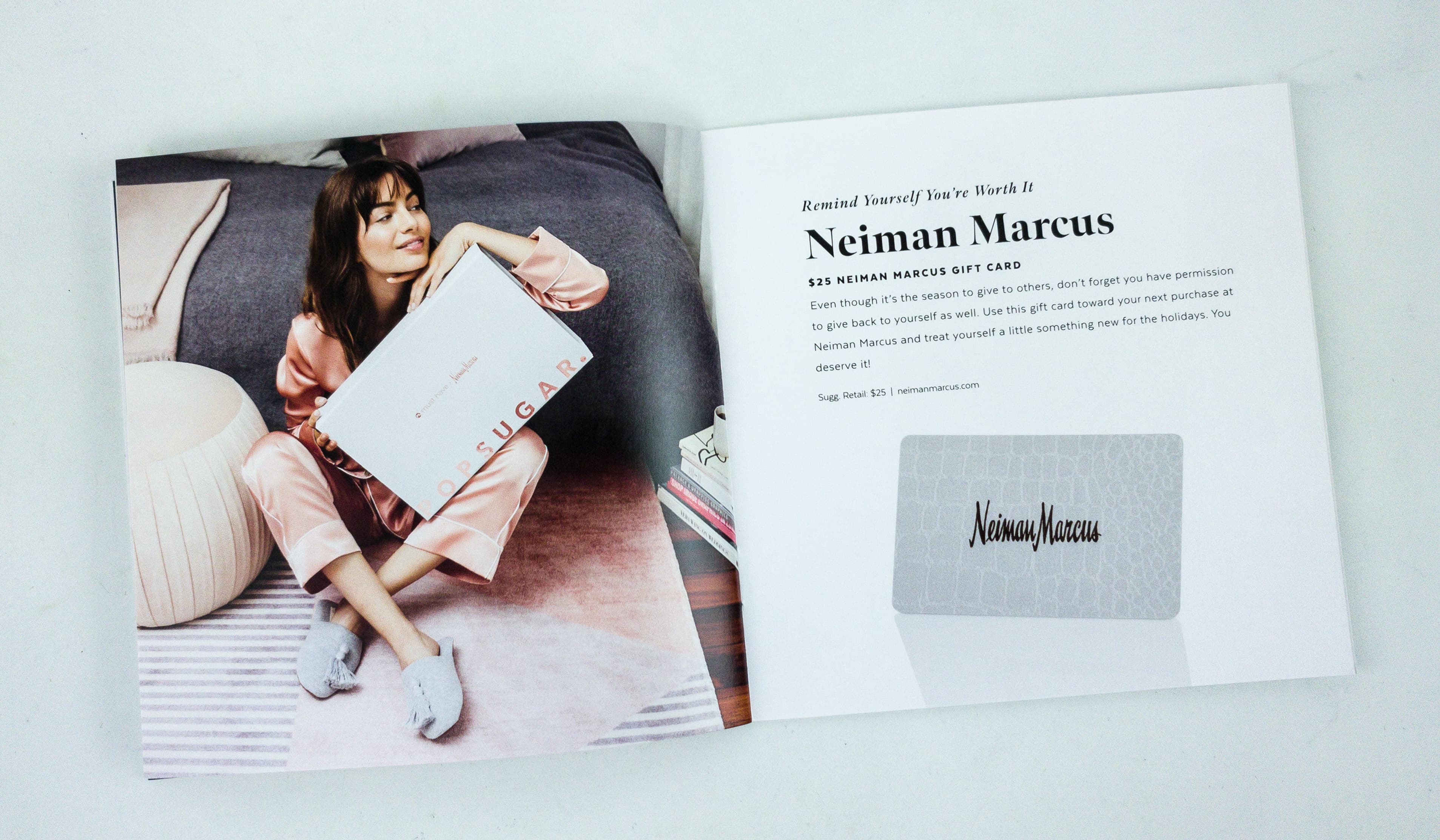 There's an ad for Neiman Marcus gift card.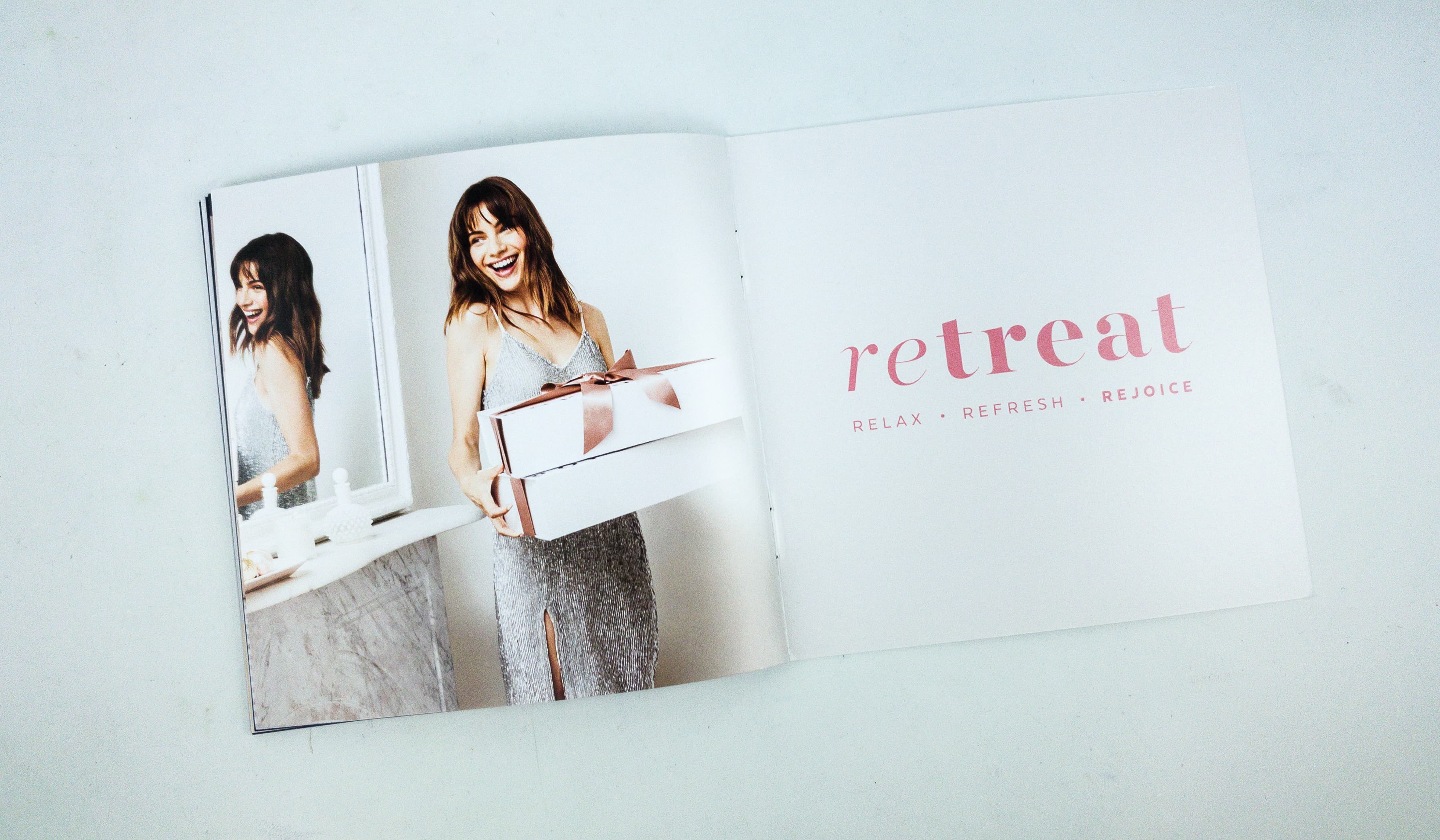 This box's theme is Retreat!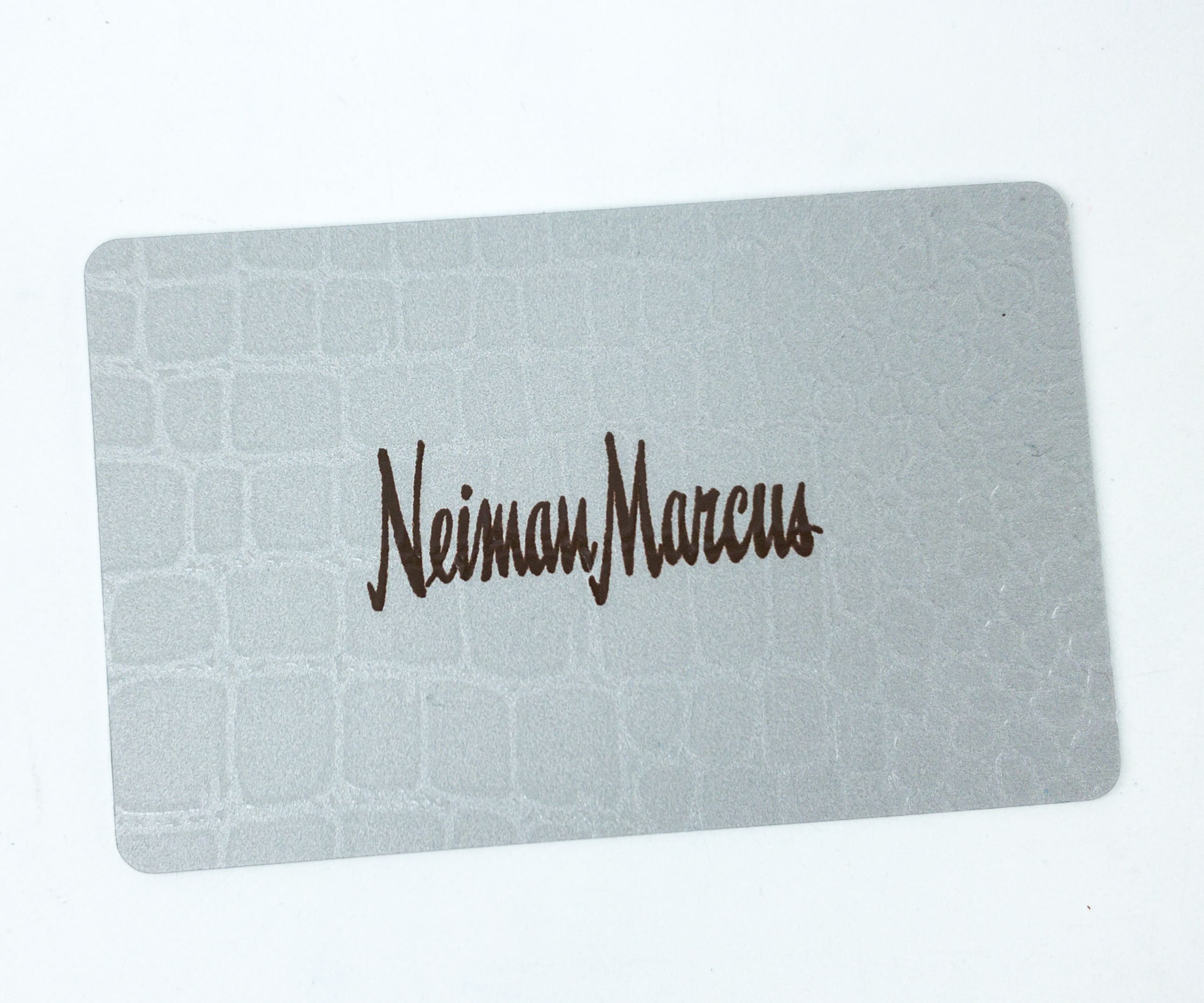 The Gift Card looks so chic with a leather look and the Neiman Marcus logo emblazoned over it. The back has details on where you can redeem it.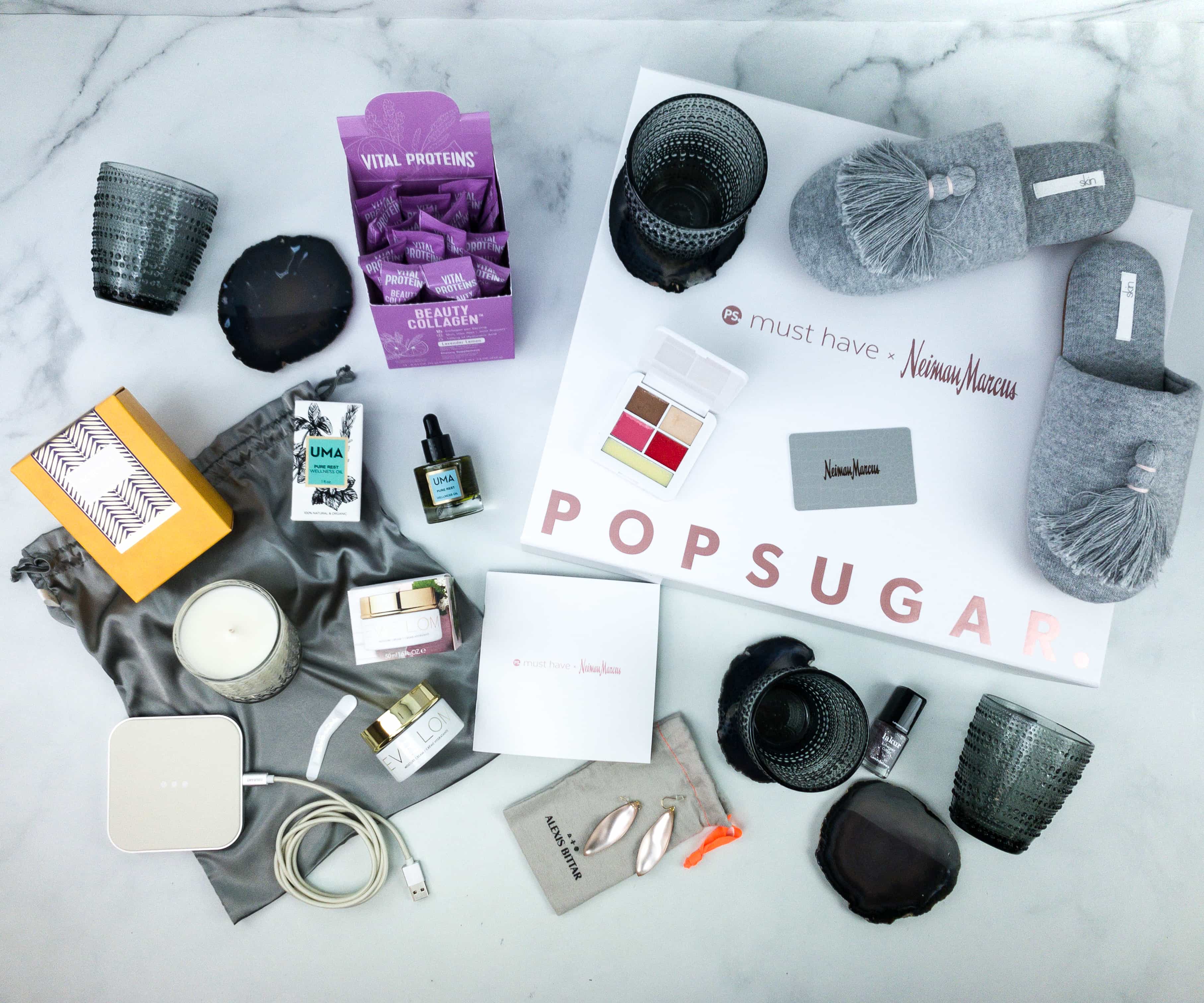 Everything in the box!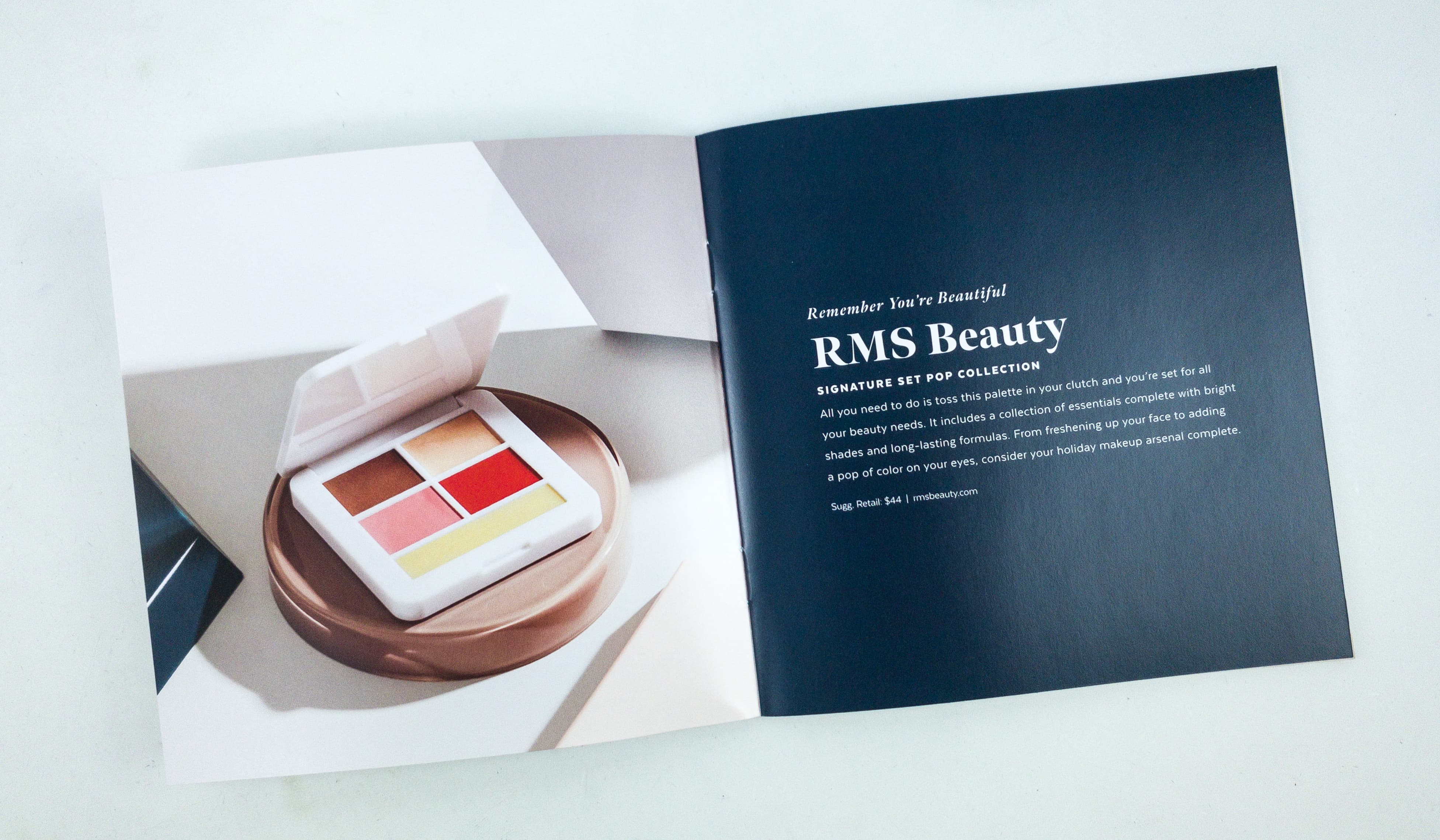 RMS Beauty Signature Set POP Collection ($44) First up is an on-the-go palette!
All you need to do is toss this palette in your clutch and you're all set for all your beauty needs. It includes a collection of essentials complete with bright shades and long-lasting formulas. From freshening up your face to adding a pop of color on your eyes, consider your holiday makeup arsenal complete.
The packaging is very simple. It's plain and straight to the point.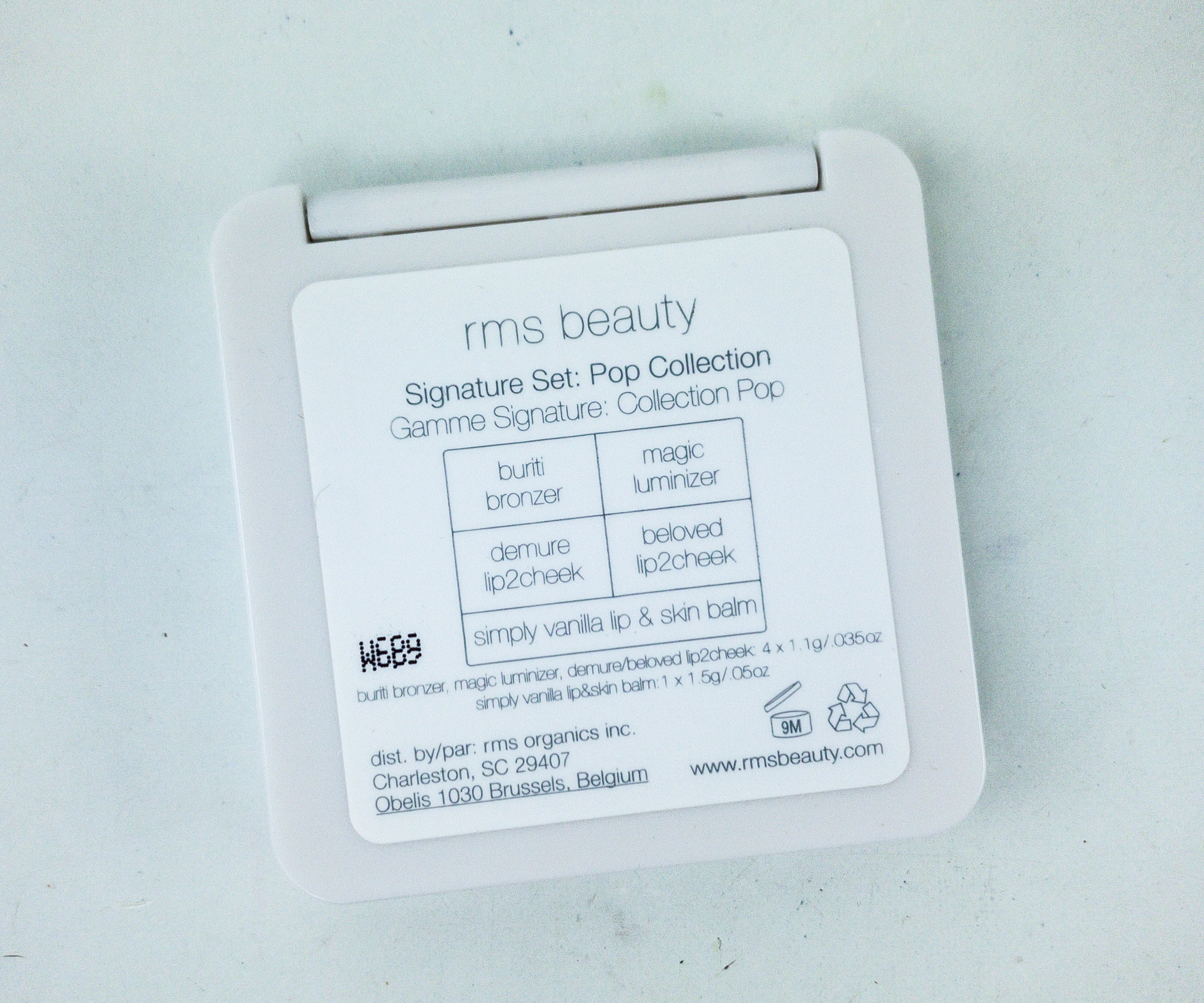 The back shows us what's inside. It's truly an on-the-go palette, containing everything from a bronzer, a highlighter, and even lip products!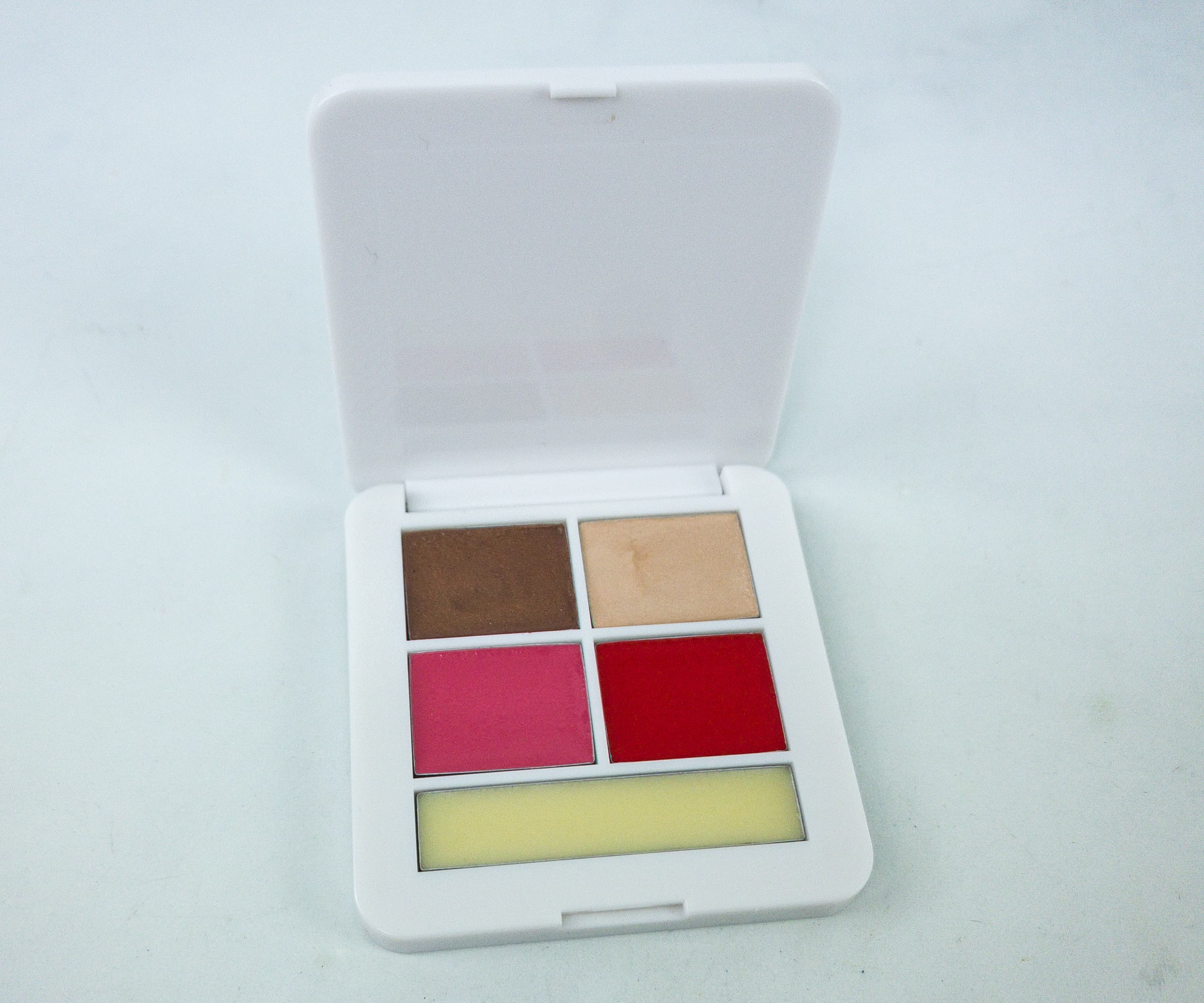 I just wish they'd put a mirror so I'll have everything I need in one go.
The bottom is a balm that you can use to soothe lips! The contour shade is very easy to blend and that highlighter is just stunning! This is really a great on-the-go product for days when you don't feel like wearing makeup but don't want to go out looking like a zombie. With this palette, a quick dab and blend of colors here and there, and you're all set!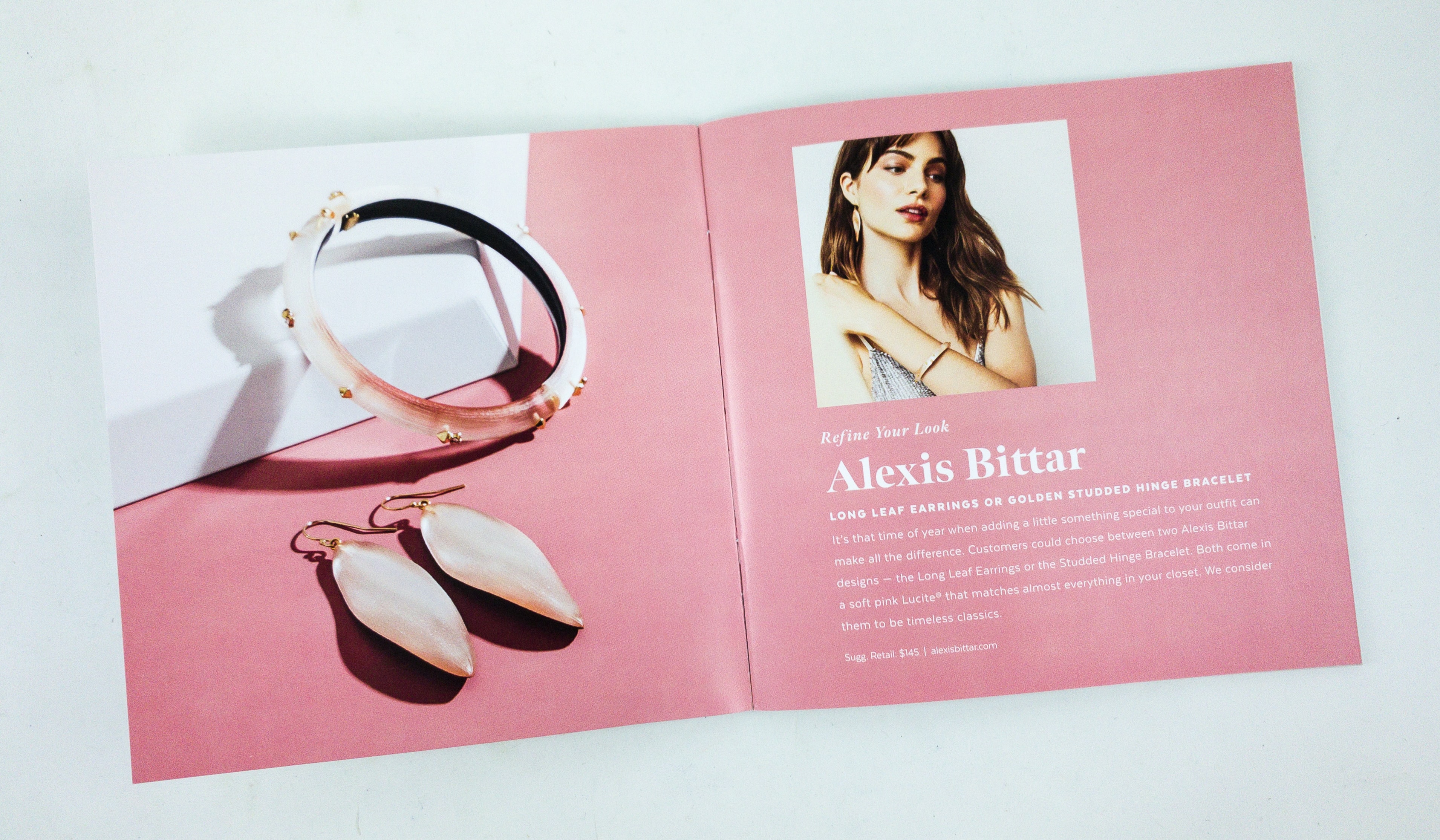 Alexis Bittar Long Leaf Earrings ($145) Customers could choose between this or the Studded Hinge Bracelet. I like pretty earrings so that's what I picked!
It's that time of the year when adding a little something special to your outfit can make all the difference. Customers could choose between two Alexis Bittar designs — the Long Leaf earrings or the Studded Hinge Bracelet. Both come in a soft pink Lucite that matches almost everything in your closet. We consider them to be timeless classics.
The pair came in a gray pouch with orange string.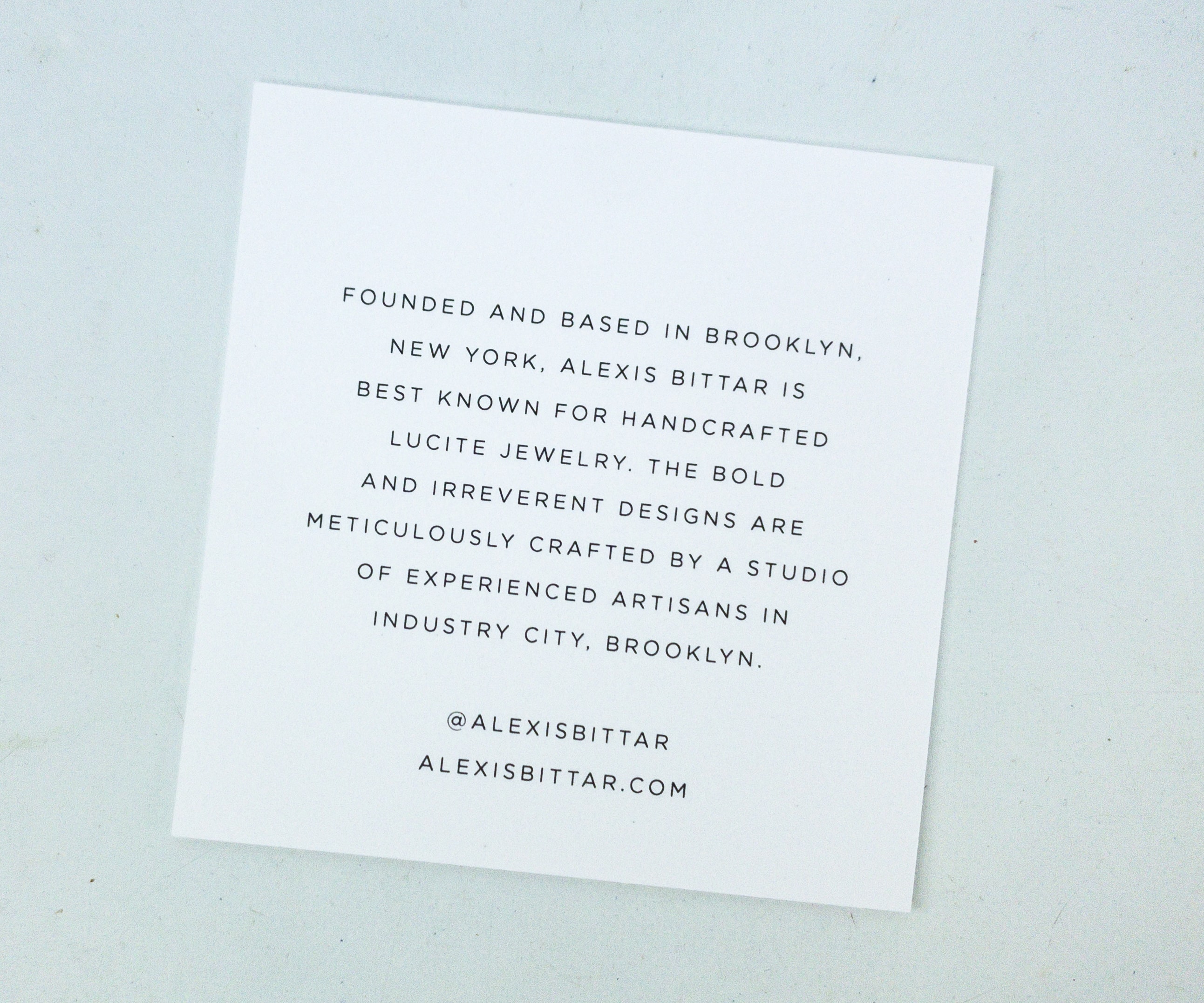 There was also a small card that tells a little something about Alexis Bittar.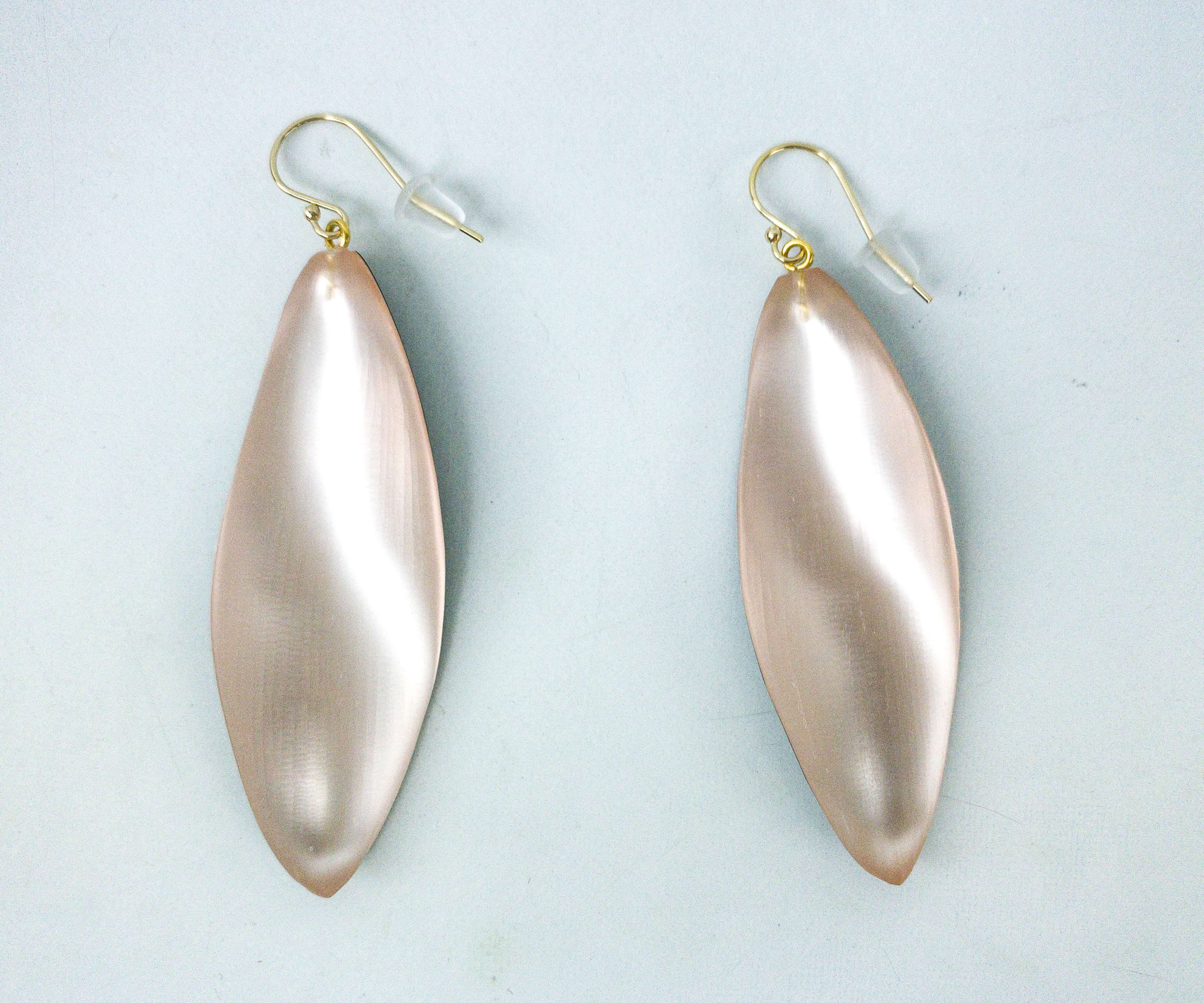 Elegant, sophisticated, and timeless. These words came to mind when I saw the stunning pair. The pinkish color of the earrings is really pleasant to the eyes and I'm just in love with it!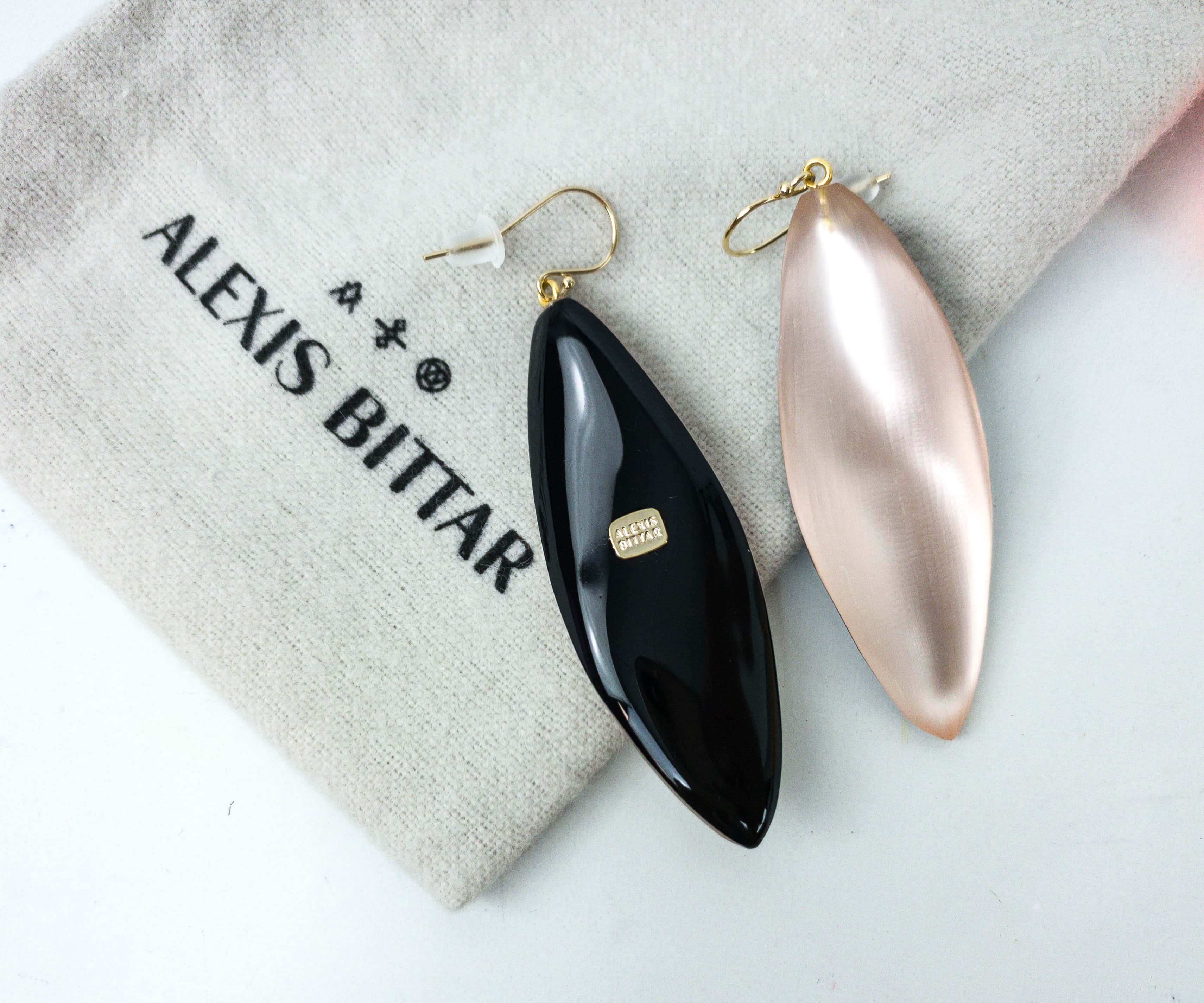 The back of the earring is black though, which I think, gives it more depth. I really like the contrast between the two colors when worn. It's striking and seductive.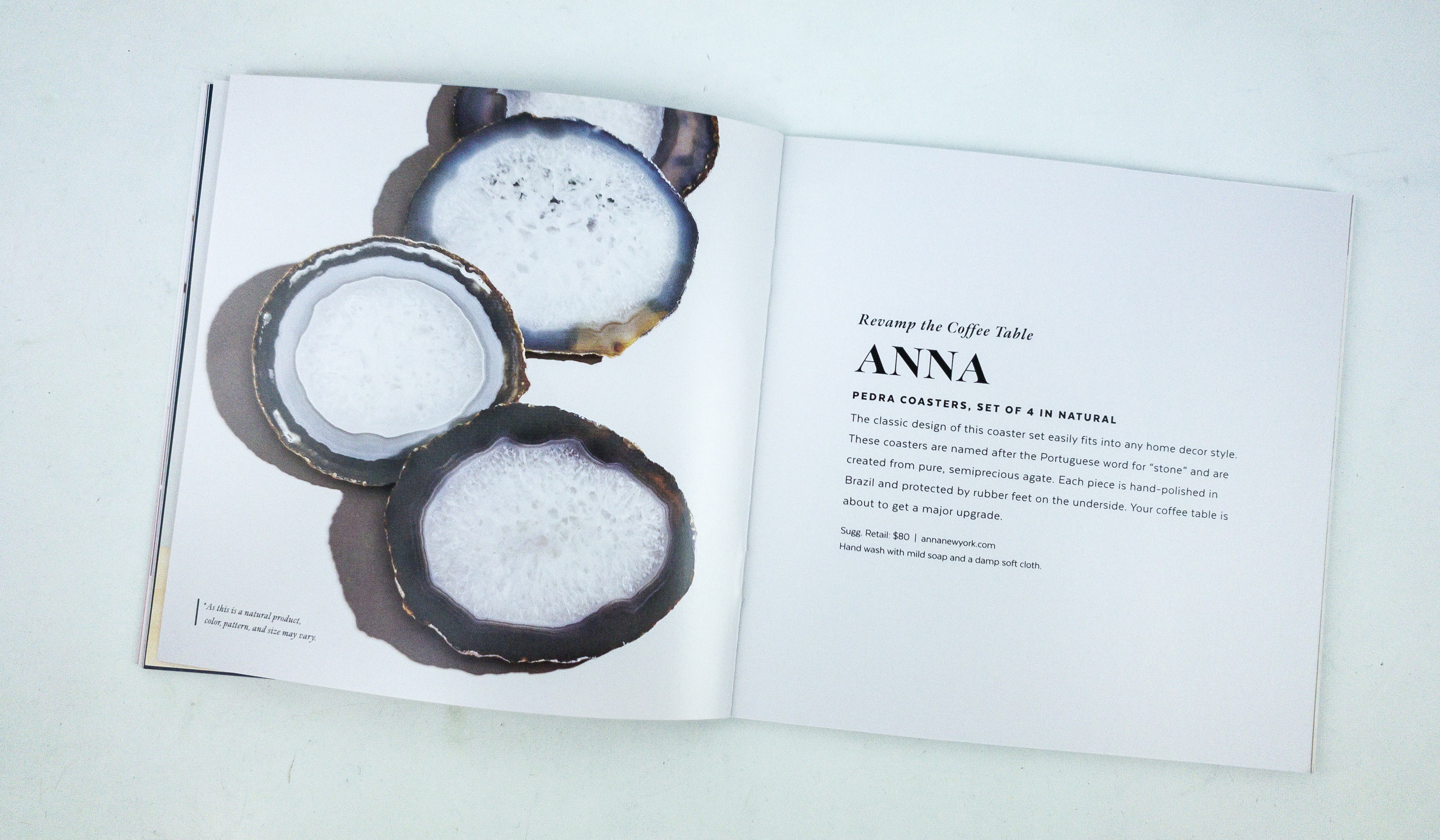 ANNA Pedra Coasters Set of 4 in Natural ($80) Here's something for the home, a unique coaster set!
The classic design of this coaster set easily fits into any home decor style. These coasters are named after Portuguese word for "stone" and are created from pure, semiprecious agate. Each piece is hand-polished in Brazil and protected by rubber feet on the underside. Your coffee table is about to get a major upgrade.
It came in a black box with the branding embossed in gold.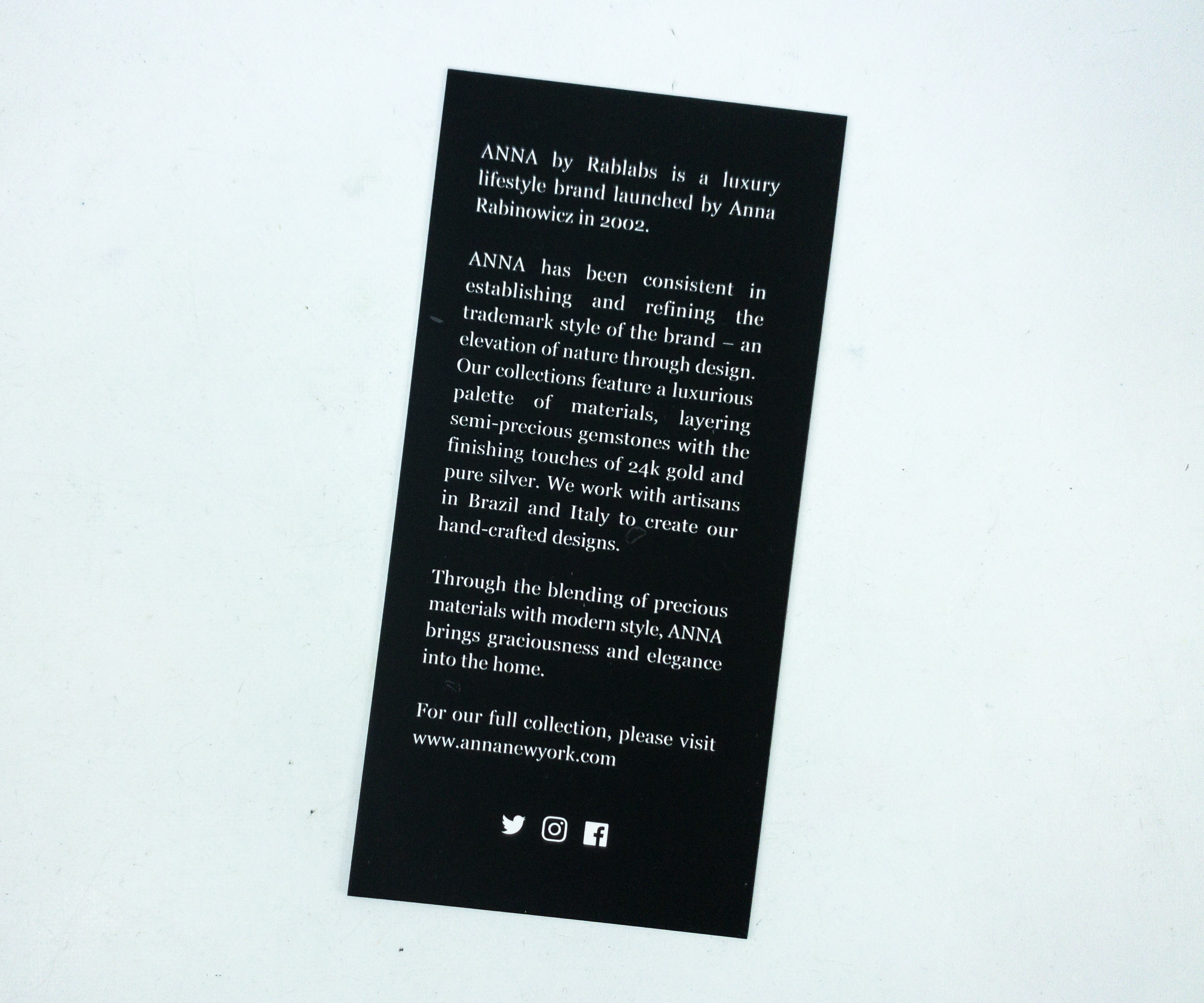 The included a card has information about ANNA by Rablabs.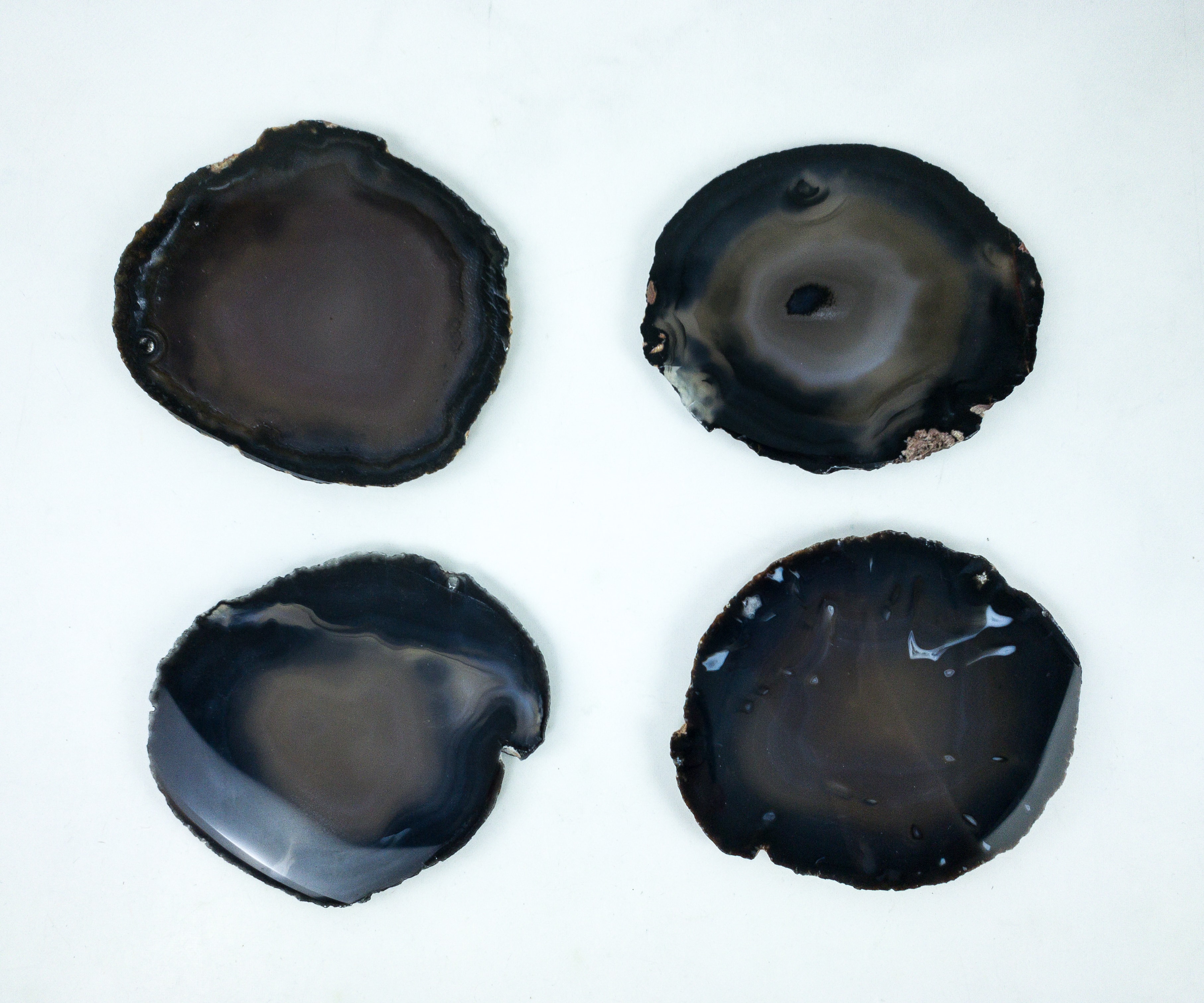 We got 4 Agate coasters and each one is made naturally so no two pieces are the same! I love that they are roughly cut because it gives more character to each piece!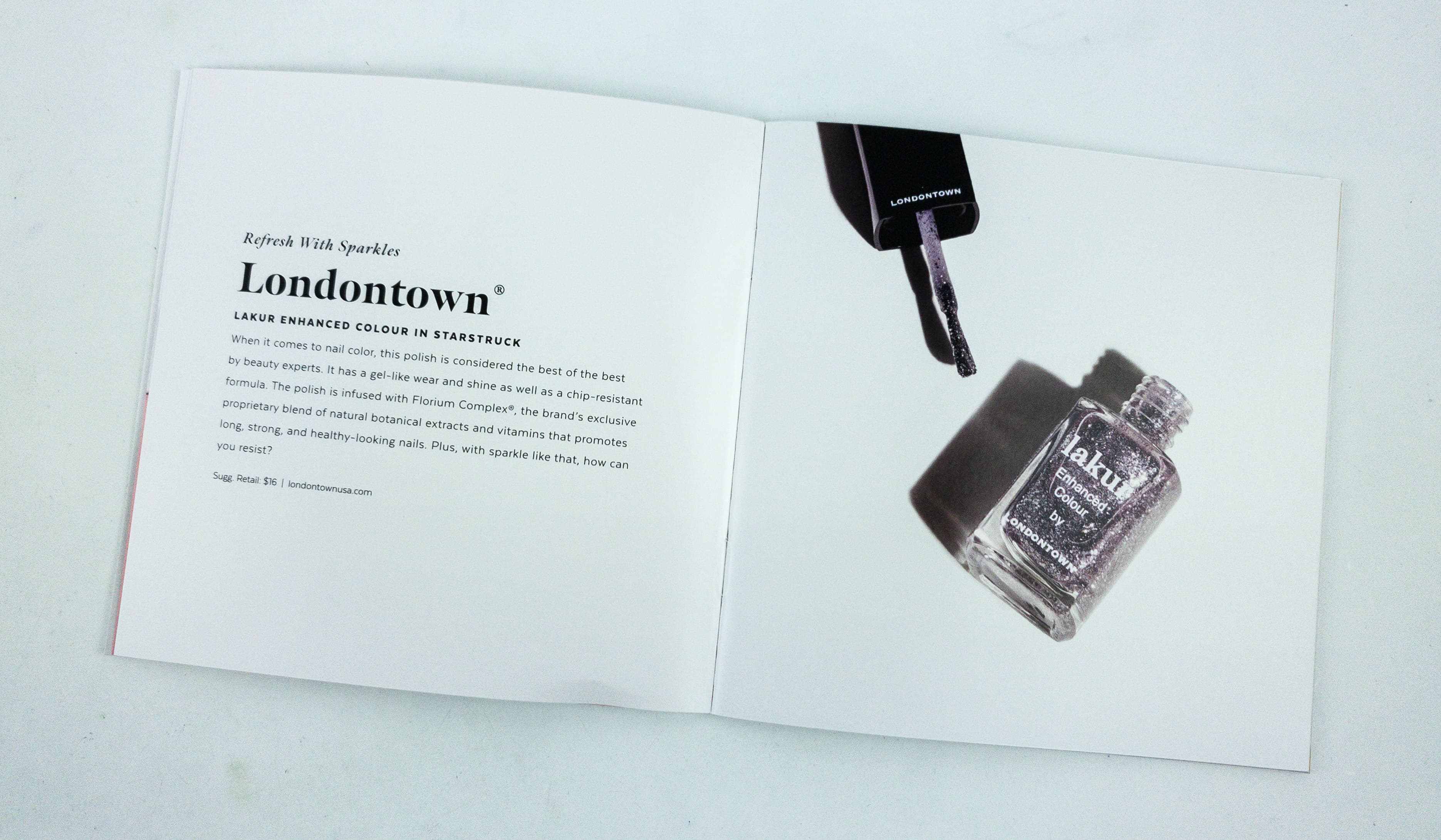 Londontown Lakur Enhanced Colour Nail Polish in Starstruck ($16) I got excited when I saw this glittery bottle of goodness!
When it comes to nail color, this polish is considered the best of the best by beauty experts. It has a gel-like wear and shine as well as a chip resistant formula. The polish is infused with Florium Complex, the brand's exclusive proprietary blend of natural botanical extracts and vitamins that promotes long, strong, and healthy-looking nails. Plus, with a sparkle like that, how can you resist?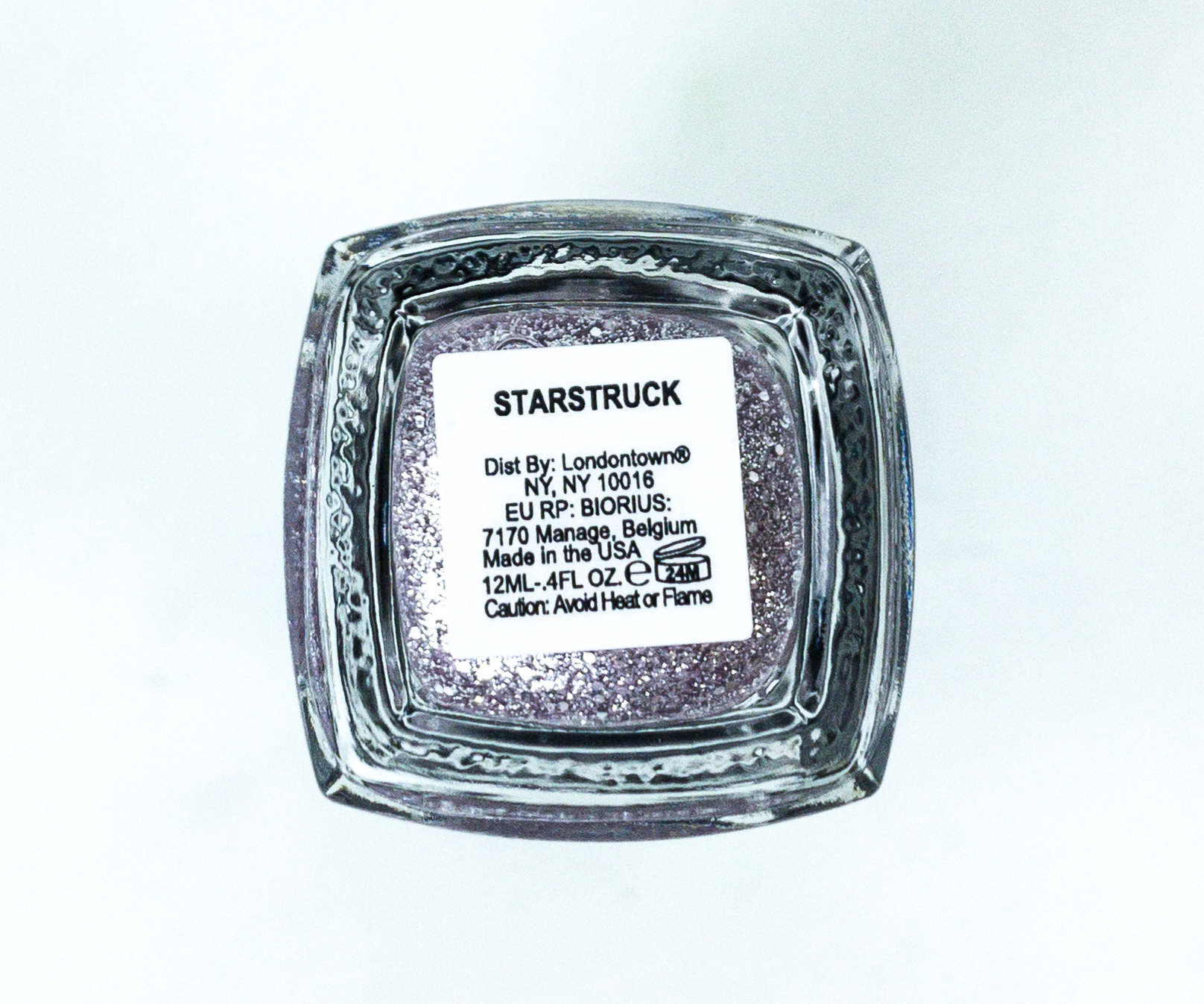 The shade name is Starstruck which is exactly what I was when I saw this inside the box. Infused with the brand's proprietary Florium Complex blend, this doesn't only make your nails pretty, it also strengthens weak and damaged nails and acts as an anti-fungal and anti-bacterial agent!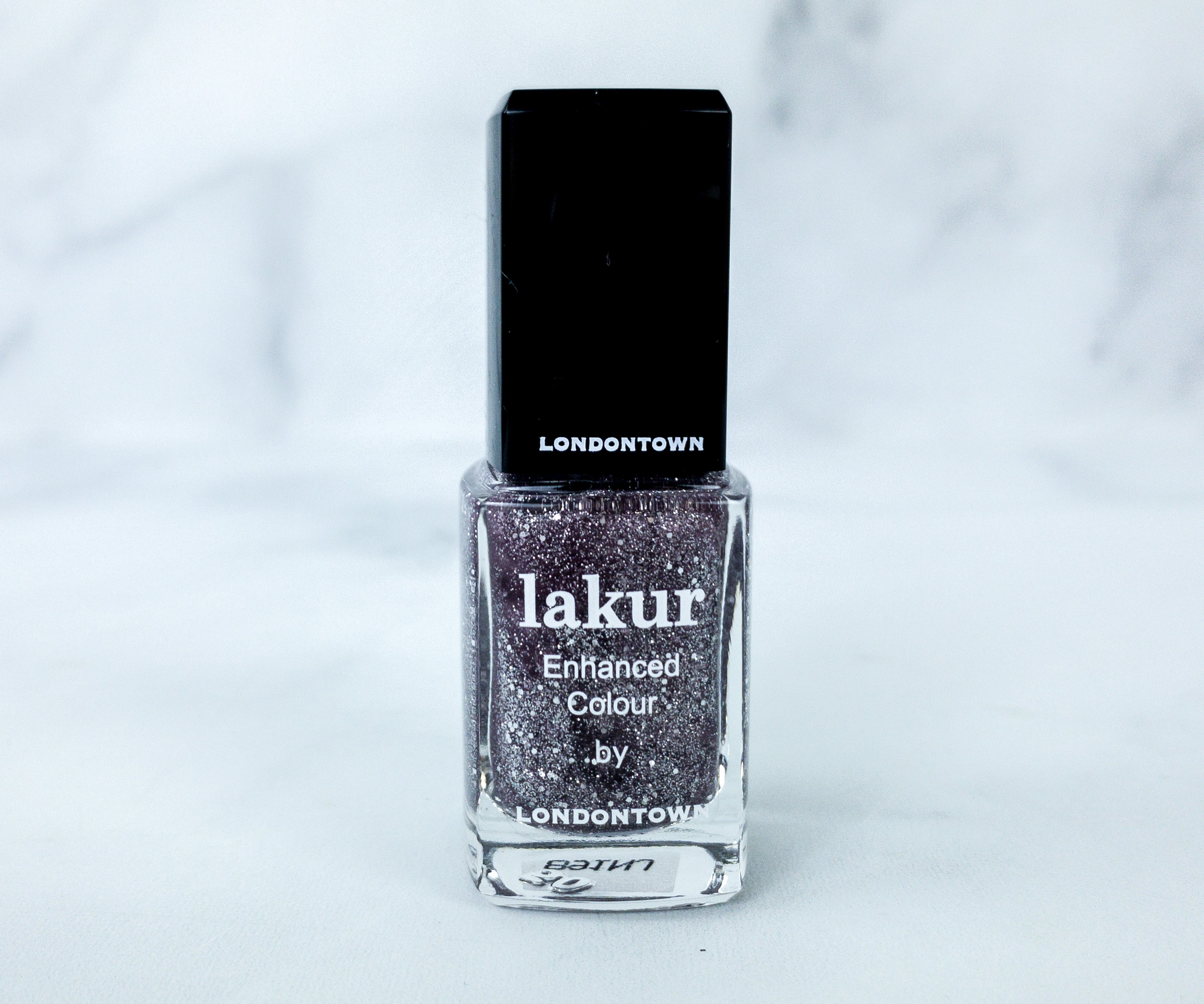 The color is very pigmented. It already shows just with one swipe! But I love building it up to get a full-on glitter nail! Londontown Nail Polishes are also certified by PETA, making me feel all the more amazing when using them! I love that this nail polish is guaranteed cruelty-free!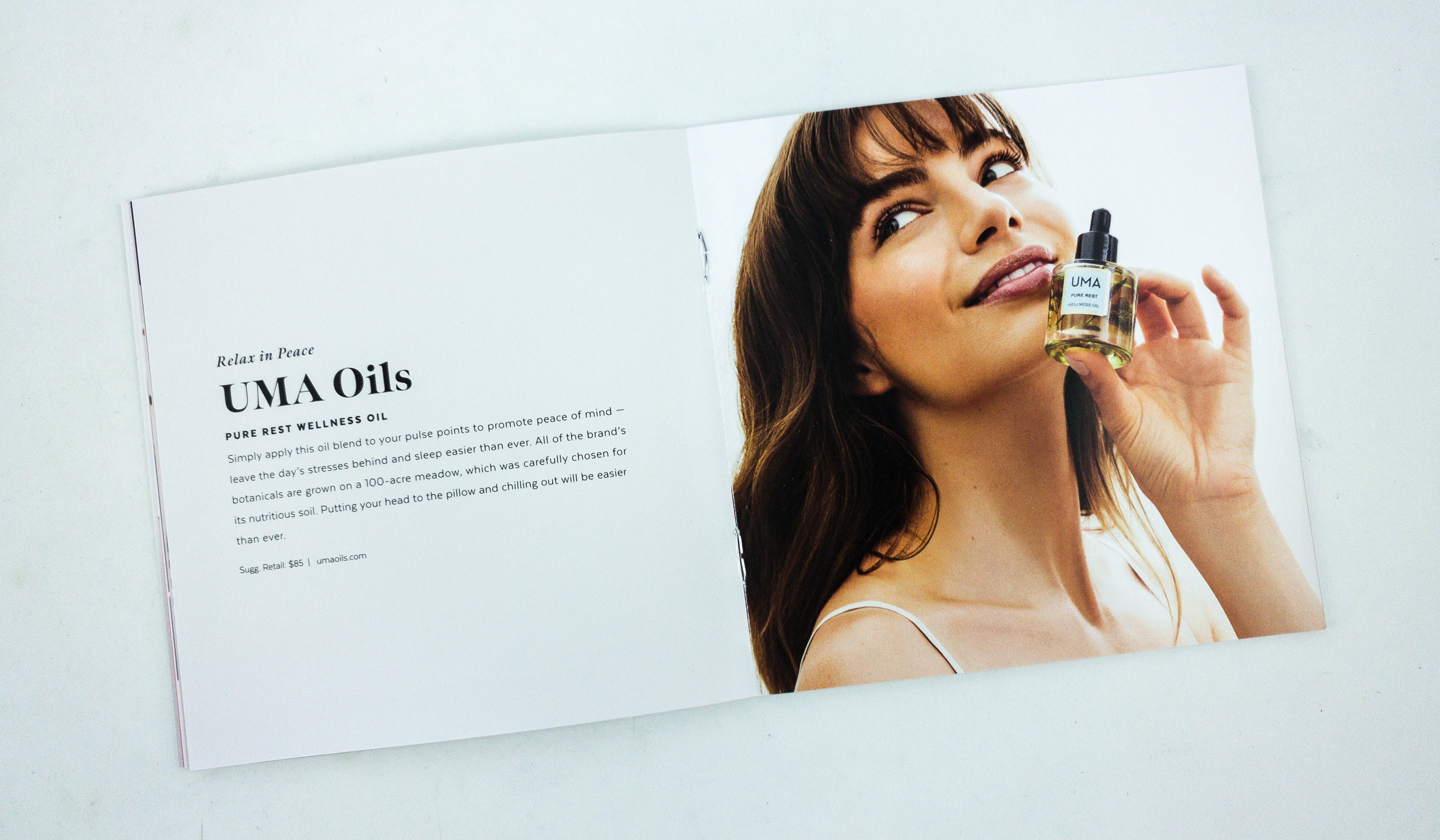 Uma Oils Pure Rest Wellness Oil ($85) In line with this box's theme, they included a wellness oil to help us relax at the end of a busy day!
Simply apply this oil blend to your pulse points to promote peace of mind — leave the day's stresses behind and sleep easier than ever. All of the brand's botanicals are grown on a 100-acre meadow, which was carefully chosen for its nutritious soil. Putting your head to the pillow and chilling out will be easier than ever.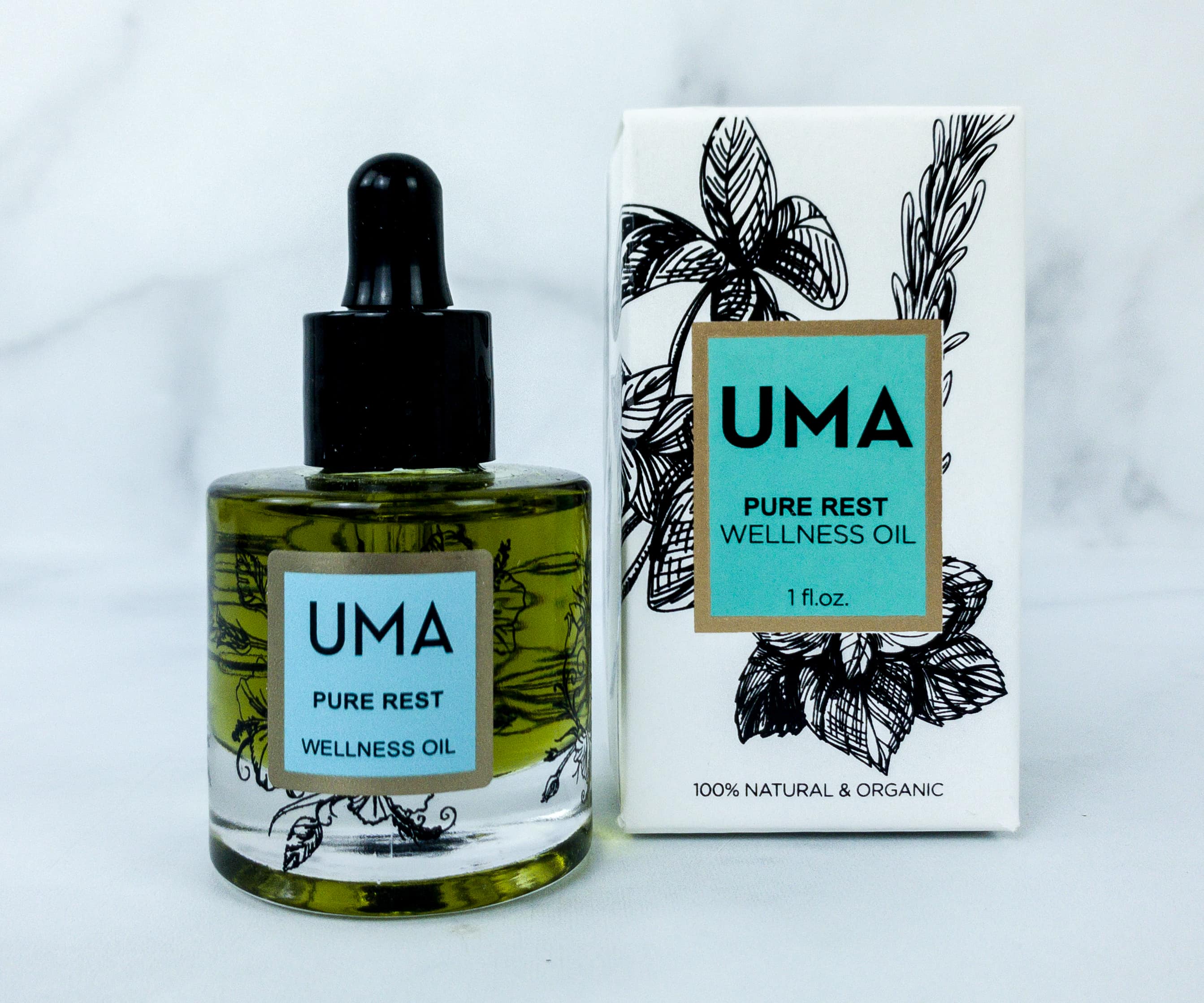 It's great to use during night time for a more relaxing sleep! The mixture of ingredients promotes deep rest and calm and assists the body's day to night transition. It also has Centella Asiatica extract which is known to help with improving blood circulation, stimulate new cell growth, and build collagen.
Eve Lom The Moisture Cream ($150) This moisturizer is amazing! It's thick and creamy but my skin absorbs it easily and it doesn't feel too sticky.
For visibly smoother and dewy skin, this moisture cream works hard to give your results with every application. PrimalHyal Ultrafiller helps reduce the appearance of lines and wrinkles. You'll look more radiant than ever, even in the dead of Winter.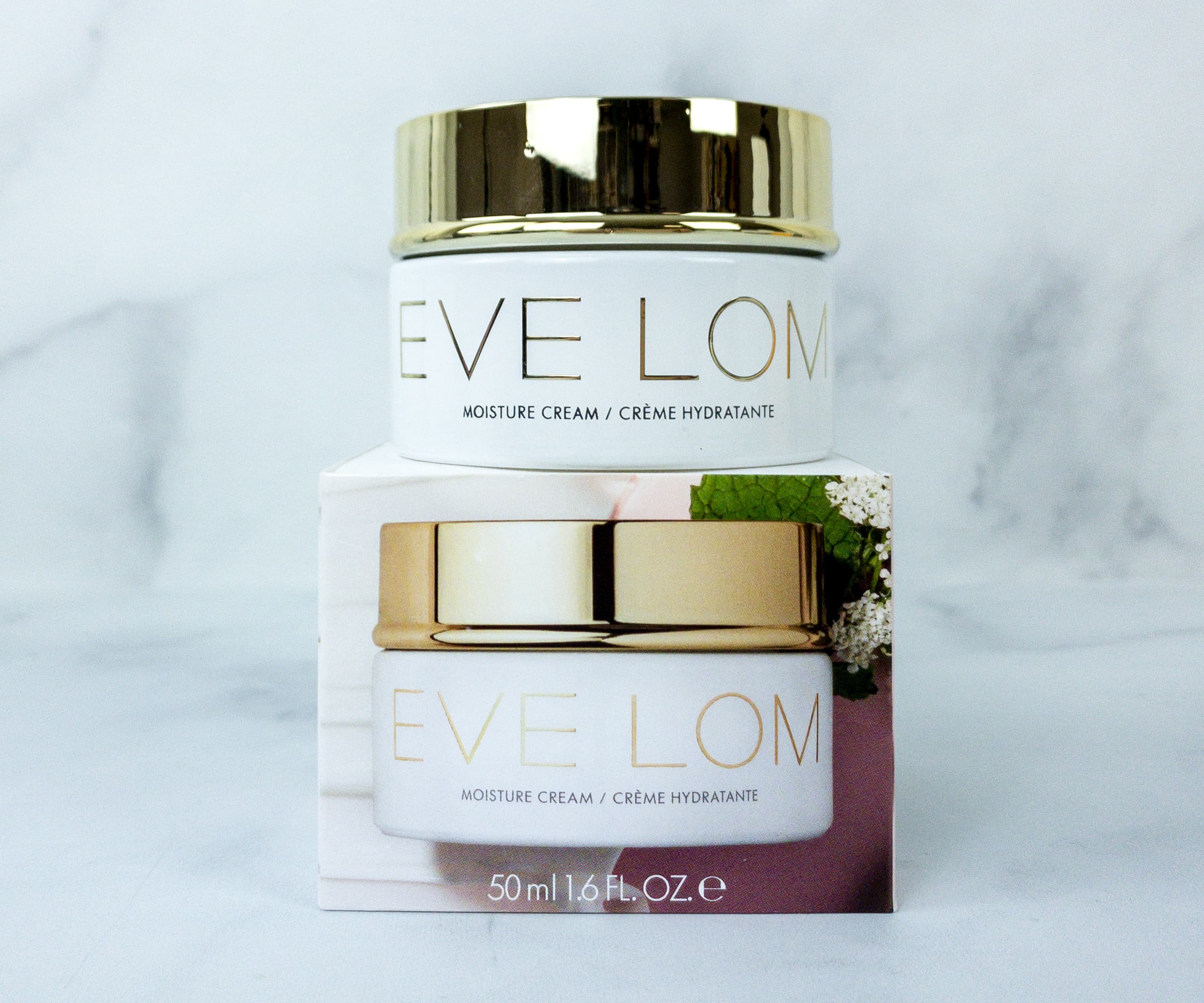 Packaging-wise, it looks very lovely in a white tub with a gold cap.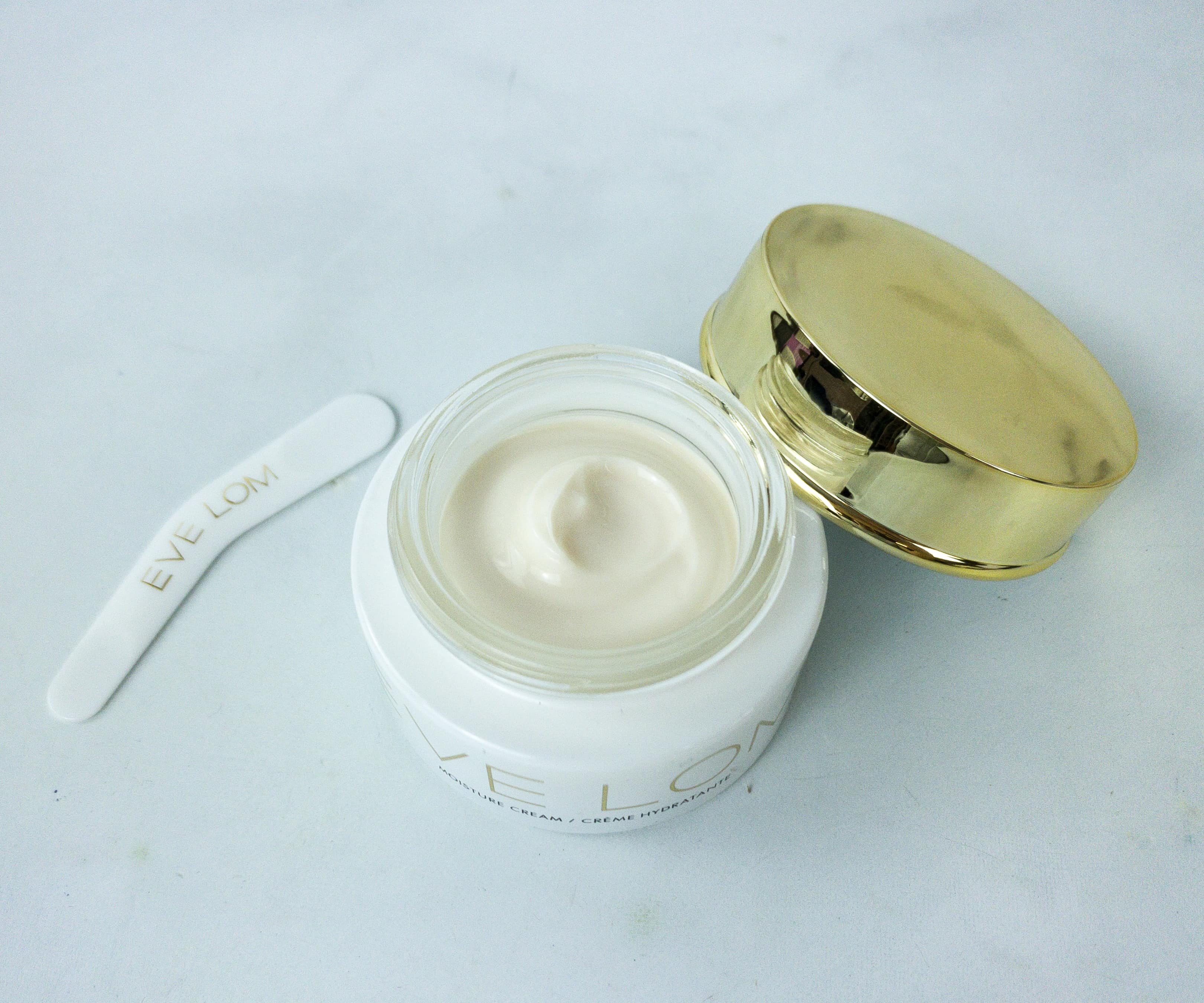 I love that it came with a reusable scooper because it's more hygienic to use! It has a herbal scent that's not overpowering. The consistency feels luxurious on the skin and it's very hydrating. The formula also contains peach flower and white horehound extract that provides antioxidants for the skin!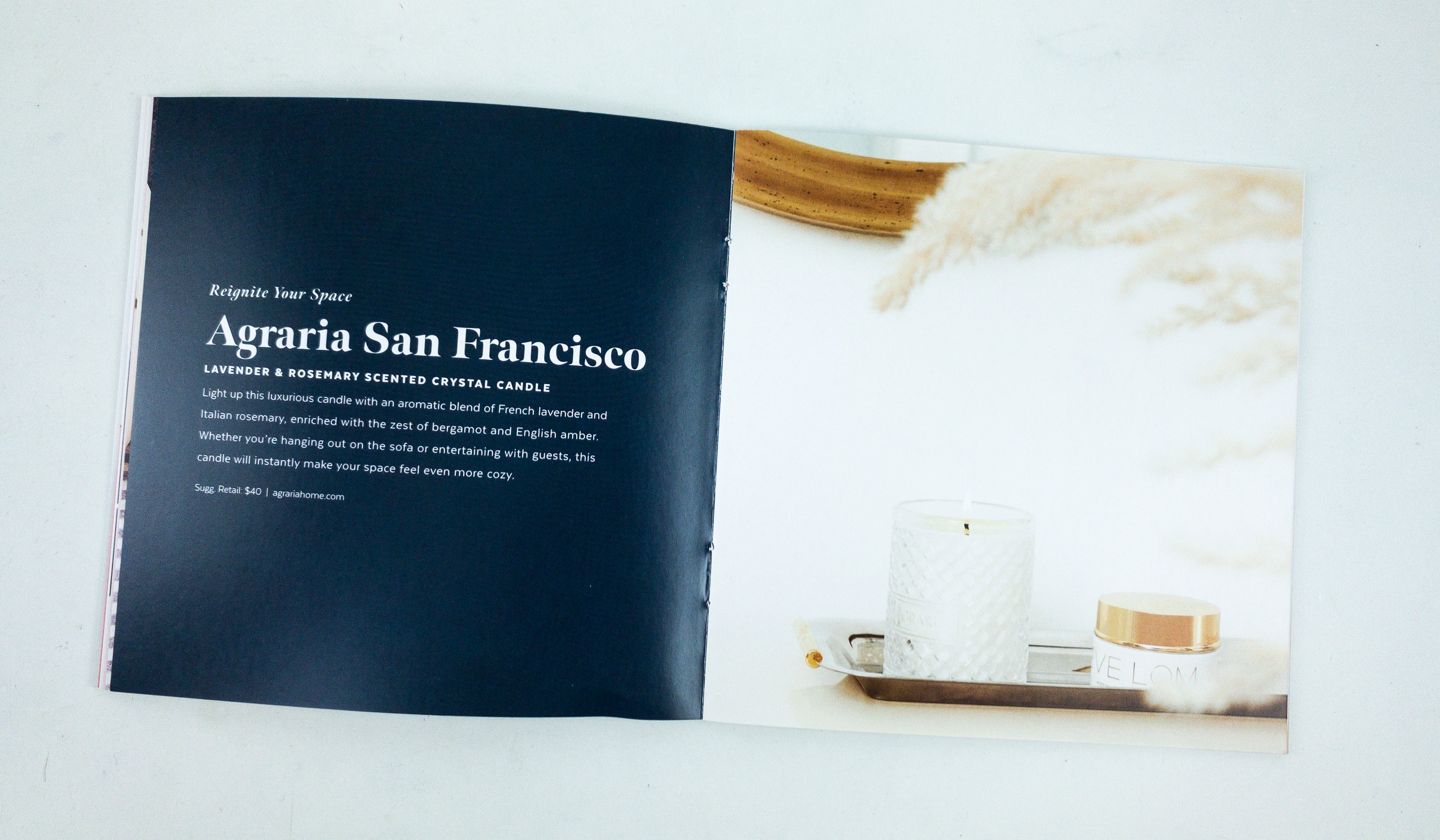 Agraria San Francisco Lavender & Rosemary Scented Crystal Candle ($40) They also sent a scented candle to go with the box's theme!
Light up this luxurious candle with an aromatic blend of French lavender and Italian rosemary, enriched with the zest of bergamot and English amber. Whether you're hanging out on the sofa or entertaining with guests, this candle will instantly make your space feel even more cozy.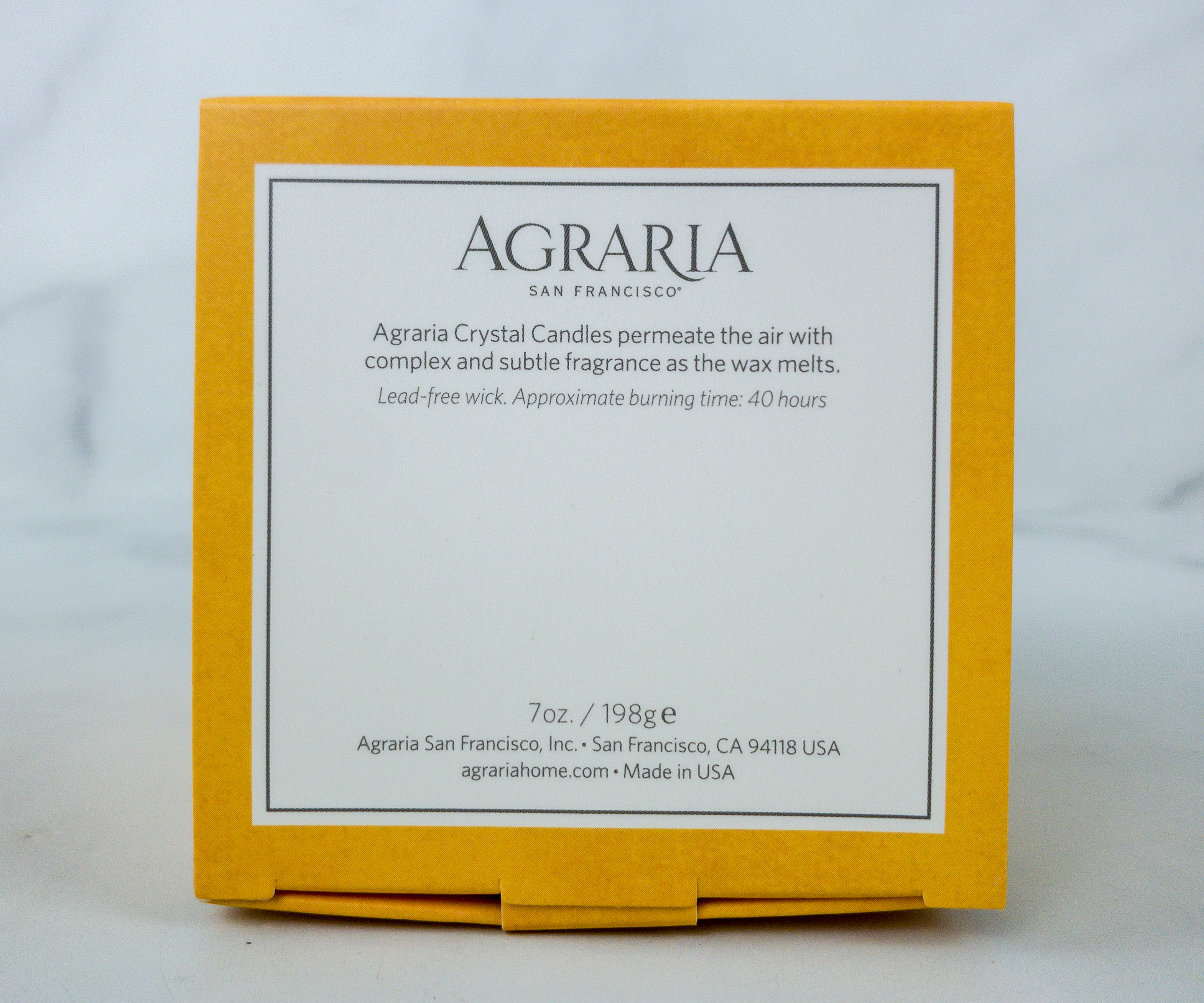 The box it came with was also nice. It has a yellow felt exterior and you can find information about the candle on the top.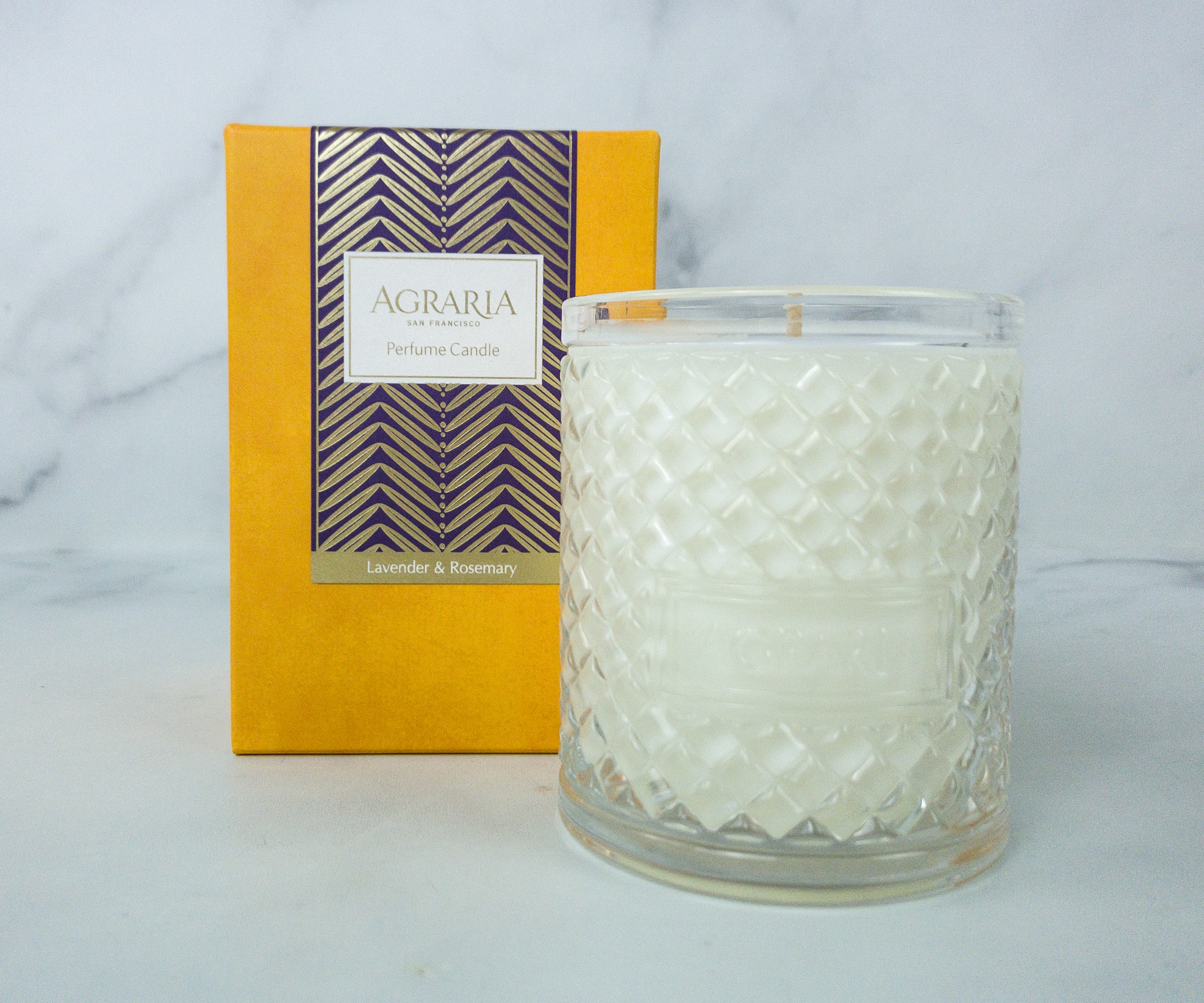 The candle is in a crystal jar and I'm ecstatic because it smells divine! I also love that the jar is glass so I can repurpose it when I'm done with the candle.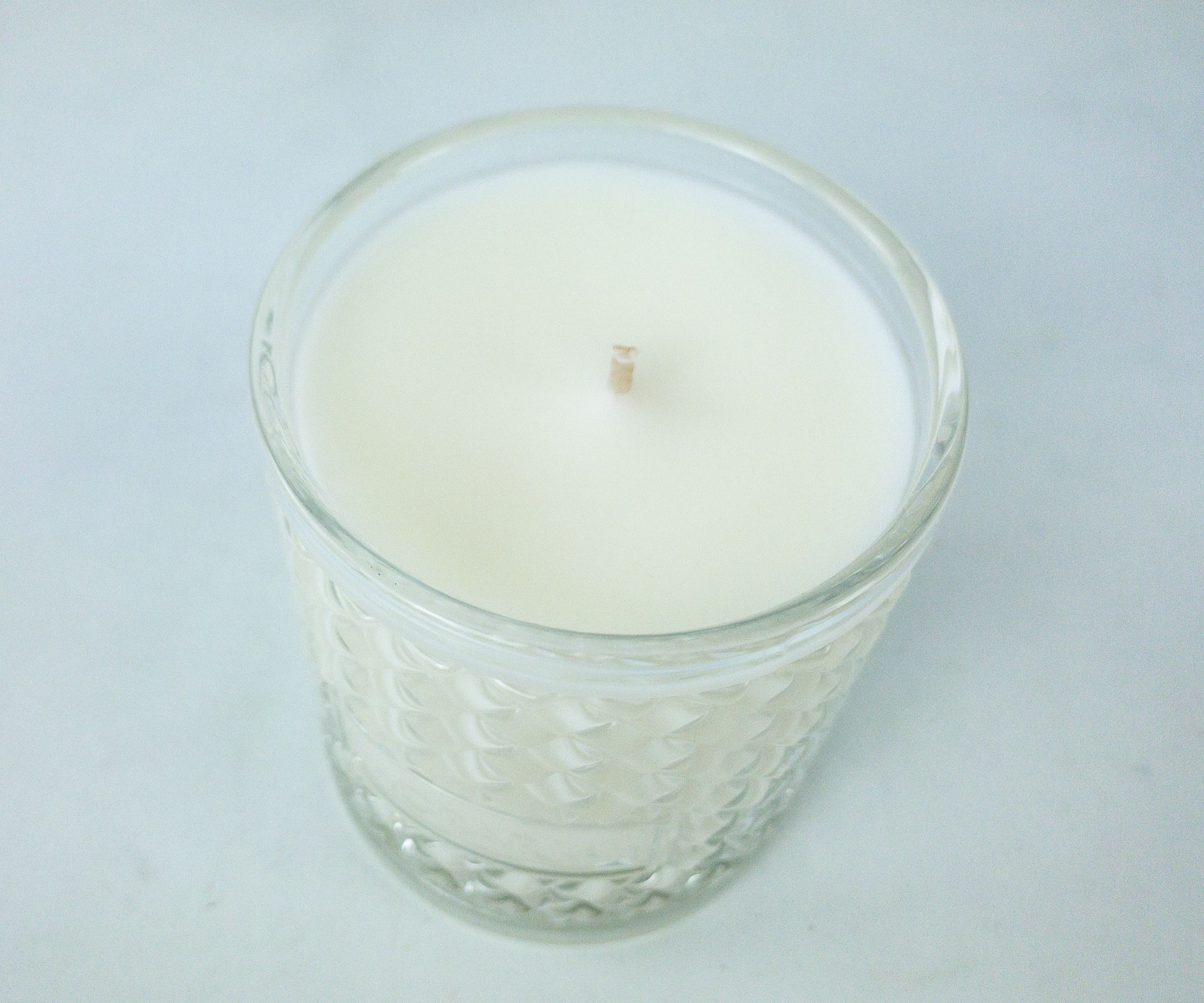 Made with a special blend of soft waxes, this candle promises a clean burn that will make the room smelling fragrant for a long time!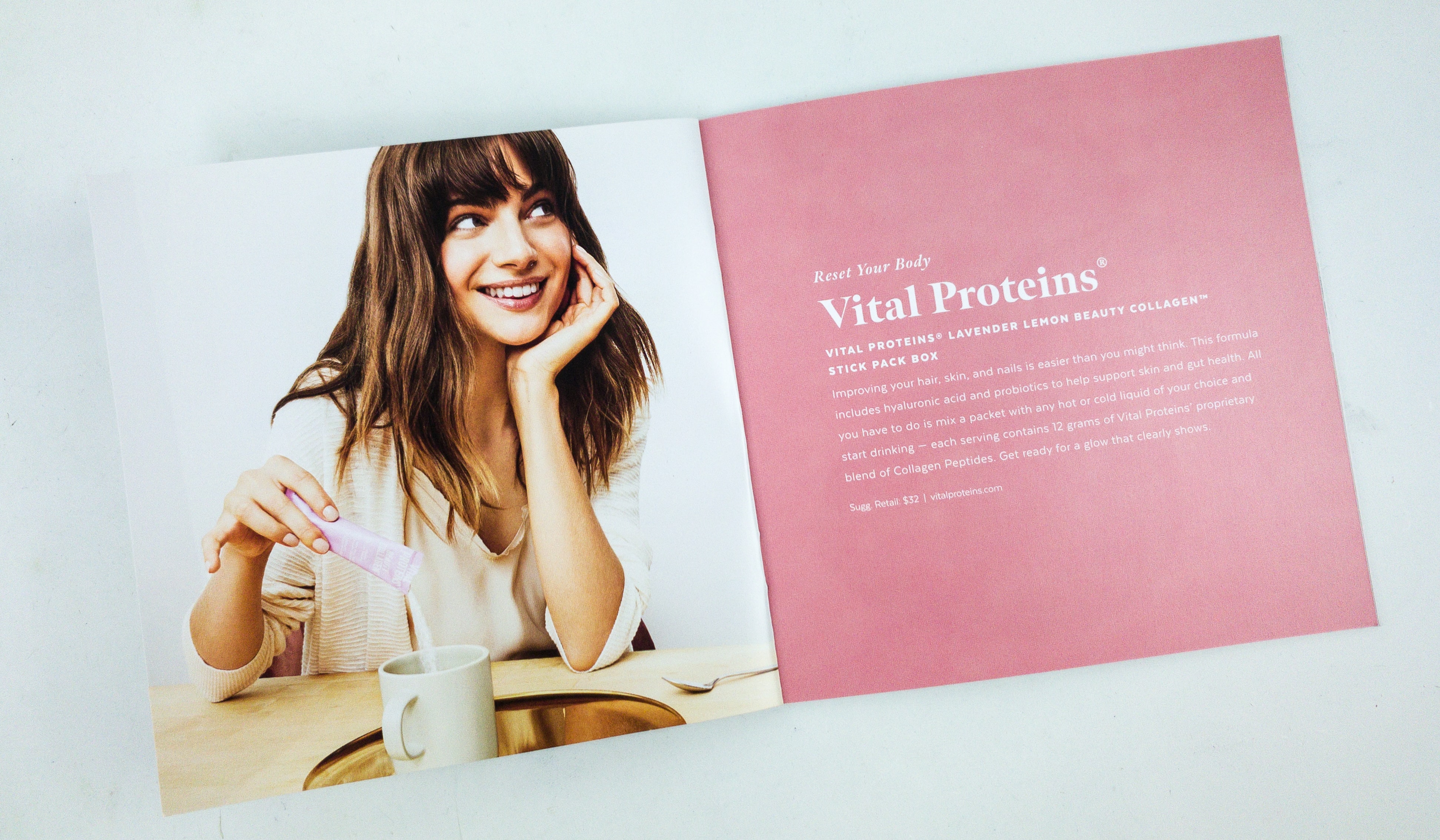 Vital Proteins Lavender Lemon Beauty Collagen Stick Pack Box ($34) For health and wellness, they included a box of collagen sticks!
Improving your hair, skin, and nails is easier than you might think. This formula includes hyaluronic acid and probiotics to help support skin and gut health. All you have to do is mix a packet with any hot or cold liquid of your choice and start drinking — each serving contains 12 grams of Vital Proteins' proprietary blend of Collagen Peptides. Get ready for a glow that clearly shows.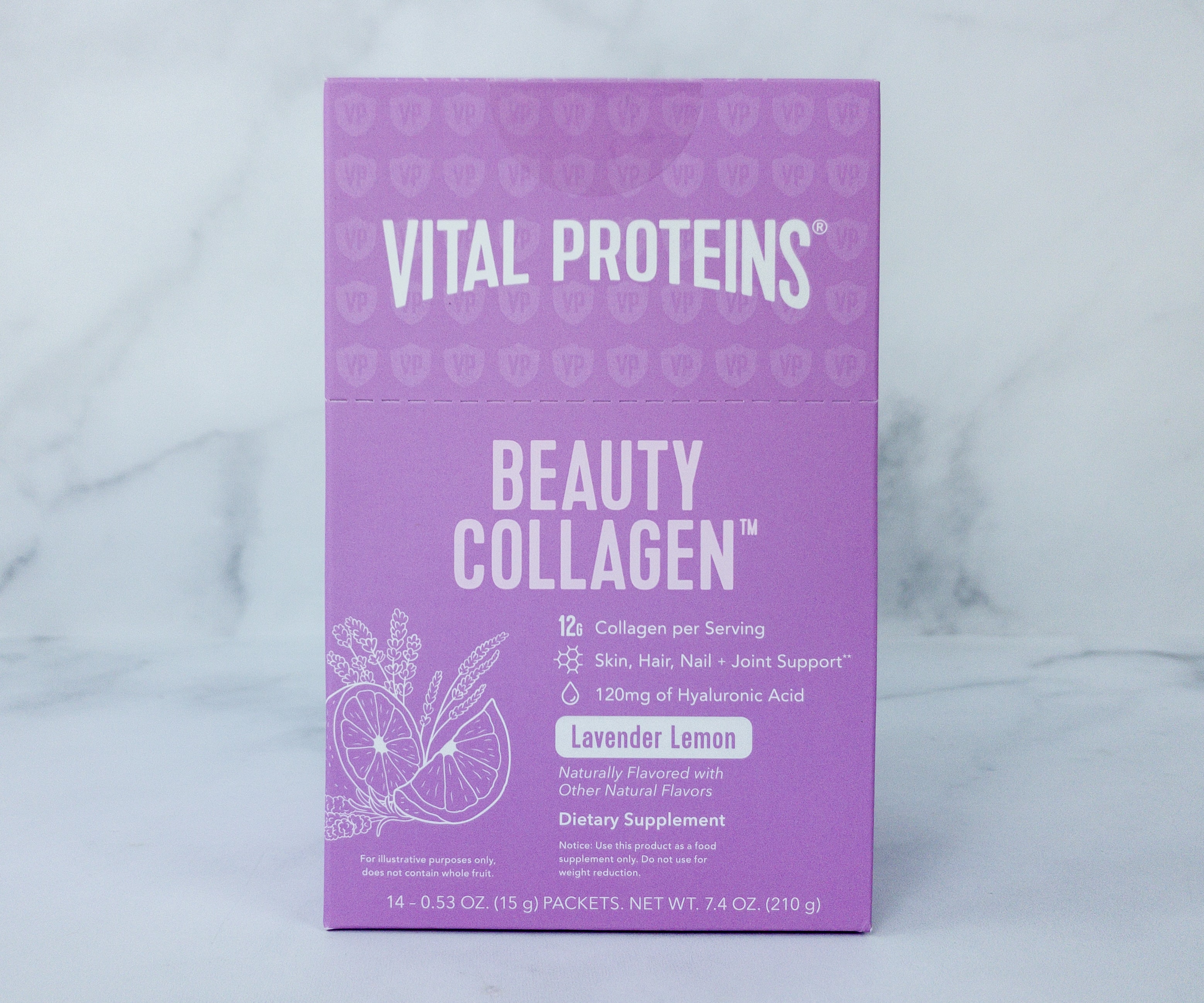 The supplements came in a lovely purple box.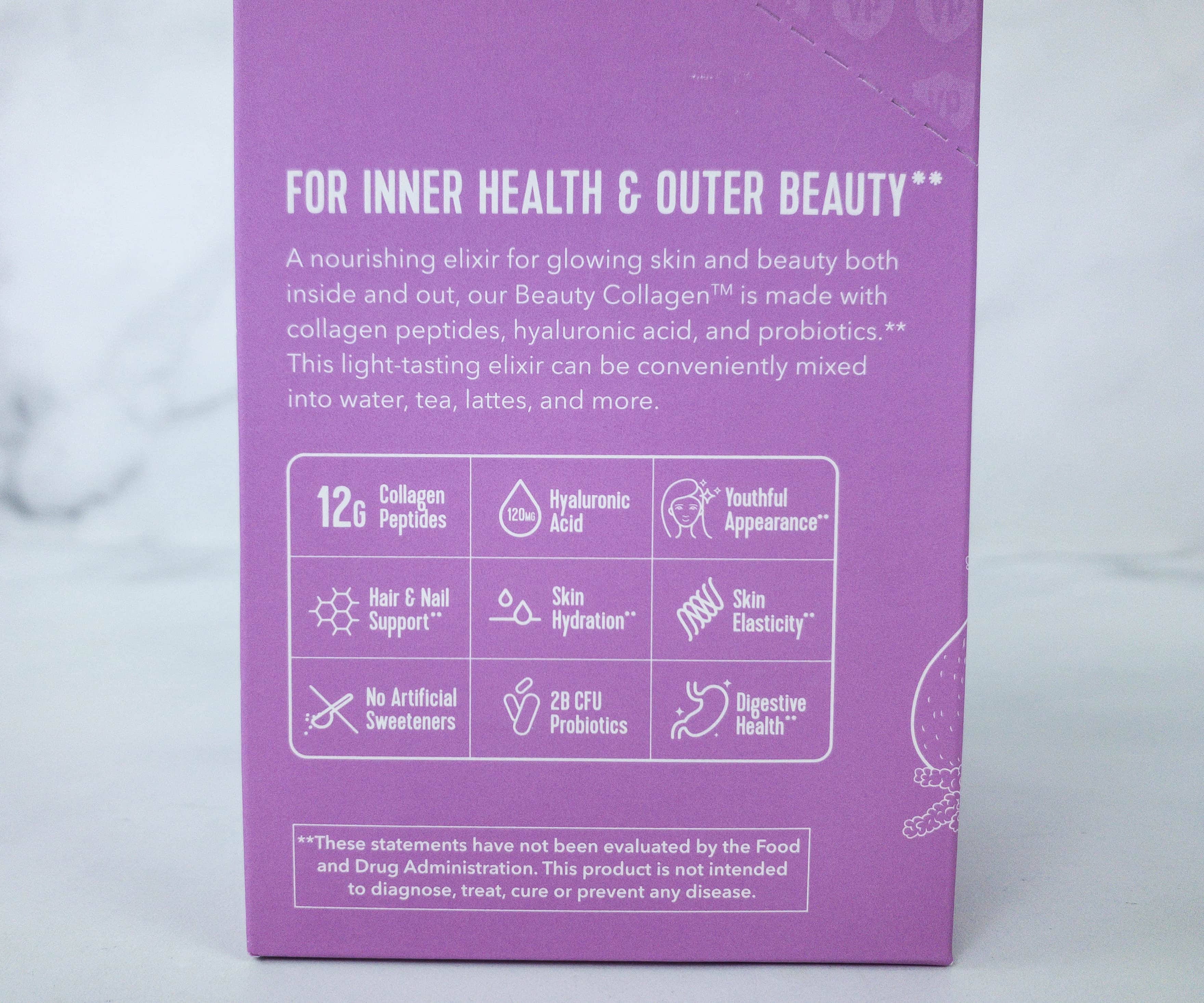 Some of the promised benefits of the product are listed on the side of the box, which includes youthful appearance, hair and nail support, skin hydration, skin elasticity, and better digestive health.
The other side has the Nutrition Facts as well as storage information.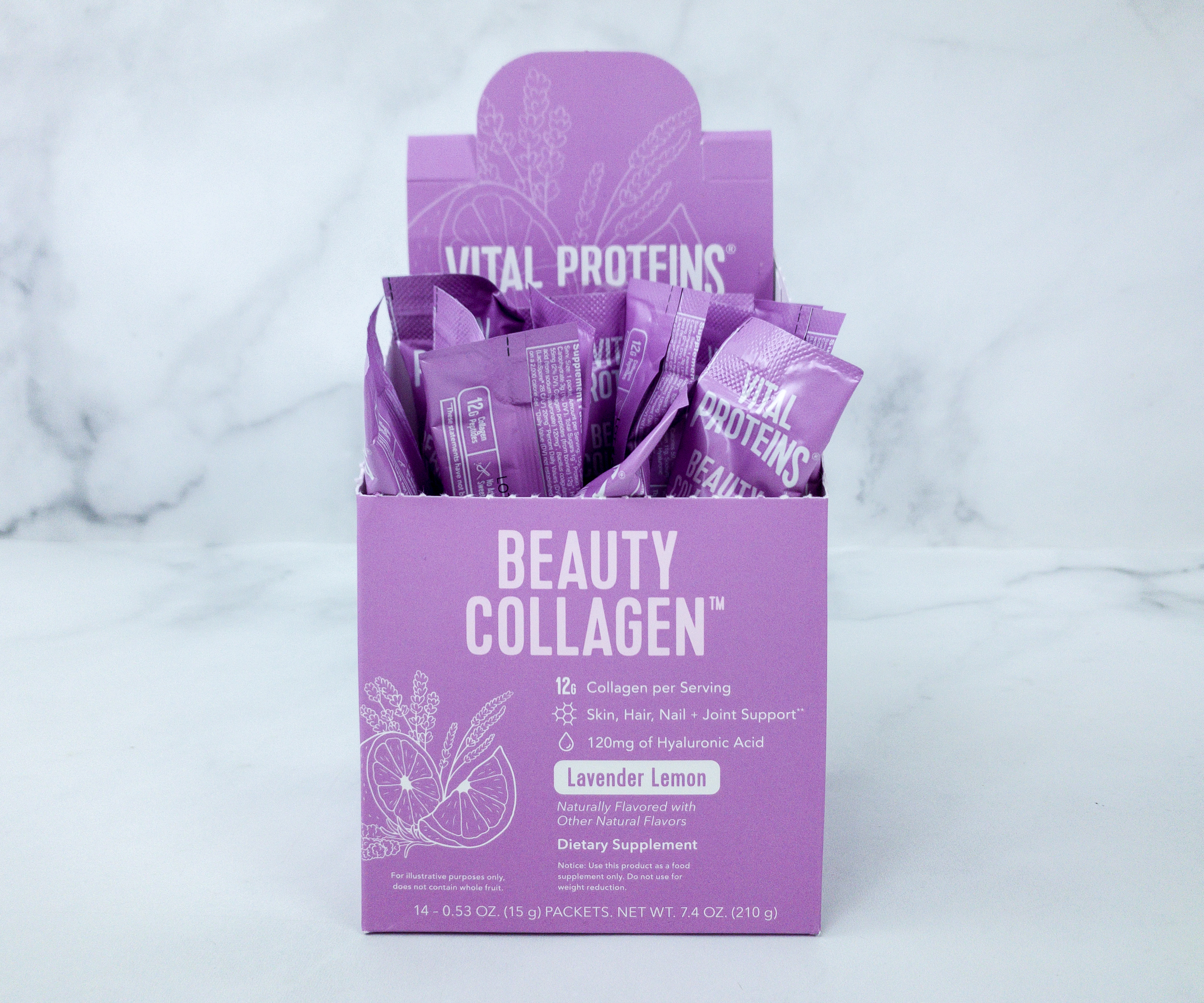 The top of the box can be torn apart to reveal the product. It can also be used as the container of the sticks. You can just grab and go whenever you need it, plus, it's easy to see how much you have left so you'll know if you need to stock up soon!
This contains types I and III collagen which gives the extra support our body needs to fight signs of aging. It also provides a vitamin boost for our overall health and well-being. What's awesome is that it can be mixed with different kinds of beverages, from water to tea to lattes!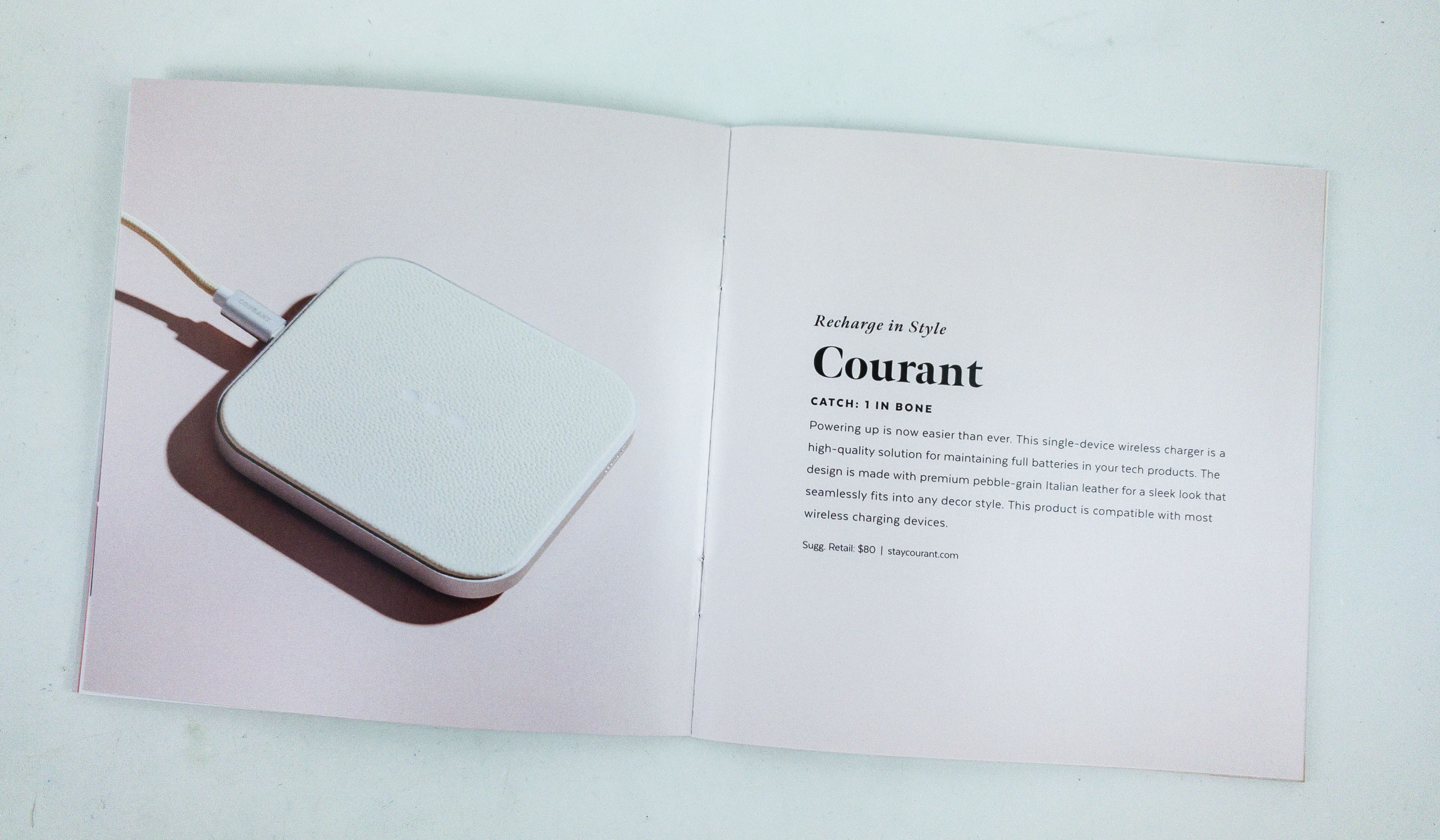 Courant Catch:1 in Bone ($80) Wireless chargers make a convenient alternative to the usual chargers that you need to plug to your phone. They included one in the box, and it comes in a neutral color.
Powering up is now easier than ever. This single-device wireless charger is a high-quality solution for maintaining full batteries in your tech products. The design is made with premium pebble-grain Italian leather for a sleek look that seamlessly fits into any decor style. This product is compatible with most wireless charging devices.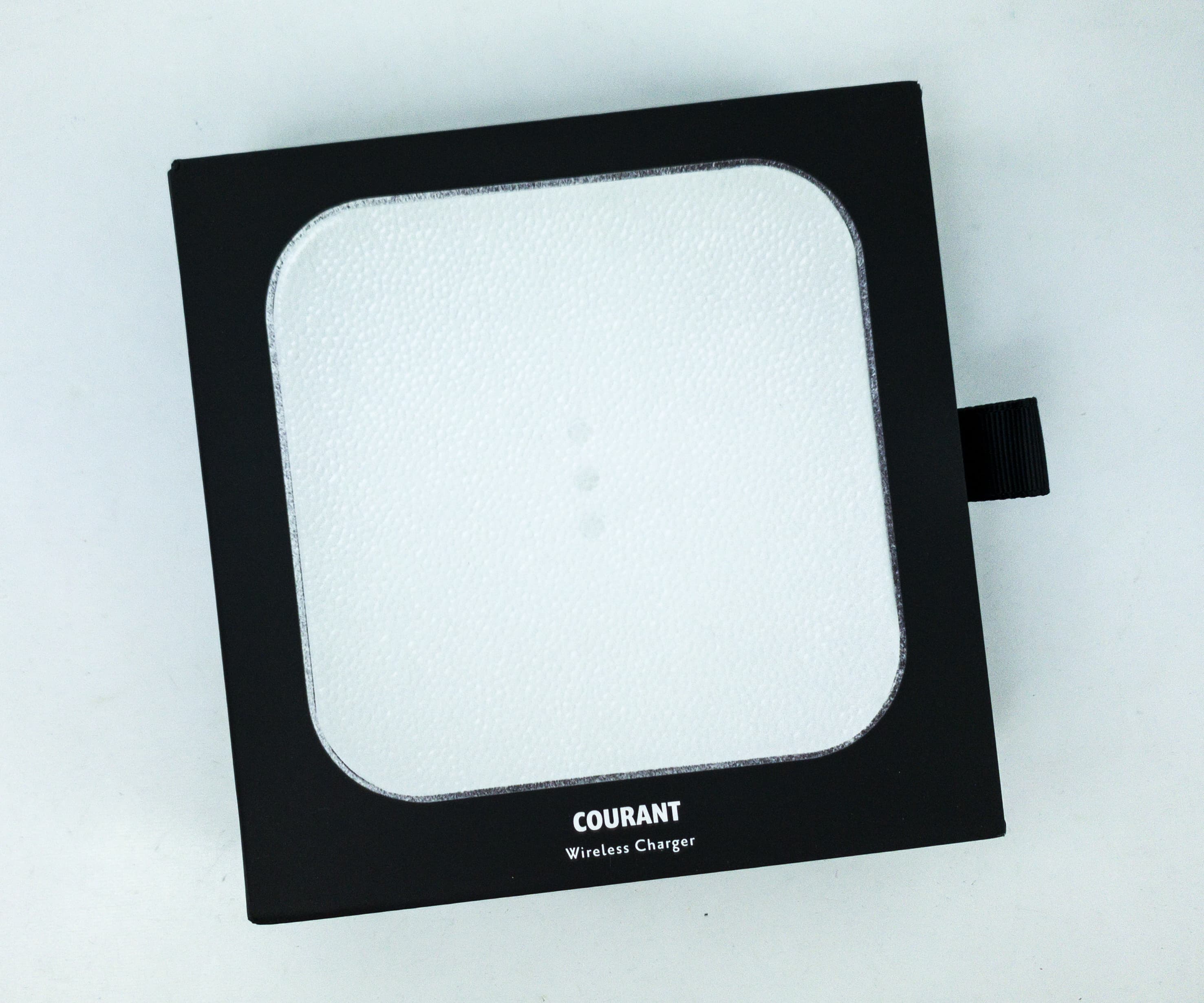 This wireless charger charges through most cases up to 3mm thick!
The top of the charger is made with premium pebble-grain leather, which won't scratch your device or its case.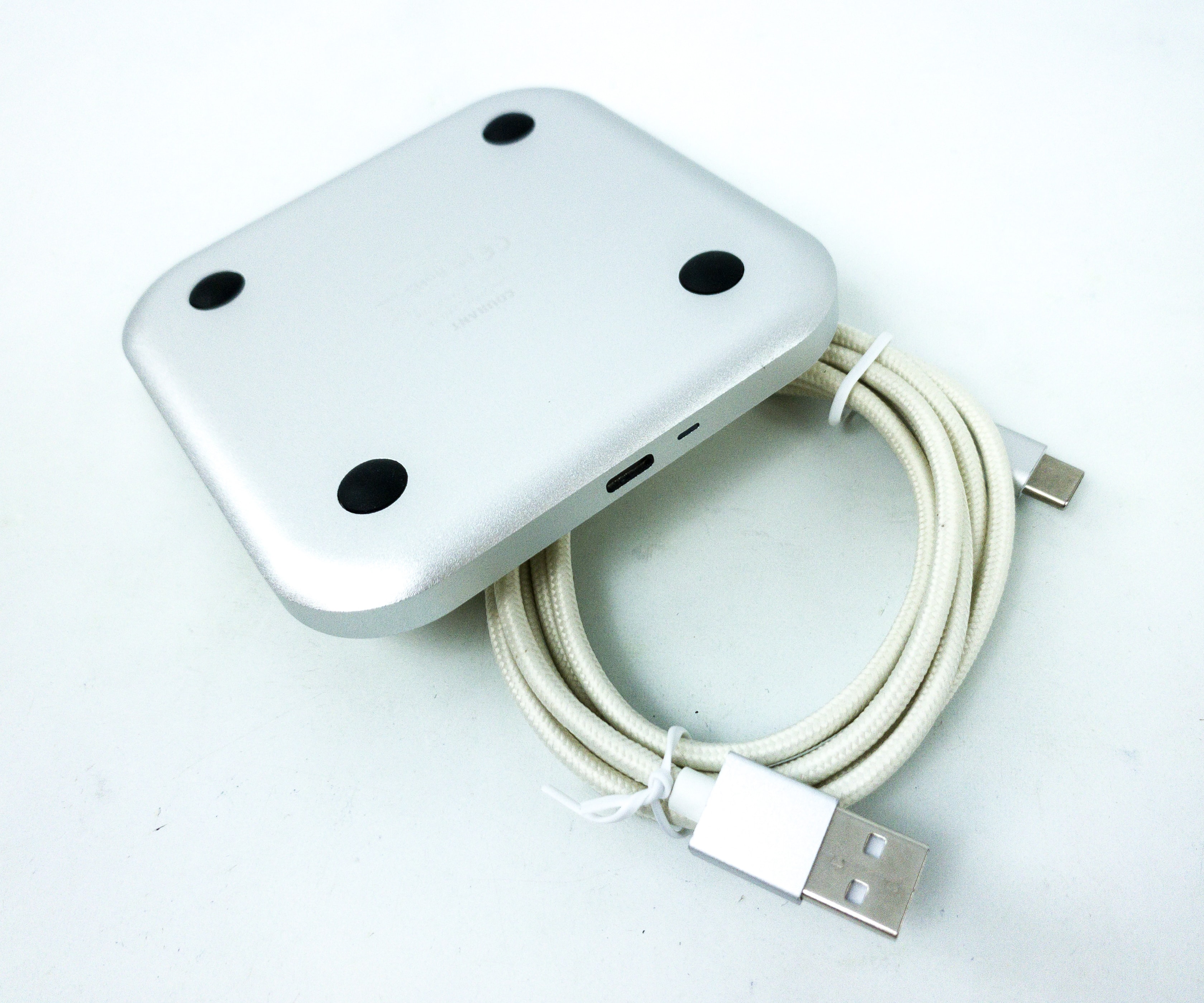 The back has a non-slip foot on each side so you can be sure it won't slide when you're charging.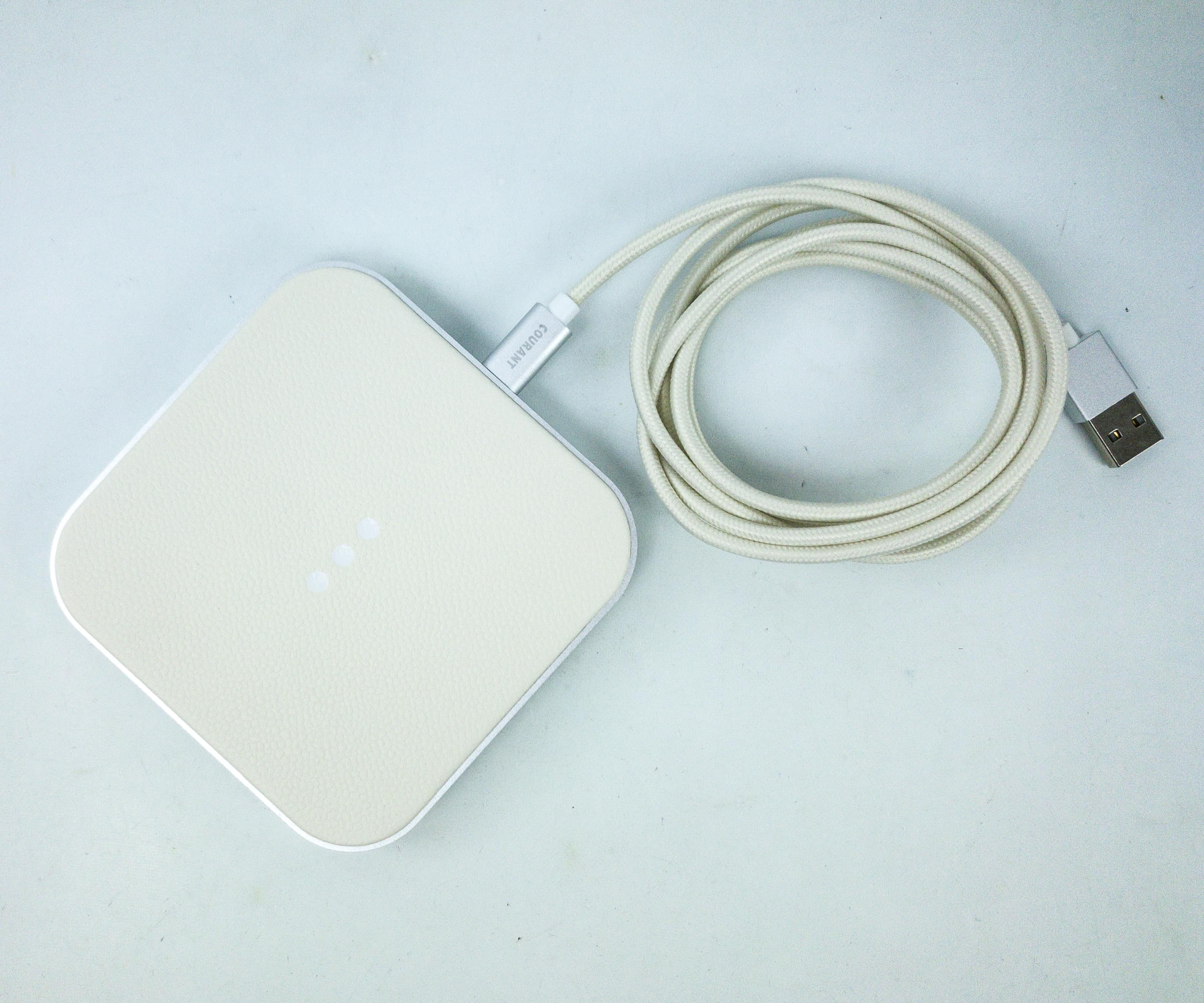 It also came with a double-braided nylon cable!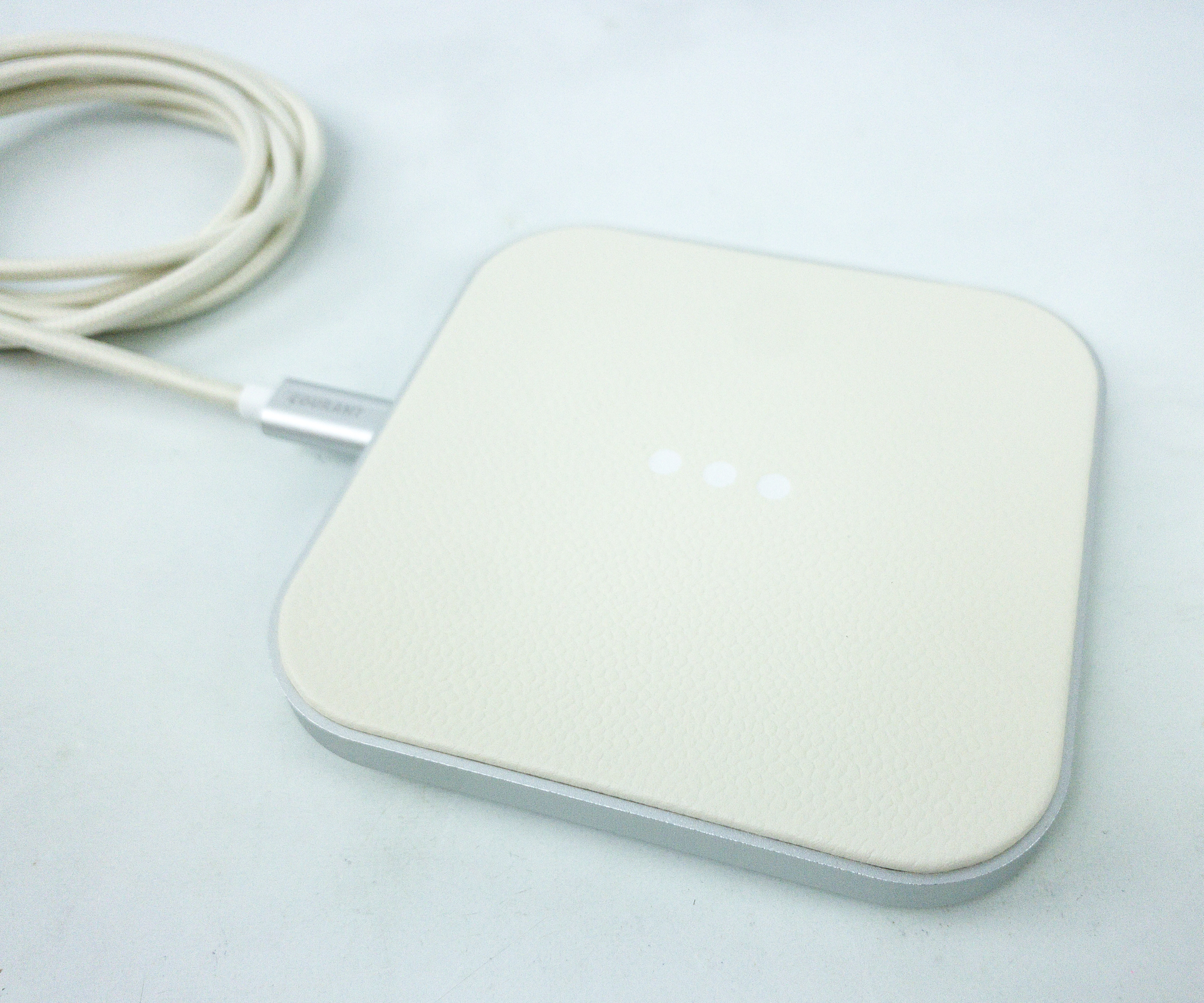 It's sleek and I love that it holds my phone in place even when I don't have a case.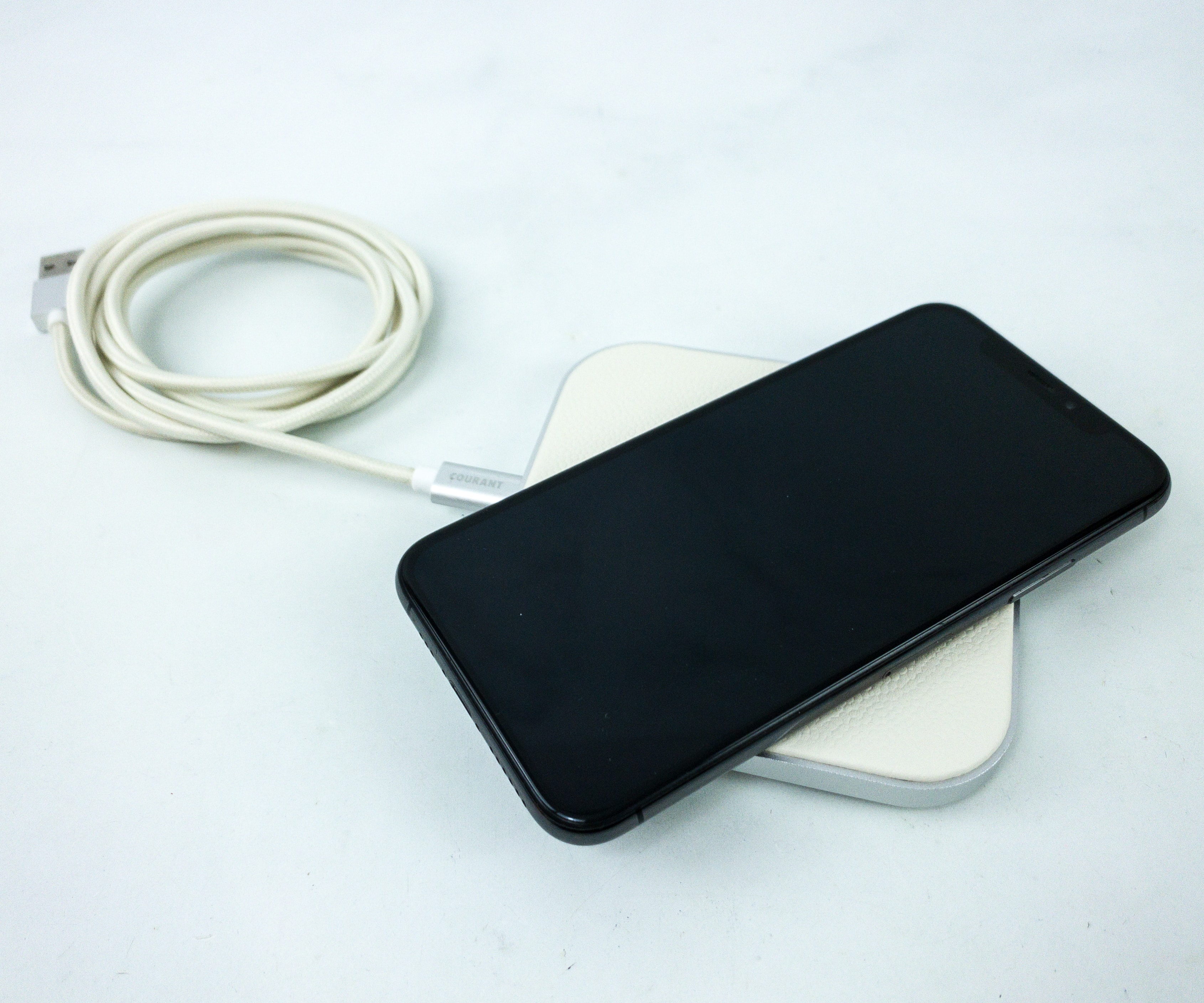 Here's what it looks like when you charge your phone using it! Easy access and no more need to plug and unplug whenever you have to move away from the port.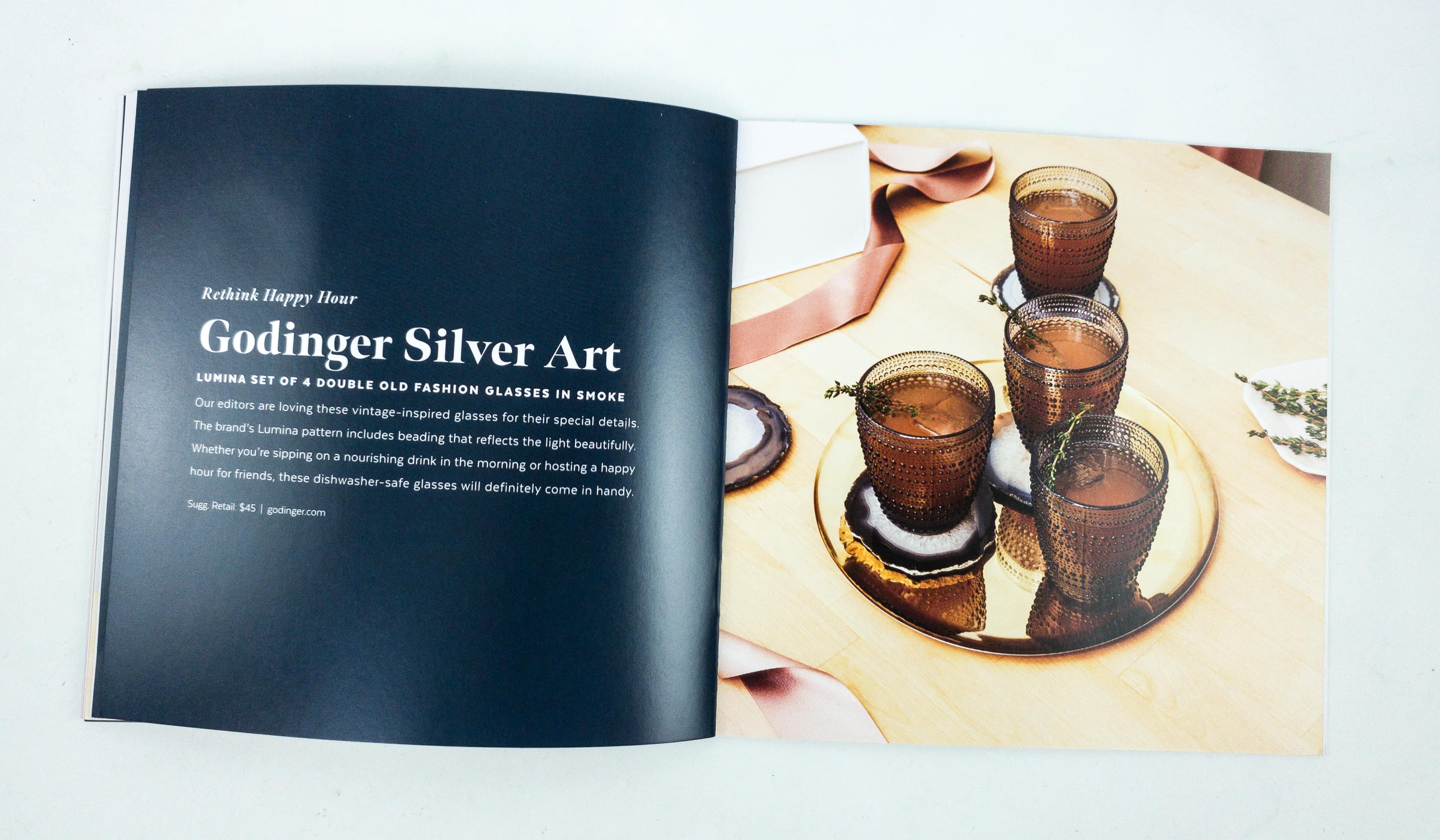 Godinger Silver Art Lumina Set Of 4 Double Old Fashion Glasses In Smoke ($24) It's a set of 4 beautiful glasses, which go well with the coasters from this box.
Our editors are loving these vintage inspired glasses for their special details. The brand's Lumina pattern includes beading that reflects the light beautifully. Whether you are sipping on a nourishing drink in the morning or hosting a happy hour for friends, these dishwasher safe glasses will definitely come in handy.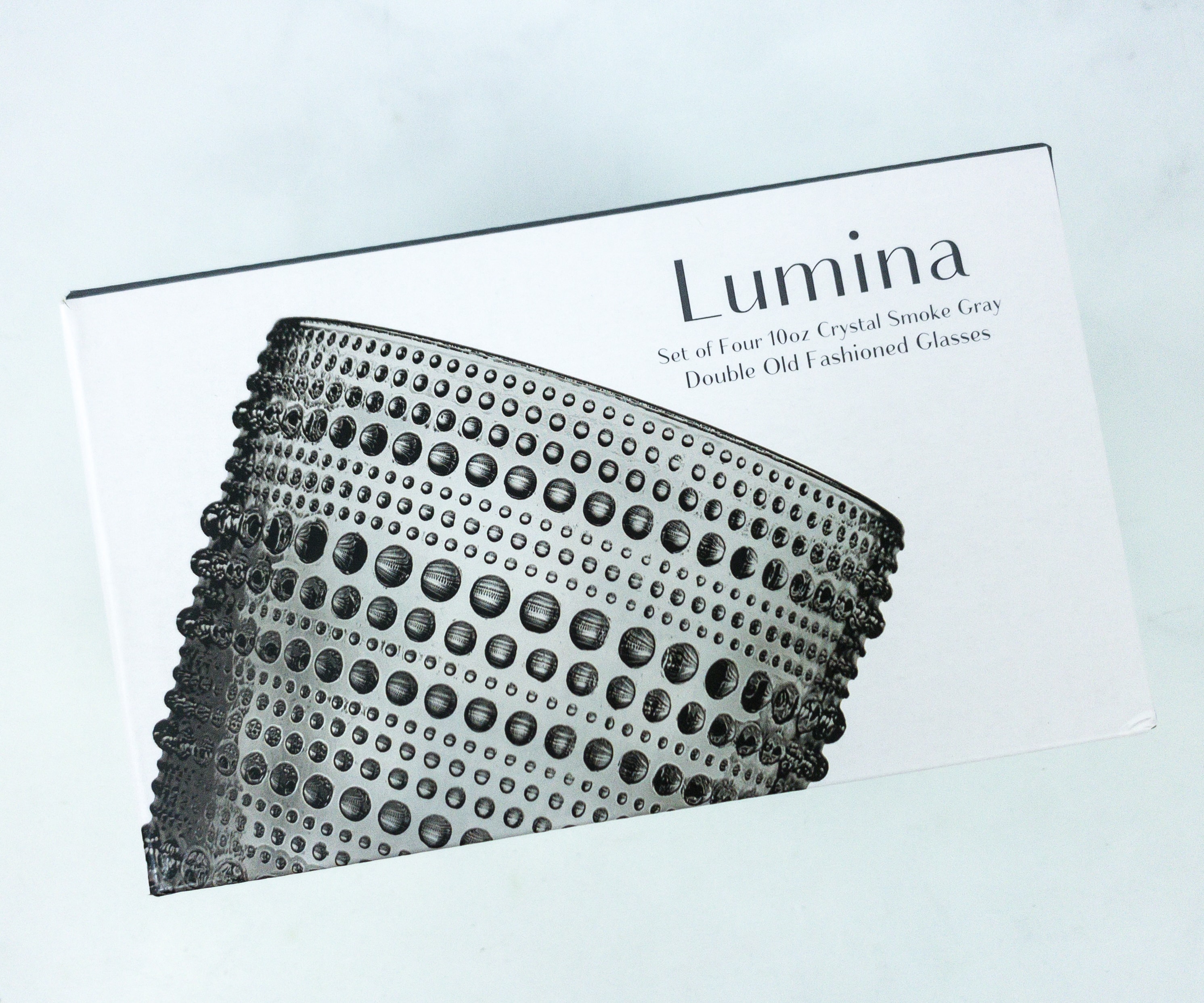 The glasses are in smoke gray. They can also contain up to 10 oz of liquid.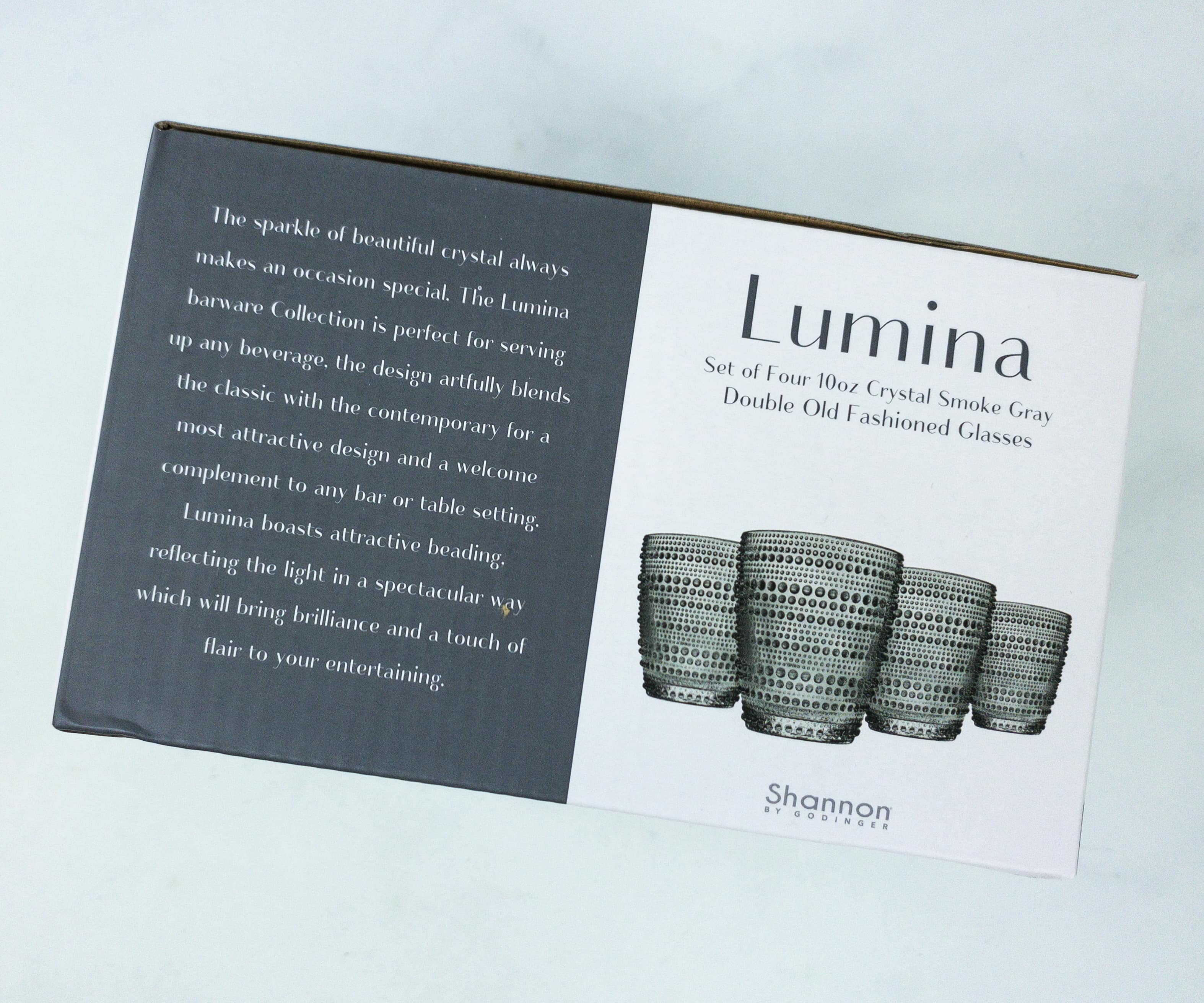 This side of the box says a little information about the items inside.
The glasses look great! I'm amazed by the detailing!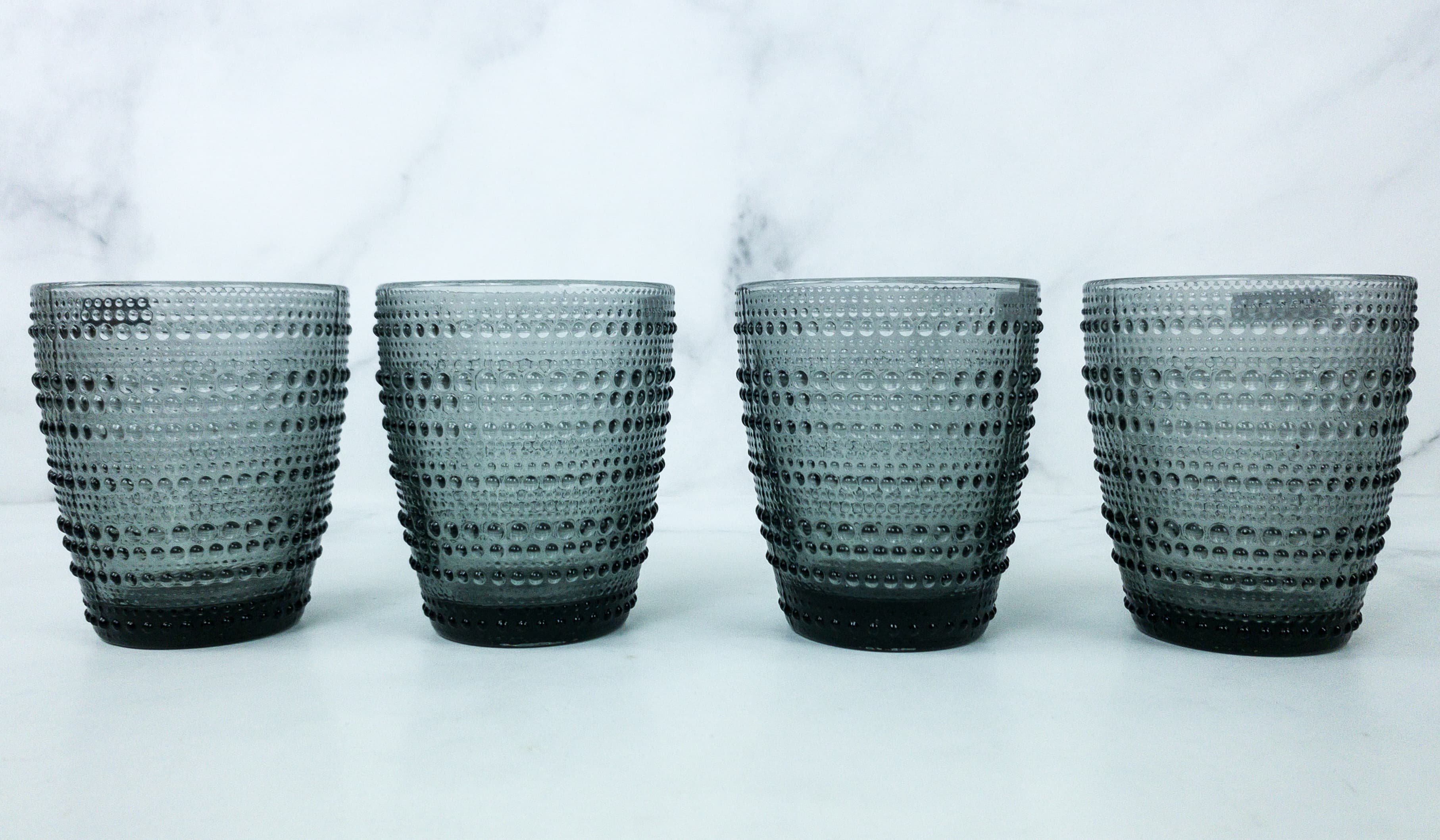 These old fashioned glasses are perfect for serving drinks to guests, but they're also durable enough for daily use.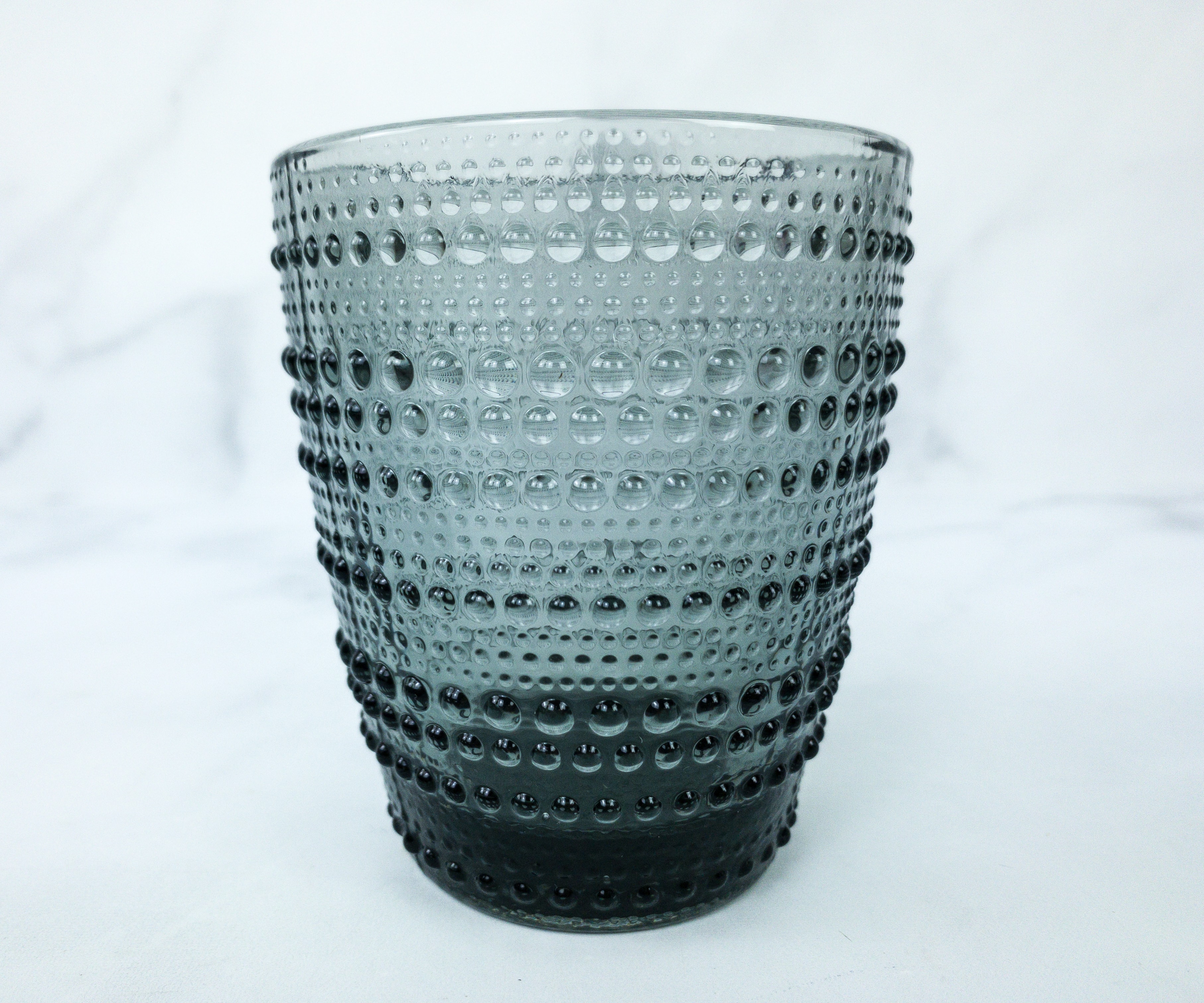 The glass itself is heavy and thick, each one is nicely crafted.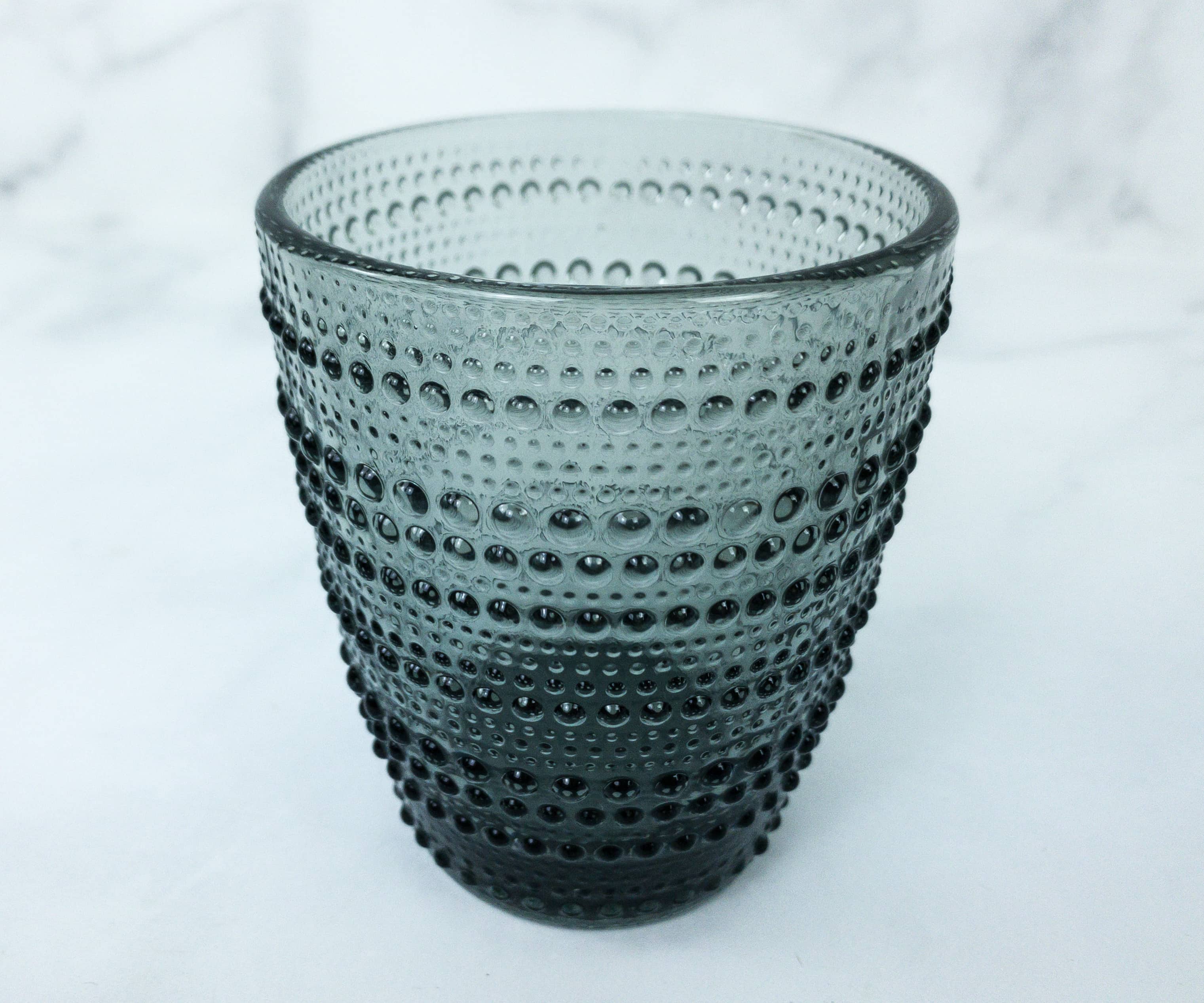 The embossed parts make it easier to hold and less likely to drop. It looks elegant and classic!
Skin Worldwide Vara Slipper In Heather Gray ($80) To complete this month's loot, they included these super cute and comfy slippers!
Slide your feet into these soft, plush slippers when you're relaxing at home. The machine washable design will be perfect for the Winter months ahead. The fabric includes moisture wicking nanoparticles of jade woven into it. Get ready to feel less stressed as soon as you slip these on.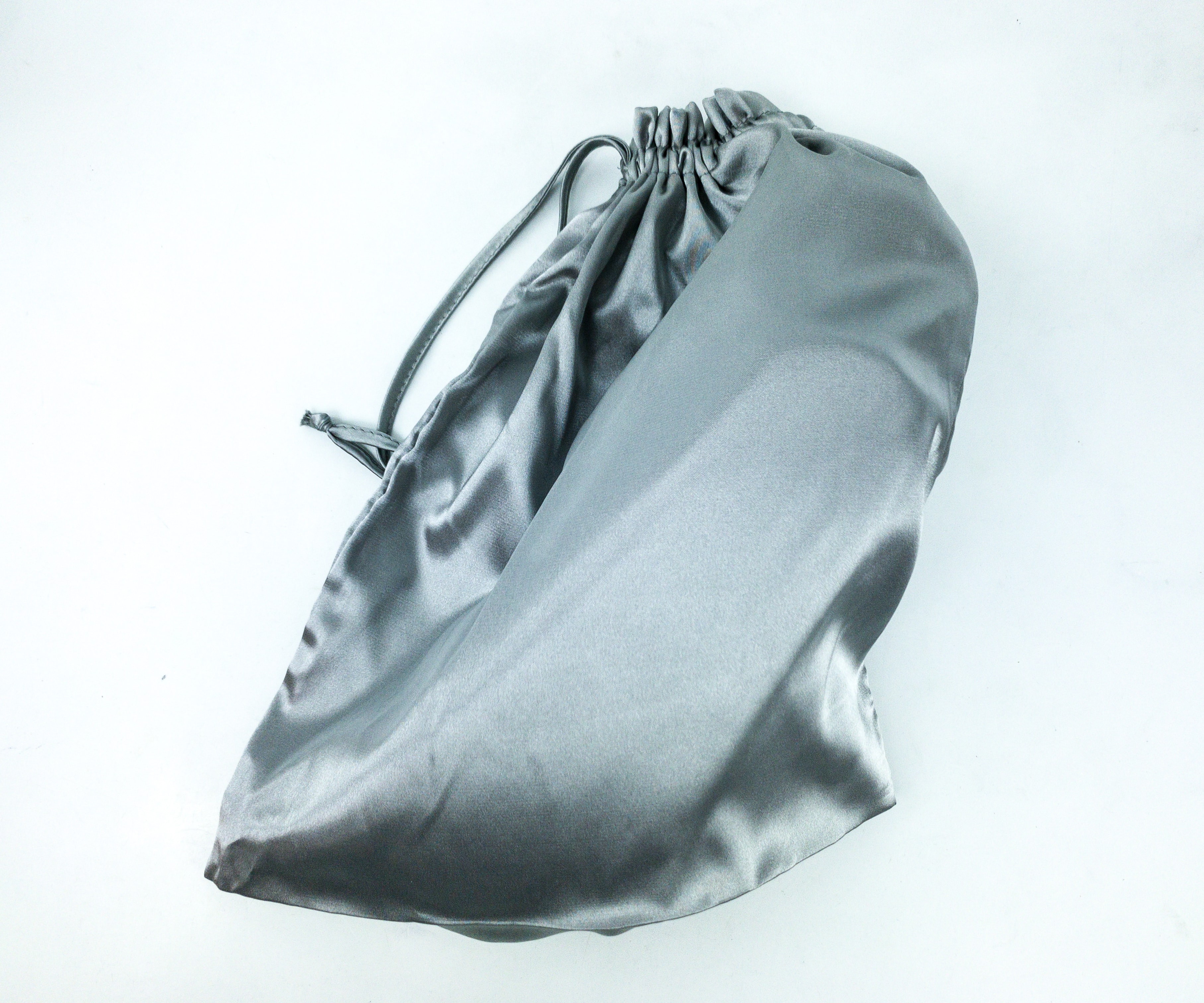 The slippers arrived in a silk pouch.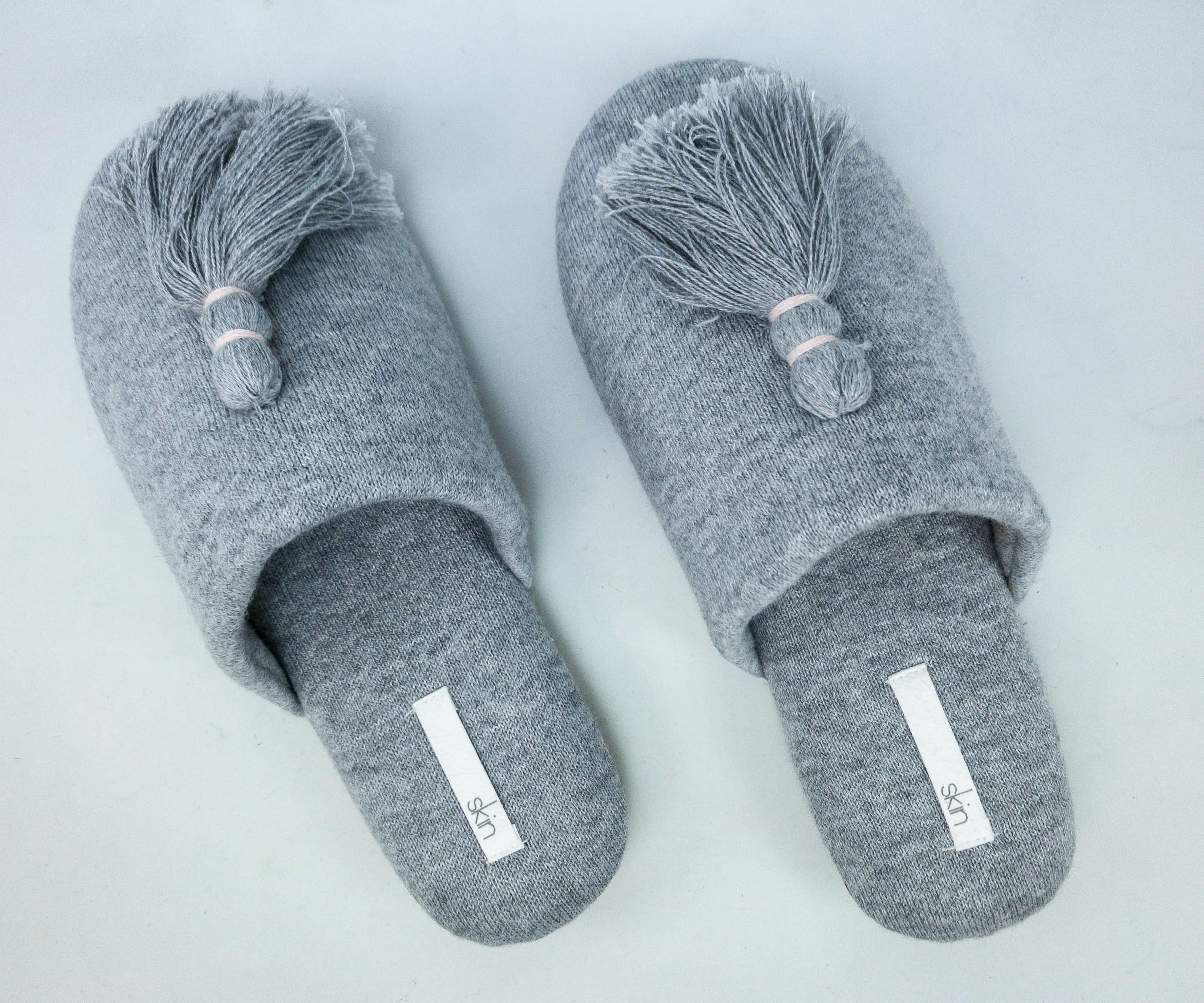 The slippers are soft and cozy, I could wear them all day. They fit me really well.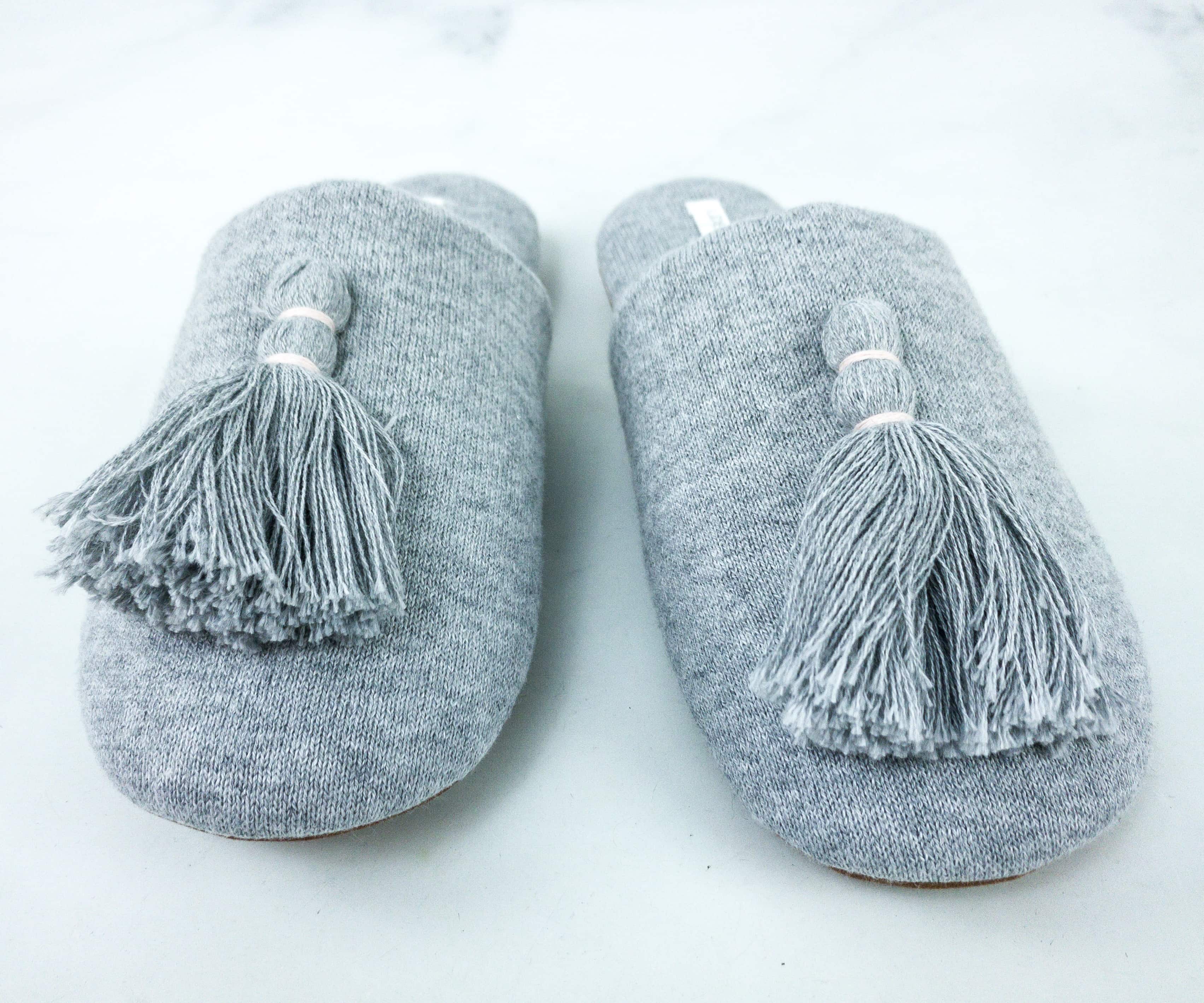 There are fringes in the middle as a design. These are too cute!
They also warm my feet a bit during cold nights. The outer sole is made of microfiber. I'm in awe of the products I received in this box! First off, they stuck to the theme and they delivered. Second, they not only managed to give products that will relax the body, but they included wellness products into the mix as well. For me, this was a well-curated box! They're all top-quality and luxurious, definitely worth including in a special one-time box. The retail value of the items is also astounding, it totaled to $778 – adding the gift card pushes it over $800! The charger and the glasses are my absolute every day faves. Did you get a POPSUGAR Must Have Neiman Marcus box? What did you think of this year's edition?