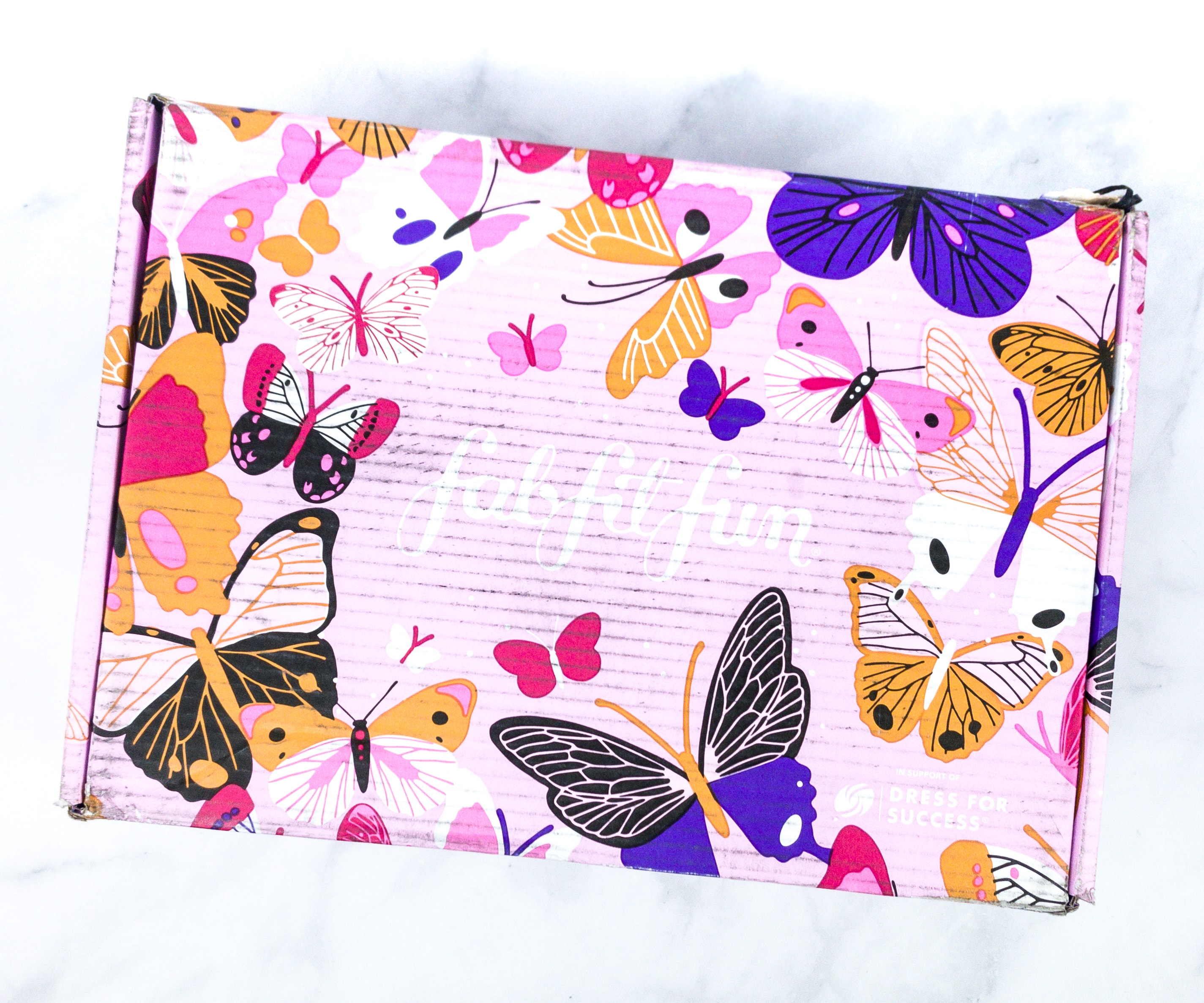 FabFitFun Box is a quarterly women's subscription box that promises full-size beauty, fashion, and fitness items every quarter.
This box is currently still available!
DEAL: New members can save $10 with coupon code FAB10!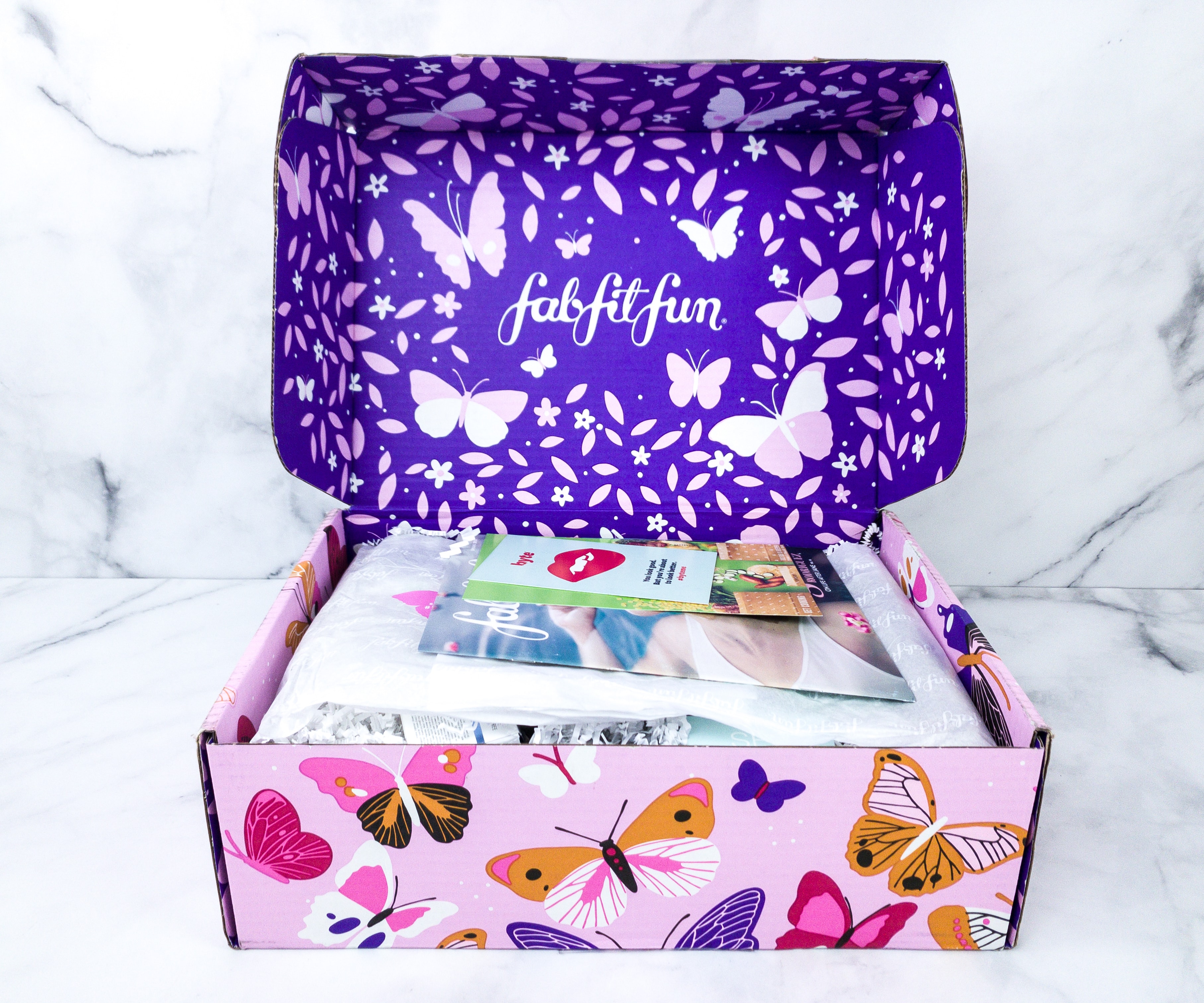 This quarter, the box design is by Geraldine Sy.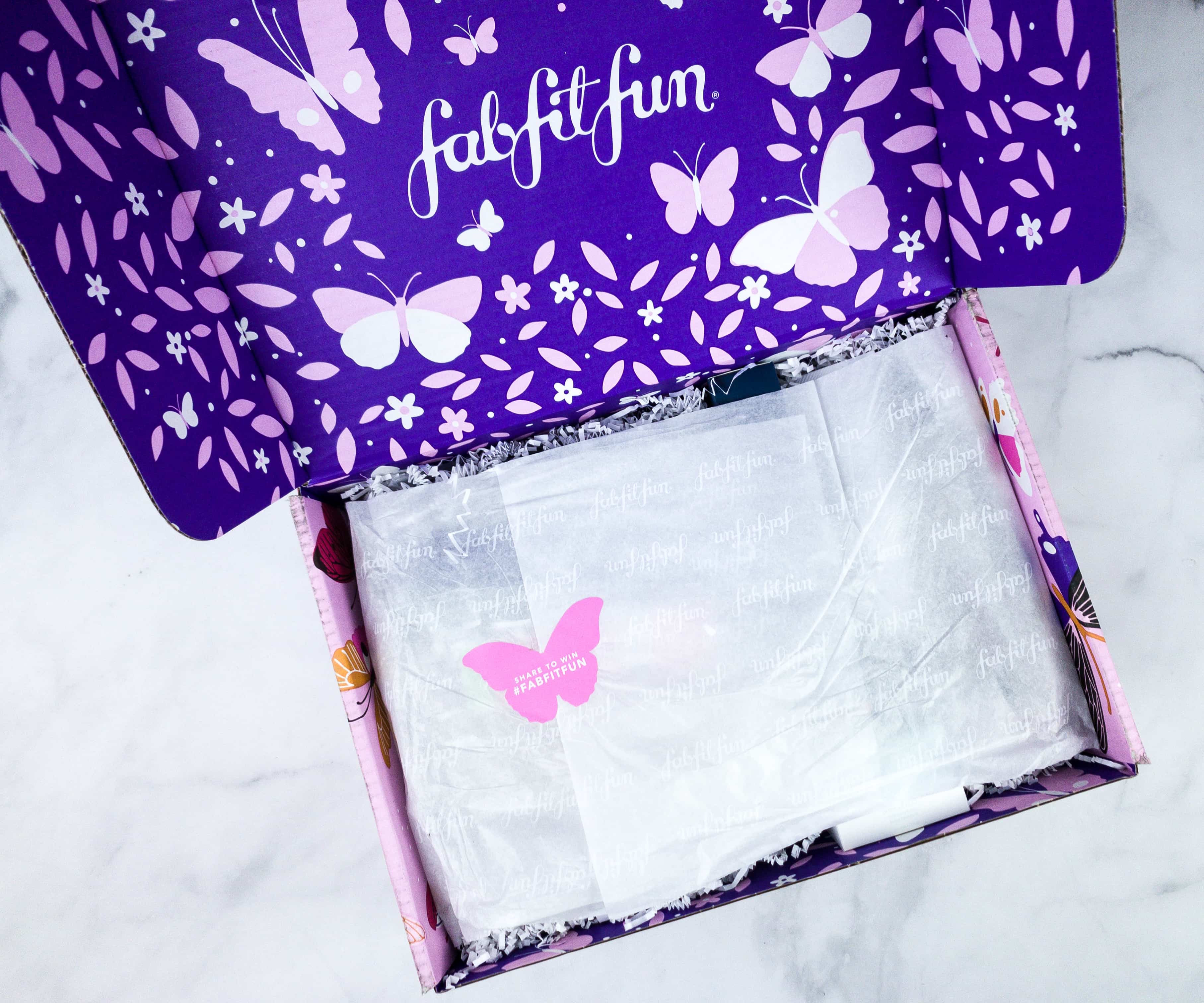 The items were wrapped with white tissue paper.
This box is packed full of goodies, as it is every season.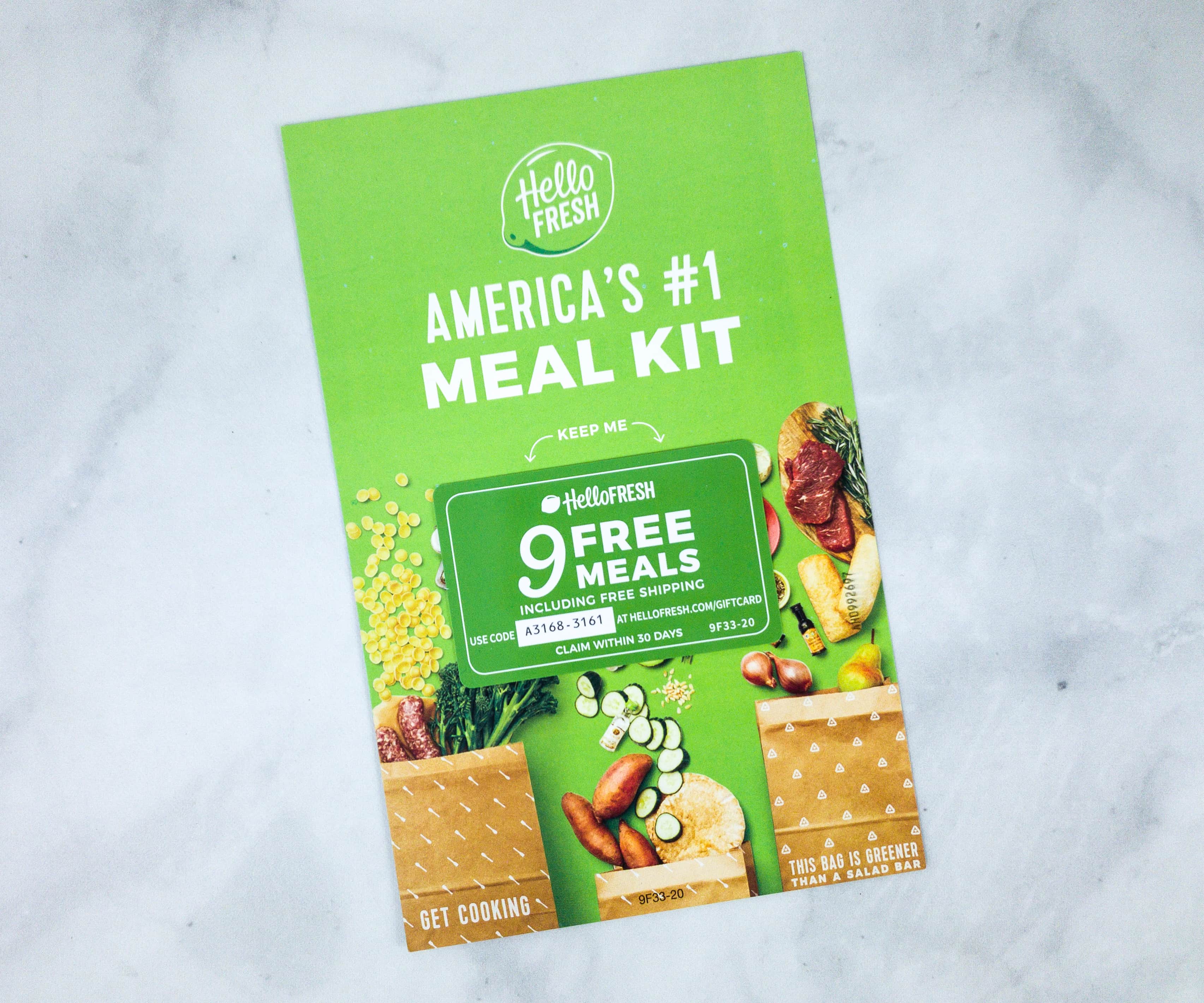 A gift card from Hello Fresh is also included!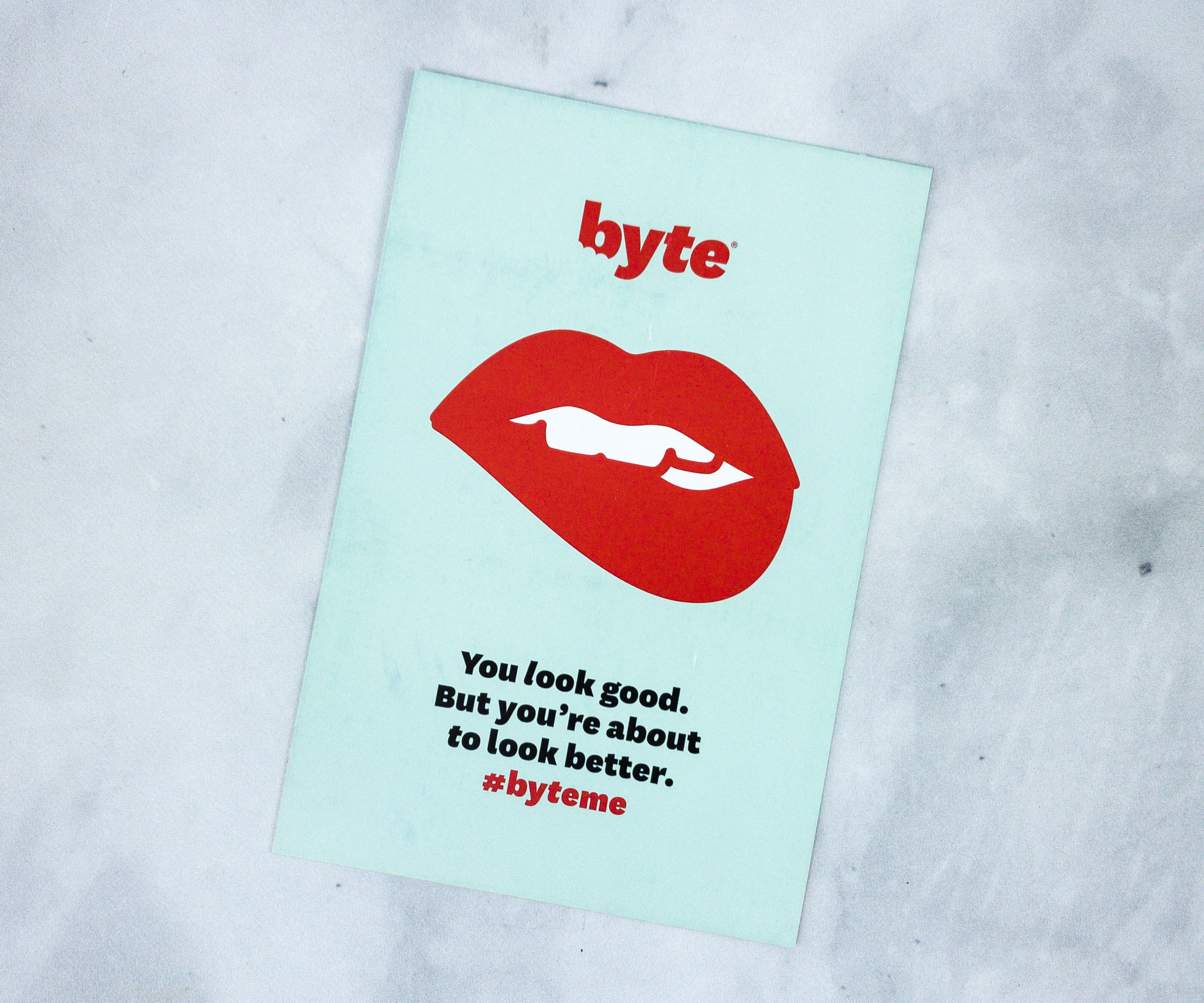 There's another promotional card from byte!
At the back, there's a coupon code exclusive for FabFitFun members!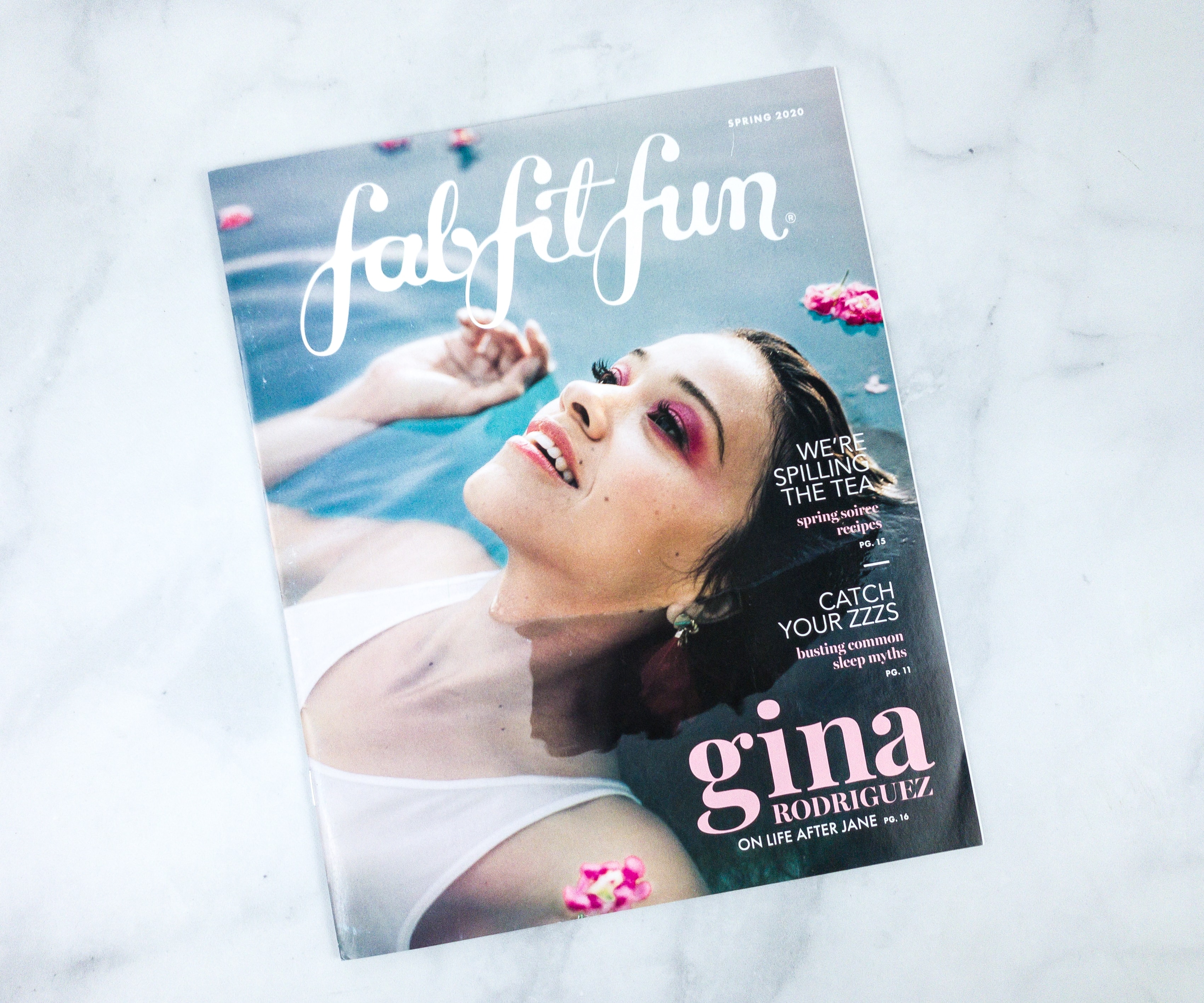 As usual, they sent us a large-format mini-magazine. It features Gina Rodriguez on the cover. There's also a giveaway where you will get the chance to win a trip to Arizona when you post your Spring box on social media.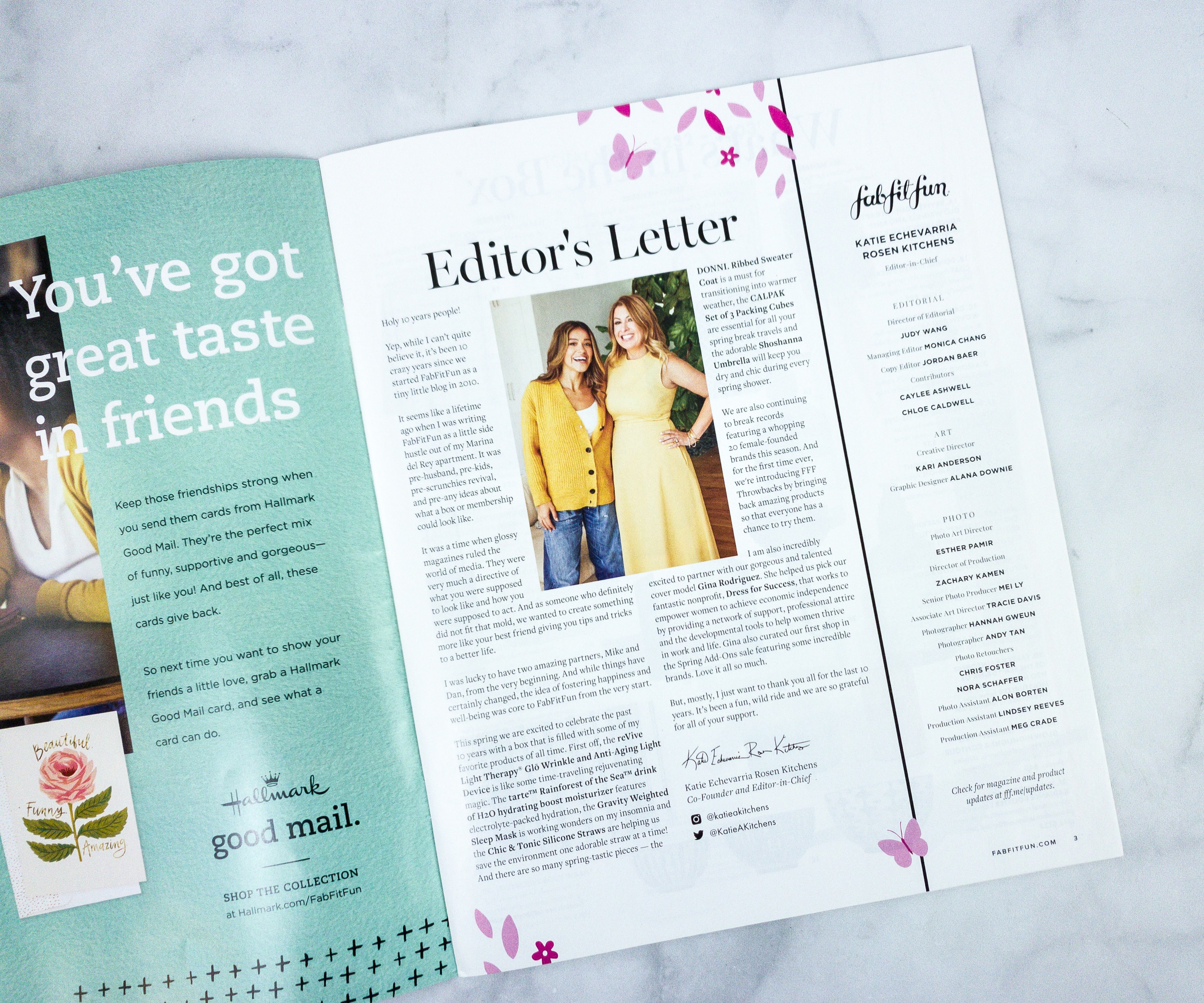 The first page has a message from Co-Founder and Editor-in-chief Katie Echevarria Rosen Kitchens!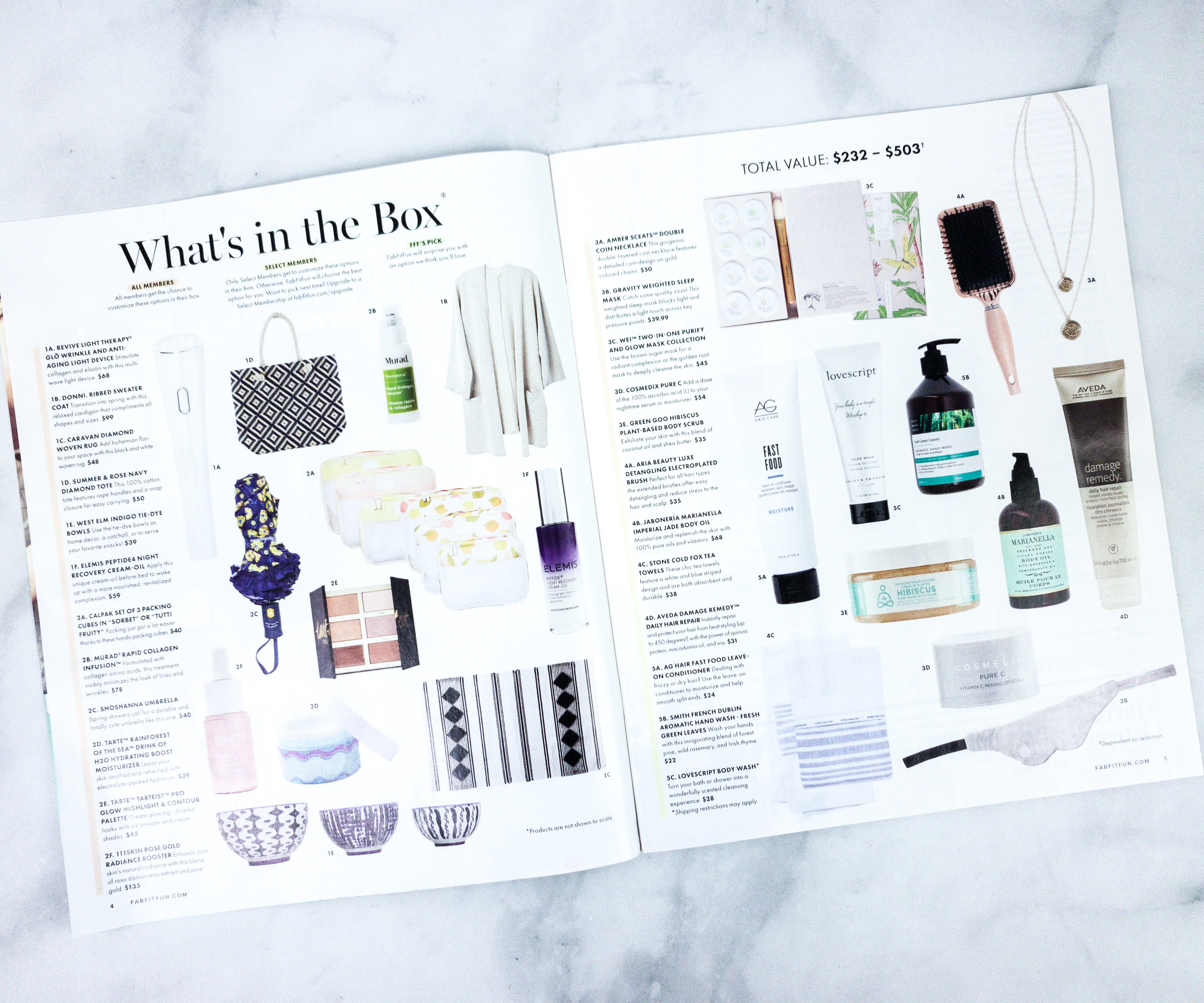 The magazine provides all the details on the products, plus fun lifestyle articles (see all the lifestyle articles at the bottom of the review).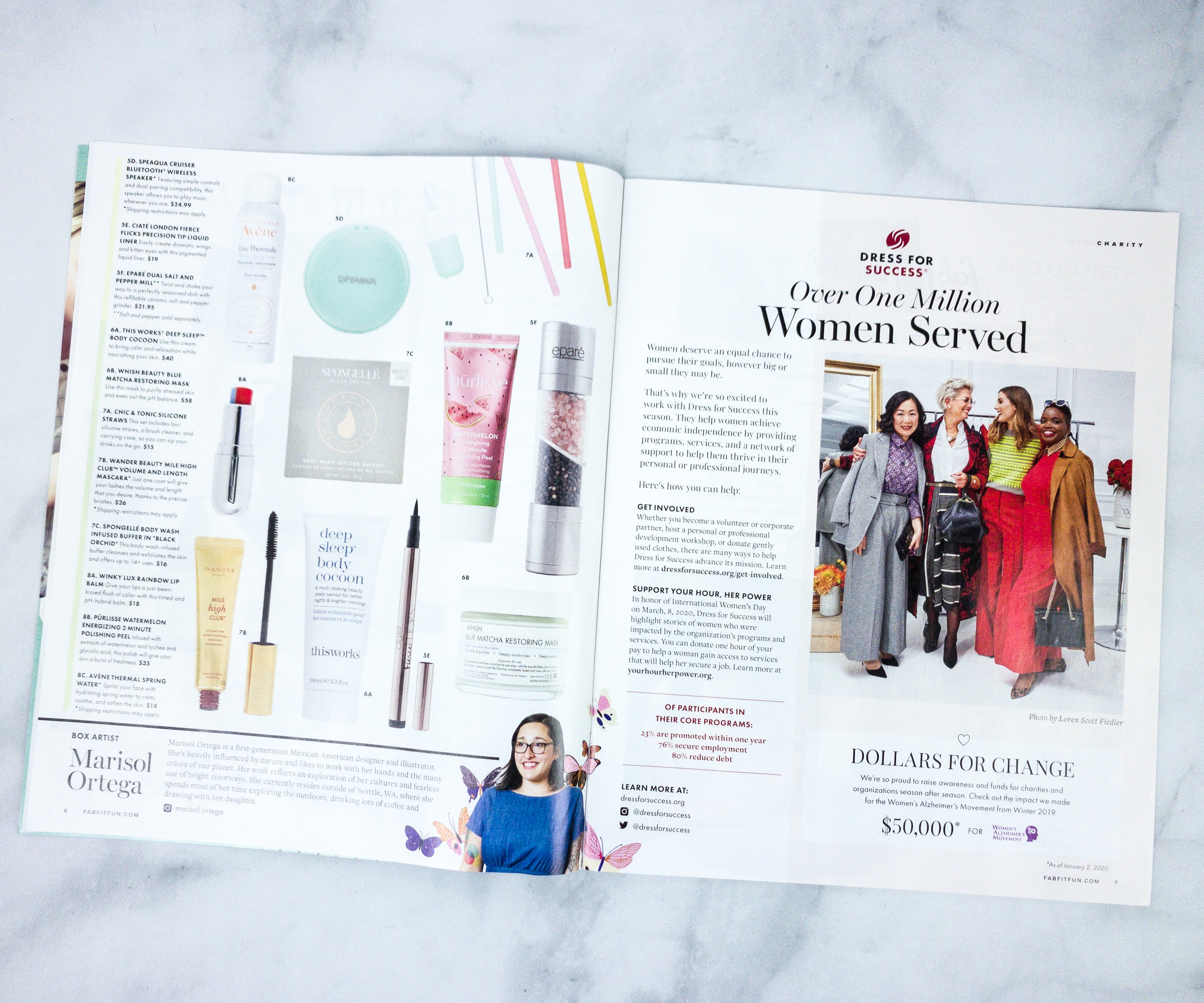 Variations of these can be in your box but not all of them. A full 3-page spread gives details on every item and variation in the box.
Everything in the FabFitFun VIP Box for Spring 2020! There are lots of item variations that are detailed below.
I have an annual subscription so I was able to make a few extra choices. We received a lot of comments this year about choices being sold out – we really recommend that if you want the best selection on choosing items for your box, that you select an annual subscription, if it's within your budget.
FFF Picks
In case you missed it, there are no longer "everyone receives" items in the box! FFF will select 3 items from the FFF picks for the season. For Spring 2020, the FFF picks subscribers might get are:
I got: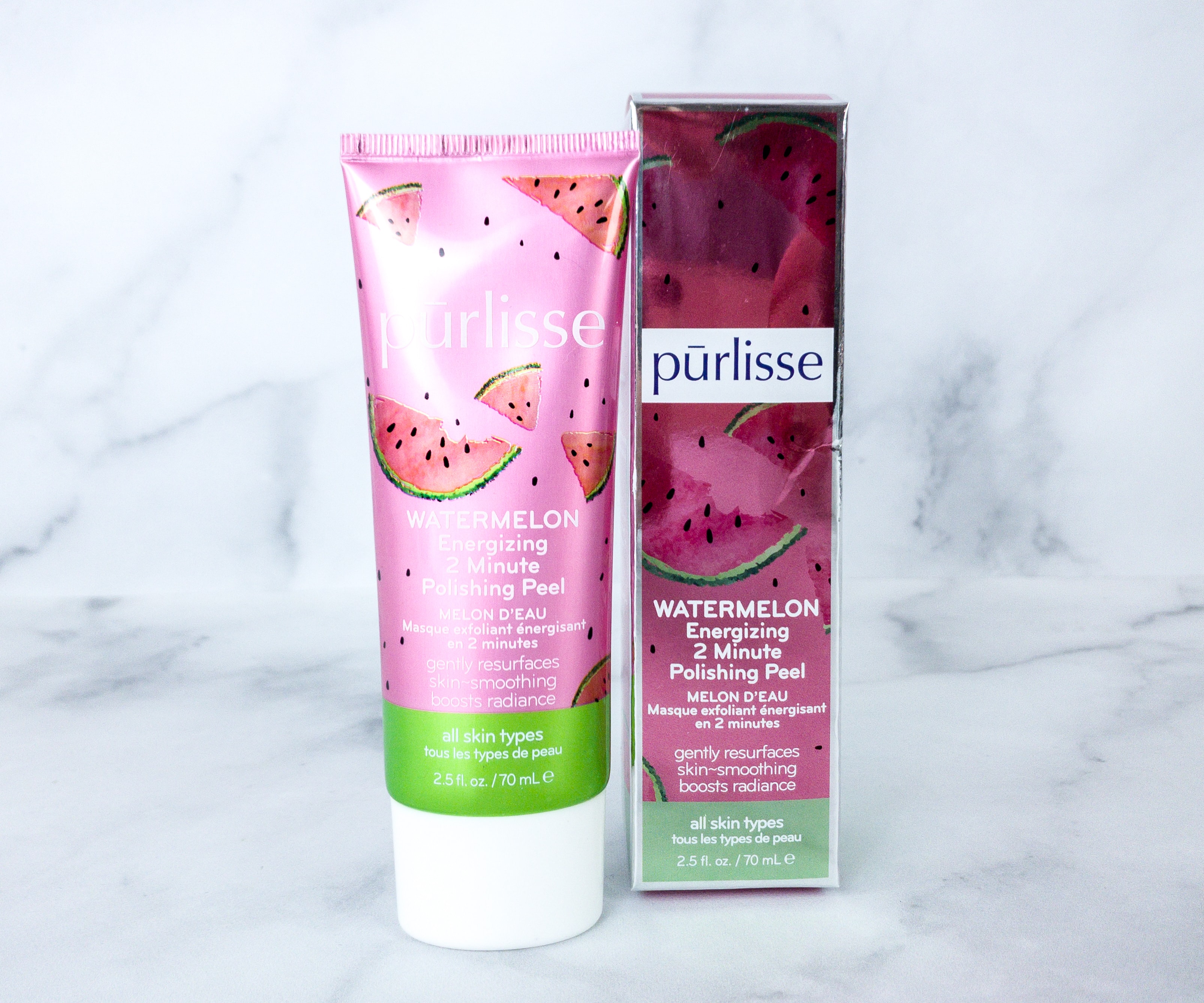 Purlisse Watermelon Energizing 2 Minute Polishing Peel ($35) This exfoliating facial treatment contains glycolic acid that helps smoothen out the skin. Ideal for all skin types, it's formulated without parabens, fragrance, sulfates, and phthalates. Other key ingredients are energizing watermelon, antioxidant-rich blackberry, and anti-aging cranberry and elderberry. I like it because it's gentle on the skin and it doesn't strip off moisture, unlike other regular peels.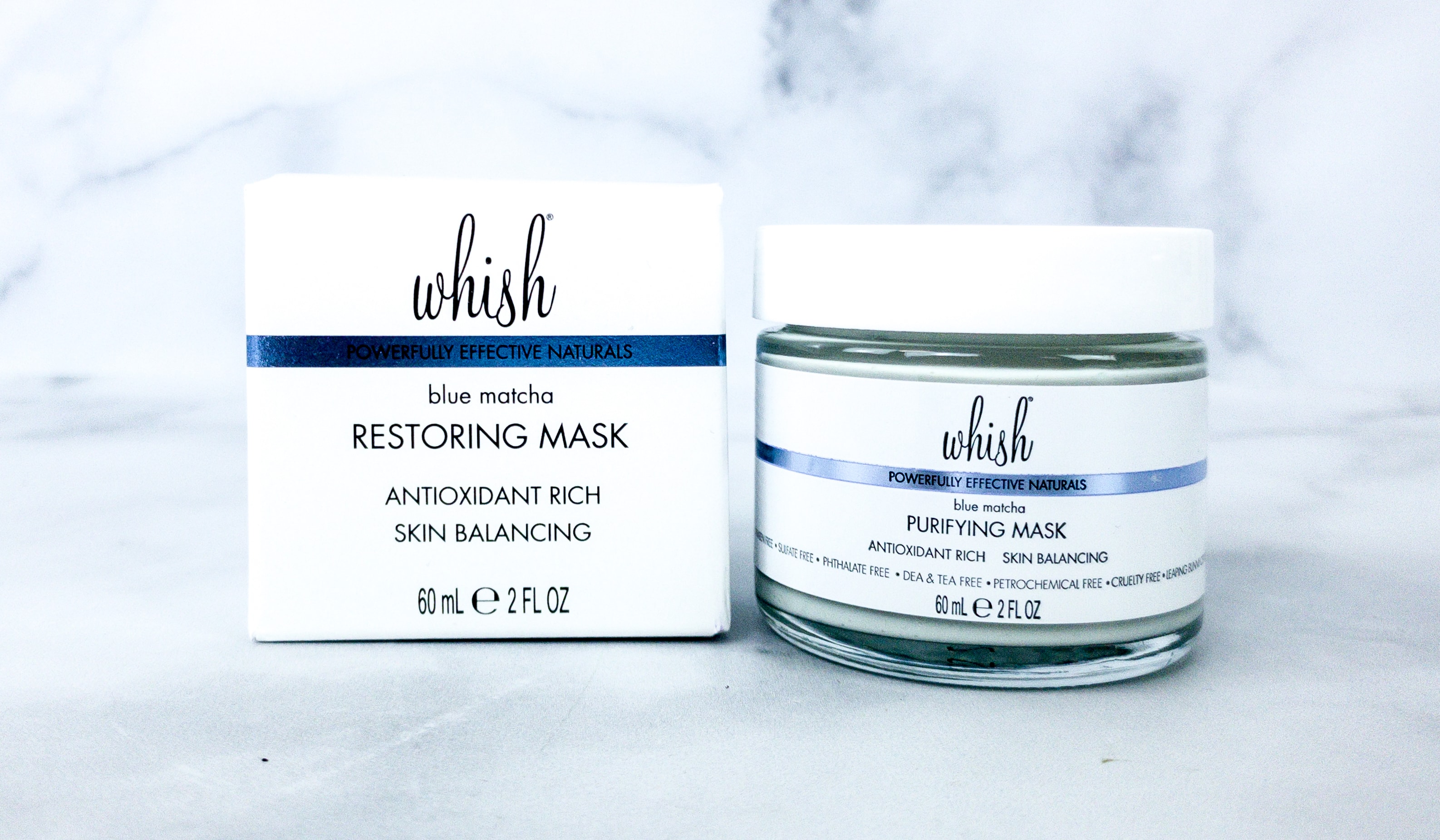 Whish Beauty Blue Matcha Restoring Mask ($58) This mask is a multi-tasker, helping detoxify, moisturize, and soothe the skin with a blend of blue matcha, organic jojoba seed oil, cucumber extract, and other skin-friendly ingredients.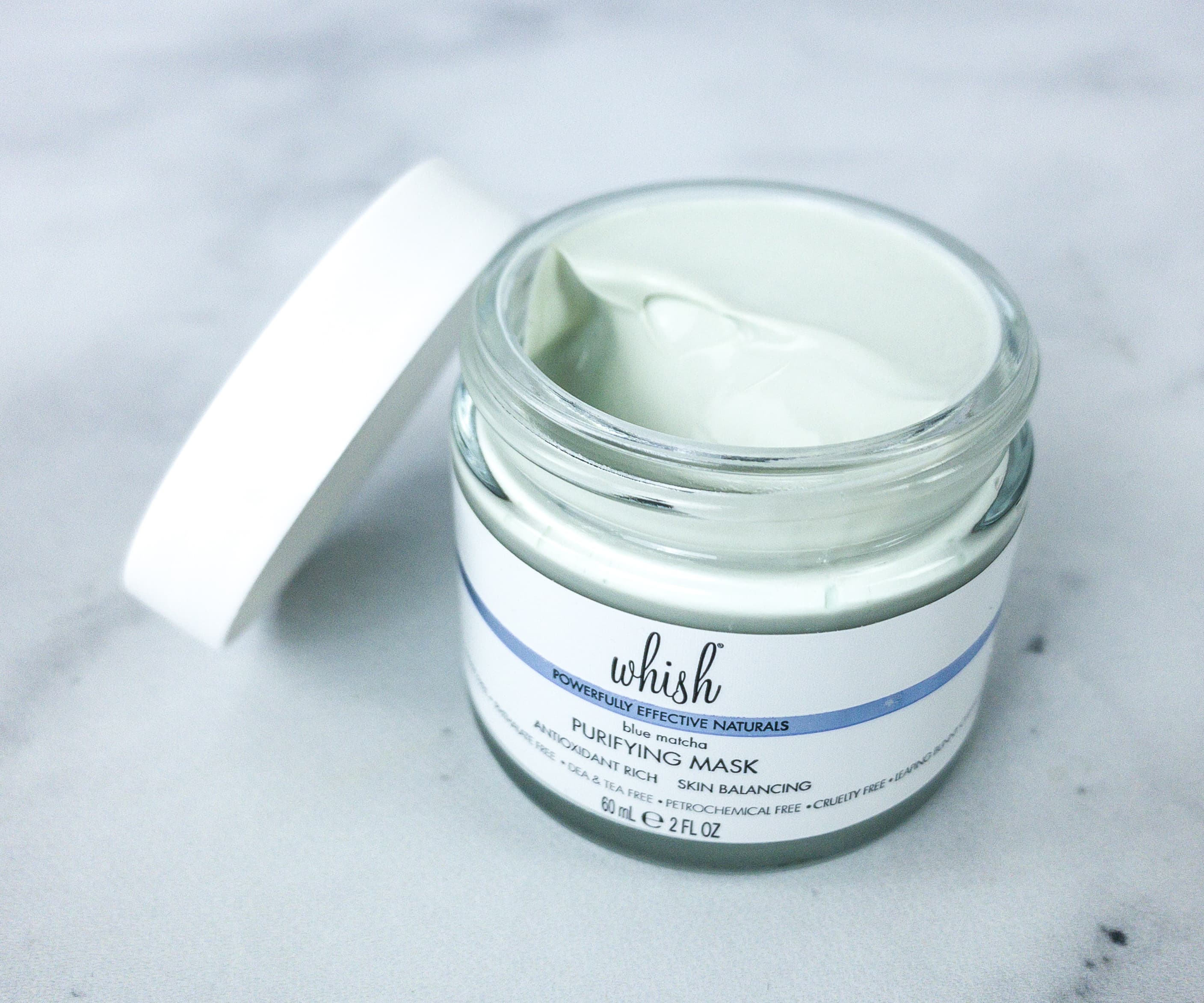 To use, just apply a generous amount of the blue-colored mask on your face. When the color has faded, just rinse with warm water and you' redone. This mask works like magic! It evens out the skin's pH balance, leaving you with a beautiful glowing complexion!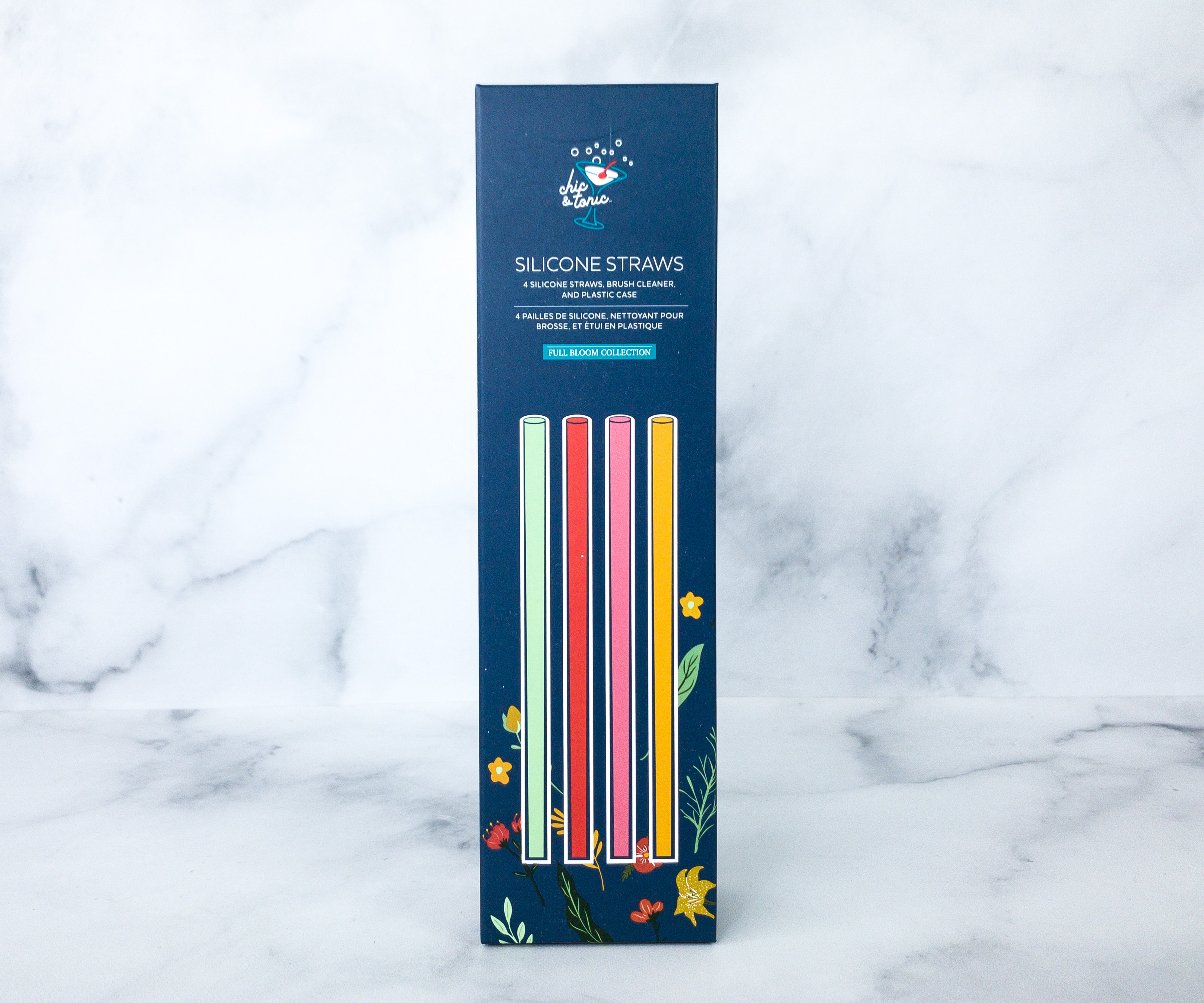 Chic & Tonic Silicone Straws – 4 pack ($15) We got some eco-friendly straws ideal for any occasion, even when we're on the go! They're made with silicone, so they're definitely reusable.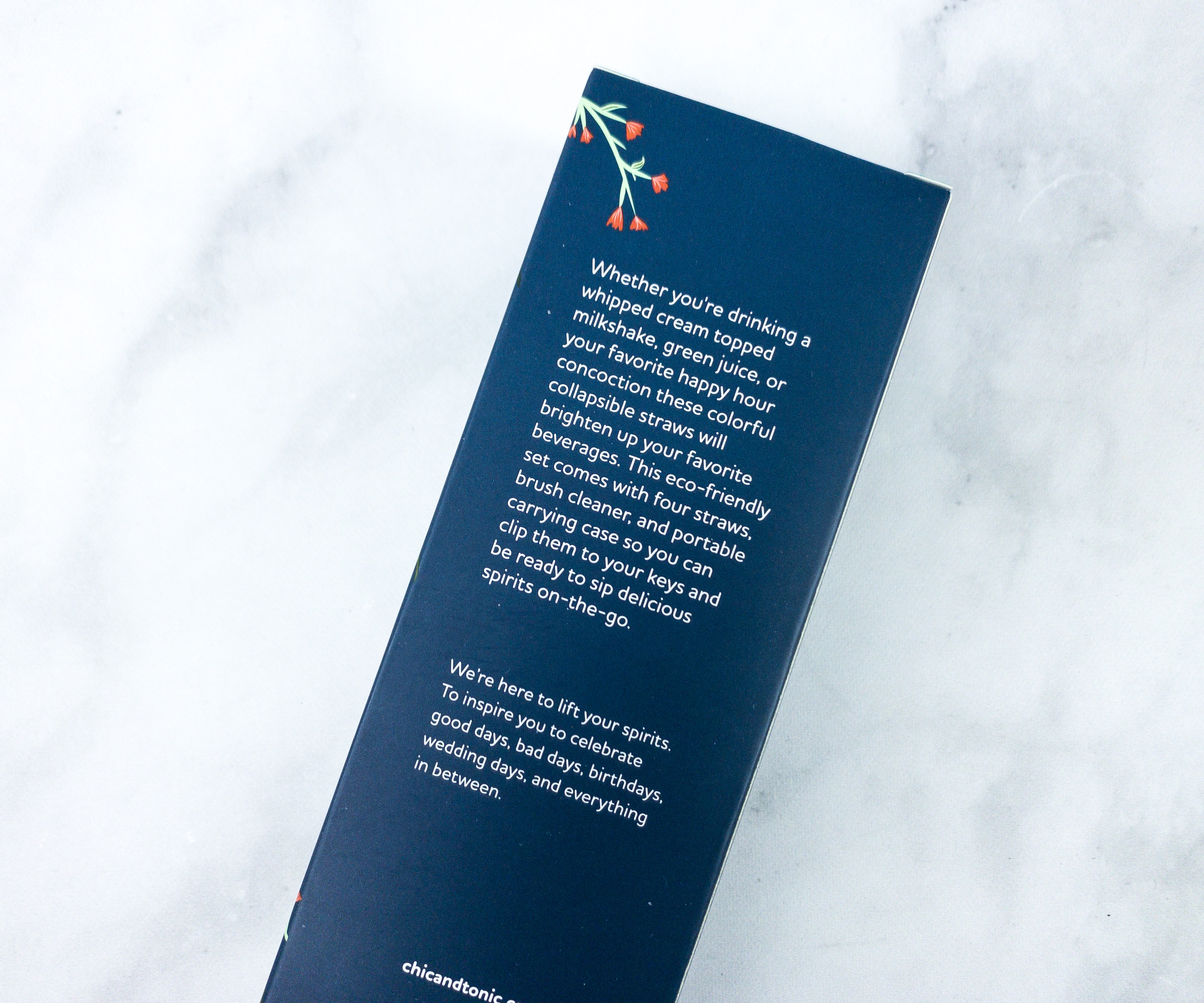 These straws can be used whether for cold or hot drinks.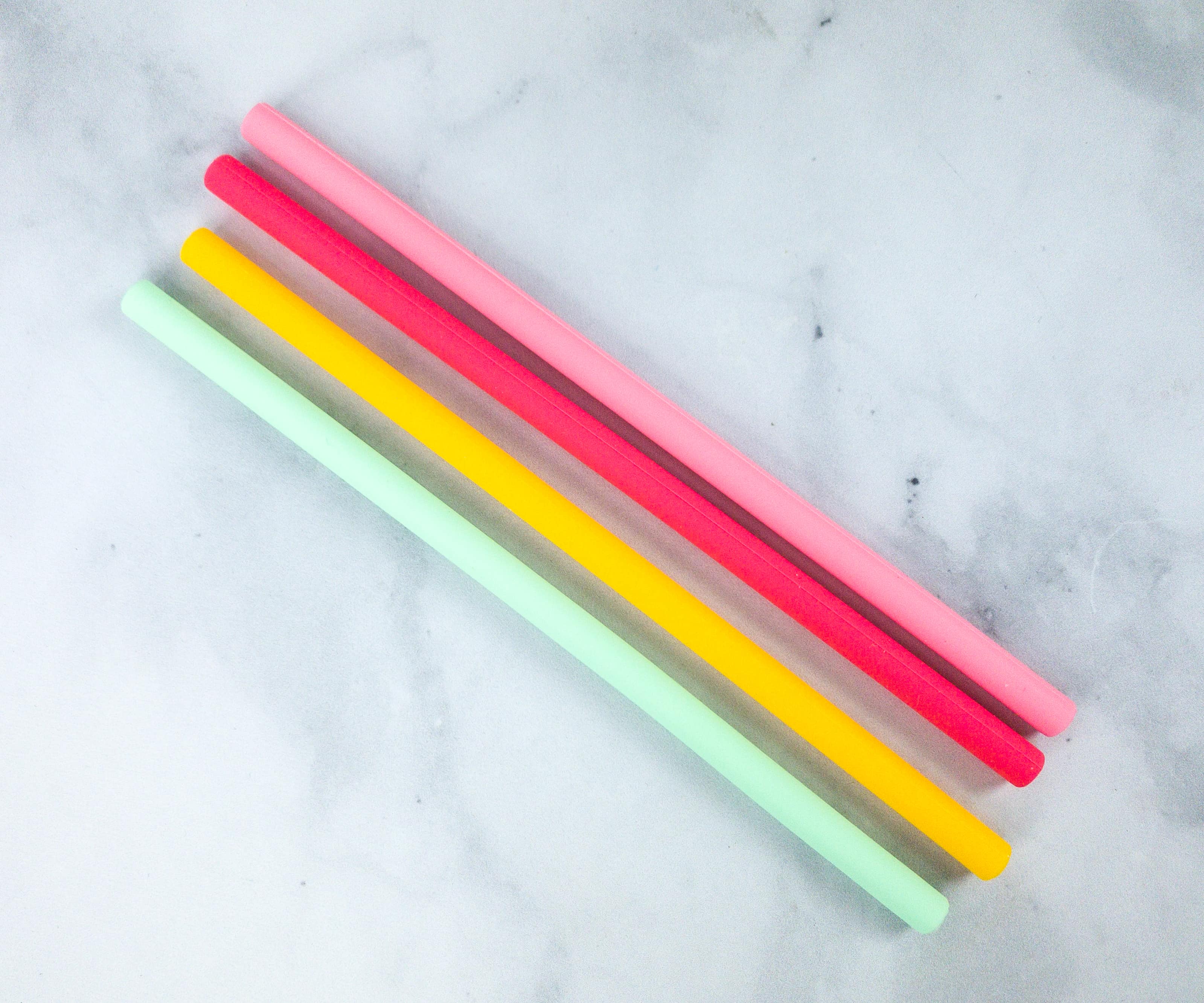 This set has four fun colors: pink, red, yellow, and pastel green. They're so cute!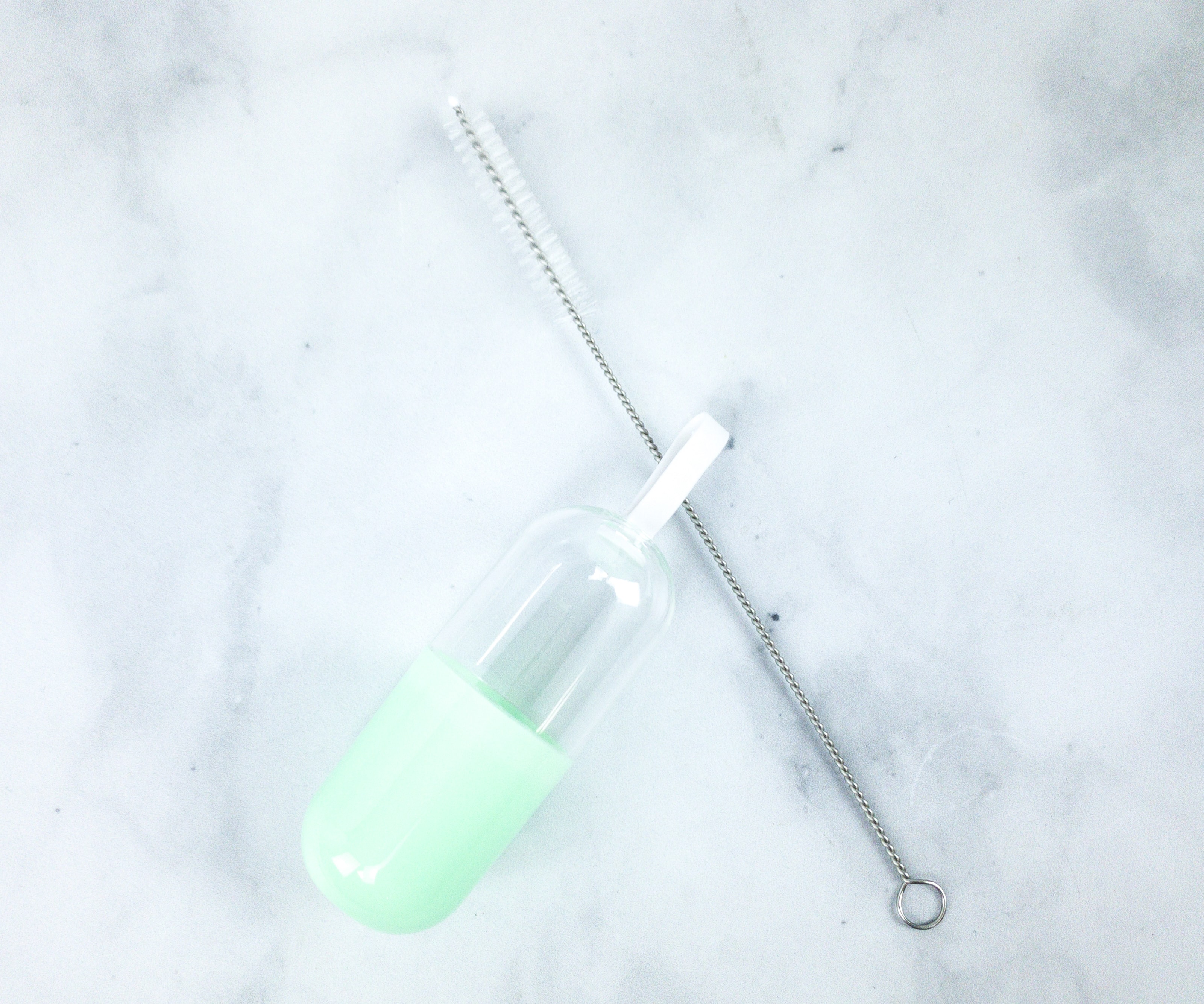 The straws even came with their own brush cleaner and a carrying case!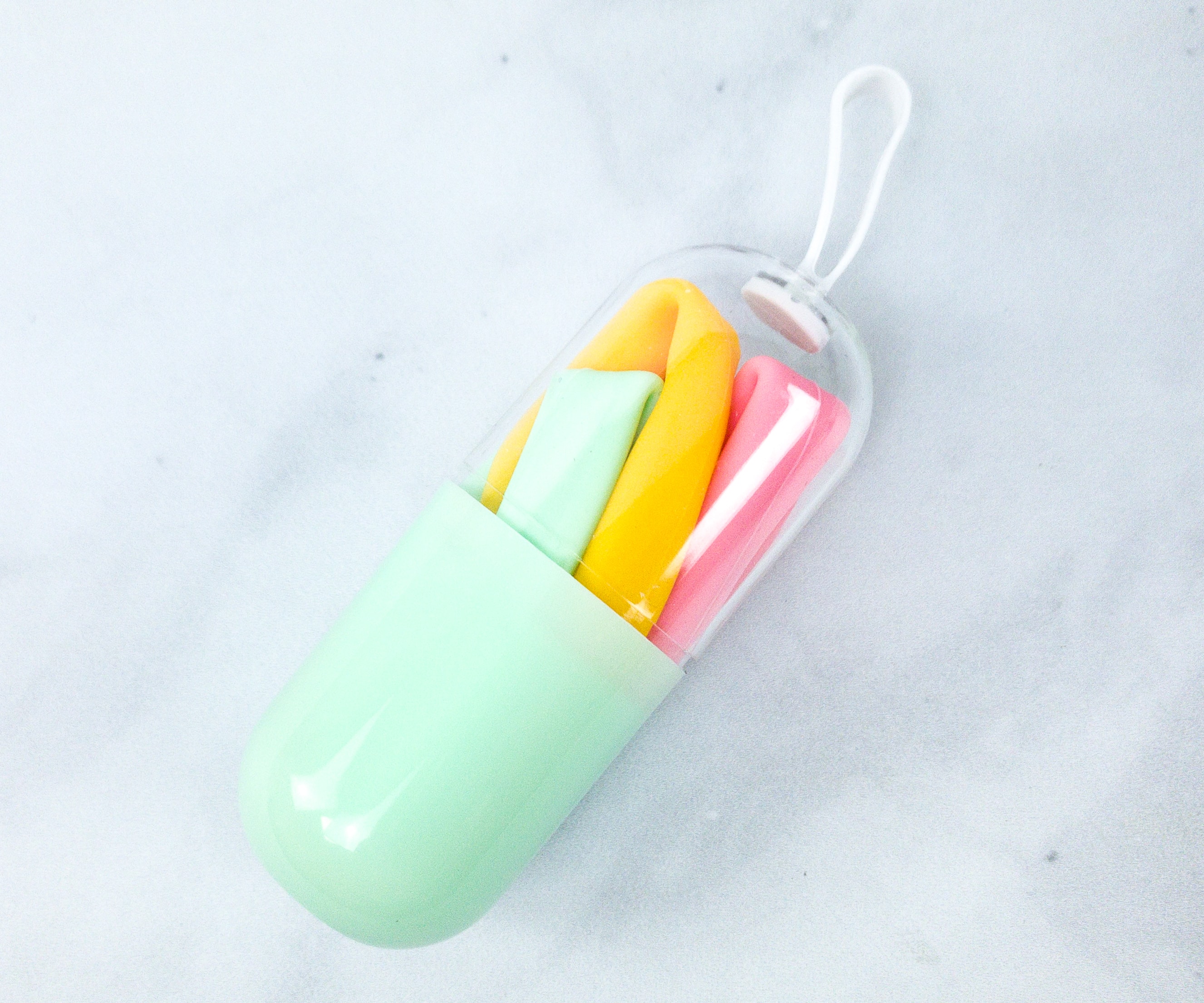 Since the straws are made of silicone, you can easily stash them inside the cute container for safekeeping. You can even clip the container with your keys or attach it to your bag!
CHOICE ITEMS
Subscribers will get to choose among the following:
Aria Beauty Luxe Detangling Electroplated Brush
Jabonería Marianella Imperial Jade Body Oil
Stone Cold Fox Tea Towels
AVEDA damage remedy daily hair repair
I picked Aria Beauty Luxe Detangling Electroplated Brush!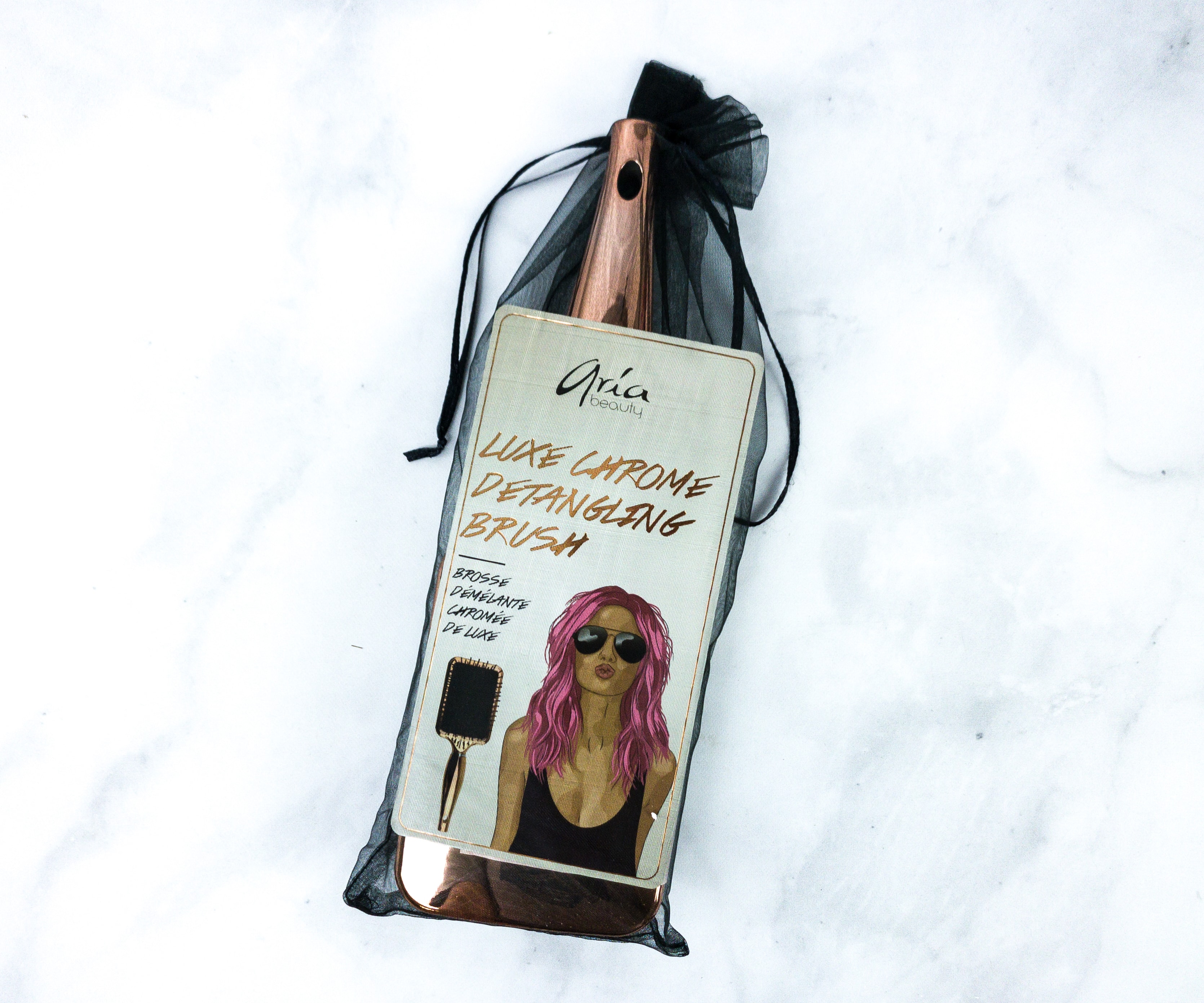 Aria Beauty Luxe Detangling Electroplated Brush ($34.99) The paddle brush came in a black see-through drawstring pouch.
They also included a card with tips on how to properly use the brush. The rose gold color is so stunning!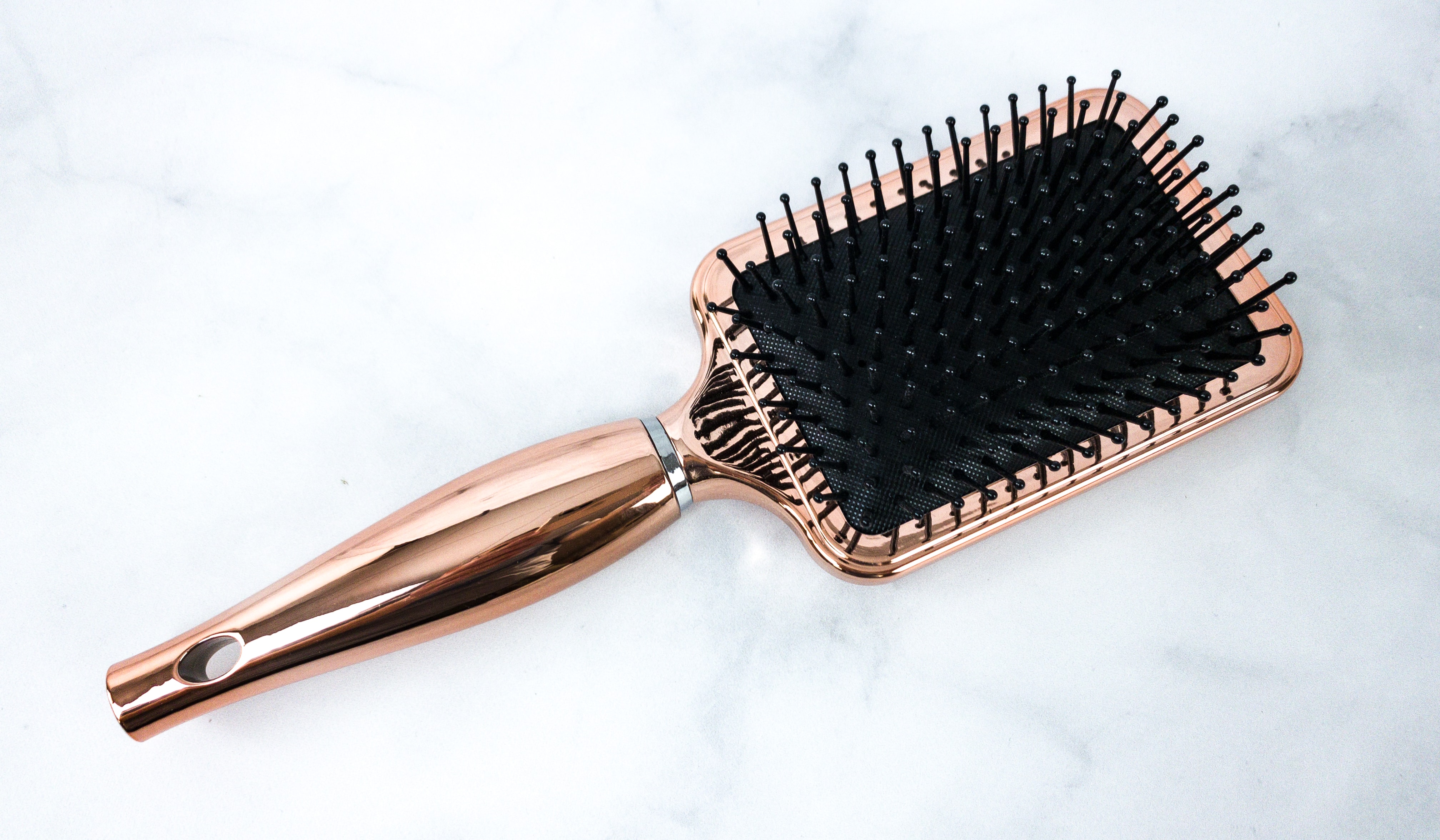 This brush features extended bristles that help in detangling hair! Great for all hair types, I love how this isn't painful on the scalp at all because the bristles are soft and gentle!
Subscribers will get to choose among the following:
AG Hair Fast Food Leave-On Conditioner
Skindinavia The Makeup Finishing Spray
Lovescript Body Wash
Speaqua Cruiser Bluetooth Wireless Speaker
Ciaté London Fierce Flicks Precision Tip Liquid Liner
Eparé Dual Salt and Pepper Mill FFF Throwback
I chose AG Hair Fast Food Leave-On Conditioner!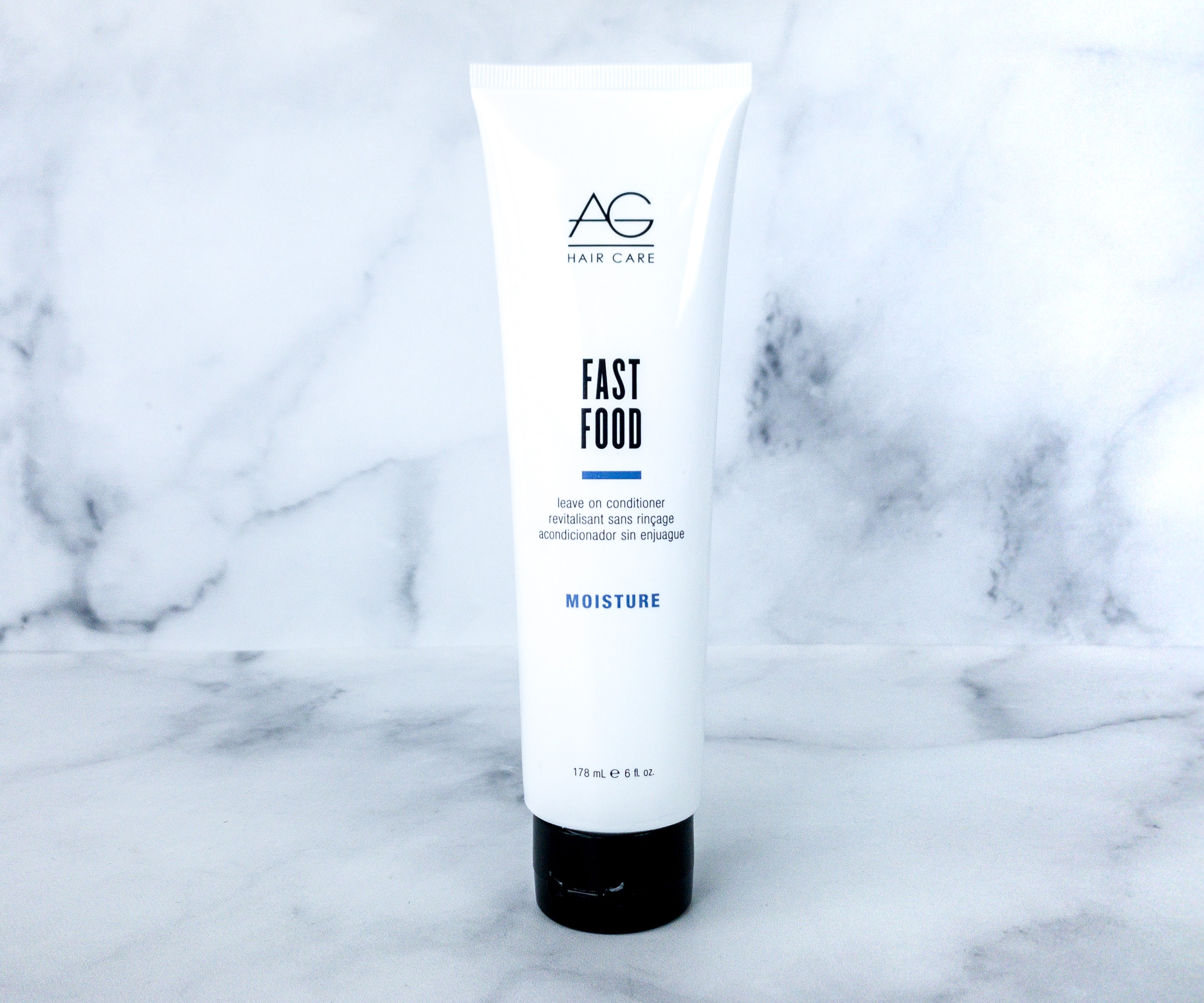 AG Hair Fast Food Leave-On Conditioner ($24) Enriched with Abyssinian oil that's known to work like argan oil, this leave-on conditioner gives dry hair extra boost moisture and shine! The formula also has ingredients that help protect the scalp and shield the hair from harmful UV rays. It's ideally applied to clean, damp hair for best results. I love how lightweight it is. This conditioner doesn't weigh my hair down either.
Subscribers will get to choose among the following:
reVive Light Therapy® Glo Wrinkle and Anti-Aging Light Device
DONNI. Ribbed Sweater Coat
Caravan Diamond Woven Rug
Summer & Rose Navy Diamond Tote  FFF Throwback
I chose Caravan Diamond Woven Rug!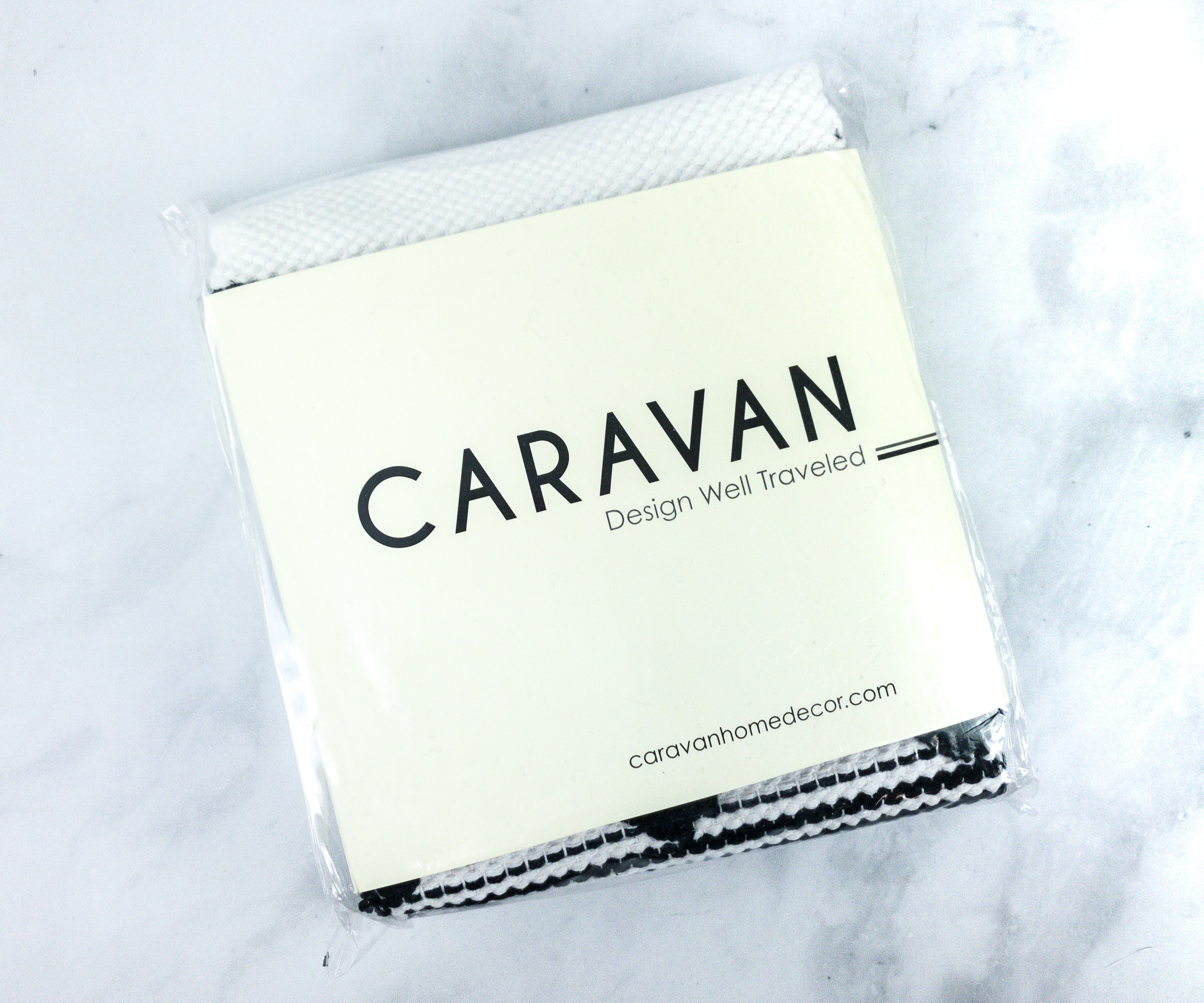 Caravan Diamond Woven Rug ($48) Made with 100% cotton, this woven rug is a Caravan x FabFitFun collaboration exclusive.
According to the label, it measures 21″ x 34″. It's also made in India.
This bohemian-inspired piece is so gorgeous! The details are simple yet stunning!
It's a great statement piece to decorate plain spaces in your house! I'm so excited and I can already think of a few places around our home where I can put this!
ITEMS WITH VARIATIONS (Annual Subscribers Choose Variations – Seasonal Subscribers No Choice, Random Item)
Annual Subscribers will get to choose among these items:
Murad® Rapid Collagen Infusion
Shoshanna Umbrella
tarte™ Rainforest of the Sea™ drink of H2O hydrating boost  FFF Throwback
tarte™ tarteistTM PRO glow highlight & contour palette FFF Throwback
111SKIN Rose Gold Radiance Booster
I picked the tarte™ Rainforest of the Sea™ drink of H2O hydrating boost!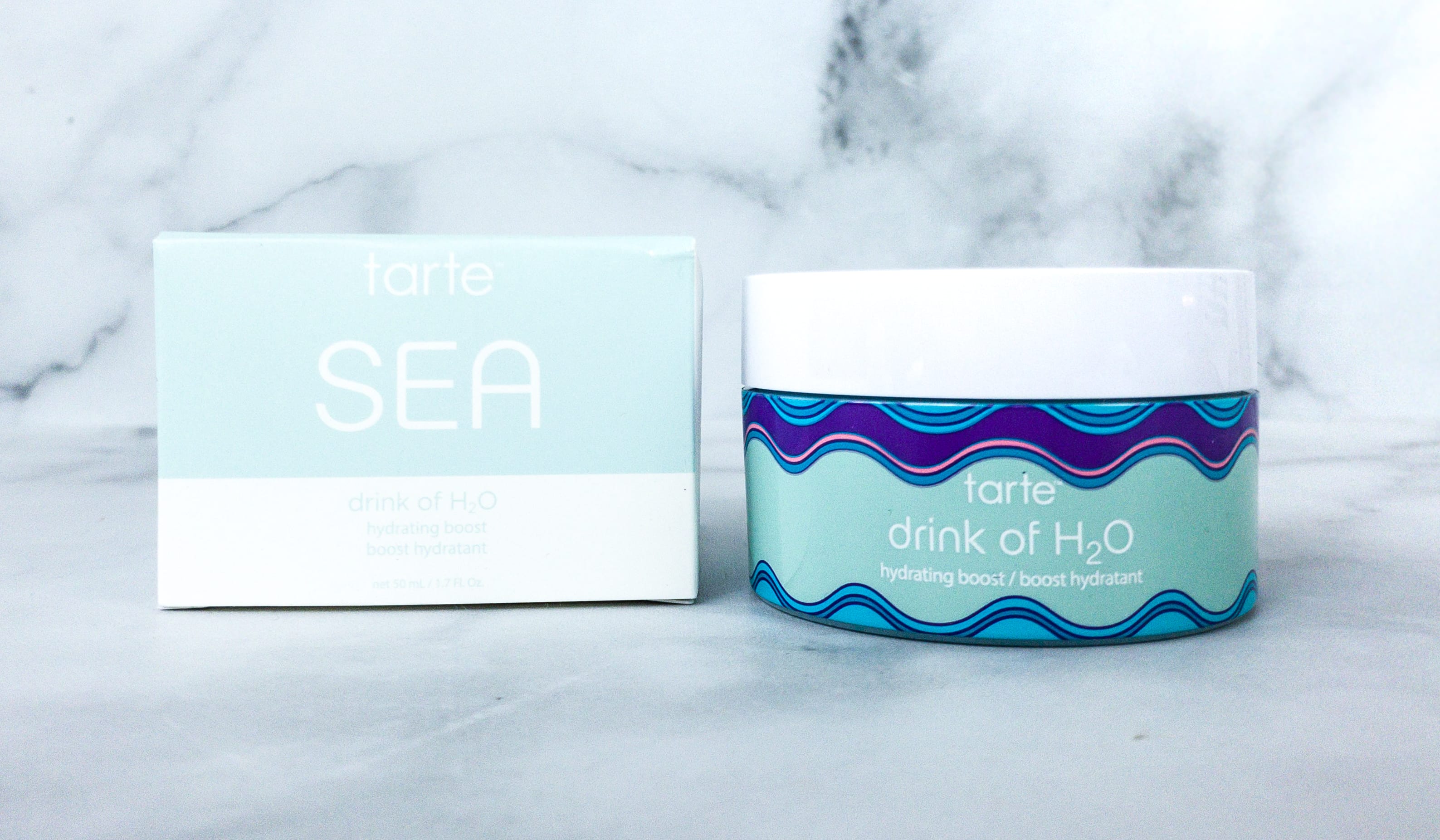 tarte™ Rainforest of the Sea™ drink of H2O hydrating boost  ($39) The name speaks for itself! This cool gel-like product is amazing!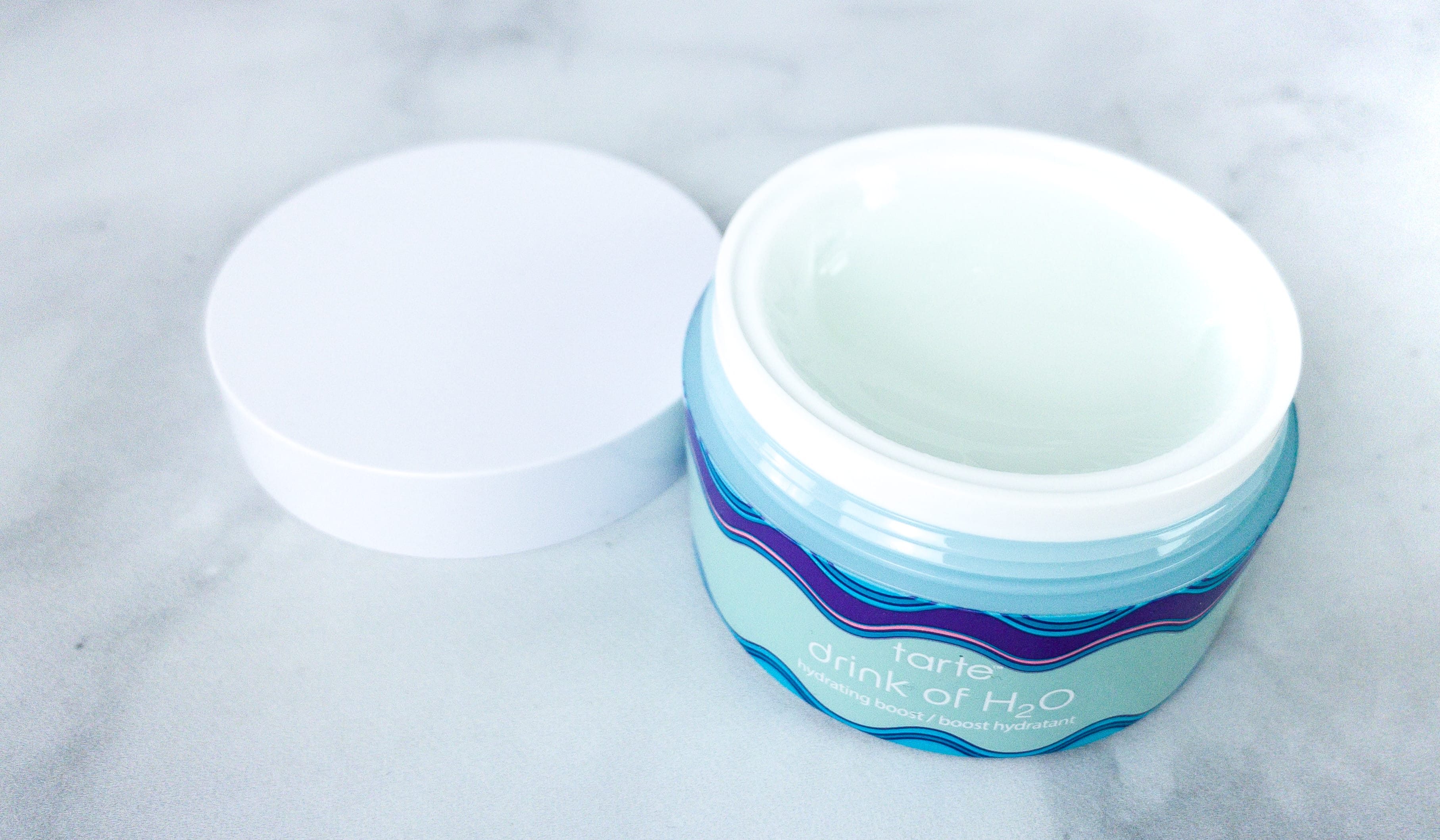 This product gives the skin a boost of hydration without making my skin oily. The lightweight formula contains a great dose of amazing ingredients like hyaluronic acid and electrolyte-balancing sea salts that give the skin not only moisture but also a healthy glow!
Annual Subscribers will get to choose among these items:
Amber Sceats™ Double Coin Necklace
Gravity Weighted Sleep Mask! ($39.99)
WEI Two-in-One Purify and Glow Mask Collection
Cosmedix Pure C FFF Throwback
Green Goo Hibiscus Plant-Based Body Scrub FFF Throwback
I chose Gravity Weighted Sleep Mask!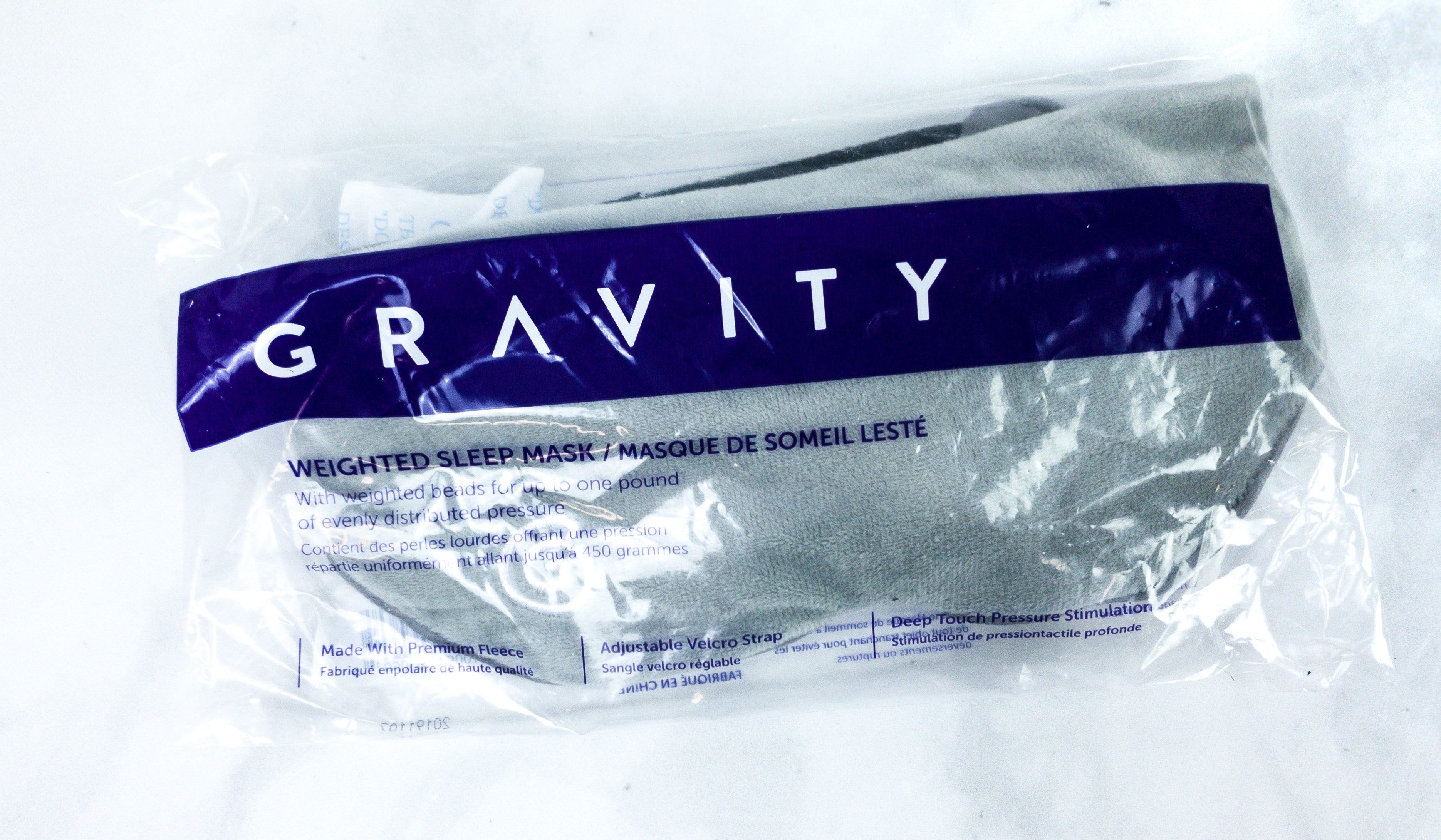 Gravity Weighted Sleep Mask ($39.99) It's not your average sleep mask that just blocks out the lights. This one is a level up! Following the same idea as the weighed blankets, this will give your face the perfect pressure stimulation!
I love the pressure I got when I used this in bed. It helps calm me down, giving me a good night's sleep!
The adjustable velcro straps can be resized according to your preference, so you can control it for a better fit!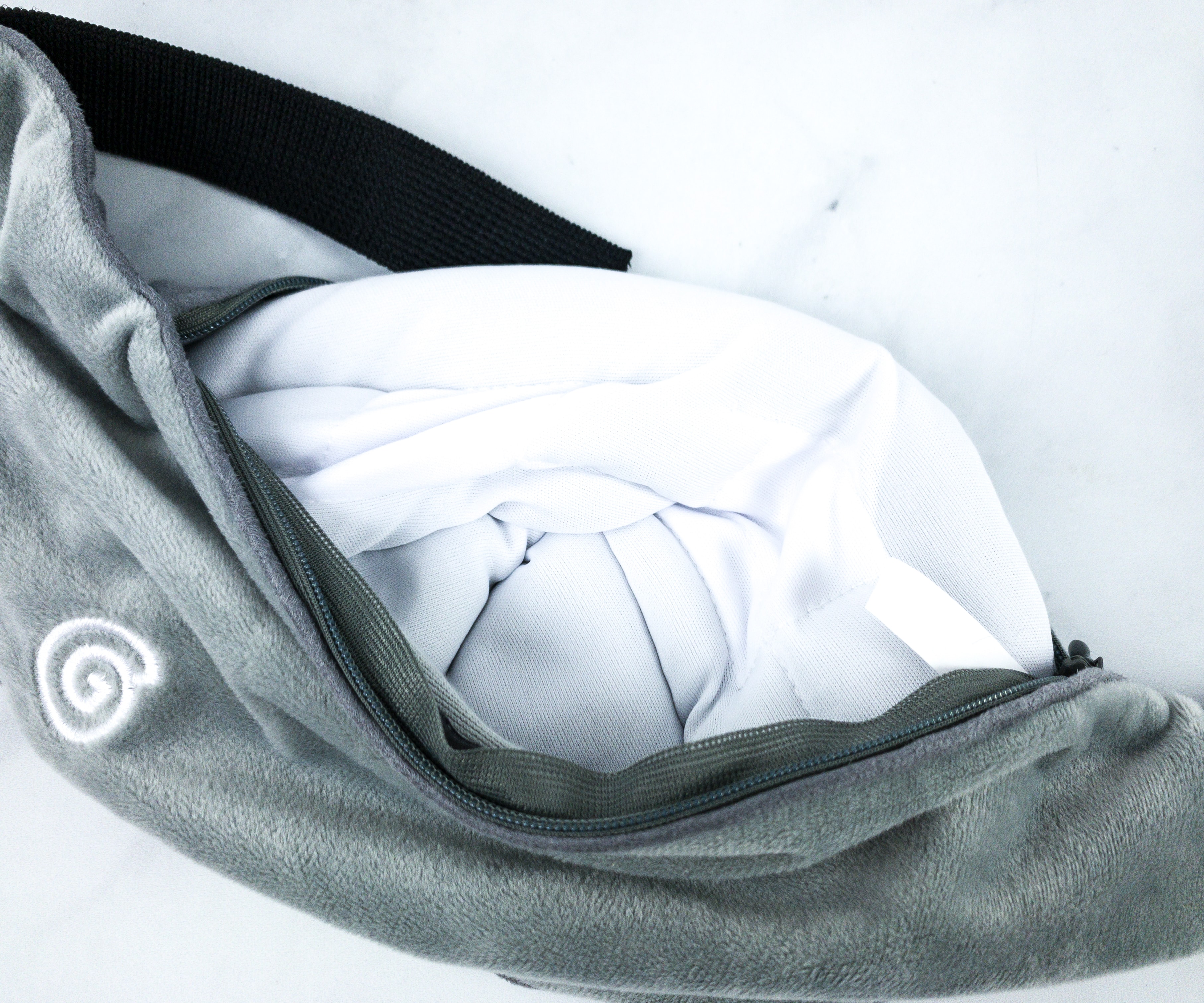 The weighed insert can be taken from the main mask so it's easier to clean. The insert contains the same fine-grade glass beads as the weighed blanket from the same brand.
I always look forward to FabFitFun boxes and the Spring box didn't disappoint! All the items I picked this month are so good, and I'm pretty satisfied with the FFF picks as well! From the weighted mask to the skincare stuff, everything was awesome! One of my favorites from this box is the moisturizer. It does give my skin the boost of moisture it needs, and it makes my skin soft and supple. It's really great to use as a daily moisturizer. I'm definitely looking forward to next quarter's box, but in the meantime, I'll be enjoying all the items in my Spring box!
What do you think of the FabFitFun Spring Box?
Visit FabFitFun VIP Box to subscribe or find out more!
Here's a closer look at the rest of the magazine!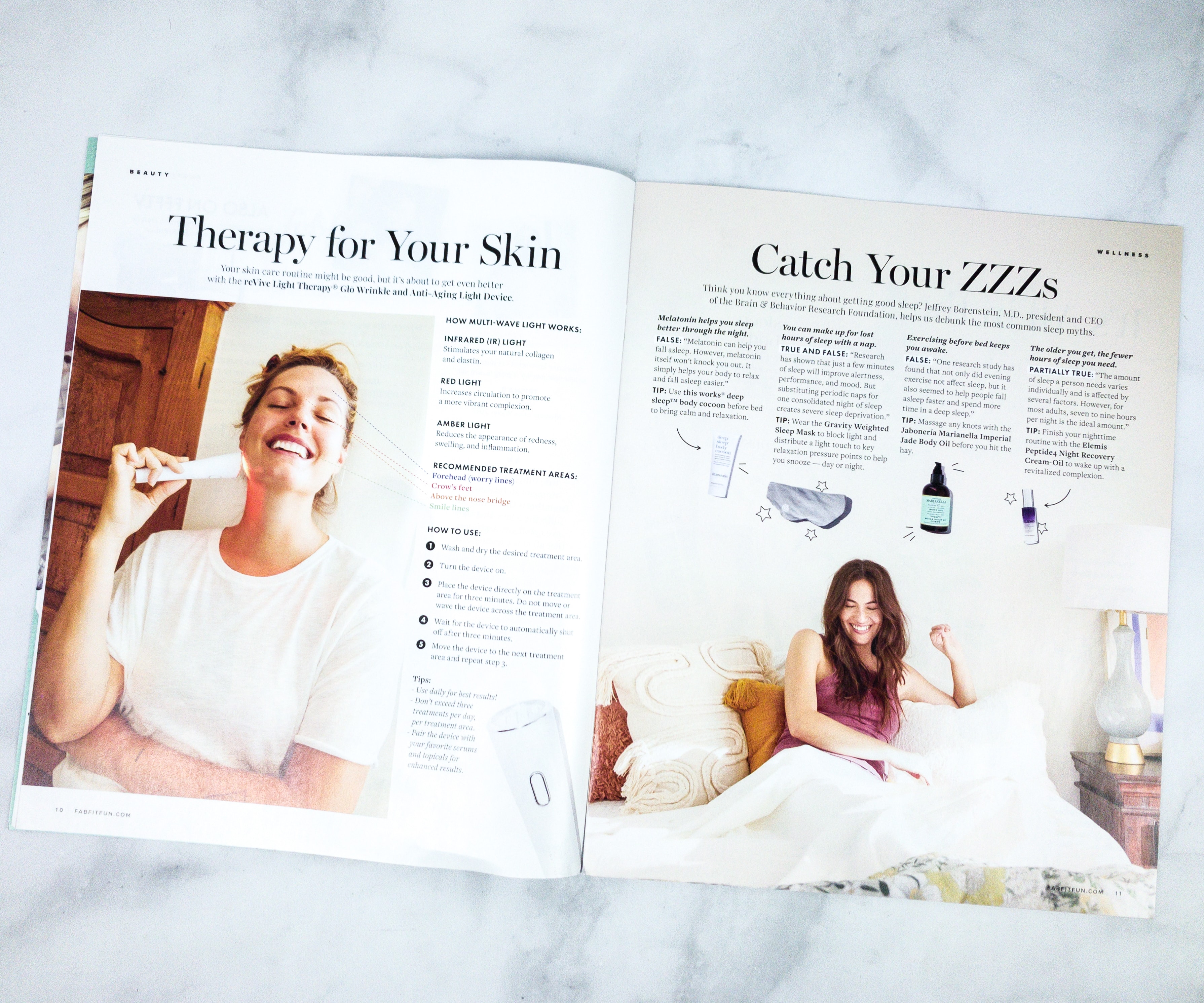 There's a feature about an anti-aging light device, as well as an article debunking the most common sleep myths.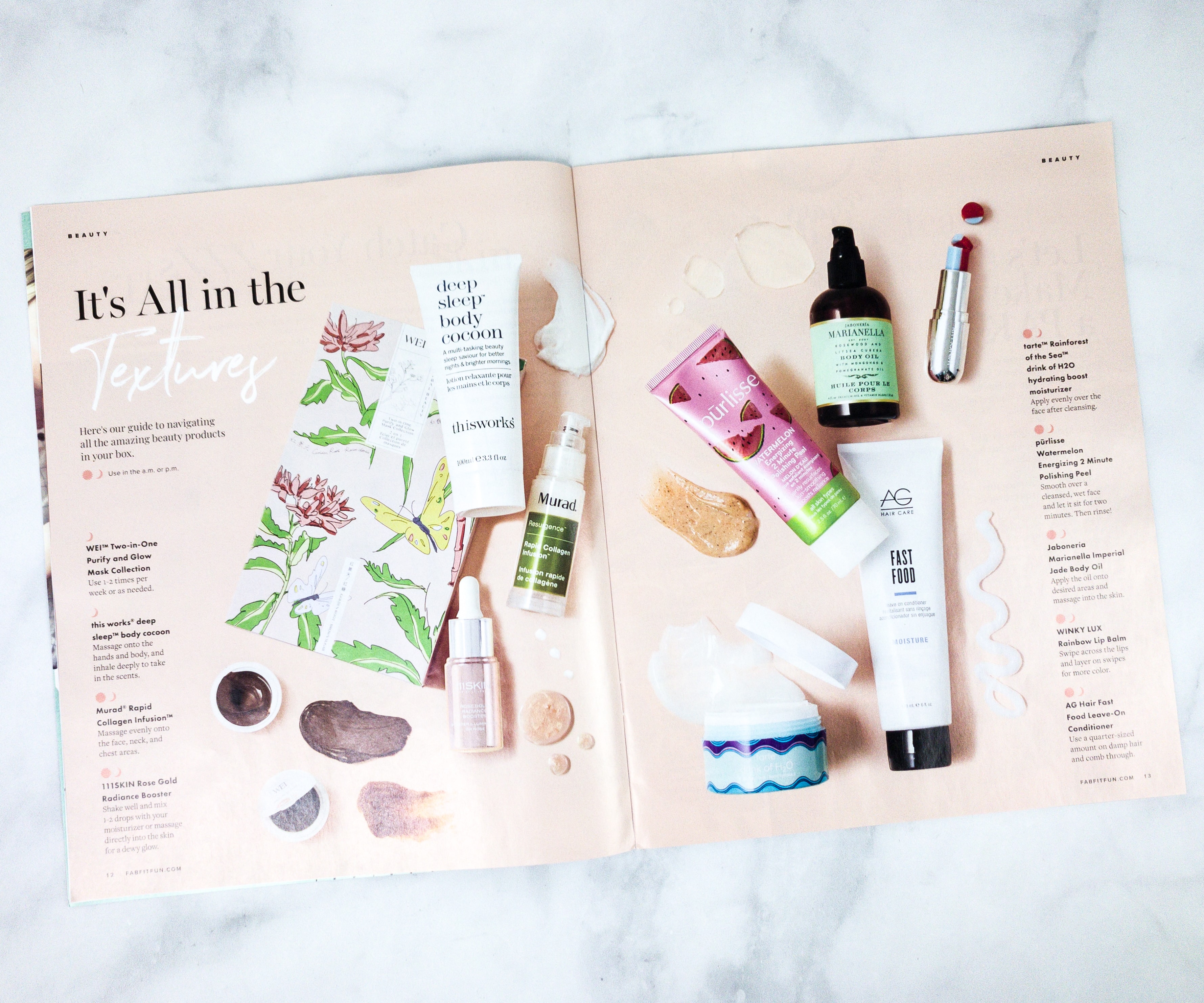 Here's a spread about the skincare products in the box. The group photo is accompanied with brief descriptions of each item.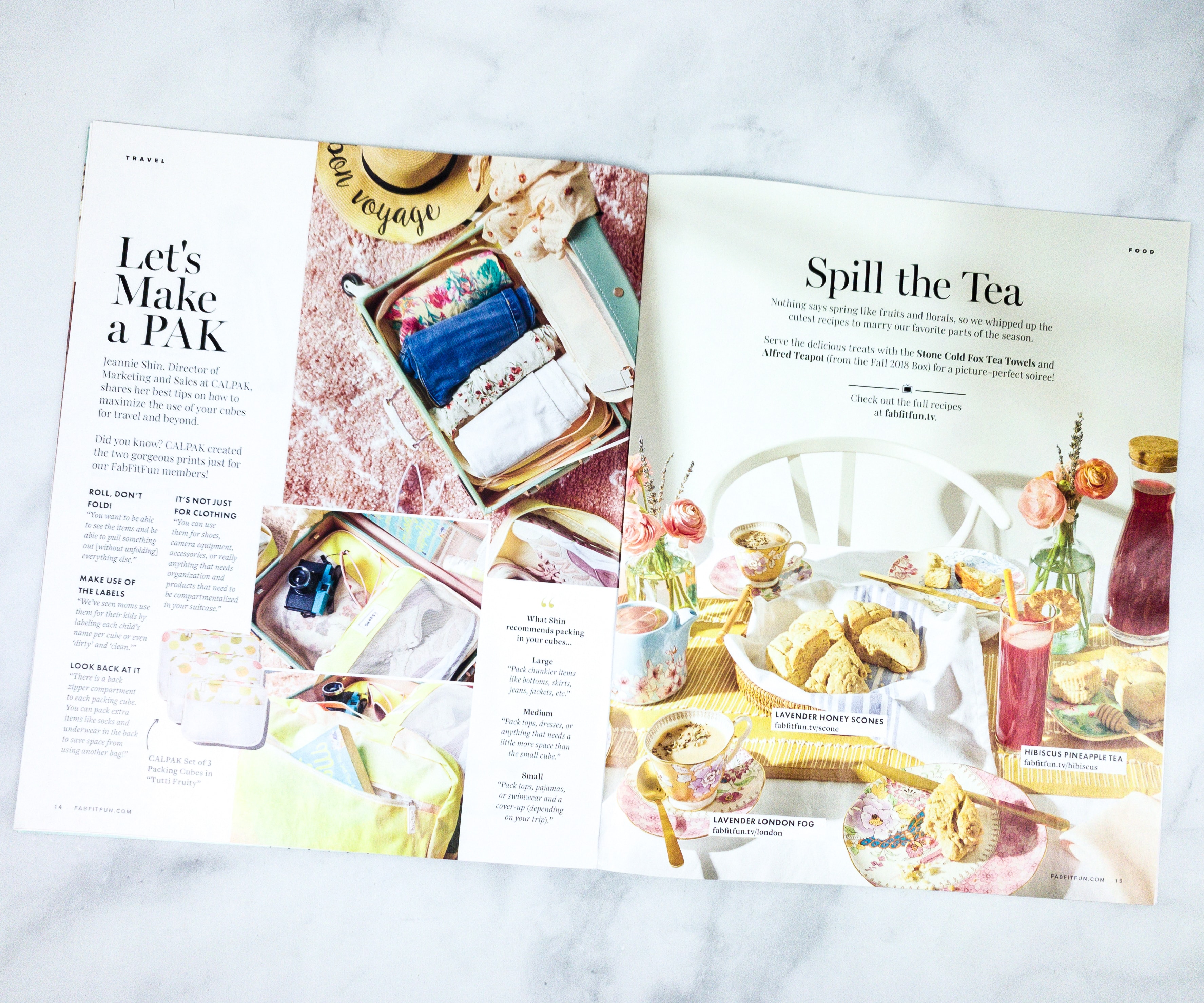 They also featured travel packing tips, as well as some yummy recipes!
Next up is a Q and A with this month's cover girl, Gina Rodriguez.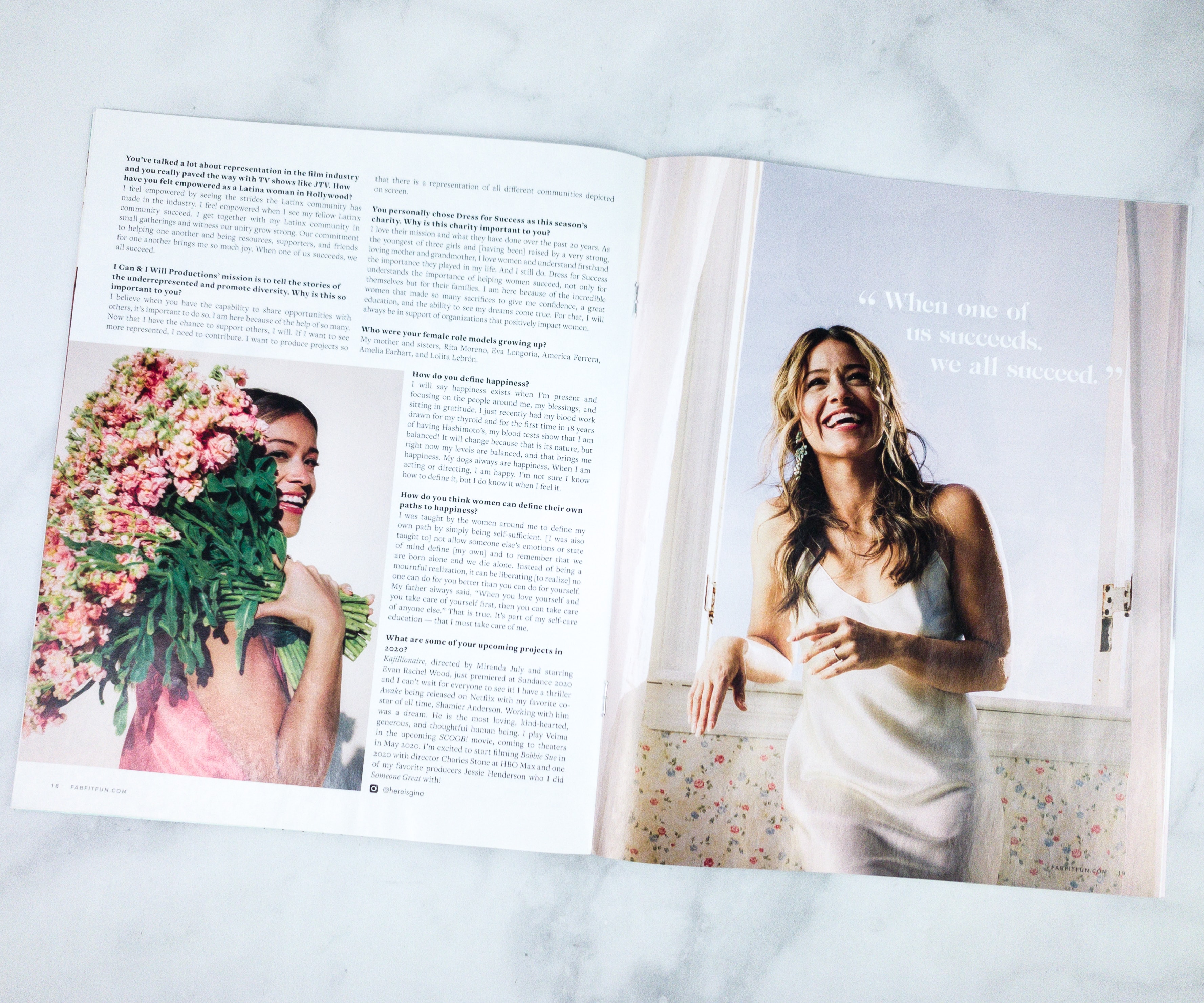 This is really a fun and entertaining read!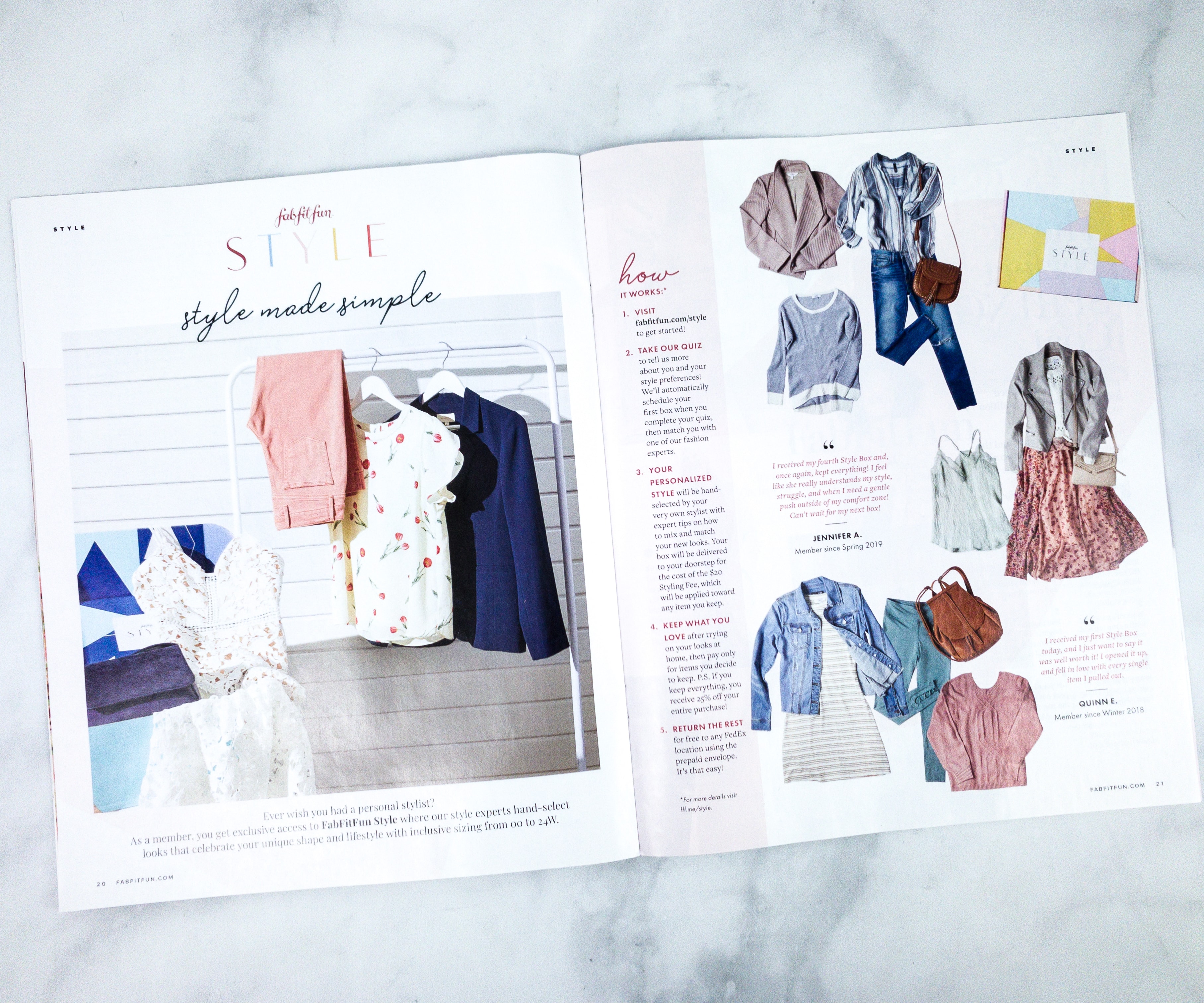 The styling section offers a lot of insights regarding fashion. This quarter, there's a feature about FabFitFun Style, a styling subscription exclusive to FabFitFun members.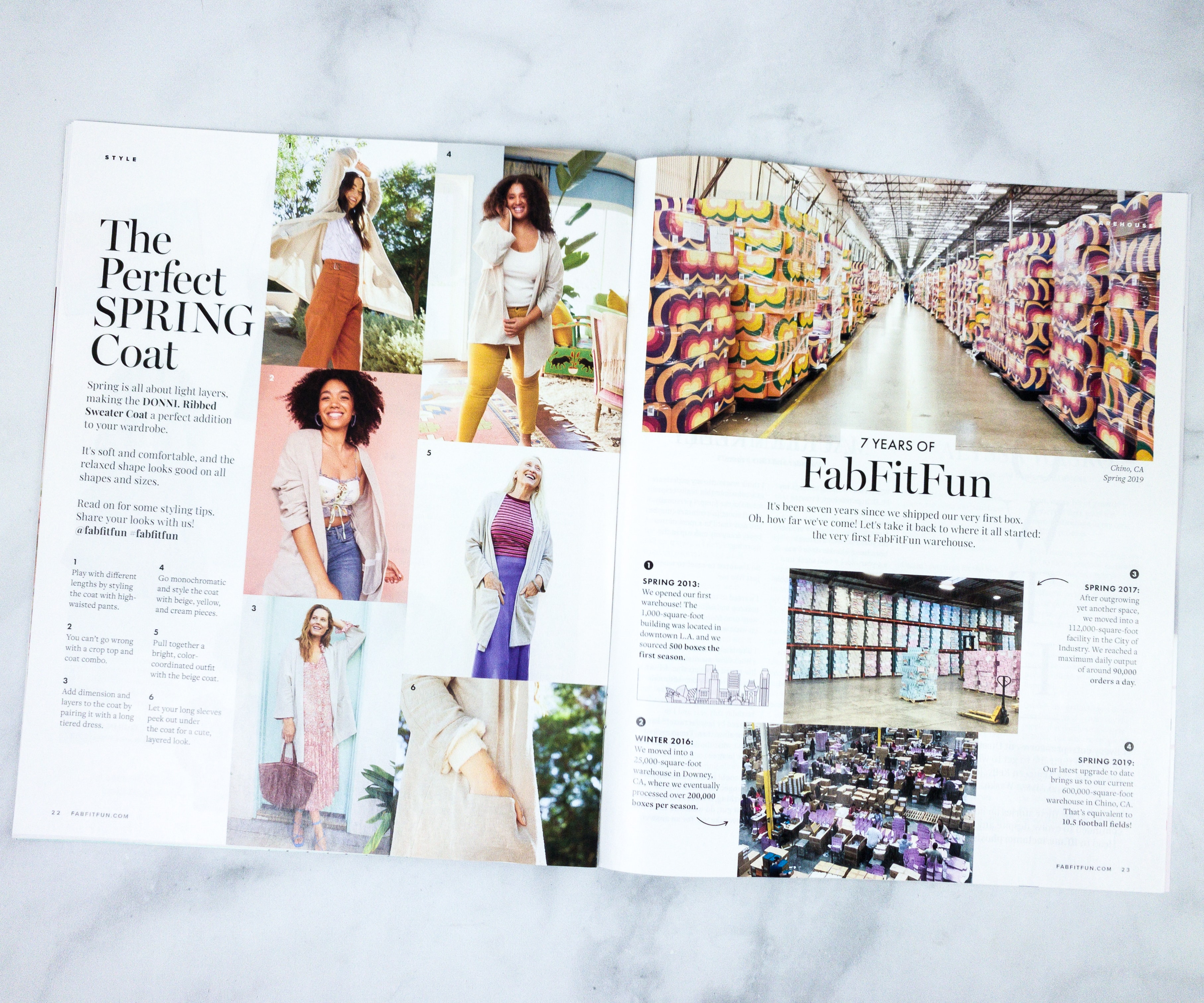 For those who are looking for the perfect spring coat, they have tips for you. They also take us on a journey through the 7 years of FabFitFun!
Amazing women with amazing messages can be found in another feature entitled Beauty in Growth!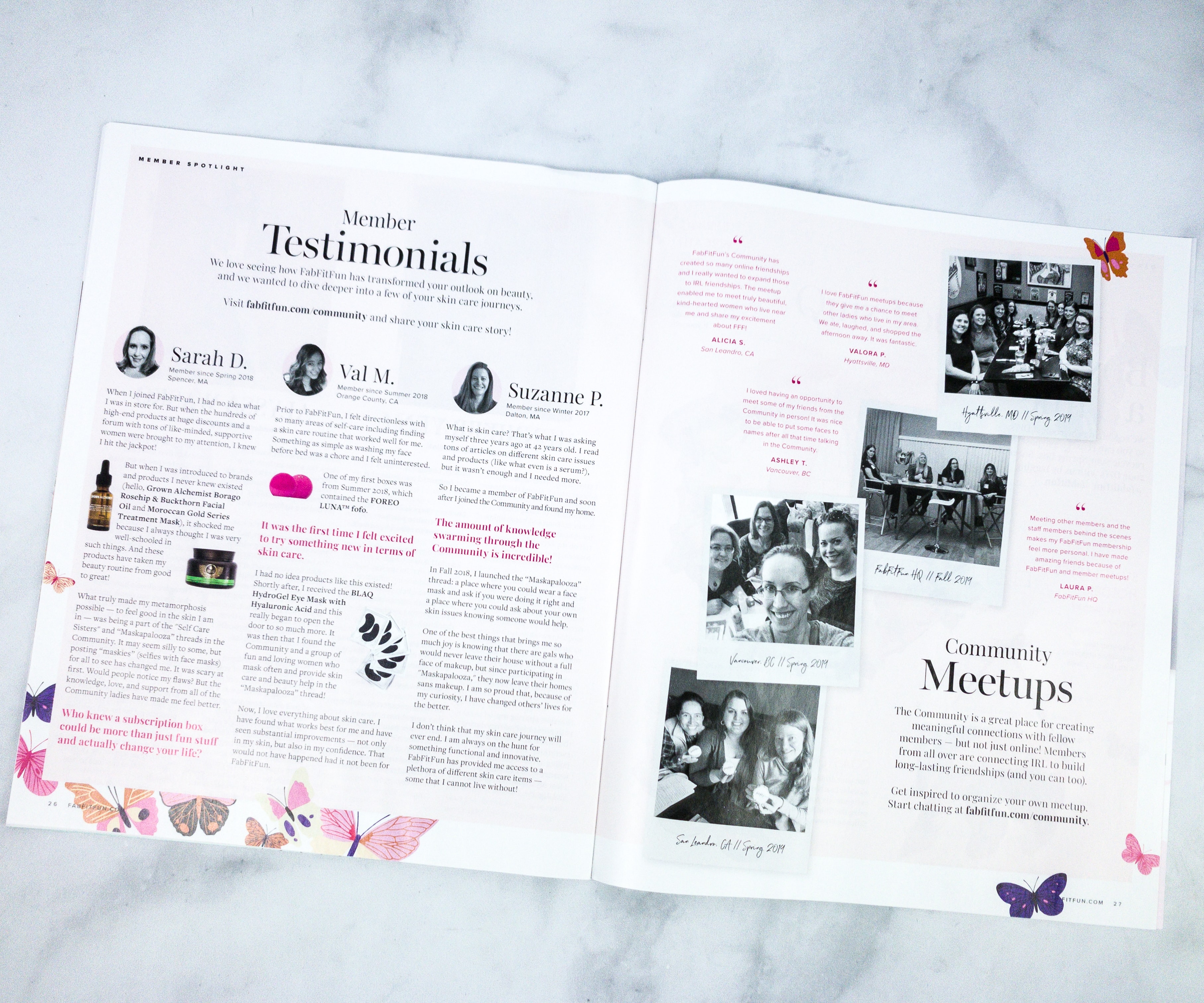 There is also a part dedicated to member's testimonials and community meet-ups!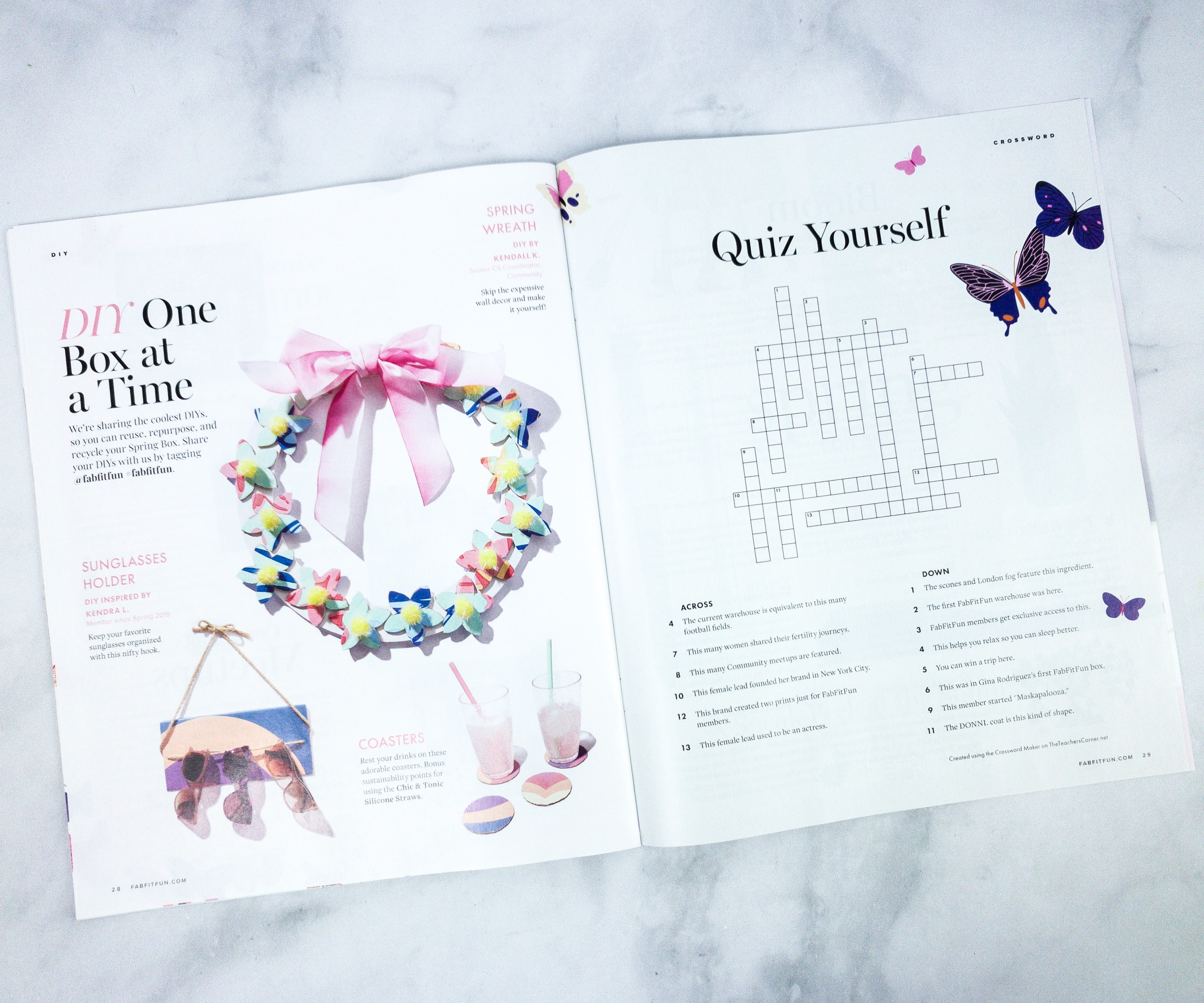 FabFitFun encourages you to recycle, reuse, or repurpose your spring box. They included some DIY project ideas for that! On another page is a Pop Quiz that you can answer to pass time.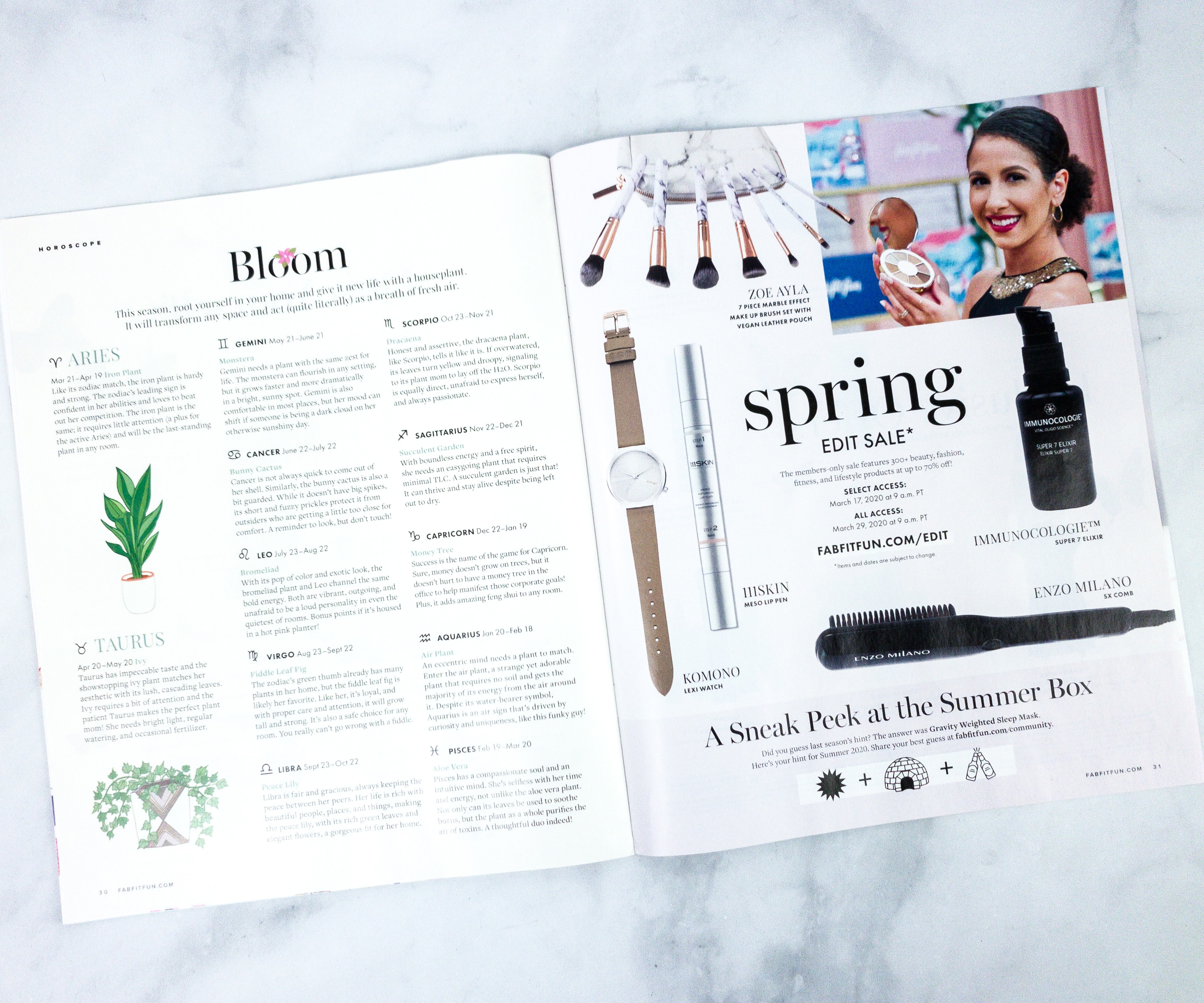 There's even a horoscope section, as well as an announcement about the Spring Edit Sale and a sneak peek at the Summer box!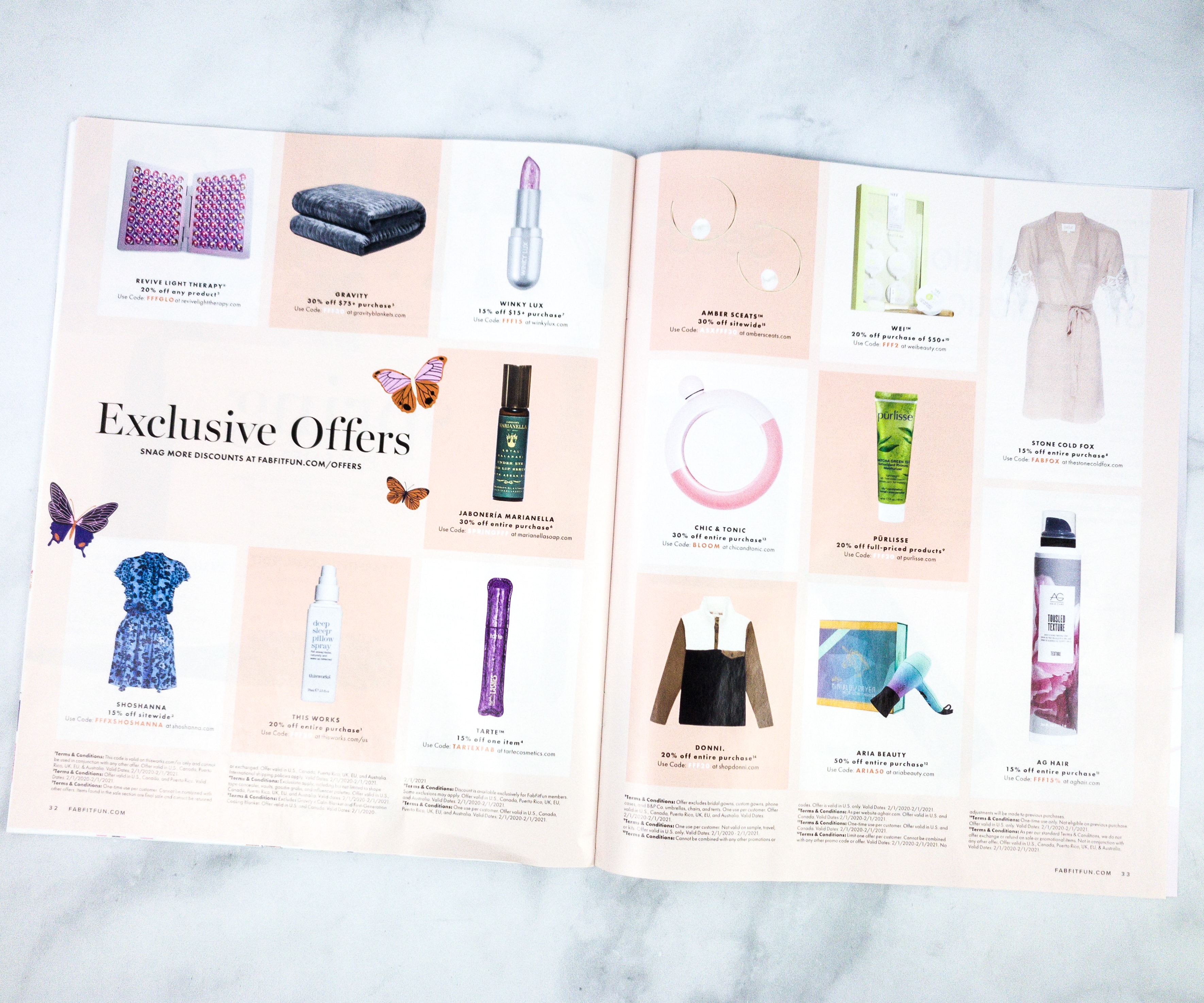 You can also see exclusive offers from the website featured in the mini-mag! There's a lot of coupon codes you can use from different brands!