ZampleBox is a monthly e-juice/vaping subscription box. Every month you'll receive 3 ($19.99), 6 ($24.99) or 11 ($44.99) premium, American-made e-liquid bottles. Zamplebox has a ton of juice preference features that allow them to deliver a box that is customized to your taste preferences.
DEAL: Get 10% off your first box! Use coupon code ZBTEN.
[Note from Brandy: We unboxed this box, and passed it off to our friend "Misty" for review (as we do with all our reviewers local to us). You can find out more in the author box below! Note that this review is intended only for vapers, smokers who are interested in quitting, and only for adults 18+. 19+ in Canada. However, this box does offer 0mg juices.]

I've been subscribing to this box for a good half year – they have improved their flavor profiling system, but their signup is the same. When you sign up, you'll be asked to start generating your basic flavor profile, from general to specific.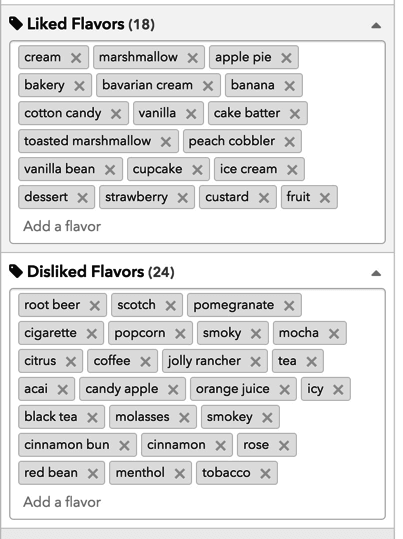 The detailed specific flavoring in my profile for ZampleBox means that I do not have to give too much feedback on my flavors – most all of them have been to my taste. You will also select your nicotine strength and the size of your box.
It's well packaged to ensure that there will be no leaks or damages during shipping.
All ZampleBox Memberships now include ZB Wholesale ($9.99/month value) for FREE! You'll get access to special member-only vape deals as well as the wholesale shop.
Included inside the box is an information sheet that lists all the e-juices in your box for the month.
Brand labeling on e-juice is notoriously cryptic, so it's sometimes a bit of a challenge to match up the listings with the bottles.
This month, they included a robot sticker!
Here's the rating card!
You just have to pick your top 3 favorite e-juices, post it on social media, and tag ZampleBox for a chance to be featured!
Everything in my box!
Loyalty E Juice Berry Cake ($10) Flavor: fruit, cake, berry
A delicious blend between luscious berries and soft sponge cake, this concoction provides really great flavor! It's a little too sweet but the flavor stays the cotton and coils even if you move on to another juice. So this is good if you only use one flavor at a time but if you switch in between flavors, you may need to change your cotton after using this juice.
Cloud Junkies CRNCH ($10) Flavor: fruit, berry, captain crunch, cereal
The cereal flavor dominates this e-juice. It's really sweet, and nothing like the usual cereal or berry-flavored e-juices. One good thing about this is that it has really good cloud production and the throat hit is also good.
Mod Vape Grape Slush ($10) Flavor: grape, slushy, fruit
This has a spot-on grape taste with menthol infused into it, giving it that mentholated grape flavor. Tastes legit like the real deal and the sweetness was well-balanced. It didn't overpower the grape flavor at all, it just provided that hint of sweetness. It's definitely on the top 3 for this month!
Kilo Standard Series Nutty ($10) Flavor: peanut, dessert, nutty
If you're a fan of nutty flavors, this one's for you. It's dominated by a nutty flavor and also makes a nice dessert vape. The e-juices has a good vapor production and low throat hit as well.
BLVK Unicorn Unicake ($10) Flavor: blueberries, crumble cake
The crumble cake and blueberries found a middle ground with this e-juice. It does have a bit of a bitter after taste when you do long hits but it's tolerable. It's a pretty cool flavor to try!
Vape Craft Inc. Black Label Platinum Edition Yacht Club ($10) Flavor: blueberry, tart, dessert
Another great e-juice from this batch! The blueberry flavor hit just the right buttons. It starts off with the flavor of the toast then it morphs to a yummy blueberry jam in your mouth. Really awesome!
Full Metal Juice Casaba Cream ($10) Flavor: honeydew, fruit, cream, melon
Creamy and delicious! You can faintly taste the cream but the honeydew flavor is spot on. It's sweet but not too sweet that you get tired of it easily. The vapor production of this e-juice is really good as well!
Sabores Del Encanto Flan De Calabaza ($10) Flavor: dessert, pumpkin, pie, vanilla
It's a pumpkin-flavored e-juice, which may be quite new for some. The creamy flan flavor of this e-juice is noticeable, and the hint of pumpkin is just right.
Superb Royal Collection Lychee Jelly ($10) Flavor: fruit, tropical, jelly, lychee
This was all sweetness when inhaled, but the magic happens on the exhale. The burst of lychee flavor suddenly floods your mouth. This e-juice smells really good as well!
The Cloud Junkies Pang ($10) Flavor: marshmallow, fruit, peach, mango
This e-juice features an eclectic mix of flavors that is surprisingly good! The flavor combination of peaches and mangoes will never grow old but that tiny hint of marshmallow at the end is a surprise. A nice and refreshing flavor if you want to try new things!
BLVK Unicorn Unichew ($10) Flavor: fruit, candy, explosive, strawberry
This literally tastes like strawberry starburst! The sweetness is a bit on the plus side but surprisingly, it's good. It has a smooth, consistent flavor that's impossible to not like.
Zamplebox makes a great way of exploring different flavors of vape juices! This month's curation is filled with the sweet ones and they're really awesome. What stood out from the bunch is Mod Vape Grape Slush! The flavor is straight to the point and that hint of menthol just ties up the whole package with a nice little bow. The BLVK Unicorn Unichew is a close second, simply because the flavor is similar to strawberry starburst. Overall, it's a great box! If you want to discover new vape juice flavors to love, this is a great subscription to try. It's not just convenient, their selection is amazing as well. They feature a lot of popular brands and other flavors that might be hard to find in your local shops!