Tokyo Treat is a monthly Japanese snack and candy subscription box that is shipped directly from Japan.
There are two box sizes — Classic ($25) and Premium ($35). As always, shipping is free worldwide.
The Classic box includes 12 items altogether — 4 popular snacks, 4 share packs (new), 2 dagashi snacks, 1 DIY candy kit, and 1 kinosei (quirky) snack.
The Premium box includes 17 items — 5 popular snacks, 1 party pack (new), 4 share packs (new), 3 dagashi snacks, 1 anime snack (new), 1 DIY candy kit, 1 kinosei snack, 1 drink.
This is a review of the Premium box.
DEAL: Use coupon code HELLOSUBS at checkout to save 10% ($3.50) on your first box!
There's a booklet on top of the items.
The box is jampacked, as always!
There's a promotional card for Gochi Gang!
"Gochi Gang" is a brand new web series from First We Feast, where YouTube star and anime producer Reina Scully dives headfirst into the fascinating world of Japanese comfort cooking. From a perfectly balanced bowl of ramen, to the ultimate street food order, Reina and a gang of friends (Hot Ones host Sean Evans, rapper Denzel Curry, WWE star Asuka, and more!) feast their way through some of Japan's most iconic dishes.
This month's theme is SHARE THE LOVE.
February's flavor of the month is Strawberry and Azuki. The booklet also has a message from the Tokyo Treat Crew.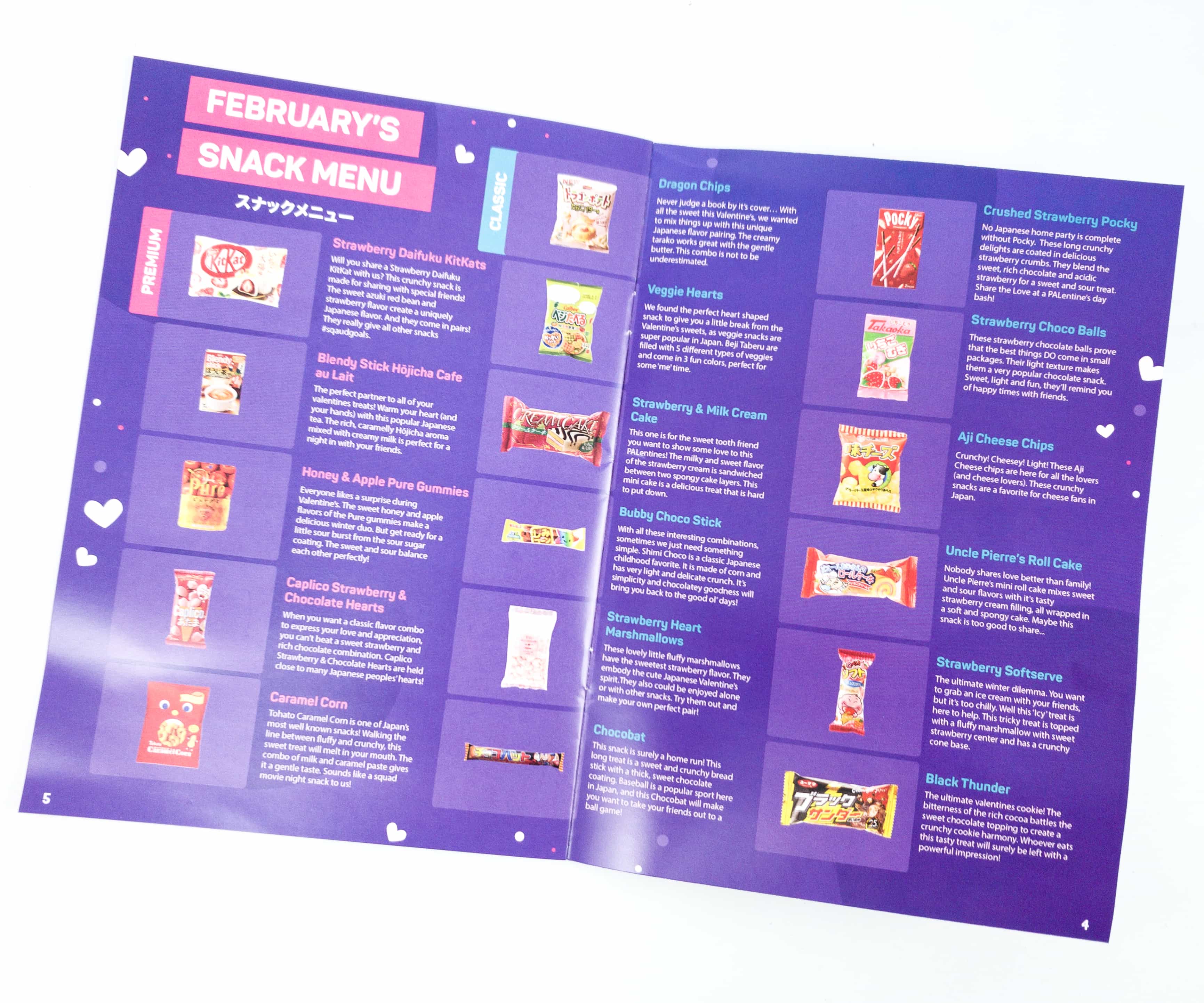 Of course, there's a list of all the items we should be expecting in this month's box.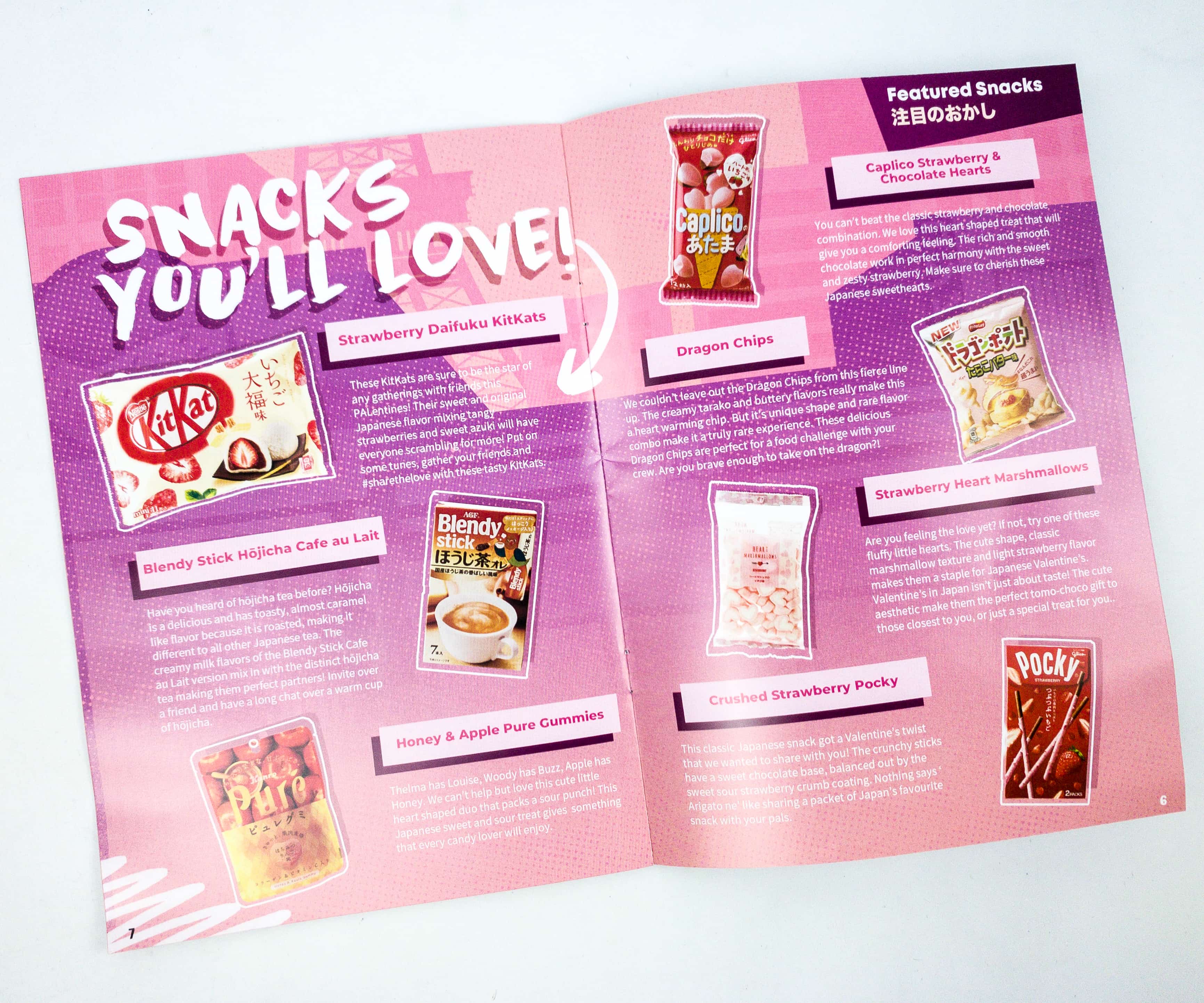 On the next pages are the featured snacks for February: Strawberry Daifuku KitKats, Blendy Stick Hojicha Cafe au Lait, Honey & Apple Pure Gummies, Caplico Strawberry and Chocolate Hearts, Dragon Chips, Strawberry Heart Marshmallows, and Crushed Strawberry Pocky.
Another feature is about Valentine's Day in Japan, which is all about chocolates. They even included crazy combo suggestions that we can try, like dipping a KitKat in hojicha and melting marshmallows over a Black Thunder.
Discover Japan page shares a bit of Japan's local culture every month. This month, they listed the top 10 most interesting cafes and restaurants in Tokyo. They even shared Japanese sentences that we can use to show our friends some love for Valentine's Day.
Scan your QR code to activate your streak for your rewards!
Everything inside my February 2020 box!
Strawberry Daifuku KitKats. This month's featured KitKat variant a delectable combination of the original KitKat wafer, blended with sweet azuki red bean and strawberry flavors. Each pack includes 11 individually wrapped bite-sized treats that are perfect for sharing with your SO or with your friends and family!
Blendy Stick Hōjicha Cafe au Lait. This is definitely not your ordinary Japanese tea, as it features a caramel-like flavor and a creamy mouthfeel. It's made with hojicha, or tea made from roasted green tea leaves. This makes a perfect warm drink on a cold day, just empty the contents of one stick in a cup, pour in your hot water, stir, and you're all set
Honey & Apple Pure Gummies. These are heart-shaped gummies made with real apple juice and honey covered with sugar. They're packed with vitamin C and collagen, which has various benefits like improving skin elasticity. The gummies are chewy, tasty, and healthy, so what more can we ask for?
Caplico Strawberry & Chocolate Hearts. Caplico is known for its mouthwatering chocolate snacks and these aren't an exception. These heart-shaped, bite-sized treats feature a scrumptious blend of chocolate and strawberry that simply melts in your mouth. They're so good, the sweetness is just right!
Caramel Corn. Tohato is a staple corn snack in Japan, and this month we got the original flavor that features its iconic light and airy corn puffs blended with sweet caramel. It's the perfect snack to satisfy your sweet tooth cravings!
Dragon Chips. What separates this snack from other chips is its unique shape and rare flavor combo featuring creamy tarako (pollock/cod roe) and butter. Dragon is definitely a great name for a fantastic snack that boasts an amazing Japanese flavor pairing.
Veggie Hearts. Next up is a vegetable-based snack! It features 5 different kinds of vegetables: squash, carrots, tomato, red bell pepper, and green bell pepper. They have a waffle-like texture and they also come in cute heart shapes! We love these because they're not overly salty.
Strawberry & Milk Cream Cake. Here's another treat that easily satisfied our sweet tooth cravings! This yummy cake features a foamy slice of bread with a creamy strawberry filling and a milk chocolate coating. It does taste like those strawberry cakes you can buy in a bakeshop! They make a great pair with a hot beverage.
Bubby Choco Stick. This light and crunchy corn snack is a classic Japanese childhood favorite and we totally understand why. It's the perfect snack for any chocolate lover because of its rich chocolate taste! It was a hit with my kids as well!
Strawberry Heart Marshmallows. Still in line with this month's theme, we got a pack of heart-shaped marshmallow treats with a delicious strawberry flavor. You can snack on these as is, but they're also great to add on top of a hot chocolate drink or on cakes and other desserts!
Chocobat. This snack is an absolute home run! It's a crunchy breadstick covered with chocolate, which looks like a baseball bat, thus its name.
Crushed Strawberry Pocky. It's a limited edition version of Pocky! The crunchy pretzel sticks are coated with creamy strawberry-flavored chocolate with small strawberry bits. The box contains two packs, making it great for sharing as well.
Strawberry Choco Balls. Takaoka is one of the most famous and inexpensive snacks for children in Japan. They're irregularly shaped, bite-sized treats made from wheat, milk chocolate, and strawberry flavors. One pack of this was more than enough to fill our strawberry cravings!
Aji Cheese Chips. These cheese balls are so crunchy, airy, and of course very cheesy. There are two simple ways to eat it. The first one is by chewing it, and the other is by simply letting it melt inside your mouth. So yummy!
Uncle Pierre's Roll Cake. Here's another cake snack! It's a roll that features a soft and fluffy bread plus a delectable strawberry cream filling. It's so sweet and you could really taste the strawberry in every bite. Just like the other cakes in this box, this also makes a great pair with a hot beverage.
Strawberry Soft Serve. It's ice cream in a cone! Don't worry, it doesn't melt despite being exposed to heat. This "ice cream" actually has a strawberry-flavored marshmallow with sweet and creamy flavor that my kids liked so much. There was also a tangy surprise in the base!
Black Thunder.  This is definitely your ultimate Valentine's cookie! It's a superb chocolate treat with a sweet-bitter taste coming from the rich cocoa topped with crumbs of luscious cookies. This makes a nice on-the-go snack as well!
Love is not just in the air, but they are also in our February Tokyo Treat Box! This month's box has been full of hearts and sweetness, as well as strawberry and chocolate-flavored snacks which are all perfect for Valentine's Day. For more variety, they even included some salty and savory ones. We definitely love all the snacks this month, especially the limited edition KitKat. If you love Japanese snacks like us, this subscription is definitely the best way to get your fix every month!
What did you think of this month's Tokyo Treat?