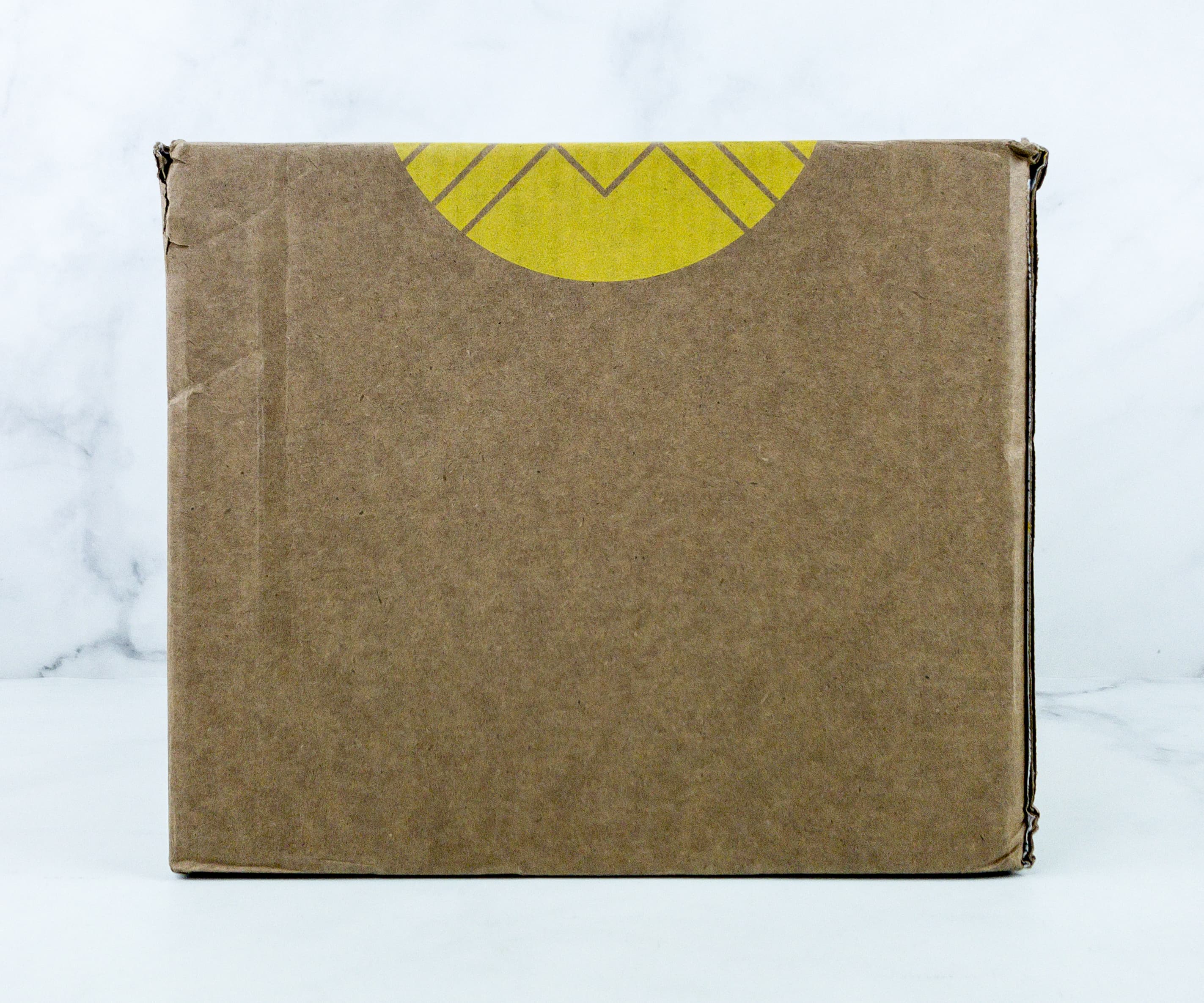 Stitch Fix Kids is a personal styling service for kids clothing ranging from sizes 2T to 14. At $20 styling fee for each box, you'll get 8 to 12 items with retail price ranging from $10 to $35 when it is shipped to you. You will be asked to share some styling preferences first when you sign up for this box so that the items included will be curated accordingly. If there are clothes that don't fit your kid, you can always return them by the return envelope included in the box. If you do decide to keep all of the items, you will get 25% off on the whole box.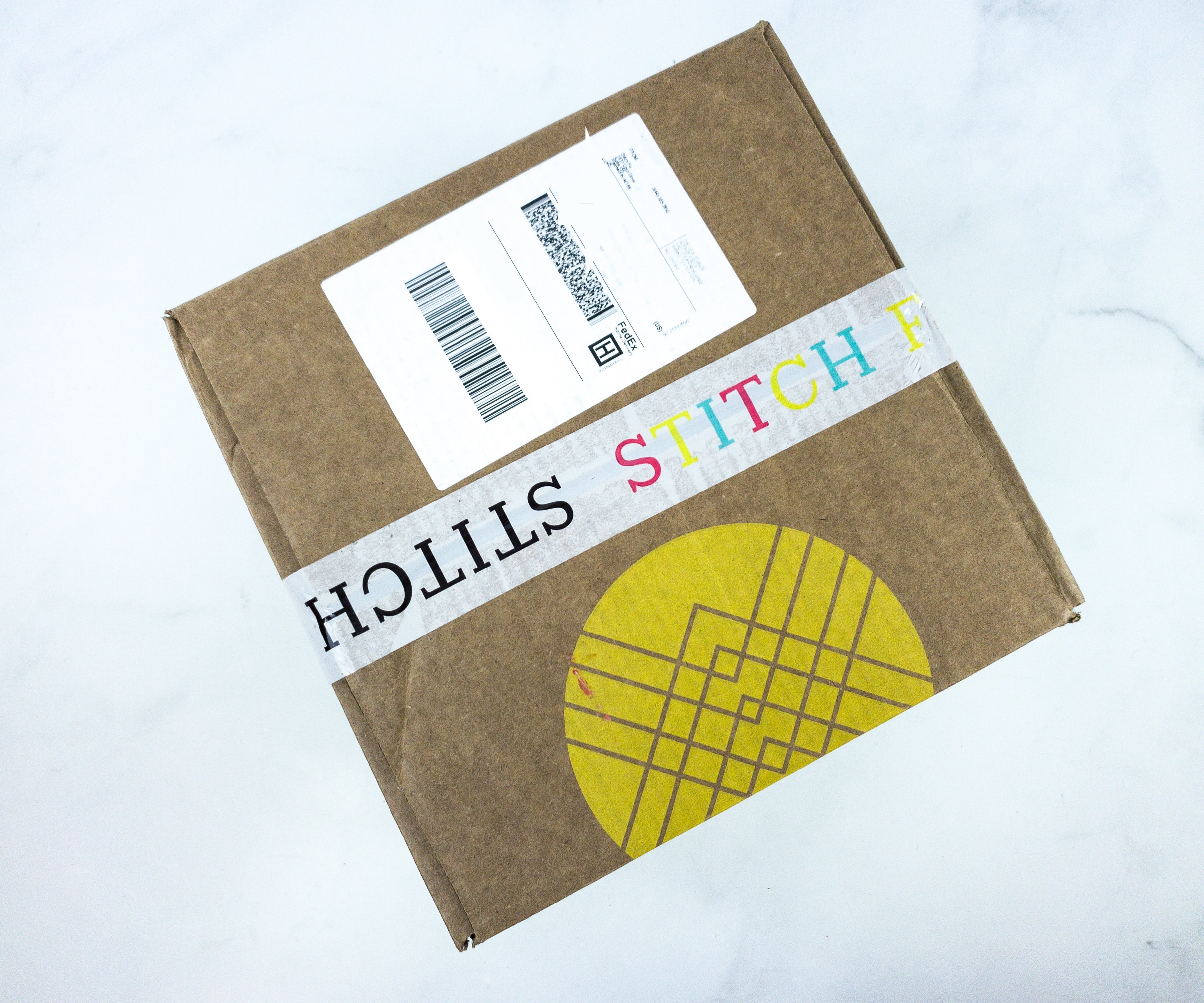 All the items are packed in a brown box sealed with Stitch Fix sticker.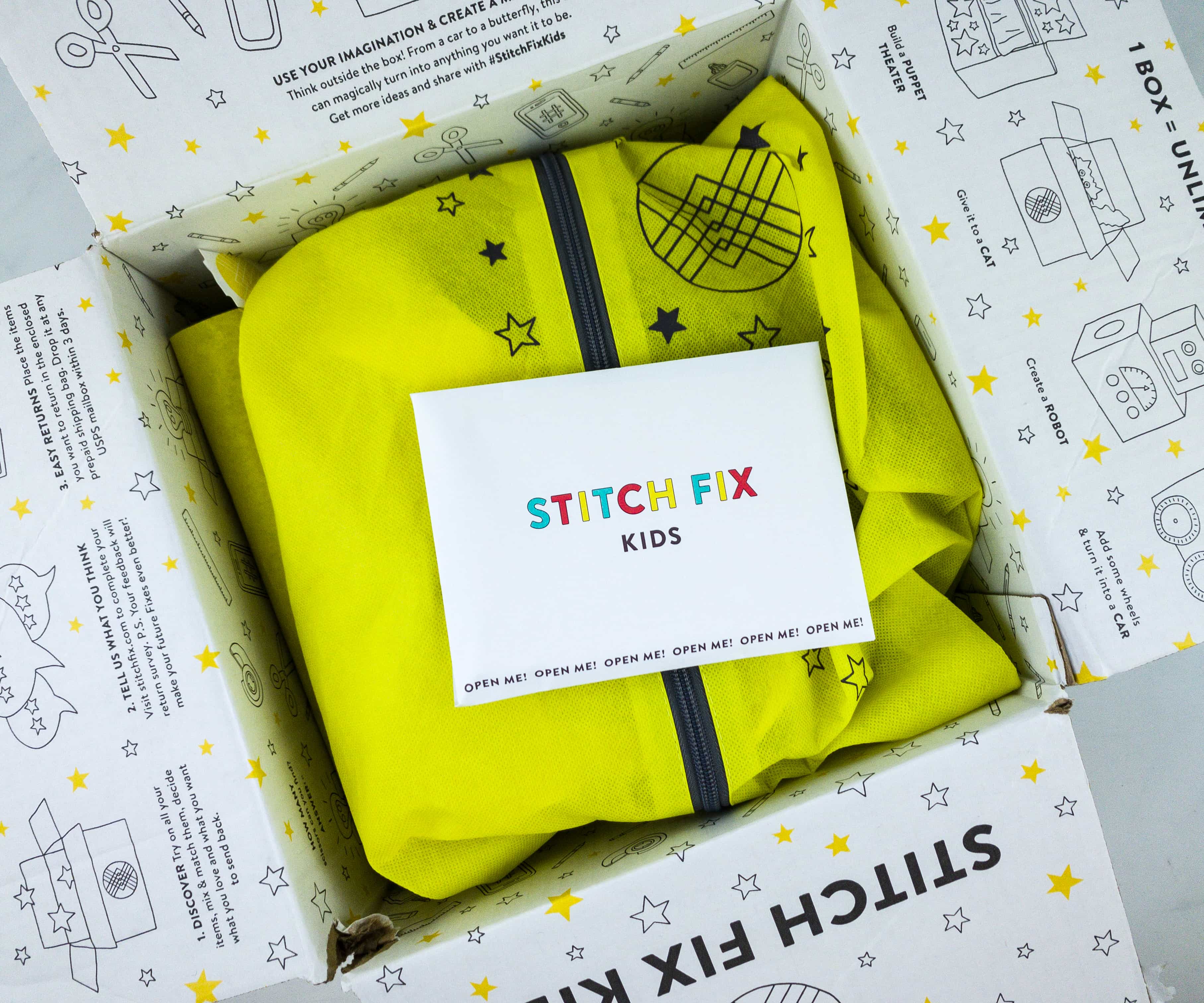 On top of the items is a Stitch Fix Kids Envelope. The flaps of the box come with cute designs that offer suggestions on what you can do to the contents of this month's crate.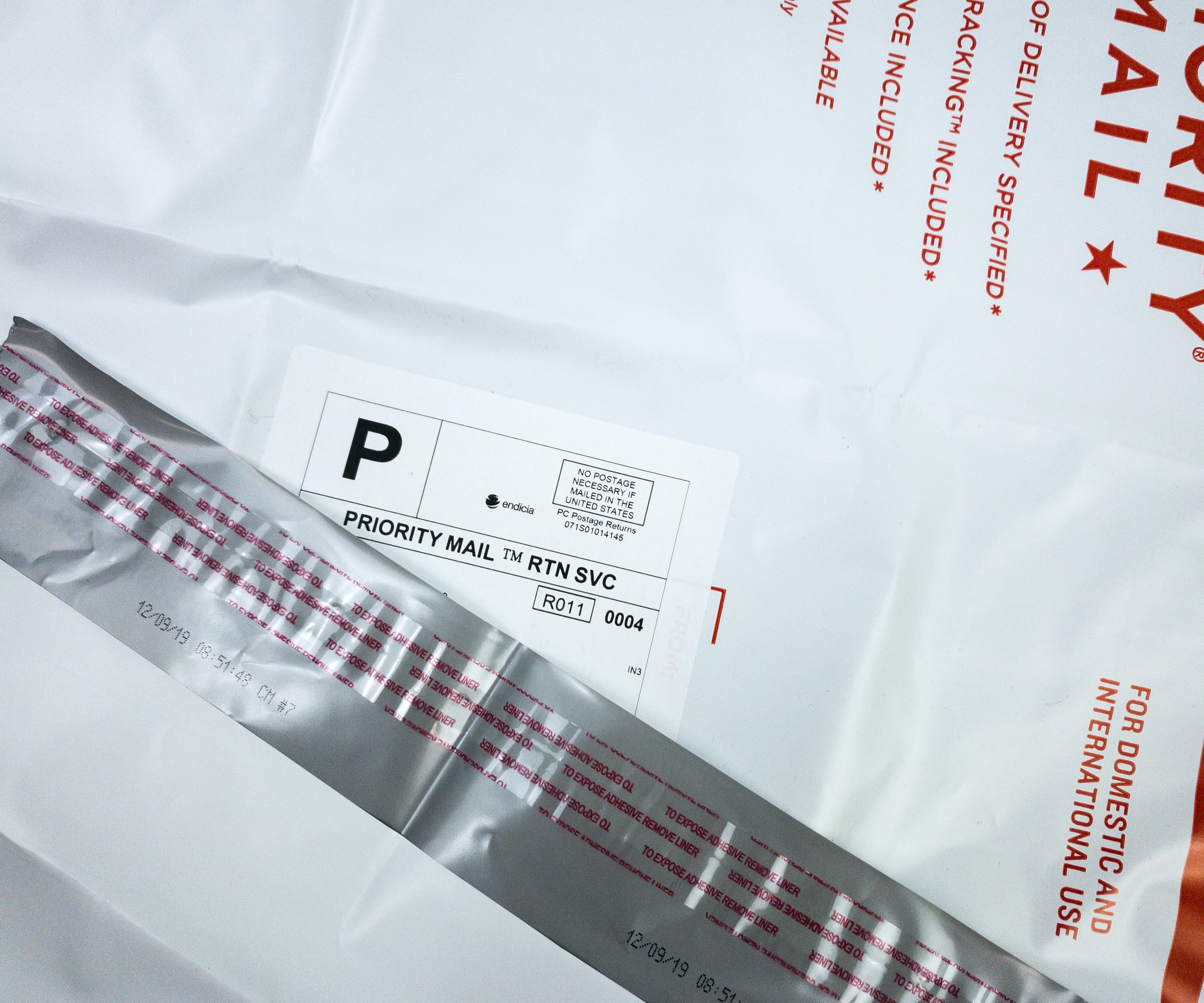 The return envelope is already included in the box so you can return the items easily.
You can return any clothing or accessories that you don't like and pay only for what you're keeping!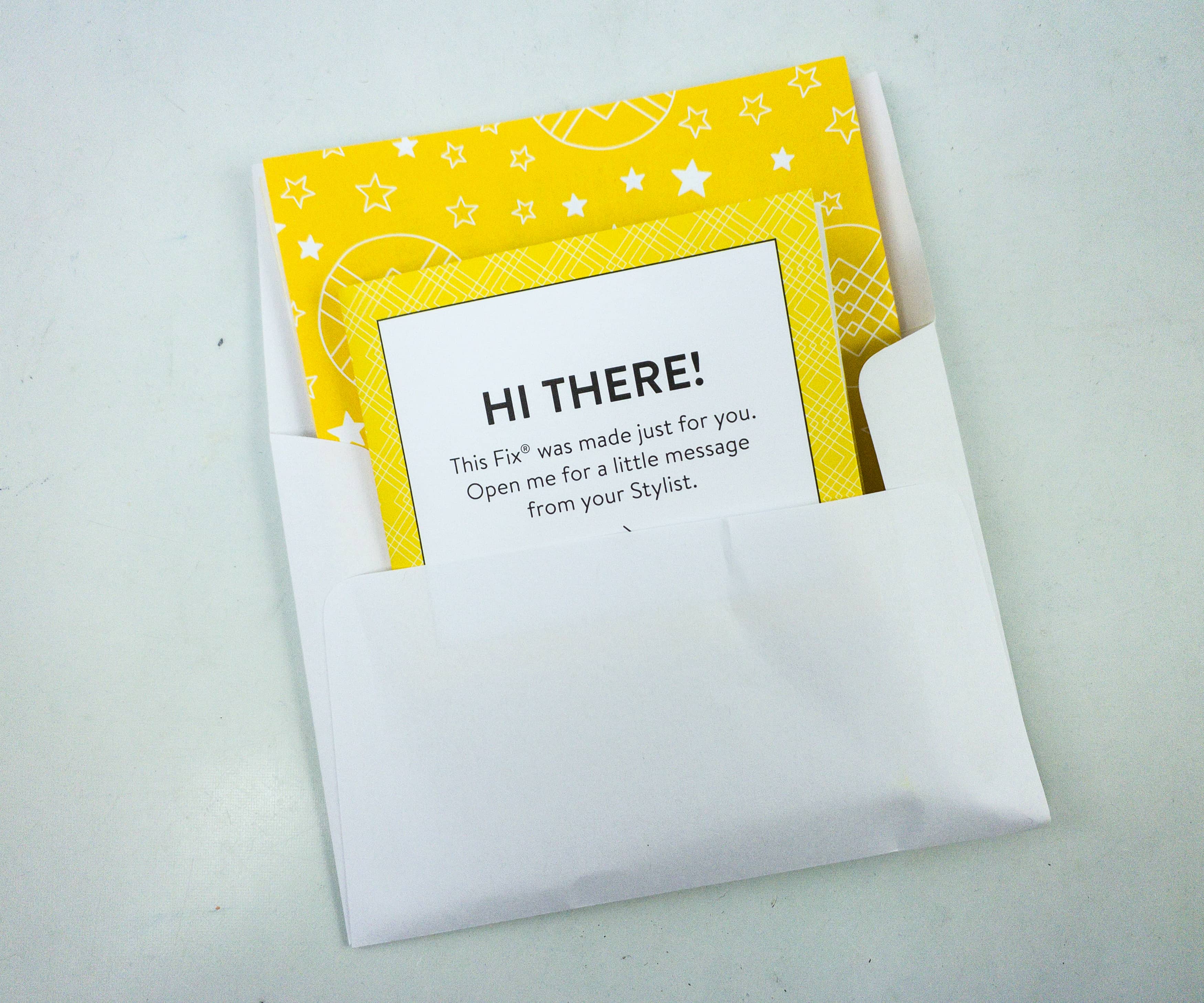 Inside the envelope is a personal message from the stylist and a cute information card.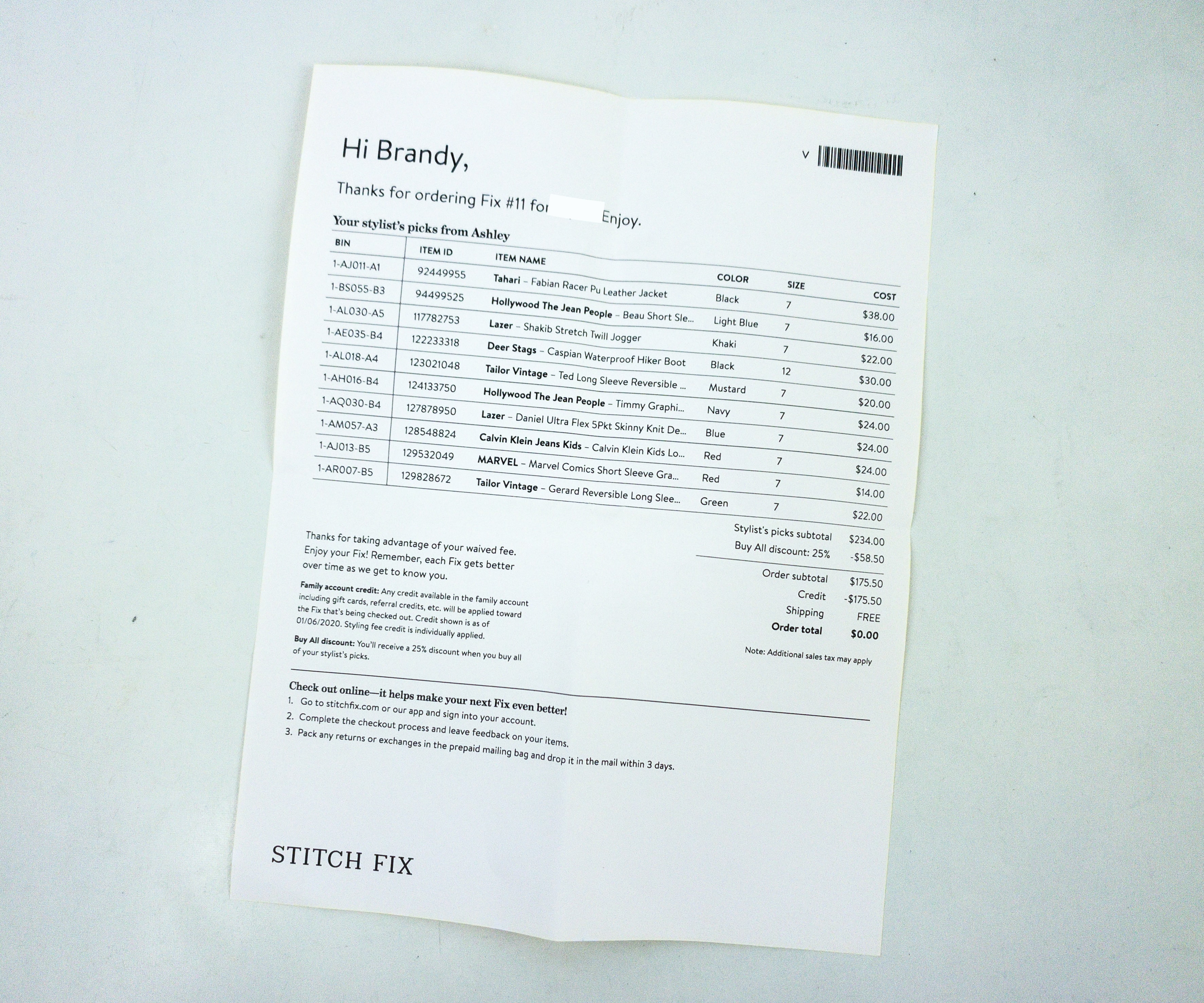 Here's a list of all the items included in this month's Stitch Fix along with their size, color, and price.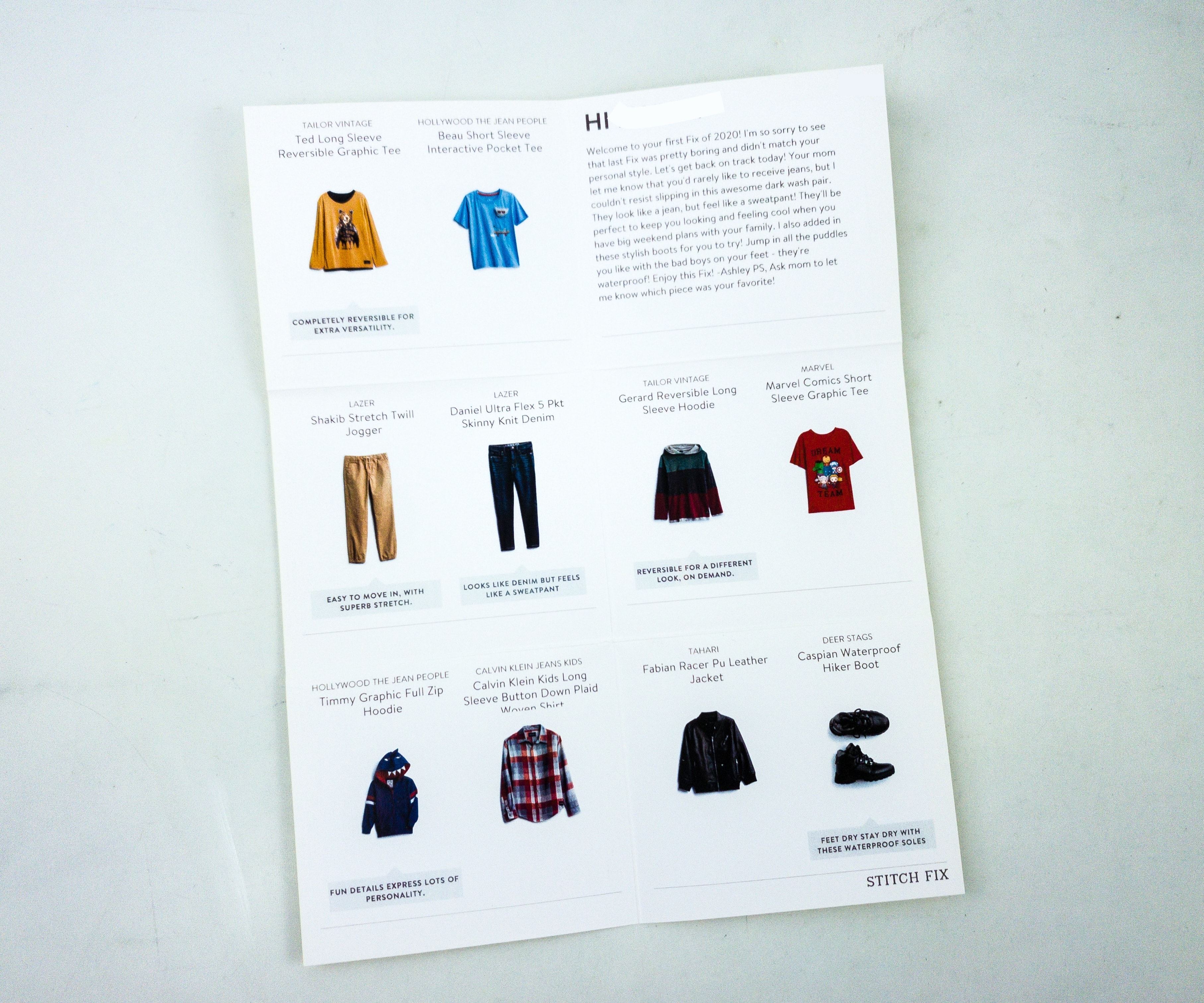 I love that they included a list of outfits in this month's box. All that is left to do is to have my little one try them out for size.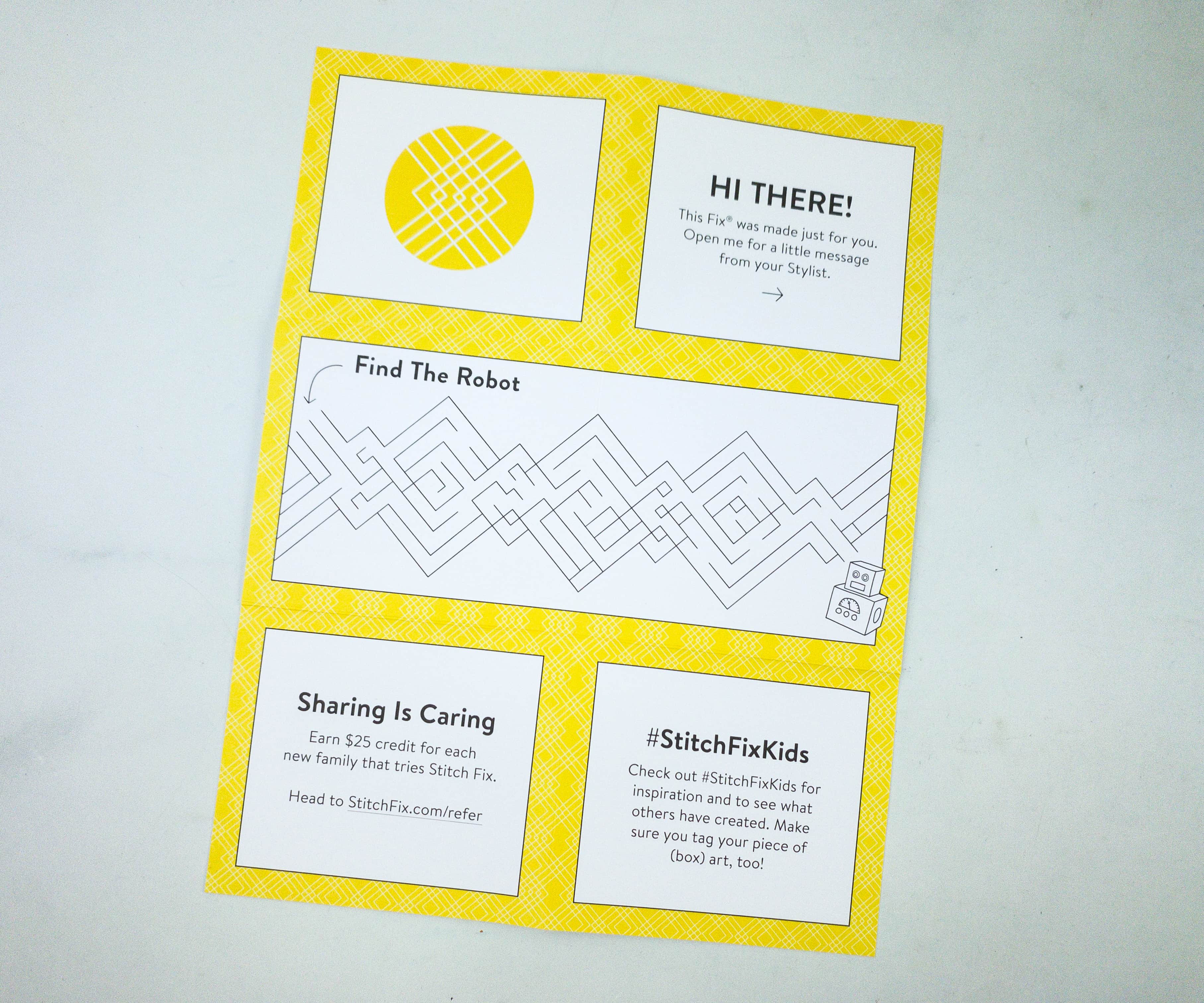 There's also a mini-game for the kids at the back of the sheet.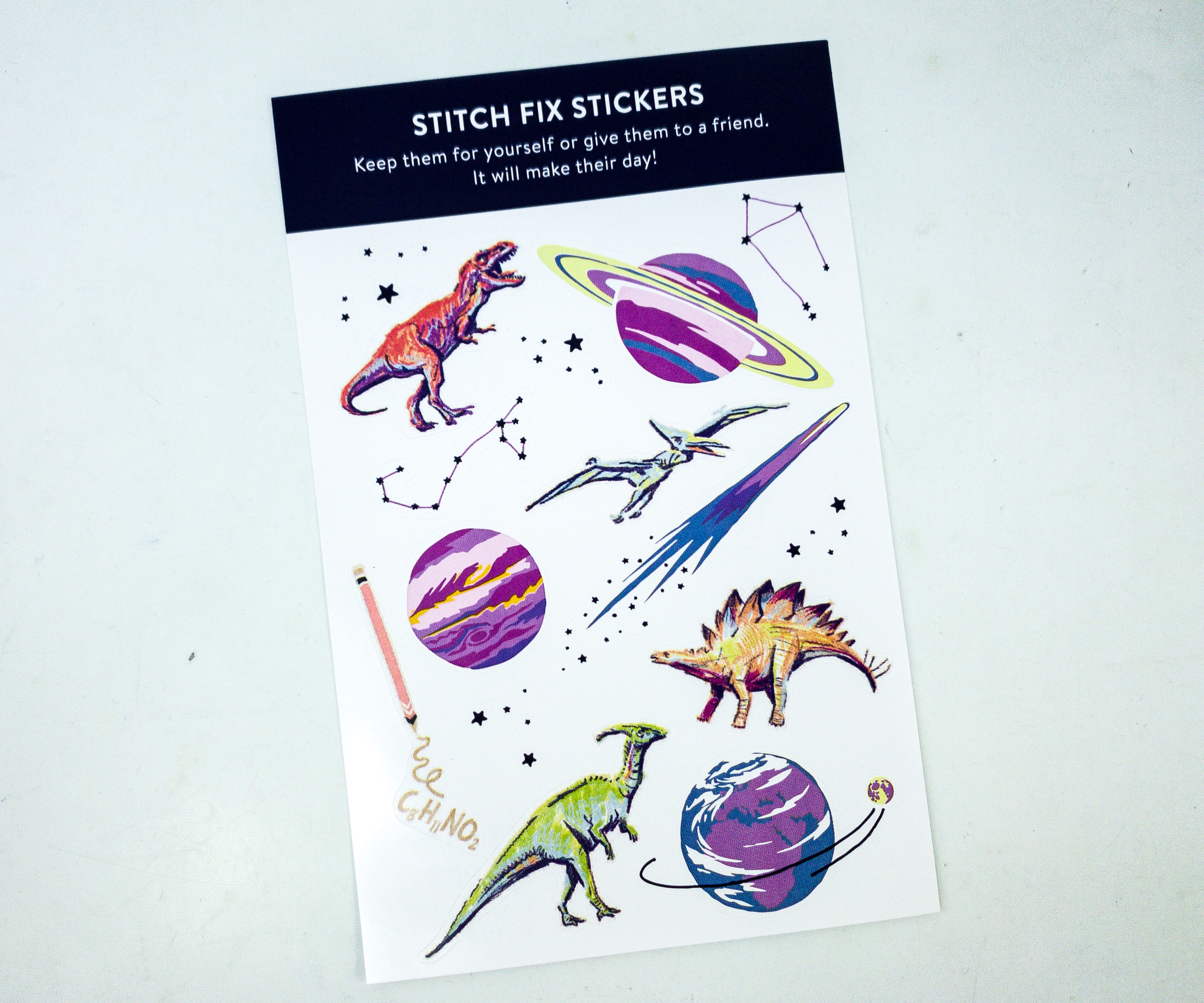 The kids' box also comes with a sheet of stickers with some cool, kid-friendly designs. This month's sticker sheet features dinosaurs, planets, constellation, and more!
The clothing items were wrapped in a yellow tissue paper sealed with a sticker.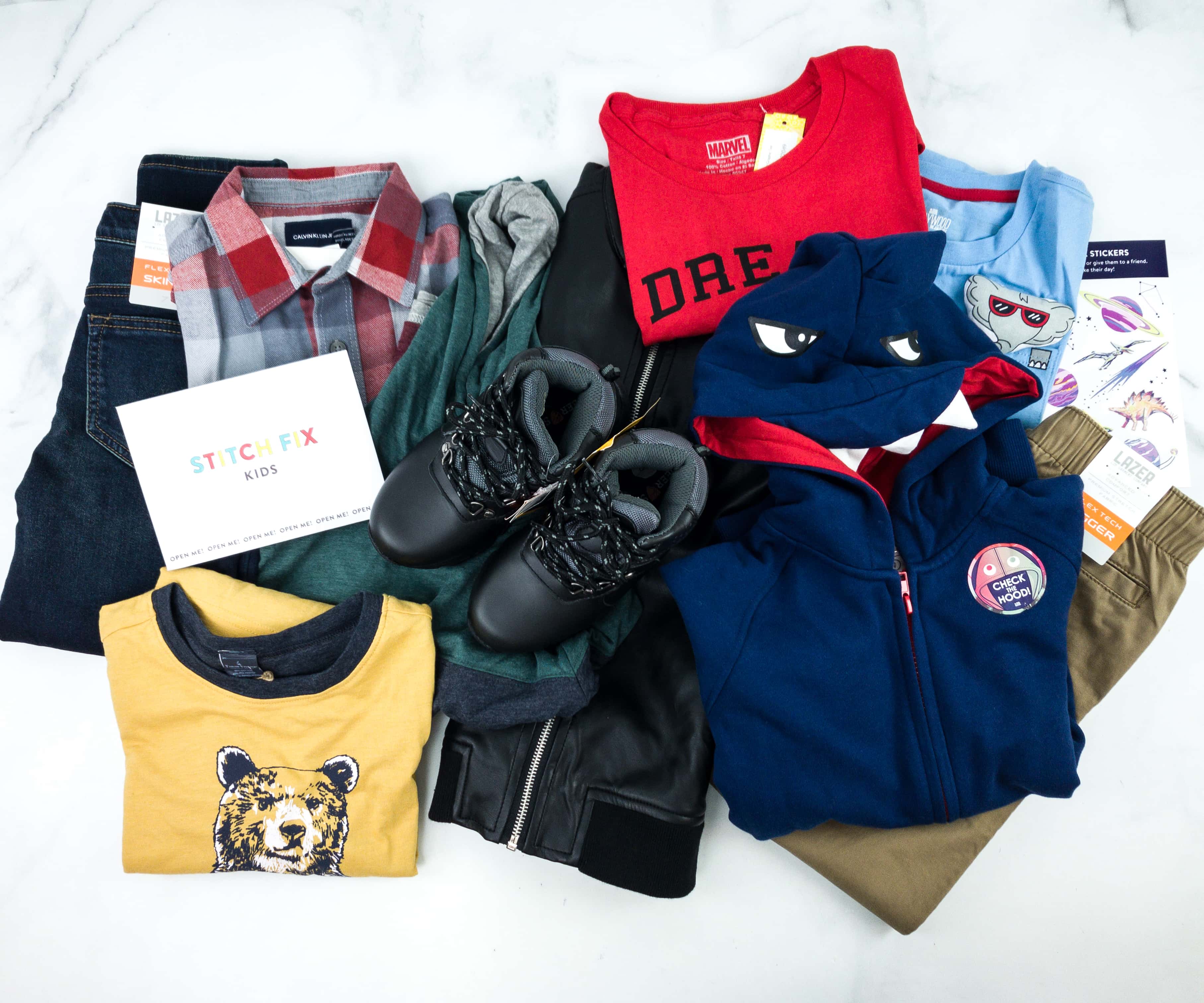 Everything in my December 2019 box!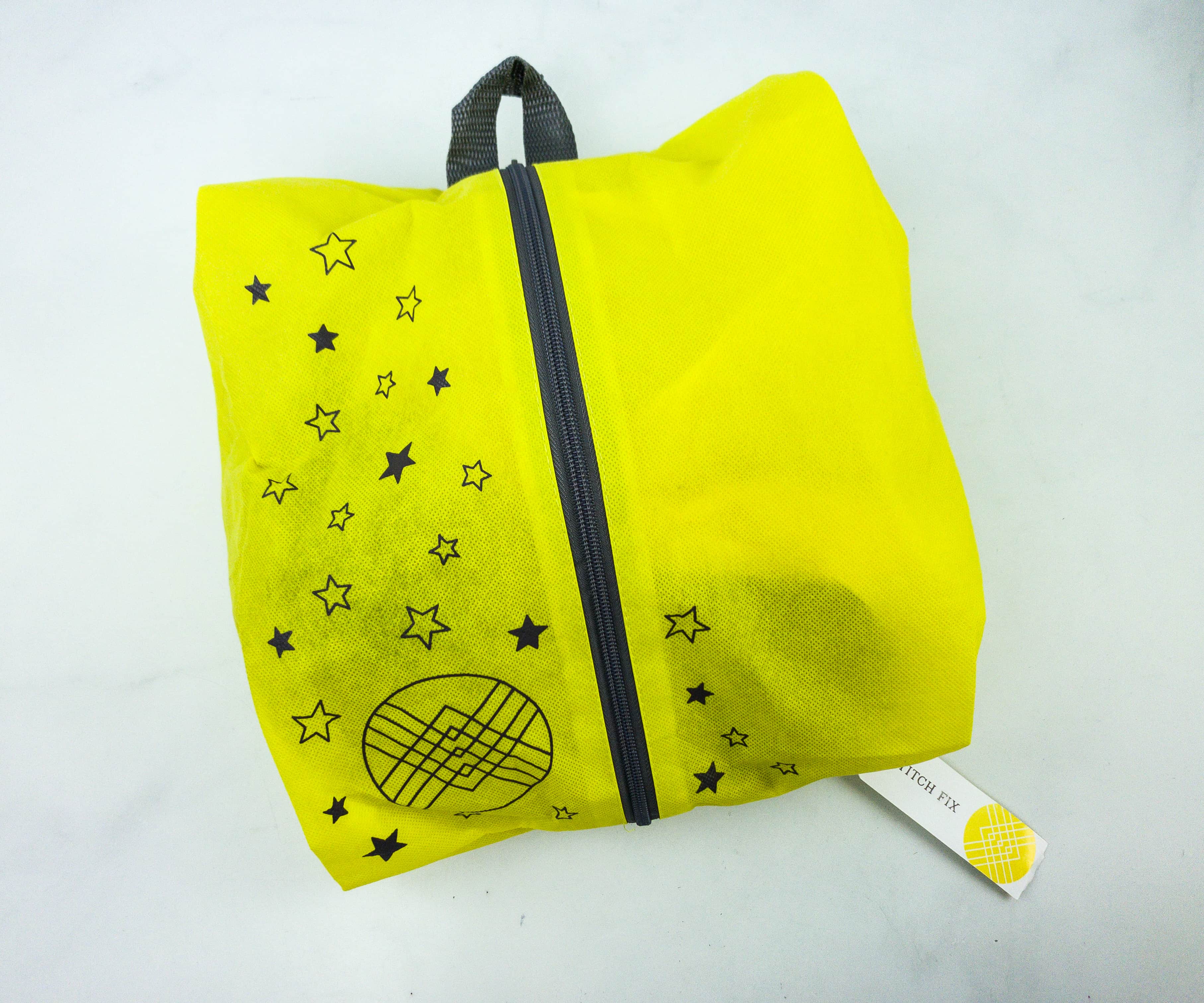 Deer Stags Caspian Waterproof Hiker Boots ($30) As always, footwear from Stitch Fix arrives in a printed yellow zippered bag.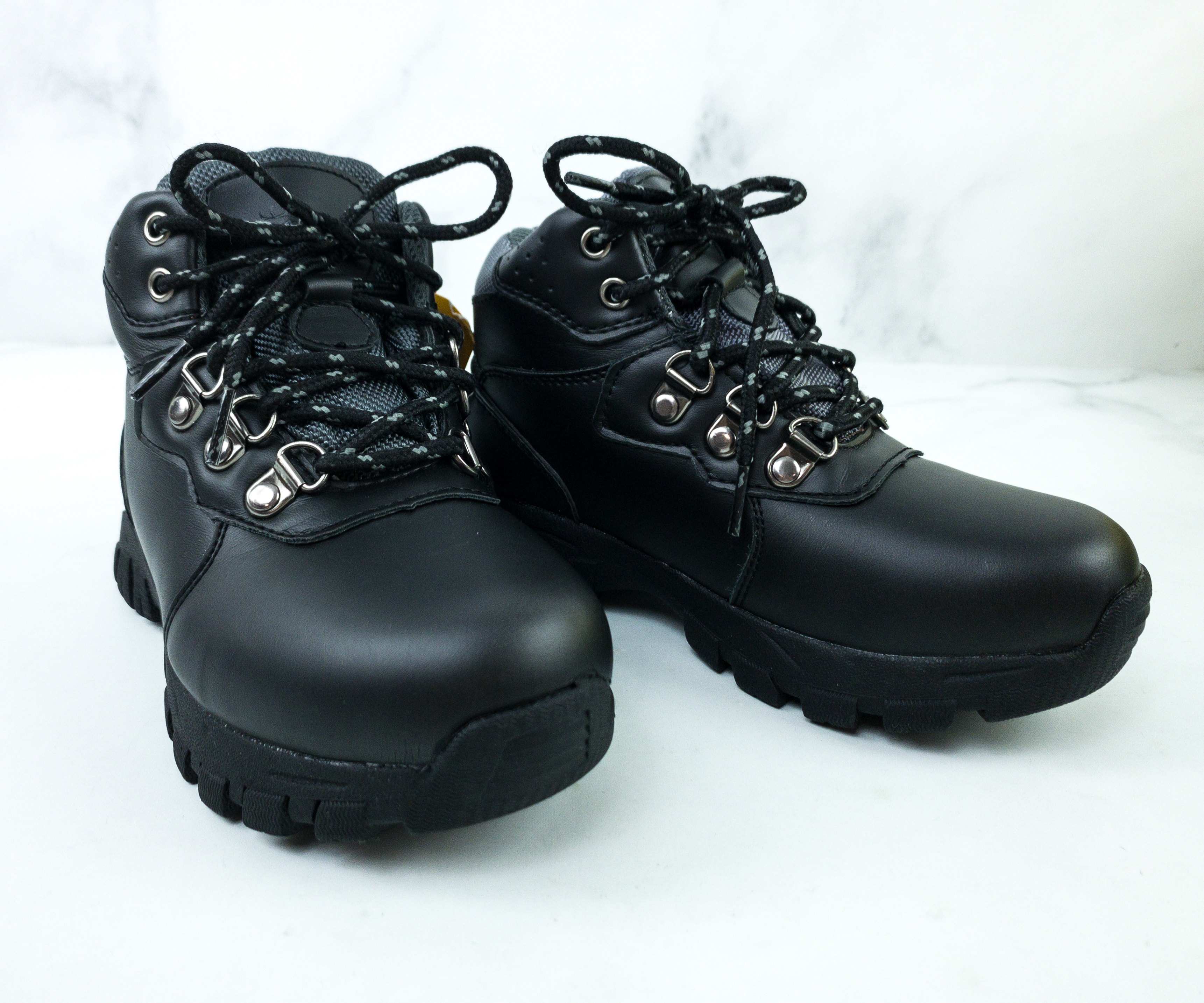 Inside the bag is a unique pair of black, ankle-high hiking boots! It's sturdy, but not too heavy on the feet. Just perfect for my son.
It's a superb pair of outdoor shoes that features a cushioned insole, water-resistant upper, and durable thermoplastic rubber outsole.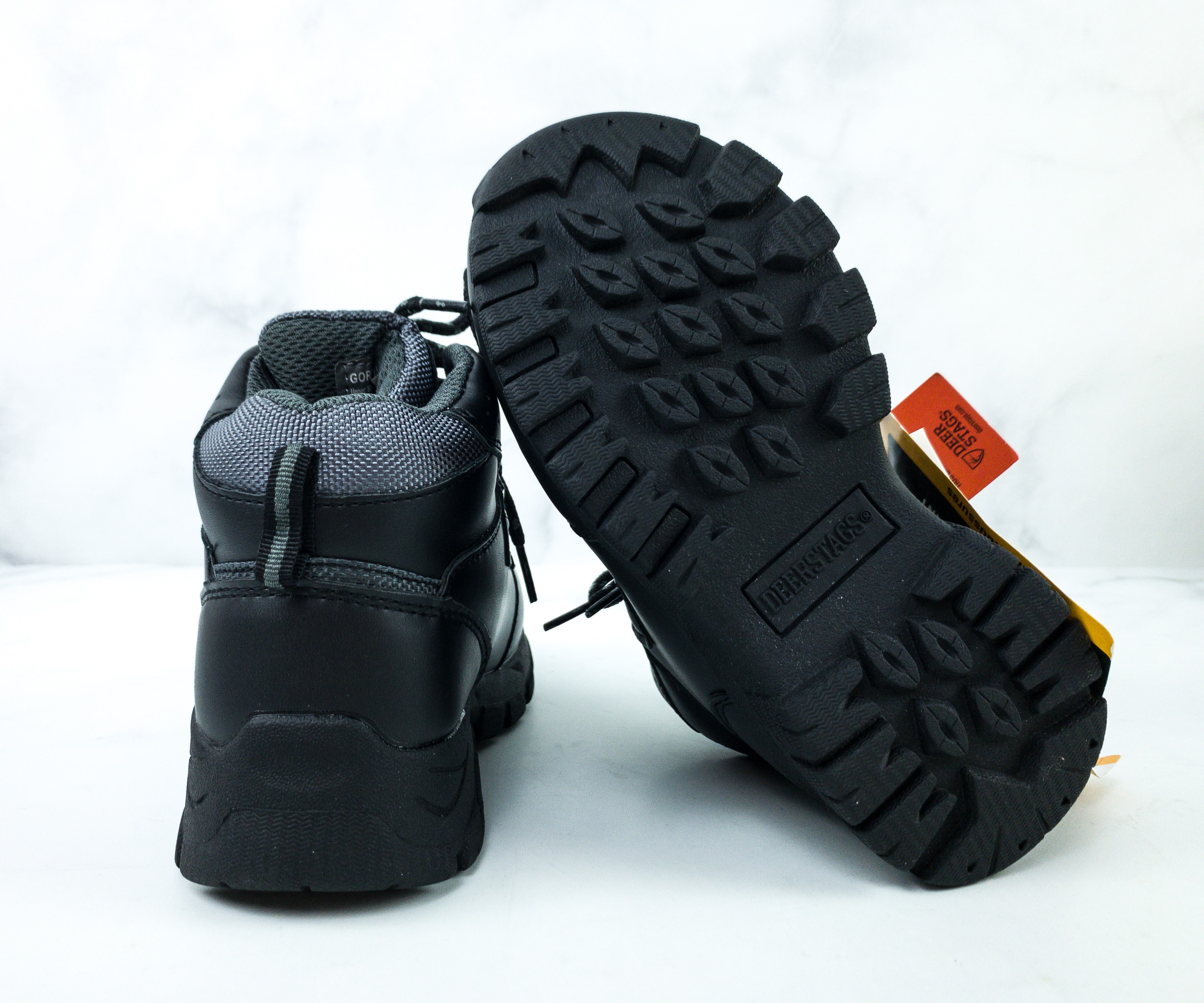 These boots also feature a gusseted tongue that ensures the water slides outside. Plus, its thick and durable outsole makes it an ideal footwear to use for hiking or camping.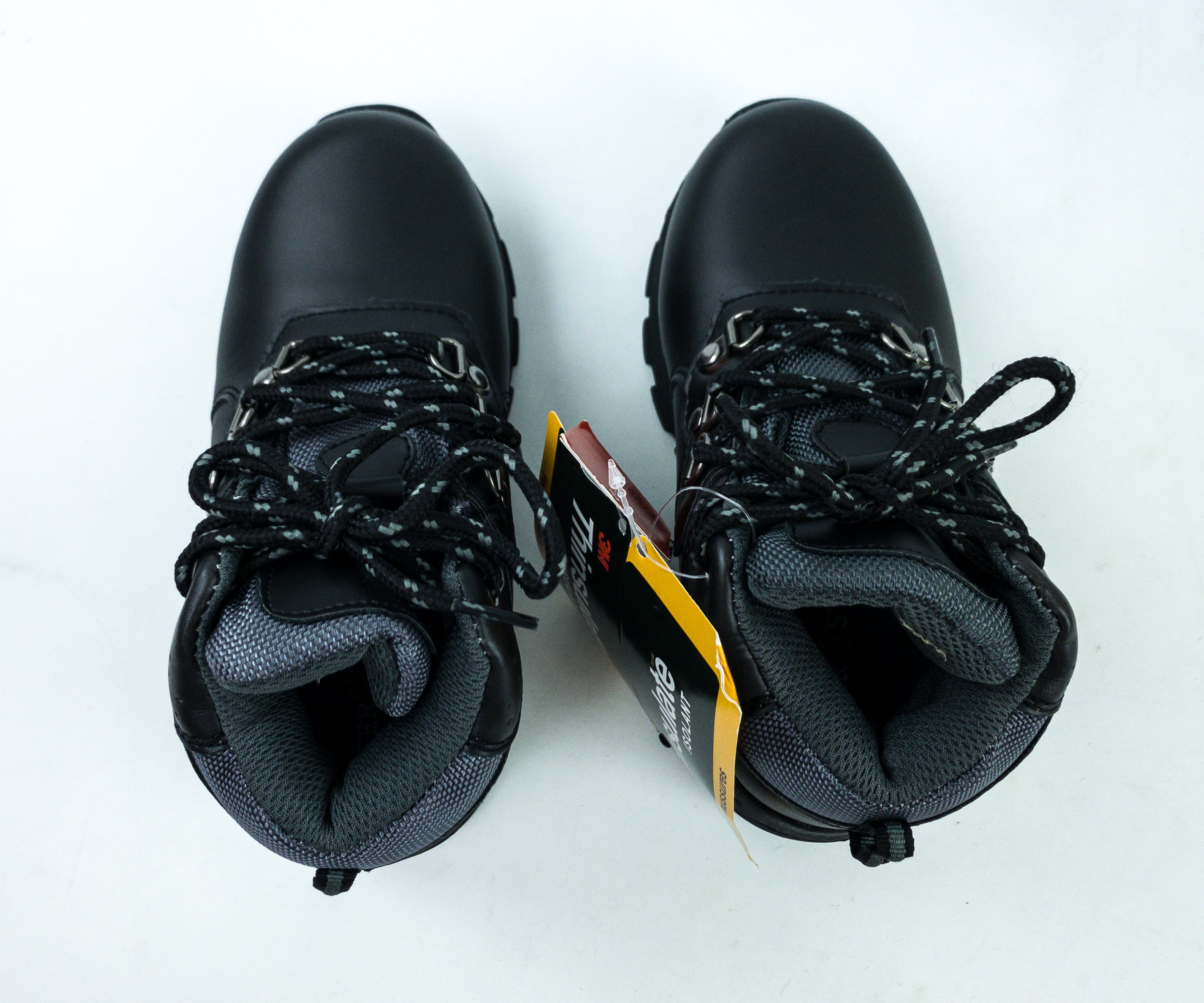 These boots are also made with Thinsulate technology lining that provides extra warmth to the feet while keeping it breathable and comfy to wear all at the same time.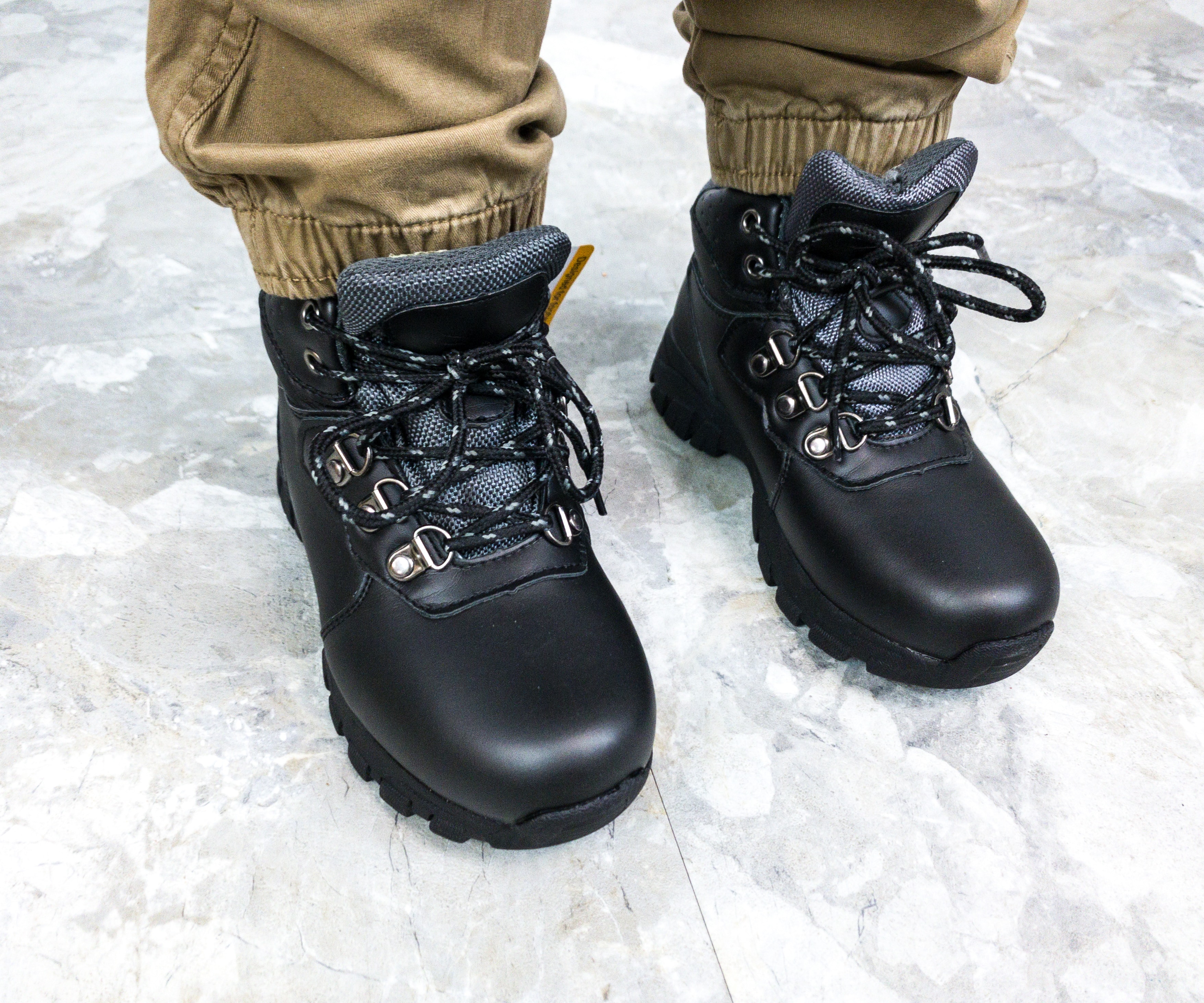 The boots fit my son perfectly! The lace-up style make it more easier to wear while ensuring that the wearer's feet are secured and they can move accordingly without any hassle. My son loves this pair so much!
Lazer Shakib Stretch Twill Jogger ($22) Style and comfort all in one pant! This jogger is in khaki and features a pair of deep side pockets and drawstring waist.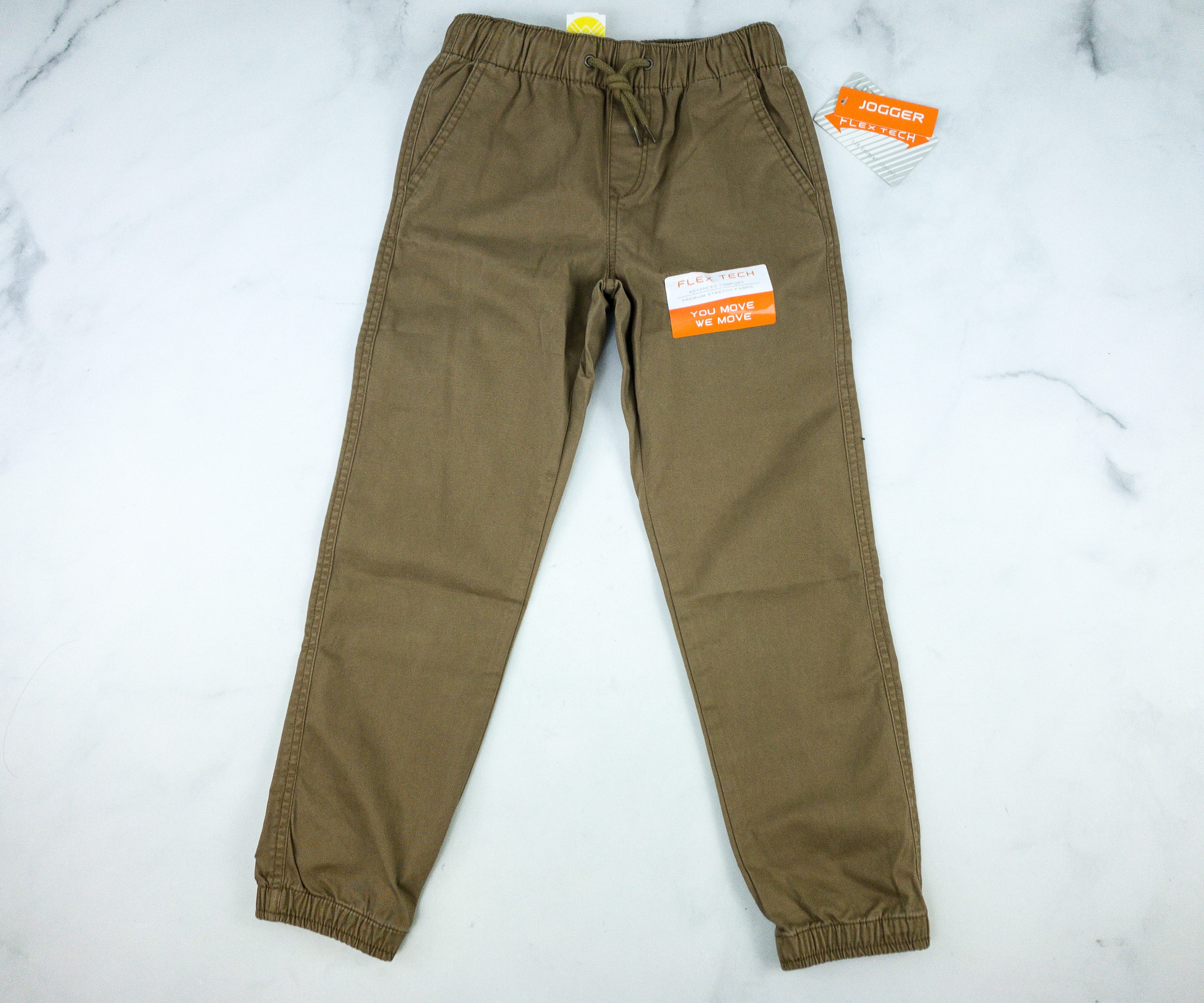 My son really loves this jogger pant because it's easy-to-wear and comfortable. This jogger also pairs well with the boots!
Tailor Vintage Ted Long Sleeve Reversible Graphic Tee ($20) We got here a reversible long-sleeved shirt! One side features a yellow base color while the reverse side is in black.
The print on the shirt looks so cute! It's an image of a grizzly bear with a silhouette of pine trees and a text that says "All Good in the Woods"!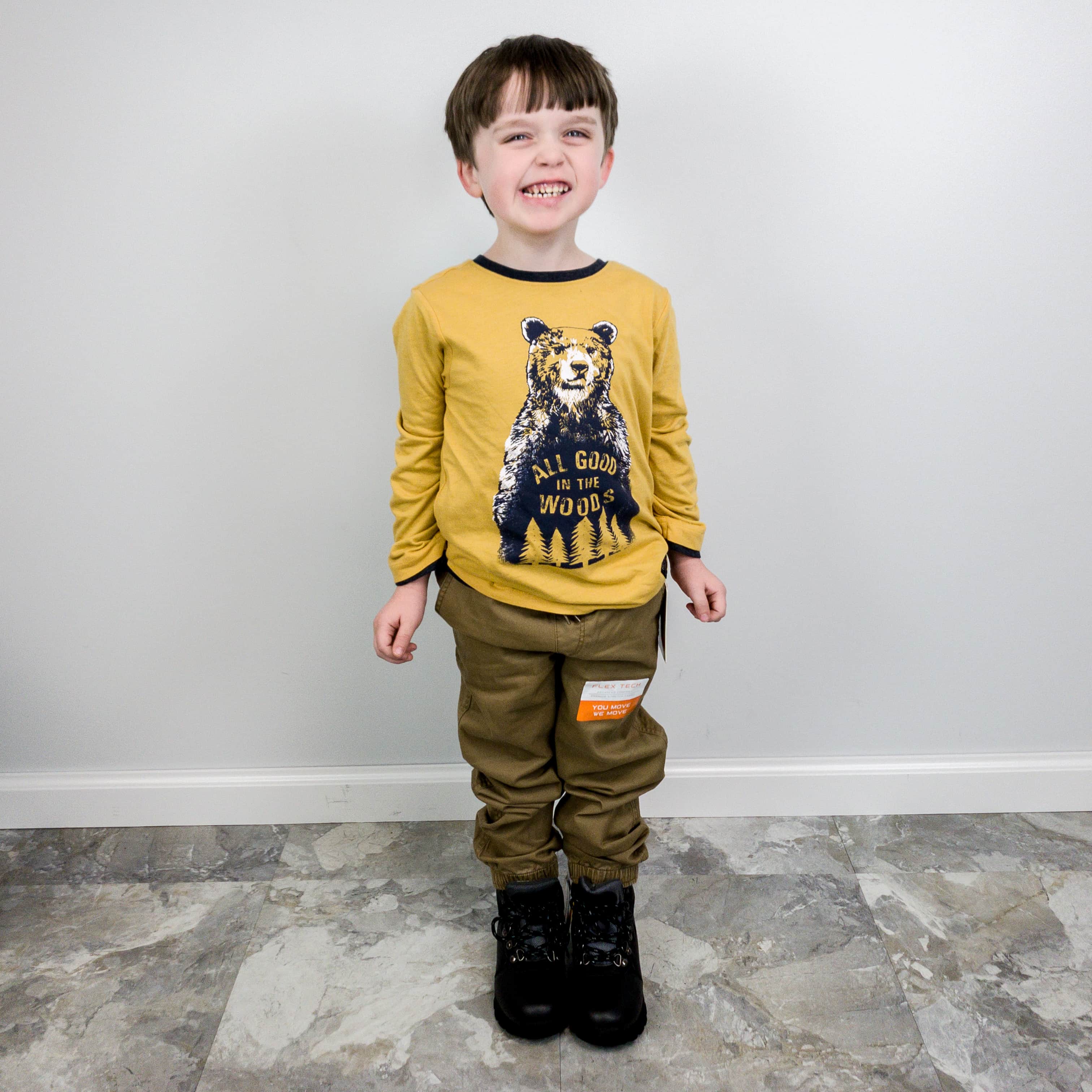 The boots, long-sleeved top, and jogger look really cool together. My son is all hyped-up, and he's so ready for an outdoor adventure!
Tailor Vintage Gerard Reversible Long Sleeve Hoodie ($22) We got another reversible top in our box, and this time, it's a hooded jacket! One side features green, navy blue, and red while the reverse side is gray.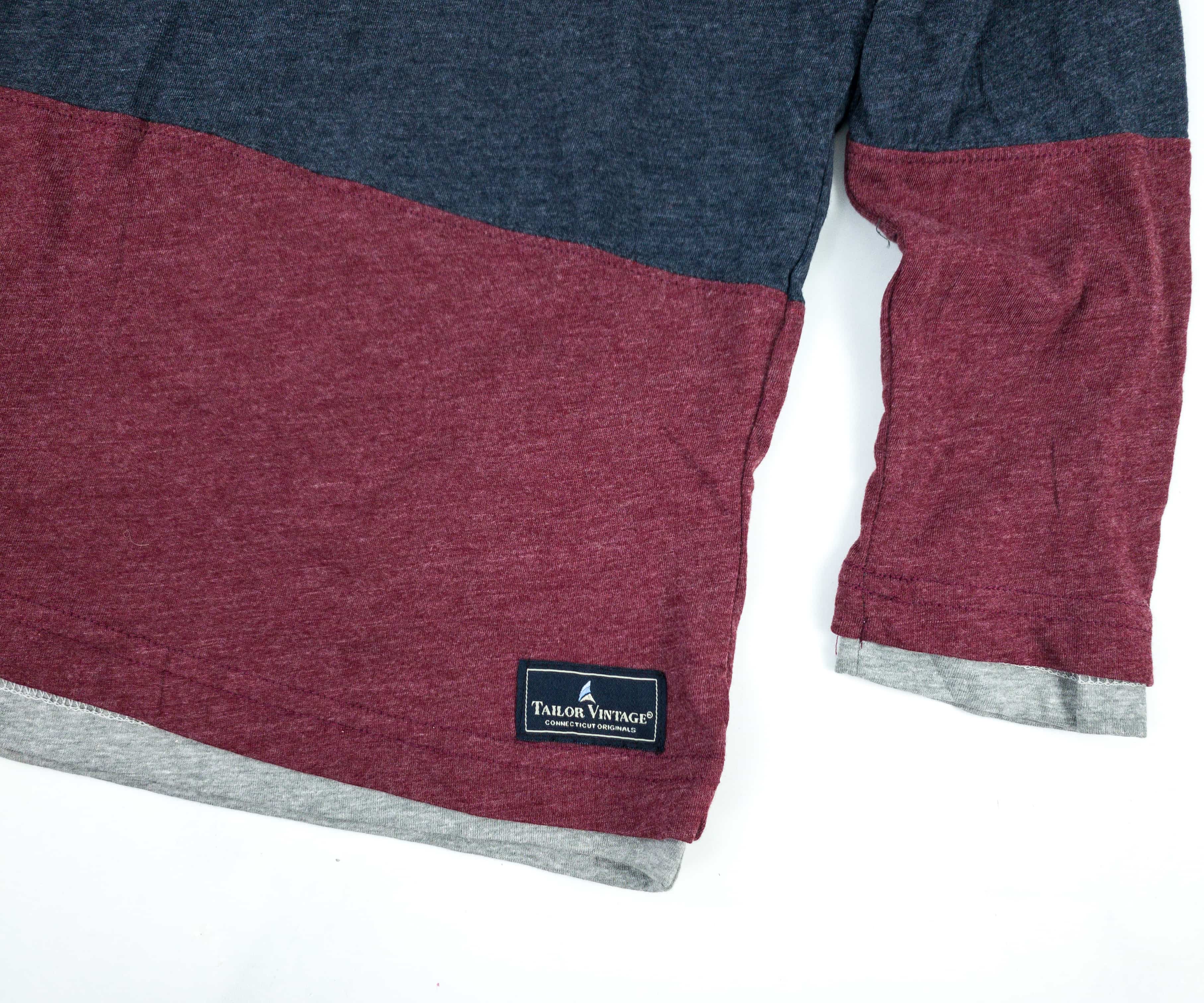 Stitched at the bottom left part of the shirt is the logo of Tailor Vintage.
This jacket is thick enough to keep my son warm on a cold day, but it's still breathable and comfortable to wear.
My son opted for the colorful side! It's another great pairing with the jogger (but those pants are way too big!).
Lazer Daniel Ultra Flex 5 Pkt Skinny Knit Denim ($24) This skinny knit denim pant is another comfortable choice for winter! It's super soft, therefore it's comfortable enough for my son and it doesn't restrict his movements.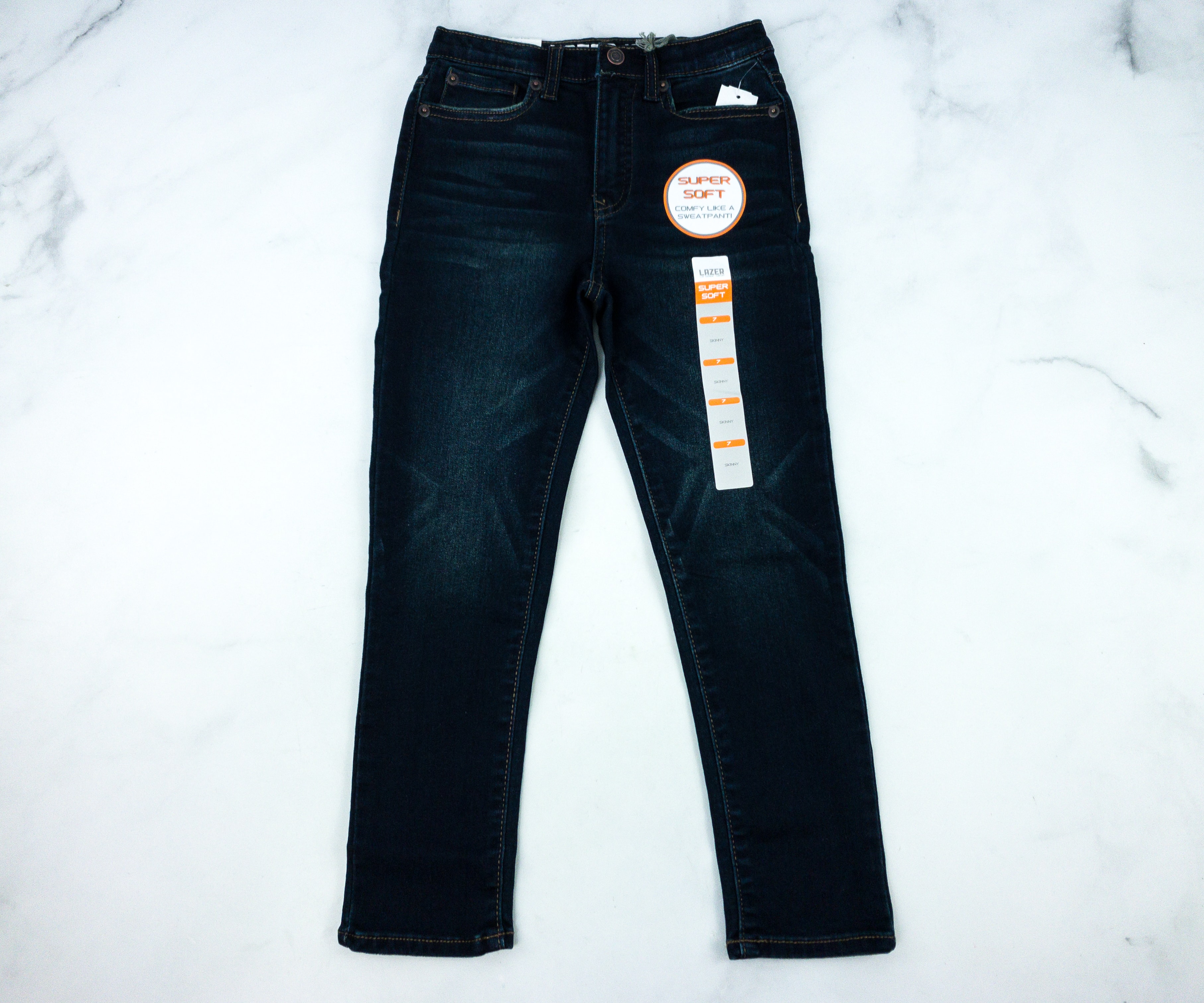 It's a 5-pocket jeans with navy blue color and a little fade design on the thigh part. This is the type of jeans that really never go out of style!
Marvel Comics Short Sleeve Graphic Tee ($14) It's a red graphic tee that features some of the major characters and superheroes from the movie The Avengers!
The Marvel Dream Team consists of Iron Man, Hulk, Captain America, Black Panther, Thor, and Captain Marvel!
The pant fits my son well, but the shirt looks a little bit big for him. Still, he loves the Marvel design!
Hollywood The Jean People Timmy Graphic Full Zip Hoodie ($24) This hoodie was a real hit with my son, especially because of the cool hoodie design!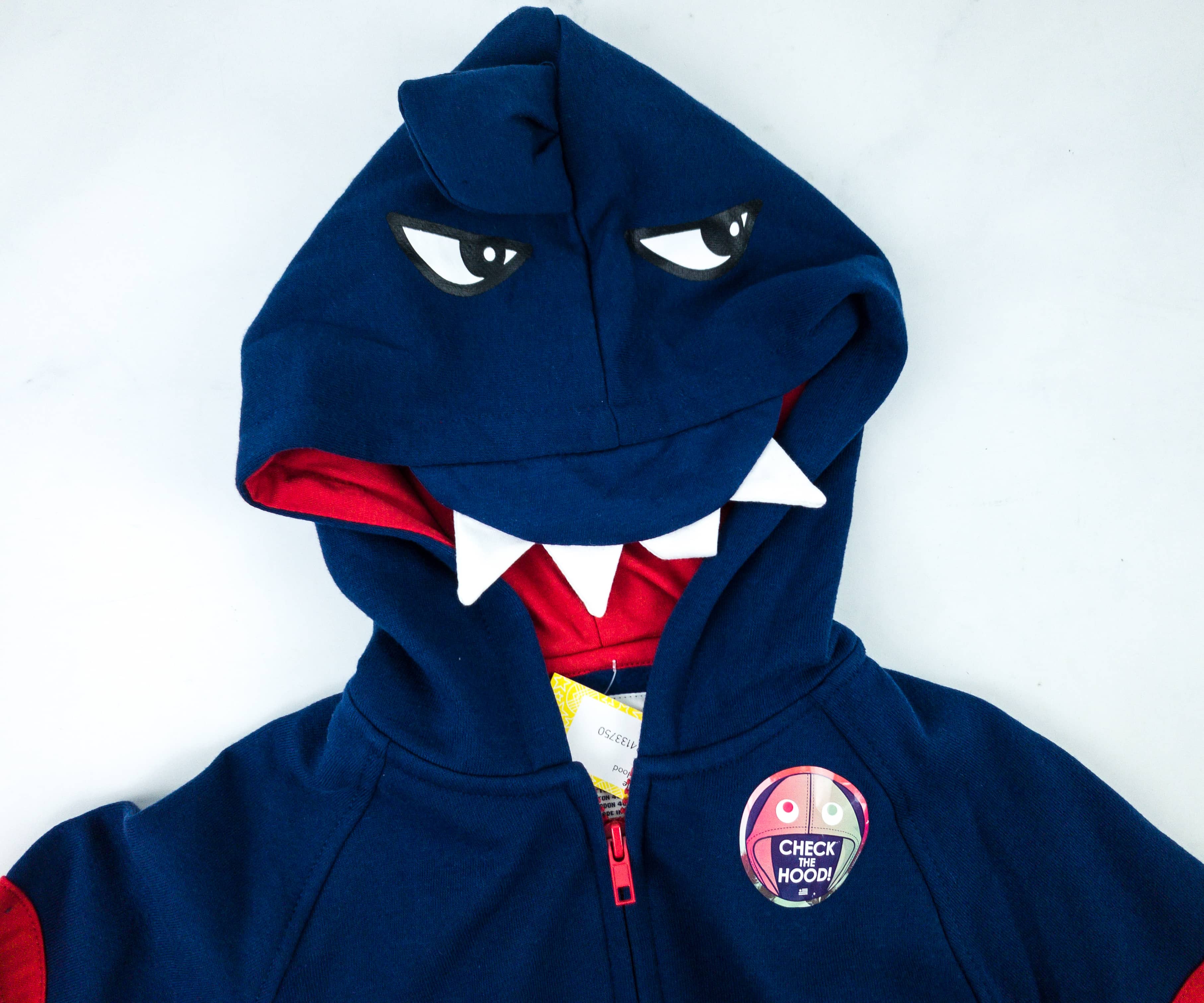 Featured on the hood of the jacket is a pair of eyes, horn, and four sharp-looking yet a soft set of "teeth."
Without the hood, this jacket looks more like a varsity-type jacket with ribbed cuffs and hem, zipper closure, and a pair of deep pockets in front.
This is definitely a great pairing. The jacket suits the skinny knit denim!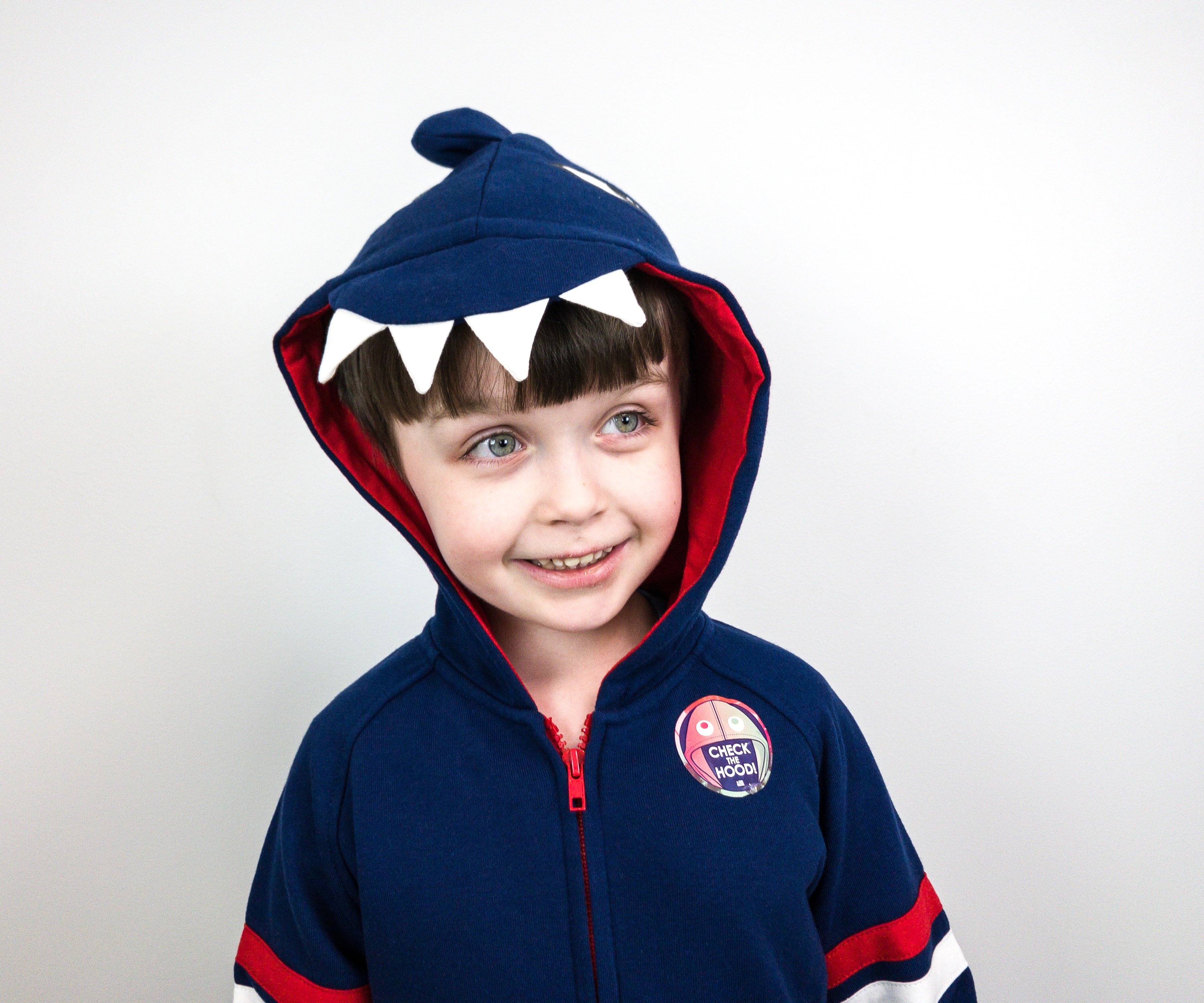 When you look closer, it's like his head is being "swallowed" by a monster! He thinks it's cool!
Hollywood The Jean People Beau Short Sleeve Interactive Pocket Tee ($16) It's a short-sleeved shirt in light blue! Its soft to the touch, not to mention lightweight and breathable!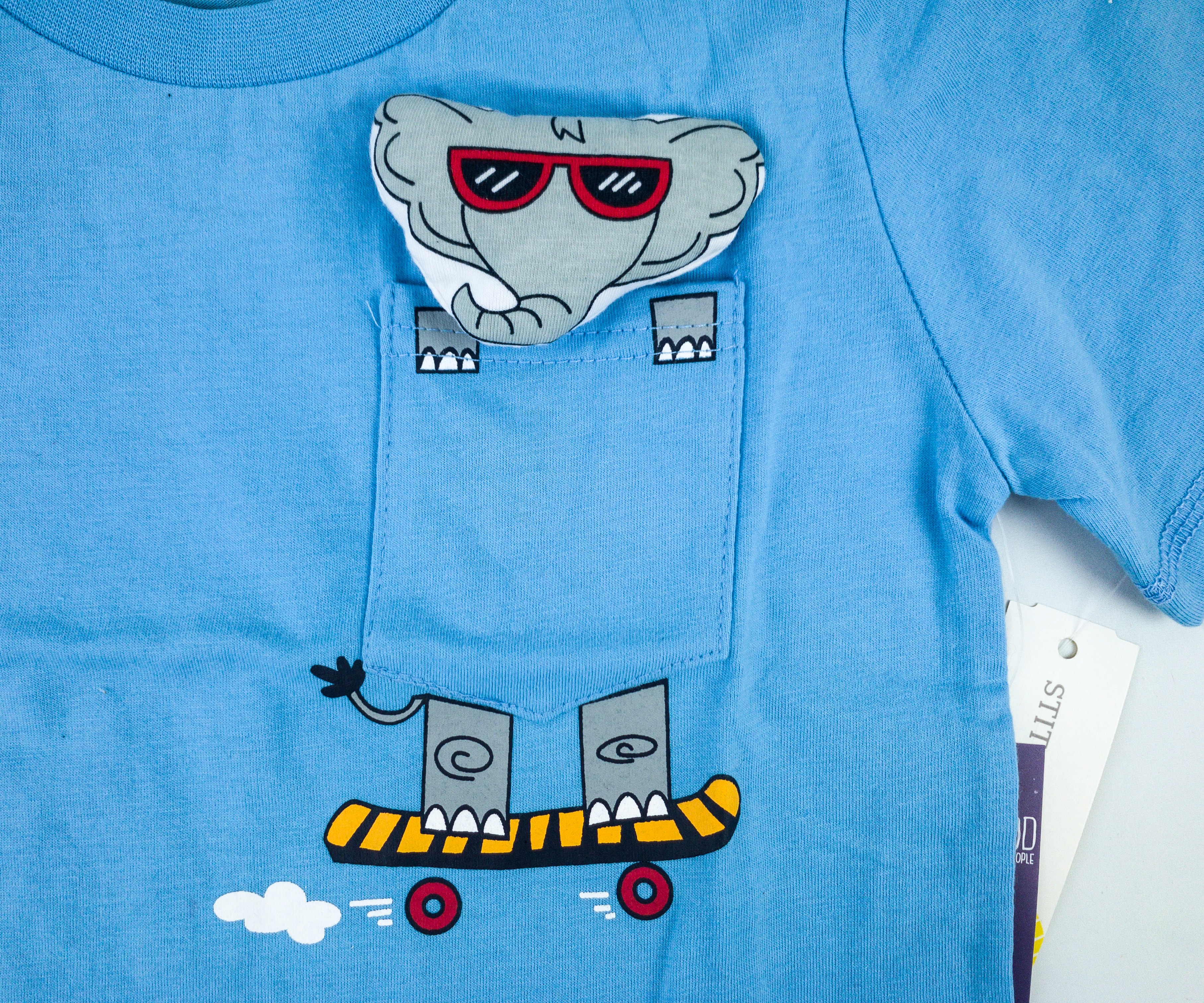 Featured on this pocket's shirt is a hippy-looking elephant skater!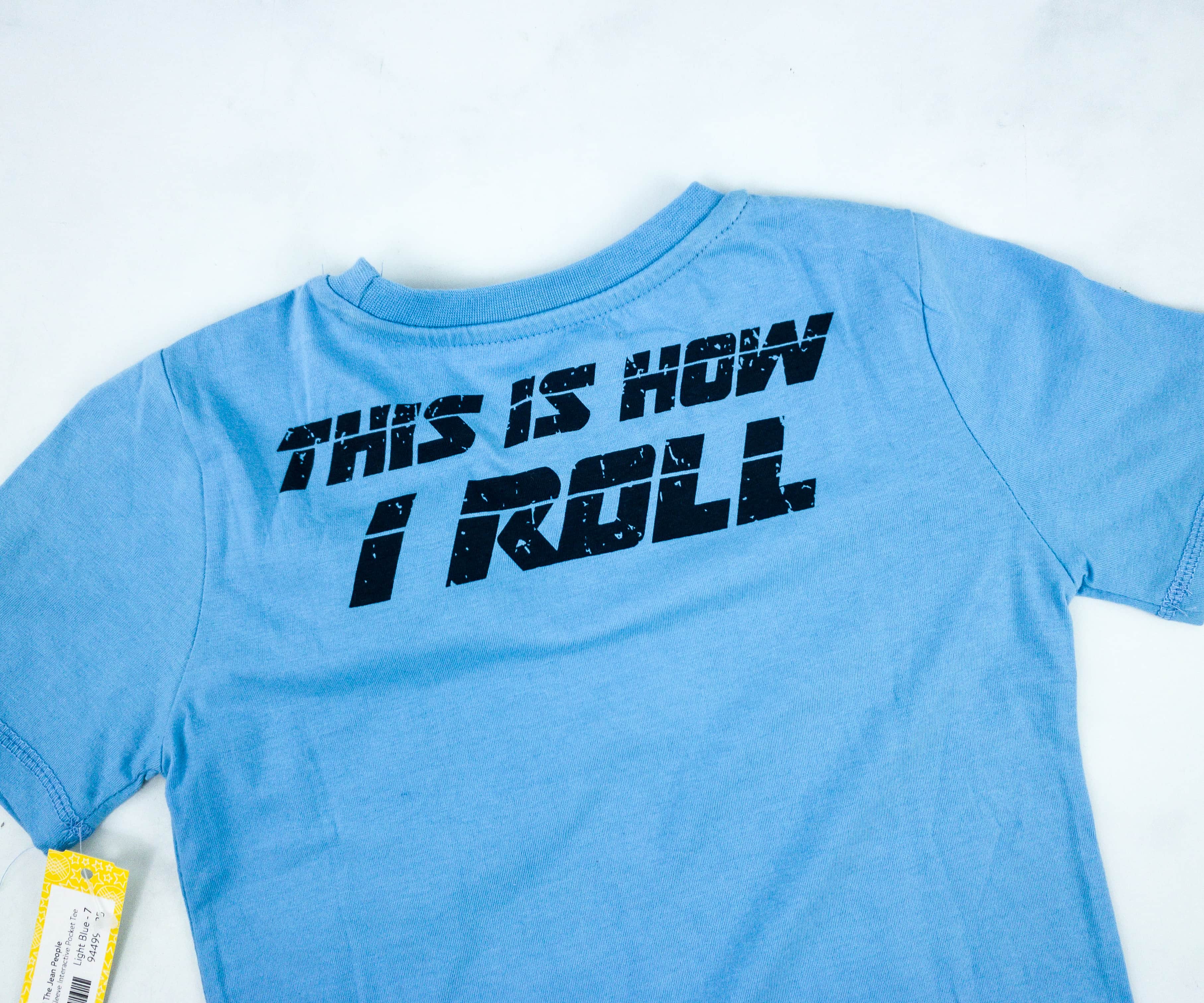 Printed at the back of the shirt is a statement telling "THIS IS HOW I ROLL".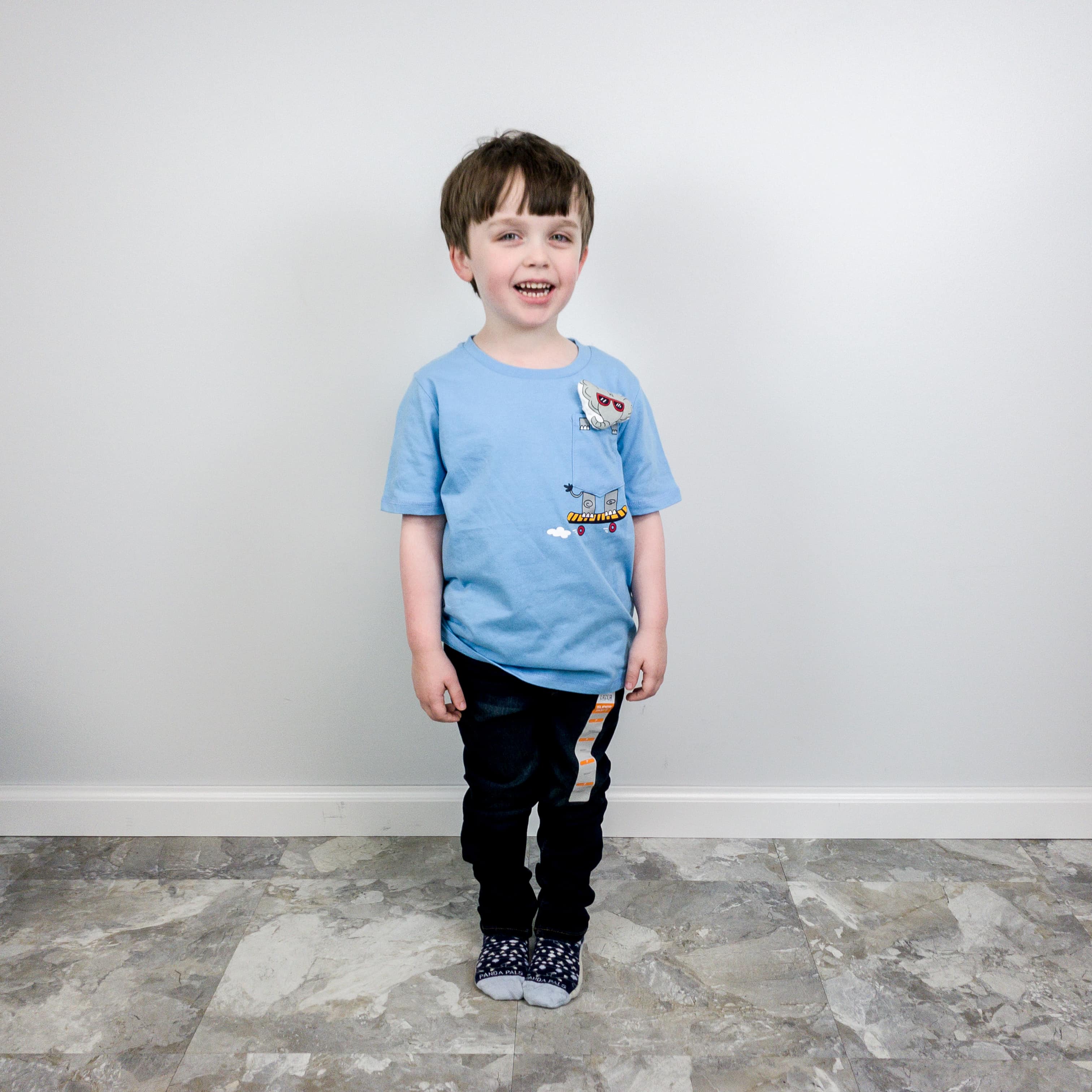 It's a great shirt that my kid can wear on any casual day! He liked it so much!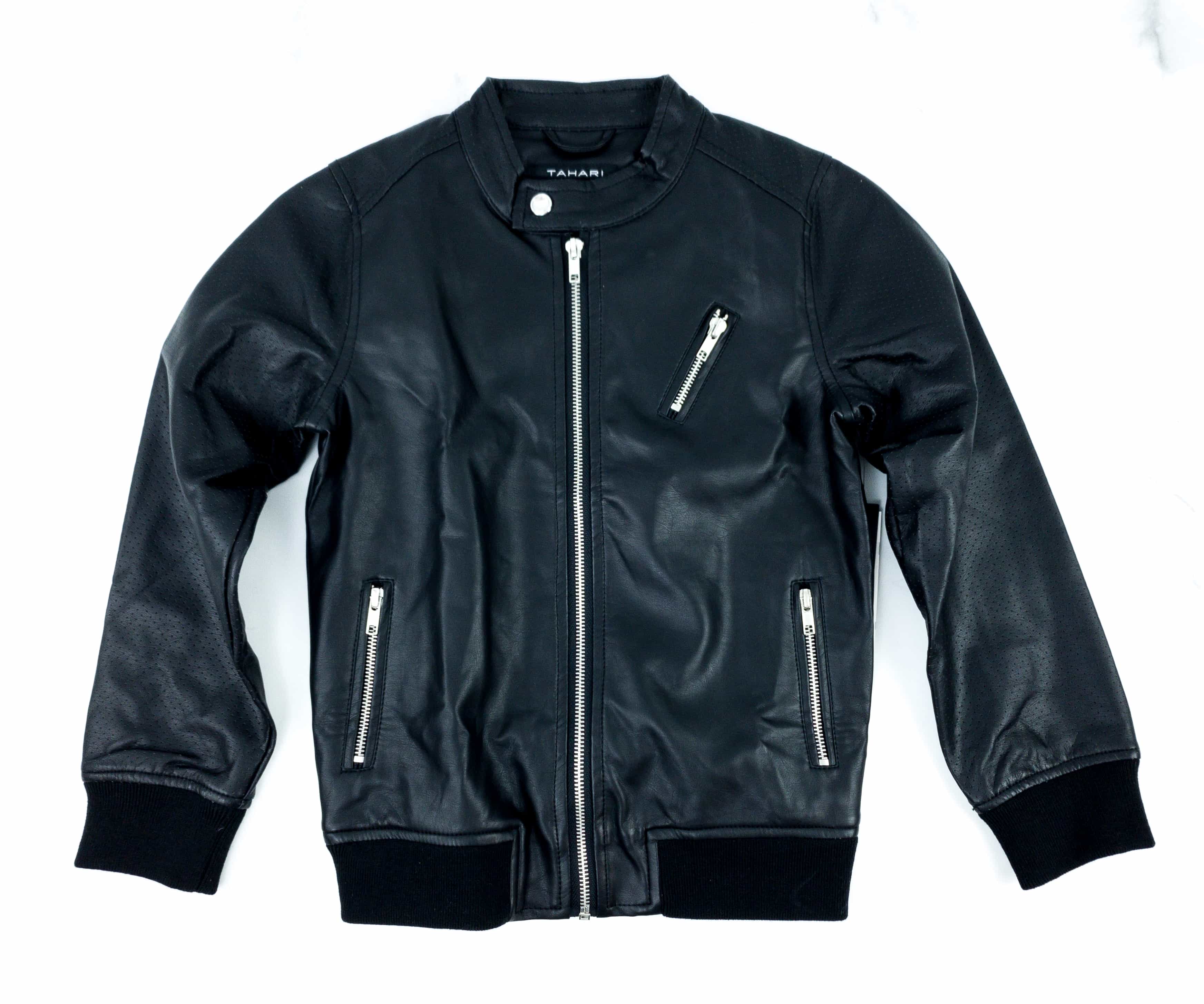 Tahari Fabian Racer Pu Leather Jacket ($38) It's been a while since we last received a super cool leather jacket in our box!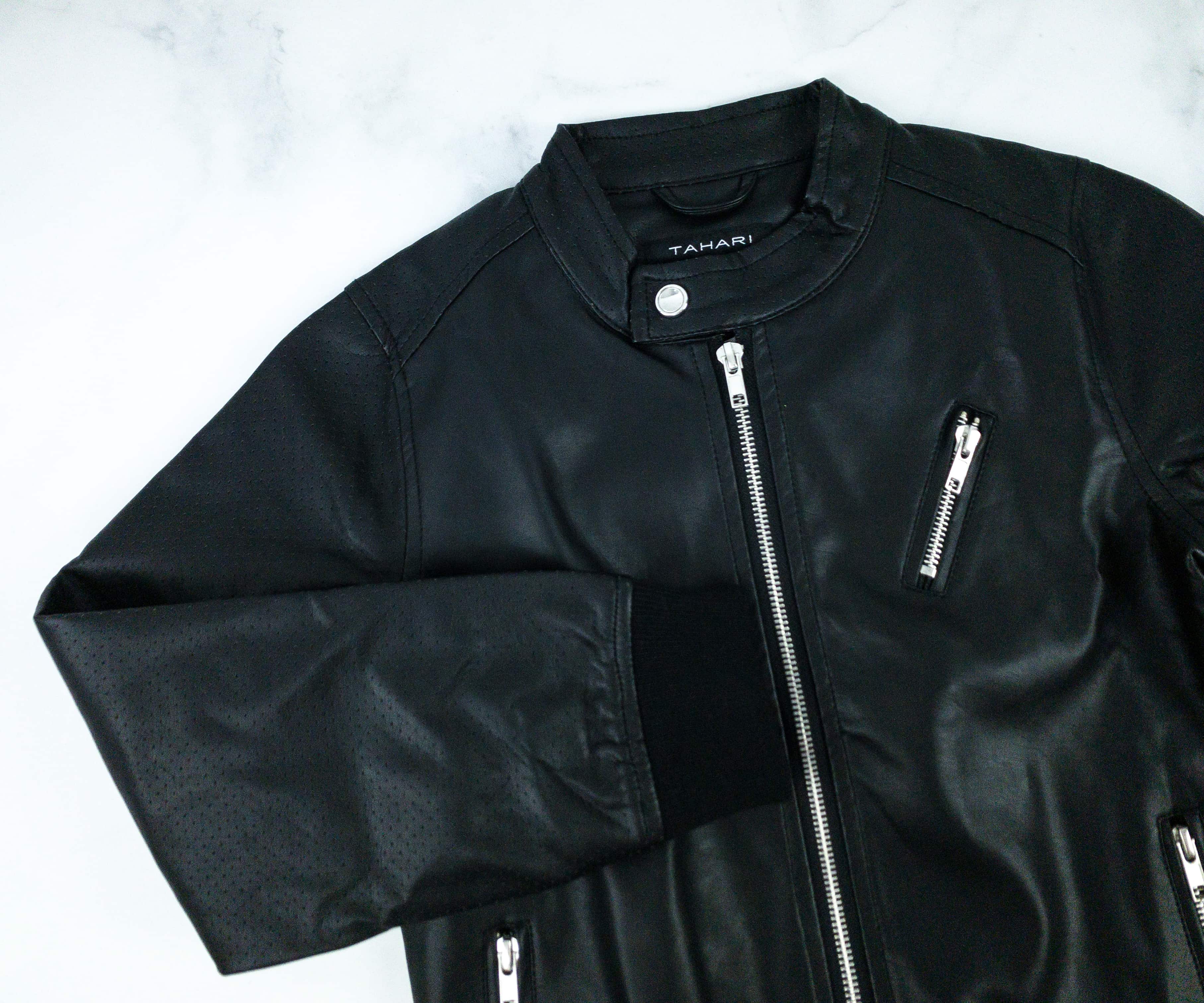 This jacket features eyelet fabric on the sleeves, neck button-lock, and full zipper closure.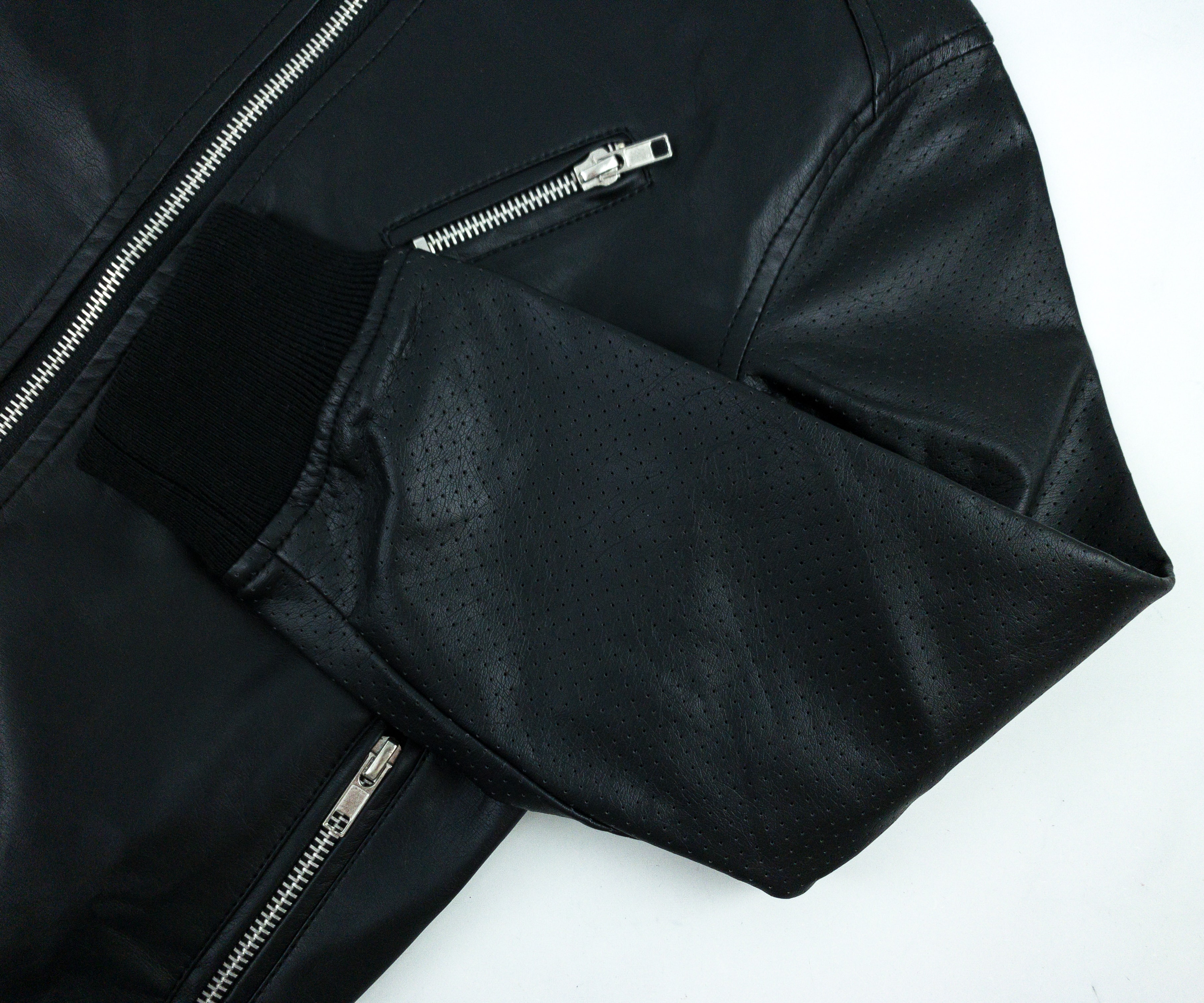 Aside from the closure, each of the jacket's pocket also features a zipper closure. Plus both arms also comes with a ribbed cuff for extra comfort.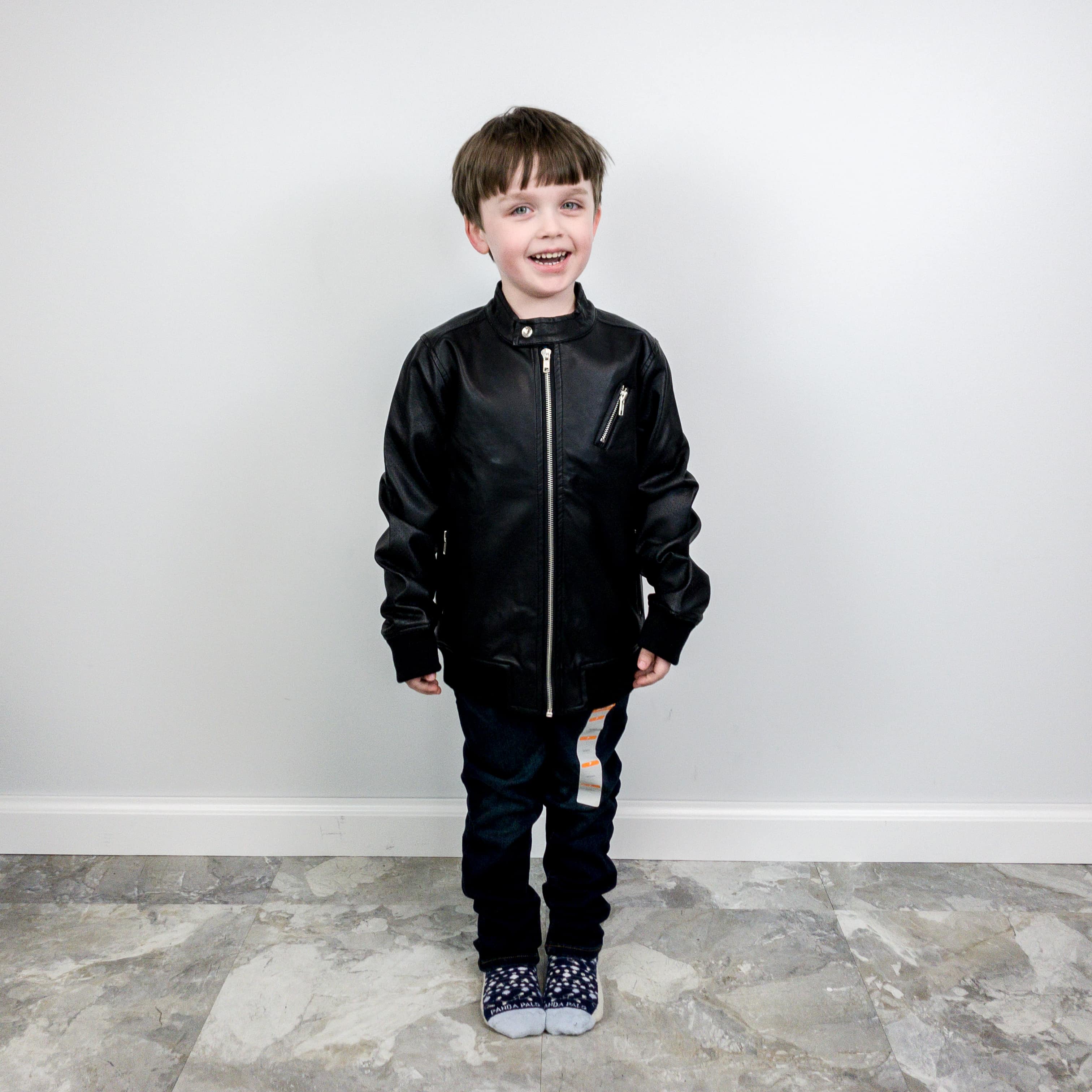 Check out the rise of our own cute little rock star!
The jacket is comfortable to wear, he has no issue moving in it at all!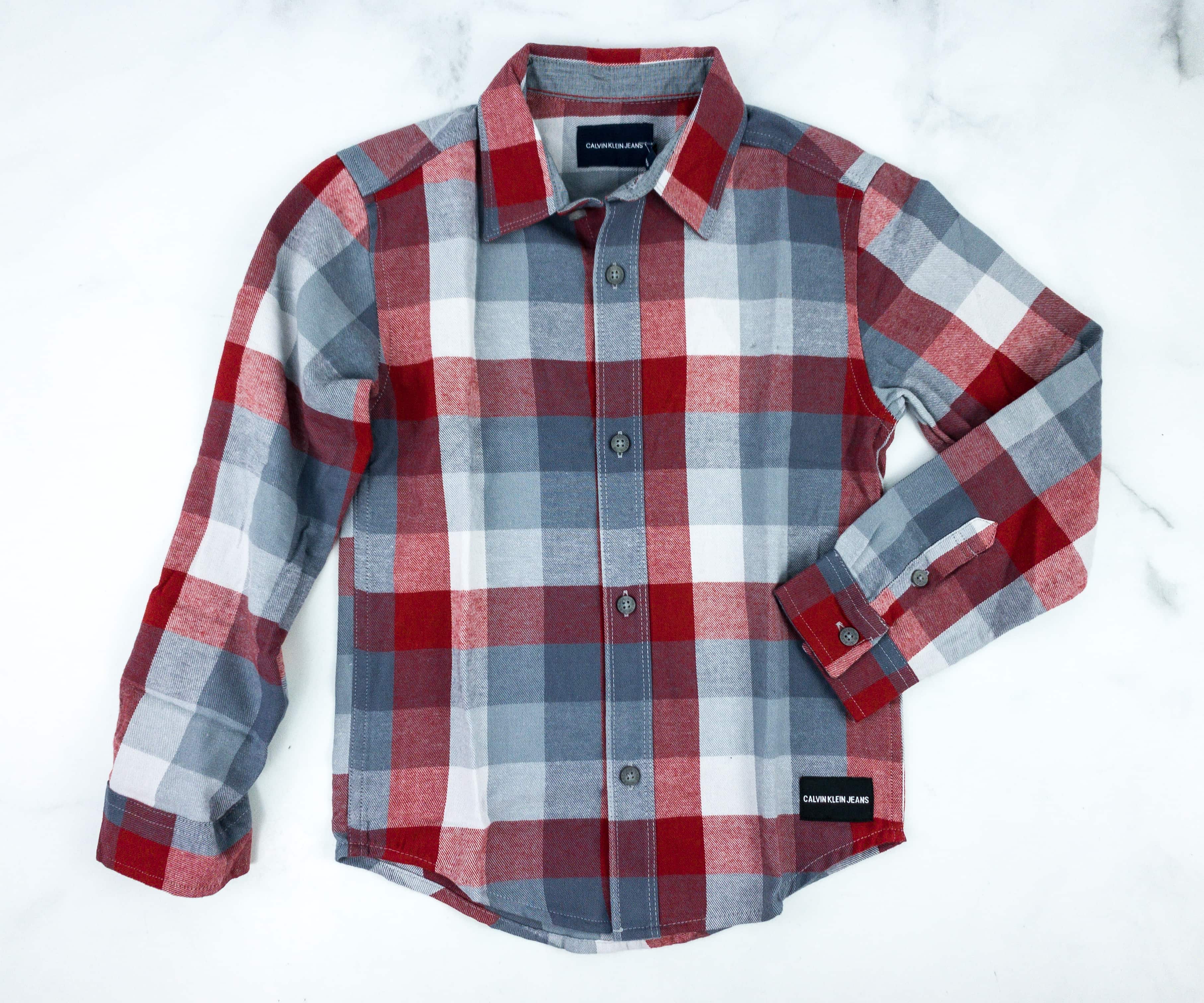 Clavin Klein Jeans Kids Clavin Klein Kids Long Sleeve Button Down Plaid Woven Shirt ($24) It's a plaid flannel long-sleeved top with the red and grey color combination, which is just perfect for any casual occasion. The design is not too bright, but absolutely stylish.
The collar stands pretty solid, and the cuffs come with button locks that you can easily loosen up in case you wish to pull the sleeves over.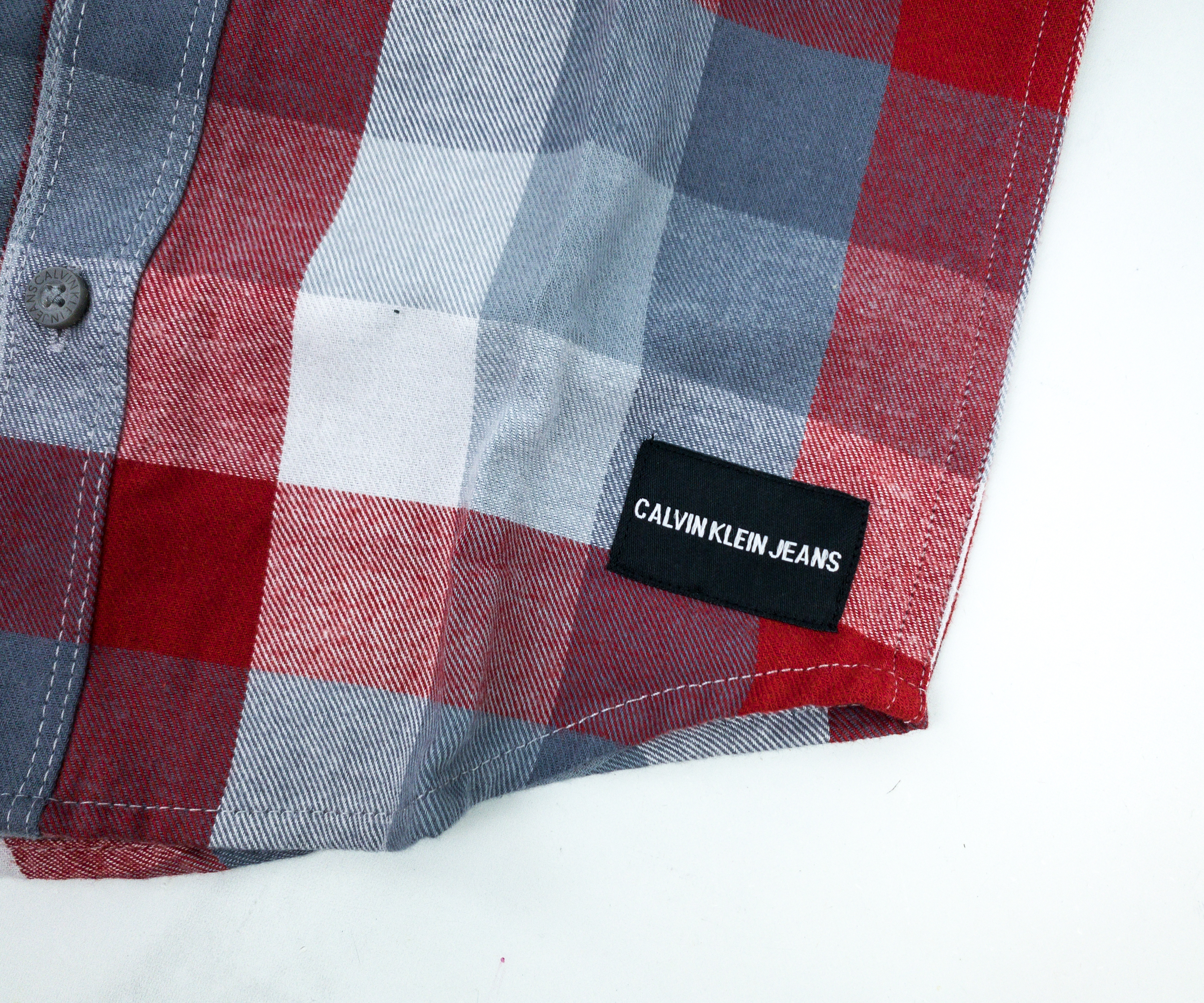 Featured at the bottom part of the shirt is the embroidered Calvin Klein Jean's logo!
It's an excellent curation from Stitch Fix Kids! Shopping for my kids' clothes is super easy because their stylist picks out clothing items and my kids get to try them at home and we pay only for what my kids like. We like the awesome shirts, long-sleeved tops, and other winter-appropriate clothing pieces they sent us this month for my younger son. Our favorites are the black leather jacket and boots! All in all, we're satisfied and we're looking forward to the future boxes!
Are you getting the Stitch Fix Kids box too?