Moms + Babes is a quarterly curated collection of at least 6 full-size, premium products. You and your baby or toddler will get full-size products to open together and enjoy plus products curated for moms only. Each box is promised to have a retail value of $150+.
DEAL: Get 15% off! Use coupon code HELLO .
The items are packed with white squiggles!
The box is full of stuff for both mommies and babies!
It's jampacked!
We also got a promotional card from Greater Than Sports Drink! It has a 20% off coupon code that you can use on your next order over $40!
Everything in my box!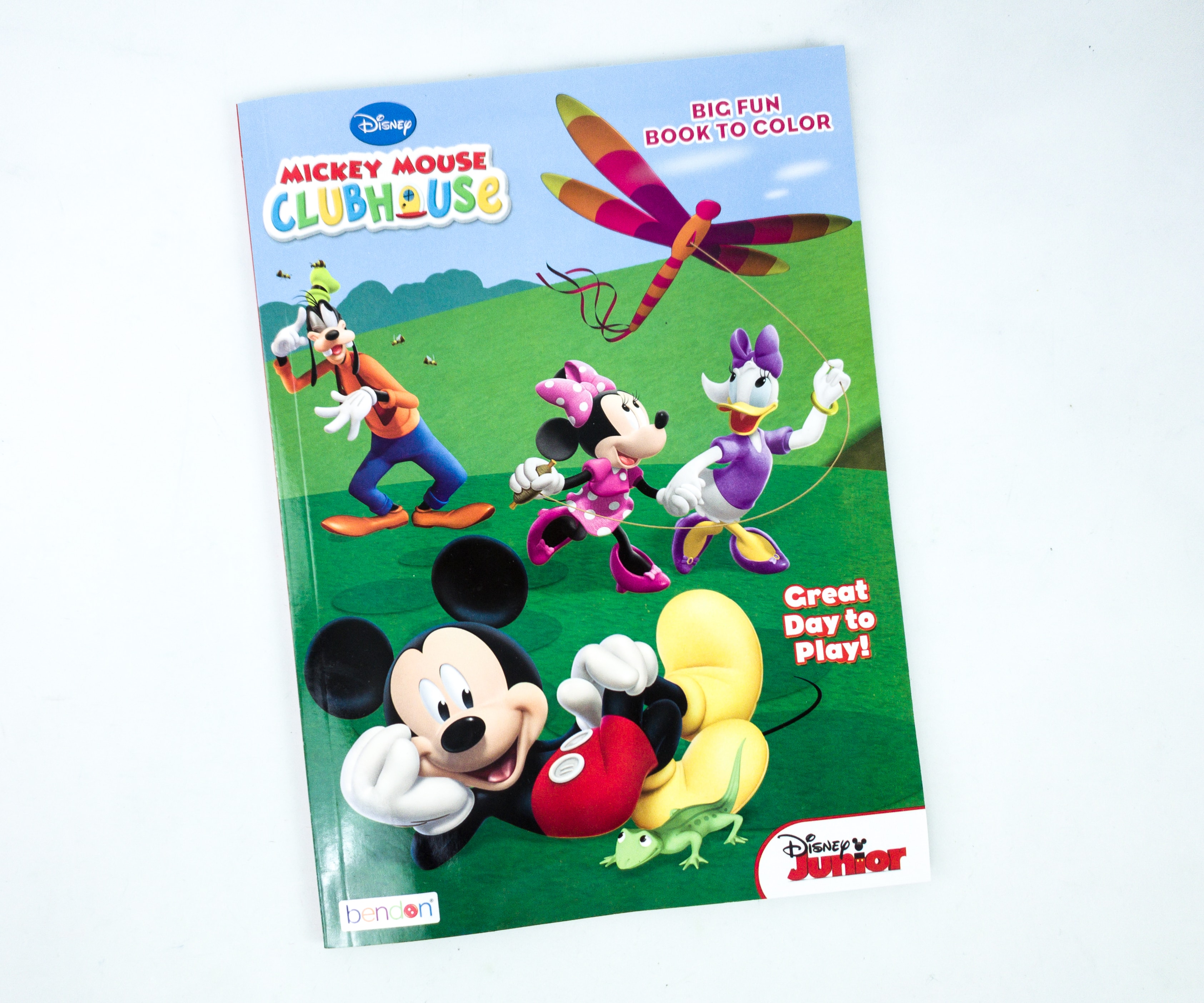 Mickey Mouse Clubhouse Book to Color ($4.98) My kids love coloring books and Disney characters, so this coloring book featuring Mickey Mouse and the gang is an instant hit!
They go through these pretty quickly so I'm really happy we got one from this quarter's box!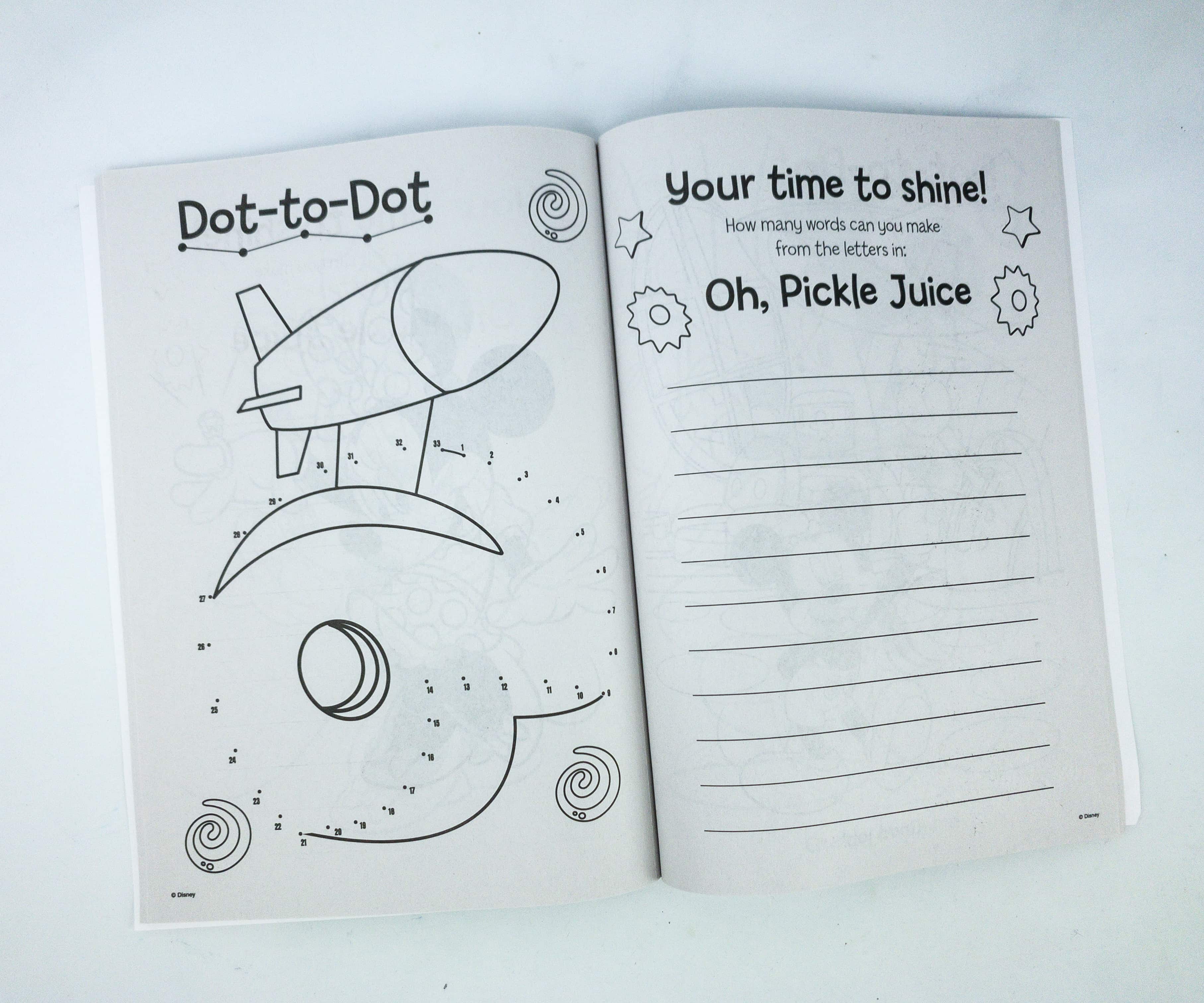 It's not just a coloring book. There are several activities for the kids to enjoy as well!
Here's Mickey and the gang, waiting for the kids to light up their pages with amazing colors!
Our Little 3 Weekly Planner Love Life on Purpose ($21) With a hectic schedule, a planner is always a great tool to help you keep everything organized so you can maintain your sanity! This one is a weekly planner, composed of 52 pages.
There's ample space for each day, so you can write your schedule and other activities. I love it because I can easily have an overview of my whole week on one page and I can plan accordingly. The pages are also perforated, making it easy to tear off a piece without making a mess of the remaining pages. Other added details are the water intake tracker, fitness goal, and top priorities.
Stylo Foam ($10.66) I'm an adult but I got excited when I saw this upon opening the box! It contains 4 squishy balls in different colors!
These mini styro beads can be sculpted into different shapes and sizes. They never dry out and they're not messy either.
You can do anything with this. Seriously, the only limit is your imagination!
Rose Flower Mask Sheet ($4.40) This is unlike any other masks I have ever seen. It looks like real petals and you can apply it on any part of your skin that you want to moisturize! It contains Rose Flower Extract that is known to soothe skin irritations!
Aloisia Marie Aqua Collagen Mask ($10) Loaded with vitamins and natural plant extracts, this face mask is really great! One use and my skin felt super refreshed and hydrated. This also has Hydrolyzed Collagen that is known to help fight signs of skin aging!
21 Essential Benefits Pureology Colour Fanatic Instant Deep Conditioning Mask. This is an amazing way to take care of your color-treated hair! This product contains Pureology's AntiFade Technology that helps maximize color retention, all while maintaining maximum hair vibrancy.
Superfood Pureology Strength Cure. Packed with essential nutrients, this vegan hair treatment helps repair damaged hair. It's also hair-color friendly.
Superfood Pureology Hydrate. This product is full of natural nutrients that hydrate and nourish hair, making it look shinier!
Sweet Spot Coconut Lime Wipes ($10) Made from natural ingredients, these feminine wipes help fight odor and helps maintain the pH balance in our intimate area, leaving us feeling clean and fresh all day! It comes in an easy-to-carry pack that I can easily pack in my purse and bring on the go.
Greater Than Sports Drink Watermelon ($2.21) Promised to have 2-3 times more electrolytes compared to regular sports drinks, this watermelon-infused coconut water is an ideal post-workout pick-me-up. I love that it doesn't contain any artificial sweeteners. The taste is not overwhelming either, unlike other sports drinks.
Bioderma Make-up Removing Micelle Solution ($14.90) Dermatologically-tested, this micellar water is a great way to clean the skin and remove impurities. The formula is hypoallergenic and paraben-free. It also works even for removing makeup!
Ampro's Beautiful Child Sweet Pea Detangle Me ($4.99) Here's a gentle product that helps detangle hair a baby's hair! Enriched with silk protein, sweet pea protein, and olive oil, it eliminates tangled hair by smoothing out strands, making it easy to comb through. It also adds strength to dry and fragile hair!
Ampro's Beautiful Child Sweet Pea Shampoo & Wash Me ($9.99) From the same brand as the hair detangler, we also got a shampoo and body wash in one. We love this as it's free from alcohol and has a tear-free formula! It's gentle for baby's scalp and it does a great job of cleansing the hair!
Ampro's Beautiful Child Sweet Pea Hair Crème for Me ($10.99) We also got here a hair creme in a tub, which adds a healthy-looking shine to my baby's hair! It softens and makes those locks more manageable with the help of sweet pea protein and jojoba oil.
Mustela Cleansing Milk ($10.50) This cleansing milk smells amazing! Designed for dry skin, this creamy concoction helps clean a baby's body and face without irritating the skin. Aside from dissolving dirt and impurities, it also keeps a baby's skin soft and moisturized! The formula is hypoallergenic, made with plant-based ingredients such as Avocado Perseose.
Uncle Funky's Daughter Rich & Funky Moisturizing Cleanser ($15.49) Here's another product for moms, a bottle of sulfate-free shampoo! I like the formula as it lathers well and leaves my hair strands moisturized. It helps in detangling and is safe for color-treated hair as well. The natural scent lasts the whole day!  Key ingredients include comfrey, rosemary, kelp, willow bark, and marigold.
Swisse Ultiboost Immune Support Jelly ($24.99) These jelly sticks are packed with zinc, selenium, elderberry, and manuka honey, which all help support healthy immune function.
These also come in orange-passionfruit flavor, making it such a delicious way to boost the immune system!
The single-serve, portable packets make it perfect for traveling. It's also great to share with the family!
Fleur & Bee Crème de la Cream Moisturizing Face Cream ($24) This moisturizing face cream is full of amazing ingredients that helps and protects the skin against natural stressors, including organic aloe vera, coenzyme Q10, vitamin E, vitamin C, and vitamin B3. It's recommended to be applied generously on clean face, day and night. It's highly-moisturizing, leaving my skin feeling plump and looking brighter!
Ella + Mila Mommy Nail Polish Nude Attitude ($10.50) I'm loving this peachy-nude nail polish! This formula is safe from harsh ingredients like formaldehyde, camphor, and xylene, plus the coverage and color payoff is superb. It's also easy to apply without streaking!
Lumene Finland Nordic – C Arctic Berry Cocktail Brightening Hydra – Oil ($16.97) This oil is made of a luxurious blend of Arctic/Nordic cloudberry and cranberry seed oils with vitamins C, B3, and B5, as well as omega fatty acids and pure Arctic spring water. A few drops massaged onto the face and neck after cleansing made my skin look more radiant and glowing! It also feels very hydrating!
Uncle Funky's Daughter Heal & Renew Intensive Hair Masque ($18.99) Another item to pamper moms is this hair mask infused with organic baobab oil, argan oil, organic peppermint oil, avocado oil, and organic aloe vera juice. It helps strengthen hair strands and brings back your hair's natural moisture! For optimum results, it's recommended to be applied from roots to tips. It can be used once a month, or as needed.
Lolleez Organic Throat Soothing Pops For Kids Variety Pack ($6.99) These lollipops taste so good, kids wouldn't know that they're actually made to soothe a sore throat! We got a variety pack so we got to try 3 different flavors in one pouch, which included watermelon, strawberry, and orange mango.
Tumeez Organic Tummy Soothing Pops For Kids With Organic Honey Grape And Apple ($5.99) We got another pack of lollipops and this time, they help with relieving an upset stomach! We got the grape and apple flavors and they're so good, pleasing even the pickiest kids.
Look at all those amazing lollipops! They work wonders!
Moms + Babes surely know what mothers love and what babies need! All the items in this quarter's curation are very useful, helping us ease the day-to-day struggles we face in this journey called parenthood. I'm happy that they included hair and skincare items for moms, but my favorite has got to be the yummy lollipops! These are lifesavers, especially if you have picky kids who won't just eat medicine for sore throat or upset tummy! All in all, this is a great box and just by looking at the contents, we know that it was curated with love!
What do you think of this month's Mom + Babes box?