The GlobeIn Artisan Box Club is a subscription that sends handcrafted products from around the world. All items are produced either by collectives that are fair trade certified or that respect and adhere to fair trade principles. All artisans and farmers whose products are distributed by GlobeIn are paid a fair wage for their products.
DEAL: New customers can use coupon code WELCOME to save $10 OFF their 3-month or longer Artisan Box subscription.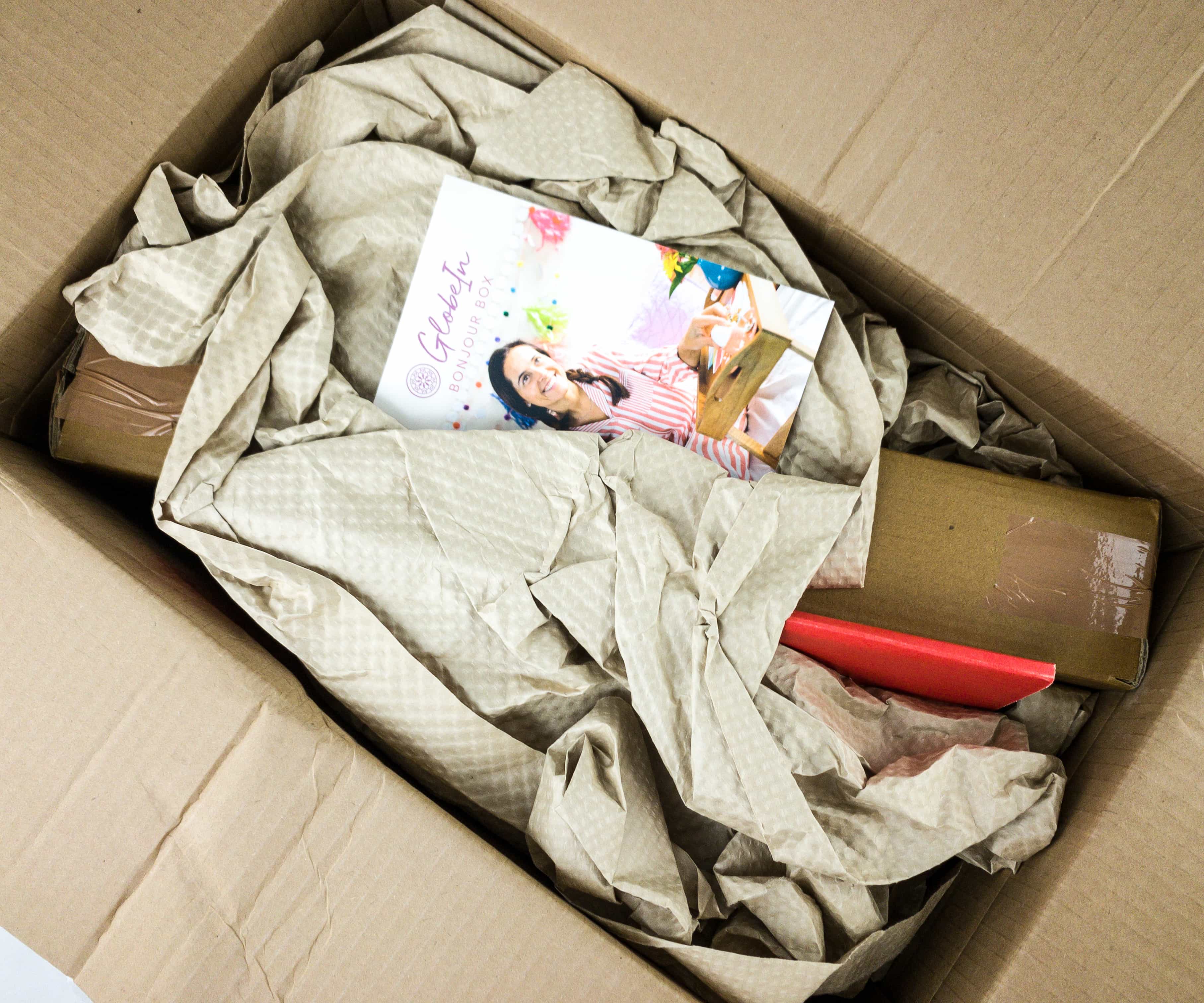 A booklet welcomed us upon opening the box.
Everything was well wrapped and protected during shipping.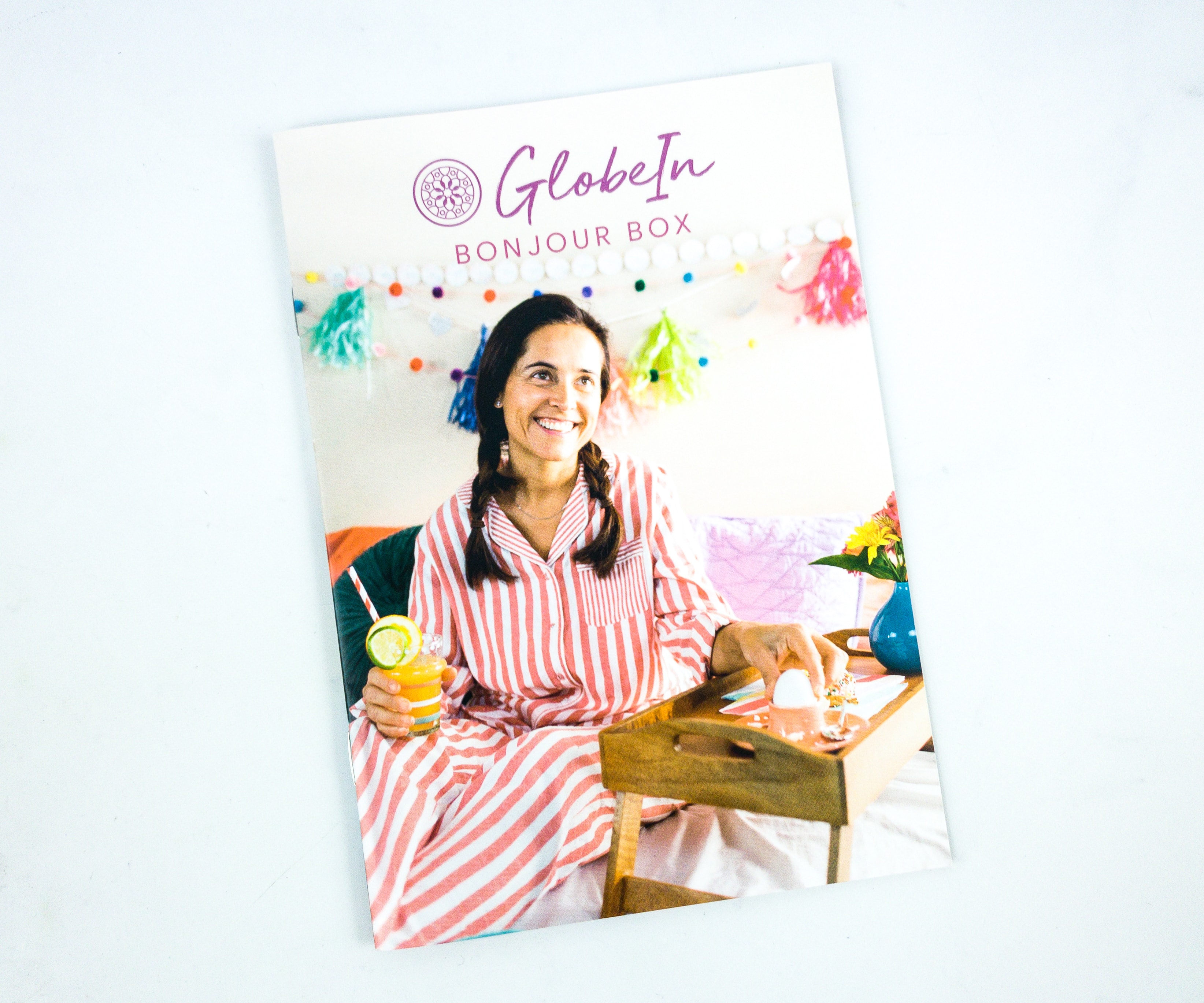 The theme for this box is BONJOUR.
Artisan Box subscribers have a selection of themes to choose from. This way, artisans will be able to meet GlobeIn's needs while also having longer, steady work as they continue to produce items for the Artisan Box.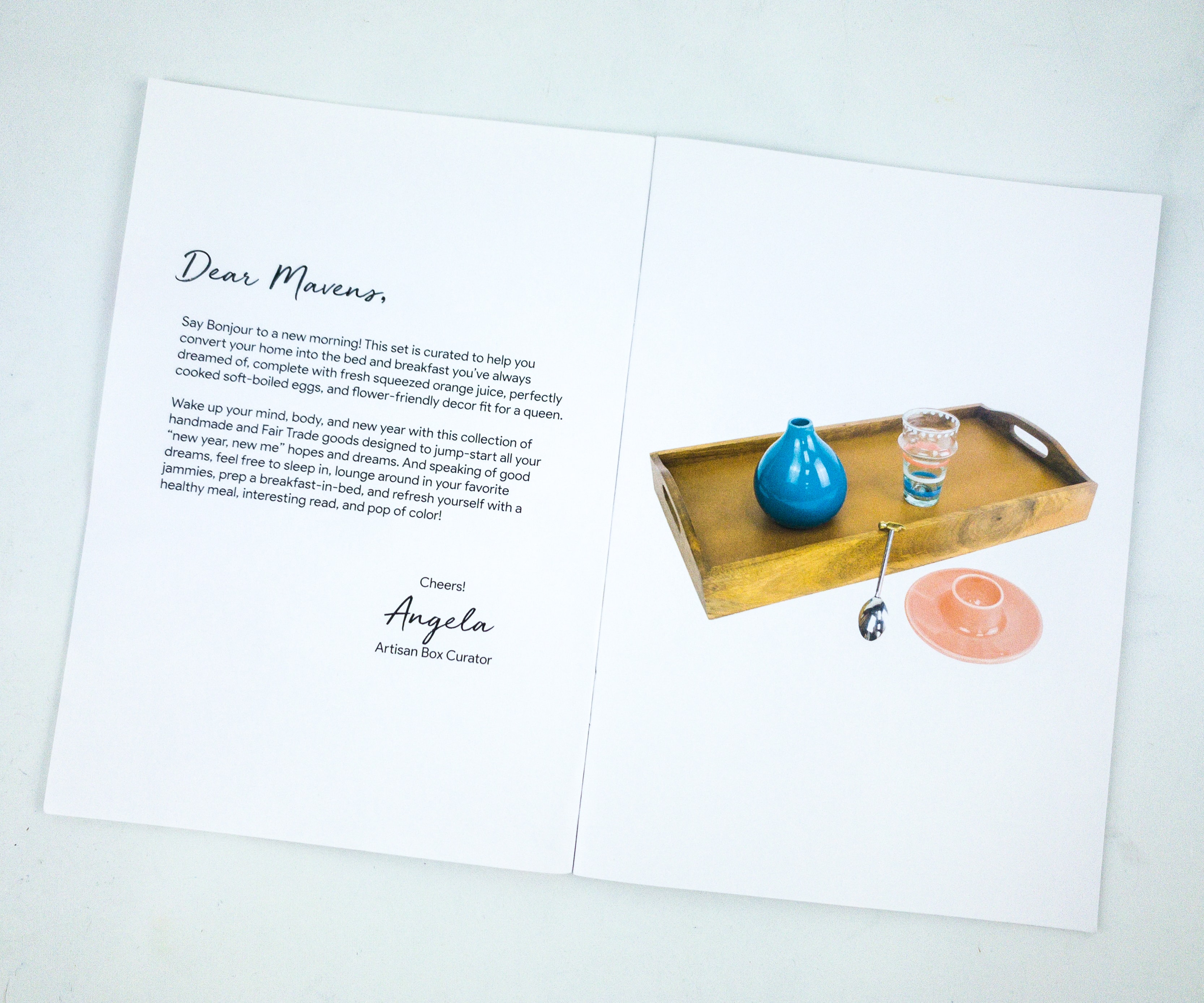 This booklet also has a personal message from Angela, the Artisan Box Curator.
They also included a recipe for Avocado Eggs Benedict!
Everything in my GlobeIn Artisan BONJOUR box!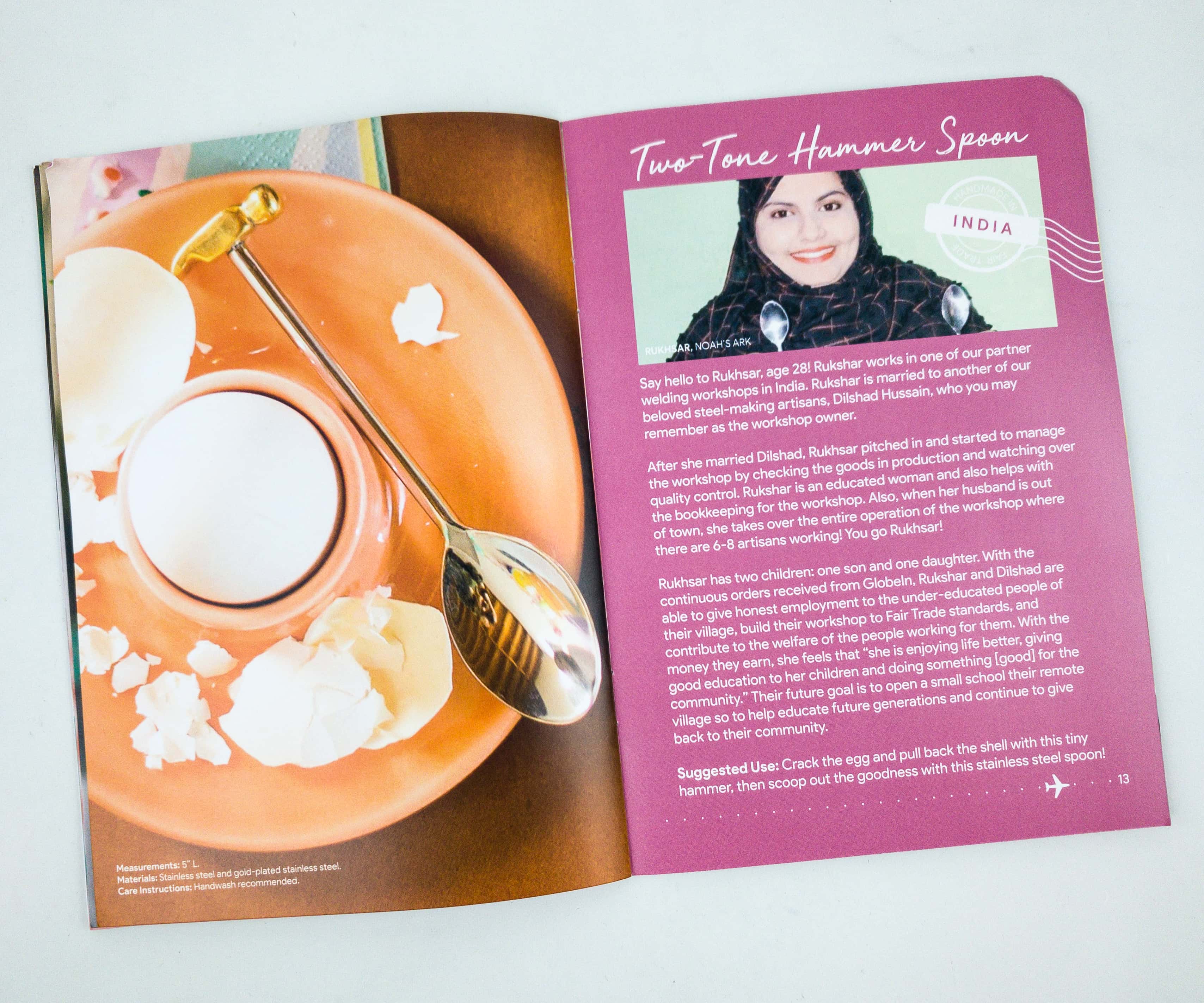 Noah's Ark Two-Tone Hammer Spoon – India ($8) Noah's Ark from India provided us with this cute egg spoon that comes with a little hammer at one end, to easily crack the egg!
The spoon measures 5″ long. It's made of stainless steel, while the hammer at one end is gold-plated stainless steel.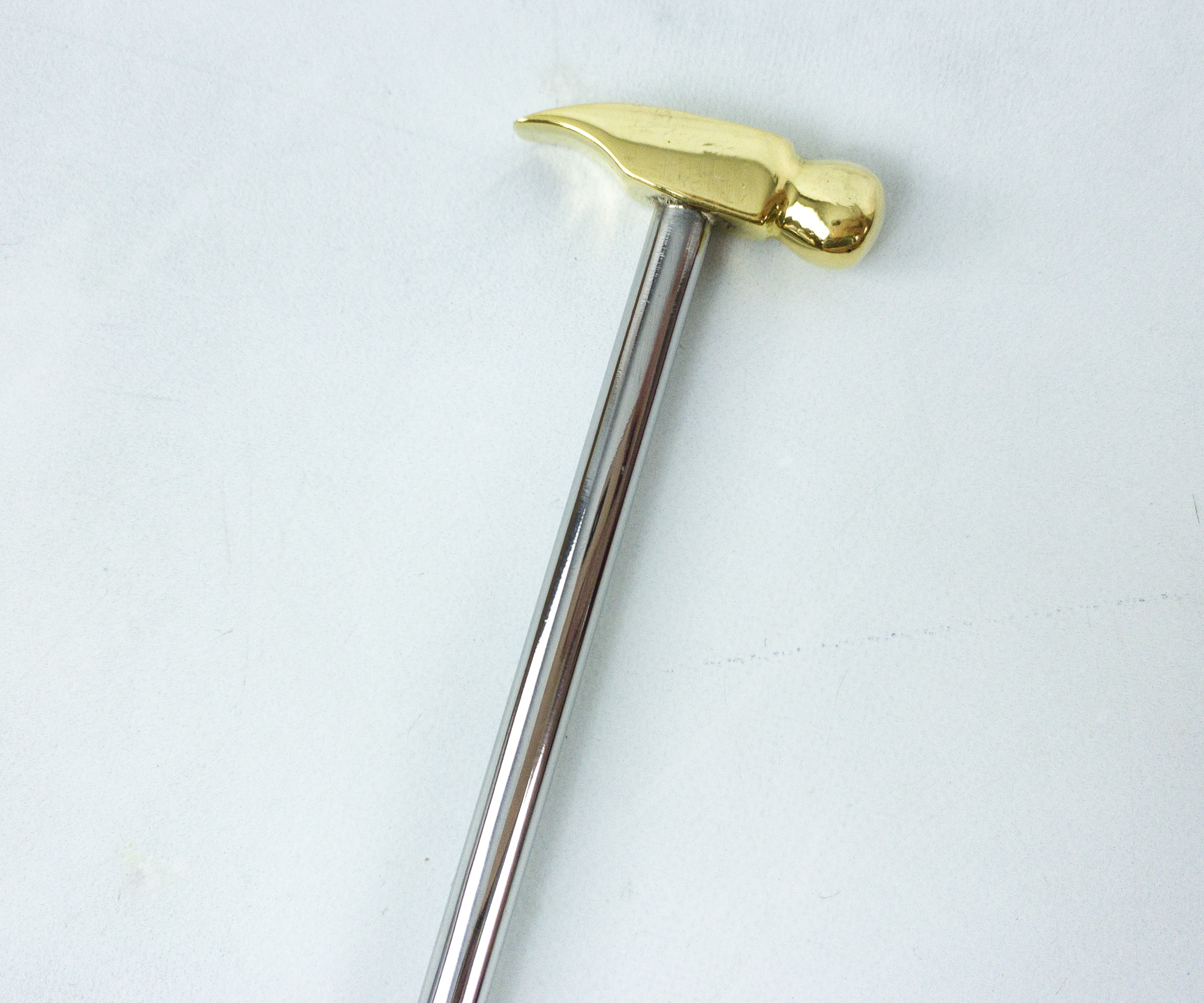 The little hammer on one side has quite a weight so you can just go easy with it when using to cracking your boiled egg. I suggest you use an egg cup too so you can easily do the task and enjoy your breakfast!
Noah's Ark Collapsible Breakfast Tray – India ($45) Breakfast in bed will be really great as another item from Noah's Ark of India is included in this month's box, a collapsible breakfast tray!
The tray measures 20″ long, 10″ wide, and 7″ tall. It is made of mango and composite woods.
It comes with 2 side handles so you can easily carry it. The tray is also deep enough to keep plates, bowl, and glasses from slipping off the tray.
It comes with a collapsible stand so you can transform the serving tray into a table where you can directly enjoy your food in bed!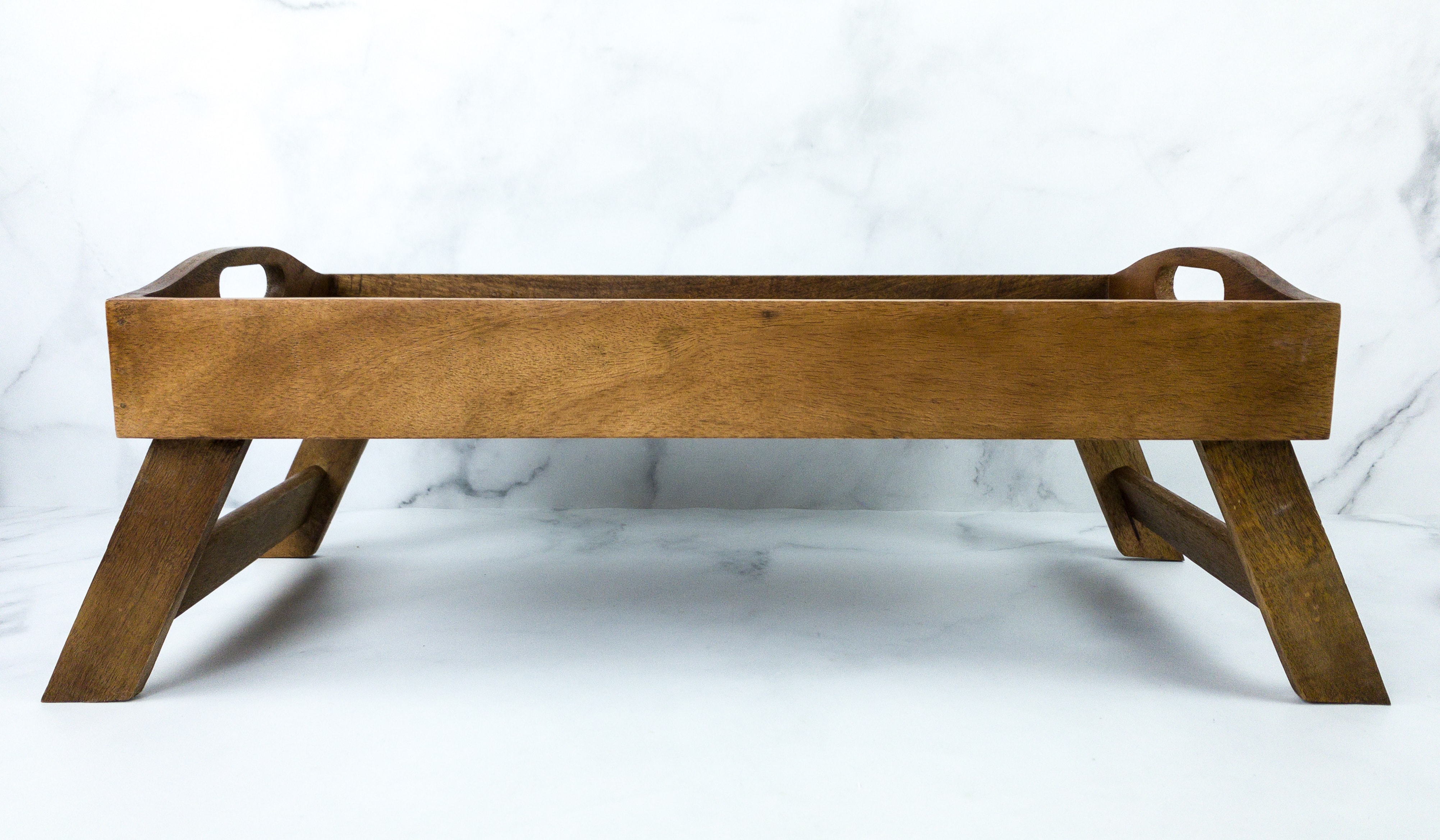 The height is just right at 7″ so you can easily grab on to your food or make it less a hassle of reaching on your food especially when you aren't feeling well.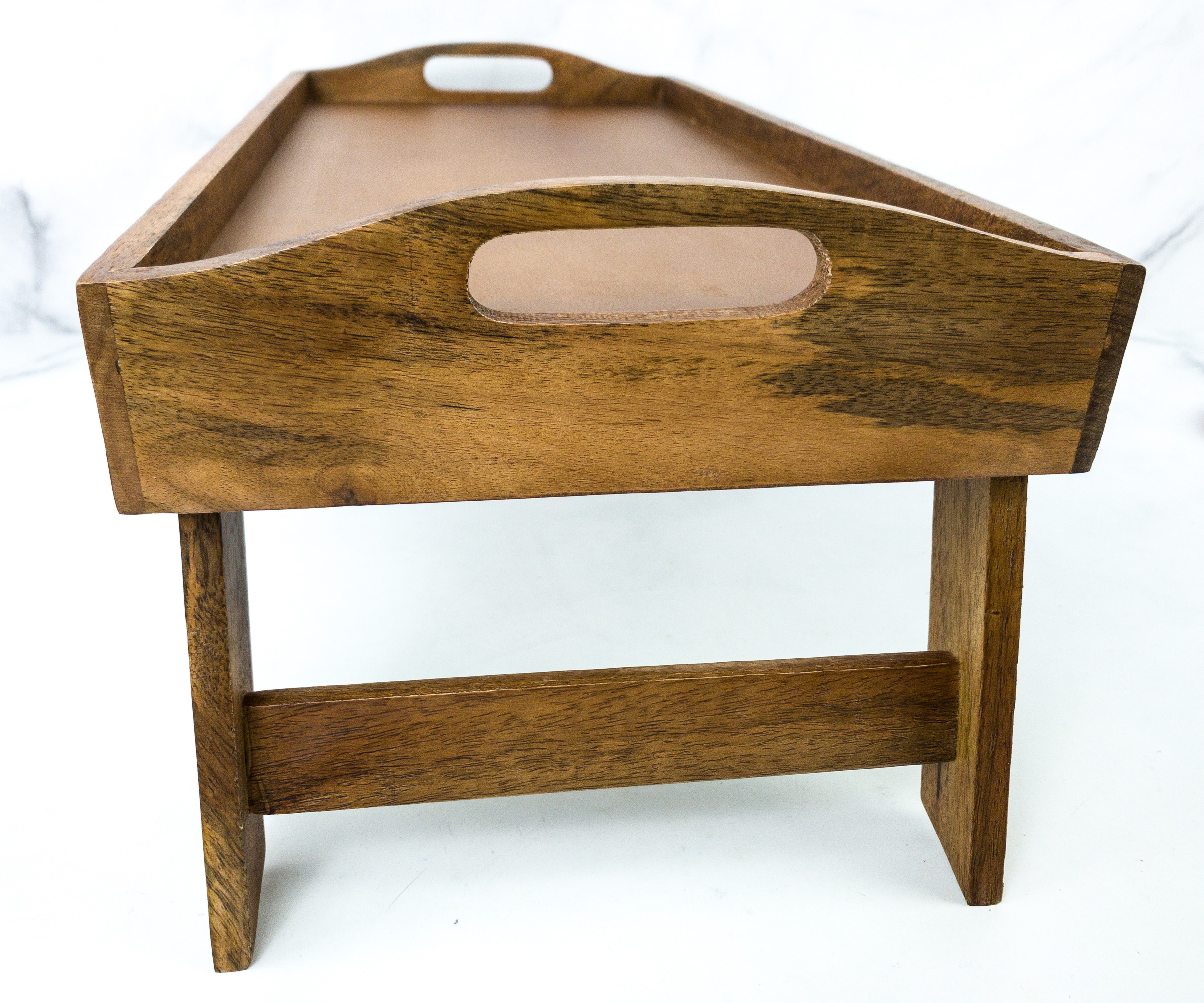 I really love the classic look and finish on this tray!
It's sturdy and stands in place. No worries if you got a bunch of foods on top, just enjoy the moment in bed and get-up full and packed with more energy to start the day!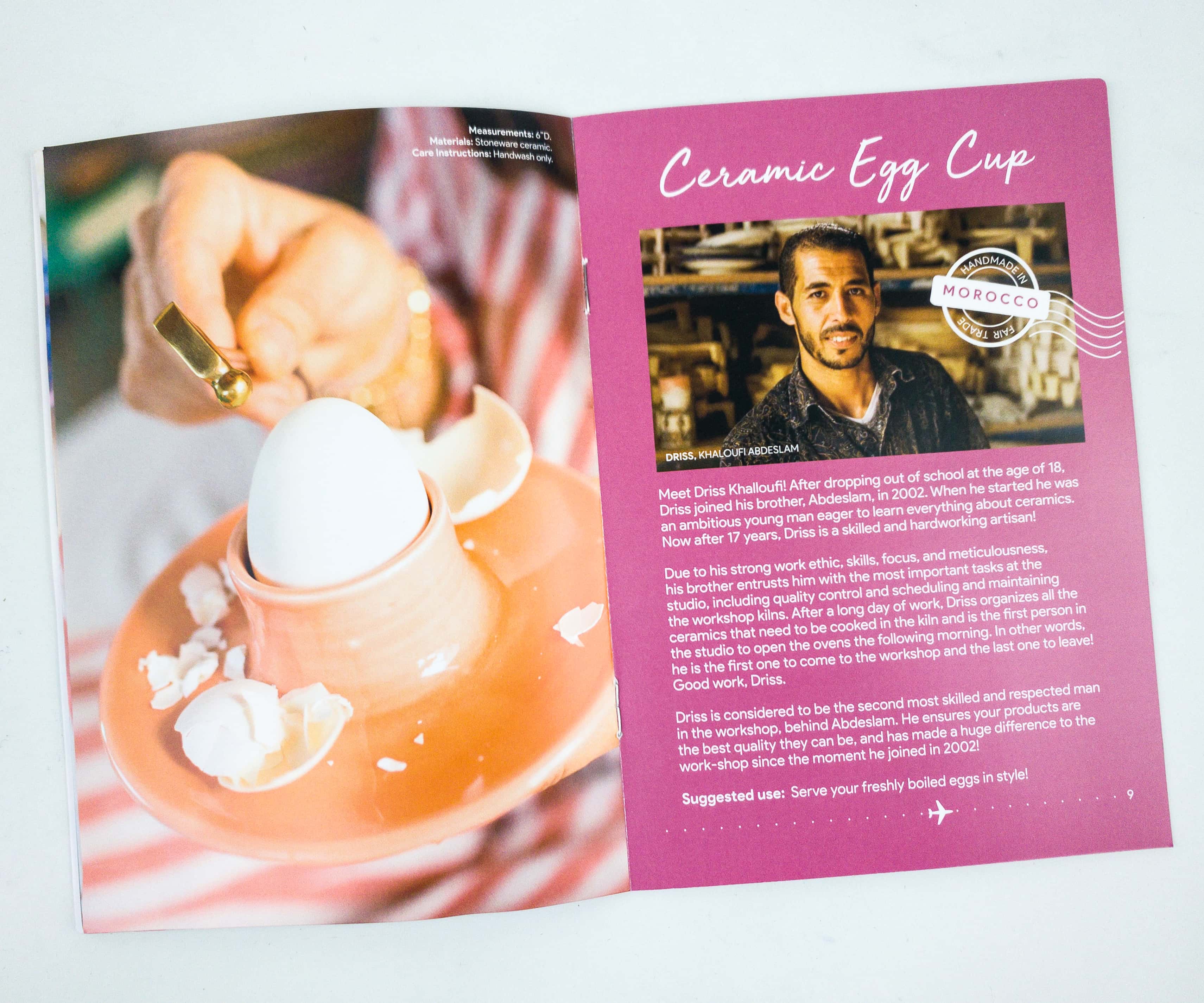 Khaloufi Abdeslam Ceramic Egg Cup – Morocco ($12) Driss from Morocco included this gorgeous egg cup that is a perfect pair with the hammer spoon! It makes serving egg stylish!
The beautiful egg cup measures 6″ in diameter, which actually made it look like a small plate with a mounted well at the middle for the egg. It is made of stoneware ceramic.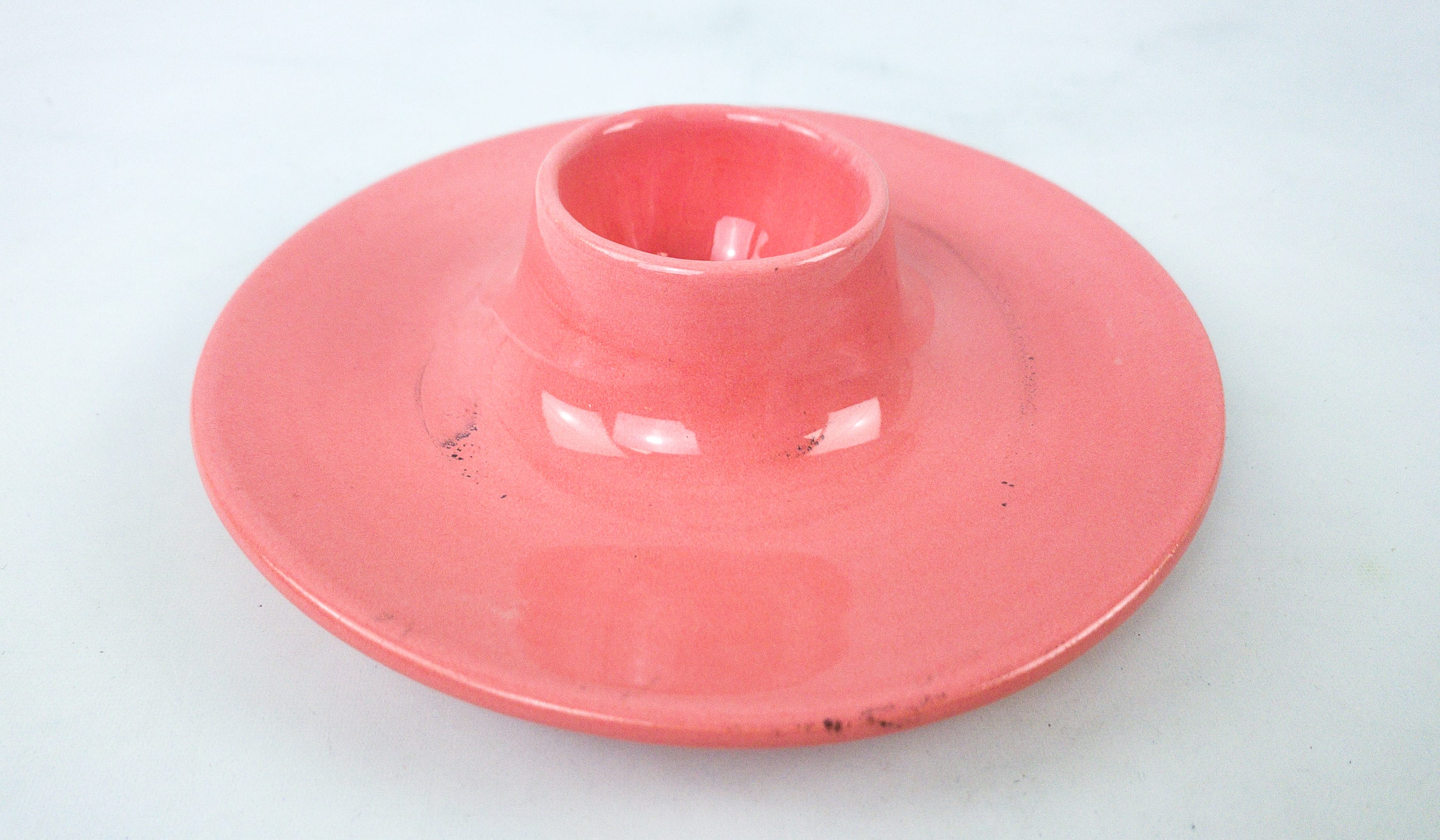 The well is deep enough to hold the egg while you hammer it open. I like that it comes with a plate that will catch all the broken eggshells and make it less messy.
Khaloufi Abdeslam & La Verre Beldi Handpainted Recycled Glass Beldi Cup – Morocco ($35) It's another gorgeous item from Morocco! This time it's from Abdeslam, a handpainted recycled glass Beldi cup.
The glass has 2.5″ diameter and is 4″ tall. It's made from handblown glass.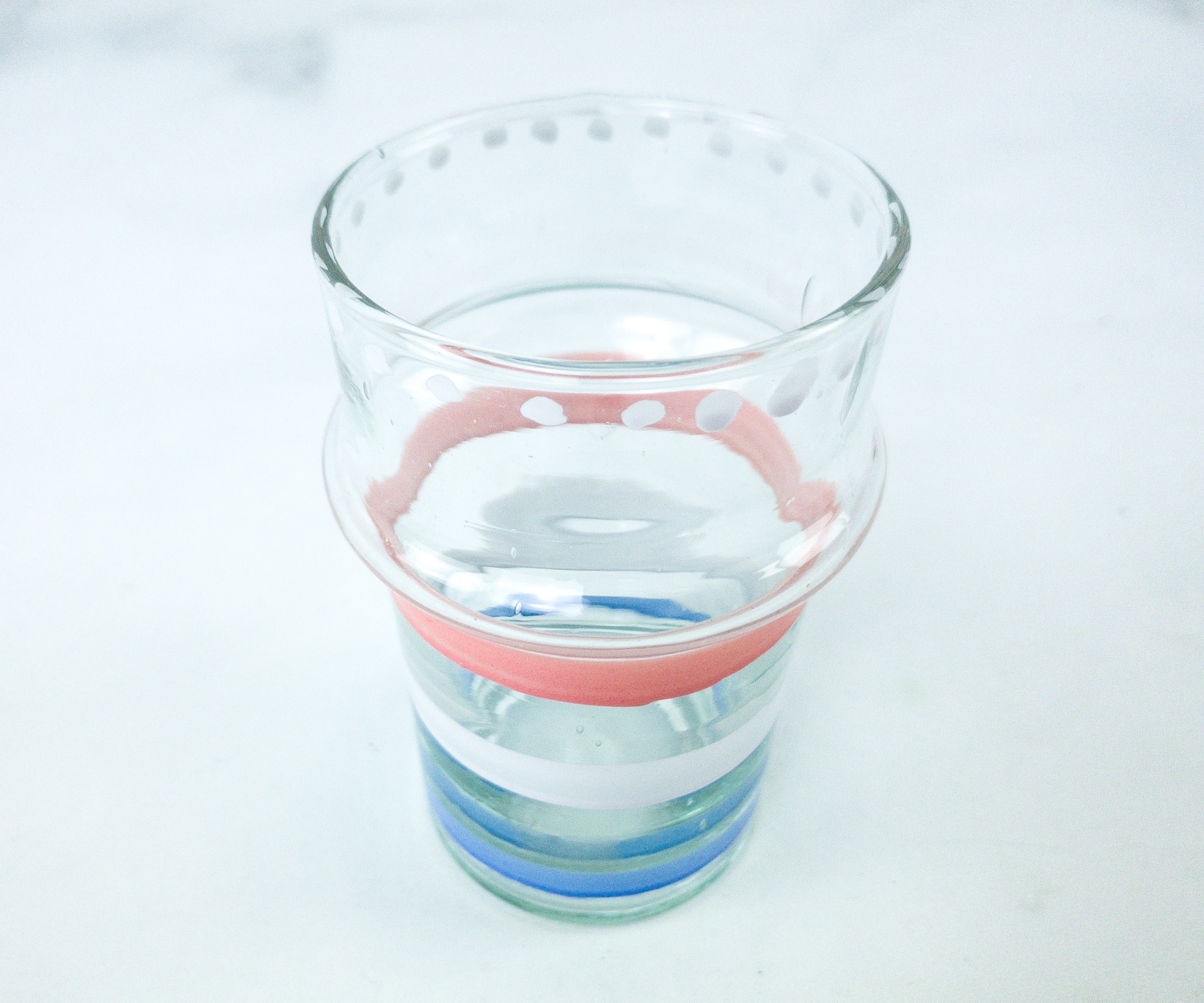 The glass has a pop of color! I like the unique shape and the addition of light pink, white and blue, even the dots at the rim!
Khaloufi Abdeslam Ceramic Bud Vase – Morocco ($15) Abdeslam also made this beautiful ceramic bud vase! His artisan group produces eye-catching ceramic products, and each of them has amazing quality.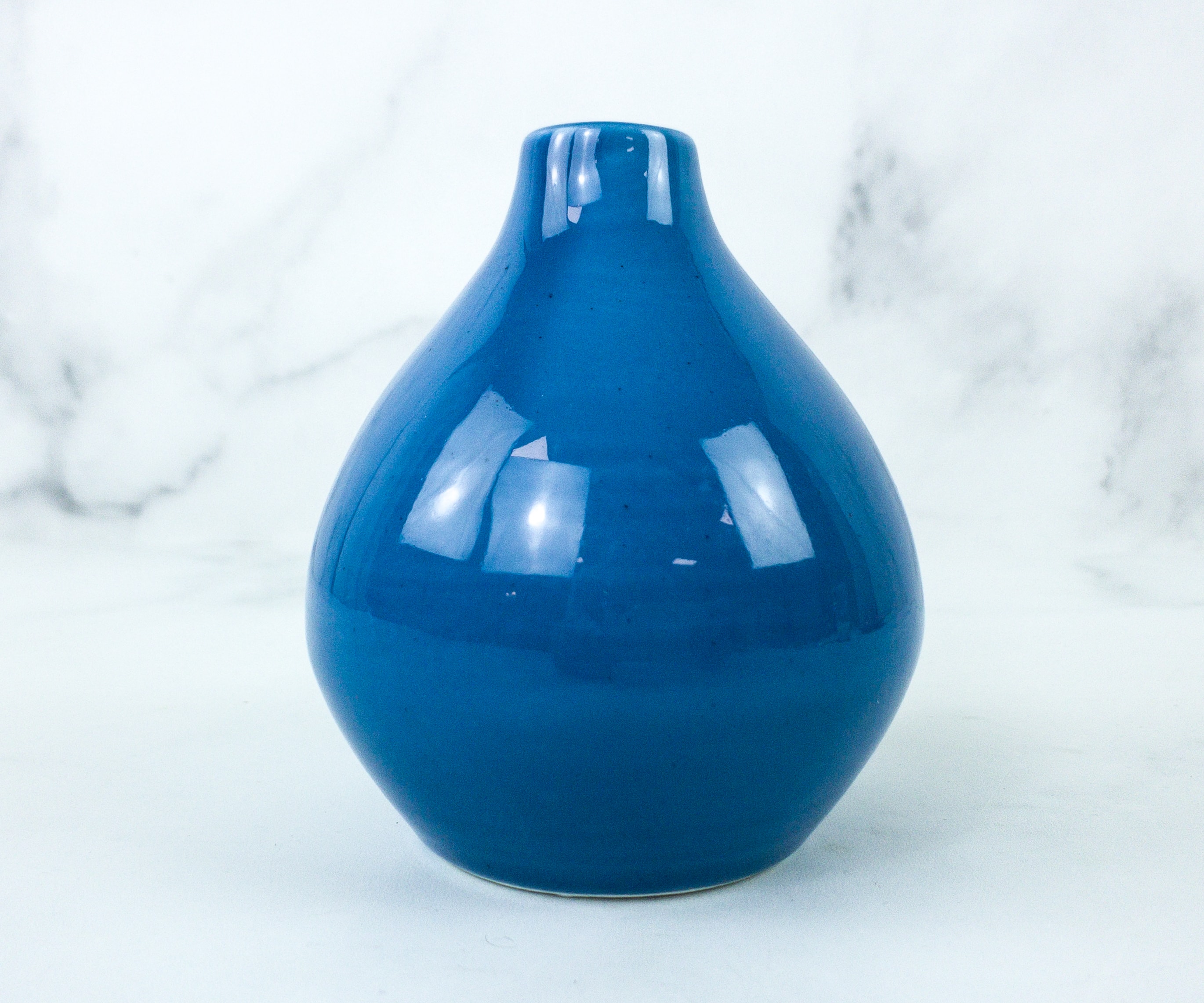 The vase is made with stoneware ceramic and is 6″ tall. It's a nice addition to a side table, with some fresh flowers and greens that will add color and beautify any room.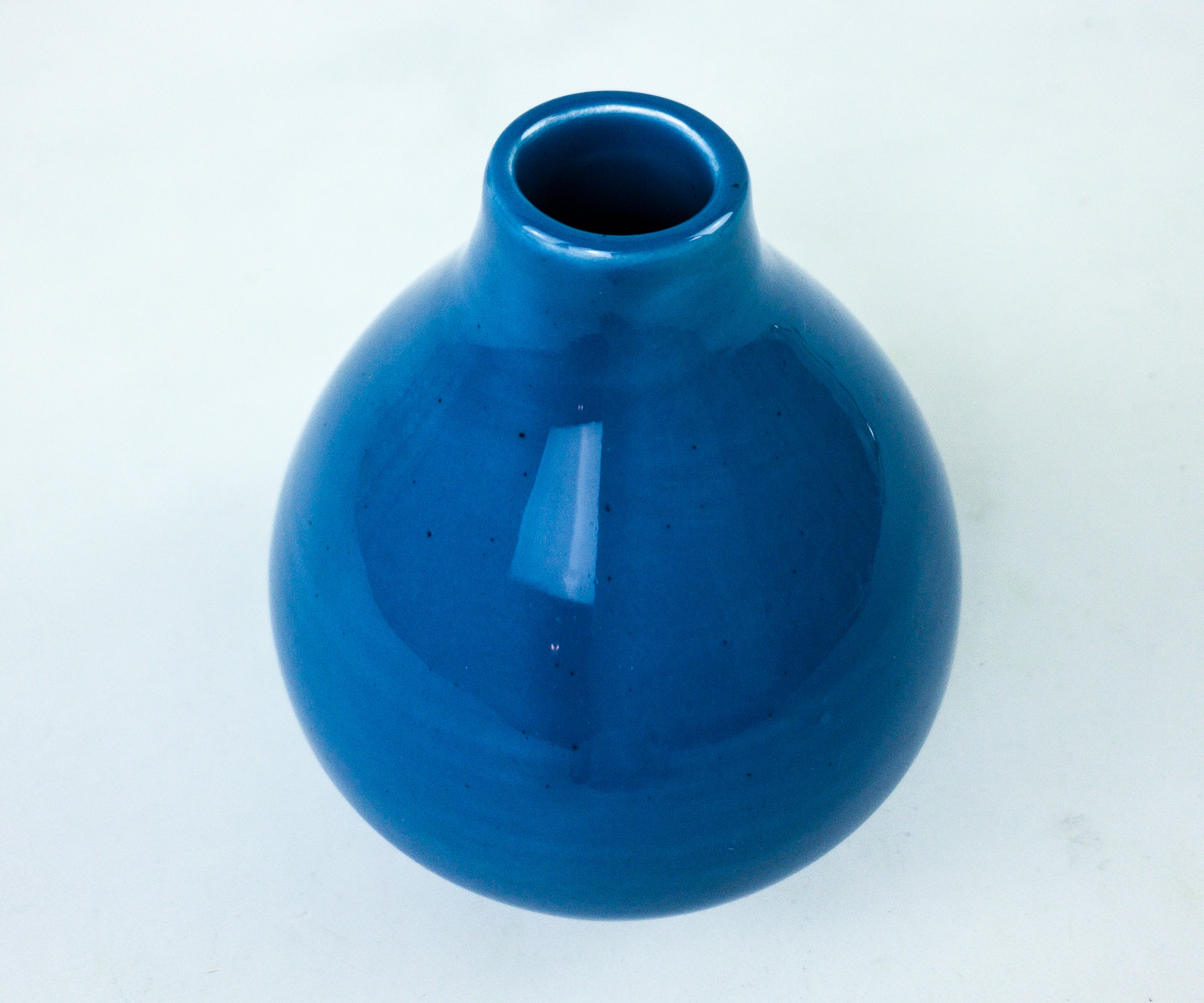 I really love the color of this vase. It reminds me of the calm and beautiful sea. When cleaning, it's recommended to be hand-washed only.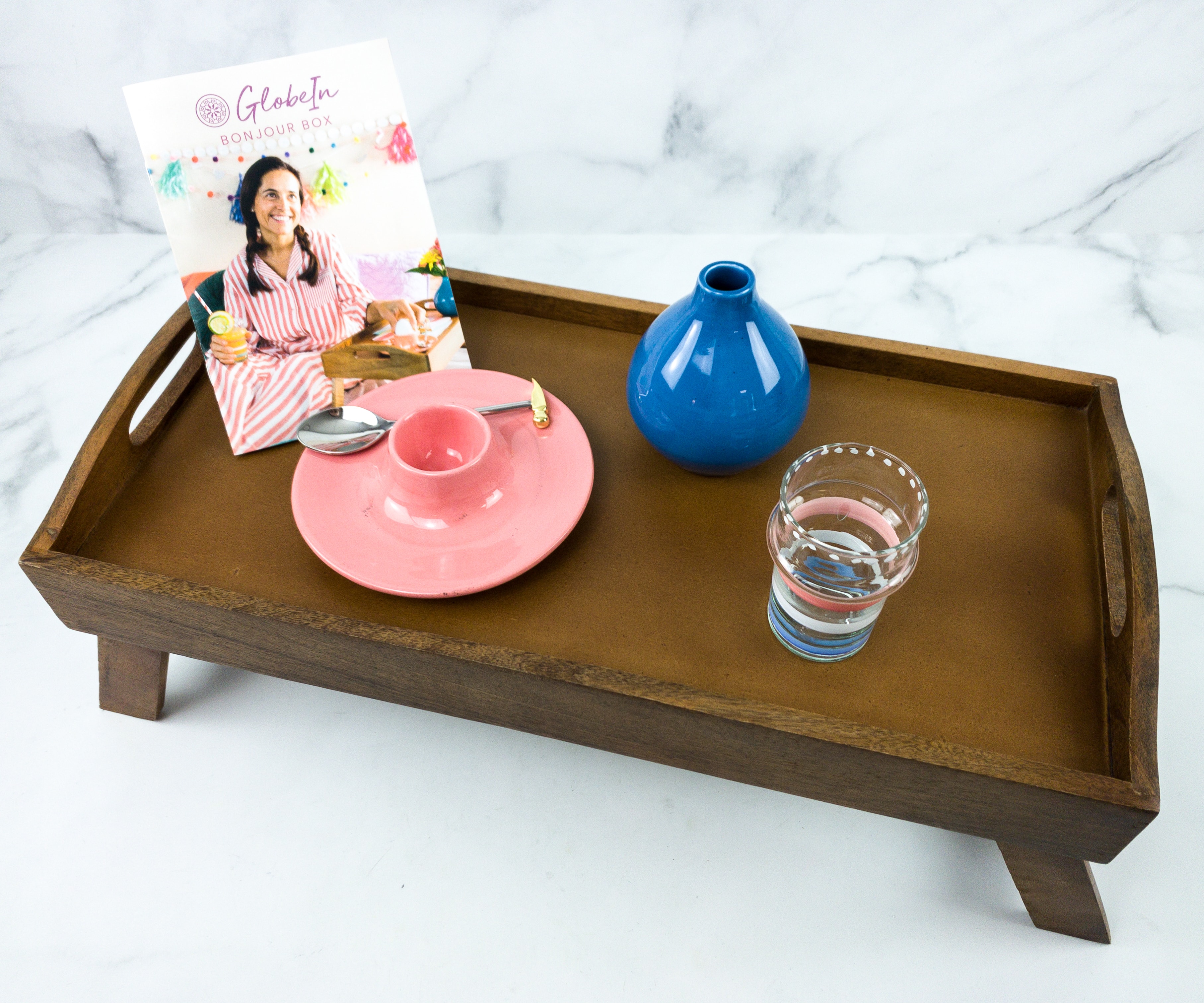 GlobeIn's box this month calls for hearty breakfast in bed! Everything looks amazing, though they're all delicate. I really like the pairing of the egg cup and the hammer spoon. I am definitely eating eggs in cup again as I can easily crack them open with the spoon, and the cup will make it less messy as it catches the broken eggshell pieces. The businesses that they featured in this box are all fair-trade. It's really admirable that they give artisans a stable job and they also give these creative people a chance to widen their platform. I'm definitely looking forward to the next featured artisans and their amazing craftsmanship in future boxes!
What do you think of this GlobeIn Artisan Box?

Visit Globe In Artisan Box Club to subscribe or find out more!