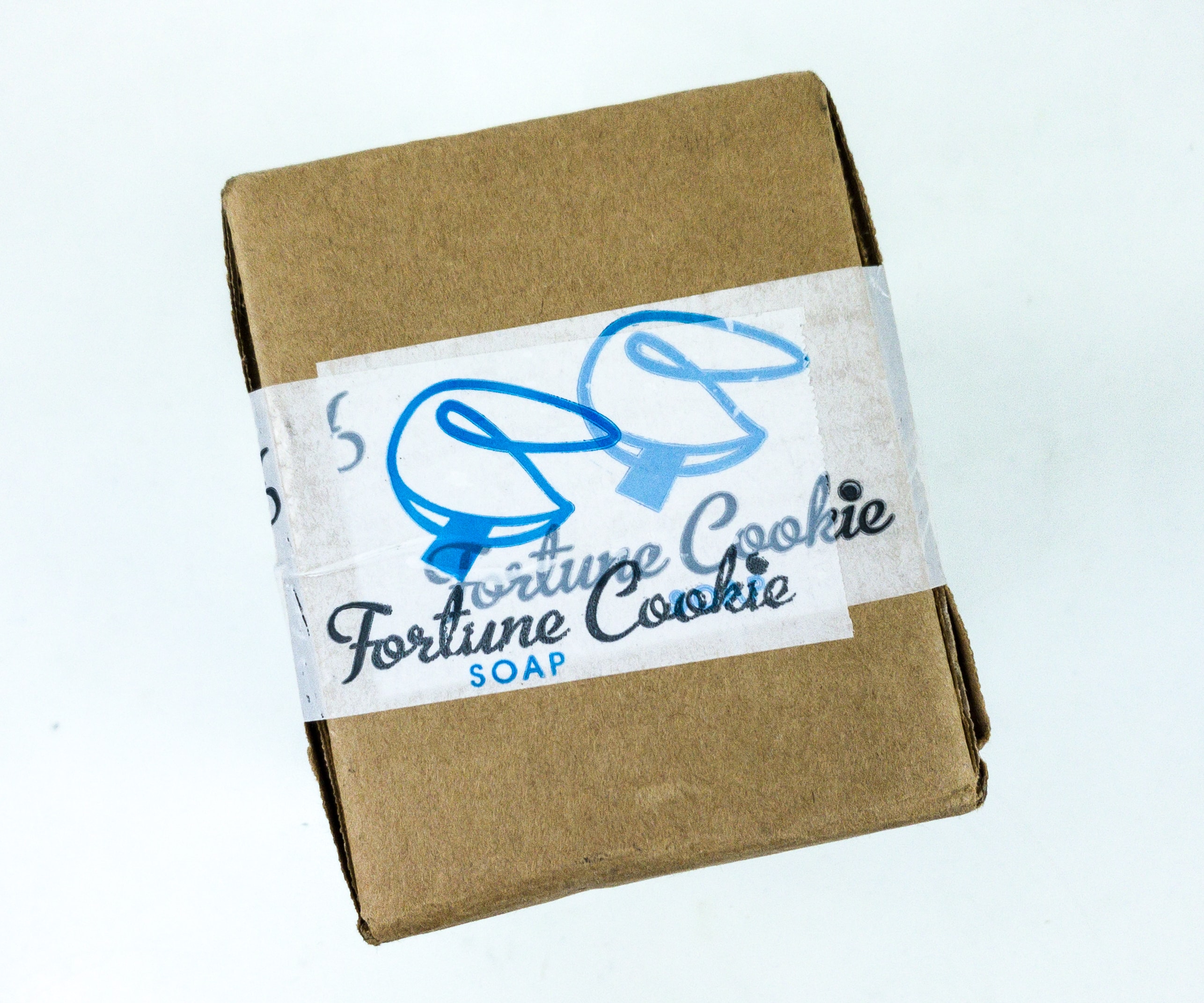 The FCS of the Month Club is a monthly subscription from Fortune Cookie Soap that features goodies from FCS. The box is now $16.95 a month with free shipping. You can also subscribe just quarterly.
The box is sealed all-around.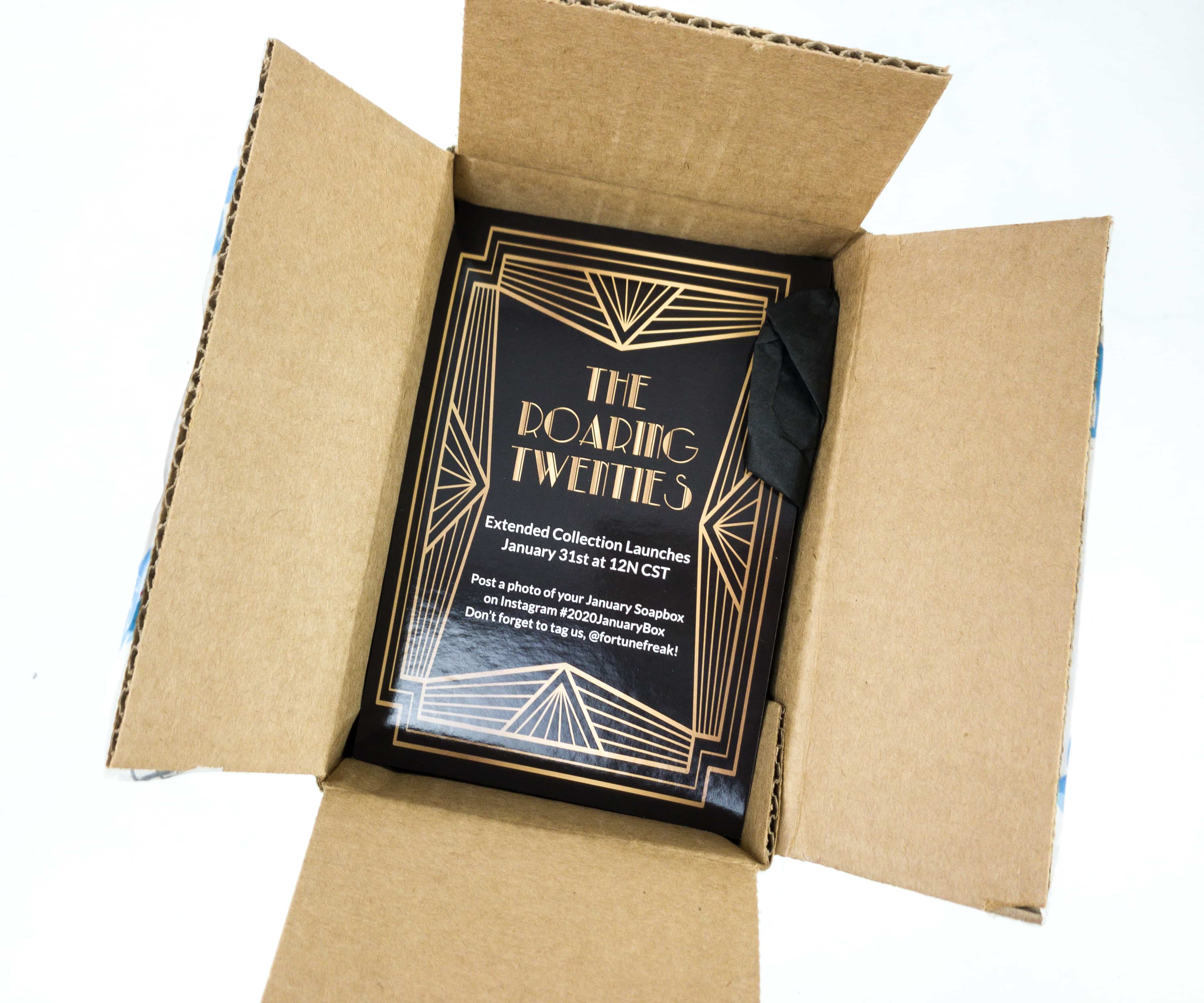 The 2019 version of FCS of the month features $40 in value every month, with 1 full-size product and 3 deluxe samples. See all the details here. There will be a $10 discount code off $25 purchase that expires in 30 days emailed to you with your subscription.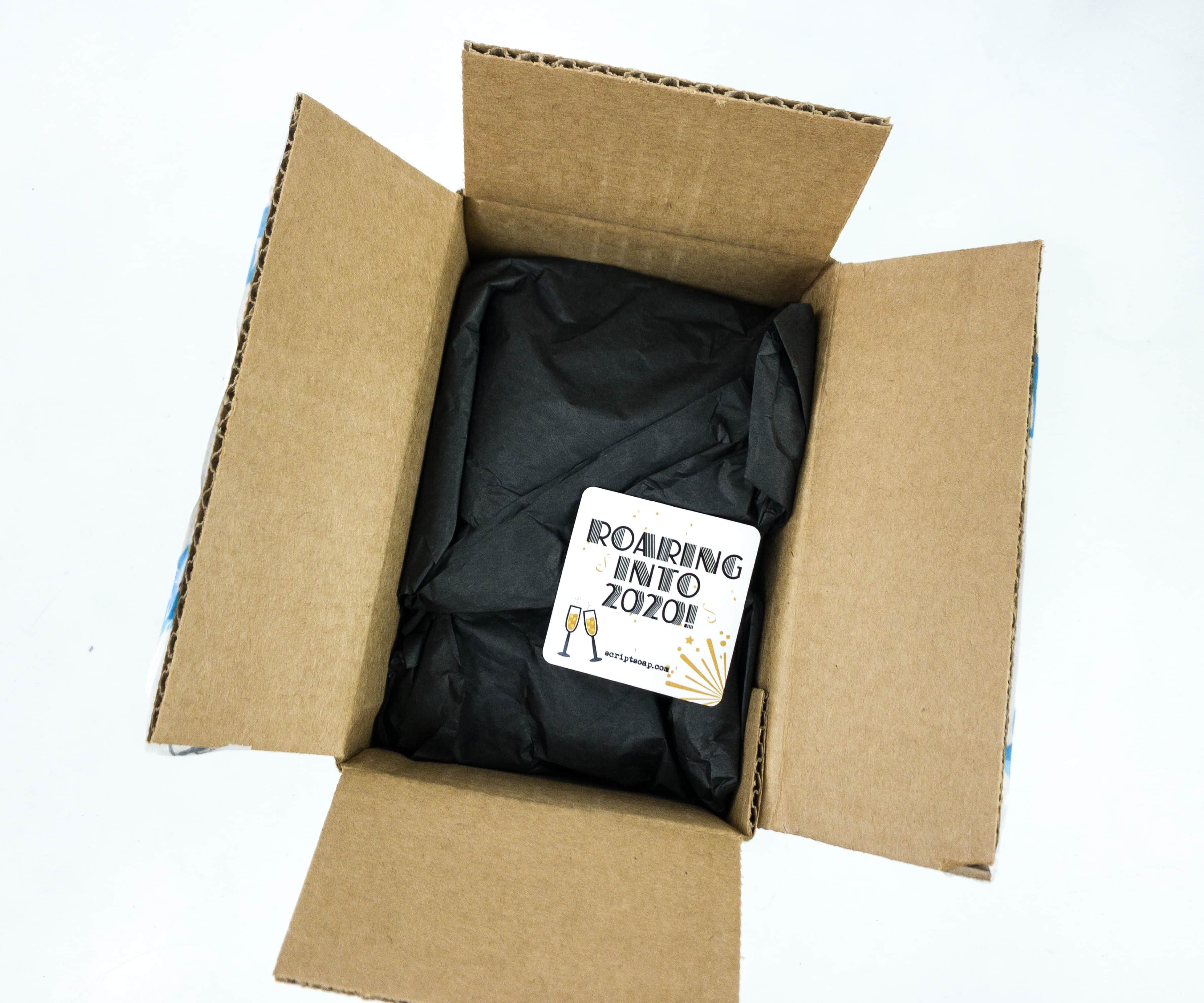 The items were wrapped with a black tissue paper.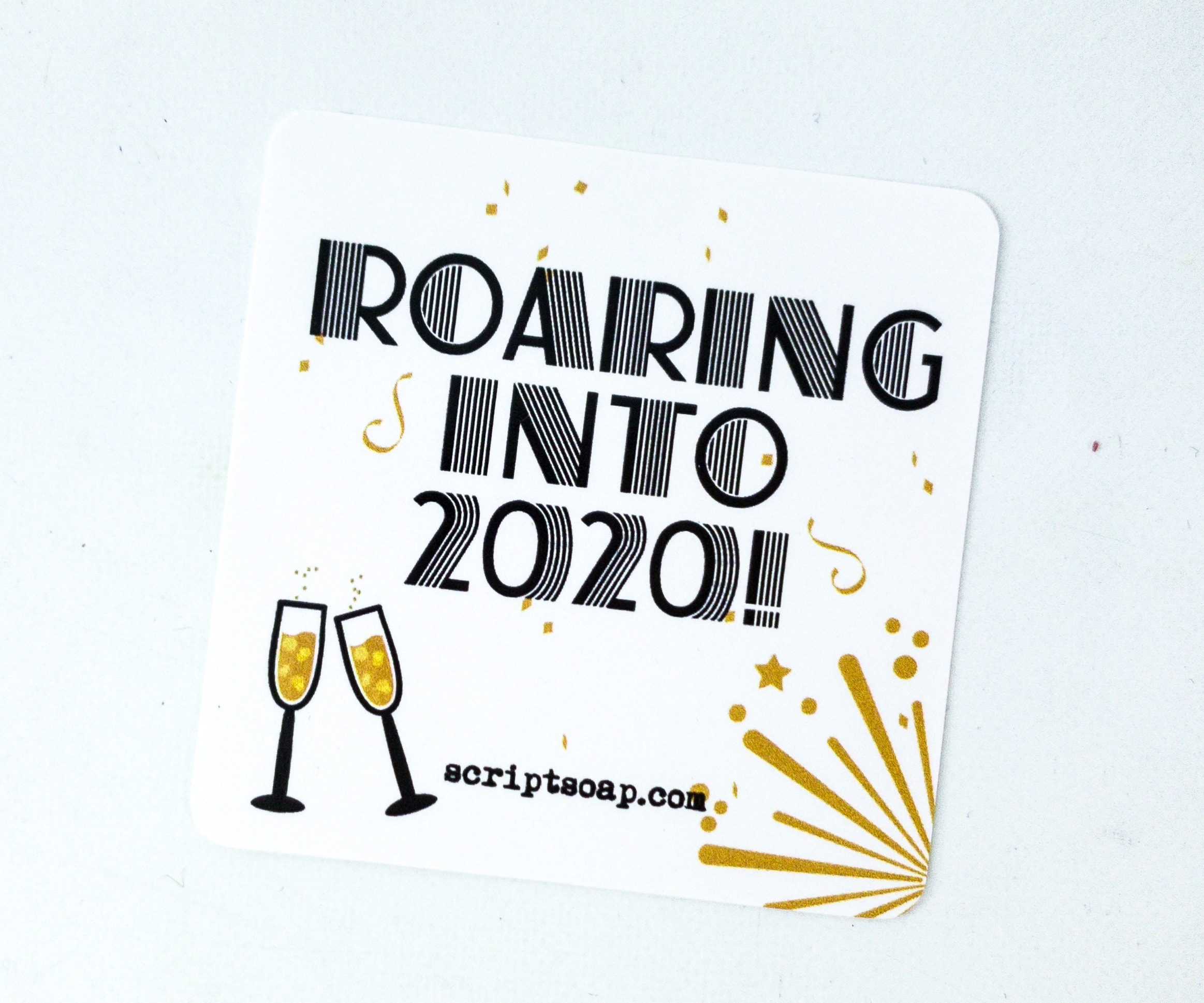 The card says "Roaring Into 2020"! Cheers! ?
A peek inside the box!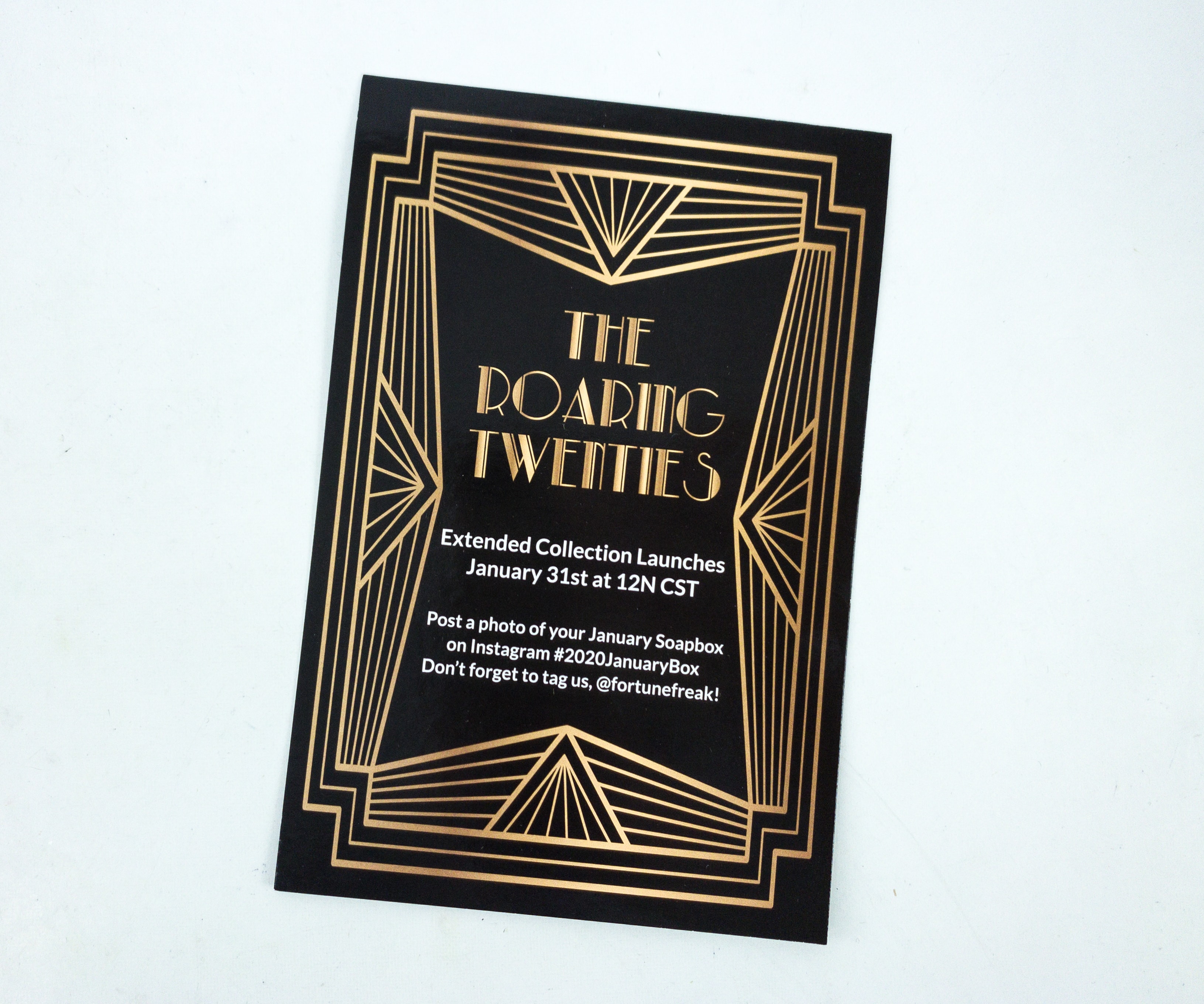 January 2020 theme is THE ROARING TWENTIES!
Information about the individual items is listed on the card.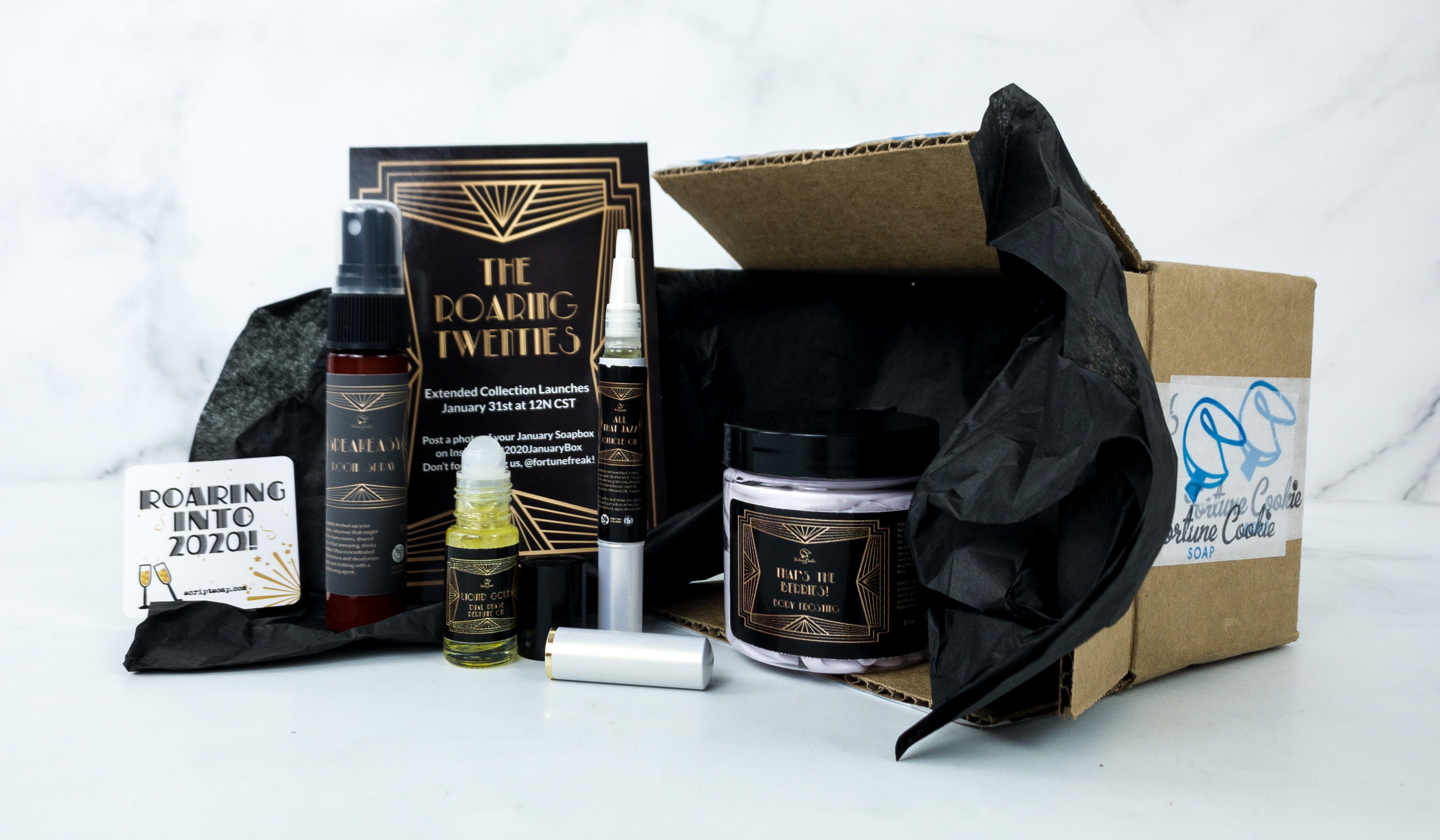 Everything in this month's box!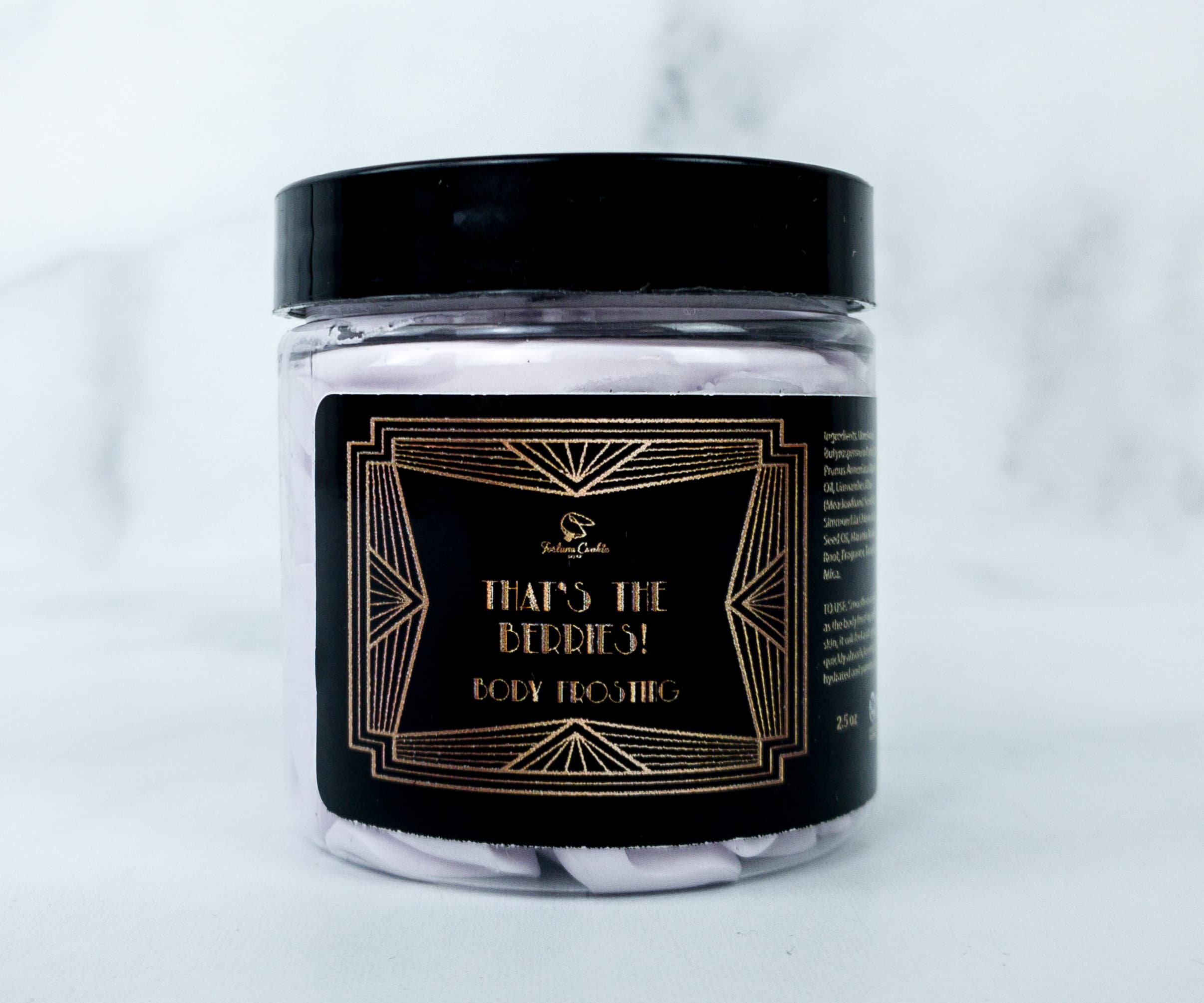 That's The Berries! Body Frosting. This body frosting smells like delicious ripened blackberry and currants, mixed with blueberries and warm amber. I love it, not just for the amazing fragrance, but also for making my skin soft, smooth, and refreshed!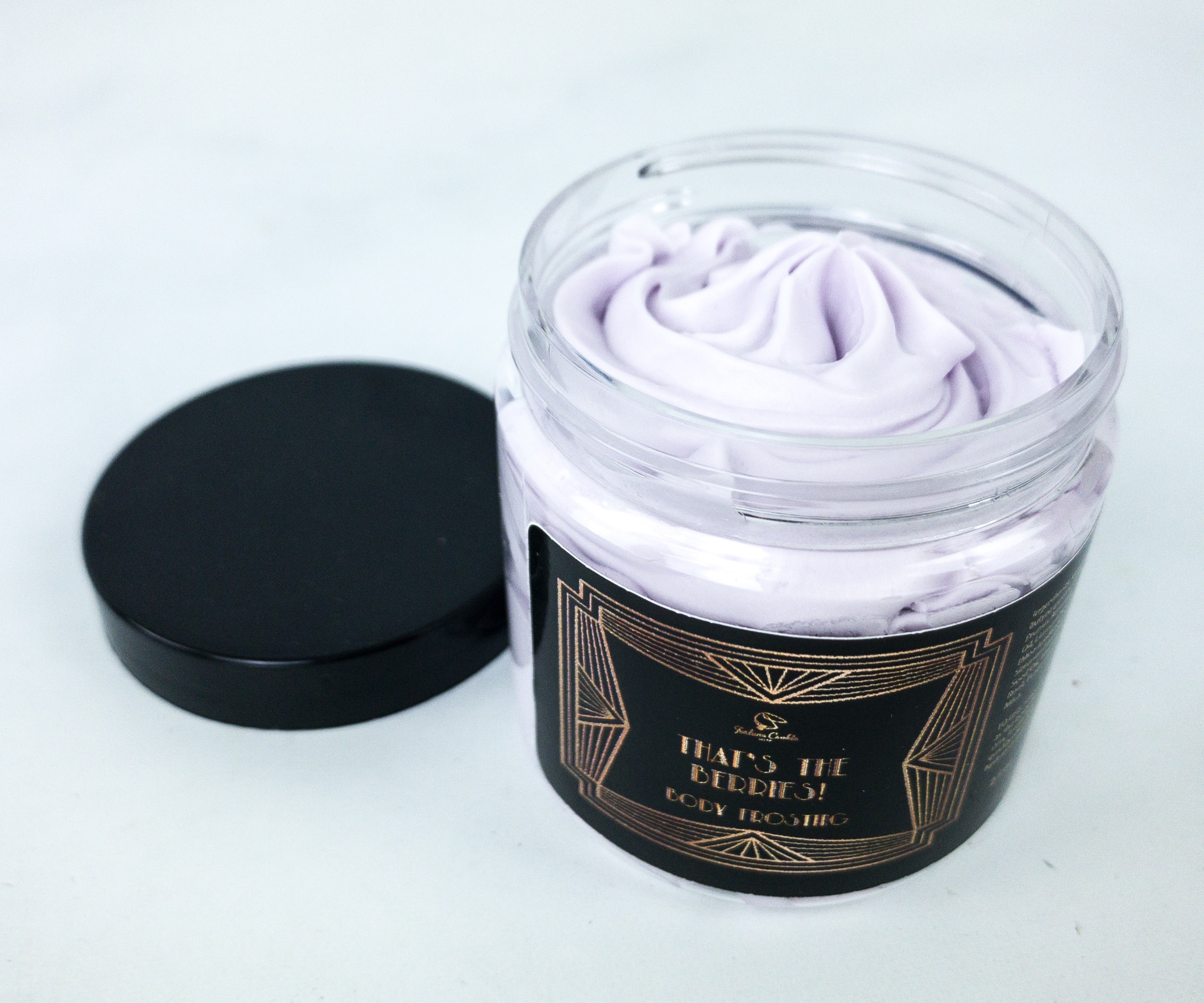 To use, just smooth a small amount as it easily melts into the skin. At first, you will feel that it's a bit greasy, but don't worry as the skin absorbs it easily, making the skin deeply hydrated and smelling amazing! And if you want deeper conditioning, apply a heavy layer of it to both hands and feet, then wear socks and gloves to bed! You can see that the cream is whipped until it's light as air, you can go light or heavy on it, however you want the skin conditioning goes!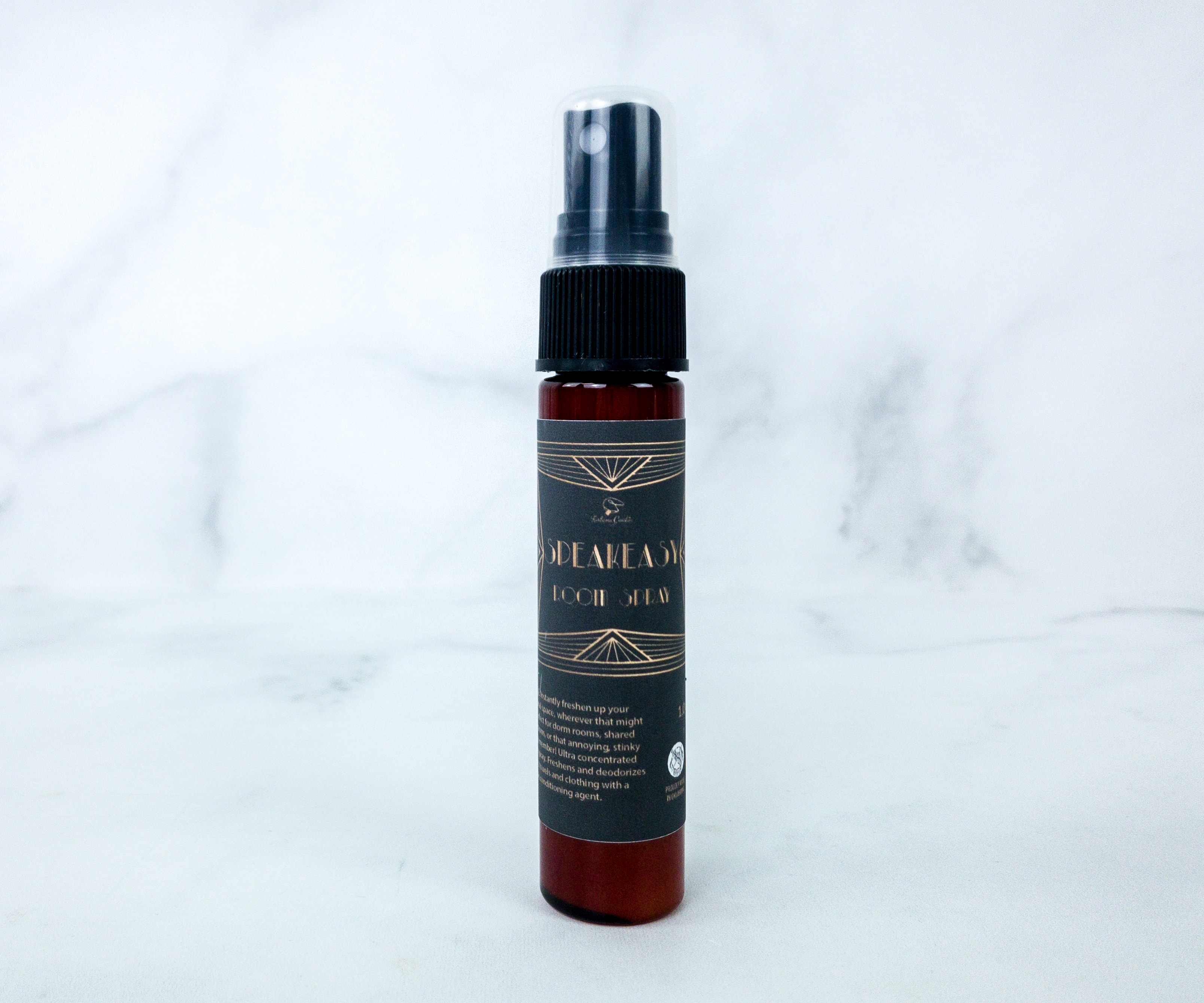 Speakeasy Room Spray. Speakeasies are illicit establishments that sell alcoholic beverages so there's no wonder this scent diffuser smells like gin, lime, and club soda! It also comes in an atomizer so you can easily diffuse the scent inside a room. The spritz is also best used inside closets and under the bed.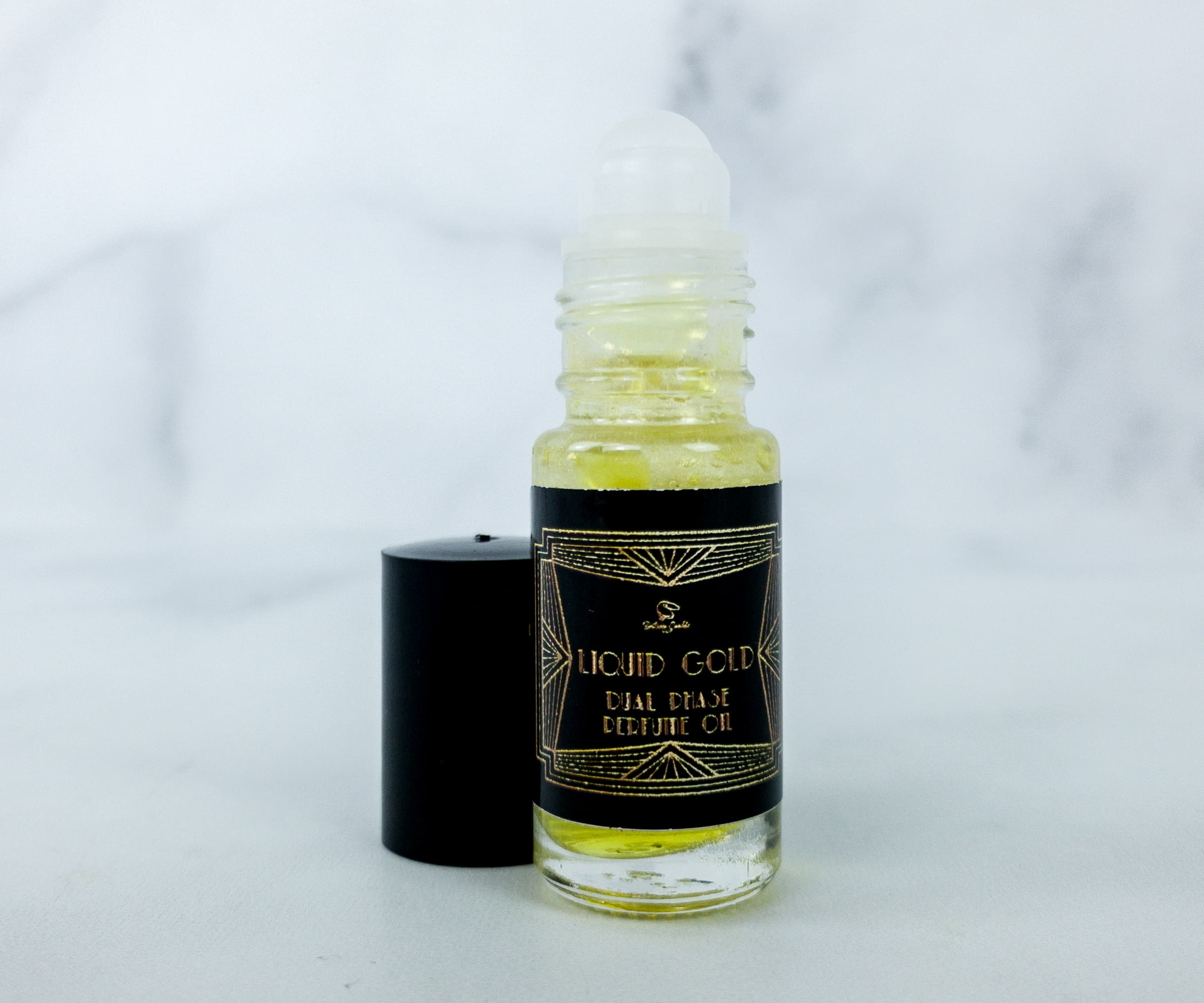 Liquid Gold Dual Phase Perfume Oil. It's definitely liquid gold as I can smell brandy, winter berries, and sparkling bubbly which makes it a perfect mix! The perfume oil is best to apply to pressure points. The roller makes it easy to use so just dab some and enjoy the amazing smell.
All That Jazz Cuticle Oil. To soften and repair dry, cracked cuticles, all you need is a drop or two of this cuticle oil. It smells like mandarin and blood orange, and a sensual note of resin. It's best to apply at night before bed, and it comes in a convenient pen applicator which allows you to take it anywhere and everywhere you go! I really like the citrus scent!
I love all the scents in the January box! I'm so enthralled with the "berry" delicious fragrance and moisturizing body frosting which really pampered my skin. The room spray is fun, and I love to use it inside my closet, leaving it with an amazing scent that calls for a drink! The cuticle oil is another favorite as it helps relieve my cracked nails. If you are delighted with amazing fragrance and new scents, this a great subscription to try!
What do you think of this month's FCS The Soap Box?
Visit Fortune Cookie Soaps – The Soap Box to subscribe or find out more!