Deadpool Club Merc is a quarterly subscription of all things Deadpool. The box costs $34.99 each quarter, plus shipping and handling. Every quarter you'll get a box full of original and official Deadpool merchandise that contains 4 to 5 items in black and red, and that includes stickers, shirts, and collectibles that you won't find anywhere else.
DEAL: Save 15% on any subscription when you use this link and coupon code HELLOSUBSCRIPTION15.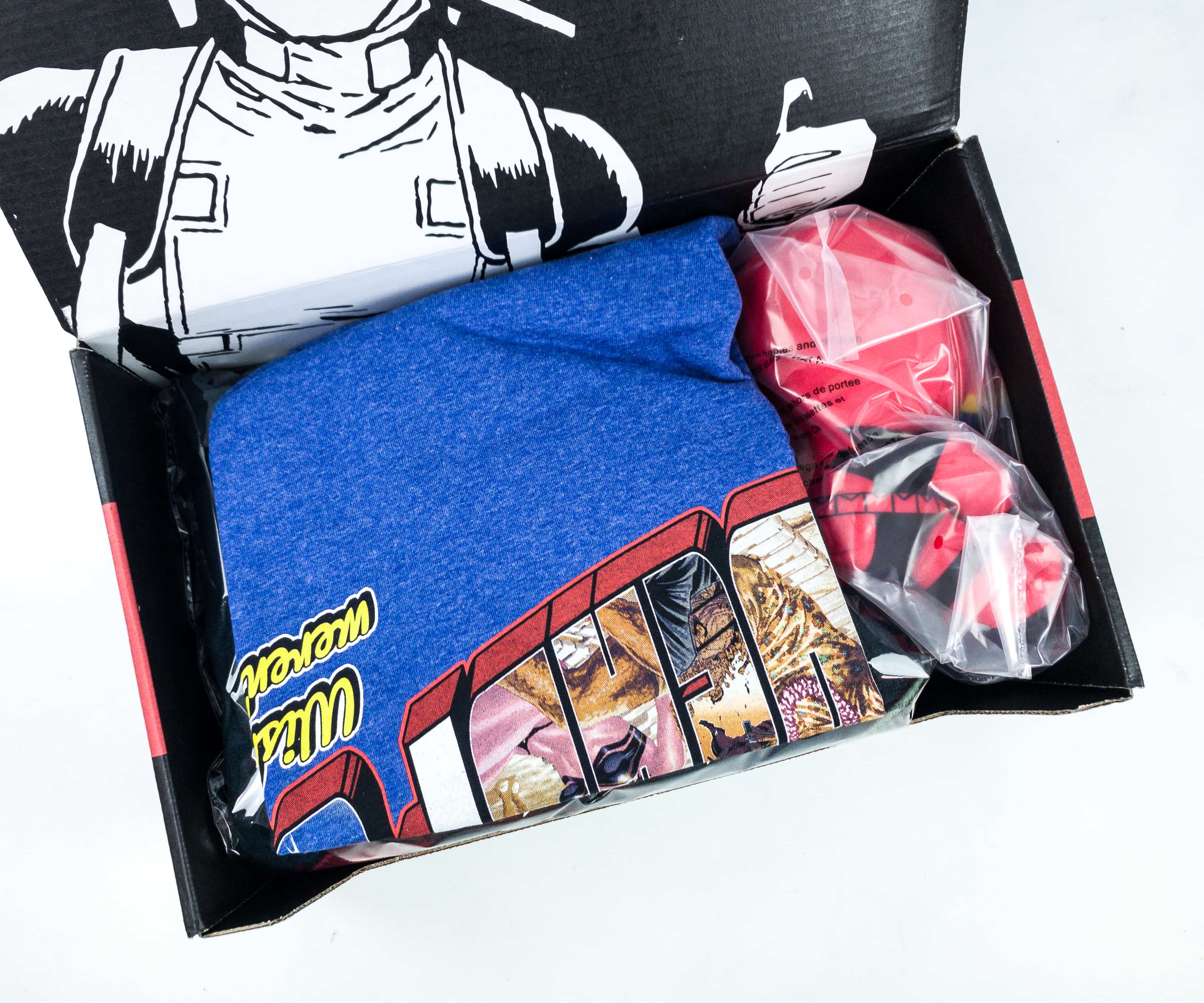 Some of the items were wrapped in plastic.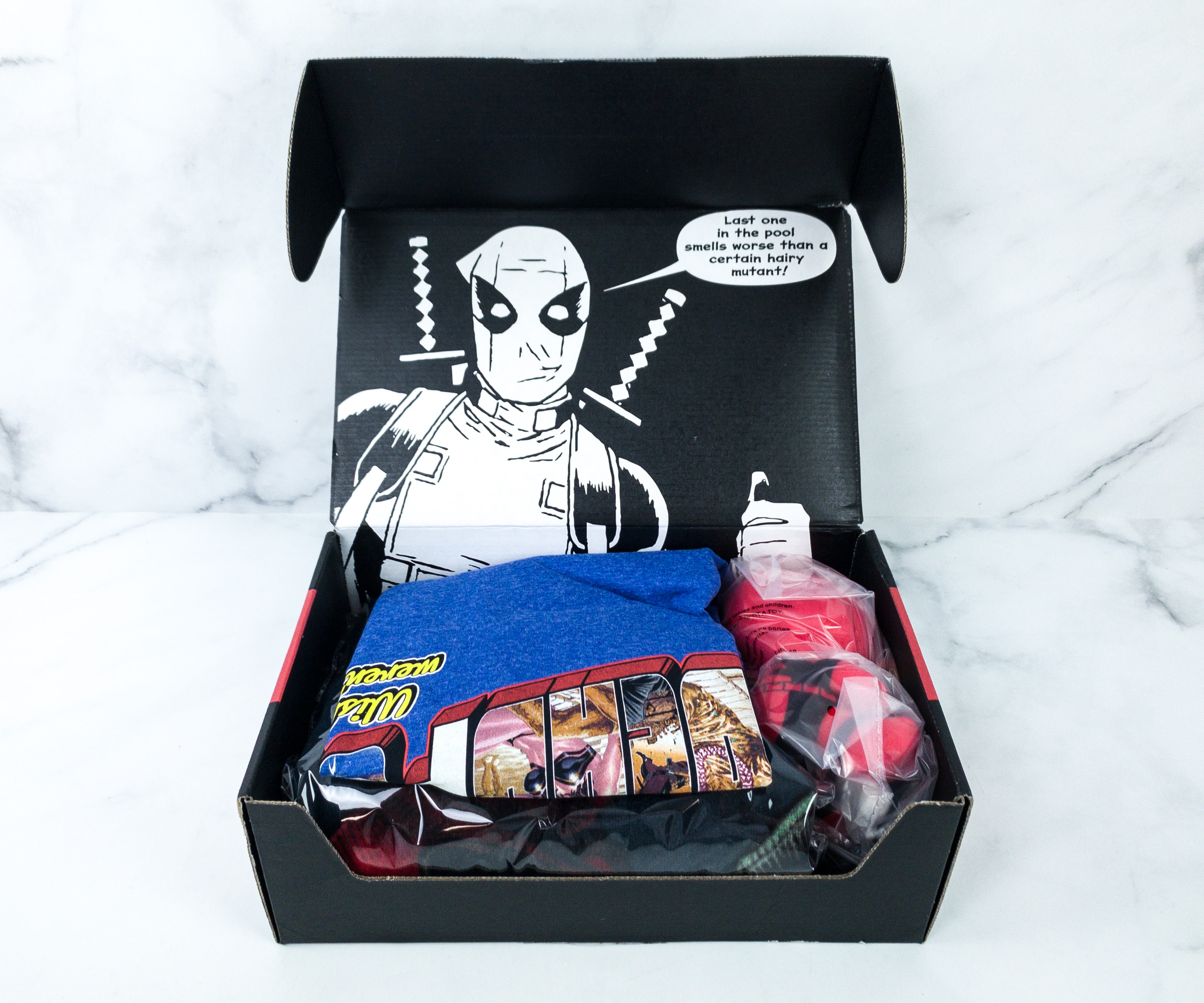 The box interior features Deadpool in a comic book-like illustration.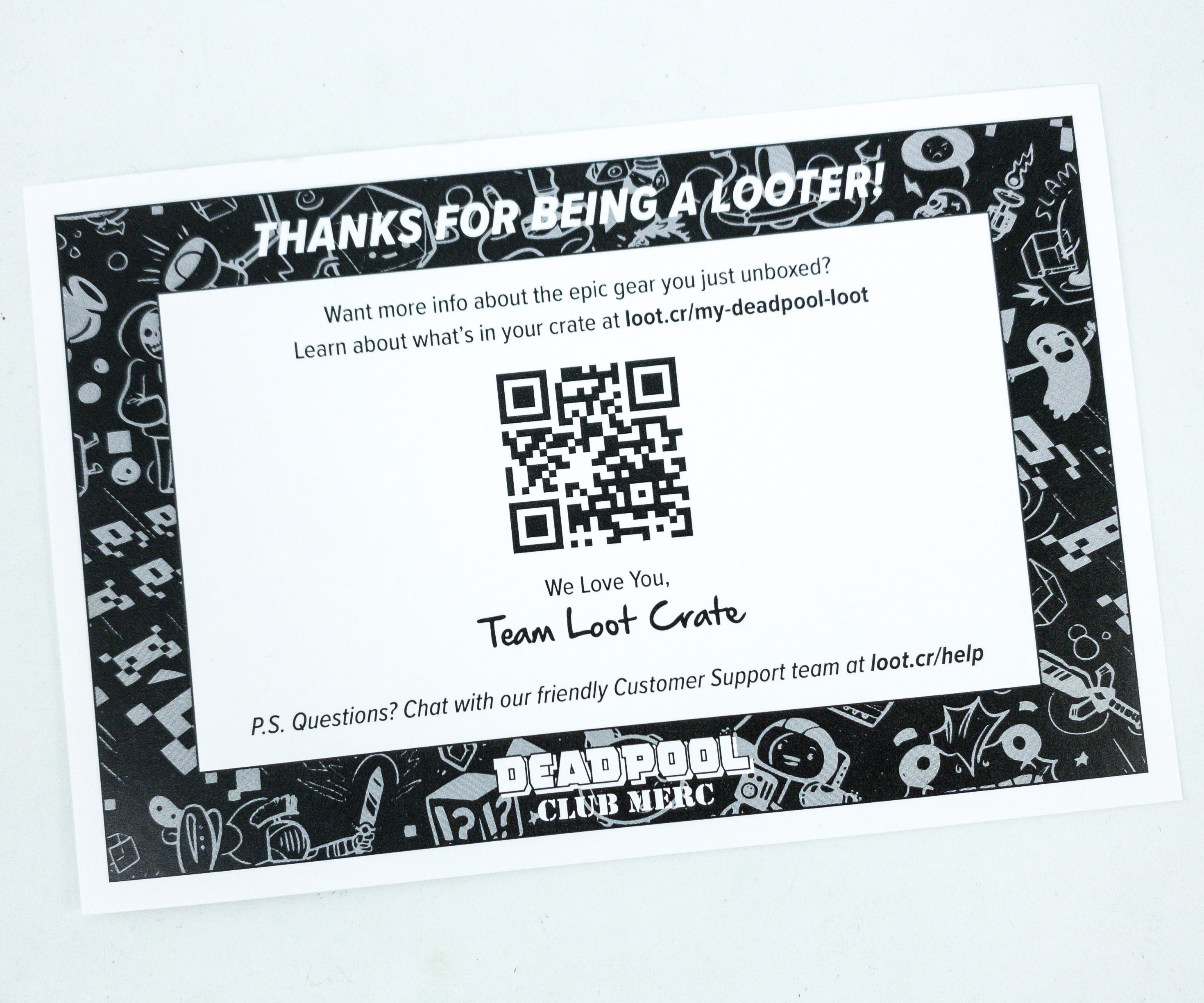 There's a card with a QR code that we can use to learn more about this crate. The theme for Summer 2019 is 'POOL PARTY!
Everything in my box!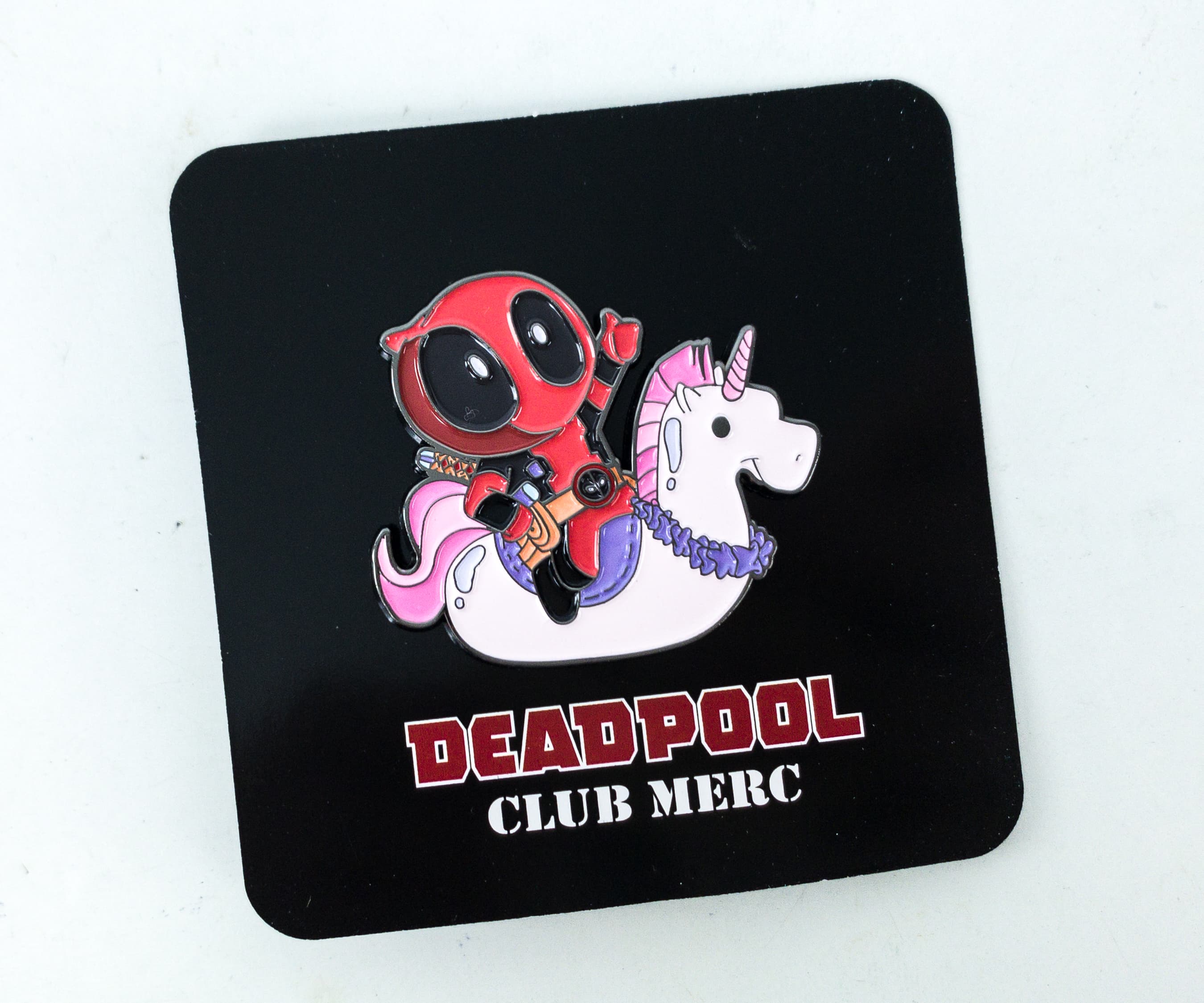 Deadpool Club Merc Enamel Pin. This month's pin features two of our favorites in the world, Deadpool and a unicorn!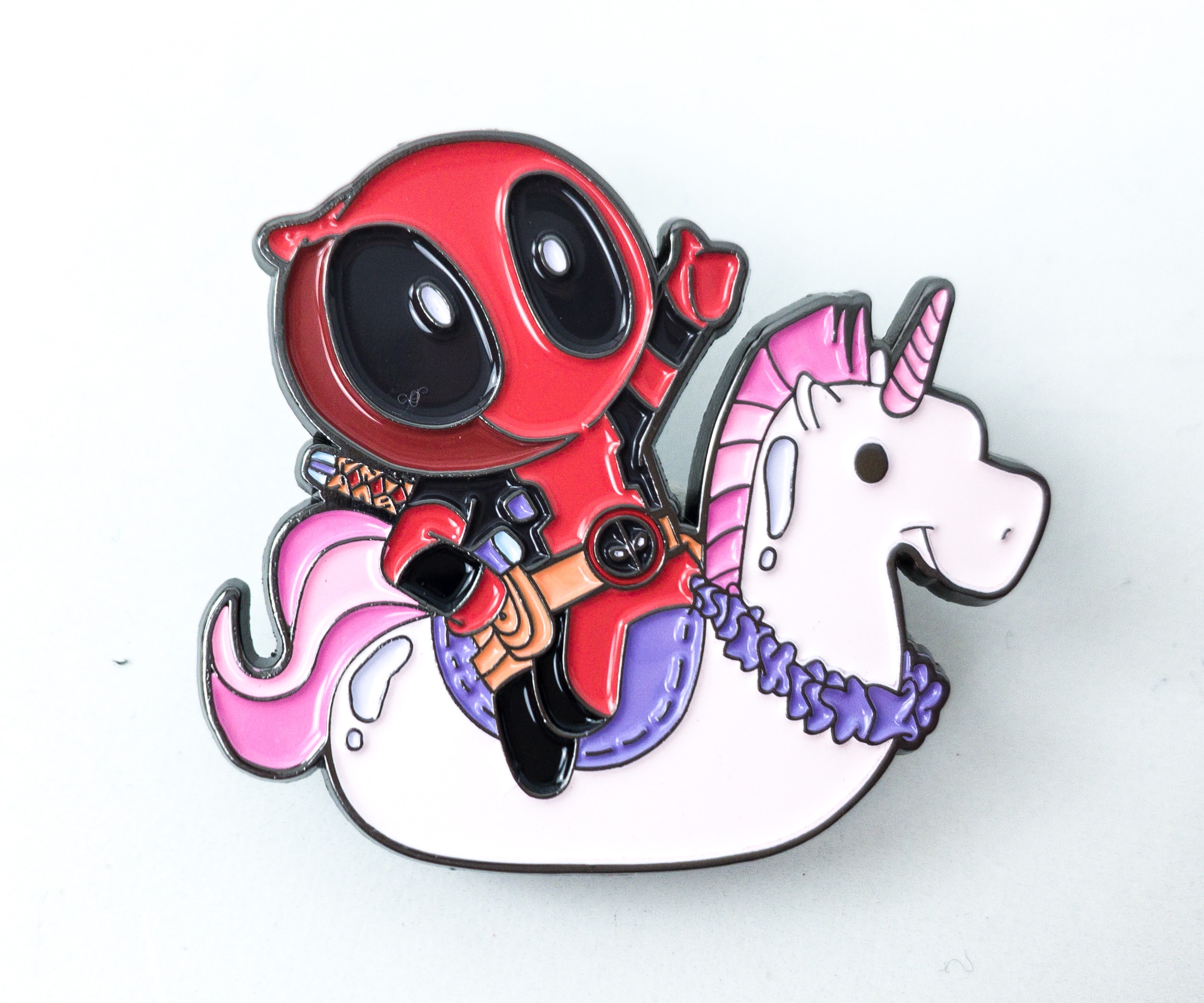 Deadpool is enjoying his ride, and he's even giving us a thumbs up. I would love to attach it to a jacket or a bag and show the world how I love these "mythical" creatures!
Soda Can Sleeve. My beer can won't easily lose its cool with the use of this fun koozie that features (mostly) Deadpool's upper torso!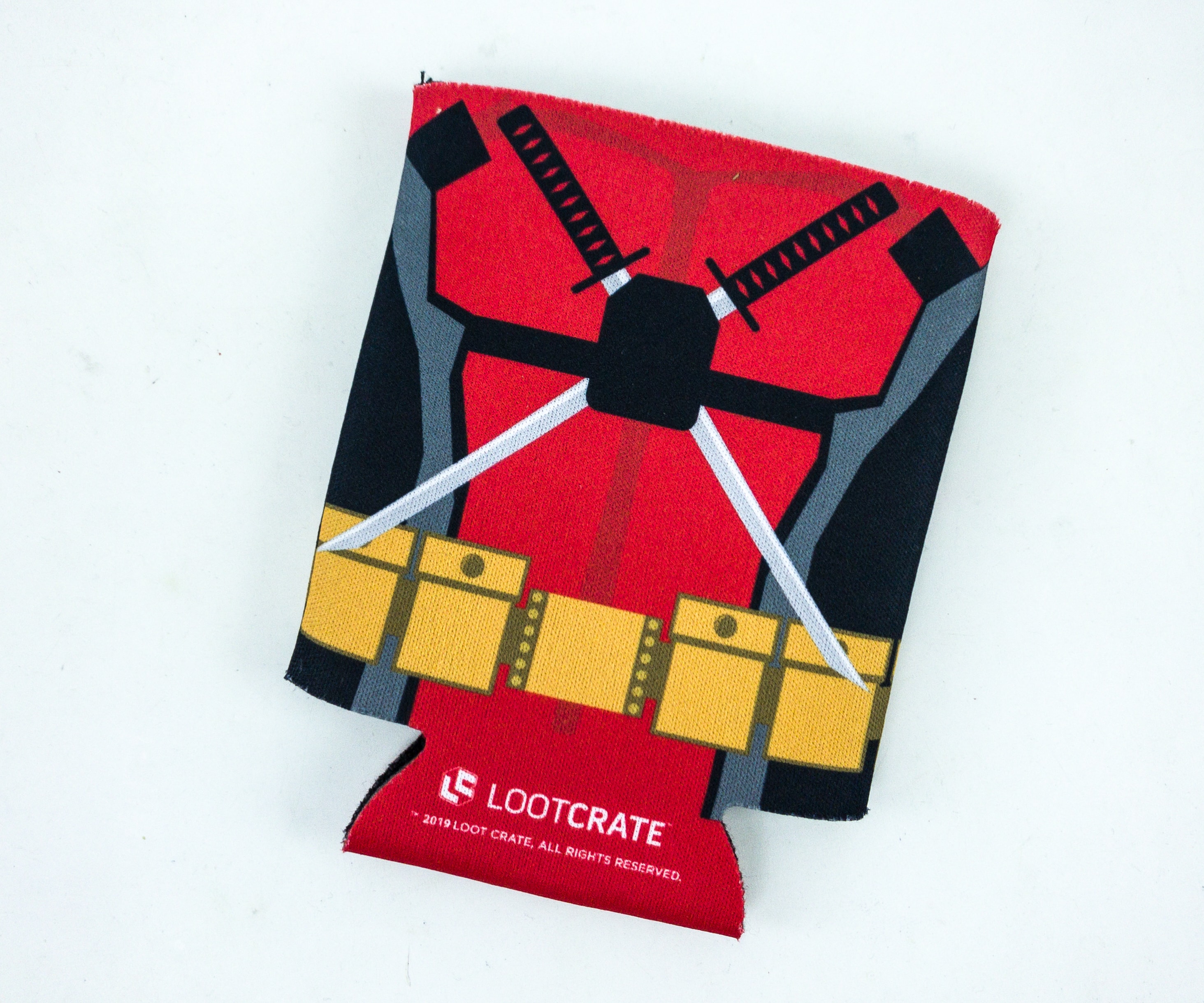 The back even show us one of Deadpool's favorite weapons, his sais!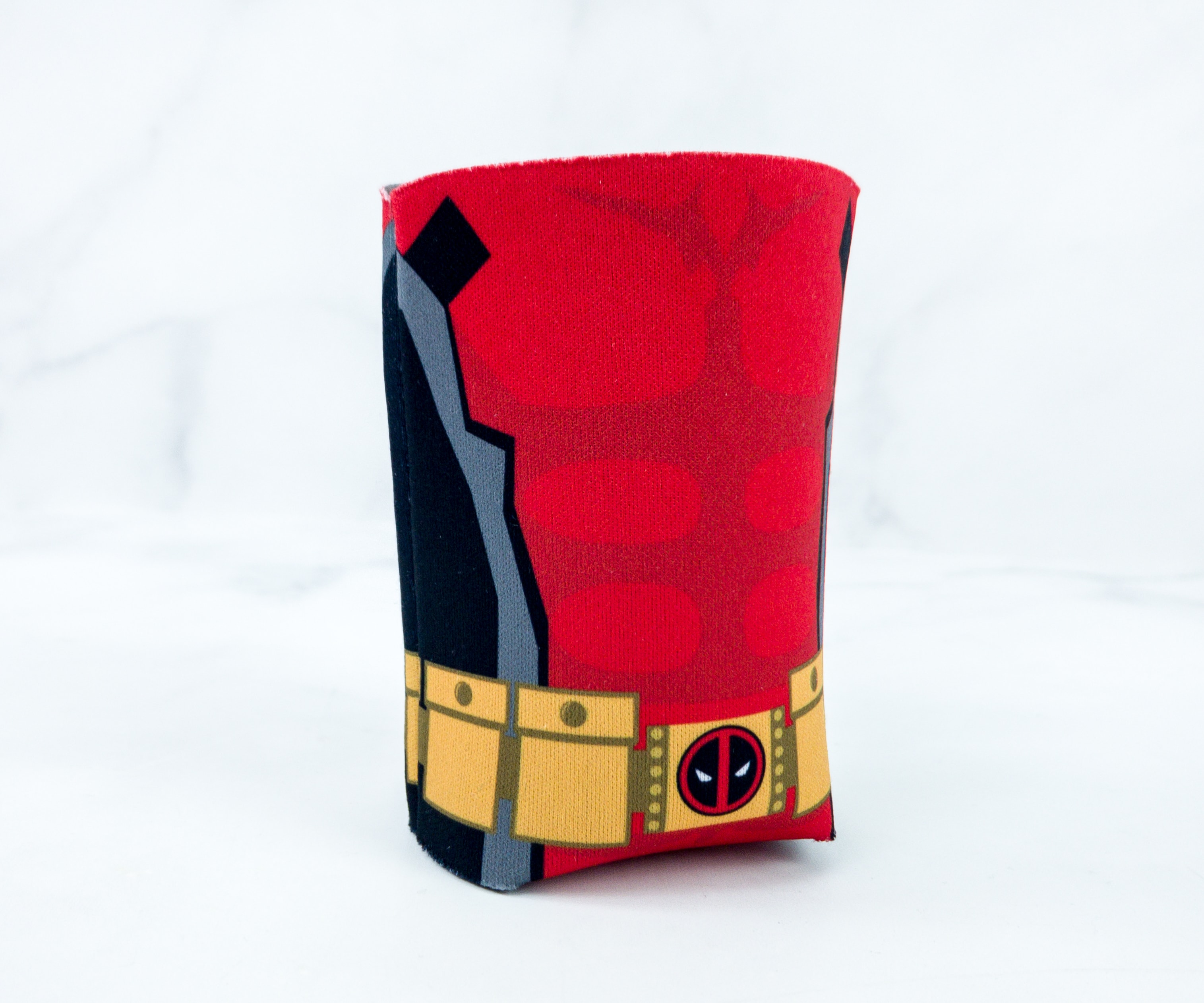 This is how the koozie looks when used. It will help keep the temperature of my drink too whether it's hot or cold.
Deadpool Plush. Another item in this box that combines two of our favorite things in the world is this huggable plushie! It shows a smiling Deadpool cuddling an adorable unicorn with a really colorful horn!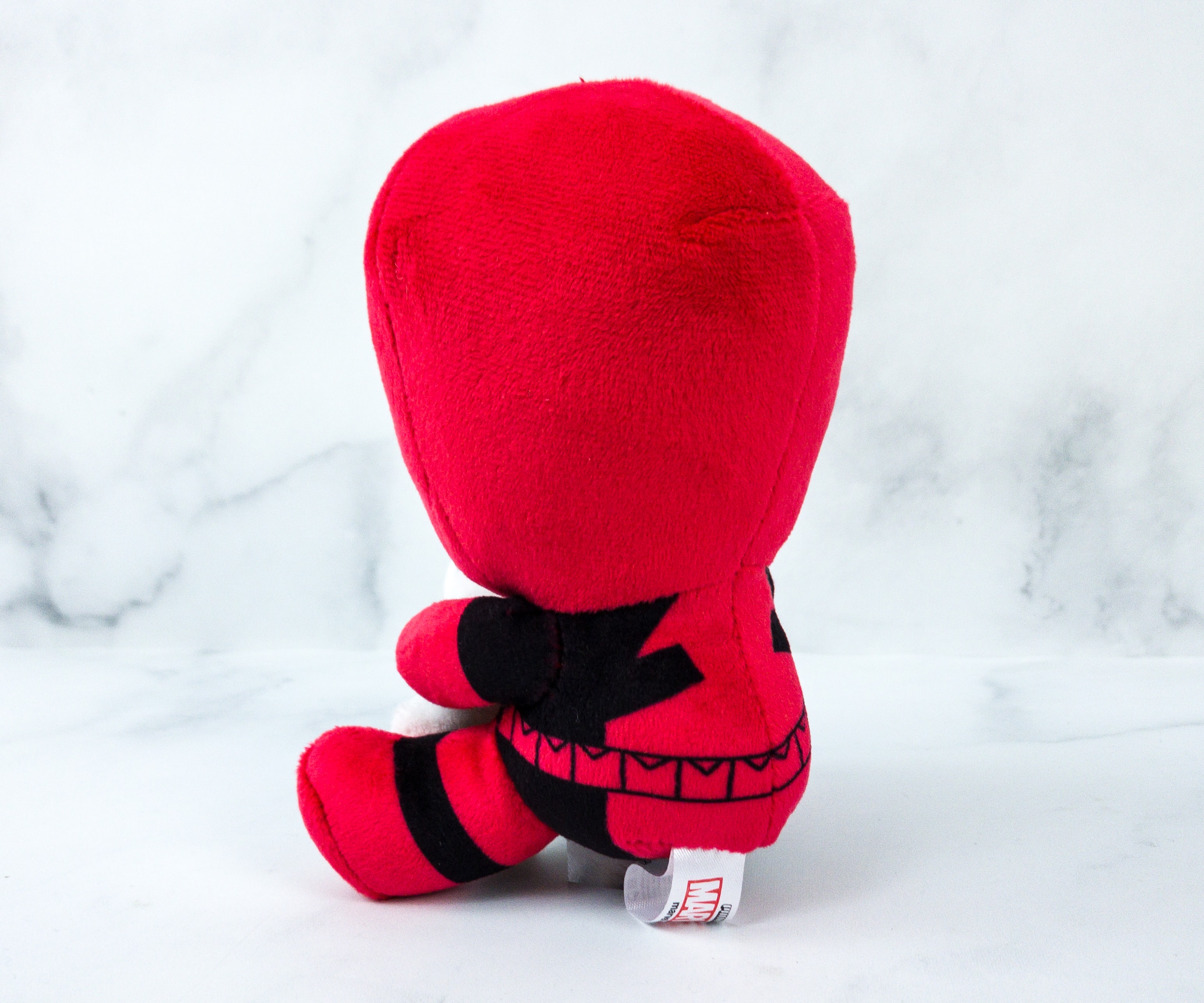 The plushie will really look amazing along with my other superhero character plushies. I would also love to have this cutie beside my bed! It's so adorable!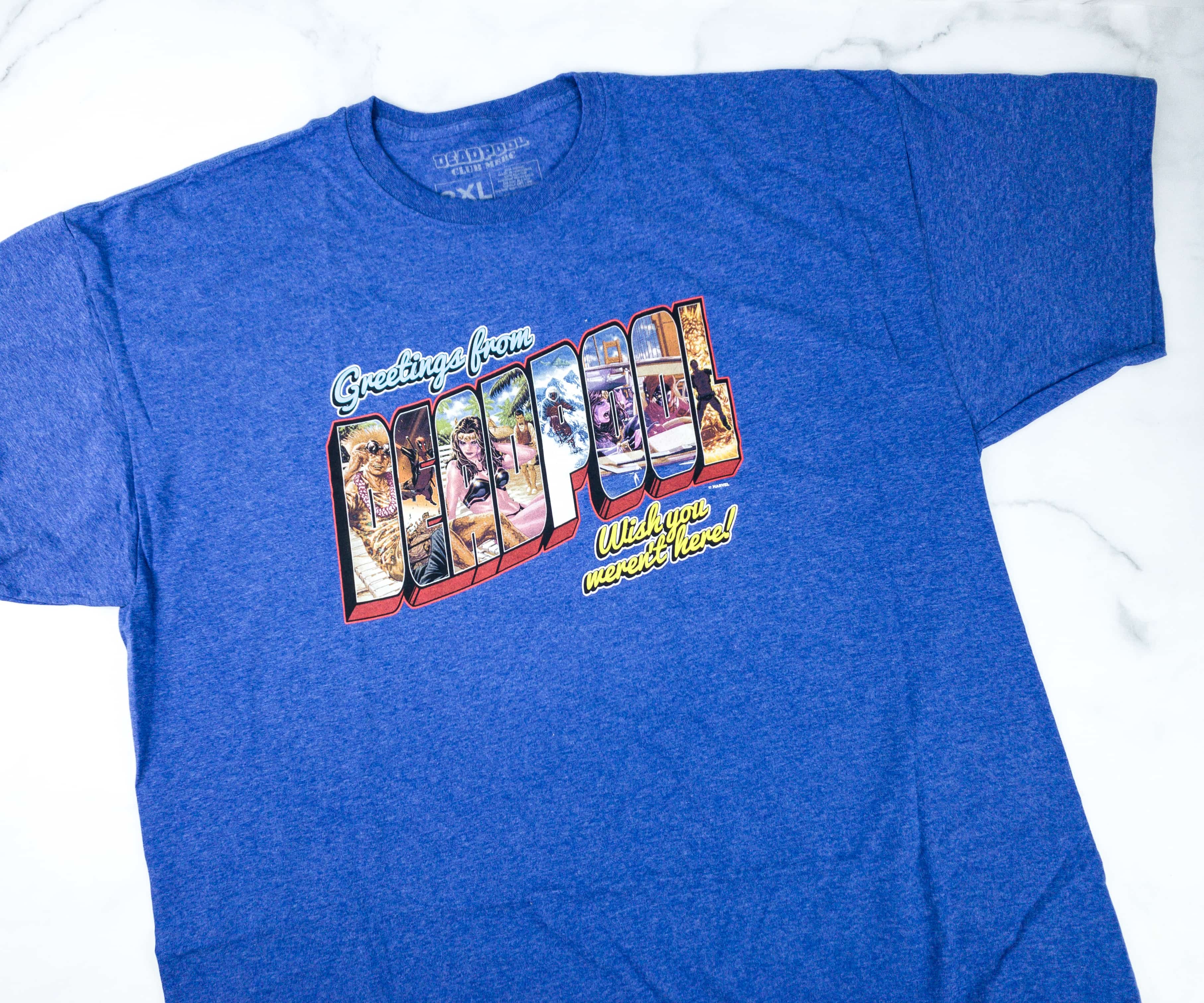 Deadpool T-Shirt. The Summer vibes is evident on this cool blue shirt, though it says "wish you weren't here"!
I really like the pun and funny expressions from this guy. The old school print on this shirt is amazing. It's reminiscent of those old cinematic posters on stand-alone theaters!
Deadpool Towel. Of course, the summertime calls for a day at the beach or pool, so we'll need something to dry ourselves up after the fun time in the water!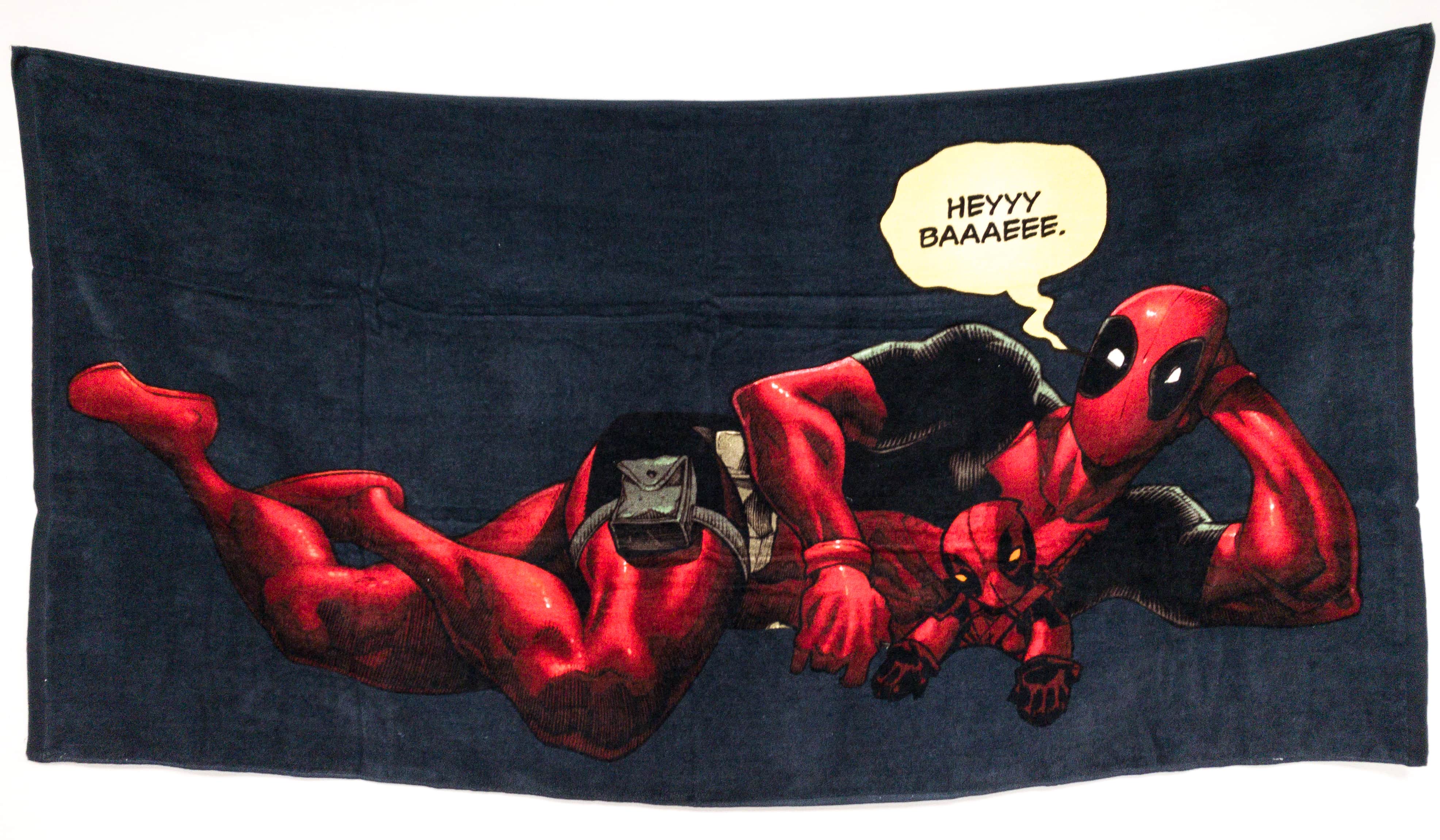 The towel features Deadpool on his sexiest pose with a thought bubble that says "Heyyy Baaaeee." He is even holding what seems to be a smaller version of him or must be a plushie. I really like the towel, as I can also use it as a picnic mat.
Getting this box is like Christmas to me, as I love opening it to find amazing Deadpool merch! I love the Deadpool + Unicorn items like the pin and the soft and squishy plush! The shirt looks like classic Summer wear with the old cinematic poster print, and the towel will be very useful when we hit the beach! The koozie is nice as it will help keep the temperature of our drinks right, whether hot or cold. This box came in very late we're still happy that it made its way to us! Even though we received the summer Pool Party box in December, I was less disappointed than I thought I'd be, because the items are fortunately year round. I just hope that Loot Crate keeps up and finishes shipping problems out all the old boxes.
What do you think of this quarter's Deadpool Club Merc?