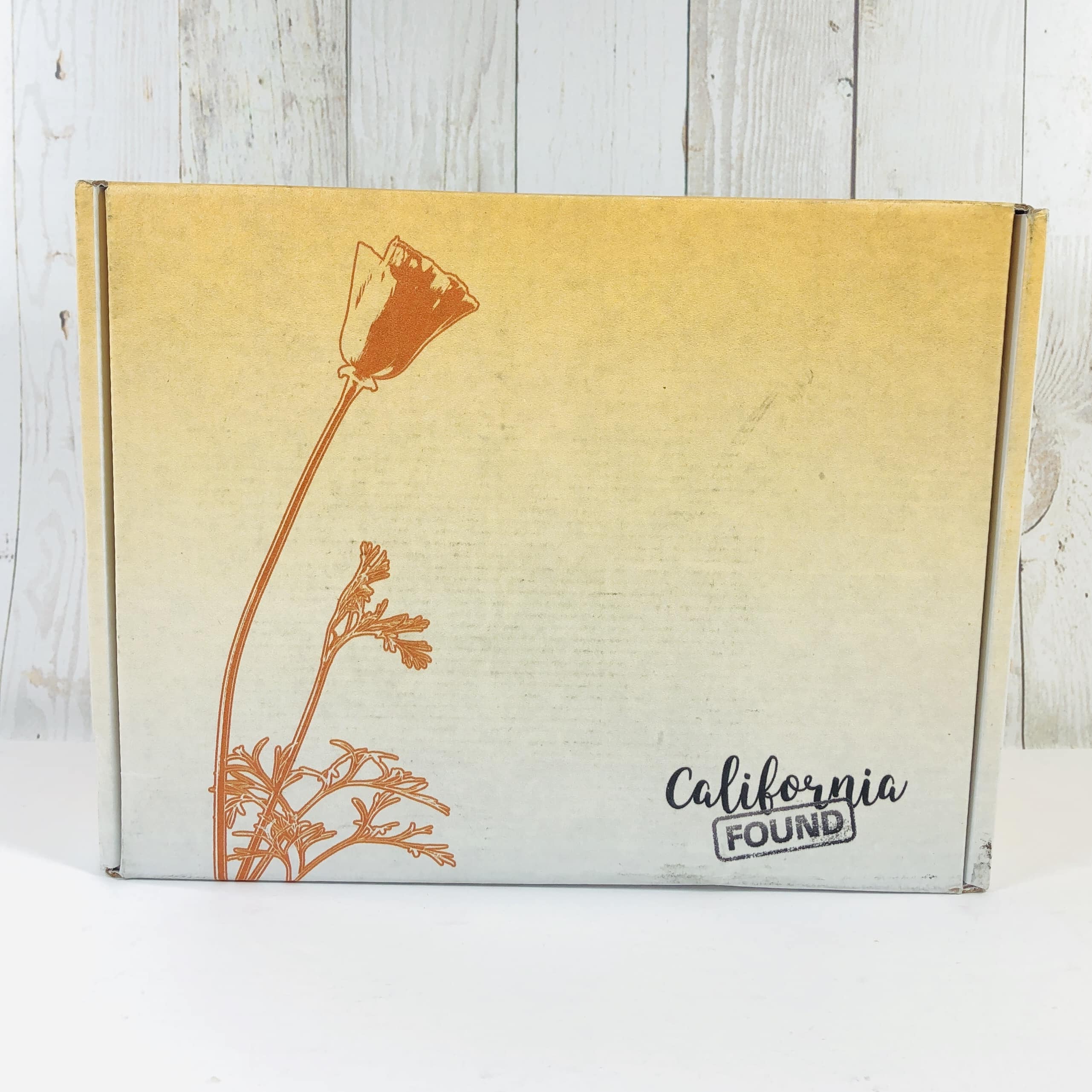 California Found is an awesome monthly subscription box that delivers the best of The Golden State, directly to your mailbox! Each box is $49, but has a value of $90+! Shipping is available worldwide. What will you find in your box?
California Found is a discovery box of beautifully crafted California artisan products delivered right to your door. Every month, you'll receive a collection of thoughtful, local, small-batch items that may include gourmet, spa & beauty, home goods, jewelry, stationery and more. The contents change monthly, and are delivered boxed and ready for giving.
I love opening this box, it always looks so well put together! My items were wrapped in tissue paper that was sealed with a sticker and the items were cushioned in shredded paper.
Some of the items had additional packaging to keep them safe during transit.
I found a set of info cards.
One card had an introduction to the current box, and one for each of the vendors featured in this month's box. California Found is now part of 1% For The Planet, which means they donate at least 1% of their gross revenue to this charity that works to promote a healthier planet. Make sure to dig down to the bottom of your box – one box will contain The Golden Ticket and will earn the holder a free box for themselves or a friend!
Everything in my December 2019 California Found box!
Fiddle Fish Chamomile Goat's Milk Soap ($9) A very fragrant soap starts us off this month. Ingredients were on the package and include coconut oil, goat milk, and chamomile.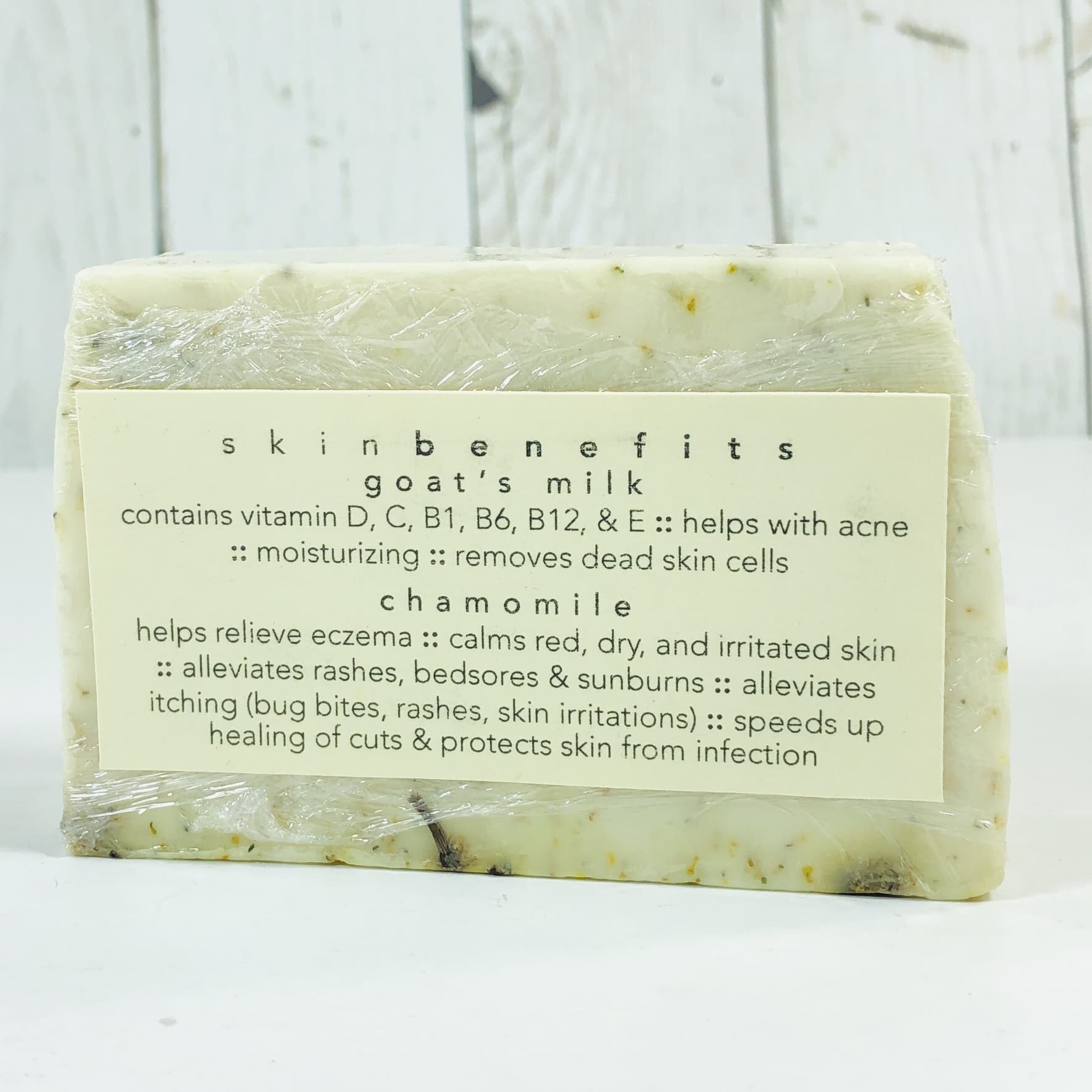 The benefits for skin were listed on the other side of the soap. I didn't really know that chamomile had a scent (the tea I make from its flowers doesn't smell like much) but this soap smells like a pretty strong floral. I try to avoid strongly scented soaps but my daughter loves it so it goes to her!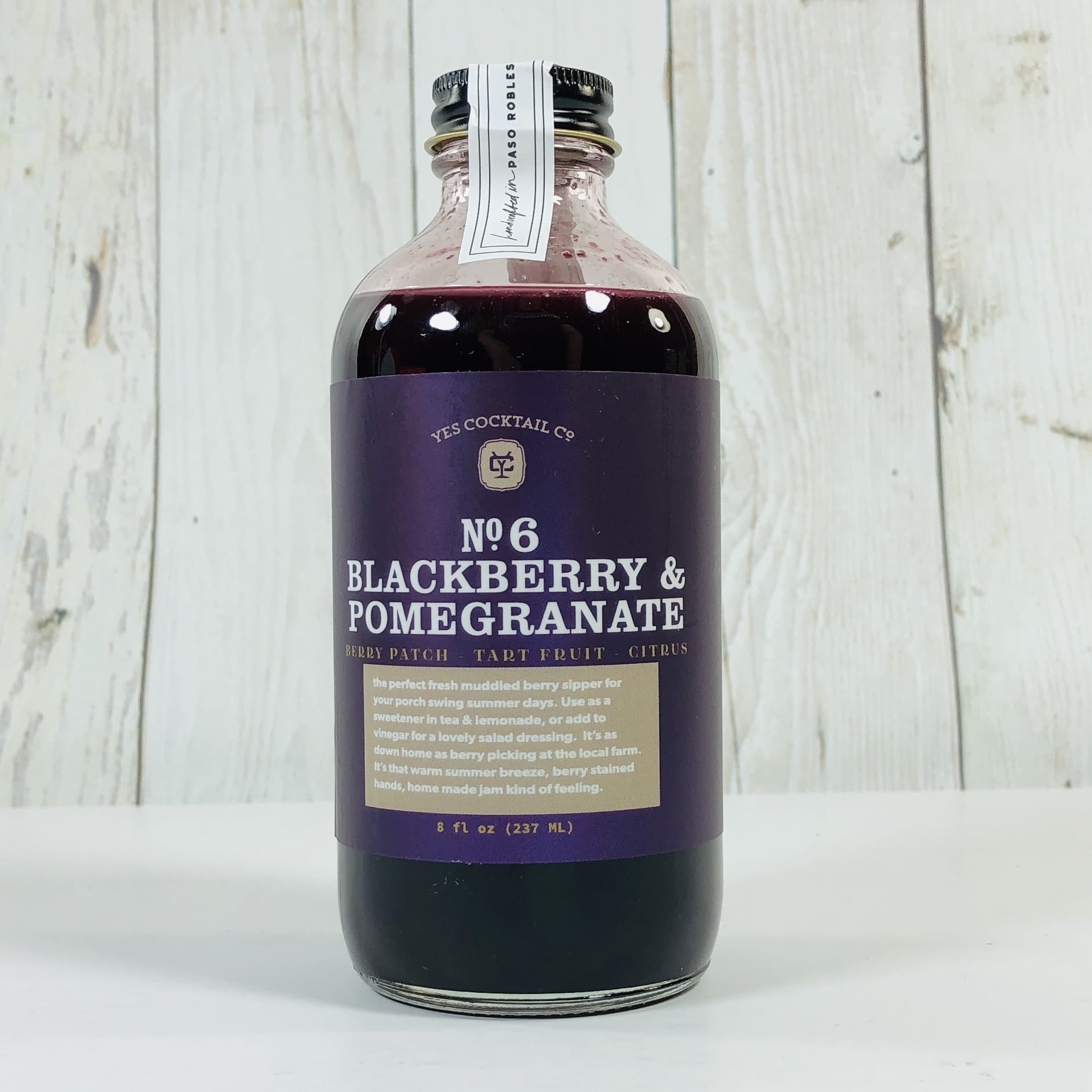 Yes Cocktail Co. Blackberry & Pomegranate Cocktail Mixer ($8) Ohh, I love this! I can make my own craft cocktails or sodas with this mixer! I like that the front label tells me I can also use this in salad dressings or to flavor iced tea or lemonade.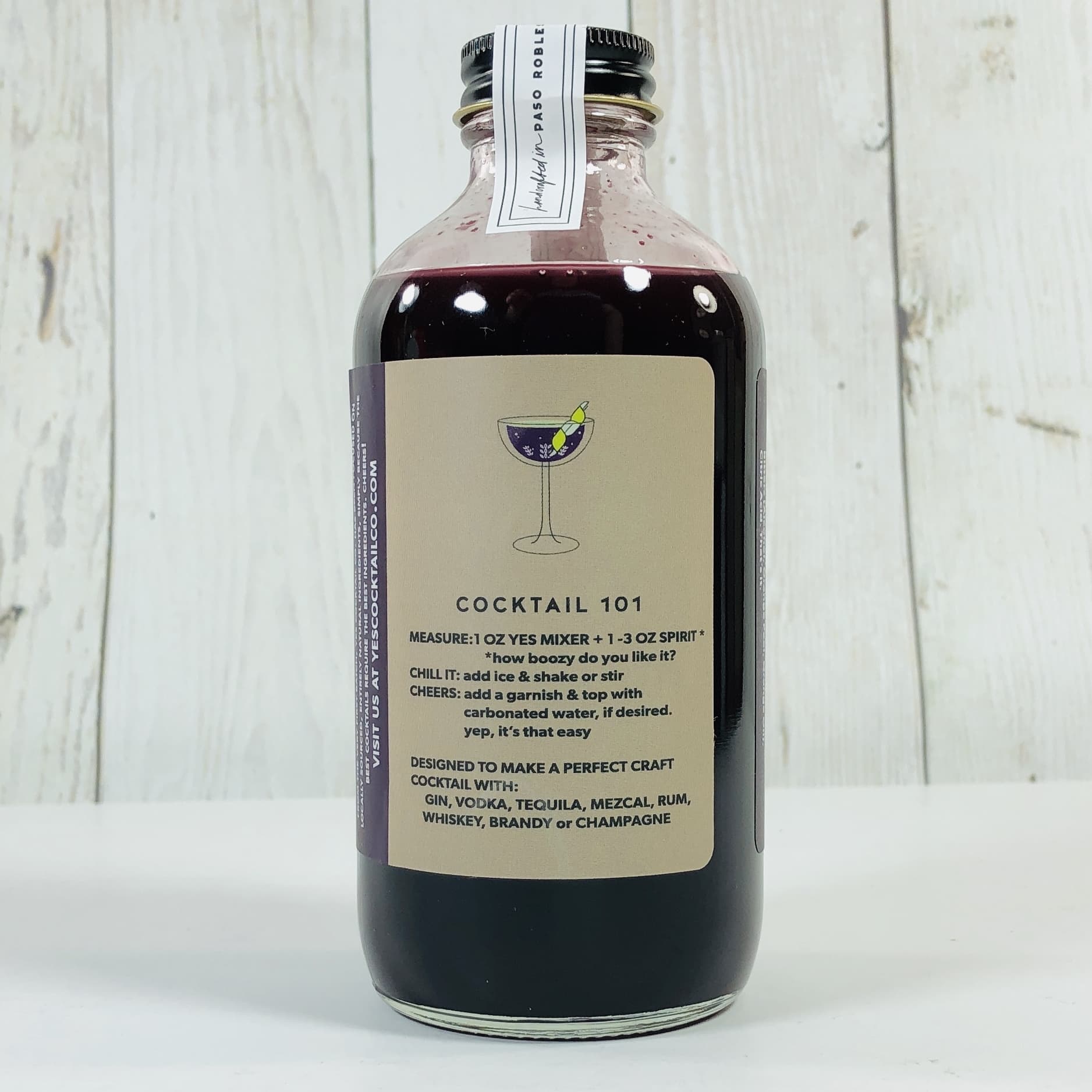 To make a cocktail simply mix with your liquor of choice and then add some fizzy water if you like. Not into alcohol? Just add to fizzy water for a snazzy soda.
Water, fruit purees, sugar, bitters, and citric acid are the all-natural ingredients. I haven't had a chance to mix it up yet but I did pour a bit of syrup on a spoon and it was like blackberry pancake syrup, sweet and berry fruity. I will definitely make sodas and iced teas with this stuff!
MidiQueen Handbags The Large Wallet ($43) When I opened the box this month the first thing I saw (and smelled) was this leather wallet! It looks a little different than the one shown on the MidiQueen website but it mentioned that it could be in leather or suede. The leather on the website was pebbled and this is smooth so maybe it's suede. Please note that some subscribers received a bag instead of a wallet.
There is space for a credit or ID card on the inside and there is a snap closure.
There is a divider on the inside. The wallet is about 9″ x 5″ and might fit a cell phone and some bills or a checkbook.
Jesse and Co Two-Row Satellite Bracelet in Silver ($28) A dainty sterling silver bracelet is subtly shiny and shows how something simple can add some dazzle.
The bracelet is 7″ from one clasp to the other and wouldn't fit on my plus size wrist so my daughter is modeling it here.
The chain style is satellite, which means it has these little silver spheres every 3/4″ of an inch or so. It is very pretty!
Lauren Beckett Coconut Wax Candle in Old Fashioned ($18) I love the candles California Found sends, they always have the best scents!

This one is made of coconut wax and I even love the jar, what a lovely color it is! There is some twine wrapped around the top and it has a seeded tag on it (so you can sprout some seeds in the empty vessel afterwards). In an abundance of caution I removed the twine before burning my candle, which has a sweet and warm scent with notes of dark red fruit, citrus, and cloves. It even smells good while burning and has good throw. Look at that wooden wick!
California Found sent a superb selection of items for December! They tend to send some products regularly (jewelry, candles, etc) but they are always unique and of course they are high quality. The candle and mixer are my favorites this month and will be used up before too long. The bracelet and bag are meant to last for a while but if like me something doesn't work for you then they make lovely upscale gifts. The value for the December box was around $106!
What do you think of California Found? Let me know in the comments!