Rowan Earring Club is a special monthly surprise for tweens and teens that includes a fresh pair of earrings and a curated content designed to initiate a meaningful conversation. Your first box will also include an earring stand, earring pouch, journal, and pen! The box costs $19 per month on an annual subscription but you can opt to go for a 6-month plan for only $22 a month. What's great is that you don't have to pay upfront – it gets charged monthly! Gold vermeil earrings are $2 more per month than silver.
Currently every order from now through the end of the year will start with this Rowan Holiday box. There's still time to subscribe and gift!
Our Holiday Box arrives in its new bright red design and features our holiday earring design, the star! Our star design is all about how girls shine bright, much like the stars in a December sky or atop the Christmas tree! There are many ways the star relates to the holidays!
NOTE: If you purchase a Rowan Earring Box between November 1 – December 31, you can expect the first month's box to be delivered between 5-7 days after your time of purchase. Please note that all second boxes will recur on January 10 to allow time for the first box to be gifted for the holidays.
Upon opening, we were greeted by a cute illustration of the items inside the box.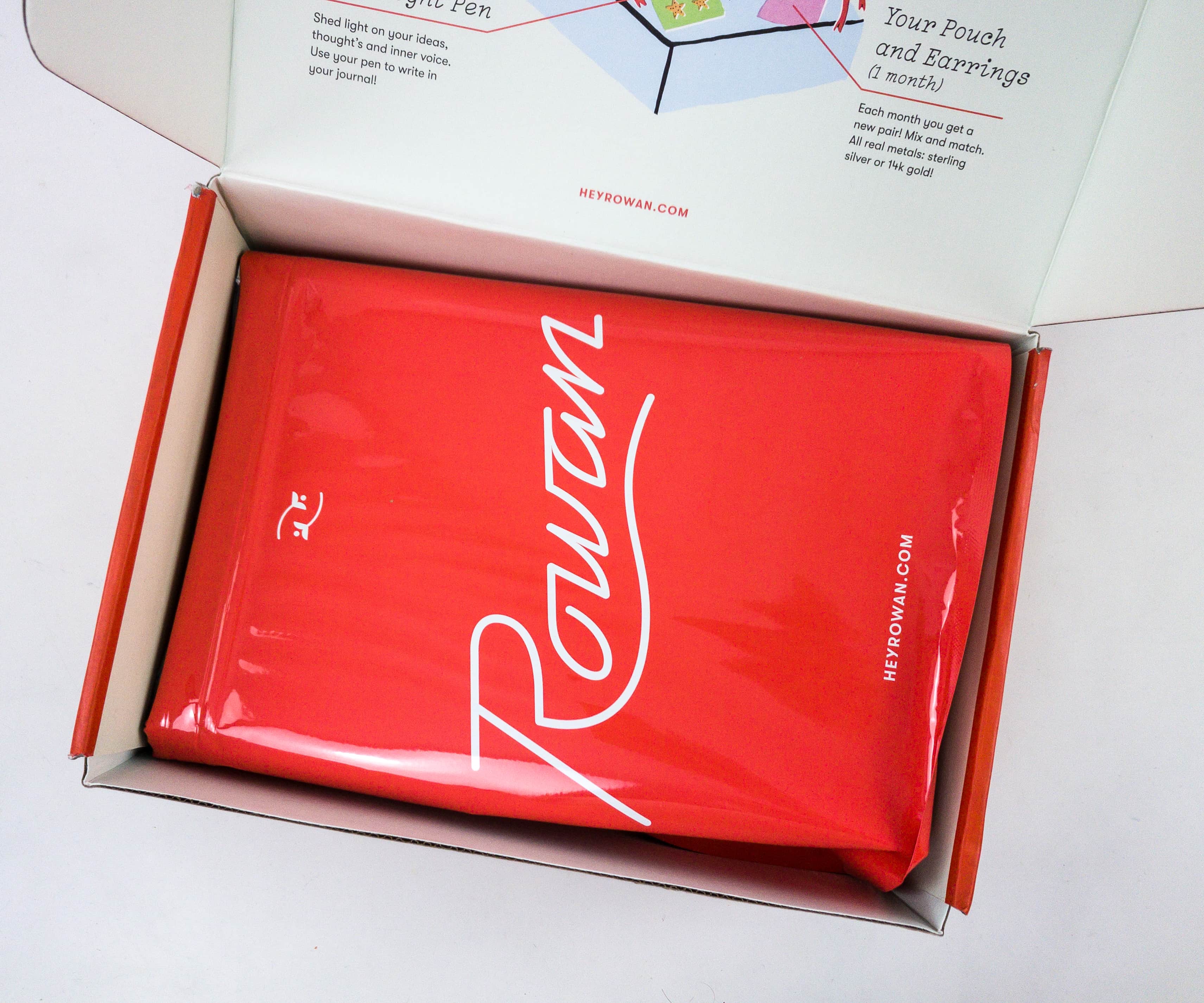 The items were inside a reusable plastic pouch.
Simple words of affirmation can be found at the bottom of the box.
We also got a special card!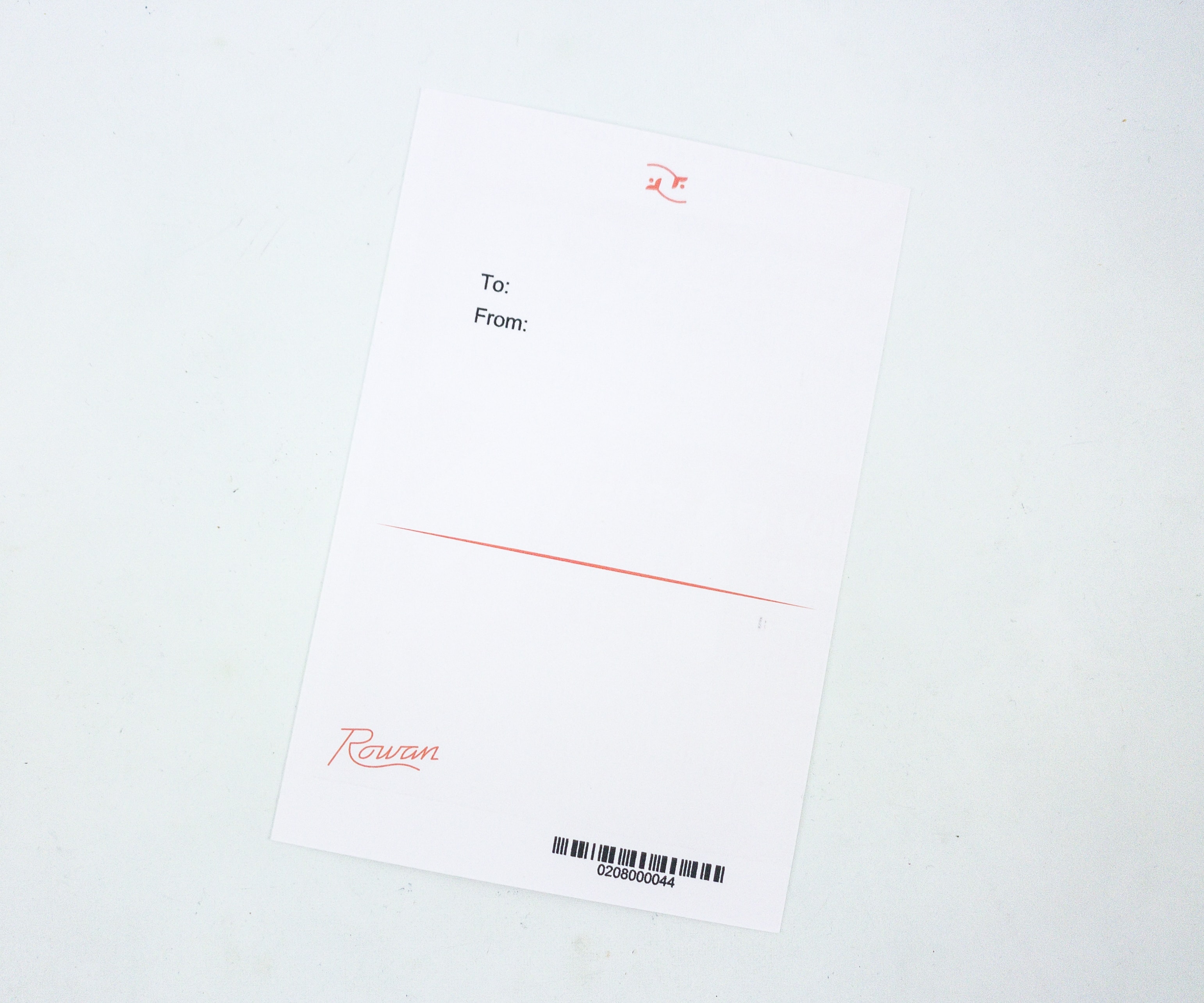 It can be used to add a note, in case you're giving this box as a gift. We are!
Here is where the magic starts! The pouch is resealable and it also features the brand logo on one side.

The other side says "This is the best part." Yes, I agree!
With every package, you'll get a conversation card. It's wonderfully illustrated and also has questions that make great conversation starters! This month's theme is STAR!
You'll find the same words of affirmation from the bottom of the box at the back of the card.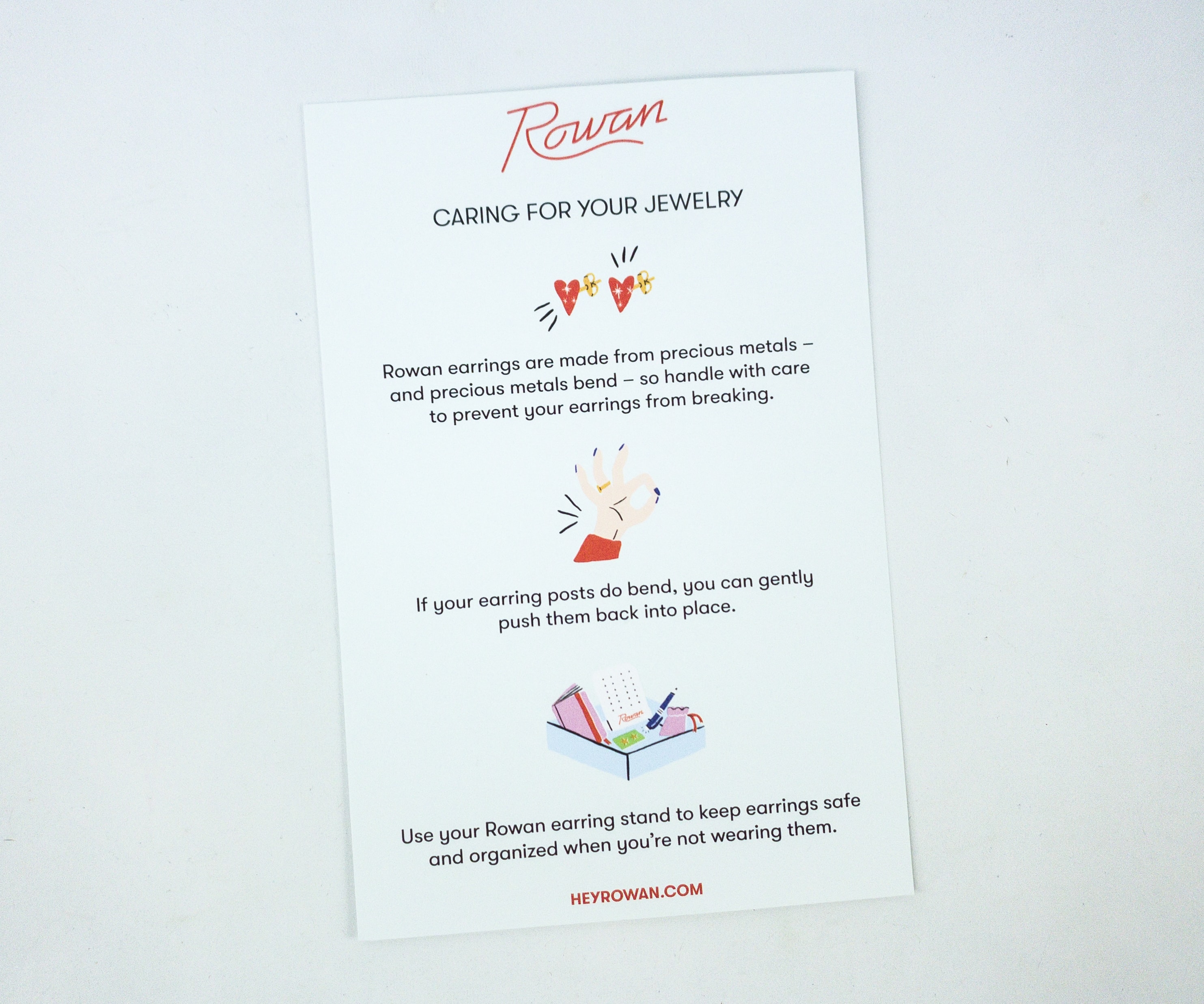 They also included a care card. It has simple instructions on how to take care of your precious earrings!
This information card contains details of the available metal selection of this box. I think either Rowan sold out of 14k gold for the holiday box or they don't offer it any longer. Stay tuned!
Everything in the box!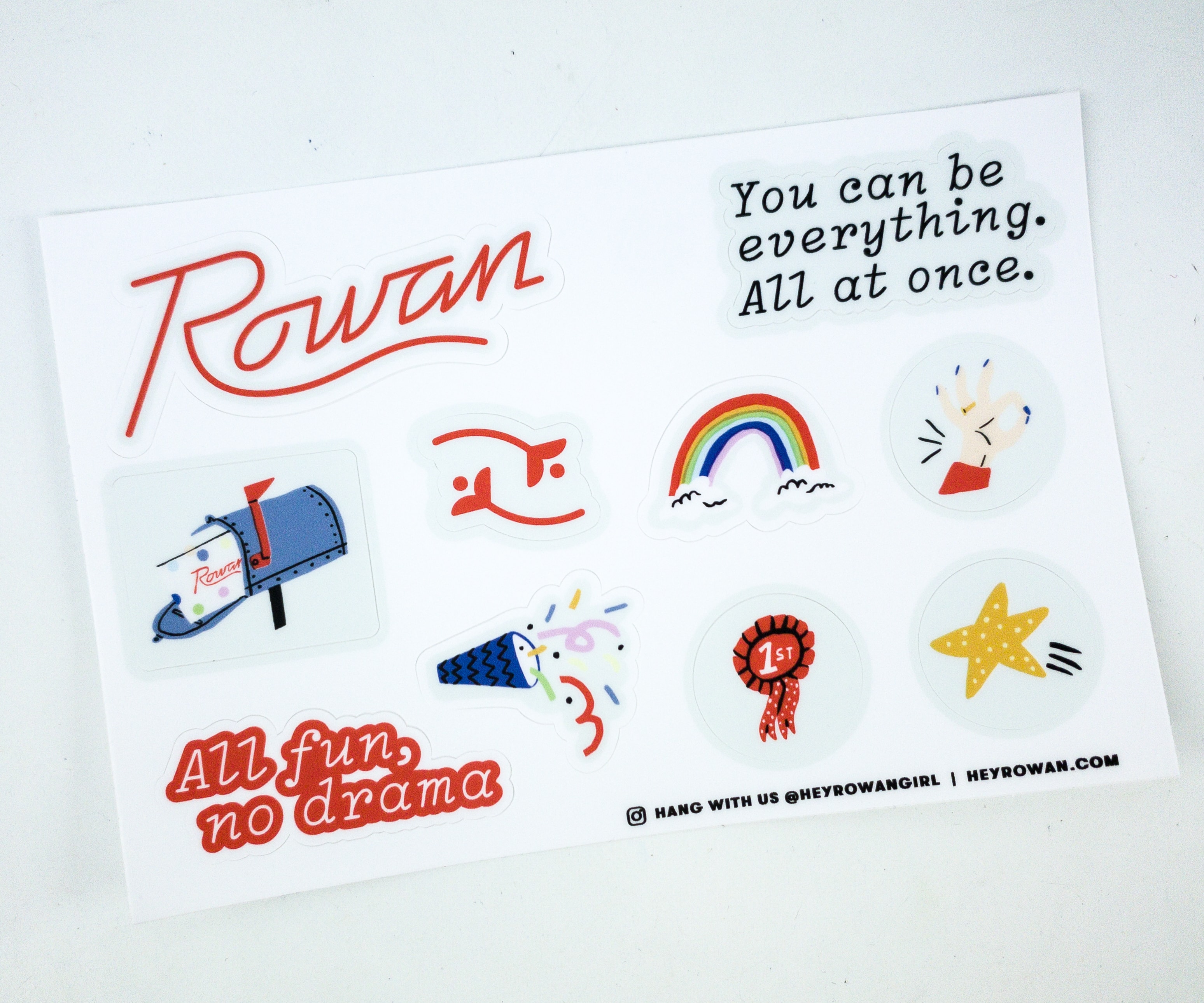 Sticker Sheet. We got this sticker sheet that we can use to decorate notebooks or even stick to the earring stand for a dash of fun!

Pen. This pen is cute! It's in white and green, with the branding on the barrel.
It's pretty lightweight and easy to grasp. My daughter can definitely take this anywhere to write notes or to scribble!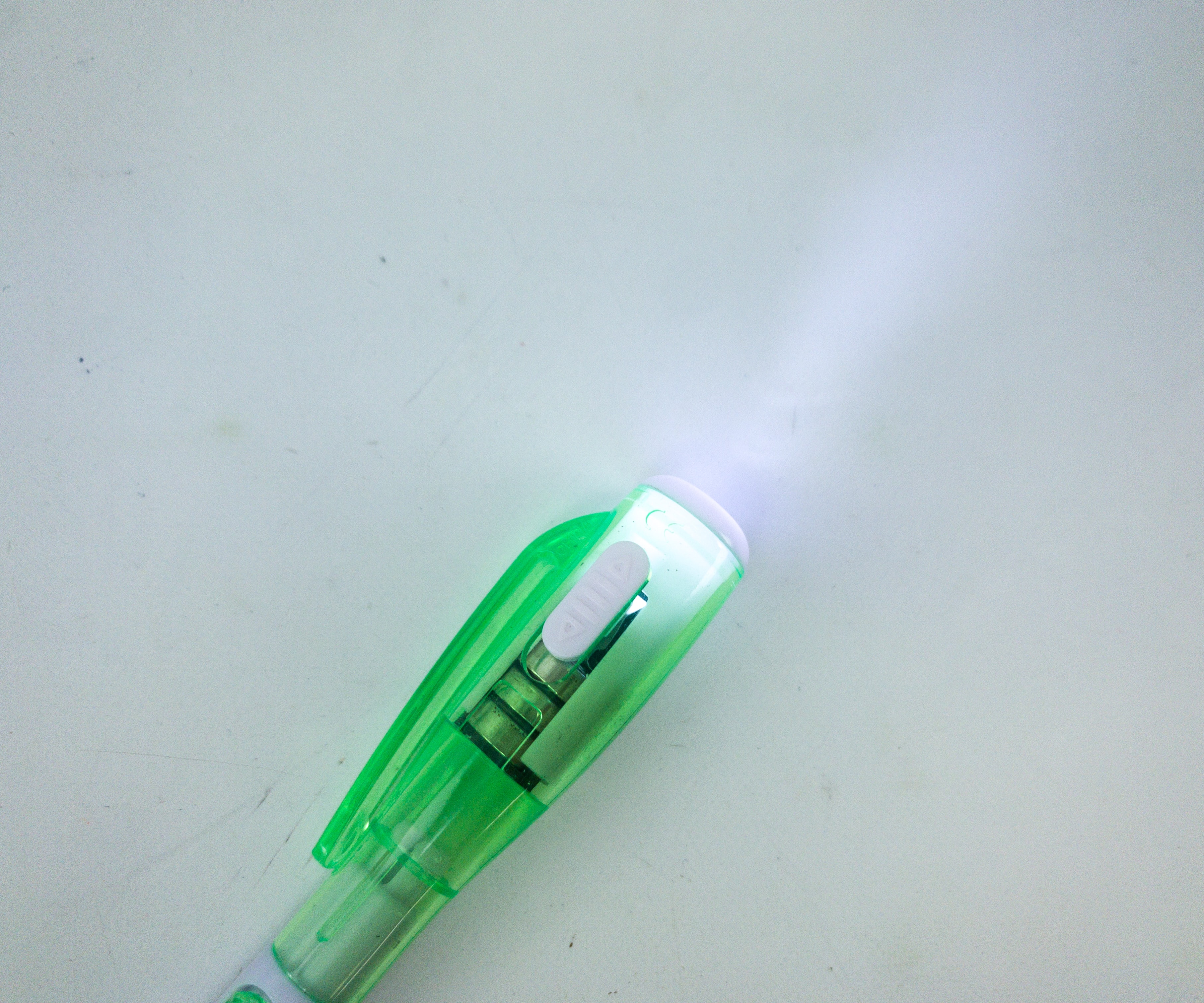 This pen even doubles as a mini flashlight!
Journal. The journal is simple, just bearing the Rowan logo in the middle. Our minds go wild while thinking of ways to customize and personalize this journal!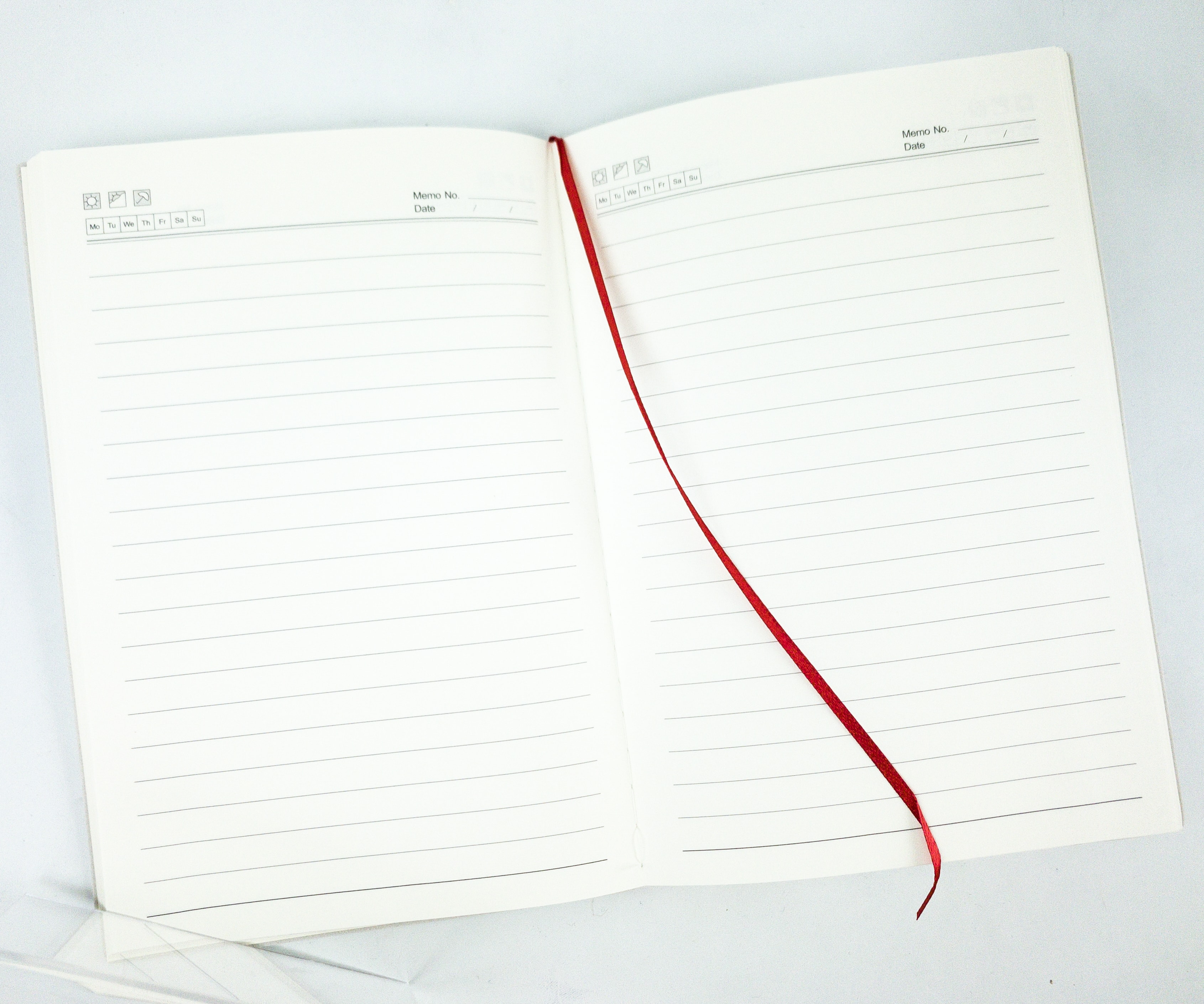 I like how it has a red ribbon so I can easily bookmark a page. The pages are lined and they're so smooth!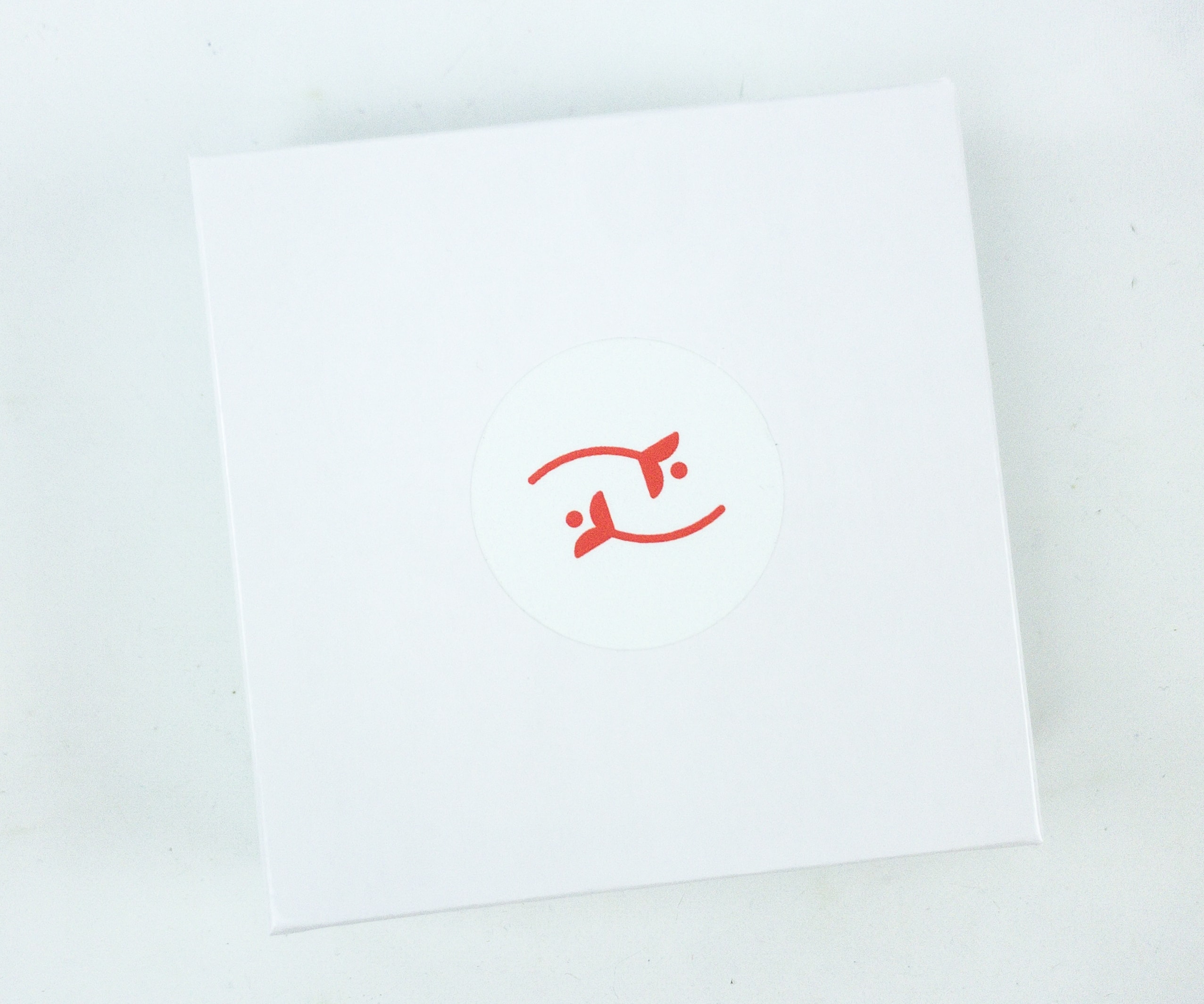 Earrings. Now, we're going to the best part and we're so excited!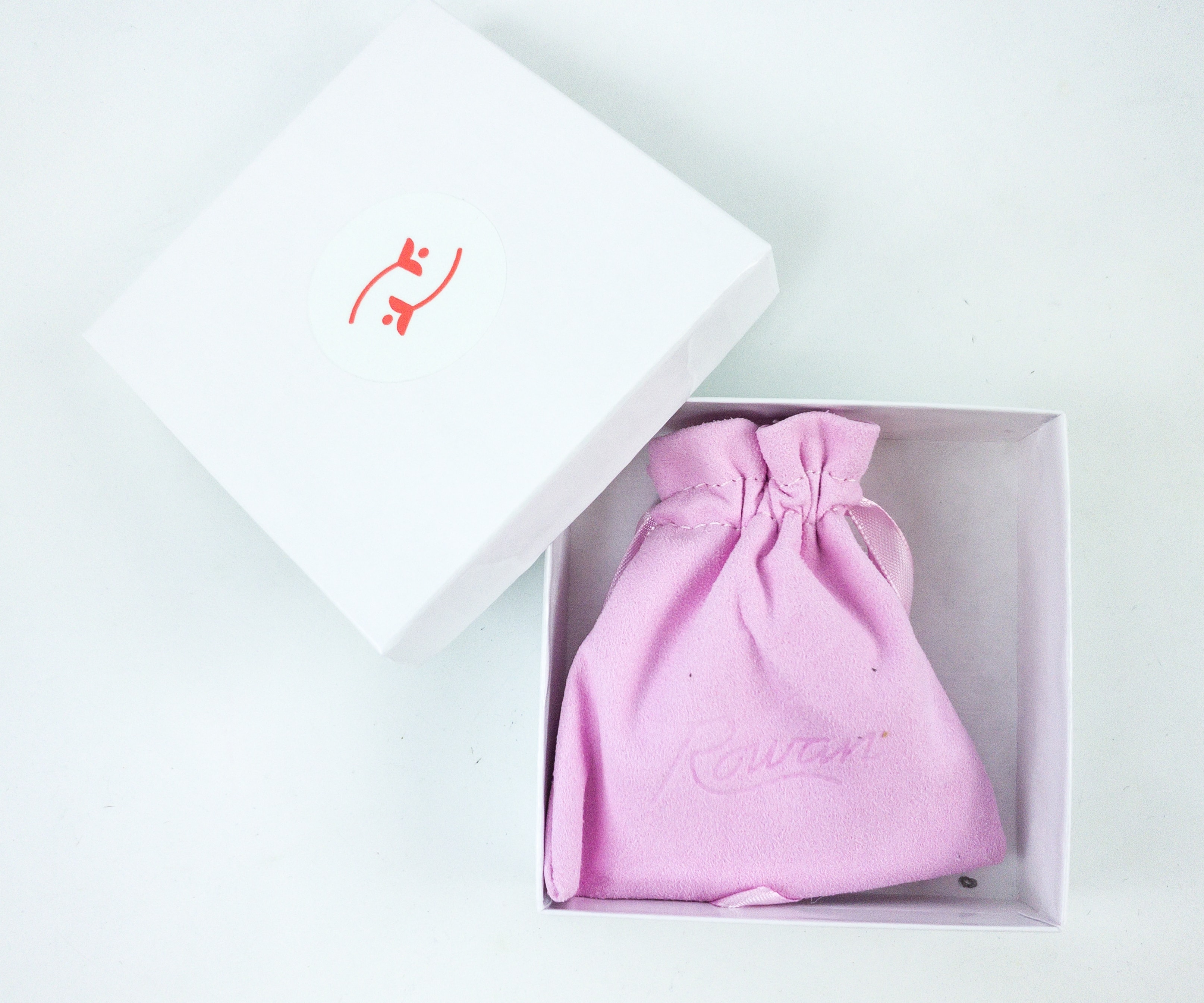 Upon opening, there is a cute pink pouch inside the small box.
Inside it is another pouch, an organza one. We appreciate the well-secured packaging, they really ensured that the earrings arrive unscathed.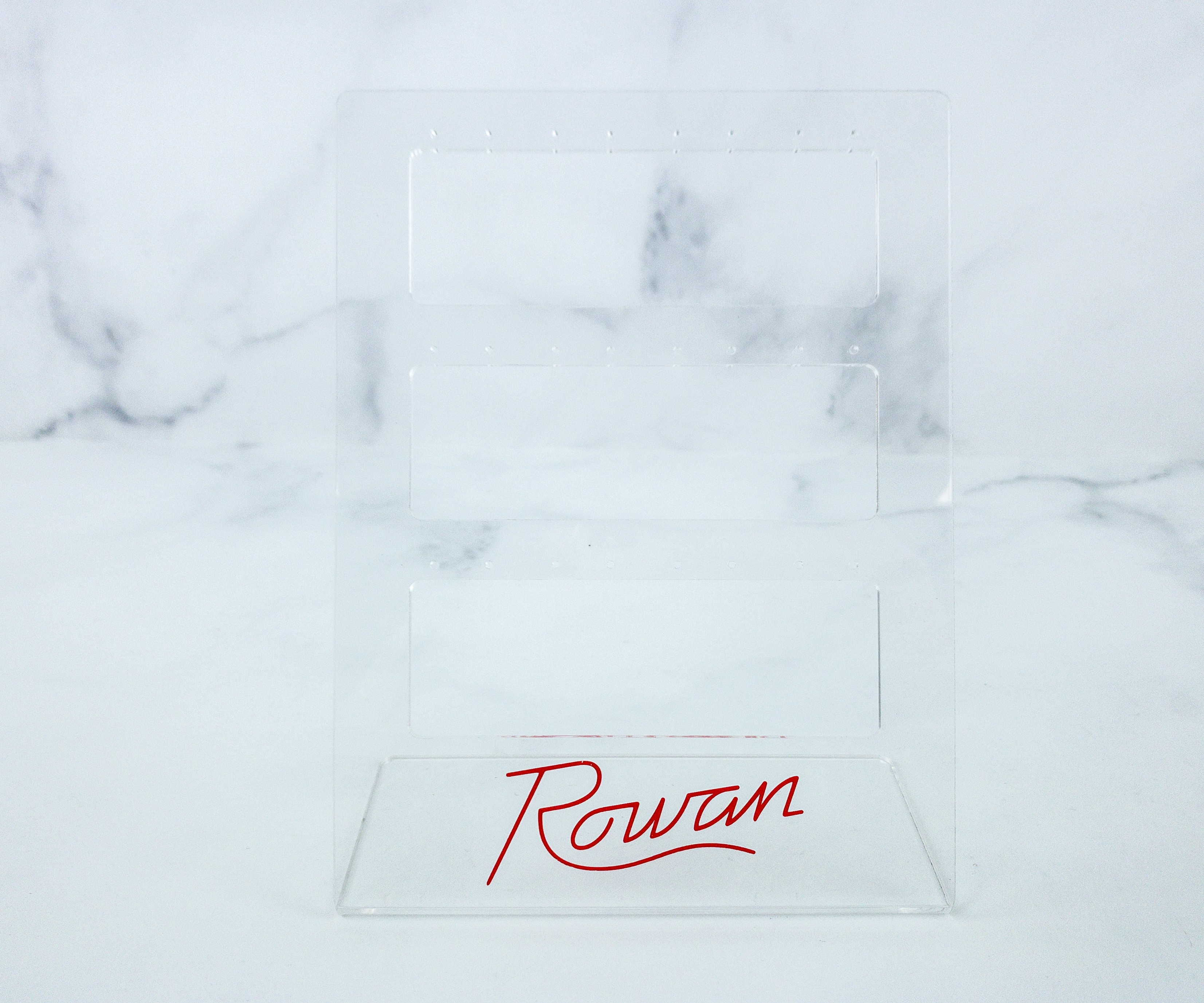 This clear earring stand is perfect, with the branding below. It can easily house a dozen of my daughter's favorite earrings! This way, even when we're in a hurry, she won't have a hard time picking out which one to wear for the day!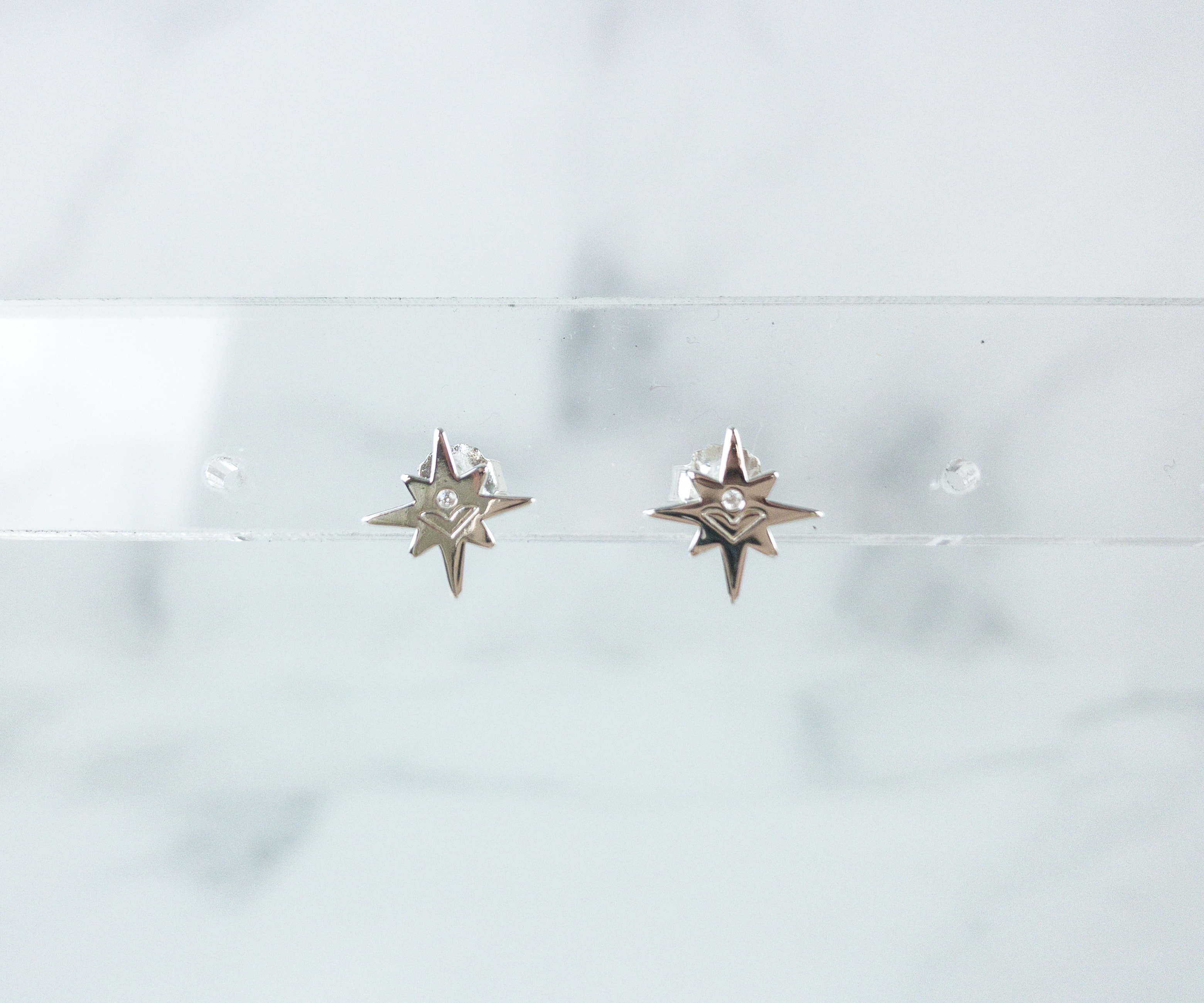 These silver-colored star studs look lovely. There's a small clear stone with a heart engraved below. They're also light and easy to wear. We meant to subscribe for gold vermeil, which Rowan's customer service had no problem adjusting our order so future boxes will be gold.
We promised our daughter to get her ears pierced if and when she wanted to. This is her big birthday present (she's turning 11), and she's over the moon with anticipation of getting to wear these after the piercings heal and she's allowed to switch out the jewelry. I can just imagine what a wonderful gift this would make from a parent, grandparent, or that special aunt looking to jazz up the holiday gift routine!
All in all, we're pretty happy with the contents of this intro box! I think it's well worth the price of the box, given that the earrings are hypoallergenic and nickel-free. We also liked the pen because it doubles as a flashlight! I just wish they included more stickers because the journal is plain. This way, my daughter can use the stickers to decorate the journal! Now we're really looking forward to next month's box, especially to check out the conversation card!
What do you think of Rowan Earring Club?