SnackSack is a monthly subscription service that sends boxes filled to the brim with a combination of organic, non-GMO, gluten-free, all-natural, vegan and fair-trade snacks to your door every month!
SnackSack now offers two new subscriptions – SnackSack Vegan and SnackSack Gluten-Free! Regular SnackSack is still priced at $22 per month, while the new SnackSack Vegan and SnackSack GF will be available for $24 per month. Plans are also offered in 6-month and 12-month options, plus they now ship to Canada!
This is a review of SnackSack Classic Box.
DEAL: Get 10% off the entire lifetime of your subscription with coupon code HELLO or use coupon code HELLO20 to save 20% on your entire plan!
The box was well sealed!
It features cute doodles on the inner flaps.
Everything arrived stacked neatly in the box with no extra packaging or fillers.
The pamphlet has all the necessary information about all the snacks in the box!
This month's theme is Happy Halloween!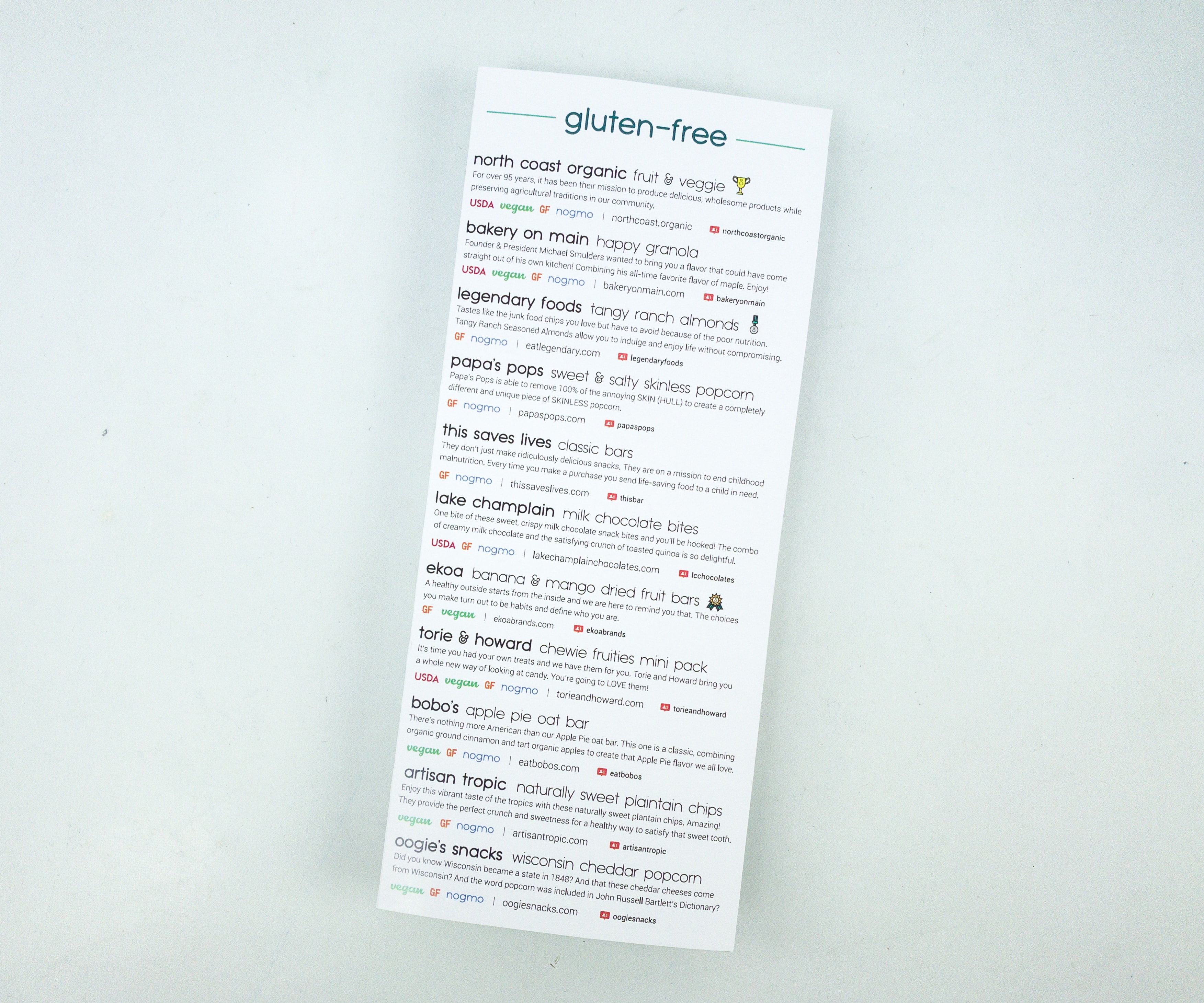 Here's the list of all the snacks!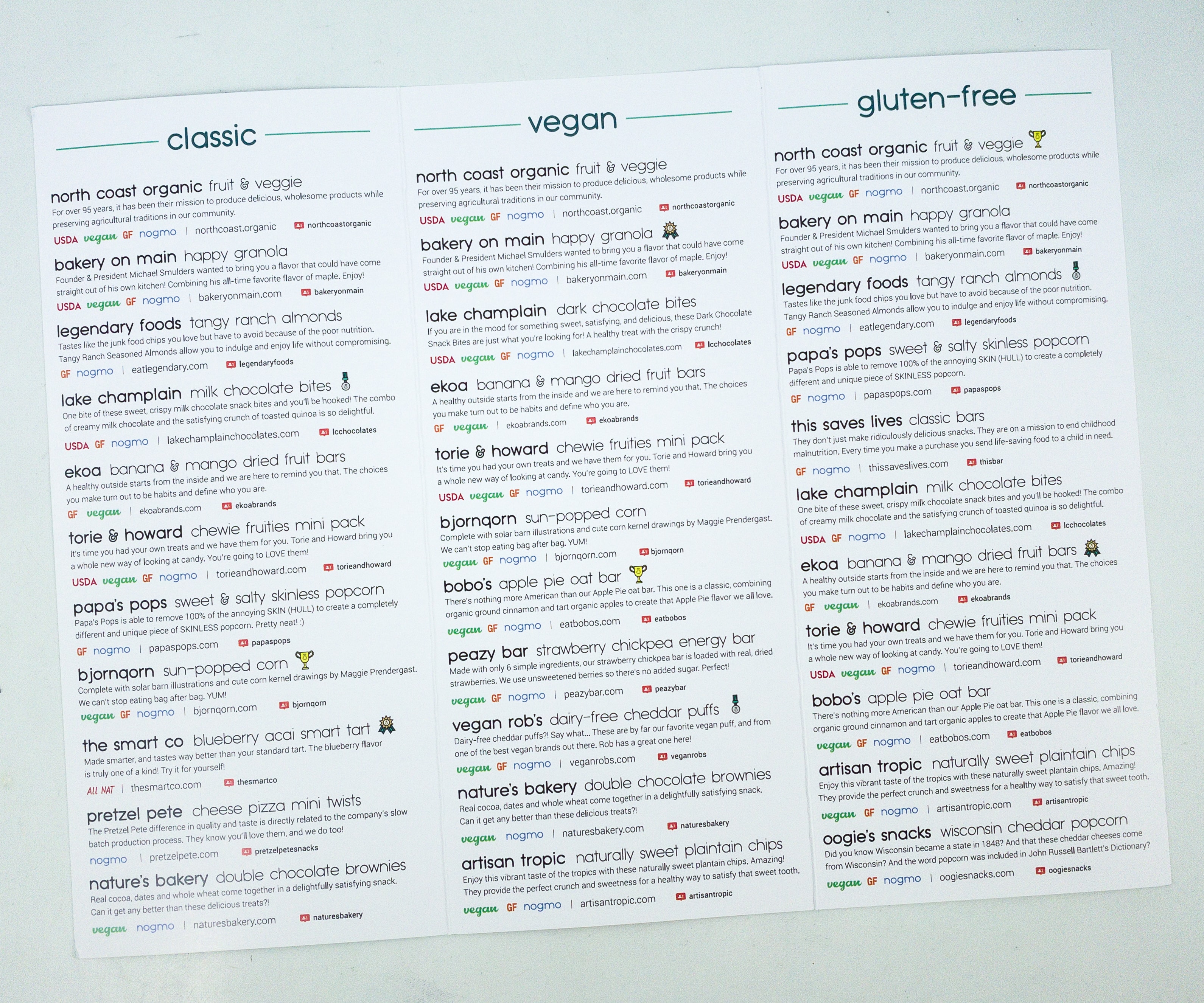 Snack Sack makes it easy to find the gluten-free, vegan, and non-GMO snacks at a glance.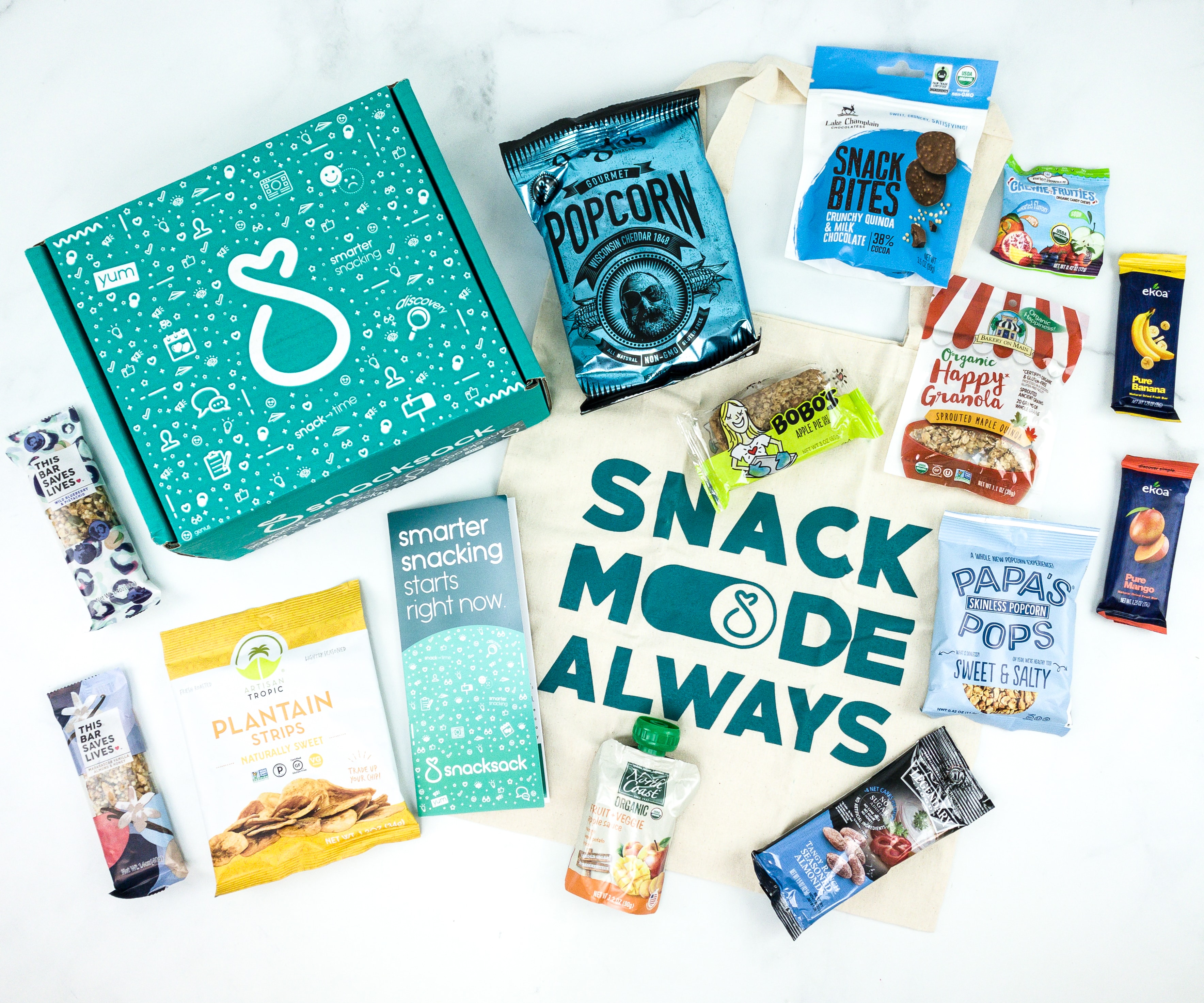 Everything in the box!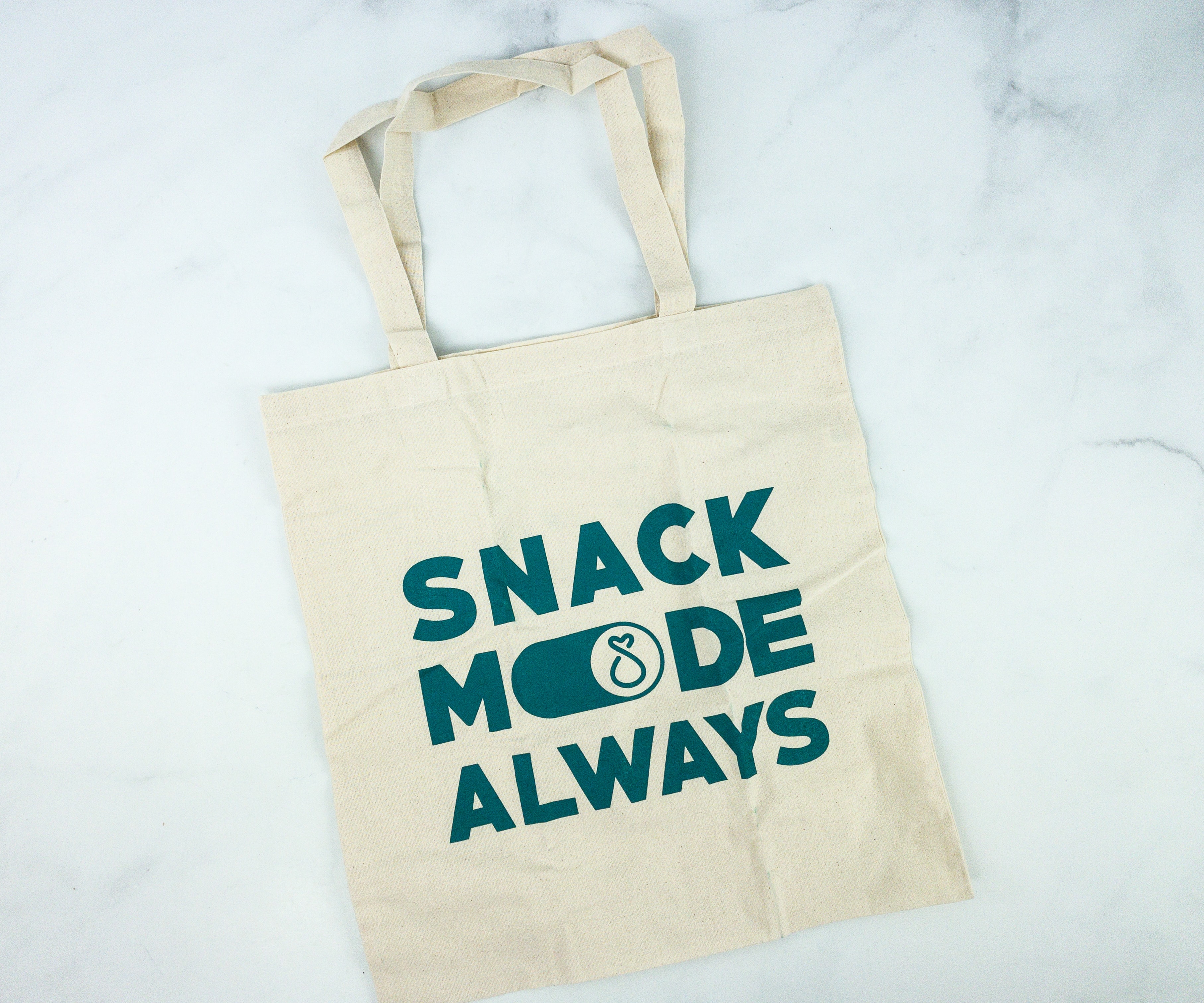 Tote Bag. Each month, SnackSack includes a cute tote bag where we can stash all our snacks!
This month's bag says "Snack Made Always!"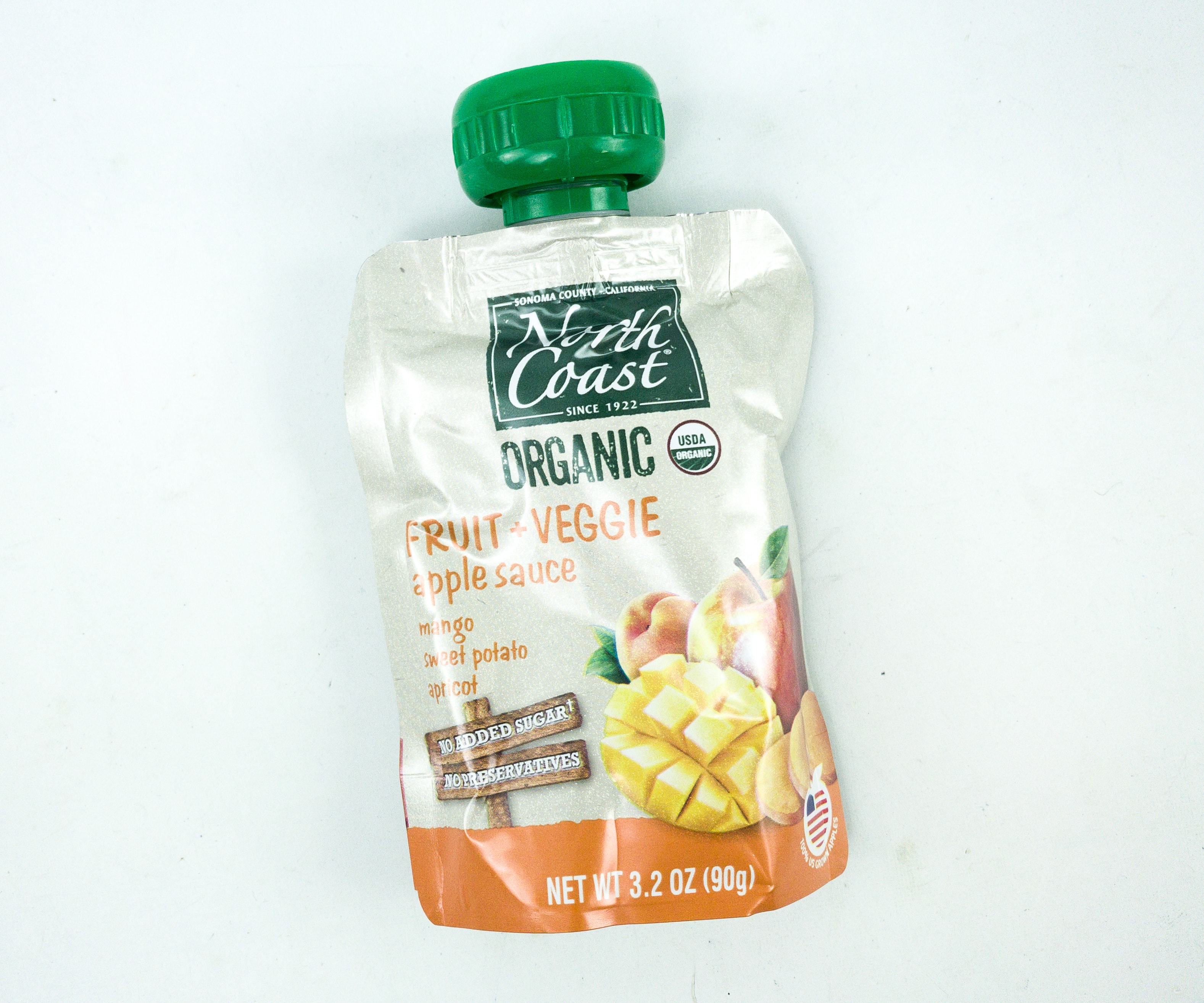 North Coast Organic Fruit + Veggie Apple Sauce ($1.43) It's an all-organic, apple sauce blended with real mango, sweet potato, and apricot. We consumed it as is and it was fresh and tasty! You can also add it to your oatmeal for a fruity twist.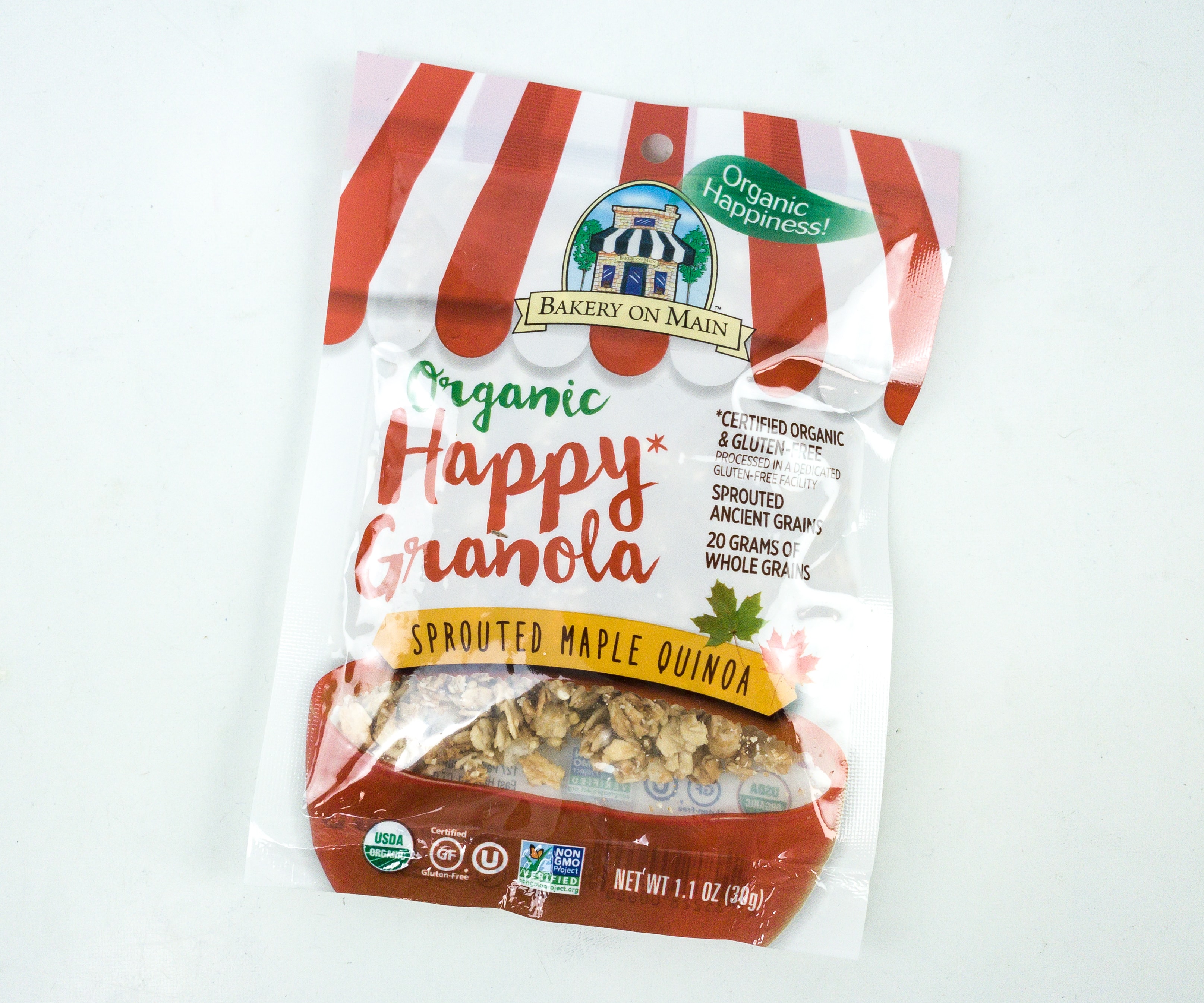 Bakery On Main Organic Happy Granola Sprouted Maple Quinoa ($0.79) This pack contains gluten-free, non-GMO and premium0quality organic granola! It's made with the deliciously healthy combination of oats, quinoa, and maple. The sweetness was just right to fulfill my cravings. It would also make a great grab-and-go snack or lunchbox snack!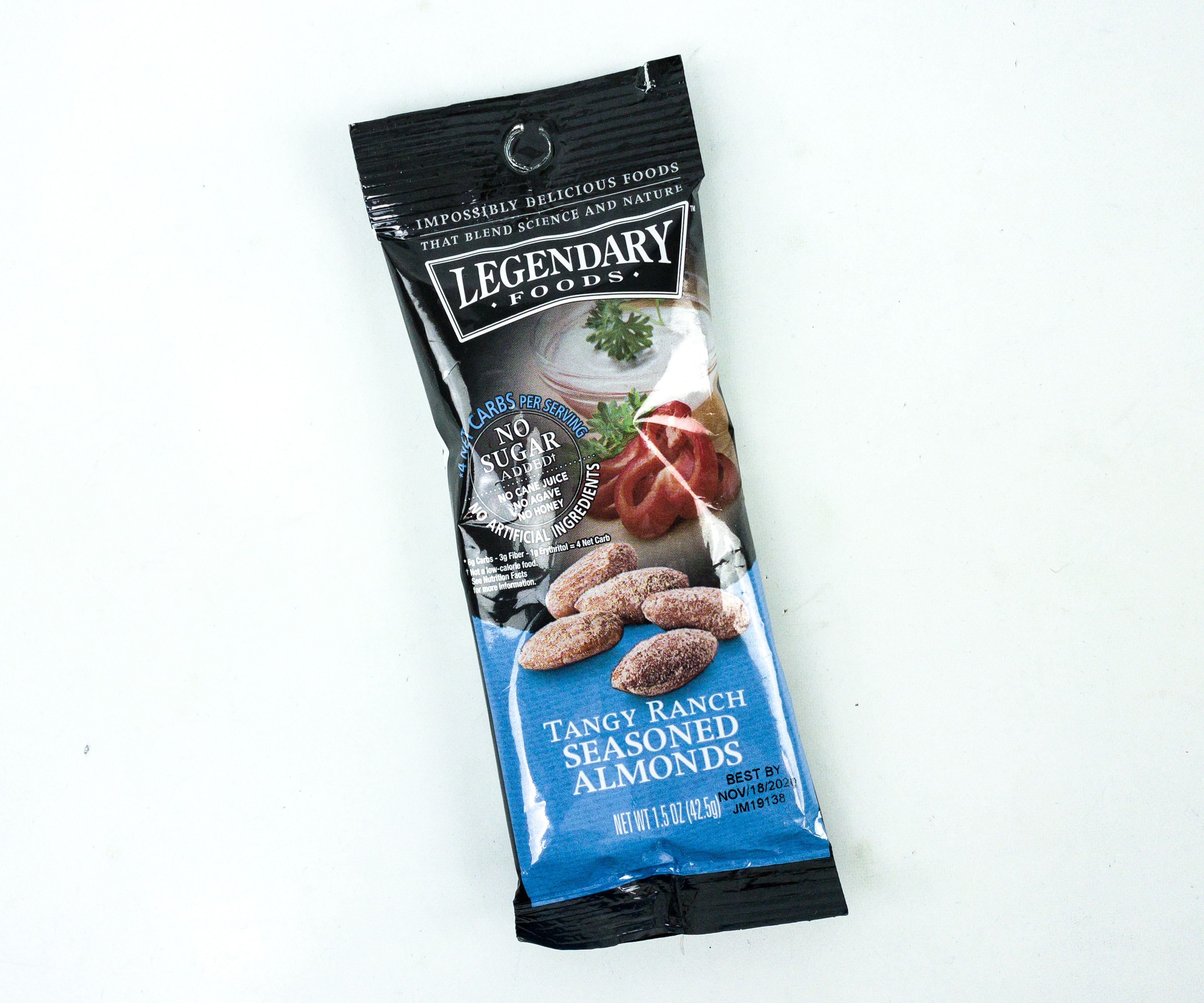 Legendary Foods Tangy Ranch Seasoned Almonds ($2.33) This snack is truly legendary! It's a supremely nutritious treat featuring crunchy almonds seasoned with a tangy ranch flavor. It's not just low in calories and carbohydrates, it's also a great source of potassium, fat, and protein. We loved munching on these! They're quite addicting!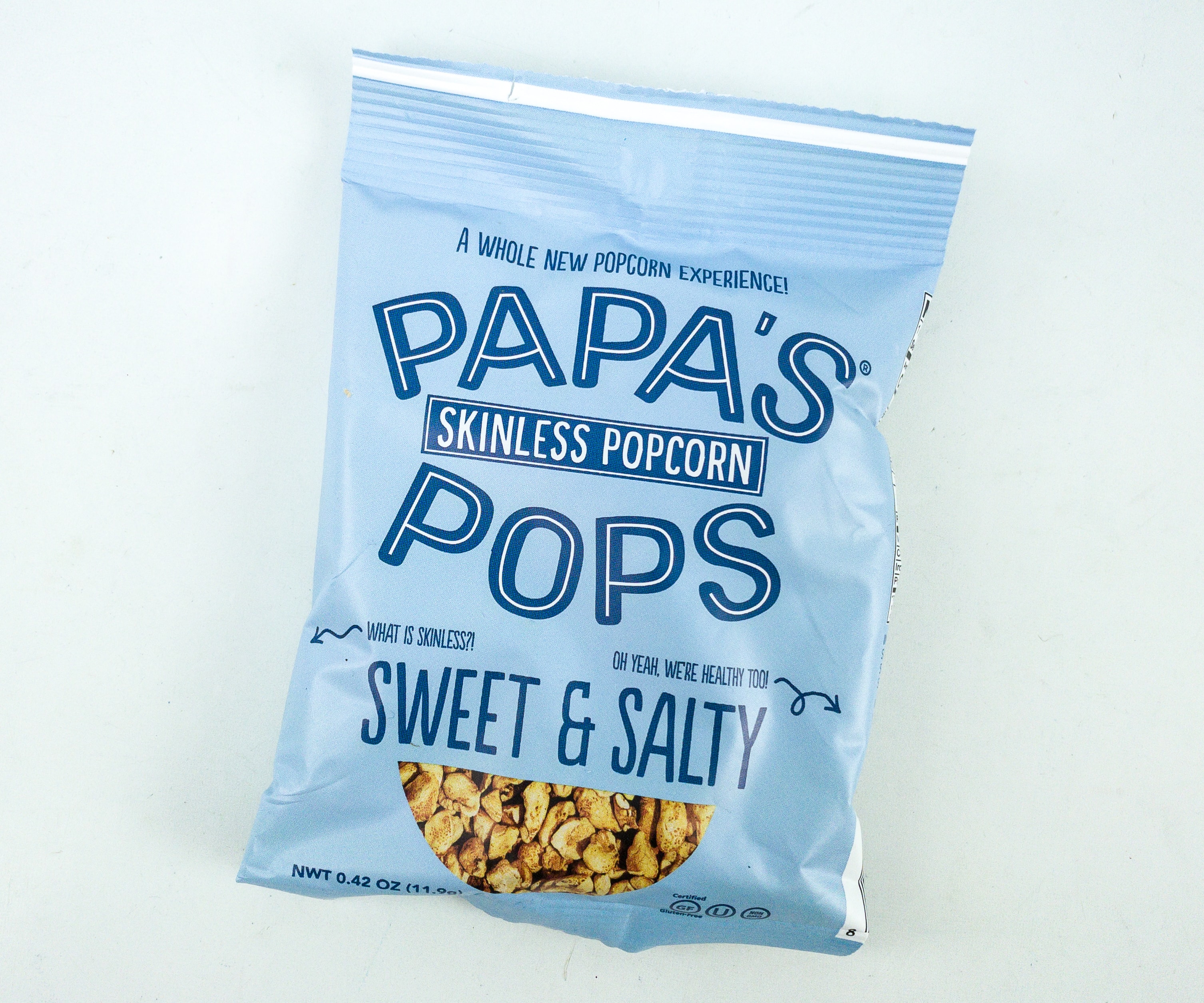 Papa's Pops Sweet & Salty Skinless Popcorn ($2) Here's a unique and amazing take on popcorn, our perennial favorite! They made the popcorn skinless, which means there's no more hull and no more popcorn getting stuck on our teeth. We got the Sweet & Salty variant which is exactly what it promised, a delicious hint of sweetness and saltiness in one bite. The best thing is that it's non-GMO, gluten-free, nut-free, and kosher!
This Bar Saves Lives ($5.04) We got a pair of delicious bars from This Bar Saves Lives. One is Wild Blueberry & Pistachio and the other is Madagascar Vanilla Almond & Honey. These treats are both delicious and filling, and an ideal breakfast snack to fuel up your day!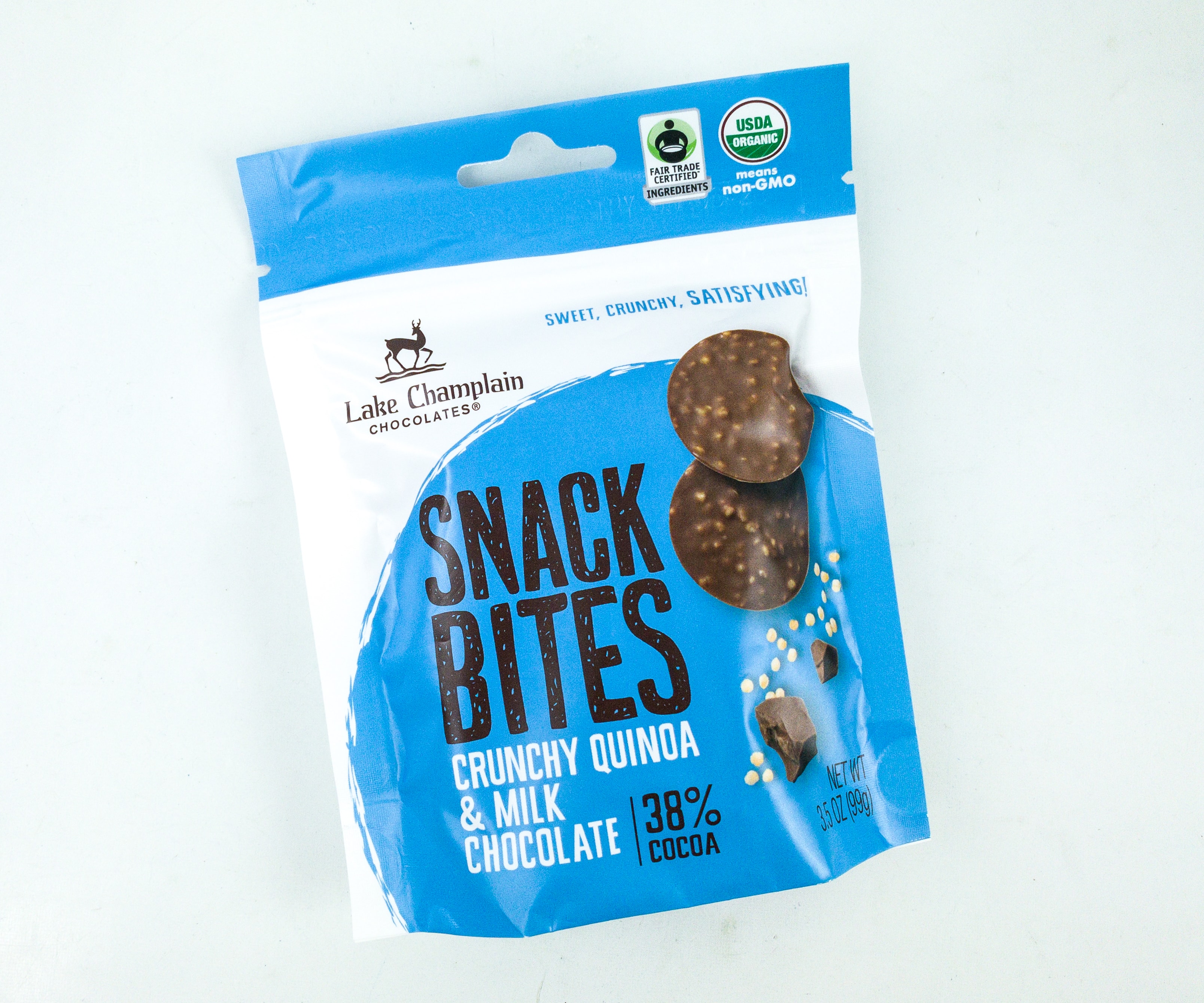 Lake Champlain Chocolates Snack Bites ($5.84) Crunchy quinoa plus milk chocolate equals a delicious treat that we can't get enough of! These snack bites are even organic, non-GMO, and made with fair trade certified ingredients, so munching on them is totally guilt-free.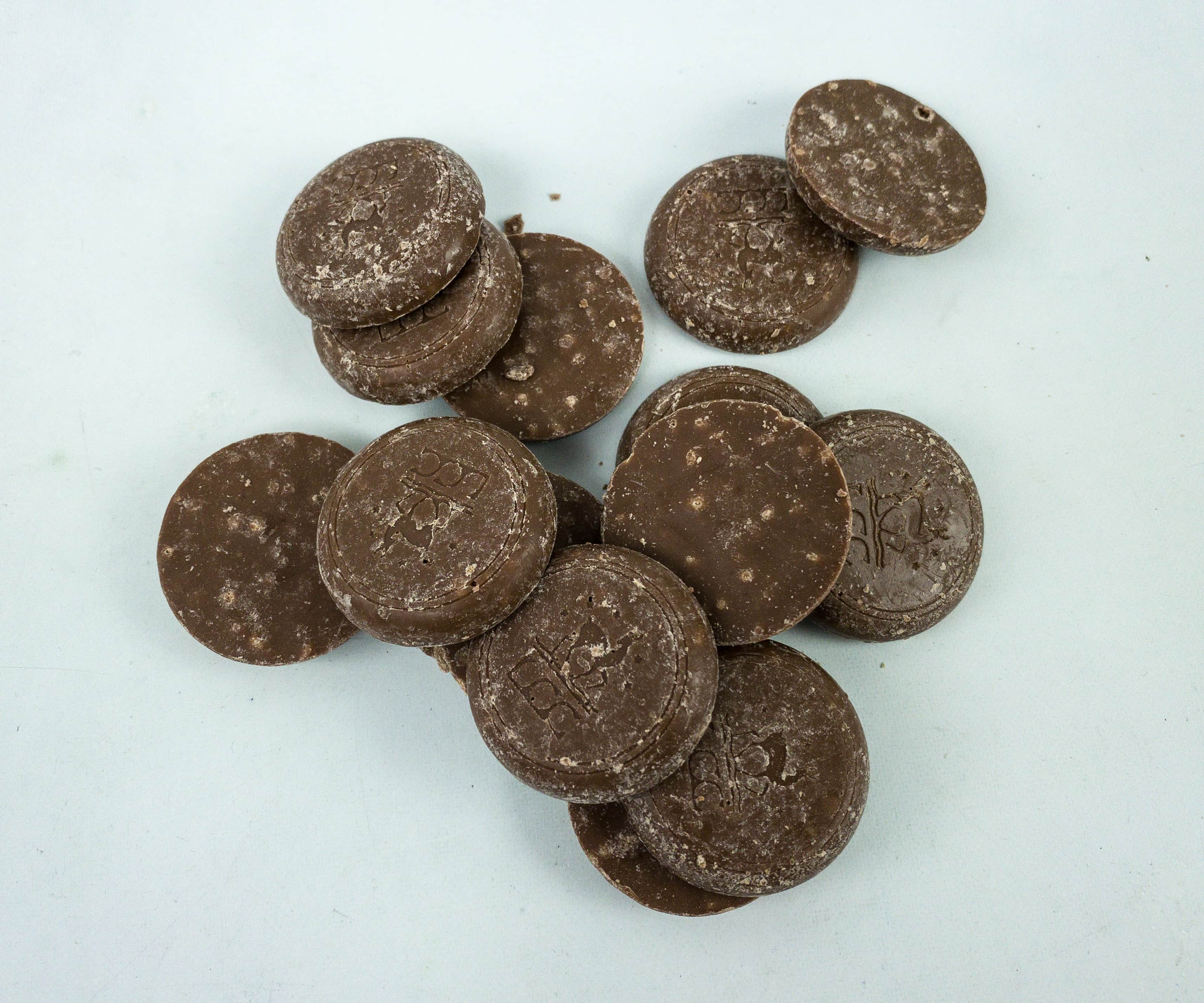 They look like chocolate coins! The chocolate is sweet and creamy, while the quinoa added a nice texture to the treat.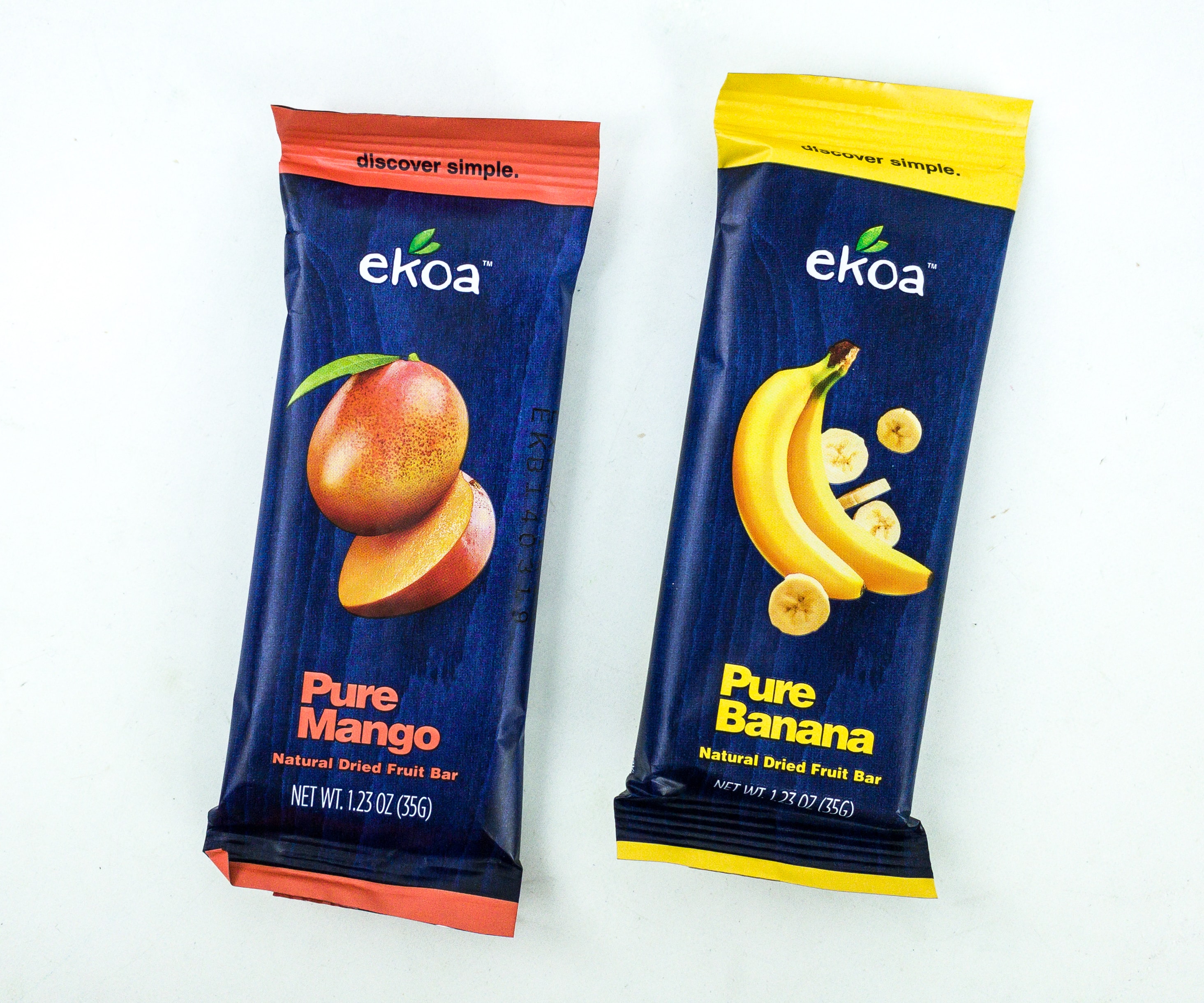 Ekoa Natural Dried Fruit Bar ($3.66) These dried fruit bars are gluten-free, lactose-free, and soy-free! They taste natural and fresh because they're made from real banana and mango that went through a natural drying process. Both bars we've tried are sweet and filling, plus they're perfect to bring on-the-go!
Torie & Howard Chewie Fruities Organic Candy Chews ($0.32) Brown rice syrup was added in these all-organic candy chews, making them satisfyingly sweet yet healthy. They're chewy and packed with vitamin C as well. It's like the healthier and tastier version of Starburst!
Bobo's Apple Pie Oat Bar ($2.49) We got another snack bar in our box and this time it's made with wholegrain rolled oats, organic apples, and organic ground cinnamon. It does taste similar to an apple pie. Aside from filling my hunger, it was also perfect for my sweet tooth cravings! The bar is even gluten-free and soy-free!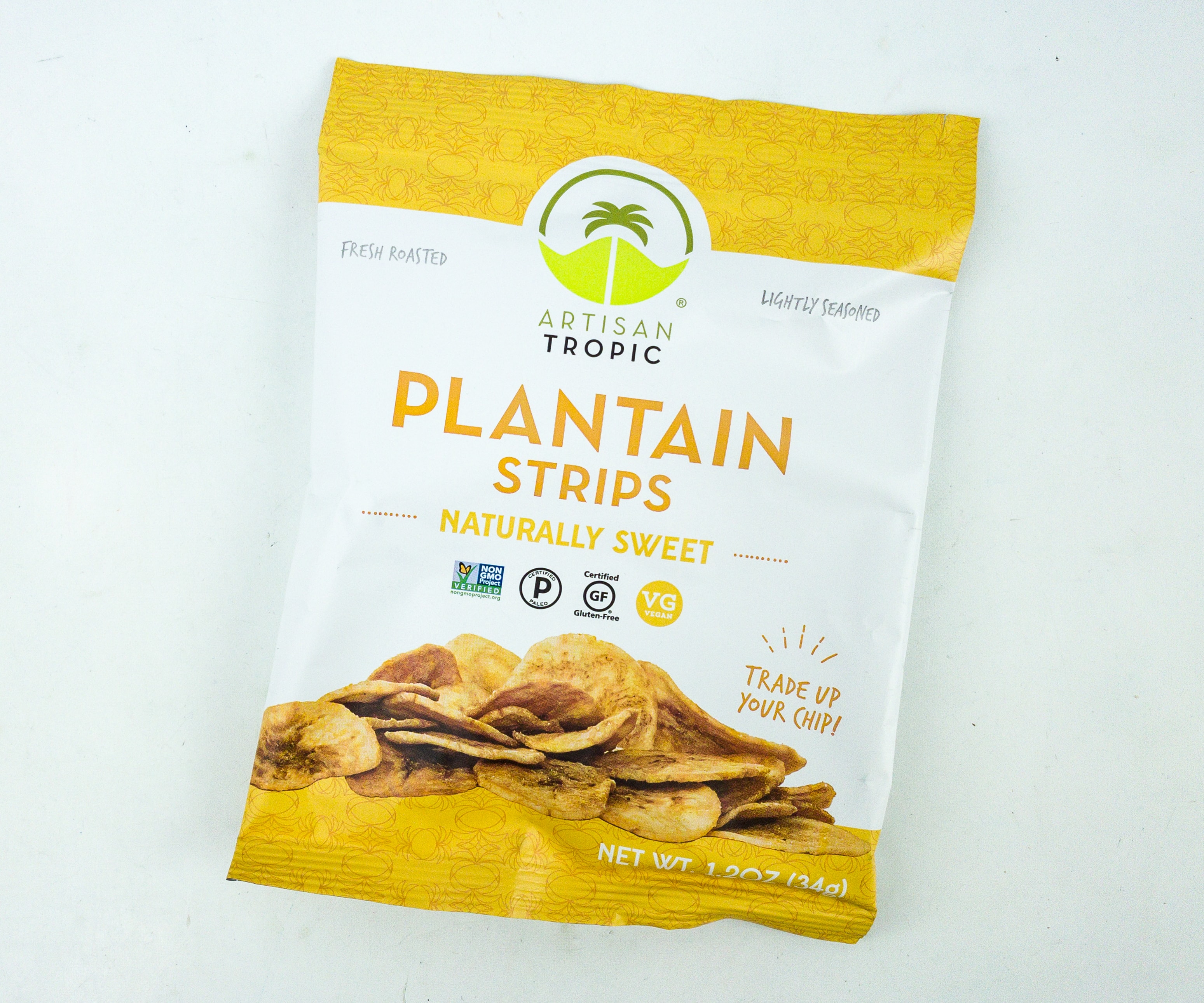 Artisan Tropic Plantain Strips ($1.87) We love plantain chips, and this one didn't fail our expectations! It's naturally sweet and only lightly seasoned with sea salt. If you munch on the chips in one sitting, it's pretty much filling. It's a great source of fiber as well!
Oogie's Gourmet Popcorn ($2) This bag of gourmet popcorn features a Wisconsin cheddar cheese flavoring. It's made from all-natural ingredients and is whole grain, gluten-free, and non-GMO as well. The popcorn is so good, it melts in your mouth and doesn't get stuck in your throat!
SnackSack has once again delivered another interesting curation of healthy and delicious treats for our family this month! Each snack features a unique taste and texture, keeping us happy and excited to try them all out. We got tasty on-the-go snacks, plus delicious treats perfect for sharing with everyone. If you love snacking like us but want to keep it healthy, this is definitely the perfect subscription for you!
What do you think of this month's SnackSack Classic?