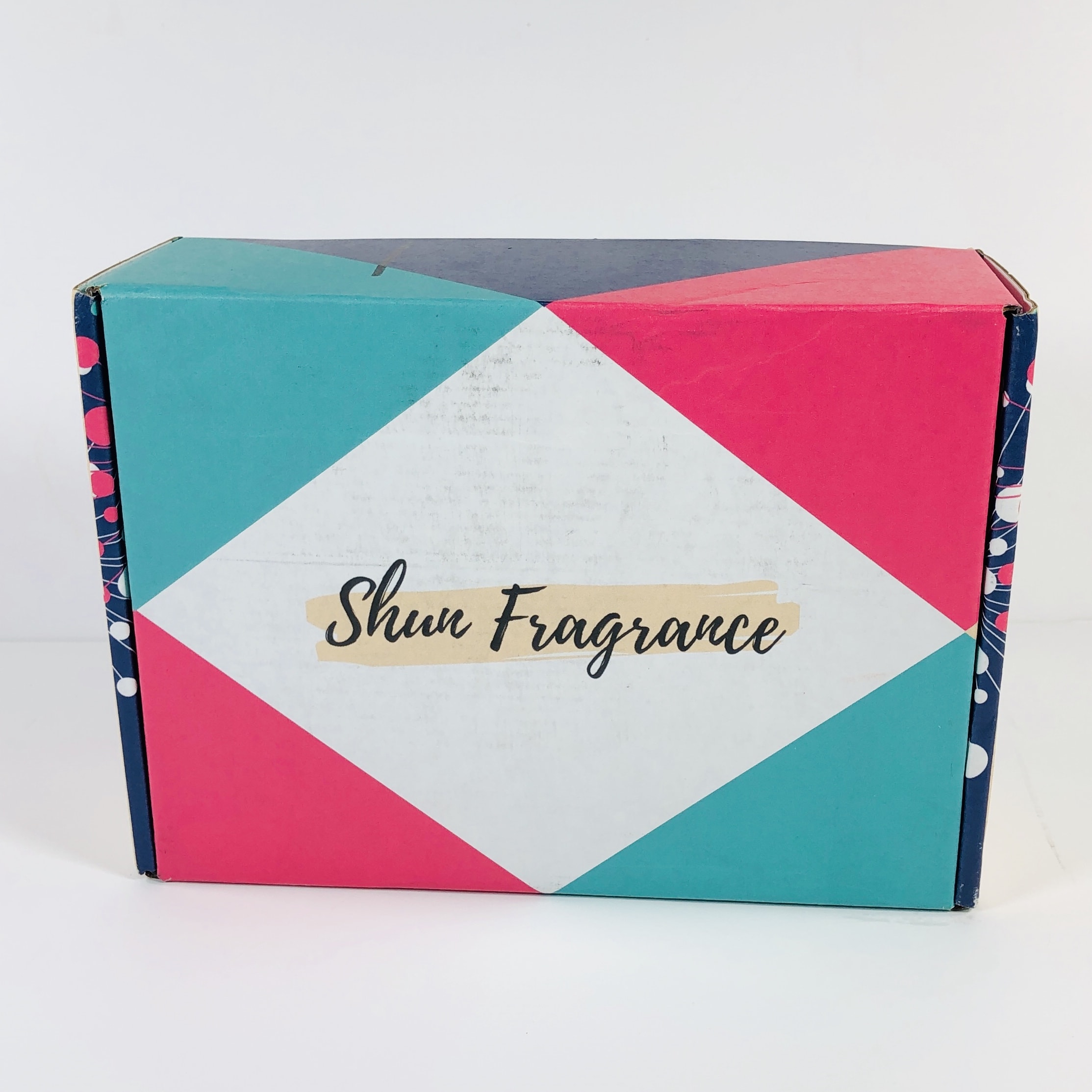 Shun Fragrance is a monthly subscription box full of beauty and/or cleaning products that are fragrance-free! This box is perfect for those who have sensitive skin, who want to use non-scented products, or who believe scented products are toxic. You'll receive 3-5 non-toxic, fragrance free skincare and cleaning products every month that can be used by you or your family members. Shun Fragrance is $39.95 a month and ships worldwide. Price drops for longer terms.
Going fragrance-free is a big way to reduce your family's exposure to toxic chemicals. But with many so-called natural products out there, it can be overwhelming and hard to know if a product is truly safe. That's why we've done the work for you!

Products have no harmful chemicals or added fragrance, and no essential oils. We want to be sure to have products that are safe for even the most sensitive individuals. Some essential oils aren't safe for babies and kids, pregnant women, and those with Multiple Chemical Sensitivity.
DEAL: Get 10% off your first box! Use coupon code WELCOME10.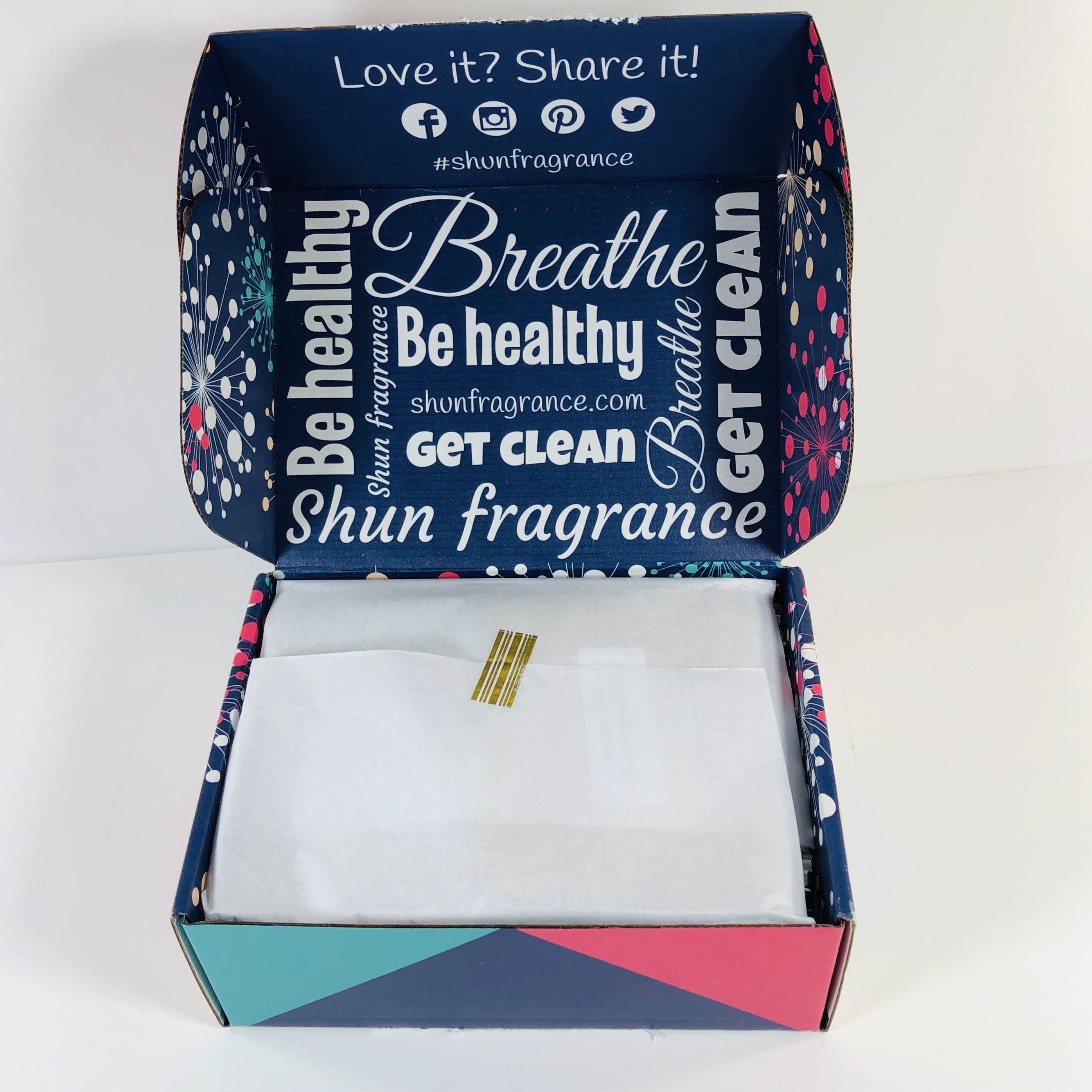 My products were wrapped in tissue paper and sealed with a sticker.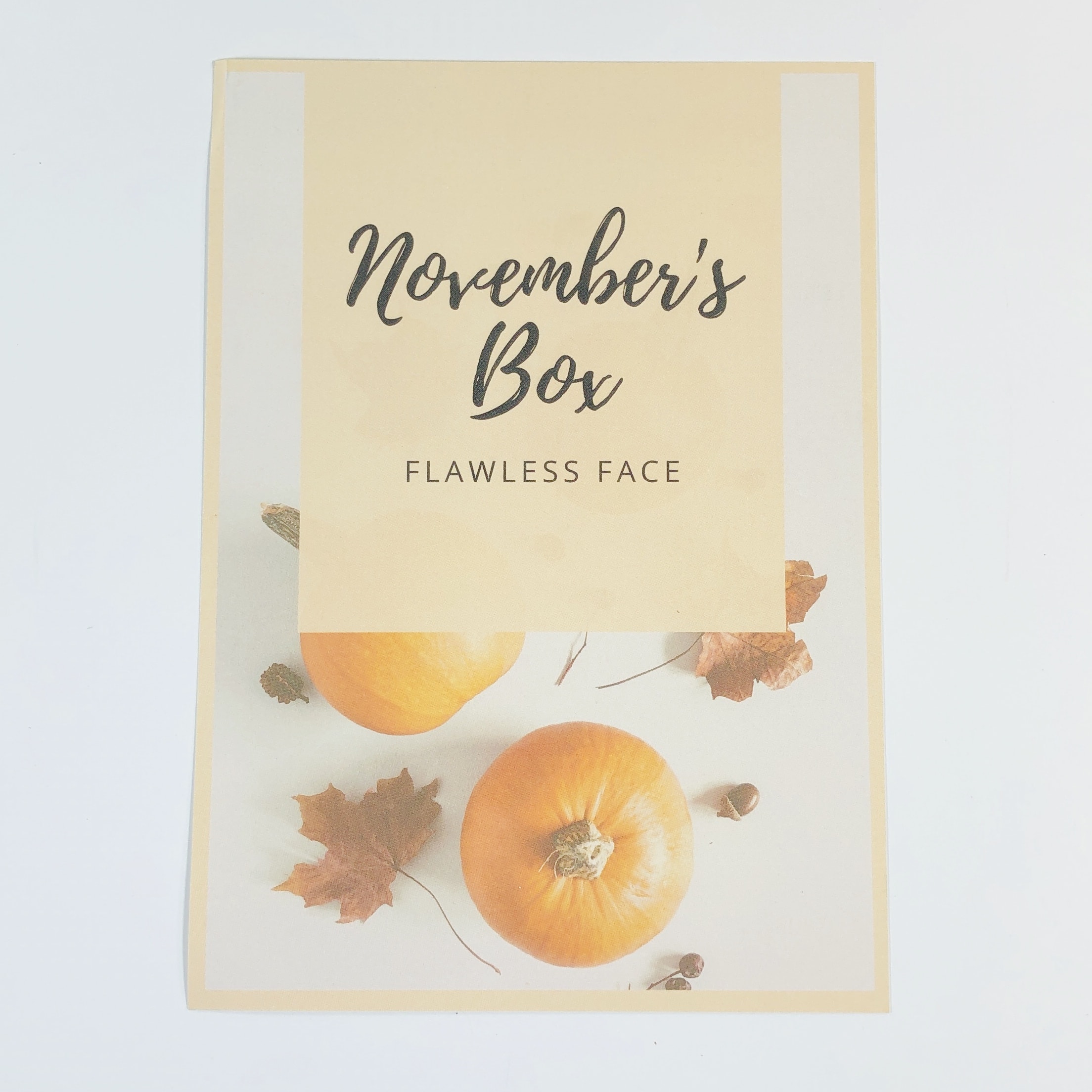 I received a card with the November theme listed – Flawless Face!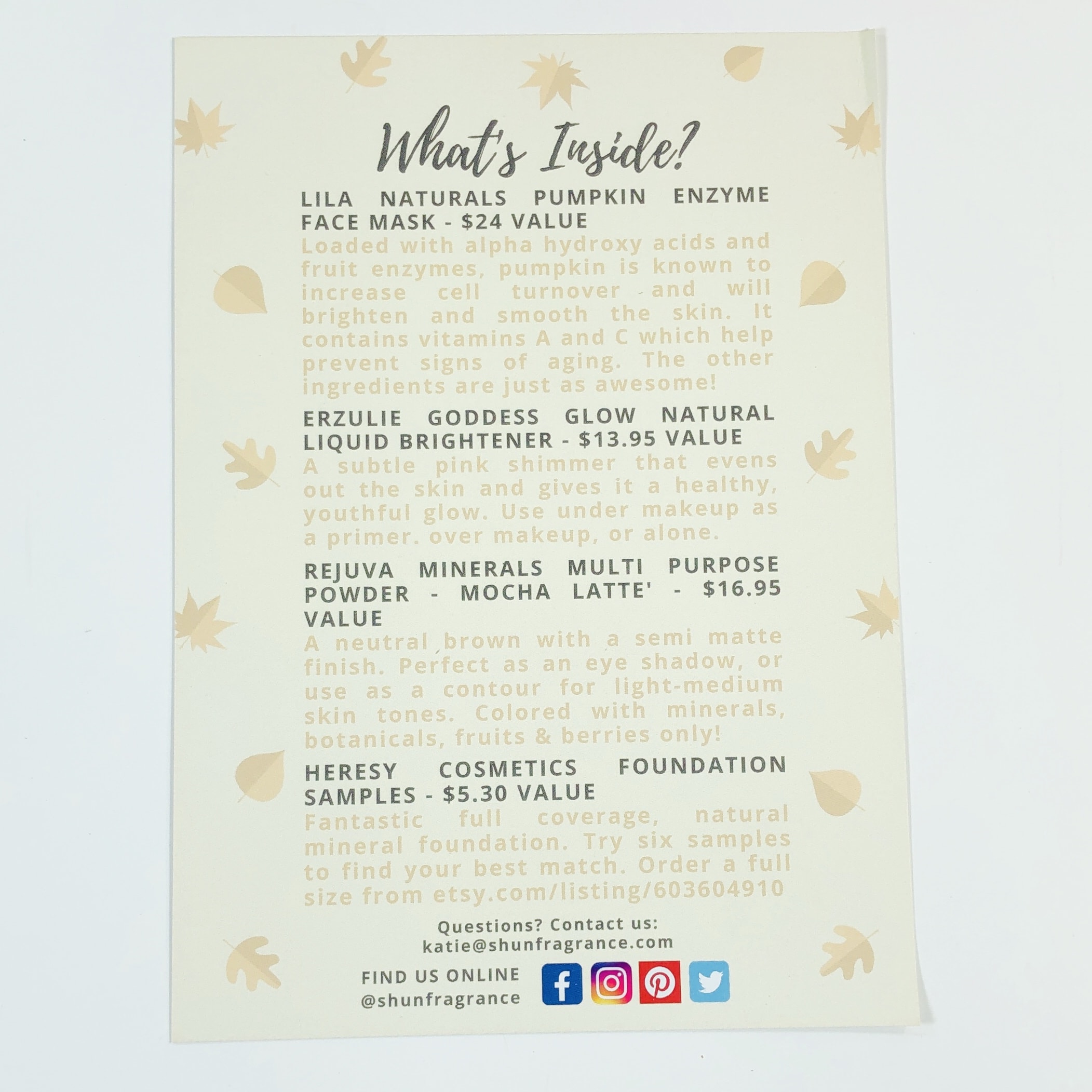 The back of the card had info on each product plus its MSRP.
I found an additional sheet of paper inside.
On the inside was a crossword puzzle.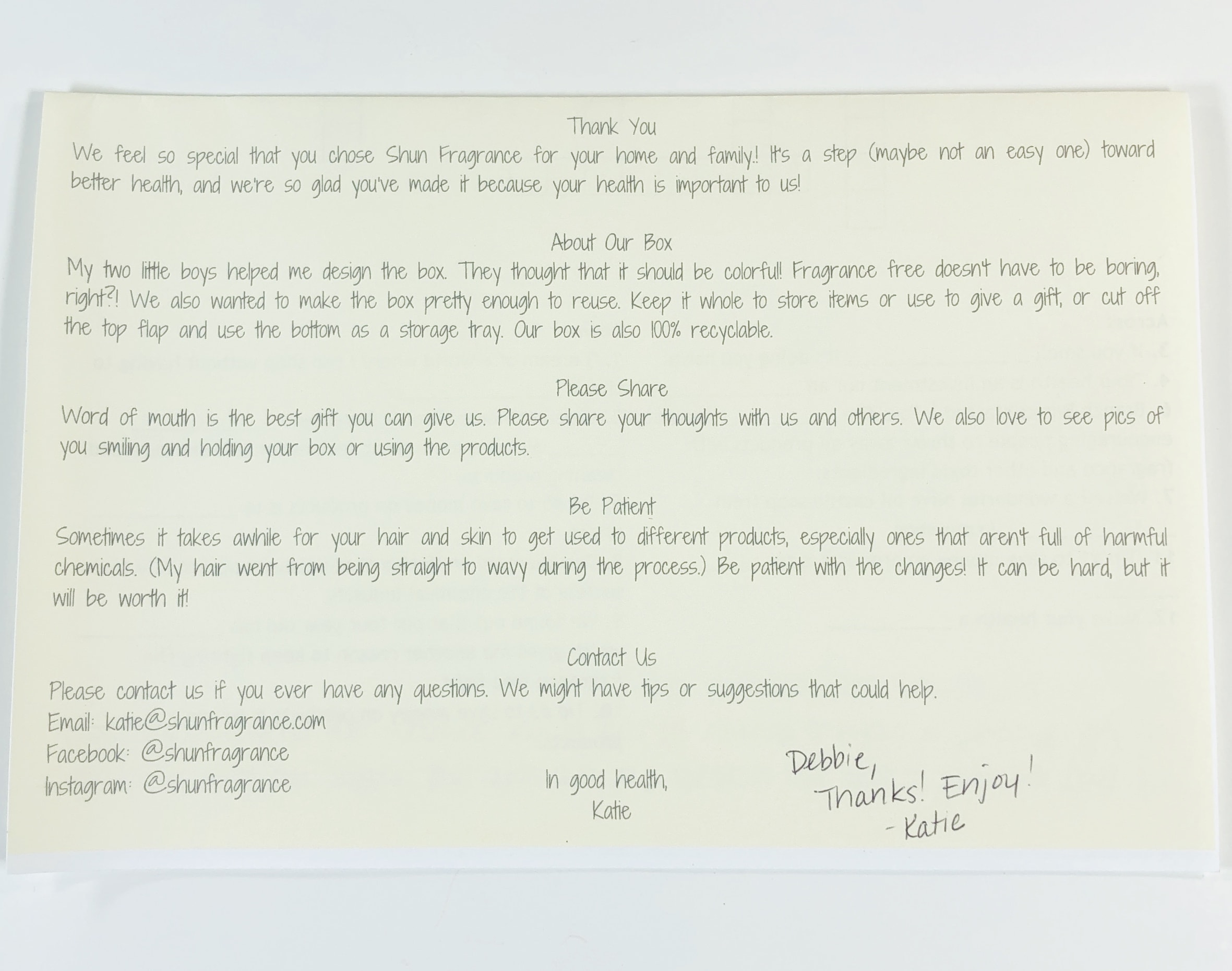 The back had some info on the company and contact info, plus a handwritten thank you!
Here's the answer sheet for October's crossword.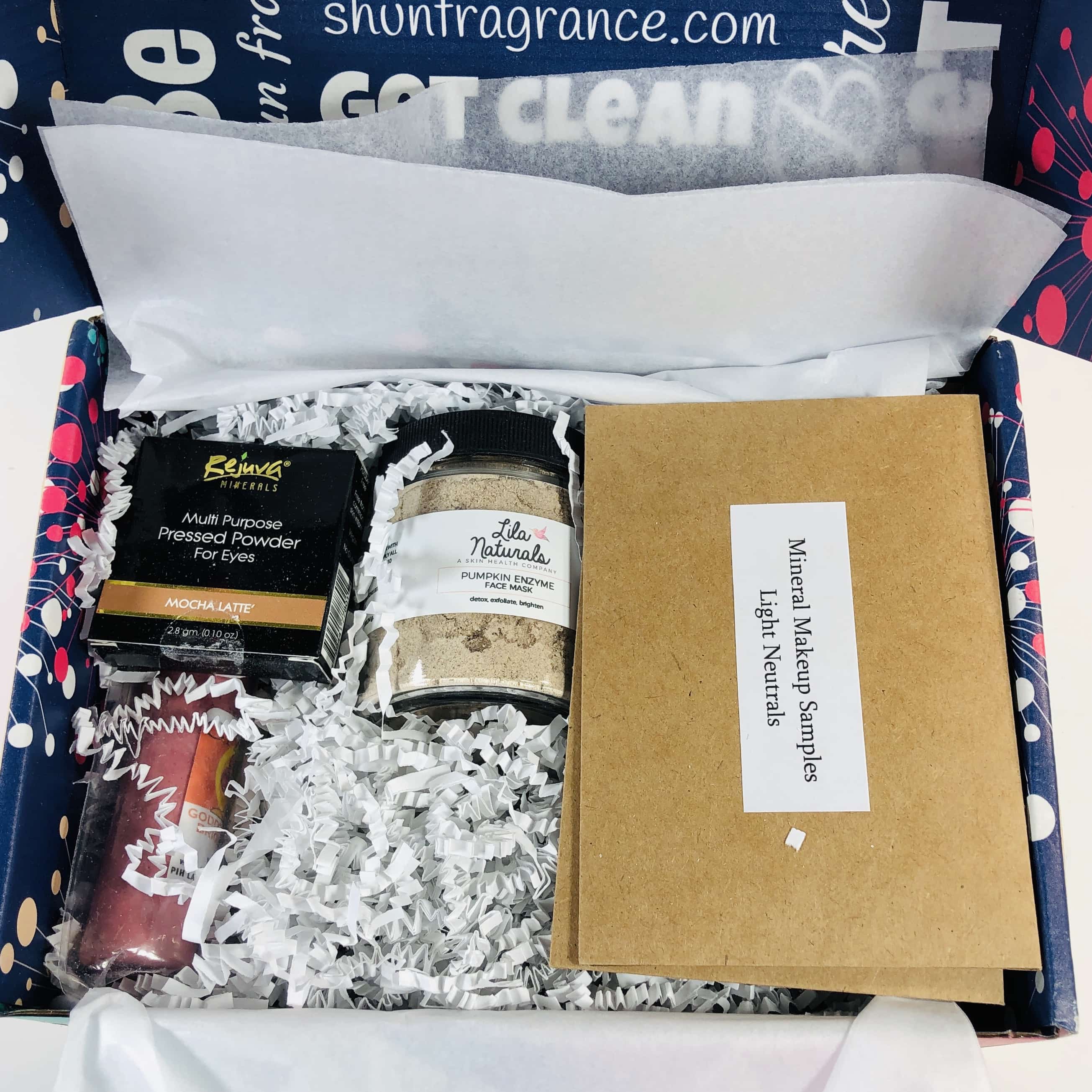 Shredded paper squiggles kept everything safe during the trip to my home.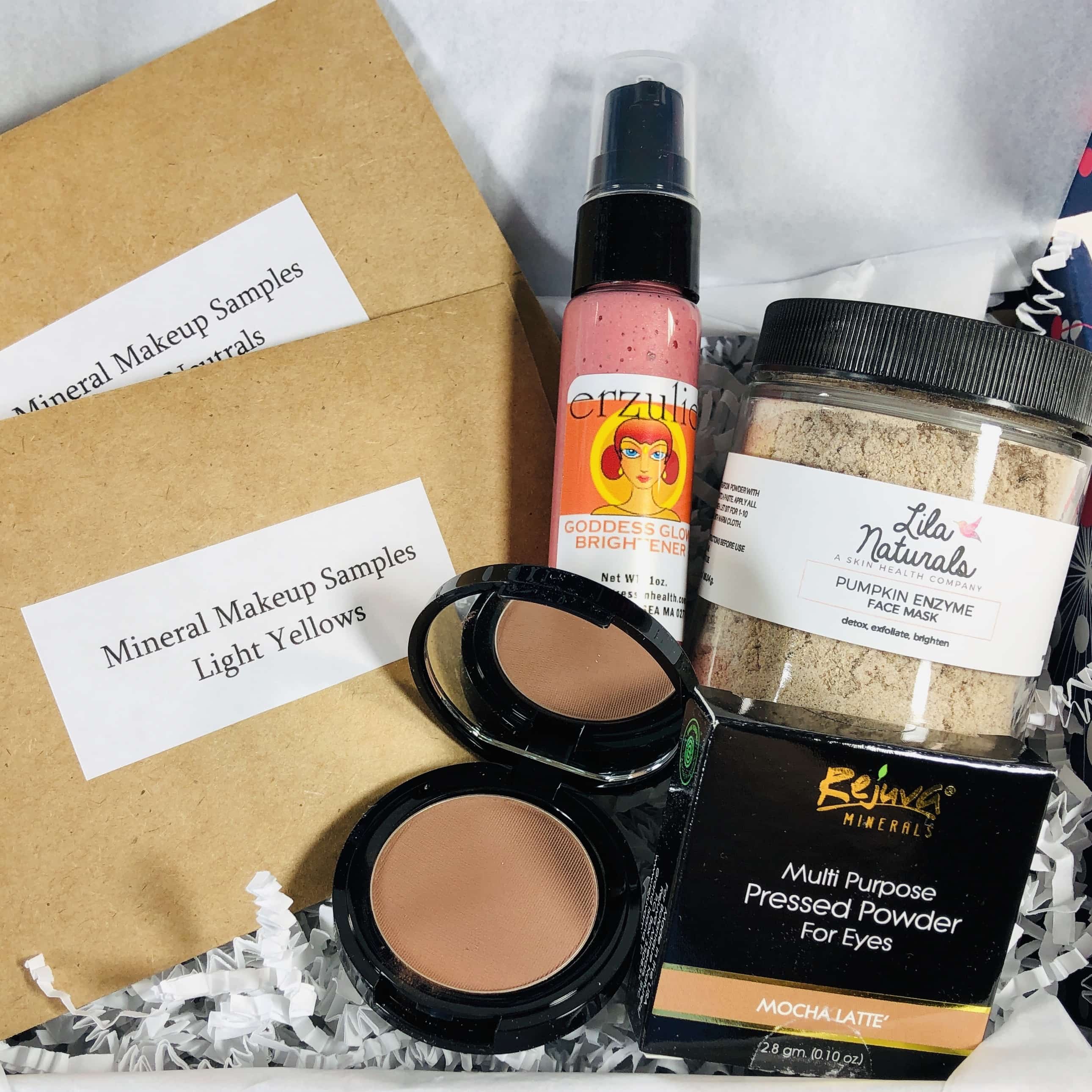 Everything in my box! I'm so excited to try this out!
Lila Naturals Pumpkin Enzyme Face Mask ($22) A powder mask has some benefits over a pre-mixed or wet mask. They usually last longer before going bad and they can be customized depending on what liquid you add to the mix.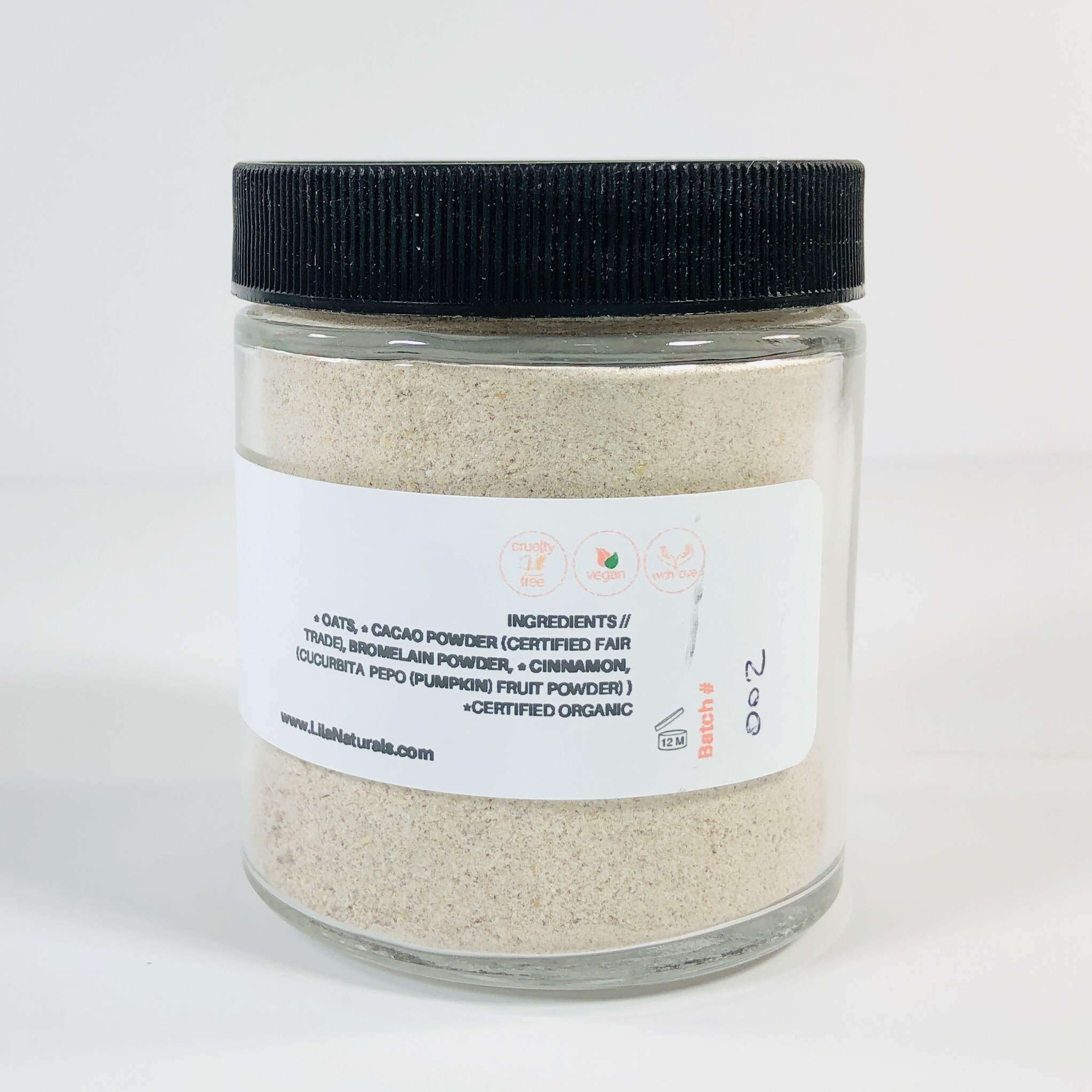 The ingredients are oats, cacao, bromelain (from pineapple), cinnamon, and pumpkin.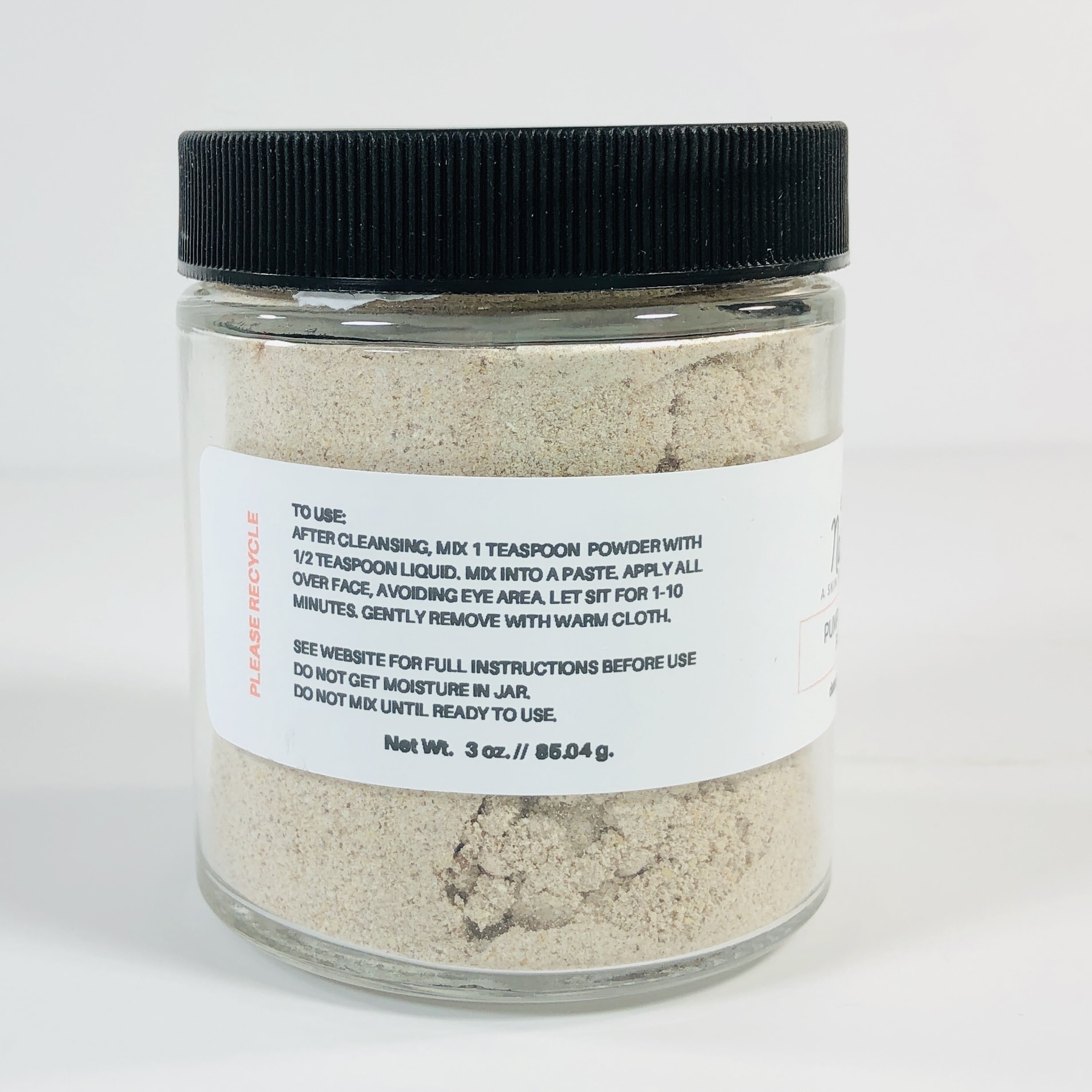 Pour some into a dish and add the liquid of your choice. I added plain water but plain yogurt or plant hydrosol (such as rosewater) would work too.
I rubbed the mix over my face and waited about a minute or two before rinsing off. It smelled really good, like cookies! I didn't feel any irritation but I did experience some redness. Redness is to be expected due to increased circulation.
Erzulie Goddess Glow Natural Liquid Brightener ($13.95) is a skin brightener that gives a youthful glow to all skin types.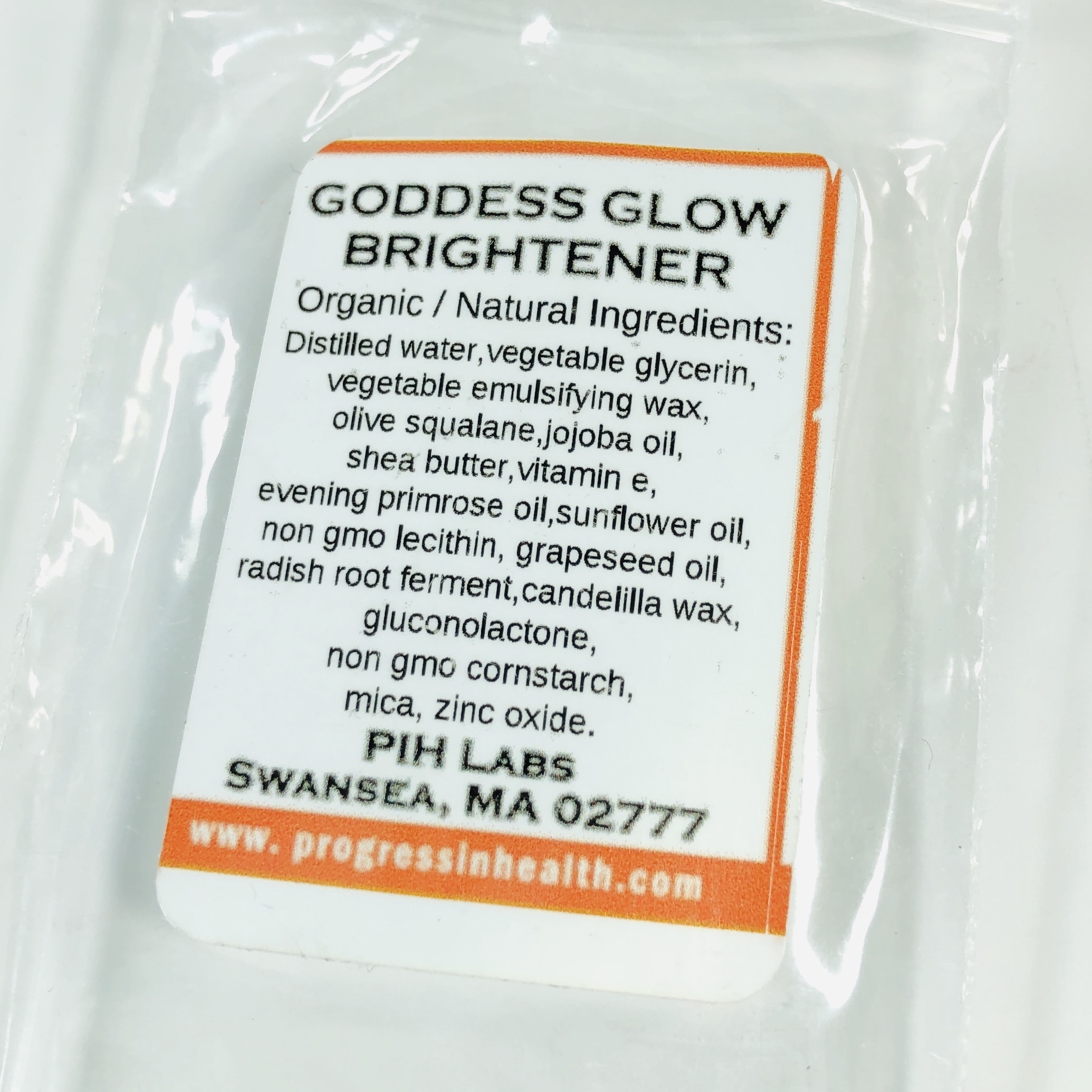 The product was in a zip top bag which included the ingredients. Some of the items in this small-batch product are mica, zinc oxide, and plant oils and butters. It can be used as a primer or all over the face as a rosy highlighter. I have a rosy face to begin with but I might need some help with brightness in late winter. Swatched below.
Rejuva Minerals Multi Purpose Powder in Mocha Latte ($16.95, on sale for $14.95) Here is another multi purpose product! It says eye shadow but it can be used as brow powder, eye liner, or in this shade, even as face contour!
Ingredients were listed on the back of the box.
The shade Mocha Latte is described as "neutral brown with a semi matte finish. Light-medium buildable coverage. Perfect as a mid tone eye shadow or contour for light-medium skin tones."
Don't mind the dent in the shadow, that was caused by me! I liked the formula and used this color in my crease. I thought it went on darker than I was expecting, that's some color payoff for a natural product! I was able to blend it well with a fluffy brush and was very happy with the look created with this shadow!
Here are the shadow and primer swatches. The bottom pink blob is where I first applied the primer, the top is where I blended it out. The middle is the eye shadow.
Heresy Cosmetics Foundation Samples ($5.30) Shun Fragrance sent a couple of sample sets of powdered foundation so we could try to get the best match possible while sampling this item. The foundation is made with titanium dioxide, zinc oxide, mica, silica, and iron oxides.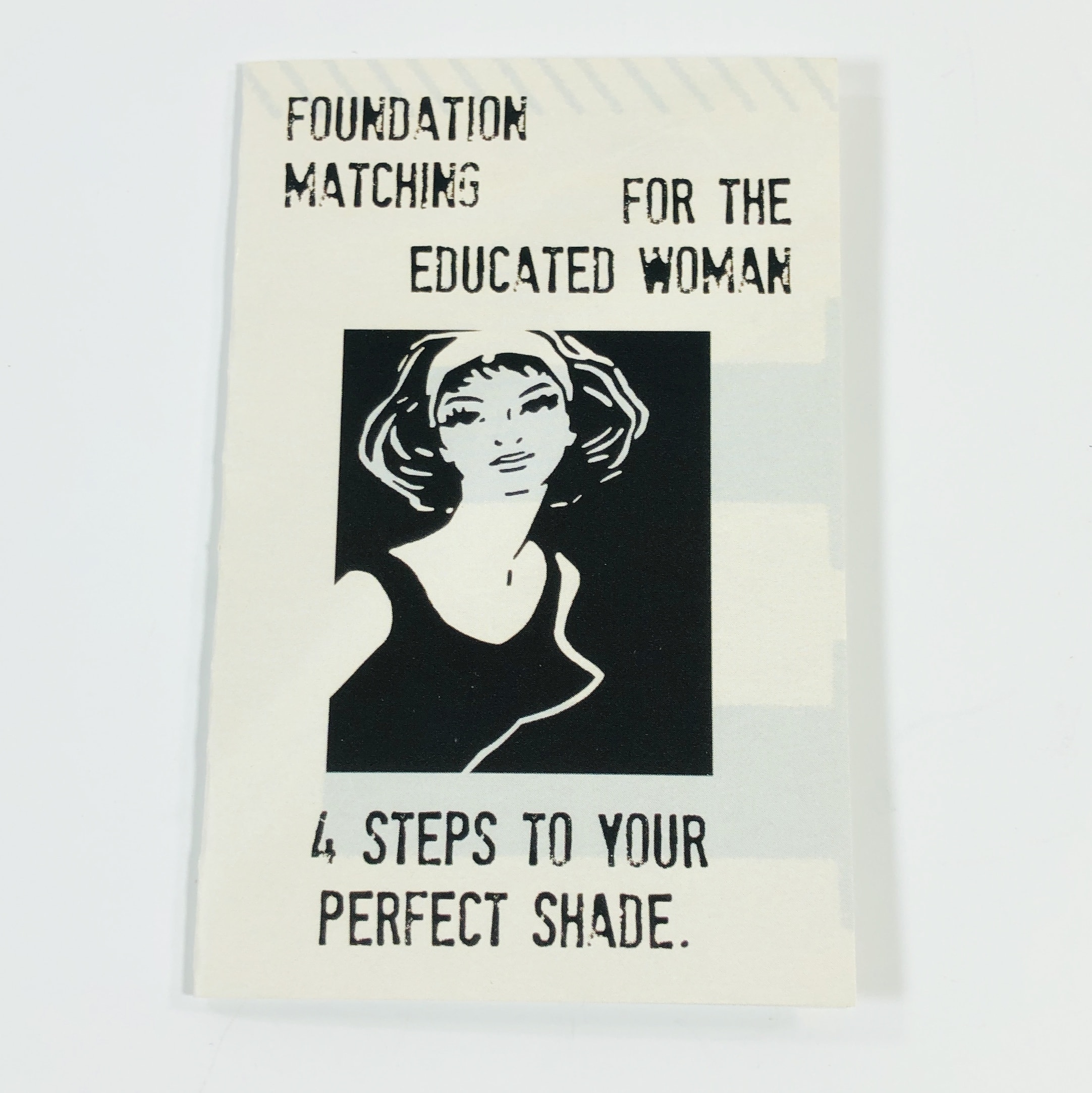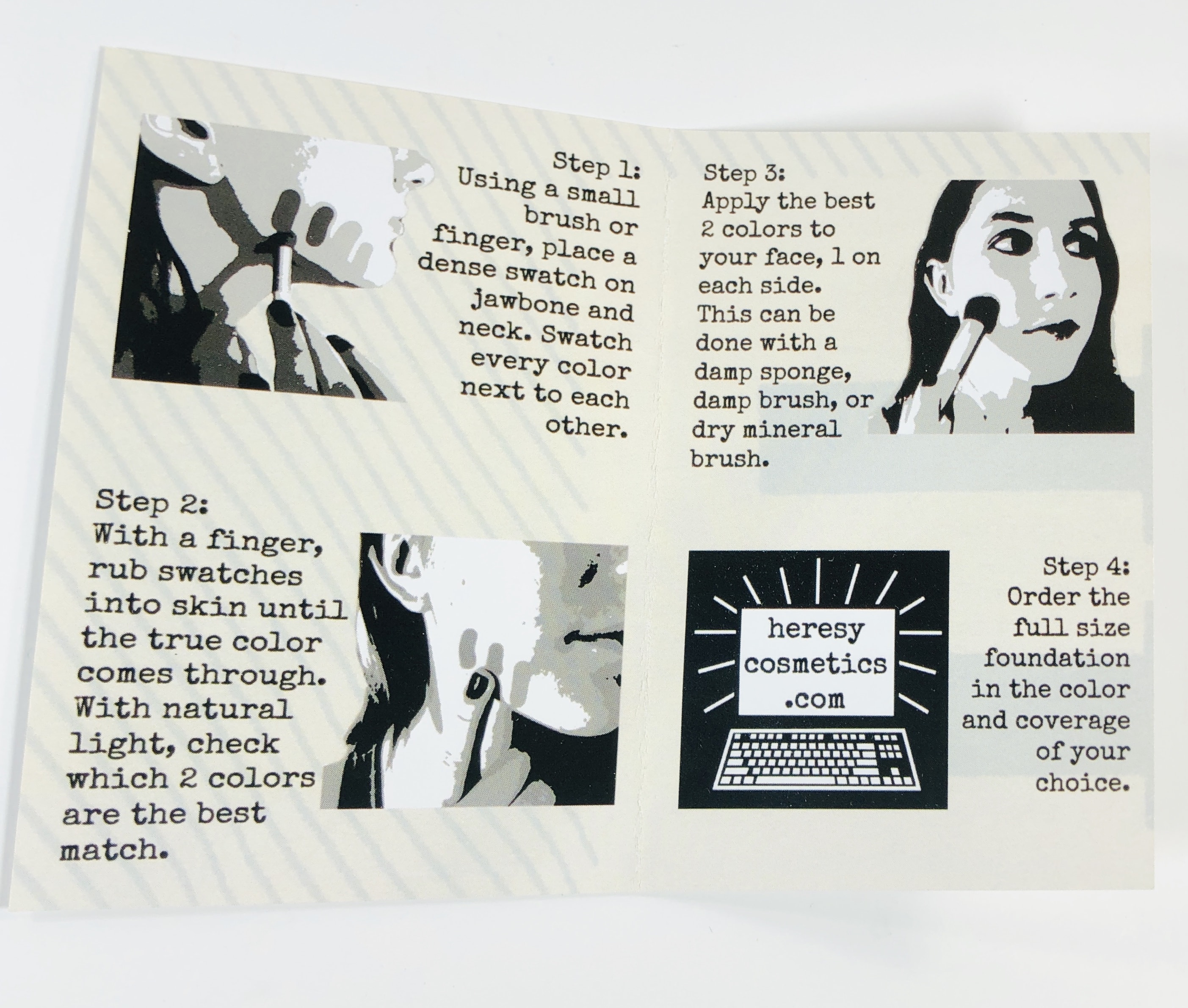 Heresy Cosmetics provided instructions for getting the best match.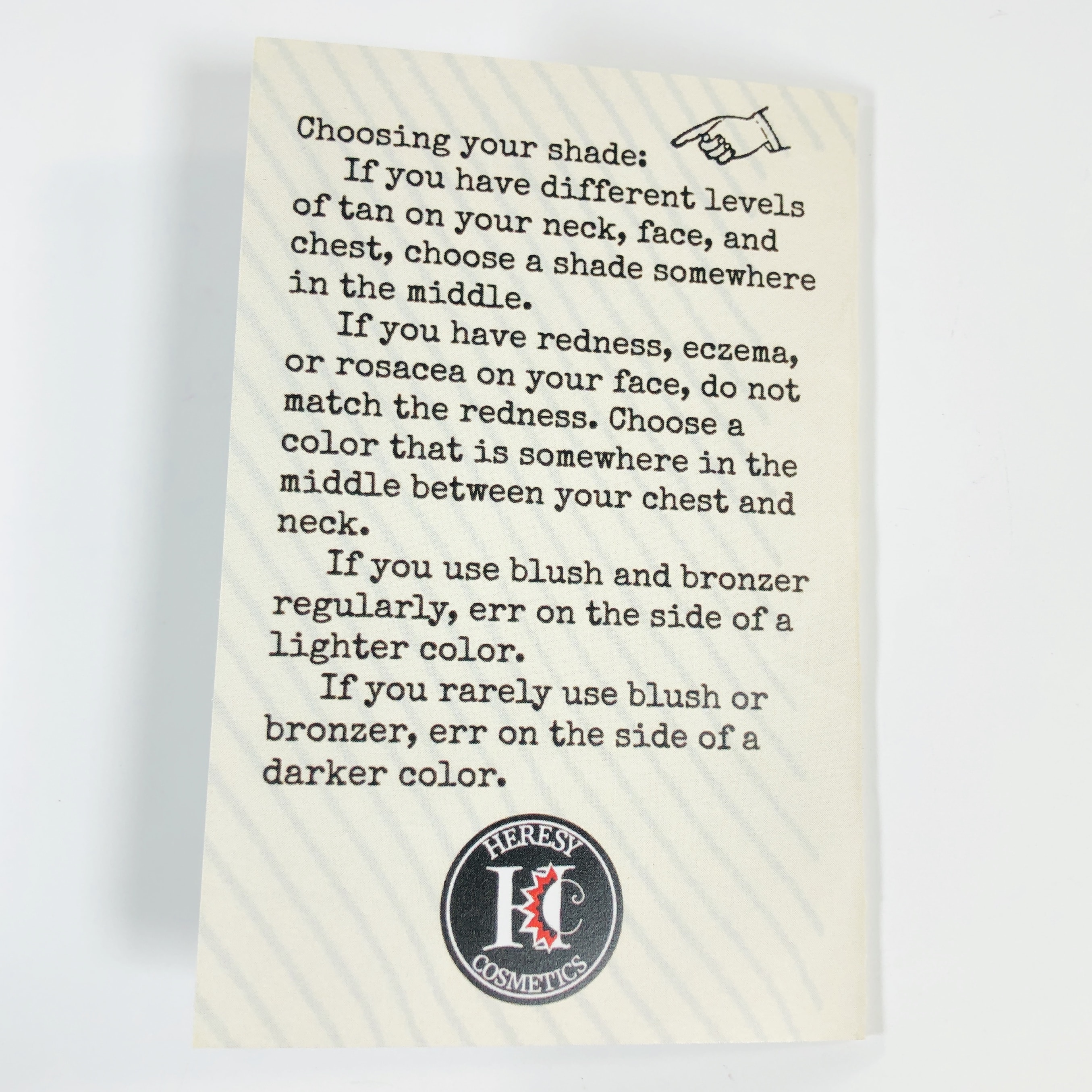 A few more tips were on the back cover.
I've never tried Heresy items before and was excited to find my perfect shade. I tried swatching these colors on my arm but they didn't really show up.
I started with Medium Neutral and thought it was a little too light for my skin so I didn't try the lighter shades because I looked a little like The Virgin Queen, rather pale. I tried sticking my finger in the tiny bag but found it more effective when I shook a little out into my palm and then applied with a fluffy brush.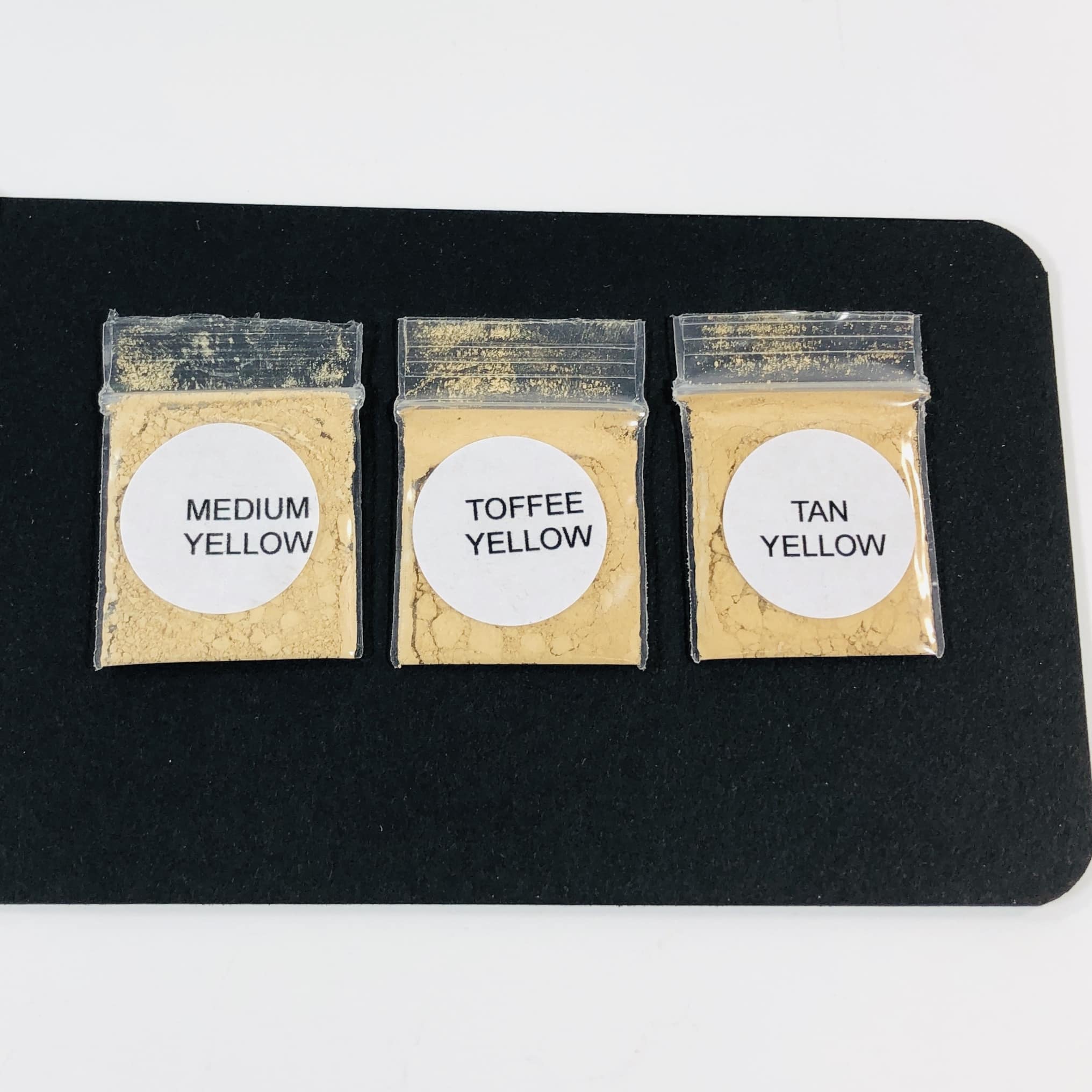 Next I tried Medium Yellow and was worried I would look awful but let me tell you, I was so wrong. This was my shade! I have rosacea and my skin is often bright red and this countered it somehow. In fact, I was extremely impressed with this item and just ordered a full-sized container! I have been wearing Maybelline for years but that is changing as of now. My skin looked better and my rosacea even improved after only a few days. I tried using a wet brush to apply it but I think I should have made the brush barely damp. I was surprised at how much coverage I had using such a small amount of product.
I thought Shun Fragrance did a wonderful job with November's Flawless Face theme! I was especially excited that the Heresy Cosmetics foundation worked so well for my skin and can't wait for my new jar to come in. The eye shadow worked very well and the color is perfect for fall or for those who like neutral shades. The mask and primer/highlighter rounded out the box nicely and I am thrilled to add these natural beauty brands to my routine.
What do you think of the Shun Fragrance box?